Looking for a different sort of travel bag that's going to make you stand out from the rest? Want something timeless that's going to be a real investment piece? Well, it's a good thing you've arrived at our guide to the best leather duffel bags ever.
Maybe you don't like the idea of a backpack (hey, you're not in school anymore, right?) or maybe the canvas, skater vibes and outdoorsy nylon of some backpacks just don't suit your style. A duffel may be what you're looking for, then! And as for material? Leather is probably the one for you.
One of the most interesting materials for bags out there, leather is never the same twice. No two leather duffel bags will have the same markings and creases and, as you use it more and more, it will wear with age and become not just unique, but personal to you.
For our guide to the best men's leather duffel bags of 2022, we have taken a whole load of things into consideration: how you travel, what your budget is, and different styles of bag. You'll find something here to suit you, ensuring that the duffel you get is the right choice.
Quick Answer: These are the Best Men's Leather Duffel Bag of 2022
#1 Kodiak Leather Denali 45L – Best All Round Men's Leather Duffel Bag
#2 Kodiak Augustine 45L Duffel – Best Men's Weekend Bag
#3 Holssen Genuine Leather Travel Sport Weekender Bag – Best Men's Leather Overnight Bag
#4 Jackson Wayne Cabin Weekender – Best Men's Leather Duffel Bag for City Breaks
#5 The Classic Duffle by Mahi – Best Men's Leather Duffel Bag for the Gym
#6 Piel Leather Duffel with Wheels – Best Leather Duffel with Wheels
#7 Harber London Weekend Bag – Best High-End Men's Duffel Bag
#8 Kodiak Weekender 60L – Best Men's Leather Duffel Bag for International Travel
#9 Kodiak Weekender 30L – Best Men's Leather Duffel Bag for Carry-On Travel
#10 Kodiak Denali Canvas 25L – Best Men's Leather Duffel Bag for Business
#11 Patagonia Black Hole 55 – Best Non-Leather Duffel for the Outdoors
BEST ALL ROUND MEN'S LEATHER DUFFEL BAG
BEST ALL ROUND MEN'S LEATHER DUFFEL BAG
Kodiak Leather Denali 45L
Price > $$$
> Dedicated laptop sleeve
> 3 exterior pockets that use YKK zips
BEST MEN'S LEATHER OVERNIGHT BAG
BEST MEN'S LEATHER DUFFEL BAG FOR CITTY BREAKS
BEST MEN'S LEATHER DUFFEL BAG FOR THE GYM
BEST MEN'S LEATHER DUFFEL WITH WHEELS
BEST HIGH-END MEN'S DUFFEL BAG
BEST MEN'S LEATHER DUFFEL BAG FOR INTERNATIONAL TRAVEL
BEST MEN'S LEATHER DUFFEL BAG FOR INTERNATIONAL TRAVEL
Kodiak Weekender 60L
Price > $$$$
> 100% top grain buffalo leather
> Lifetime warranty
BEST MEN'S LEATHER DUFFEL BAG FOR CARRY-ON TRAVEL
BEST MEN'S LEATHER DUFFEL BAG FOR CARRY-ON TRAVEL
Kodiak Weekender 30L
Price > $$$
> Carry on compatible
> Two zippered exterior pockets
BEST MEN'S LEATHER DUFFEL BAG FOR BUSINESS
BEST MEN'S LEATHER DUFFEL BAG FOR BUSINESS
Kodiak Denali Canvas 25L
Price > $$
> Stylish and versatile look
> Waterproof and durable
BEST NON LEATHER DUFFEL FOR THE OUTDOORS
BEST NON LEATHER DUFFEL FOR THE OUTDOORS
Patagonia Black Hole 55
Price > $$
> Non-leather duffel
> Good for plane travel, train travel, automobile travel
Looking to Find Your Tribe?
Introducing Tribal, Bali's first purpose designed co-working hostel!
A unique coworking and co-living hostel for those that want to travel the world while working from their laptops. Make use of the massive open-air coworking spaces and sip on delicious coffee.
Network with other like-minded travellers all day and if you need a quick screen break, just take a refreshing dip in the infinity pool or go grab a drink at the bar.
Best Men's Leather Duffel Bag of 2022
Let's kick this off with what I feel are the TOP Leather Duffel Bags to travel with. Backpackers, travellers and all in between behold…
#1 – Best All Round Men's Leather Duffel Bag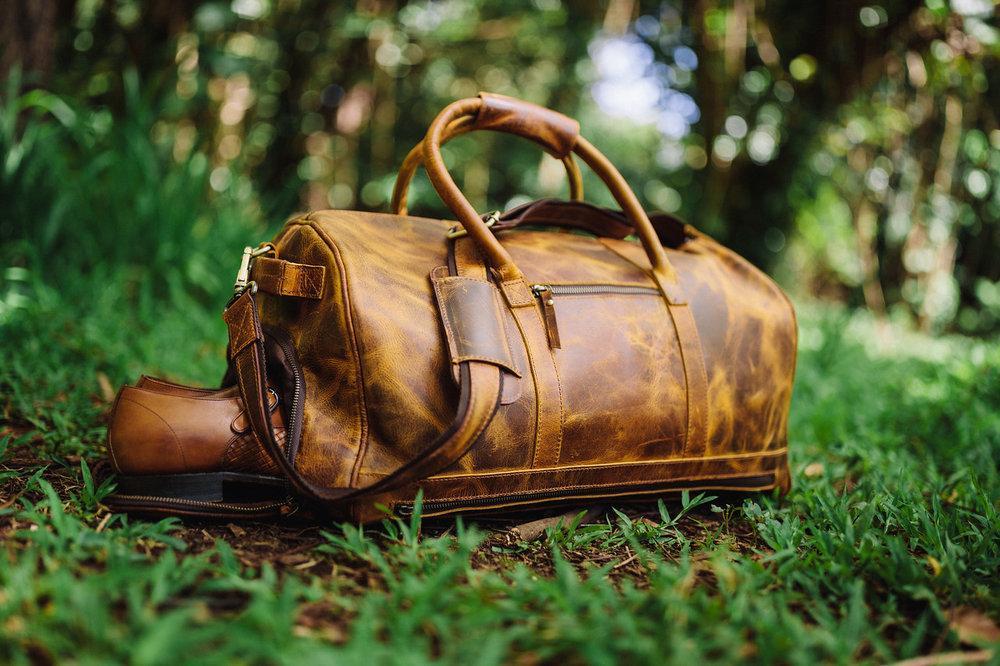 For a weekend getaway, for everyday use, for business, the Kodiak Leather Denali 45L is definitely the best all-round men's leather duffel bag. This stylish choice won't look out of place anywhere: on a high-end weekend getaway, or just running some errands around town.
Made from all thick top-grain leather by the folks at Kodiak Leather Co., it's not something you want to be putting down on the muddy ground – or any ground, actually. So thankfully, it comes with 5 little brass feet to make sure the bottom of your new bag won't get beat up.
Not a typical chuck-it-all-in duffel, the Kodiak Leather Denali 45L has a few organization options. The bag includes three exterior pockets that use YKK zips, as well as zipped shoe compartment, and a dedicated laptop sleeve at the bottom of the bag. This external pocket means you can easily take your laptop out, and put it in again, when it comes to airport security.
Speaking of which, this bag is carry-on compliant, so you'll be able to throw it over your shoulder and breeze right past the luggage carousel on your next trip, which makes this high-quality bag all the more convenient.
#2 – Best Men's Weekend Bag
This 45 litre duffel from Kodiak Leather Co. is a great option for a weekend getaway. Not an all-leather offering, the Kodiak Augustine is actually mostly waxed canvas, with full-grain water buffalo leather detailing around the zip, edging and handles of the bag. Needless to say, it ends up looking pretty slick.
Much like other Kodiak Leather bags, this duffel has been built with durable fabrics that have been made to last. With its sturdy handles and YKK zippers, it makes for a good option if you're looking for a well-made weekender bag for men that's going to stand the test of time.
Depending on what kind of travel you like, from camping trip, to an overnighter in a chic city, or home to visit your family for the weekend, this bag is a cool duffel that isn't trying too hard. 
And if you're not too bothered about interior organization for laptops, or exterior pockets and all that jazz, then you will probably really like the simplicity of the Kodiak Augustine. Just like we do.

Do You Want to Travel FOREVER??
Pop your email in below to get a FREE copy of 'How to Travel the World on $10 a Day!'.
#3 – Best Men's Leather Overnight Bag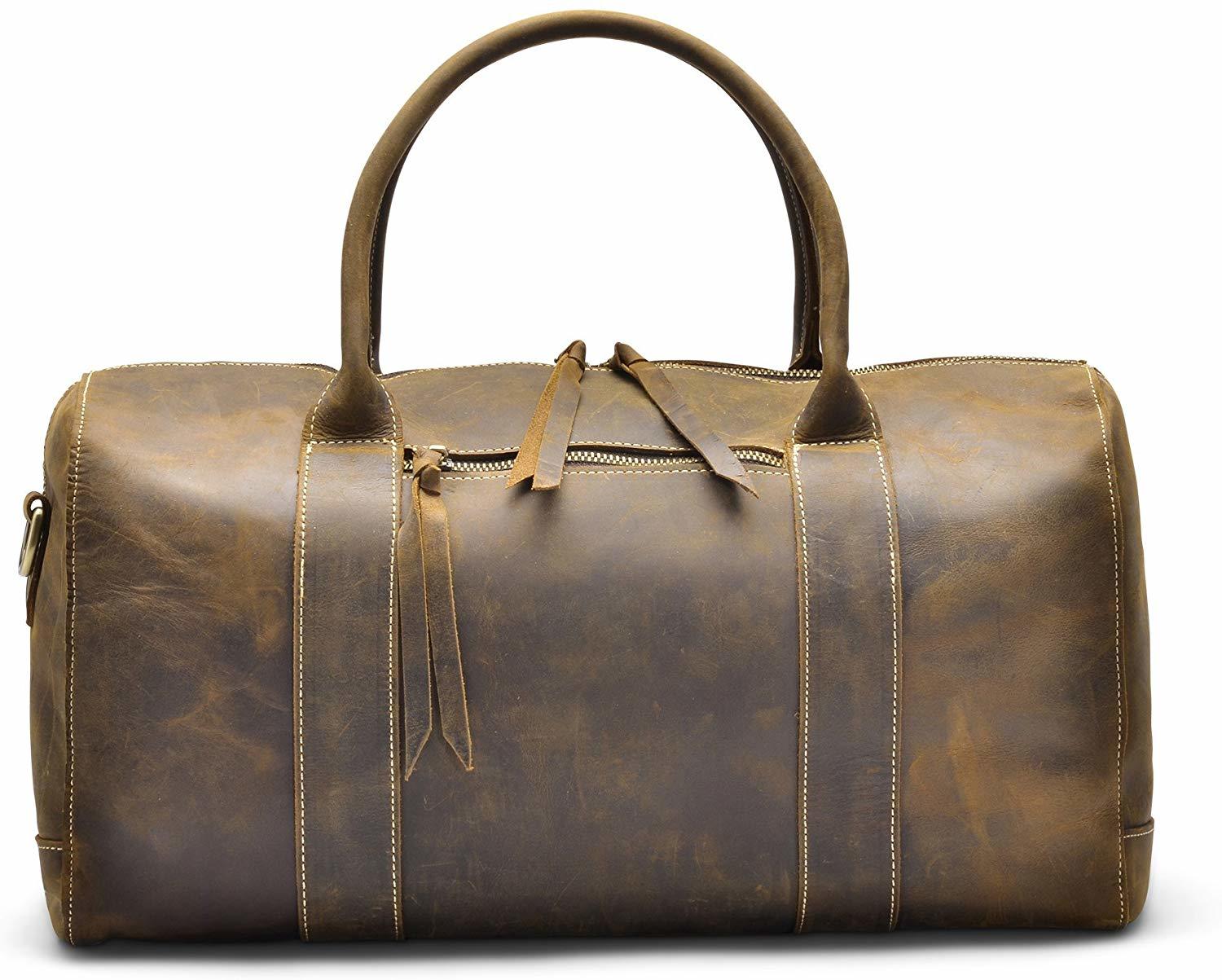 If you're thinking that a genuine leather overnight bag for men can't be affordable, think again. Though not as cheap as other men's overnight bags out there, this full grain leather from Holssen is a relatively affordable option for anybody wanting a bit of rustic style in their luggage options.
The leather used for this bag is treated to look vintage, which gives you a timeless effect right off the bat.
Surprisingly, there's a lot going on inside this men's weekender bag. Open up the main zip and you'll find three separate compartments; in the middle is a zipped pocket (good for organisation), whilst either side there's space for clothing, accessories and toiletries. There are also two other zippered pockets on the exterior of the bag for extra compartmentalization.
If you travel a lot on business, and you want to look smart and professional, this smart bag works very well. It's compact, too, easily tucking under airplane, bus and train seats. It's not got gallons of capacity, but it's good for one or two nights – which is just what you'll need it for.
#4 – Best Men's Leather Duffel Bag For City Breaks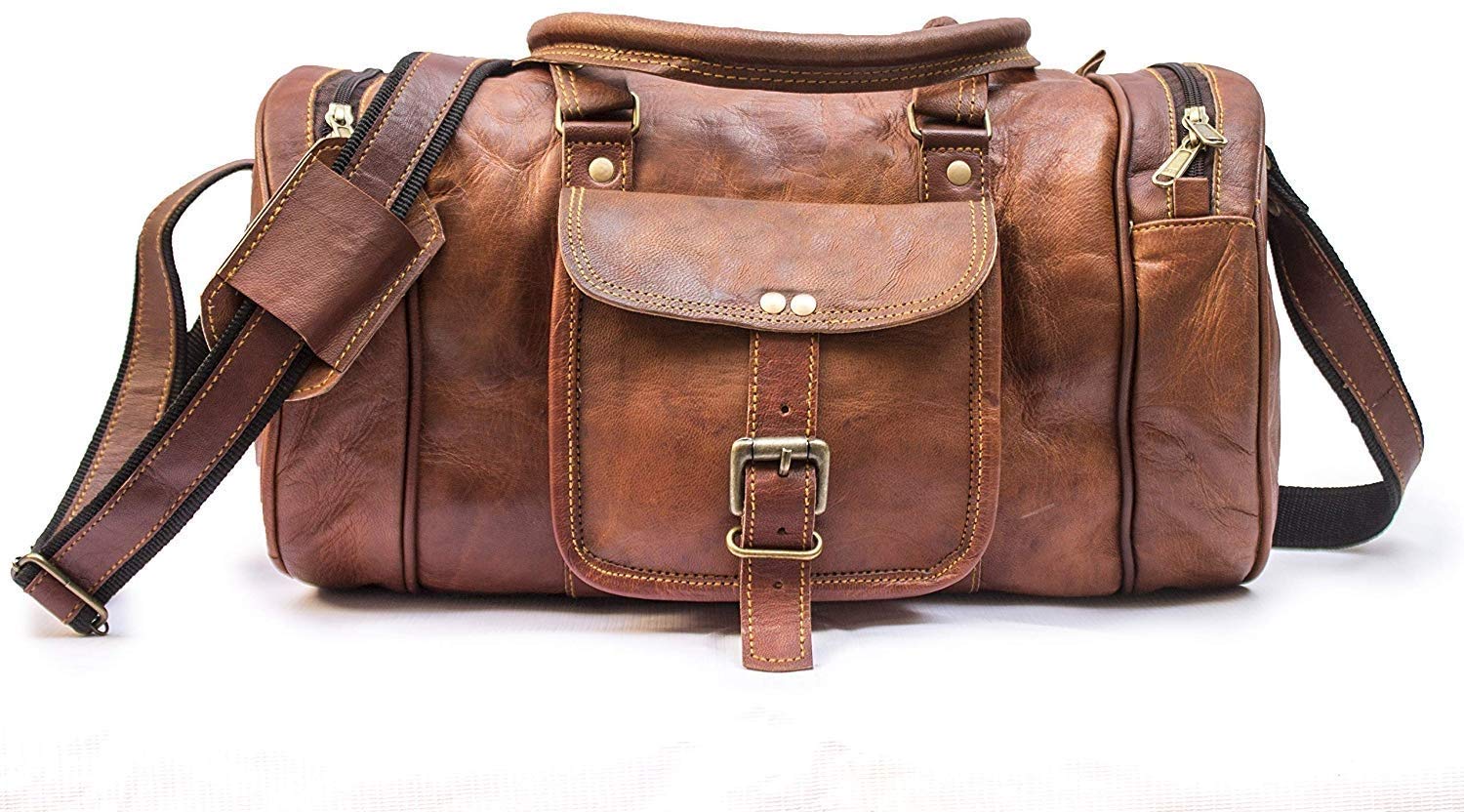 A mixture of rich full-grain leather and waxed canvas twill, the Cabin Weekender from Jackson Wayne is a pretty good looking bag. Ok, we're going to say it: this is a beautiful bag, just the right balance of laid back and stylish.
When it comes to that canvas, the makers claim it acts just like leather, repelling water and gaining a rich texture over time. This is one of those bags that you'll want to hold on to if only to see how it looks in 10 or 20 years!
Don't expect masses of organizational features inside the bag, but do expect enough space for all of your belongings for a few days' trip – and a couple of interior zipped pockets to keep loose ends and important items separate from everything else. We love the handy outer pocket, too. One key perk is that the bag opens up pretty wide, so you'll be able to fit larger items of clothing in there pretty easily.
All in all, it's our favourite option for the top men's leather duffel bag for city breaks, working especially well when you're splashing out on a fancy hotel.
#5 – Best Men's Leather Duffel Bag for the Gym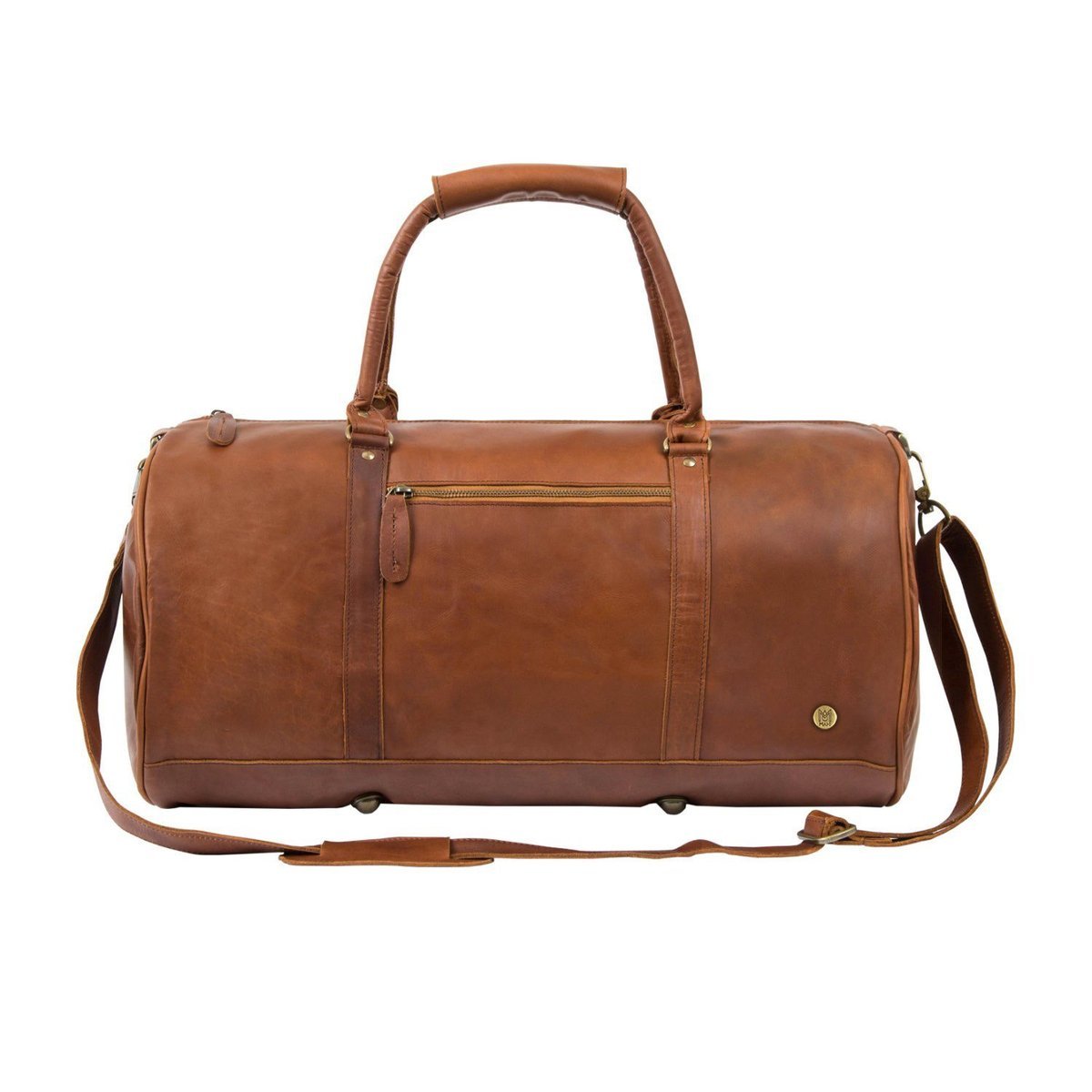 Looking for the great men's leather duffel bag for the gym? If so, you've come to the right place. Maybe you're sick of taking in the same old, half-broken backpack to the gym. Maybe you've recently levelled up, and you're working at a more fancy locale. Maybe you just want to add a little '70s flair to your wardrobe? If so, the Classic Duffle by Mahi may just be your jam.
Combining traditional elegance with rugged practicality, the MAHI Classic Duffle in Vintage Brown is a lovely luggage piece for those looking for a stylish gym bag, weekend or overnight bag.
It's made with beautifully supple full grain leather on the main body and complemented with a fawn cotton lining. Other features include four brass studs on the base, a front zipped pocket for easy access to your essential items, a smaller zipped pocket on the inside and a detachable and extendable shoulder strap with additional padding for comfort.
Believe it or not, this cool leather duffel bag for the gym is actually an approved for carry-on duffel by most airlines. When it comes to packing, this thing thankfully stands up on its own, not falling in on itself as some duffel bags tend to. Add to cart.
The best present of all… is CONVENIENCE!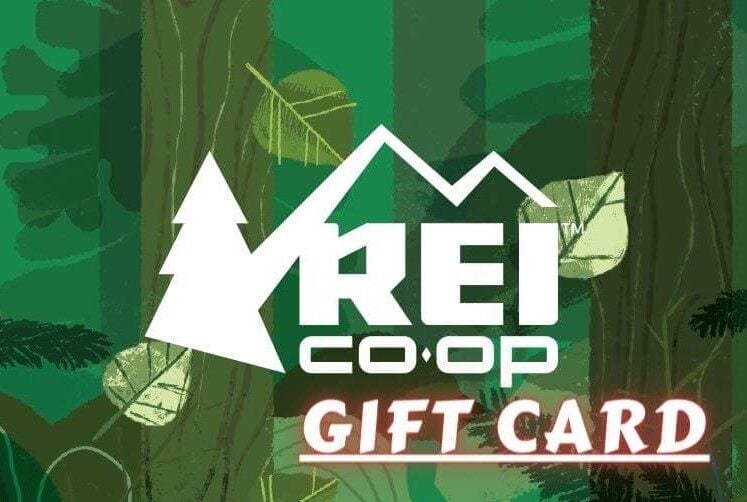 Now, you could spend a fat chunk of $$$ on the WRONG present for someone. Wrong size hiking boots, wrong fit backpack, wrong shape sleeping bag… As any adventurer will tell you, gear is a personal choice.
So give the adventurer in your life the gift of convenience: buy them an REI Co-op gift card! REI is The Broke Backpacker's retailer of choice for ALL things outdoors, and an REI gift card is the perfect present you can buy from them. And then you won't have to keep the receipt. 😉
Buy on REI!
#6 – Best Men's Leather Duffel with Wheels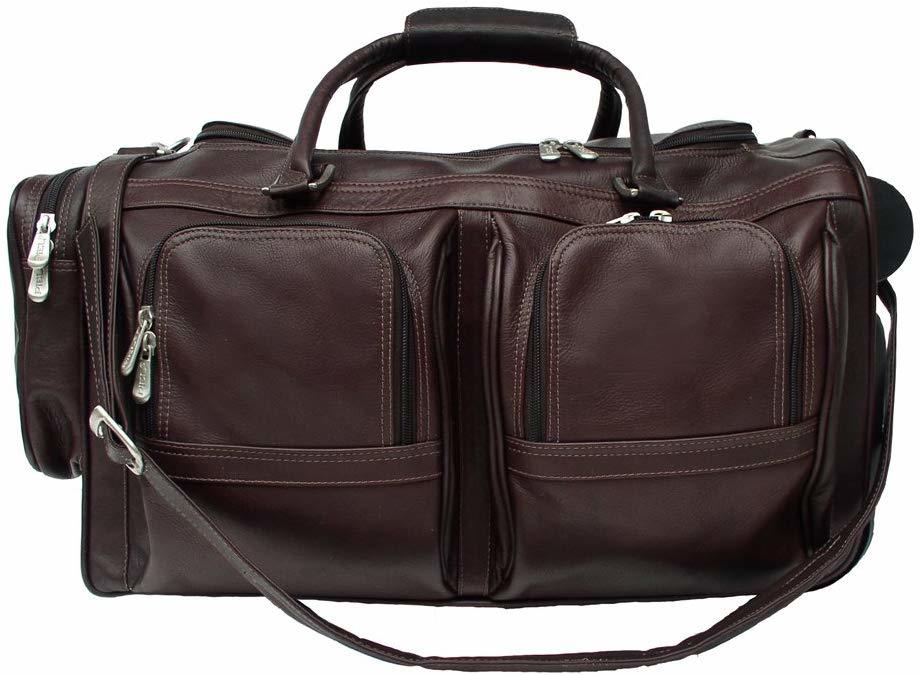 Whilst a lot of duffel bags out there only give the option to carry them slung over a shoulder, the Piel Leather Duffel actually comes with wheels. This means that if you just can't be bothered to carry it through an airport, or if it's a fairly heavy load and you don't want to carry it on your shoulder, all you do is whip out the telescopic trolley handle and zoom along with their internal wheels. Great idea!
Made of full-grain leather, this top leather duffel with wheels is a great hybrid between suitcase and duffel – all with the luxury (and durability, let's not forget) of leather.
Thanks to the various pockets inside and outside, the bag, you'll have the choice to organize your bag how you see fit. And, actually, you probably won't have to compromise on how much you're packing for a trip: it's pretty roomy in here, enough for at least a week.
The ability to overpack this bag probably explains the whole wheel thing – and we're not complaining.
Hand crafted in Colombia, there's also grab handles and a strap you can sling over your shoulder if you don't want to wheel this leather duffel bag around.
#7 – Best High-End Men's Duffel Bag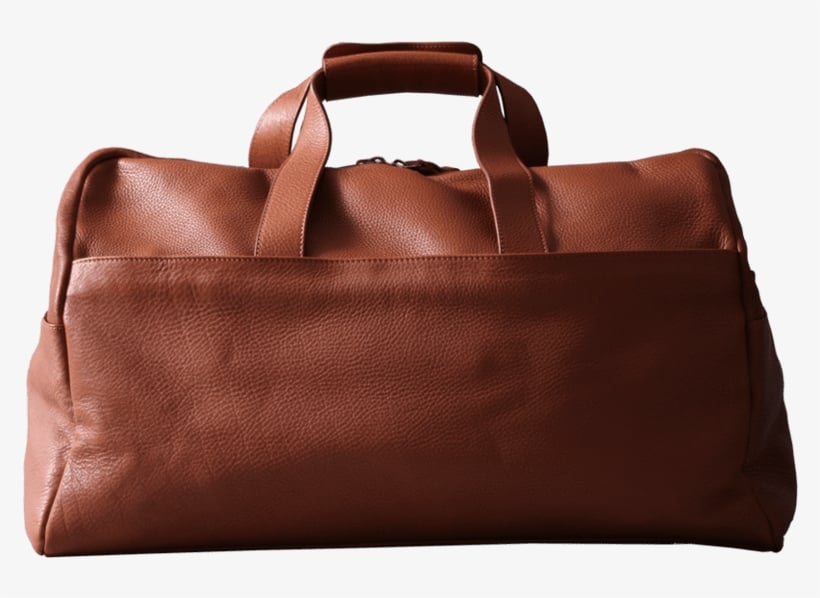 Let's face it: leather duffel bags for men (or women – in fact, even more so for women!) aren't exactly on the affordable side of things. And neither is the Harber London Weekend Bag– in fact, it's pretty expensive. But that doesn't mean you shouldn't be thinking about buying this bag.
Though it's pricey, this high-end men's duffel bag is totally an investment buy. What's the point of spending $150 on any old bag that may not last you, meaning you'll have to replace it at some point when you can spend a bit more and get something that genuinely will last – almost forever?
Made out of Veg Tan Leather, the vintage style of this fittingly rugged duffel has a pre-washed look. The exterior of the bag features buckled pockets on the front, whilst the reverse has a zipped pocket for documents and a sleeve, meaning you can use slip it easily over the handles of a wheeled suitcase.
One of the things we like about this bag the most, aside from the quality, is the fact that it can be fully opened for great access to all your clothes and other items. Always handy.
#8 – Best Men's Leather Duffel Bag for International Travel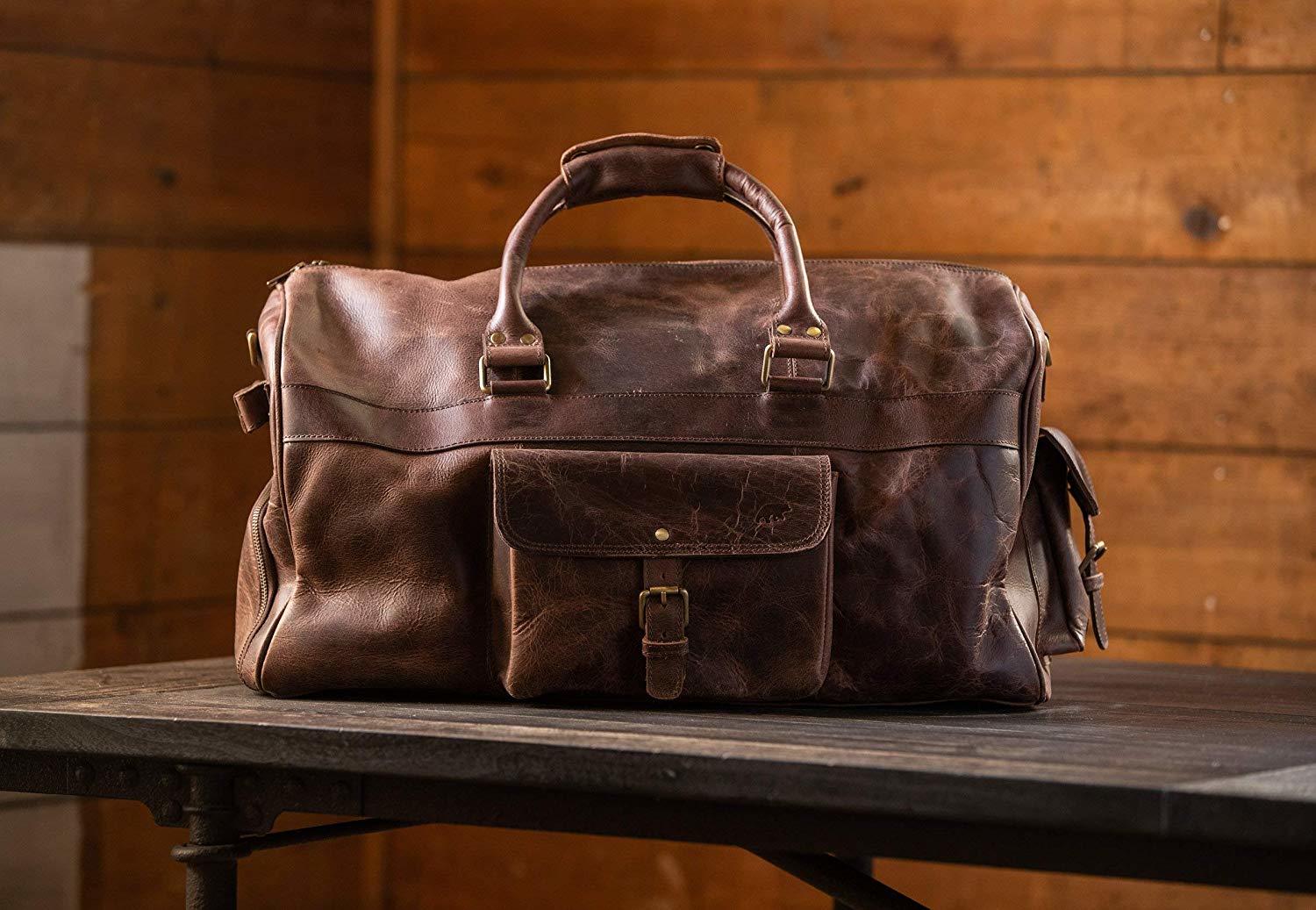 Another leather offering from Kodiak, the 60 litre Weekender provides – as you can tell from its capacity – a whole load of room for you to pack a whole load of stuff. This makes it the perfect leather duffel bag for international travel, designed specifically for everything from weekend to longer getaways.
In the main compartment of the Weekender, you'll find a zip pocket, pen holders, card slots, and a pocket for a book (or whatever you feel like using it for); there's also a separate shoe compartment, which is always a bonus. On the exterior of this bag, there are two latched pockets, good for loose ends and accessories.
Crafted from 100% top grain buffalo leather, the Kodiak Weekender 60L should age pretty nicely over the years as you use it. Again, as is the case with most leather duffel bags, this is something you invest in and keep for the long term. Then again, there's also a lifetime warranty, should anything go wrong.
The straps and general construction are strong, sturdy and solidly made, showing off the high-quality craftsmanship of this bag. It also comes in two colours: dark walnut and antique brown, both of which are rustic enough for a cabin break, yet smart enough for the city.
#9 – Best Men's Leather Duffel Bag for Carry-on Travel
The same bag as above, but half the size, is how you might be thinking about the Kodiak Weekender 30L. But there are actually a few differences to note here.
Firstly, it's carry on approved! This makes for the ultimate in airport convenience: no check in luggage, no waiting at the baggage claim, no more lost luggage. It's easily the best men's leather duffel bag for carry-on travel making it an all round great leather travel bag.
When it comes to the look of the bag, unlike the 60 litre version, this smaller Kodiak Weekender doesn't have any buckled pockets on the outside. However, it does have two zippered exterior pockets, which make for a good place to stash paperwork and passports.
Inside the bag, there's one zipped compartment, as well as a phone holder, a card pocket, and those pen holders again, too.
The look of the bag, more compact than its larger sibling, means that it's easier to get around cities – on packed public transport, for example – and it also comes with a handy leather address tag, too.
To be honest, the size of this bag – though you won't be packing it with as much stuff as the 60 litre version – means that you will be able to use it more practically as an everyday bag as well as on trips.
#10 – Best Men's Leather Duffel Bag for Business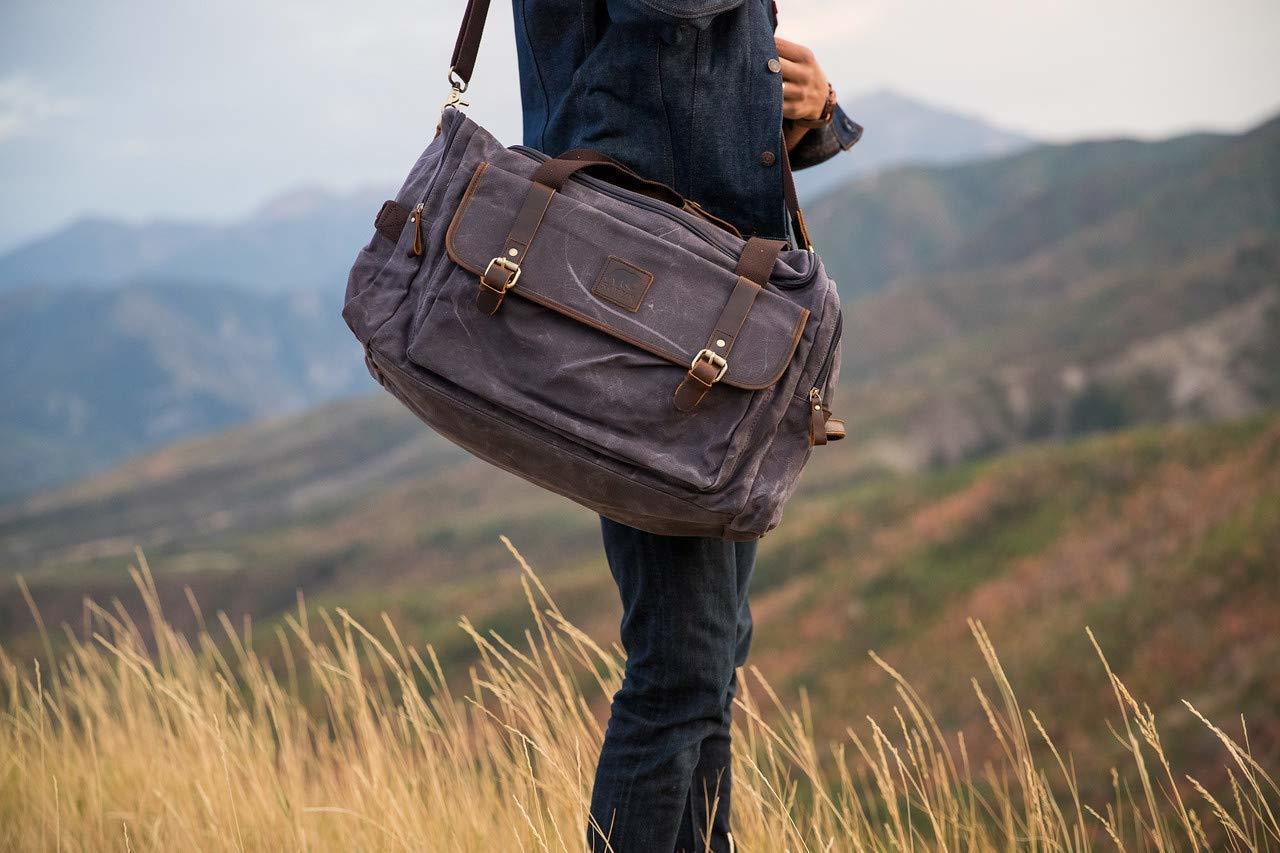 Yet another choice from leather top-dogs Kodiak Leather Co., the Denali Canvas 25L measures up at 25 litres, making for a compact alternative to some of the companies other offerings. Constructed primarily of canvas, this awesome duffel bag for business has a more versatile look to it than the rustic vibes of its all-leather brethren.
The Kodiak Denali Canvas 25L is made of waxed canvas, along with buffalo leather detailing, meaning that it's not only waterproof but also pretty durable, too. It's built to last, basically.
Coming in a choice of either grey or tan, depending on what palette your business attire tends to be, the fabric of the bag changes with age, becoming more textured – much like leather would do – adding to the unique character of this duffel bag.
Primed for businesses, inside this bag are multiple card pockets, pen pockets, a phone pocket, and a larger zip pocket. There's also a large, buckled exterior pocket on the outside of the bag for extra storage and style.
Though it's a business duffel, there's enough room in here for toiletries and clothing enough for an overnight stay – or maybe two nights away if you're a pro packer.
#11 – Best Non Leather Duffel for the Outdoors
Who said that bags for the great outdoors had to be technical hiking backpacks? Not Patagonia, obviously. Their Black Hole series (specifically, the 55 litre, which we're looking at now) is the perfect antidote to anyone uninterested in back mesh and neon colours.
Patagonia have instead created a cool range of colours for their Black Hole duffel, which feature the iconic "Patagonia" lettering, too. You can choose from colorways like deep plum, cobalt blue, and sage khaki.
Yes, this bag is not leather – it's constructed of recycled polyester ripstop, including a durable, water repellent finish.
The interior of the Patagonia Black Hole has a 55 litre capacity in the combination of the main compartment, smaller interior pockets, mesh pockets in the lid, and exterior zippered side pockets.
Though it's a duffel bag, it's actually possible to turn the thing into a backpack, depending on how you want to wear it; aesthetically, we'd always choose duffel, to be honest. Anyway, it's good for plane travel, train travel, automobile travel: whatever method gets you to the countryside or wilderness you were looking for.
Buyer Guide – How to Choose the Best Men's Leather Duffel Bag for You
As you can tell from our list of awesome leather duffel bags for men, there is a whole lot of choice out there. In some ways, this is less difficult than choosing a technical travel bag, but much more so in other ways: there are a whole load of factors to consider when you're choosing which leather duffel bag is going to be the one for you. This is made even more crucial given the expense and lifespan of leather products.
So, to help you out, we have decided to share with you a mini guide on the best way to choose the perfect leather duffel bag for you. From the fabric and the style to your budget and what you'll be using it for, there's a lot to consider, so let's have a look…
1. Look of the leather
You may think, "oh, leather's leather," but that couldn't be further from the truth. In fact, there are many different types of leather. For a start, it depends on which animal has been used to create said leather. This runs from buffalo to cow to goat and more, and each one is slightly different.
Then there's the overall quality of it: words like full-grain and top-grain may mean nothing to you, but for leather experts, this is common knowledge stuff, and something you should definitely think about researching further if you're looking to take the plunge and invest in a leather duffel bag.
After that, there's tanning – the way the animal hide has been washed, in effect. Some will be more creased and crinkled for a vintage effect, others will be smooth and supple for that brand new feel.
This means you can choose between something that already looks like it's from a vintage boutique, or if you want to create that wear and tear for yourself over the years – thus giving your bag a unique character, and something that'll be one of your go-to luggage items.
One point to note is that when you are buying a leather bag, especially online, it might not turn up the way it looks on the screen. Leather can change how it looks, depending on what piece is used, with many bags looking – except for the shape and general colour – completely unique from each other. Think of it like buying a tie-die shirt – every one is unique!
Other bags utilize leather just for design details, usually combining it with another hardy material like canvas. These bags are cool because they get a two tone, dual texture treatment, meaning they are perhaps a little more versatile than a full leather luggage item.
2. Size
Size is pretty important with any kind of bag, but with leather, size is perhaps even more important. How big a leather duffel bag is will affect its cost more drastically than with a nylon rucksack or other synthetic material.
It's important to pick the right size when it comes to leather because overpacking can be pretty detrimental to the structure of the bag. You don't want to stretch it out or pop a zipper, especially if you're buying an investment piece.
If you're the sort of person who mainly just uses a leather duffel for the gym, then you'll want something with enough room for bulky gear like towels and shoes. Then again, if you're just looking for a leather duffel for office use and business trips, then you won't need something huge.
The size will also affect the weight of the bag, so if you want something lightweight that won't hurt your shoulder when you carry it around, and you've got long trips to lug it around on, a smaller bag is probably a safer bet for you.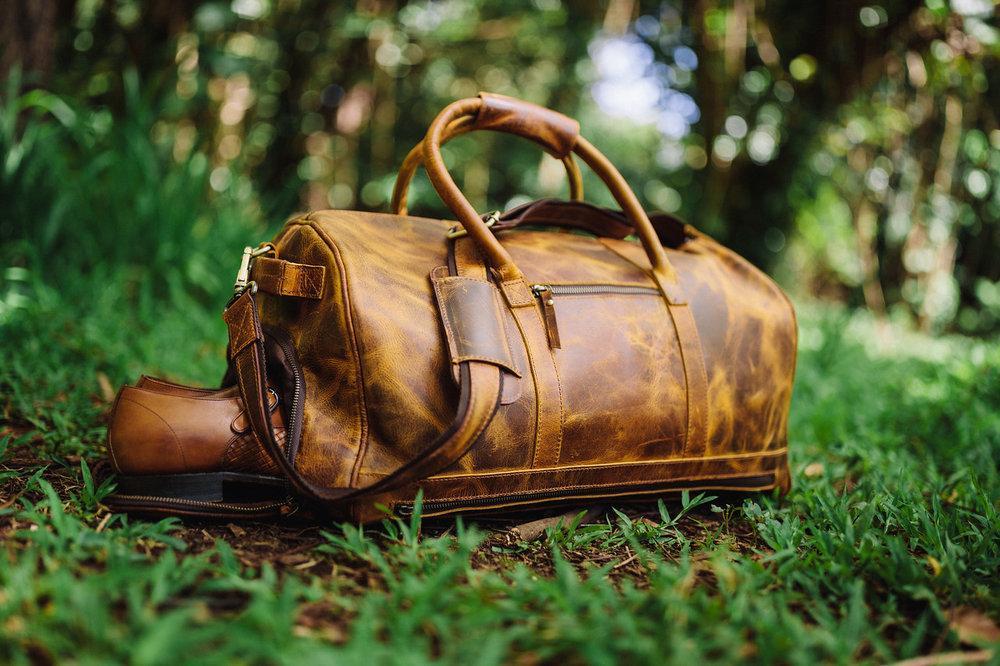 3. Travel Type
Are you somebody who wants to travel around on overnight buses? Are you somebody who wants to travel in your own car on a road trip? Or maybe you like to fly everywhere? These modes of transport will affect what kind of bag you get.
No doubt, if you're getting public transport everywhere, you probably won't want to get a super fancy leather duffel. Whereas, if you use your own transport or are catching a lot of flights, something a little more high-end is bound to suit you.
But it's not just about the mode of transport you use to get around. It's also about what sort of traveller you are.
Business travellers will probably want to opt for something a little less antique-looking, smarter, and with less rustic features like buckled external pockets.
Digital nomads will want something with features like easy access to laptops (or even having laptop storage in the first place), and organisational capabilities for their chargers and other cords.
Frequent weekend breakers, whether it's to a rural retreat or exploring a city, will want something that has space, that doesn't look overly smart, and which – all in all – is versatile and practical for potentially several days to a weeks worth of travel.
4. Organisation
Whilst you may be thinking of leather duffel bags for men as one-compartment pieces of luggage, there are actually a lot of different options for organisation that you may want to think about when choosing one that is right for you.
In the age of digital nomads that we're in, some companies have answered the call and created dedicated laptop (and tablet) sleeves in their leather duffel bags. This is super handy if you happen to be a world traveller who hops from city to city working, primarily at least, on your laptop.
Other interior organisational capabilities can mean the difference between being able to separate dirty from clean clothes, so make sure there is at least one, mid-sized internal space where you can keep clothes destined for the laundry. Some bags even offer dedicated shoe compartments: perfect for business people who need to go casual, or city folk who need to don hiking boots.
And, if you are a sucker for organisation (like us: we love us some pockets), then you will probably want to opt for a bag that has a whole load of compartmentalisation potential. Pen holders, zipper pockets (inside and out), elastic compartments, card holders, pockets for phones and interior slash pockets for documents… keep your eyes peeled for lists like this, which will no doubt tick a lot of boxes for you!
5. Design Details
Leather bags aren't always just leather bags. It's not as simple as a bit of material with a zip in the middle and two handles. There are a whole wealth of different design details that mean the difference between you saying yes, and you saying no, to any given bag.
Take the obvious one first: the mix of men's duffel bags of leather and canvas. For some people, this is a cool look, marrying two different textures for a more casual, breezy and altogether low-key vibe. Other people, however, may find this doesn't do it for them at all: when you say leather, you mean leather – all leather!
Smaller design details exist in things like buckles and zippers, too. Buckles can be brassy, silvery – whatever; if you're not a fan of anything like that, and feel it makes you look a little too much like an old-timey doctor, then you may want something a little more sleek and minimalist.
The way the surface of the leather is will affect how much you like the look of it, too. This is an important design detail, as it forms the basis for most of the bag. Is it crinkled? Antique looking? Smooth and new? Look closely at the leather duffel bag you're thinking of buying and think how the textures will match with any items of clothing you own. Something too steampunk might not cut it!
6. Price
This is basic, but it is essentially a given that you have to think about your budget. The question is: how much are willing to spend on a brand new leather bag that may last you for many, many years?
Generally, the more "affordable" something is, the more likely it is that it might not be as long term as you were hoping it to be. Obviously, that's not always true, but sometimes when it comes to things that seem to be easy on the wallet, it's sometimes good to be true. Having to replace a leather bag multiple times may end up costing more than the more expensive bag that you wanted in the first place…
Think about this: if you always wanted a leather duffel bag, and you really like the idea of having something that will pick up personalised wear and tear as you use it over the years, then you may want to take the plunge and invest in something that'll last.
If a leather bag is something that you want, but won't use be using a whole lot (maybe you don't get to travel as much as you'd like), then maybe you should curb on the spending and opt for something that's more affordable.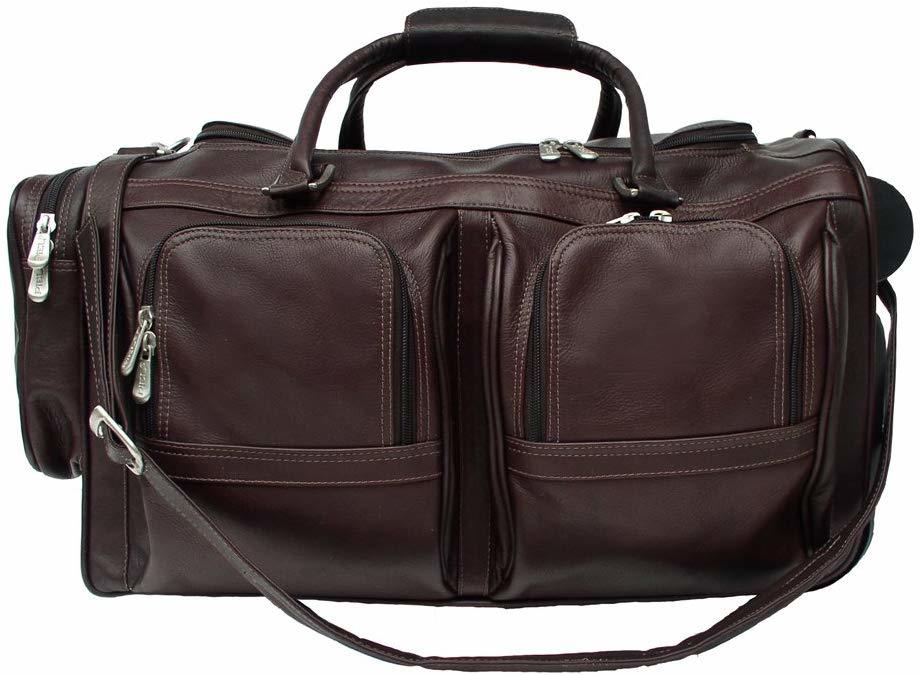 7. Durability
Though leather, in general, is a pretty durable material – and, in duffel bag form, can actually end up lasting you a fair few years  – there are still some things to look out for when you're purchasing a bag. Price, as you've already read, is one of those.
Another thing you might want to be on the lookout for when considering the durability of a leather duffel bag is the type of leather it's made out of in the first place. Some animal hides will be tougher than others (buffalo more so than goat, for example), so as with all important purchases, it's important to do your research; similarly, tanning and treatment methods can affect a bag.
Other things are more details than durability, but still come into play: is there canvas involved, if so is it waxed? Are the zippers YKK?
Companies also may offer things to help you keep your newly purchased leather duffel bag in as good a condition as possible. Some come with leather care kits, complete with creams to massage (yes, really) into the leather itself, which is a good thing to have if you get an unwanted bit of wear and tear on your bag – a long, ugly scratch for example. Having this bundled into your purchase is great.
Another thing the companies offer: lifetime guarantees. Whilst not technically a measure of how durable a bag is, a company with a great guarantee will enable you to send your bag off should any design flaws pop up. Though unlikely, it's a good thing to have, just in case, so you may want to consider using a company with a good guarantee on offer.
8. Carry-on Capabilities
Last but not least: being able to take your leather duffel bag on a plane. Whilst many smaller bags, which you may use as secondary carry on or hand luggage, will be fine to take on most if not all planes, some larger bags may not always be allowed on.
It's important to check to ensure that, if you want a bag that will help you achieve your dreams of one bag travel, that the leather duffel you're looking at is carry on compatible.
Having a bag that you can simply take on the plane with you takes away many of the headaches that a lot of people associate with air travel. There's the lines to check in your baggage: unnecessary if you've already checked in online and have carry on baggage. Then there's the waiting around at the baggage carousel when you arrive – again, not something you'll be worrying about with carry on.
Finally, losing your luggage due to incompetent airlines or quick transfers is just something that won't happen if you have your own luggage with you at all times. If any of this sounds at all good to you, get a leather duffel bag that's carry on compatible!
Best Men's Leather Duffel Bag

| Name | Capacity (Litres) | Dimensions (CM) | Weight (KG) | Price (USD) |
| --- | --- | --- | --- | --- |
| Kodiak Leather Denali | 45 | 53.34 x 30.48 x 27.94 | 2.15 | 479 |
| Kodiak Augustine Duffel | 50 | 60.96 x 30.48 x 30.48 | 1.33 | 250 |
| Holssen Genuine Leather Travel Sport Weekender Bag | – | 40.64 x 22.86 x 22.86 | 1.40 | – |
| Jackson Wayne Cabin Weekender | – | 40.64 x 22.86 x 25.4 | 1.18 | 64.99 |
| The Classic Duffle by Mahi | – | 53 x 28 x 28 | – | 170.50 |
| Piel Leather Duffel with Wheels | – | 50.8 x 27.94 x 27.94 | 3.06 | 375.15 |
| Harber London Leather Weekend Bag | 26.4 | 24 x 22 x 50 | – | 1159 |
| Kodiak Weekender | 60 | 59.69 x 30.48 x 30.48 | – | 499 |
| Kodiak Weekender | 30 | 50.8 x 25.4 x 27.94 | 2.04 | 349 |
| Kodiak Denali Canvas | 25 | 49.53 x 31.75 x 30.48 | 1.05 | 145 |
| Patagonia Black Hole 55 | 55 | 67.82 x 39.88 x 29.97 | 1.17 | 169 |
FAQ about the Best Men's Leather Duffel Bag
Still have some questions? No problem! We've listed and answered the most commonly asked questions below. Here's what people usually want to know:

Unlock the The Broke Backpacker's GREATEST Travel Secrets!
You pop your email here, and we promise to send you only travel content that's actually relevant — sounds like a pretty good deal to us!
Final Thoughts on the Best Men's Leather Duffel Bag
Whatever your reason, now is when you've decided to take the plunge and go for a cool leather duffel bag. Good choice, we say – and because we think it's such a good choice, we gave you a whole load of options to think about in our guide.
No matter if you're someone who wants something for a weekend break, everyday use in the city, or even if you want something for business, you will find something on our list that suits you.
For the overall best leather duffel bag, the Kodiak Leather Denali 45L can pretty much do everything that you want it to do: it's stylish, it's got plenty of room, it doesn't look too casual, but it also doesn't look too smart. A great all-rounder.
However, if you're thinking that an all leather bag just isn't your style, then the mainly canvas Jackson Wayne Cabin Weekender is a cool, rustic choice with leather detailing – one of our favourites.
Know of some leather duffel bags we've totally slept on? Tell us in the comments!
---
Bye for now, but not forever!
If you want MORE top-tier Broke Backpacker content like this, then sign up for our weekly newsletter below to get the latest and greatest!
And for transparency's sake, please know that some of the links in our content are affiliate links. That means that if you book your accommodation, buy your gear, or sort your insurance through our link, we earn a small commission (at no extra cost to you). That said, we only link to the gear we trust and never recommend services we don't believe are up to scratch. Again, thank you!