To keep your clothes fresh as your look, you can't do much better than the right leather weekender bag. Leather helps keep everything wrinkle clean and effortlessly boosts any style.
The duffel style of these bags will feel different than a backpack and reflect a more reformed palette. So look away from backpacks for your next weekend getaway, and let the proper duffel empowered by leather get the job done.
Loads of weekend bags promise the world only to snap before you even make it through security.
To guarantee your next pack will be durable and classy, choose leather. Synthetic materials have gone a long way, but there is nothing that lasts longer than genuine leather.
This durability means that the next leather bag you buy could be your last, so it's essential to choose wisely. Leather has loads of quirky qualities, and no two styles will feel the same. Your bag will shift and mold with use, so you should buy with the next five years in mind instead of the following five weekends.
To steer you in the right direction, we've compiled a list of the best leather weekend bags on the market. We thought about various travel styles, budgets, and looks to rank the bags below.
All the bags on this list store enough to get you through a three-day weekend in style yet are still small enough to carry on.
Our favorite bags will put you well on your way to finding the leather that best suits you and best protects your suit.
Psst, if you decide a duffel isn't quite right, then we have also reviewed loads of amazing leather backpacks.
Quick Answers – What Are The Best Leather Weekender Bags?
Best Overall Leather Bag
Best Overall Leather Bag
The Weekender Duffle
> $299
> Durable straps
> Lightweight and stylish leather bag
Best Expensive Bag
Best Expensive Bag
Weekend Bag by Harber London
> $1249
> Made with quality materials and handcrafted functionality
> Large exterior pockets
Best Full Grain Leather Bag
Most Affordable Leather Bag
Most Affordable Leather Bag
Aramada Duffle Bag
> $199
> Lightweight and affordable leather bag
> Six separate pockets
Ladies & Gents, It's Time to Step Your GEAR Game Up. 😉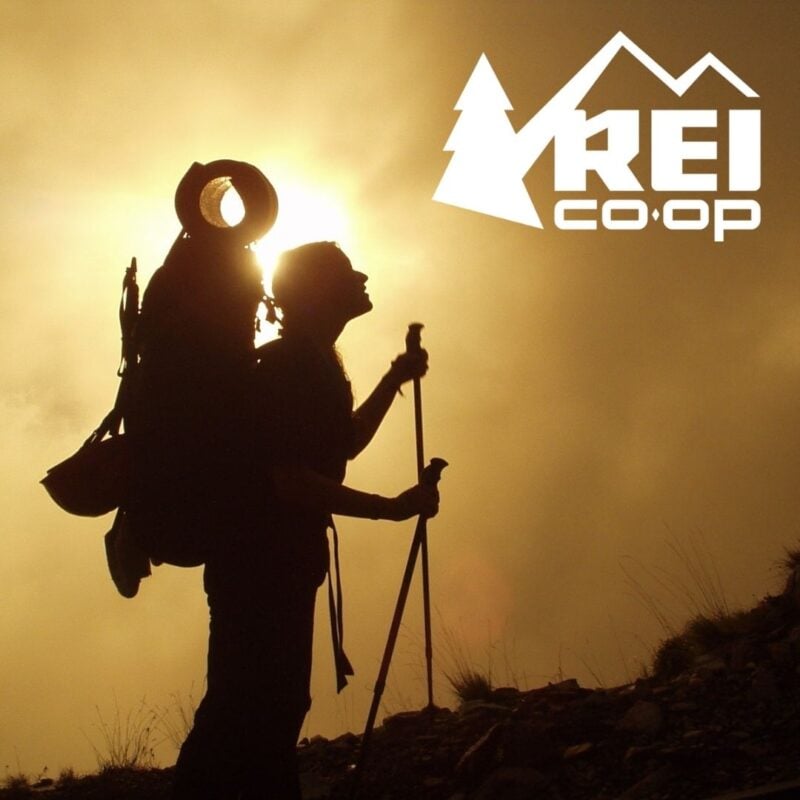 REI is one of America's biggest and most-loved outdoor gear retailers.
Now, for just $30, get a lifetime membership that entitles you to 10% OFF on most items, access to their trade-in scheme and discount rentals.
Join REI Today!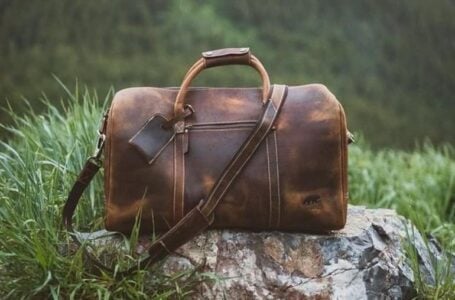 The Weekender by Kodiak is our top pick
Specs
 W77cm (top) x H37cm x D30cm
30 Liters
$299
Mahi Leather is the company to beat in the leather bag market. Until someone steps up big time, their bags offer up unbeatable craftsmanship, durability, and quality in materials across the board.
This lovely travel leather bag is the flagship duffel for a proven company, and its clean appearance and durable straps have earned it the highest place on our list. The bag can be carried with handles or a shoulder strap, and brass hardware ensures you can walk with confidence no matter how you hold it.
You won't lose anything inside the bag, thanks to the zip and phone pocket. You can pack everything you need this weekend in this lightweight and stylish leather bag that checks off all the boxes.
Our testers just fell in love with this bag and felt above all else the craftsmanship of this bag is second to none. They noted how heavy-duty and smooth the zippers were, how soft but durable the leather felt and just the overall quality feel of the product.
Our pick for best large leather bag is the Weekender Duffel
Specs
24 x 22 x 50 cm / 9.4 x 8.6 x 19.6
60 Liters
$1300
Made with quality materials and handcrafted functionality, this bag has several large exterior pockets that let you better organize your luggage.
The bag isn't cheap, but its large size and efficient carrying options allow you to do more. If you're only going to have one bag for all your adventures, this leather bag could be the one.
Our testers were blown away by the quality and style of this bag. It really felt offered some of the highest levels of quality and craftsmanship in a bag they've ever seen. They loved that it came in two colourways, making it stand out from many of the other choices on this list. The bags felt super smart and perfect for those wanting something functional yet classy for things like business trips or those wanting to take their gym gear to the office whilst looking slick.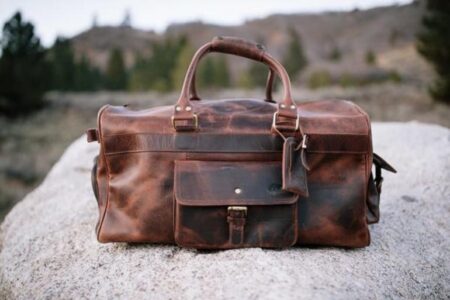 Meet the best women's weekend bag: Women's 60l Weekender Duffel
Specs
W54cm x H33cm x D22cm
45 Liters
$449
This tried and tested weekend bag takes on a weight-friendly reverse triangle shape to take some of the pressure off your shoulders. In addition, the lightweight bag can be held by hand or with included leather shoulder straps. Each option has reinforced protection to ensure nothing snaps while you're on the go.
Security checkpoints are more accessible thanks to a sidewall pocket that fits a phone and passport. The light brown shading of the exterior includes reinforced shoulder straps that make the bag shine.
Whilst you could say it's a unisex bag, Kodiak does market this as a women's leather bag. Our team actually remarked that they felt that for the great capacity and functionality of the bag, its shape and design also made it feel feminine and not unwieldy to carry around.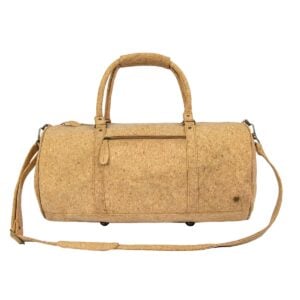 Specs
20" X 10" X 11"
30 Liters
$329
The vegan-friendly cork brings a unique feel to this one-of-a-kind bag. The all-natural cork means that no two bags will take on the exact same texture and color, so you can saddle up in style.
Since it fits every look, this bag can go beyond the weekends. You may buy it for a trip or two, but you'll find yourself using the Yukon any chance you can get.
This bag's artistry guarantees it can work as an everyday pack, a commuter bag or a weekender bag for years to come.
Our team were pretty interested to give this bag a go and really feel what the materials felt like and performed in practical use. They just loved that there were vegan options when it came to leather-style bags offering similar levels of style and function. They were super impressed by how smooth, rugged and durable the cork felt. They also loved the addition of the brass "feet" on the bottom of the bag adding extra confidence in its longevity.

Do You Want to Travel FOREVER??
Pop your email in below to get a FREE copy of 'How to Travel the World on $10 a Day!'.
LIMITED EDITION – Yukon 60L Weekender Duffel is our pick for best expensive bag
Specs
23.5" X 12" X 12"
60 Liters
$449
Big and full-grain, you won't leave anything behind if you're packing this heat. Of course, the full-grain cow leather makes the bag stand out in the crowd, but that's okay – the exterior buckle pockets use magnetic latches to help against pickpockets.
Shades range from dark grey to caramel brown. The leather is natural, all the way down to the coloring, so the exact shade of each bag is slightly different.
This bag has enough extra pockets and zippers that make it perfect for travelers who need to haul around a lot of equipment. The bag proves that staying organized starts with looking good.
Our team loved the size of this bag and felt it represented a good mid-ground for those needing to take a little more on their trip without the pack getting too heavy. Another feature they felt made this a stand-out bag was the addition of the exterior buckle pocket. It meant they could easily keep things like headphones or notepads to hand without having to go into the main compartment.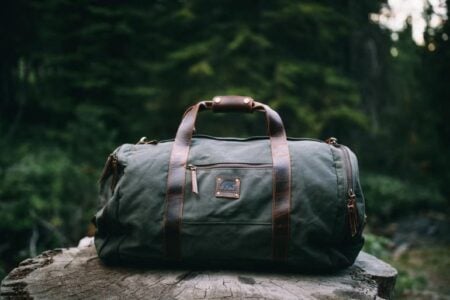 Our pick for best storage capacity is 80L Iliamna Canvas Duffel
Specs
24" X 15" X 14"
80 Liters
$249
The granddaddy of them all, this big bag looks, feels, and lifts more like a traditional duffel bag. The wide cylindrical capacity allows for unparalleled storage in such a small package, and there's even an exterior zipper pocket for the valuables.
This bag will let you roll straight to the gym from work or from the plane, as the look is complemented by top-grain leather in the side handles.
Canvas material works with buffalo leather to create the bag's primary material. Filled up, 80 liters of anything starts to get heavy. Kodiak used canvas to ensure that a bag this large is still lightweight.
Our team felt this bag really worked well as a larger duffel for those needing to carry extra gear on their weekend trips. The design of the tough but light material, comfortable straps and clever design meant the weight was well distributed and still felt manageable. They also loved the organisational features like the large zippered pocket on the back wall of the bag.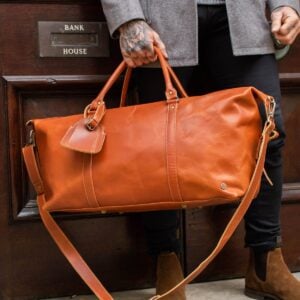 Meet the most affordable leather bag: Armada Leather by Mahi
Specs
23" X 12" X 12"
35 Liters
$199
Neil Young's favorite crazy horse leather teams up with canvas to create a lightweight and affordable leather bag ready to roll by the weekend. Six separate pockets across the inside and outside linings of the bag keep your valuables close by, and magnetic buttons keep everything closed.
While not top-notch leather, this bag looks the part and has enough flashy additions to be worth a second thought.
Not everyone needs full-grain cow leather. If you want a simple bag that will fit gym clothes, a laptop, and enough entertainment for the weekend, you don't need anything more than this.
Our team of testers loved this simple but stylish offering that makes leather luggage affordable for anyone. For the price, they were super impressed by the feel of the material and the quality of the craftsmanship. They also loved the addition of an internal phone pocket to keep things organised and safe.
Jackson Wayne Cabin Weekender is one of the best for city breaks
Specs
16" X 9" X 12"
N/A Liters
$49
With a bag, this iconic, all that your next weekend in the woods will be missing is the horse. Jackson Wayne brings a real urban cowboy feel to the duffel while tacking on modern conveniences behind every nook and cranny.
If you can get past the goat leather, the bag will be a valuable companion. Three separate large pockets keep the dirty laundry out of the way, and a combination of straps allows you to carry the bag any way you see fit.
Goat leather isn't as tough as the real deal, but if you don't have too much to ask of your bag, you won't feel the difference. In fact, the team felt they couldn't really see all that much difference until they were told! They also loved how compact and elegant the bag felt to carry around and it was for this reason, it stood out as a great city bag. Jumping on and off public transport was super easy and the external pocked great for grabbing things like transport passes on the go.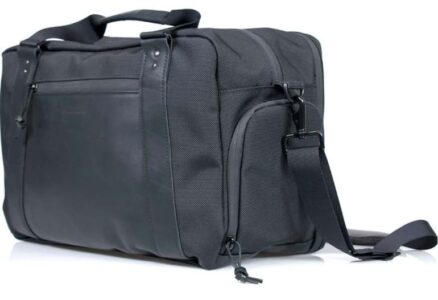 Atlas Executive Athletic Holdall is our pick for most stylish leather bag
Specs
16" X 8" X 10"
24 Liters
$429
Take a seat at the head of the table with the Atlas Executive, an all-performance hybrid leather bag. Holdall functions as a briefcase, gym bag, and weekender in one slim and lightweight package, and full-grain leather accents give it a stylish flourish.
If you plan on going away on business frequently, it's worth investing in the best luggage. To ensure everything you deem necessary enough to carry with you gets there safely, the bag has two separate padded compartments.
The entire bag was hand-sewn in the USA. Pair up your next trip with this stylish leather bag to make a statement before you ever open your mouth.
Our testers picked this out as the most stylish bag partially for the colour and compact profile of the bag. They felt it had a real classy and elegant feel to it whilst at the same time performing well in a variety of different circumstances. They felt the material made it durable for everyday use like heading to the gym and going to meetings as well as for weekend trips. Above all else, the all-black design made it look super slick!
The best present of all… is CONVENIENCE!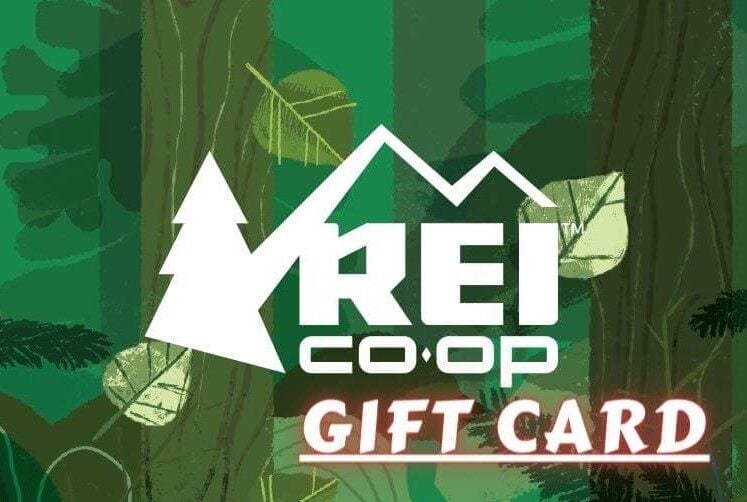 Now, you could spend a fat chunk of $$$ on the WRONG present for someone. Wrong size hiking boots, wrong fit backpack, wrong shape sleeping bag… As any adventurer will tell you, gear is a personal choice.
So give the adventurer in your life the gift of convenience: buy them an REI Co-op gift card! REI is The Broke Backpacker's retailer of choice for ALL things outdoors, and an REI gift card is the perfect present you can buy from them. And then you won't have to keep the receipt. 😉
Buy on REI!
Leather Weekender Bag

| Name | Capacity (Litres) | Dimensions (CM) | Weight (KG) | Price (USD) |
| --- | --- | --- | --- | --- |
| Kodiak Leather Weekender | 30 | 77 x 37 x 30 | 1.81 | 299 |
| Leather Weekend Bag by Harber London | 60 | 24 x 22 x 50 | – | 1300 |
| Womens Weekender by Kodiak | 45 | 54 x 33 x 22 | – | 449 |
| The Classic Cork Duffel | 30 | 50.8 x 25.4 x 27.94 | – | 329 |
| LIMITED EDITION – Yukon Weekender Duffel | 60 | 59.69 x 30.48 x 30.48 | – | 449 |
| Iliamna Canvas Duffel | 80 | 60.96 x 38.1 x 35.56 | – | 249 |
| The Mahi Leather Armada Duffel | 35 | 58.42 x 30.48 x 30.48 | – | 199 |
| Jackson Wayne Cabin Weekender | N/A | 40.64 x 22.86 x 30.48 | 1.18 | 49 |
| Atlas Executive Athletic Holdall | 24 | 40.64 x 20.32 x 25.4 | – | 429 |
How and Where We Tested To Find The Best Leather Weekender Bag
To test these packs, we got hold of each of them and took them out for a test spin over a decent period of time, various members of our team took these different leather bags on various trips to put them well and truly through their paces.
Packability
When we were assessing the best leather weekend bags the main area we looked at first was packability. Of course, when it comes to a weekend bag we've judged it a little differently to say a hiking pack. But either way, all bags need to be good at well, carrying stuff!
We looked at whether these bags maximised space and facilitated effective packing. We did this by simply packing and unpacking what we would take on a weekend trip. We also looked at how easy it then was to access your stuff once packed.
Weight and Comfort of Carrying
No one enjoys a heavy pack with straps that dig into your shoulders! A weekend bag fits a particular niche where you're not carrying a huge amount, but at the same time, you're gonna have it on your back/ shoulders a lot over a few days.
With this in mind, we've awarded more points to those bags that minimise weight, distribute that weight well as well as maximising comfort.
Functionality
Simply put, in order to test out our packs for their primary purpose… carrying your gear, well, we did just that! But specifically for this post, we packed these bags for a weekend trip. We looked at how much gear we'd need and whether these bags passed the Ryanair carry-on test too!
Aesthetics
When it comes to choosing a leather bag, well, aesthetics are a big factor let's be honest! Of course, functionality is the most important feature of any bag, but why not do it whilst looking like a sexy mofo! When it came to judging these leather bags vs some of the other packs on our other list, I'll openly admit that we've been a little harsher here when it comes to looks!
Durability and Weatherproofing
One of the standout features of using leather as a material for making bags is just how durable and weather-resistant it is. So when it came to this criteria, we really gave these bags a proper test run.
We did this not only by trying out the bags in practice, but we inspected areas like the quality of the zippers and how smooth they were, the grain, softness and thickness of the leather as well as seams sewing and pressure points likely to break. We also went ahead and poured a litre of water over them too to see how they held up and how they performed when it came to keeping our gear dry.
FAQ about the Best Leather Weekender Bag
Still have some questions? No problem! We've listed and answered the most commonly asked questions below. Here's what people usually want to know:

Our GREATEST Travel Secrets…
Pop your email here & get the original Broke Backpacker Bible for FREE.
Final Thoughts
Bringing a rough, sophisticated look into play, all of these bags feel as old as time. Technology has had hundreds of years to develop better options, and there is still no more iconic material than old-fashioned full-grain leather.
As a day bag or for a weekend trip, you'll find your next piece of luggage somewhere on this list. These bags can do anything you'd need out of your accessories – they're tough, stylish, and efficient.
You can't go wrong picking the all-rounder package of the 30L Weekender Duffel, but if you want to take it up a notch, the LImited Edition Yukon 60L will give you a bag that has no equal.
If you don't want to invest a significant chunk of change in your weekender, the Jackson Wayne is a nice compromise.
The best bag for your needs comes down to personal choice. There are bags for every budget and every purpose because there are no two paths that are the same. Have an idea of where you want to take your bag before you decide which leather weekender is right for you, and let us know which bags we missed in the comments.
---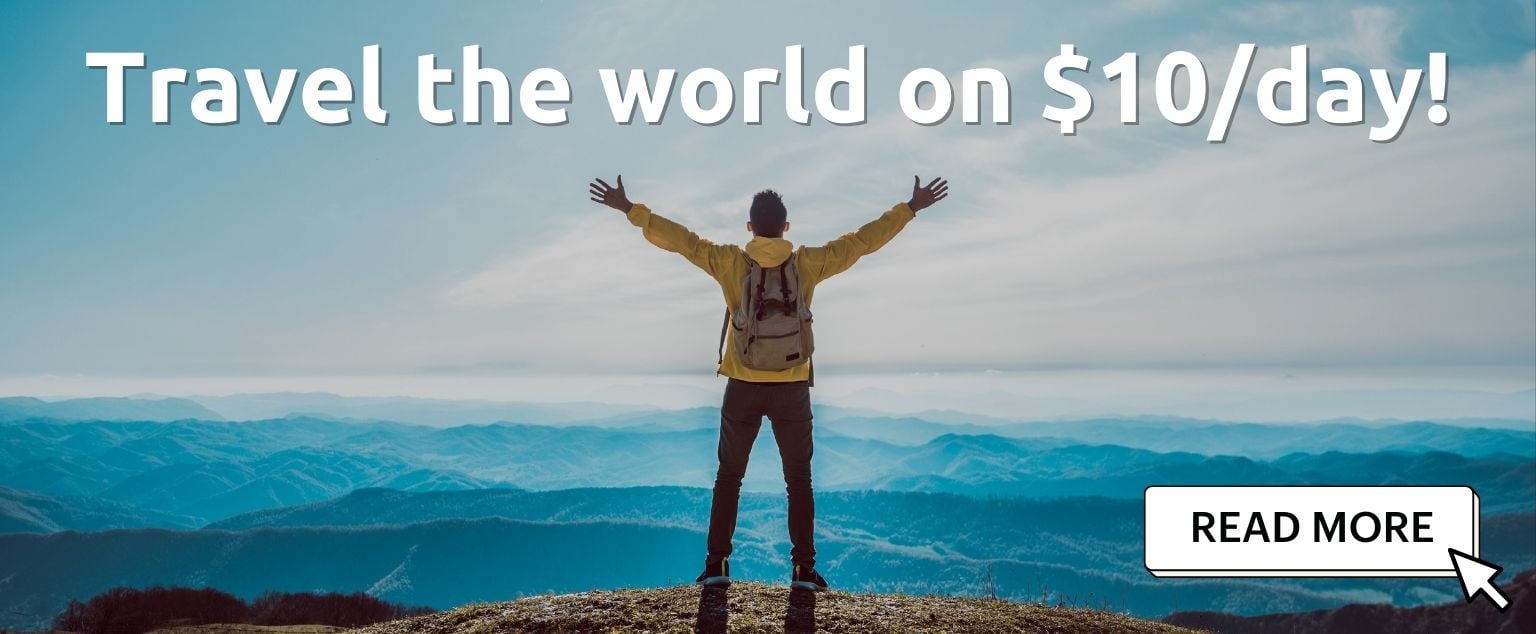 And for transparency's sake, please know that some of the links in our content are affiliate links. That means that if you book your accommodation, buy your gear, or sort your insurance through our link, we earn a small commission (at no extra cost to you). That said, we only link to the gear we trust and never recommend services we don't believe are up to scratch. Again, thank you!