When it comes time for bag buying, there should be no half measures. Synthetic materials may get the job done, but there's nothing quite like leather. It fits in just as well on top of a mountain as it does on the 60th-floor corner office, and its durability is unmatched.
Your next leather bag should last you decades, so you need to be very careful when choosing which bag is up to the challenge. Many bags promise to carry your loads, but only a few can truly take a load off.
Leather may not be the cheapest material out there, but the difference between high quality and low-quality goods makes a world of difference. Only the best leather bags get everything right.
Your leather bag should take care of the details, with reinforcements and extra stitchings in all right places. It'll have to provide the right amount of organization options, whether that's through more exterior pockets or separate compartments for everything.
And of course, it has to shine no matter what it's being paired with.
That's a lot to ask for out of one pack. To make the perfect tote easier to find, we've put together a list of leather bags up to the challenge.
Don't bag a pretender. We did the extra research and went the extra mile to put together this leather bag guidebook. Whether you need something for daily use, travel, or commuting, you'll find the best leather bag for your lifestyle below.
Quick answers – Best Women's Leather Bags
Best Women's Leather Daypack
Best Women's Leather Daypack
Katmai Diaper Bag
> $$
> Top-grain cowhide finish
> Everyday use
Best Women's Leather Weekend Bag
Best Women's Leather Weekend Bag
Womens Weekender Duffle
> $$
> Two different carrying handles
> Leather straps reinforced from top to bottom
Best Women's Leather Camera Bag
Best Women's Leather Camera Bag
Kodiak Cordova
> $$
> Lightweight
> Made out of top-grain leather
Best Women's Leather Airport Bag
Best Women's Leather Vegan Bag
Best Women's Leather Carry on Bag
Womens Dressed Up Leather Backpack
Womens Dressed Up Leather Backpack
Mahi Roma Backpack
> $$
> Full Grain Ebony Leather
> Fits a 13 MacBook Air
Cheap Women's Leather Look Bag
Cheap Women's Leather Look Bag
Montana West Large Leather Tote
> $
> Made of faux leather
> Two anti-theft zippers and a double reinforced central compartment
The Best Leather Bags For Women
Business Women, travelers, and average Johanna's across the country are dialing up the tanneries. Some come searching for a classy look, others for durable multi-purpose totes.
No matter what brought you here, bear with us and grab a notepad while we check out some bags that excel at a particular niche and provide utility across the board.
We scored our bags based on what they did best, but all of our bags are comfortable being multifunctional, and all of them fit as carry-on luggage.
#1 – Best Women's Leather Daypack – Katmai Diaper Bag
Kodiak Leather is the first name in modern leather, so it should be no surprise to see their day pack on top of our list. What is a surprise, however, is the multifunctionality of this surprising leather bag.
Katmai resembles a typical nylon adventure backpack in many ways, except with a top-grain cowhide finish. Two water bottle pockets and three exterior pockets will let you take this bag to work, on a hike, or into the subway.
Kodiak builds their bag with 100% leather, all the way down to the carrying handles. They combine this with brass connection parts that will hold the pack together for decades. You won't find many bags like this one, a modern blend of style and convenience.
While I wish the bag was a bit bigger to accommodate longer trips, there's plenty to love about this bonafide leather day backpack.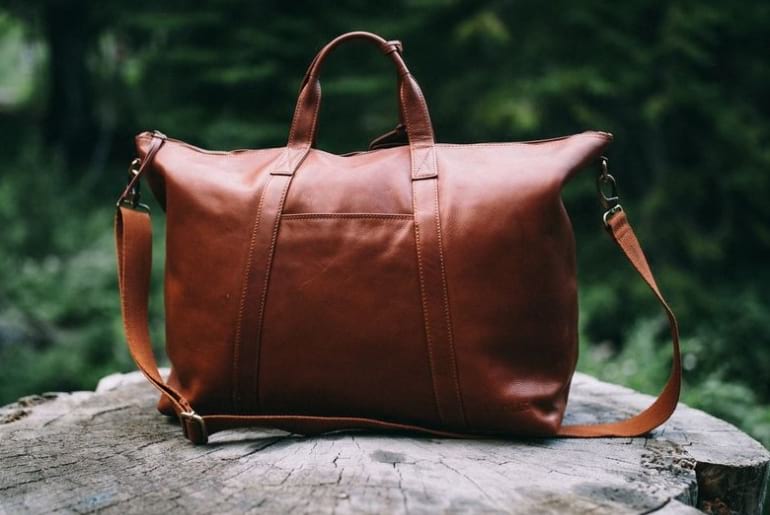 Now, unlike the Katmai, this thing will carry some serious weight.
If you're shopping for something to take on longer trips, you can fit everything you need for the weekend in style. Two different carrying handles and leather straps reinforced from top to bottom means you can fill the bag without feeling the burn.
It fits into your carry-on compartment while still allowing you to store plenty of snacks and a jumper for your next long flight, and the top to bottom long length of this bag will help it from looking overstuffed.
It may look classy, but it's nothing short of formidable.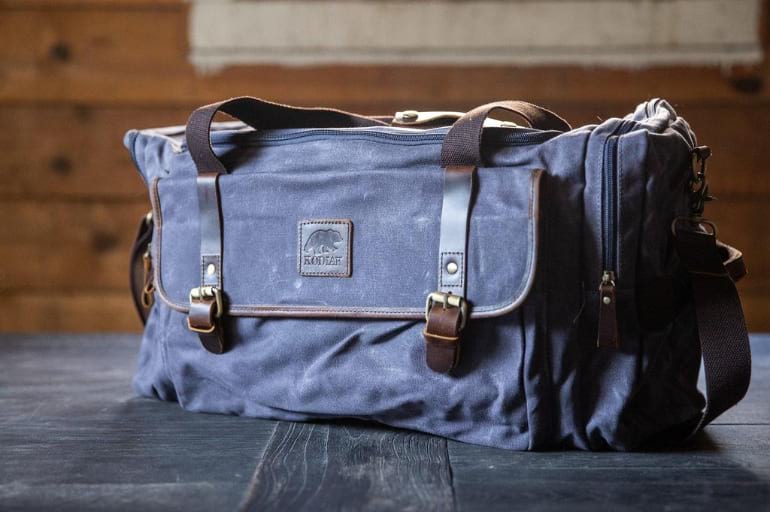 While every bag is unisex if you believe in yourself, this Denali Canvas can walk down all aisles. Because it works for everyone, the bag throws in something for every style to work as a great all-around bag.
It can be a gym bag that looks good in the office (and business bags are hard to find), fit snugly on the back of a bicycle, or hang loosely over one shoulder during the ascent.
I love the side pockets on this duffel bag because they both come with a protective zipper pocket. The larger compartment in the middle is kept secure with magnetic brass buckles.
This bag may not be made entirely out of leather, but it comes from the mind of Kodiak, so they were sure to fill in details and handles with genuine leather to ensure this bag won't break down no matter the task.
#4 – Best Women's Leather Camera Bag – Cordova Messenger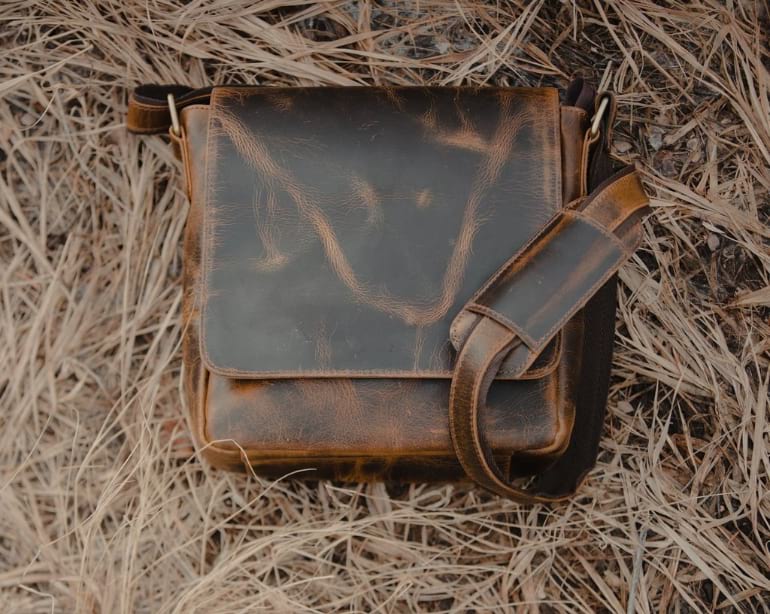 You're not supposed to shoot the messenger, but you will get a few shots, thanks to the perks packed into this messenger bag. It's incredibly lightweight and trim for a bag made out of top-grain water buffalo leather, which helps you take it wherever nature calls.
I've always found that my favorite pictures are the ones taken on the way to wherever I planned on shooting, so it's always a good idea to have the camera close.
Cordova made sure that will never be an issue by staying slim and still providing the storage space needed to carry along your equipment and a backup battery.
This bag isn't big enough to house an entire studio, but in a pinch, you'll be happy you remember to sling this bag over your shoulder.
#5 – Best Women's Leather Airport Bag – Leather Purse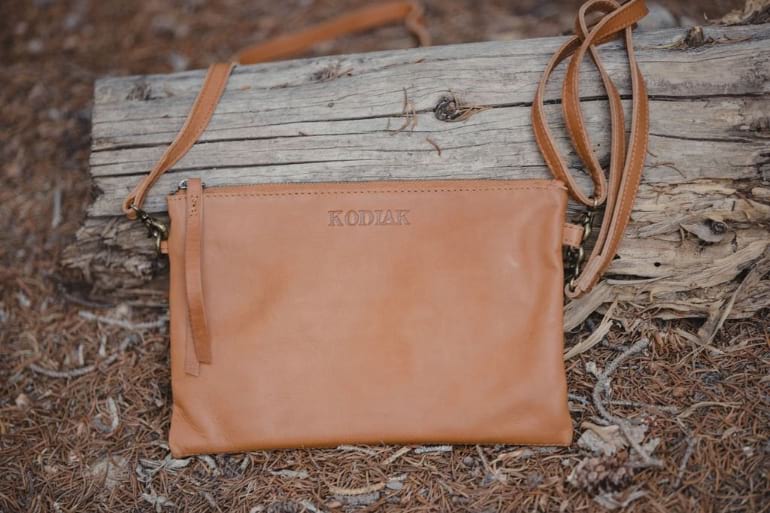 Leave your troubles with your checked bag and float through the airport with this leather purse. This purse works for daily use and traveling, thanks to its efficient features.
It's slim and durable, bound to get you through security in seconds. You can safely stow your wallet or money in the large central pocket and keep your passport and boarding pass in the easy access exterior zipper.
Like all of Kodiak's larger bags, the entire thing is nothing less than top-grain leather and brass hardware. There are four credit card holders and another interior zipper sealed pocket inside the main compartment to make sure nothing gets lost in the bottom.
Travel days will always be a little hectic, but this handy leather bag has everything you need to get through the day quickly and nothing you don't.
You can save a little money and save a few cows by opting for vegan leather. Kenneth Cole's affordable leather bag won't last as long as the real thing, but it will provide convenient features as long as it lasts.
A crisp black exterior clicks with every look and won't stand out in a crowd. Two carrying styles help you take a load off, but you can remove the shoulder strap on days you don't have much to pack.
The backside of the bag features easy loops that will help the bag easily attach to larger suitcases.
This bag won't save the world, but if you need something easy that can pack everything you need for an overnight trip, you can trust this reaction.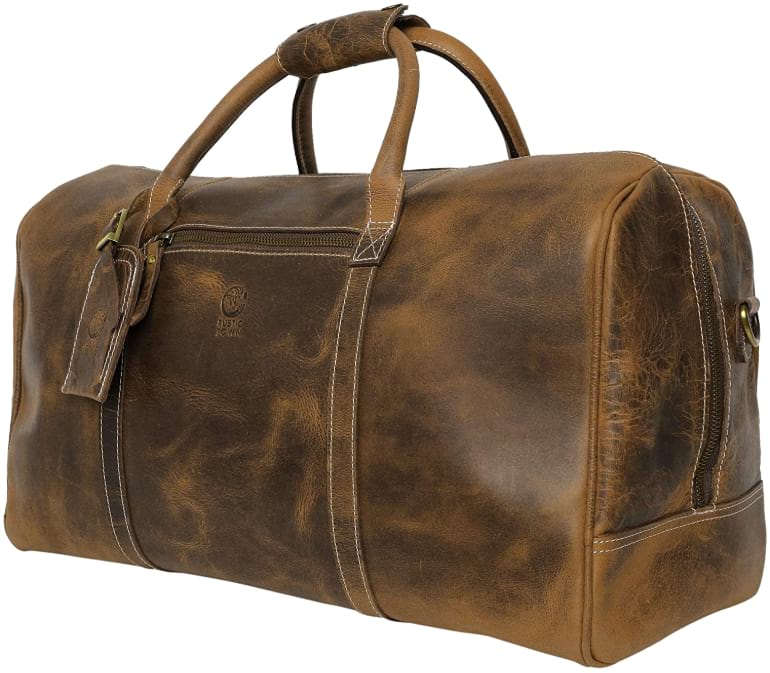 I haven't seen many more affordable genuine leather travel bags, especially not with style like this one. And it's Handmade !?
It almost sounds too good to be true, but the folks at Rustic Town Store have made an affordable leather bag that embodies the materials' hardworking history.
The sturdy bag is hand-made from buffalo hide, all the way through the carrying handles, which connect to the main bag with brass fittings. It's not trying to reinvent the wheel, sticking with classic leather color and duffel storage ideals.
One large interior compartment and two exterior zippered pockets store it all.
Plenty of time went into guaranteeing this awesome travel bag will last for many trips to come.
#8 – Best Women's Leather Dressed Up Backpack – Mahi Roma Backpack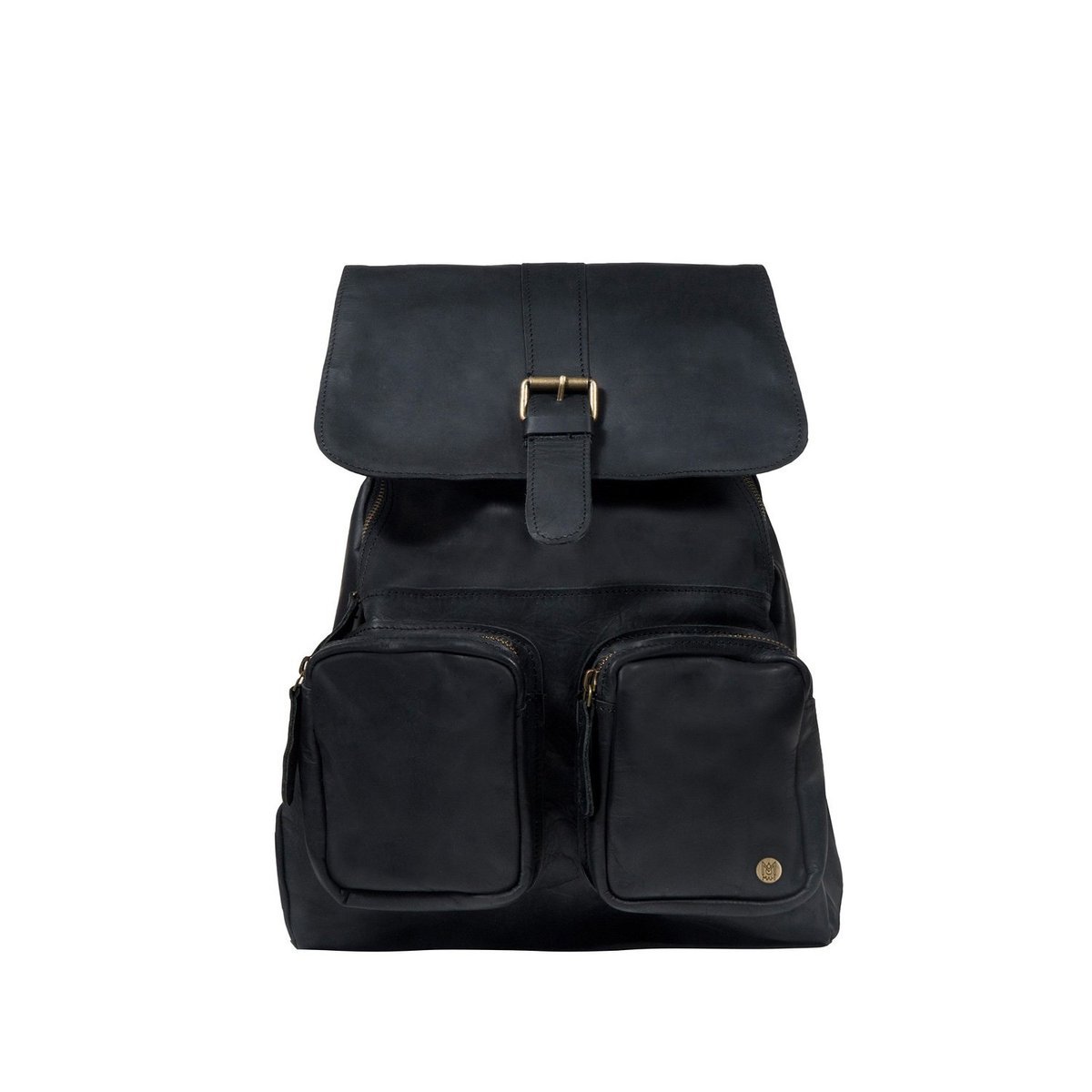 If you are looking for a travel backpack that also "dresses up" then check out the Roma Backpack by Mahi leather. It's constructed from robust, firm full grain leather (making it pretty heavy) and equipped with plenty of storage options that make it both stylish and practical.
There is plenty of space for all your essentials, and it will even accommodate a 13″ MacBook Air. The Roma is the perfect companion for city breaks and daily errands.
It's a high quality, good looking backpack that will last you for years.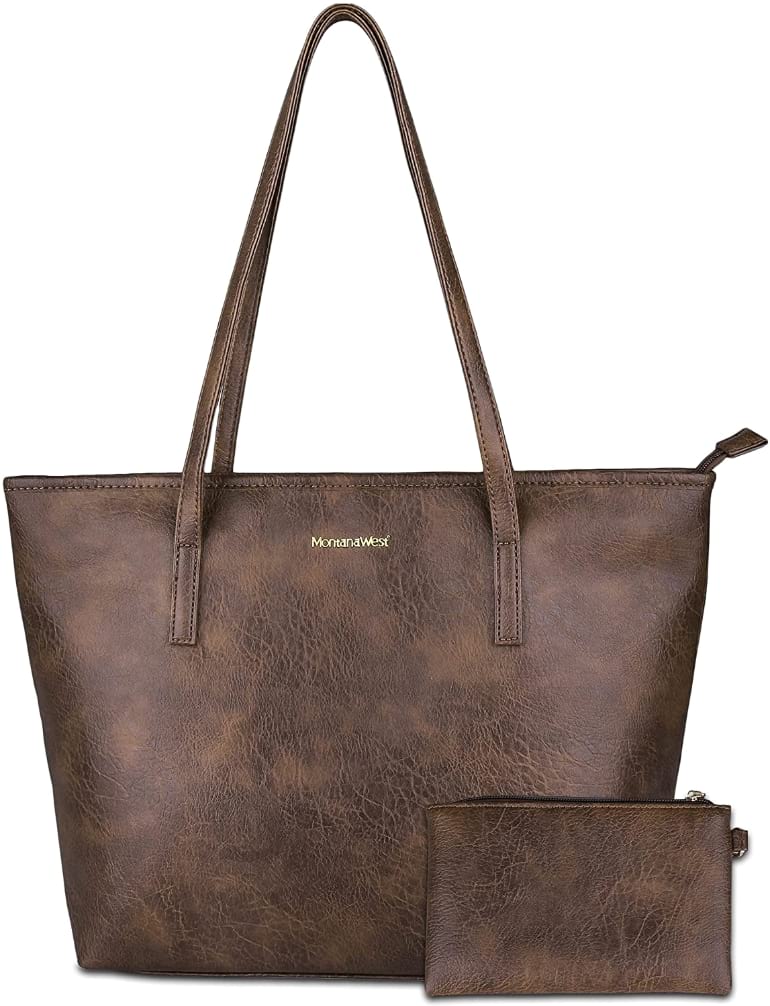 An homage to leather's true gunslinging route, this affordable tote is dressed to kill. The bag is made of faux leather to give it such an affordable price point (as well as vegan bag cred), but it's still up to the task. If you need a leather bag capable of packing heat, this bag is built to work with a concealed carry permit.
It's designed for security from top to bottom, with two anti-theft zippers and a double reinforced central compartment. From America's beginning, outlaws and cow folk have relied on leather to keep their guns close. This bag helps carry on that tradition.
While you can't expect it to last forever, the time you have together will be nothing short of an adventure.
Why Should Women Travel with A Leather Bag?
You've got more options than ever. Synthetic materials keep getting stronger, cheaper, and more versatile, and yet leather is the best of the lot in many categories.
Tough as Nails
Top-quality real leather materials are some of the most durable bag materials on the planet and are still surprisingly lightweight. My dad's leather wallet has been around longer than I've been alive, and it still looks a bit better off than I do.
An entire bag made out of leather can be bent, squished, stuffed, tossed, and scraped without damage. Each blow that scars your leather bag will morph into a natural part of the coat, making the bag subtly change with the years.
Water-resistant
In addition to being malleable, a great leather bag will have some tremendous weather-resistant features. While they won't stop a storm, a quality leather bag will have no trouble in a drizzle. The smooth surface helps moisture wick right off, making the bag fare well in the heat as well as wet conditions.
Style
The cherry on top is the authentic look leather brings. We've harped on it already in this piece; there is never a wrong time for a leather look. No matter where you are, where you're heading next, and what you have to bring with you, the right leather bag will turn heads and fit in.
Basically, you should travel with a leather bag because they are born to be wild. Your adventures are going to put you to the test, and the right leather bag will be ready for whatever your trip may throw at you.
Cons of Using A Leather Bag?
It's not all sunshine and roses. Understand where leather bags fall short before you commit to the style.
Price
Top-grain leather isn't cheap, and you won't find a genuine leather bag suitable for travel for less than a few hundred dollars.
Using a cheaply sourced leather material like split leather bags defeats the purpose of the material. You'd be better off buying a nylon or canvas bag than settle for less than the best leather, which could set you back a few paychecks.
Carbon Footprint
It's getting harder and harder to ignore the impact our choices have on the environment that raised us. Leather is a naturally sourced material, but that doesn't mean it's eco-friendly. Unless you know exactly where the leather in your bag was sourced from, it's easy to wonder about the conditions in the factories that produced your current look.
Limited Colors
Because leather is a natural substance, you'll be sorting through a sea of brown to find your next bag. Although each leather color is unique, and there are loads of different shades to shop for, there are fundamental limitations to the color choices to pick through.
Luckily, the colors that leather does come in work with any look.
Final Thoughts on Leather Bags For Women
If you've made it this far, you've come a long way towards securing the best leather bag for your next trip. Women's travel gear is catching up slowly, but it can be hard to find the perfect bag for a modern traveler, especially when it comes to leather.
The best leather bags in the business will let you conquer challenges big and small, with a lightweight toughness ready for anything.
My favorite backpack, the Katmai Diaper Bag, does a lot more than carrying toiletries. It's a versatile leather bag that has a place in every closet.
If you're only going to have one leather bag that looks to work well in every scenario, this 25L Denali Canvas Duffel is the closest thing leather bags have to a swiss army knife.
Whichever bag is good enough for your shopping cart, it's sure to make your trips easier for years to come if it comes from this list.
---
Find out how YOU can support the site.
We work hard to put out the best backpacker resources on the web for free! It's all about helping out our tribe of awesome backpacker readers (that's you!). Please visit the link to find out how you can help keep the site going 🙂
For the sake of transparency, some of the links in our content are affiliate links. This means that if you book your accommodation, buy a piece of gear, or sort your insurance through our link, we earn a small commission at no extra cost to you. We only link to stuff that members of the Broke Backpacker team has actually used and never endorse products or services that are not up to scratch. Thanks for your support!