A good sling bag will always mmbine functionality with style. Unfortunately, you'll discover, as you begin to search for a sling bag, a lot of the options miss the mark on style points. My girlfriend calls most sling bags "banana bags" if that tells you anything.
Enter the Kodiak Buffalo Leather Messenger Bag. A large sling bag for daily use, which not only looks totally classy AF, but also fits with a variety of work and travel situations.
If you're curious to learn more about this Kodiak Leather company product, then you've come to the right place! I admit that the line between sling bags and messenger bags is a little murky – so in this article, we are basically considering a leather sling bag (normally on the small side) to be the same as a messenger bag.
In our detailed leather sling bag review, we'll go over what makes the Buffalo Leather Messenger Bag our favorite. We'll also cover what its shortcomings are, so you're well prepared to make the decision about whether or not it's the right bag for you.
We all know the frustration of purchasing something only to discover it doesn't quite live up to our expectations or needs. To help avoid this unfortunate situation, we'll give you an inside and out tour of the Kodiak leather sling bag so you know what to expect.
Although a sling bag is a fairly simple product, it's also likely going to be something you'll be carrying with you on a regular basis. As such, it's important to put some consideration into your purchase and look for a bag that has good organization and is made from quality material.
Internal Organization and Pockets
The main pocket of the Buffalo Leather Messenger is canvas lined for added protection. A magnetic closure keeps the main flap in place while carrying, and underneath the main pocket zips shut with a YKK zipper.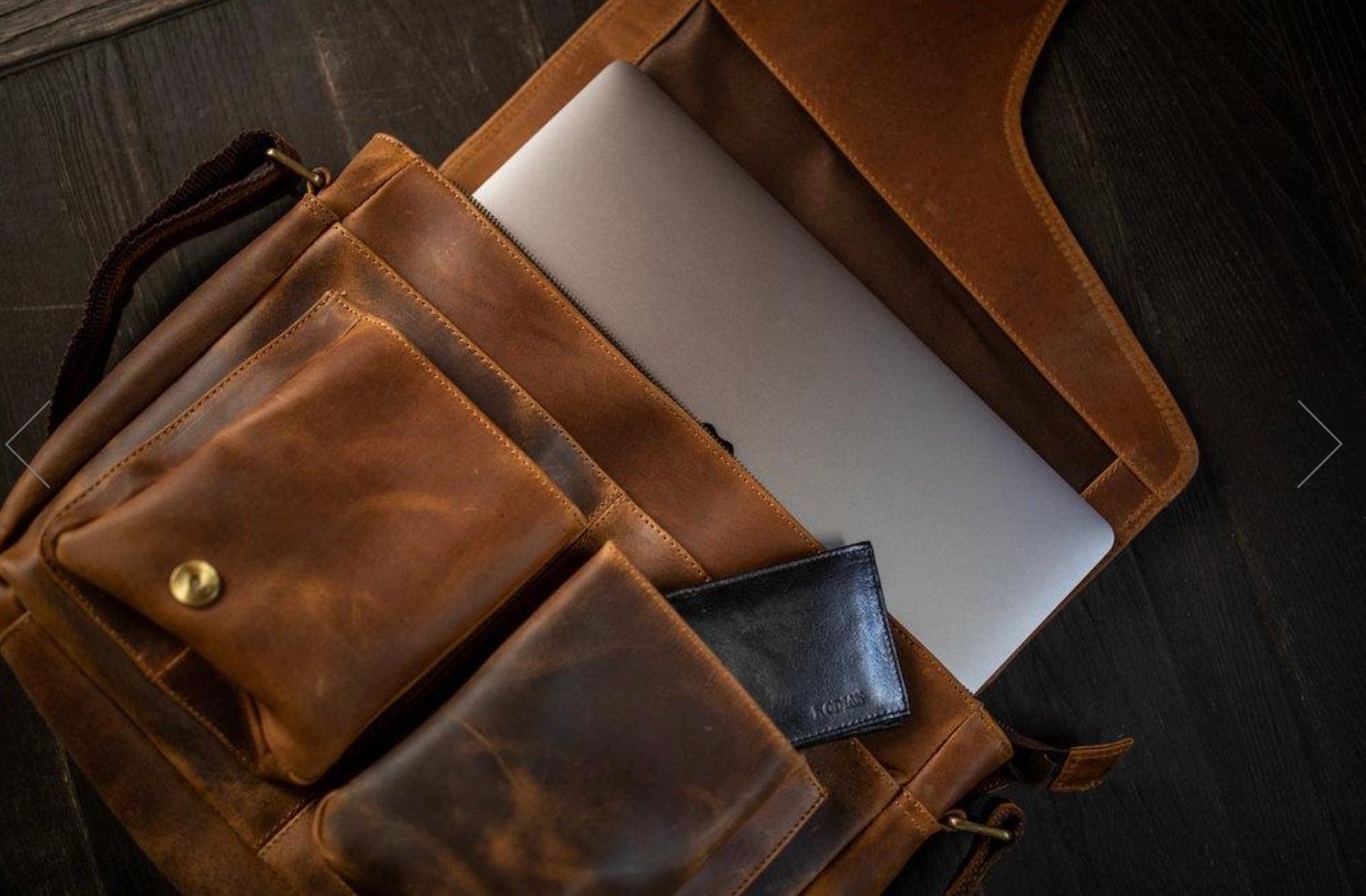 Within the main pockets, there's a laptop sleeve with a tab closure on top to keep your laptop in place, and a canvas-divided phone pocket, as well as a book pocket.
Beyond the main pocket, there are 3 other exterior pockets, one zippered pocket on the back and 2 pouch pockets on the front. Because the pouch pockets in front don't have a closure, other than the main flap which lays across the top, they aren't as secure and it's easier for things to fall out if the bag is accidentally tipped.
Ladies & Gents, It's Time to Step Your GEAR Game Up. 😉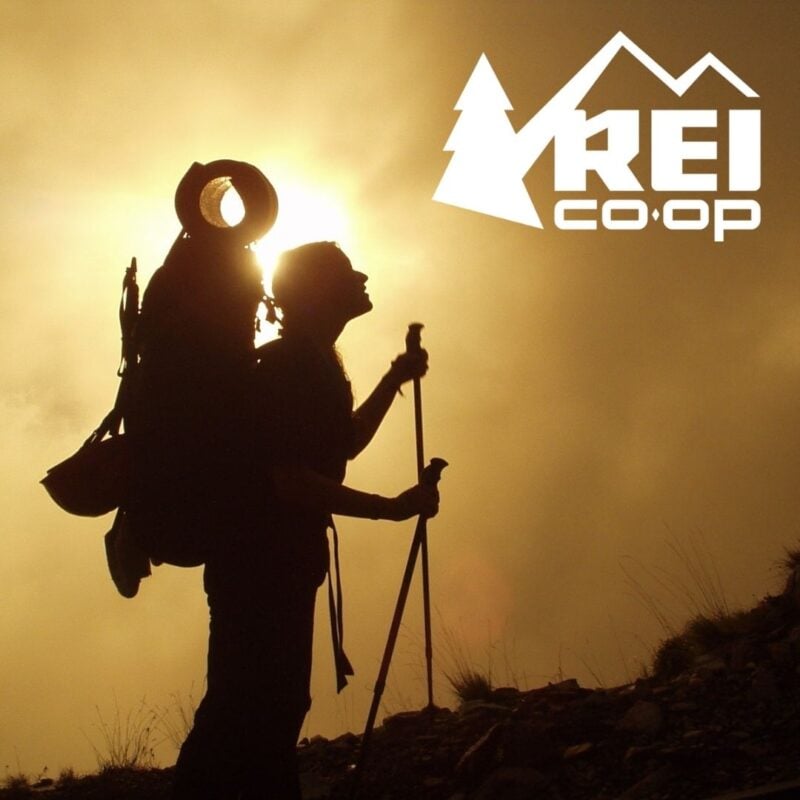 REI is one of America's biggest and most-loved outdoor gear retailers.
Now, for just $30, get a lifetime membership that entitles you to 10% OFF on most items, access to their trade-in scheme and discount rentals.
Join REI Today!
The Exterior and Materials
As the name might suggest, the main material used for this leather sling bag is top grain water buffalo leather. Water buffalo leather is characterized by its natural grain and durability. In comparison to cowhide leather, there is more texturization to the surface. It's also more supple and longer lasting than other leather varieties.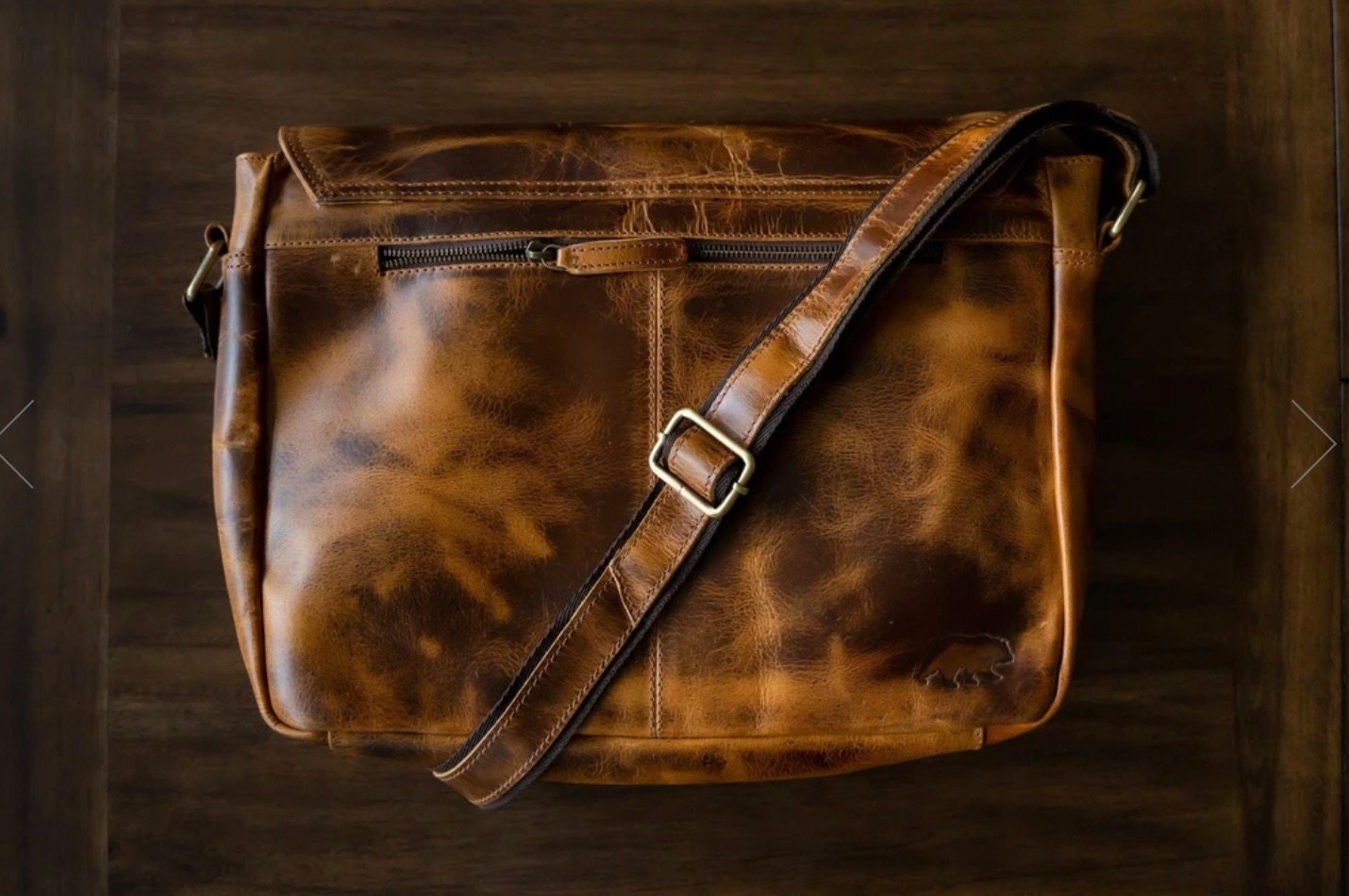 Besides leather, the only other materials used in making the bag are canvas for the lining, the metal for the buckles and magnets, and the YKK zipper (and of course thread to sew it all together!).
If you're interested in finding a bag made from natural materials, then this Kodiak leather sling bag is a good option.
Fit/Comfort
Some people love the feel of leather, while the texture is bothersome to others. This is all a matter of personal preference, but if you've never owned a leather product before you might want to view some products in person to see if you think you'll like the feel of the bag.
In general, leather is a strong but highly flexible material (as long as given proper care). It stays strong but also doesn't feel clunky or stiff while carrying it.
The shoulder strap of the Buffalo Messenger is adjustable, so both taller and shorter individuals can still find a length that's comfortable for them to carry. Unfortunately though the shoulder strap only has minimal padding, so it's not going to be comfortable to carry over long periods of time.
Carry Options and Best Use
Sling bags and messenger bags are meant to be carried over your shoulder. If this is not your preferred way to carry a bag, then the Buffalo Leather Messenger probably isn't the right fit for you.
Overall, the Buffalo Leather Messenger is better for work settings or light urban use. The stylish appearance and minimalist design make it formal, as well as functional, for work, study or commuting.
It's not really meant for lengthy outdoor use, like hiking or backpacking travel, and since leather requires more maintenance than other materials it's not the best for long term travelers either.
If there's one thing that would be nice to add to the Buffalo Leather Messenger, it would be a top carry handle, but this is not included in the bag. Some people prefer this cleaner and more simple look, while other people really want to have the option to carry the bag by hand.
Weight and Capacity
Measuring 16 inches by 12 inches by 4 inches, the Buffalo Leather Messenger is big enough to carry your essentials to the office or meetings. But it's not so big that it will get cumbersome or awkward to bring around with you.
For a laptop, phone, charger, wallet, and a book or some papers, it's a perfect size. If you want something that's also big enough for your lunch and a change of clothes, you might want to check out one of Kodiak's larger leather bags or some other leather backpacks.
Leather is a heavier material than most synthetic products, but since this is a fairly small leather sling bag, you're probably not going to be bothered by this. If anything, the bag will feel more sturdy and durable while you carry it.
Toughness and Durability
Leather is a highly durable material as long as you give it proper care. If you've never owned a leather bag before, you can put your mind at ease because Kodiak include care and cleaning instructions with each of their products.
For additional care and maintenance, they also offer other products such as their Leather Care Combo, which includes cream, dressing, and spot cleaner. This is especially good to get if your bag is regularly exposed to the elements, or you're using it on a daily basis so it's more likely to get worn out from frequent use.
Although leather is not waterproof, it does provide decent protection, especially if you're using a wax care product. Keep in mind that the more often leather gets wet and isn't given proper care, it will tend to dry out and turn brittle. However, if you're taking care of your bag and following Kodiak's cleaning instructions, this is a durable leather sling bag which could last for years of use.
Security
If the Buffalo Leather Messenger bag falls short in one regard, it's security. It is a generally more attractive and expensive-looking bag but it doesn't have as secure closures as some sling bag options.
For travelers or people who are highly concerned with overall security in a bag, you might want to look elsewhere. Although the main compartment has a high quality zipper, the front pockets are almost completely exposed and it's relatively easy for items to fall out.
However, for light use or a daily commute to work, the Buffalo Messenger Bag is certainly strong and secure enough to keep your laptop and other personal items safe while in transit.
Sling Aesthetics
There's no denying that the overall "cool" factor of this leather sling bag is off the charts. Leather has a way of keeping a rugged and outdoorsy look while also looking totally in place in a more professional setting.
Kodiak has kept the Buffalo Leather Messenger fairly simplistic on the outside, with an "effortless good looks" sort of vibe. It's a bag that will get you plenty of compliments whether it's from your coworkers or a stranger walking down the street.
Cons
Although there's no doubt that the Buffalo Leather Messenger is an excellent high-quality bag, no product is perfect, and there are some drawbacks you'll want to be aware of.
First, with quality and style also comes price. Leather bags in general aren't cheap, and a high-end product from Kodiak is going to have a much higher price tag than most synthetic bags of a similar size and design.
Also, keep in mind that leather requires proper care. For some people, this is a small price to pay for such a durable (and classy looking) bag, while others prefer a product that they can just run and gun with sans the worries about product maintenance.
This leather sling bag also isn't going to be the best option for rough outdoor adventures or long-term travel because no one does that stuff with a bloody messenger bag. Not only would it be a bad idea to risk damaging it, but the minimally padded shoulder strap makes it uncomfortable to carry around for hours on end.
Another issue to consider with any leather product, is sustainability. Leather is at the end of the day an animal product and the industry does have its critics. If you are reading this, you probably don't share these concerns – but if you do, note that there are some vegan leather bags and other products out there.
The best present of all… is CONVENIENCE!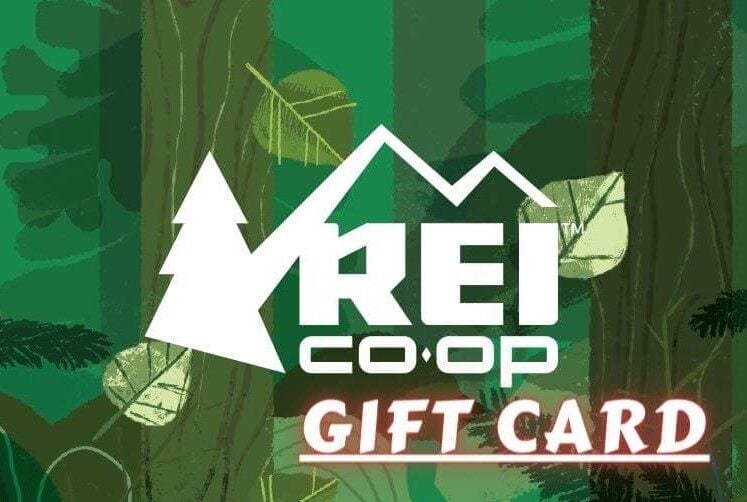 Now, you could spend a fat chunk of $$$ on the WRONG present for someone. Wrong size hiking boots, wrong fit backpack, wrong shape sleeping bag… As any adventurer will tell you, gear is a personal choice.
So give the adventurer in your life the gift of convenience: buy them an REI Co-op gift card! REI is The Broke Backpacker's retailer of choice for ALL things outdoors, and an REI gift card is the perfect present you can buy from them. And then you won't have to keep the receipt. 😉
Buy on REI!
Kodiak Leather Buffalo Messenger vs. the Competition
If you like the look and quality of leather bags, but the Buffalo Messenger doesn't quite fit your requirements in terms of size or appearance, Kodiak has some other great messenger and sling bags to choose from.
Kodiak
Kodiak
Buffalo Leather Pilot Bag
Cost > $$
Dimensions > 18″ x 14″ x 5″
Laptop Compartment? > Yes
Adjustable shoulder strap? > Yes
Kodiak
Kodiak
Katmai Laptop Case
Cost > $
Dimensions > 14″ x 11″ x 3.75″
Laptop Compartment? > Yes
Adjustable shoulder strap? > Yes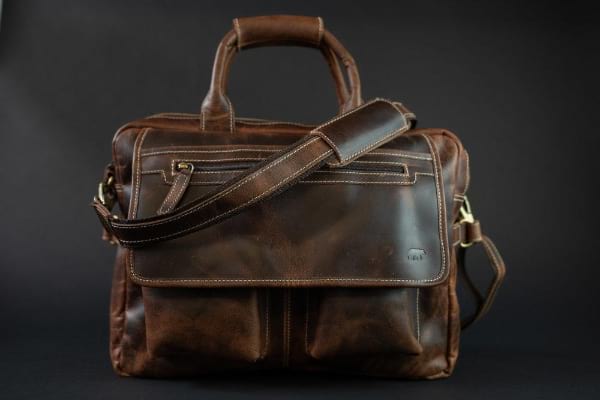 Made from the same material as the Buffalo Messenger Bag, this Pilot bag is a bit larger and has more pockets and organization.
Measuring 18 inches by 14 inches by 5 inches, there's enough room for your laptop and work essentials, plus some extra personal items, a light jacket, or water bottle. It has two canvas compartments inside the pack and 4 exterior pockets in comparison to the three small ones on the Messenger bag.
You also have the option of either carrying the Pilot bag with the shoulder strap or the handles, making it suitable as a travel bag, commuter bag, or daily urban carry pack.
If you like the qualities of the Buffalo Messenger Bag but want something just a little bigger, then the Kodiak Pilot Bag is a good choice.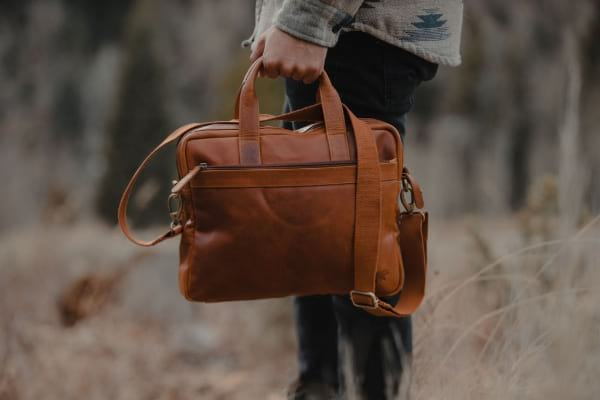 Made from cowhide instead of water buffalo leather, the Katmai Laptop case has a more modern and less "rugged" appearance than the Buffalo Messenger Bag. It's still highly durable, and also has more zippered pockets in comparison to the open pouches of the messenger bag.
There's a padded sleeve for a laptop, plus internal zippered pockets, card holders, and pen pockets. Thanks to the carry handles and more secure zippered closures, it's also a better leather sling bag for travel or frequent fliers.
Cowhide versus buffalo leather is somewhat a matter of preference, although buffalo leather typically lasts longer. However, if you're a bigger fan of the appearance of cowhide, then the Katmai is a great alternative to the Buffalo Leather Messenger.

Our GREATEST Travel Secrets…
Pop your email here & get the original Broke Backpacker Bible for FREE.
The Best Leather Sling Review: Final Thoughts
There you have it! All the ins and outs of what makes the Kodiak Buffalo Messenger Bag such a great leather sling bag. From a morning at the local cafe to daily urban use, this functional and super-stylish bag will be sure to turn heads.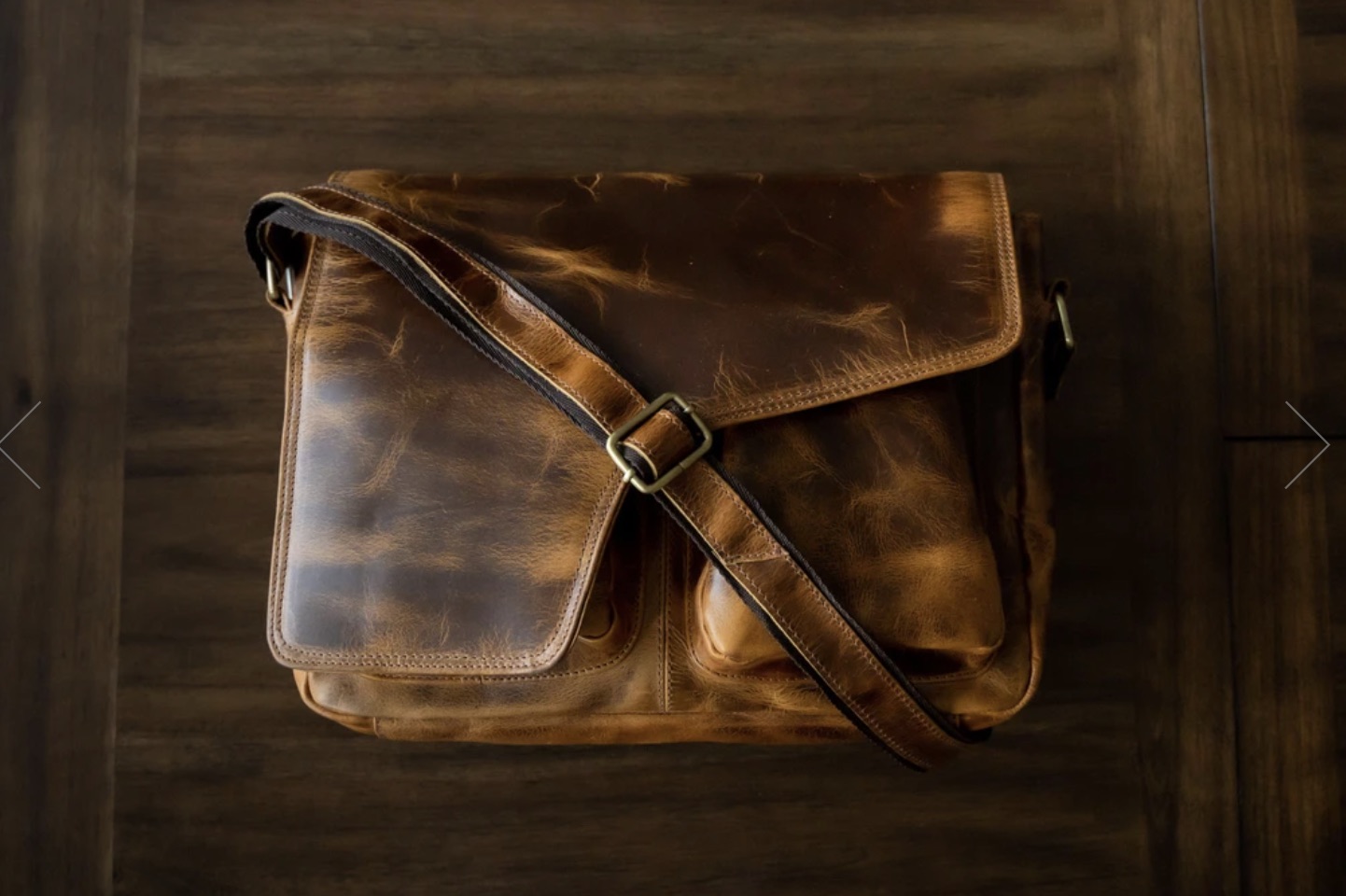 As long as you're okay with taking on the task of additional maintenance for a leather bag, the Buffalo Messenger has the potential to be your go-to sling bag for years to come. Combining a natural outdoorsy vibe with modern fashion, it's the sort of bag that is bound to carry some stories with it the longer you use it.
---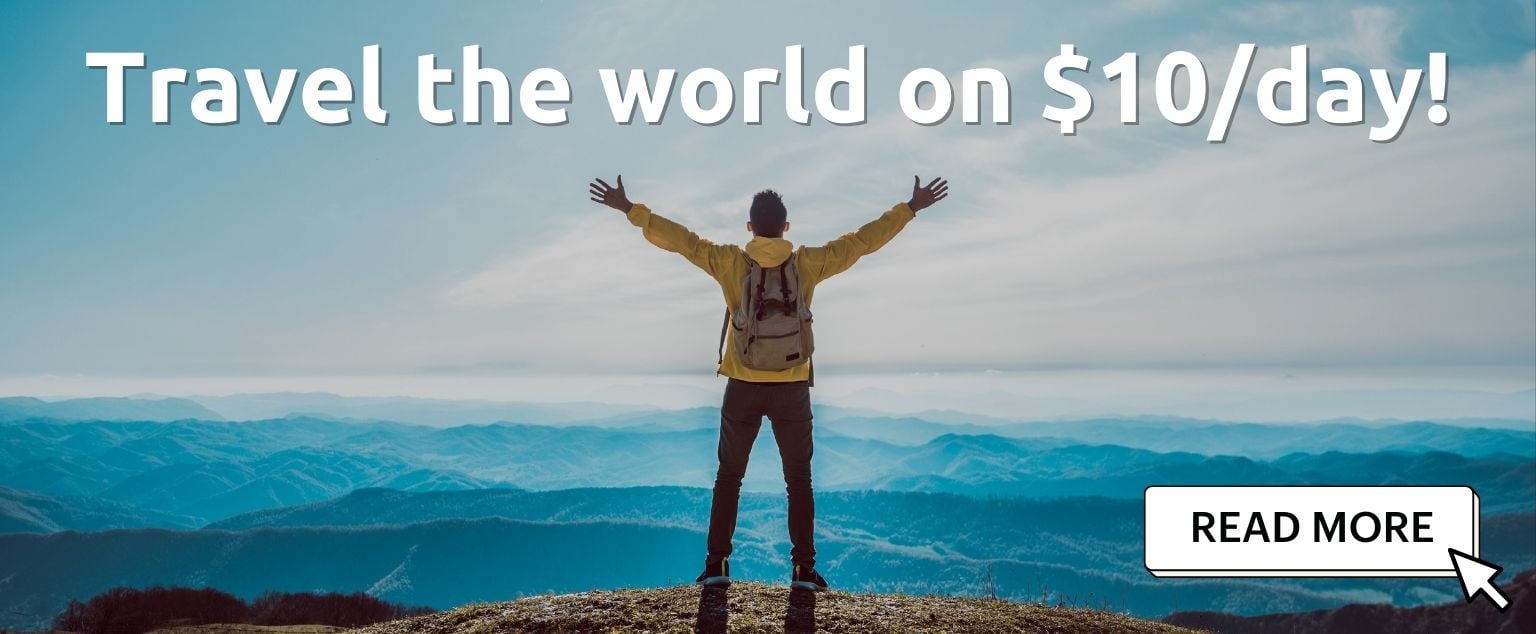 And for transparency's sake, please know that some of the links in our content are affiliate links. That means that if you book your accommodation, buy your gear, or sort your insurance through our link, we earn a small commission (at no extra cost to you). That said, we only link to the gear we trust and never recommend services we don't believe are up to scratch. Again, thank you!