If you love (or are just curious about) leather bags, one brand you'll want on your radar is the Kodiak Leather company. The high-quality duffels, backpacks, and messenger bags from Kodiak are a great upgrade from your typical nylon travel bag because – there is little dignity in nylon.
Since some of the staff here at TBB have had great success rocking Kodiak bags around town, we decided it was time to go into a bit more detail with a full-on Kodiak leather review to pick out their top products as well as give a guide to selecting the best leather travel gear for your lifestyle.
Leather is known for its durability, flexibility, and aesthetics, but the average person might not think of a leather bag as practical for travel or everyday use. With proper care a leather bag can last much longer than plastic or synthetic products, even if you tend to abuse gear as I do.
Here's the low-down on the best Kodiak Leather bags and how to pick the right one.
This is a long one, so grab a coffee and settle in…

Do You Want to Travel FOREVER??
Then pop your email address in below and we'll send you a FREE copy of 'How to Travel the World on $10 a Day!' – make travel your LIFE.
Quick Answer: These are the Best Kodiak Leather Bags of 2022
Best Overall Kodiak Leather Bag
Best Overall Kodiak Leather Bag
60L Weekender Duffel
> $$$
> Stylish and durable
> Made from 100% water buffalo leather
Best Everyday Carry Pack from Kodiak
Best Leather Backpack from Kodiak
Best Leather Backpack from Kodiak
Kobuk Leather Backpack
> $$$
> Both functional and durable
> Traps can adjust from 17 inches to 33 inches
Best Commuter Bag from Kodiak
Best Commuter Bag from Kodiak
Kodiak Leather Satchel
> $
> More stylish commuter bag
> Made from tanned leather with metal hardware and belt-buckle style closures
Best Carry On Leather Duffel from Kodiak
Best Carry On Leather Duffel from Kodiak
30L Weekender Duffel
> $$
> There are two external pockets for organization
> Other latches are made from brass hardware
Best Long Stay Weekender Duffel from Kodiak
Best Long Stay Weekender Duffel from Kodiak
80L Iliamna Canvas Duffel
> $$
> Uses canvas as the primary material
> With 80L of storage space
Best Messenger Bag for Nomads from Kodiak
Best Messenger Bag for Nomads from Kodiak
Sitka Leather Messenger
> $$
> Simplistic but simultaneously rugged
> Padded laptop sleeve
Best Minimalist Messenger Bag from Kodiak
Best Minimalist Messenger Bag from Kodiak
Kasilof Messenger 16"
> $$
> Padded laptop compartment for up to a 15 inch laptop
> Included an "invisible" magnetic closure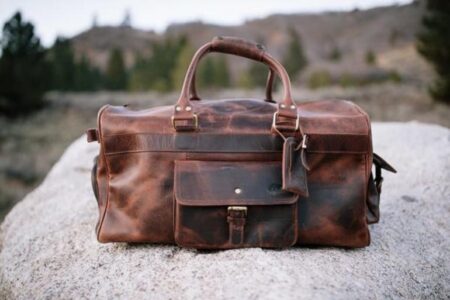 Specs
Style: Duffel
Weight: N/A
Liters: 60L
Carry on: No
The Kodiak Leather company has created a weekend duffel in a league of its own. This durable duffel bag not only looks awesome but has great organization and storage capacity, making it the perfect alternative to your typical, run-of-the-mill duffel bag (because you are classy).
Made from 100% water buffalo leather, the duffel has four exterior compartments including a separate shoe pocket and one zipper pocket with a YKK zipper. Kodiak has even included a stylish leather luggage tag so you don't have to use a plastic one to mess up the bag's appearance!
Inside there are card and pen holders to keep your gear organized, as well as an ipad/book pocket. You can either carry it using the handles, or the shoulder strap depending on the situation.
Pros
Lots of storage capacity
Durable
Sexy
Cons
Expensive
Requires maintenance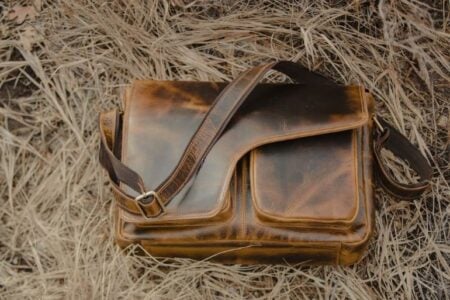 Specs
Style: Messenger
Weight: N/A
Liters: N/A
Carry on: Yes
Whether you're a city dweller or digital nomad in Hong Kong, the Buffalo Leather Messenger is Kodiak's answer to an everyday carry pack. Not only is this bag durable, it's also way cooler looking than the average shoulder bag or briefcase.
The bag also has excellent organizational ability thanks to the numerous pockets, including a laptop compartment, phone pocket, and two exterior pouches. In the main compartment, there's a magnetic flap closure, and the backside of the bag has a zippered pocket which is a good place for more valuable items.
Keep in mind that while the shoulder strap is adjustable, it doesn't have as much padding as some counterpart synthetic bags. As long as you're not carrying the bag around for hours on end, this shouldn't be a problem though.
Pros
Multiple organization pockets
Laptop compartment
Adjustable shoulder strap
Cons
Expensive
Not as secure as some zippered bags
Shoulder strap only (no handles)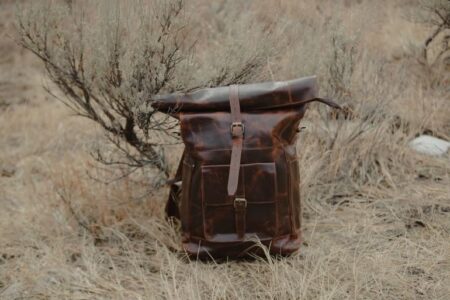 Specs
Style: Backpack
Weight: Three pounds eight ounces
Liters: N/A
Carry on: Yes
The Kobuk is a guaranteed eye-catching leather backpack that's both functional and durable. Inside there's great organization thanks to the padded sleeve for up to a 15 inch laptop, phone pockets, pen holders and brass key chain.
Instead of having a traditional zippered top, Kodiak has created a roll-top, which helps keep the leather in its natural shape. It takes a bit of getting used to, but instructions are included and once you get the hang of it, opening and closing the pack will feel totally natural.
The backpack straps can adjust from 17 inches to 33 inches, and have some padding on them. While it's not meant to be a hiking backpack, it's definitely comfortable enough to use for short trips or as a stylish laptop backpack.
Just don't go expecting to use this bag as any sort of hiking backpack short of walking from the car to an epic viewpoint for photos. This a great unisex leather backpack too.
Pros
Lots of storage room
Organizational pockets
Looks awesome
Cons
Expensive
Requires more maintenance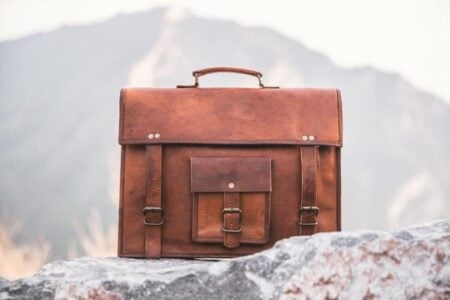 Specs
Style: Messenger
Weight: N/A
Liters: N/A
Carry on: Yes
A simple but high-functioning shoulder bag, the Kodiak Leather Satchel is a great pick for someone looking for a more stylish commuter bag than what you'd expect from a synthetic material bag.
Made from tanned leather with metal hardware and belt-buckle style closures, it also has a more "rugged" and outdoorsy appearance. Inside, the main compartment has a canvas lining for added protection, zippered pockets for additional organization and a spot to securely carry your laptop.
You can either carry the bag using the shoulder strap or the handle on the top. Keep in mind though that the shoulder strap has only limited adjustment and minimal padding.
While the Satchel isn't really big enough to be hauling around lots of work binders or big books, for a simple but elegant bag for light daily use in a work or school setting, it could be the perfect fit.
Pros
Good interior organization
Stylish
Less expensive than other Kodiak products
Cons
Minimal strap padding
Small storage capacity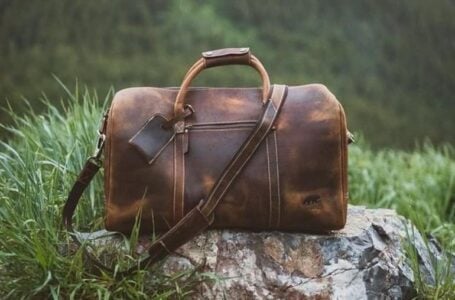 Specs
Style: Duffel
Weight: N/A
Liters: 30L
Carry on: Yes
For weekend trips or airplane travel, this 30L bag is the answer to having a functional duffel bag that doesn't give off gym vibes. This is basically a smaller version of our top pick for the best Kodiak Leather bag, which makes it possible to use as a carry-on.
There are two external pockets for organization, plus a zippered main compartment with a YKK zipper. Other latches are made from brass hardware, and there are additional small phone and pen pockets inside the duffel.
This weekender ready leather duffel will look equally in place whether you're on a summer vacation in France or visiting the family cabin for a weekend. Kodiak has also included a leather luggage tag with the bag to complete the overall appearance.
Pros
Carry-on compatible
Good organization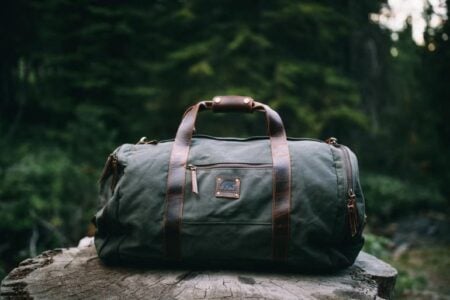 Specs
Style: Duffel
Weight: N/A
Liters: 80L
Carry on: No
For long trips, the larger Iliamna Canvas Duffel bag is a great choice. This is one of Kodiak's few products that uses canvas as the primary material, which is mainly due to the size of the bag-an 80L leather bag would simply be too heavy and expensive to be functional.
However, Kodiak has done an excellent job in keeping to their same quality standards by using durable 18oz waxed canvas combined with buffalo leather for the support and straps of the bag. The main compartment and two zippered pockets on either end also have YKK zippers.
You can carry the bag either with the adjustable shoulder strap, or the handles, but keep in mind that with 80L of storage space, this pack can get heavy when fully loaded. However, for weeklong stays at the cabin or long road trips, it's an excellent, high-quality duffel meant for years of use.
Pros
Large capacity
Various internal and external pockets
Cons
Too big to be a carry-on
Not all leather
Specs
Style: Messenger
Weight: Four pounds 15 ounces
Liters: N/A
Carry on: Yes
Simplistic but simultaneously rugged, the Sitka Messenger bag is an excellent choice if you're going for a balance of organization and style.
In addition to the main compartment, there is a padded laptop sleeve, smaller zippered pockets and multiple pen and card holders inside. You can also purchase a separate padded Camera Cube to fit inside the pack if you'll be bringing around your camera on a regular basis.
The main compartment is secured by two brass, push-clip buckles and there's both a shoulder strap and a handle on top for carrying.
Keep in mind that while the shoulder strap is adjustable, it has minimal padding, which can become uncomfortable if you're carrying the bag for long periods of time. For digital nomads in search of a more stylish work bag, the Sitka is a great choice thanks to its organization and durability.
Pros
Multiple interior pockets
Padded laptop sleeve
Shoulder strap and handle
Cons
Expensive
Limited padding on strap
Specs
Style: Messenger
Weight: N/A
Liters: N/A
Carry on: Yes
This clean, no-frills messenger bag may appear more simplistic on the outside, but it still has decent organization within. There's a padded laptop compartment for up to a 15-inch laptop, plus a rear zip pocket, a pocket under the flap, and interior pen and cardholders.
Kodiak has included an "invisible" magnetic closure for the main compartment underneath the leather, plus a zippered opening beneath the flap to keep items secure.
If you're not a huge fan of the brass buckles which are characteristic of many of the Kodiak Leather company's other products, then the Kasilof is a great option for you. It's a bag that achieves a good balance between eye-catching style without breaking from a minimalist and rugged appearance.
Pros
No brass buckles
Padded laptop sleeve
Cons
Expensive
No handle (only shoulder strap)
The best present of all… is CONVENIENCE!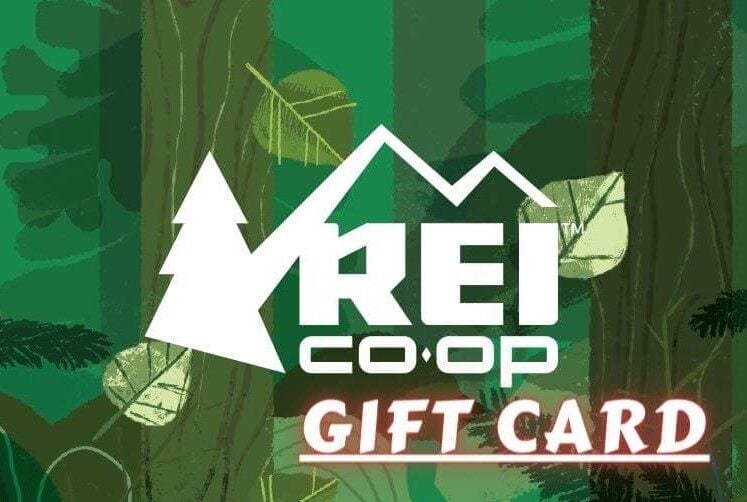 Now, you could spend a fat chunk of $$$ on the WRONG present for someone. Wrong size hiking boots, wrong fit backpack, wrong shape sleeping bag… As any adventurer will tell you, gear is a personal choice.
So give the adventurer in your life the gift of convenience: buy them an REI Co-op gift card! REI is The Broke Backpacker's retailer of choice for ALL things outdoors, and an REI gift card is the perfect present you can buy from them. And then you won't have to keep the receipt. 😉
Buy on REI!
Best of the Rest
The Kodiak Leather company makes the best leather travel bags and certainly gives you a lot of options to pick from! Even after we selected our favorites, there were still a few products definitely worth mentioning which might be a great fit for specific needs or travel styles.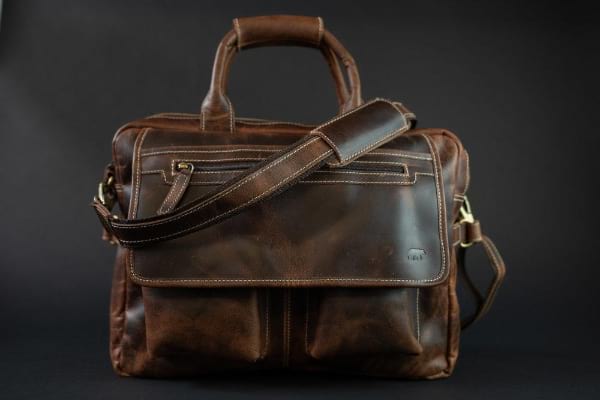 Sort of a cross between a messenger bag and a duffel, the Pilot Bag affords you more storage room than the other shoulder and messenger bags on the list, but also won't look out of place in work or daily carry situations.
It has a laptop compartment for up to a 16 inch laptop, plus internal zip pockets, pen holders and a phone pocket to stay organized. There are also four exterior pockets, and the shoulder strap is removable if you prefer just using the handles. 
Overall, it's a great versatile work/travel bag, although just like other Kodiak products, it's much more expensive than synthetic material bags of the same size.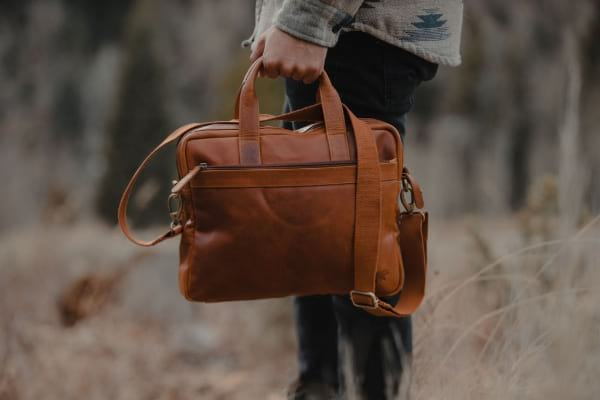 This minimalist EDC laptop bag combines Kodiak's signature leather craftsmanship with a more modern/urban vibe. The exterior is made from cowhide instead of buffalo leather like many of their more "rugged" looking products, which also makes it lighter weight than other Kodiak bags. 
The inside has a black nylon lining and padded laptop sleeve, plus additional zippered pockets. You can use the handles or adjustable/removable shoulder strap depending on how you prefer to carry it. 
Whether you're looking for a laptop bag to bring to the office or on a business trip, the Katmai is a stylish and durable option bound to bring you some compliments. 
The backpack counterpart to the Katmai Laptop Case, this is a great versatile EDC backpack suitable for travel, work or regular urban use. It's a relatively small pack, but still has great organization thanks to the three zippered pockets, side pockets and phone and pen pockets inside. 
There's a padded sleeve for up to a 15 inch laptop, and the shoulder straps have a bit more padding than other Kodiak backpacks. The size and style make it a great minimalist carry-on backpack or work bag if you prefer backpacks opposed to briefcases.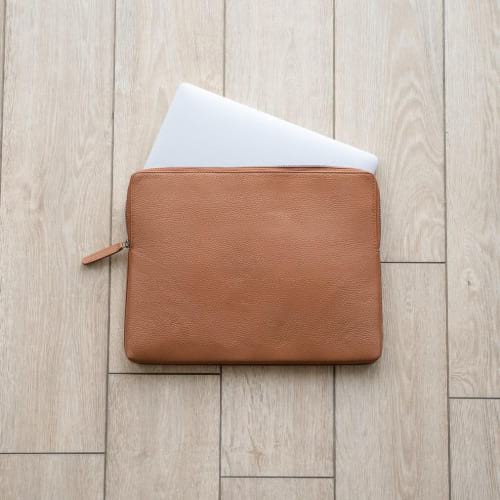 Getting a big leather bag can be an investment – if you're looking for something smaller, the padded laptop case is a great option. Combining style with durability, this 14 inch laptop sleeve makes an excellent gift or addition to your work ensemble. 
If you already have one of Kodiak's messenger or briefcase bags, this sleeve is made to fit with these products. It's also a good pick if you're new to owning and maintaining leather items since it's smaller and less expensive than some of Kodiak's other products. 
A great addition to your leather duffel or backpack, the toiletry bag has a simple and rustic appearance and makes a great gift for a traveller or outdoor enthusiast. It pairs well with other Kodiak products, but could also easily be used with a more traditional suitcase or hiking backpack. 
In addition to the main zippered pocket, there's one exterior side pocket and an additional zip pouch inside the bag. The smaller size also means that it's a less expensive option, if you're hoping to get a leather product but just don't have the budget for one of Kodiak's larger items. 
How to Choose the Right Kodiak Leather Bag
Now that you've seen all the cool options for leather duffels and backpacks Kodiak has to offer, you might be wondering how to pick the right one. 
Whether you already have a few favorites selected or you're still totally undecided, this section of our Kodiak Leather review is dedicated to the ins and outs of owning a leather bag and how to pick the right item for your needs and lifestyle. 
Capacity/Best Use
If you're looking for an everyday carry leather bag, then a big 60 liter duffel isn't going to be the right pick obviously. However, if you want something for summer trips to the cabin or longer vacations, a larger bag will be appropriate. 
The first step is to identify how and where you want to use the bag. For work, commuting or university students, a messenger bag or one of the smaller leather backpacks is probably a good fit. Travellers or road trippers on the other hand will likely be better off with a bigger duffel. 
Some of the Kodiak Leather company's products strike a good balance between a big travel bag and a smaller commuting pack, like the Kobuk leather backpack and the Buffalo Leather Pilot Bag if you're hoping to use your bag in both urban and travel situations. 
Style
The model of the bag is another feature tied in with how you plan on using the pack. As you can see from this deep-dive Kodiak leather review, the company has a lot of variety in style, including duffels, backpacks, messenger bags and accessory pouches. 
For business travellers, students or commuters, one of the packs with a laptop sleeve is going to be a better option. Larger duffels on the other hand are usually good for families, vacationers or trips to the cabin. 
Kodiak also has a decent variety in colours of leather available, so even on an individual bag you can often pick between a few colour selections. Keep in mind though that since each bag is made from natural products, the exact color and texture will be a bit different between every product. 
Carry On
Although carry-on specifications vary some between airlines, there are some Kodiak bags on this list which are obviously way too big to be a carry on and would need to be put in checked baggage when flying. 
If you're a frequent flier or you already know that you'd like to bring your Kodiak bag while travelling, checking dimensions to ensure carry-on compliance is a good idea. Especially for a high-quality leather bag, a lot of travellers would rather keep the bag with them rather than risk putting it in checked baggage where there's a chance it could be lost or damaged. 
The downside is that carry-on items can be too small for longer trips, in which case you might want to use your leather bag in addition to a larger travel suitcase. 
Cost
We're not going to sugar coat it – high-quality leather products from Kodiak certainly don't come cheap. Getting a leather bag is definitely an investment, so you'll want to put some careful thought into your purchase. 
However, in comparison to other synthetic material bags, well-made leather products are meant to last a long, long time as long as they're given proper care. So even though you'll be paying more up front for a leather item, it could be something that you'll be able to use years down the road without hardly any noticeable damage or worn out markings. 
You can always get one of Kodiak's smaller products like the toiletry bag or laptop case to begin with. If you find that you love the material, then you can consider investing in a larger pack or duffel. 
Care
In addition to being more expensive, leather also takes a bit more maintenance than other backpack and travel bag materials. However, it's the care that also guarantees your pack will look practically brand new for years to come. 
If you're new to owning leather items, the Kodiak Leather company includes instructions with each of their products so you're not left clueless about how to properly look after your new bag. 
They also sell a variety of leather maintenance products specifically designed for their packs such as the Leather Care Combo. If you're getting one of the larger bags which also includes canvas material, Kodiak sells other products to maintain the canvas as well.  
Cons of Using Leather Products
Although leather in general looks super cool and it is a highly durable and long-lasting product, there are some situations where it's just not the best material. 
Since leather is a bit heavier and lacks the lightweight breathability of some synthetic products, it's not well-suited (at all) for long hikes or backpacking trips. If you're planning a thru-hike and are interested in a leather backpack, please leave your address in the comments below so I can come and give you a stern talking to.
Because leather requires more care than other types of material, it's also not a great choice for long-term travellers. For a long backpacking trip, you'll want something that has more back support and is easier to clean (or something you don't mind getting dirty). 
If you'll be in situations where you know that a pack is likely to get damaged or stained, leather also might not be the best option. Because Kodiak products are more expensive, you wouldn't want to ruin it from a rough adventure when you could have used a cheaper and more easily replaceable pack. 

Unlock the The Broke Backpacker's GREATEST Travel Secrets!
You pop your email here, and we promise to send you only travel content that's actually relevant — sounds like a pretty good deal to us!
Final Thoughts on the Best Kodiak Leather Bags
Enjoy the rugged look and durability of one of the Kodiak Leather company's best backpacks or duffels. Whether you decide to go with our top pick, the 60L Weekender Duffel for longer trips, or something smaller and simpler like the Kasilof Messenger bag, you'll be guaranteed a high-quality bag to last you for years. 
So long as you have the budget, getting a quality leather bag from Kodiak is a great way to upgrade your typical work or travel pack. Although leather gear isn't meant for everyone, the durability and aesthetic appeal still make it both useful and stylish in a variety of situations. 
Now that you've come to the end of our review of the best Kodiak leather bags (and you are now exhausted from reading about leather), you now know what's up with the badass Kodiak brand – and for that, you are welcome friends.
Want even more choice? Check out our rundown of the best messenger bags and see if anything else takes your fancy.
---
Thanks for reading – that was fun! 😀
We bring you epic FREE content!
Find out how YOU can help support us.
We're a big site with a big team and this job isn't always easy. But we do it because we love it – we love providing epic and free content. We love the knowledge that our content keeps you adventuring. We don't ask for money, but if you'd like to find out how you can help the site in more organic ways, click the button below.
Thank you for your support 🙂
---
Bye for now, but not forever!
If you want MORE top-tier Broke Backpacker content like this, then sign up for our weekly newsletter below to get the latest and greatest!
And for transparency's sake, please know that some of the links in our content are affiliate links. That means that if you book your accommodation, buy your gear, or sort your insurance through our link, we earn a small commission (at no extra cost to you). That said, we only link to the gear we trust and never recommend services we don't believe are up to scratch. Again, thank you!