For centuries Paris has been attracting the artists, the vagabonds, the paupers, and the princes. If romance could be distilled into a labyrinth of an ancient city: it would look like Paris. Backpacking Paris is the ultimate journey into stunning architecture, culinary delights, and discovering that not all that glitters is gold.
Because, let's be clear: this city is MASSIVE. Parts of it smells like piss and are falling apart at the seams – and yet, that element of grunge is necessary for Paris to be itself. You don't want your cities to be boring now, do you?
As you learn to avoid the streets that are tinged with urea, you may find yourself falling into the other backpacker trap of Paris: it can be very expensive!
Now as much as I might tease Paris or point out its rough edges, the fact of the matter is I love Paris. The City of Lights is an experience like no other and it really should be on every backpacker's to-do list!
So this guide highlights the best tips, tricks, and ideas on how to backpack Paris without having your wallet feel like a hurricane just rocked through it. You'll learn how to enjoy Paris on the cheap like a local.
You don't need to be lectured on the Eiffel Towers and Notre Dames of this world. This is your sign to get fully prepared to have an awesome Parisian adventure of your own!
People will come to Paris simply to say that they've been to Paris. But you're a grungy backpacker! You need more than that when you're backpacking France!
Well you little ratbag, think of a cobblestone street that's hundreds of years old. Once upon a time, it was home to a parfumerie, a monastery, a bakery, and a ramshackle collection of houses.
Today, the parfumerie is a boutique jewellery store and the monastery is a hip new hotel. The houses don't exist, and there's now a kebab shop on the corner – but the bakery persists.
This kind of history and these kinds of stories are woven throughout Paris. You really can't get bored walking through the streets! Plus, the food. If there's one compliment that I'll give the French, they know how to make some damn fine bread.
So after you've stuffed yourself on the morning pastry, you've got some pretty impressive churches and some pretty epic art galleries to check out. Paris is not called the capital of global culture for nothing. This is where so much of the Old World values began, and it's spine-tingling to see some of it up close.
Plus, the French love to party! When the Eiffel Tower sightseeing tour wraps up and you're feeling like, hmm was this the real Paris? Then you simply need to head out with a group of French people for a night of debauchery.
Even if you don't speak a lick of French, by the end of the night, you'll know why they call this the City of Love. 😉 For that reason alone, Paris should be at the top of your France itinerary.
What Are The Major Attractions in Paris?
Paris is chock full of epic places to visit! And even around the major icons are fascinating side streets, galleries, bakeries, and eccentric antique stores.
Still, as much as you should forge your own path through the mighty collection of Paris's top things to do, there are few that stand out. Sometimes the Lonely Planet has a good reason for adding something to their to-do list – it's just plain epic!
I think you can't miss:
The Eiffel Tower
The Louvre
Musee d'Orsay
Catacombs
Shakespeare and Company Bookstore
How Long Should I Spend in Paris?
Honestly, you can never really be done with Paris. It's a sprawling city full of ancient delights and modern mysteries. If you only have a few days, I'd suggest staying close to the attractions that draw your attention the most.
Rushing through Paris and trying to navigate the metro at peak hour is sure to add an element of stress to your trip that's just not needed. If you want to see Paris and appreciate its nuance, I'd suggest staying for over a week. You need time to really get under the skin of this city!
But, if you only have a few days, a few of the highlights can still be jam-packed into an epic trip!
Where, oh where, in this great city will you explore? The maze trapped inside the ring road sounds like a set-up for a Hunger-Games-style TV show, but it's really an explanation of Paris. You can very easily find yourself lost in the back streets of a district at the edge of Paris thinking, this doesn't look like the postcards…
And if you only have 3 days to see the best of Paris, then you want to make sure you don't spend half of it lost! That's why my number one tip is to book accommodation that's either close to the attractions you want to see, or close to a metro station.
Now, how are you going to organise the best Paris itinerary in just 3 days?! Like this, of course…
Day 1 in Paris: Top Sights in Paris, Pastries, and Nightlife
You've seen images all of your life of the famous Eiffel Tower. Today it is time to experience it. After a quick breakfast at your hostel or cafe, I recommend giving this iconic landmark a proper exploration.
If you don't go inside the tower itself, the green lawn at the base of the Eiffel Tower is a great spot for a picnic! You can go full Parisian style and buy some fresh bread and cheese and enjoy a mid-morning snack under the Eiffel Tower.
Next, you can walk – or take the metro – to the Louvre.
Among one of the best museums in the world, the Louvre is an absolute must-visit. If you head there after 6 pm on a Wednesday or Friday, entrance is reduced to just €6 and the museum is open until 9.45 pm. Entrance is free for under 26s on Friday evenings.
Our suggestion: you can get the most out of the museum with a guided tour. Soak up all the cool things there are to know about the world's most famous paintings and each of their artists.
Stop off for a pastry and a strong coffee to get the blood pumping again after taking in the incredible Louvre. Then, it's time to head to the Montmartre.
Let the afternoon roll away into the evening as you explore these bohemian streets. There are a handful of fun backpacker bars in Paris, several of which are located in Montmartre. On the Road Pub is a good place to start!
Clichy Boulevard is a bohemian area with fun nightlife and plenty of sketchy sex toy shops. 😉 Hit up a bar or two for a drink. The Eiffel Tower and the Louvre might be one side of Paris, but this is Paris too!
Day 2 in Paris: Notre Dame, Père Lachaise Cemetery, and The Passages
The next morning, you can begin your day with a trip to Notre Dame Cathedral. Like many places in Paris, the lines here can be fucking insane. I recommend that you start early in order to avoid the mid-day crowds. Hike up to the top of the cathedral for killer views of Paris.
After a nice lunch at a cafe or bakery, head to Père Lachaise Cemetery. Normally I'd say cemeteries aren't all that exciting, but some true legends are buried here including Jim Morrison, Edith Piaf, and Oscar Wilde.
Whenever you are walking around in Paris, make sure to keep an eye out for all of the beautiful street art. Now it is time for your after-lunch coffee and pastry – you're in Paris, after all!
For the afternoon, do you want something fun to do in Paris that is off of the beaten track? There is a series of covered passages (Passages Couverts) located in the 2nd and 9th arrondissements where you can explore tiny hidden cafes, ancient bookshops, and delicious pâtisseries. Take a coffee in one of the passages and soak in the vibes from another time.
An afternoon stroll through this part of Paris is the perfect end to a couple of days of heavy exploring. My 3 favorite passages: Panorama, Jouffroy, and Verdeau.
Day 3 in Paris: Versailles and (not) Burning Paris
For day 3 in Paris, it's time to learn about why the French are always moments away from burning Paris to the ground.
But first, a coffee and croissant at one of Paris' many fabulous cafes. I'd recommend one nearby the River Seine so that you can enjoy a classic French morning by the river. Once the caffeine has jolted you awake, it's time to get revolutionary.
The Palace of Versailles makes for a fantastic day trip in Paris. King Louis XIV did not fuck around when it came to building a fine palace for the royal family. The decadence of the place is mind-blowing. The surrounding grounds and gardens are equally impressive as the palace.
Since this hot spot is absolutely massive, it's worth the guided tour. That way, you can be sure not to miss out on interesting facts and maybe even some secret doors. This tour will guarantee fast access (so you won't have to wait in line), transport from where you're staying and back, and an amazing audio guide.
Given the extreme wealth the Palace of Versailles symbolizes, there's little wonder the peasants cut off the royals' heads during the revolution. Today, there is still the sentiment amongst the French that those in power must be held to account by ordinary citizens.
Oh, you want fancy, gilded buildings? Then we cut off your head. Oh, you want to have unaffordable housing, political instability, and mishandling of a global pandemic? Hm, we might yet burn Paris.
Spending More Time in Paris?
Got more time on your hands? Paris has a HEAP of awesome things to do as long as you're in town. Check out some lesser-known adventures that the city has to offer:
Explore cathedrals that are not Notre Dame: Notre Dame is worth a visit. However, there are several other cathedrals in Paris that are very impressive and won't leave you exhausted from the crowds. To start with, check out Basilique Saint-Denis.
Go on a chocolate crawl: We have all been on a pub crawl at some point in our backpacking career. A chocolate crawl is just what it sounds like. The best part: a chocolate hangover is way more fun than the boozy version.
Climb a tower that isn't the Eiffel: From the Montparnasse Tower, you can score some pretty stunning views of the city and the Eiffel Tower. The views are particularly spectacular at night when the city is lit up.
Take a secret food tour: From the Montmartre area, you can jump on a tour that takes you on a journey through Parisian food culture. Sample some of the best cheese, cured meat, wine, and bread that otherwise you would never have heard of.
Drink wine on the Seine: Some afternoons you just want to relax with your friends or lover. Head to the Seine with a bottle of cheap (but delicious) wine, people-watch and absorb the essence of what Paris is all about.
Walk the Rue des Cascades: This isn't exactly a nature walk, though it is worth doing. The Rue des Cascades area has some of the city's best street art.
Paris is one of the best cities in Europe, so there are a lot of things you can do here! If you only have a couple of days, I recommend sticking to what you like to do.
Are you interested in history and architecture? Do you love art? Do you just want to munch wine and baguettes on the banks of the Seine?
It is possible that you are interested in all of those things!
The fact is, Paris is huge, and unless you have a couple of months to spare, you simply won't be able to see all of it in a few days. To get a feel for the essence of Paris, don't exhaust yourself by trying to cram too much activity in. At the same time, have the time of your life exploring this fantastic city.
First things first: Here is a look at the top things to do in Paris! Plan your trip strategically and see as many of these iconic things to do without exhausting yourself!
---
Pro tip: Have you heard of the Paris Pass? If you're looking at visiting the best places in Paris over a few days, I'd recommend checking out the Paris Pass.
It's basically an all-access pass to many of the popular attractions in the city. As long as you really make use of it, the Paris Pass is the cheapest way to see Paris!
---
1. Climb the Eiffel Tower!
Seeing the Eiffel Tower from the ground is pretty cool, but climbing up onto the first and second level is truly epic. Walk on the glass floor, enjoy the most amazing view of Paris and get the best Instagram shots! But keep in mind that you'll be climbing over 700 steps!
It's one of those tourist attractions that is just worth it.
2. Drink Coffee and Stuff Yourself Silly on Pastries at a Parisian Cafe
OK, but how often will you be sipping French espresso and digging into a buttered baguette followed by a bear claw pastry first thing in the morning?
Parisian cafes have long been the haunt of existential philosophers too. So while you pull apart your delectable gluten stack, you may think to yourself that existence precedes even the finest of espresso. Plus, you learn how to properly say 'croissant'.
3. Check Out The Catacombs
Deep below Paris's busy streets lies a rather gruesome sight. Established in the late 1700s in order to reduce overflowing graveyards and cemeteries, the catacombs now contain the remains of more than 6 million people.
Under the cover of night, many human remains were moved from city cemeteries and dropped down a mine shaft opening where they were then arranged in a grizzly manner. Think skulls lining the walls, and bones making up oddly decorative corner pieces. Even the graveyards have got to be extra in Paris.
4. Visit The Louvre
Few museums on the planet can match up with the quality and quantity offered up by a visit to the Louvre. It houses more than 450,000 objects from various points in time, ranging from prehistoric times to the present day, as well as some 35,000 pieces of art.
This is where you come to see the Mona Lisa and other pieces by the iconic Michelangelo, Raphael, Rembrandt, Giovanni Bellini, and Johan Vermeer. The details of some of these pieces can really only be appreciated up close.
It's perhaps startling to learn that some of these masterpieces were not solely complete by the famous artist themselves. Often their apprentices and assistants helped them paint and create what are now legendary pieces of art.
Still, the sheer historical significance and deep beauty of many of these pieces cannot be understated.
5. Explore the Covered Passages
The glass ceilings of these passages let in beautiful light while keeping the elements off you. It's hard to overstate how visually stunning walking through these passages is.
Once they were for the wealthy of Paris to enjoy shopping, even when it was poor weather. Today they are for (not quite so) wealthy locals and tourists to enjoy in all weathers. The tea rooms, especially, have a quaint and antique feeling to them. I think there is something otherworldly about being enclosed in an atrium-like passage as you shop for various bits and pieces.
6. Take a Cooking Class
As I said, if there's one thing the French do well, it's cooking! While it takes years to become an expert French baker, you can still pick up other tips about French cuisine during a cooking class.
You can enjoy tasting your own creations – as well as pairing them with French wine – and have new cooking techniques to try at home!
7. Drink Wine on the River Seine
Whether you go on a tour and sip expensive wine in a tasteful cruise setting, or you buy a bottle of the cheap stuff from the local store and drink in the park, this is a classic Parisian activity. Visiting Paris wouldn't be complete without smelling a glass of newly opened wine and pretending it doesn't smell like all the other wine in the world.
The River Seine is the lifeblood of the city, and sitting along it provides some wonderful people-watching opportunities. As you make your way through a bottle of wine, I think you'll find the people-watching becomes much more entertaining, too.
8. See real chaos at the Arc de Triomphe
As well as being world-renowned as a stunning piece of architecture, you get a double whammy here. Passive aggressiveness is at its most French at this famous round-a-bout. Take a ride around the Arc de Triomphe to delight your senses.
9. Go to an Outdoor Market
With so many to choose from, finding a market is an easy part! Deciding how many delicious things to purchase is the challenging bit.
One of my favourite outdoor markets in Paris was the Rue Mouffetard Market. It really becomes a market within a street as hundreds of stalls selling fresh produce become the bedrock of community for local Parisians. All the best fresh ingredients can be found here so you can try your hand at cooking something authentically French!
I indulged in the cheese and coffee more than anything; 2 things I can never get enough of and 2 things that Paris does well!
The accommodation in Paris is always going to run on the expensive side. This is a world-famous city that's built on luxury, after all. But with so many artists and vagabonds drawn to the city, there are still a few cheap hostels in Paris and other places to stay tucked away.
Hostels are between $20 and $30 USD per night. But they come stacked full of amenities and an awesome social vibe. Not only can you bring back some fresh, local produce and show it off in the hostel kitchen, but you can usually enjoy a drink or two either in the hostel bar or nearby.
You're certain to meet a whole range of characters in a hostel. It's exciting to swap stories with strangers and find new travel buddies!
If you want a break from the hostel scene – or perhaps they're fully booked during high season – you can also try looking for an Airbnb. There is a range of properties available in Paris – from the affordable to the over-the-top luxury, from full apartments to Parisian bed and breakfasts! A mid-range apartment in Paris costs around $40 USD per night.
You'll have to do a bit of searching, but finding an affordable place to stay in Paris is possible!
The Best Places to Stay in Paris
Wondering where to stay? Of course, the city is massive! So it pays to know where the best neighbourhoods to stay in Paris are.
Travelling in Europe can be expensive – and Paris is no exception. But, it's also a popular destination for vagabonds and vagrants. So surely it's possible to save money and survive on a budget!
First, the good news: you can buy a bottle of cheap French wine from the supermarket for around $2.50! You can find baguettes for less than a euro (about $1 USD) and even cheap cheese can be found. So if you're happy to picnic in the parks and drink by the River Seine, your food and activities won't cost you too much.
You can't come to Paris and have no fun, so no doubt you will splurge a little on museum visits, or a nice meal every so often. Even so, keep an eye out because most museums – including the Louvre – are open for free on the first Sunday of every month.
Getting around the city can be cheap too; metro tickets in bulk are less expensive and a 7-day pass is about $25 USD. You can then go almost anywhere in the city and enjoy walking the final bit to your destination – Paris is a very walkable city!
It's really your accommodation costs that will set you back. Although serene and lovely, good hotels in Paris are far from what we call cheap. So unless you are Couchsurfing or have friends in the city, it's worth choosing a hostel in a good location.
A Daily Budget in Paris
Here's a rough idea of how much you should set aside for a travel budget when you're visiting Paris.
A Few Free Things to Do in Paris
In the spirit of being a broke backpacker, it's worth keeping an eye on the FREEEEE things to do in Paris! Luckily, the French love a bargain and like to chop off the opulent heads of the too-rich. So, they keep even their most luxurious city filled with free things to do.
Free first Sundays! It's not just the Louvre and Musee d'Orsay that are free on the first Sunday of each month; it's also a lot of smaller and quirkier museums like Musée de l'Assistance Publique (a museum celebrating Paris' hospitals). Taking advantage of this day gets you out and exploring a side to the city you might've missed otherwise.
Walking through the Jardin du Luxembourg – or any other garden in Paris. The Jardin du Luxembourg is one of the more expansive gardens that you can get lost in for a whole day, but Paris has many excellent gardens free to the public.
Visit the Basilique du Sacré-Coeur – many of Paris's churches are free to visit and are quite spectacular. The Basilique due Sacre-Coeur is no exception and is especially beautiful at night.
Paris on a Budget – Top Tips and Tricks
Like most European capitals, Paris can be expensive. I mean, when the city is home to the Louis Vuitton headquarters (amongst many other luxury brands). You need to pull out all the budget backpacking tips in order to be able to afford lunch!
That being said, visiting Paris on a budget is not out of the question – especially if you keep these tricks and tips in mind:
Use the metro. Who needs the stress of getting an Uber through Parisian traffic? Aside from Uber and taxis being expensive, they're also an act of faith as the traffic gets rather mental. Use the metro instead!
Drink supermarket wine. At $2.50 a bottle, you can enjoy Paris and its wine culture for a fraction of the price.
Try urban camping. If you've got a good backpacking hammock, you can enjoy a different side of the city by trying out urban camping.
Or, try couchsurfing. Trying your hand at couchsurfing opens up a whole new way of experiencing the city. Yes, you save a little money on accommodation costs, but more importantly you make new friends in a foreign city!
Home-stays. There are some great homestays in Paris, which mean you get to stay in a central location. Many include free coffee, breakfast and insider tips!
Cook your own food. The restaurants of Paris aren't cheap, so I'd suggest getting fresh ingredients and cooking up a storm! Not only will you save money but you'll also get to improve your culinary skills.
Why You Should Travel to Paris With a Water Bottle
When you visit Paris, there's a lot that you can do when it comes to travelling responsibly; reducing your plastic consumption is one of the easiest and most impactful. Don't buy one-use water bottles, don't take plastic shopping bags, and forget straws. All of this just ends up in landfills or in the ocean.
Paris already has a garbage problem: be part of the solution instead!
There's nothing worse than showing up to a picture-perfect beach, only to discover plastic bottles littering the sand. One way to get around this is by investing in a premium filtered travel bottle like the Grayl Georpress. You can filter any kind of water, save money on buying endless plastic bottles, and sleep easy knowing you're not contributing to the plastic bottles lining our beautiful beaches.
Let us face the reality at hand: Paris is one of the most visited cities in the world. Millions of people flock here every year for a glimpse of that Parisian magic. That said, certain times of the year are clearly busier and more crowded.
The high season of Paris coincides with warm weather, vacation time, and school holidays. This means summer! From late May until September, Paris is awash in foreign visitors. I'm talking about lines so long they want to make even the most patient person's head explode.
The best time to visit Paris is in the fall or the spring. Certainly, around the Christmas and New Year holidays, Paris can get very busy. There will never be a time when tourist hordes are not in Paris. However, if you go in the low season your overall experience and impression of Paris will be that much more positive.
What to Pack for Paris
Packing for Paris is very seasonal. If you are going in the middle of winter, then you need layers on layers! Whereas if you visit in the summer, then you can get away with some light layers and mosquito spray. But any city trip isn't complete without a few packed essentials.
Like any big city, Paris has its safety issues. There are some sketchy neighbourhoods on the outskirts. But, there isn't any reason you should end up there.
Always be aware of pickpockets and thieves as they operate in crowded places and specifically the metro lines. Watch out for strangers coming up to you with petitions and signs; this is usually just a distraction to steal your stuff.
The traffic is fairly mental, so be aware that road accidents are not uncommon. But if you keep your wits about you, again, Paris is a fairly safe city.
The city doesn't always look very clean though. And every now and again, the regular protests that hit Paris do turn into something more intense. I'd say that there are cleaner cities with less civil unrest in Latin America and Asia, but that doesn't mean Paris isn't, on the whole, a safe place to travel to.
French people always need to protest something and ever since the revolution of 1789, Paris has been the epicentre of the action. Is it likely that the streets will erupt into riots while you're there? No, not really.
In fact, you're probably going to have a very uneventful visit to Paris! It's just worth keeping an eye on the news so you know if there are any risks.
Sex, Drugs, and Rock 'n' Roll in Paris
Paris loves drugs. And drugs love Paris. Obviously, they're illegal, but they're also freely available.
Marijuana is not legal, but if you're subtle and only have small quantities on you, then you shouldn't be bothered. You can buy hashish and weed but generally, the hash is a little cheaper. As with any city, you'll be paying tourist prices (less than a gram of hash for $10 – $20 euros) until you know someone/make friends.
All the party drugs are widely available too – but again, you've got to know who to go to if you don't want to overpay. As always, buying drugs is risky.
I'm not saying don't do it, but be smart about it. Don't bring any more money with you than you're prepared to spend. Don't bring your passport with you. And stay hydrated when you do take your drugs on the road. 😉
Now, Paris and sex work have a long and storied history. There have been competing strains of thought about how to "deal with" prostitutes for hundreds of years. Although, not much thought is given to "dealing with" those that seek out sexual services, but I digress.
As of 2016, it's illegal to buy sex, but not illegal to sell sex. So while there aren't the brothels that once made Paris famous, there's a grey area that exists.
Why am I mentioning all this in a backpacking guide? Well, inevitably backpackers may find themselves in situations they didn't really expect. It's better that you know what the facts are so you can make an informed decision. Also, no matter what line of work someone ends up in, they deserve to be treated with respect.
This is a person you're interacting with; not a mere character in your Paris adventure. Love and sex on the road are inevitable; you might as well treat everyone kindly as you try and navigate your way through it.
Get Insured BEFORE You Visit Paris
When you visit Paris, you have to remember you're in a big European capital. No matter what you do, that always involves risks. Getting good travel insurance sorted before you head off on an adventure is a great way to take care of yourself.
I have been using World Nomads for some time now and made a few claims over the years. They're easy to use, professional, and relatively affordable. They may also let you buy or extend a policy once you've started your trip and are already abroad which is super handy.
World Nomads' mission is to support and encourage travellers to explore their boundaries. They offer simple & flexible travel insurance, and safety advice to help you travel confidently.
They've been doing it since 2002 – protecting, connecting, and inspiring independent travellers just like you.
Get a quote below or read our in-depth review!
World Nomads provides travel insurance for travelers in over 100 countries. As an affiliate, we receive a fee when you get a quote from World Nomads using this link. We do not represent World Nomads. This is information only and not a recommendation to buy travel insurance.
Paris is a super accessible city! Not only do the cobblestone streets cry out to be explored by foot, but there is cheap public transport to help you get around the sprawling city.
Getting into Paris from the airport can be a bit of a headache, but once you're in it's easy enough to get around.
Paris is served by 3 main airports. Charles De Gaulle is the city's main international airport. Orly is the second-largest and also serves international airlines. Then there is Beauvais Tille Airport.
Beauvais Tille is where the majority of the budget operators like Ryanair fly out of. Beauvais Tille is located 85 kilometres (53 miles) north of Paris. The cheapest way to get to Beauvais is by train or bus from the Gare du Nord station.
To get to or from…
Charles De Gaulle Airport – €10 by train.
Orly Airport – €12.05 by train
Beauvais Tille Airport – €17 for a shuttle bus
Getting Around Paris
The Paris metro is awesome. There are several main lines connecting the city centre. You can get anywhere relatively quickly by taking the metro.
As I mentioned before, I recommend buying metro tickets in bulk on your first day in Paris. If you are familiar with metro systems, you will navigate the Parisian version with no problems. If using the metro is new to you, it won't take long before you get the hang of it.
Taxis and Uber are also options, though expect lots of traffic and to pay big money for even a short ride.
The best way to get around Paris is simple: take the metro when you need to, and carry on the rest of the time on foot. Paris is a fabulous city to walk around in!
You can also choose a boat to get from A to B. Perfect for a weekend in Paris, the hop-on-hop-off boat stops at 8 hot spots that are close to the river. It's a cheap, relaxing, and reliable way to get around.
Buying a Transit Pass in Paris
There are 2 main ways to make getting around on public transport in Paris easier. You can either get a Visitor's Pass or the Navigo Liberte.
The Visitor's Pass lasts between 2 – 5 days and can cover you for 1 – 5 zones in the city. Depending on the length of your pass and how many zones you want to cover, your pass will cost up to $43 Euro (around $43 USD). Once you've paid for this, you can use the metro and buses an unlimited number of times during your stay.
If you're staying longer than 5 days, then it's best if you get the Navigo Liberte to get the most affordable metro rates as you get around the city.
If you've got a sexy European passport, then you can land yourself a job in Paris. If not, there really aren't many backpacking jobs to speak of.
You are also going to struggle to find work if you don't speak French. The French are still a wee bit mad that their language isn't as widely learnt as English, so, heads up. One way to earn a little money and shore up your French is to work as an au pair. There is a big culture of au pair work in France so it's worth looking into.
Of course, there is always a hustle for the savvy backpacker. You could work as an English tutor (note: working as an English teacher is much harder as you need more qualifications) or as a tour guide for other English-speaking tourists in the city.
The digital nomad scene could be set to expand in Paris as more entrepreneurs are drawn to the city. But for now, the relatively high living costs keep many digital nomads away.
You can usually find a way to volunteer within Paris – but there are definitely more opportunities outside of Paris and in the French countryside. Still, if you are working on your French language skills and/or looking to do something unique, volunteering in Paris could be the way to go.
I'd recommend being a little cautious about your volunteering platform and going with one with a good reputation. That way you can rest easy knowing your hard work isn't getting wasted. The Broke Backpacker recommends Worldpackers as an easy-to-use and reputable platform. It's review based and transparent so you know what to expect before you arrive.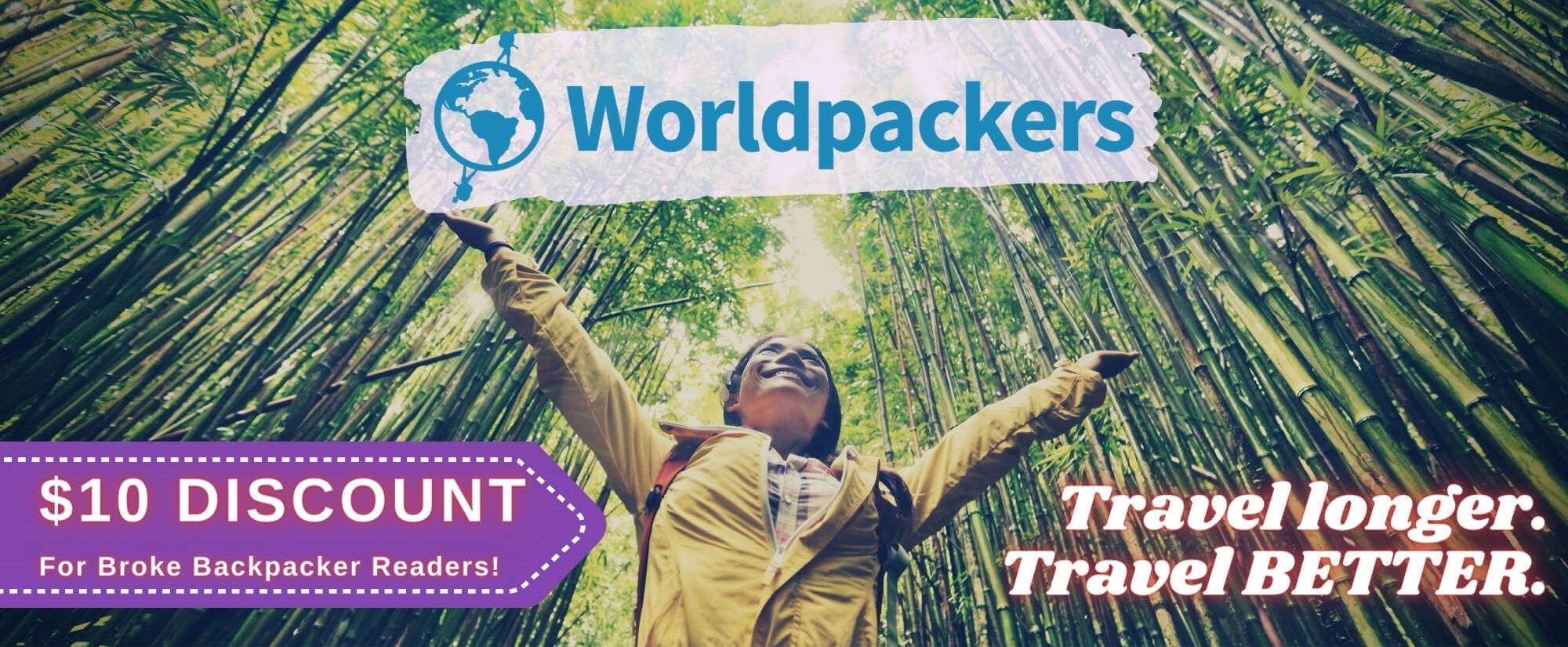 Worldpackers: connecting travellers with meaningful travel experiences.
The nightlife in Paris is an experience every backpacker should get a taste of! In this city, there is a nightlife venue to suit every backpacker's interest.
There are a plethora of clubs where you can get fancied up and go dancing. Bars and pubs can be found in every neighbourhood.
For those with finer tastes still, there are upscale cocktail bars serving delicious concoctions. Speak-easy lounges – which are kind of like clandestine bars inspired by the American prohibition days – are popping up as well with more frequency. Some even require a secret password to gain entry!
Whilst there is an unending choice of places to go for a big night out, keep in mind that going to bars, clubs, and pubs will eat a huge hole in your budget if you're not careful. Go out and experience what Paris has to offer. Just don't get so carried away that you blow your 3-day Paris budget in 3 hours!
Dining in Paris
You don't need me to tell you: culinary traditions in Paris have deep roots. This is the city that invented fine dining and gastronomic pleasure. Good food and drink are everywhere.
The thing about Paris is, today, it's a very multicultural city.
Sure, you've got your restaurants that use a stick of butter to fry their fish in, but you also have incredible cuisine from across the world. Because Paris has a reputation for producing the world's best food, the world's most creative chefs are all attracted to Paris. This means even if they aren't cooking traditionally French food, they know they're competing with some of the best food in the world and so they'll pull out all the stops.
One thing that has remained distinctly "old world" French is their wine. There are over 20 wine-growing regions in France!
While in Paris it'd be rude not to sample a bottle of cheeky champagne or two! Although, if you get serious about paring your wine to your meal, you may find yourself branching out into the world of a good Cabernet Sauvignon…
Cheap Eats in Paris
There are cheap restaurants and takeaways around, but the cheapest way to eat in France is to cook for yourself.
But you've come to Paris! You want to indulge in some damn fine food!
My biggest tip for enjoying Parisian food on the cheap is to enjoy the open-air markets. It's here that you can buy croissants, chocolates, and cheeses.
So, are a few of my favourite places to get cheap eats while in Paris.
At the end of the day, Paris is a highly visited city and is chock full of attractions. I'm not saying that they are overhyped by any means: the Louvre was, quite honestly, one of the most perspective-changing places I've ever visited. But, you won't often have places to yourself!
Still, there are many strange and wonderful places to discover in Paris – if only you go looking… With so many delicious foods on offer, there are many hole-in-the-wall stores waiting to be discovered. There are smaller art galleries, side alleys, and markets scattered throughout Paris.
Paris also has a huge number of wonderful bookstores! There are second-hand bookstores, antique bookstores, huge free to the public libraries! Paris has been a centre of ideas and art for many centuries so these bookstores are very rarely dull, sterile places to simply get a book and get out. Parisian bookstores are a world unto their own.
I may sound like a huge nerd (and I am!) but walking into a store filled with that much history is spine-tingling! A bookstore is a perfect addition to your quest to get off the beaten path and find a unique experience in Paris.
Shakespeare and Company in Paris
This is one of the most famous and most impressive bookstores in Paris. The Shakespeare and Company Bookstore is an English language bookstore that sells new, second-hand, and antique books. But it also serves as a haven for the many struggling writers that find themselves in Paris.
As with many bookstores, it has become a bit of a cultural icon within the city and has launched the careers of several well-known authors. It's been described as a venerable "socialist utopia masquerading as a bookstore". Artists could get free board if they helped out in the store. These helpers became known as "Tumbleweeds".
It all sounds kind of kooky, but I think it's important to remember that there is more than one way to live this life. You can get caught up in the rat race and sometimes it takes a few socialists and a lot of books to rustle your imagination and have you thinking about other ways to live your life.
Shakespeare and Company also boast a lovely cafe next door that serves mostly vegetarian food and, of course, good coffee.
How to Get Off The Beaten Path in Paris
Remember it's all very well and good to seek out advice and inspiration before you go to the city. And there's no point in being a really cool hipster who never sees the major attractions of a city – that's just silly! Paris is full of some truly epic sites that live up to the tourist hype.
But it's important that you make your own way through this city – or anywhere you travel.
Paris is an absolute maze of a city so the moment you are out of the centre and into the suburbs, you feel like you've travelled somewhere new entirely.
But even within the main centre of Paris, there's always something to be discovered – the Salvador Dali Sundial comes to mind. Heading out of the city on a day trip is another way you can keep exploring off the beaten path. You can always head out to the Champagne region for the day!
I think it's the places that you discover on your own as you explore Paris' streets that will stick with you the most. This city is full of some strange and wonderful folks – all you have to do is seek them out…
Before you come to Paris, you're likely to have a few burning questions. Luckily, we've got answers!
The City of Lights is an adventure waiting to happen. As much as Paris has been hyped up, actually being there on the ground makes a difference.
Because much of the city is truly fascinating and a little romantic. This is an ancient place full of mystery and stories waiting to be discovered. As you wolf down your third croissant of the morning, looking at the Eiffel Tower, getting hyped up on espresso, you'll find yourself in awe of the architecture and the cavalier way legends of European culture are woven into the fabric of the city.
Then there will be the moments that make you think twice about the romanticised version of Paris. The traffic and the pollution can leave a little to be desired for… But this is what's important about travelling. You need to come to a place with an open mind and see it for what it is. Without the grunginess, Paris wouldn't be what it is today.
I think seeing a legendary city up close fosters a sense of gratitude for your own humble homeland, too. We're all in this crazy world together – we might as well enjoy it!
In any case, backpacking Paris will stand out as a trip of a lifetime, so buckle in and get exploring!
---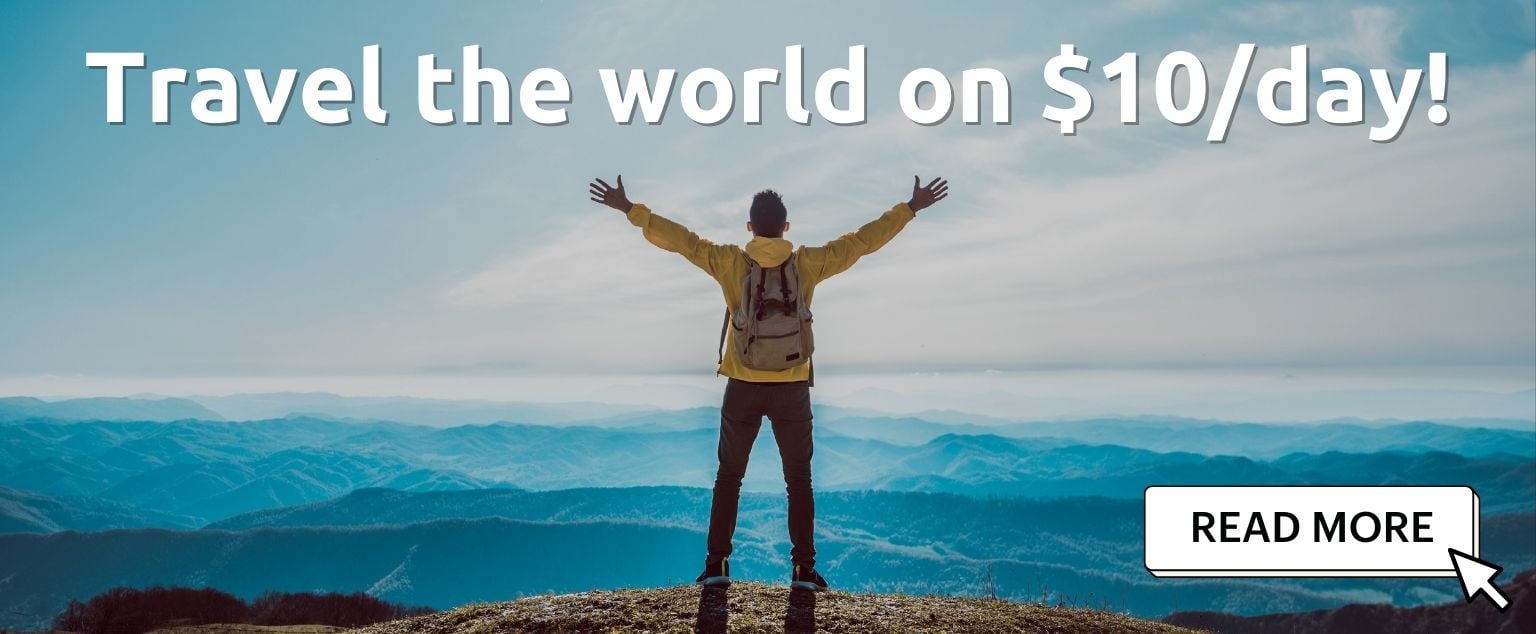 And for transparency's sake, please know that some of the links in our content are affiliate links. That means that if you book your accommodation, buy your gear, or sort your insurance through our link, we earn a small commission (at no extra cost to you). That said, we only link to the gear we trust and never recommend services we don't believe are up to scratch. Again, thank you!