Paris is the City of Love; it's the home of the Louvre, the Eiffel Tower, and the surprisingly awesome catacombs, too. Even the graveyards are famous in Paris: Père Lachaise Cemetery for one.
Not everything is awesome in Paris though. There are a couple of troubling things about visiting the French capital. There's A LOT of petty theft going on, which is a big issue in Paris and the city also seems to be more prone to protests than others.
So, you may be wondering, "is Paris safe to visit right now?"
That is why we have created this epic guide to staying safe in Paris. We are going to help you travel smartly and avoid the dregs of Paris.
Whether you're travelling solo, with friends or with your family, you'll find some useful information in our tips and tricks for your visit in one of the most romantic cities.
From driving around the city to the famous Parisian food, or travelling as a solo female backpacker, we've listed up a couple of do's and don'ts to make your trip to Paris enjoyable, and most importantly, as safe as possible.
How Safe is Paris? (Our take)
Paris pretty much speaks for itself as a destination, right? It's a world-famous city, after all! And that's for a good reason: world-renowned museums, good food, beautiful architecture. Millions of tourists are drawn into the city every year, making Paris one of the most popular vacation destinations worldwide. Most trips to Paris end trouble-free.
But it's not all as romantic as you'd think.
There's a lot of pickpocketing going on, not to mention criminal gangs and BIG protests. For all it's grandeur, Paris is still a big city and suffers from big-city problems. It's gotten to a point where even the government is sending out warnings to keep an eye on your valuable belongings.
However, generally speaking, Paris is still quite safe to visit, at least for tourists. As a well-developed European city, there might be thefts here and there, but the living standard is still very high.
Is Paris Safe to Visit Right Now?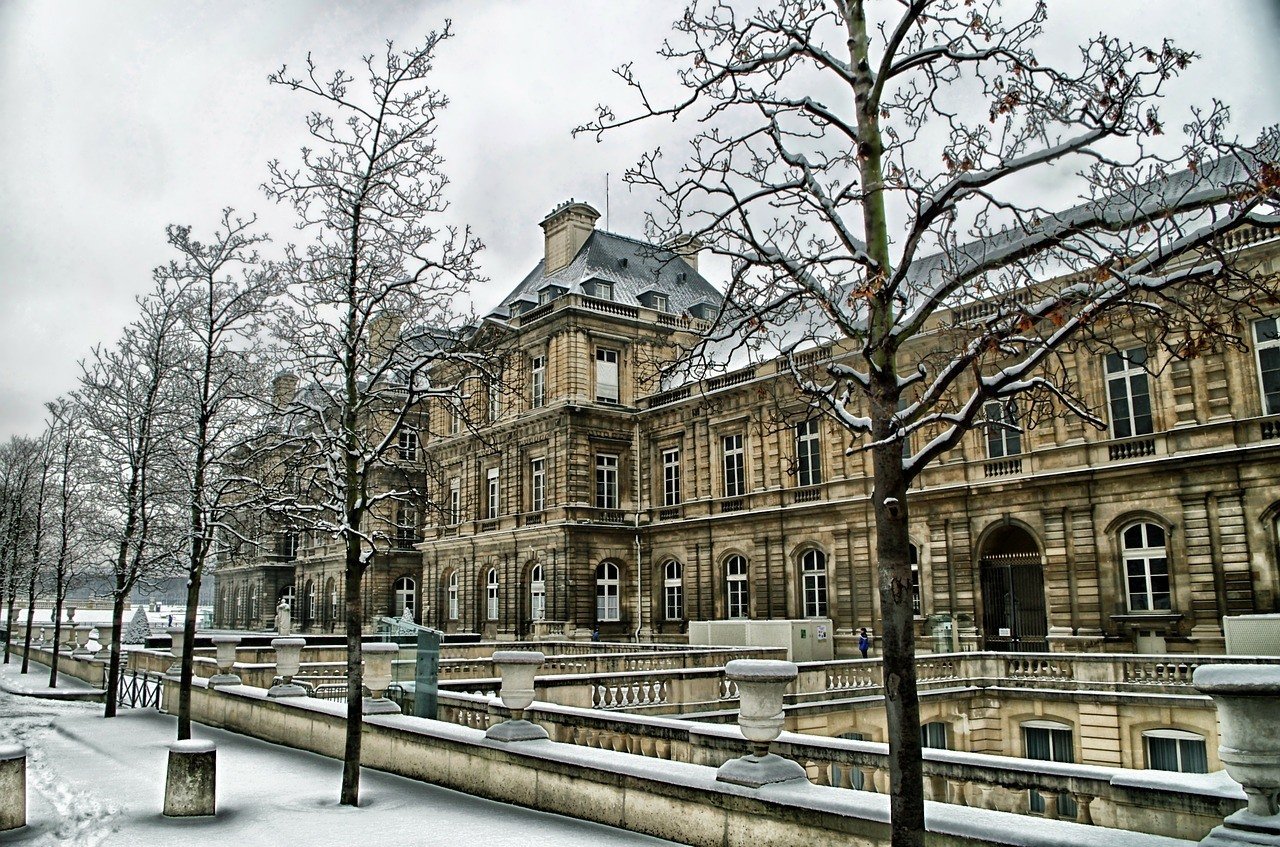 Most backpackers to France pass through Paris at some point.
40 million tourists visited the city in 2018, which makes Paris the most popular destination for vacation in Europe.
According to a survey, 9% of native Parisians were victims of crimes like vehicle theft, robbery, and assault in 2018. But for tourists, Pickpocketing is the REAL problem.
As in many big cities, there are issues for women as well – for example, groping on the metro can be a problem. In one survey of Parisian female commuters, 100% of the respondents said they had been victims of sexual harassment or assault whilst riding the metro.
The yellow vest movement, an anti-government demonstration, used to be a real safety problem in Paris, but the number of protests has pretty much died down.
These protests are noteworthy because they often take place around popular tourist sites – e.g. the Arc du Triumph – and they sometimes turn violent, too. Trying to find out when protests are scheduled (usually at the weekend) is a good idea. Also, consider avoiding the Champs Élysées during these days.
We're saying Paris is very safe to visit right now but expectations will still need to be tempered.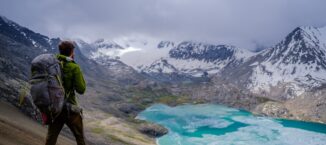 Do You Want to Travel FOREVER??
Then pop your email address in below and we'll send you a FREE copy of 'How to Travel the World on $10 a Day!'
Terrorism in Paris
Paris was subject to a few high profile attacks by terror organisations in the last few years. The city remains on high alert and has started to increase its safety regulations. However, terrorism can and does strike anywhere in the world and Paris is not particularly risky. The chances of been effected by terrorism are incredibly low.
Paris Travel Insurance
Do you need Travel Insurance for your trip? Even if you're only going for a few days, that's more than enough time to get smote by wrathful angels. Have fun in Paris, but take it from us, overseas medical care and canceled flights can be seriously expensive – insurance can, therefore, be a life-saver.
Travel mishaps can and do happen and it is well worth thinking about insurance before you leave home.
We have used World Nomads for years now and I have personally made several claims. Why not get a quote from them yourself?
Do be sure to read the terms and conditions to make sure that the policy covers your needs.
Getting an estimate from World Nomads is simple – just click the button or image below, fill out the necessary info, and you're on your way!

What are the Safest Places in Paris
Paris is very safe in pretty much every area. The only thing you might have to worry about is pickpocketing thieves around the tourist spots. As long as you keep your eyes open, you'll be safe in Paris no matter where you stay. However, we've listed the three best districts below.
Le Marais – 3rd and 4th Arrondissement
Le Marais is a historic district located on Paris' right bank. An excellent destination for art lovers, Le Marais is home to some of the finest art galleries and most interesting museums on the planet. Since the overall vibe is more relaxed, you'll almost be safe from the Paris pickpocketing threat.
Great for History Lovers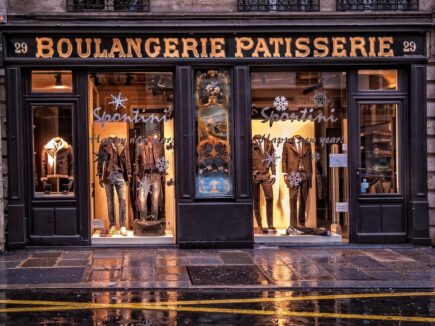 Great for History Lovers
Le Marais
Le Marais is a historic district located on Paris' right bank. An excellent destination for art lovers, Le Marais is home to some of the finest art galleries and most interesting museums on the planet.
Eiffel Tower – 7th Arrondissement
Of course, we'll have to feature the 7th Arrondissement with the famous attraction – the Eiffel Tower. This district is ideal for sightseeing as everything is practically in walking distance. However, this means that you'll have to be more aware of pickpocketing and petty theft. Just keep your eyes open and stay aware of your surroundings and you'll be perfectly fine.
Best for Sightseeing
Best for Sightseeing
Eiffel Tower
Paris' 7th arrondissement is one of the most iconic neighbourhoods in the city. Situated on the left bank, the 7th arrondissement is right in the heart of the action, making it the best neighbourhood in Paris to stay in for sightseeing.
Saint-Germain-des-Pres – 6th Arrondissement
This can be considered as one of the safest districts in Paris. It's suited for families and culture lovers thanks to its peaceful vibe and plenty of activities. Brimming with history, culture, art and cuisine, this centrally located neighbourhood is home to upscale art galleries, iconic museums, world-class restaurants and brand name designer boutiques.
Safest Neighborhood
Safest Neighborhood
Saint-Germain-des-Pres
Saint-Germain-des-Pres is one of the classiest districts in the city. Brimming with history, culture, art and cuisine, this centrally located neighbourhood is home to upscale art galleries, iconic museums and world-class restaurants.
Places to Avoid in Paris
There are no official no-go areas in Paris. Some people consider a few arrondissements "ghetto-like". These areas should mainly be avoided at night but are generally fine during the day. As a female traveller you should only walk through these districts with company or hop on an Uber instead. Be careful in the following places:
The 10th Arrondissement: Gare du Nord and Gare de l'Est
Northern 18th and 19th Arrondissement: nearby Marx Dormoy, Porte de la Chapelle, La Chapelle, Porte de Clignancourt, Porte de la Villette.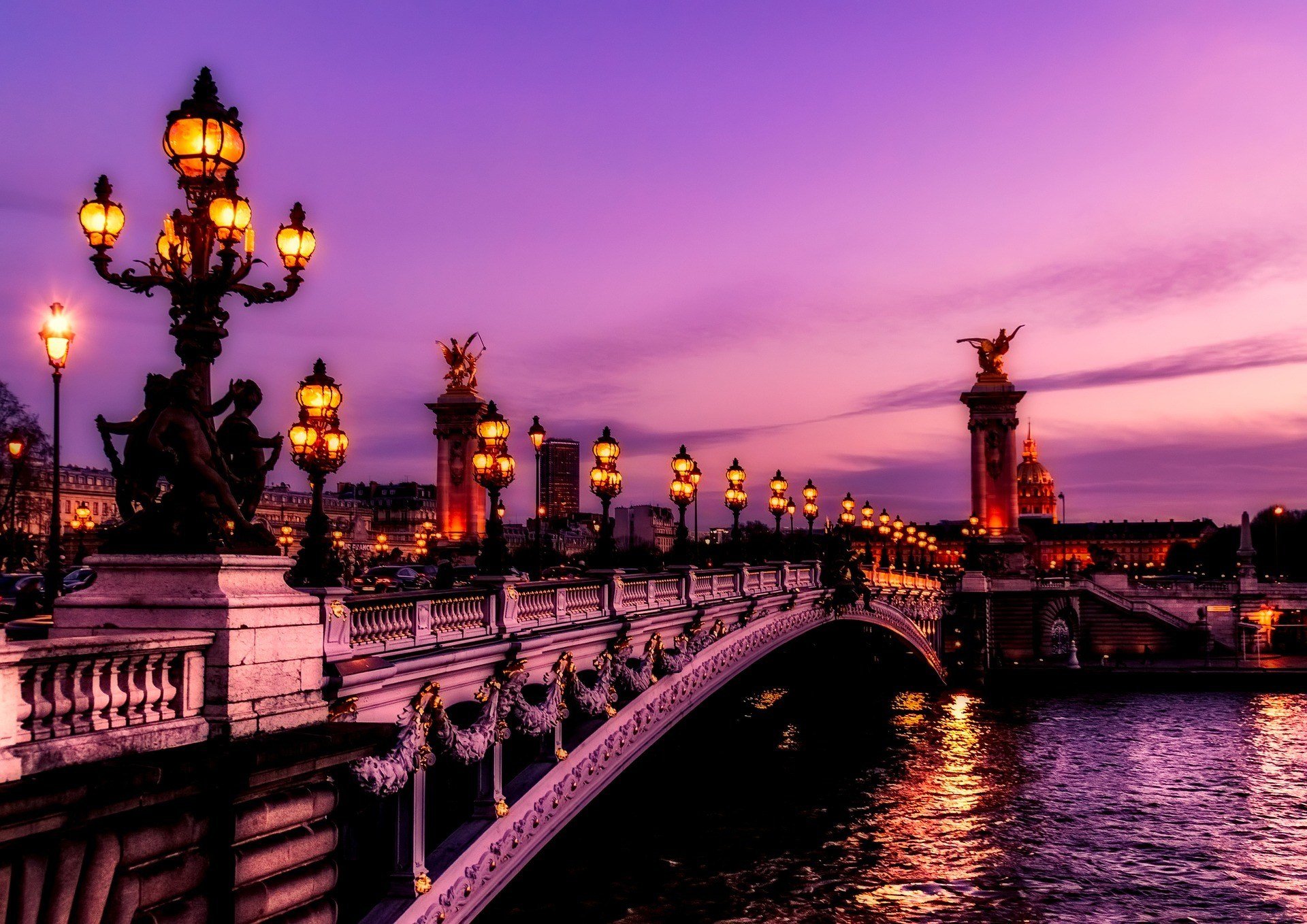 So with all the historic sights and things to do in Paris come a few safety issues. Though a lot of the bad stuff that does happen in Paris won't be affecting tourists, it still pays to travel smartly.
And so we thought we'd share with you some of our top safety tips for travelling to Paris so you can still have an awesome time in this cool city:
Watch out for distraction techniques – asking you to sign up to petitions, people working in groups, anything that seems off probably is. That said, pickpockets are often young women.
And read up about scams – like the 'gold ring' trick for example. There are loads out there, so do some research.
Don't keep all your things in one place – if you get something stolen with all your stuff in it, you'll be screwed. Be smart! Consider keeping an emergency stash in a money belt (you can leave it in the hotel room if you like).
Keep your belongings close to you – don't let your bag dangle around, or hang it on the back of your chair, anything like that. It will disappear from under your nose.
Be wary of your luggage – around transit hubs and places like your hotel lobby. Could just disappear.
Use the hotel safe for your belongings – you never know when things might go missing.
Steer clear of prostitution – and be careful around red-light districts. Rife with human trafficking and shady characters.
Be smart with drugs – make sure you know who you're buying from, if you must partake.
Pickpockets are a thing – all over the metro and at big tourist sights like the Eiffel Tower, the Louvre, Pompidou Centre, Champs Élysées.
So try not to look wealthy – it may be a chic city (or seen as one) but try to blend in. Looking like a tourist makes you a target.
Watch out when you're getting money out of ATMs – scammers and potential thieves could be lurking behind you.
Learn yourself some French – hey, French people like talking French. This will really help you.
It's illegal to cover your face in public in France – veils, masks, balaclavas, whatever. 150 Euro fine or a year in prison. Tourists are not exempt by the way.
Steer clear of any political protests – not good, these DO quite often turn violent.
Some General Safety Tips from the OG Broke Backpacker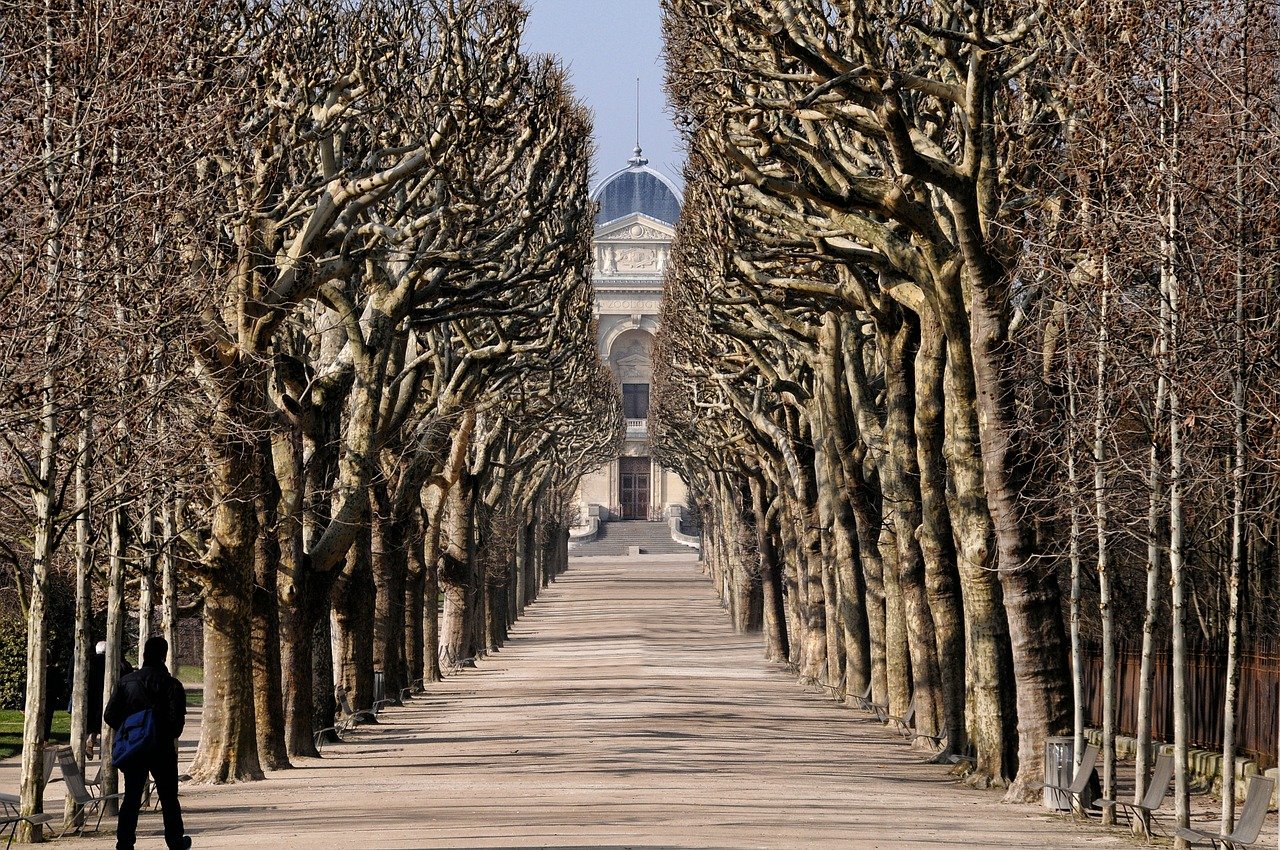 Solo travel is definitely something we're all about. Getting to challenge yourself, learning new languages, growing as a person, being self-reliant – doing all of these whilst travelling the world is an awesome experience.
Paris is safe to travel alone (though all the stuff we mentioned already applies), we're sharing a few tips so you can make your solo trip even more secure:
If you need to be around people, then find yourself somewhere social to stay. There are quite a few cool hostels in Paris. Chatting with travellers from all over the world is a great way to get rid of those solo travel blues.
Ask the staff at your accommodation for insider info, like food recommendations, where it's safe to walk around and explore, what things you should see. Local tips are always the best!
Learn a little bit of French. The effort of speaking the local language will go a long way.
Stay in areas you want to explore so you don't have to travel around too much. Most hostels tend to be around the city centre where you can also find lots of great Paris places to visit.
You may be in a well-developed city, but you should still let people know where you are and what you're doing. Keep in touch with friends and family back home and tell them what you're up to.
Use Google Maps to navigate the city, particularly its massive public transport network. If you don't want to bother with the metro, Paris is a walkable city as well.
Be careful around fishy-looking people and trust your gut: overly enthusiastic "petitioners," people with fake disabilities, anyone trying to gain your sympathy and attention.
Make sure to keep the number of drinks on a night out rather low, so you can get home safely.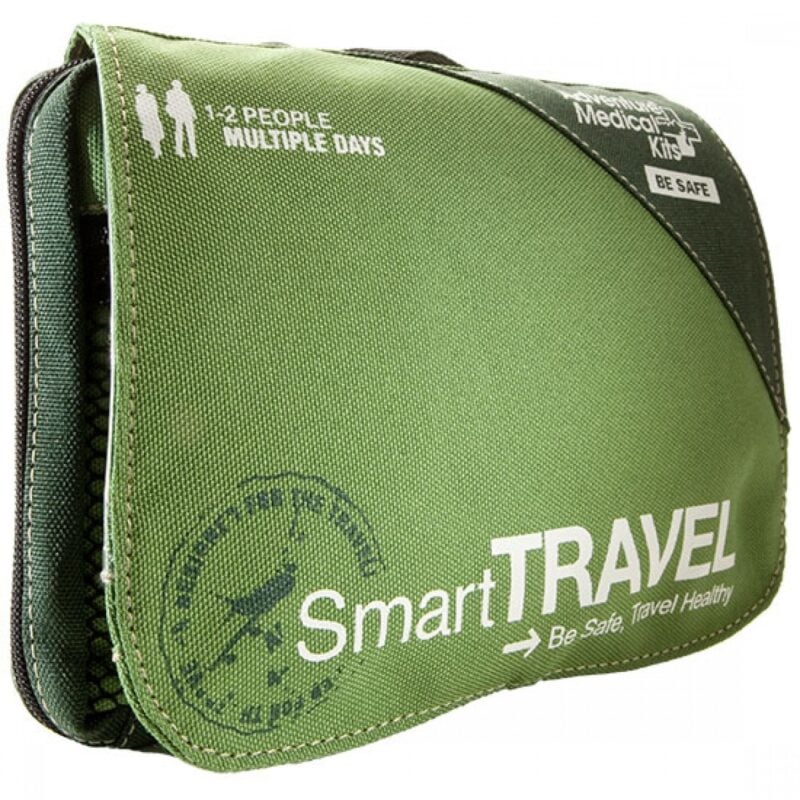 Be prepared for what life throws at you on the road. Pick up an AMK Travel Medical Kit before you head out on your next adventure.
View on REI
View on Amazon
Is Paris safe for solo female travellers?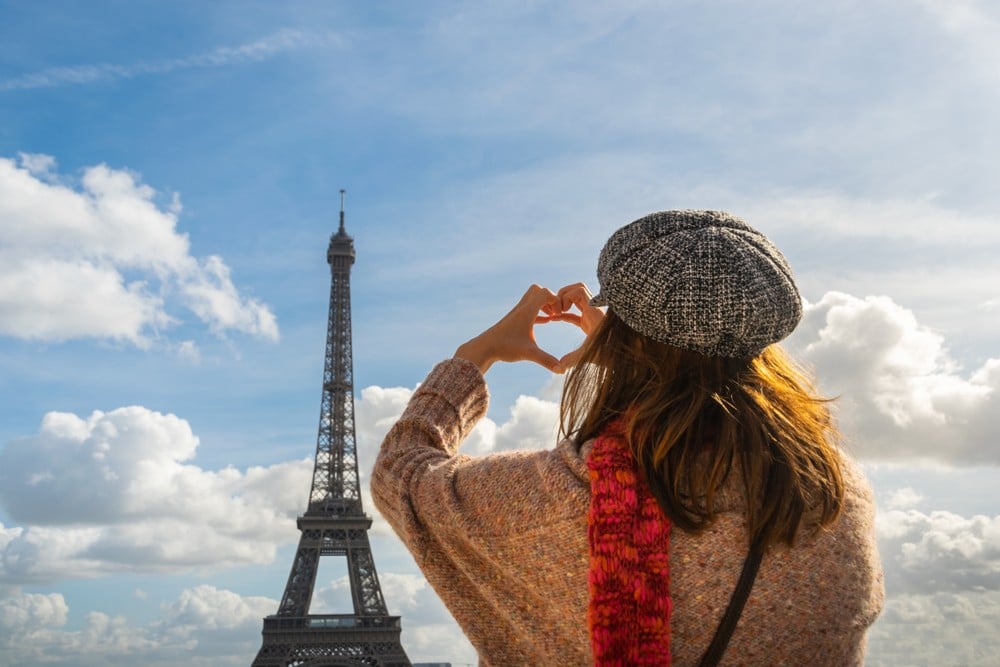 A lot of women travel to Paris by themselves and have a great time. In fact, many women choose to make it their first-time solo travel destination.
Unfortunately, being a woman in any country can come with complications. Knowing how to protect yourself and stay safe in a new country is definitely a necessity for all solo-female travellers (or travellers in general).
We've listed up a couple of tips that can make your trip a bit safer and therefore much more enjoyable:
Walking around at night, especially when being alone, is never a good idea.
Be careful on nights out. Looking up your route back home is a good idea, as well as watching the number of drinks you're having (with that also comes the rule of never taking your eyes off your drink).
Although you don't need to cover up in Paris, Parisian women don't often wear revealing outfits. Doing so will definitely bring more attention to yourself, especially after dark. Just dress casual and you'll be fine.
Avoid train stations and areas around train stations at night
If someone's flirting with you or making advances, stay neutral and tell them you're not interested. Any hint of interest might invite even more attention.
If someone's being overly aggressive or harassing you in the street, say "NO" – do not smile and move away from them. If it continues, find somewhere safe like a cafe and ask for help.
Don't be overly polite with strangers. It's ok to chat to people, obviously, but they don't need to know everything about you.
In general, you should be aware of your surroundings and be vigilant. A no-brainer really.
Choosing the right area of Paris to stay in is important. Make sure your accomodation is safe and read the reviews.
If you're staying in a hostel, ask for female-only dorms.
More About Safety in Paris
We've covered the most important safety aspects already, but there is loads more to know about how to stay safe in Paris. Read on for even more detailed safety information.
Is Paris safe to travel for families?
Paris is very safe for families and fun as well! It's full of museums and art galleries. You'll find loads of parks too – great for cooling off in summer.
Do just a little bit of research and you'll find amazing things to do with children in Paris.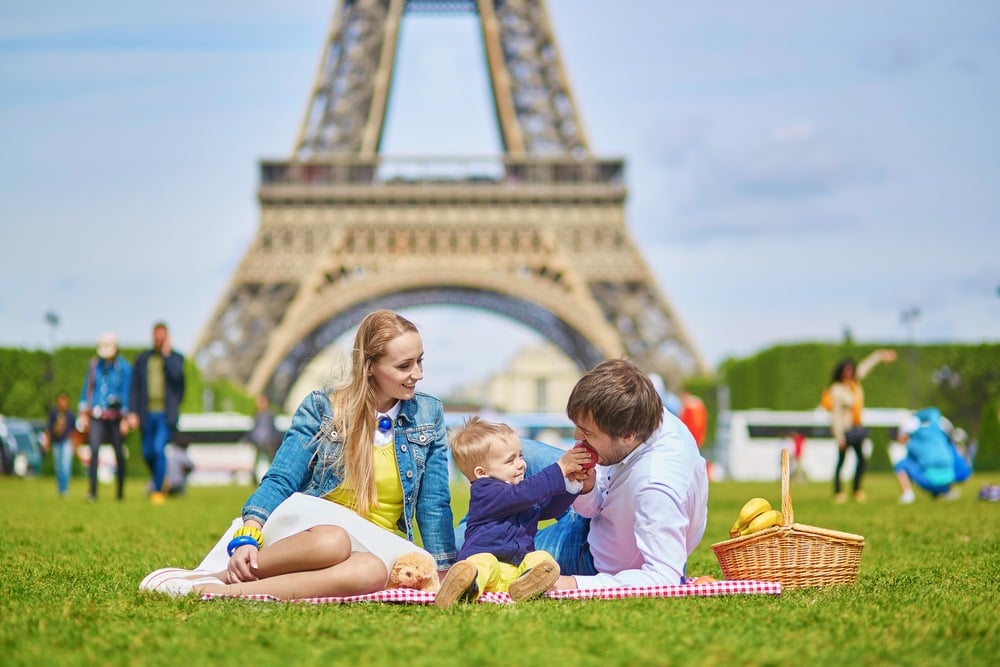 Whilst Paris is safe to travel for families, it isn't always the cheapest, especially with kids. But you can get a Famille Nombreuse – this is a discount ticket for families of five (that's 3 children) and covers a ton of different attractions.
And depending on the age of your kids, discounts apply at some places in addition.
Is it safe to drive in Paris?
Driving in Paris is stressful. Drivers can be pretty unpredictable, there's loads of traffic congestion, you'll have to deal with huge multi-lane roundabouts (e.g. Place Charles de Gaulle), and much more.
Here are some reasons not to drive in Paris:
Local drivers can be pretty aggressively. Not a lot of fun.
If you do fancy driving in Paris, you can't use your phone. Not even an earpiece.
You can also get some pretty heavy fines if you're caught speeding.
Renting a car can be very expensive. And you need good luck finding a parking spot.
If you do choose to drive, we suggest locking your doors when you're in slow-moving traffic and make sure that your valuables aren't on display. Smash and grabs aren't uncommon.
At the end of the day, driving in Paris is safe but totally not worth it.
Cycling in Paris
Riding a bike, in general, is one of the safest ways of transport since you've got full control of your speed and where you're going. Just make sure you wear your helmet!
Paris has a massive and constantly expanding bike path network since 1990. There are over 800km of bike lanes, all distributed through the city. Since the normal streets can be quite busy, and the metro is usually quite packed, choosing your bicycle to get around is, in most cases, the fastest option.
Although you've got the bike lanes to yourself, you need to be aware of traffic, especially in the inner city where the bike lane is only marked by white lines on the ground. If you ride your bike further from the centre, the bike path will be separated by little speed bumps that stop anyone from crossing your lane.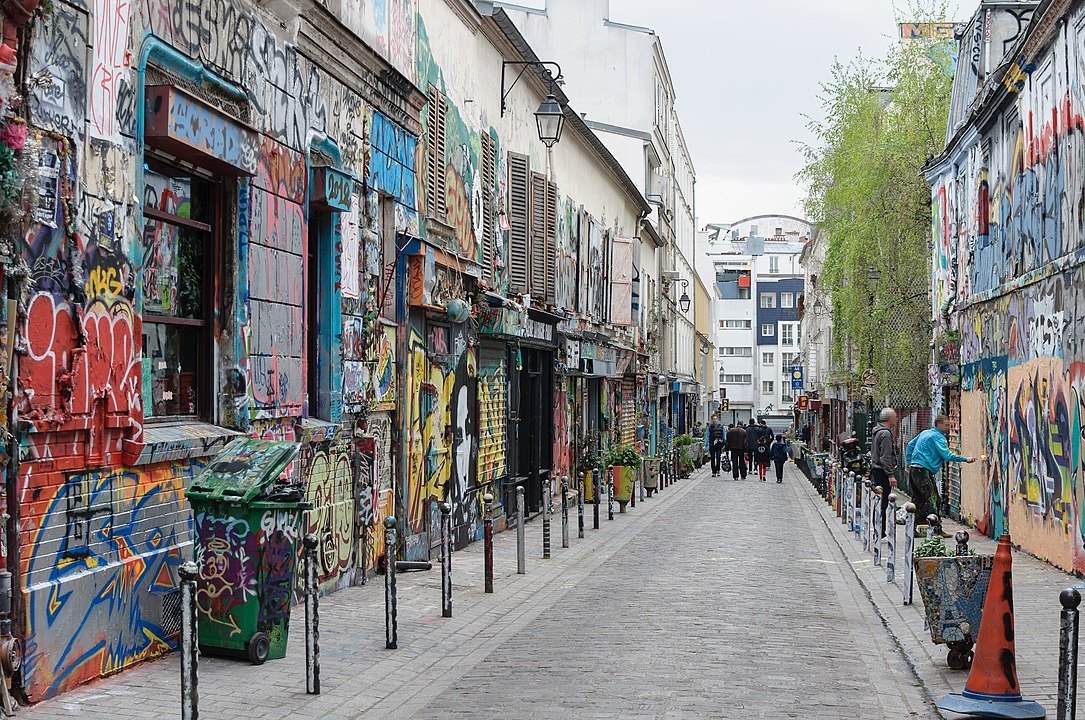 Is Uber safe in Paris?
Uber in Paris is safe and super convenient! Here's why:
It's an easy, cost-effective way to get around and connects you all over the place.
No worries about hailing a cab or dealing with pushy drivers.
As an added bonus, the language barrier also won't be an issue.
You can track your journeys and even share your location.
Are taxis safe in Paris?
The taxis are safe in Paris but just make sure you don't get in an unlicensed taxi. These are illegal and sometimes unsafe. You're more likely to encounter these kinds of taxis at transport hubs, airports and popular places like Gare du Nord.
Spotting an illegal Taxi is pretty easy since licensed taxis have Taxi Parisienne written on the top. If the light's on, it's vacant. On the front right of the car, there will also be a plate showing the taxi license number. Check for these and you're good to go. Just make sure that the taxi has a working meter that you can actually see.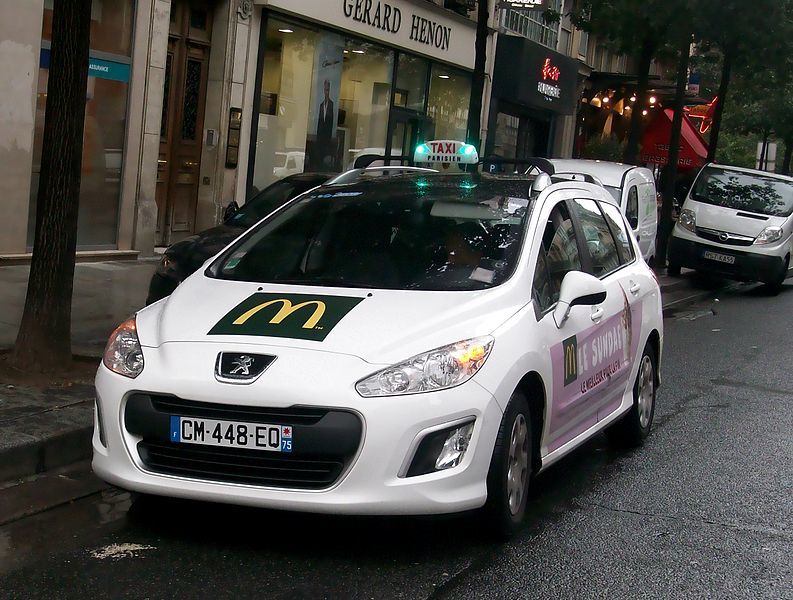 Is public transportation in Paris safe?
The public transport in Paris is safe but it can be hit or miss depending on the metro line. Some are easy to use and are very secure, while others are crowded, chaotic, and sometimes crawling with thieves. Note these:
Line 9 that passes through the Trocaderoand Champs Élysées is well known for pickpockets. It's actually not uncommon to find someone with their hand in your bag.
Heavily touristed Line 1is the same.
RER Line B has also been known for assaults. Take care not to be in an empty carriage, or travel late at night.
If you plan on using these or any line for that matter, be sure to maintain awareness of yourself and your belongings.
Number one rule: Don't fall asleep on the train. Thieves actively look for sleeping passengers. Your wallet, phone, or whatever, will be gone before you know it.
You also see strange characters on the Paris metro. They'll jump on at one station, walk through the carriage, ask for money, play the accordion, anything to get a euro or two. These folks are usually harmless and it's best just to ignore them.
Make sure that you listen out for the buzzer indicating the doors are going to shut. And stand away from the doors. It's a tactic of thieves to grab stuff and jump off the train just as the doors close.
Try to avoid rush hour.
All that being said, public transport in Paris is still quite useful. It's pretty efficient and fairly affordable. It may be intimidating to first time visitor, but with a little practice, you'll catch on quick.
Keep everything on you in transit!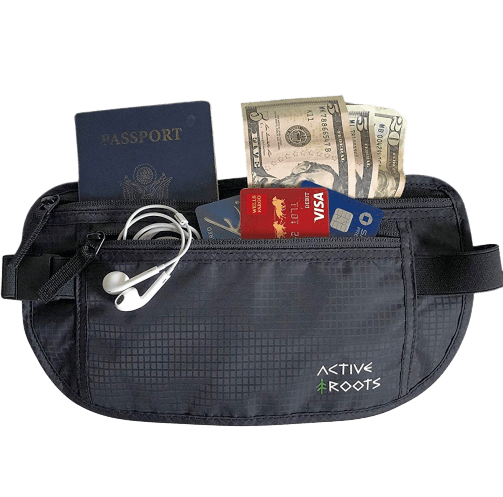 When moving from place to place, you shouldn't store travel documents in a bag, even if it's under your seat or overhead.
A full-sized money belt that stays tucked under your clothes keeps your documents and cash organized during your travels and assures nothing critical gets left behind or stolen.
Is the food in Paris safe?
It's no secret that France is famous for food and Paris, being the capital, is no different. This is literally the home country of the Michelin star system. You'll find so many gourmets eats in Paris, like foie gras, steak tartare, escargot and – of course – a lot of wine.
But the thing is, not all food in Paris is guaranteed to be good – some places are really shitty and you can still get sick. Granted, the chances of you getting ill are very low, but it still pays to be cognizant.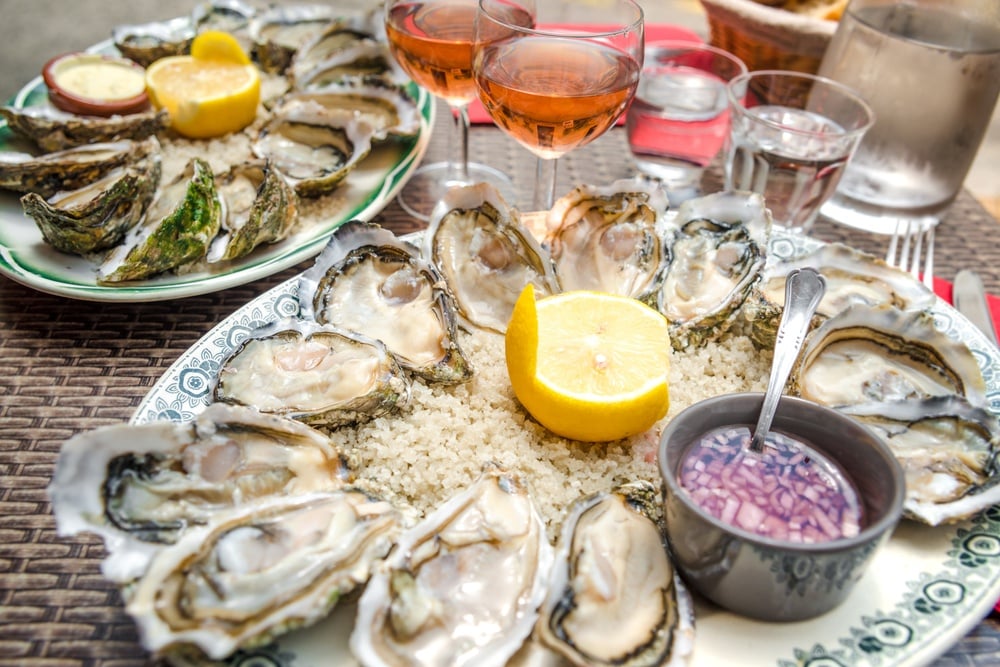 So here are our top foodie tips for Paris:
Check the reviews first!
High prices do not equal high deliciousness. You shouldn't have to shell out a lot for good food in Paris.
Be careful with scallops, which is a favourite of 'gourmet' dishes. If you're going to order something like that on a Monday or a Sunday, you should know that the fish markets are closed on these days. It won't be fresh and it will most likely be old (probably purchased on a Saturday).
Street food exists in Paris. Choose the stalls with the highest turnovers and the most costumers.
And for the most basic tip ever, wash your hands before you eat, especially after a long day of exploring the city.
Travelling with an allergy? Research ahead of time how to explain your allergy. Keep in mind that store owners and restaurant staff might not know all the foods that contain allergens, so it's helpful to know the names of some of these too. If you're gluten-free, pick up a handy Gluten-Free Translation Card with descriptions of Celiac disease, cross-contamination risk, and local Paris ingredients in French.
Can you drink the water in Paris?
Yep, it's perfectly safe to drink the water in Paris. However, some people do find that it doesn't quite agree with them. The tap water has been filtered and cleared of all sorts of bacteria. If you are staying in an Airbnb or a homestay in Paris, ask the host, as some areas are better than others.
Buying plastic bottles in 2021 is almost considered a crime by now. Investing in a great water bottle is definitely worth it. Most accommodations have water fountains where you can refill for free. Having a bottle with you while exploring the city will also stop you from spending a fortune on 250ml water.
Want to save the world?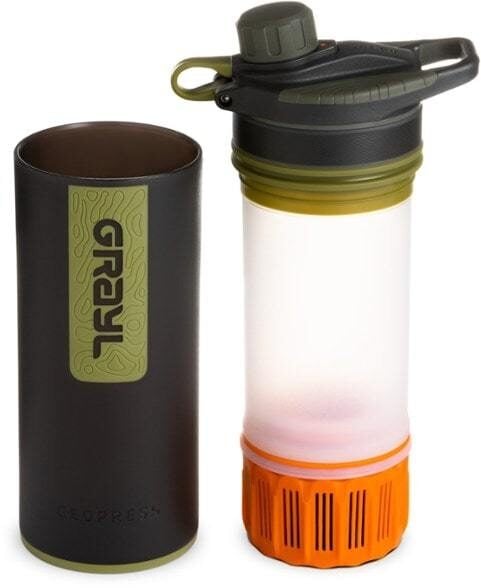 Single-use plastic bottles are a huge threat to Marine Life – Be a part of the solution and travel with a filter water bottle.
The GRAYL GEOPRESS water bottle is the ONLY all-in-one filter water bottle setup you'll need. Whether you need to purify the water from a hostel sink in Kathmandu or a stream trickle in the Andes, the Geopress has got you covered.
Read our full review of the GRAYL GEOPRESS!
Is Paris safe to live?
Paris is safe to live in and (no surprise) quite desirable. The cheese, wine, baguettes, croissants – who could blame people for moving here for these pleasures!
Whilst some areas have high levels of crime, most violent crime is pretty rare in Paris. Honestly, you'll have to go to some sketchy areas to actually feel like your safety is at risk. These are outside the city centre.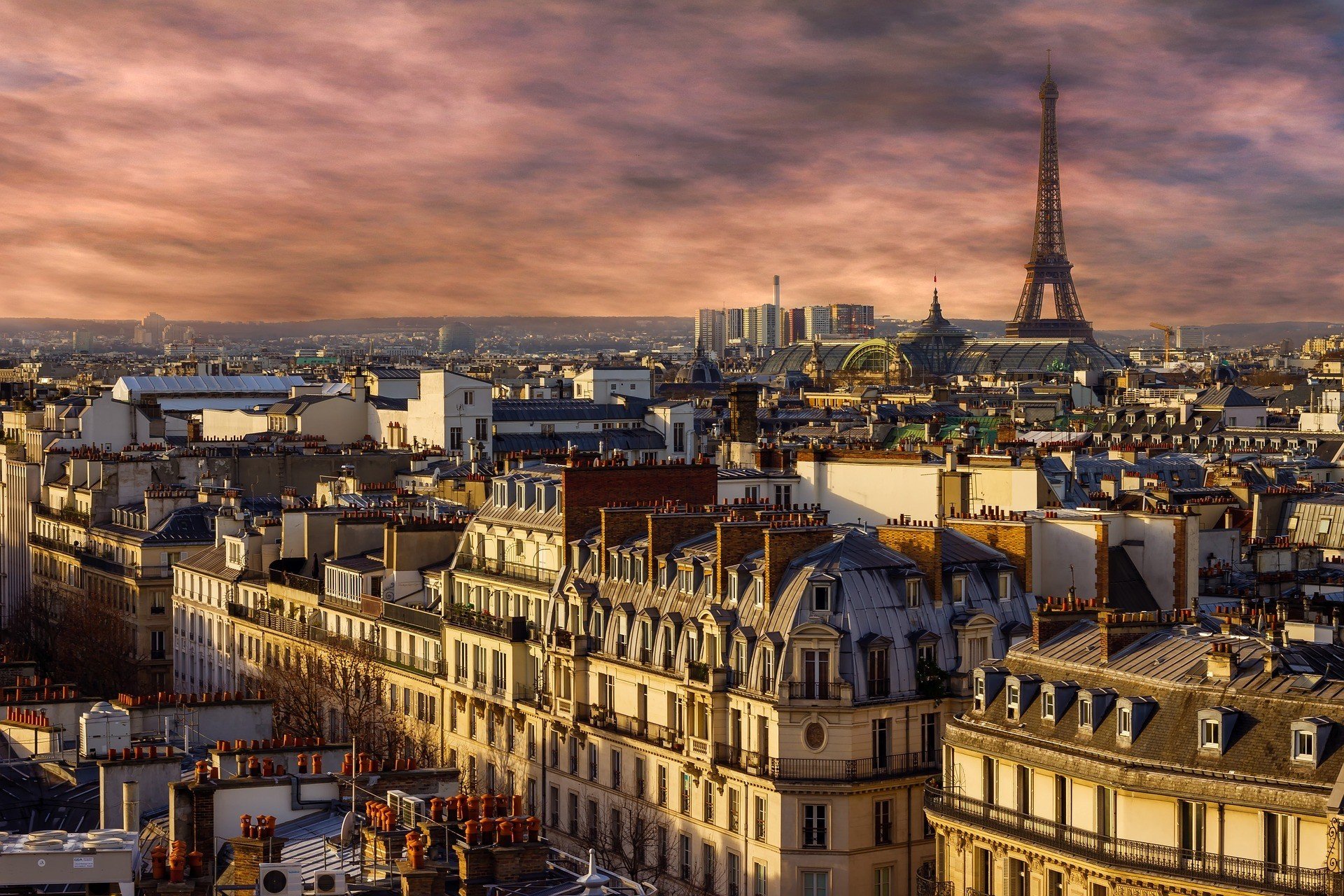 FAQ's on Safety in Paris
Planning a safe trip to a popular city can be a bit overwhelming. To help you out, we've listed and answered the most commonly asked question on Paris's safety.
So, is Paris Safe?
On an everyday level, Paris is safe – safe to visit, safe to live in, and safe for your kids. There's nothing really unsafe about the French capital. It may be sketchy at times, but what Western city isn't?
It's all about knowing what areas you should and shouldn't be in. The areas with the highest crime rates definitely won't be being visited by you.
And, yes – there are pickpockets and scammers of all sorts. But not falling for their tricks is the best way to go about keeping your money safe in Paris. Not being oblivious to your surroundings and keeping everything close to you – especially in crowds, tourist areas and on public transport – is the thing to do if you want to keep all of your money for yourself.
Speaking of money – wondering how big your Paris budget should be? We've listed up a couple of handy facts when it comes to Paris travel costs. Be sure to check it out!
So go to Paris, be smart, and soak it all up. And have you thought about getting Travel Insurance for your trip? You can get a quote from World Nomads by clicking on the link below.
Disclaimer: Safety conditions change all over the world on a daily basis. We do our best to advise but this info may already be out of date. Do your own research. Enjoy your travels!
---
Find out how YOU can support the site.
We work hard to put out the best backpacker resources on the web for free! It's all about helping out our tribe of awesome backpacker readers (that's you!). Please visit the link to find out how you can help keep the site going 🙂
For the sake of transparency, some of the links in our content are affiliate links. This means that if you book your accommodation, buy a piece of gear, or sort your insurance through our link, we earn a small commission at no extra cost to you. We only link to stuff that members of the Broke Backpacker team has actually used and never endorse products or services that are not up to scratch. Thanks for your support!