Bonjour, and welcome to Paris! Home to some of the world's finest architecture, croissants, and parks, this gorgeous city has captivated many seasoned and aspiring travellers …
Sadly, it doesn't come cheap.
Saving money in Paris can be a big challenge, which is exactly why we created this list of the 5 best hostels in Paris. Inside, you'll find some of the best budget accommodation options for travellers of all kinds.
Paris's hostels are amongst the best in the world, as they have a hostel for every type of traveller — party hostels, quiet hostels, cosy or expensive hostels, and everything in between!
To make it easier on you, we've divided the hostels into different categories, based on your travel needs, so you can quickly identify which place is best for you and get back to what's most important — eating cheese and drinking as much red wine as you possibly can!
With the help of this guide, you'll be able to book one of the best hostels in Paris and save some serious money.
Let's get right to it!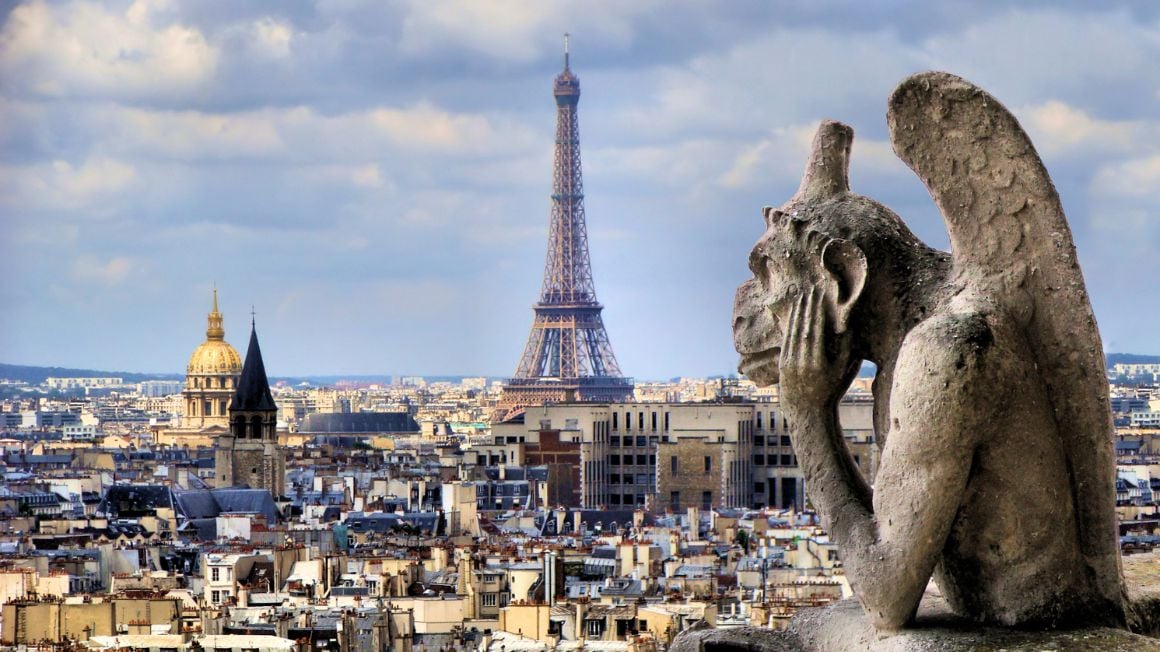 Quick Answer: The Best Hostels in Paris

Do You Want to Travel FOREVER??
Pop your email in below to get a FREE copy of 'How to Travel the World on $10 a Day!'.
What to Expect when Staying in a Paris Hostel
Backpacking France is a huge delight, as is Paris — the city of endless charm and romance everywhere you look. One thing you won't fail to notice is the insanely high prices for hotels and Airbnbs. But lucky you, there are plenty of epic Paris hostels. Not only can you count on amazing hospitality, but Paris hostels are also known for their cleanliness, amazing amenities, and a super-chill backpacker crowd.
When looking for hostels in Paris, there are three types that you'll find. Hostels with dorms (mixed and male-/female-only dorms), private rooms, and sleeping pods.
While dorms are a great way to meet like-minded travellers, there's not a lot of privacy on offer. Private rooms are the complete opposite, where it's just you in one room. Sleeping pods are "private beds" that you can close completely, so you'll get some privacy if you really need it.
These three types of rooms come in different price categories. While private rooms are always the most expensive option, dorms and pods range at roughly the same price. The nightly costs also depend on where exactly you're staying in Paris. The closer to the city centre, the more money you should expect to pay. Here are the average rates for different types of hostel accommodation in Paris:
Dorms: 19–33€/per night
Private Rooms: 50–80€/per night
Sleeping Pods: 25–38€/per night
There are certain hostel room laws in Paris that affect young travellers especially. Unless you're over 18, you won't be allowed to sleep in a dorm; you'll also need to have a guardian with you or written consent from a parent (or guardian) for a private room.
The best hostel options can be found on HOSTELWORLD. There you can check out photos, detailed information about the place, and even reviews from previous guests. Just like other booking platforms, each hostel will have a rating, so you can easily pick out the hidden gems!
While Paris has an amazing public transport system which makes it incredibly easy to get around, it is still important to choose your neighbourhood carefully. You'll find the best hostels in these areas:
Around the Eiffel Tower – For … well … the Eiffel Tower!
Montmartre – For the charming cafes, the little cobbled streets, and the cheapest prices.
Oberkampf – For the vibrant nightlife and bustle.
Before you book a hostel, make sure to know your travel needs. Do you just need a place to sleep, do you want to meet new people, or are you a digital nomad in need of strong Wi-Fi? From low-budget to party-paradise hostels, there will be plenty of options to choose from, so just keep scrolling and check out our favourite hostels in Paris!
The 5 Best Hostels in Paris
If you are backpacking Paris, the following hostels will serve as a great base. We've listed each hostel with a specific identifier, so it'll be a breeze to find out which one's best for you!
$$
Towels and Linen Included
Bar, Cafe & Restaurant On-Site
Tours & Travel Desk
Without a shadow of a doubt, the overall best hostel in Paris in 2023 is St Christopher's Inn, Gare du Nord. They have got the hostel vibe on-point — laidback, friendly and always up for a good time. So, what makes St Christopher's Inn a top hostel in Paris?
On top of the free Wi-Fi throughout the hostel, guests also get 25% off food at the Belushi Bar & Restaurant downstairs — perfect for backpackers on a tight budget. Securing St Christopher's Inn's spot as the best hostel in Paris is the free city walking tours offered daily. But that's not all …
Why you'll love this hostel:
Online Check-In
Multilingual staff
Self-service laundry
As one of the only hostels in Paris, St Christopher's Inn offers online check-in for up to 24 hours before you arrive. This makes falling into bed after a long travel day a lot easier and saves you quite a bit of time.
You can choose between the charming dorms with sleeping pods and private rooms (they even come with a private bathroom). The staff at the reception will happily help find the perfect room for you and they can also show help you figure out a great Paris itinerary for you!
If you need to buy tickets, whether it's for sites or public transport, you can also count on the staff to find you the cheapest options!
The hostel is ideally located next to the Gare du Nord station, which makes it incredibly easy to get around. Ask the staff for directions or a metro-line map and they'll find you the fastest route.
Once you're ready to move on, check out the discounted tickets for bus routes throughout Europe and be fully prepared for your next adventure!
2. Best Hostel for Solo Travellers in Paris – Generator Paris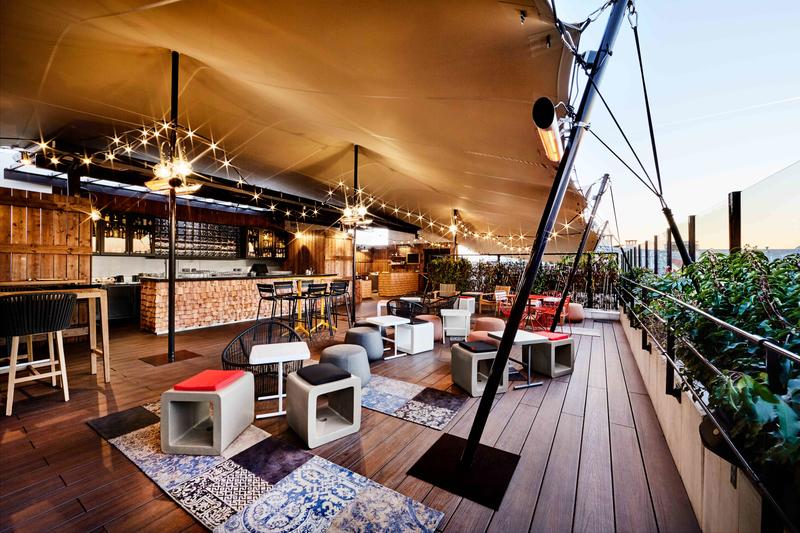 $$
Bar, Cafe & Restaurant On-Site
Tours & Travel Desk
Laundry Facilities
Generator is hands down the best hostel in Paris for solo travellers. They have it all — seriously! There's no excuse to not make new friends here while you explore some of the best attractions in Paris.
If you need a little liquid confidence to get mingling, no worries — just take a seat at the bohemian, tented bar and enjoy a few happy-hour cocktails. The bar and cafe are super chill, making Generator one of the coolest hostels in Paris too. Generator hostel Paris is an Instagram-addict's paradise, every corner of the building has some quirky little feature to snap and share.
Why you'll love this hostel:
Super modern and minimalistic design
Outdoor terrace
Free and strong Wi-Fi
Not often do you see the words "hostel" and "luxury" in the same sentence. However, this amazing place offers you both! You can choose between three different room types: normal dorms (capacity of 6–10 guests), small shared rooms (capacity of 4), and private ensuite rooms that even come with their own little terrace and bathroom.
No matter what type of room you choose, you'll be guaranteed a super comfortable bed and plenty of space to store your luggage. On top of that, there's also an amazing outdoor and indoor space where you can socialize, work on your laptop, or just chill.
That outdoor space makes it especially easy to meet like-minded travellers and make new friends. If you're more like the lone-wolf-type of backpacker, you can always head out to the city and explore the charming neighbourhood yourself.
You'll be ideally located close to plenty of public-transport options, including bus stops and the main metro line. If you're into the arts, you won't have to walk far to reach the famous galleries in Canal Saint-Martin.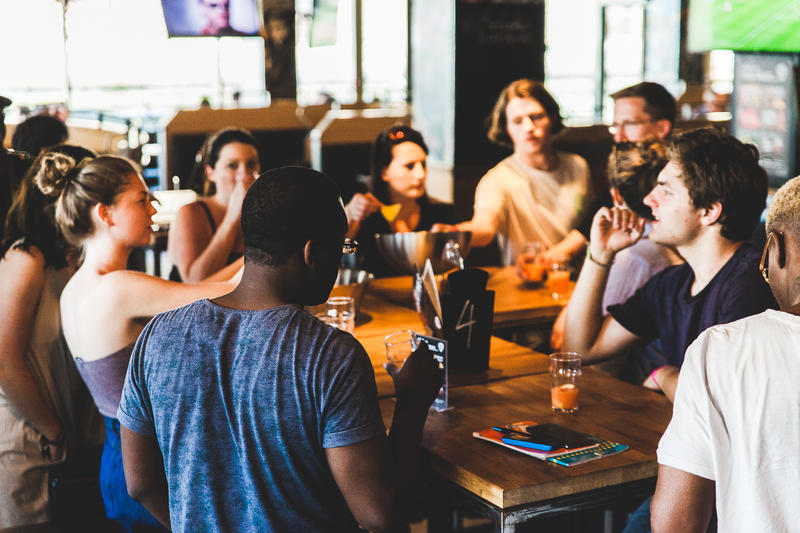 Free City Tour
Bar & Cafe On-Site
St Christopher's Inn Canal is quite simply one of the best cheap hostels in Paris. Let's run through the reasons why: free, fast Wi-Fi, a big breakfast for €4, a free city tour, a nightclub on-site, and 25% off food and drink at Belushi's bar and restaurant. There is also a party culture here which helps to make St Christopher's Inn Canal the best budget hostel in Paris.
Why you'll love this hostel:
Chillout room
Private sleeping pods even in shared rooms
Self-service laundry
You'll find this awesome place on the Rue de Crimée, just three stops from the Gare du Nord train station and a 5-minute stroll from the Crimée metro station.
The team here is always incredibly helpful when it comes to finding guests travel deals and discount coupons — just drop by the travel desk and ask for their advice.
If you just look at the room price, you might be wondering if this is really the cheapest hostel. While the nightly price is definitely in the lower range, there are a few hostels that offer a cheaper stay — but they don't have the same value that St Christopher's Inn Canal offers you. With all the discounts, amenities, style, and comfort, this hostel definitely has the most bang for just a little bit of buck!
4. Best Party Hostel in Paris – Peace & Love
Self-Catering Facilities
Games Room
Peace & Love is a top hostel for backpacking in Paris. Not the most flashy or modern hostel in Paris, it has a fantastic vibe with a fully equipped kitchen and an on-site bar. This is a great party hostel in Paris too: there are cheap beers at the bar, and be sure to join in with their pub games — Drinking Jenga is a firm favourite!
The location isn't the only great thing that makes this hostel so special. The multiple-room options definitely add another plus point to the rating! From private rooms to big dorms, you've got a lot to choose from.
Why you'll love this hostel:
No curfew, no lockout
Close to Stalingrad metro station
Stone's throw from St Martin Canal (which is visible from the window)
If you're looking to explore more of France after you leave Paris, drop by the Peace & Love travel desk to get great deals on public transport and tourist attractions too.
5. Best Hostel for Digital Nomads in Paris – Les Piaules
On-Site Cafe
Tours & Travel Desk
We give a big thumbs-up to Les Piaules, the best hostel for digital nomads in Paris. Not only do they have super-fast Wi-Fi in every corner of the hostel but also offer a badass breakfast for just €7, making sure all the digital nomads are all fuelled up and ready to start working.
The on-site cafe is chill and quiet, making it ideal to focus on work (or at least as ideal as a hostel could be). The Wi-Fi is as strong as it could possibly be, so no excuses not to get your work done.
Why you'll love this hostel:
Epic breakfast
Comfy custom beds
Rooftop terrace with great views
Les Piaules can be found in the super artsy area of Belleville. You'll have a field day sharing snaps on Instagram once all the emails are done! The property is less than 10 minutes from Paris's historical centre — Le Marais, Châtelet, République, Notre-Dame, and Saint-Germain-des-Prés — and has direct access to major historical sites (like Champs-Élysées, Moulin Rouge, Père Lachaise, and so on).
While it's not one of the cheapest hostels in Paris, you can definitely expect quite a bit of luxury when booking a room here. The charming hostel with its minimalistic and clean-looking design is especially appreciated by the older travelling crowd. This is why you'll also find a very cool and chill vibe here.
The different rooms have comfortable beds and storage space that can fit even the biggest backpack. But what we really have to point out are the private rooms, which are spacious, equipped with a work desk, and a coffee machine! Yup, you heard right, you'll get your daily dose of caffeine in the comfort of your own hostel room.
Once you're done working on your laptop, head up to the rooftop terrace and enjoy the afternoon sun with a tasty drink and great company. It's easy to see why this is a fave hostel on HostelWorld!
Is This the Best Backpack EVER???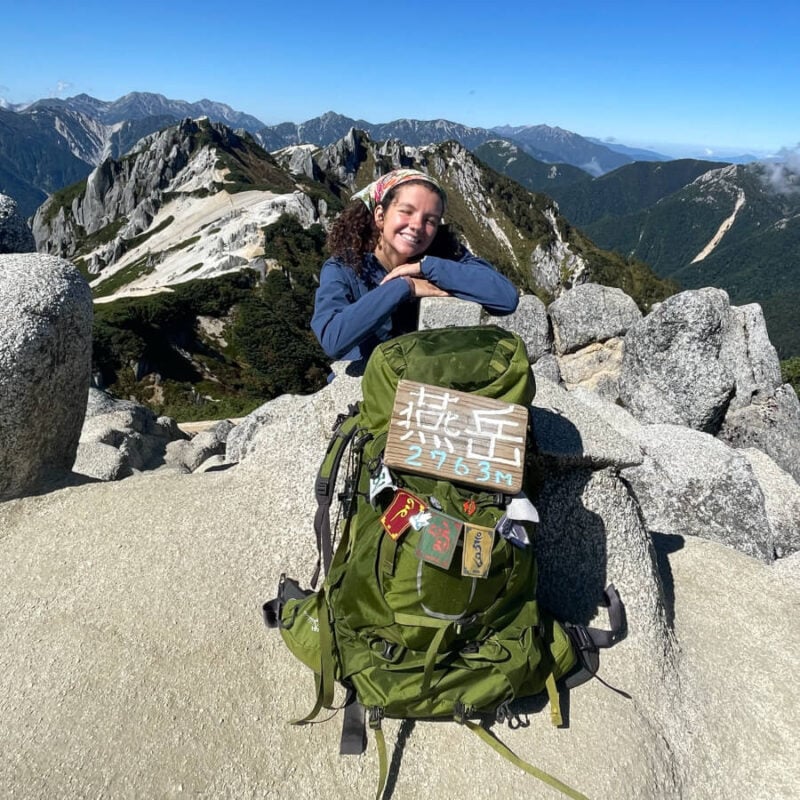 More Epic Hostels in Paris
Not happy with your options yet? Don't worry, we've got plenty more Paris hostels coming your way. Make sure to figure out where exactly you want to stay in the city before you book a place — don't end up miles away from the hotspots you want to explore!
Only Guests from 18–30 years Allowed
Microwave for Self-Catering
For couples wanting the hostel vibe but also a cheap private room, you can't go wrong with Bastille Hostel. It's easily the best hostel for couples in Paris because they have private rooms for as little as €40. The free breakfast helps keep costs down too. Paris is expensive, so why not save a few francs by staying here?
Bastille Hostel offers guests an authentic Parisian experience as it is a little way out from the hectic tourist hub of Montmartre. The staff are always available to give you directions or tips on how to be public-transport-savvy.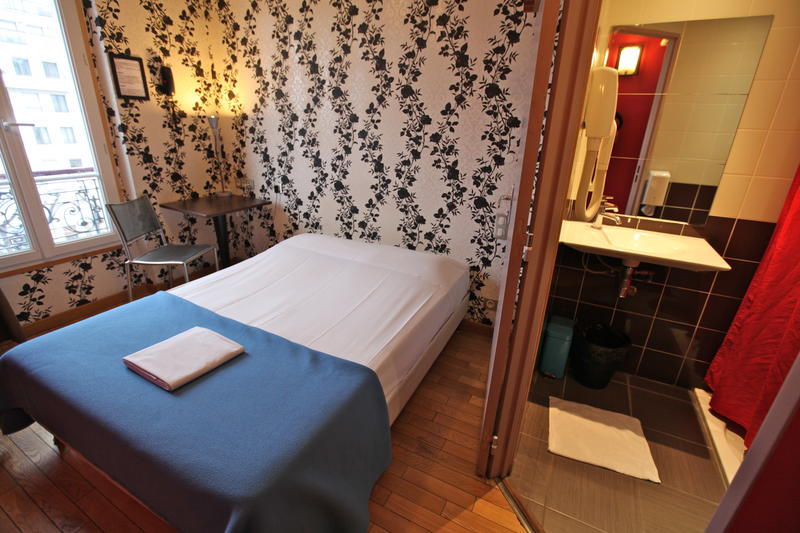 Self-Catering Facilities
Tours & Travel Desk
Oops Hostel is ultra stylish, super clean, and very welcoming. It is located in Paris's Latin Quarter which is one of the more high-end neighbourhoods in Paris. You'll find that the restaurants and bistros that surround Oops are a little more upmarket, so it's nice but costly.
If you don't have the budget to splash on a fancy feed, do not worry! Oops Hostel offers guests access to their fully equipped kitchen so you can start whipping up Michelin-level meals for yourself! With ultra-pretty rooms in an ultra-pretty area, this is a really nice hostel in Paris for couples.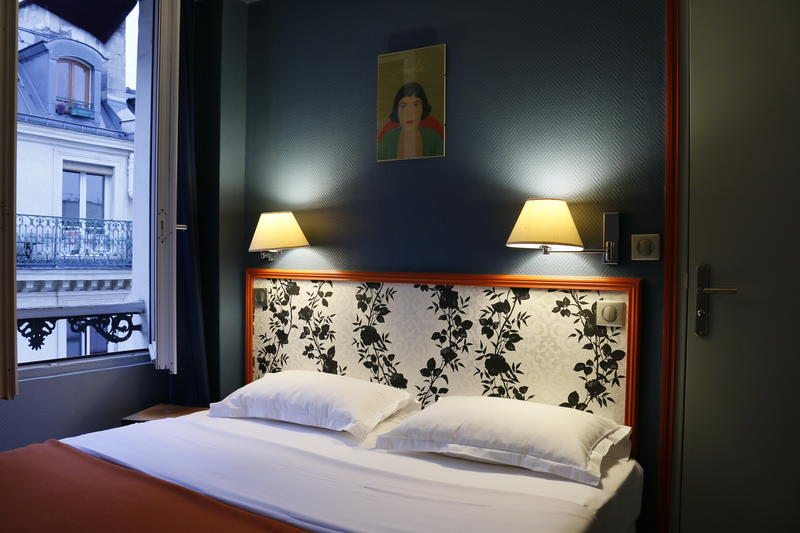 Free Walking Tour
Tours & Travel Desk
Plug Inn is a wonderful hostel for couples visiting Paris! Their free walking tour is an ideal way to tick off all the major sites on your Paris itinerary while meeting fellow backpackers too.
The Plug Inn team pride themselves on the super-high-quality rooms and hospitality they offer guests, and so they should! Super helpful, incredibly friendly, and really knowledgeable about Paris, there are very few questions they can't answer. As a highly recommended hostel in Paris offering private rooms, Plug Inn also offer guests a free breakfast every day of their stay — a great way to save some euros and splurge on a romantic riverside dinner!
Restaurant On-Site
Outdoor Terrace
MIJE is actually three buildings: Fourcy, Fauconnier, and Maubuisson, all connected by courtyards and balconies. MIJE is another great hostel in Paris for digital nomads. It's what many would describe a flashpacker haunt.
The upmarket, classy, and traditional decor makes the MIJE complex something of a luxury boutique hostel in Paris, but for digital nomads looking for a hostel that's a little quirky and off the beaten track, MIJE is nothing shy of perfect. The free book swap is a great way to switch off from the laptop and decompress for a while too!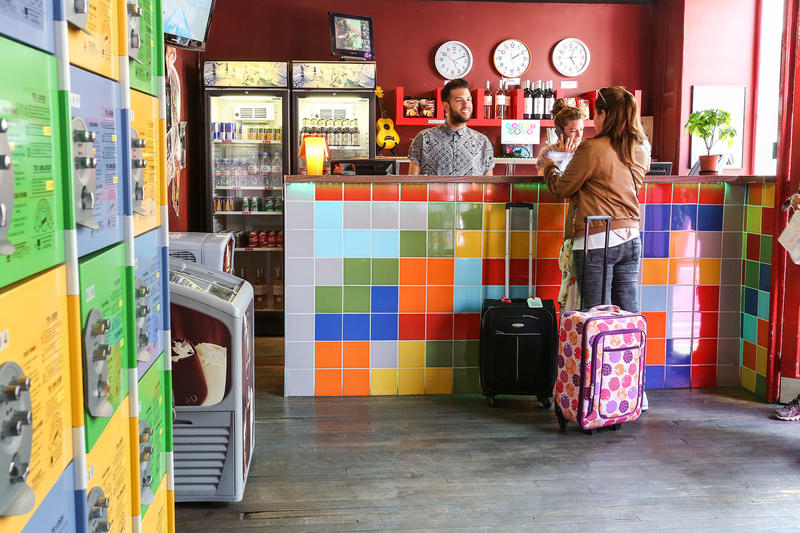 Self-Catering Facilities
Tours & Travel Desk
Le Montclair is bright, cosy, and super friendly. They have both dorms and affordable private rooms, making it a top budget hostel in Paris as well as one of the best hostels in Paris for students, with a little more personal space.
The rooms may be basic but, given Le Montclair is so close to all the major tourist sites and landmarks in Paris, you'll only need your room for sleep anyway. The large common area has a really laidback feel, and perhaps this is where you'll find fellow travellers making plots and plans to explore Europe together. Go join them!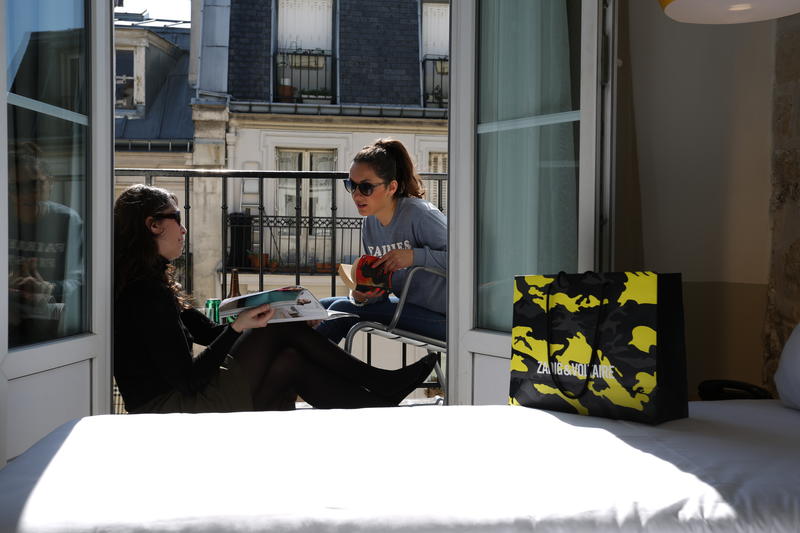 $$
Right in front of the Sacré-Coeur
Rock 'n' roll-themed
Few minutes from Gare du Nord train station
This rock 'n' roll-themed hostel is possibly the best hostel in Paris in terms of access to public transport. Those travelling to Paris by train should give Le Regent some thought as it is just a few minutes' walk from the Gare du Nord train station.
It's impossible to count the number of classy bistros and restaurants that are a 2-minute saunter from Le Regent hostel — real Parisian-style eateries. Time to channel your inner Audrey Hepburn, everyone! The kitchen is super clean and fully equipped in case you fancy making your own croque monsieur. This is certainly one of the coolest hostels in Paris.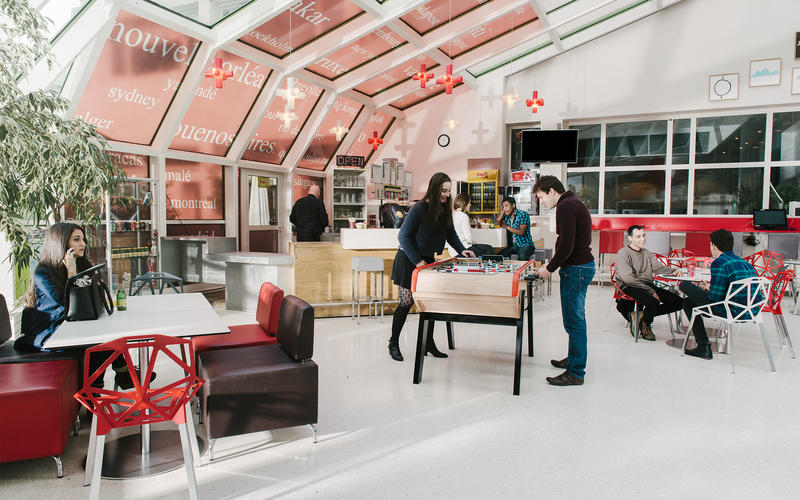 Restaurant & Bar On-Site
Late Checkout
If you're travelling with your crew, be sure to hit up FIAP as they have private dorms, meaning you and your crew can secure a big room all to yourselves. This hostel is ultra-modern and rather upmarket — but without the upmarket rates.
In the garden, you'll find a giant chess set which is great fun on a lazy afternoon! The staff also often host live-music nights with local artists. The breakfast buffet is free and the perfect way to start the day! Not exactly a party destination, FIAP is still excellent and one of the best hostels in Paris for large groups.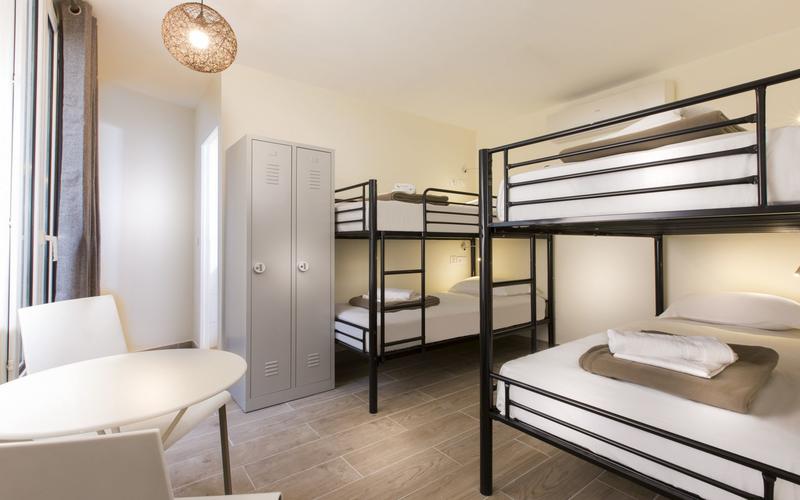 Self-Catering Facilities
TV in Room
Free Wi-Fi, free breakfast and no curfew, they don't call it Enjoy Hostel for nothing! This hostel is a highly recommended hostel in Paris, with minimalist-style rooms.
The fully equipped kitchen is great for travellers who want to try their hand at their own French dishes or want to get the creative foodie juices flowing with new friends. Enjoy Hostel is also just a 10-minute walk from the Latin Quarter — meaning the prices are lower!

Our GREATEST Travel Secrets…
Pop your email here & get the original Broke Backpacker Bible for FREE.
Shuttle Bus
Self-Catering Facilities
Arty Paris is a modern and buzzing little hostel near Parc Brassens, a classic Parisian neighbourhood that we have no doubt you'll fall in love with. Breakfast isn't included in the room rate but is offered for just €6 a day and is well worth it.
Arty Paris is one of the best Paris hostels because of the local staff who take pride in their work; they want guests to leave Arty feeling like they've seen the "real" Paris, and they certainly do!
Self-Catering Facilities
Late Checkout
Aloha Eiffel Tower is, as the name would suggest, one of the closest hostels to the Eiffel Tower! The Arc de Triomphe and Champs-Élysées are very close by too.
Aloha is one of the best hostels for sightseeing in Paris, and the free breakfast helps the penny watchers out too. Although there aren't any laundry facilities on-site, there is a laundromat just around the corner, — just ask the Aloha team for directions. Aloha Eiffel Tower is a great budget youth hostel in Paris with a perfect location.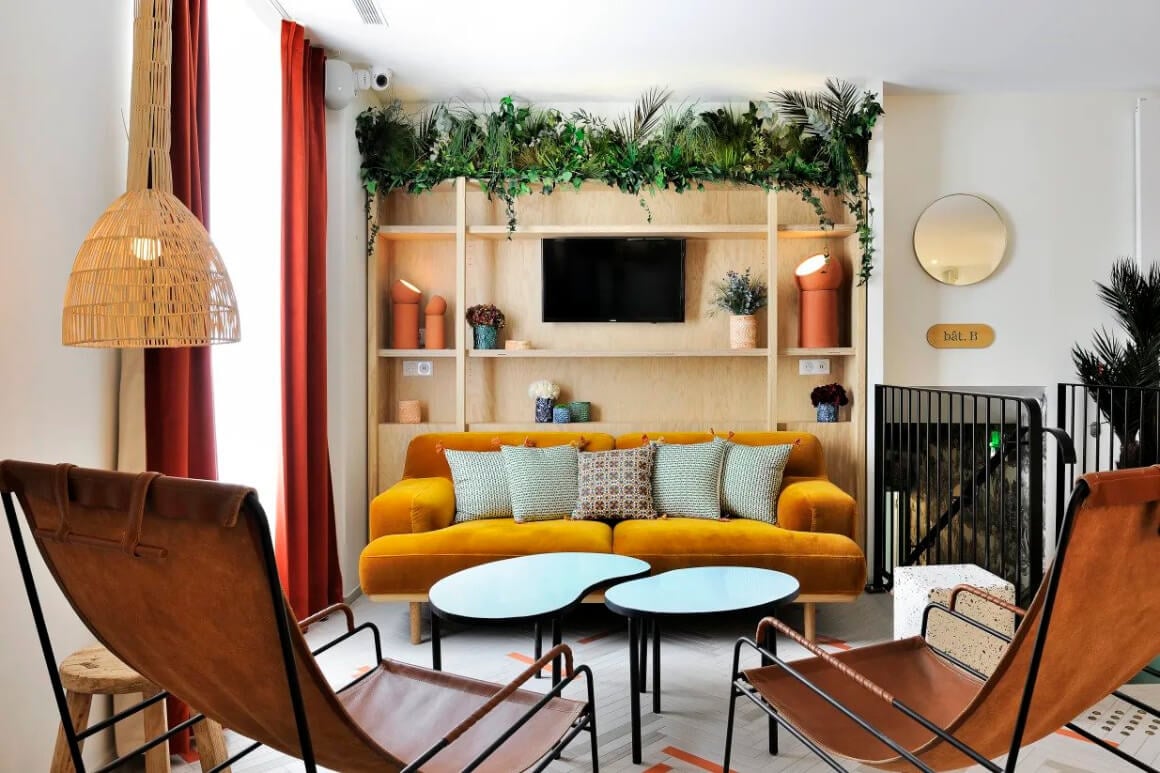 Cafe On-Site
Towels for Hire
Caulaincourt Hostel is a popular choice for backpackers in Paris for its free breakfast and free Wi-Fi. They offer dorm rooms and private twins or doubles with ensuites too; the rooms are simple but clean and cosy.
One major plus point for Caulaincourt Hostel is that it is super close to Sacré-Coeur, one of Paris's most famous monuments. It's not a crazy party hostel but it's not lacking in atmosphere, either. All in all, Caulaincourt Hostel has definitely secured a spot as one of the best hostels in Paris.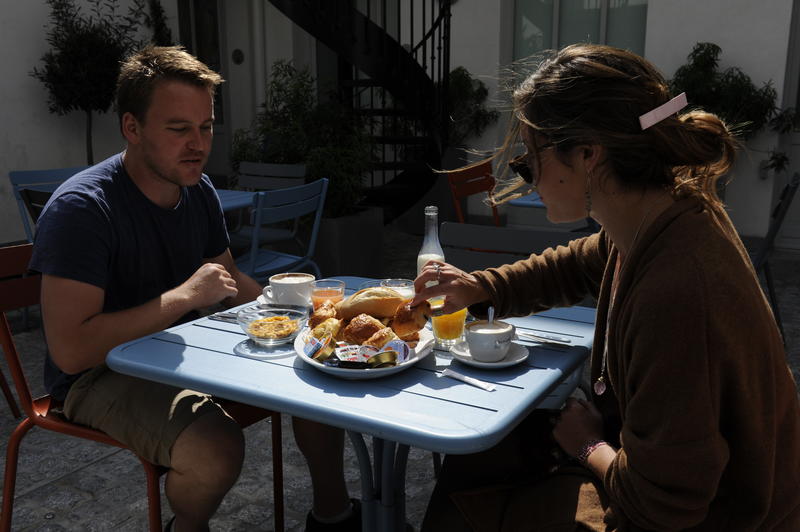 Cafe & Bar On-Site
Self-Catering Facilities
The 3 Ducks Eiffel Tower was a close contender for the best hostel in Paris for digital nomads but its punchy room rates mean it just missed the cut. The free breakfast, however, makes the €30+ bed rate a little easier to justify.
The 3 Ducks is uber cool, a top youth and student hostel in Paris for its boutique design and great location. The rooms are some of the best dorms you'll find in Paris — all come with an ensuite, hairdryer, Wi-Fi, and reading lamps. The outdoor terrace is a great little spot for meeting fellow backpackers.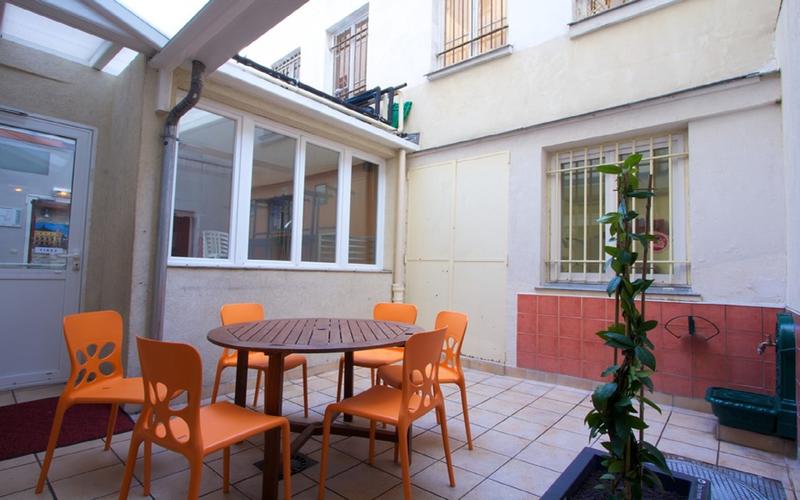 Laundry Facilities
Vending Machine
Auberge Internationale des Jeunes is a super-clean and super-friendly hostel in Paris's city centre. The hostel offers a free breakfast from 7–9.45 a.m., so be sure to set your alarm. You don't wanna miss out on a free feed!
Being in the heart of the Bastille district, Auberge Internationale des Jeunes is ideal for travellers wanting to explore the vibrant nightlife in Paris.
Self-Catering Facilities
Cafe On-Site
Absolute is one of the best boutique hostels in Paris. With light-filled and spacious dorm rooms, backpackers instantly feel at home here at Absolute. Serving up fresh croissants, orange juice and more in their free daily breakfast helps travellers save some euros staying here. Make use of the guest kitchen too to avoid the expensive Parisian restaurants, as wonderful as they are!
From Absolute, must-see spots like Gare du Nord, the Pompidou Museum, and the Marais are only a 15-minute walk away. The friendly staff at reception will be more than happy to direct you.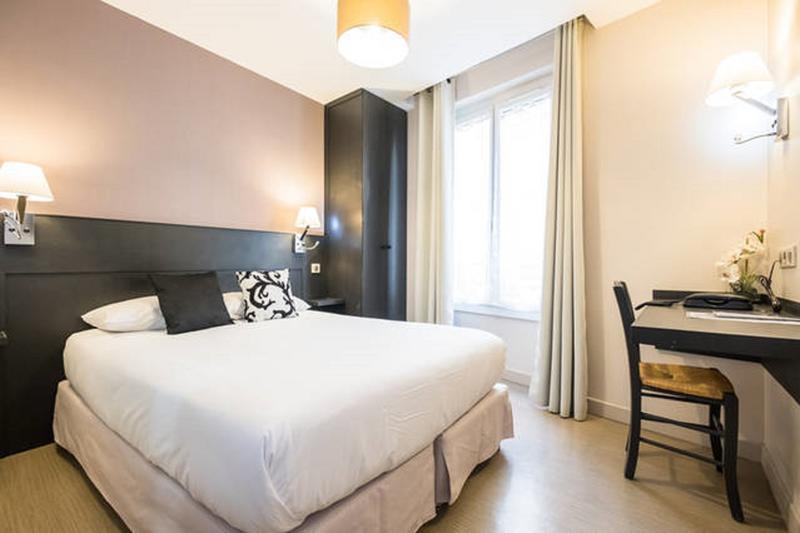 Free Luggage Storage
Tours & Travel Desk
Hotel Bonsejour is, some may say, actually a hotel. However, if you're travelling to Paris with your crew, Hotel Bonsejour may be just the ticket. They have private dorm rooms so you and your travel buddies can spread out and explode your bags as much as you like.
Their free walking tours of Paris are not to be missed, and this is just one reason why Hotel Bonsejour is a highly recommended hostel in Paris. Hotel Bonsejour is super close to Sacré-Coeur and the Moulin de la Galette, as you will discover on your free walking tour!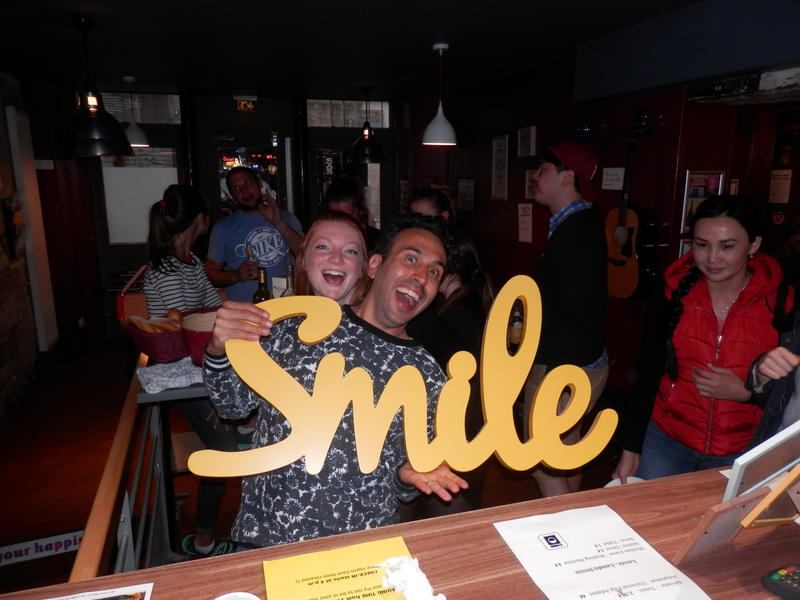 $$$
Self-Catering Facilities
On-Site Bar
Laundry Facilities
Young & Happy is a Paris hostel located in the Latin Quarter. Established in 1983, it is also one of the oldest youth hostels in Paris.
The Latin Quarter is a wonderful part of Paris to explore on foot, and with the Eiffel Tower just an hour away you can see a completely different side of Paris if you walk rather than duck into the Metro. If it's raining, though, don't worry, there is a metro stop just a few seconds' dash from Young & Happy!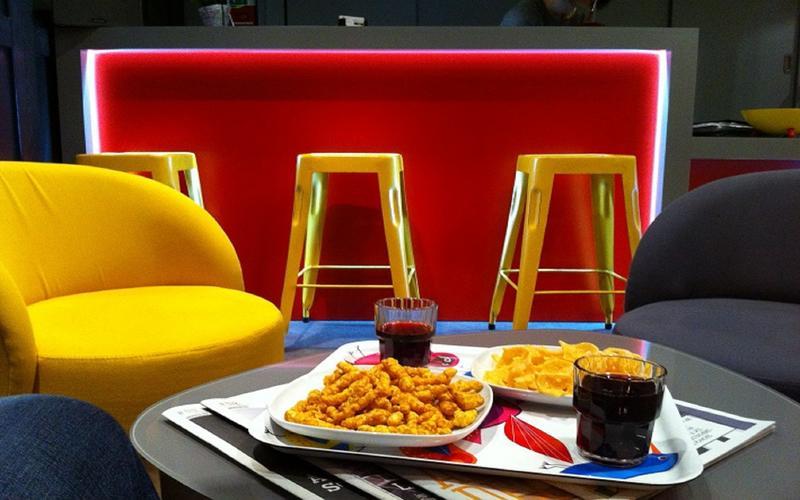 Self-Catering Facilities
Luggage Storage
Super clean and wonderfully colourful, Beautiful City is a lovely youth hostel in Paris. With a self-catering kitchen and a sweet common room, travellers will have plenty of opportunities to mix and mingle with fellow backpackers here at Beautiful City.
Their free breakfast is bang on, and coupled with the free Wi-Fi throughout the building, this hostel is a winner! Beautiful City is a great Paris backpackers hostel and is ideally located a few minutes' walk from Parc des Buttes-Chaumont — the perfect summer hangout spot!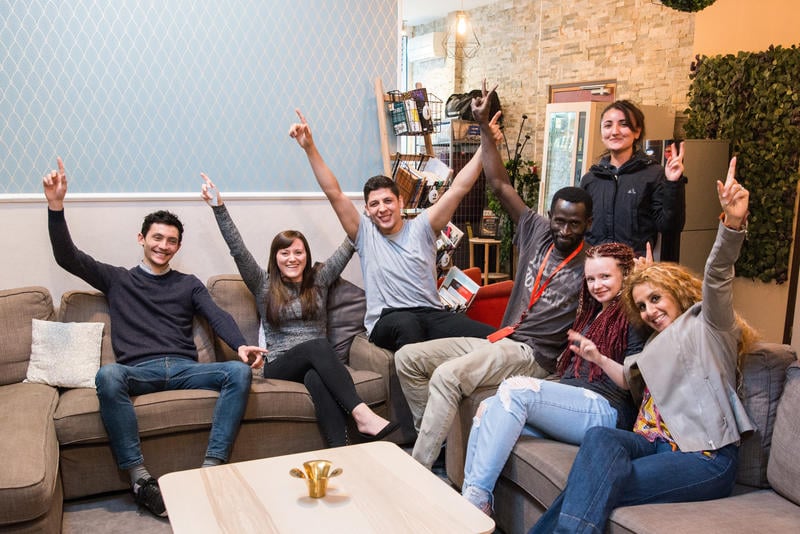 $
Self-Catering Facilities
Laundry Facilities
Vending Machines
Trendy Hostel is a great budget hostel in Paris, offering travellers a homely space to stay in. You'll be hard-pressed to find anything to complain about here, which is why Trendy is a highly recommended hostel in Paris.
For the long-term traveller, free use of the laundry facilities is a blessing for sure! Clean socks in Paris — bingo! The common rooms and the guest kitchen are where you'll find your dorm mates hanging out for an evening.
24. Woodstock by HipHopHostels
Self-Catering Facilities
Free City Walking Tour
Woodstock by HipHopHostels is not only a cool party hostel in Paris but also one of the best-located hostels — it is in the heart of tourist-central Montmartre and super close to some of the coolest music venues and nightclubs in Paris.
Cure your hangover the next morning with some delicious free breakfast and plenty of space to laze around, read a book, play with the hostel cat, surf the computers in the common room, or question if you'll ever drink again. It's almost like staying in a bed and breakfast in Paris, but way more sociable.
The on-site bar is the perfect place to find dance-floor buddies for later on in the night; be sure to make the most of the discounts during happy hour!
Woodstock feels a bit mix-and-match in terms of decor but it works; old wooden beams with '70s-style wallpaper, Woodstock certainly rocks! It is certainly a top youth hostel in Paris for partying and students.
Woodstock by HipHopHostels is one of our favourites in Paris but they're not taking guests right now. We're not sure if they're closed for good but we hope they'll come back soon.
25. The Loft Boutique Hostel
$$
Self-Catering Facilities
Laundry Facilities
Bar & Cafe On-Site
The Loft Boutique Hostel Paris is an awesome place to stay and is one of only a handful of stylish boutique hostels in Paris. Tucked away in the heart of super hipster and wonderfully multicultural Belleville, you'll get the most authentic Parisian experience staying at the Loft and find it super easy to meet people.
There is a drinking culture here but not a rowdy party crew, so for the chilled-out traveller, this is the place to be. The staff are super helpful, and the travel and tours desk at the reception can help you get to where you wanna go next for the best possible price.
The Loft Boutique Hostel is one of our favourites in Paris but they're not taking guests right now. We're not sure if they're closed for good but we hope they'll come back soon.
26. Perfect Hostel
Tours & Travel Desk
Laundry Facilities
Take dorm rooms for less than €20 a night, mix that with a free hearty breakfast, and you have one of the cheapest hostels in Paris, suitably named Perfect Hostel. This is a super-popular Paris backpackers hostel as it's one of the cheapest in the Montmartre district, where you'll find the Opera House, Moulin Rouge and Sacré-Coeur.
The staff at Perfect Hostel are friendly and welcoming, and the free breakfast is great for keeping your food budget on point. Perfect Hostel is super easy to find — just look for the giant white-and-yellow banner hanging from the third-floor window.
Perfect Hostel is one of our favourites in Paris but they're not taking guests right now. We're not sure if they're closed for good but we hope they'll come back soon.
27. Vintage Gare du Nord by HipHopHostels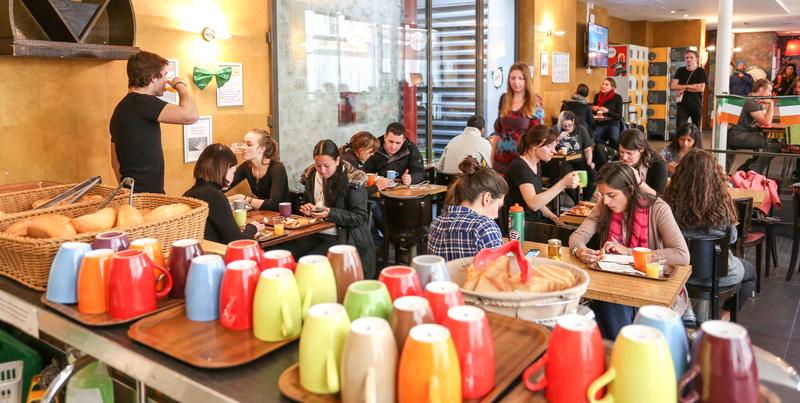 $$
On-Site Gym/Fitness Centre
Self-Catering Facilities
Laundry Facilities
Fitness fanatics, listen up! Staying fit on the road can be hard but Vintage Gare du Nord has made life just that much easier. Not only do they offer guests use of the fully kitted-out kitchen to prepare your own healthy meals but they also have a newly refurbed fitness centre!
They book up super quickly so if you wanna get a bed at Vintage, you better book ASAP. Vintage Gare du Nord has certainly earned its place in the shortlist for the best hostels in Paris for its friendly and welcoming staff, laidback vibe, and, again, the gym.
Vintage Gare du Nord by HipHopHostels is one of our favourites in Paris but they're not taking guests right now. We're not sure if they're closed for good but we hope they'll come back soon.
28. Smart Place Gare du Nord
$$
Self-Catering Facilities
Laundry Facilities
Outdoor Terrace
A clean and cosy hostel in the centre of Paris, Smart Place Gare du Nord gives you everything you need! If you're arriving or departing from Paris by train, the chances are you'll be coming through Gare du Nord, making Smart Place perfect for those who don't want to lug their baggage too far.
The dorm rooms even have their own little balconies, ideal for people watching over the Parisian streets below. The Smart Place dorms are spacious, with comfy beds, and their private doubles are perfect for couples!
Smart Place Gare du Nord is one of our favourites in Paris but they're not taking guests right now. We're not sure if they're closed for good but we hope they'll come back soon.
FAQs about Hostels in Paris
Booking a hostel in a big city is never easy. Especially in capital cities, you'll find yourself surrounded by countless options, and it's not always easy to filter out the best one. We've answered some of the frequently asked questions about hostels in Paris so booking will be a breeze for you!
Travel Safety Tips for Paris
ALWAYS sort out your backpacker insurance before your trip. There's plenty to choose from in that department, but a good place to start is Safety Wing.
They offer month-to-month payments, no lock-in contracts, and require absolutely no itineraries: that's the exact kind of insurance long-term travellers and digital nomads need.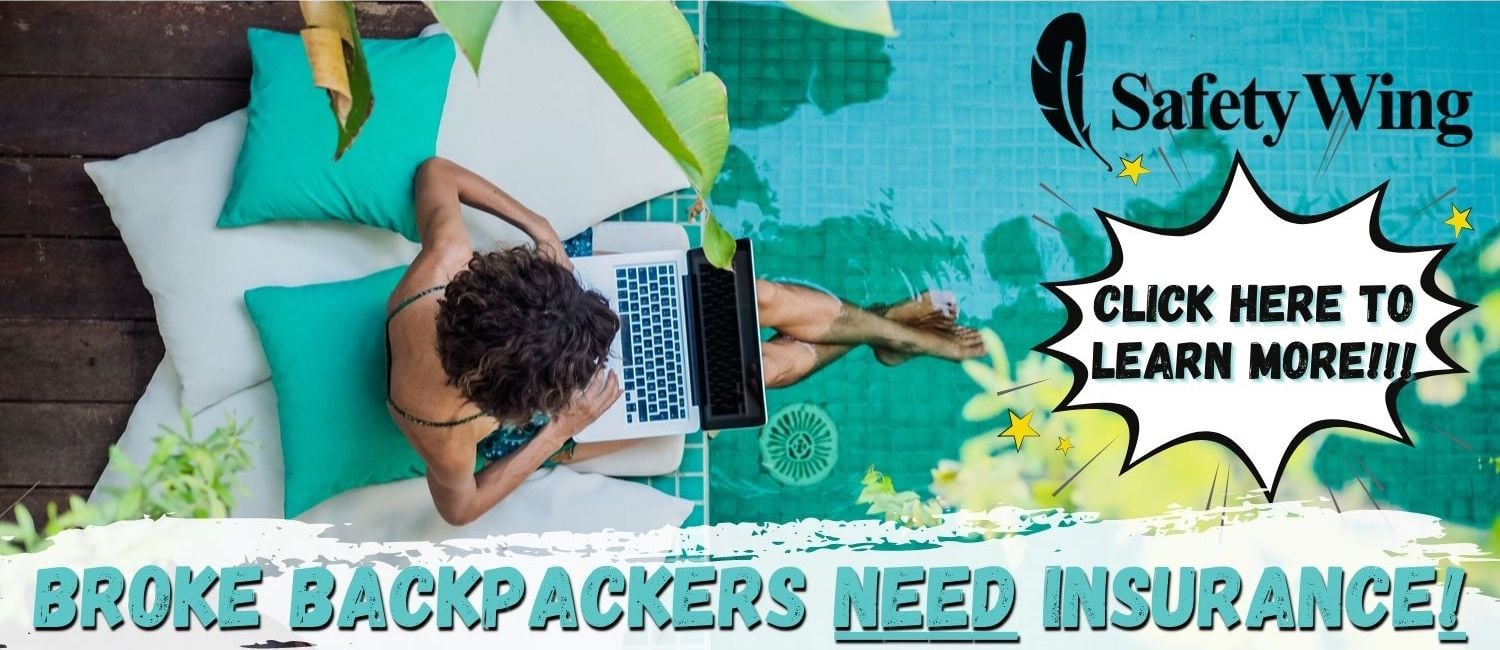 SafetyWing is cheap, easy, and admin-free: just sign up lickety-split so you can get back to it!
Click the button below to learn more about SafetyWing's setup or read our insider review for the full tasty scoop.
More Epic Hostels in France and Europe
Hopefully, you're now well on your way to finding the perfect Paris hostel for you!
Planning an epic trip all across France or Europe? Don't worry — we've got you covered! For more cool hostel guides, check out:
Final Thoughts on the Best Hostels in Paris
Voilà! There you have it, the absolute best hostels in Paris, organized to help you book quickly and with confidence. By now, you should've found the perfect hostel for your trip to the city of love!
The overall hostel scene in Paris is fantastic, and in some ways, the quality of sweet dorms makes up for the exorbitant cost … at least a bit.
Remember, if you still aren't sure which of the top hostels in Paris to book, our top pick is St Christopher's Inn Gare du Nord. You'll get great value, amazing amenities, and the chance to connect with loads of new people.
If you think we've missed anything or have any further thoughts, hit us up in the comments!
So, what are you waiting for? Pack your bags for Paris and embark on an adventure!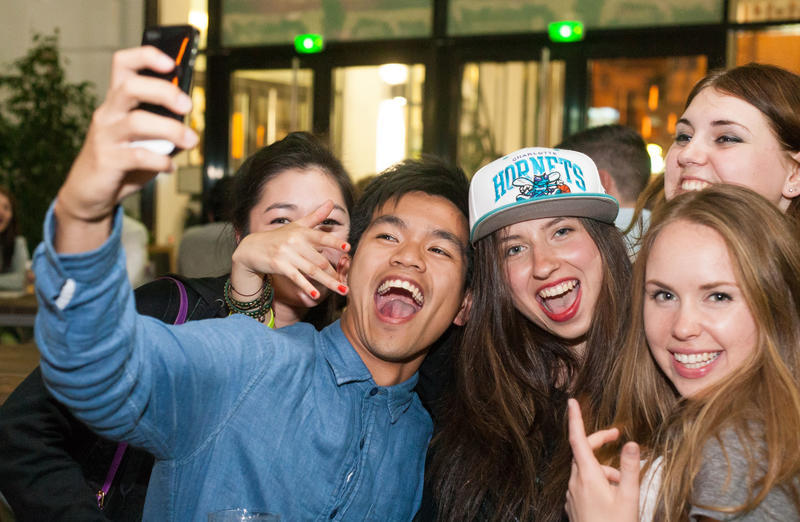 Updated April 2023
---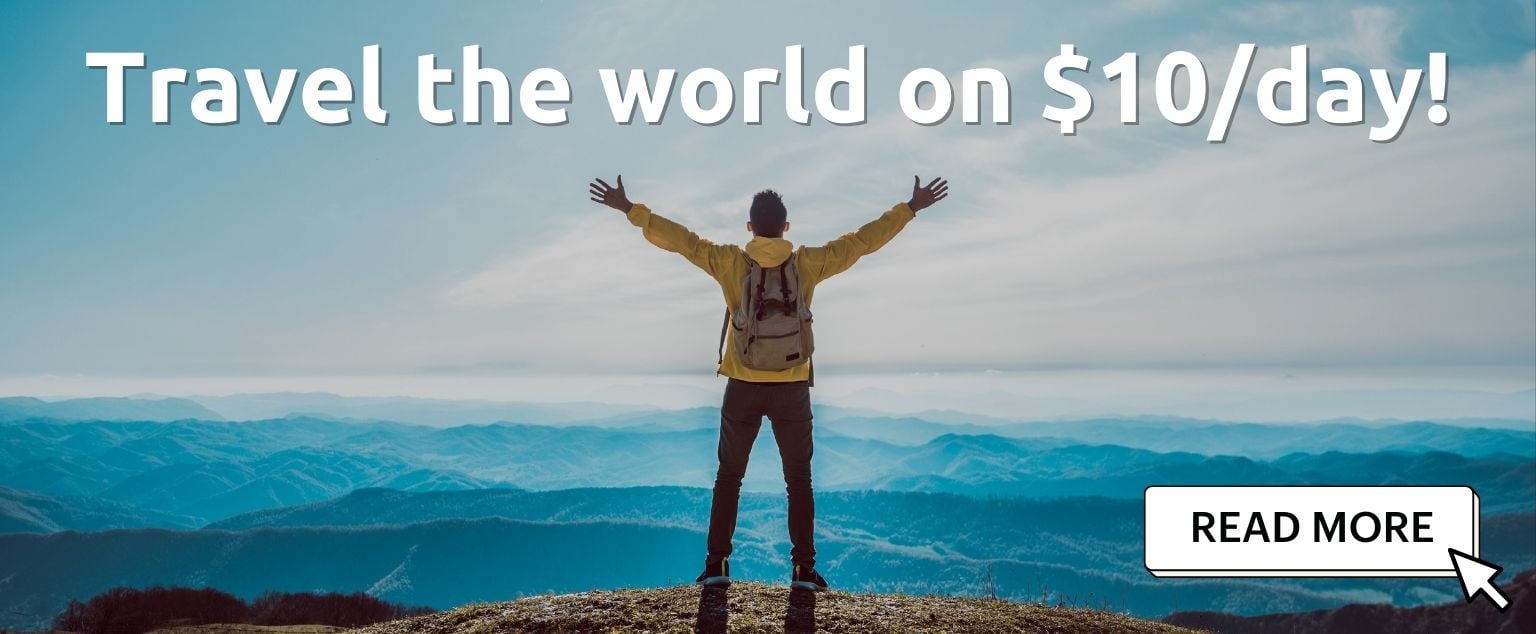 And for transparency's sake, please know that some of the links in our content are affiliate links. That means that if you book your accommodation, buy your gear, or sort your insurance through our link, we earn a small commission (at no extra cost to you). That said, we only link to the gear we trust and never recommend services we don't believe are up to scratch. Again, thank you!