France is one of the most exciting countries in Europe to explore as a backpacker. With such history and a character all of its own, there is a world of adventure waiting for you in France.
It has to be said, however, that France is by no means a cheap country to travel in. Don't let that put you off for one minute though! We have created this guide of the 24 best hostels in France so that you can stay on budget and live life to the fullest!
Whether you venture to the snow-capped Alps or the sunny southern provinces, you are in for the time of your life in France. No matter where you're going, we've split this list categorically to give you a hostelling selection from right around France's backpacker-friendly places to stay.
Let's dive in!
Quick Answer: What are the Best Hostels in France?
The Top Hostels in France
Heading off on an adventure youth hostelling in France? Well, at a quick glance, here are the top three hostels in France as a whole. These places to stay are kickass and sure to make your French-themed shenanigans as tasty as a fresh steaming plate of snails.
Mmm, appetising.
Do You Want to Travel FOREVER??
Then pop your email address in below and we'll send you a FREE copy of 'How to Travel the World on $10 a Day!' – make travel your LIFE.
The Overall Best Hostel in France – Arty Paris (Paris)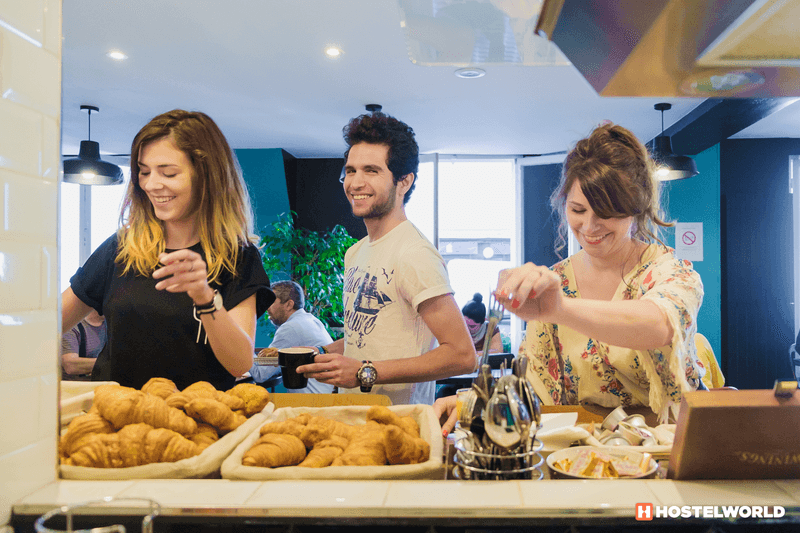 $$
Breakfast Available
Self Catering Facilities
24 Hour Reception
Arty Paris is the overall best hostel in France; let's explore just why! With a 24-hour reception and a super laid back vibe, Arty Paris is the kind of hostel where travelers find themselves adding an extra night…and then another…and perhaps one more.
Offering reasonably priced rooms that are always super clean, Arty Paris is well-deserving of its good name and serves as a homey and friendly base to meet some other intrepid souls to explore the French capital with.
Welcoming a truly eclectic mix of travelers throughout the year, Arty Paris offers one of the best places to stay in Paris. Set just a quintessentially a Parisian hostel and is about as authentic and genuine as you can get in France.
Best Cheap Hostel in France – Alter Hostel (Lyon)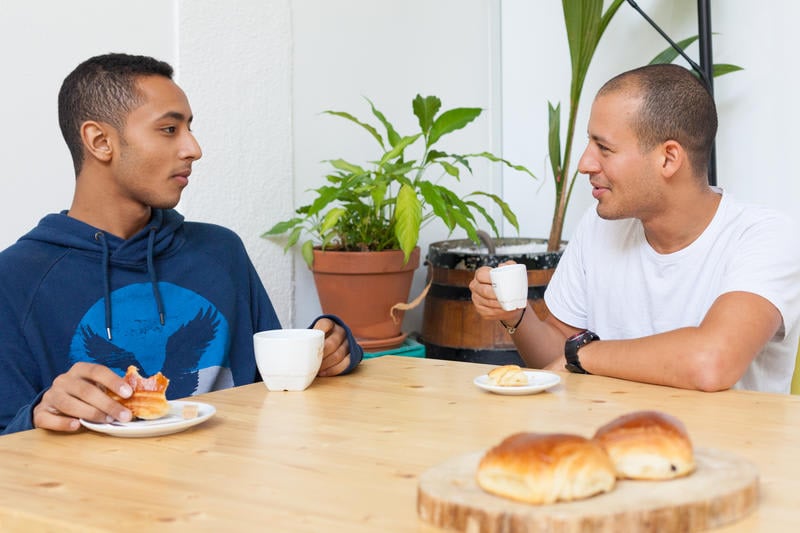 $
Bar & Cafe
Self Catering Facilities
24 Hour Reception
The best cheap hostel in France is Alter Hostel in Lyon, which is one of our favorite places to visit in France. Boasting outstanding value for money and a welcoming feel, Alter Hostel will steal your heart. Lyon is a vibrant and happening city and for travelers keen to explore both youth culture and the city's historical gems, Alter Hostel is pretty much perfect.
The common area features a foosball table and plenty of space to hang out. For digital nomads on a budget, Alter House could be a good shout. The common room is a decent enough space to work in and the WiFi is reliable and ultimately, all this comes in at a reasonable price in a beautiful city!
$$
Bar & Cafe
Free Breakfast
Self Catering Facilities
Located a stumbling distance from some of the hottest nightclubs in Paris, Woodstock Montmartre by Hiphophostels is the best party hostel in France for sure. It's so easy here to meet some cronies and go get wild in the City of Love.
They even have their own in-house bar for those cheeky pre-drinks and the team often run bar crawl events too. If you are down for a good time in Paris, be sure to make a beeline for Woodstock Montmartre.
As with so many of the top of the top hostels in France, beds at Woodstock Montmartre get snapped up quick. Book your place at the party now!
From the depths of the hostelsphere, we bring you… the Hostel Card!
HostelPass has spent years & years looking for the best places to stay in Europe, and they just came back with something GREAT.
The Hostel Card is a hassle-free solution with up to 25% discount at the most amazing hostels, tours, and experiences. Any-where-you-go.
Don't sleep on the ultimate budget travel card — use code "brokebackpacker" at checkout for 25% off!
Get the Card
The capital city of France, the City of Love, and one of the most sought after destinations in the world, Paris. From the Eiffel tower to the Louvre to the bustling Latin Quarter to its twisting romantic alleys filled with secrets and wonder, Paris is a beautiful city. There are a whole bunch of France's best hostels in Paris alone and a number of great hostels in Paris, but here is the cream of the crop.
The world-famous European hostel chain's Parisian instalment.
$$$
Bar & Cafe
Laundry Facilities
Air Conditioning
Pushing the affordability boundaries just a touch (you are in Paris after all), Generator Paris is the easily one of the best hostels in France for anyone. Having established itself as the hostel of choice for thousands of backpackers across Europe, Generator never disappoints.
For travelers seeking a new crew in France, Generator is a great shout. The bar and cafe area is always buzzing and all you have to do is rock up and be you – your new besties will be waiting for you!
Easily where to stay in Paris on a budget.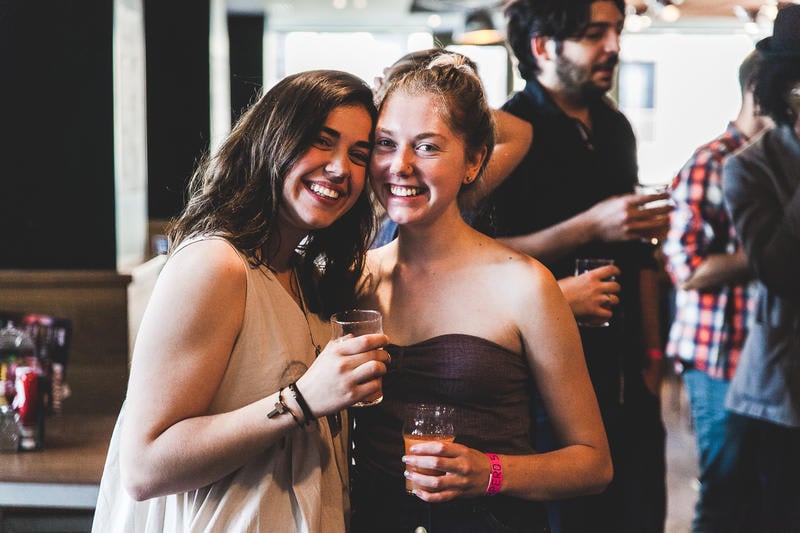 $
Bar & Restaurant
Outdoor Terrace
24-Hour Reception
St Christopher's Inn Canal is the best budget hostel in Paris, no doubt about it. Located in a buzzing Parisian neighborhood, St Christopher's Inn Canal ensures that every backpacker has the most incredible experience in Paris, irrespective of their budget. The in-house bar is an ideal place to get mingling with like-minded travelers before hitting the town.
Always super clean with awesome staff and reliable WiFi, St Christopher's can get booked up. Don't miss out on your chance to stay at this award-winning hostel!
For the lovers visiting Paris (without much disposable income).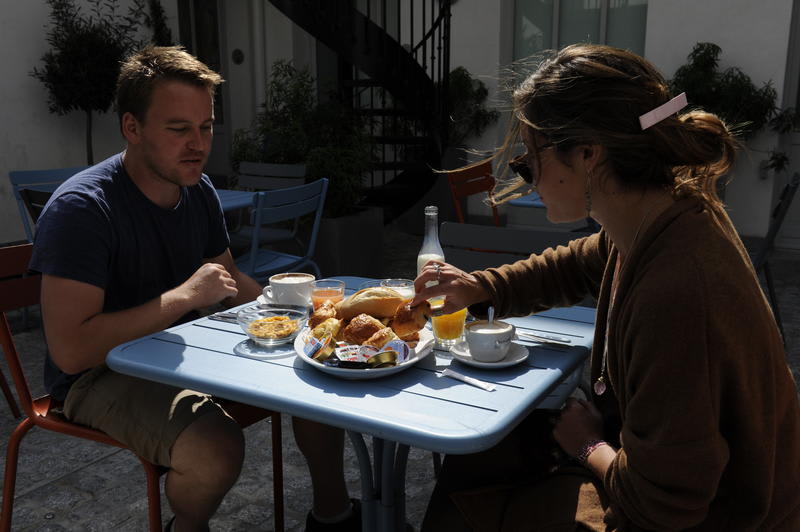 $$
Free Breakfast
Bar & Cafe
24-Hour Reception
For lovers heading to Paris, The 3 Ducks Eiffel Tower is a great shout. Widely regarded to be one of the best hostels in France in 2021, The 3 Ducks is an excellent find. The hostel offers a range of private and dorm rooms.
The private rooms are surprisingly affordable but be sure to book way in advance. The secret is out about The 3 Ducks – everyone wants a piece of the action. Couples are lining up for a cheap and romantic place to stay in Paris.
The Eiffel Tower is just a 15-minute walk away. You can your lover can go all out romanticism in Paris if you stay here.
Another party hostel in Paris because why not?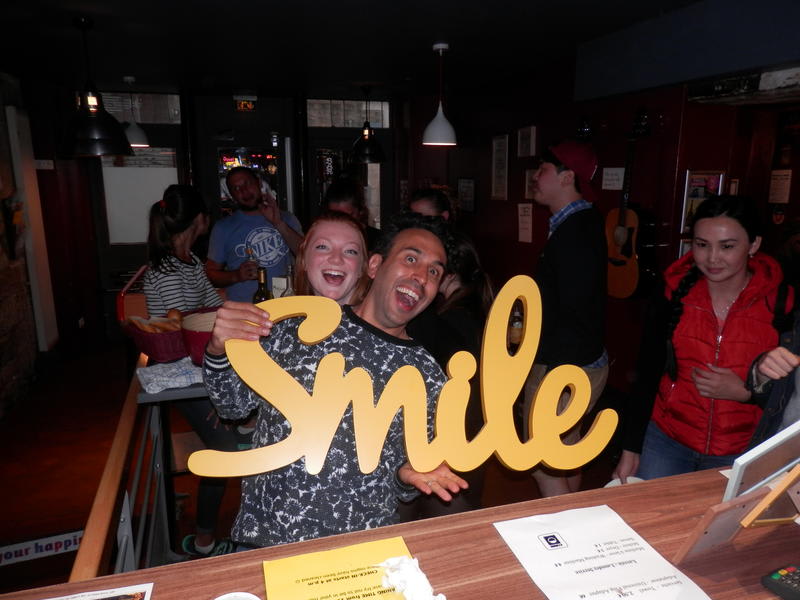 $$
Bar
Free City Tours
24-Hour Security
Looking for another sweet party hostel in France and Paris for getting silly? Of course, the nightlife in Paris is dope! Young & Happy is a badass party hostel in Paris.
Given that Paris' party scene is so popular, it is always good to have another hostel option up your sleeve. Beds get booked out way in advance and we'd hate for you to feel like you didn't have a party pad to enjoy.
Young & Happy have their own in-house bar which offers drinks deals and a buzzing atmosphere. The 24-hour reception means that you'll never get locked out – no matter how hard you party.
Is This the Best Backpack EVER???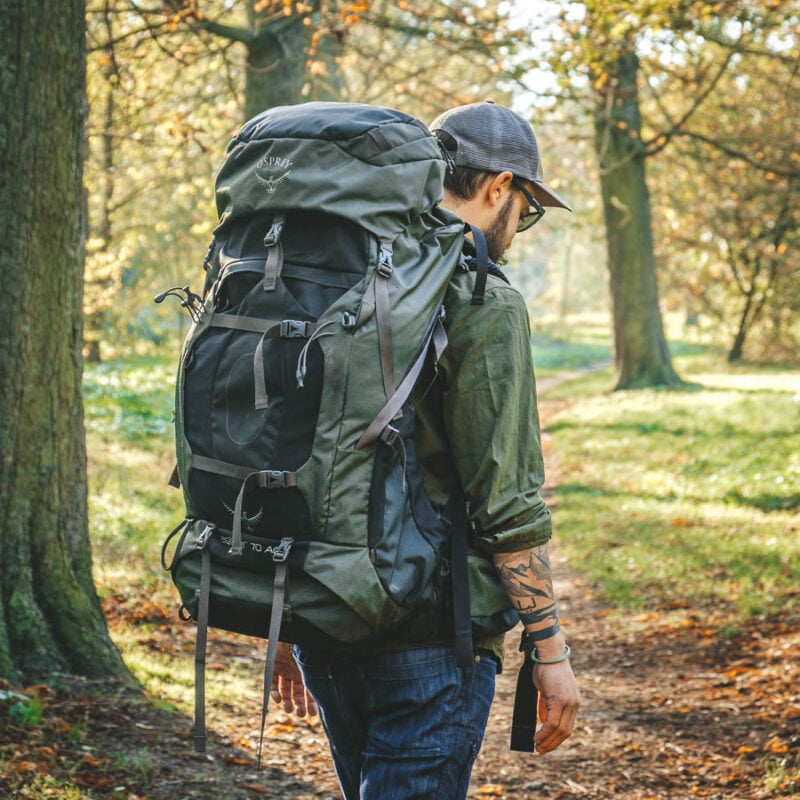 France's third-largest city, Lyon is a commercial hub boasting a thriving cultural dynamic and bursting student scene. It would be a shame to miss on visiting this beautiful place while backpacking around France. Lucky, it's easy since there are a number of awesome places to stay in Lyon!
A classy and minimalist place to stay in Lyon.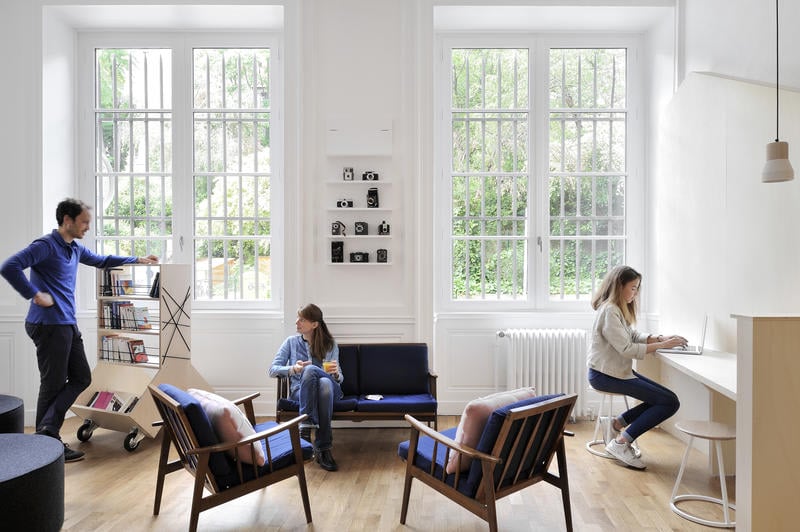 $$
Ultra-Fast WiFi
Cafe In-House
Self Catering Facilities
Featuring neutral tones and minimalist decor there is a real sense of class to Away Hostel & Coffee Shop in Lyon. It is the exceptionally welcoming staff, ultra-fast WiFi, and complimentary amenities that put Away Hostel firmly in the category of the best hostels in France.
During your stay, you can indulge in little luxuries like the hostel's Nespresso machine and pamper yourself with the complimentary toiletries. If you're in the mood to splurge, treat yourself to a private room here –  you won't regret it.
Parties and culture? Sign me up!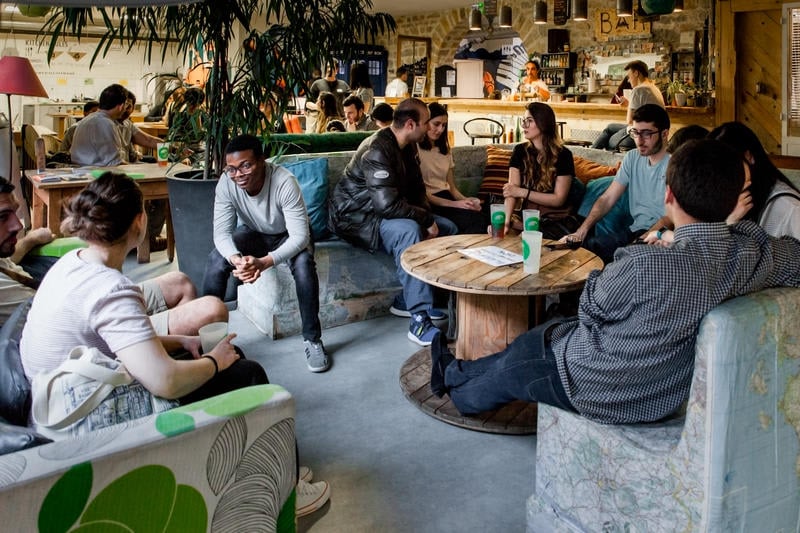 $
Bar & Cafe
Laundry Facilities
Self Catering Facilities
Le Flâneur Guesthouse in Lyon is a highly recommended hostel in France. Ideal for party lovers who are seeking an all-encompassing experience Le Flâneur Guesthouse ticks all the right boxes. Not an out-and-out party hostel, you will surely get your cultural fix in Lyon if you stay here.
As far as French backpacker hostels go, Le Flâneur Guesthouse is really affordable and guests have access to the community kitchen area too. Cooking your own grub is a great way to keep costs low when traveling in France.
A digital nomad haven for the workers traveling France.
$$
Bar
Common Room
24-Hour Security
SLO Living Hostel has been designed with the modern traveler in mind. Bright and open, and with a real sense of warmth, SLO Living Hostel is one of the best hostels for digital nomads in Lyon.
You would think that a hostel that is held in such high esteem and with such exquisite design would cost an arm and a leg. Hell no! SLO Living Hostel is super affordable.
Guests have access to their super-fast WiFi and their exclusive app too. For digital nomads looking to connect, SLO Living Hostel in Lyon is where it's at.
A Fench city perched on the twinkling majesty of the Mediterranean coast. Sounds yummy, right? Well, that's what you get from travelling to Marseille.
With a vibrant history extending back to the classical Greek period, Marseille has long boasted splendor and serenity in equal fervor. Staying in any one of Marseille's awesome hostels is bound to lead to some adventures but here are our favorites.
Just an all-round top hostel in Marseille.
$$
Free Breakfast
Laundry Facilities
Self Catering Facilities
For real, Vertigo Vieux-Port is a home-away-from-home in Marseille. As a top hostel in both France and Marseille, Vertigo Vieux-Port has a super friendly feel and a heap of amenities too.
We're talking free WiFi, a community kitchen complete with spices, a free breakfast, and a huge amount of tourist information too. There is so much to love about this little gem!
FYI – their policy allows a maximum stay of 7-nights in every 3-month period. If you want to stay longer in Marseille you may need to bed hop!
Hello. Is it a sweet pad you're looking for?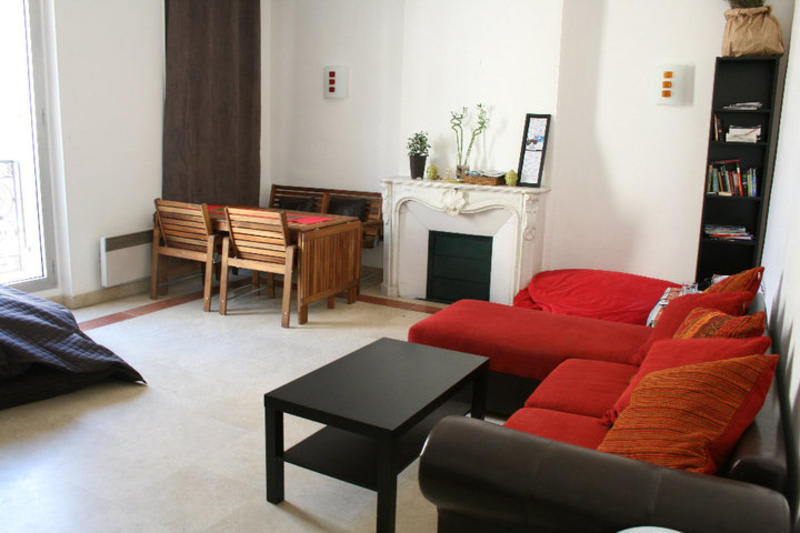 $
Free Breakfast
Bicycle Hire
Board Games
Hello Marseille is a not-for-profit hostel that offers an awesome place to stay. It's a hostel in Marseille with a romantic feel: upmarket decor: marble floors, elegant fireplaces, and high ceilings. Another choice for the lovers in France.
Other than feeling mildly classy, the breakfast is free, and there's a balcony where you can look out into the street and enjoy a cup of coffee in the morning. It's run by volunteers so it's pretty laid-back and there's a 'free box' where you can leave unwanted items for future travellers. Super good vibes!
No dorms but some awesome private rooms in Marseille with hostel vibes.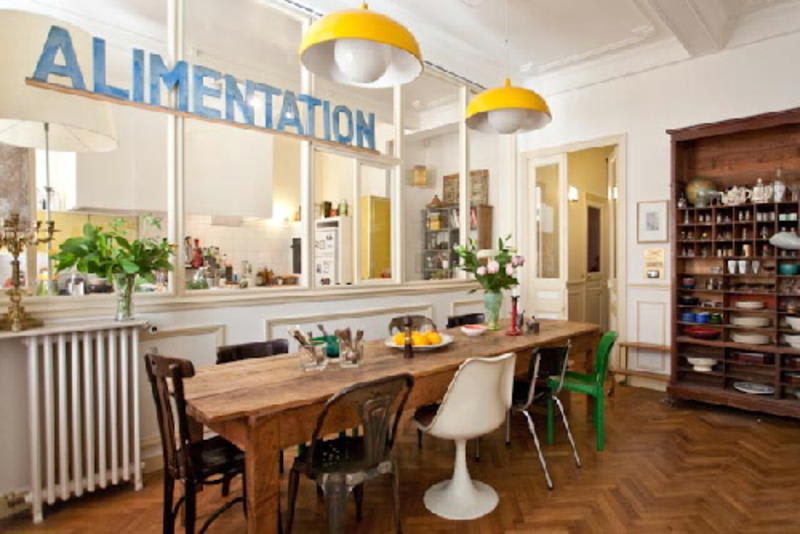 $$$
Cable TV
Free Breakfast
Heritage Building
In the middle of the city, and next to the old port is this recommended hostel in Marseille. Though there are no dorms, there are reasonably-priced private rooms for any travelers looking for a more budget-exquisite stay. All the rooms all designed and decorated in a kitschy, unique sorta style; think French windows (duh), high ceiling, parquet floors.
So that's why it's our choice for the best hostel with a private room in Marseille. It feels like you're staying in the past whilst actually settling into a boho kinda hostel atmosphere. Great for anybody looking for something a bit different.
For those hostelling in France and exploring every corner of the country, it would be a shame to overlook the awesome hostels in Chamonix. A world-class skiing destination in the Alps at the convergence borders of Italy, Switzerland, and France, Chamonix is undeniably beautiful (as you would expect any place that has the world 'Alps' in the descriptor to be).
A lodge means lodge things… like a hot tub!
$
Sauna & Hot Tub
Free Breakfast
Free Parking
You had me at sauna and hot tub. Get ready to fall in love, Chamonix Lodge is one of France's best hostels… definitely the best hostel in Chamonix for sure! Offering backpackers super affordable dorm rooms and a list of free amenities you'd expect from a 5-star hotel, Chamonix Lodge is a true winner in our eyes.
After a long day exploring you and your crew can jump straight in that hot tub and crack open a cold beer (or a glass of red Bordeaux may be more appropriate). On those chilly winter evenings, the hostel crew cuddle-puddles around the open fire – dreamy wintery bliss.
Alps, snow, skis, and more at this Chamonix hostel.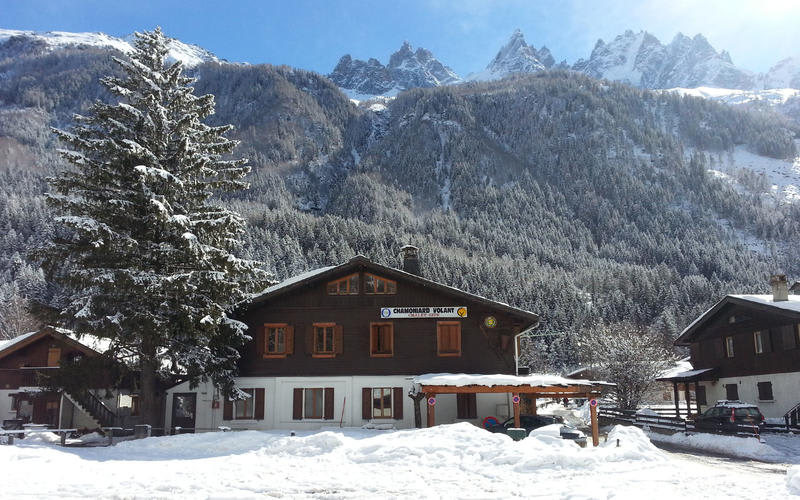 $$
Restaurant
Free Parking
Self Catering Facilities
Hostel-Chalet-Gite The Chamoniard Volant is an outstanding youth hostel in France for solo travelers. In all fairness, this gem of a hostel is perfect for pretty much any kind of mountain-loving traveler.
Nestled amongst the French Alps, The Chamoniard Volant is an authentic ski resort that welcomes all who check-in into the community. There is free parking available which is a bonus for those exploring France on the road.
Breakfast is served daily at for a reasonable price and there is a self-catering kitchen available for all guests too. Try out your French cooking skills and then hit the slopes!
If you're backpacking with a group of friends and you're looking for a unique and remote stay, why not check out these awesome treehouses in France – the views are hard to beat and if you enjoy being outside, you'll love the variety on our list!
Close to the Spanish border and on the tranquil banks of the Garonne River sits Toulouse. The old city of Toulouse is marked by vibrant colorful architecture that speaks to the heart of any romantic. There's a damn good music scene too!
Would you believe me if I said the atmosphere is… friendly?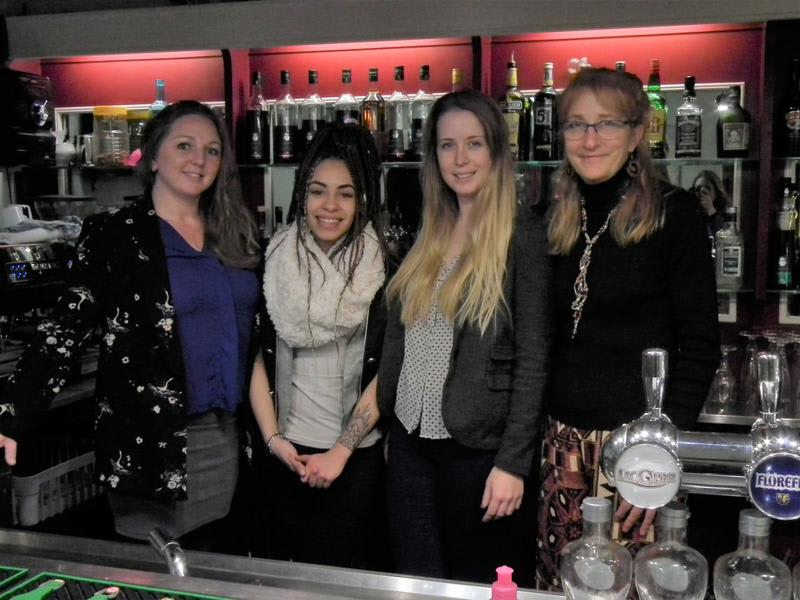 $$
Free Breakfast
Bar & Restaurant
Laundry Facilities
Friendly by name and friendly by nature, Friendly Auberge is a fantastic French youth hostel in Toulouse. Super chill and just the right size, suffice to say any solo traveler will find themselves surrounded by a new group of buddies the moment that they step through the door.
The free breakfast is not only a great money saver but a great opportunity for solo travelers to connect with their hostel mates and perhaps get plotting the day ahead together. There is so much to explore in Toulouse and it's always better when the experience is shared.
A Toulouse party hostel for meeting some good folk.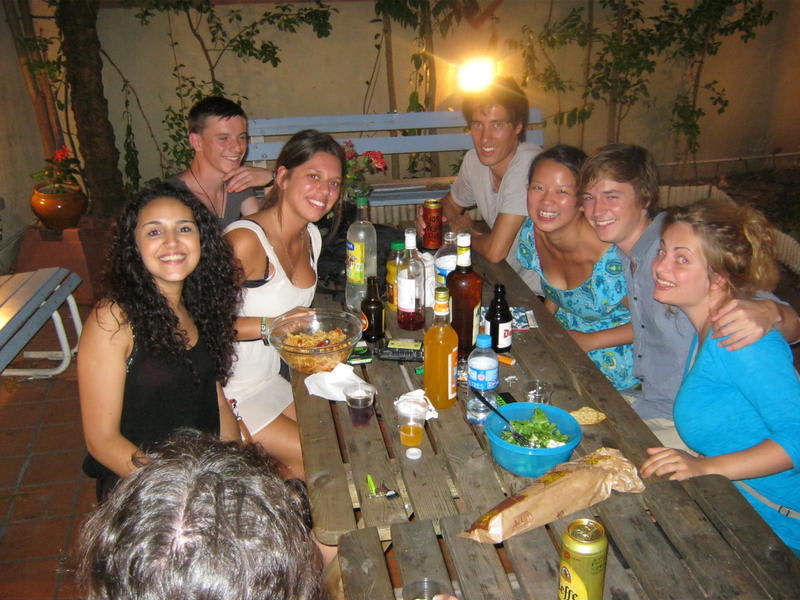 $$
Common Room
Self Catering Facilities
Laundry Facilities
La Petite Auberge de Saint-Sernin is a fantastic party hostel in Toulouse. Located in the bustle of the city, there is a real authenticity to La Petite. It is the kind of place where the party just evolves naturally.
There is a guitar in the common room and a BBQ too. Gather your hostel buddies around, sip French wine, and share travel stories. If you are seeking a real backpackers hostel in France filled with awesome traveling types, La Petite Auberge de Saint-Sernin is for you.
Sure, Bordeaux may be know as a wine hub but there's a lot more to this port city than fancy French wine… there's fancy French art too! The world's largest urban World Heritage Site, Bordeaux boasts some truly astounding architecture. A walk around any of Bordeaux's sprawling neighborhoods is going to be a treat for the eyes!
A romantic place to stay in Bordeaux.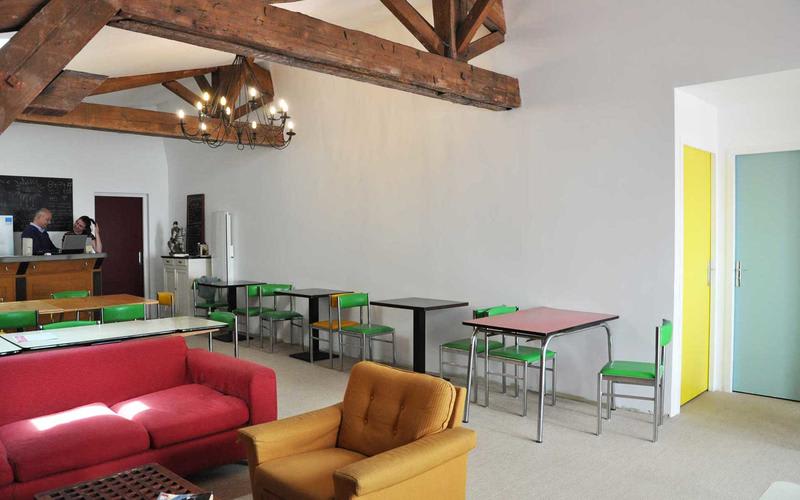 $$
Cafe
Late Check-Out
Laundry Facilities
For doe-eyed love-drunk pairs (probably on Bordeaux wine) looking to spend a weekend in Bordeaux, check out Hostel 20. Located in a gorgeous (and super romantic) 18th-century (with some modernisations), Hostel 20 is an affordable option for couples exploring France together. Hostel 20 even offers a late check-out. It is always a treat to be able to max-out on the late check-out.
The in-house cafe serves up a great latte and a range of truly authentic French pastries. Guests have access to the hostel's shared kitchen – perhaps your significant other can treat yourselves to a low-key night in at Hostel 20.
An awesome located hostel in Bordeaux.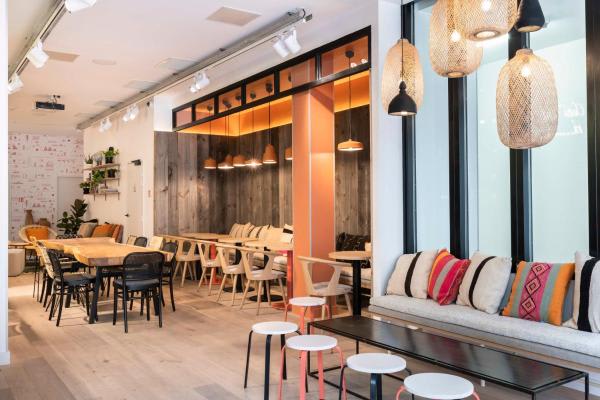 $$
Bar & Cafe
Air Conditioning
Late Check-Out
What a find! Central Hostel in Bordeaux is easily another of the best hostels in France located right in the heart of Bordeaux. Designed to suit the needs of the 2021 traveler, each bed features a reading light and a USB charging port.
The beds are oh so comfortable and their coffee provides the best kickstart to your day. Central Hostel is aptly named; it's winning location means you won't have to venture far too see the sights Bordeaux has to offer,
Central Hostel offers a late check-out too. Such a treat!
A charming university city located in the south of France, Aix en Provence was the home and inspiration of esteemed painter Paul Cézanne. It's also just a gorgeous city with twisting streets lined by French architecture and all the wit of Southern France. So, where should you stay in Aix en Provence?
A cozy base for exploring Aix en Provence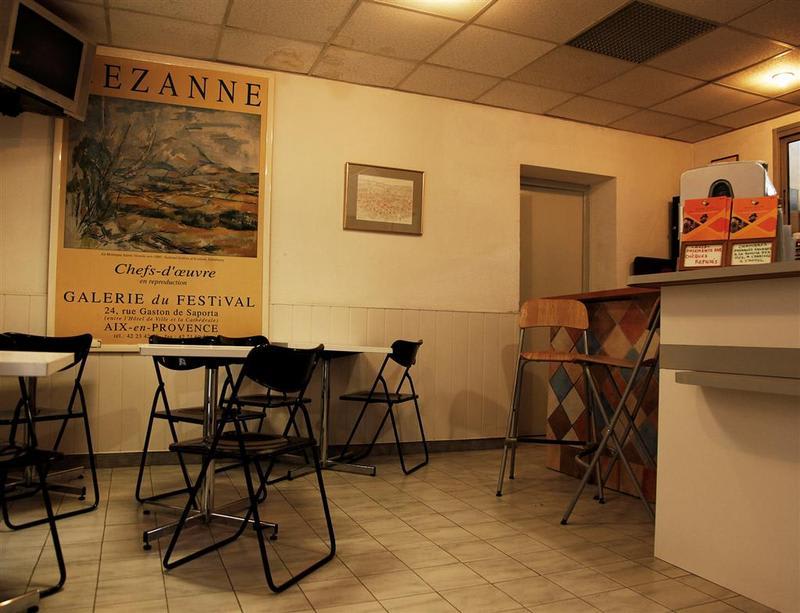 $$
Air Conditioning
Free City Maps
24-Hour Reception
Hotel Des Arts is a cute and cozy hostel in the south of France. Low-key and unassuming, Hotel Des Arts is an ideal place to stay for adventurous travelers who like to be out and about from sunrise to sunset. The hotel offers free WiFi and free city maps too. The staff are friendly and keen to share their travel tips with their guests.
Get chatting to the team with the team and get planning the best itinerary you can for Aix en Provence. There is just so much to discover!
A pool, a bar, and the works in this South France hostel.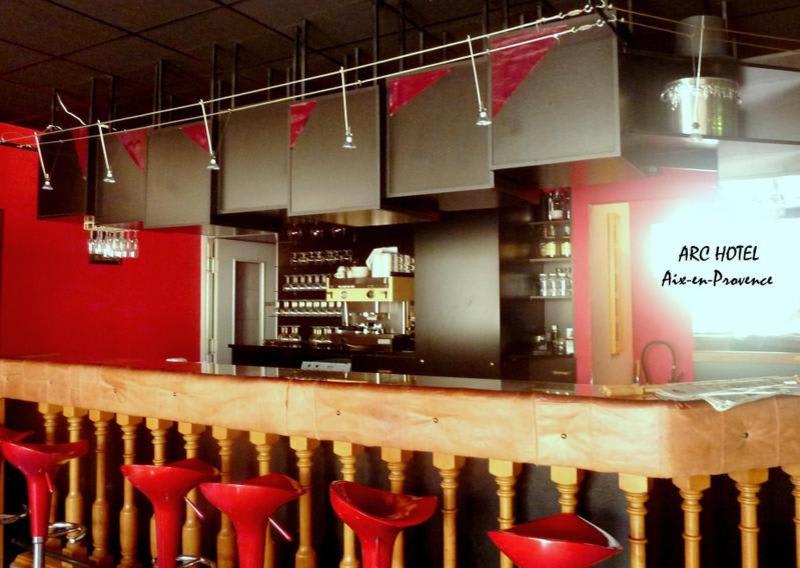 $$
Bar
Free Parking
Swimming Pool
It is a common misconception that digital nomads spend their days at the edge of a swimming pool tapping away while getting a tan. Well, at Adonis Arc Hotel Aix you can totally live up to that stereotype. Why not? Just this once!
Adonis Arc Hotel Aix offers reliable WiFi and affordable room rates, even in high season. Little things like the in-house bar and the swimming pool go a long way in making it one of the best hostels in France for digital nomads and a sweet place to stay in Aix en Provence for anyone.
All rooms are private, giving you the space to retreat. When you're feeling like mingling head to the poolside and get to networking!

Unlock the The Broke Backpacker's GREATEST Travel Secrets!
You pop your email here, and we promise to send you only travel content that's actually relevant — sounds like a pretty good deal to us!
How about a few miscellaneous choices? I mean, there are so many incredible hostels in France that this list could go on forever but we gotta tie it up somewhere. Ready? These are our final choices of the top French hostels for backpackers to meet, greet, and 'hon hon hon' to their heart's content.
The Best Hostel in Alpe d'Huez – Moontain Hostel
Just an all-round dope hostel in France's exquisite Alps.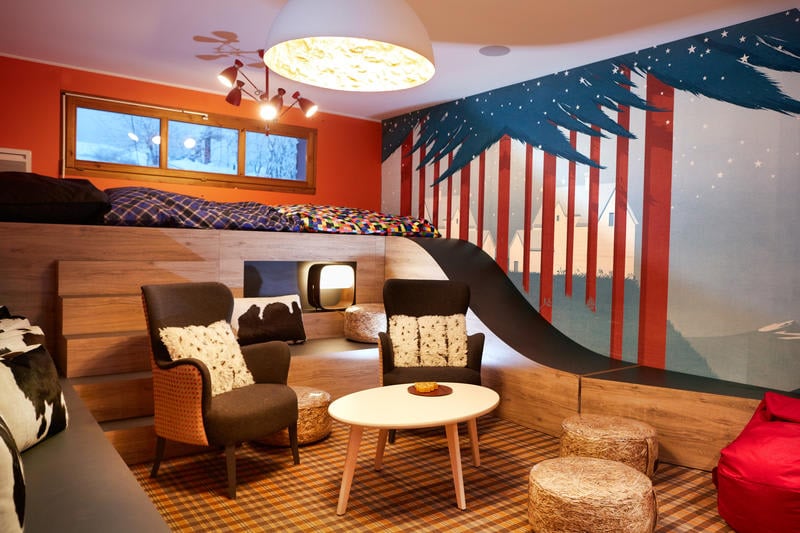 $$
Bar
Outdoor Terrace
Ski Store Room
More Alps, more snow, and more skiing: hell to the yes!
Moontain is the coolest hostel in France. Shout it from the mountain tops! The views from Moontain hostel are insane and, what's more, the front door is just 50m from the ski lift. The hostel offers snow-bound backpackers compliment ski storage and can help you arrange everything from ski passes to lessons.
For outdoors lovers, snow lovers, or just sheer bloody awesomeness lovers, Moontain is the only choice. After all that excitement, you'll be pleased to hear that the beds are super comfy too.
Cozy beachside comfort for those visiting Cassis.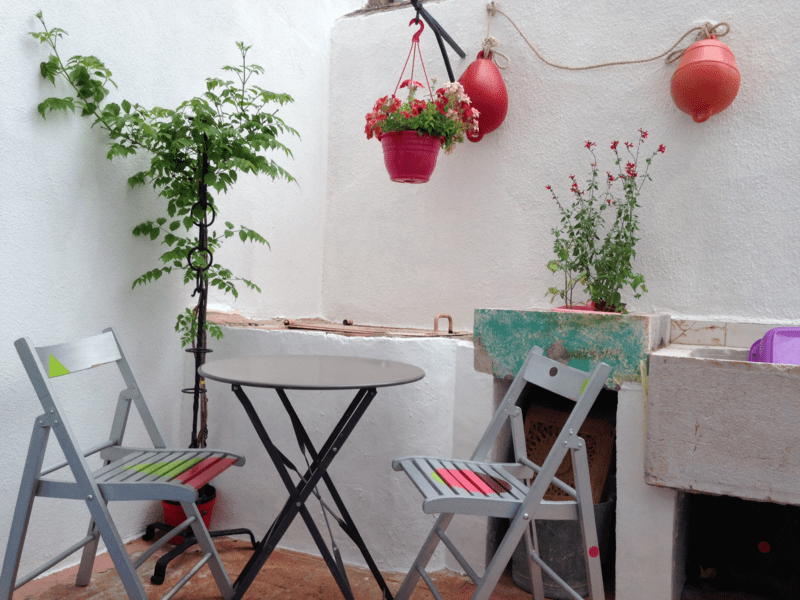 $$
Free Breakfast
Cafe
Outdoor Terrace
Beaches, limestone cliffs, and harborside wonders, Cassis is an amazing place to stay in France. So check out Mini Hostel Au Petit chez Soi!
Mini Hostel is all kinds of cute! Offering a real sense of French authenticity, Mini Hostel is easily the best hostels in Cassis. Situated just a few steps from the beach the laid-back coastal vibes you are seeking can be found in this cozy hostel.
Each dorm bed comes with linen and a comfy pillow. Each bed also features a reading light so there's no need to worry about waking your dorms mates if you are a night owl.
The Best Hostel in Annecy – Annecy Hostel
Super warm vibes in a beautiful place to stay in France.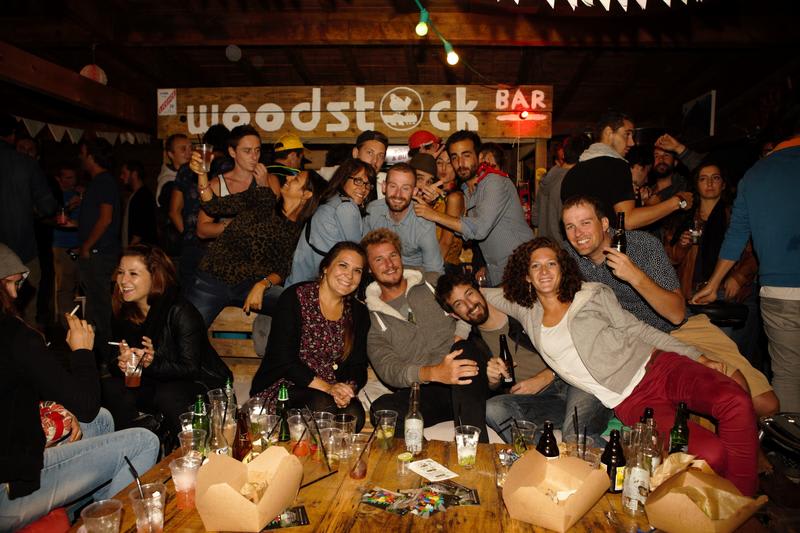 $
Bar & Cafe
Late Check-Out
Outdoor Terrace
Annecy is super pretty; a little alpine canal town filled with delicious treats to discover. As far the best hostel in France's town of Annecy? The aptly name Annecy Hostel!
Hostels don't get much more friendly and welcoming than Annecy Hostel. Secure, safe and in an ideal location, Annecy Hostel was an obvious choice for the best hostel in Annecy. Offering backpackers super affordable accommodation throughout the year, it's well worth your consideration.
Sometimes, cheap hostels scrimp on cleanliness and services, but not Annecy! Sparkling clean and with a team of staff who are always happy to help, broke backpackers need to look no further. Get booking!
FYI – the bar gets pretty lively. You'll love it!
Before you Book Your Hostel in France
Before you take off backpacking and hostelling around France's destinations, there are a couple more things to finalise. Don't worry; got your back. Just want to make sure you're packed right, you're safe in France, and you're insured. Because we care.
Map of Where to Stay in France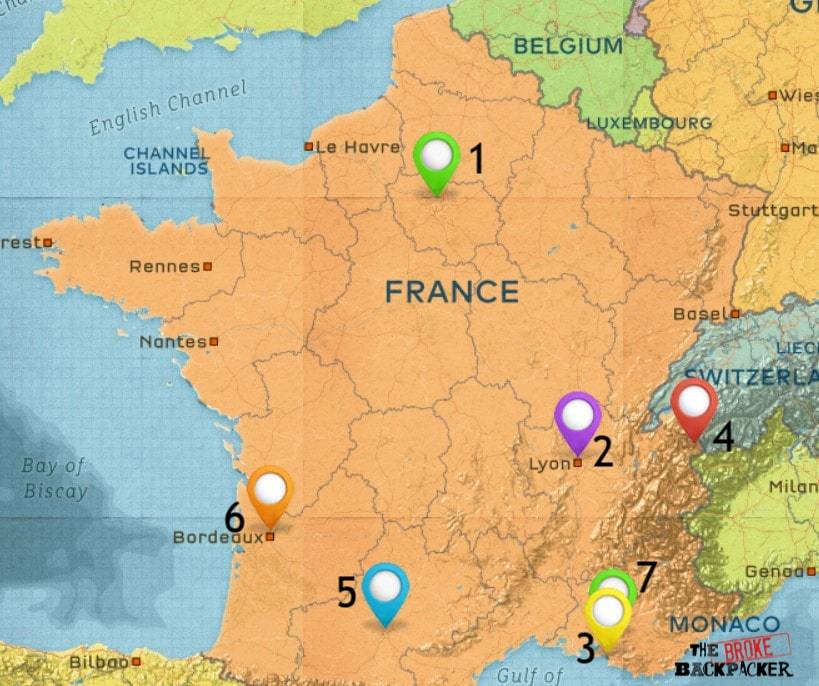 What to Pack for your French Hostel
Pants, socks, underwear, soap?! Take it from us, packing for a hostel stay is not always quite as straight forward as it seems. Working out what to bring and what to leave at home is an art we have perfected over many years.
Check out our definitive Hostel Packing list for our top packing tips!
More Epic Hostels in France and Europe
Where you stay certainly matters. Hopefully, with the help of this article, you'll have a great idea of the different hostels France has to offer, so you can book with confidence!
Planning an epic trip all across France or even Europe itself? Don't worry – we've got you covered!
For more cool hostel guides around Europe, check out:
Why you should travel to France
Wow! What an impressive collection of hostels that can be found in France! There is something there to suit every travel style and budget. France, you have outdone yourself.
Now, that list may be a little overwhelming. To keep things super simple, why not stick to the recommendations for overall best hostels in France? You can go ahead and book a few nights at Arty Paris as a starting point and from there, just wing it!  Sometimes the best of trips go unplanned!
This guide will be here for you forever and always. Bookmark it! Once you're set on your backpacking itinerary in France, you can come back again and get all booked up!
Do you own or run a kick-ass hostel? Want to be featured on this list? Get in touch at [email protected]
Don't Forget Travel Insurance for France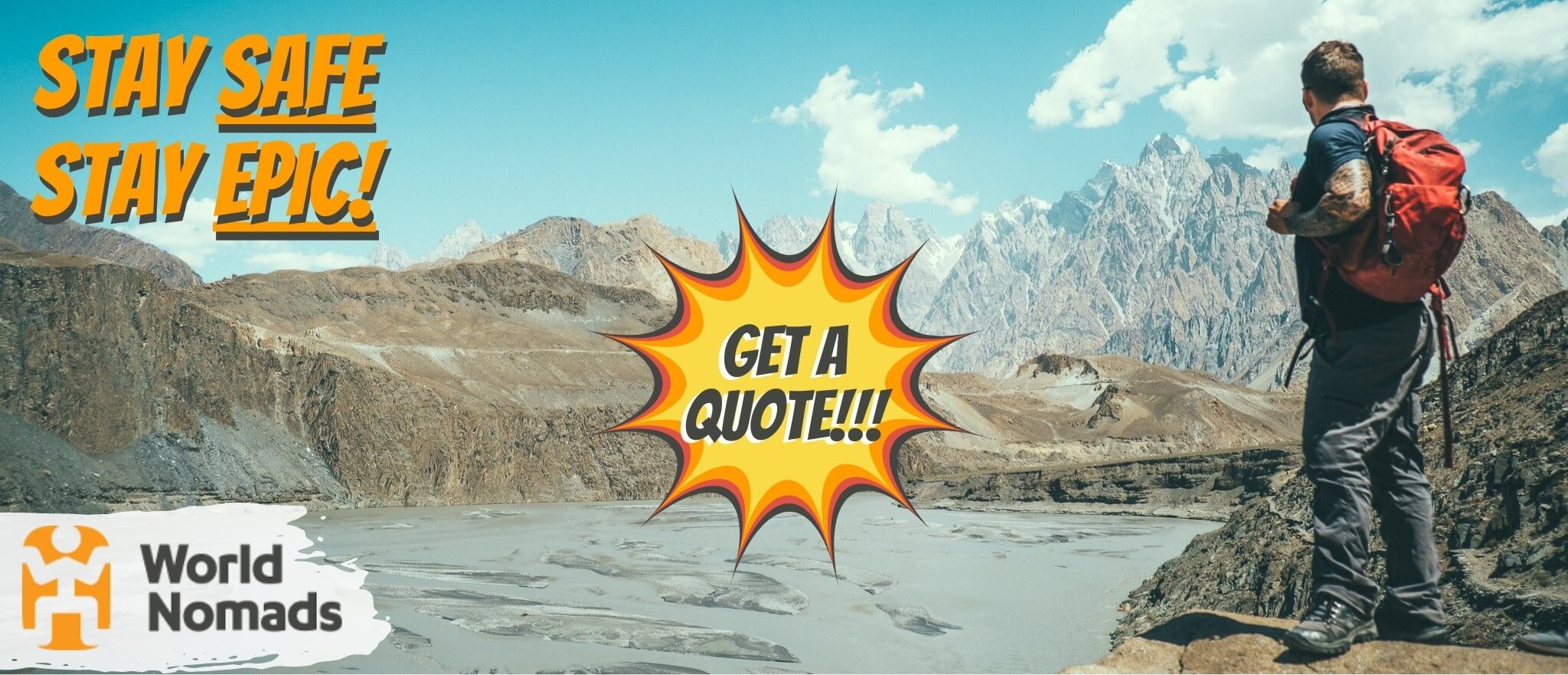 It's good to get lost sometimes, but it's also good not to get too lost. There are people that want you home in one piece.
There's one travel insurance provider The Broke Backpacker trusts for all his wildest shenanigans… World Nomads!
Click the button below to get a quote on your insurance or read our in-depth review of World Nomads' coverage. And then… let the shenanigans begin. 😉
---
Thanks for reading – that was fun! 😀
We bring you epic FREE content!
Find out how YOU can help support us.
We're a big site with a big team and this job isn't always easy. But we do it because we love it – we love providing epic and free content. We love the knowledge that our content keeps you adventuring. We don't ask for money, but if you'd like to find out how you can help the site in more organic ways, click the button below.
Thank you for your support 🙂
---
Bye for now, but not forever!
If you want MORE top-tier Broke Backpacker content like this, then sign up for our weekly newsletter below to get the latest and greatest!
And for transparency's sake, please know that some of the links in our content are affiliate links. That means that if you book your accommodation, buy your gear, or sort your insurance through our link, we earn a small commission (at no extra cost to you). That said, we only link to the gear we trust and never recommend services we don't believe are up to scratch. Again, thank you!