Paris, the City of Lights, art, history and amour. It has taken center stage in songs, movies and novels across the years, and often graces the top spot on travel wish lists.
I think it's safe to say that no one can ever be bored in Paris. With the endless museums, cathedrals, lush gardens and Parisian bistros to enjoy, your itinerary will be packed whether you're spending a week or a weekend in Paris.
While you're never going to see everything – you can damn well try! This itinerary has the best that Paris has to offer without stretching you and your time too thinly.
Use this Paris itinerary as a jumping off point and explore the world's most delightful city yourself!
Travelling through Paris is like having a treasure box with a secret compartment. Just when you think you've seen it all though, you turn down an alley and find another delicious bakery alongside a piece of 20th-century history. Whether you're walking, cycling, or zipping along on the metro, Paris is your oyster (and there are so many pearls inside).
You're never going to finish exploring all the epic places to visit in Paris – even if you're here for a lifetime! And most of us don't have a lifetime to lounge around in the Louvre or sip wine at sunset. So, where do you go when you're short on time in a city so full of life?
Well, we'd suggest taking at least two to three days to explore Paris. This itinerary is full of the best Paris has to offer!
But don't worry, you won't have to rush from A to B, trying to fit everything in.
We've chosen the ideal daily structure, added times, routes to get there and suggestions on how long you should spend at each spot. Of course, you can add your own spots in, swap things around, or even skip some places. Use this itinerary as inspiration instead of a fixed plan to get the most out of your trip!
3 Day Paris Itinerary Overview
No matter how many days in Paris you spend exploring the city holds, you'll need somewhere fantastic to stay. Because there's so much to see and do on your vacation in Paris, it's always a good idea to stay somewhere central and in an area that has what you're looking for!
Choosing where to stay in Paris is definitely an important consideration. The city has a unique layout, with the city being divided into the North and South Bank on either side of the Seine River. Then, there is the spiral of 20 arrondissements (districts), which start at the Seine and move out in a circular design.
While popular Paris monuments are sprinkled all over the city, the 1st to 7th arrondissements are the most central with the biggest variety of landmarks to enjoy. If you stay in one of these areas, it is also easy to fit more into your day as there is a reasonably short travel time between sightseeing spots. The 7th arrondissement is the most iconic. of the central districts and is home to such attractions as the one and only Eiffel Tower.
The amazing thing about Paris is that it attracts all kinds of people – from lovers to revolutionaries. If you want to stay in a more romantic district, go for Montmartre. And if it's nightlife and getting a little wild you're after, then you can't pass up Oberkampf!
Paris is the old stomping ground of Ernest Hemingway, so why not pay a visit to Hemingway Bar at the Ritz-Carlton, where the atmosphere is warm and the bartenders are well-versed in the Hemingway classics.
Accommodation in Paris ranges from the abysmal to the exquisite. Our guide to the best cheap hostels in Paris is, therefore, a godsend to which you are quite welcome.
On the edge of the idyllic Canal, St Martin is the award-winning hostel, St Christopher's Inn. It has an unbeatable vibe and excellent security to keep your valuables safe. Enjoy breakfast on the waterfront terrace, then head off for the day knowing your belongings are safe.
Just 3 stops away from the Gare du Nord station, St Christopher's is in a prime location and a perfect home-away-from-home if you're in Paris on a budget.
You can't get any closer. This Airbnb is located a few meters from the Eiffel Tower and many other attractions, like the Seine River. Surrounded by fine dining restaurants, cafes and the typical french shops, you will find yourself in the best area to stay in. This studio is great for first time visitors to Paris. You're also very close to public transport options so you can fully explore the city.
With a prime spot in the 14th arrondissement, this well-priced hotel is possibly just what you're looking for. The Hotel de la Tour is close to a treasure trove of Paris landmarks including Notre Dame, the Luxembourg Gardens and Palais Garnier. With the metro station only 5 minutes away and free bicycle hire on offer, exploring Paris from your hotel is beyond easy.
If you're looking for the crème de la crème of Paris hotels, the Hôtel Napoleon Paris has it all. Located in the 8th Arrondissement, you can enjoy the stunning views of central Paris from your window as you relax in your plush room. The Charles-de-Gaulle-Étoile Metro Station is just minutes away so it is easy to explore nearby Paris attractions such as the Arc de Triomphe and Champs Elysées Avenue.
Being the massive and sprawling city it is, Paris can seem intimidating to get around. However, it also provides locals and visitors with a fantastic public transport system. You can take one of the more than 60 busses that run daily! Taking the bus through Paris is a great way to take in some scenery, while also getting from A to B.

You could also jump on the Paris metro. This can be a little busier – especially at peak hours – but it's sure to feel like you're getting a local's experience of Paris. It's very easy to get tickets for any of these modes of transport, just make sure you get your hands on a map so no time is wasted by getting lost! The metro in particular can baffle first time users.
While a lot of Paris is walkable, it doesn't help with getting the most out of your trip. Perhaps the best thing to do is grab a day pass for either the bus or the metro. This way, you can get to your destination easily and spend more time exploring Paris!
For our first day in Paris, we are going to see some of the big headline sights that probably brought you here in the first place! The Arc De Triomphe, Paris Opera and the mighty Eifel Tower all make an appearance. What a day huh?!
9:00 AM – Arc de Triomphe
Begin your first day backpacking Paris at the Arc de Triomphe, which lies at the center of the Place Charles de Gaulle at the western end of Champs-Élysées.
The monument is a stunning example of sculpture from the first half of the 19th century. It marks the sacrifice of French soldiers, especially those who fought during the Napoleonic Wars. Inside the arch and on top of the storied monument, is carved the names of generals and the wars fought by France.
The striking French landmark is also the home to the Tomb of the Unknown Soldier, who lies beneath it. With just his date of birth accompanying the gravesite, the Unknown Soldier is an emotional reminder of the sacrifices made during World War I. Every evening at 18h30, the torch of the Eternal Flame is lit to remember the wars France has fought.
There is also the opportunity to walk up the stairs to a 30m-high walkway along the top of the arch, which is the perfect place to get an unbelievable panoramic view of Paris!
The historical sentinel representing the loss and triumph of war is unmissable on your trip to Paris.
Note that the Arc is free to look at and free to walk under. It is only climbing the platform that incurs a fee, and entails a bit of queueing. To complete this itinerary in a single day, you may wish to skip climbing the platform.
Cost – $10 to go up inside
How long should I stay here? – 60 minutes including queuing
Getting there – Get the metro to Charles De Gaulle Etoile
10:30 AM – Palais Garnier
Peek into the immensely challenging and stunningly beautiful world of opera on a visit to the Palais Garnier. As a pillar of the Opera National de Paris, the opera house is a monument of French history and the development of ballet as an art form!
On your visit to the Palais Garnier, you can explore the Opera Library-Museum, where you can view fascinating set models and works of art. You will also be able to see features such as the Rotonde des Abonnés, Bassin de la Pythie, Grand Foyer, Avant-Foyer, Salons de la Lune et du Soleil, Rotonde du Glacier, intricate tapestries, and temporary exhibitions throughout the opera house.
The main auditorium in the opera house is the largest in Europe. With its exquisite design and a spectacular chandelier adorning the ceiling with a crown of light, you'll wish you were on stage!
The stunningly opulent facade is only the beginning of how amazing the building is, and the historic location has become a major symbol of Paris itself. Just walking up the staircase into the Grand Foyer makes you feel fancy enough to be hanging out with a bunch of aristocrats!
Cost – $20
How long should I stay here? – 60 minutes
Getting there – Take the metro to Gare Auber
12:00 PM – Musée de l'Orangerie
Make your thrid stop of the day that much better by skipping the queue Musee de l'Orangerie. It sits on the corner of Jardin des Tuileries in the 1st Arrondissement and was originally built to protect the orange trees belonging to the Tuileries Palace!
In this unique place of French art and history, there are a number of well-known artworks on display. The Orangerie Museum has quite an impressionist and post-impressionist flavor with paintings by Monet, Picasso, Renoir, Cezanne, Matisse and Modigliani.
The museum is particularly famous as the home of the Nymphéas, eight stunning Water Lilies pieces by Monet. You don't want to miss it!
Cost – $8
How long should I stay here? – 60 – 90 minutes
Getting there – It's 20 minutes on foot from Palais Garnier
1:30 PM – Lunch
Paris is a true foodie's paradise; there are exquisite food tours and dining options on offer. However, in the interests of keeping to a budget, we are going to satisfy ourselves with a delicious french baguette sandwich from any of the many fine boulangerie's that line the city.
2:30 PM – Louvre Museum
You could easily spend hours exploring the cultured corridors of the Louvre Museum, which are lined with art from across the ages. The world's largest museum is in a former royal palace, and it was the French Revolution that it was made into a museum to display the nation's masterpieces.
The Louvre houses an amazing collection of artworks, which span several thousands of years! They are divided into 8 categories including Egyptian Antiquities, Near Eastern Antiquities, Greek, Etruscan and Roman Antiquities and Islamic Art. Some of the most famous artworks are the Mona Lisa, the Winged Victory of Samothrace and the Venus de Milo!
The building itself is a work of art, with its golden roof created by a web of 9000 steel tubes, which almost appear to float above visitors to the Louvre.
Cost – $20
How long should I stay here? – 120 minutes or more
Getting there – Walk here from your lunch stop.
6:00 PM – Eiffel Tower
A trip to Paris is incomplete without a visit to the worldwide symbol for the city of love. It is a site rich in history, as it was built for the world fair in 1889 and to commemorate the 100th anniversary of the French Revolution!
With three extraordinary levels, and sights to match, the Eiffel Tower has the best view in Paris. Its top level sits at 906 feet high, which gives visitors an unbelievable view of the Paris cityscape, so it's no surprise that the tower is one of the most visited monuments in the world.
Take in a panoramic view of popular Paris attractions, including Montmartre, Notre Dame, Les Invalides, and the glimmering waterways of the River Seine. There's no better way to finish off the day than to watch this spectacular tower light up under the Paris sky!
Note that if you are visiting in Autun or Winter, it may get dark a early as 6pm. Your view of Paris will of course be impacted by this so you may wish to get this one out of the way earlier in the day unless you prefer the city at night view. If you are visiting Paris for the first time then you MUST climb the Eiffel Tower – it's a Parisian rite of passage.
Cost – $12 – $30
How long should I stay here? – 60+ minutes
Getting there – Take the metro to Trocadeor or Passy and walk from there
Day 2 of this Paris itinerary involves some hefty church-going (don't worry, even the Atheists amongst you will be astounded!), swings by a lovely art museum and then takes in the macabre Paris catacombs.
9:00 AM – Notre Dame
Begin day 2 of your 3 days in Paris in the best way at Notre Dame as you take in the stunning Gothic architecture. The cathedral is located on the Île de la Cité, or City Island, and has become one of the most iconic monuments in Paris!
Entrance is free but if you would like to venture up to the Trésor de la Cathédrale (Treasure of the Cathedral, where all precious religious items are kept) or the Crypte Archéologique (which houses archaeological remains), you will need to buy tickets, but it's more than worth it to venture into the top of the cathedral!
You can also see the iconic bell towers, which make a stunning sight! The artwork and atmosphere of reverence are stunning to witness, and it would be a sad day in Paris if you left Notre Dame off your list! Don't forget to enjoy a stroll around the gardens, while you take a mental picture (or a real one) of the River Seine.
Update for October 2019: Notre Dame was of course, tragically badly fire damaged earlier this year. At the time of writing it is closed for repair. You can still admire the structure from the outside although of course, the famous turrets are no longer standing.
Cost – FREE!
How long should I stay here? – 30 minutes
Getting there – Take the metro to Trocadero or Passy and walk from there
10:00 AM – Sainte-Chapelle
If you thought Notre Dame was special, then wait until you see Sainte-Chapelle!
The cathedral pays homage to the stunning Rayonnant Gothic period of architecture. With its incredible collection of 1113 utterly exquisite stained glass panels that fill the church with beautiful multicolour light, Sainte-Chapelle is unmissable.
If you're a history buff and a fan of exquisite architecture, you will enjoy Sainte-Chapelle's legacy as one of the earliest remaining buildings from the Capetian dynasty.
It is also the home of treasured Christian relics, as well as stunning depictions of the Old and New Testament which line the walls. The cathedral's walls are also flanked with dignified stone statues representing the 12 apostles.
Cost -$10
How long should I stay here? – 30 minutes
Getting there – It's a 10 minute walk from Notre Dame
11:00 AM – Musee d'Orsay
The Musee d'Orsay is a fantastic museum with an incredible collection of art. The location is the first memorable aspect of the museum as it is found in what used to be the Gare d'Orsay railway station and hotel, giving it a truly unique architecture! A complex design of galleries lies beneath the gleaming iron and glass barrel vault in one of Europe's largest museums.
The museum is home to some truly iconic art collections including paintings, sculptures, photography and decorative art pieces. Some of the museum's most famous works include The Artist's Studio, The Gleaners, Dane at Le Moulin de la Galette, Dinner at the Ball and van Gogh's renowned Starry Night Over the Rhone.
Visit the Musee d'Orsay to truly get your fill of artworks that will make you wax poetically for the rest of the day!
You should allow 3 hours to properly explore the Musee D'Orsay.
Cost – $20
How long should I stay here? – 120 minutes
Getting there – Take the RER Line C to Musee D'Orsay
2:00 PM – Paris Catacombs
Experience the Les Catacombs de Paris, for an emotional and historical afternoon in Paris. The Catacombs are a labyrinth of underground quarries, which were created to eliminate the city's overflowing cemeteries, and became one of the largest ossuaries in the world.
While officially named the Paris Municipal Ossuary, it was nicknamed the Catacombs after the Roman Catacombs created so much public fascination. The Catacombs are a place of great reverence, but also hugely informative!
It was carefully arranged as an underground museum, with monuments such as steles and tombs, as well as 'cabinets of curiosities', which offer information on mineralogy and pathology. You can also view plaques with poignant religious and poetic texts, which explore the nature of mortality.
Insider Tip: You can't take a large bag or suitcase with you because they can damage the fragile interior. It is also not wheelchair accessible because of the many stairs.
Note that the lines are very long. We suggest paying to skip the line if you can.
Cost – $20 – $35
How long should I stay here? – 120 minutes
Getting there – RER or Metro to Denfert Rocherou
Dinner in Montparnase
From the Catacombs, you can walk or take a metro to Montparnasse. Known for its large, looming tower, the area is a hub of bars, bistro's and eateries. Note that the French tend to dine around 7 – 8 pm but if you're already feeling hungry, you'll find something open from 5 pm onwards.
Need a place quick? Here's the best neighborhood in Paris:
The 3rd day of our 3 days in Paris itinerary takes in the artist village of Montmartre. Once home to Dali, Picasso & still home to the fabulous Moulin Rouge club. From there we visit one of Paris' most bold buildings before paying our respects to the dead.
10:00 AM – Montmartre
This bohemian town in the 18th arrondissement is a surreal place to visit. The timeless village gets its name from the large hill it sits in the shadow of, and is a place with an amazing history.
Don't miss out on a view of the breathtaking Basilica of the Sacré-Coeur, a sentinel in Montmartre's landscape. Montmartre is also well-known for its incredible relationship with art and the careers of prominent artists. Many famous painters, including Modigliani, Monet, Renoir, Degas, Picasso and van Gogh lived in the town.
Pay a visit to the Musée de Montmartre, which used to be the home and studio of a number of artists. You could also take a walk through the town and enjoy the idyllic surroundings that once inspired some of France's greatest painters. Then, get your own portrait painted at the bustling Place du Tertre!
Enjoy a day finding the secret gems in Paris in this artistic hub from days gone by. It was featured in famous poetry, paintings and the hit film, Moulin Rouge. Any Paris itinerary MUST feature a trip to Montmartre.
Cost – Depends what you do!
How long should I stay here? – 3 hours
Getting there – Take the Metro to Pigalle and then explore on foot
12:30 PM – Lunch in Montmartre
Montmarte has loads of bistro's to choose from. There are a few treasures set amidst the streets near the Basicalla although the ones nearer to Pigalle metro tend to be cheaper catering for a daytime, business crowd.
1:30 PM – Geore Pompidou Centre
The Paris Pompidou centre is the cities premier, leading modern art museum. Whilst La Louvre and Musee' D'Orsay boast some of the finest classical art in the whole world, Pomdidou specialises in 20th-century works. Featuring masterpieces from Picasso, Jackson Pollock and Andy Warhol, the museum is a must for art buffs.
As well as the art, the museum itself is remarkable on account of its bold "inside out" design. The views from the top floors are also pretty sweeping.
Cost – $20
How long should I stay here? – 90 minutes
Getting there – Take the Metro to Hotel Deville
4:00 PM – Pere Lachaise Cemetery
Pere Lachaise Cemetery is the most visited cemetery in the world. This is mostly on account of the sheer abundance of Paris' good and dead who are laid to rest here. Notable resting Pere Lachaise residents include Jim Morrison, Oscar Wilde, Edith Piaf, Moliere, plus the composers Rossini & Chopin.
Not only is the guest list worthy of any A-list after party, but the monuments themselves are also quite captivating. The cemetery makes an unusual, serene detour and is a wonderful break from Paris' bustling streets.
Cost – Free
How long should I stay here? – 60 – 120 minutes
Getting there – Ride the metro to Pere Lachaise
France does have seasons so there's definitely a time when it's best to visit Paris. The summers are hot, bringing sweaty days and long evenings. A lot of Parisians head for the coast in August although the influx of tourists make up for this. Winters get chilly and wet but snow is still relatively rare. The shoulder seasons (Spring and Autumn) are possibly the best times to visit.
The time of year you visit will effect what you need to bring. Our Paris packing list will therefore come in useful. The table below will also help you perfectly plan a trip to Paris.
OK so Paris is big and the main attractions are pretty spread out. Walking IS possible but will take considerable exertion and time. Thankfully, the public transport system is pretty robust with reliable efficient Metro, RER and bus networks running across the city.
We suggest buying a book of 10 public transport tickets ($15) which you can use on either trains, busses or RER's. You need to "stamp" your ticket by feeding it into the machine. Once stamped you can use it to ride unlimited for 1 hour and can even change train/bus. Note that if you are headed to the airport, you need to buy a separate airport RER ticket.
Taxi's and Uber's are very expensive in Paris so use them sparingly. There is an automated bike hire service available but personally, I find daytime traffic a bit too intense for this to be enjoyable.
While ol' Paris is pretty safe, you can never be too cautious. Here are the best tips for keeping your trip problem-free.
Pickpocketing can be fairly common, especially in large crowded areas such as the metro stations, major tourists attractions, and shopping hubs.
There are areas that can be unsafe at night or when they are especially empty, including Chatelet, Les Halles, Gare du Nord, Stalingrad, Jaures, Saint-Denis, Aubervilliers, and Saint-Ouen.
There were of course some high profile terror attacks in Paris over the last few days and it is true that terrorists may try again. However, there is nothing to suggest that Paris is particuarly at risk and no need for fear or any hysteria.
Paris is still one of the safest European metropoles but backpacking through any country needs some safety precautions. It's always a good idea to keep an eye out for any trouble and try not to go through isolated areas, especially on your own.
Don't Forget Your Travel Insurance for Paris
ALWAYS sort out your backpacker insurance before your trip. There's plenty to choose from in that department, but a good place to start is Safety Wing.
They offer month-to-month payments, no lock-in contracts, and require absolutely no itineraries: that's the exact kind of insurance long-term travellers and digital nomads need.
SafetyWing is cheap, easy, and admin-free: just sign up lickety-split so you can get back to it!
Click the button below to learn more about SafetyWing's setup or read our insider review for the full tasty scoop.
Find out what people want to know when planning Paris itinerary.
For anyone seeking history, fantastic cuisine, sublime scenery and an endless supply of things to be amazed by, Paris is the place to visit! There are boundless opportunities to experience everything from world-renowned French monuments to hidden Parisian gems.
With everything on offer and every possible mode of transport available, Paris is a backpacker's paradise!
As the queen of class, Audrey Hepburn said, "Paris is always a good idea". Need I say more?
---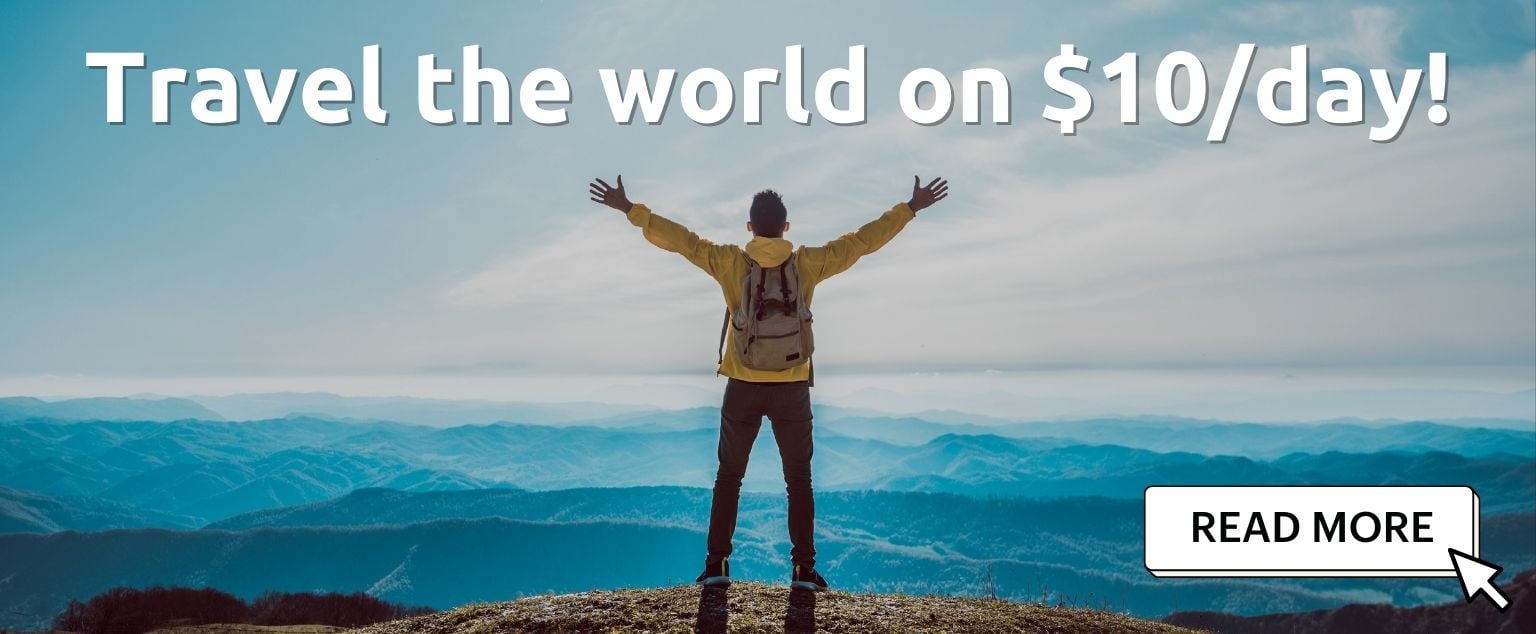 And for transparency's sake, please know that some of the links in our content are affiliate links. That means that if you book your accommodation, buy your gear, or sort your insurance through our link, we earn a small commission (at no extra cost to you). That said, we only link to the gear we trust and never recommend services we don't believe are up to scratch. Again, thank you!