Ah, mon amour, Paris. The city of light, love, and food that says damn, the French definitely do something right. 
I'm talking macarons, crêpes, croissants – you know, our kings. But we've also got champagne on tap, fresh escargot, and mussels (or moules) cooked to heavenly perfection. If you're a foodie, you'll be a sucker for Paris.
When looking for good food in Paris, choosing where to eat can be a bit of a dilemma. As the most visited city in the WORLD, some places feel very touristy and lack the charm you'd expect from the French capital of cuisine.
Luckily, there are plenty of passionate locals that can point out the best places to eat in Paris, as well as what to try when you're here. Whether you're dining in the boogie boulevards of Le Marais, or heading to the high-end bistros of Saint Germain des Prés, Paris has a culinary treat for every taste bud.
If you're a foodie fan and you're looking to taste your way around the city, then you're going to love these very best food tours in Paris. Let's offer your palette the best food you'll ever sample.
Bon appetit!
Food in Paris – Why is it Special?
On a trip to Paris, you may cruise down the River Seine to look at the city's historical monuments, or swing by the Eiffel Tower, Notre Dame, or the Louvre. The reign of the Sun King, Marie Antoinette's Cake, the French Revolution, and the 100-Year War have all left their mark on the French capital.
And while these are all perfectly interesting, it's not a representation of Parisian food. French cuisine is world-famous. "Bon appetit", is a globally recognized phrase for 'have a good meal'. It's fair to say that the French are food obsessed as a culture.
Famous French dishes include duck confit, escargots (snails), moules-frites, and coq au vin. While lighter lunch bites such as croque monsieur, jambon-beurre, and French onion soup are just as popular with the locals.
If the variety of French foods doesn't get you excited, then how about the quality? France is the home of many globally renowned chefs, and anyone worth their salt in the cooking world will have studied French cooking or Cordon Bleu.
It's also the home of the Michelin Star. Originally a tire manufacturer, Michelin is based in Clermont-Ferrand in the Auvergne-Rhône-Alpes region of France. Today, it's your sign for the best restaurants in the world.
In 1900, they set out with a simple goal; to rate the country's restaurants and eateries to find the best places to stop on a road trip. They are now a globally recognized sign of high-quality food.
Overall Best Tour
Overall Best Tour
The Original District Food & Wine Tasting Tour
> Where: Le Marais
> Includes: Food tastings such as chocolate, macarons, cheeses, and cured meat, Alcoholic Beverages, Bottled water
> Duration: 3.5 Hours
> Price: €110.00
Best Walking Tour
Best Walking Tour
Sweet Gourmet Specialties Tasting Tour
> Where: Saint Germain des Pres Quarter or Le Marais
> Includes: Taste pastries, chocolates, and a variety of breads Walking tour (maximum 8 people), Local guide
> Duration: 3 Hours
> Price: €110.78
Best Cooking Class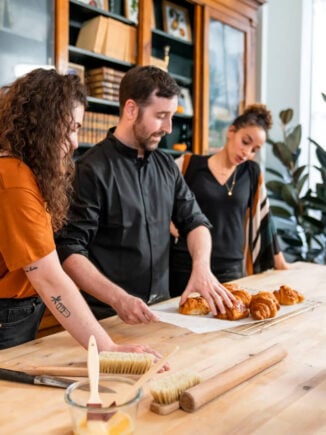 Best Cooking Class
Learn How to Make Fresh Croissants
> Where: The Maison Fleuret in the heart of Saint-Germain-des-Prés
> Includes: Cooking lesson, eat/take home your creations, drinks, recipe card
> Duration: 2.5 Hours
> Price: €95
Paris Foodie Neighborhood Breakdown
Now before we dive into the best food tours in Paris, let's talk the best foodie neighborhoods in Paris. It's worth knowing where to start exploring.
Le Marais is one of the most popular areas for Paris foodie tours. It's also known as SoMa, short for South Marais.
The area is filled to the brim with beautiful architecture. Visit art galleries, unique boutiques, hidden gardens, and, of course, famous bistros in this fabulous arrondissement of the city.
Once the city's Jewish quarter, the area still hosts numerous kosher restaurants with a multicultural diversity of food. Visit the nearby Marché des Enfants Rouges, Paris's oldest covered market: sample cheeses, wine, oysters, falafel, crêpes, boeuf bourguignon, and crème brûlée.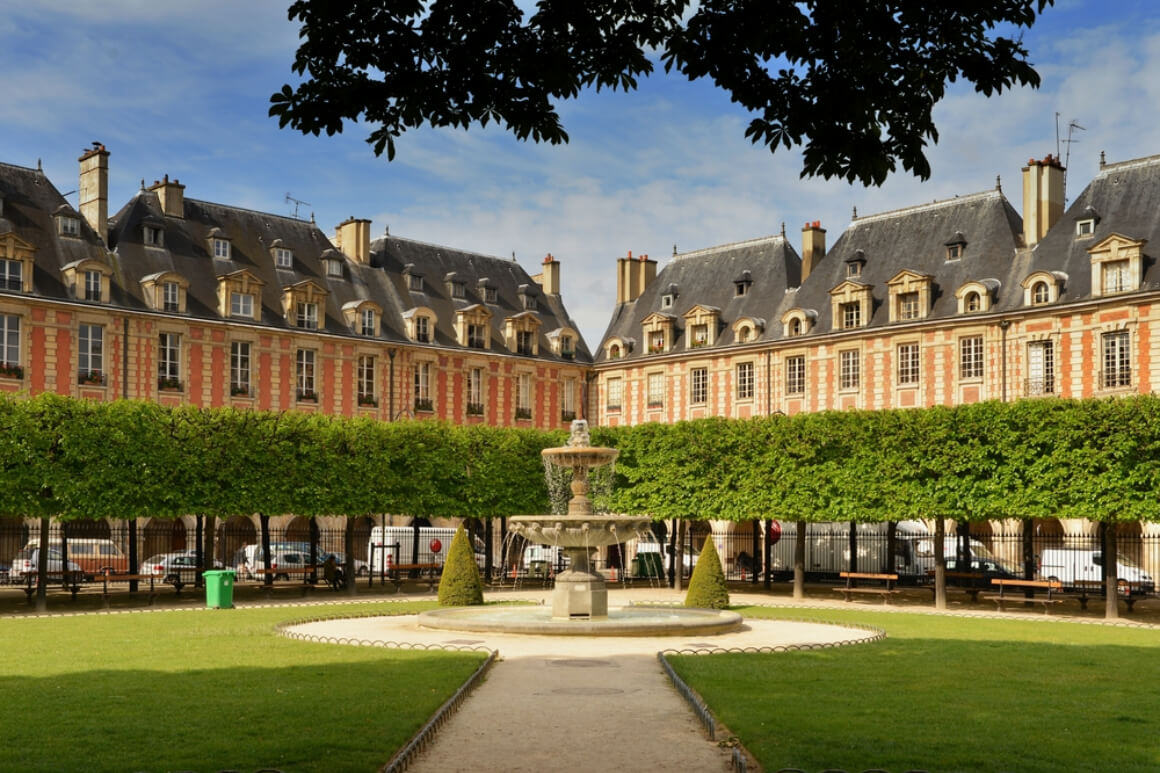 Montmartre is a ramshackle hub of Parisian life. The area was once home to Van Gogh, Toulouse-Lautrec, Picasso, and many other artists and entertainers.
Sample croissants and éclairs at a local pâtisserie, people-watch while chowing down on escargot. Catch a cabaret show (with a glass of champers, of course). Montmartre is also home to some of the best bars and nightlife in the city.
Away from the tourist crowds, Belleville is an edgy neighborhood in Paris. The area hosts a monthly street food market sprawling along Boulevard de Belleville with tables and culinary delights from all over France. There's also a Chinese quarter, with grocery stores and no-frills restaurants serving quality Asian food.
This central area is home to some of the best food in Paris. Saint Germain des Prés is full of culinary artisans, including France's best chocolate and pastry chefs. One such artisan is famed chocolatier Debauve & Gallais, a favorite of Marie Antoinette.
Angelina is the most famous café for chocolate chaud in Paris, just north of the Tuileries Garden along the iconic Champs-Élysées. But Les Deux Magots in St Germain de Pres is equally popular, serving up velvety smooth chocolate by the jug.
Another example of the must-try food in Paris is the macarons at Ladurée. There's one on the Champs-Élysées, but the restaurant near Saint Germain on Rue Bonaparte is much quieter.

Unlock Our GREATEST Travel Secrets!
Sign up for our newsletter and get the best travel tips delivered right to your inbox.
7 Best Food Tours in Paris
So we know where to find the best food in Paris, it's time to start looking at food tours in Paris to add to your itinerary. These tours offer the best places to eat and are organized by a local guide. Come hungry!
Where: Le Marais
Duration: 3.5 Hours
Includes: Food tastings such as chocolate, macarons, cheeses, and cured meat, alcoholic beverages, bottled water
Price: €110.00
Visit the heart of the Paris culinary scene with this best-of-the-best food tour. Discover the iconic district of Le Marais on the Right Bank of Paris to get under the city's skin.
Wander past iconic Parisian sights like Hôtel de Ville and visit the oldest covered market in Paris, Marche des Enfants Rouges. Stop at up to 10 shops and other food vendors to sample wines, cheeses, meats, bread, jam, chocolate, and macarons.
Focusing mainly on French cuisine, you will get to try a lot of tasty treats. It's a great way to sample some of France's many delights in a short space of time.
You will definitely want to remember some of these places to come back to later. Your local guide will give you plenty of tips and tricks to find all of the best spots in this foodie hub in Paris.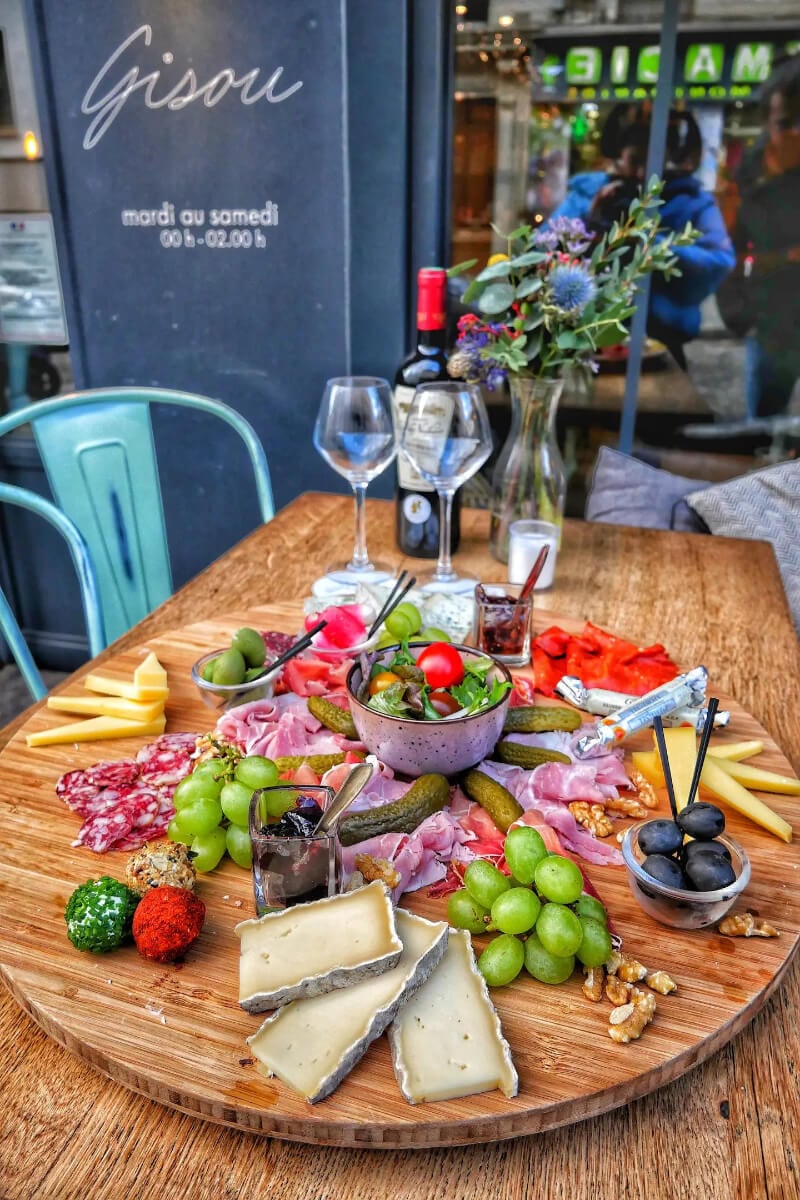 Where: Montmartre
Duration: 3.5 Hours
Includes: All food
Price: € 62
The No Diet Club (or Le No Diet Club) runs food tours all over France and has exploded internationally. They aren't into checklists or places with a mile-long queues. Just a guaranteed great foodie experience for those visiting Paris for a weekend.
This is one of the best food tours in Paris to eat like a local – albeit a local with no concept of salad. Self-described "original food porn experience" with a food-is-life kind of mantra. Wander through the lively Montmartre area, as well as Pigalle, seeing the city streets lit up with neon lights. It's not just French food on offer; you will discover Peking duck, babka, charcuterie, and devour an ice cream or two. 
The best part is that the tour changes to fit the group and the season, so you could be eating at the latest trendy pop-up or a well-established favorite. There is no history lesson or practiced clichés, just some really great local food and a lot of fun with a like-minded group of food-a-holics.
Where: Secret Wine Door, a 15-minute walk from the Eiffel Tower
Duration: 2 Hours
Includes: Five artisan cheeses, French bread, and a mix of red and white wine.
Price: €49
Drink wine, eat cheese, need I say more? Of course, the French claim to have the best wine and cheese in the world. So it's only right to see for yourself…
Just a 15-minute walk from the Eiffel Tower you will find a cozy shop full of French delights. The 'secret wine door' may not be easy to find, but that's the point.
Learn great cheese and wine pairing tips, discover how to drink wine like a professional, and taste five different French wines and cheeses. There's also an option for charcuterie if you can't eat cheese.
All of the wines have been carefully selected from independent French winemakers from five different regions within France. The host, Erwan, has ditched the 'classroom' approach in favor of a more informal experience. But he isn't without his accolades. 
As a Parisian-born wine lover, he is a certified wine expert from the Wine and Spirit Education Trust (WSET). Erwan offers an intimate introduction to the world of French wine and cheese.
Is This the Best Travel Pack EVER???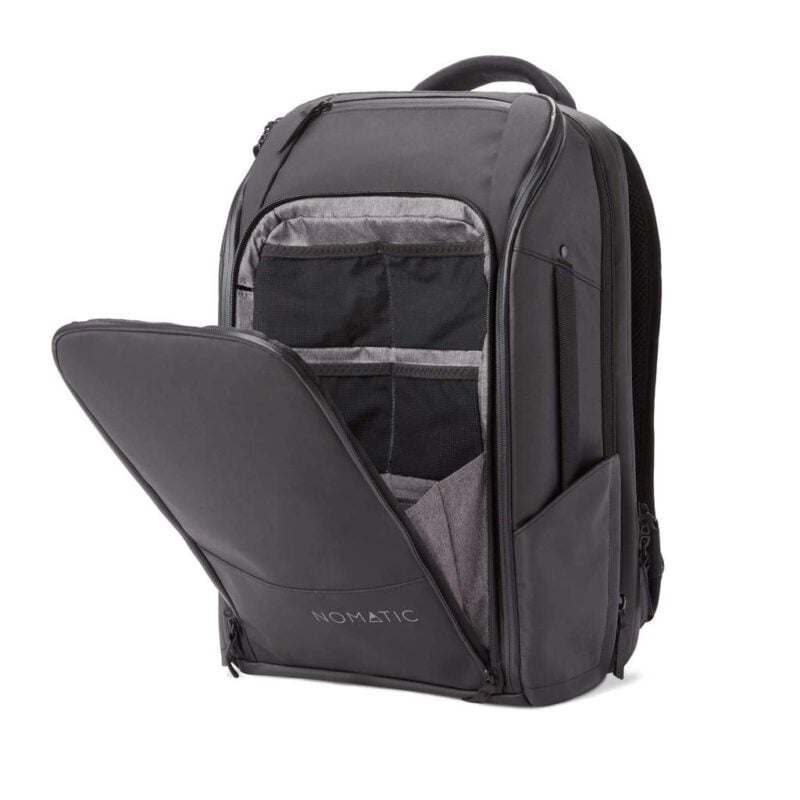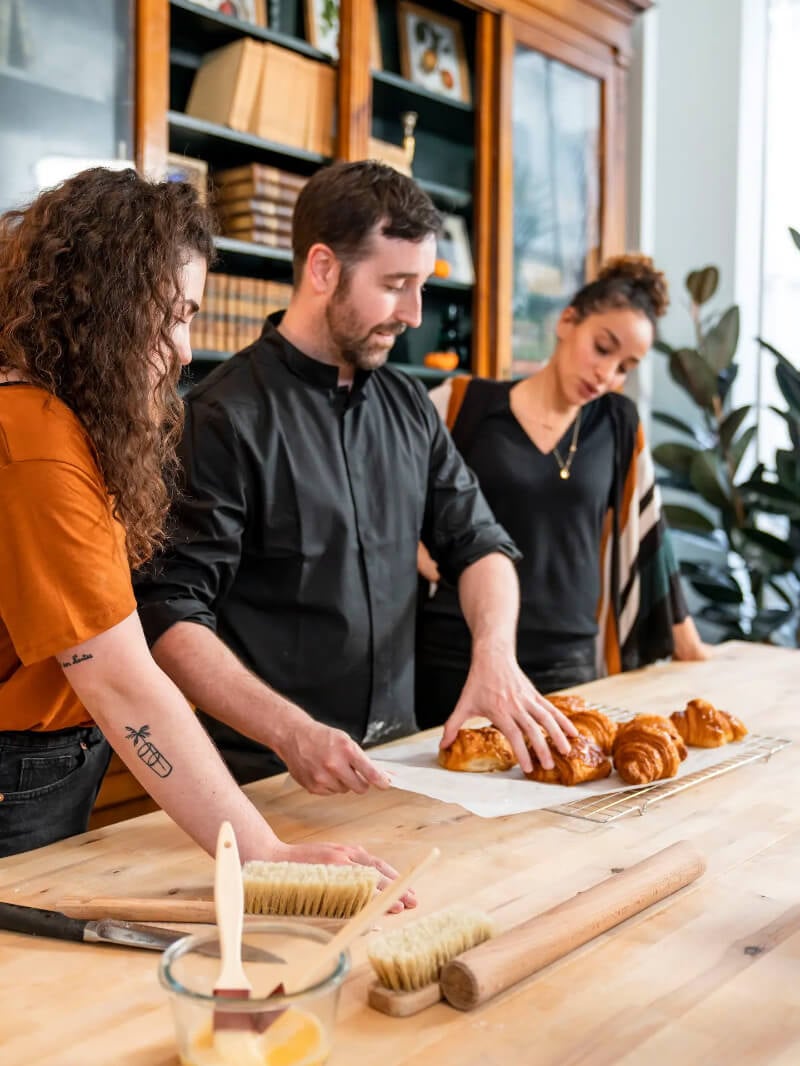 Where: The Maison Fleuret in the heart of Saint-Germain-des-Prés
Duration: 2.5 Hours
Includes: Cooking lesson, eat/take home your creations, drinks, recipe card
Price: €95
Grab an apron and a rolling pin in this hands-on Paris cooking class. Learn the techniques needed to create the perfect croissant and pain au chocolat.
This isn't a cookery show. Here you get to try every step of baking the perfect butter croissant. 
Examine the traditional French recipe, roll the puff pastry, and take your creations out of the oven when they're baked to perfection. You will also get to try your hand at one mystery confection before you leave.
Host Matthieu and his team will be there to guide you every step of the way, and ensure 'guaranteed baking success'. The cooks at Maison Fleuret are proud to use their grandmother's recipes in creating signature pastries and cakes.
Located in a hidden courtyard in the foodie district of Saint-Germain-des-Prés, they pride themselves on traditional French dishes made with love and a keen eye for perfection.
Where: Belleville District
Duration: 2.5 Hours
Includes: Food and drinks, local guide
Price: €48
The trendy area of Belleville is a side of Paris often unseen by tourists. If it's not your first time in the city, why not try something a bit different? For one of the most interesting food tours in Paris, head to the Oriental district and uncover the best Tunisian restaurant in Paris. 
Next up is a stop at the local guide's mums for a home-cooked treat. It doesn't get any more local than that!
During the tour, you will take in the highlights of Chinatown and delight in some of the best Asian cuisines in Paris. Host Ali will help you to uncover some of his favorite haunts in the local area. An avid traveler and Parisian food critic, Ali has lived in Belleville his whole life and isn't short of recommendations.
It's not just the food that will have you falling in love with Belleville. You will also find hidden street art, hear fascinating stories about the city and finish with a scenic view over Paris from Buttes Chaumont Parc.
Where: Saint Germain des Pres Quarter or Le Marais
Duration: 3 Hours
Includes: Taste pastries, chocolates, and a variety of breads Walking tour (maximum 8 people), Local guide
Price: €110.78
For those with a sweet tooth, Paris is a dream come true. And the Saint Germain des Pres Quarter is a paradise. Choose between Saint Germain or the Le Marais district on a 3-hour sweet gourmet speciality of Paris tour.
Spend an afternoon walking around the historic streets of the city, visiting fine pastry establishments and chocolate shops. Try gourmet delights like macarons, croissants, pain au chocolat, crepes, and other patisseries. 
Be lured in by the smell of freshly baked baguettes, sample the must-try specialities of Paris, and wander past some of the city's most iconic monuments. You will also learn about French culinary traditions from your local guide and get the facts on France's gastronomic scene.
Where: The Champagne Region
Duration: 11 Hours
Includes: Hotel pickup and drop-off, Transportation by air-conditioned minivan, Driver/guide, Tour at 2 Champagne houses, Wine tastings, Lunch, Up to 6 glasses of Champagne, Bottled water
Price: €299
Ok, so this one's not actually in Paris, but it still deserves to be on the list as it's only a quick day trip from the city. Travel to France's Champagne region in an all-day food tour from the city center.
Head to the Moët & Chandon Champagne houses, and enjoy a 3-course lunch at an authentic local restaurant. Visit vineyards, champagne cellars, and a local restaurant serving authentic cuisine from the French countryside.
Sip vintage champagnes while you learn all about the history of the region. Discover how Champagne is made including how the grapes are harvested, crushed, and transformed into this deliciously bubbly beverage.
Stroll along the Avenue de Champagne, then stop in the village where the monk that invented the iconic French drink once lived. It was the first region in the world to produce sparkling wine.
The views of the rolling hills and vineyards in the region help you to discover a completely different side of France. Forget the traffic and busy streets of Paris as you relax in the countryside sipping fine sparkling wines.
'I drink Champagne when I win, to celebrate… and I drink Champagne when I lose, to console myself.' – Napoleon Bonaparte
The local guides will wow you with their knowledge of this iconic French drink, play fun games, and take care of every detail of the day. Transfers from your hotel in Paris to the Champagne region and back are included in the price.
Final Thoughts on Food Tours in Paris
Look, I know Paris is kinda smelly and overrated in a lot of ways. But one thing that lives up to its reputation is the food. There's just so much to see and do in Paris, make sure France's gastronomy is at the top of your to-do list with these top food tours in Paris.
You simply can't miss some of these delicious treats. Whether it's your first time in Paris or your 50th, you are sure to find something new with this diverse culinary collection.
I know French cuisine sounds like a lot of garlic, snails, and frogs. Well, it is.
Paris has an eclectic mix of the very best French food and international cuisine. It's one of those sensational moments in your life when you look back and thank yourself that you did.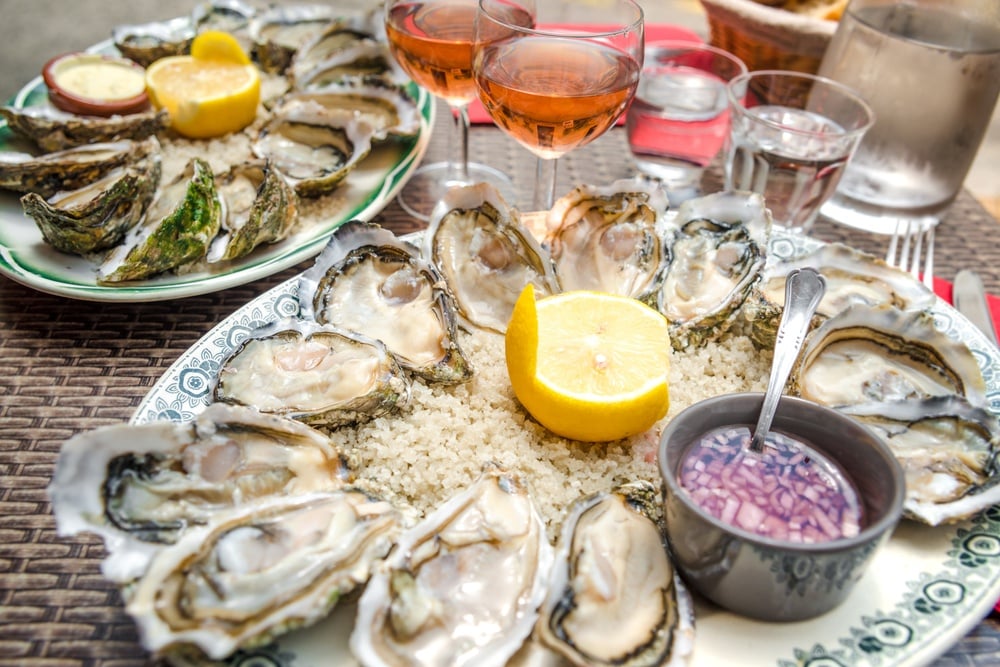 ---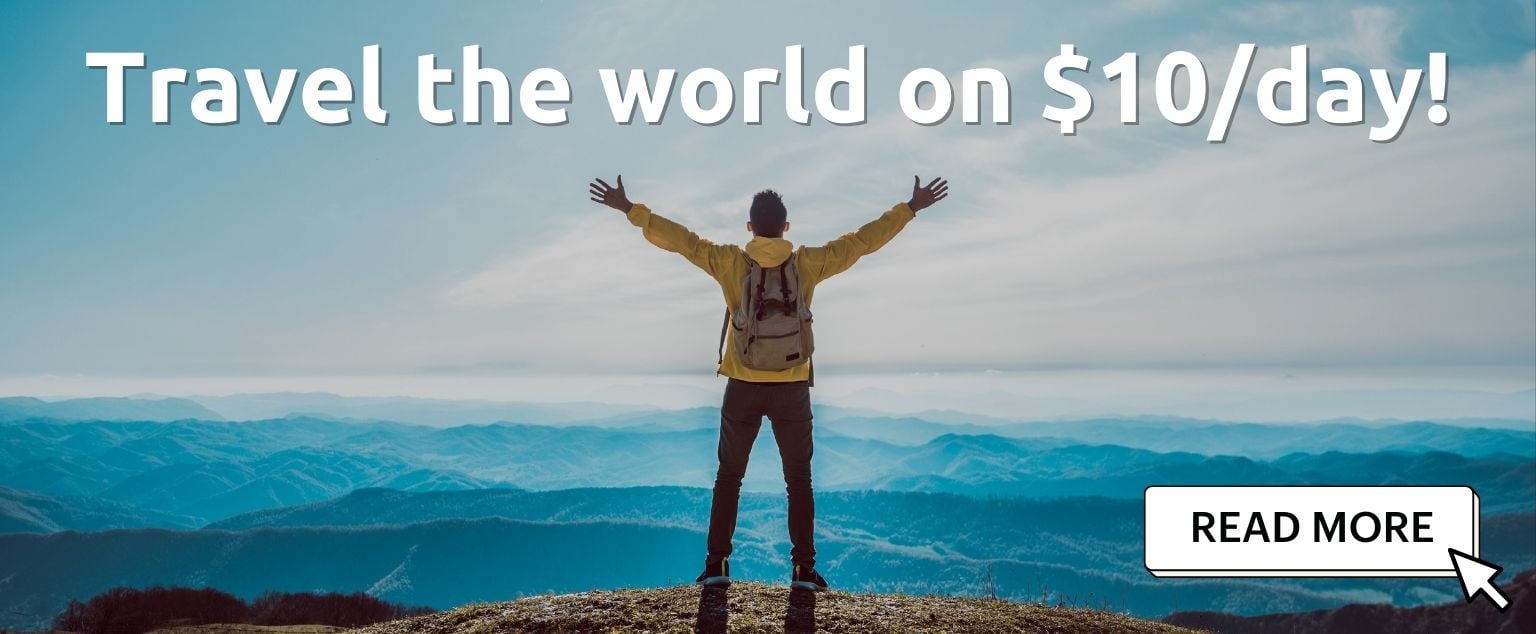 And for transparency's sake, please know that some of the links in our content are affiliate links. That means that if you book your accommodation, buy your gear, or sort your insurance through our link, we earn a small commission (at no extra cost to you). That said, we only link to the gear we trust and never recommend services we don't believe are up to scratch. Again, thank you!