Picture this: You're running through a crowded airport to catch a flight. You're packing your bags to go home when you realize you have three times what you had when you arrived. You're sitting on a bus in Mexico with no overhead luggage space. In all three scenarios, your trusty bag will be what makes or breaks your experience.
Not to put too much pressure on this little item, but it will literally be your home away from home on the road.
Travel bags are the unsung heroes of every adventure. They might fly under the radar, but there is no disagreeing that owning a practical bag that can safely and securely fit all your belongings, trusting that the zipper won't break or the seams won't stretch, is something any avid traveler will appreciate. Not only this, but a good bag really has the power to make us feel like the savvy travelers that we truly are.
Whether to protect your camera gear that costs more than the trip itself, to stash your secret snack supply, or to fit all your go-to travel items in, the right travel bag really can make a trip all the more enjoyable.
But finding the right bag can be overwhelming. You might be wondering, do I need a bag with wheels or a backpack? Would I prefer a bigger bag with spacious compartments or a more compact alternative? What color should I go for?
Well, there's no need to sift through the nonsense that scatters the market. Instead, we've done the dirty work for you and found the fifteen BEST travel bags for women.
We've added a bag for every type of adventurer: those looking for a slick carry-on bag for long-haul flights, those after the perfect backpack, and even those searching for the perfect duffel or tote.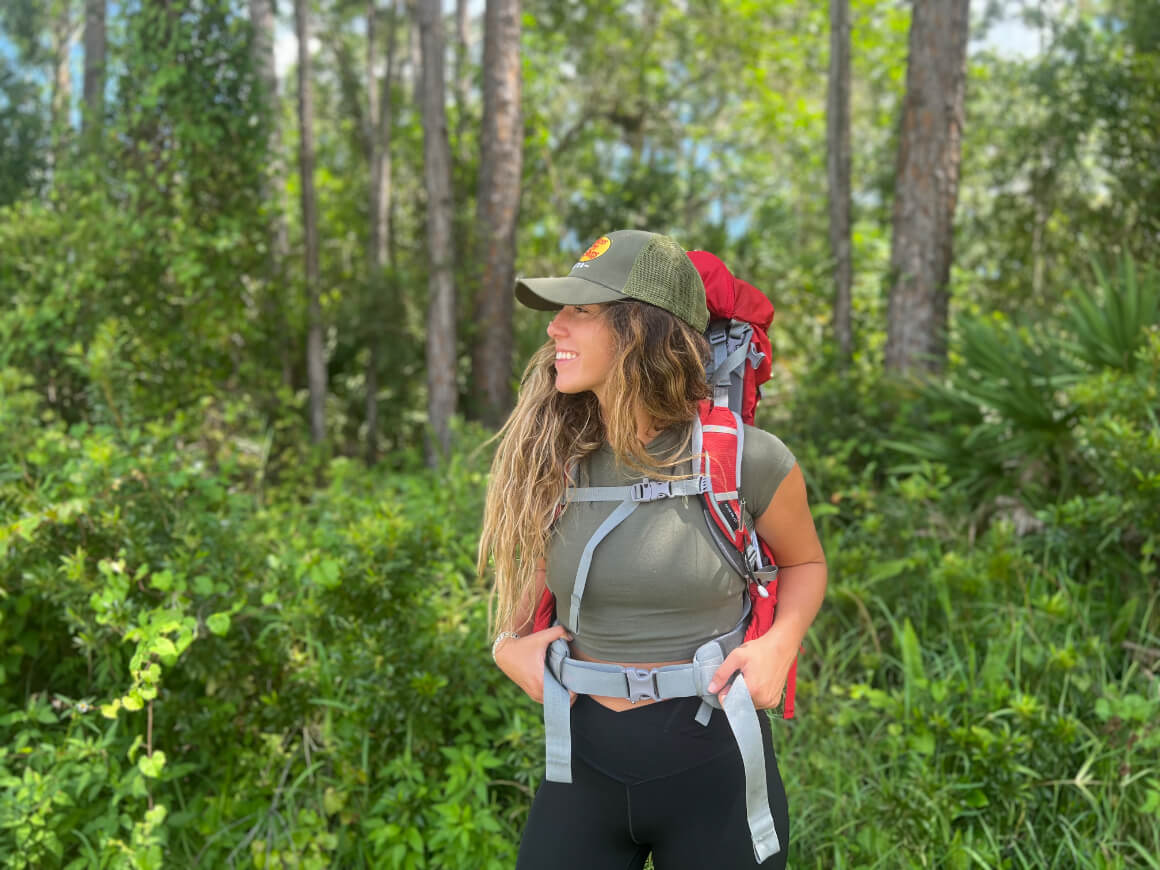 The Best Travel Bags for Women
Ranging from bags suited for navigating bustling cities and summiting mountain peaks to a backpack to store your life on the go, feast your inner shopaholic on our pick of the very best travel bags on the market.

Do You Want to Travel FOREVER??
Pop your email in below to get a FREE copy of 'How to Travel the World on $10 a Day!'.
Specs
Capacity – 58 liters or 60 liters
Type – Ultimate backpacking backpack
Price – $390
If you're looking for an all-rounder backpack for a hiking trip, or camping adventure or to accompany you on a backpacking journey through Asia, look no further. Don't let the price scare you off; this bag offers more than you could wish for from an overnight backpack.
The Osprey Ariel 60 comes in medium and large sizes, fitting 58 and 60 liters, respectively. It has top and front access, making it super easy to get to your goodies at the bottom of your bag.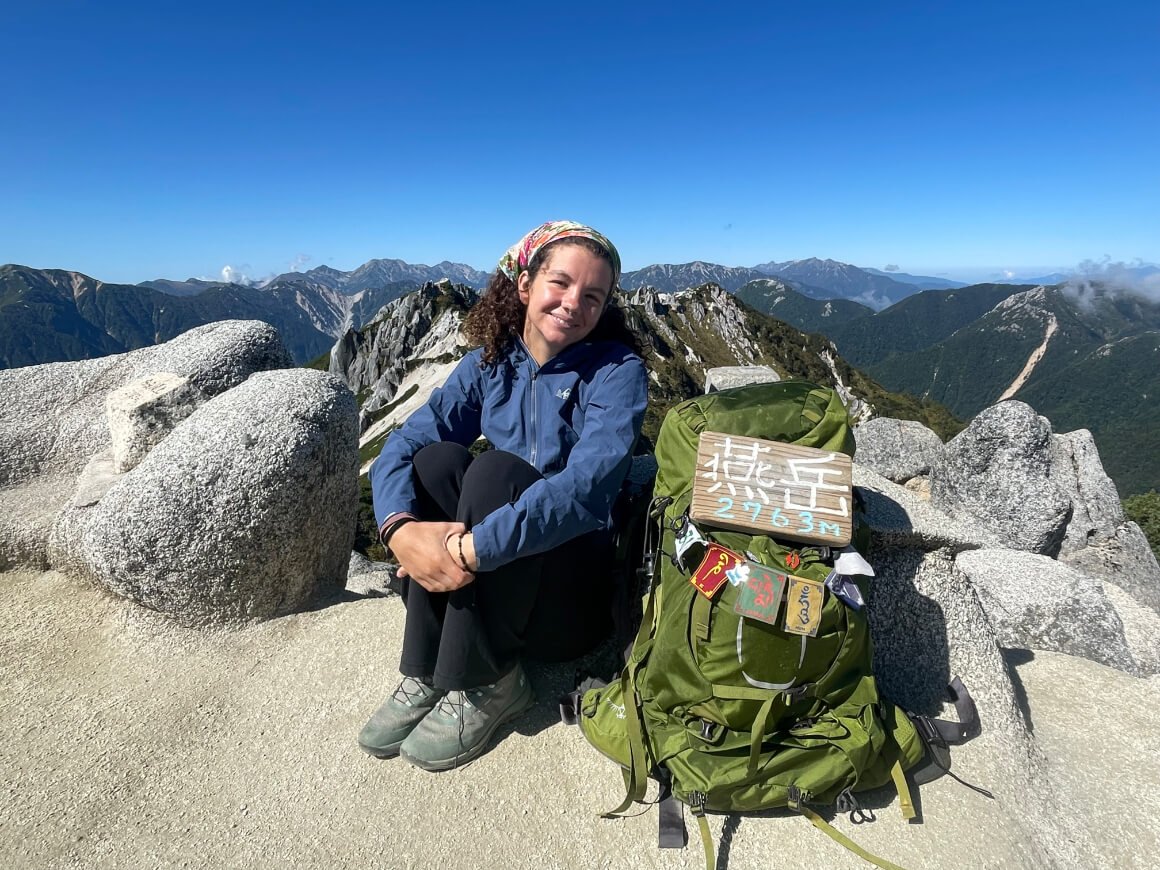 Throw in a rain cover (essential for those monsoon countries), a sleeping bag compartment with a removable divider, hip belt pockets, and a removable day pack for short adventures, and we have ourselves the ultimate adventure travel backpack.
With nine external pockets and one large main compartment, keeping your belongings organized has never been so easy. There is even a reinforced front pocket designed for shoving in all those extras when you don't feel like opening up the entire bag.
Necessary for any long adventures or when you just want to save two bucks on that pesky airport trolley hire, this travel bag for women is as comfortable as backpacks get. With a custom Fit-On-The-Fly hip belt and shoulder straps, you can perfectly secure the bag to your body, stabilizing its weight when necessary.
For more information on these sorts of bags, visit our IN-DEPTH guide on how to choose a travel backpack. There are some really great travel bags to choose from.
Specs
Capacity – 39 liters
Type – Duffel bag
Price – $200
Made using 100% full-grain leather and a natural fur finish, the Colombus Cowpring duffel from Mahi Leather is your go-to carry-on for a weekend away or overnight vacation. If you're traveling through the USA and are hoping to fit in with the cowgirl aesthetic, this is the bag for you.
If you love an oversized handbag, this bag could double as an overnight bag, carry-on duffel, or even a big handbag.
It's made from soft cow leather and fur, complimented by brass fittings and robust YKK zippers. When it comes to comfort and convenience, the bag has all the bells and whistles.
It has a detachable shoulder strap, a smaller inner zipped pocket, a full-length side compartment, and large outside zip pockets. To protect the top-quality leather, it also has four brass studs on the base.
Personally, I'm not a big fan of the cow print design and prefer a linen bag over a leather one. But if you're looking to draw attention, you've come to the right place.
Each Mahi bag is handmade to order and comes with a protective dust cover. Naturally, each bag will differ slightly, and this unique character is exactly why we love this leather women's travel bag so much. The company also donates a portion of every sale to a water-positive NGO.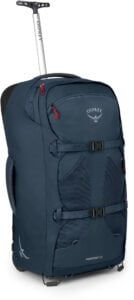 Specs
Capacity – 65 liters
Type – Softshell wheeled travel carry-on suitcase
Price – $320
A practical pack is the cornerstone of any travel packing list. Well, this one's a wheely bag!
Easy to fit in the trunk for overnight road trips, convenient to roll around airports, and small enough to put in the overhead locker without spending an arm and a leg on checking in your bags – win, win, WIN.
Osprey's Farpoint Wheeled Backpack doubles as a backpack and a wheely bag, making it easy to transition from smooth floors to rough terrain in a jiffy. The bag has a durable outer shell with oversized wheels that make it possible to roll over even rough surfaces.
While clambering over a gravel road, you won't have to worry about damaging your belongings. It will be safely protected within the reinforced aluminum frame.
When the conditions demand, you can easily stow away the handlebar and deploy the harness and hip belt for a comfortable backpack solution. Just like the best backpacks with wheels, the harness has super soft edges and a padded mesh back to help you carry heavy loads.
The bag fits 65 liters capacity, including space for a 15-inch laptop. Made from durable materials and a water-repellent outer fabric, the bag is built to withstand rain and shine.
Unlike other roller bags, this one has pockets for days. I'm talking about front mesh pockets, internal compartments and pockets, and a zippered top pocket for smaller items. Oh, and it's compatible with Farpoint and Fairview Daypack attachments.
Specs
Capacity – 46 liters
Type – Hard-shell carry-on suitcase
Price – $315
Picture this: You're rolling your way through the airport with a coffee in one hand and your Monos Carry-On Pro Plus in the other. Everyone who walks past you is staring in envy, and it's all because of your gorgeous travel bag for women.
Monos is famous for its sleek designs, lifetime guarantee, and high-quality products, and this one is no exception. While it might come in at a higher price than your average suitcase from Walmart, you'll be paying for an exceptional piece of luggage with Monos.
It's all in the details: The bag features a TSA-approved lock (no more broken locks), a sleek reverse zip solution, and a front pocket designed for storing your valuables; this bag takes convenience and being good-looking to the next level.
Let's circle back to the front pocket, which is no doubt my favorite thing about this bag. The pocket can safely store your laptop and notebooks in mesh sleeves, along with three zippered pouches for things like sunglasses, wallets, and phones. Seriously, there's no need for a handbag here.
Oh, and did I mention it comes in just about every beautiful color? Pastel purple, baby blue, olive green, and even a glossy banana pudding color! Other than its higher than usual price – there is not much negative to say about this one.
Unsure about the best gear for your trip? This guide comparing backpacks and suitcases will help you determine which one suits you best.
Specs
Capacity – 6.5 liters
Type – Mini backpack
Price – $65
Let's be real. Sling bags aren't for everyone. I'm not the biggest fan myself, but for those who are, do yourself a favor and try out the Sherpani Pike Travel Sling, one of the best sling bags out there.
It's perfect for a day out, whether walking through a busy city or heading for your favorite digital nomad coffee shop.
It's compact yet spacious, with a sleeve to store your laptop, padded back support, and a deep central pocket. Of course, there is also a mesh inner pocket where you can keep spare change or sunnies.
Safety is key with any travel bag for women, especially when walking through city streets. Perfect for the occasion, the bag has a double closure system, with both a zipper and a magnetic buckle closing the main compartment. Any city slicker will appreciate this anti-theft system. Am I right?!
The sling bag fits just the essentials and has an adjustable strap that allows it to be worn on the right or left shoulder. Aside from being the perfect city bag, it's great for short hikes or day trips.
The only thing that would make this bag better would be pockets big enough to fit a standard water bottle. It's truly a hack having to open and close the bag every time you want a sip.
Specs
Capacity – 16 liters
Type – Leather day backpack
Price – $162
As far as leather travel bags go, this has to be one of the best.
The Katmai Leather Backpack comes in three neutral colors: dark walnut, saddle (a lighter brown), and black. It's a simple yet timeless design, with comfortable and adjustable straps, three zippered compartments, and a padded back wall.
The interior includes a large padded laptop compartment against the back wall, along with three zippered compartments on the front. One large, one medium, and one small.
This is a great place to store your cards, phone, and pens, each with its own little dedicated section. With these additional pockets inside the bag, you won't have to worry about anyone sliding into your bag and stealing anything.
With a 16-liter carrying capacity, you can fit all the bits and bobs you might need for the day in this backpack. I think it's a great bag for work, but can be equally functional for leisure and travel purposes, as well.
The reason I prefer using it to transport my computer to work more than as a go-to adventure-based women's travel bag is that it is slightly on the heavier side. But hey, it's the price you pay for an epic-quality leather bag, right!?
Specs
Capacity – 66 liters or 60 liters
Type – Overnight backpack
Price – $329
Another one of the best backpacks for extended trail trips, winter weekends, and outdoor adventures, the Gregory Deva 70 Backpack has all the features of a great adventure backpack. It will be your home away from home on the road.
It's designed for adventure, with a rain cover, a removable hydration sleeve that can be used as a light daypack, and shoulder straps that feel like they're made of butter.
Comfort is key when trekking through the outdoors, and there is nothing worse than carrying a bag that hurts your back. Luckily, you shouldn't have to worry about this with the Gregory Deva 70, with its streamlined suspension system allowing for cool airflow and good weight distribution across your body.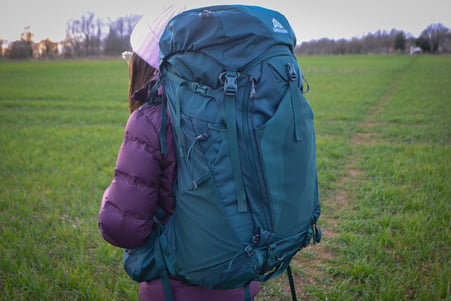 Of course, it also has mesh hip belts, a shoulder harness, and a foam back panel, both for ergonomic comfort and to keep you cool. The hip belt is a bit sticky and can shift your clothing away and cause chafe on long hikes.
As for convenience, the hip belt has a pocket for your phone, sunscreen, or whatever you deem necessary for extra quick access. There is another sunglass quick-stow system on the shoulder harness to keep your shades scratch-free.
The bag is spacious enough to fit clothing and equipment for two to three days, with dual front organization pockets, stretchy mesh zones, and space for a sleeping bag.
The best present of all… is CONVENIENCE!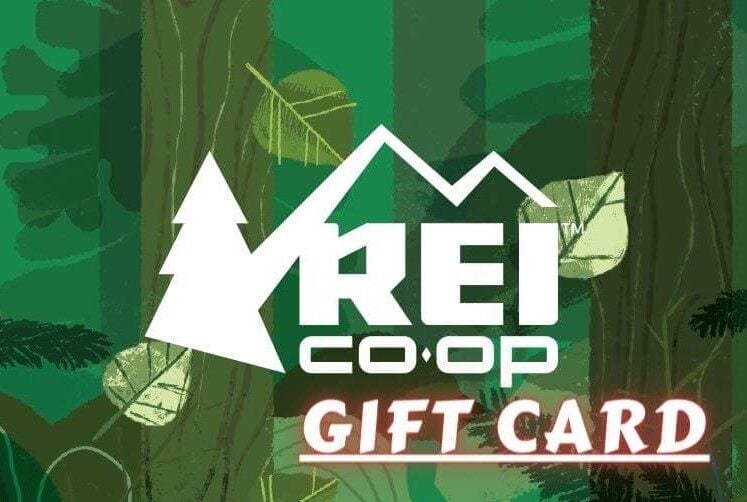 Now, you could spend a fat chunk of $$$ on the WRONG present for someone. Wrong size hiking boots, wrong fit backpack, wrong shape sleeping bag… As any adventurer will tell you, gear is a personal choice.
So give the adventurer in your life the gift of convenience: buy them an REI Co-op gift card! REI is The Broke Backpacker's retailer of choice for ALL things outdoors, and an REI gift card is the perfect present you can buy from them. And then you won't have to keep the receipt. 😉
Buy on REI!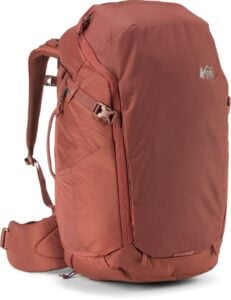 Specs
Capacity – 40 liters
Type – Day backpack
Price – $150
The REI Coop Ruckpack is the perfect daypack travel bag for women who have a home base on the road but like to spend days exploring and adventuring. It's basically designed like an overnight backpack, just much smaller.
Choosing a women's backpack with a female-specific fit is crucial for a comfortable and supportive experience. This bag is designed to secure around your chest area and torso, with curved edges to make it extra comfortable for all-day wear. Lightly padded shoulder straps and a sternum strap offer extra stability.
It's made from a durable ripstop nylon material, which means it won't tear when you put it through the works. Don't be scared to rough it in tricky environments!
The fabric is also water repellent, shedding rain and moisture, and even has a stowable rain cover for when the heavens open up.
My only gripe is that accessing the main compartment can be a bit of a mission. When the bag is fully loaded, you have to open out the entire pack to get to your laptop – not ideal when rushing through airport security!
Stash your trekking pole in the designated strap when you aren't using it, and you can use the sternum strap as a survival whistle if you ever need to – hopefully, you won't. There are also dual water bottle holders as well as a sleeve that can hold a three-liter hydration reservoir, which you can buy as an extra.
Specs
Capacity – 45 liters + 20 liters
Type – Two-in-one day and overnight backpack
Price – $400
High-quality backpack brands tend to blend practicality and aesthetics. And well, this is one of them. Its simple, sleek design makes it one of the prettiest bags on the backpacking market. Choose from a black or olive green exterior and customize the color of your straps.
It is made up of two separate travel bags for women, which can be clipped together for the ultimate adventure. The main bag fits 45 liters of capacity, while the smaller detachable daypack fits 20 liters.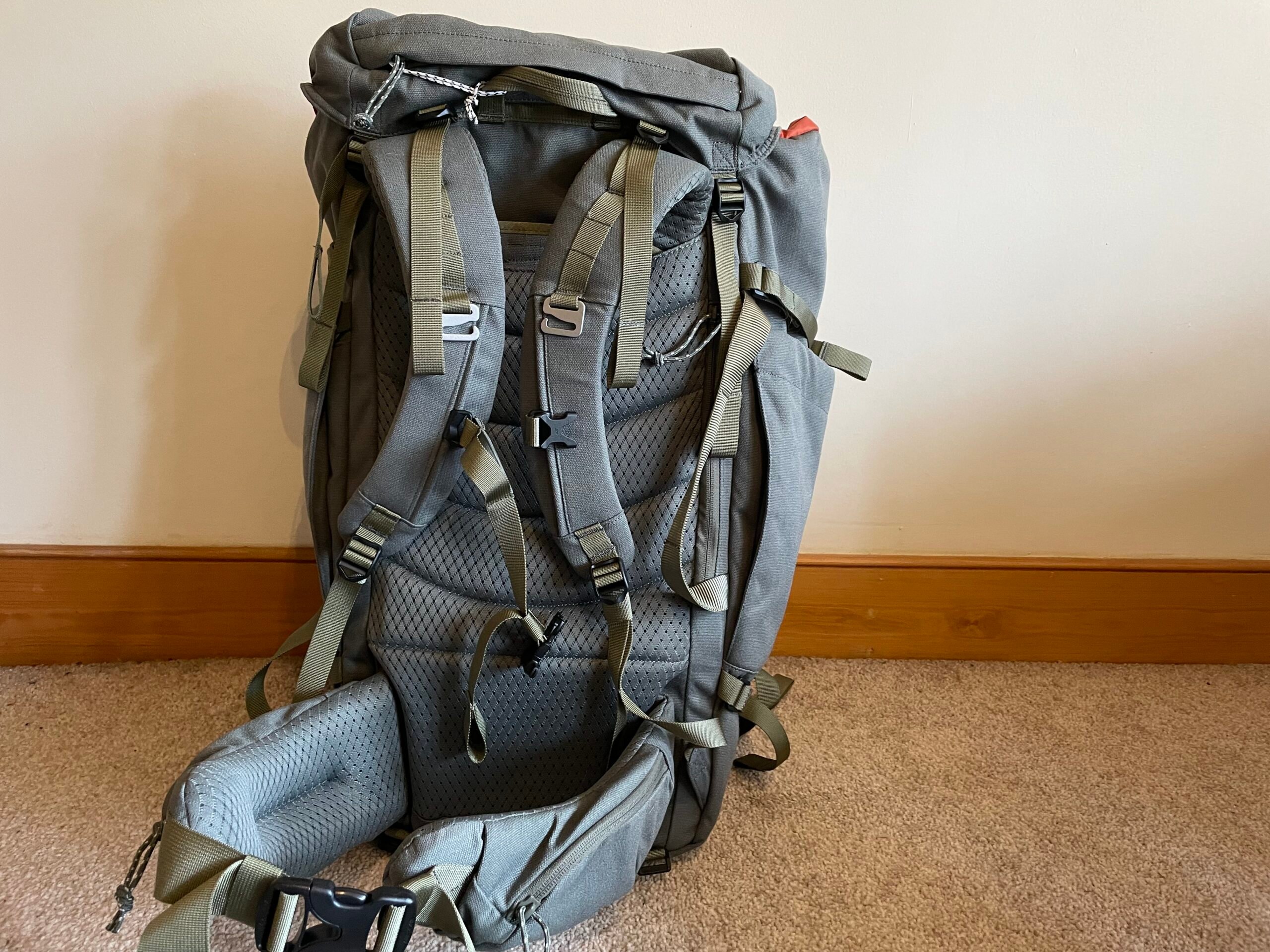 Built for the outdoors, this pack has a flight and rain cover to protect it from unruly baggage handlers and wet conditions. It's super easy to pack and access your things, with top and front access, expandable outside pockets, and internal pockets to stash your valuables.
Use it for outdoor adventures and as you pass through airports, with the top and side grab handles making it easy to pick up off a luggage conveyor belt.
Comfort is paramount! This bag is designed with an adjustable sternum strap and back system and five customizable compression straps to help distribute its weight across your back.
It also gets a big tick from mother nature, made from recycled polyester and nylon materials, and has a no landfill lifetime guarantee. Mother Nature approves! Read our full and detailed Salkan backpack review if you need to know more.
Specs
Capacity – 40 liters
Type – Travel backpack
Price – $185
Created to keep up with the most adventurous globetrotters, the Osprey Fairview backpack will be your trusted companion when exploring new trails and cities. The bag is big, with 40 liters of capacity, yet is still small enough to be considered as carry-on luggage on a flight.
You can organize your belongings into four main compartments. The main compartment is secured with a panel zip and lockable sliders for added security.
Like all our favorite Osprey backpacks, it has a large front shove-it pocket designed to chuck in any last-minute items. To maximize space, there is also an external zip toiletry pocket to make it simple when cruising through security lines.
If your female travel bag isn't packed to the brim, use the dual compression straps to tighten the load and keep it stable on a short excursion. There are also some external gear attachment loops to strap your favorite gear onto.
I carried it on flights, public transport, and hikes, and it fits in more than I could have imagined when looking at the size of the bag.
Even when overloaded, the weight was perfectly distributed across my body. When packed full, it's a bit bigger than the traditional carry-on bag, but the compression straps made me confident I could squeeze it past security. Consider it your go-to backpack for minimalistic travel.
Specs
Capacity – 17 liters
Type – Sustainable day backpack
Price – $125
Even Mahi Leather is catching onto the vegan trend. Made from fully sustainable cork materials and 100% cotton lining the interior, their new Vegan Classic bag is a must for the eco-animal welfare warriors among us.
It's among the best sustainable backpacks, and it really is as timeless as it is versatile. I like to use mine for a casual day exploring the city, traveling through international airports, and simply getting my computer and other valuables to and from the office. Conveniently, it can fit an A4 pad of paper and a 13-inch laptop.
Onto the details… the bag has extendable back straps, one front zip pocket, and an internal zip pocket with two separate compartments. It is sturdy and made from such high-quality materials you might be convinced it's made from real leather.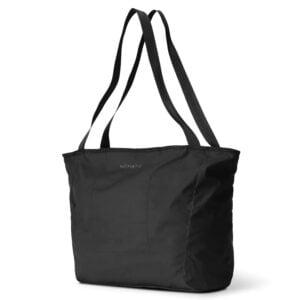 Specs
Capacity – 28 liters
Type – Mesh collapsible tote bag
Price – $70
For a beach day, a park picnic, or even to carry your clothes to the gym, there is no travel bag for women as convenient as the classic tote. Seriously, I guarantee every person in the world has used and appreciated the convenience of a tote bag.
Uplevel your tote experience with the Navigator Collapsible Tote, which can fit up to 28 liters of items. Not only can it fit a bunch of your belongings, but it's also collapsible. This feature makes it super convenient for traveling, allowing you to easily store it in your luggage when you aren't using it.
It has a full top zippered closure, so you won't have to worry about someone reaching into your bag on a busy street. You can also store your valuables or phone in the mesh zipper pocket and any less important possessions in the slip pocket.
Ideal for a summer day out, the bag has a dedicated water bottle pocket and is made from a durable, water-resistant material. No more worrying about a wet or sandy bag!
My one gripe is its high price. I know that it doesn't cost too much to make a tote bag, but I feel like it's slightly overpriced. That said, you will be paying for a higher quality product than your basic supermarket tote.
The best Nomatic Backpacks can compete with any bag on the market, so take a look at what's in stock and decide what best fits your next trip.
Specs
Capacity – 43 liters or 45 liters
Type – Backpack
Price – $290
Designed specifically for female backpackers, the Osprey Archeon is built to fit the natural curves of the female body. And we are ALL FOR IT! This is precisely why Osprey is on
For sweaty days, the mesh-covered backing with foam creates a ventilation system while still keeping the bag close to your back. There truly is nothing worse than realizing you have to unpack your entire women's travel bag to get something from the bottom.
That's not an issue with this bag, which has full front panel access, making it easy to pack your things up and get to something at the bottom of the bag in a jiffy.
While on the go, feel free to stash your carry-on essentials like lip balm and sunscreen in the dual zip hip belt pockets. There are also two side pockets made from a woven, stretchy material that can carry your water bottle and necessary snacks.
When the weather turns on you, you can simply deploy the removable rain cover to prevent your bag from getting wet. This really is one of the most functional backpacks on the market. It's super comfortable; all the straps are in the right place, and, of course, they are all adjustable. The only con I can think of is that there can be some pressure on the back hip, but it's nothing an avid adventurer can't handle.
For more related content on these bags, check out our IN-DEPTH reviews of the Osprey Archeon 25 and Osprey Archeon 65. We looked at all the features, the pros and the cons, so you can confidently choose the backpack that suits you best.
Specs
Capacity – 5 liters
Type – Leather sling handbag
Price – $160
A mini bucket bag is an absolute must for any adventure through the city. Not only does the Mahi Leather Mini Bucket Bag double as a trendy handbag for big city roamin' or night festivals. But it's also suitable for stashing your passport, phone, and headphones (and other absolute necessities) when traveling through airports.
I always like to bring two bags on any flight, leaving my larger equipment in my backpack and keeping smaller possessions closer to my body. You might prefer a bum bag for this, but this bucket bag serves just the same purpose.
This Mahi bag is made from premium leather with a natural fur finish in a leopard print style. The interior is lined with 100% cotton. This women's travel bag has an extendable and detachable shoulder strap with leather drawstring fastenings and an internal zippered pocket to store your keys.
Again, I'm not the biggest fan of animal print and leather, so this bag doesn't sit high on my list purely for aesthetic purposes. I also think you could find a cheaper alternative at a basic women's store. Aside from that, it's truly a great quality item made from buttery soft leather.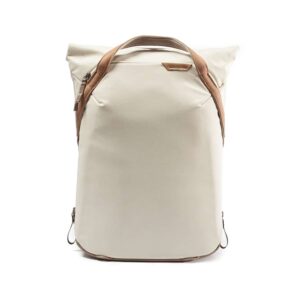 Specs
Capacity – 20 liters
Type – Everyday tote/backpack
Price – $180
Peak Design takes the everyday tote to a whole new level. Their Everyday Tote Bag doesn't look like a traditional wide tote but rather like a sleek backpack alternative. In fact, you can think of it as a blend between a backpack and a tote.
It's super good-looking and comes in cream-white and black. It can fit 20 liters of contents, which, in my opinion, is the perfect size for an on-the-go everyday bag.
The simple design includes a large central compartment with a magnetic foldover closure, two small handles to carry it like a handbag, and a single backpack strap to sling it over your shoulder.
I'm personally not a fan of a sling bag and think they might as well have added two backstraps if they added one. But if sling bags work for you, this shouldn't be an issue.
The extra wide top access point makes it easy to stuff all your goodies in the bag, while the zipper access points on either side of the bag make it easy to reach in and grab your camera, water bottle, or whatever you choose to keep in the bag.
There are also a few stretchy inner pockets for smaller items, as well as a dedicated laptop compartment for a 15-inch laptop. It's a 100% waterproof backpack, durable enough to withstand any conditions the weather throws at you.
SIDE NOTE: It's also made from recycled materials. Win, win, WIN!
Best Travel Bags for Women

| Name | Capacity | Type | Price |
| --- | --- | --- | --- |
| Osprey Ariel 60 | 58 liters or 60 liters | Ultimate backpacking backpack | $390 |
| Mahi Leather, The Colombus Cowprint | 39 liters | Duffel bag | $200 |
| Osprey Farpoint 65 Wheeled Backpack | 65 liters | Softshell wheeled travel carry-on suitcase | $320 |
| Monos Carry-On Pro Plus | 46 liters | Hard-shell carry-on suitcase | $315 |
| Sherpani Pike Travel Sling | 6.5 liters | Mini backpack | $65 |
| Kodiak Katmai Leather Backpack | 16 liters | Leather day backpack | $162 |
| Gregory Deva 70 | 66 liters or 60 liters | Overnight backpack | $329 |
| REI Coop Ruckpack 40 Recycled | 40 liters | Day backpack | $150 |
| Salkan The Backpacker | 45 liters + 20 liters | Two-in-one day and overnight backpack | $400 |
| Osprey Fairview 40L | 40 liters | Travel backpack | $185 |
| Mahi Leather Vegan Classic | 17 liters | Sustainable day backpack | $125 |
| Navigator Collapsible Tote 28L | 28 liters | Mesh collapsible tote bag | $70 |
| Osprey Archeon 45 | 43 liters or 45 liters | Backpack | $290 |
| Mahi Leather Mini Bucket Bag | 5 liters | Leather sling handbag | $160 |
| Peak Design Everyday Tote Bag | 20 liters | Everyday tote/backpack | $180 |

Our GREATEST Travel Secrets…
Pop your email here & get the original Broke Backpacker Bible for FREE.
Final Thoughts on Finding the Best Travel Bags for Women
Let's be frank. Having a good bag is pretty much a necessity when on the road. Traveling can be stressful enough; there is no need to complicate things further by traveling with a sub-par travel bag for women that either hurts your shoulders or leaves you in constant fear of it breaking. We've all been there.
I'd confidently say that just about all of us love a good bag. Be it a new suitcase, a handbag, or a backpack – there is something about finding the perfect bag for your needs. Maybe it's because it forms such a big part of any journey, since you'll literally be using it every minute of every day.
We all have our favorite brands and bag-design preferences, depending on the type of travel we embark on and the activities we engage in. A weekend bag serves a totally different purpose than a hiking backpack or a roller bag designed for sleek airport floors.
There are also a few things that will set some bags apart from the rest. Aside from being good-looking and made from high-quality materials, you'll want to find a bag that ergonomically fits your body shape, is the right shape and size to go where you need it to go (an airplane overhead locker, for example), and has the necessary pockets to store all your goodies.
Tried and tested by our trusty travelers, these top travel bags for women have made it on this list for a good reason. Pin the ones that suit you and get saving!
---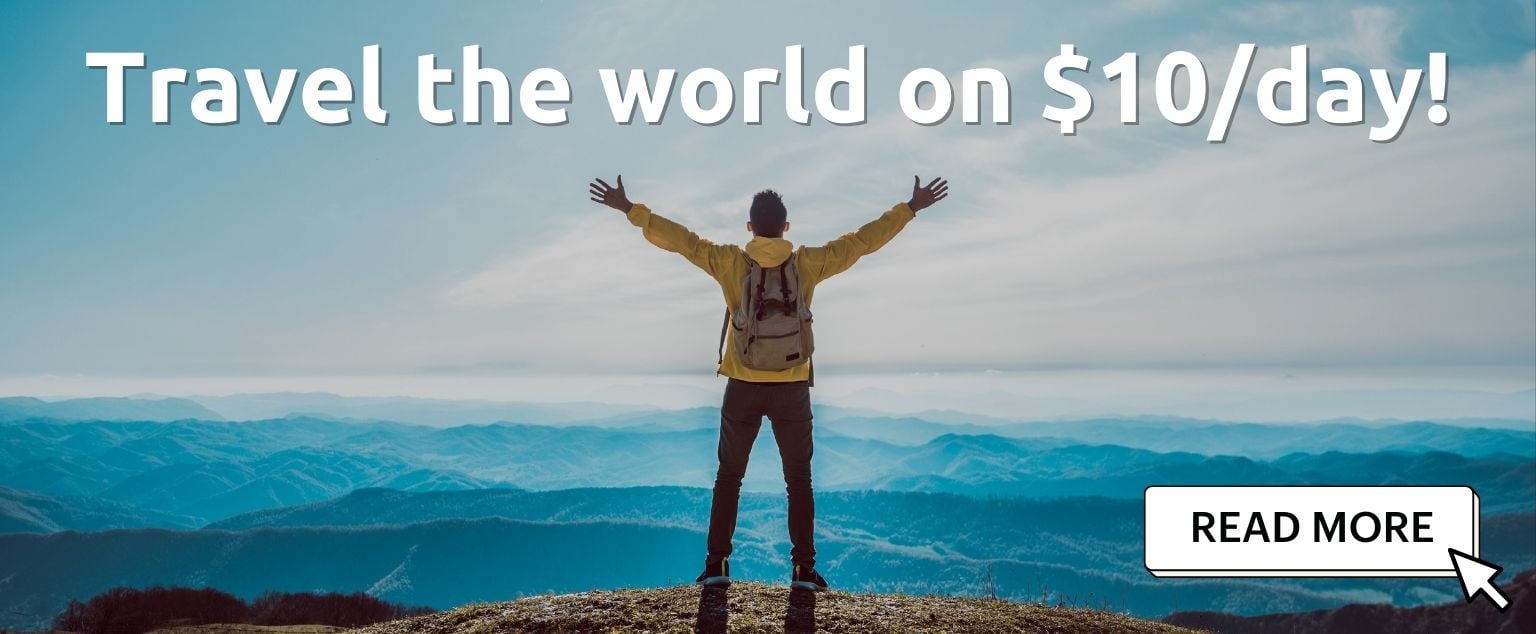 And for transparency's sake, please know that some of the links in our content are affiliate links. That means that if you book your accommodation, buy your gear, or sort your insurance through our link, we earn a small commission (at no extra cost to you). That said, we only link to the gear we trust and never recommend services we don't believe are up to scratch. Again, thank you!