For a long time, backpackers have had two options. You could stuff everything you need inside a bag designed for the backcountry or go with a more traditional suitcase that becomes useless as soon as you leave paved roads. Modern travelers slowly blurred the lines between these two categories and developed a serious need for a backpack that could keep up.
Luckily, some of those broke backpackers grew up and decided to do something about it. Nomatic is an ultra-modern backpack and travel gear company that grew in response to a gap in the industry and has pushed every bagmaker on the market to do better.
So far, the Kickstarter darling has succeeded with flying colors, providing bags that bring comfort and function unlike anything else on the market. From interchangeable pockets that store everything you need for a long travel day to durable waterproof exteriors, these bags make a tremendous difference in commutes no matter the size.
There's no need to pack your life into a 60L backpacking bag anymore. Nomatic's compression straps and dividers can make 25 liters feel like 50, and their expandable backpacks can shrink down to day trip size when needed. The staggering list of features is endless.
Nomatic has swooped into the travel industry and offered a tech backpack hybrid that's not afraid of getting dirty. Their flagship models start in the middle as a backpack briefcase hybrid, and they finish off their lines with fantastic bags, large and small.
The insane versatility of these bags won't come cheap, but the right Nomatic bag will pay dividends on your travel days for decades, so Let's take a closer look.
Quick Answers – The Best Nomatic Travel Gear
Best Nomatic Packable Backpack
Who Are Nomatic?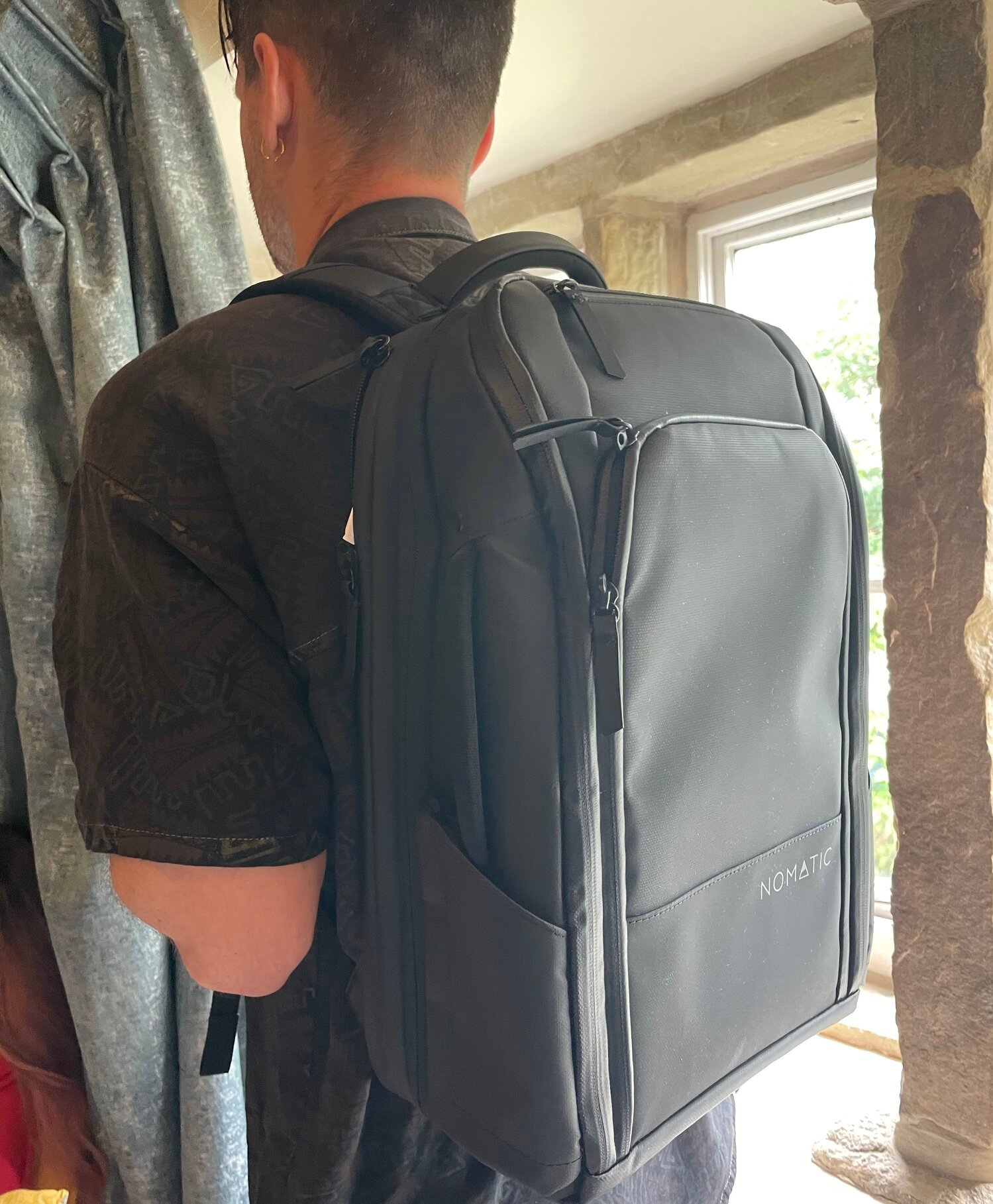 Born and bred as a bag for the people, Nomatic crowdfunded its way to over 13 million dollars in endorsements from everyday travelers who wanted something different. No angel investors built this empire, just good quality products that made countless trips better.
From their front-pocket wallet grew a travel gear empire that now supplies travel bags to hundreds of thousands of digital nomads, travelers, and commuters worldwide. They're even sneaking into the camera bag game.
Nomatic focuses on making the most functional travel gear in the business. The Kickstarter legend has gone out of their way to sneak pockets and versatility into every pack they offer. Almost ten years after its launch, the company has positioned itself at the forefront of technologically advanced travel gear that still takes care of the important stuff.
What Are The Best Nomatic Backpacks & Gear?
Nomatic has grown up a bit from the wallet and Travel Pack days and now offers loads of backpacks, suitcases, hybrids, and travel gear for big and small trips. We've got the best options on display today.
Any Nomatic backpack will come stuffed with hidden pockets, sunglass holders, and cheeky design flaws that will have you wonder why no one else had ever offered that. Plus, they are all covered by a manufacturer's lifetime warranty that promises to stand up to normal wear and tear for decades.
The best Nomatic Backpacks can compete with any bag on the market, so take a look at what's in stock and decide what best fits your next trip.
Ladies & Gents, It's Time to Step Your GEAR Game Up. 😉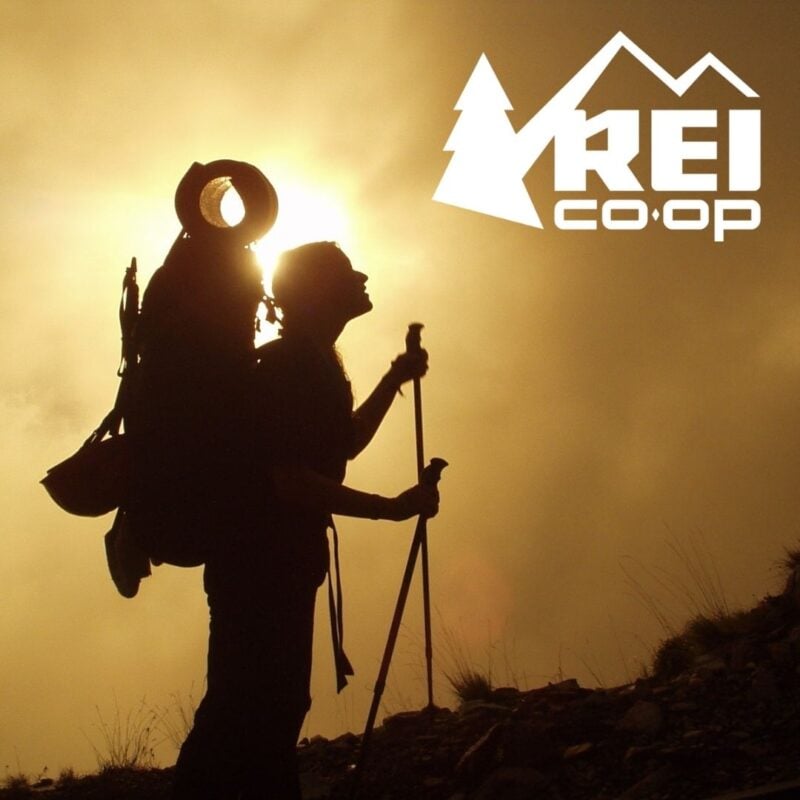 REI is one of America's biggest and most-loved outdoor gear retailers.
Now, for just $30, get a lifetime membership that entitles you to 10% OFF on most items, access to their trade-in scheme and discount rentals.
Join REI Today!
Specs
Price (USD): 299
Dimension (Inches, HxWxD): 19 X 13 X 6-9.5
Liters: 20-30
Weight (lbs): 4.16
Best Use: Minimalist special
You can't go wrong with Nomatic's all-rounder option. Loads of ergonomic features Nomatic has slipped into this bad boy will make the most out of every bit of space. The travel bag was their first foray into the backpacking business, and they hit the ground running.
The stylish Nomatic Travel bag looks and feels the part, both for everyday use and international travel. Instead of some unwieldy backpacking monstrosity, some nomads are transitioning to minimalist packs like this one that can pack everything you need for a long weekend in a carry-on-approved size.
While 30 Liters isn't enough for an average packer, anyone looking to scale down their efforts seriously or who likes to travel as part of a two bag team will relish the extra storage capabilities of the unique travel bag. This is my go-to backpack for trips to Europe.
Word Up – In Spring 2023 Nomatic realeased a 14 – 21L Travel Pack version perfect for short breaks and 'carry on' only trips.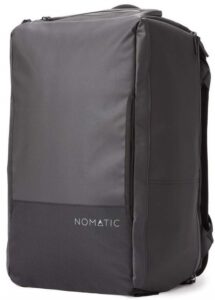 Specs
Price (USD): 289
Dimension (Inches, HxWxD): 9 X 21 X 14
Liters: 40
Weight (lbs): 3.42
Best Use: One-bag that fits it all
Boasting completely zippable access and a more comprehensive storage range, this heavy-duty travel pack wants to be the only bag you need no matter how long you're stepping out the door. Nomatic built the bag to beat security and carry-on requirements by compartmentalizing storage to an insane degree.
I look at 40 Liters as the ultimate standard for one bag travel because it's just about the maximum amount of space you can squeeze into a bag that still qualifies as a carry-on. Nomatic has proven a crucial point with this bag: not all 40 Liters pack the same. Many travelers put up with black hole main compartments of that size and spend an extra few minutes rifling through tangled cords to find what they need.
Not anymore. This bag has made the most of every one of its oversized liters to give even excessive packers a legitimate shot at one-bag travel. The waterproof exterior hides a wealth of secrets, and on each trip, you'll find a new quirk that helps this bag store well above its weight.
PSSST!!! – Exciting News! As of Summer 2023 Nomatic has released an 'under the seat' 14L – 21L version of this backpack which is perfect for budget airlines like Ryanair!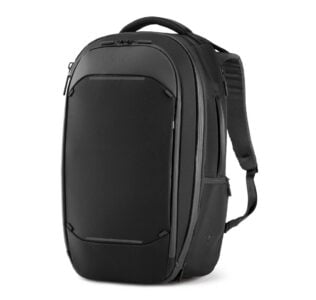 Specs
Price (USD): 399
Dimension (Inches, HxWxD): 22 X 14 X 9
Liters: 32-44
Weight (lbs): 5.2
Best Use: One-bag that fits it all
These guys can't help themselves. Every year, they churn out bags more modern than before, all while making sure each one can do more than ever. While no single bag on the market can honestly do everything, this navigator might be the closest thing to it.
The expandable size allows you to store everything you need for a more extended trip or reduce things down and hit the streets, keeping everything you need close to your chest for the day. They took a look at their traditional 30L travel pack, which already boasted over 19 pockets, and said "MORE!"
The result is a secure, stylish, and super-efficient space age storage that sits at the crossroads of backpack and suitcase. You can wear it on your back, haul it around with one of four grab handles, or take a load off by extending the aluminum handle and allowing the wheels to take over.
Nomatic also make some packable slings – check out my Navigator Collapsible Sling review for more details.
Specs
Price (USD): 259
Dimension (Inches, HxWxD): 12 X 16.5 X 5.5
Liters: 15
Weight (lbs): 3.8
Best Use: Laptop/Briefcase
Nomatic's messenger is a side pack that may outwork your primary carrier. You can sling this active messenger bag across one shoulder or carry it like a briefcase and hit the door knowing you've got everything you need to put in a good day's work.
Everything Nomatic touches pumps loads of storage options into an ergonomic space. That mentality manifests in this messenger through all sorts of flexible features that allow you to lay out your bag according to your needs. From the customizable panels that switch up how you pack to removable buckles with 360 degrees of rotation, you decide how to turn this messenger into your perfect sidekick.
Compared to most classic messenger bags, they've managed to shave a few inches off the corners of this bag and make up for that lost space. With 20 plus pocket options and interior organizational features, you can keep your cords, wallet, electronics, and sunglasses protected yet close at hand.
Specs
Price (USD): 79.99
Dimension (Inches, HxWxD): 6.25 X 9.75 X 2.25
Liters: 1-3 (also 6L Version now available)
Weight (lbs): 0.83
Best Use: Fanny pack on steroids
The secret to great one-bag travel is a Russian doll-like system that allows you to get through the flight without digging through your underwear. A hip belt and day bag are essential aspects alongside your main pack, and this navigator sling plays several parts in any great system.
You'll want a few essential documents close to your chest on every trip, and when heading to dark alley markets far from the nearest card reader, a proper sling fanny pack is an essential tool. You won't find many fanny packs out there that can stow quite like this one, which has the expandable storage to get you through the flight or take you out at night.
A zippered front pocket is an excellent spot for a few cards, a cell phone, and loose change, while the larger interior pocket can fit a raincoat and the hidden water bottle pocket brings it all together. The water bottle storage can also come in handy whenever you want to keep things away from wandering hands in packed city streets.
Word up – the awesome Sling from Nomatic now also comes in 3L and 6L versions.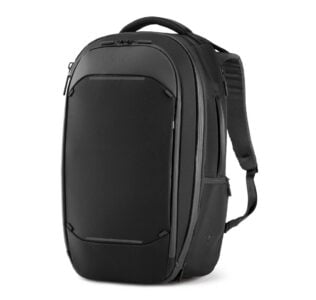 Specs
Price (USD): 249
Dimension (Inches, HxWxD): 19 X 12 X 5.5
Liters: 15-21
Weight (lbs): 2.7
Best Use: Everyday Carry
Most of Nomatic's line is light enough for daily use, but this model is the epitome of everyday carry. The lightweight bag expands and contracts to fit crowded subways, bicycles, and the seat in front of you to serve commutes of any style.
A lightweight and lowkey back panel opens up your storage space, provides easy access to your current book or bus pass, and serves as a luggage passthrough. Not every backpack has to attempt to conquer one-bag travel. Some nomads know the best way to pack their gear is in a team. This bag excels on the travel circuit as a light carry-on alongside oversized luggage.
At home, the handy tech organization and durable water-resistant materials will make it your favorite bag every day of the week. Whether heading to the gym, working, or just moseying down the street, hook this pack on your back and set off in style.
What is even better is that this bag passes the Ryanair carry-on bag test! Boom!

Do You Want to Travel FOREVER??
Pop your email in below to get a FREE copy of 'How to Travel the World on $10 a Day!'.
Specs
Price (USD): 89
Dimension (Inches, HxWxD): 19 X 10.5 X 6
Liters: 16.5
Weight (lbs): 0.86
Best Use: Day tripping
The most technically advanced backpacks on the market have officially gone mobile. Nomatic's packable bag stuffs down and condenses inside your main suitcase and unfurls into a capable everyday carry perfect for international commutes or days spent meandering new city streets.
It wouldn't be a Nomatic bag without a few tricks up its sleeve. The packable bag's unique laptop sleeve doubles as a bladder holder and proves you can find one bag as capable for an endurance test as a mental battle.
The right packable backpack can feel like a secret weapon. Stow this bag away inside your larger luggage and pull it out as you get to your seat, so you don't have to try to shove 40 Liters beneath your feet. You can fit toiletries, chargers, electronics, and even a few snacks inside the snug casing that qualifies this bag for a full day out in the right weather.
Specs
Price (USD): 399
Dimension (Inches, HxWxD): 22 X 14 X 9
Liters: 30
Weight (lbs): 7.46
Best Use: One bag travel that won't wreck your shoulders
Nomads are slowly shifting from cumbersome backpacking backpacks back to the basics for a reason: They work! Lugging everything you own on your back gets old after a few layovers; why not bring along an extra set of wheels. Nomatic is here to help make the decision a bit easier.
A modern take on a piece of luggage older than aviation, this roller proves these guys are not only capable of forging new backpack hybrids but also adding modern amenities to classic luggage designs. A polycarbonate exterior will handle rough and tumble baggage handlers and foul weather, and the silent wheels don't mind rolling out the terminal and across uneven terrain.
You can easily roll this slim set onto the plane and into the overhead compartment. Magnetic compression combines with the internal customization options to allow this unit to store like no other carry-on out there.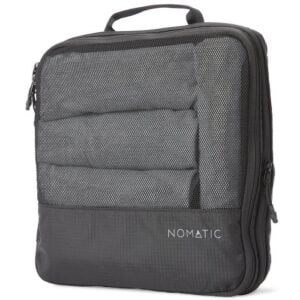 Specs
Price (USD): 39.99
Best Use: Alongside any Nomatic bag
As we wind up our look at the Best Nomatic backpack options, you hopefully noticed that this company doesn't like to waste valuable liters. The best way to get the most out of any Nomatic bag is their accompanying packing cubes, engineered to coexist and store more.
The see-through mesh is an absolutely essential packing cube detail, as you don't want to have to unpack the dang thing to figure out what's in it. The packing cubes can expand and contract by two inches to fill up when needed and disappear when not. A convenient carry handle allows you to build a mobile closet once you've hit your final destination.
You can choose between three different cube sizes or order some combination of the three and pack more in less space.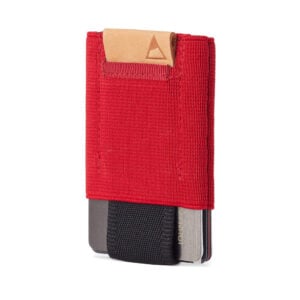 Specs
Price (USD): 19.99
Best Use: Cash optional countries
Nomatic has established itself as one of the best modern bag options out there, but you may be surprised to learn that the Nomatic Wallet actually started it all. Their innovative wallet began as a Kickstarter campaign and has slowly morphed into the beauty that stands before you today.
Wrapped in the low-profile binding is a cash pocket, house key holder, and protection for up to 14 cards, all in a tiny packed size. There's no space for change in the future, so this wallet won't help you out much in countries where cash is still king.
Any place where one tap can complete the purchase and get you into your apartment is a perfect match for this low-profile beauty. You can slip this wallet into any front pocket or tucked-away corner of your kit and roam freely without worrying about pickpocketers or sorting through a black hole to get to your debit card.
Specs
Price (USD): 29 (on sale for 14.99 right now!)
Best Use: Stay Schemin'
Becoming nomadic is all about getting out of your old routine, but it's not always easy to stay on top of things when waking up in a new city every night. A simple remedy is an efficient plan. Nomatic's planner has more features than most palm pilots to prove that a good planner doesn't have to be digital.
Writing it down on paper is the first step toward manifesting your dreams. This planner makes it easy to keep track of long-term goals and the short-term objectives required to make them happen. Alongside the big picture, you can fill in a daily calendar, access tons of checklists, and find plenty of free space to jot down notes in this portable receptionist.
Specs
Price (USD): 24
Best Use: Just after yoga
Traveling opens up horizons, pushes you out of your comfort zone, and teaches you plenty of new recipes. Staying at hostels has opened up my eyes to 1,000 different ways to cook ramen noodles and beans and rice, and without a notebook to jot down all these recipes, I'd still be at the mercy of the local restaurant scene.
Even if you're just heading across town, have something in your bag to jot down a few quick notes or doodle away en route. Nomatic's bound notebooks come with a back pocket for scrapbooking and provide plenty of blank pages to write your story.
The best present of all… is CONVENIENCE!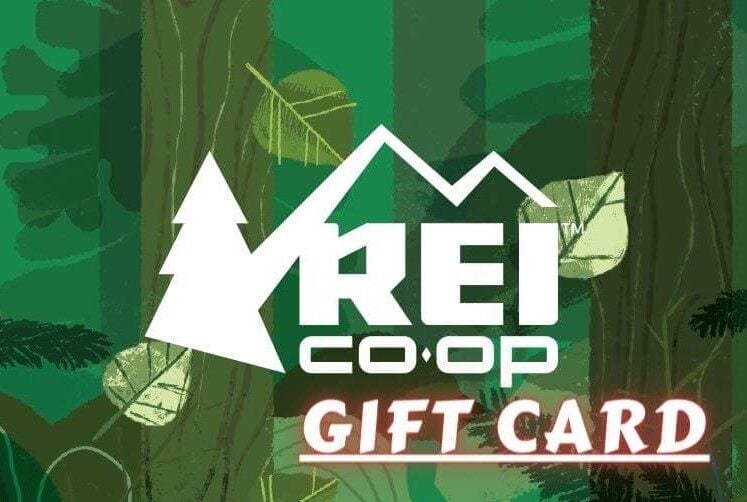 Now, you could spend a fat chunk of $$$ on the WRONG present for someone. Wrong size hiking boots, wrong fit backpack, wrong shape sleeping bag… As any adventurer will tell you, gear is a personal choice.
So give the adventurer in your life the gift of convenience: buy them an REI Co-op gift card! REI is The Broke Backpacker's retailer of choice for ALL things outdoors, and an REI gift card is the perfect present you can buy from them. And then you won't have to keep the receipt. 😉
Buy on REI!
Best Nomatic Travel Gear

| Name | Volume (Litres) | Weight (lbs) | Dimensions (inches) | Price (USD) |
| --- | --- | --- | --- | --- |
| Nomatic Travel Bag | 20-30 | 4.16 | 19 x 13 x 6-9.5 | 299.99 |
| Nomatic Travel 40L Pack | 40 | 3.42 | 9 x 21 x 14 | 289.99 |
| Nomatic Navigator 32L Carry-On | 32-44 | 5.2 | 22 x 14 x 9 | 399.99 |
| Nomatic Messenger Bag | 15 | 3.8 | 12 x 16.5 x 5.5 | 259.99 |
| Nomatic Navigator Sling 1L | 1-3 | 0.83 | 6.25 x 9.75 x 2.25 | 79.99 |
| Nomatic Lite 15L Backpack | 15-21 | 2.7 | 19 x 12 x 5.5 | 249.99 |
| Nomatic Navigator Collapsible Backpack | 16.5 | 0.86 | 19 x 10.5 x 6 | 99.99 |
| Nomatic Carry-On Classic Roller | 30 | 7.46 | 22 x 14 x 9 | 399.99 |
| Nomatic Packing Cube | 10 | – | 11.5 x 11.5 | 39.99 |
| Nomatic Wallet | – | 1 | 5 x 3.25 x 1 | 19.99 |
| Nomatic Planner | – | 3 | 9.5 x 6 x 1.2 | 14.99 |
| Nomatic Notebook | – | 3 | 9.5 x 6 x 1.2 | 12.49 |

Our GREATEST Travel Secrets…
Pop your email here & get the original Broke Backpacker Bible for FREE.
Final Thoughts on The Best Nomatic Travel Gear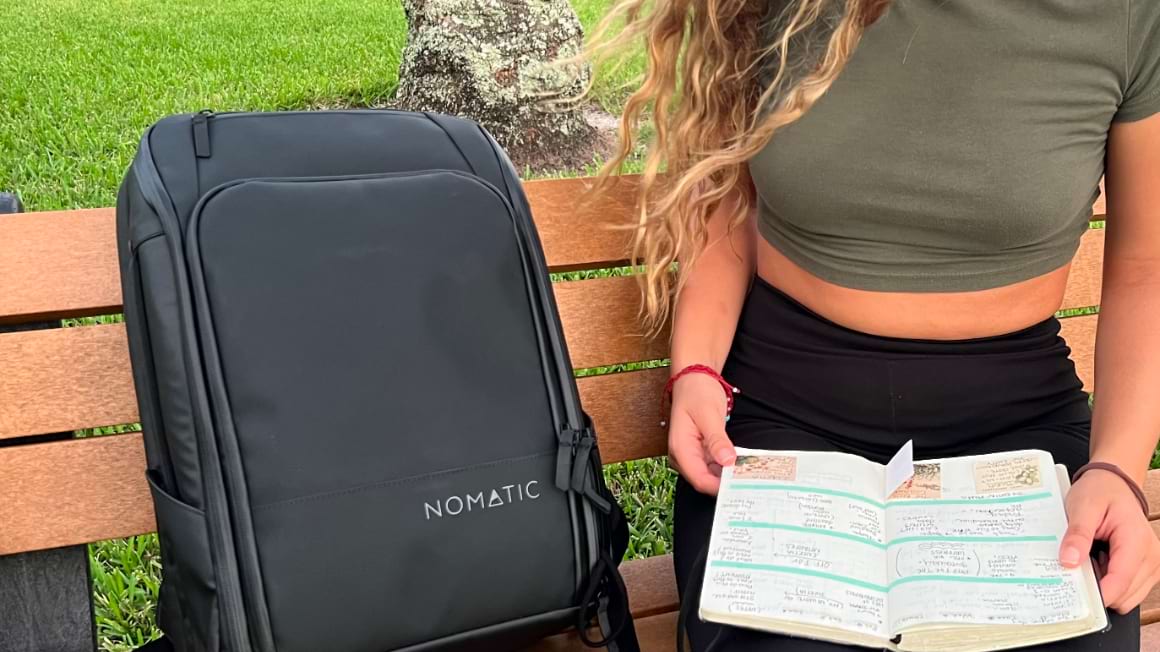 You may look at the price of a few of these bags and think, 'wait, aren't you guys supposed to be broke backpackers!?!'
A broke backpacker with a broken backpack is just broke. When you start counting ounces and living out of a bag, you'll embrace a quality over quantity approach to your gear quickly, which should go double for your backpack.
Nomatic bags justify their higher price point by pumping in features no other bag in the industry offers that make living and working out of a backpack easier. It also doesn't hurt that these bags are also covered for life.
Whether you're shopping for a new classic roller suitcase, a hip belt sling, or a hybrid briefback, Nomatic travel gear will have technically advanced options that cut no corners on the way to your doorstep.
---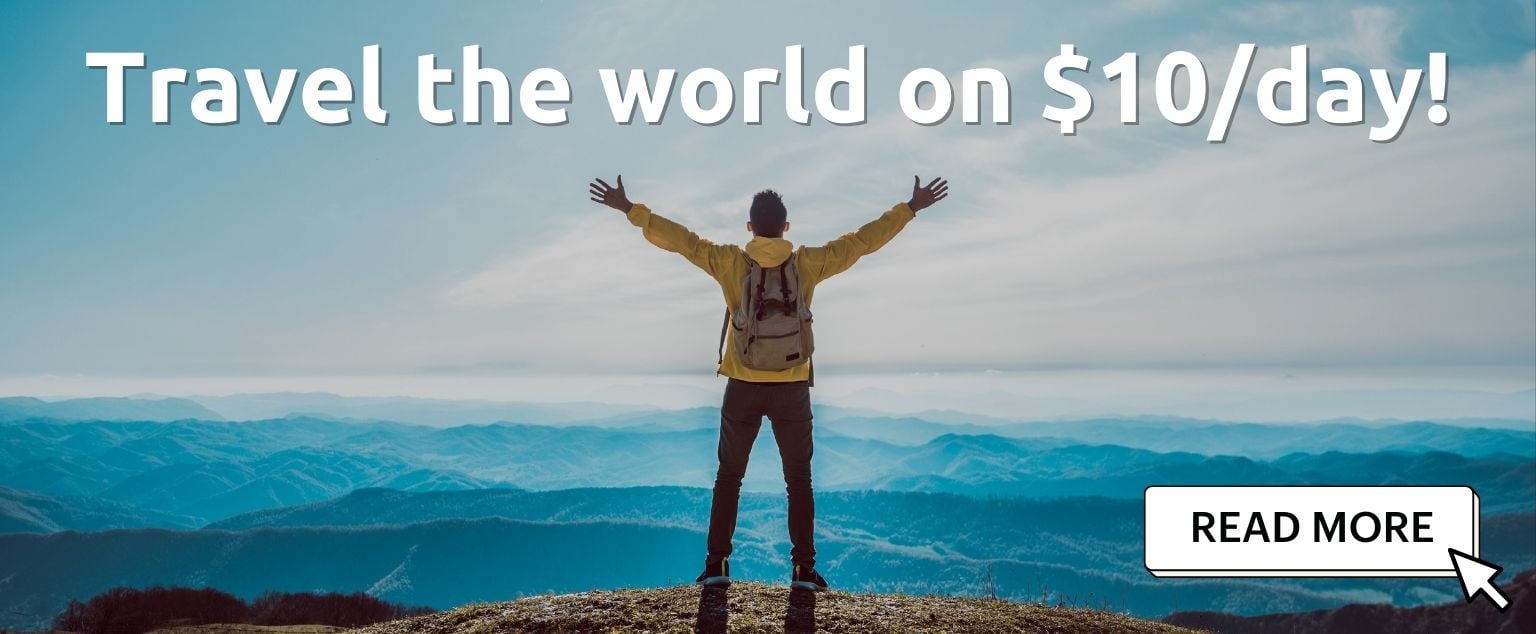 And for transparency's sake, please know that some of the links in our content are affiliate links. That means that if you book your accommodation, buy your gear, or sort your insurance through our link, we earn a small commission (at no extra cost to you). That said, we only link to the gear we trust and never recommend services we don't believe are up to scratch. Again, thank you!