Europe is a great destination for a burgeoning backpacker. Most European countries are accustomed to accommodating broke backpackers carrying their lives on their shoulders, and the continent sports some of the world's best public transport networks, allowing travelers to roam freely without needing a car. 
There are so many great stops and sights to see on any Eurotrip, but you won't make it very far without the right backpack. Any old nylon duffel will get you through a week's trip, but the best backpack for Europe will help keep you on the road for months at a time, all the while pushing you past the big cities of the continent into the heart of exploration. 
If you want to see it all, you'll have to manage the diverse landscapes and different weather patterns that make Europe so interesting to visit. The best bag for the endless summer of the Mediterranean coast might not stand against the changing weather of the Irish plains. 
The good news is, modern backpackers can take advantage of Europe's decades-old travel infrastructure with more great backpack choices than ever. With so many great backpacks on the market, it might be hard to narrow things down to the best bag for you. That's where we step in. 
Things have changed a lot since foreigners first started cutting costs and roaming through Western Europe, but one thing hasn't: The best way to see this continent and get a feel for the rich range of cultures present is with your home on your back. 
These Are The BEST Travel Bags for Europe
Best Overall Travel Bag for Europe
Best Overall Travel Bag for Europe
Osprey Porter 46
Capacity (L) > 46
Weight (G) > 1478
Dims (CM, HxWxD) > 55x36x23
Price ($) > 175
Best Backpack For Backpacking Europe
Best Backpack For Backpacking Europe
Osprey Aether
Capacity (L) > 65
Weight (G) > 2267
Dims (CM, HxWxD) > 81x40x28
Price ($) > 315
Best Bag For Budget Flights In Europe
Best Bag For Budget Flights In Europe
Nomatic 30L Travel Bag
Capacity (L) > 30
Weight (G) > 1500
Dims (CM, HxWxD) > 23x48x33
Price ($) > 268
Best Bag For Interail
Best Bag For Interail
Farpoint 55
Capacity (L) > 55
Weight (G) > 1700
Dims (CM, HxWxD) > 60x33x30
Price ($) > 170
Best Backpack For European Cities
Best Backpack For European Cities
Nomatic Navigator 37
Capacity (L) > 37-44
Weight (G) > 2358
Dims (CM, HxWxD) > 56x36x23
Price ($) > 391
Best Backpack For Hosteling Europe
Best Backpack For Hosteling Europe
TropicFeel Shell
Capacity (L) > 22-42
Weight (G) > 1500
Dims (CM, HxWxD) > 50x30x19
Price ($) > 290
Best Backpack For Hiking in Europe
Best Backpack For Hiking in Europe
Osprey UNLTD
Capacity (L) > 68
Weight (G) > 2812
Dims (CM, HxWxD) > 81x40x38
Price ($) > 700
Best Bag For Photographing Europe
Best Bag For Photographing Europe
WANDRD PRVKE
Capacity (L) > 31
Weight (G) > 1300
Dims (CM, HxWxD) > 48x30x17
Price ($) > 216
Best Wheeled Backpack For Europe
Best Wheeled Backpack For Europe
Osprey Sojourn
Capacity (L) > 45
Weight (G) > 4000
Dims (CM, HxWxD) > 56x36x23
Price ($) > 199
Best Hybrid Bag For Europe
Best Hybrid Bag For Europe
Monarc Settra
Capacity (L) > 40
Weight (G) > 2041
Dims (CM, HxWxD) > 28x60x33
Price ($) > 150
Choosing The Right Bag For European Travel
European Travel takes on all sorts of forms. Unless you plan on renting a car, your bag will need to deftly navigate buses, trains, crowded sidewalks, and long walks to the hostel, all while storing everything you need for your trip. 
At the minimum, your bag will need to fit in a luggage rack and pack a week's worth of clothes. The good thing about traveling through Europe is you'll never be too far away from the nearest laundry machine, even in the alps, so unless you plan on doing some serious backcountry exploring you probably won't need to haul around a 70 Liter monstrosity. 
Most passionate minimalists and one-bag travel experts like to set the bar around 35-40 Liters for their bag, which generally provides the maximum amount of storage while still fitting easily in overhead compartments and luggage racks.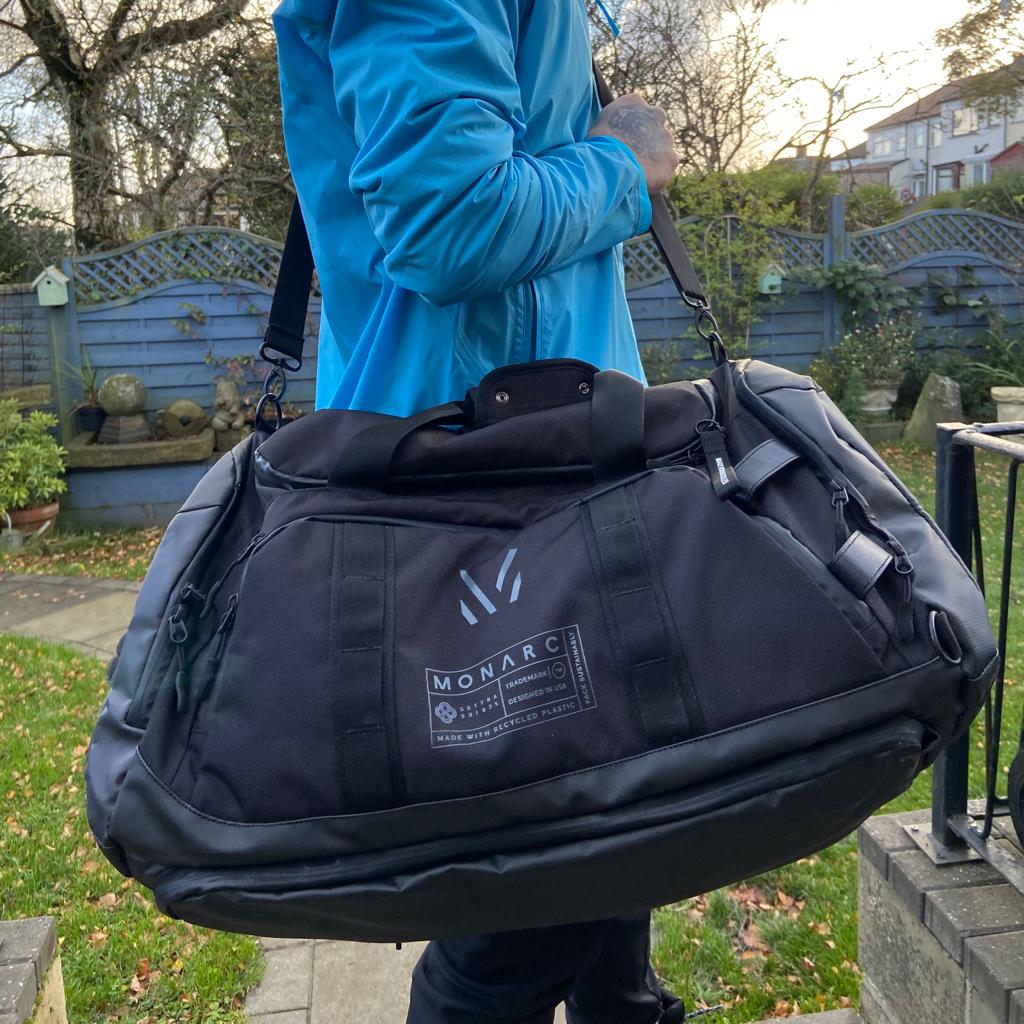 The storage capacity is just the first piece of the puzzle. Any European adventure will likely have a lot of stops. There's just too many cities to see and cheeses to try. Unless you've got a year budgeted out for roaming and romping, you'll be living out of your bag and packing it up quite a bit. 
I take ease of access incredibly seriously when considering any new backpack. Ideally, I'd like a bag that lets me live for 24 hours without ever having to open the main compartment. 
Anytime I'm settling down for more than a night or two I'll unpack, but if I can find a backpack with enough easy access points to get to my toothbrush, a change of clothes, some snacks, and my electronics without having to dig around through the muck and mire of the main drag, I'll take it.
Finally, a backpack for European Travel should consider safety. Backpackers are easy targets for scammers and thieves, and there's no such thing as a modern city without a few ne'er do wells lurking near the bus stations.
Nobody wants to travel around with a giant target on their back, but a bright red backpack is the closest thing to wearing a sign that says 'Hello criminals, I am slightly out of my comfort zone AND everything I own is right here in this bag.' 
Some backpack makers are catching on and offering jet-black looks that reduce down and don't give off the wrong impressions, while others are coming up with high-tech solutions like locking compartments and RFID-blocking pockets. There is no backpack that can completely reduce the risk of turning down the wrong corner at the wrong time, but a great European travel bag will keep everything close to the chest and out of access for any potential pickpockets. 

Do You Want to Travel FOREVER??
Pop your email in below to get a FREE copy of 'How to Travel the World on $10 a Day!'.
Best Overall Travel Bag for Europe – Osprey Porter 46
SPECS
Capacity (L): 46
Weight (G): 1478
Dims (CM, HxWxD): 55x36x23
Price ($): 175
At the Broke Backpacker we're a bit more accustomed to bus rides than bellhops, but it can never hurt to bring your own personal porter on your next adventure. It serves as its own bagman and it just might be the most organized bag Osprey has ever made. 
They didn't simply pump the dang thing full of pockets, but instead added clutch access points like a full U-zippered main compartment, a protected laptop sleeve, and stow-able hip belt and harness. These perks allow the bag to perform well in all sorts of use cases. 
Unfortunately, there is no bag that is perfect for everyone, and there are a few zones where the Osprey Porter falls short. You might want to look elsewhere if you need a bag to break ultralight records or long-haul walks in the woods. Instead, this bag serves as a perfect companion for anyone planning on spending the next few months wandering through the European Continent. 
The list would be a whole lot shorter if we talked about where we didn't test it. This bag has seen the Tour de France, the Running of the Bulls, the Cooper Hill Cheese roll, Oktoberfest, and the Battle of the Oranges. Without a fuss, the Porter has fit on all sorts of crowded buses and managed draconian baggage policies to get us there with our gear. 
Best Backpack For Backpacking Europe – Osprey Aether
SPECS
Capacity (L): 65
Weight (G): 2267
Dims (CM, HxWxD): 81x40x28
Price ($): 315
This heavy-duty option is a great choice for packing everything you own on your shoulders. The Aether is one of Osprey's more technically advanced backpacks, built for the backcountry and just as suitable for winding cobblestone streets.
Some of this backpack's models come with a detachable daypack that works great for quick stops, carry-on, and city tours. This is one of the biggest game changers in the backpacking industry and instantly elevated this pack to a must-have in my own closet. You can bring everything you need for a month's vacation in Europe, all the while storing it in the room with ease, while you take only the essentials with you on your next day trek.
Fully kitted up, Osprey's flexible shoulder pads and air mesh backing help lighten your load. Although there is no such thing as a bag that makes 70 Liters feel lighter than air, the Aether might be the closest thing to it.
The Aether has been my go-to bag for trips where I plan to be on my feet for more than a kilometer or two. Every time the train station ended up being a few kilometers away from the hostel, or I missed the early bus and had to get walking, I tested the limits of this bag and it passed with flying colors.
SPECS
Capacity (L): 30
Weight (G): 1500
Dims (CM, HxWxD): 23x48x33
Price ($): 268
Anyone who has ever shown up to a Ryanair flight without a printed ticket knows those budget flights can be a trap. The initial tickets are a steal, but the charges can quickly add up. One way budget airlines look to make a bit of extra cash is by reducing the amount of luggage you can take with you.
If you want to take advantage of the cheapest rates out there, this Nomatic travel bag is the best bet to get it done no matter the airline. The travel bag fits regulations and allows you to store more than any other carry-on bag on the market, thanks to Nomatic's wealth of curious pockets and space-saving maneuvers.
Not only is the bag a high-tech beast, but Nomatic rounded out the edges, protecting your gear in a fully waterproof shell and adding on a few anti-theft perks that make the travel bag pack well above its nimble weight. With a slightly smug grin of satisfaction, we slipped our fully loaded Nomatic Travel bag in between the bars at the airline check-in counter that proved indeed it fits, it flies, and it's got a full week's gear inside.
Best Bag For Interrail – Farpoint 55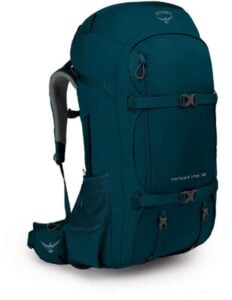 SPECS
Capacity (L): 55
Weight (G): 1700
Dims (CM, HxWxD): 60x33x30
Price ($): 170
Europe is best seen by train. There's a certain romance to zipping past the dry Portuguese countryside without your hands on the wheel. Our favorite train-friendly travel is an iconic travel backpack. The Farpoint series is one of the best one-bag travel choices in the world, combining a bit of trail magic with some convenient storage features to make an extraordinary kit.
Train travel means more lenient luggage regulations, that is unless you're trying to travel with a surfboard on Renfre. That means you can opt for a slightly larger backpack and store it all. The Farpoint makes it easy to pack a month's worth of gear with a nice U-shaped zippered opening and large hip belt pockets that will fit a few snacks and train tickets. What makes this bag unique is its versatility.
Osprey pumps plenty of hiking knowledge into all of their packs, so even backpacks made for urban wandering come with clutch comfort features, great rain protection, and the adjustability to fit on any set of shoulders.
SPECS
Capacity (L): 32-41
Weight (G): 2358
Dims (CM, HxWxD): 56x36x23
Price ($): 399
You don't want to have to stop back off at the hostel multiple times during a grand day out in the city. That means ideally, your backpack will carry everything you need for the day, rain or shine, without being too uncomfortable. That's the Nomatic Navigator's specialty. 
This bag can expand and contract from 32 to 41 Liters so you can pack exactly what you need for the day without leaving a bunch of empty space. Even if you start the day with a full bag, the expansion helps you sneak in that op-shop find. We also love the laid-back look of the navigator for city travel. 
Anyone can spot a backpacker a mile away with most of the usual suspects. Bright-colored hiking bags loaded to the brim may have the locals treating you slightly different, or help you stick out in the crowd. The navigator stays lowkey while sneakily storing a whole lot of the good stuff to help you check out new cities like one of the gang. 
The best present of all… is CONVENIENCE!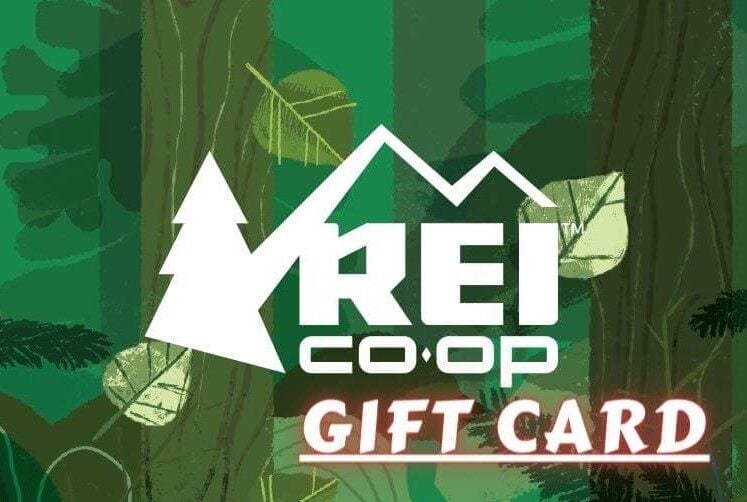 Now, you could spend a fat chunk of $$$ on the WRONG present for someone. Wrong size hiking boots, wrong fit backpack, wrong shape sleeping bag… As any adventurer will tell you, gear is a personal choice.
So give the adventurer in your life the gift of convenience: buy them an REI Co-op gift card! REI is The Broke Backpacker's retailer of choice for ALL things outdoors, and an REI gift card is the perfect present you can buy from them. And then you won't have to keep the receipt. 😉
Buy on REI!
Best Backpack For Hosteling Europe – TropicFeel Shell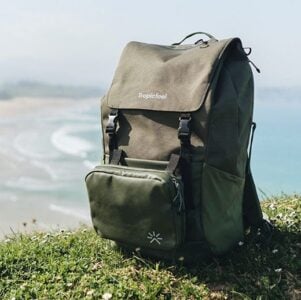 SPECS
Capacity (L): 22-42
Weight (G): 1500
Dims (CM, HxWxD): 50x30x19
Price ($): 290
Your dorm room probably doesn't include a walk-in closet, but this backpack will make any pod feel like a target for the bling ring. The TropicFeel Shell is trying to completely change up the game, and while there are still some kinks to be worked out, this is a fantastic option for certain travelers.
Anyone who likes to have a perfect place for everything in their gear kit will literally giggle at the number of options the TropicFeel provides.
Between a wardrobe system, detachable toiletry kit, kangaroo pouch, and optional camera cube, you'll be more organized than ever. Each one of these organizational points is detachable, which means once you arrive at the hostel you can hang your wardrobe, send the toiletry kit to the sink, slip the camera cube into your locker, and hit the town with an incredibly light day bag.
The bag is not the best choice for people heading far off from paved roads, as all the extra detachment points don't make an incredibly lightweight pack. For anyone whose wandering goals are to make new friends and see new places, this backpack is an easy choice for life going from hostel to hostel in Europe. 
Best Backpack For Hiking in Europe – Osprey UNLTD
SPECS
Capacity (L): 68
Weight (G): 2812
Dims (CM, HxWxD): 81x40x38
Price ($): 700
From the Camino Del Santiago through the Tour du Mont Blanc, hiking in Europe can take you across epic mountains and bounce you along wild surf. There are a lot of bags out there that can get you through a controlled day hike, but the best backpack for pushing things up a notch is the Osprey UNLTD. 
This bag is the culmination of Osprey's decades of industry dominance. Its starting point is a combination of features that make other Osprey bags great, like a detachable daypack, superior Airscape breathability, and loads of straps and external tool attachments. The UNLTD then takes things to the next level with 3D-printed foam back panels and a carbon frame. 
This immense Antigravity system is the brainchild of Osprey founder Mike Pfotenhauer, who threw it all into this pack. The pack lifts its weight a bit off your shoulders and spreads the load evenly around your body to stay comfortable when long-distance trekking. 
Best Bag For Photographing Europe – WANDRD PRVKE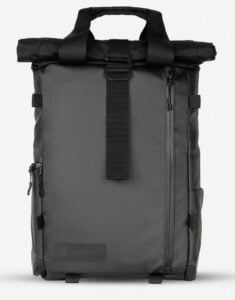 SPECS
Capacity (L): 31
Weight (G): 1300
Dims (CM, HxWxD): 48x30x17
Price ($): 216
This tarpaulin terror is one of our favorite up-and-coming backpacks. WANDRD is a Kickstarter darling that has spent the last decade proving that backpacks can be more than large black holes with shoulder straps. 
The PRVKE is the model that finally pushed them over the top and into our hearts thanks to the combination of performance, protection, and cheeky special features. The 31 Liter bag spreads storage across 8 convenient pockets and a main compartment. WANDRD also sells a camera carry case that helps compartmentalize things even further. 
Pockets, protection, and aesthetics combine to create a photography bag that can do a whole lot more. The bag is a perfect carry-on size and has enough quality materials on the outside to keep your gear dry from a few surprise showers. The rolltop wide opening is the cherry on top, allowing you to condense and expand this bag to exactly the size you need. 
Best Wheeled Backpack For Europe – Osprey Sojourn
SPECS
Capacity (L): 45
Weight (G): 4000
Dims (CM, HxWxD): 56x36x23
Price ($): 199
Europe's cobbled streets and winding corners are a real challenge for wheeled backpacks. You can't expect to run any old bag through the Rua da Bica and get out unscathed. If you don't feel like carrying your gear on your shoulders, you should absolutely splurge for a top-quality roller like the Sojourn. 
This bag does include shoulder carrying straps, but it's a bit bulky to lift up off its wheels for more than a few meters. It blends the line between backpack and suitcase, providing an ultra-durable set of wheels with a high chassis that helps take this roller off-road. 
You can choose between 45, 60, and 80 Liters to make sure no matter what kind of journey you're embarking on, you'll always have some space for souvenirs. 
Best Hybrid Bag For Europe – Monarc Settra
SPECS
Capacity (L): 40
Weight (G): 2041
Dims (CM, HxWxD): 28x60x33
Price ($): 150
Young European travelers have forged ahead on a path of sustainable exploration. There is no bag better to confidently explore the European continent than one made out of recycled materials, like this Monarc Settra bag made from 50 recycled bottles. The Settra proves that sustainable materials can do anything polyester can, all without the carbon footprint. 
The pack walks the line between a duffel bag and an old-fashioned backpack, allowing you to easily maneuver your bag through crowded train terminals and throw it over your shoulder for longer walks. It's one of the only duffel bags in the business with adjustable sternum and waist straps as well as a full-sized laptop compartment to truly toe the line. 
At 40 Liters, the Monarc Settra sits just on the edge of carry-on eligibility, but you shouldn't have any trouble getting it into an overhead compartment and skipping baggage claim on your way to your next adventure. 
How and Where We Tested To Find The Best Backpack For Europe
To test these packs, we laid our mits on each of them and took them out for a test spin Over a period of time, various members of our team took these different packs on various trips to put them well and truly through their paces.
Packability
A backpack is designed to carry stuff and as such, top points are awarded for how packable one is. Any decent carry in needs to make sure it maximises the space it does have and facilitates effective packing and we tested this out by packing, and unpacking. Simple right? 
Equally though, we also paid attention to how easy the pack was to unpack – being able to retrieve items quickly and easily bags a bag, bags of bonus points!
Weight and Comfort of Carrying
If a pack is overly heavy or awkward to carry then taking it along on trips becomes uncomfortable. Believe me on this, I have had more than my fair share of backpacks that just weighed an ounce or two, too much or perhaps had crappy straps that dug into my shoulders. 
As such we awarded full marks for packs that minimise weight and maximum carry-comfort.
Functionality
In order to test out how well a pack fulfilled its primary purpose we used it for this purpose. For example, if it's a carry-on pack then we took it along as carry-on and made sure it actually oasses the Ryanait test and fits into the ever shrinking over-head cabins. For cycle backpacks we strapped them on and got on our bikes. You get the idea right? 
Aesthetics
Some people say that travel gear doesn't need to look good as long as it functions. Well those people are fools because good gear can be both practical and cool. As such we also awarded points for how sexy a pack looks. 
Durability and Weatherproofing
Ideally, in order to really test out how durable a backpack is we would drop it from a plane and then run over it. Unfortunately though that is not entirely feasible so instead, we simply inspected the materials used and the build quality of the packs paying attention to things like the seam sewing, the traction of the zips and other pressure points that tend to break. 
Of course, testing out how waterproof a pack is simply a case of pouring a litre of water over it – any packs caught leaking, were promptly banned entirely from inclusion in our round-ups.

Unlock the The Broke Backpacker's GREATEST Travel Secrets!
You pop your email here, and we promise to send you only travel content that's actually relevant — sounds like a pretty good deal to us!
Final Thoughts on The Best Bag For Europe
What are you waiting for!? Plane tickets aren't getting any cheaper. Now that you know the best bags for Europe, all that's left to do is map out a plan for exploration and then throw it out the window. 
Your trip to Europe will be full of surprises, missed trains, foul weather cancellations, and hidden gems that make you stay a few extra days. Half the fun of a backpacking adventure is the wild places you end up when what you thought was going to happen falls through.

The wrong backpack will make winding up at the wrong bus station and finding out you have to walk another two kilometers sound like a death sentence. But the right choice will have you to saying yes and embracing the journey with open arms.
No matter which backpack you choose, rambling through Europe without a care in the world is a rite of passage for any broke backpacker, and as long as you choose a bag from this list, your exploration will be the beginning of a life on the road. 
---
Bye for now, but not forever!
If you want MORE top-tier Broke Backpacker content like this, then sign up for our weekly newsletter below to get the latest and greatest!
And for transparency's sake, please know that some of the links in our content are affiliate links. That means that if you book your accommodation, buy your gear, or sort your insurance through our link, we earn a small commission (at no extra cost to you). That said, we only link to the gear we trust and never recommend services we don't believe are up to scratch. Again, thank you!