When it comes to testing and comparing wheeled backpacks there are a few areas that we looked at. The first one is how versatile a product it and specifically how well it performs both it'd wheels function, and its backpack function. For example, some of the products on this list are great for wheeling, but perform less well when worn and carried as a backpack.
Next up, we paid really close attention to the quality and build of the wheels as this a major stress area. Beyond that we looked at durability, comfort, awarded bonus points for innovative features and added a weighting for price and value.
Of course, trying out travel gear liked backpacks on wheels is not a perfect science and we were not able to blind test them under laboratory conditions. Rather, various members of our team tried them on various trips over different time periods. For example, I took the Osprey Sojourn to Goa in India which has no pavements, dusty roads laden with cow shit – as such it got a proper brutal test whereas other packs got an easy ride being carried through the gilded streets of Copenhagen. Still, we stand by our assessments.
Wheeled backpacks are kind of a niche product and are not for everybody. There is definitely a dedicated and vibrant market for them but there will never become as ubiquitous as conventional backpacks.
Let's look at the Pros and Cons of wheeled backpacks as a concept, before we get into the nitty gritty of competing the individual packs to one another.

Do You Want to Travel FOREVER??
Pop your email in below to get a FREE copy of 'How to Travel the World on $10 a Day!'.
Best Wheeled Luggage for Digital Nomads – This is not a Backpack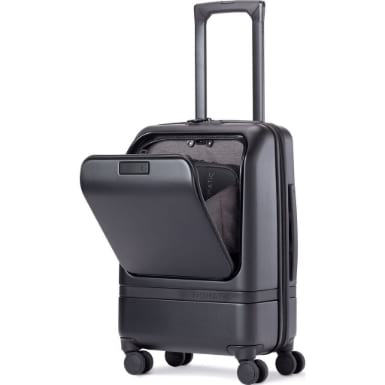 Want to skip the backpack concept altogether in favor of the best-wheeled luggage on the market? Meet the Nomatic Carry On Pro.
The Carry-On Pro is a fully-featured roller suitcase built with the modern traveler in mind. Minimalist and short-term travelers will appreciate all of the sexy organizational pockets and straps for clothing, including a dedicated electronics compartment dubbed the "tech case". The tough-as-nails suitcase exterior also features a customizable locking system that will keep out any potential thieves.
This suitcase does require a steep investment, which is the only major drawback I can find. Also, if you are seriously set upon on a backpack suitcase combo then this is not for you.
After our testers gave this case a good run out one of the real stand out elements for us was the organisational features on this bag. Being able to separate each side with zippable mesh allows you to keep items like clean and dirty clothes separate. They also have additional zippable pockets on the front too which came in super useful.
Pros
Perfect carry on size – and lockable for extra security
Can survive impacts from a sledgehammer – so yes, very durable
Top of the line silent Hinomoto wheels
Excellent organizational features
Cons
Expensive
Too small for multi-week holidays (unless you are a true minimalist).
Need something bigger? Check out the full-sized Nomatic Check-In Pro
Is the Nomatic Carry-On Pro for Me?
If you are looking for ONE suitcase that will last you a decade or more there is no better option than the Carry-On Pro on the market right now.
Nomatic has been a major player in the travel gear space for a few years now and we here at the Broke Backpacker are huge fans of the quality products and innovations they are putting out! We have being using these packs for years and have tested them out in all number of situations – in fact this pack performed so well for us in Barcelona that some swine was unable to resist the urge to steal it….
Want to learn more about this badass roller suitcase? Check out my full-length Nomatic Carry-On Pro review.
This 40 Liter rolling backpack is perfect for international travel. A marriage between two companies that know rugged travel – Eagle Creek and National Geographic – this backpack was built to be weatherproof and dirt resistant for all of your adventures.
Plus, it's probably the coolest looking backpack with wheels – something I haven't said since the fourth grade! A few of its awesome features include multiple compartments for all your clothes and other items, the top quick stash pocket, multiple grab handles, and treaded off-road wheels so you can roll this bag on challenging terrain!
The main drawback is its weight. There is always a trade-off for durability and weight… and in this case, it's a few pounds! This backpack may be overkill if you aren't going on expedition-like travel.
We love how this backpack meets carry on restrictions too. This backpack was designed and created for adventurers, so you know it's going to last use and abuse for years.
Is the Eagle Creek National Geographic Series for me?
We think this is the most durable backpack with wheels available. It can handle any and all-weather and terrain you throw at it, but it might be overkill if you aren't going on adventures in South America and Africa!
Get this backpack if you want a sleek, beautiful rolling backpack to keep your things safe. If you're just doing average urban travel, check out our next recommendation instead!
When our testers got their mitts on this bad boy they absolutely loved the rugged material the bag was made from. Being the adventurers we are we were also impressed by how durable the bag was when exposed to the elements and difficult outdoor terrain. If you're looking for the ultimate hiking backpack with wheels, this is it.
Not only is the High Sierra AT3 a phenomenal backpack with wheels, but it also doubles (or perhaps that should be 'triples') as a duffel bag.
What's more, it has the added advantage of a detachable front pouch that can be used as a day bag when you've reached your destination, saving you the effort of either carrying a secondary daypack with you or lugging all your baggage throughout your travels.
Its gentle styling means the AT3 is just as suitable for business travel as it is for a sightseeing trip, which makes this backpack with wheels extremely versatile! Its lifetime guarantee provides more than enough peace of mind to the durability of the High Sierra three-in-one.
Is the High Sierra AT3 for me?
The High Sierra AT3 takes the crown as our overall best backpack with wheels because of its fantastic features and ultimate versatility. Not only is it a backpack, but also a duffel bag – and a day bag to boot. Plus, it works for casual or business travel.
If you're looking for a good all-around backpack (and more) with wheels, you need to look no further than the High Sierra AT3!
Our testers took this to the steep streets of Lisbon recently and confirm that this travel backpack with wheels was a lifesaver on all those steps! A stand-out feature was the separate top section of the pack that can be accessed without having to go into the main pack. It's handy for things like your phone, wallet or passport.
When it comes to a backpack with wheels that meets the requirements of aircraft carry-ons, you can't get much better than the Eagle Creek Load Warrior.
For carry-on functionality, the 22-inch backpack comes with a very decent 42-liter capacity, but should you find your travels leave you needing more space, zipper expansion will give you an additional 39 liters – almost doubling the overall capacity! Designed to be durable and survive the rigors of air travel, the Load Warrior is constructed using tough ripstop nylon, with extra reinforcement in areas known to take the most wear and tear.
There are plenty of pockets to keep smaller items from getting lost, and even a divider to keep clean and dirty items separate inside.
Is the Eagle Creek Load Warrior for me?
Built to survive the outdoors, the Eagle Creek Load Warrior is at home in boutique hotels or the first-class section of an aircraft.
Compatible with aircraft overhead compartments, and with reinforced corners to help it last as long as possible, the Load Warrior is sure to become your go-to carry-on!
Our team loved how roomy this carry on backpack with wheels felt without being too heavy. They remarked that the design actually allows for far more storage than many of the other heavier cases. This was aided by the expandable compartments that make the bag feel super versatile.
Coming from the makers of the Swiss Army Knife, you won't be surprised by the durability and multi-functionality of the Victorinox Vx Sports Cadet backpack with wheels. It works for the modern hiker, who is just as likely to need a laptop as a pair of boots, the Sports Cadet has a dedicated padded sleeve for laptops with screens of up to 16 inches.
There's a retractable wheel cover to prevent the spread of dust and dirt from the wheels when they're not in use, and compression straps to keep all your kit in position, whether on the hiking trail or in the airport departure lounge.
Rounding things off is a good number of separate zippered pouches for smaller items. If you're looking for a wheeled hiking backpack that still wouldn't look out of place on a business trip, then this is the one!
Is the Victorinox Vx Sports Cadet backpack with wheels for me?
This durable and well-styled backpack with wheels by Victorinox is, to our mind, the best currently on offer for hikers.
A retractable wheel cover means you can hide away the slimline wheels when you know you're not going to need them, while the padded laptop sleeve means you won't ever have to worry about your tech – no matter how rough the trail becomes!
Our testers just loved the quality feel of this rolling hiking backpack and described it as Swiss ingenuity at its best! Well, we can't argue with that because everything from the smoothness of the high-quality zippers to the durability of the wheels feels premium.
The wheels and retractable handles that come part and parcel of a backpack with wheels means that these bags are invariably more cumbersome than their non-wheeled counterparts.
That said, there are still some excellent lightweight backpacks with wheels out there to choose from, of which the Samsonite Rewind is perhaps the pick of the crop.
There's an integrated rain cover to keep all your kit protected from the weather, a dedicated laptop compartment to keep your prized machine secure, and compression straps to hold everything in place whatever you find yourself doing.
Weighing just 2 kg when empty, this soft-shell bag is largely made up of tough polyester durable material and has a capacity of 32.5 liters.
The Samsonite brand is a popular choice amongst our testers and they felt this suitcase backpack with wheels lived up to the reputation. The main area of praise came from just how light the pack felt even when fully loaded whilst still retaining that characteristic Samsonite sturdy and tough feel.
Is the Samsonite Rewind for me?
When the need for a lightweight backpack with wheels is your primary concern, it's difficult to beat the 2 kg Samsonite Rewind. For that weight, you get a backpack with a capacity of 32.5 liters, a dedicated compartment laptop pocket for laptops up to 16", and compression straps too!
Ok, so this smooth wheeled suitcase is in fact not a backpack, BUT, it is such a neat product idea that I could not keep it off of this list.
Hailed as one of the most practical wheeled luggage designs of all time, the Carry on Closet 2.0 is the perfect unit for busy business travelers looking to add a bit of order to an already crazy schedule.
As the name suggests, the Carry on Closet features an expandable shelving system that makes packing, access to your stuff, and general organization much more streamlined.
There are a total of six different shelves to work with and compression straps to help secure all of the contents. The shelving system is also removable in case you are the kind of travleer who prefers packing everything into the main compartment instead.
The exterior design of the Carry on Closet is sleek, modern, and tough looking and has interesting security features including a built in lock and unbreakable polycarbonate shell.
Our testers were pleasantly surprised by this suitcase. Let's be honest, sometimes these things can be a bit of a gimmick that in reality aren't all that practical. But qudos to Solgaard because the closet design actually works wonders especially if you like to keep all your gear organised. The material also feels sturdy enough to withstand proper usage too.
Is the Solgaard Carry On Closet 2.0 for me?
If you find yourself hopping between cities for 2-3 days at a time and want a user friendly packing solution, the Solgaard Carry on Closet was pretty much designed exactly for people like you. There is a reason why Time Magazine called it the best travel invention of 2018. For international trips stretching out more than three days though, I'd consider bringing an additional business bag. Wheeled suitcases are never going to be super cool, but Solgaard has probably come the closest of any company to fitting that description.
Why is the Karabar Aragon Overnight Wheeled Backpack great for business travelers? First and foremost, its plain black design won't stand out in an office or conference hall. But more than that, this backpack with wheels is incredibly functional for business travel.
For instance, it contains many internal compartments of different sizes, meaning there's a space for everything – from your laptop and tablet computer (in padded sleeves) to A4-sized files, smartphone, and keys. With a sensibly-sized capacity of 35 liters and weight of just under 2 kgs, there's enough space for a night away from home.
On top of that, this backpack with wheels comes with a 10-year guarantee covering manufacturing defects, so you know this backpack won't embarrass you.
Our testers particularly loved how smooth the handle was when popping the bag up and down. It means quick transitions from wearing the pack on your bag on a train to rolling it across the station. Experienced travelers know the stress of messing around with your bags on a crowded platform!
Is the Karabar Aragon Overnight Wheeled Backpack for me?
When you're traveling for business, it's just as important to look the part as it is to act the part, and using the Karabar Aragon Overnight Wheeled Backpack will certainly help. Its relatively plain, black appearance is the perfect start, while the internal compartments will keep you organized and efficient however long your days on the job.
Is the Osprey Sojourn too big for you? Do you want a high-quality Osprey backpack with wheels to handle all of your travels?
Osprey's Ozone Convertible 42L might just be your travelling chameleon! This backpack is great as a carry-on. We like the padded handles and internal compression straps to keep your things organized. The best part about this backpack is its weight. It weighs so little that it's hard to believe it's so durable. Wheels are also good quality!
Speaking of the wheels, they were a stand-out feature for our team who tested out this awesome bag. They're lightweight, smooth and durable. But if you do happen to wear them out, well a great feature is that they are easily replaceable which makes this bag one for the long haul.
Is the Osprey Ozone 42 liter for me?
This is a good backpack that is compliant for many carry-on requirements. This backpack is for you if you want a backpack with a comfortable and high-quality backpack.
While the Sojourn is great, we like that you're more likely to carry this sized bag on your back as it is one of the lightest backpacks on this list! That said, we're still a fan of the Osprey Meridian a bit more if you can afford it! The Ozone beats the Meridian when it comes to price!
This is an affordable backpack that ticks off all the boxes. It is easy to maneuver with its dual spinner wheels and 360-degree rolling capabilities. It's also lightweight, and can be used as a duffel bag, wheeled luggage, or backpack!
We like that the main compartment is expandable for more room. The drop-bottom compartment with hold-down straps is ideal for shoes or bulky gear. The spinner wheels provide easy mobility too.
All in all, this bag will get the job done, and get you from point A to point B; however, it's not the highest quality roller backpack on this list nor do any features set it apart from the rest of the bags. That said, its price is hard to beat!
Our testers loved this budget option and the fact that it still came with a padded laptop compartment, something our team takes very seriously! In fact, they said for such a well-priced bag their expensive equipment felt safe and secure.
Is the High Sierra AT7 Spinner for me?
This is a good, affordable backpack. While it's not our top pick on this list, it will get the job done! We like that it's a duffel bag and wheeled luggage with multiple functions. It easily converts into a backpack.
Any semi-serious photographer will already know just how much kit it's necessary to cart around when you count up the camera, lens, and other pieces of vital equipment a photographer needs.
Not only can the weight soon mount up, but much of this equipment is delicate, meaning you need a specific camera bag – such as the AmazonBasics Convertible Rolling Camera Backpack. Open up the main compartment and you'll find eleven adaptable compartments that you can personalize as you wish.
There is also a padded sleeve for laptops up to 17" and straps on one side to take a full-sized tripod! Amazon will even throw in a rain cover, so you don't have to worry about the weather.
Let's be honest, Amazon Basics actually make some pretty good products for those of us on a budget and well, as Broke Backpackers, our team are always on the lookout for a bargain. They really loved how versatile this bag was for the price. Many of the crew aren't avid photographers but still enjoyed the addition of the dividers which meant they could easily organise and separate whatever they put in the bag too.
Is the AmazonBasics Convertible Rolling Camera Backpack for me?
If you're in the business of carting around expensive camera equipment, either as a seasoned amateur or a semi-professional, you're going to need a good backpack dedicated to the job. With an adaptable interior and plenty of small extra pockets for lens wipes and memory cards, this backpack from AmazonBasics certainly fulfills that brief!
Matching the Cabin Max on price is the Aerolite 21" wheeled backpack, which is a model using a four-wheel design rather than the regular two-wheel version. Although it may be a little plain to look at for some, this 40-liter backpack is carry-on compatible for many of the major airlines you'll be flying with and has shoulder straps that won't get in the way as they can be placed behind a Velcro cover.
Made from truly durable 1680 Dernier polyester and nylon, this backpack is sure to last, while useful side pockets in addition to the spacious main compartment mean you won't have any trouble taking everything you need while you're away!
What our testers loved most about this pack in particular is how much it actually looks and feels like a "normal" backpack compared to some of the other square or bulkier bags. With added covers for the wheels, it very much felt like a backpack with added functionality when needed rather than carrying a suitcase on your back!
Is the Aerolite 21" Four-Wheel backpack for me?
It's fair to say that the great price may be the first thing to attract many would-be customers to the Aerolite 21" Four-Wheel backpack! But looking beyond that, we think this is an excellent backpack with wheels, with a very reasonable capacity of 40 liters, durable construction, and compatibility with carry-on regulations for the major airlines.
What we love about the Swiss Tech Navigation 21″ Upright is primarily its high quality spec. It is made from sturdy, durable materials  and extremely is well put together. Its hard exterior makes it fully waterproof and able to survive a few falls. It also comes with an integrated TSA lock and a USB port and utilises an  wheel design for maximum ease of movement.
Our testers loved the addition of the shoe holders, as folks who get out and about in nature whilst travelling, being able to keep our muddy shoes away from our "clean" clothes was a godsend! It's actually made from pretty sturdy stuff too so it's not going to rip easily.
Still have some questions about the best backpack suitcases with wheels? No problem! We've listed and answered the most commonly asked questions below. Here's what people usually want to know:
There's no excuse for uncertainty now we've given you all the relevant details on the best backpacks with wheels you can purchase right now!
Any of our most recommended bags will be able to keep up with you on your adventures. Enjoy the versatility of these great rolling backpacks!
---
And for transparency's sake, please know that some of the links in our content are affiliate links. That means that if you book your accommodation, buy your gear, or sort your insurance through our link, we earn a small commission (at no extra cost to you). That said, we only link to the gear we trust and never recommend services we don't believe are up to scratch. Again, thank you!