Some trips are about relaxing poolside, others are about wheeling and dealing and a solid-wheeled duffel bag gets you ready for both. This category can help you sneak more into the overhead compartment, slide through security, and drag your gear through the desert. It all depends on your set of wheels.
The farther you get from the nearest luggage handler, the more important it is for your bag to be easily manoeuvrable. Wheels are a lifesaver inside the airport, but they just weigh you down outside air-conditioned terminals. There are reliable and stylish roller duffel bags on the market right now that will fix that, but there are also plenty of lemons.
Fear not; Ive got you covered. Like a bag that can roll you through the smooth roads and swing through the muck, I've personally scoured the market and done double duty, lifting each bag and seeing how they feel on and off the conveyor belt. My personal top for the best wheeled duffel bag picks consider versatility, carrying capacity, and environmental stewardship, with a few bonus points for good looks.
After devising a rigorous testing system, we found the bags that set high scores and took them for a spin. That helped us separate the contenders from the wheelsets that surrendered to the first bump in the road.
We're here to formally introduce you to the elite list of bags that made it to the other side. We're also here to explain when a rolling duffel bag comes in handy and when it might be better off in the closet. Either way, they are some of the best travel bags if their attributes fit your needs.
But first, here's a message from our sponsors… Sorry, what's that? No sponsors? Not even Squarespace?
The Best Wheeled Duffel Bags
REI Co-op Big Haul Rolling Duffel
> Five different handles and additional straps for easy carrying and loading
> Comes with a year-long no questions asked return policy
Osprey Daylite Wheeled Duffel 85
> Comes with a lightwire kickstand to help the bag stay upright.
> 60 oz less than some competing roller duffels with a similar storage capacity
Dakine Split Rolling Duffel Bag
> There is almost always room for one more pair of socks
> Split design works great for travelers who are sharing one suitcase
Osprey Rolling Transporter 120
> Heavy-duty chassis protected for life
> Extremely decent weight-to-storage capacity ration
These Are The Best Rolling Duffels
Let me roll it to you; these wheeled duffel bags will bring you love in the palm of your hands.

Do You Want to Travel FOREVER??
Pop your email in below to get a FREE copy of 'How to Travel the World on $10 a Day!'.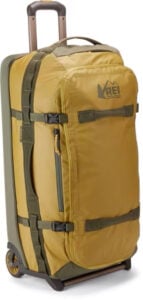 Specs
Capacity (L) – 87
Weight (oz) – 9 lbs. 7 oz.
Dims (in.) – 30 x 16 x 14.5
REI's sleek duffel can squeeze a few weeks of clean clothes into a 30" frame that protects your gear with ballistic nylon. The entire exterior feels like lizard skin. At first touch, you can tell this pack will hold its own against bumps and bruises. Toss the bag into tight spaces using one of five handles that gives you great grip in a hurry.
The Big Haul rolling duffel is pretty clearly influenced by Patagonia's Black Hole series, providing a similar look and durability at a lower price point and putting their own spin on things. The bag attached a few extra clips and straps outside and added some nifty mesh organization features to make its way into the rolling duffel world.
Most of the time, the cheapest rolling duffels aren't always the most reliable, but this bag is offered by the worldwide leader in discount outdoor gear. REI has proven itself enough for me to trust this roller to get me through my trip after touchdown.
The wheels roll smoothly over carpeted hotel lobbies, the bag swings softly onto crowded open-air public transportation, and it brings enough space for kitsch souvenirs. Choose your color scheme between a jet black, outdoorsy green, or boastful burgundy, and get rollin', rollin', rollin'!
Pros
Five different handles and additional straps for easy carrying and loading
Comes with a year-long no questions asked return policy
The exterior of this pack condenses  down well if not fully packed
Cons
There are three separate color schemes, but there's not enough on this bag to separate it from other items in the carousel
Too large for overhead compartments on some airlines
The robust wheel system adds a few pounds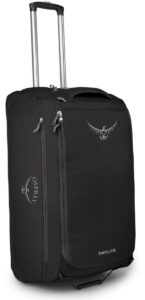 Specs
Capacity (L) – 85
Weight (oz) – 95
Dims (in.) – 28 x 15 x 15
Daylight comes, and we want go roam. There is perhaps no more complete companion than the Osprey Daylite Wheeled Duffel, which brings enough space for month-long jaunts to the South Pacific and packs in plenty of Osprey's signature durability features.
It's great to have an All-mighty guarantee to protect the extra wheels, handles, and support systems that make this bag go. The Daylite roller has a legitimate back support too and the wheeled system rolls smoothly even when that 85 Liters feels more like 100! At less than max capacity, the wheeled duffel does a great job contracting down to a small size.
The entire frame collapses and easily slides under my bed when not in use, and the two compression straps on the pack's inside help take up exactly as much space as you need and not an inch more. Osprey's addition of slick compression features can easily be the difference between paying extra and rolling onboard, depending on how much gear you're hauling.
This duffel swells up to take heavy loads and shrinks down to save space. It's all wrapped up in a nifty shell made from recycled materials and a PFC-waterproof coating, firmly taking Osprey's love for the outdoors and stamping it on a legitimate piece of luggage. With these innovative features, it's one of the best Osprey travel bags on the market for sure.
Pros
60 oz less than some competing roller duffels with a similar storage capacity
Comes with a lightwire kickstand to help the bag stay upright.
Two clutch zipped pockets on the outside and one large mesh interior helps keep things organized.
Cons
The pack comes with two shoulder straps, but I wouldn't want to carry this around on my shoulders more than a few feet when full
You can only take advantage of some space-saving capabilities when you've got nothing to pack inside
Not a great choice for offroading
Specs
Capacity (L) – 130
Weight (oz) – 132
Dims (in.) – 34 x 14 x 15
My life's mission is to sneak this particular wheeled duffel into an all-you-can-eat Chinese buffet. I'll plastic-wrap the sides, stack it full of lo mein, stop by the soft-serve machine for a quick cone, and eat for a month!
Besides 130 Liters of sweet & sour chicken, this electric option from Eagle Creek holds just about anything. The bag sits in a category of its own, an effortless cross between a UFO and a garbage bag.
A roomy side pocket works as the cockpit, storing everything you need to get through a travel day, including a fresh pair of clothes for longer layovers. Once you get there, you can detach the shoulder/duffel strap and open up your malleable treasure chest with a full clamshell zipper.
I couldn't get over the free space inside this cavernous main compartment. I just kept cramming shit in this gear hauler until I had emptied my closet. Then I went to the thrift store and filled it up with more junk I didn't need! I even found a new (used) six-person tent that fits right in with no problems.
Pros
The bag comes in wheeled options of 130 and 110 Liters, and a wheelless model can slim things down to 40
Also comes in an XLT edition that equips your duffel with all-terrain wheels
Lockable zippers make it easy to keep curious hands out of your business
Cons
The "no matter what" warranty does not cover your bag for life
There are tons of different handles and straps to carry this backpack, but nothing makes 130 liters feel sustainable on your shoulders.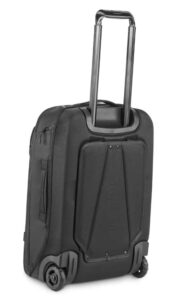 Specs
Capacity (L) – 40
Weight (oz) – 102
Dims (in.) – 22 x 14 x 9
The Lift 40L Rollerbag was made for the people and crowdfunded by the people. Backers raised more than $300,000 before getting a hand on this sleek unit thanks to the potential provided by a wide-ranging accessory system. Tropic Feel unleashed a bevvy of add-ons that take advantage of the space created by the telescoping handle.
A toiletry kit, portable wardrobe, and packable daypack combination hook up to the sides of this roller like a sidecar, still providing full access to the main clamshell compartment. This sleek rolling duffel is the first one we've looked at that you can easily carry backpack style too. While it's slightly slimmer than some other choices, there's a whole lot going on under the hood.
Those clutch mechanics and a few extra thoughtful features cater to each of us differently. For me, this pack serves as a portable closet. I can get to my room, unload the toiletry kit, hang up the wardrobe system, search for a snack, and then hit the town with the packable daypack, leaving my luggage at home without having to unpack every little piece.
Pros
One of the more comfortable rolling duffels to take off the ground
Beats the pants off most airline baggage requirements
Made with 68% recycled materials
Cons
Not worth the investment unless you buy all the add-ons that come with it
A bit more weight than you really need to lug around.
Crowdfunding style means the next batch doesn't ship until 2023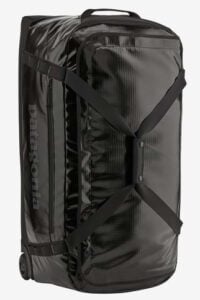 Specs
Capacity (L) – 70
Weight (oz) – 125
Dims (in.) – 27 x 14 x 12
The Back Hole Duffel is well known when it comes to the best travel duffel bags, but Patagonia has upped their game once again and created a wheeled version too.
You've got a great deal of control over the size of your Black Hole. Patagonia's flagship bag line comes with three different sizes of wheeled options: 40, 70, or 100. If you're comfortable sans wheels, you can find the Black Hole line in sizes as small as a 6 Liter hip pocket. The heavy-duty roller duffel edition comes with reinforced backing and a legitimate wheelset. The Black Hole is one of Patagonia's most iconic bags for a reason and the wheeled version just backs this up!
The Black Hole Wheeled Duffel also has external compression straps that help you cinch down your load, making it more secure and stable during transport. If this bag could shed a few pounds, it'd instantly become one of the best choices in the market.
All these extra layers of protection add on a few pounds – the 40 Liter wheeled duffel weighs four pounds more than its immobile counterparts. It might take two hands to load and unload the fully packed unit, but it's born to fly. It'll beat rain, wind, and queue times, swirling around the crowds like a worshipping Whirling Dervish.
The key is the 100% recycled polyester ripstop shell, but the bag takes all sorts of precautions. A robust wheel and trackpad system can do more than handle a few bumps and bruises, giving out a few licks of its own. The rugged bottom keeps the bag even-keeled across rough terrain, and broad-shouldered handles stay ready for takeoff.
Want a non-wheeled version? Check out our review of the Patagonia Black Hole Duffel instead.
Pros
The word burly is all over this pack
The wide clamshell opening converts into two massive mesh zippered pockets
It's frickin' Patagonia
Cons
Much heavier than usual black hole duffel bags
Only comes in one jet black color. If we all meet each other at baggage claim, we're going to be in trouble!
I could use another external pocket or two
The best present of all… is CONVENIENCE!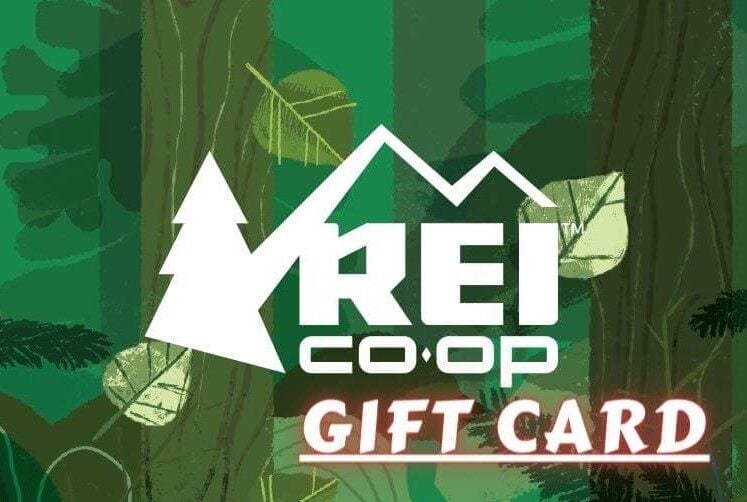 Now, you could spend a fat chunk of $$$ on the WRONG present for someone. Wrong size hiking boots, wrong fit backpack, wrong shape sleeping bag… As any adventurer will tell you, gear is a personal choice.
So give the adventurer in your life the gift of convenience: buy them an REI Co-op gift card! REI is The Broke Backpacker's retailer of choice for ALL things outdoors, and an REI gift card is the perfect present you can buy from them. And then you won't have to keep the receipt. 😉
Buy on REI!
Specs
Capacity (L) – 109 L
Weight (oz) – 5 pounds
Dims (in.) – 30 x 14.5 x 13 inches
Eagle Creek takes hard work to more places than ever. This wheeled duffel range covers trips from two days through two weeks with an understated look that zooms through layovers.
It's a workhorse pack that comes pre-loaded with all sorts of no-nonsense features. The bag has a two-way storage system that clips, zips, and rips through traffic. This system also manifests a shapeshifting backpack. You can tighten the belt and strip mine the bag, making it super sleek for such a large capacity.
The bag comes in a pretty big 109l size, which means it will come on even the most extreme of adventures you can throw at it. It comes also with super durable wheels and the bathtub-style waterproof construction means it will keep your gear dry even if it gets thrown in a puddle!
The Migrate Wheeled Duffel justifies its extra size with a hardcore suit-case style backing and a water-repellant shell that helps the bag play with the big boys. All that size also means plenty of space Inside, where the Migrate Wheeled Duffel gets all gussied up with gusseted side pockets and sneaky mesh stowaways.
Pros
While better known for workboots, Timberland has been consistently cranking out affordable bags that don't break down
The exterior shell uses about 50% recycled polyester
Two clip system makes a whole lot of sense
Cons
This bag is tipping the scales far toward the suitcase range
The robust edges make this bag especially difficult to sneak onto aeirplanes
Lack of high-quality exterior pockets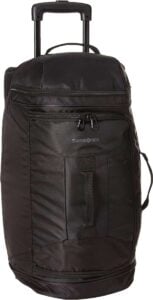 Specs
Capacity (L) – N/A
Weight (oz) – 80
Dims (in.) – 24 x 14 x 14
Samsonite makes some of the safest choices in luggage. To have them hone in on a wheeled duffel bag option is a huge testament to the popularity of this bag style. Samsonite elevated rolling duffels from a fringe gear hauler to a mainstream luggage piece.
Andante undergoes a drastic transformation along the climb from the bottom to the top. Unlike loose nylon duffels, where every end has the same level of attention, this bag sticks rock-solid reinforcements in all the right places. The bottom corners wield tough plastic to create a solid base, and the upper half of the bag goes loose and light to save weight.
This flexible top half brings several duffel features with it. There, you'll find three different handles that help you fling the bag around in whatever manner suits the scenario. Samsonite also snuck in a sizable external pocket that organizes storage.
Available in sizes from 22"-32", you can pack your bags your way. The smallest options still have enough space to bring a long weekend's worth of supplies or group up with a larger piece of luggage and take a few things onboard.
Pros
Durable bottom comes from an iconic name in hardshell cases
One of the more affordable bags on our list
Great example of a bag deftly walking the line between duffel and suitcase
Cons
The 32" bag fully packed might be a bit too much to carry
My Samsonite isn't much of a space saver
Not much transparency regarding how sustainably the materials are sourced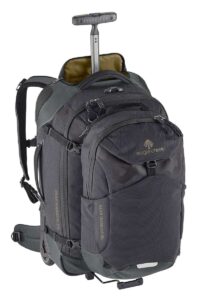 Specs
Capacity (L) – 38 (+18)
Weight (oz) – 93
Dims (in.) – 22 x 14 x 9
Until we get jetpacks figured out, the Gear Warrior might be the next best thing. Eagle Creek's hybrid backpack looks and fits like any old set of shoulder straps. Once it's time to roll, this convertible blows the roof off. The bag is equally ready to zip through aisles and airports and lock into place across your shoulders once you make it to the backcountry.
The most important aspect of a true warrior is readiness for any scenario. This sneaky unit is actually a set of two: one 37 liter rolling suitcase and an 18 Llter packable daypack. You can take advantage of the wheels when you need them and leave them and their four pounds of added weight in the closet when you don't.
Rolling Duffel's common flaws almost always have something to do with weight. With this pack, Eagle Creek has propped up a legitimate solution to the problem. It also means you can slip your warrior into the overhead compartment and deploy a special unit to provide the snacks on a long flight.
The protruding telescoping handle makes my bag feel like it has a pump, and in many ways, that's true. When I feel deflated, the warrior rolls off the security table as I let Jesus take the wheels. Want more, well if you're looking for an eco-friendly product, this recycled bag is a great way to travel with the environment in mind.
Pros
One of the lightest rolling duffels on our list
Comes with a detachable daypack that lets you walk around with only half your pack
Made from 100% recycled polyester
Cons
Still several pounds heavier than similar-sized backpacks
It's on the expensive side of things
37 Liters is slightly small for one-bag-travel, but also too large to work in a team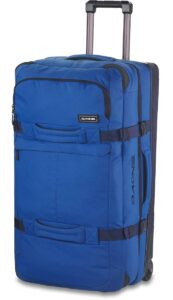 Specs
Capacity (L) – 110
Weight (oz) – 160
Dims (in.) – 32 x 17 x 13
At my house, this durable beast doubles as a cat tower. Small pets, humans, and socks can easily get lost inside this epic duffel roller that packs everything you'd need but the skies for a two-person trip out west. It's called a split roller because a huge clamshell zipper opens to reveal two equally vast spaces betwixt plenty of mesh.
All that storage is supported on the outside by a robust backside that includes reinforced edges, and the protective shell helps this bag stack and pack without disaster. You'll also find a few more clutch storage pockets that help share the load.

Inside is where the real fun begins. Everything has its place across the convenient dividers. There's a way to pack muddy shoes and dirty laundry without infecting your last clean T-shirts. It's like having a personal assistant living out of your bag!
Those organizational features work double duty amongst such vast amounts of open space. 110 Liters can get messy in a hurry, but Dakine brings enough to the table to keep everything exactly where it needs to be. No more digging around your suitcase in the darkness of a powdery morning.
Pros
There is almost always room for one more pair of socks
Split design works great for travelers who are sharing one suitcase
The two sets of handles on the bag's top make a huge impact on hold ability at full-size
Cons
Minimal chance of getting this into the main cabin
This bag is a gear-hauling specialist, it's a bit too much for a week-long trip to the beach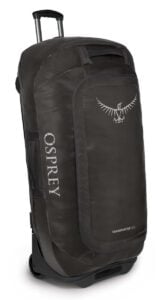 Specs
Capacity (L) – 120
Weight (oz) – 130
Dims (in.) – 38 x 22 x 15
Right now, this bag is getting unzipped somewhere Alpine, a 4X4 parked at an extreme angle on its left and untouched faces spanning the right. The Transporter is an incredibly high-tech offering from Osprey, and you can tell you're not dealing with an ordinary pack as soon as you lay it out.
The podlike shape looks like you could crawl inside the roller transporter, initiate a freezing protocol, and wake up in the year three thousand! Its cylindrical shape makes the duffel much longer than it is wide, helping you store more while fitting in smaller spaces.
Osprey's Transporter is practically a base camp in a bag. You can load it up with everything you need to survive in a high-alpine or low-temperature situation for a week or two – we just can't guarantee it won't weigh a ton fully loaded. You won't be on your own in the woods with this choice. Sleek handles and a tuck-away tow strap do their parts to help the bag roll around.
Pros
Wheels provide some clearance bouncing along cobblestone
Heavy-duty chassis protected for life
Extremely decent weight-to-storage capacity ration
Cons
A weak spot in the form of non-sealed zippers makes this bag one step below waterproof
Not a whole lot of organizational options for a 120-liter bag
There are compression straps, but there is no way this bag isn't going to take up a good chunk of space
Why Use a Wheeled Duffel?
We've all had days on the road where we wish we could set our bags down a spell. Wheeled Duffel bags are worth every penny on those days and all sorts of amphibious routes in between. Rather than debating whether to take a suitcase vs a backpack, why not get the best of both worlds!?
Traveling can be an absolute bear. Even the most ironclad plans can be surprised with a day bouncing across terminals, waiting in lines, and sneaking naps in the American Airlines kid's corner.
You'll have to either roll or drag your pack along every step of each and every horrible, no good, very bad day. Every step you can take without the full weight of your bag holding you back is a step in the right direction.
A hundred-liter duffel bag packed full of climbing gear will be too heavy to carry to base camp, let alone the mountaintop. Meanwhile, suitcases' rigid edges and lame zipper systems can survive the terminal but not the open road. Rolling Duffels added wheels onto lightweight nylon in hopes of bridging the gap.
What To Look For in A Rolling Duffel
The keys to a great wheeled suitcase are the four 'ility's':
Durability:
The bigger they are, the harder they fall. Just because you know how important it is to lug 100 lbs of your favorite diving equipment to Aruba doesn't mean the luggage handlers will understand. Big bags will get tossed around, so look for a higher Denier rating to better withstand the hits.
Versatility:
Without versatility, wheeled duffels are just suitcases. Look for extra carry handles, removable parts, or compression straps to help your rolling duffel fill more niches.
Capacity:
Wheeled duffels should always carry more than any other piece of luggage in your kit. In this category, 40 Liters is as tiny as it gets. The truth is, at that small size, the extra weight of the wheels might not be worth it. Roller duffels pay dividends once your storage capacity hits triple digits.
If you're looking for something more Ryanair-friendly, check out the best carry-on duffels instead.
Sustainability:
From now on, if we don't look for sustainability in every purchase, we're part of the problem. That goes double for gear that aims to help you see the world. Get yourself educated on sustainable travel terms and do your bit when buying gear.

Our GREATEST Travel Secrets…
Pop your email here & get the original Broke Backpacker Bible for FREE.
Final Thoughts on Wheeled Duffels
Wheeled duffels sit across the spectrum, slowly transitioning from lightweight duffels with heelies to suitcases with a few extra straps.
Between those two extremes, you can find weather-resistant gear haulers that roll through the airport and swing over the starboard bow, stuffed full of equipment and waterproof to boot. They are the best-case scenario for bringing a bounty of outdoor toys, no matter the itinerary.
Unfortunately, Adding a drivetrain to a duffel bag without putting on several pounds is impossible. If you expect your duffel will spend more time in your hands than with two feet on the ground, you should look elsewhere or consider hiring help. It might be best to even consider a hybrid duffel-backpacking instead.
Wheeled Duffel's use cases involve heavy objects and smooth roads. While there are several cases where a wheeled duffel might be overkill or overweight, These unique products will be game changers on the right trip. A good duffel bag helps you play Tetris while everyone else plays Checkers.
No matter where you're going, one thing is for sure – things won't always roll smoothly. While jetting off to Budapest for a romantic getaway will work best with a different bag than a six-month tour through the beanbags of Southeast Asia, every bag needs to prepare you for things to go differently than how you planned.
---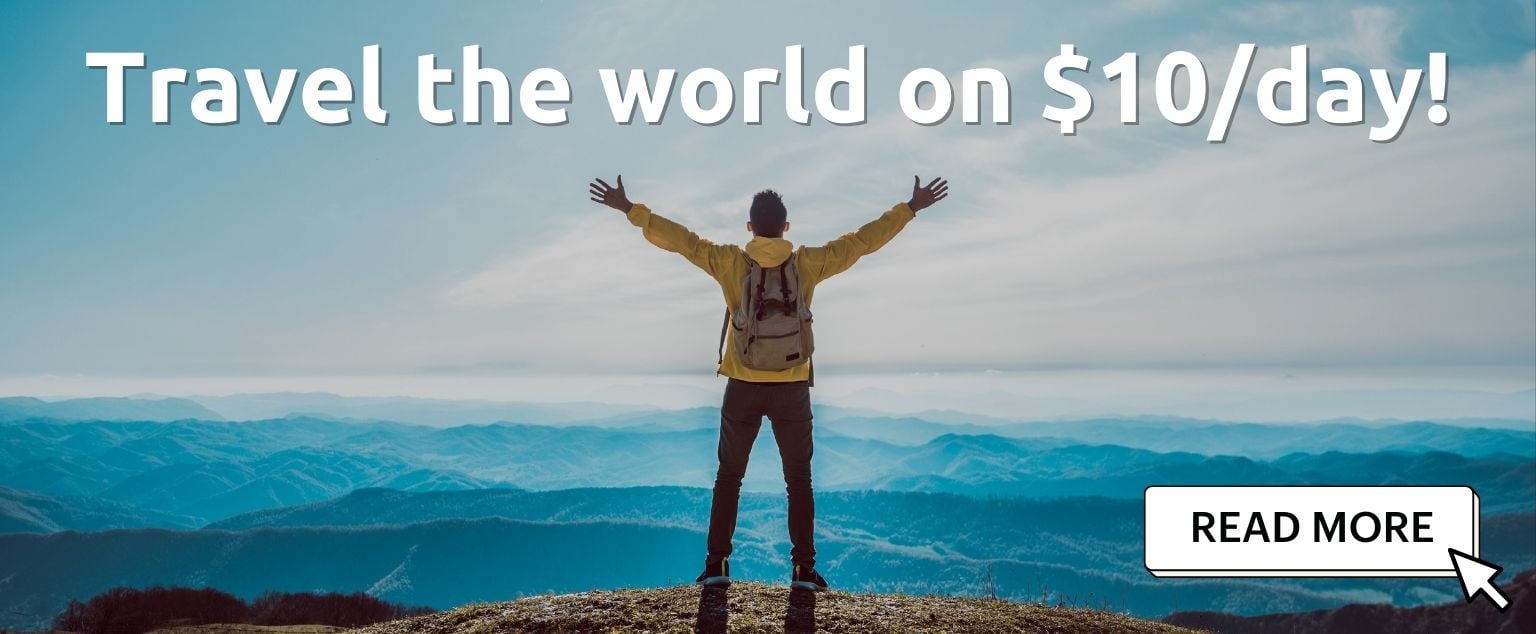 And for transparency's sake, please know that some of the links in our content are affiliate links. That means that if you book your accommodation, buy your gear, or sort your insurance through our link, we earn a small commission (at no extra cost to you). That said, we only link to the gear we trust and never recommend services we don't believe are up to scratch. Again, thank you!