It's time for us Broke Backpackers to step things up a notch. If we want the next generation to wander aimlessly and feel the freedom that shaped our worldviews, we must take the pledge and reduce our carbon footprint.
Not many Broke Backpackers generate piles of waste or chop trees down for shits and giggles, but not contributing negatively towards global warming isn't good enough anymore. If we're not actively searching for ways to cut back, we're part of the problem.
That goes doubles for the companies we trust to get us out there. Because everyone could live a carbon-neutral lifestyle, but things would still worsen if corporations didn't follow suit.
We've tried and failed to guilt-trip major players into stepping up their sustainability efforts, but we have one extraordinary power in our back pocket; our wallets. Besides the ballot box, the things we buy are our most significant way to send a message and make a difference.
Plastic pollution has spread from sea to shining sea, leaving remote villages and Los Angeles County beaches alike awash with garbage. There are millions of pounds of crap in the ocean right now. Let's do something about it!
Short of heading to your closest sandy shores with a garbage bag and a free afternoon, buying a genuinely recycled backpack is the next best thing you can do before you go to bed tonight to tell the world how you feel about plastic pollution. So, next time you buy a new backpack … think about its impact first.
Now, before we get too high and mighty here, let's get this out of the way. No, none of these companies are perfect. Ultimately, they're all looking for profits, and nobody has found a way to make a living without harming the earth. That's capitalism.
And no, none of us are perfect, either. We travelers love to consider ourselves an eco-conscious bunch, but we're all still a part of the problem. Every one of us will forget our toothbrush at some point, and when the choice is between dirty teeth or plastic parts, our teeth will win every time.
Still, we can do plenty of things to consider our impact on the planet actively. The backpacks on our list represent one of the easiest ways to do just that without sacrificing quality compared to any other single-use bag.
They're the best-recycled backpacks on the market, and at the very least, they're doing something. Whether it's manufacturing high-tech duffel/backpack combinations from 50 recycled bottles, paying Indonesian fishers to pick up plastic, or rocking iron-clad lifetime guarantee's that prevent further waste, these bags are trying.

Do You Want to Travel FOREVER??
Pop your email in below to get a FREE copy of 'How to Travel the World on $10 a Day!'.
We Compared The Best Recycled Backpacks On The Market
Each of these backpacks at least partially puts recycled materials to good use. Some of the bags are made up of 100% recycled content, while others sneak in a few less sustainable parts to lock down tight. Beyond that, the differences get major.
The differences in these bags help establish them in a unique niche. From minimalist packs you could squeeze inside of more oversized luggage to 70 Liter behemoths ready for a month-long through hikes, one of these bags is bound to help your next trip while reducing your carbon footprint.
SPECS
Price ($): 159
Volume (L): 31
Recycled Content (%): 76
The best-recycled backpack on the market does way more than reuse plastic bottles. Got Bag has taken their environmental pledges further than most companies, even those who promise 1% for the planet. Got Bag also invests their profits into sustainable projects that help the tropics.
As their best-selling model, the Roll Top is personally responsible for millions of pounds of trash removal services. Each purchase supports Got Bag's clean-up program, but several Roll Tops also work with nonprofit programs to send your money in the right direction.
And, best of all, each purchase nets you a killer backpack. Even without the staggering list of environmental efforts this bag makes, the modern Roll Top model would be an excellent choice. The bag uses recycled materials to create a solid outer layer that's waterproof enough for a day in the back of the boat or a rainy afternoon exploring a new city.
Inside the variable storing rolltop is a removable 15" laptop sleeve that protects your electronics. It's little tech specs like that one that makes this bag stand out among the rest. Its journey from tropical waters into boardrooms around the globe is nothing but miraculous and we're all about it!
One of the cool kids? Check out our rundown of the best hipster bags for travel.
SPECS
Price ($): 175
Volume (L): 40
Recycled Content (%): N/A, made from 50 recycled bottles
Monarc produces a Certified Plastic Negative hybrid bag that puts 50 recycled bottles to work, creating a technically advanced gear hauler. The Settra has shoulder straps and duffel-style handles to help you carry your gear your way. It even sports a luggage pass-through if you're shopping for a duffel that works well with others. If you're looking for a top duffel backpack hybrid, you really can't go wrong here.
On its own, the pack brings enough to the table to get you through week-long missions. Its 40 liters of storage are spread further than most black hole-style duffel bags, especially around the outside. There's an exterior zipped pocket that has plenty of room for your passports and entertainment, while a sneaky full-zip water bottle holder brings even more value.
The Duffel pack has a few more tricks up its sleeves. In addition to multiple carrying styles, four add-on accessories turn the Settra into the complete package. The ultimate upgrade is the Travel Set, which ships with packing cubes, shoe bags, and a laundry kit to compartmentalise your storage.
Photography buffs won't sweat a gate-check if they accessorise with The Camera Cube, an excellent protective and customizable space that helps you bring a few extra lenses and batteries. Monarc also accessories the little things with a Tech Pack and RFID Wallet that help your expensive equipment and valuables stick by your side.
Looking for a duffel but want more options? Have a look at our guide to the best travel duffels on the market.
SPECS
Price ($): 273
Volume (L): 55
Recycled Content (%): 40
It's tough to find a backpack that strikes up a balance quite like The MainPack. Salkan took a variable wrench to a traditional hiking backpack and made a few tweaks here and there that help this waterproof backpack navigate as comfortably on paved roads as it does in the backwoods.
It started by turning recycled yarn into large, U-shaped openings, hip and shoulder straps, and a completely weatherproof exterior, all essential aspects of a hiking bag. Then, Salkan switched things up, making the rain cover feel more intuitive and adding a sneaky carry handle that helps you breeze through customs.
The kit includes a flight/rain cover, which is great at keeping away bumps, dust, and bruises while ensuring nothing spills out at baggage claim. You'll hardly need the rain cover, as the wax coat will do well enough to keep most rain at bay. But it's great for peace of mind.
This bag holds whether you're starting to crank up the altitude or tossing your worldly possessions on the back of a speeding tuk-tuk. You can really tell it holds because of Salkan's lifetime guarantee. Even if things fall apart, the company offers repairs or replacements. How's that for confidence!?
This pack is also sold as a double act along with an attachable daypack – check out our Salkan Backpacker review for all the deets.
Looking for a pack for the trails? Check out this list of the top hiking backpacks in 2023.
SPECS
Price ($): 240
Volume (L): 28-70
Recycled Content (%): 100
The pack can handle rough terrain and rough travel days alike, and it alls all on the back of environmentally sound materials. The Archeon is made from 100% recycled nylon canvas and boasts a PFC-free DWR coating. Plus, It's made by Osprey, who has made a killing while caring for the earth.
The 30-70 liter size options gives the vegan backpack a great range. You can check out the city, spend a day in the woods, or hike the PCT, all without undue environmental impact.
Another reason this epic travel bag can fit in many different circles is its harness system. The Archeon is by far the best backpack on our list for logging serious mileage, thanks to an incredible back support and adjustability combo. You can switch up every aspect of your straps to shift the weight as things get sweaty.
The Archeon's carrying comfort isn't just useful in the woods. This bag's monotone exterior fits tightly to the wearer to round city streets and comes with a removable rain cover that's also baggage handler proof.
Big fan of Osprey but not sure this is the one. Have a look at our guide to the best Osprey backpacks for some more ideas.
The best present of all… is CONVENIENCE!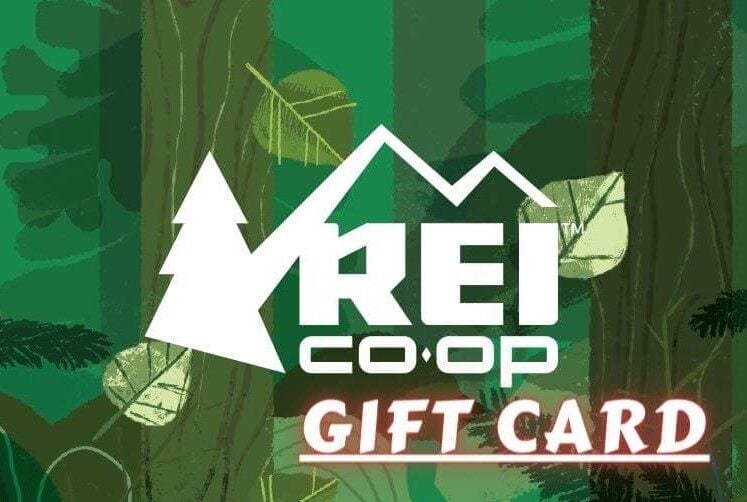 Now, you could spend a fat chunk of $$$ on the WRONG present for someone. Wrong size hiking boots, wrong fit backpack, wrong shape sleeping bag… As any adventurer will tell you, gear is a personal choice.
So give the adventurer in your life the gift of convenience: buy them an REI Co-op gift card! REI is The Broke Backpacker's retailer of choice for ALL things outdoors, and an REI gift card is the perfect present you can buy from them. And then you won't have to keep the receipt. 😉
Buy on REI!
SPECS
Price ($): 89
Volume (L): 11
Recycled Content (%): 80
The Got Bag Daypack will nab any true backpacker's attention. The Bag has turned recycled ocean plastics into backpacks and beer money, paying Indonesian fishers to set a trap for beach trash.
The fruit of their tropical labor is a line of crisp, modern bags with materials that give back and work hard. If plastic bottles can stay in the ocean for hundreds of years, we can't wait to see how long they'll last covering our six. Inside that shell, protected by a full zipper, is a roomy main compartment with a sneaky extra pocket.
The Daypack model is one of Got Bag's slimmer options, but the company still found space for a 13" laptop compartment plus a zippered opening against the lid. Unfortunately, they took things down a notch too small on the exterior. You won't even find a water bottle pocket on this sleek bag.
As long as you stay close to the nearest water fountain, this adjustment on the outside helps the backpack fly free through the strictest airline requirements. The Daypack will fit underneath the seats even on Ryan Air and help you sneak plenty of Ambien on board.
Looking specifically for a daypack, but the Got Bag not for you? Have a look at this compilation of the best everyday carry bags for a few more ideas.
SPECS
Price ($): 290
Volume (L): 20-42
Recycled Content (%): 64
TheTropicFeel Shell is here to reinvent the backpack without harming the earth. It's the closest thing the industry has come to a portable closet, all powered by recycled P.E.T.
Protecting you from the surface is recycled polyester, which does a great job of staying light and holding tight. It's also incredibly weather resistant. The turtle shell top will push you through surprise showers in plenty of time to check out May flowers. Quality zippers, buckles, and shoulder straps work with ocean plastic to create a water-resistant shell.
And It's not just the plastic that's tough on this bag, either. Inside is where this bag blows the competition out of the water. The exterior hides away a wardrobe system, packing cubes, laundry hampers, shoe compartments, and a few add-on accessory options that help you bring even more with less baggage. It's one of the reasons we think TropicFeel are great.
Add on a kangaroo pouch, camera holder, and a toiletry system, and this backpack is ready to turn any hostel room into the realm of a two-bedroom flat in midtown.
Like this bag but not quite convinced about the set-up? Have a look at our comprehensive guide to the TropicFeel Nest backpack instead.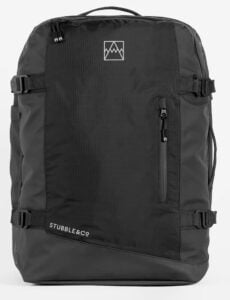 SPECS
Price ($): 242
Volume (L): 42
Recycled Content (%): 100
Stubble & Co. present The Adventure Bag, designed to turn trash into a ticket to ride. This recycled backpack splits into two halves in a suitcase-style opening. It can look a bit awkward on a pack, but we promise you'll never turn back once you nail down the logistics of the clamshell style.
One flipped zipper opens up the main compartment, and Stubble & Co finishes off the job by separating your storage into four mesh zips. With some foresight, you might be able to fully pack this thing to 42 L's while keeping easy access to towels and clean underwear.
Of course, The Adventure Bag is much more than a few extra zippers. You'll find hidden valuable pockets and bulky laptop compartments exactly where you'd expect them, plus a few other tricks up its straps.
Sweetening the deal is the rain cover, which elevates the already water-resistant fabric to the next level. It will keep valuable gear full-dry durante el deluge, while the adjustable straps and comfy back panel stay fresh on longer walks through the rain. Those extra lines of defense qualify this pack for a much wider range of activities than other Stubble & Co Options.
Still making your mind up about this bag and want some more info? Check out our full review of the Stubble & Co. adventure bag.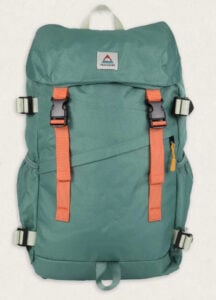 SPECS
Price ($): 69
Volume (L): 26
Recycled Content (%): 100
We round out our list with a soon-to-be iconic daypack. Twenty-six is a great age to travel the world, and it's also an excellent liter benchmark for day-to-day use. The back half of the twenties brings just enough room to pack extra (experience) without enough empty space (regrets) to fill up and weigh you down.
Passenger says Boondocking, the lost art of free camping, inspires this pack. The reason Boondocking is becoming more difficult as more and more campers hit the woods, more and more are leaving trash behind. This pack is ready to do something about it.
Turning waste into camping supplies, the bag has a dedicated hatchet holder and a world of possibility inside the two-buckled top loader. A comfortably padded laptop sleeve can store a 15-inch computer to help this bag hitchhike out of the woods and confidently settle in at the office.
While the bag lacks some of the tougher aspects I'd look for in a serious hiker, like comfortable hip straps and invincible rain protection, it brings its own strengths to the table. As long as you maintain this backpack properly, it will last as long as any other on this list.
Passenger turned it's recycled plastic into several introspective color ranges ready to ride through the city's backsides.

Our GREATEST Travel Secrets…
Pop your email here & get the original Broke Backpacker Bible for FREE.
Final Thoughts
It's never been easier to step up to the plate and do your part when it comes to saving this planet. The high quality and technically advanced backpacks on this list prove that caring about the environment is cool, and you can source your life sustainably without sacrificing performance or looks.
That's the key ingredient to the sustainable backpacks we've looked at. They're both environmentally sound and technical marvels, powered by plastic bottles and pushing the industry forward.
This list has packs great for location-independent professionals who need their office to fit in a bag and a few great options for ski bums and rubber tramps who want a backpack ready for the back road.
A final perk of going recycled for your next backpack is the style. Recycling technology has come a long way in a short time. You can have an environmentally friendly option made out of more than just hemp.
The recycled plastics come together on these backpacks to create a unique finish. Even the jet-black options have a special coating that doesn't look like any other bag on the market. Each pack will have a unique feel that you can trace back to its recycled origins.
To sum it all up, these bags do good, store good, and look good. You are now free to move about the country without harming the Earth that we're so keen on exploring. What could be better than that!?
---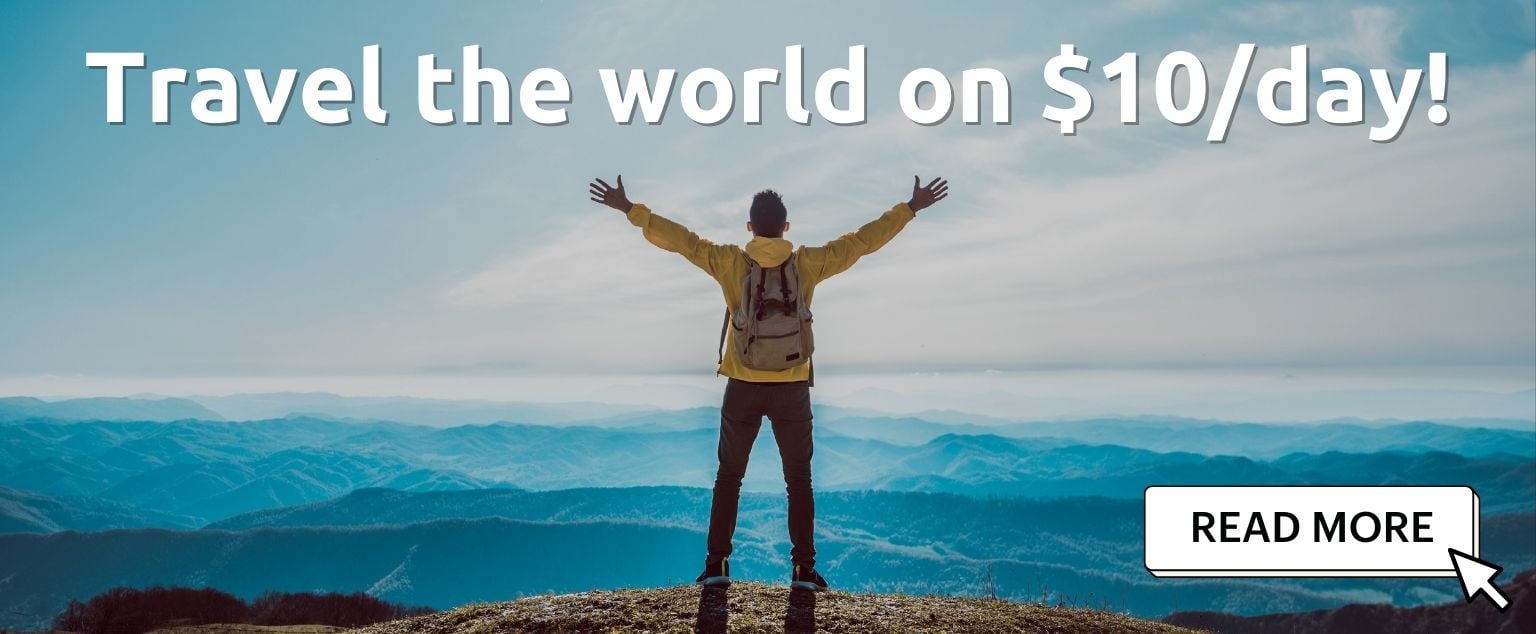 And for transparency's sake, please know that some of the links in our content are affiliate links. That means that if you book your accommodation, buy your gear, or sort your insurance through our link, we earn a small commission (at no extra cost to you). That said, we only link to the gear we trust and never recommend services we don't believe are up to scratch. Again, thank you!