It really does seem that we are living in the age of carry-on-luggage-only travel and last year, countless millions of us elected to take flights without checking in any baggage.
There are many reasons for this. The primary one is simply that many budget airlines charge handsome fees to check bags which can often cost as much as the actual flight itself. This naturally causes bargain hunger travelers to forego the luxury of overpacking and cram everything they can into a 22" x 14" cube? *(Seriously, I recently flew from Leeds, UK to Malaga in Spain. My flight was £19.99 but my checked backpack cost me an extra £20).
Another option is that short breaks are more popular than ever. Once upon a time you had your bachelor (or bachelorette) party in a downtown bar whereas now you and the wedding gang head to Dublin or Vegas for a weekend of debauchery (or Malaga as I recently found out. My £19.99 flight turned out to be one of the most unpleasant trips I've ever had on account of 4 rowdy bachelor & bachelorette parties). Therefore a few days worth of clothes is all you really need to bring.
And then, of course, there are the light packers. Those unique, perverse creatures who seem able to live for months at a time with only 2 t-shirts and simply don't ever see any need to check in a bag.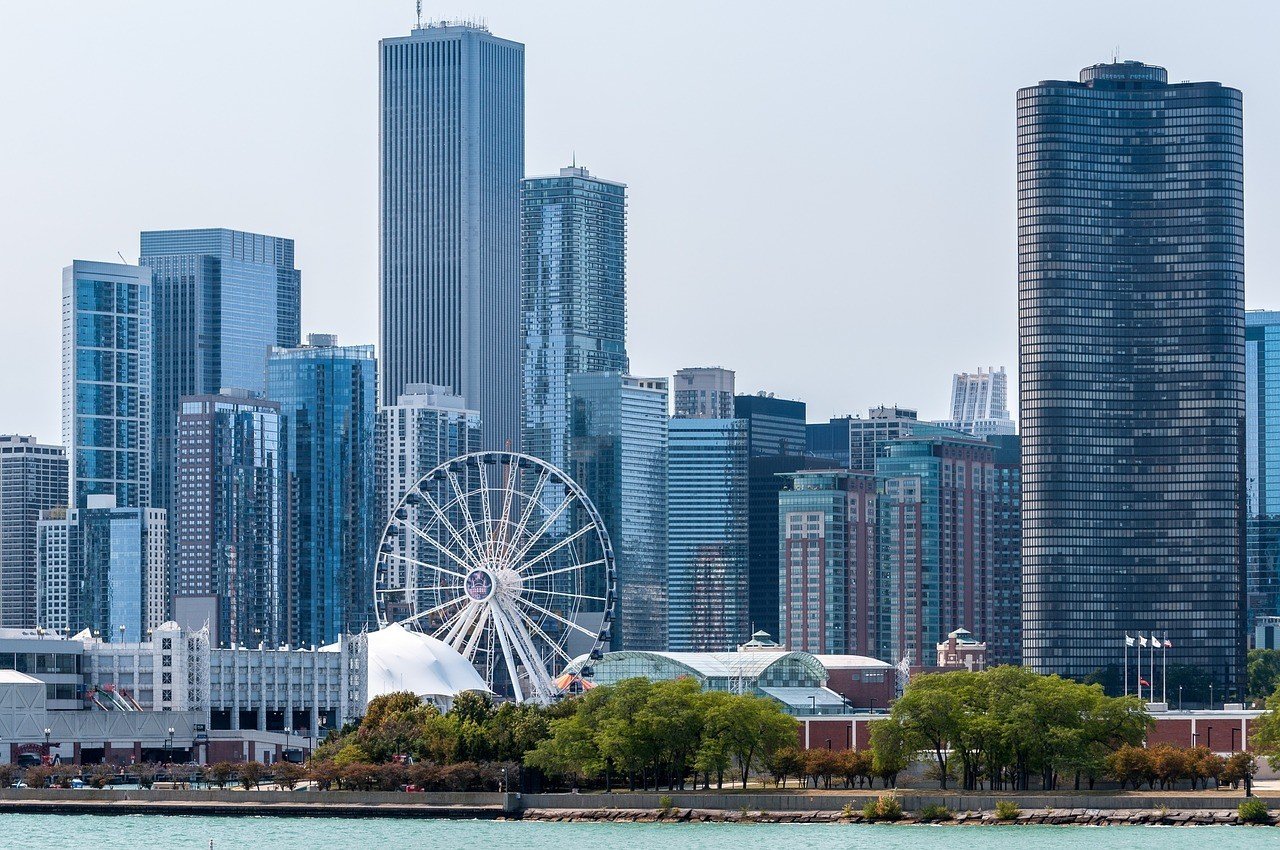 You'll Need a Bag For That
Despite the fact that I take on average, about 1 carry-on-only flight per month (the expensive joys of long-distance relationships), for the longest time I didn't actually really have any kind of "proper" carry on bag. Instead I just either packed my gym-bag to breaking point or else awkwardly dragged along my old army backpack which just about fits in the overhead compartment but not without a lot of tutting from my fellow passengers and the air-hostess'.
So earlier this summer I decided it was finally time to open my wallet (after forcing the padlock of course) and invest in a proper carry-on-bag for myself. But it turns out that choosing the right one for my needs did not prove to be quite so simple…
Why was this? The problem of choice of course!
There are absolutely loads of carry-on bags out there all vying for your attention screaming "Buy me Buy me!". Yep, the market is pretty damned saturated and it can be pretty tough to even know where to start.
So, in order to save you guys the headache in choosing, we have written this helpful article for you.
Duffel Vs Carry On
When choosing my carry-on bag, the first issue I had to settle was;
Carry on suitcase or Duffel bag?
The 2 most sensible and popular choices for carry-on-luggage are, the purposefully built little carry on suitcases, and the trusty, jack of all trades that is the classic duffel bag.
Carry on suitcases are far more popular and have kind of become the standard. Therefore they may seem like the obvious choice. However, they do have some shortcomings so are not necessarily right for everyone or for every trip.
Let's take a look at the pros and cons of each option;
Duffel bags
We have reviewed LOADS of Duffel Bags over the last few years. Why not check out our epic Leather Duffel Round Up for some more inspiration or our rundown of the best travel duffel bags on the market to get an idea of what's out there.
Pro's
Lighter – I probably don't need to point out that duffel bags are a lot lighter than carry-on cases. Whilst base weights vary depending on the material, any given duffel is going to be 10 times lighter than a carry-on-case.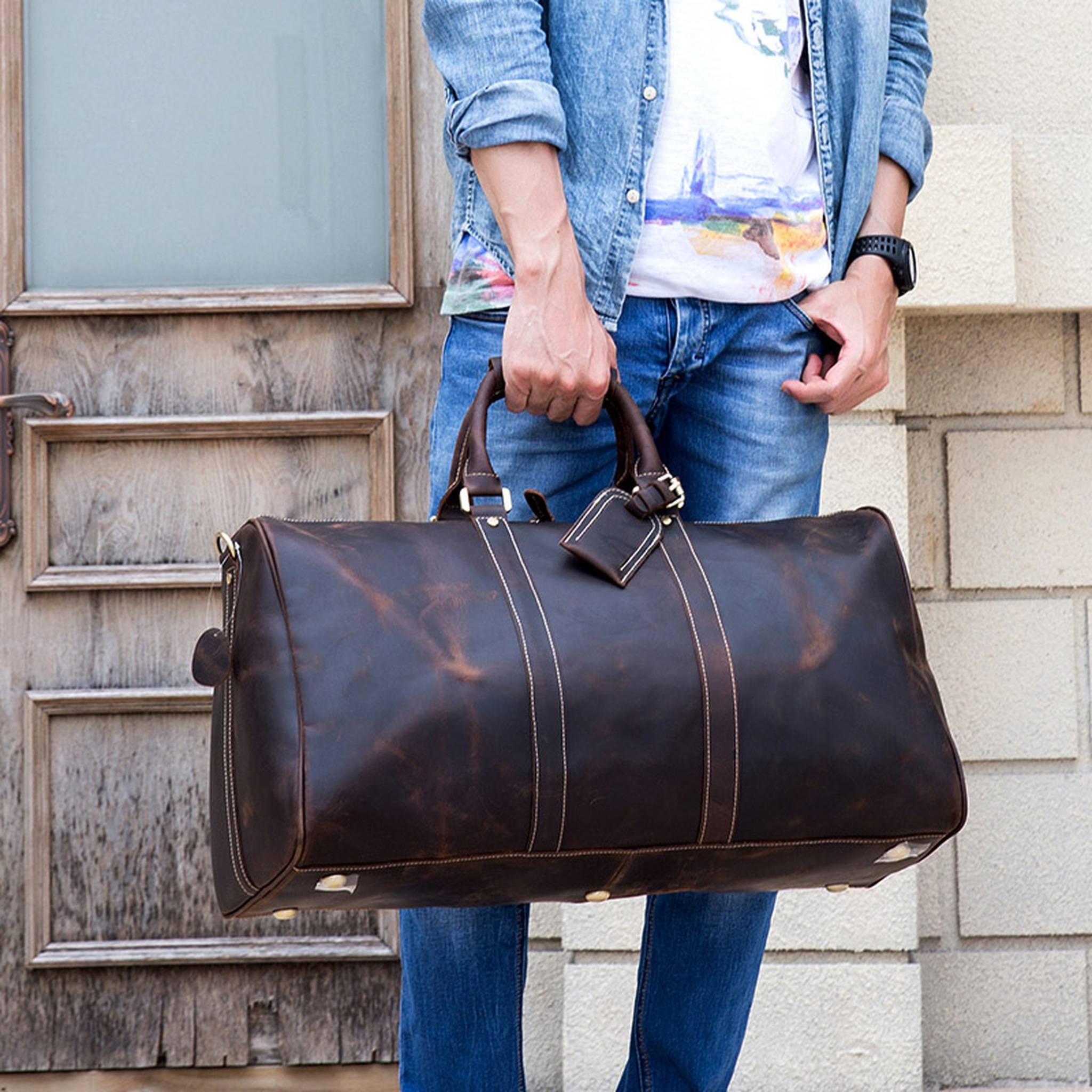 Made To Carry – A duffel is ergonomically built to be carried and has a variety of handles and carrying options. You can either simply grab it in your hand and carry it or you can put it over your shoulder, or across your body to spread the weight.
Ease Of Access – Because of the sheer simplicity of the design, duffels are a lot easier to access and open. You simply zip it open, reach in and grab what you need. With a carry-on case, it is not so easy.
Street Cred- Ok so this one is maybe a bit subjective but in my opinion, it's hard to look cool whilst trailing a case on wheels behind you. On the other hand though, with a duffel bag, you look like Jack Kerouac hitching to California. On a more serious note though, with a duffel bag, you have a better chance of blending in in a strange city and won't look like such an obvious tourist.
Cons
Not Sturdy – The softer material of the duffel does it make it lighter but may also make it a bit weaker. If your duffel bag ends up being tossed about for any reason or falls from the overhead compartment, then there is a chance the contents may sustain some damage. Obviously, your clothes will survive a bit of roughing up but your laptop may not.
No Wheels – Duffel bags generally don't come with wheels. That means you have to carry it at all times yourself. After a long day in transit, your arms and shoulders may, therefore, start to ache.
May Not Fit Overhead – Another issue is that there is no standard size (though 18" is a good rule of thumb) on duffel bags so they may not fit neatly into the overhead compartment. Worse still, you may even be forced to check it in and pay a fee for the privilege. If you are forced to check it, the charge will usually be considerably more than the standard check-in charge.
Still, you can pick out nice carry on sized weekender duffels.
Ladies & Gents, It's Time to Step Your GEAR Game Up. 😉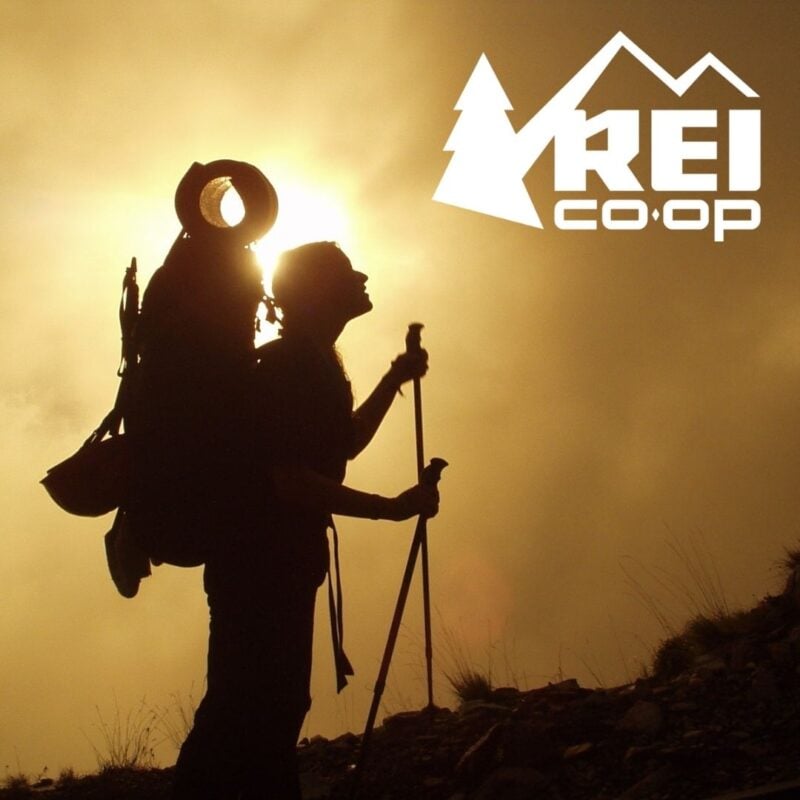 REI is one of America's biggest and most-loved outdoor gear retailers.
Now, for just $30, get a lifetime membership that entitles you to 10% OFF on most items, access to their trade-in scheme and discount rentals.
Join REI Today!
Carry-On-Case
Over the years I have tried countless Carry-on cases. Check out the best carry-on luggage in the world today.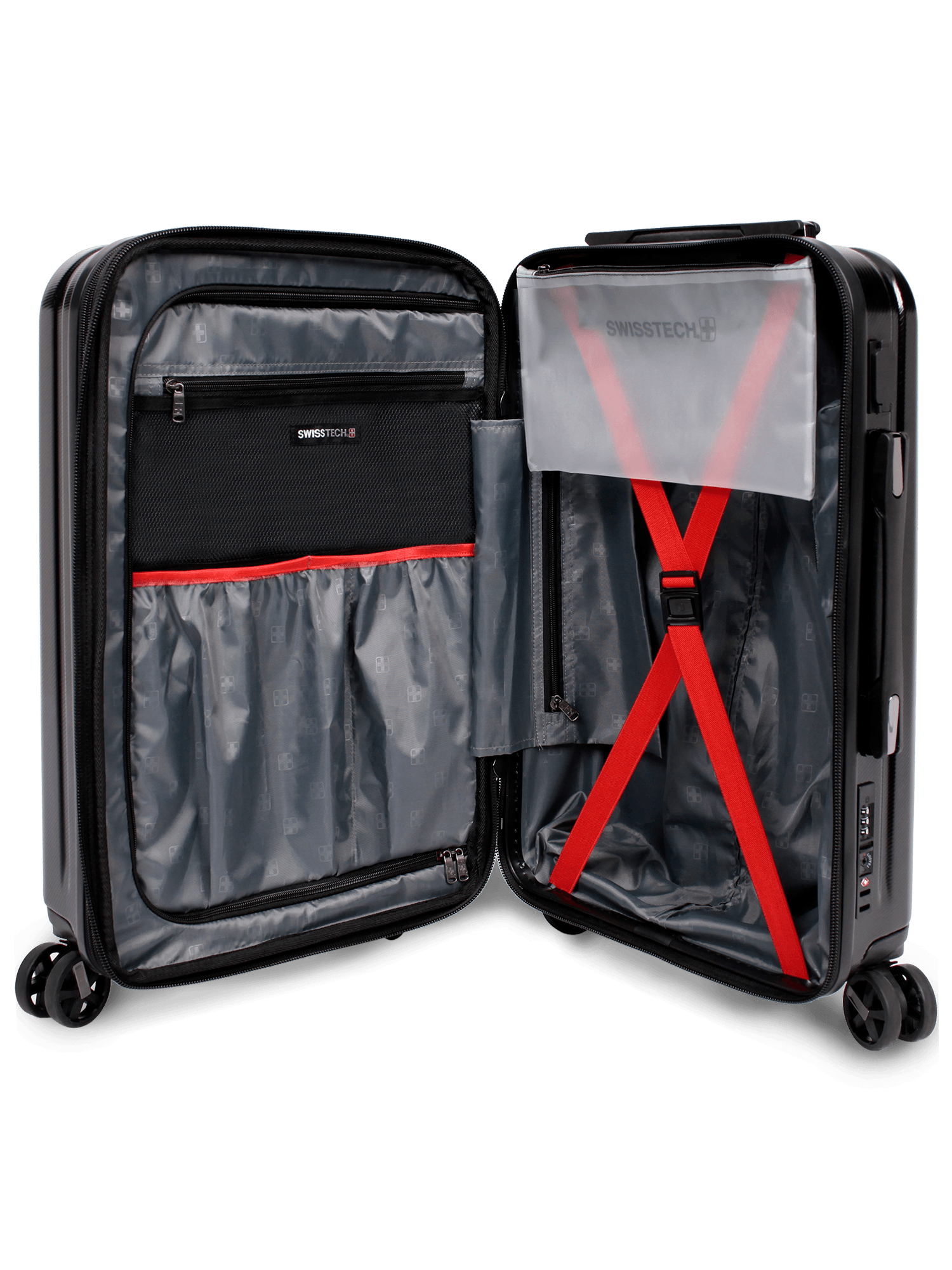 Pro's
Made To Fit – Any carry-on case worth its existence is built precisely in line with the carry-on allowances of major airlines. That means that they are custom made to fit in the overhead compartments perfectly. Therefore, you don't need to worry about annoying RyanAir or Delta staff telling you your bag is too big to carry on. You also know that you are getting the absolute maximum space you are allowed.
Has wheels – Don't want to struggle while carrying your bag?? Then simply wheel it behind you! This makes it a lot easier to take over long distances.
Has a lock – Some carry-on-cases now come with a built-in combination lock so you can keep your stuff nice and safe, most of them are TSA approved. Just make sure you don't forget your combination!
Sturdy – The materials used are usually fairly solid meaning the average carry-on case can take a bit of a battering and your stuff will stay nice and safe inside.
Cons
Heavier – Of course, the sturdier frame, heavier mater, al and wheels all add up to extra weight. Carry-on cases can be pretty heavy before you've even packed anything in them. Whilst there is rarely a weight allowance for carry-on, it can be a pain having to carry such a heavy item. You can generally wheel it for the majority of your trip, you will still need to carry and lift it into the overhead bin and other instances
Damned Wheels! – Carry-on cases users generally love the wheels; however, there are some massive drawbacks with them. (1) They limit how fast you can walk. (2) Not all surfaces are good for wheeling. I mean, try wheeling one of these things through the broken pavements of Delhi or across the old cobbled streets of Andalucia. (3) The wheels break all too frequently and usually at the worst possible time.
Awkward To Carry – Whilst you can, and will have to carry these things over short distances, they are not made to be carried and are heavy and uncomfortable. As above, this can be a royal pain when you are unexpectedly forced to carry it, such as when the wheels break or when the ground is just not suitable for wheeling.
You Look Like A Tourist – If you arrive in a strange city trailing a suitcase on wheels behind you, you look like a tourist. Unfortunately, this can sometimes make you a bit of a target for thieves, scammers and ne'er do wells. And it's not just the lawless ghetto's of Latin America I'm talking about here, even London, Rome & New York are home to networks of criminals who make their living from tourists. (Check out this post about staying safe around the globe).
Also, consider whether your suitcase is compliant for all airlines, you might just fall foul of stingy Ryanair's carry-on bag policy if you're not careful.
Now we've ran through the pro's and con's of each, the question is what who should get a duffel and who should get a carry-on.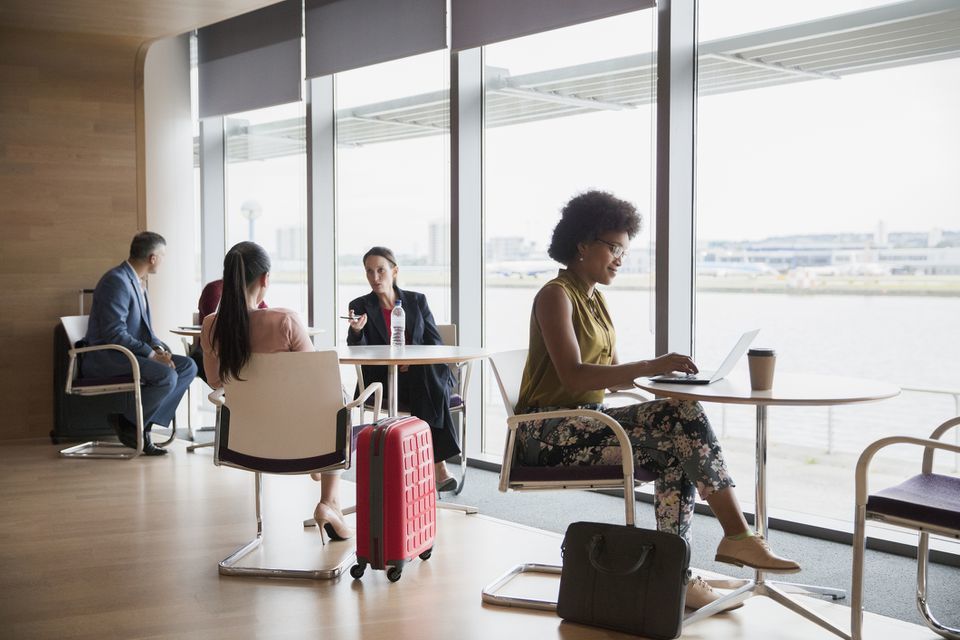 Who Should Take a Duffel?
Casual packers – A duffel bag is ideal for travelers who just grab their essentials and go. The trusty old duffel allows easy access to all your gear. Its single compartment space makes it in the no-frills option for easy-going packers.
What Trips is a Duffel good for?
Road trips
Overnight trips
Rugged terrain
The duffel bag is a hell of a lot more versatile style than the wheeled carry-on. You can toss it in the back of your car or onto a bus and hit the road one day and the next, you can take it on a flight with you (presuming you took the standard 18" size).
Who Should Take a Carry-on case?
Neat packers or over-packers – Carry-on cases are great for those who want to organize their packing and properly segmentize everything. Unlike the duffel bags happy-go-lucky, free-form spacing, this option is all about order, order and more order.
The carry-on has different sections inside it as well as packing straps to keep clothing in place, and multiple pockets for smaller items.
This option is also great for those travelers who like to overpack or use their full allowance. Basically, the more stuff you pack, the more you have to carry. So if you are going to pack heavy then make sure your case has wheels unless you fancy a good, long, arm work out.
What trip is a Carry-on-case good for?
Urban cities
Business trips
Planned itinerary trips
These cases are great for urban areas where you can use the wheels on well-maintained pavements.
Furthermore, if your trip is on the formal side (such as a business trip or a wedding) or if your trip itinerary includes a variety of events, the interior packing in a wheeled carry-on will keep your clothes nice and neat.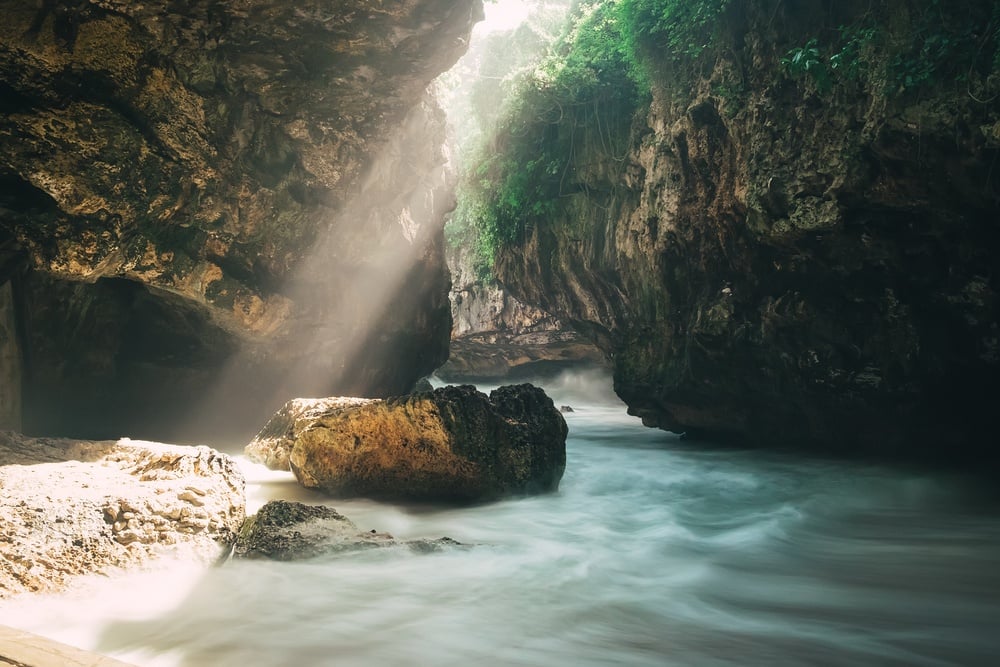 Meet The Bags!
I am going to presume that by this point, you have decided which option is best for you on for your next trip. So, the next order of business is to help you choose an actual bag to buy.
There are literally thousands out there but we have whittled it down to a few prime choices – one for each option to be exact.
The Best Duffel Option For You
Our duffel recommendation is the SwissTech Excursion 28" Duffel. It is made from a thick, strong fabric and built to last. SwissTech also offer a 15-year guarantee so if anything goes wrong with the bag, they will replace it. That's very rare in the market these days and shows how much belief SwissTech have in their own brand.
SwissTech Excursion 24" Duffel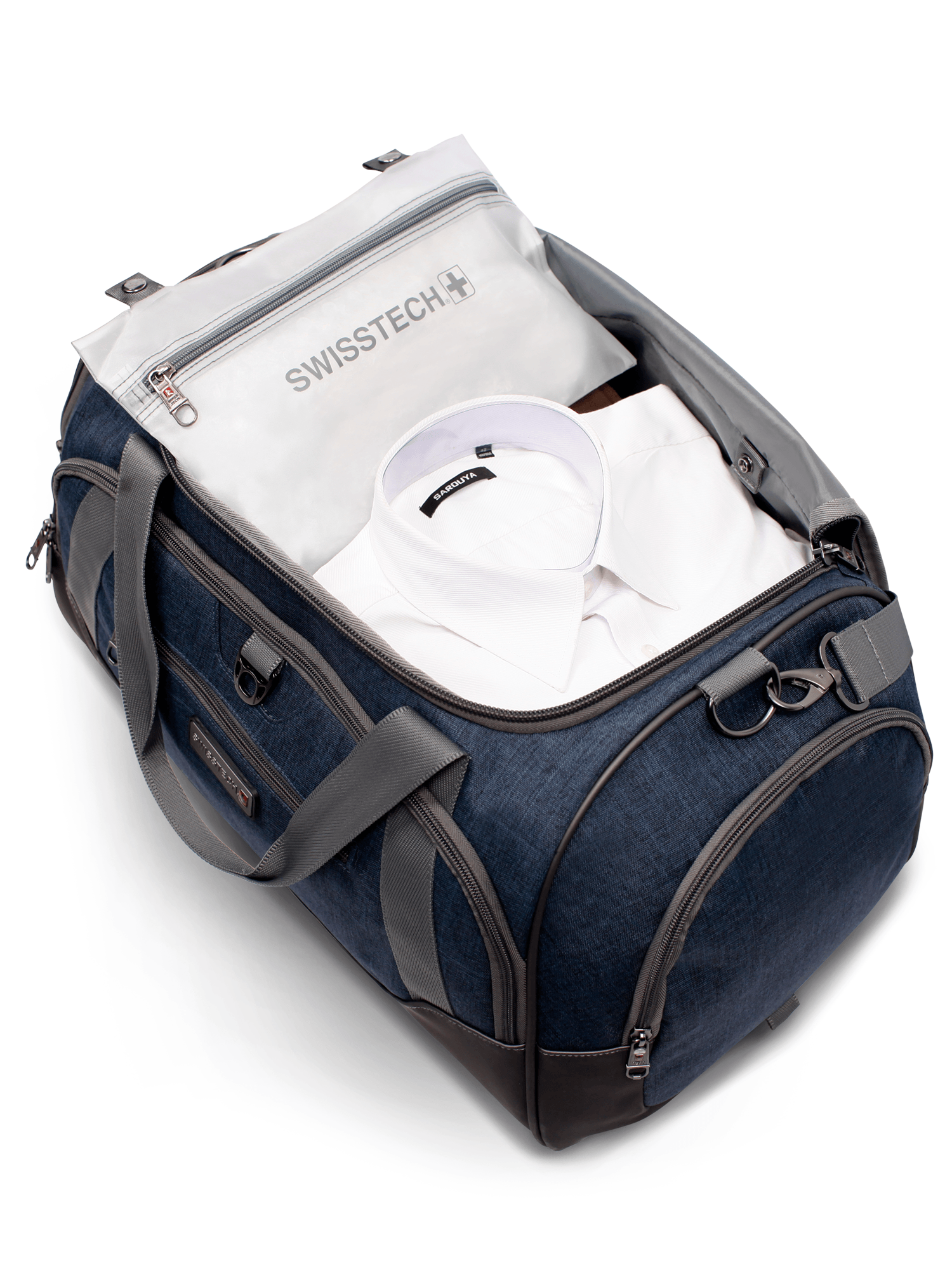 Product Spec
Removable and adjustable padded shoulder strap
Heavy-duty main compartment zippers
Water-resistant bottom
Extra-wide twill carry handles
Multifunctional deep side pocket
Interior
Removable wet pouch
Zippered accessory compartment
Dimensions
13.5" H x 24" W x 15" D (34.29cm x 71.12cm x 38.10 cm)
The Best Carry On Option For You
Our pick of wheeled carry-on cases is the Swiss Tech Navigation 21" Upright. It's quality build and array of features make it a true standout product in a competitive market. It also comes with a 15-year limited guarantee so you can see how much faith SwissTech place in their gear.
SwissTech Navigation 21" Upright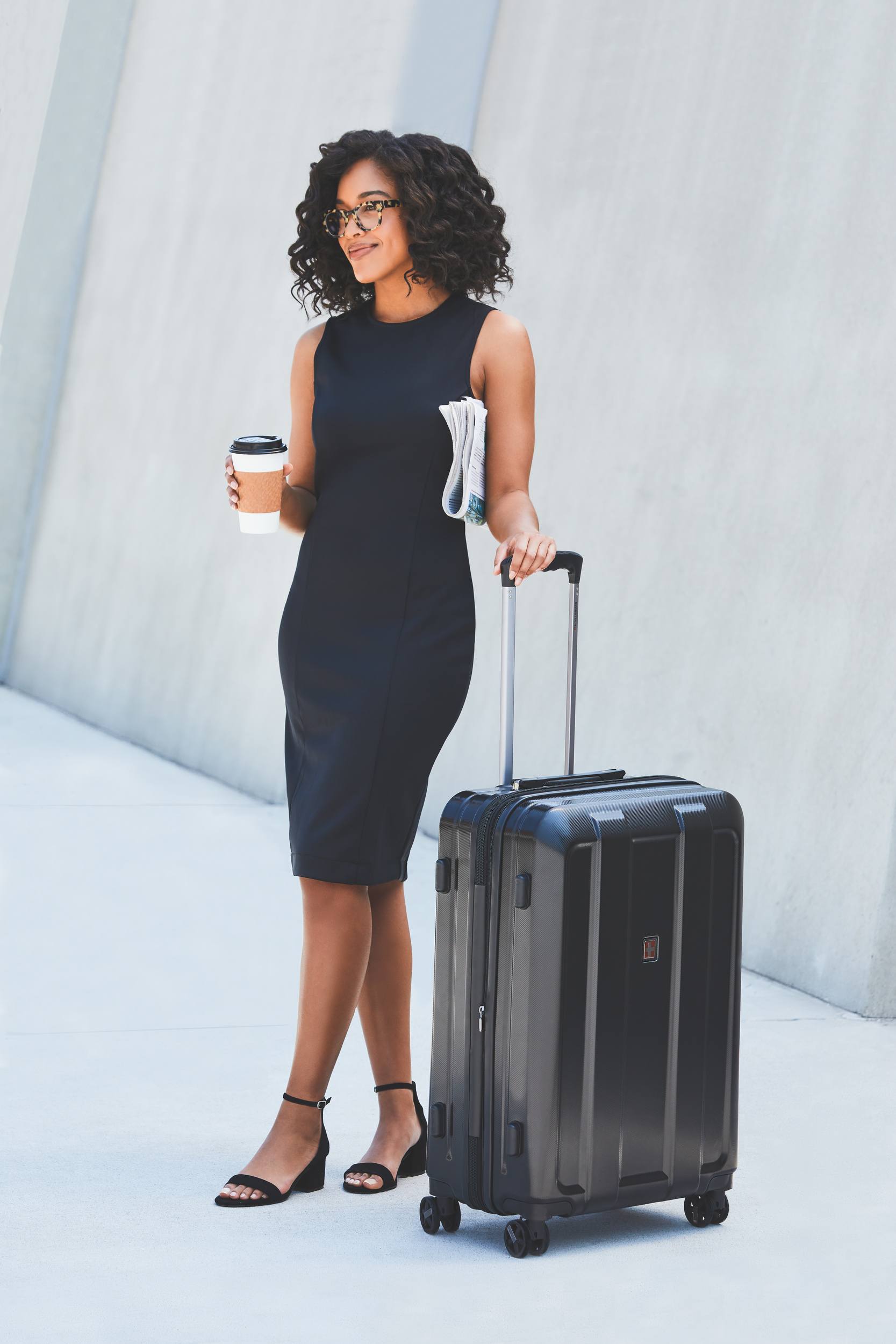 Product Spec
Ideal For Travelling on a 1 – 3 day adventure
Multi-level locking telescopic handle system with ergonomic grip
Integrated TSA lock and USB port
Oversized 8 wheel 360 spinner for ease of moving
2" zip around expansion for additional packing
Heavy-duty main compartment zippers
Multi purpose compartments including removable wet pouch
Additional Features
Lightweight ABS + PC Film
USB port and internal cord to connect to a power bank (battery pack not included)
6 interior multi functional compartments including removable wet pouch
Heavy duty main compartment zippers
Reinforced carry handles
Dimensions
24" H x 15" W x 10.5" D (60.96cm x 38.10cm x 26.67cm) Including Wheels
21" x H x 15" W x 10.5" D (53.34cm x 38.10cm x 26.67cm) Not including wheels
7.5lbs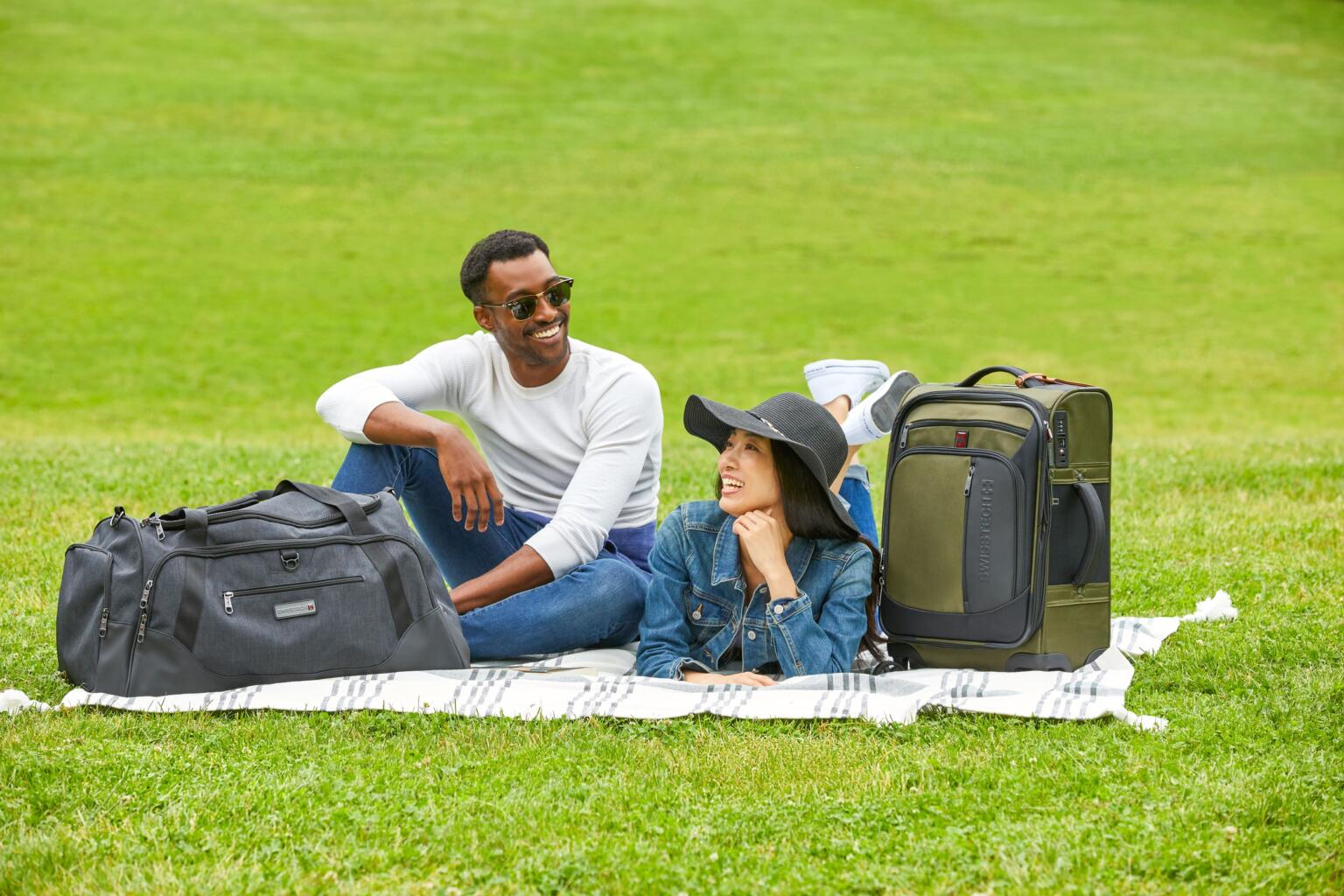 A Duffel on Wheels
You know how earlier on I said: "Duffel bags generally don't have wheels"? Well, I said that because there is one more member of the SwissTech family I want to introduce to you…
SwissTech Rolling Duffel
The Swiss Tech Wanderer one is kind of going for the "best of both worlds" options as its a premium duffel bag that has wheels and a trolley handle on it.
This is great for those who want the no thrills packing option a duffel brings but also want wheels so they don't have to do all of the carrying.
However, please note that this one is considerably bigger than the usual 18" so is not suitable for taking into the plane's cabin as carry-on luggage.
Product Spec
Ideal for travelling on a 3 – 5 day adventure
Multi level locking telescopic handle system with ergonomic grip
5 exterior zippered compartments including a multi functional deep side pocket
Oversized inline skate wheels for smooth and quiet control
Reinforced padded carry handles
Additional Features
420 Denier Premium Fabric for increased durability
TSA lock compatible zipper pulls
Drop bottom adds 4.5" of extra packing storage
Heavy duty main compartment zippers and metal components
Zippered wet pouch
Dimensions
36.5 L x 18 H x 14 D (92.71cm x 45.72cm x 35.56cm) Including wheels
36 L x 18 H x 14 D (91.44cm x 45.72cm x 35.56 cm) Not including wheels
---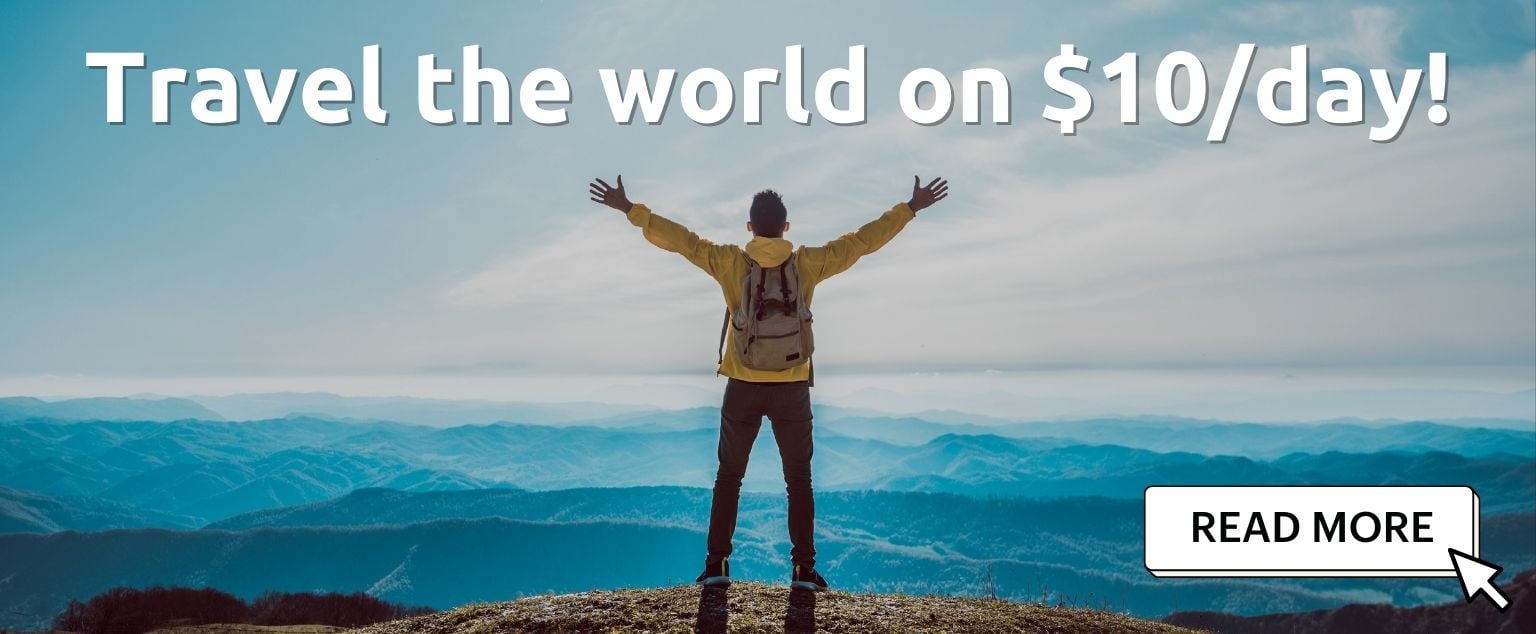 And for transparency's sake, please know that some of the links in our content are affiliate links. That means that if you book your accommodation, buy your gear, or sort your insurance through our link, we earn a small commission (at no extra cost to you). That said, we only link to the gear we trust and never recommend services we don't believe are up to scratch. Again, thank you!