When it comes to backpacks we at The Broke Backpacker have a bit of a love affair with Osprey.  Osprey makes some of the most stellar backpacks in the world. Whether you are looking for a small bag, a large bag, a hiking bag, a travel bag, or all of the above – there's an Osprey for you!
But backpacks aren't for everybody – not all of the time anyway. This is why we are super excited to do this Osprey Transporter 95 review.
The Osprey Transporter 95 showcases a different side of Osprey. This AllHold (AllHold = duffel bag + backpack) is one of the most durable backpacks we've ever seen and is going to be a dream bag for some people.
In this brutally honest review, we break down exactly who the Osprey Transporter 95 best suits. By the end of this review, you'll know without a doubt whether this is your dream bag, or whether you need to search for something else (don't worry we've got plenty of recommendations!).
Right, let's get this show on the road and crack on with this Osprey Transporter review!
Quick Answer – Is the Transporter 95 for you?
The Osprey Transporter 95 is perfect for you if you are looking for an all-purpose durable duffel bag
But! If you are simply looking for a great (and much smaller) 40-liter travel bag, look elsewhere (like the AER Travel Pack 3).
Winter is coming… WARM UP!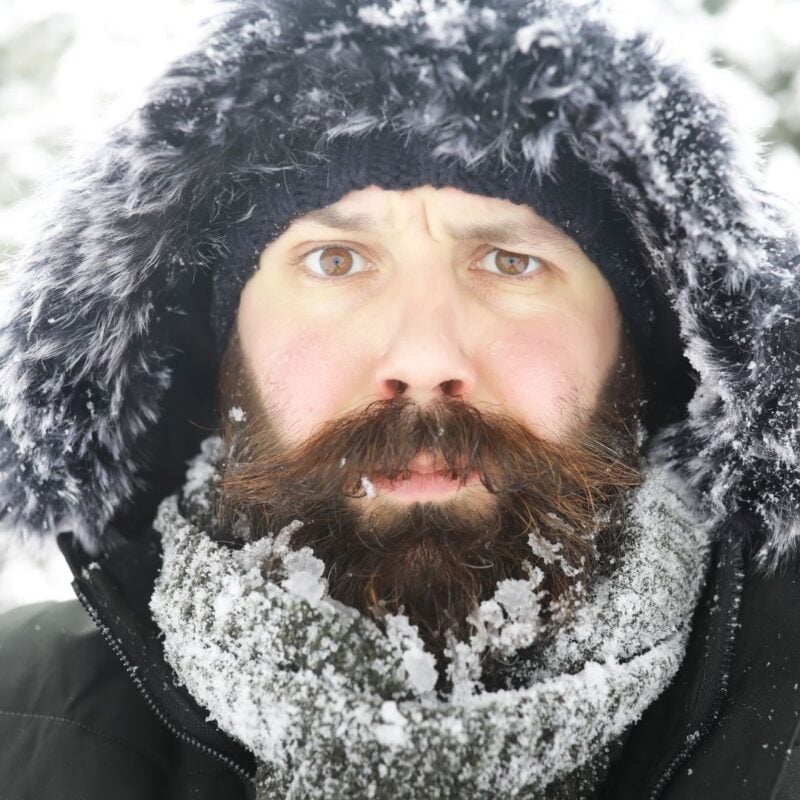 Get up to 50% OFF when shopping gear for the winter on REI.
Warm up for the holidays and SAVE on outdoor gifts all the way through Dec 18!
View on REI
Osprey Transporter 95 Review – Main Specs
95 liters/ 5797 IN3 volume (HUGE!)
Water resistant (not waterproof)
840D Nylon TPU Double Coated (aka super durable)
27.2H X 14.6W X 13.4D IN. dimensions
3.5 LBS
$150+
Is the Osprey Transporter 95 Perfect for you?
Here's the deal.
Backpack manufacturers have come a long way in the past few decades. With so many amazing backpacks on the market, there's a perfect backpack out there for everyone!
This means that you don't have to settle for a backpack that only half works for you. There is literally a dream backpack out there for everyone – and this review will help guide you to that exact bag!
So, while the Osprey Transporter 95 duffel is an absolute beast, there are so many kickass backpacks on the market, we would only recommend the 95 for a very specific type of person.
Read on to see if that person is you…
Who the Osprey Transporter 95 is NOT for…
Let's go through the types of people this bag does NOT suit. Read carefully and think about your exact wants and needs when it comes to this backpack.
Our tips below will help guide you…
Tip #1 – The Osprey Transporter 95 is NOT for you if you are looking for a hiking backpack
The Osprey Transporter 95 is an amazing duffel bag that can be turned into a backpack, but what you need to understand is that the Transporter 95 is a duffel bag FIRST, then a backpack.
This is very important, so I'll emphasize it again…
The Osprey Transporter 95 is a duffel bag first, and a backpack second.
This is because Osprey intentionally designed the Transporter 95 to be a duffel bag that could be used as a backpack, but only when needed. The backpack is great! It certainly serves a purpose and is an amazing feature.
But ultimately, the straps/backpack is a feature. This is absolutely a duffel bag first.
If you are looking for a hiking backpack, check out the Osprey Farpoint 40.
Tip #2 – The Osprey Transporter 95 is NOT for you if you are looking for a travel backpack
Similar to tip #1, you need to realize that this product is a duffel bag first.
Can this be used as a travel backpack? Absolutely! But do not for a second even think about using this as a backpack replacement for a full-time traveler.
This is because the Osprey Transporter 95 is designed to be a durable duffel. While it has some impressive backpack features, it does not provide the back and hip support that an authentic travel backpack does.
Backpacking and traveling the world can be quite strenuous on your body, which is why if you want a backpack, you're going to need one that provides better support for your back.
This is not a knock on the Transporter 95, and this is not saying it can't be used for travel (we'll cover this in a minute). This is just saying that if you need a travel backpack – read this article instead,or just get yourself our favorite pack – the AER Travel Pack 2.
Tip #3 – The Osprey Transporter 95 is NOT for you if you are looking for a daypack
This should be fairly obvious when it comes to the Osprey duffel 95. But this bag is 95-liters. 95-liters is wayyy too big to be a daypack.
If you are in the market for something smaller, check out our options of the most awesome travel daypacks on the market.
Tip #4 – The Osprey Transporter 95 is NOT for you if you are a Digital Nomad or carrying lots of fragile tech gear
While the Osprey Transporter 95 could maybe work for some people carrying gear, we wouldn't recommend it for everyone.
Why?
It comes down to storage and organization. Great laptop or camera bags have specific compartments that are dedicated to their gear. While the Transporter 95 does have a few pockets, the design of the bag leaves a lot to be envied.
While it might sound tempting to carry this around the world and just throw your gear in it, you'll be sacrificing a lot of peace of mind, and risking damaging your fragile goods. That's not where the Osprey 95 Transporter excels.
If you are in the market for a tech-friendly laptop – check out our laptop backpack guide and our camera backpack guide.
Are you still here?!?
Good news then – the Osprey Transporter 95 might be perfect for you!
Let's run over the scenarios where we would absolutely recommend picking up this durable Osprey Transporter duffel.
Here are some tips highlighting who this bag is perfect for…
Tip #1 – The Osprey Transporter 95 is PERFECT for you if you are looking for the most badass duffel bag on the market
This one is easy. If you are in the market for a durable duffel bag that can hold a ton of gear, looks awesome and can also be worn as a backpack – you've literally hit the jackpot!
As we've mentioned, the Osprey Transporter is a duffel bag first, and it's made of some incredibly durable materials (more on this in a bit).
Who in particular could benefit from an industrial strength duffel?
Skiers
Snowboarders
Skaters
Rock climbers
Skydivers
Sailors
Car Campers
Construction workers
The list goes on!
Because of this bags' heavy duty design, it's a match made in heaven for anyone who works outside and needs to carry gear (at least gear that isn't too fragile!).
If you are this type of person, do not pass go, do not collect $200, just go on Amazon right now and buy this bad boy – you won't regret it!
There are a few more types of people that could really get a ton of value from this awesome duffel bag…
Tip #2 – The Osprey Transporter is PERFECT for you if you are looking for a durable travel bag (but don't want a backpack)
There is a small, but very enthusiastic, group of travelers that are ditching the old-school 'backpacking' school of thought.
How so?
Lots of these travelers are ditching traditional backpacks, and instead are traveling the world with suitcases, rollers, or duffel bags!
Backpacks have a ton of weaknesses, and a duffel bag can offer a different, and sometimes preferable, travel experience. Some people prefer the ease of a duffel bag, and because there is less 'flash' (pockets, features, etc), you can pack a ton more stuff in a duffel.
If this sounds like you, then you need to definitely consider the Osprey Transporter 95. Just because you are 'backpacking' doesn't mean you need to have a backpack!
PS – If you are interested in a roller, check out the Osprey Sojourn 60.
Tip #3 – The Osprey Transporter 95 is PERFECT for you if you do a lot of car-camping and hiking
If you are a hiker or camper who likes to trek 9 miles into the woods to find a camping spot – look elsewhere.
But car campers – rejoice! This duffel bag is for you.
That's because of the way that duffel bags are designed. Ultimately, duffel bags are easier to access and easier to get stuff in and out of. Backpacks are a hassle.
So if you don't need a backpack – why have the hassle of one?
This is why we specifically recommend this product for car campers. Car campers still need to carry a ton of gear, but they don't need the inconvenience of a backpack.
Tip #4 – The Osprey Transporter 95 is PERFECT for you if you are looking for something super durable
Whether you want to travel the world, carry your gear, or just have a bag that can withstand a zombie apocalypse – the Transporter 95 is all of the above.
This bag is made of some of the strongest materials we've seen. What kind of materials you might ask? How about double coated 840D Nylon TPU (which for backpacks it means it's practically made of steel).
It's basically indestructible. That said, the Waterproofing is not the best we have seen. Then again, this is not a hiking bag and not designed for long exposure to the elements.
So if you are in the market for a Superman-esque bag that can thrive in any environment or conditions… the Osprey Transporter 95 is a great fit.
(PS – if you are looking for a super durable backpack, check out the Tortuga Outbreaker. It's also basically indestructible)
Still not sure?
We understand – this is a big decision!
So to further help you out we are going to show you all of the features this bag has to offer. The rest of this brutally honest review will focus on the pros and the cons of the Osprey Transporter 95 so you can 100% know if this is the perfect bag for you.
Let's dive into it…
The best present of all… is CONVENIENCE!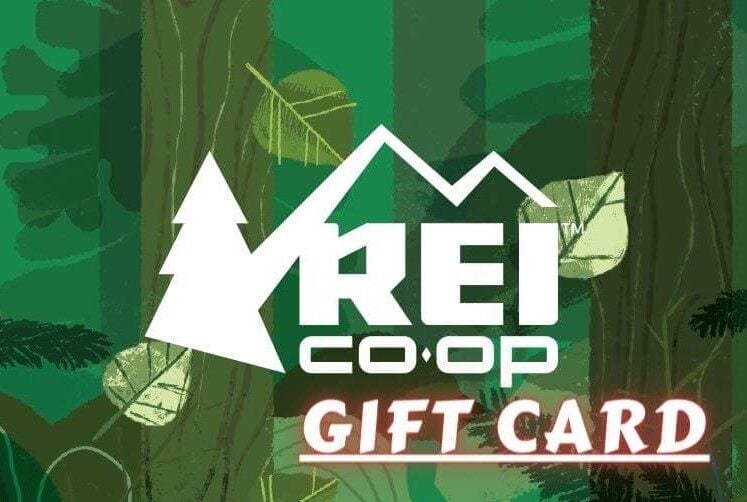 Now, you could spend a fat chunk of $$$ on the WRONG present for someone. Wrong size hiking boots, wrong fit backpack, wrong shape sleeping bag… As any adventurer will tell you, gear is a personal choice.
So give the adventurer in your life the gift of convenience: buy them an REI Co-op gift card! REI is The Broke Backpacker's retailer of choice for ALL things outdoors, and an REI gift card is the perfect present you can buy from them. And then you won't have to keep the receipt. 😉
Buy on REI!
Osprey Transporter 95 Features
As I mentioned, if you want a durable duffel bag, the Osprey Transporter 95 is as durable a duffel bag as it gets.
And it gives you everything you'd want/need from a duffel bag… plus a ton of other awesome features. Let's go over some of the coolest features this bag has to offer.
Large Main Compartment
Remember – this bag is 95 liters.
And 95 liters is HUGE.
The Transporter's main compartment isn't flashy (there are a few features), it's mostly just a big space to put all of your stuff.
As Osprey says –'Duffels are workhorses, plain and simple'. And the Transporter's huge size ensures you'll be able to give the horse plenty of work. Whether it's ski gear, camping gear, construction gear, assassin gear (just kidding), scuba gear or anything in between – this duffel bag will be able to handle all of it.
And because it's made with Double Coated 840D Nylon TPU, it means that whatever gear you are holding will be safe (excluding super fragile gear!). Also, if your gear is sharp (construction materials, camping gear, samurai sword, etc) you won't have to worry about it poking through.
Stowaway Harness
Like we mentioned – this is a duffel bag first, and a backpack second.
In fact, I'd go as far as recommending using this bag as a duffel at least 75% of the time… if not more!
The great part about that is that if you want to only use it as a duffel, or just want to get rid of the straps for a bit – it's a piece of cake!
Simply unclip the bottom of the straps, and slide them in the designated clip.
This is a fantastic feature. Most users use this bag exclusively as a duffel. Many of them said they even forgot it could be used as a backpack because they never needed it!
But it's a really nice feature to have, especially if you travel around a lot. Sometimes wearing a backpack makes more sense than carrying a duffel. Lucky for you, this bag gives you both options!
Convenient Grab Handles
Scattered across the Transporter are 4 easy to grab handles. Sure, these handles are convenient, but they are also big, burly and tough.
These awesome handles allow quick-grab access, so your bag is easily accessible and as ready to go as you are.
Easy-Access End Pocket
One of the selling points about this bag is it's simplicity.
Unlike some of it's competitors, there isn't a lot of feature-flash.
This means that there aren't many pockets, but the one's that ARE available are well designed and extremely convenient – the end pocket being the epitome of that.
Whether you need to stash some hiking gear, snacks, your wallet, keys, or anything, the end pocket allows easy access to your most valuable goods.
The other good news? It comes with dual zippers. This means that with the help of a small padlock, you can ensure that your most valuable goods are easily accessible and also safe.
ID Pocket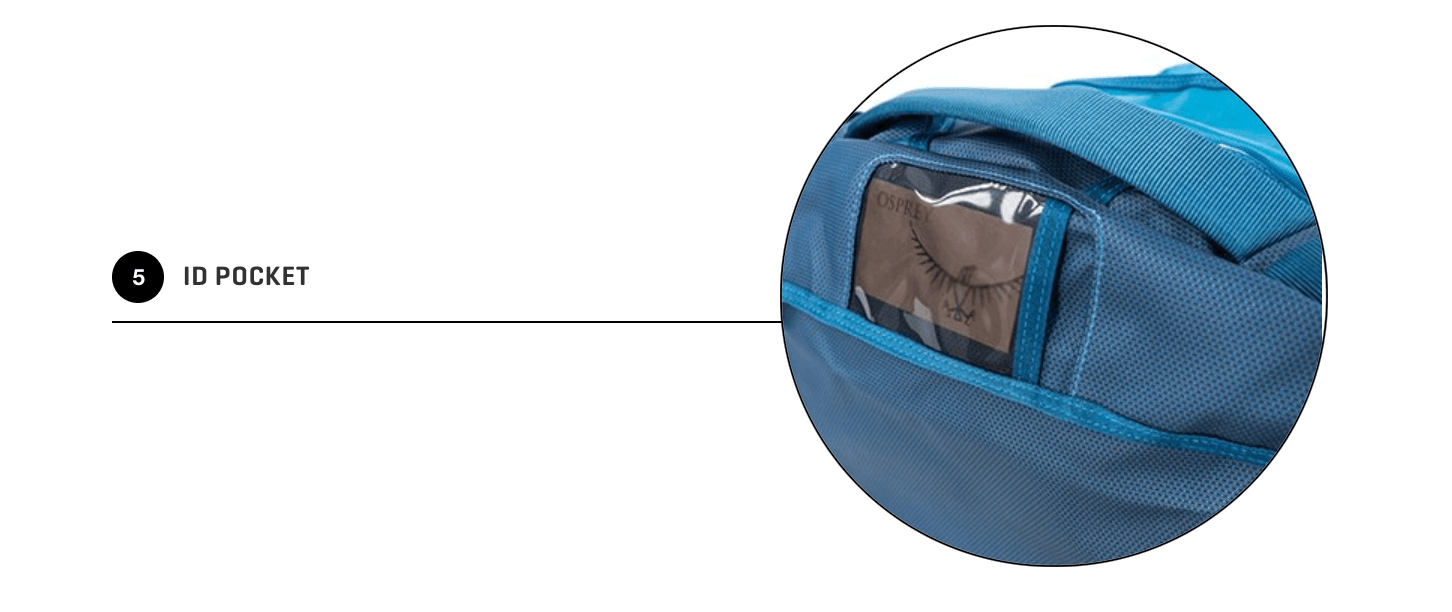 While nothing groundbreaking – it's certainly nice to have!
Instead of putting a valuable government ID in there, we recommend writing out your contact details on a piece of paper or cardboard. Then, if your bag ever goes missing, your information will easily be accessible if it's found.
Osprey Transport 95 Competitors
Perhaps you have decided that this back isn't quite right for you. Or maybe you just want to know how it compares to other products in its class. Let's take a look at a few competitors or alternatives to the Transporter 95.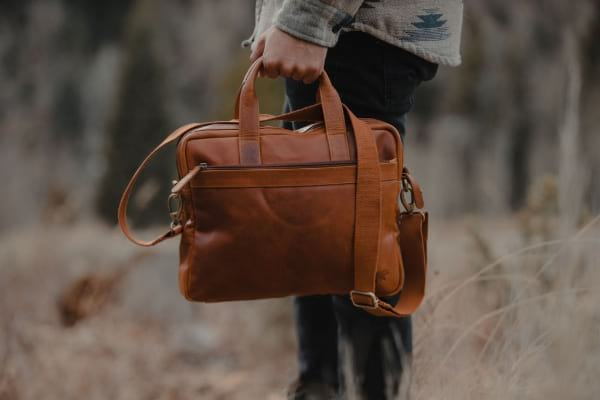 Another leather offering from Kodiak, the 60 litre Weekender provides – as you can tell from its capacity – a whole load of room for you to pack a whole load of stuff. This makes it the perfect leather duffel bag for international travel, designed specifically for everything from weekend to longer getaways.
In the main compartment of the Weekender, you'll find a zip pocket, pen holders, card slots, and a pocket for a book (or whatever you feel like using it for); there's also a separate shoe compartment, which is always a bonus. On the exterior of this bag, there are two latched pockets, good for loose ends and accessories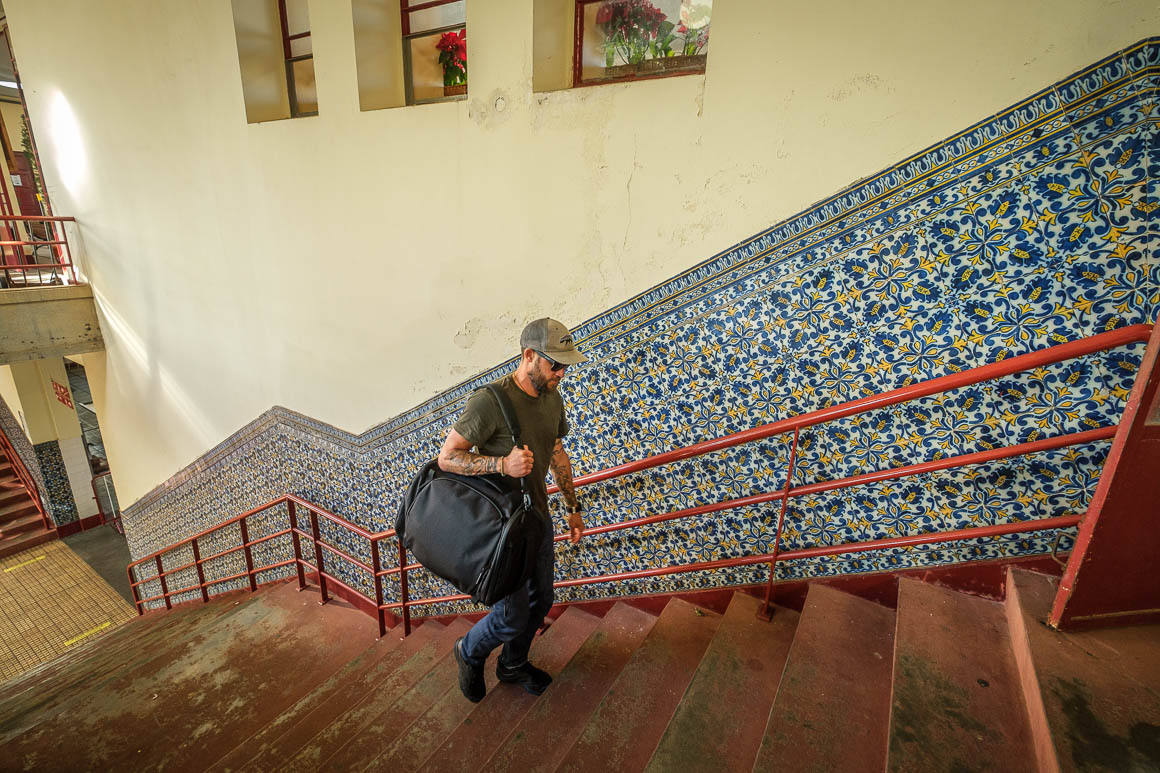 The Duffel Pack 2 is a hybrid backpack primarily intended for the gym and office. That said, it is perfectly adaptable for weekend breaks, holidays to even short haul backpacking trips.
It features separate compartments for your gym essentials and work tools to keep you organised throughout the day. The compartment sizes are generous leaving you with plenty of storage space.

Our GREATEST Travel Secrets…
Pop your email here & get the original Broke Backpacker Bible for FREE.
Final Thoughts on the Osprey Transporter 95
Typically our backpack reviews are a lot longer than this… but usually backpacks are a lot more complicated than this.
The Osprey Transporter 95 is simple. Probably the simplest we've ever seen.
And for some people – that simplicity is absolutely perfect.
Again, if you are looking for a smaller travel backpack, this is not for you. Go with the AER Travel Pack 3.
But if you are in need of a durable duffel that can pack a TON of stuff – you've met your soul pack 🙂
What is our final score for the Osprey Transporter 95? We give it a rating of 4.7 out 5 stars!

Let me know in the comments below what you think! If you're looking for something smaller then keep an eye out for our Osprey Transporter 65 review in the future as well as our Osprey Transporter 40 review if you're looking for a more minimalist option.
---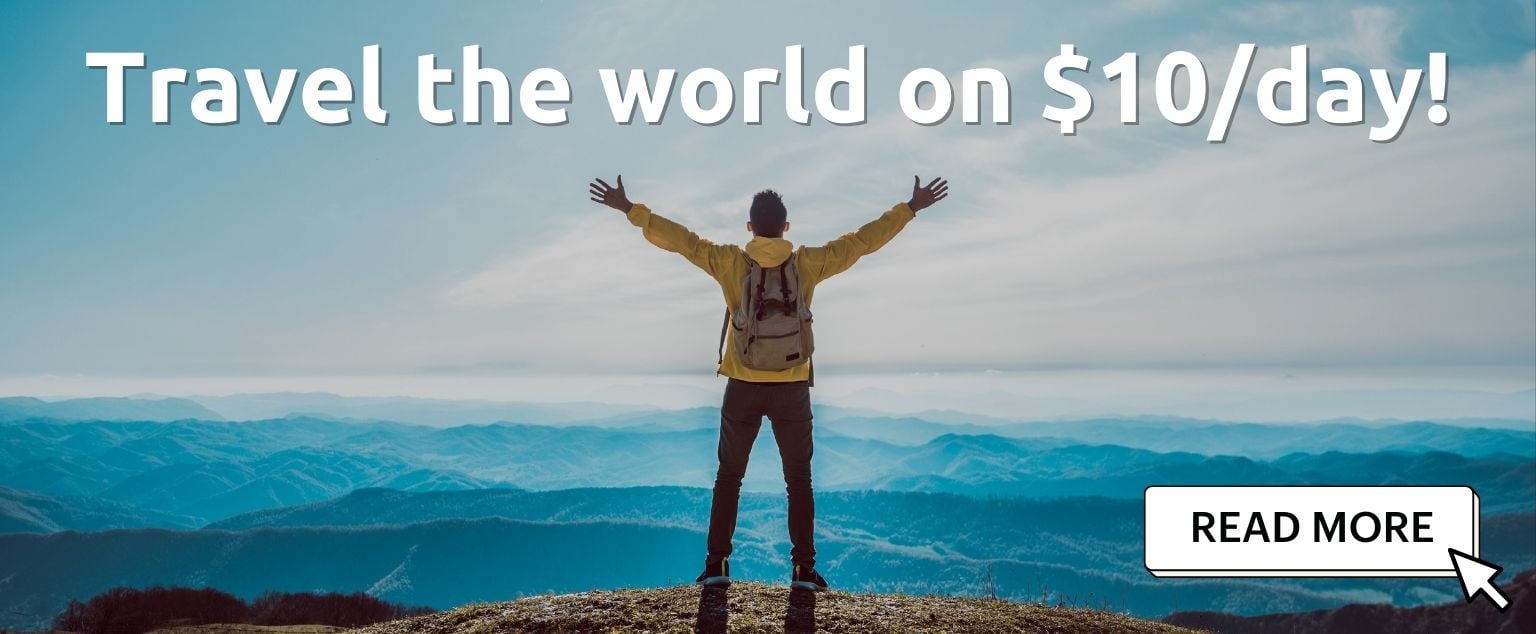 And for transparency's sake, please know that some of the links in our content are affiliate links. That means that if you book your accommodation, buy your gear, or sort your insurance through our link, we earn a small commission (at no extra cost to you). That said, we only link to the gear we trust and never recommend services we don't believe are up to scratch. Again, thank you!