Nomatic. You have probably heard of them by now unless you were doing a self-quarantine long before Covid.
We are always game to test out the latest gear from the folks at Nomatic, so when the chance came to do a Nomatic Navigator review, you better believe we jumped on it.
The Navigator Carry-on 37 L feels like the offspring of the classic Nomatic Travel Bag and a suitcase all rolled into one – and is just the right size to bring on epic weekend adventures or quick business trips out of town.
Time to breakdown down the Nomatic Navigator Carry-on like no one else on the internet…
Put the coffee on to boil…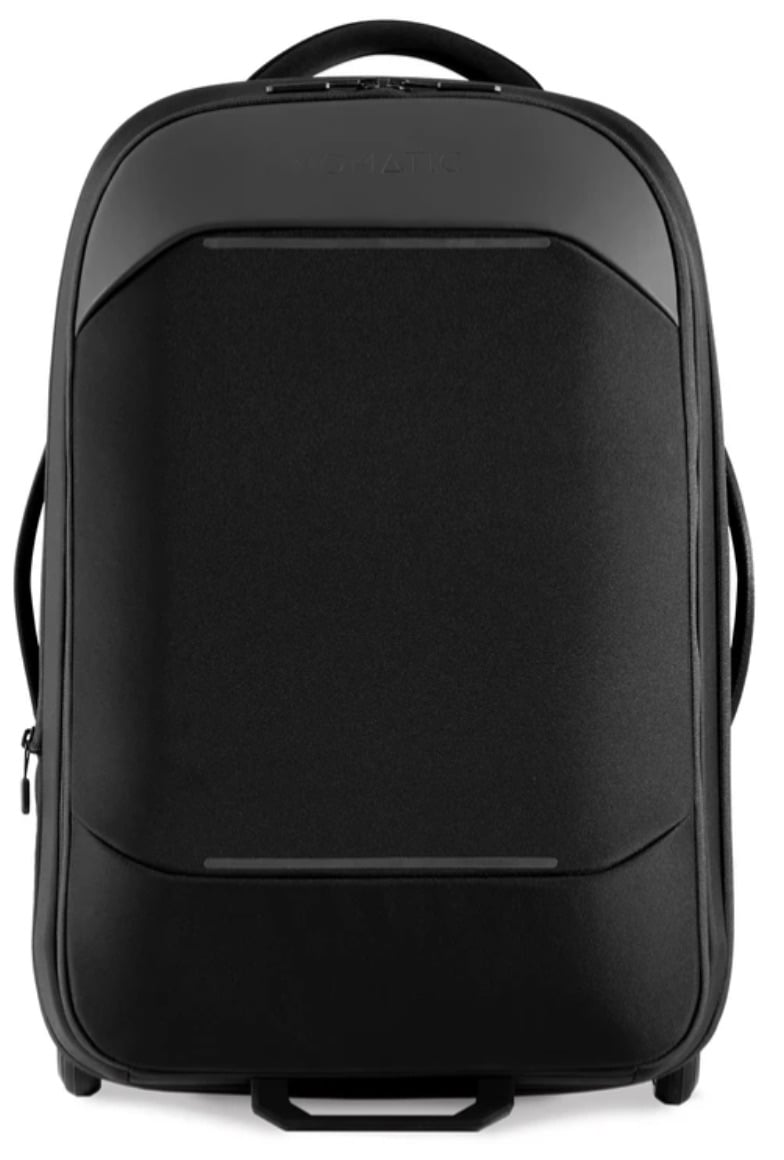 You're probably well aware of the plethora of travel suitcases and carry-ons available. From cheap $30 bags to practically bomb-proof suitcases unlikely to get a scratch, there's a lot of variety in durability and functionality.
So, just how well does the Nomatic Navigator 37L stack up against the competition? Is this hybrid-bag the peacekeeper we've been waiting for in the battle between team backpack and team suitcase? That's what this review aims to find out.
We'll go through each of the compartments as well as talk about the materials and special features of the bag to point out the highs, lows, and everything in between.
Interior Organization
While on the road, good organization can make or break your sanity. Okay, maybe that's a bit of an overstatement. But seriously, having a travel bag that's simple to organize not only saves you time, but also helps you avoid accidentally leaving something behind.
The Navigator 37L has two sections – a main compartment and a laptop/tech gear compartment. Having the division makes it much simpler to keep your gear safe and easy to reach while traveling.
Frequent fliers and Nomatic fans may also want to consider getting the Navigator Bundle. This complete travel set comes with the Navigator 37L plus the Vacuum Bag 2.0 XL, a Tech Organizer bag, and a collapsible backpack. Also, be sure to check out the awesome Nomatic Toiletry Bag, it's a great addition.
If you're someone who's always in and out of airports, having the set of Nomatic products which are designed to fit together can be well worth the investment when it comes to organization (not to mention style).
Ladies & Gents, It's Time to Step Your GEAR Game Up. 😉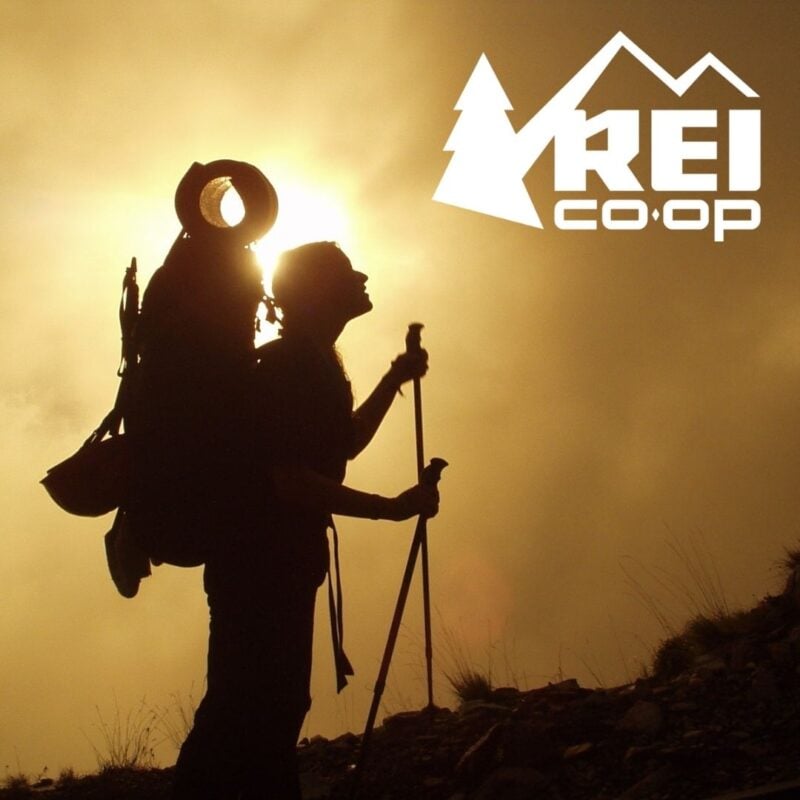 REI is one of America's biggest and most-loved outdoor gear retailers.
Now, for just $30, get a lifetime membership that entitles you to 10% OFF on most items, access to their trade-in scheme and discount rentals.
Join REI Today!
Main Compartment
The main "suitcase" compartment of the Navigator 37L is much like what you'd find in other carry-on travel bags. Measuring five inches by 14 inches by 21 inches, this pocket is where you can fit the majority of your travel gear, and there's enough room for clothing and personal items for about four to five days.
To help keep things packed down, the main compartment has built-in compression straps. Not only does this help you save room, it also prevents your things from getting jostled around so much while in transit.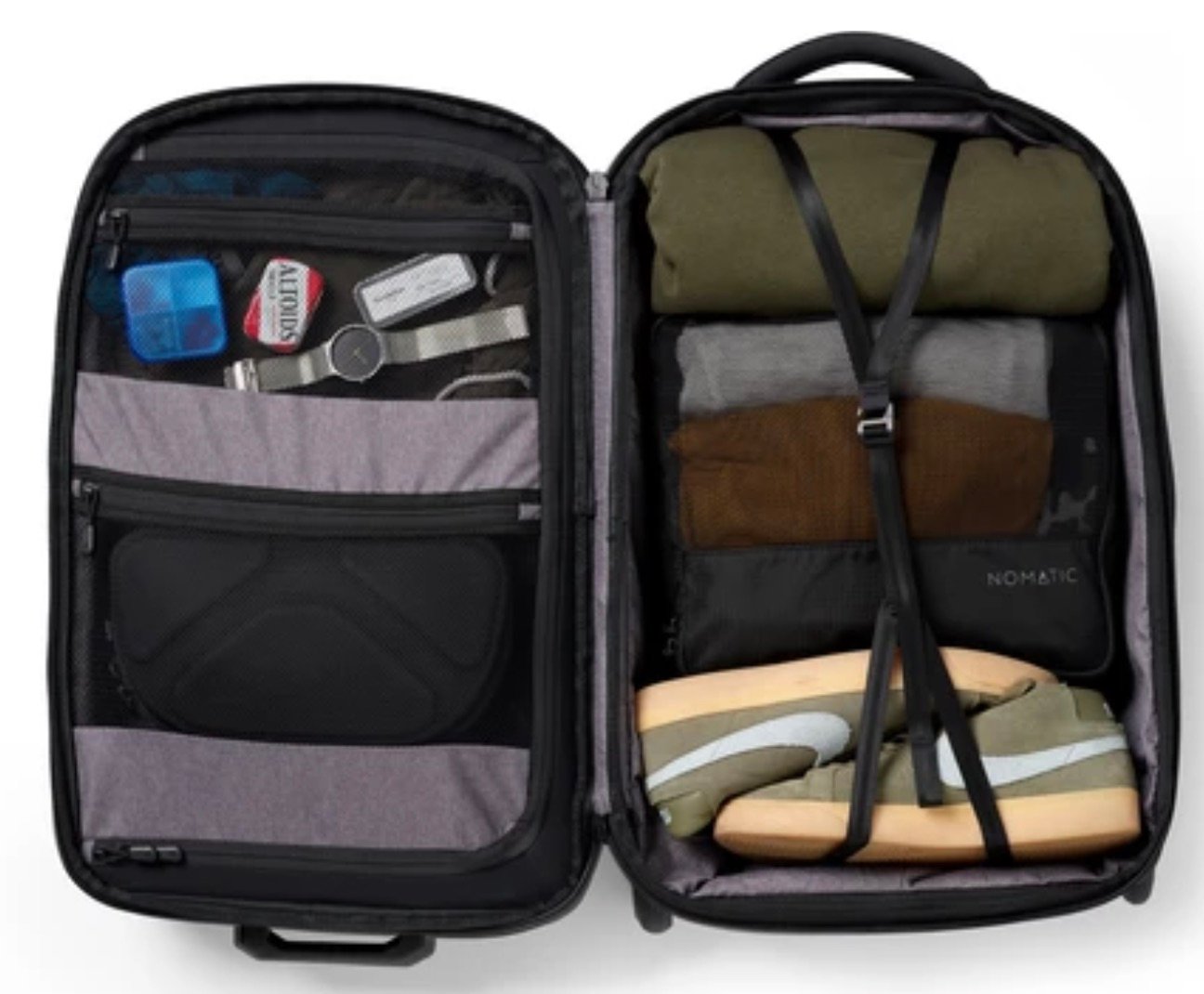 The "lid", so to speak, of the suitcase has additional zippered pockets, which are big enough to fit some of Nomatic's other organizational packs and bags for hygiene products or tech gear.
Laptop Compartment
The laptop compartment of the Nomatic Navigator 37L is one of the main highlights of the bag. It's a perfect organizational feature for business travelers and vacationers alike. Not only does it free up space in the main compartment, but it also keeps your laptop from being knocked around while traveling.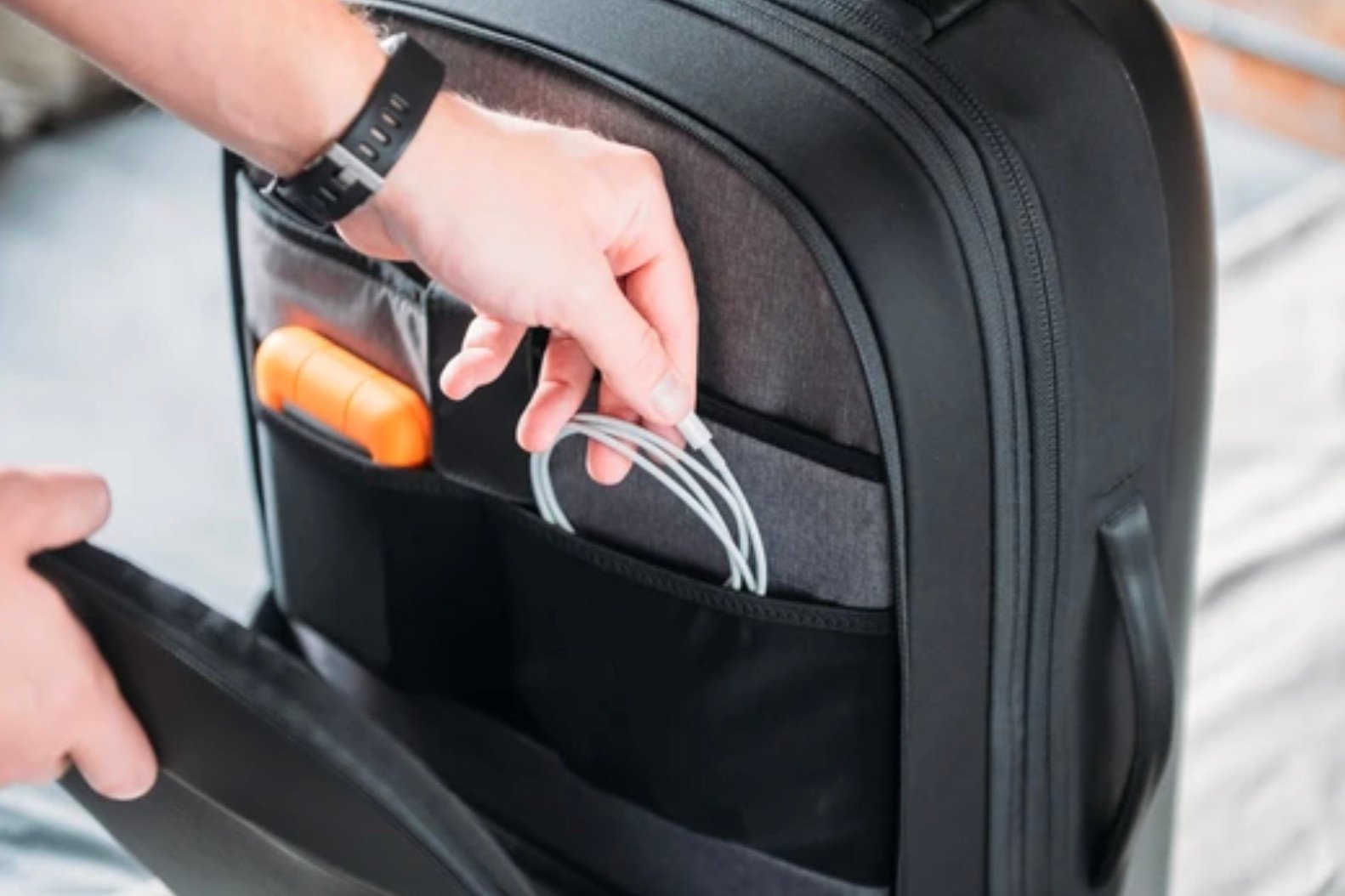 A laptop of up to 17 inches can fit in the padded sleeve, making it plenty big enough even for larger devices. There are also additional mesh and zipper pockets to fit other small items like charging cables, power banks, or a camera.
The Exterior and Outer Pockets
To help with convenience, Nomatic has added a few other nifty external pockets and features to the Navigator 37L.
There's one quick-access pocket that's large enough for a phone, wallet, keys, or other personal items you want within easy reach so you don't have to go rummaging through your bag.
For more sensitive items, there's also an RFID safe pocket and an ID card slot where you can put your contact info just in case the bag gets misplaced at the airport.
Overall, the sleek and minimalist exterior appearance makes it hard to gauge the organizational capacity of the Navigator 37L. The fact that the pockets aren't super obvious also helps with the general safety, which is especially nice if you're spending lots of time in busy airports.
Carry Options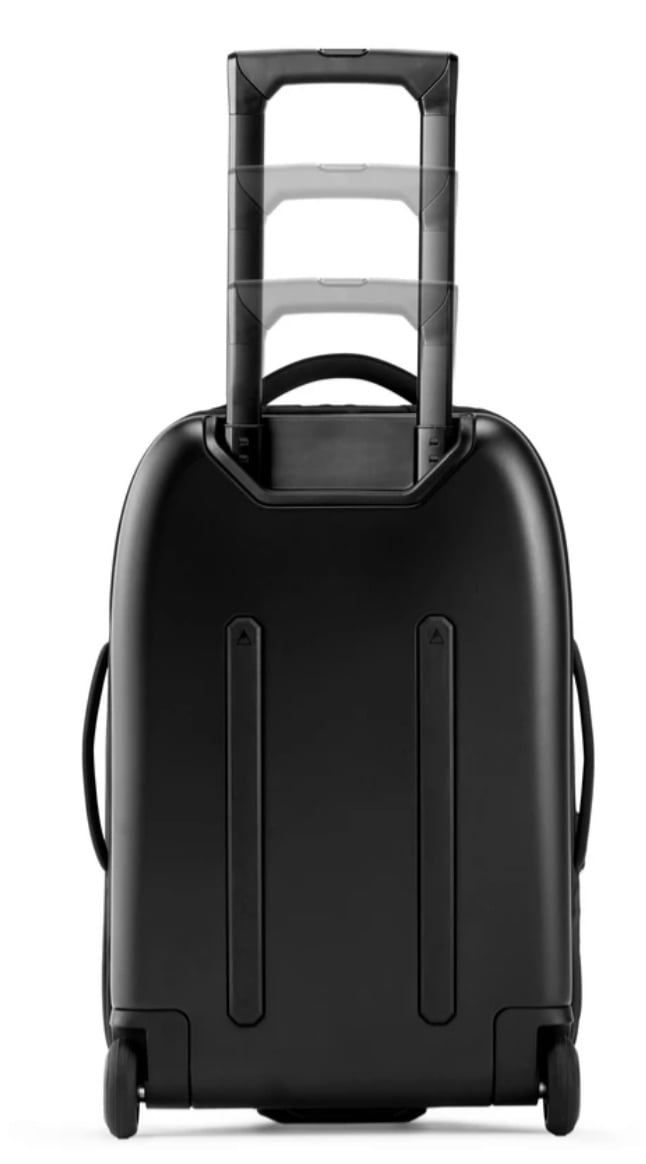 Like most two-wheeled rolling suitcases, you're most often going to be pulling or pushing the Navigator 37L at the airport concourse or going to your hotel room.
However, Nomatic has added a couple of cool features to help with general convenience of transportation for this travel pack.
First off, the aluminum handle is much more durable than many suitcases, so if you've run into problems with handles sticking, you'll have much better luck with the Navigator 37L. The three-stage position options also mean that you can adjust the suitcase based on your height so it's comfortable to roll behind you without holding your arm at an awkward angle.
There are four external grab handles (one on each side). So no matter what angle the suitcase gets put into the overhead bin of the airplane, it's easy to grab onto and take down once you reach your destination.
Weight and Capacity
At 7.8 pounds, the Nomatic Navigator is right around average when it comes to (hardshell) carry-on suitcase weight.
The external dimensions are 22 inches by 14 inches by nine inches, which is the standard size for a domestic carry-on suitcase.
As you've probably already guessed from the name, the Navigator 37L has a 37-liter capacity. However, there is an expansion feature that can increase the capacity to 45 liters by unzipping it.
Just be sure to remember that sometimes expanded bags can slightly exceed the limits for a carry-on. There's nothing more annoying than having your suitcase denied at the gate because of an awkward bulge sticking out, so use the expansion feature with some caution.
Want something a little more suitcase and a little less backpack?
Nomatic has come out with a line of really awesome suitcases that are not backpack-hybrids. Check out our reviews of the Nomatic Carry On Pro and Nomatic Check in here.
Toughness and Durability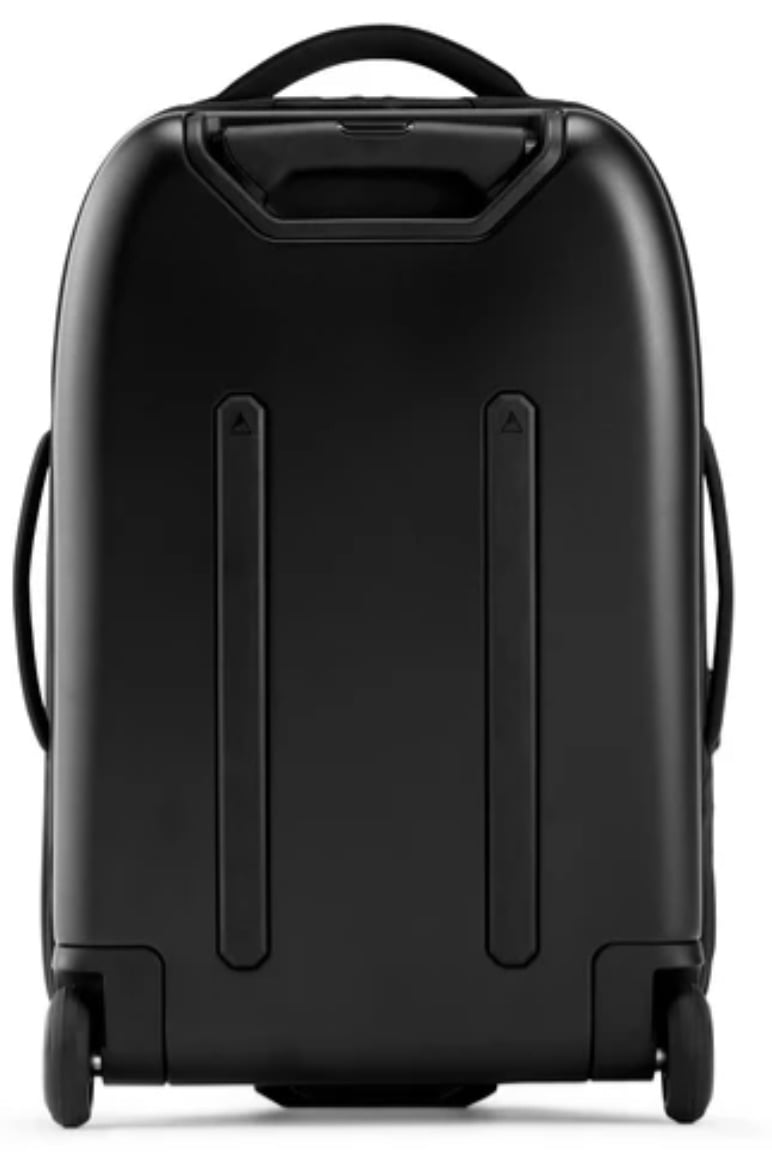 Compared to other basic travel suitcases, the Nomatic Navigator 37L is certainly a step up when it comes to durability.
The entire shell is made from a Makrolon polycarbonate, which provides a tough, water-resistant, and fairly rigid exterior. Although it's not totally waterproof, rolling your suitcase through a rainshower to get to your hotel or ride from the airport won't be a problem.
In addition to the sturdy build, the Navigator 37L has YKK water-resistant zippers on all the openings, and the aluminum handle is much stronger and smoother functioning than plastic counterparts.
The toughness of the Navigator 37L is inside as well as out. The interior materials like the compression strap and ABS honeycomb panels are made to last for years when given proper care.
The Nomatic also comes with a Limited Lifetime Warranty so this is a pack which can last a lifetime
Security
For frequent fliers, security of a carry-on is important to keep in mind. As we already mentioned, the Navigator 37L is quite secure against the natural elements, but unfortunately in an airport you also have to worry about petty theft and crime.
Both the YKK zippers on the main compartment and laptop compartment are lockable if you want to add an extra security measure to the bag. Generally, the pockets, zippers, and openings aren't super obvious, so it would be difficult for someone to manage to open the suitcase without you noticing.
Above these safety measures, the RFID safe pocket inside the pack keeps your IDs and credit cards safe while on the go.
Bag-Suitcase Aesthetics
Iron tough and badass looking – not only does the Navigator 37L pack satisfy your needs for functionality and organization, but it's also an undeniably cool-looking suitcase.
The one possible downside is that the only color available for the Navigator 37L is black, so if you're someone who prefers a splash of color, you're out of luck. This could also potentially make your suitcase more difficult to pick out at an airport, but chances are if it's always used as a carry-on, you won't be leaving it unattended anyway.
The high-quality stylish appearance makes the Navigator 37L a great pick for business travelers, but not so great for backpackers or long-term nomadic travelers who will likely be traveling by bus for much of their trip.
Cons
Even high-quality bags like the Nomatic Navigator 37L have their problems and imperfections. For certain travel styles, the Navigator 37L just won't be the right suitcase.
First off, if you're planning a backpacking trip, don't get the Navigator 37L. Sure, it's a sturdy suitcase, but it's just not meant for a rough and tumble life on the road. It's definitely made for business travelers and frequent fliers in mind, not for people hopping from hostel to hostel using city buses or lots of ground transportation.
Second, this suitcase is pricey. Yep, you're definitely paying for quality and a bag that's meant to last a lifetime, but for some travelers it might just not be worth it. If you're only planning on taking a short trip once or twice every other year, you can save some money and get yourself a cheaper bag.
If you go on long trips, the Navigator 37L might also be a bit too small for your needs. Remember, this bag is meant to be a carry-on, so if you need something to hold your gear for a week or two, you'll either want a different suitcase, or to use the Navigator to supplement a larger pack. 
Want something same same but different? Have a look at the best rolling duffels instead.
The best present of all… is CONVENIENCE!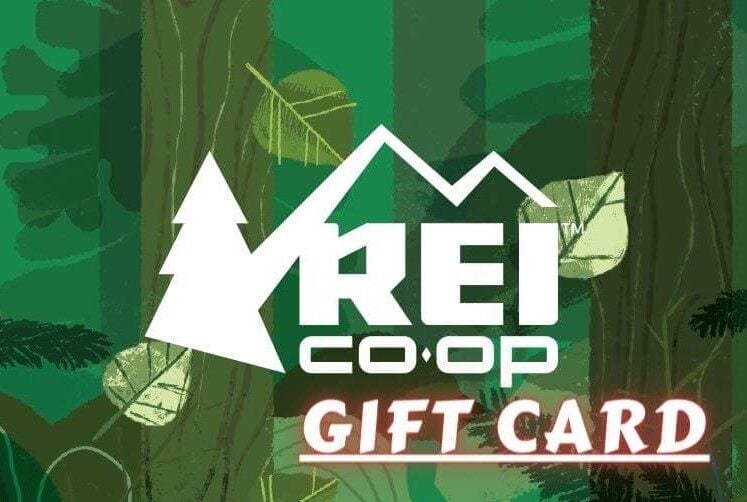 Now, you could spend a fat chunk of $$$ on the WRONG present for someone. Wrong size hiking boots, wrong fit backpack, wrong shape sleeping bag… As any adventurer will tell you, gear is a personal choice.
So give the adventurer in your life the gift of convenience: buy them an REI Co-op gift card! REI is The Broke Backpacker's retailer of choice for ALL things outdoors, and an REI gift card is the perfect present you can buy from them. And then you won't have to keep the receipt. 😉
Buy on REI!
Nomatic Navigator 37L vs the Competition
Now that you've learned the details of the Nomatic Navigator 37L, you might be curious about other travel pack and carry-on options.
If you're not sold on the rolling-suitcase design of the Navigator 37L, here are a few alternatives which might be better for your travel style.
Looking for a 30L backpack rather than a rolling bag that still opens up like a suitcase, then check out the Nomatic Travel Pack instead.
AER
AER
AER Travel Pack 2
Cost > $$
Liters > 33L
Dimensions > 21.5″x13.5″x8.5″
Laptop Compartment? > Yes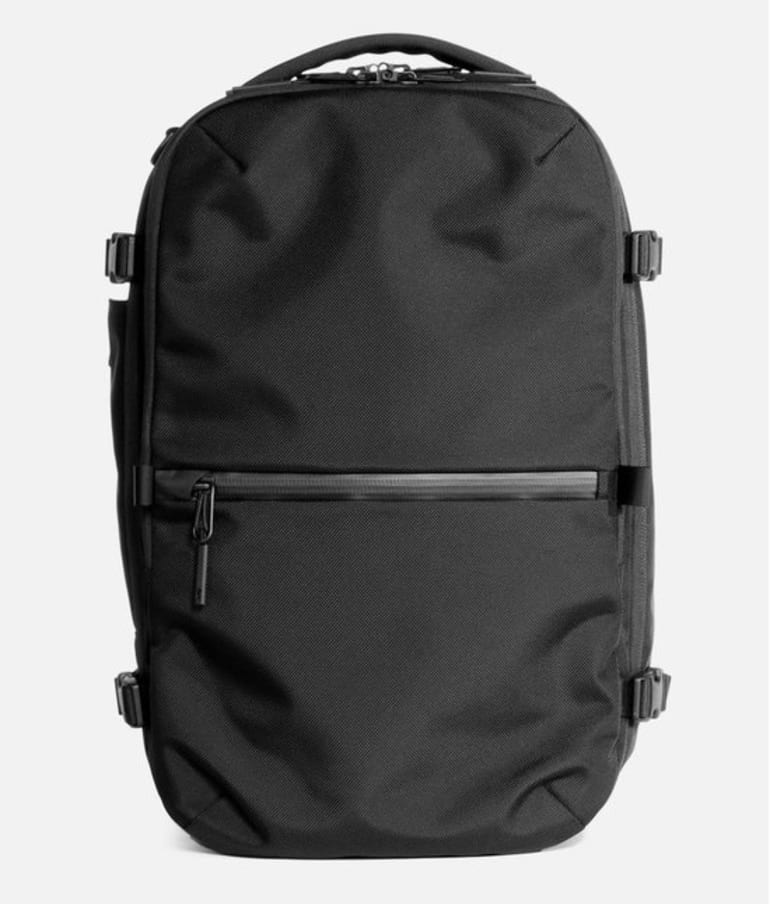 If you prefer backpacks to suitcases, then the AER Travel Pack 2 is the perfect counterpart carry-on to the Navigator 37.
With many of the same security and durability features like lockable YKK zippers, water-resistant materials, and a laptop compartment, the AER Travel Pack 2 can work for business travelers and backpackers alike.
The main compartment has a lay-flat suitcase design, while there are also internal pockets and dividers similar to other tech bags offering a good balance of ease-of-access and organization.
With 33 liters of storage space, it's a bit smaller than the Navigator 37L. The laptop case only fits up to a 15.6-inch laptop in comparison to the 17inch sleeve in the Nomatic pack.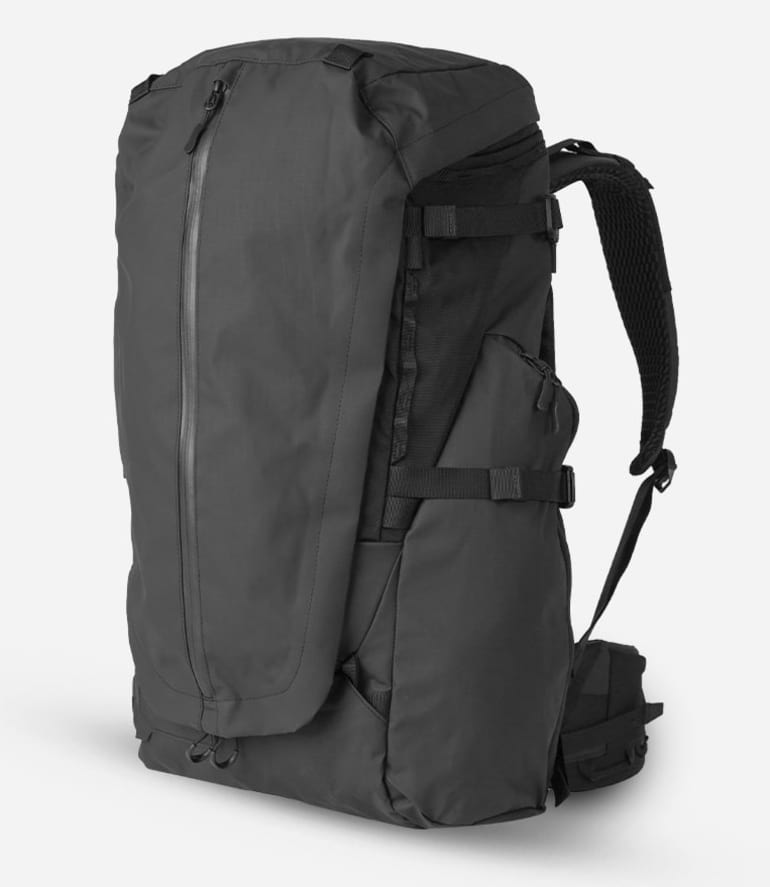 The Fernweh Pack is a very differnt backpack to the Nomatic Navigator 37L. Keep in mind though that since this bag has 50 liters of capacity, it's too big to function as a carry-on.
However, for backpackers or long-term travelers, it's hard to find something more durable and multi-functional than the Wandrd Fernweh. Wandrd packs are also designed with photographers in mind, so if you're planning on bringing your camera and photo equipment, the Fernweh is made to keep your gear organized and safe.
The Fernweh combines a rough on-the-ground adventure bag with a pack a frequent flier can use. There's a hidden security pocket in the back for your passport or cash, and the mesh and foam padding on the back provide plenty of support for long days of hiking.
There are six adjustment points, so you can find the perfect comfortable fit when carrying the pack. And the four main access points allow you to reach gear no matter if it's on the top or shoved all the way to the bottom of the pack.
Like the Navigator 37L, the Fernweh is also a more expensive bag, but definitely worth the investment – especially if you'll be carrying around sensitive and delicate camera equipment. I have been using the Fernweh here on Madeira Island for the last 4 months and I have been pretty stoked about this bag.

Our GREATEST Travel Secrets…
Pop your email here & get the original Broke Backpacker Bible for FREE.
Nomatic Navigator Review: Final Thoughts
There you have it – everything that makes the Navigator 37L a great travel backpack-suitcase hybrid creature.
I'll be straight up with you; Nomatic makes some of the best travel gear out there and the Navigator series is no exception.
This bag was meant to last for years of travel and is designed to keep your personal items and tech equipment safe and well-organized while you're on the road. If you're after a cool-looking travel pack that also has these handy things called wheels – the Nomatic Navigator 37l is probably just what you have been searching for.
---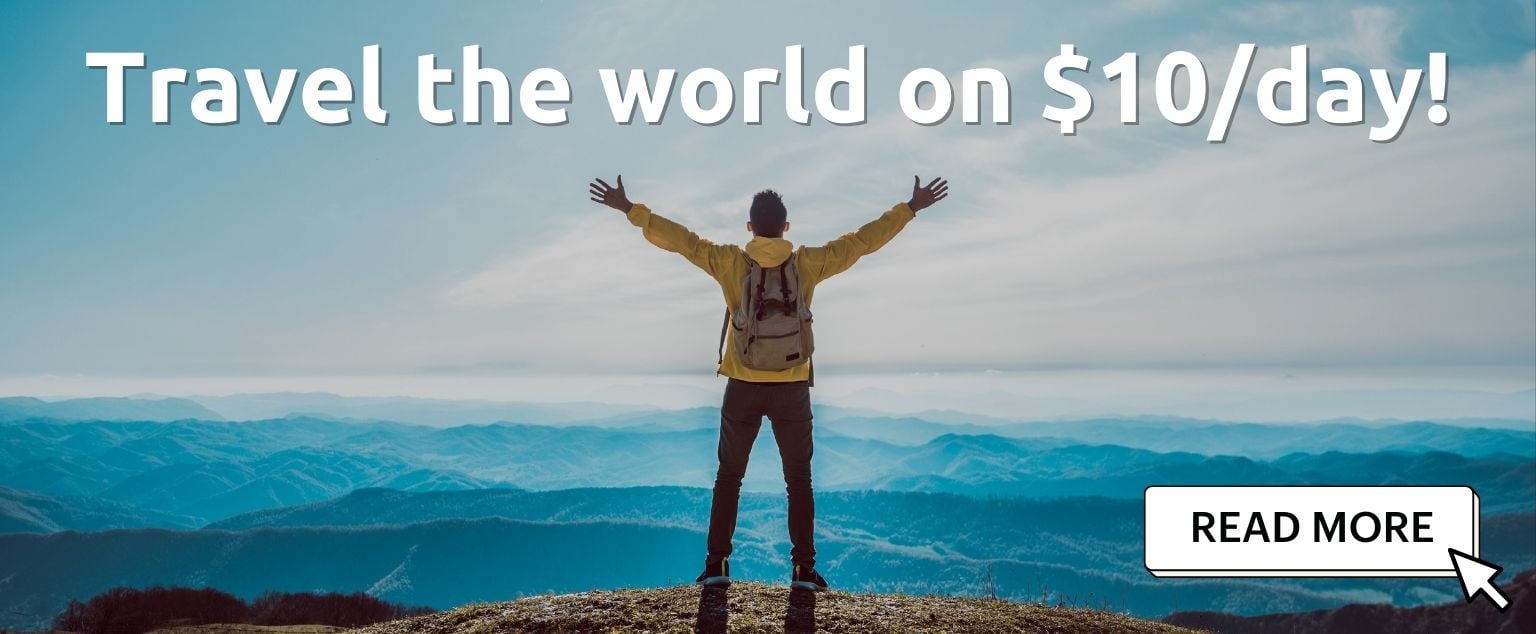 And for transparency's sake, please know that some of the links in our content are affiliate links. That means that if you book your accommodation, buy your gear, or sort your insurance through our link, we earn a small commission (at no extra cost to you). That said, we only link to the gear we trust and never recommend services we don't believe are up to scratch. Again, thank you!