Convertible and multi-purpose travel bags can be a life-saver for travelers and digital nomads alike. Let's face it; we all need an awesome backpack to organize our life in one place. And as the demand increases, so do the backpack options, along with the opportunities for success and failure in finding the right travel pack.
We have tested a bunch of Aer's top travel packs over the last few months and I must say, right off the bat I saw something special in the Flight Pack 2.
Aer has made a name for themselves with their high-quality travel bags, and the Flight Pack 2 is their solution to a convertible day backpack/briefcase bag. Just how does the bag stack up in terms of performance and functionality? Read on to learn about every inch of the bag inside and out to determine if it meets your travel requirements.
This is probably the most detailed Aer Flight Pack 2 review on the internet so grab a coffee and settle in…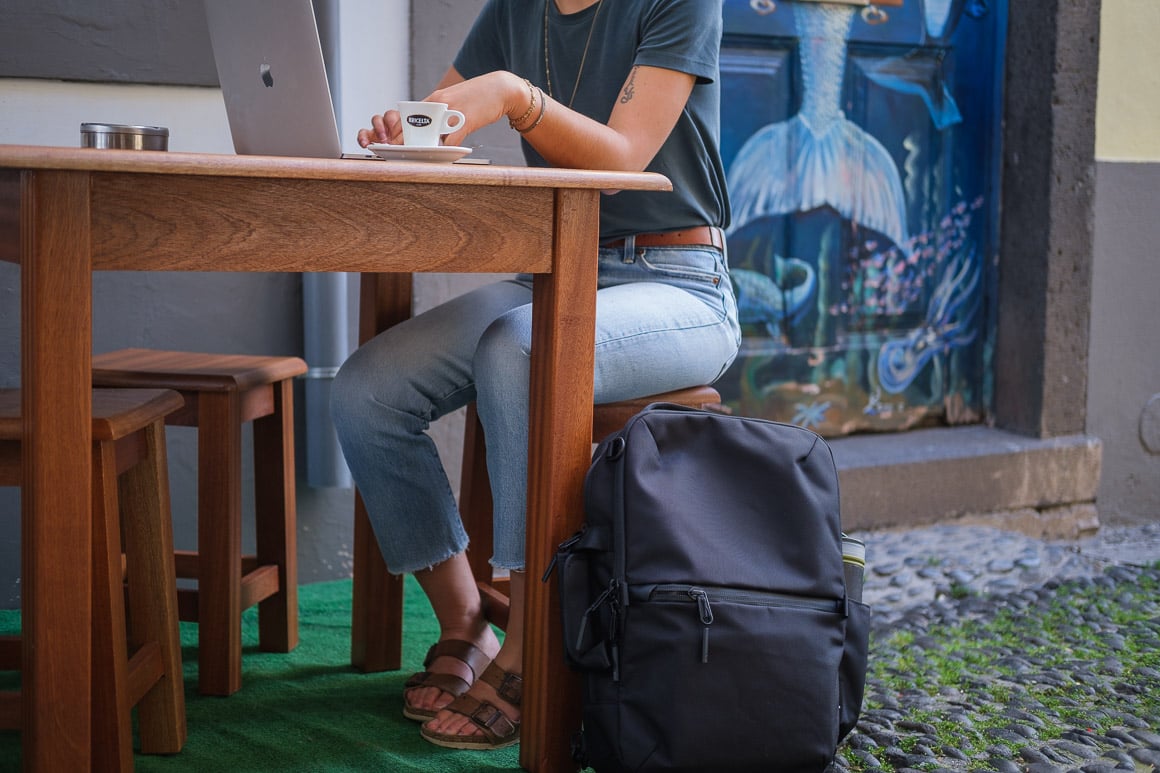 If you're familiar with any of Aer's other backpack and travel bag products, you'll recognize the characteristic black-on-black sleek design and fairly unassuming exterior appearance. It's the kind of bag that can fit into a variety of situations, and it's actually a bit hard to tell everything that's going on just by looking at it.
In each of the sections of this Aer Flight Pack 2 review, I'll go through the pockets and features with a fine-toothed comb to let you know what works and what doesn't about this pack.
Even though it's designed with work travelers in mind, the Flight Pack 2 could also function in a variety of other situations, including everyday urban use, university, or commuting.
Winter is coming… WARM UP!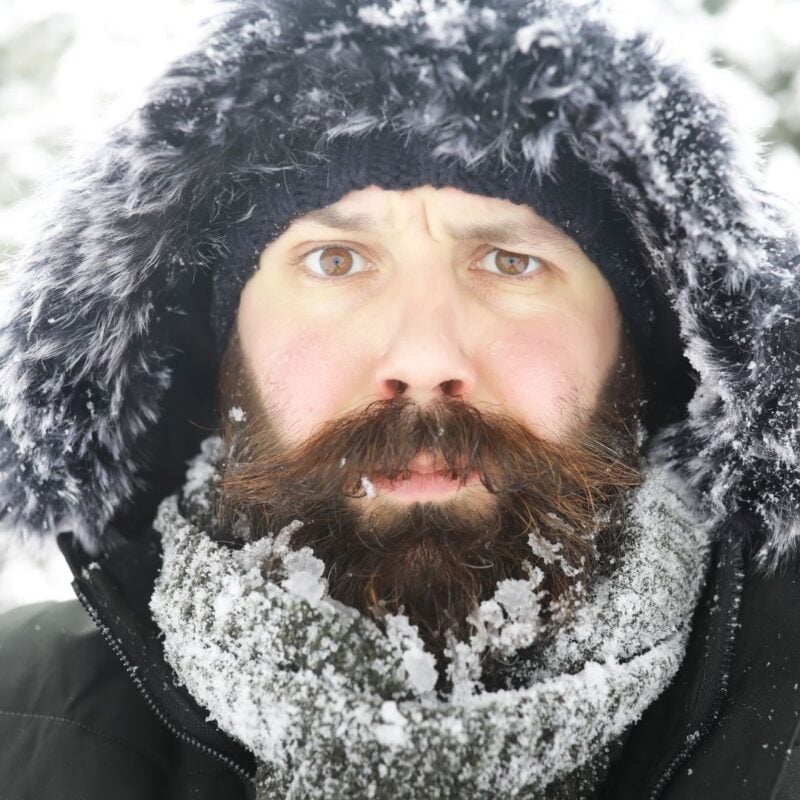 Get up to 50% OFF when shopping gear for the winter on REI.
Warm up for the holidays and SAVE on outdoor gifts all the way through Dec 18!
View on REI
Main/Laptop Compartment
As you might expect from a bag designed for work travel, space for electronics is definitely a priority. The main zippered compartment of the Aer Flight Pack 2 includes a padded sleeve for a laptop up to 15.6 inches, and has enough support to offer good protection for your device.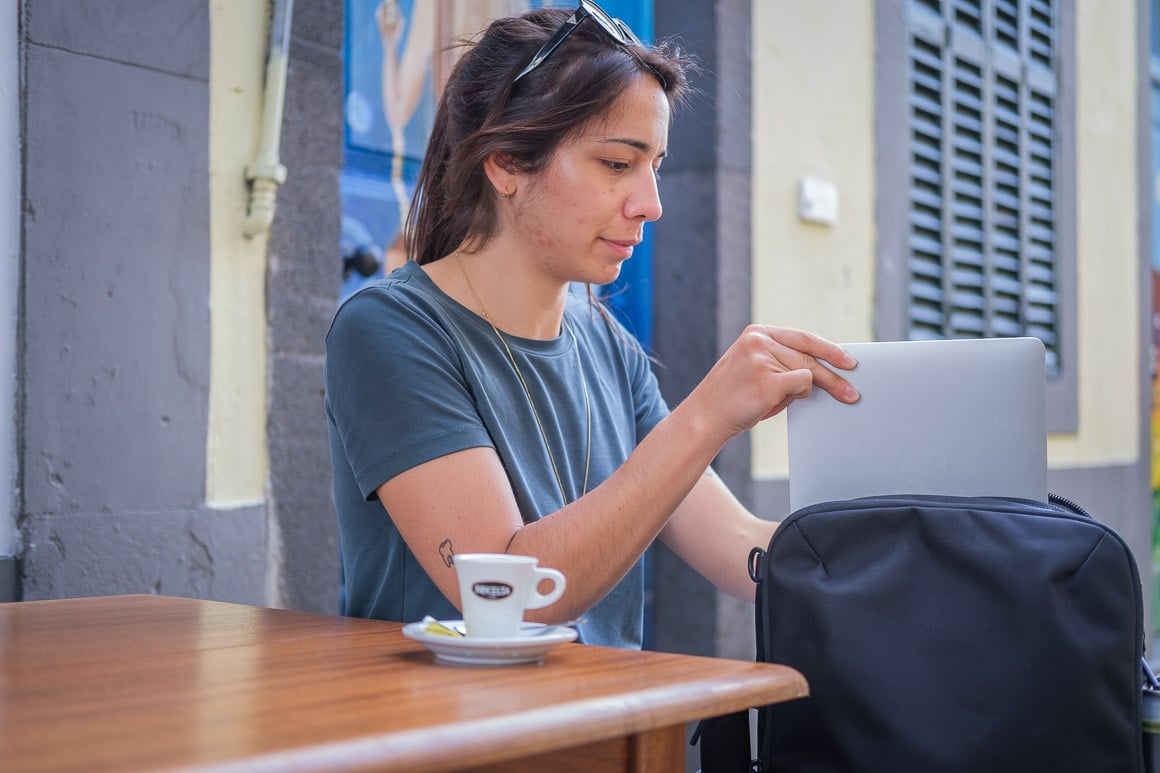 In front of the laptop pocket, there's an additional sleeve which can be used for storing books, magazines, or a tablet.
Beyond the laptop, there's more space in the main compartment for other travel gear, chargers, headphones, or a jacket. The zippers on the main compartment go almost the entire way around the bag, allowing you to have access from multiple angles.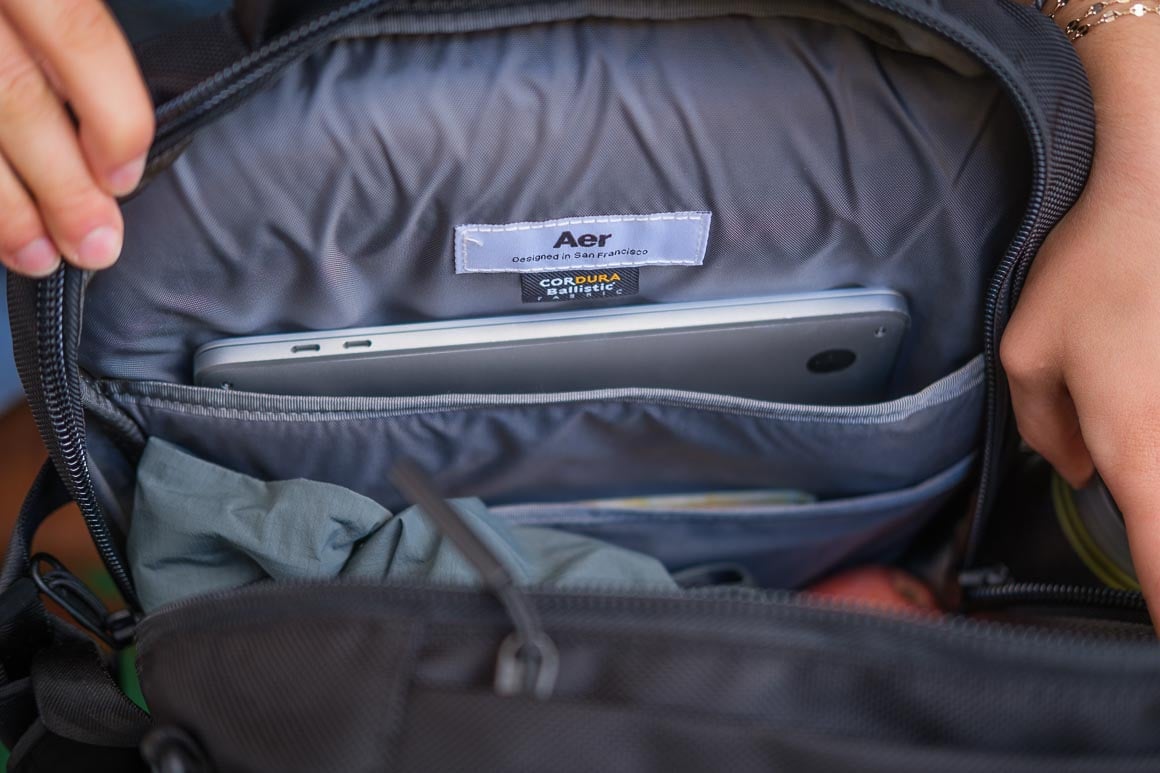 Keep in mind though that the Flight Pack 2 isn't meant to be your only bag for longer trips. The main compartment simply doesn't have enough room for many days worth of clothing, shoes, or other gear you might need for an extended time away.
Front Compartment
The second largest pocket of the Flight Pack 2 is designed to carry other electronic accessories and small travel items. Although the zipper doesn't go quite as far around as the main compartment, the front flap can fold all the way open for easy access to what's inside.
Inside, the compartment has further organizational pockets for a small camera, mouse, charger, or sunglasses. I like that Aer doesn't go overboard with adding tons of tiny pockets that are too small to put anything in, but still offers good organizational abilities.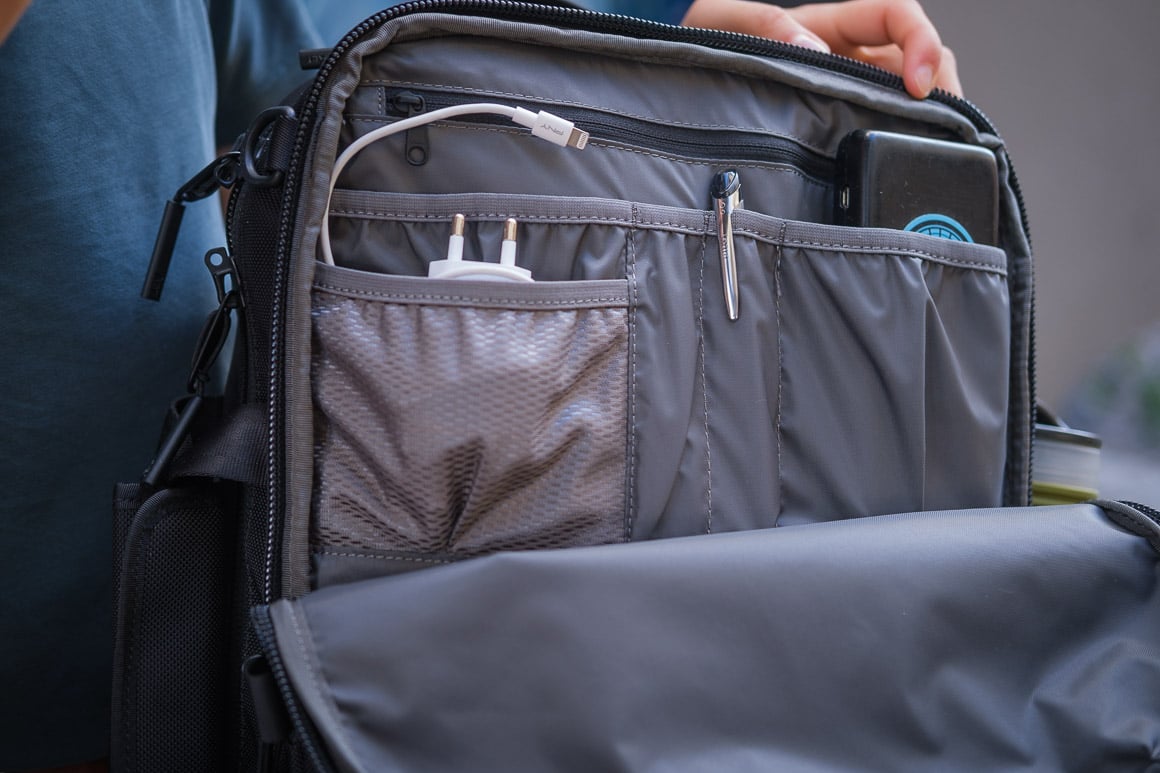 The downside to the front pack is that since it's so flat, there's not much room for bulky or oddly shaped items. If all you need is room for a smaller book and some accessories, there's definitely plenty of room. But for people who have a lot of bulky stuff not fittingf inside the main compartment, the front pocket space may be too small.
Compared with the main compartment, there's also considerably less protection and padding, especially on the front. This usually isn't an issue for airplane travel or daily commutes, but a bit more cushion would still be nice to have.
The Exterior
In addition to the main compartments, there are a few other exterior pockets for stashing gear and small items you want ready-on-hand.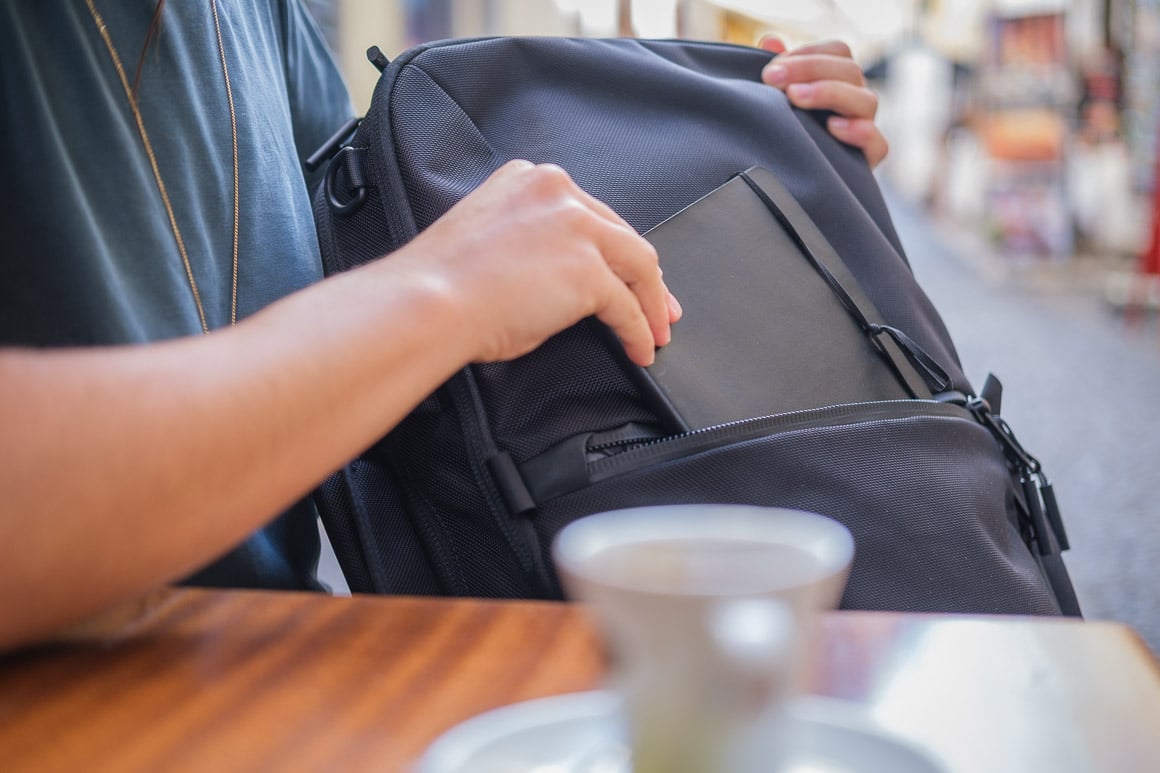 As mentioned, on the front of the bag, there's a pouch large enough for a travel guide, small book, or another similarly sized object. Again, since this pocket is flat, it's difficult to put anything bulky or oddly shaped in here, but it's nice for a city map or small translation guide if you're traveling internationally.
There's also a quick-access pocket on the top of the bag (or side when carried in briefcase mode), which is a great spot for your cell phone, cash, and passport.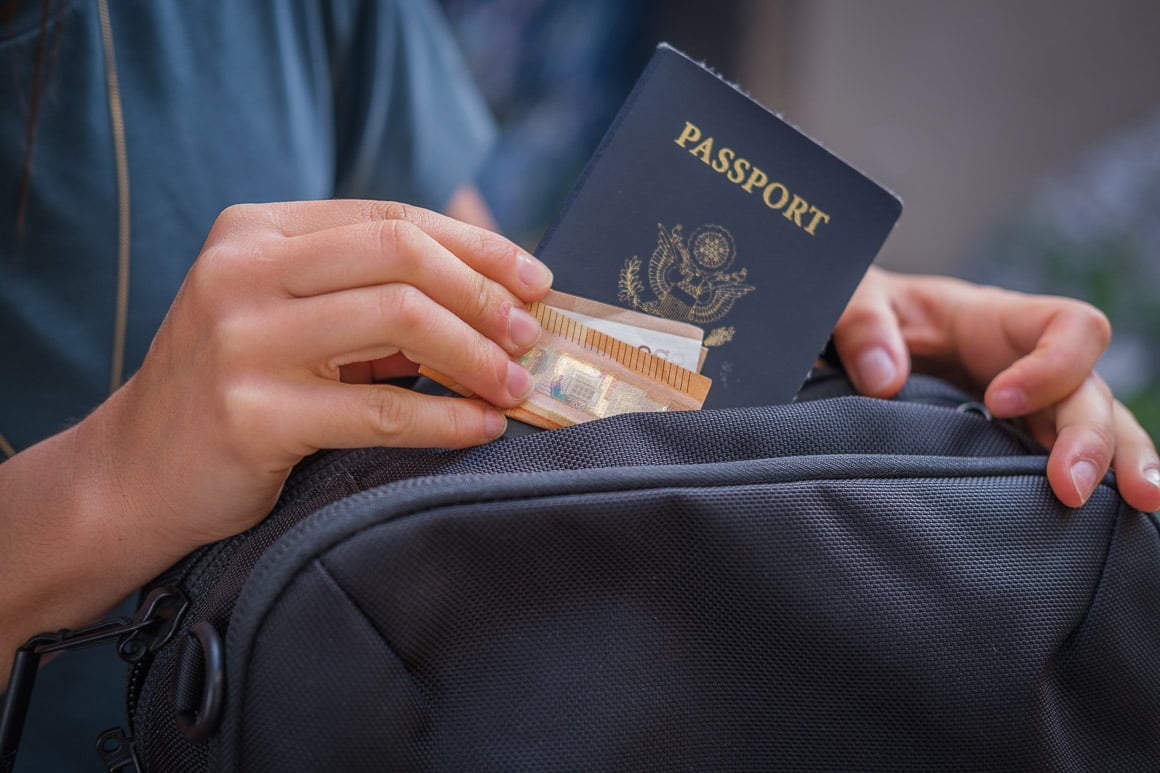 Unlike the zippers on the main compartment, this pocket doesn't lock though, so you should never keep your wallet here (kind of obvious).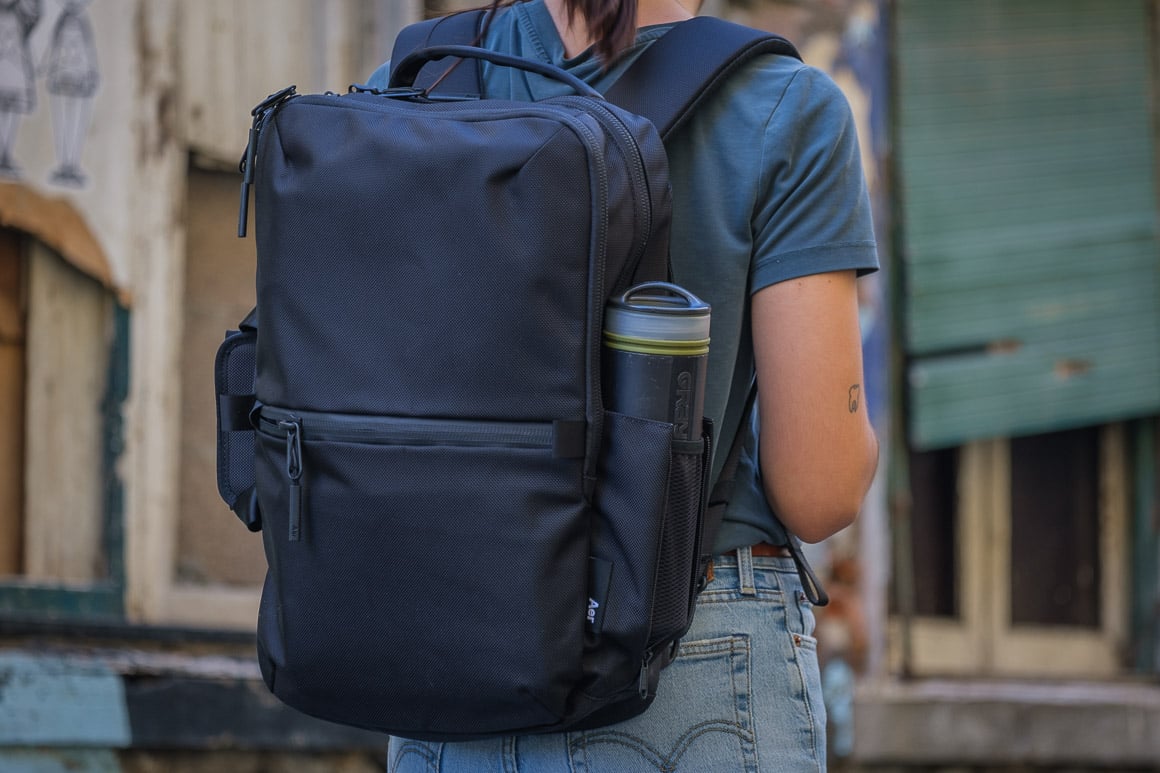 Aer has also included a water bottle pocket on the side of the bag. While not big enough to fit my full-sized Grayl Geopress, I found that even when the bag is in briefcase mode, a water bottle stays in place just fine (the water bottle needs to be a snug fit).
Sizing and Fit
The Aer Flight Pack 2 measures 18 inches in length by 12 inches in width by 5 inches in depth. It only comes in one size, but there are decent adjustment options on the straps to accommodate for various body types.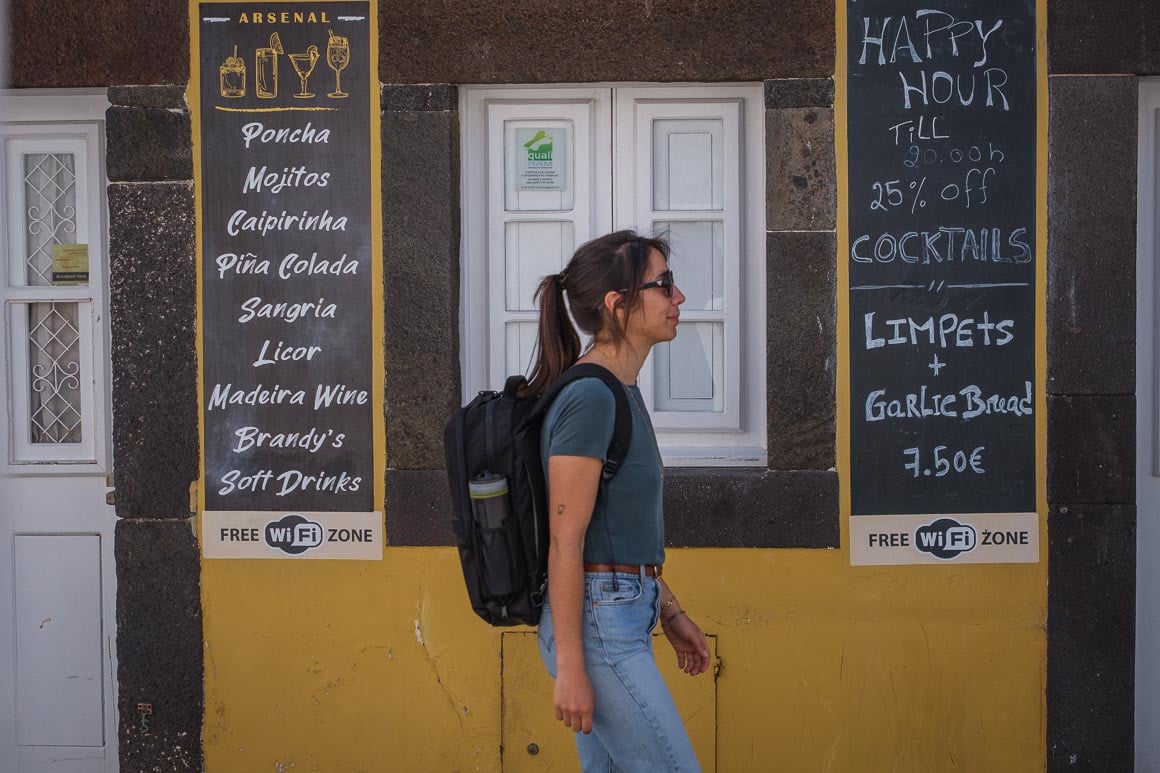 Both the shoulder strap and the backpack straps have decent padding, especially considering the small size of the bag. There's also a wide range of adjustments on both, so if you prefer backpacks to sit higher or lower on your back you can tighten or loosen the straps.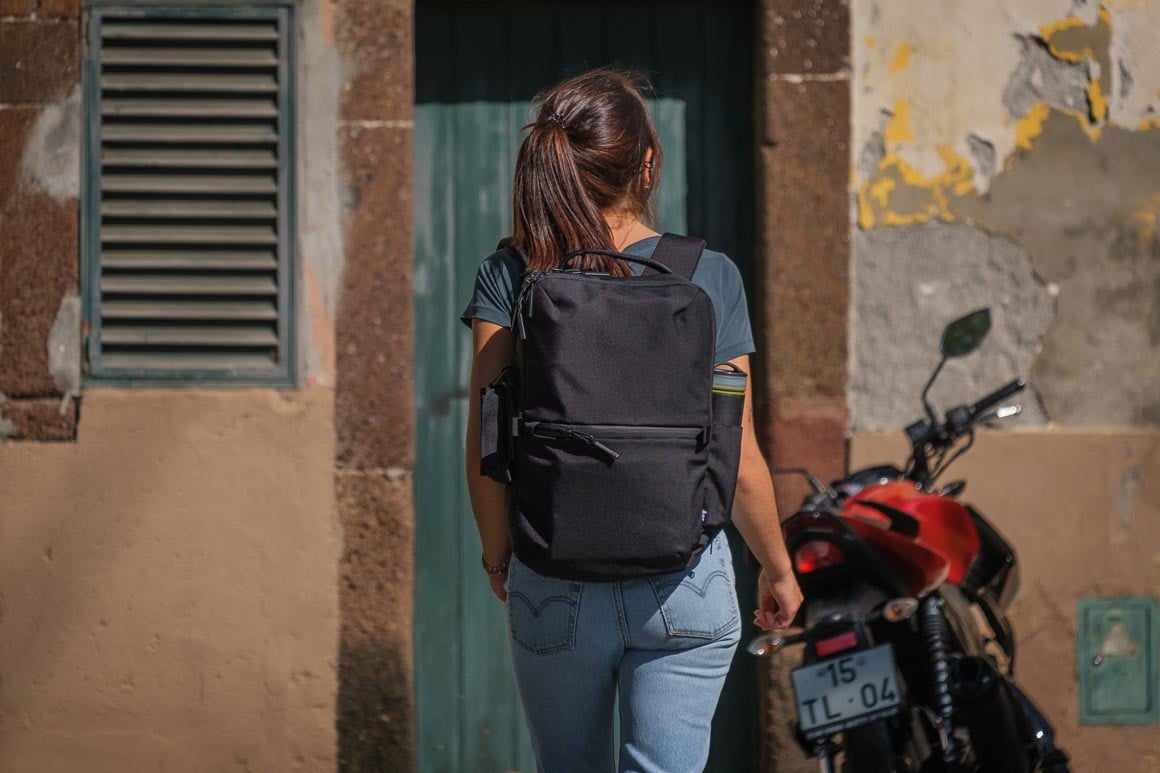 The Flight Pack 2 feels more padded to me than some of the other AER backpacks of a similar size and my girlfriend (pictured) said the same thing. 19 liters feels like a fine day pack size and even though it is only a few liters bigger than the Aer Day Pack 2, it feels like I can fit way more stuff inside.
Carry Options
One of the main selling points of the Aer Flight Pack 2 is the versatile carry modes. And truthfully, Aer has done a good job in designing a briefcase/backpack travel bag without the problems of dangling straps getting in the way.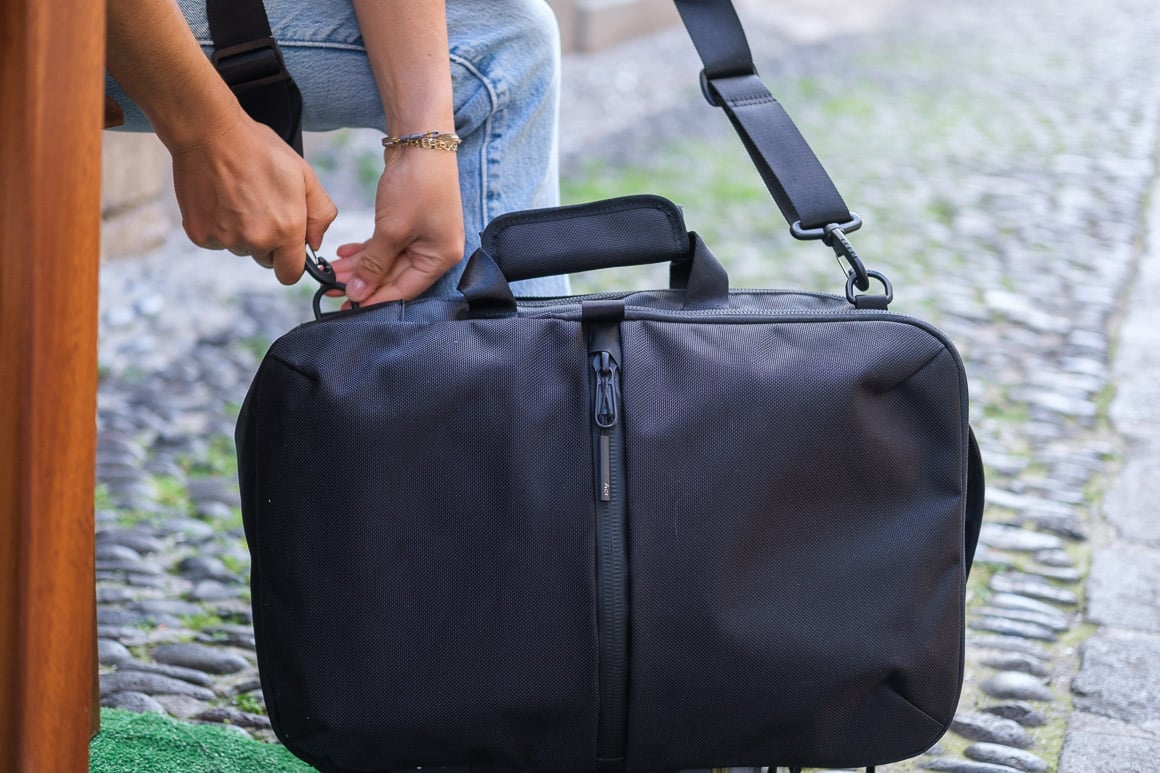 There's a tuck-away back panel where both of the backpack straps can neatly fit when not in use, making the bag appear just like a normal briefcase or shoulder bag. The shoulder strap is also removable, so it's not going to get in the way when you're carrying it as a backpack.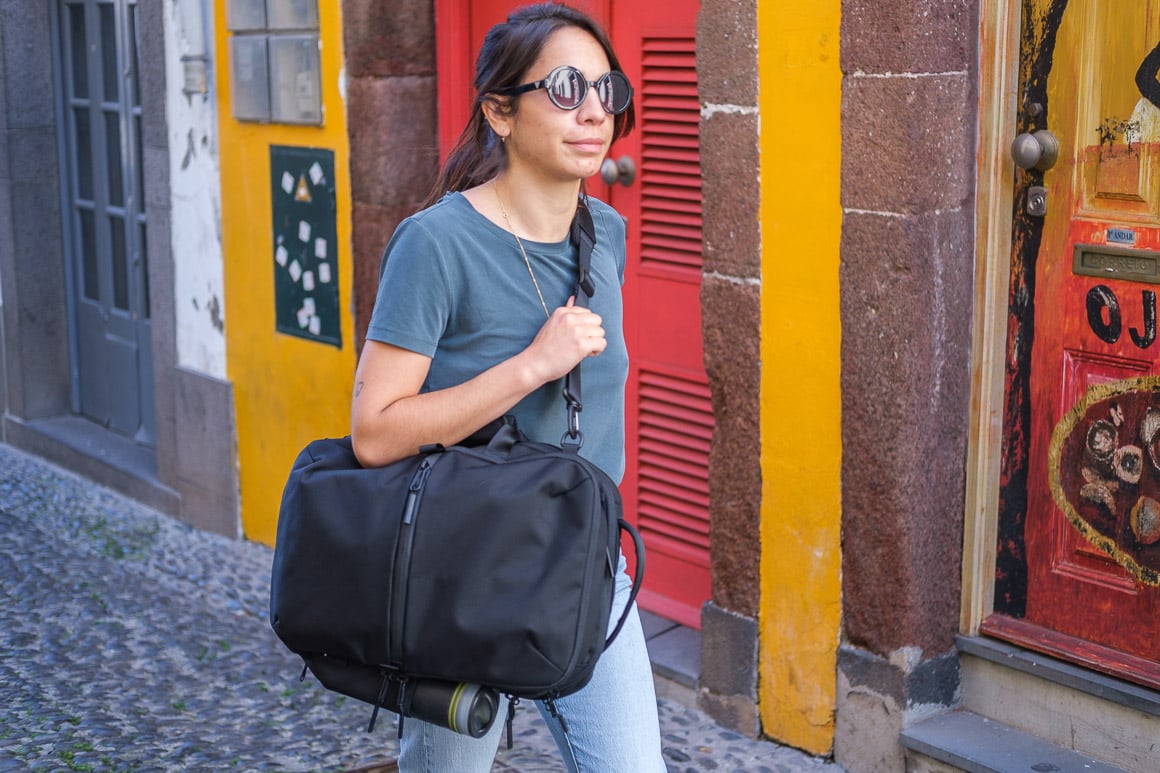 In addition to these two main carry options, Aer has also put padded handles on the top and side of the bag. Although the bag is a bit big to comfortably carry as a tote for a long period of time, these handles are super helpful in situations like retrieving the pack from an overhead compartment on an airplane.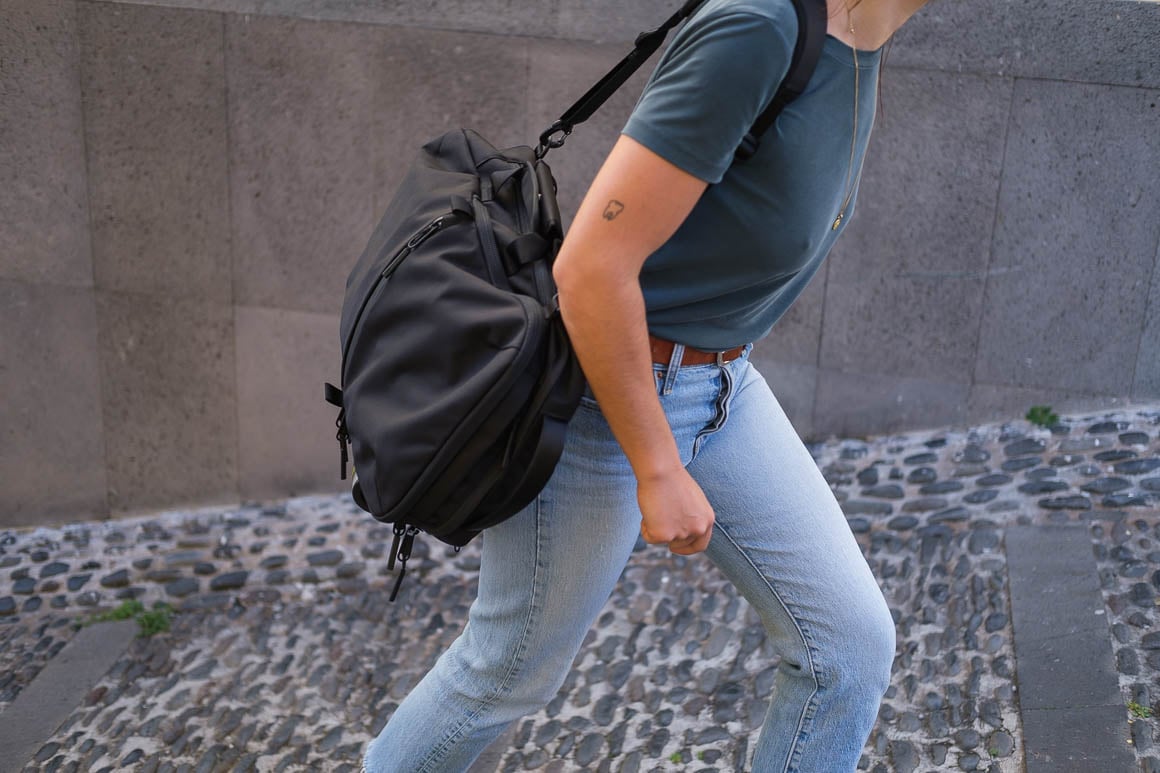 The back panel of the bag also has a pass-through for luggage handles, which makes it much easier to transport the Flight Pack 2 along with your suitcase at the airport.
Weight and Capacity
The Aer Flight Pack 2 has a 19-liter capacity and weighs in at 2.8 pounds, which is a bit heavier than other packs of its size. However, it is also sturdier and made of more durable materials, which is helpful for protecting fragile electronics and important documents (because we all carry important documents, right?).
One thing that's important to note about the capacity is that the Aer Flight Pack was definitely designed for transporting flat items. Books, magazines, binders, and your laptop will all slip inside easily, but a change of clothes, oddly shaped camera equipment, or other bulky items are difficult to pack.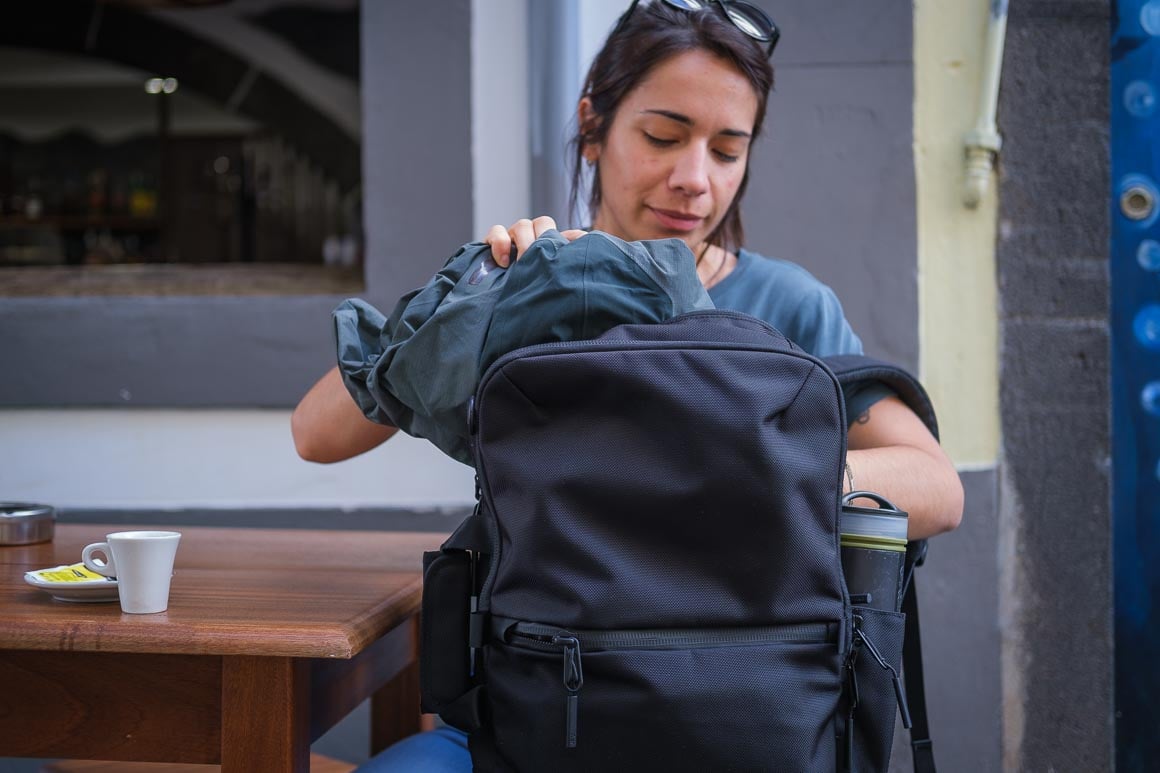 As long as you're planning on using it as a travel work bag as Aer intended, the design will be an asset. However, if you're looking for something with more storage room or that can function better as a day bag while traveling, then one of Aer's other products like the Travel Pack 2 or Capsule Pack Max might be better.
Toughness and Durability
The Flight Pack 2 scores fairly high in terms of durability, so long as you're not planning on taking it on any crazy adventures. Although it's not fully waterproof, the 1680 Cordura ballistic nylon exterior is highly water resistant and enough to protect the bag and its contents from light rain and unexpected splashes.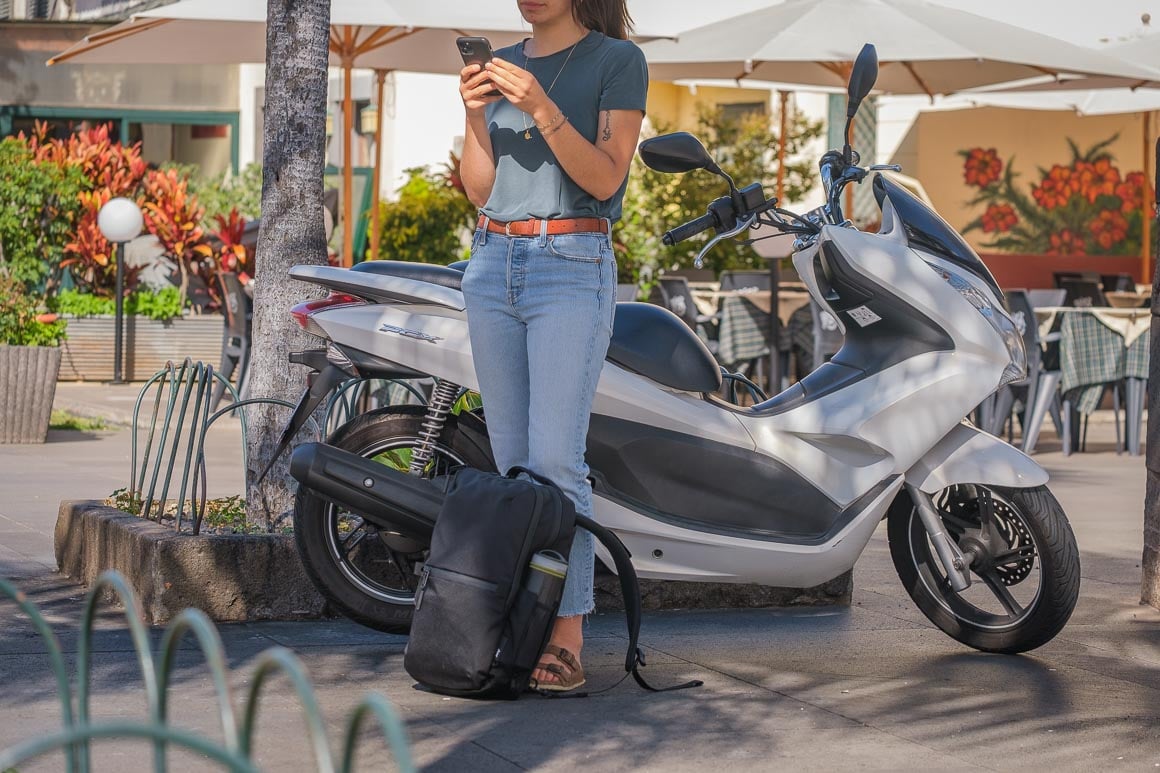 Some of Aer's other travel bags feature an additional carbonate polyurethane coating for added weather resistance, and unfortunately the Flight Pack 2 is lacking this feature.
It will certainly hold up just fine to airplane travel, but this is not the pack you want for rugged, outdoor adventures. For that, you want a proper hiking day pack.
Security
Urban dwellers are often cautious when it comes to the security of their travel bags, and for good reason. Especially if you plan on transporting valuable electronics and sensitive information, having some extra security features is a good idea.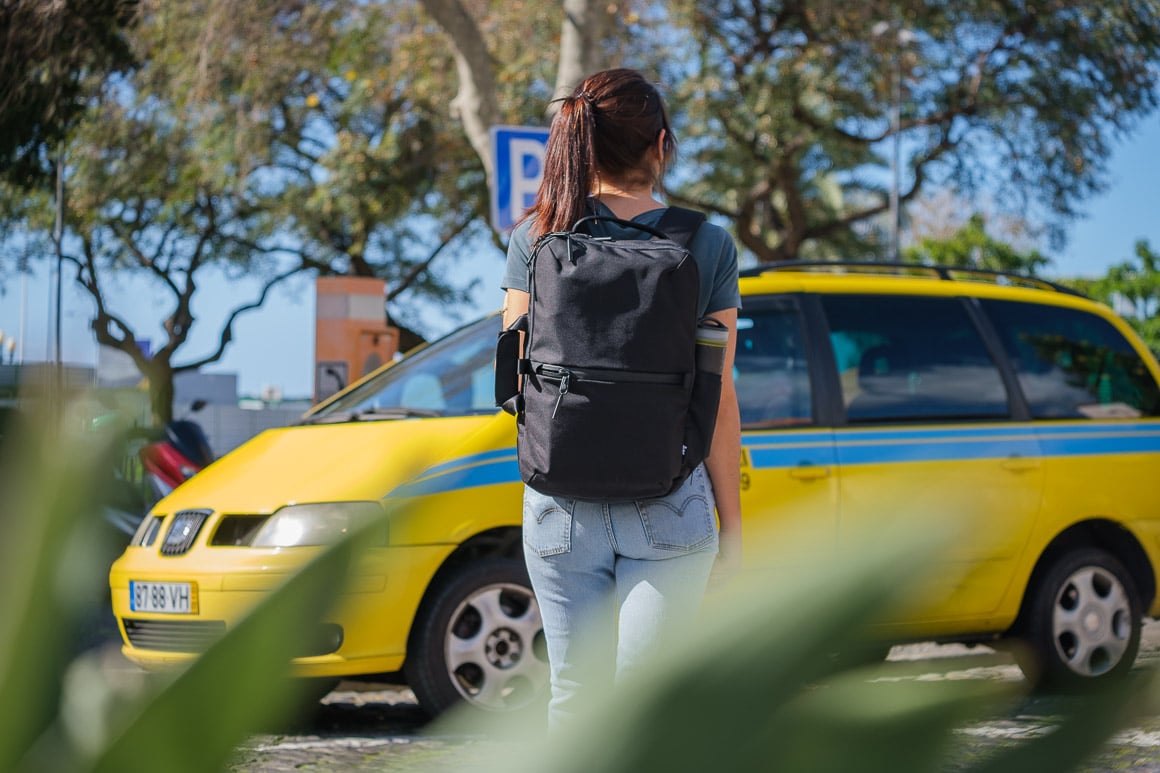 You'll be relieved to know that both the main laptop compartment and the front compartment of the Flight Pack 2 feature lockable YKK zippers. Overall, the zippers and compartments of the Flight Pack 2 aren't super obvious or easy to reach, which also helps protect your gear when traveling on a crowded subway or waiting at a bus stop.
The only thing that might be within "easy" snatching reach would be a water bottle, but I would think nobody is desperate enough to steal your beat-up waterbottle anyway.
Bag Aesthetics
With a relatively simple and formal appearance, the Flight Pack 2 certainly looks its part as a business travel bag.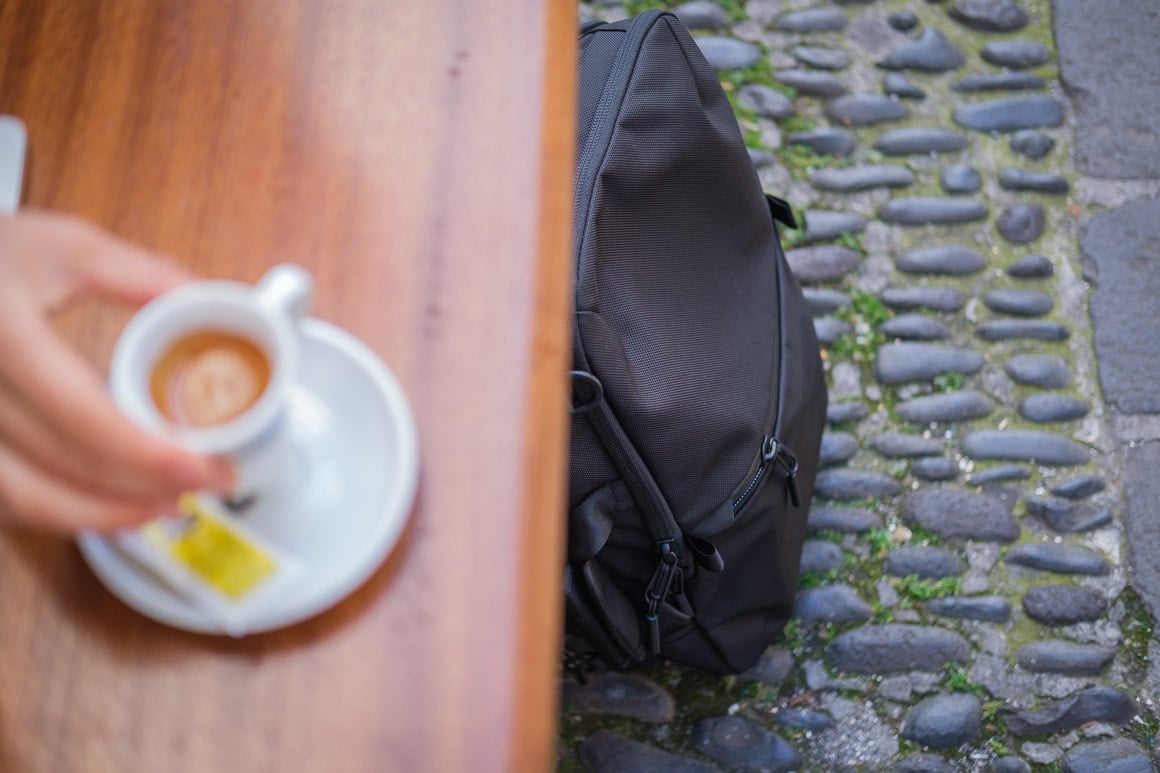 Thanks to the tuck-away backpack straps and removable shoulder straps, the bag also looks totally natural whatever way you decide to hold it. The top and side handle also doesn't stick in an awkward or noticeable way but blend in nicely with the rest of the pack.
While Aer is well-known for their black travel bags, the Flight Pack 2 is also available in navy and gray, if you're looking for at least minimal color variation.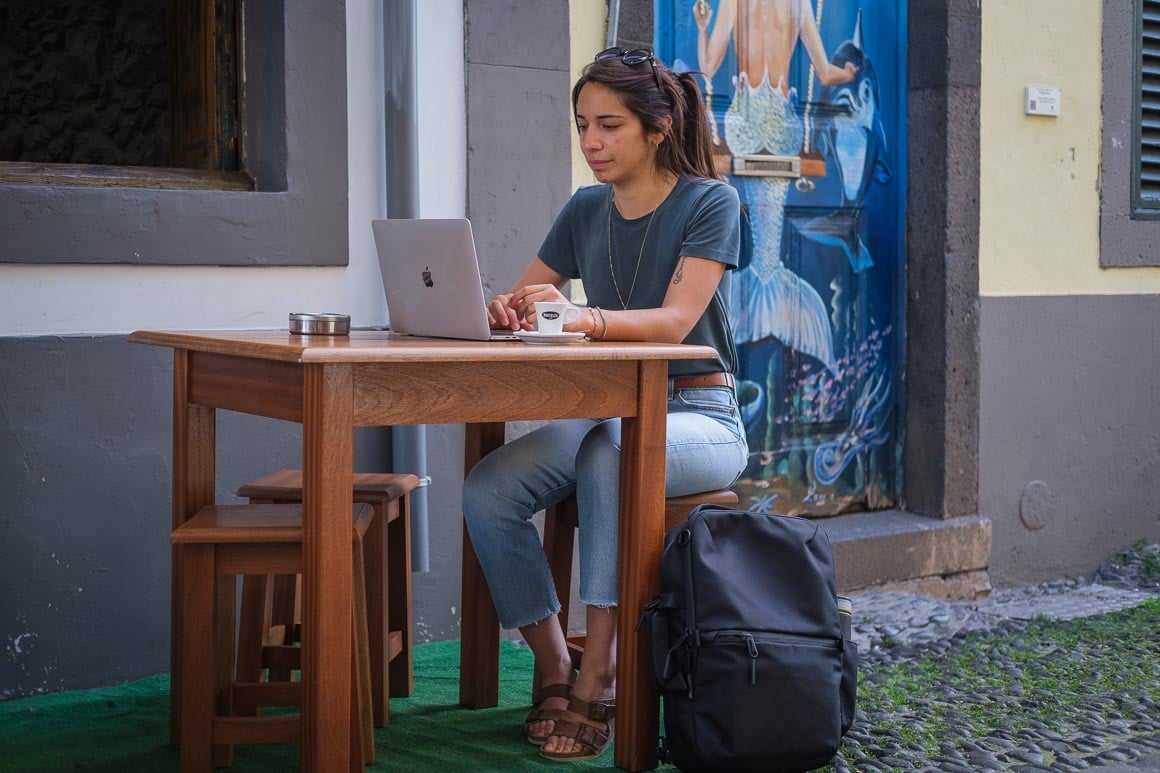 Just like with other products, Aer has succeeded in creating a travel pack with a simple-appearing exterior that hides the organization and number of pockets the bag actually has, which is definitely advantageous given the amount of random stuff we all seem to carry these days.
Cons
Despite its many successes, there are a few downsides to the Aer Flight Pack 2 which prospective travelers might want to take into consideration.
Although the Flight Pack 2 has some versatility in terms of backpack/briefcase conversion, it's not really intended to be an adventurous day pack or duffel bag. The flat shape, lack of padding on the straps, and small size just won't do the trick for day hikes or trips to the gym.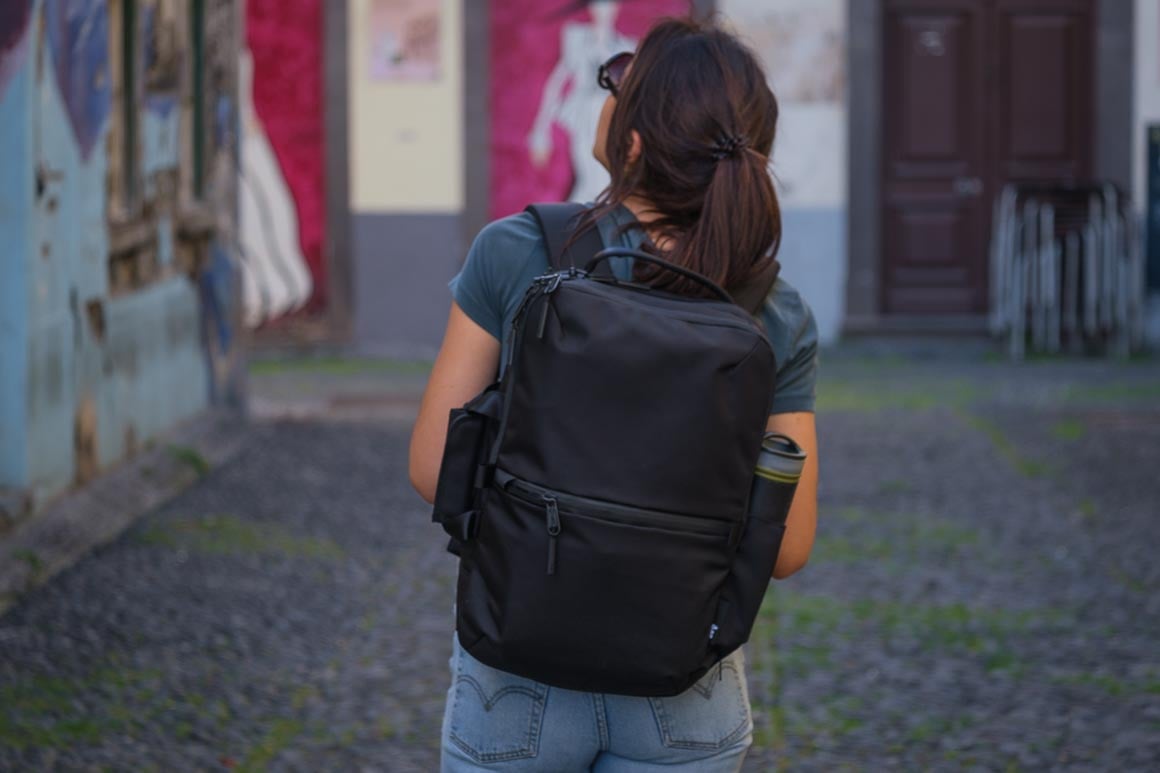 One downside to the briefcase handles is that they block access to the main compartment when in use. Usually, it's not much of an issue since you probably won't need to take your laptop out in the middle of carrying the pack somewhere, but it can be a bit of an inconvenience in some situations.
Overall, the Flight Pack 2 works optimally as a backpack, not a briefcase. While this might suit your travel style just fine, people who prefer a briefcase or messenger bag exclusively might want to abandon the idea of going with a backpack.
The best present of all… is CONVENIENCE!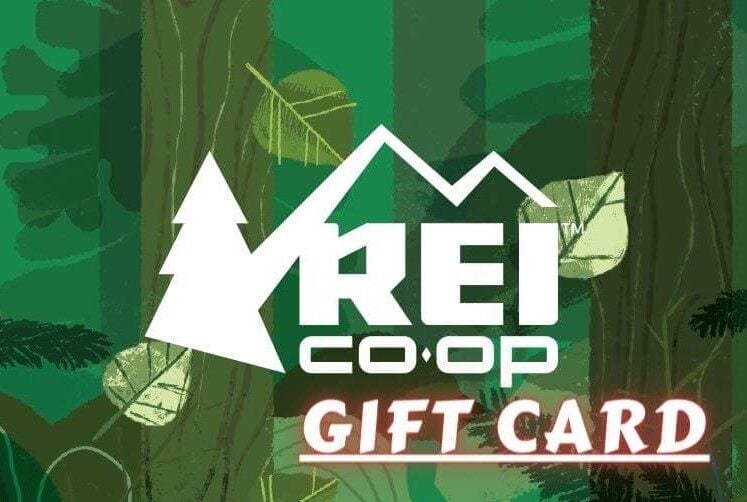 Now, you could spend a fat chunk of $$$ on the WRONG present for someone. Wrong size hiking boots, wrong fit backpack, wrong shape sleeping bag… As any adventurer will tell you, gear is a personal choice.
So give the adventurer in your life the gift of convenience: buy them an REI Co-op gift card! REI is The Broke Backpacker's retailer of choice for ALL things outdoors, and an REI gift card is the perfect present you can buy from them. And then you won't have to keep the receipt. 😉
Buy on REI!
Aer Flight Pack 2 vs the Competition
Now that you've seen all the features of the Flight Pack 2, you might be wondering how it stacks up against some of the other travel bags and business packs on the market. Here are a few of the main contenders for similar bags in case you haven't quite found what you're looking for in the Flight Pack 2.
Aer
Aer
AER Flight Pack 2
Cost > $$
Liters > 19
Laptop Compartment? > Yes
Best Use? > Travel
Aer
Aer
Aer Travel Pack 2
Cost > $$$
Liters > 33
Laptop Compartment? > Yes
Best Use? > Travel
Wandrd
Wandrd
Wandrd Duo Daypack
Cost > $$$
Liters > 20
Laptop Compartment? > Yes
Best Use? > Travel/Photography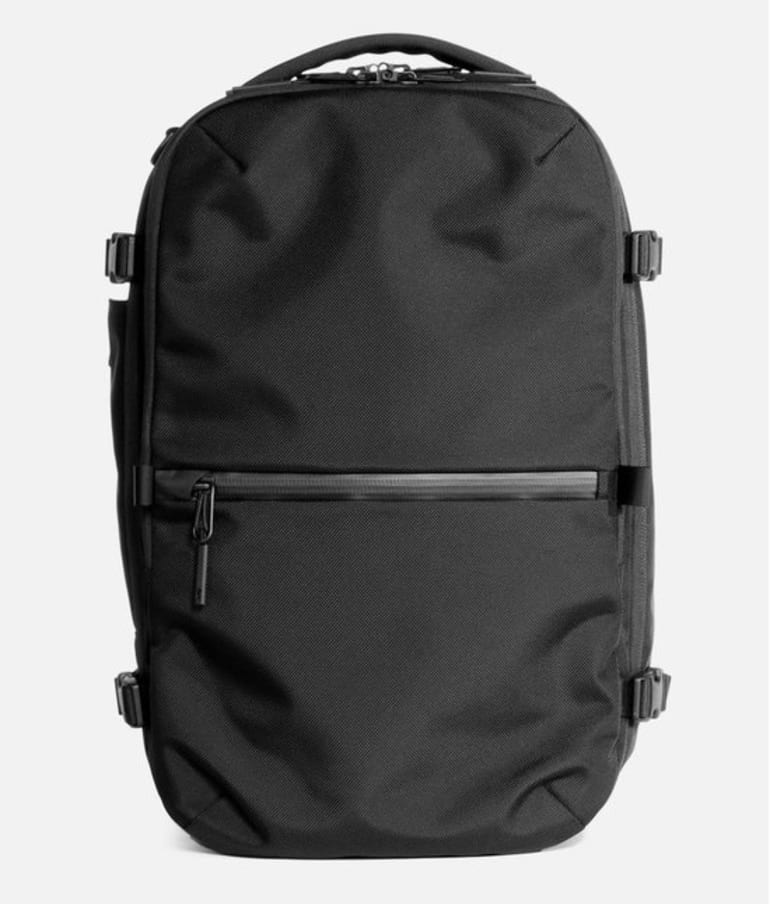 If you're a fan of Aer products, but need something a bit bigger than the Flight Pack 2, then look to the Aer Travel Pack 2. Overall, the bag has an organizational design very similar to the Flight Pack 2, but with a capacity of 33 liters, it's much better for longer trips or for people who have a lot of gear.
The collapsible/expandable design also makes it convenient for a variety of trips, and gives you some flexibility for how much you can pack and how much room the bag takes up.
Downside to the Travel Pack 2 is that there's no shoulder strap if you're a big fan of duff/messenger style bags. On the plus side though, there's the option for a hip belt if you're planning on carrying heavier loads.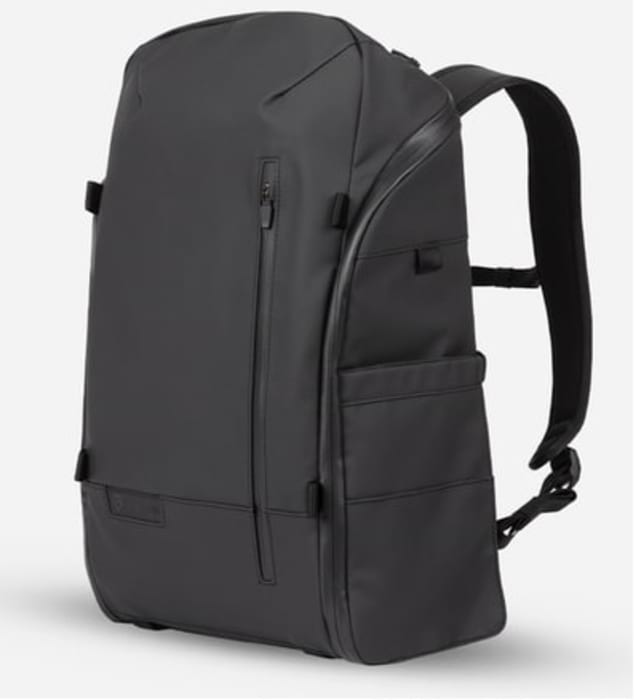 Another company known for their high-quality adventure3 travel bags, Wandrd has created the Duo Daypack with photographers in mind. However, its flexible design also makes it appropriate for commuters, business travelers, or daily use for people who want a more weather-resistant backpack.
If you plan on carrying around more sensitive camera gear, the flatness of the Flight Pack 2 might not be so good for your bulky equipment. In the Duo Daypack, you'll have padded compartments for your camera, lenses, and other gear.
When not in use as a camera bag, the pockets will flatten out so you can fit books, clothing, or other electronics easily inside.
It's also a bit more durable and weatherproof than the Flight Pack 2, but comes at a slightly higher price. However, for a quality carry-on friendly laptop and camera gear bag, it's a product that's hard to beat.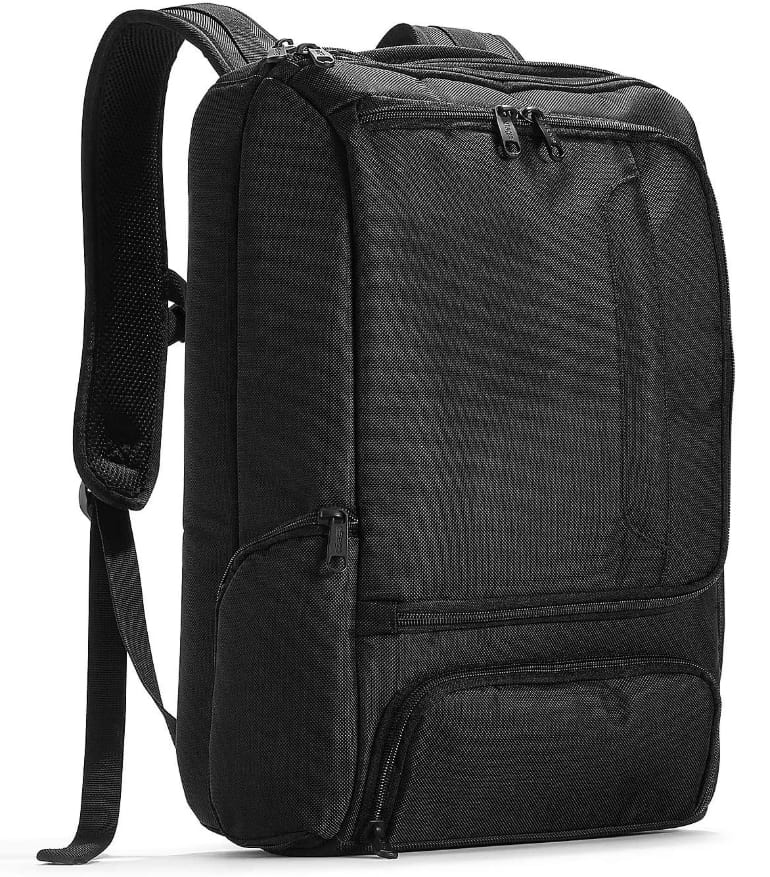 If you're in search of a backpack for business trips but can't quite afford the Aer Flight Pack 2, then the eBags Pro Slim Laptop Backpack is a good alternative. Although it's not quite as high quality or as durable as the Flight Pack 2, it still has great organization and works for professional trips as well as daily commutes or casual use.
We also really like that the pack has the ability to expand and contract, making it easy to adjust the size based on your travel needs. It also has nice organizational options, but unfortunately it can only be carried as a backpack or briefcase and lacks a shoulder strap like the Flight Pack 2.

Our GREATEST Travel Secrets…
Pop your email here & get the original Broke Backpacker Bible for FREE.
Final Thoughts on the Aer Flight Pack 2
There you have it – now that you have finished 3 coffees in the time it took to read this bloody thing, you've now come to the end of our Aer Flight Pack 2 review. Hopefully you are now armed with the details you need to know whether this is the right travel bag for you.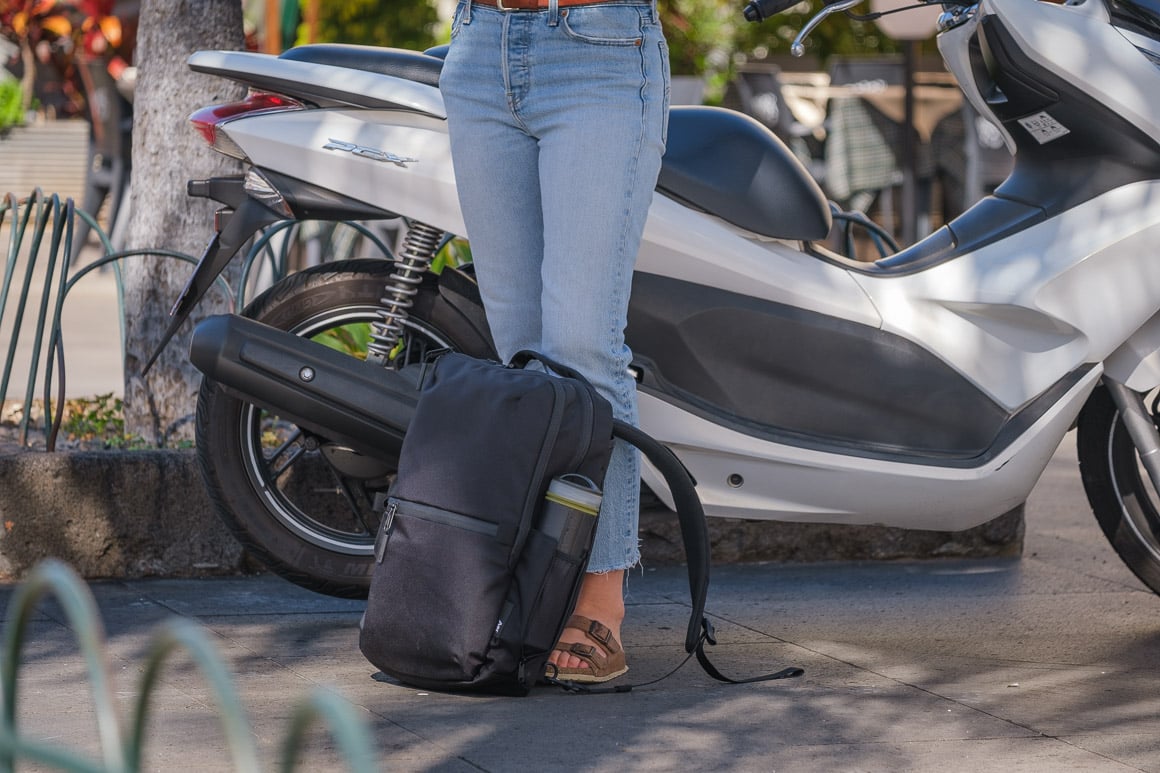 Although it's hard to achieve perfection in any travel bag (and we are hard to please over here), Aer has certainly come close in many respects – and frankly, this is my favorite small-sized day pack Aer makes.
The Flight Pack 2 gets an overall high score in terms of balancing durability, aesthetics, practicality, and ease of use.
While it's not the best choice for hikers or outdoor adventurists, as an urban travel bag or digital nomad day bag, the Flight Pack 2 certainly surpasses much of the competition and might just offer the solution to your travel pack quandaries.
---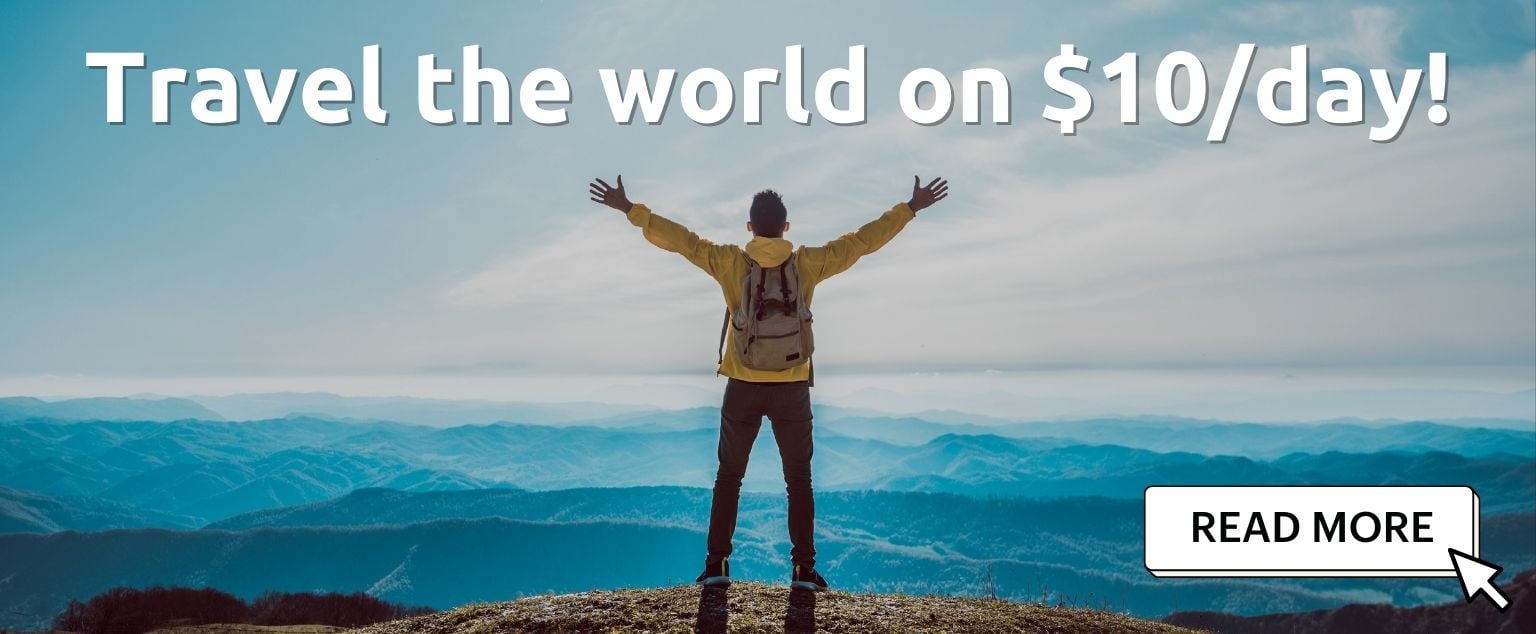 And for transparency's sake, please know that some of the links in our content are affiliate links. That means that if you book your accommodation, buy your gear, or sort your insurance through our link, we earn a small commission (at no extra cost to you). That said, we only link to the gear we trust and never recommend services we don't believe are up to scratch. Again, thank you!