Whether you're a frequent business traveler or urban commuter, having a sturdy everyday carry backpack for your laptop and other gear is important. In this modern, technology-dependent era, more and more people are looking for ways to bring their laptop and electronics with them on a regular basis.
And most of us don't need many bells and whistles tacked on if we are being honest.
Once you start to compare all the options for day packs and backpacks on the market, it's easy to feel overwhelmed. Terms like "travel friendly" and "tech pack" are frequently thrown around, but often don't give you a real idea about how user friendly a pack actually is.
To help you out with your day pack search, we're going to go into detail on one of the more promising packs we have come across in recent years, the Aer Day Pack 2.
This Aer Day Pack 2 review covers the nitty-gritty details of what it offers, as well as what could be better, so you can decide if it's the pack for your busy lifestyle.
The simple exterior of the Aer Day Pack 2 actually makes it hard to tell just what the capacity and organization abilities of the backpack are. So let's take a look…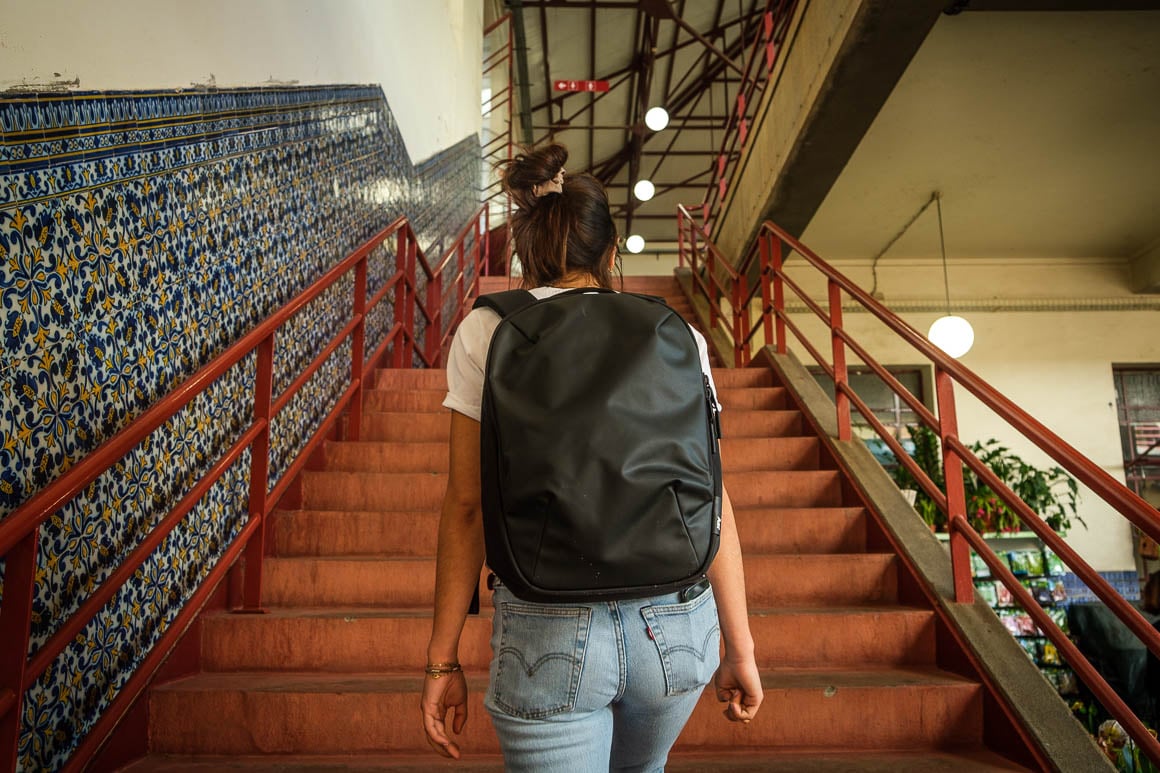 Main/Laptop Compartment
One of the main selling points for the Day Pack 2 is the laptop compartment and the pack's usefulness in work and business travel situations. What's great about the Aer Day Pack 2 is that it's not only meant to be a laptop backpack.
In the main compartment, there's a padded and suspended sleeve which can fit up to a 16 inch laptop. There's also an additional smaller sleeve for a tablet, small book, or magazine.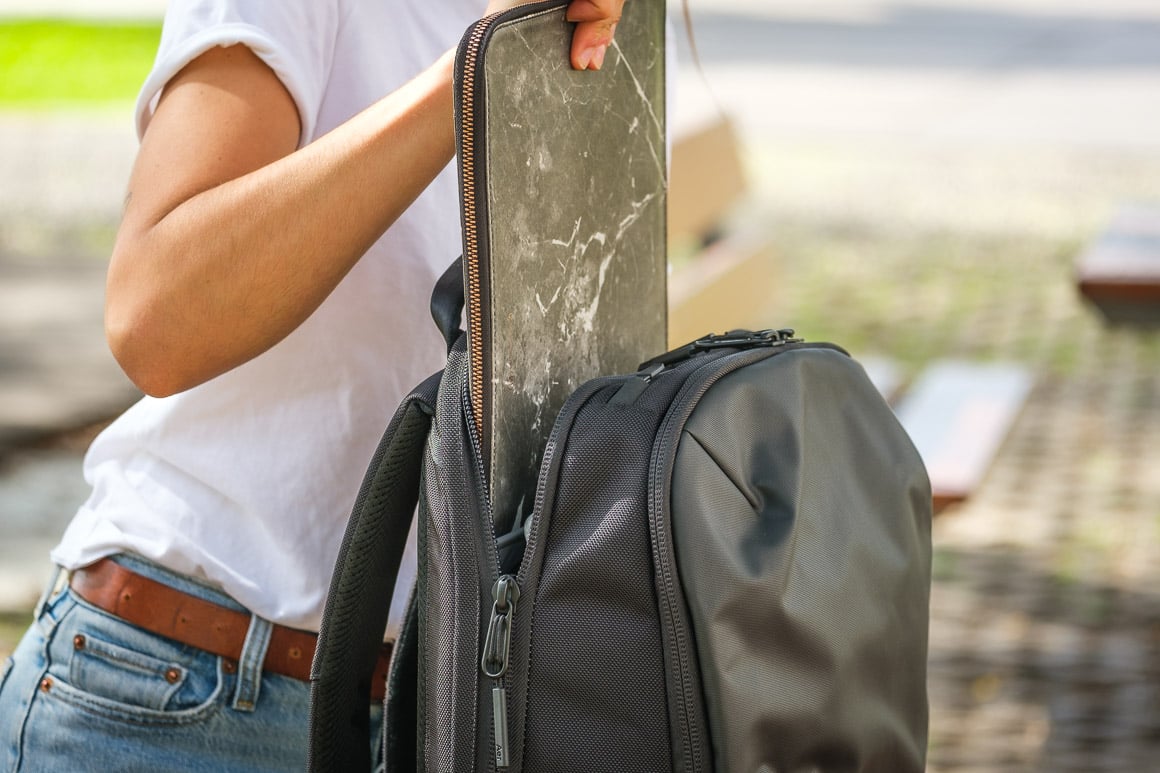 Beyond the laptop sleeve, there's still plenty of room for other items, whether that's other electronics, pocket guide books, or a stash of snacks for the day.
We also like that the zippers on the main compartment go almost all the way down the sides (not quite clamshell, but close). This gives you easy access to the contents of your pack, even if something is shoved to the bottom.
The Aer Day Pack 2 is also more structured than many day packs, which allows the backpack to stand up on it's own, and provides a bit more protection.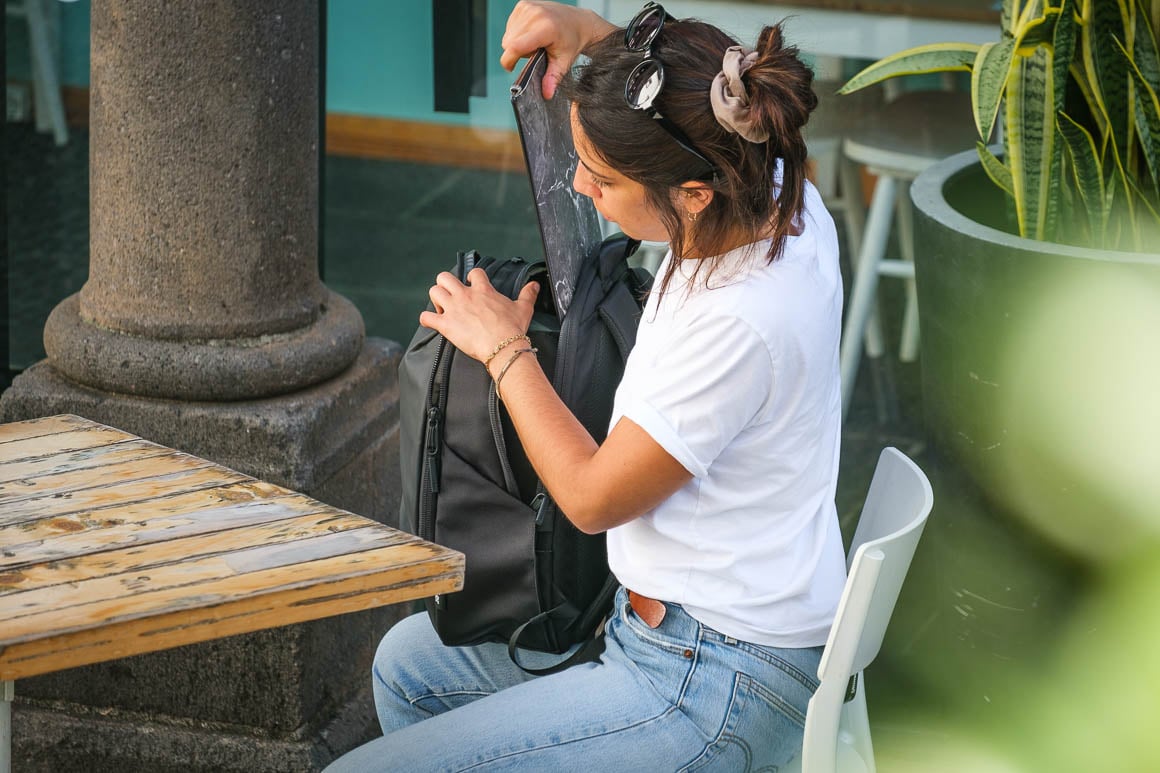 It's a useful feature to have in a variety of situations, like when you're working at a cafe and you don't have to worry about your bag constantly tipping over.
Ladies & Gents, It's Time to Step Your GEAR Game Up. 😉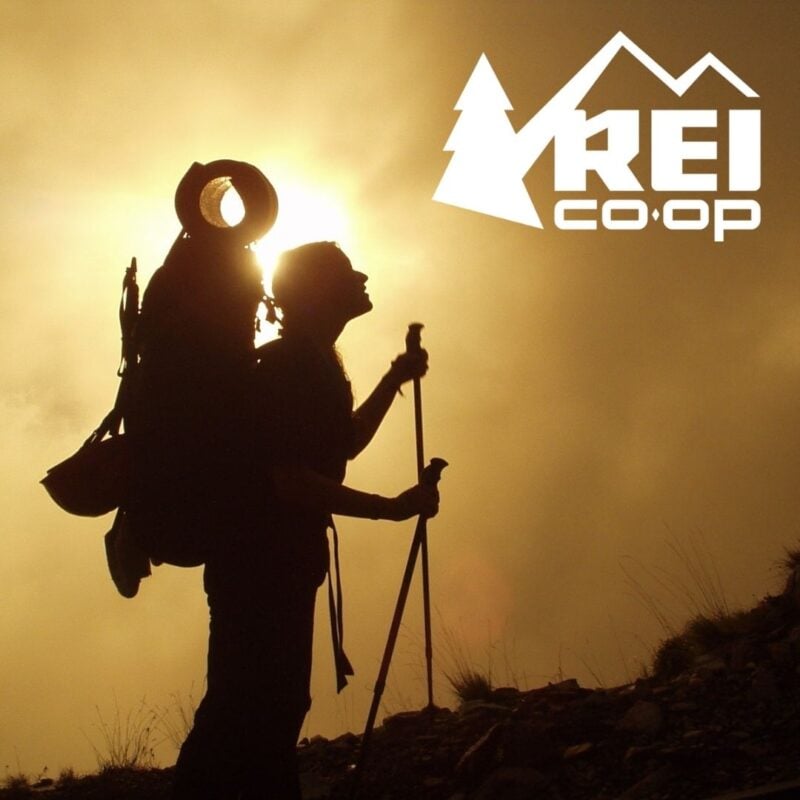 REI is one of America's biggest and most-loved outdoor gear retailers.
Now, for just $30, get a lifetime membership that entitles you to 10% OFF on most items, access to their trade-in scheme and discount rentals.
Join REI Today!
Front Compartment
The smaller and flatter front compartment of the Aer Day Pack 2 is the main organizational pocket of the backpack. Just like the main compartment, the zipper goes most of the way down the sides for easy access.
This compartment is further divided into smaller, soft-lined pockets which can be used to store chargers, your wallet, sunglasses, pens, or extra cables.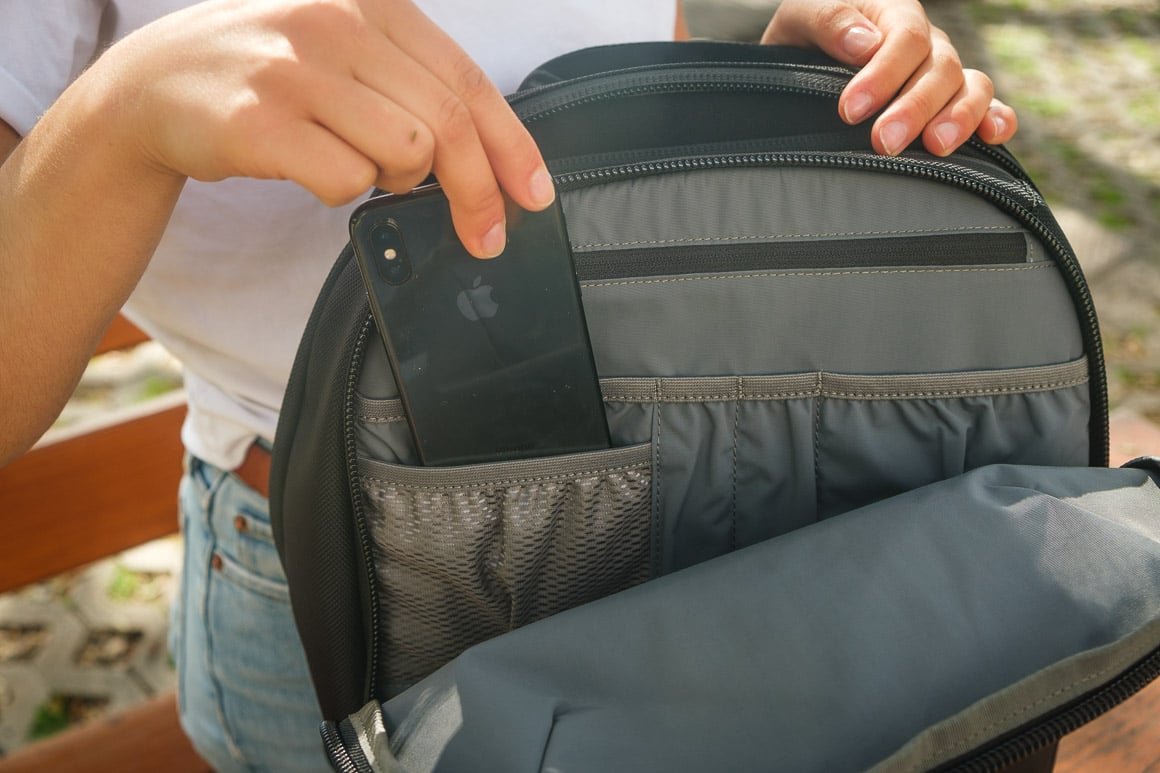 There's a flat zippered pouch on the back which is a nice secure place to keep your passport. This pocket also has a key chain attached inside of it, giving you the option to tuck your keys into the far back pocket, or leave the chain out for easier reach.
Since the front compartment is fairly flat, it's definitely not meant for oddly shaped or bulky items. For smaller items, Aer has done a great job with organizational design in a small day pack.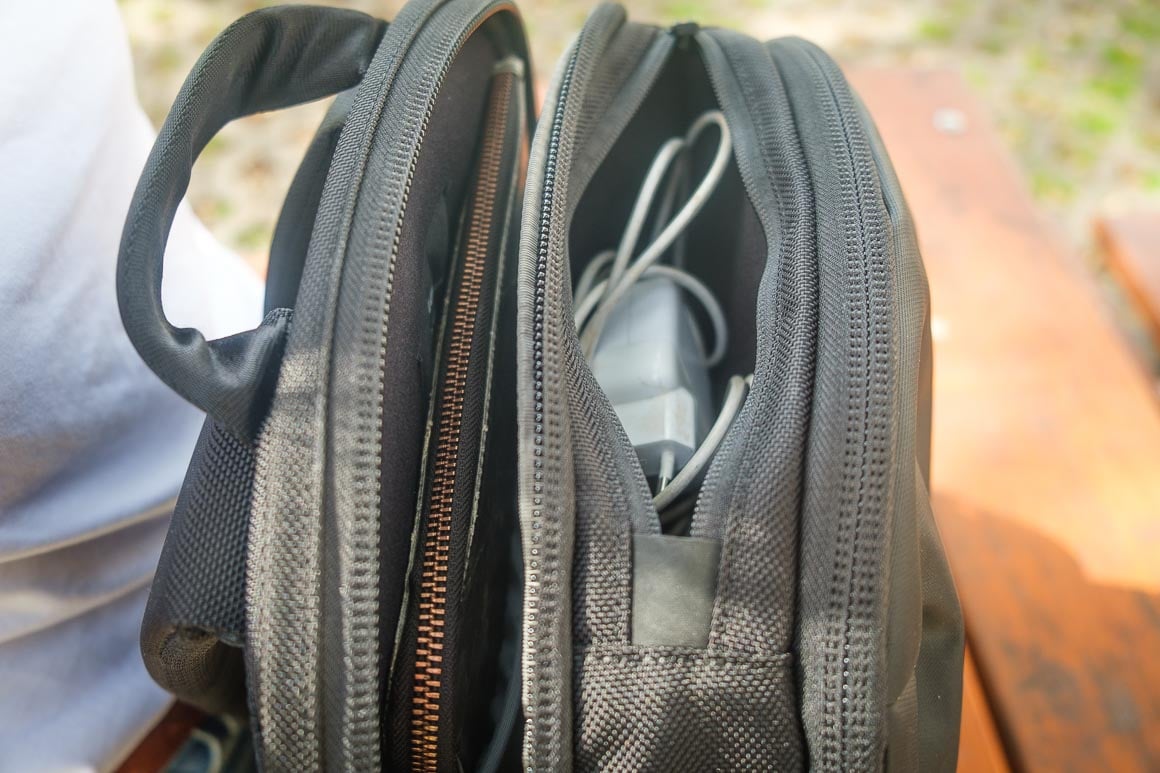 The Exterior and Materials
In addition to the two main compartments, the Day Pack 2 has a few other pockets and features for further organization.
On the very top of the pack, in between the main compartment and the front compartment, there is a small zippered stash pocket with a soft lining inside. It's a good spot for your phone, keys, or other items you want within easy reach.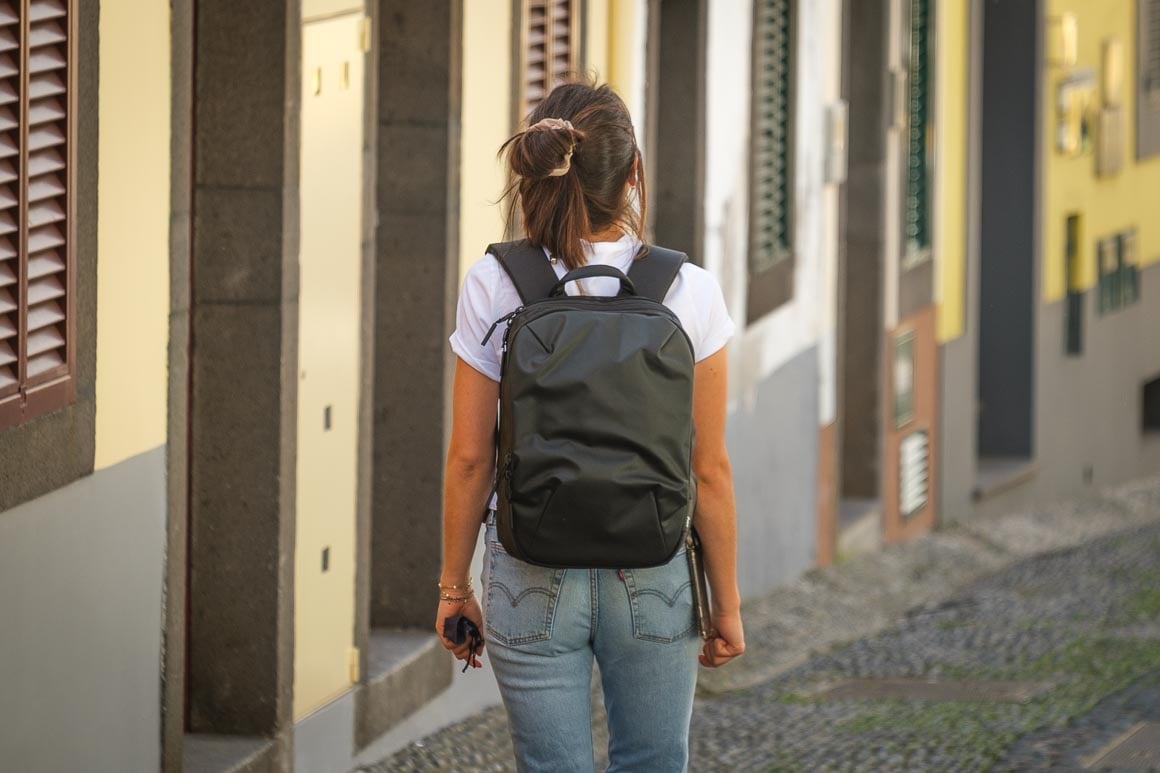 The shell of the pack is made from a 840D nylon material with a weather-resistant carbonate polyurethane coating. Inside, the structure of the pack comes from Duraflex hardware. Some people like the more rigid structure of the Day Pack 2, while other people find it a bit stiff and boxy and prefer having a more flexible bag.
There's also a water bottle pocket on one side of the bag, which collapses when not in use. Although having a water bottle pocket is nice, I t4nd to prefer larger pockets because I carry larger bottles. Still, though, I appreciate that a massive water bottle pocket might look strange on a relatively small backpack.
For a relatively small backpack, the Day Pack 2 has decent padding on the shoulder straps, as well as a mesh padded back with a ventilation strip down the middle. The entirely black material does mean that the bag will get hot to carry, especially in warm or tropical climates.
Sizing and Fit
The Day Pack 2 comes in one size and measures 17 inches long by 12 inches wide by 5.5 inches deep. It's a unisex bag and the wide range of adjustments on the straps make it suitable for practically every traveler or city commuter.
If you are an exceptionally tall person or one with a long torso, you may find the pack looks and fits a bit small, because, well, it is a small day pack.
Due to the more structured/padded interior, the pack will feel more rigid than a lot of day packs, which I like.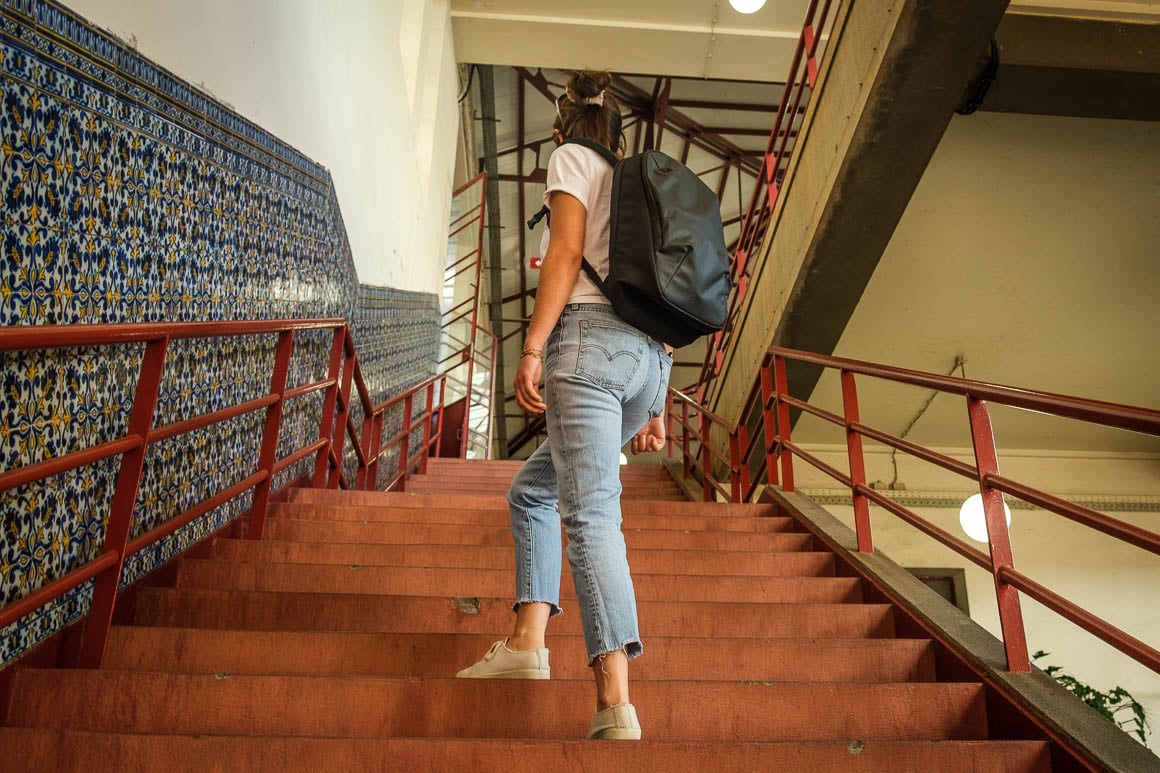 In general, if you prefer a daypack for hiking or other outdoor pursuits, the Aer Day Pack 2 will not be the best fit for those purposes.
To help distribute weight more evenly while carrying it, there is an adjustable sternum strap. However, there's no hip belt, and Aer didn't include a way to attach one. For a day pack of this size, a hip belt is not missed. You'd be hard-pressed to load this pack up with enough weight to make a hip belt necessary (unless you are collecting rocks).
Weight and Capacity
Weighing in at 2.9 pounds, the Aer Day Pack 2 is a bit heavier than other small day packs on the market. This is mostly a result of the more structured and durable material, which is helpful to provide more protection for your gear.
As mentioned, if you're looking for an ultralight day pack for hiking, then the Day Pack 2 will not be the right choice. For city commuters or business travelers, the little extra weight won't be noticeable and you can also count on a more durable bag.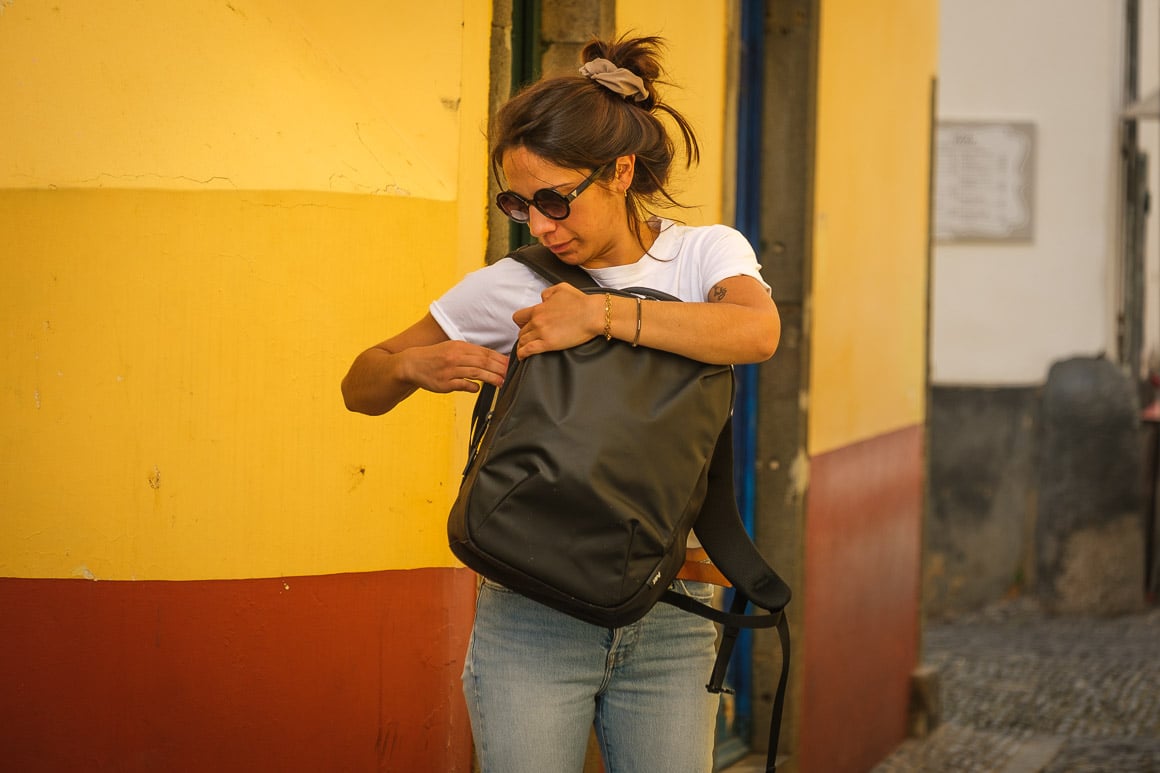 The Day Pack 2 has a capacity of 14.8 liters, which is certainly enough for day trips or commuting, but not big enough for longer travels or for the days where you need to carry a bunch of gear/layers/bulky electronics.
If you're using the Day Pack 2 for carry-on luggage, there is a luggage pass-through on the backside so you can easily transport the pack on top of your other suitcase.
Here's an example of what I pack into the Day Pack 2:
Laptop
Notebook and pen
Laptop charger
Phone
Phone charger
Wallet
Sunglasses
Water bottle
Headphones (Apple Airpods)
Power bank
Snack or small lunch
Lightweight layer
Toughness and Durability
Although the Day Pack 2 certainly wouldn't survive being tossed in a lake, it's still quite weather resistant, especially in comparison to a lot of everyday carry bags on the market.
The weather-resistant carbonate polyurethane coating on the outside of the pack makes it tough enough to withstand a bit of rain, accidentally spilled drinks, or some splashing. The coating also makes it easier to wipe off and clean up the outside of the pack from those accidental spills or any dust or dirt which might get on it.
Aer advertises the pack as having a "toolbox" design, which gives you the hint that this pack is meant to be a bit stronger than other options. Also remember that this design means that the Day Pack 2 can stand up by itself, which can help protect your gear from being jostled around so much.
Security
Overall, the minimalist design of the pack and non-obvious pocket placement makes the Aer Day Pack 2 a fairly secure day pack option. Unfortunately, though, the Day Pack 2 lacks lockable zippers like a lot of other Aer products, which is a feature some frequent fliers prefer to have.
A few people have told me that the zippers are a bit loud and "jangly," which might make the main zippered pockets marginally more noticeable. I admit I did not notice the noise.
For more valuable or sensitive items, like a passport or wallet, the best place to keep them is in the additional zippered compartment within the front compartment. Since it's a more difficult spot to reach, there's almost no chance of someone managing to sneak something out of it unless you leave the bag totally unattended (in which case, a thief would probably just make off with the entire bag anyway).
Bag Aesthetics
On the outside, the Aer Day Pack has a fairly simplistic and unassuming appearance. Like most of Aer's products, it's a black-on-black design without dangling straps or gear loops, which is nice if you plan on using the pack in work settings.
For people who care about style and appearance, the Day Pack 2 is classy enough to fit into formal situations, but also casual enough that it's suitable for day-to-day use.
For sure this pack was not intended for hiking or rough backpacking trips. Not only will it become uncomfortable on long hikes, it's also going to look out of place and lacks the gear loops, hip belt, and ventilation that make for a good hiking pack.
Cons of the Aer Day Pack 2
There's no doubt the Aer Day Pack 2 is a great everyday carry backpack and travel bag. However, just like with any piece of gear, there are always some shortcomings that you'll want to be aware of.
First, as already mentioned, water bottles tend to fall out easily when the bag is tipped and turned and the pocket is pretty small. Thanks to the fact that the Day Pack 2 can stand up by itself, there is less issue here than with some of Aer's other packs, but it still happens.
Although the ventilation strip on the back of the pack helps with airflow, the bag certainly isn't designed for hiking, and may feel uncomfortable if you live somewhere really hot and humid.
The capacity of the pack is also limited, so don't go thinking you can pack 2 jackets, a change of clothes, your laptops, lunch, a camera bag, and other large bulky items all at the same time. Carrying a large amount of stuff just is not what this bag was designed for.
And finally, like other Aer packs, this backpack definitely packs a higher price punch than some products. Keep in mind though that, although it might seem more expensive upfront, the high-quality material and durability mean that the Day Pack 2 is designed to last for years when given proper care.
The best present of all… is CONVENIENCE!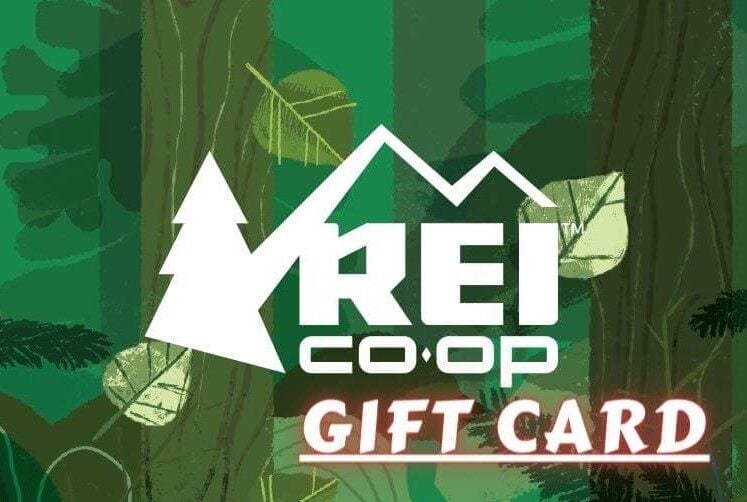 Now, you could spend a fat chunk of $$$ on the WRONG present for someone. Wrong size hiking boots, wrong fit backpack, wrong shape sleeping bag… As any adventurer will tell you, gear is a personal choice.
So give the adventurer in your life the gift of convenience: buy them an REI Co-op gift card! REI is The Broke Backpacker's retailer of choice for ALL things outdoors, and an REI gift card is the perfect present you can buy from them. And then you won't have to keep the receipt. 😉
Buy on REI!
Aer Day Pack 2 vs the Competition
Now that we've gone through a thorough review of the Aer Day Pack 2, perhaps you're interested to see how it stacks up against other competing backpacks on the market. Here are a few similar options which you might want to consider if the Day Pack 2 doesn't seem quite right for you.
Aer
Aer
Aer Day Pack 2
Cost > $$
Liters > 14.8
Laptop Compartment? > Yes
Best Use? > Everyday use/Travel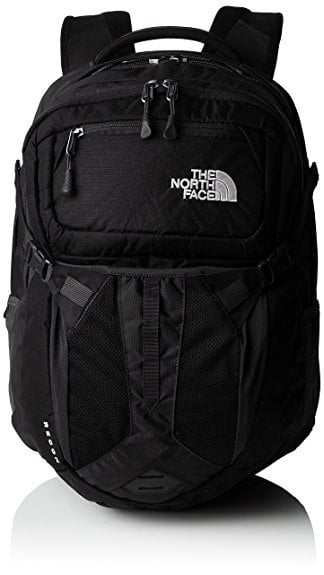 If you're looking for a laptop backpack that can also function for outdoor adventures, then look to The North Face for the solution. Known for their high-quality camping gear, The North Face has crafted this backpack to strike a balance between work and an outdoor lifestyle.
With 30 liters of storage capacity, it can also hold a lot more than the Day Pack 2, so could work for overnight or weekend trips. The pack also has much better ventilation and shoulder padding, and there is a minimal hip belt included.
The NorthFace Recon falls a bit short compared to the Aer Day Pack 2 in terms of durability, travelability, and safety. Even though it's designed to be an outdoor pack, the Recon is a bit less weather resistant than the Day Pack 2, and so you'll probably need to buy a rain cover.
The smaller size of the Day Pack 2 also makes it easier to use as a carry on while flying, and the sleek appearance makes the zippers and pockets less noticeable in regards to safety.
If you like the design of the Aer Day Pack 2 but are hoping for something a bit bigger, then the Tortuga Setout laptop pack is a good option. Similar in price to the Day Pack 2, the Setout has a 25-liter capacity compared to the Day Pack 2's 14.8.
It's big enough to function as an overnight bag instead of just a day pack. The clam-shell design means that you'll have easy access to all the contents of the bag, but the Setout won't stand up on its own like the Day Pack 2.
It still fits the dimensions as a personal item for most airlines, and the YKK zippers are lockable if you're concerned about the safety of the bag. Like the Day Pack 2, the Setout also has a luggage pass-through on the back to easily transport it on top of your suitcase.
In terms of durability, the Day Pack 2 is a bit tougher and made from more weather resistant materials. However, the greater flexibility of the Setout makes it preferable for some travelers.

Our GREATEST Travel Secrets…
Pop your email here & get the original Broke Backpacker Bible for FREE.
Aer Day Pack 2 Review: Final Thoughts
There you have it guys; everything that makes the Aer Day Pack 2 great and the few things that could use some improvement.
Most people these days need a functional, practical day pack to move about the city on a travel adventure or as part of their normal routine. The AER Travel Pack 2 ticks all the boxes we look for in a solid urban-minded day pack option.
Hopefully, you're now equipped with all the information you needed to know about this backpack and how it might integrate into your life or travel style.
Do you have your own personal experience with the Aer Day Pack 2? Let us know in the comments below.
---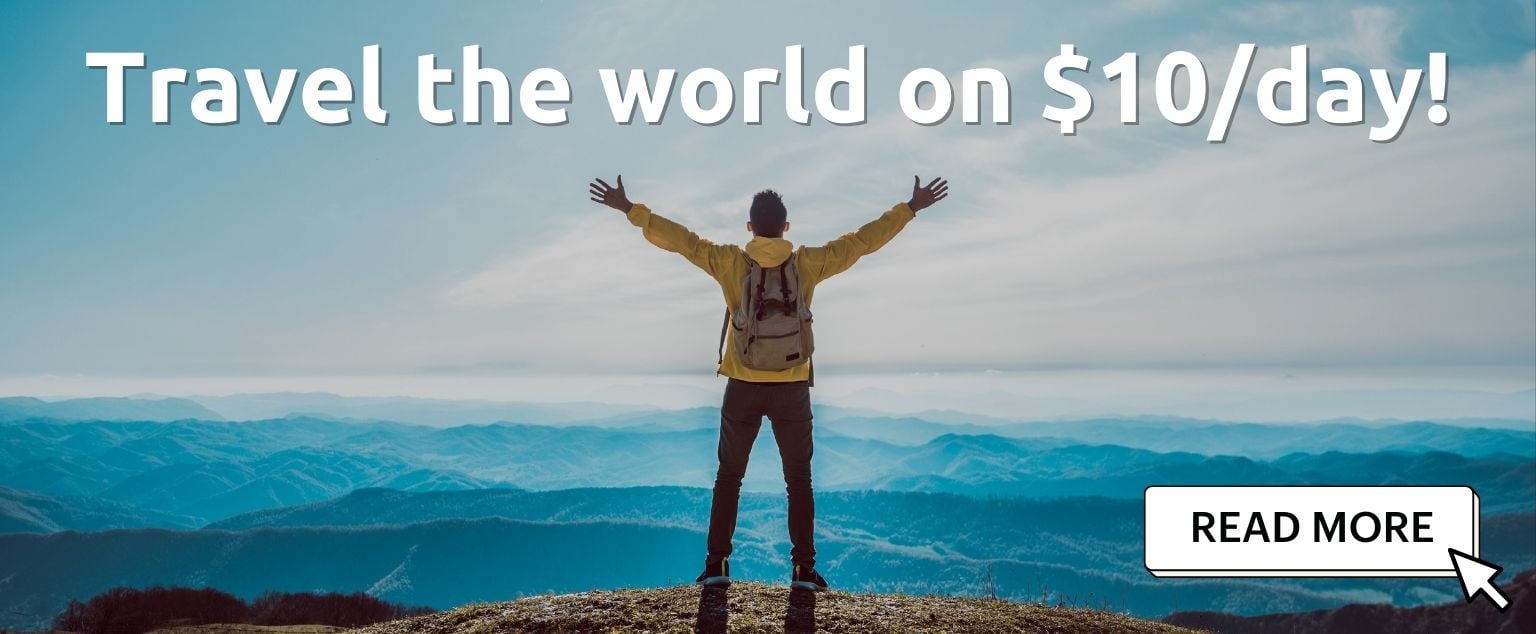 And for transparency's sake, please know that some of the links in our content are affiliate links. That means that if you book your accommodation, buy your gear, or sort your insurance through our link, we earn a small commission (at no extra cost to you). That said, we only link to the gear we trust and never recommend services we don't believe are up to scratch. Again, thank you!