When it comes to buying a backpack there are so many choices on the market that it can be overwhelming. There are so many great bags out there, how are you supposed to just choose one?
Here at The Broke Backpacker, we have a little bit of an obsession with backpacks. We've tested, tried, and reviewed nearly all of the best backpacks on the market.
And we've got good news…
Well, guess what.
When it comes to the best backpacks on the market, the Osprey Porter 46 is absolutely one of them – which is exactly why we made this definitive review of the Osprey Porter 46.
Our backpack guides are designed to do one thing – let you know exactly if this bag is perfect for your needs.
All backpacks are made differently, and each has its own unique set of pros and cons. In this epic Osprey Porter 46 review, we break down the pros and the cons so you can easily see whether this bag is the perfect fit for you and your travel style.
Because while the Osprey Porter 46 is a perfect bag for some travelers… I wouldn't recommend it for everyone.
Let's jump right into our bloody awesome Osprey 46 Porter review so you can see if this is the bag for you (and if not, I'll be sure to steer you in the right direction with a different bag recommendation!)…
As mentioned, every backpack has it's pros and cons, and the Porter 46 is no exception.
So to make it easy on you, we've taken the Porter's most important features and created some quick ways to know if this bag is the right backpack for you.
You've seen the rest of the Osprey Porter 46 travel pack reviews, now get ready for the best!
Let's just get something out of the way first…
Ladies & Gents, It's Time to Step Your GEAR Game Up. 😉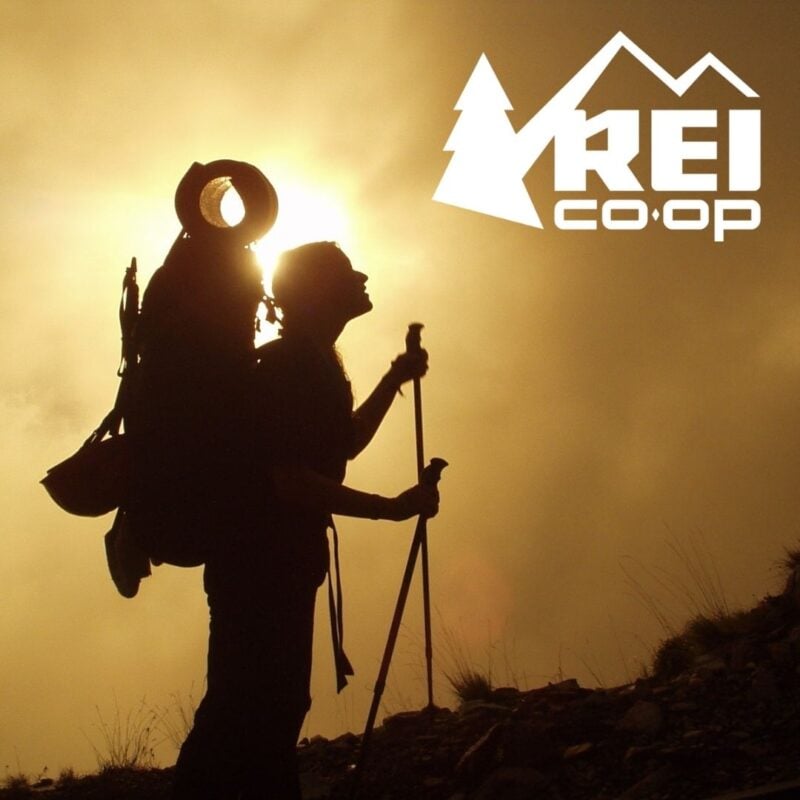 REI is one of America's biggest and most-loved outdoor gear retailers.
Now, for just $30, get a lifetime membership that entitles you to 10% OFF on most items, access to their trade-in scheme and discount rentals.
Join REI Today!
The Osprey Porter 46 is NOT for you if…
Tip #1 – The Osprey Porter 46 is NOT for you if you are looking for a hiking or camping bag
First thing is first – this is NOT a hiking or camping bag.
Like AER Travel Pack 3, this is a bag that is best kept away from any serious trekking.
Not to say that it couldn't be used as a day hiking bag. Anything is technically possible, it just comes down to the intended use of the pack.
But if you are really trying to get your hike on and be one with mother nature, do yourself a favor and get yourself a proper hiking bag.
Hiking bags are designed in a way to improve your organization and packing efficiency for camping-related tasks. They are also built with heavy-duty-back-padding to help take evenly distribute weight as you wander through the great outdoors.
And the Osprey Porter 46 is just not that kind of bag.
If you are serious about using a backpack for hitchhiking, camping or hiking – check out our epic list of the best hiking bags.
Tip #2 – The Osprey Porter 46 is NOT for you if you are looking to carry a ton of stuff OR want to pack super light
The Osprey Porter 46 is a 46-liter bag, meaning it's a mid-sized bag. Some people are more than happy to travel on less than 40 liters, some people need 70+ liters. It just depends on your personal travel style.
If you want something smaller, check out our top minimalist backpacks, or the most kickass carry on backpacks.
If you want something bigger, check out the amazing Osprey Aether 70, or the enormous Osprey Xenith 75.
Tip #3 – The Osprey Porter 46 is NOT for you if you need a super mobile backpack
The goal of this Osprey Porter 46 review is to be very honest, and this is an important point.
While the Osprey Porter 46 might look like a backpack, it's actually more of a duffel bag pretending to be a backpack (which can be awesome for the right person!). In other words, it's a duffel backpack hybrid, which is great but not if you want the specific benefits of just one style.
While it can be comfortable as a backpack – it's not what it was designed for. This bag is not meant to be worn on your back for hours and hours on end.
If you plan to backpack South East Asia for 6 weeks doing a mix of hiking, hitchhiking, and changing hostels every 24 hours… this bag might not be the most comfortable option.
If you like the design and organization of this bag, but want something a little more mobile-friendly, I'd say check out the ever-amazing Osprey Farpoint 40. You can see these two go head to head in this guide in our Osprey Farpoint vs Osprey Porter grudge-match!
Tip #4 – The Osprey Porter 46 is NOT for you if you want a carry-on compliant backpack
Let me clarify…
You see, the Osprey Porter 46 CAN be carry-on compliant – it just completely depends on the airline. Sometimes it will fit the airline's restrictions, other times it won't.
But, some travelers (like myself) strongly prefer to travel with a bag that is carry-on 100% of the time – which this bag is not.
At 46 liters, you are at the mercy of the airline (and to be honest, even more specifically you are at the mercy of whoever is issuing your ticket and their mood that day). Many will let you through, but many will not. It's just the way it is.
This bag shouldn't be a problem with larger airlines as they are typically more lenient with their carry-on restrictions.
But small budget airlines will likely look to pinch an extra penny out of you by forcing you to check it.
The compression straps do certainly help (more on that later) but it will not work all the time.
If you are looking for something that is a carry on all the time you definitely need to check out the ever-amazing AER Travel Pack 3.
Tip #5 – The Osprey Porter 46 is NOT for you if you want something with a more sleek design, or you need additional organization
While this design is sleek and has great efficiency… sexier bags exist.
If you are looking for something more on the modern side with vastly improved organization (maybe even overkill to some), I definitely recommend checking out our favorite bag – the AER Travel Pack 3.
Still here?
This is good! We are now finished analyzing this bag's weaknesses (which means that the Osprey Porter 46 might be the bag of your dreams!)
Let's dive deeper, and check out the amazing features the Osprey Porter 46 has to offer…
The Osprey Porter 46 IS PERFECT for you if…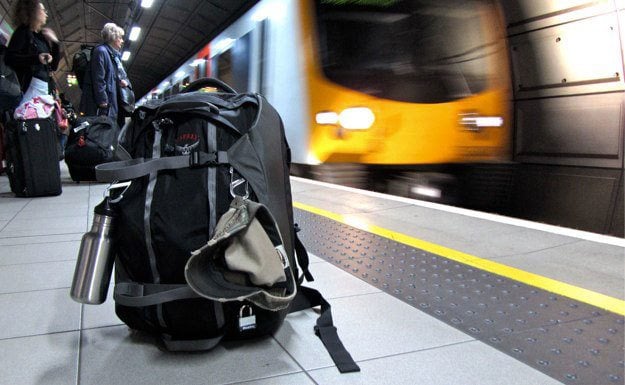 Tip #1 – The Osprey Porter 46 is PERFECT for you if you are looking for a travel bag that has great organizational features (but don't need any overkill)
This bag is without a doubt the most organized bag that Osprey has ever made. They created this backpack with the modern traveler in mind and designed it to cater to the more tech-savvy crowd.
What's nice about the Osprey Porter 46 is that while it's very organized and efficient – it's not overkill, and has a nice minimalist, sleek feel to it.
Many travelers think other organizational bags (like Tortuga or AER) are overkill with too many pockets, and that the Osprey Porter 46 found a perfect balance.
Tip #2 – The Osprey Porter 46 IS PERFECT for you if you want a backpack that is large enough to carry a ton of stuff, but small enough to be manageable and sometimes used as a carry-on
Truth be told, a 46-liter bag is a perfect size for many types of travelers.
46 liters will enable you to carry a ton of stuff, but without feeling like your back is going to snap every time you relocate. For many people, 46 liters is a perfect size (the only downside being it might be too big to carry on many planes).
This is a great sized bag for someone who travels slowly. You'll be able to carry more stuff, and won't have to worry about paying for check-in fees every few days.
Tip #3 – The Osprey Porter 46 IS PERFECT for you if you love the Porter's look (old school backpack with a modern/sleek twist)
While it's not quite as modern looking as AER bags, not everyone wants that!
Many travelers prefer the old-school backpacker look of Osprey bags, and we think they've done an incredible job at taking the old school bag and giving it a sleek facelift.
Tip #4 – The Osprey Porter 46 is great for you if you are a traveling professional who carries a ton of stuff (vlogger, blogger, assassin, etc.)
This bag is perfect for a long-term slower traveler, or a Digital Nomad or working professional who spends more time in one place.
As mentioned, this might not be as ideal for the super-mobile-traveler. So if you travel a little slower, and like to take the time to stop and smell the flowers – this bag is a steal.
Still not sure?
The Osprey Porter 46 true strengths are its organization, versatility, and it's nice mid-ranged size. If these advantages speak to you, then this could literally be the bag of your dreams.
Still not sure?
No problemo! Let's dig deeper into this Osprey Porter 46 review and look at its features and specs to see if this is the perfect bag for you!
Top Osprey Porter 46 Features
Truth be told, most backpacks on the market are pretty similar. At the end of the day they usually just have a handful of features that make them unique from their competitors.
The Osprey Porter 46 is no exception. This is a bag with some serious punch, but in particular, there are a few features that really separates it from the rest of the pack.
These are the features that should ultimately be influencing your decision on whether or not to get this backpack.
Osprey's All Might Guarantee!
This is super important.
If you didn't know, Osprey offers a lifetime guarantee on all of their products.
This All Mighty Guarantee is as awesome as it sounds! If you have any problems with your bag, you ship it to Osprey and they fix it! Free of charge! (But you do have to pay for shipping).
It's literally as easy as that.
This is an incredible offer, and one of the reasons Osprey has stood the test of time as a company. They truly take care and maintain great relationships with their customers.
Osprey's All Mighty Guarantee allows travelers to relax. A backpack is a huge investment, so the peace of mind of a no BS lifetime guarantee is incredibly attractive. We've used the All Mighty Guarantee many times at the Broke Backpacker, and can say without a doubt that it's an incredible weight off your shoulders.
However, note that there are some exceptions to the All-Mighty Guarantee. They will not fix airline damage, accidental damage, hard use, wear & tear or damp related damage. Still, it's a lot better than most guarantees on the market.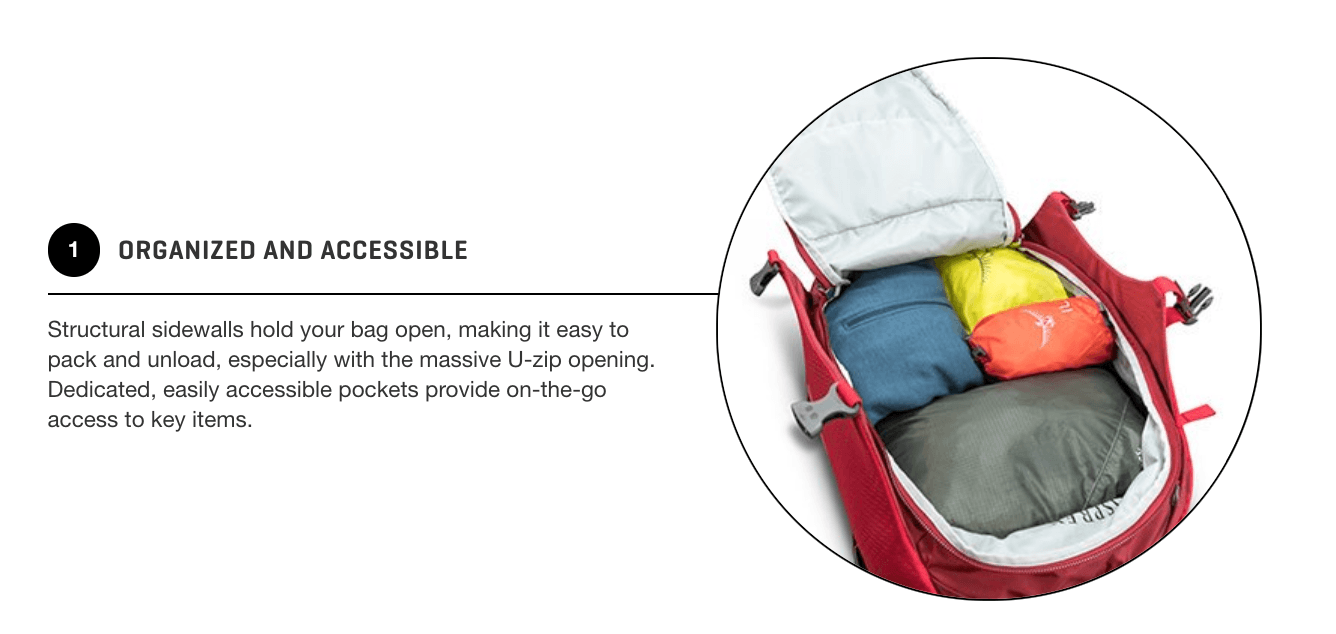 Similar to the Farpoint 40, this Osprey bag zips all the way down, more like a duffel bag than a traditional backpack.
This is a godsend as it means that you can reach anything in the entire height of your bag, without having to take anything out.
This luggage-esque approach to the main compartment is fairly common in modern backpacks, but a lot of old-school hiking bags do not have this feature.
Stowaway Hip Belt and Harness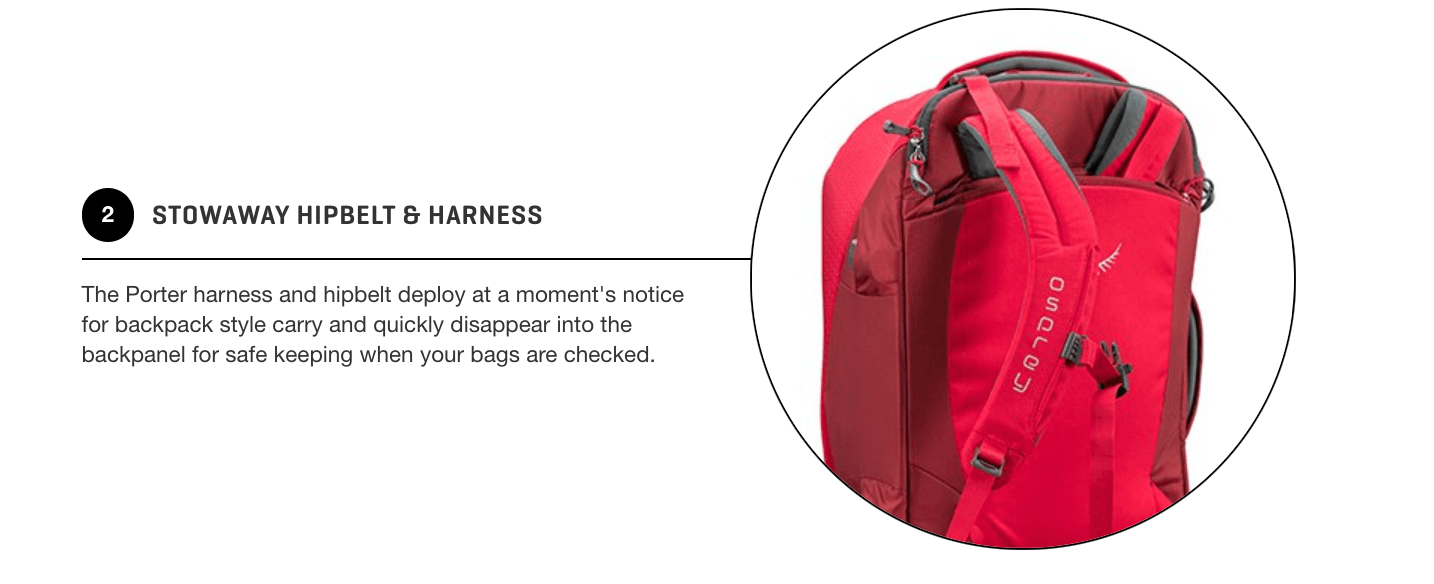 Yet again, this bag is more of a duffel bag than an actual backpack, and when you use this feature, you'll know exactly what we mean.
The back panel has a zipper that once is opened, you can easily slip the harness straps and hip belt in.
This is a nice feature to have because sometimes it's just easier to use this bag as a duffel bag! The feature is super smooth and easy to use.
Top Feature – Solid Compression Straps
The compression straps are better than any of the other bags we have seen on the market.
The reason for this being Osprey has patented technology where they padded the sidewalls. This enables the bag to compress easier, as well as offer security and protection to your goods.
This feature can save you tons of money over time.
Why?
These compression straps are so powerful that they can greatly reduce the size of your bag, meaning your bag could go from check-in size, to carry on size in just a moments notice. Great feature.
Designated (and Protected) Laptop Sleeve
If you travel with a laptop, you need to understand something.
Most modern backpacks come with a laptop sleeve. But! Not all laptop sleeves are created equal.
In particular, lots of backpacks (like the Farpoint 40) put their laptop sleeve in the front of the bag. This is a poor choice in engineering. When a laptop is at the front of the bag, it can be subjected to additional pressure, especially when your bag is full.
A full bag + lots of pressure + your laptop in the front of the bag = laptop could be in danger (this is one of my biggest criticisms of the Farpoint 40).
But thankfully with the Osprey Porter 46, the laptop sleeve is in the back. A laptop sleeve against your back means it will not be subjected to any additional pressure, as it gets to rest flat against your back when wearing the bag.
And to take it a step further, the laptop sleeve is lockable (with an included lock). If you are a Digital Nomad, or just need to travel with a laptop, this is a very important feature to consider.
Easy Access Handles
All backpacks have a top handle, but the Osprey Porter 46 also has a bottom handle, which when you are in duffel-bag-mode is super important.
This is a nice feature to have, but it reminds me of one of the biggest problems I have with this bag (which I address in the cons section).
Front Zippered Pockets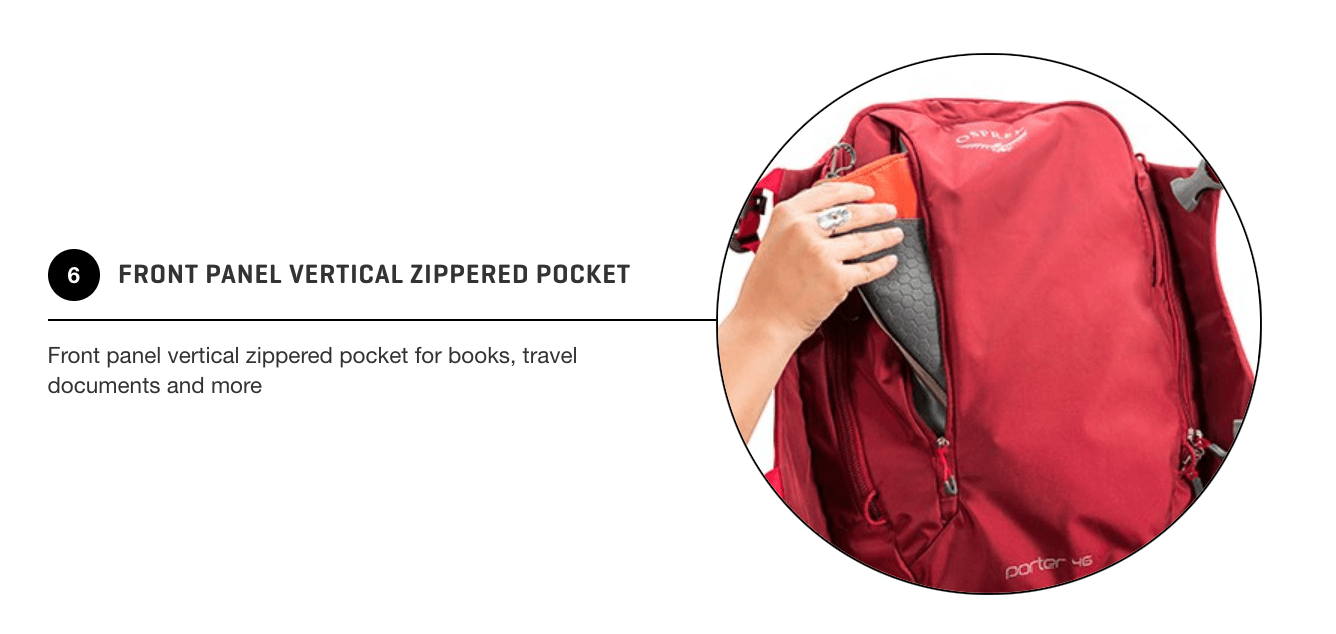 As mentioned, this is Osprey's best attempt at a modern bag with great/more complex organization. The front panet pocket (pictured above) is a nice addition.
This pocket works great for a kindle, books, or frankyl anything you want to stick in there.
This pocket is definetaly too small for an iPad of laptop though.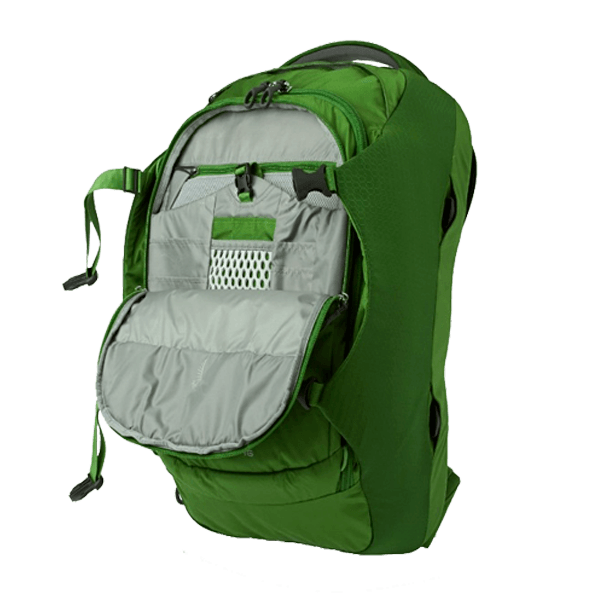 The other front pocket is even more impressive.
As you can see on the image to the left, the very front packet enables travelers to take their organization game to the next level.
We were super surprised by all the pockets and crevices we found in this larger pocket.
Whether you travel with notebooks, pens kindle, keys, passport, money – all of it!
This front pocket has tons of organizational capacity, and best of all is super quick and easy access.
Quick Access Top Pocket
This is common in basically all bags these days, but it's nice to have. It's a great area to put toiletries or even a small book.
Osprey Porter 46 Size
As opposed to other Osprey bags, the Porter 46 only comes in one size.
2807 inches cubed (or 46L)
56H x 36W x 28D (cm)
Weighs 1.5 kg (3.4 lbs)
If you have traveled before, you should be able to easily gauge whether or not a 46L is the right size for you.
If this is your first bag, and you are unsure, you need to ask yourself a few questions, such as…
Where will you be traveling?
What sort of clothes will you be needing?
How long will you be traveling?
Do you prefer the idea of traveling light and free – or heavy and prepared?
Do you plan to camp/hike/hitch?
Does carry-on vs check-in matter to you?
These are the important questions you need to ask yourself. Once you get an idea of these, you can easily pick out what size backpack if for you. If you need more help, check out 'The Great Backpacker Debate!' in our article about choosing the right travel backpack.
Osprey Porter Comfort
This bag does well for short spurts, but it is certainly not the most comfortable bag on the market.
But that's because comfort was not the bags main purpose. This bag does not come with fancy back support technology because that sort of stuff is meant to be used in hiking bags.
The lack of such a framework is a reason why this bag is also more affordable than other Osprey bags.
Osprey Porter 46 vs Osprey Farpoint 40
Let the games begin!
As I said, we like to nerd out on backpacks, and out of all the backpack battles, this is the one that really has the team divided.
While the Osprey Farpoint 40 and the Porter 46 share plenty of similarities, we can only choose a winner once we determine their differences.
Difference #1 – The Farpoint is 6 liters smaller than the Porter, and at 40 liters, it means that Farpoint is a universal carry on. The Osprey Porter 46 is carry on compatible on only some airlines .
Different #2 – While still being organized, the Farpoint doesn't quite have the organizational chops that the Porter does
Difference #3 – While not designed as a hiking bag, the Farpoint has preferable back support and can certainly be used as a hiking bag (although a very small one)
Difference #4 – The Farpoint does not have the compression strap technology that the Porter has
In case it isn't obvious – we have no winner in this epic battle of the backpacks. It simply comes down to personal preference – the most important being size.
Are you looking for a carry-on? Choose the Farpoint 40.
Are you looking for something that can handle more gear? Choose the Osprey Porter 46 travel backpack.
The best present of all… is CONVENIENCE!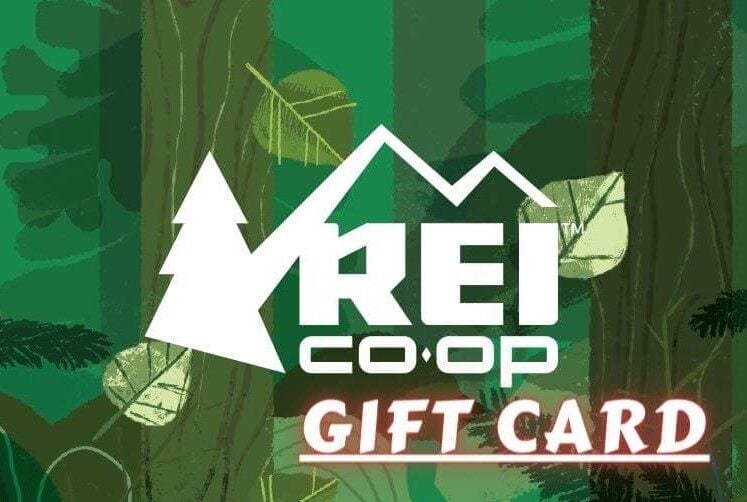 Now, you could spend a fat chunk of $$$ on the WRONG present for someone. Wrong size hiking boots, wrong fit backpack, wrong shape sleeping bag… As any adventurer will tell you, gear is a personal choice.
So give the adventurer in your life the gift of convenience: buy them an REI Co-op gift card! REI is The Broke Backpacker's retailer of choice for ALL things outdoors, and an REI gift card is the perfect present you can buy from them. And then you won't have to keep the receipt. 😉
Buy on REI!
Osprey Porter 46 vs Aer Travel Pack 3 vs Tortuga Outbreaker
Let's go ahead and say it – the Osprey Porter 46 is NOT our highest recommendation for a travel backpack. The AER Travel Pack 3 is – case closed.
But while these bags are fairly different, there is also some overlap in the type of people interested in using them.
That overlap? People traveling with tech gear.
Both the Osprey Porter 46, the AER Travel Pack and the Tortuga Outbreaker are designed for efficiency and organization. If you are a Digital Nomad, travel with a laptop, or a bunch of tech gear – one of these three bags is going to be your pick.
But, where the Porter 46 is great… I personally think AER and Tortuga are a bit better for this sort of stuff.
The only way I'd recommend the Porter 46 over AER or Tortuga is if you really love Osprey as a brand and prefer the look and design of porter over these newer kids on the block.
Otherwise, Tortuga and AER come higher recommended for tech travelers.
Osprey Porter 46 Size Guide
Knowing that your backpack will fit your body nice and snug is super important.
Fortunately, Osprey has put together a pretty awesome chart to help you figure out which size bag will work best for your dimensions.
Check out the images below if you need additional help determining which size backpack is best for you (click on them to make them full size). Maybe the Osprey 46 l backpack isn't for you, maybe it's perfect!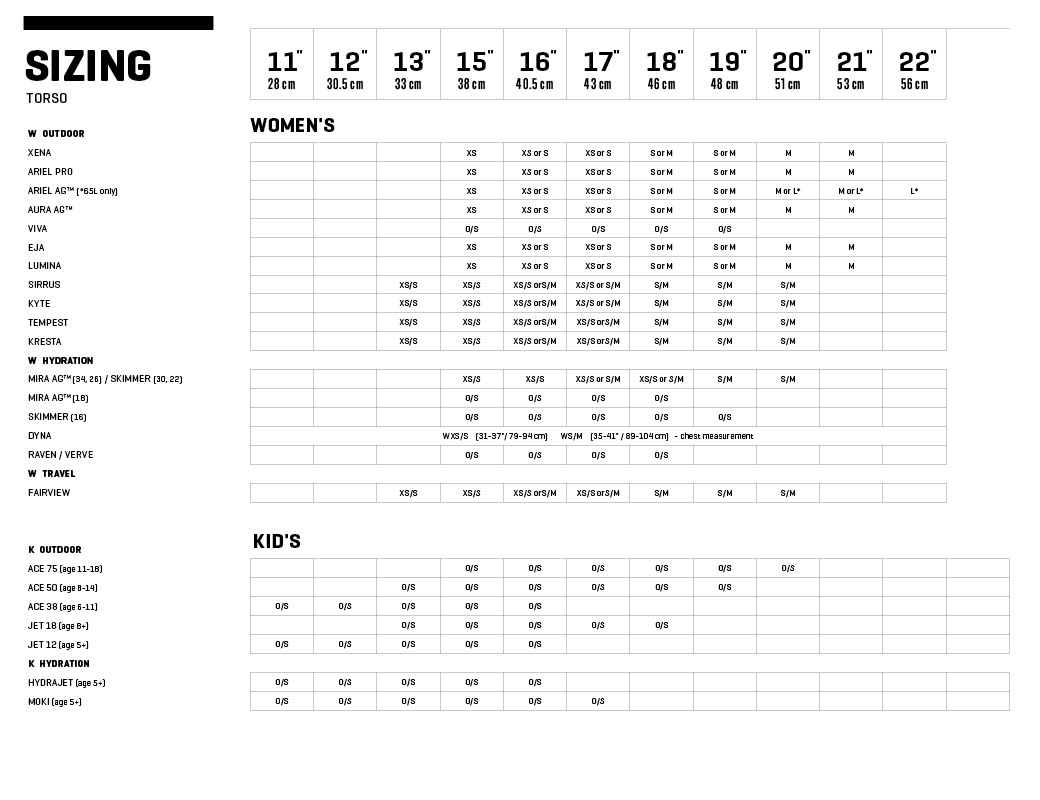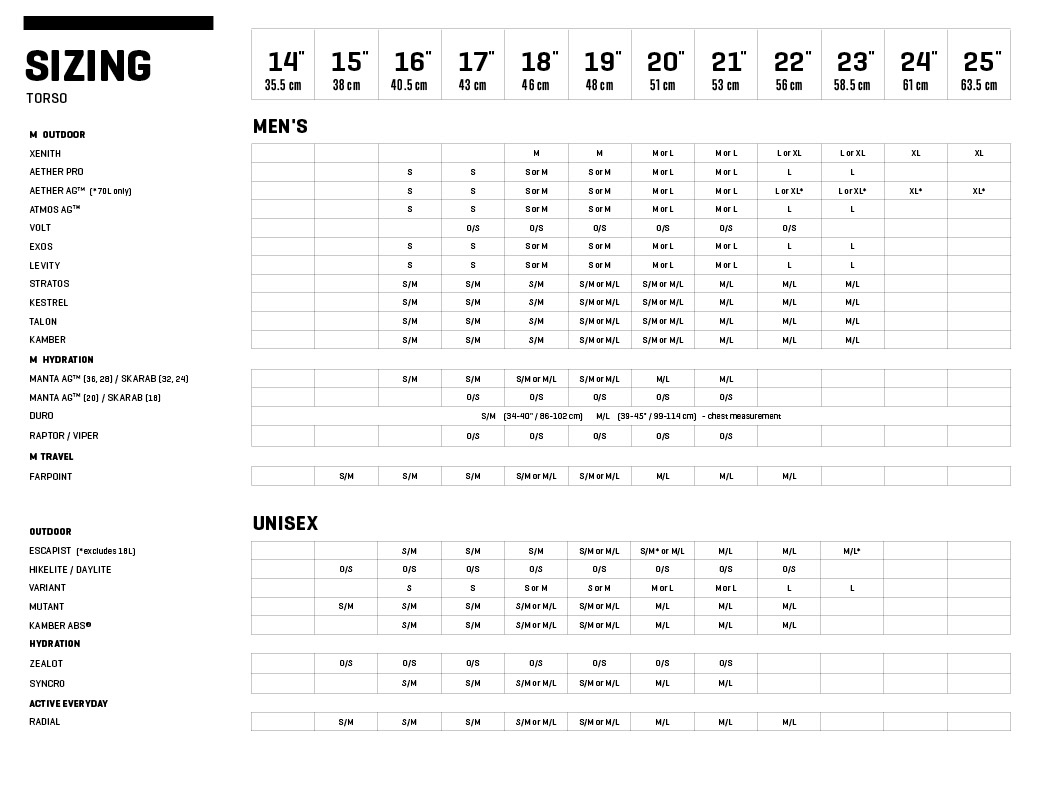 Another amazing (and unique) backpack is the Osprey Sojourn 60.
Enormous and versatile, the Osprey Sojourn 60 is a fusion between a backpack and a suitcase (as to where the Porter is a fusion between a backpack and a duffel bag). And obviously, it's quite a bit bigger than the Osprey Porter 46L.
We typically recommend the Osprey Sojourn 60 for a certain type of traveler…
Female
Someone who carries a ton of stuff
Someone who is looking for a suitcase 80% of the time… and a backpack the other 20% of the time
You know how we don't recommend using the Porter 46 as a backpack 100% of the time? Well we barely recommend using the Sojourn as a backpack – it's GIGANTIC.
Both of these backpacks serve their unique purposes. If you are looking for a suitcase solution that can sometimes be worn as a backpack – you might want to check out the Sojourn 60.
Otherwise, it's probably best to just stick the with Osprey Porter 46. 
Is the Osprey Porter 46 waterproof?
No. Not at all, the Osprey Porter 46 isn't waterproof!
No Osprey packs are waterproof, as waterproof bags are a completely different ball game.
If you are looking for a bag that won't get wet – check out our epic review of the best waterproof bags.
Cons of the Osprey Porter 46
No backpack is perfect, and the Porter is no exception. There are a few things in particular about the Porter that I feel felt a bit short that we wanted to add to our Osprey Porter 46 review.
Con #1 – Duffel Shoulder Strap not included
So let me get this straight – you design a duffel bag to act like a backpack, but you don't include one of the most important features of a duffel bag has – a shoulder strap?
In our opinion, this is a small addition that was a big oversight on Osprey's part.
If you look at the Osprey Farpoint 40, the company does something similar. They design the bag to be both a backpack and a duffel bag, but most importantly, they provide you with…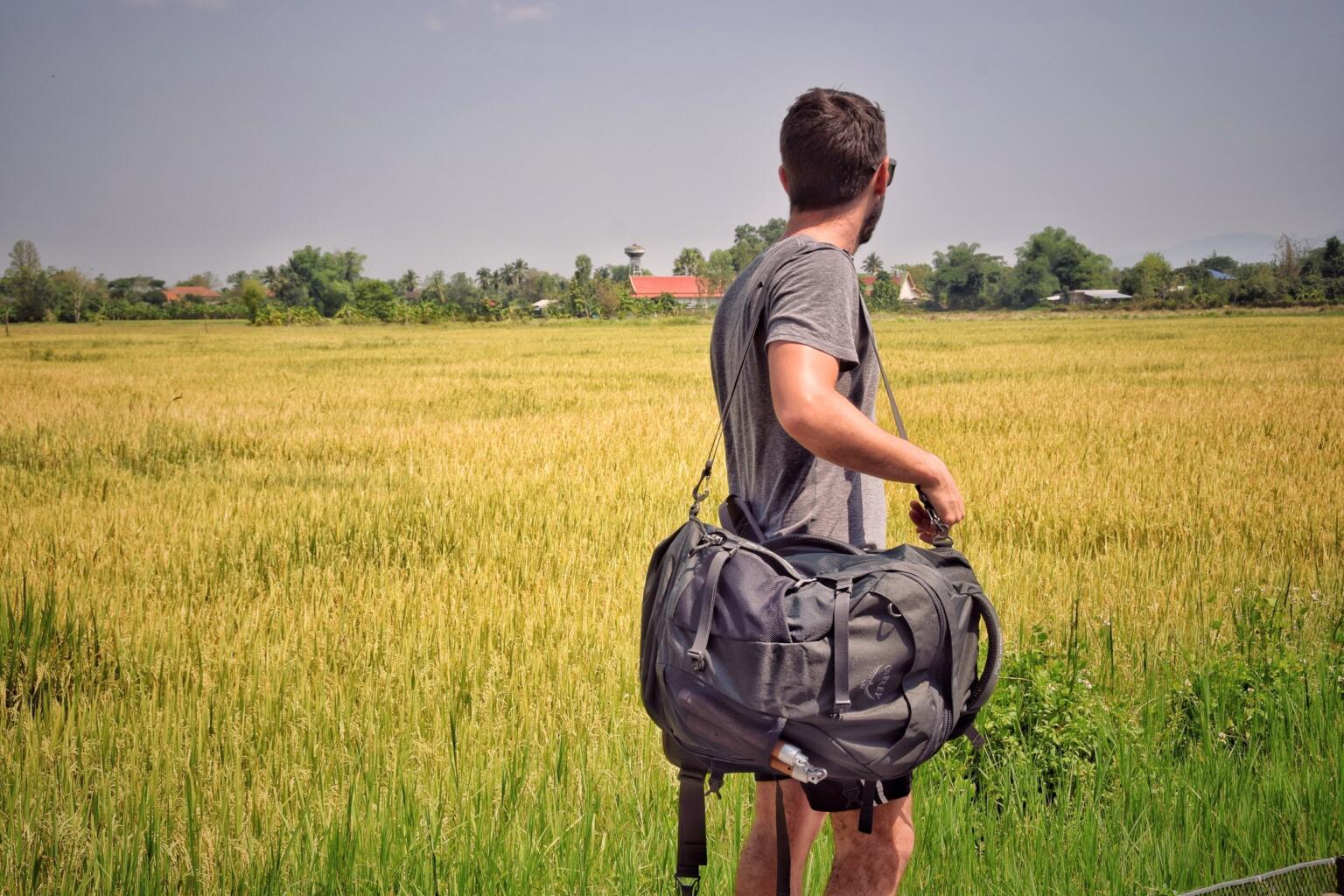 A proper shoulder strap! So, why not on the Osprey Porter!?
While the top and bottom handles are nice, a shoulder strap would have taken this duffel design to a more comfortable place. Having to spend the extra money is annoying, and we feel it would have been a small cost for the company to add on what is certainly a great user feature. This was one of my favorite features of the Farpoint 40.
Con #2 – Average Design
I wouldn't go as far as saying the Osprey Porter 40 is ugly… but some people seem to think there are better-looking bags out there. Look, were trying to be honest on this Osprey Porter review!
If you like the Osprey style of bags but aren't crazy about the design of the Porter – go with the Farpoint 40. If you are looking for something sexier and more modern – check out AER.
That's all my cons for this bag!
The good news is that one person's con is another person's pro!
No backpack can do it all. You just need to figure out which features are most important for you and your personal travel style and make a decision based on that 🙂

Our GREATEST Travel Secrets…
Pop your email here & get the original Broke Backpacker Bible for FREE.
Final Thoughts on the Osprey Porter 46 Review
Yet again, Osprey has delivered another phenomenal product. This bag is the real deal, and if you are looking for a mid-sized bag with great organization and an old-school backpacker look… this may be the backpack of your dreams.
Do you have any thoughts on this Osprey Porter 46 review? Let me know in the comments below – safe travels!
---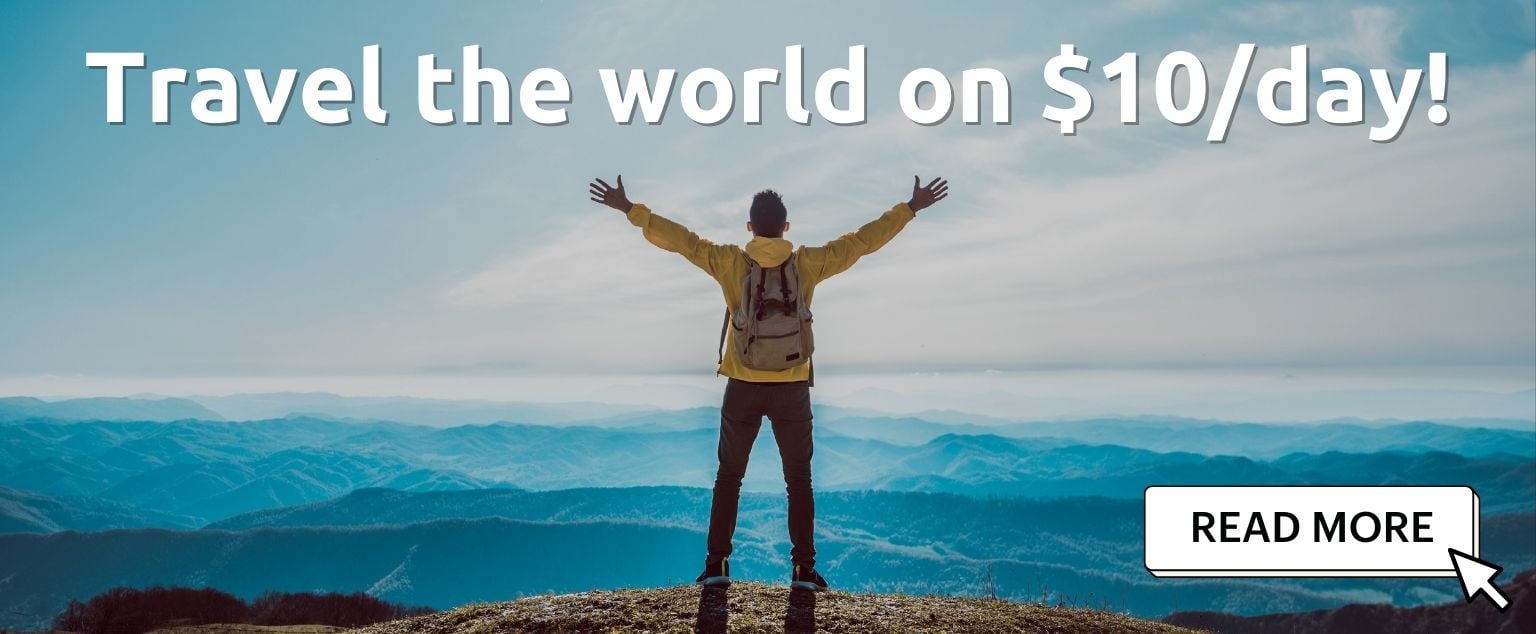 And for transparency's sake, please know that some of the links in our content are affiliate links. That means that if you book your accommodation, buy your gear, or sort your insurance through our link, we earn a small commission (at no extra cost to you). That said, we only link to the gear we trust and never recommend services we don't believe are up to scratch. Again, thank you!