I've tested quite a few backpacks, and out of all the travel backpacks I have tested this year (and there have been many), few packs have got me as stoked as the new Aer Travel Pack 2.
When you review dozens of pieces of gear a year, it is easy to get bored with uninspiring product. What gets my gear wheels turning is innovation, creativity, and backpacker practicality— which is exactly what I found when I started looking deeper at Aer backpacks.
I actually had never heard of the San Fransisco based Aer company until quite recently, so when the opportunity arose to give the Travel Pack 2 a test run, of course, I jumped on it.
The whole one-bag travel movement is a full-swing at the moment and plenty of companies are trying to pump-out sexy carry-on travel bags to entice travelers and digital nomads to jump on board. Many companies are also failing and few are doing it right.
I'll be honest with you from the get-go as I know your time is as valuable as mine: the Travel Pack 2 is one of the most impressive carry-on travel backpacks I have tested; this is one Aer bag that needs to be on your radar friends.
Below, I breakdown every inch of the Aer Travel Pack 2, covering important details like unique organizational features, weight, packability, toughness, best uses, fit/sizing, and everything else under the sun.
Ready to know more? Excellent (in sinister Mr. Burns voice). Simpsons references aside, let's now take a closer look at what makes this Aer backpack badass and get on with this AER Travel Pack 2 review… 
PSSSTTT! – In 2023 the ever innovative people at AER released the Travel Pack 3. It's fundamentally similar to the Travel Pack 2 but includes some kick ass enhancements.  Check out the AER Travel Pack 3 Review here instead.
AER Bag Review Quick Answers: Travel Pack 2 Specs
Price: $230.00
Volume: 33 liters
Weight: 3.7 lbs
Material: 1680D Cordura Ballistic Nylon Exterior
Laptop Compartment: Yes
Carry-On Compliant: Yes
Ladies & Gents, It's Time to Step Your GEAR Game Up. 😉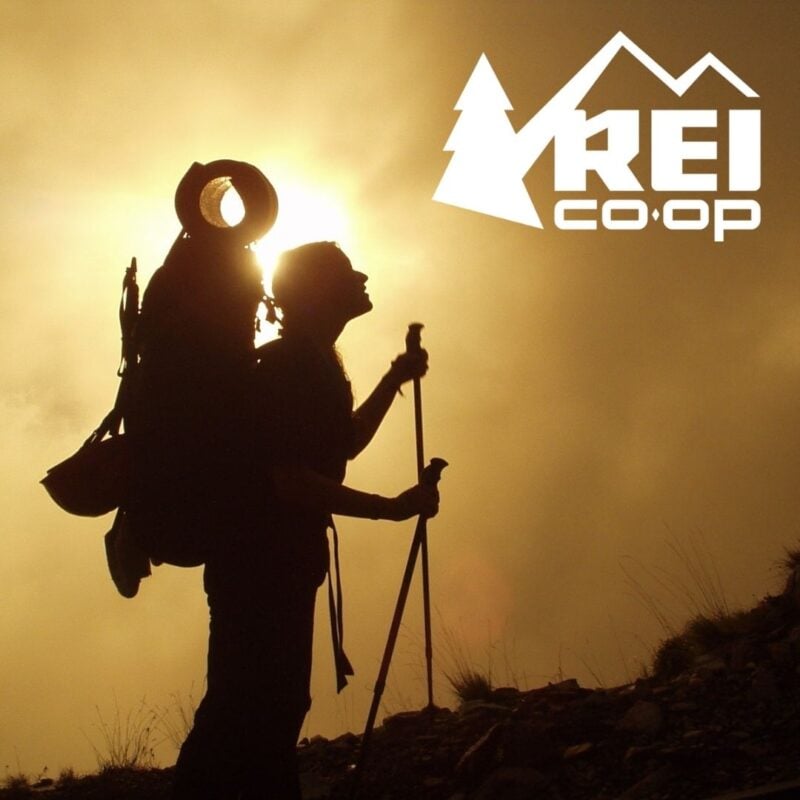 REI is one of America's biggest and most-loved outdoor gear retailers.
Now, for just $30, get a lifetime membership that entitles you to 10% OFF on most items, access to their trade-in scheme and discount rentals.
Join REI Today!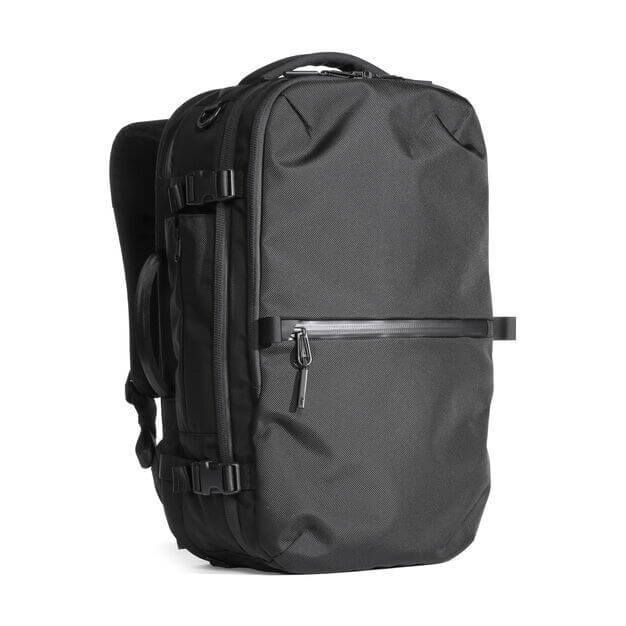 A few members of The Broke Backpacker staff including myself have been using the AER Travel Pack 2 as our everyday bag over the last year. In fact, AER packs are a real hit among the team.
Being the location independent people that we are, we can work from anywhere; so for me personally I spend a lot of time moving around the city (in normal years) in search of my next favorite cafe.
I don't live in the city center, so I usually bring what I need with me for the entire day, including my camera equipment and gear for the climbing gym… that's where the AER pack comes into it's own!
Since I lived in Portland, Oregon recently and now on Madeira Island in Portugal, one never knows what the weather will do. I am always prepared for bad weather when I go out. On any given day I usually pack the following items:
13-inch MacBook in a soft case.
Full-size notebook/planner
Phone and computer chargers
Power bank
Smartphone
Headphones
Fuji Film X-T3 camera + camera bag
Rock climbing shoes
Harness
Chalk bag (inside a plastic bag to avoid a mess)
Waterbottle
Rain jacket
Down jacket
Fleece layer
Travel towel (for the gym)
Bar of soap (I am a sweaty mess)
Book (in case I feel like slacking off instead of writing about backpacks)
Coffee thermos
If I were to go on a work trip for a few days, I would pack all of these things minus the climbing gear and plus a few extra clothes (at least an extra pair of clean underwear, right?). I might also combine the bag with a small travel purse on transit days to keep all my documents and passport close at hand.
So, how does the AER Travel Pack 2 perform as a backpack for a busy 21st-century human? Let's find out…
Interior Organization
Without practical internal features, a backpack is nothing. NOTHING I SAY! We have all heard our teachers in elementary school say "It doesn't matter what you look like on the outside. It is what's on the inside that counts." When it comes to thinking about backpacks, the same philosophy applies…kids. The Travel Pack 2 does not leave much to be desired on the inside.
For a more detailed visual breakdown of the interior, check out our friend Aaron at Nomad Nation's epic video review of the AER Travel Pack 2…
In fact, the Travel Pack 2 has so much going on internally that I have broken down this review into several sections dedicated to each of the three main compartments…
Laptop Compartment
The compartment on the AER bag is located just behind the back panel is the laptop compartment. As mentioned, I typically travel with my 13″ Macbook Pro. Storing larger laptops up to 15.6″ is no problem, (and if your laptop happens to be slightly bigger, it could probably fit as well).
Since I am constantly moving around, I find it really handy to have a compartment dedicated to laptop storage. Quick access is key. I don't want to have to open up the backpack where all of my other stuff is just to get to my laptop.
There are no straps or clips to secure the laptop from moving around in the Travel Pack 2. That said I never had an issue with my laptop shifting or bouncing about as the dedicated laptop pocket within the compartment keeps it in place just fine without straps.
If you have stuff packed into the other compartments as well, the bulge coming from the "main" pack area helps to hold everything in place.
Laptop Compartment Score: 4/5 stars
The Main Compartment
For all of your clothing/travel gear storage needs, it's all about the main compartment. Opening like a clamshell, once fully unzipped, the AER backpack is able to lie completely flat, making packing super easy.
The clamshell opening also makes accessing your stuff super easy once you reach your destination.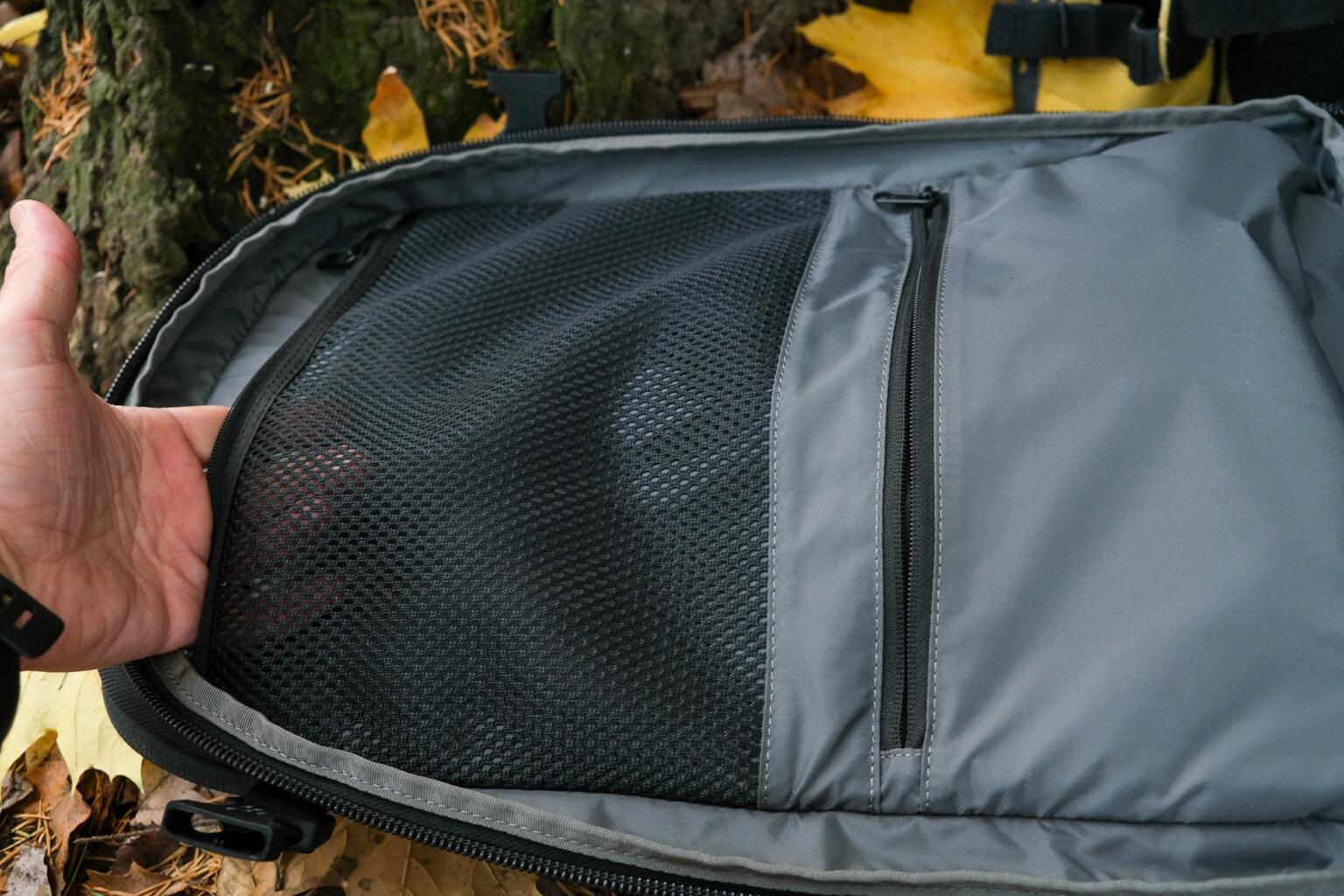 There are two zippered storage zones within the main compartment. The larger one is made from breathable mesh and is a good place to put chargers, non-bulky toiletries, a book, or even a small tablet.
The smaller zippered pocket is about half the size of the one above it. I found it to be slightly too small to pack any clothing into it, though you can fit a few pairs of socks or underwear if need be.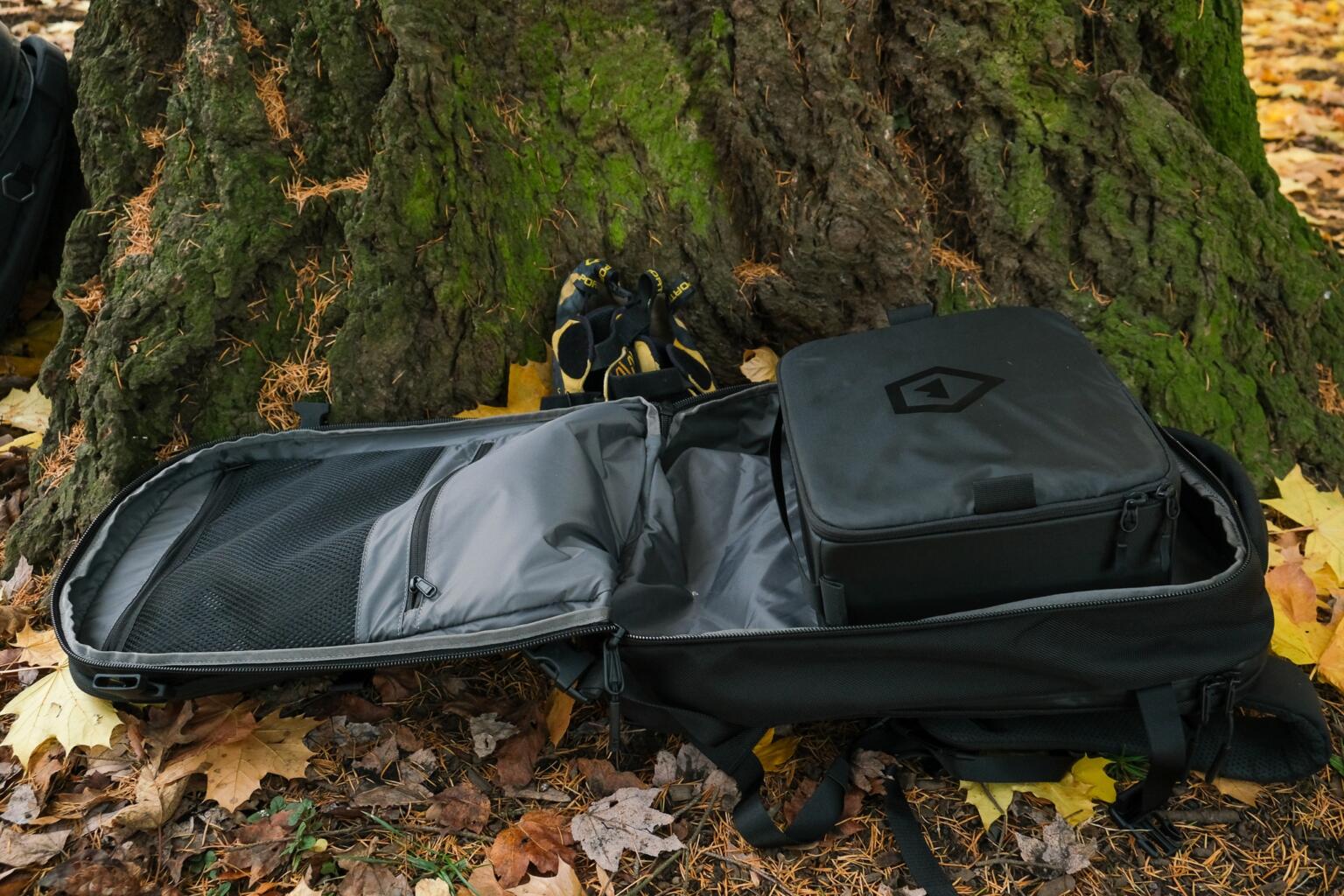 It's important to note that if you overpack the main compartment, you will find it difficult to pack anything bulky into the other two compartments.
Something that I have never seen on a travel backpack of this size before is the shoe compartment. The shoe storage zone is actually accessed from the outside of the pack, but it feeds into the main pack compartment. I love the idea, however, if you put anything other than flip flops inside the shoe compartment (like normal shoes), the shoe storage pouch takes up a lot of room inside the main compartment.
I tend to use the shoe storage pocket for putting soft things like a down jacket for quick access. Don't expect to use the shoe pocket for hiking boots or any large footwear.
Main Compartment Score: 4/5
Front Storage Compartment
If you intend on working out of your Aer backpack, this is the zone to pay attention to. This compartment is loaded with almost too many pockets and places to put little bits and pieces. Seriously, if you don't pay attention, you are liable to misplace something in here as I have already done.
There are six individual storage pockets, pen pockets, and one zippered pocket towards the top. One of the pockets is deep enough to fit file folders or even your laptop if you prefer for it to be in here. Chargers, notebooks, a tablet, planners, books, file folders (also could be put into the laptop compartment), a framed portrait of your grandma— all of that stuff can easily fit into this zone with more than enough space to spare.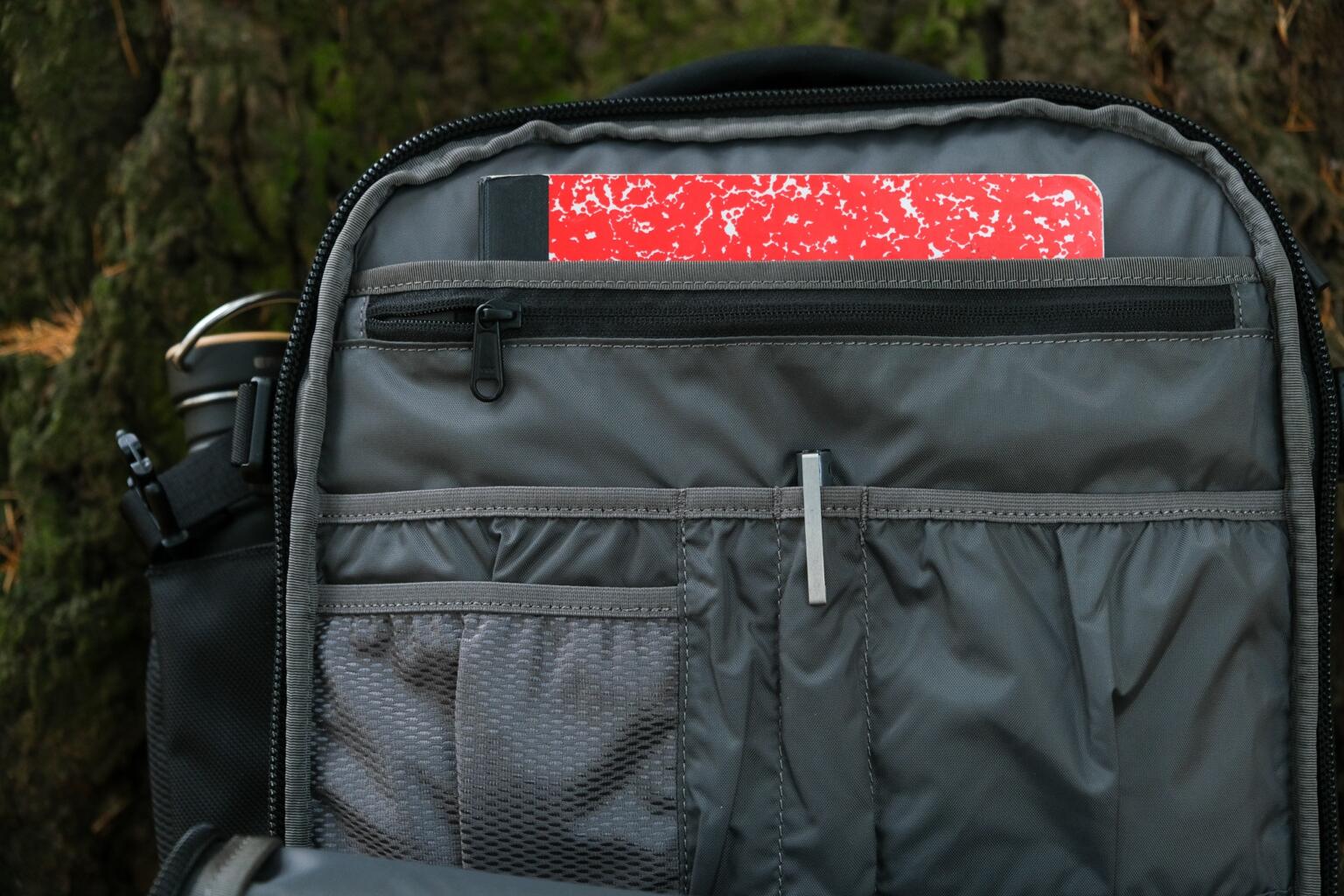 The key to getting the most out of the Travel Pack 2 is to not overpack any one section. As mentioned, I found that when I loaded most of my gear into the main compartment it bulked out the entire pack to the point where I found it difficult to pack any large items into the other compartments (with the exception of my laptop).
For people with obsessive organizational issues like me, the Travel Pack 2 legitimately ticks each and every box— which is something I can rarely say about any backpack.
Granted, typically my go-to backpack for long term travel is a 70-liter trekking backpack because I also work as a trekking guide in Pakistan and always have half of the damn gear shop worth of stuff with me.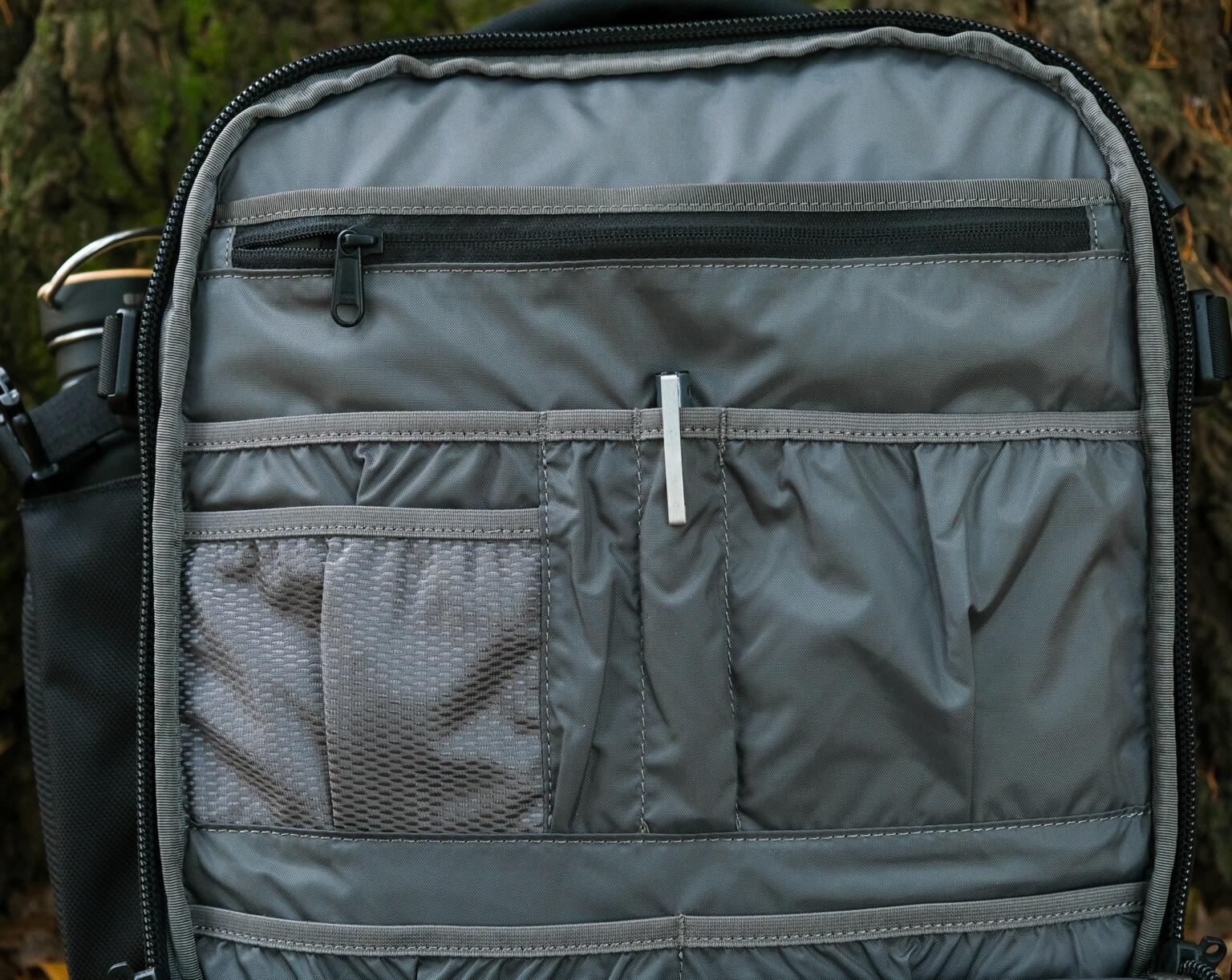 If you tend to travel light or are just looking for an awesome weekend travel bag for work or play, the Travel Pack 2 is probably the best backpack on the market right now to serve that purpose. In another life, if I didn't normally travel with so much stuff for work, I could see myself cruising around South East Asia with this backpack.
Front Compartment Score: 5/5 stars
The Exterior
The outside of the Travel Pack 2 doesn't have quite as much going on as the interior, but I think that's a good thing. One backpack I reviewed recently had an insane amount of pockets on the outside of the backpack, and I wasn't the biggest fan.
Of course, it is nice to be able to get to stuff quickly and easily. Having a ton of pockets on the outside allows one to do just that. However, if we are talking about a travel backpack then the security factor has to be a huge consideration before buying or using the bag. It doesn't take a genius to guess what I'm about to say next. If you have a ton of stuff stashed in various pockets on the outside of the backpack, you suddenly become a target for predatory thieves and pickpockets.
Bearing all of that in mind, I appreciate the very strategic location of the exterior pockets found on the Travel pack 2. There are three individual storage pockets integrated into the exterior. The shoe compartment as previously mentioned, a large square pocket just above that, and a quick access smaller pocket found near the carry handle.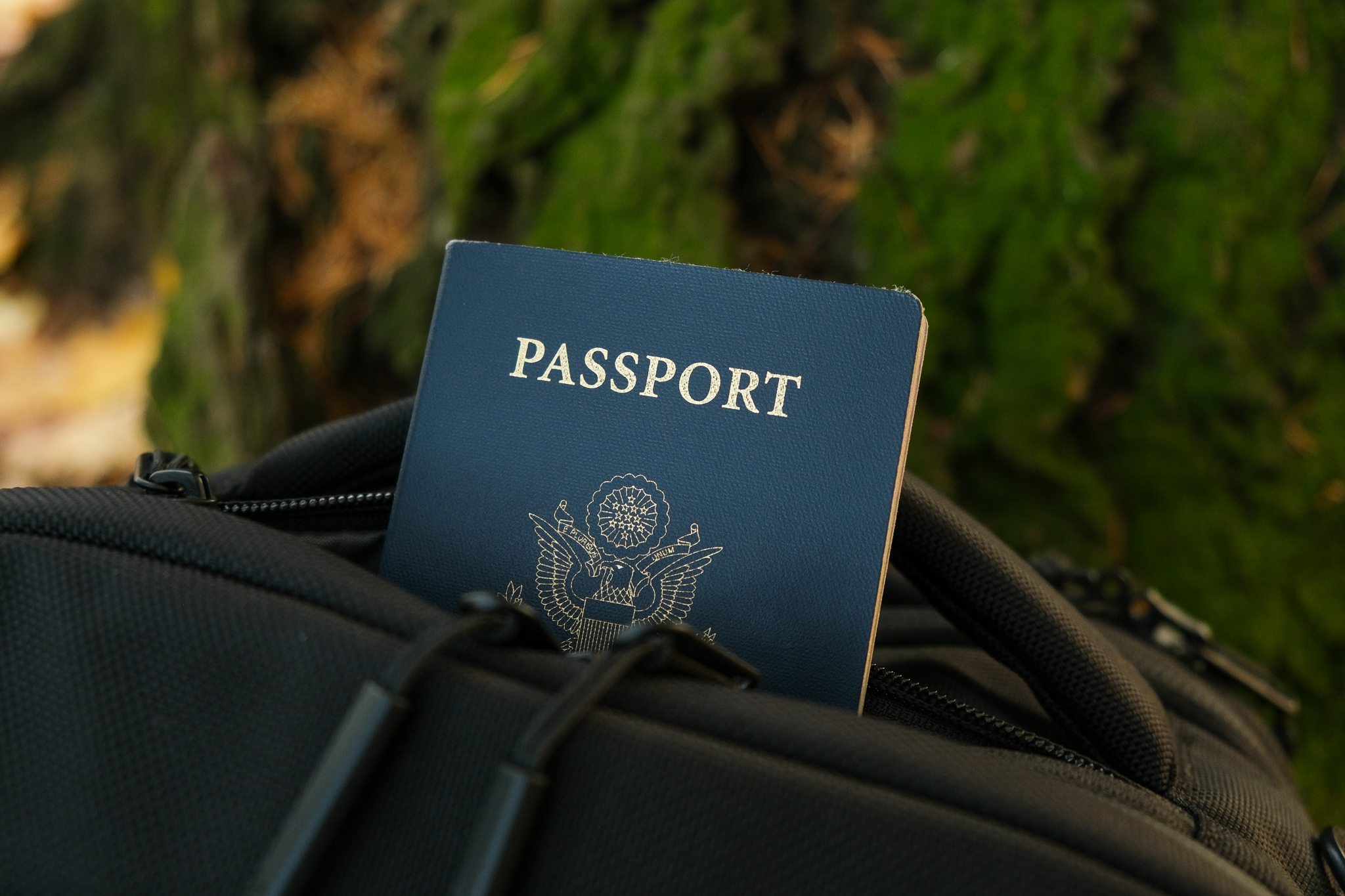 The smaller pocket is perfect for keeping your phone, wallet, passport, etc safe. With the backpack on your body, it would be difficult for someone to get to anything in there without you feeling it. Still, I would be
careful about keeping anything of significant value in the exterior pockets if you find yourself traveling in especially crowded areas like a rush-hour train, a shoulder to shoulder market bazaar or a massive sporting event.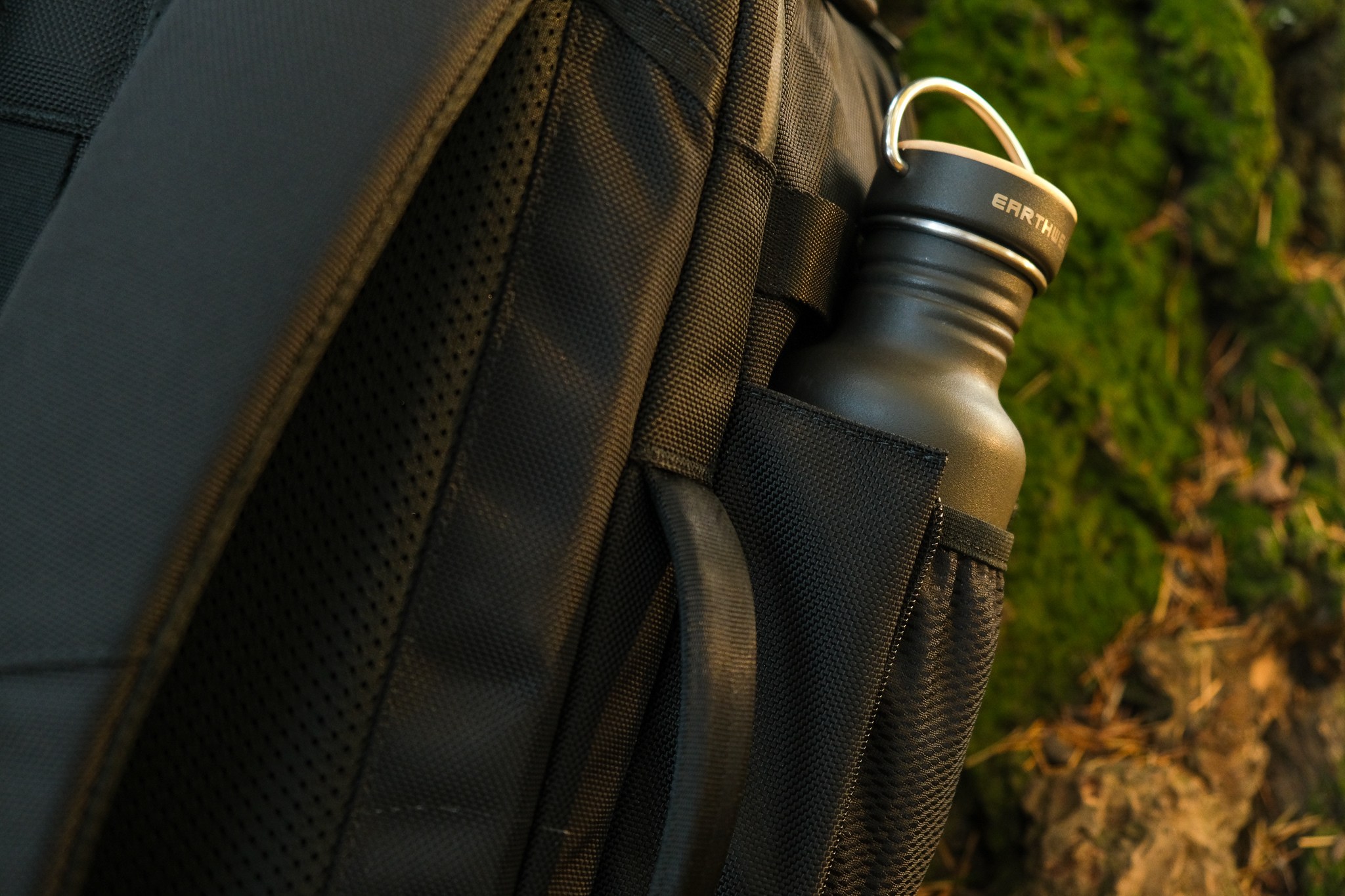 Aer did not forget about including a water bottle pocket either which I greatly appreciate. All too often these fancy carry-on backpacks omit the water bottle pocket for some reason. Don't they know we all need to drink on the go? I will say that the water bottle pocket looks like it was designed to fit small plastic bottles and not full-sized water bottles, which is a little disappointing.
A Nalgene will not fit into the water bottle pocket, nor will my favorite travel tool of all time, the Grayl GEOPRESS.
Exterior Score: 4/5 stars
Sizing and Fit
Depending on what type of loads you think you will be carrying, the Travel pack 2 can be easily adjusted and customized to suit your needs. I'd say if you plan on carrying more than 10 kgs on a trip, pay the extra money and buy the removable hip belt (sold separately). Having a hip belt will give you extra support and balance. It will also relieve your shoulders of the entire weight of the backpack.
The Travel Pack 2 is a unisex backpack and comfortably fits people of average height up to 6'6 (just a guess). Well-padded shoulder straps ensure that your carrying experience will be comfortable. The shoulder straps have actually been redesigned with more padding than the previous model had. Unless you are carrying bricks and barbells, the shoulder straps don't dig into your body at all.
Likewise, the breathable mesh back panel is beefed up with padding in all the right places. I found myself always using the adjustable sternum straps as well to help keep the backpack from shifting around on my shoulders whilst walking about the city.
The good fit is aided by the internal frame sheet, which provides structure, support, and helps the Aer backpack maintain its shape long-term. The comfort levels are one of the reasons our team loves these AER backpacks.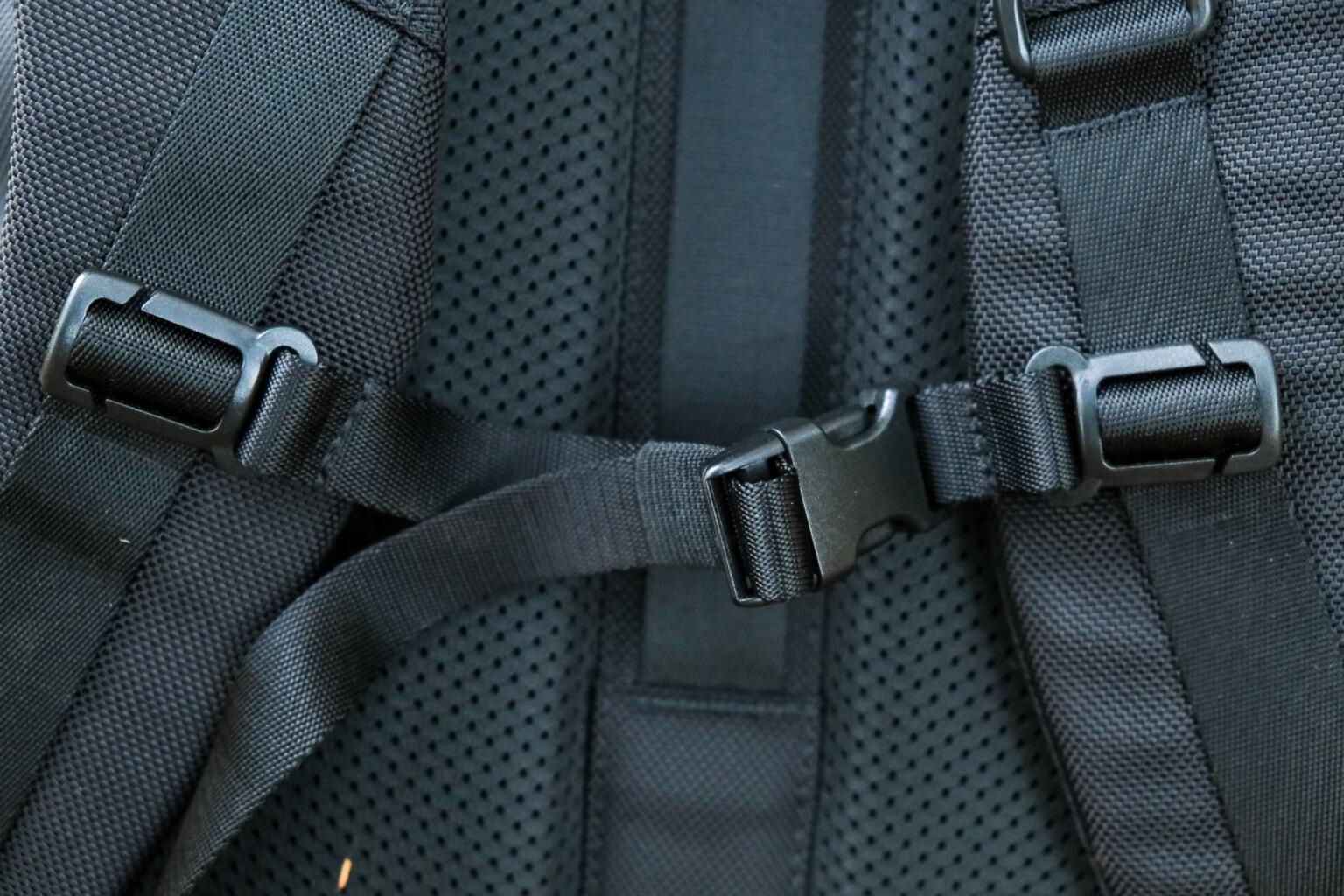 I do find the sternum strap adjustment design to be a bit poor. It takes a bit of force to slide the strap up or down the nylon "track". The benefit I see is the sternum strap will never slide out of position on its own, so maybe it's a good thing to have it be a bit stiff to adjust.
Sizing and Fit Score: 5/5 stars
Carry Options
Don't want to carry this Aer backpack like a backpack aye? Scoff.
Well, you have some options. One of the innovations Aer unleashed for the Travel pack 2 is the "pass-through" feature.
This allows the Travel pack 2 to essentially be fixed to a wheeled suitcase, perpendicular to the handle.
I was not able to test this feature because I do not own any wheeled luggage.
No judgment if you travel with a wheeled suitcase of course (ok, maybe a little bit)! I get it, they are convenient and they roll. Point being, there is the option to utilize the pass-through if need be.
There are two fixed carry handles. The main super padded handle is located just above the small quick-access pocket.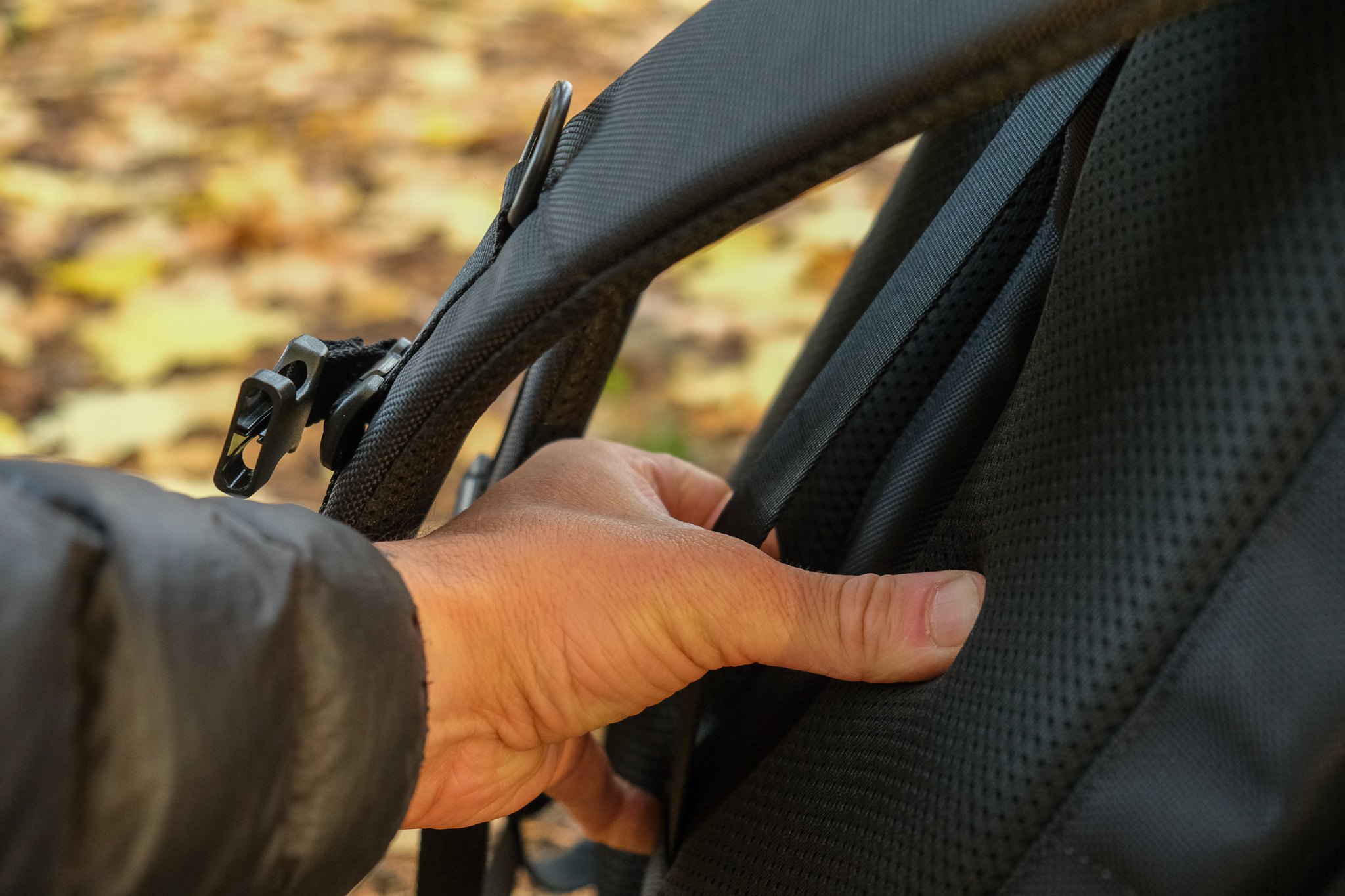 I have actually destroyed these sorts of handles on other backpacks over time; the result of having a super heavy backpack and pulling on the handle too aggressively or quickly.
The Travel pack 2 handle though is burly and I can say with a great deal of confidence that you'd be hard-pressed to break it, even if your pack weighed 60 pounds (which is highly unlikely anyway).
The smaller, less padded side handle found near the water bottle pocket on the left side of the pack allows for a briefcase-like carry if you're into that.
Carry Score: 5/5 stars
Weight and Capacity
Quick Answer:
Weight: 3.7 lbs
Capacity: 33 liters
This Aer backpack isn't the lightest option out there, but fully-featured backpacks are never going to be ultralight. I have a 60-liter backpack that weighs less. It's worth noting that because the Travel Pack 2 is 33 liters, starting with a base weight of 3.7 lbs. isn't so bad and won't really be noticed.
The weight of the backpack is determined in part by the materials used. Since this isn't a hiking backpack I'd take a heavier backpack base weight that can handle the certain abuse I will put it through over a lightweight backpack that I will pulverize into shreds in a year or two.
For a 33 liter backpack, one can really fit a TON of stuff inside. With a little bit of strategic packing, you can cram everything needed for a long-term trip if you have a somewhat minimalist mindset.
Toughness and Durability
As long as you don't throw the Travel Pack 2 into a meat grinder or off of a thousand-foot cliff, it should last for 10-15 years at least. The 1680D Cordura ballistic nylon exterior (not waterproof) feels like it can take a beating without showing any signs of wear.
A few weeks is probably not a good gauge of long-term toughness, but after my short experience working and traveling with the backpack last month I am confident that the Travel pack 2 is a winner for the long haul. To be honest, I am yet to fully see just how durable this backpack is, though I will update this review in a year after it has seen several seasons of heavy use (and abuse).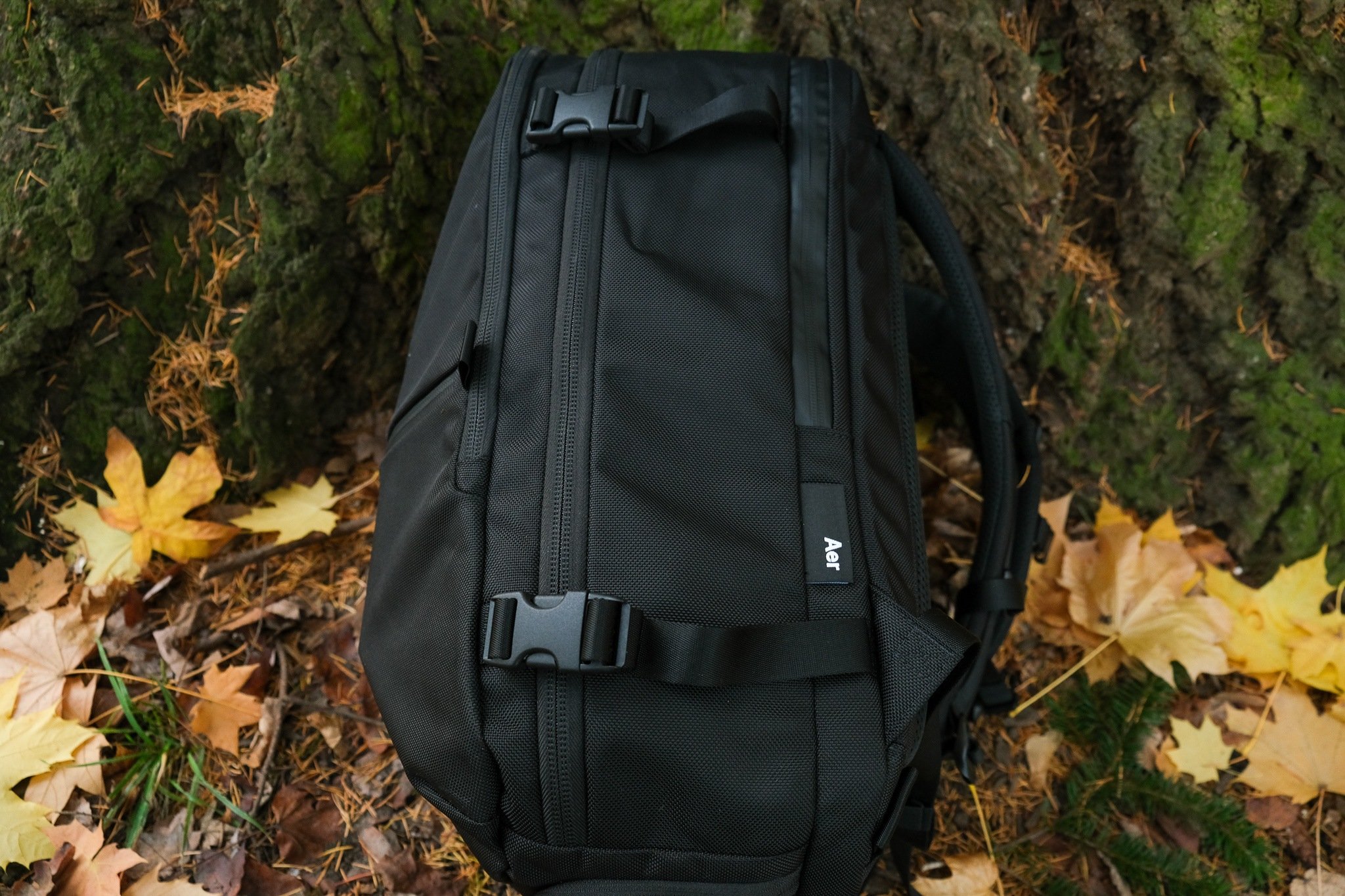 Aer did not skimp on the YKK zippers or buckles either. Usually, the first thing that goes on my other backpacks are the plastic buckles. I have a special talent for breaking them I am learning.
Plastic buckles can be damaged easier than you may think. If you accidentally slam one in a car door or if you drop a fully packed bag on a hard surface or floor, then, of course, the buckle can easily crack/break.
With a little care and common sense, it is pretty easy to avoid damaging the buckles and other parts of the backpack (I am also learning).
Toughness Score: 4/5 stars
Security
As previously mentioned, the Travel Pack 2 is well equipped to keep your possessions safe. The limited (and strategic) amount of pockets found on the exterior of the pack make it so that most if not all of your important stuff can stay inside the pack. Sorry, sketchy thief dudes.
The zippers on all of the 3 main compartments can be locked for additional security. It's probably overkill and slightly paranoid to lock all three compartments, but locking the one that has your laptop or other expensive electronics or the like isn't a bad idea when traveling in crowded areas.
Realistically though, it would be pretty much impossible for anyone to straight-up steal your laptop out of your backpack whilst you are wearing it. They would have to be some pretty clever criminals to pull that off.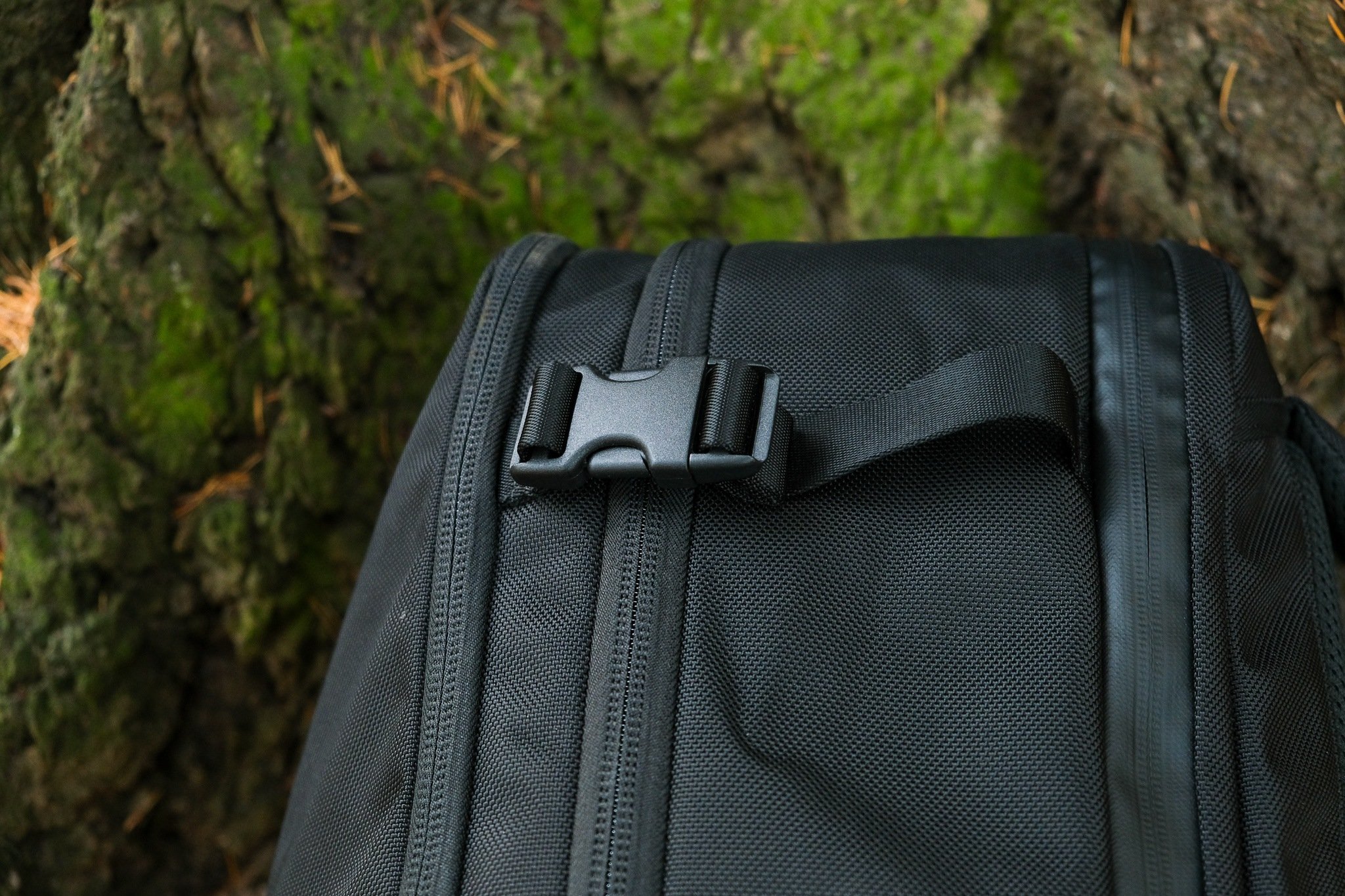 The laptop compartment rests directly against your back, so unless you are paralyzed/have no sensation of feeling in your back, ain't nobody stealing your laptop.
For further security protection, the side compression straps and buckles add another layer of thief deterrent.
Personally, I never lock my backpack. My strategy is just to pay attention to my surroundings, keep alert, and crucially double-check that all of the backpack's enclosures are 100% zipped shut. There are a lot of zippers and pockets to keep track of, but before setting off out into the world, take the time to double-check that all of the openings are properly secured and you should be fine.
Security Score: 5/5 stars
Aer Bag Aesthetics
This shouldn't come as a surprise as this Aer backpack was designed in San Fransico: the Travel Pack 2 is sexy, sleek, and won't make you look like a dirtbag hiker the way all of my other trail-dusted backpacks do if you're concerned about those things. (I am not.)
Personally, the way a backpack looks is probably the least of my concerns. That said, aesthetics are important of course. Aesthetics with regard to the Travel Pack 2 are directly related to the design and features of the backpack. When packed full, the Travel Pack 2 does have a somewhat boxy, square shape.
My experience with the bag showed me that even when not packed totally full, the shape is still quite bulked out. I had several people ask me what all I was carrying in there when really I only had a few things with me.
Overall though, I dig the look of the Travel Pack 2 because it gives the perception of a simple, minimalist outer design, when—upon closer inspection— it's clear that attention to visual detail was something Aer was clearly concerned with.
Aesthetics Score: 5/5 stars
What I Liked About the Aer Travel Pack 2
Excellent organizational features.
Well built and durable.
The laptop compartment is a stand-alone compartment.
The quick access outer pocket for storing passport, phone, power bank, etc.
All of the zippered pockets.
The idea of the shoe pocket.
Lots of potential for customization.
I prefer having 3 main compartments instead of just having one main pack belly.
What I Didn't Like About the Aer Travel Pack 2
The shoe pocket feeds into the main pack area, taking up a lot of space.
It doesn't come with a hip belt.
The water bottle pocket is too small for many bottle shapes.
No straps for securing clothing within the main pack compartment.
The best present of all… is CONVENIENCE!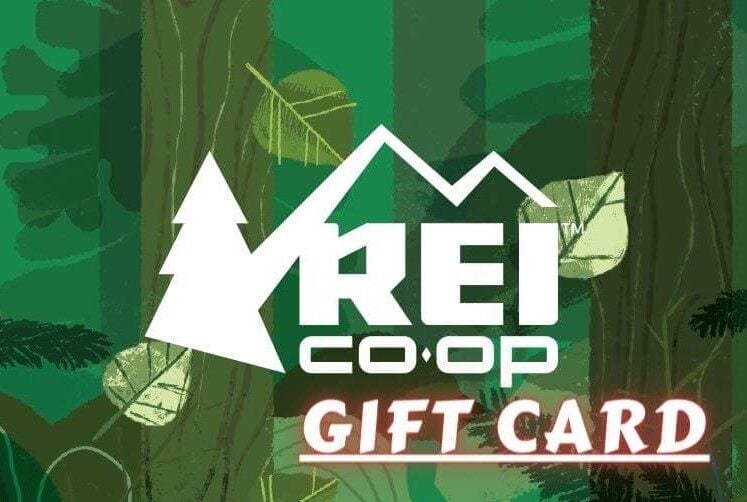 Now, you could spend a fat chunk of $$$ on the WRONG present for someone. Wrong size hiking boots, wrong fit backpack, wrong shape sleeping bag… As any adventurer will tell you, gear is a personal choice.
So give the adventurer in your life the gift of convenience: buy them an REI Co-op gift card! REI is The Broke Backpacker's retailer of choice for ALL things outdoors, and an REI gift card is the perfect present you can buy from them. And then you won't have to keep the receipt. 😉
Buy on REI!
Aer Travel Pack 2 vs the Competition
In the land of carry-on travel backpacks, there are a few bags out there that can hold their own against the Travel Pack 2. The closest competitor is the 40-liter
The Nomatic Travel Bag is loaded with equally cool organizational features and storage options and goes for around $40 more than the Travel pack 2 (Nomatic Travel Bag costs $279.99). The key difference is that the Nomatic backpack is larger by 7 liters. If you are looking for a backpack that allows for more carrying capacity, the Nomatic Travel Bag could be for you.
For more information, check out our super in-depth Nomatic Travel Bag review.
Here are some other Aer backpack competitors: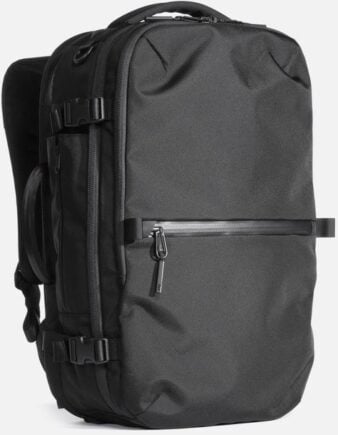 Aer Travel Pack 3
Cost > $$$
Liters > 33
Laptop Compartment? > Yes
Best Use? > Everyday use, weekend + international travel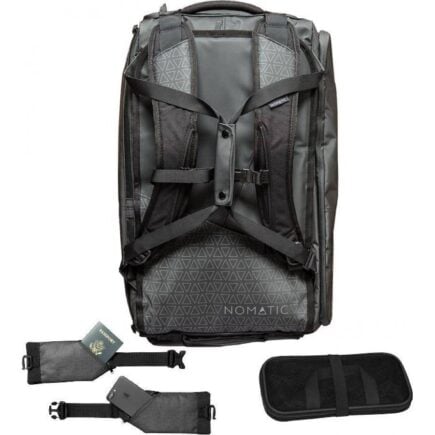 Nomatic Travel Bag
Cost > $$$
Liters > 40
Laptop Compartment? > Yes
Best Use? > Everyday use, weekend + international travel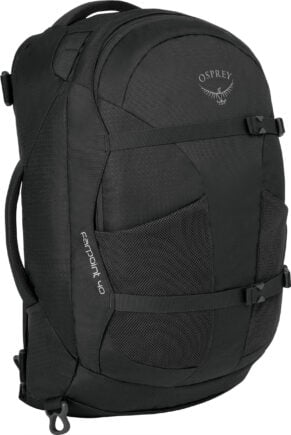 Osprey Farpoint (40 liter)
Cost > $$
Liters > 40
Laptop Compartment? > Yes
Best Use? > Weekend/international travel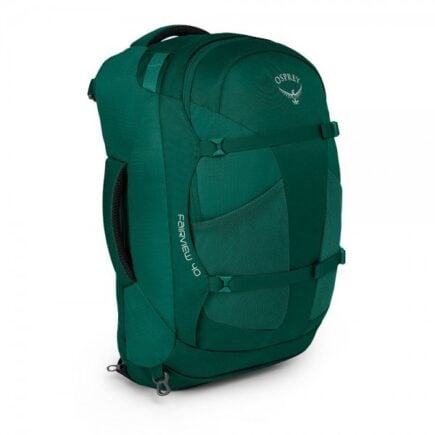 Osprey Fairview (40 liter)
Cost > $$
Liters > 40
Laptop Compartment? > Yes
Best Use? > Weekend/international travel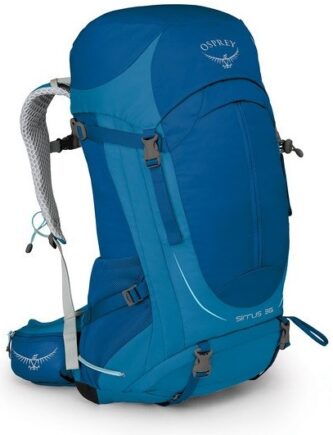 Osprey Stratos (33 or 36 liter)
Cost > $$
Liters > 33 or 36
Laptop Compartment? > No
Best Use? > Hiking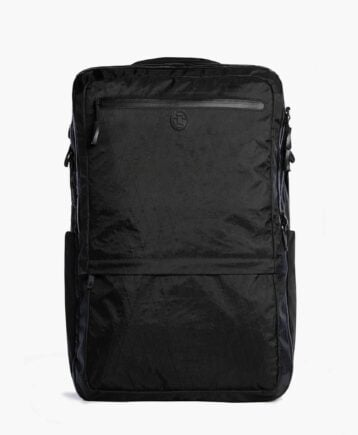 Tortuga Outbreaker (45 liter)
Cost > $$$
Liters > 45
Laptop Compartment? > Yes
Best Use? > Weekend/international travel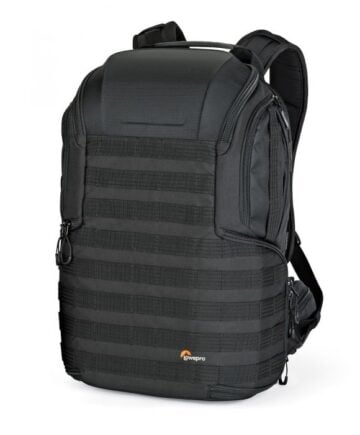 LowePro Pro Tactic 450 AW (45 liter)
Cost > $$$$
Liters > 45
Laptop Compartment? > Yes
Best Use? > Photography
REI Co-op Trail 40 Pack
Cost > $$
Liters > 40
Laptop Compartment? > No
Best Use? > Hiking/travel

Our GREATEST Travel Secrets…
Pop your email here & get the original Broke Backpacker Bible for FREE.
The Ultimate Aer Backpack: Our Verdict on the Travel Pack 2
I don't get to say this often so I am going to relish this moment: the Aer Travel Backpack 2 is one of the best backpacks in its class that you will find anywhere.
From its sleek exterior to the impressively organized interior sections, this Aer backpack has got everything one needs for general everyday use, weekend adventures, and minimalist international travel.
After testing the Travel Pack 2 for the better part of a year, there are a few features that stood out to me as being particularly awesome.
The three individual main compartments offer truly excellent organization options if you're traveling with different kinds of stuff, IE a laptop, clothing, electronics, work supplies, notebooks, chargers, etc. Everything has its place, and I love that. Gone are the days of having to fit everything into one singular compartment.
Sure I wish the Travel Pack 2 had a larger water bottle pocket and the shoe compartment could use a redesign, but apart from that, the Travel Pack 2 remains one of the best travel-specific backpacks I have ever tested.
If you are looking for a travel backpack in the 30-40 liter range to serve your adventure and work needs, look no further friends. Keen to join the One Bag Travel movement? The Aer Travel Pack 2 is an excellent way to break in, period.
Well there you have it, hopefully, we've covered all your questions on this AER backpack review.
What is our final score for the AER Travel Pack 2? We give it a rating of 4.8 out 5 stars!

---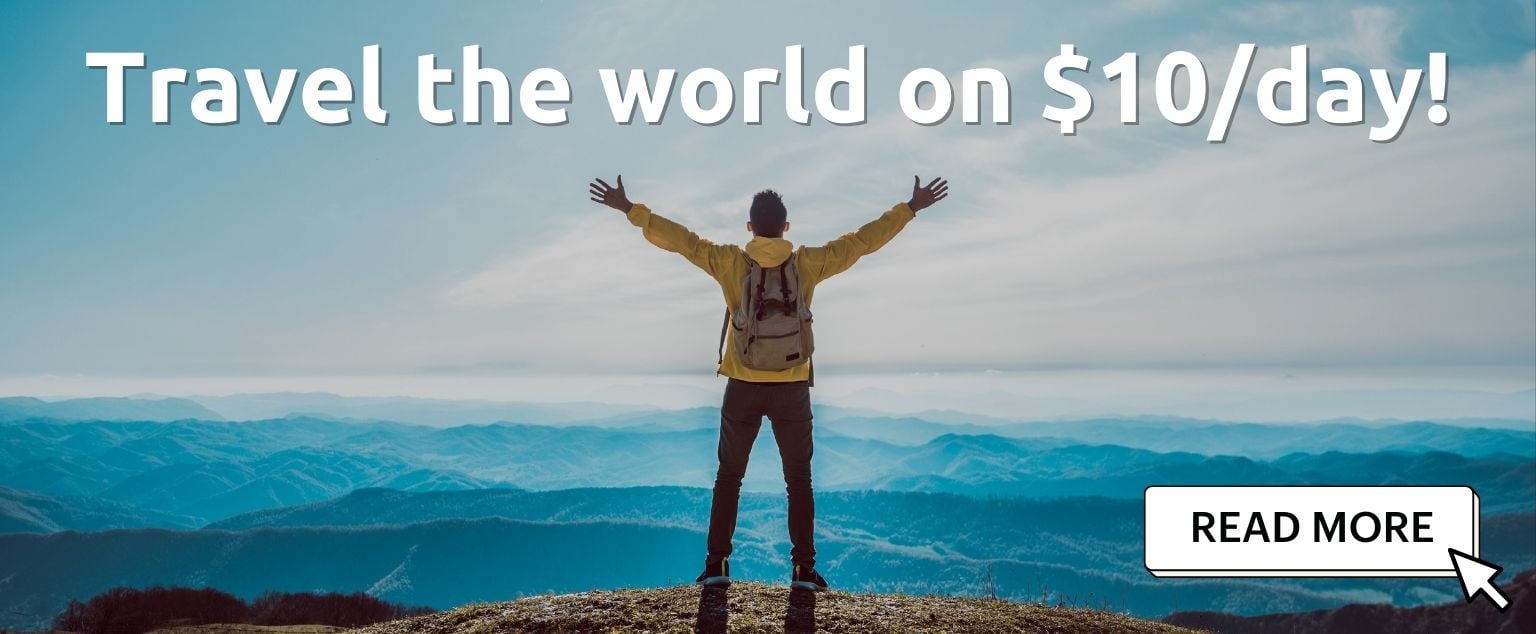 And for transparency's sake, please know that some of the links in our content are affiliate links. That means that if you book your accommodation, buy your gear, or sort your insurance through our link, we earn a small commission (at no extra cost to you). That said, we only link to the gear we trust and never recommend services we don't believe are up to scratch. Again, thank you!