Welcome to my Osprey Xenith 75 Review!
If you are like me and enjoy spending extended periods in the backcountry, then you have probably spent some time thinking about which high-capacity hiking backpack to go with. Enter the Osprey Xenith 75.
On any hiking adventure, your backpack is the most important piece of gear you possess (with the exception of maybe your shoes and snacks.)
If you are carrying days worth of food, camping gear, tent, clothing, water, gas, and a few gadgets, you want to ensure that the load you are bearing is as comfortable and well-supported as possible.
This Osprey Xenith 75 review breaks down every aspect of this beast of a backpack in detail, so you can make the informed decision whether the Osprey Xenith 75 is the right backpack for you.
Some adventures just call for a large capacity backpack. Over the years I have owned several Osprey backpacks and let me tell you, they know how to engineer the right backpack for any given application.
In this Osprey Xenith 75 review you will learn everything there is to know about this truly badass hiking backpack.
I cover the Osprey Xenith 75's features and specs, design, weight, price, best applications, competitor comparison, and more.
Osprey makes some of the best backpacks for hiking and traveling, period.
Let's take a look now at what the Osprey Xenith 75 is about…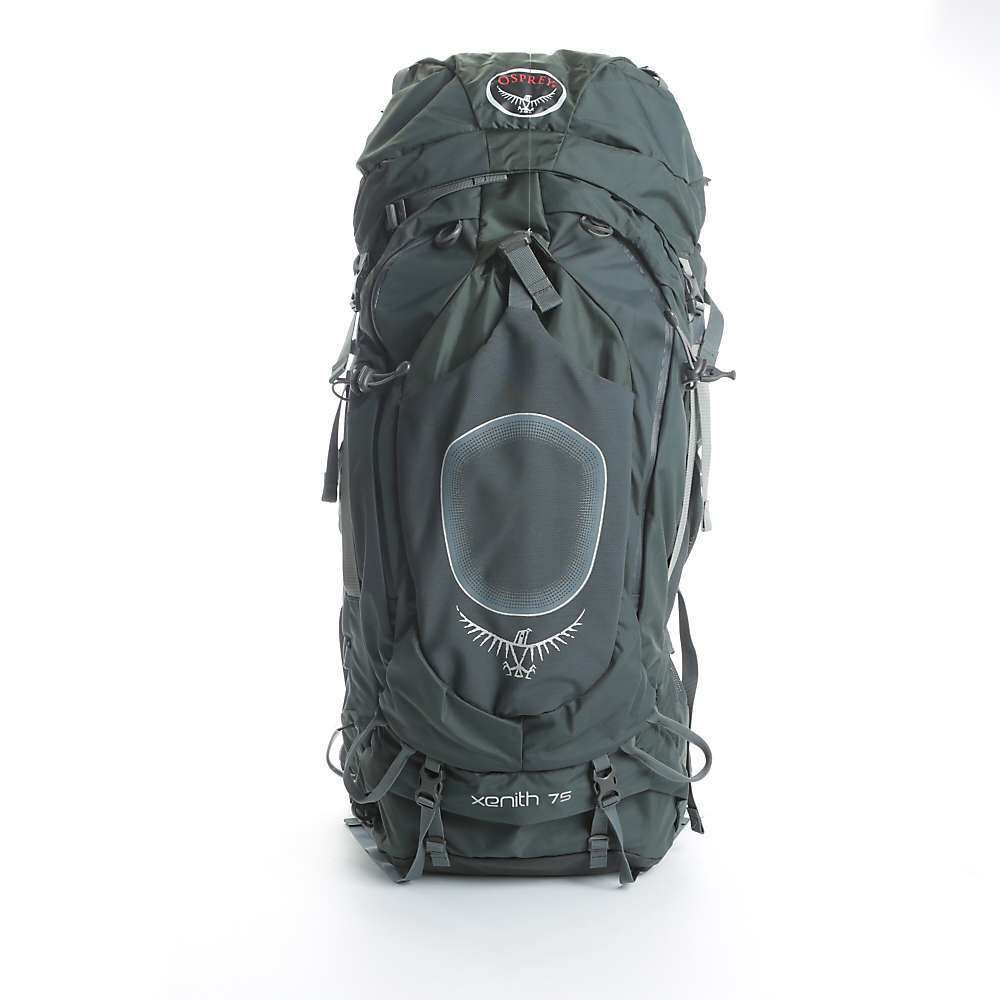 Quick Answers: Osprey Xenith 75 Review • The Best Multi-Day Hiking Backpack
Here are some of the questions I tackle in this Osprey Xenith 75 review:
What are the features and specs of the Osprey Xenith 75?
How much does the Osprey Xenith 75 cost?
Weight of the Osprey Xenith 75?
Is the Osprey Xenith 75 comfortable and breathable?
Is the Osprey Xenith 75 compatible with a rain cover?
What are the Osprey Xenith 75 closest competitors?
Winter is coming… WARM UP!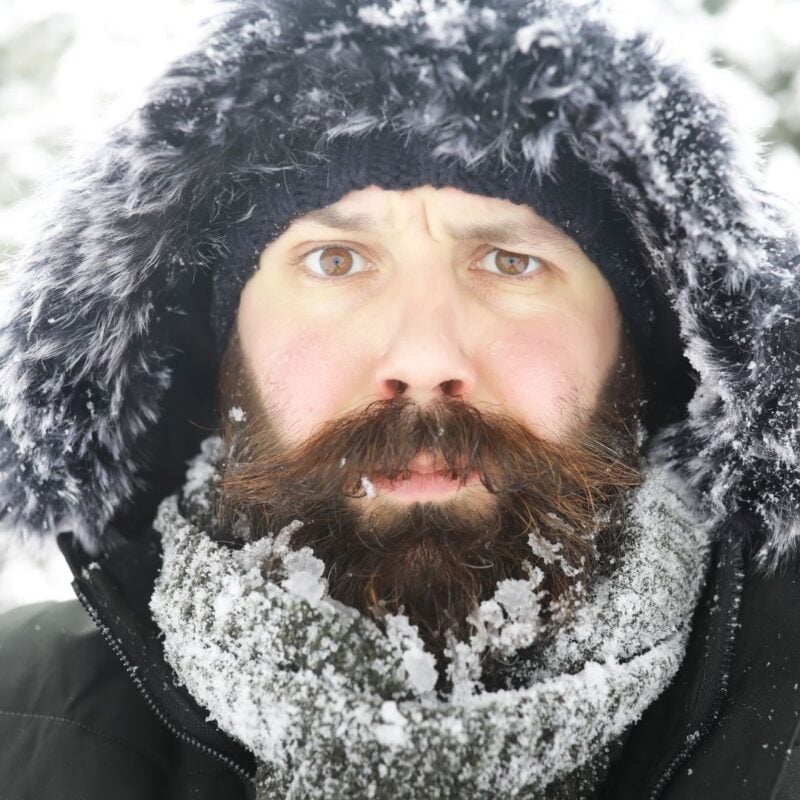 Get up to 50% OFF when shopping gear for the winter on REI.
Warm up for the holidays and SAVE on outdoor gifts all the way through Dec 18!
View on REI
Osprey Xenith 75 Features
For those who like to have an organized backpack, the Osprey Xenith 75 kills it in that department. There is a whole art to packing for a backpacking trip. The Osprey Xenith 75 was designed to make that process a breeze, so you can easily organize and access your gear.
For comfort, there are adjustable straps and buckles in the places where you need them most. Because of the bio-form material construction on the hipbelt, you can even get a customized molded fit so that the backpack is actually a one-of-a-kind unit for your own body type.
One cool feature of the Osprey Xenith 75 is the removable top lid. When you want to go on a day-trip mission away from camp, you can simply unclip the top lid (the brain) and voila, you have a comfortable daypack.
I love the sleeping bag compartment on the Osprey Xenith 75, which actually is big enough to hold a sleeping pad in addition to a sleeping bag.
Other features include the integrated trekking pole loops, ice axe loops with tie-offs, removable sleeping pad straps, and stretch-side water bottle pockets.
Check out this guide to 13 Best Sleeping Bags for Epic adventures.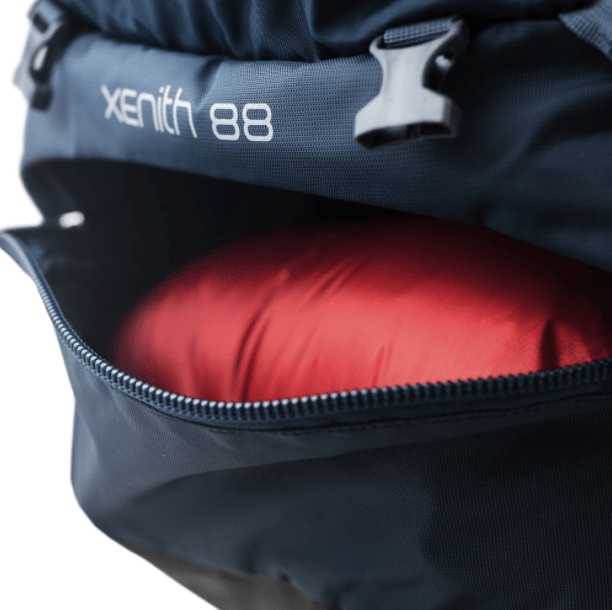 Osprey Xenith 75 Pockets and Storage
Pockets are awesome and crucial to keeping your gear in the places where you want it to be. Having multiple pocket options is never a bad thing. In fact, it is one of the main aspects of any backpack that I require if I am even going to consider buying it.
The Osprey Xenith 75 has them in abundance:
The two zippered front pockets provide additional storage and organization options with two zippered hipbelt pockets for quick access to smaller items. I like using these pockets on the hipbelt to store by phone, lip balm, and an energy bar or two.
Front stretch-mesh pocket offers quick storage and access to things like sandals, your pack towel, rain jacket, etc. This pocket is also ideal for storing rank socks that you DO NOT want mingling with your food or clean clothes inside the backpack.
The top lid features under-lid zippered pockets which are especially handy when you are using the top lid as a daypack.
Dual side zips provide easy access to gear stored in the main compartment without having to remove the top lid.
The external hydration reservoir sleeve is easy to access when the pack is fully loaded and accommodates up to a 3-liter reservoir (sold separately).
Located at the base of the backpack, the zippered, wide-mouth sleeping bag compartment with removable divider helps with storage of course and also to balance the pack by keeping otherwise bulky items in their own zone.
To give you an idea, you can easily store your tent, several 20-liter dry bags (containing clothes and food respectively) within the main compartment in addition to your backpacking stove and other bits and pieces… and still have a bit of room to spare!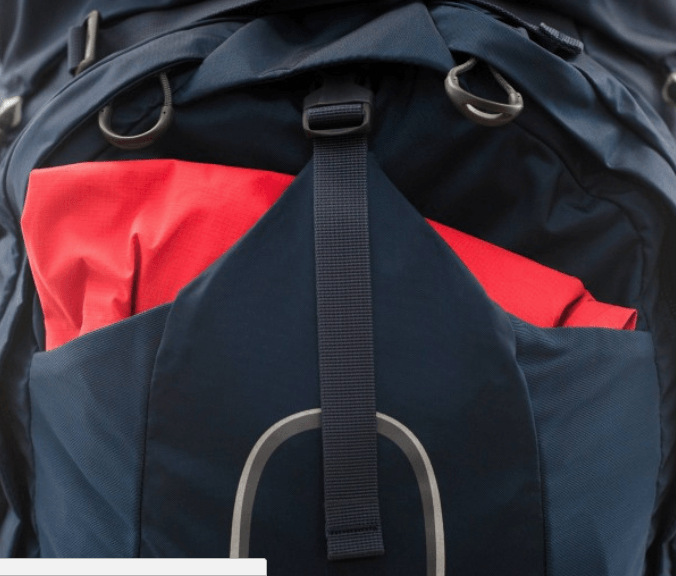 How Much Does the Osprey Xenith 75 Cost?
The Osprey Xenith 75 is not super cheap. The reality is that no quality outdoor gear is. If you want a backpack that will perform for years to come, you are going to have to make an investment.
I am a big proponent of investing in quality gear. I will never tell a backpacker or budget traveler to invest in cheap equipment for the sole purpose of saving money.
I'll be honest with you. If you buy a cheap backpack to take traveling or hiking, it WILL let you down. It WILL fall apart and much sooner than you would have hoped.
An investment in the Osprey Xenith 75 is money well spent. I have had some of my Osprey backpacks now for close to a decade and they are still in perfect shape. Well, maybe a little stinky and road-grimed, but that comes with the territory of being a backpacker.
Plus you can invest in an Osprey Xenith 75 with confidence knowing that the Osprey All Mighty Guarantee has got you covered should your backpack have a defect of some kind.
In the words of the Osprey company: "Osprey will repair any damage or defect for any reason free of charge – whether it was purchased in 1974 or yesterday. If we are unable to perform a functional repair on your pack, we will happily replace it."
That is a pretty awesome insurance policy to have in your pocket, and in my mind is just another benefit to going with the Osprey Xenith 75.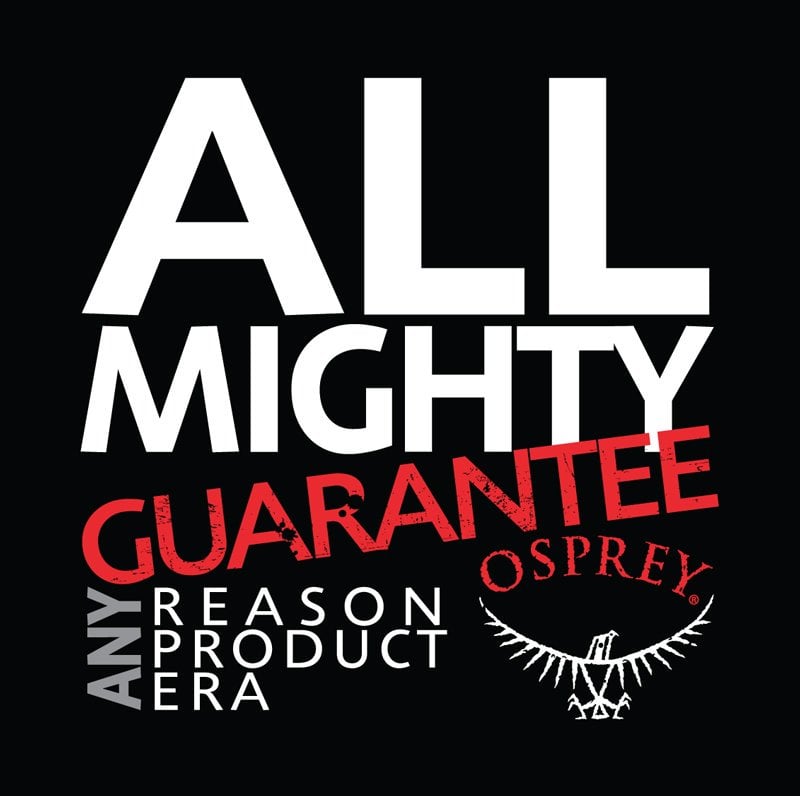 Is the Osprey Xenith 75 an Ultralight Backpack?
No it is not. The weight of the Osprey Xenith 75 is probably it biggest drawback.
At 5 lbs. 7 oz. it is far from being an ultralight backpack.
A majority of the weight tied up in the Xenith 75 is in its internal frame (made of light wire materials) and its overall bulk/size.
If you are mountain guide, trip leader, winter hiker, or a summer hiker with more than three days on the itinerary, you will need a pack with adequate support and weight carrying ability.
In my opinion, ultralight backpacks are just not conducive to carrying massive loads. Just as the Osprey Xenith 75 would not be my choice for a long-distance trek. The words "massive loads" and "ultralight" shouldn't really be in the same sentence.
Take the Osprey Exos 58 for example.
The Exos 58 is a great backpack for long-distance hikers tackling major thru-hikes IE the Appalachian Trail or PCT. That said, the Exos 58 is NOT good for carrying heavy loads or multi-day treks where you need to carry lots of gear.
Ultralight backpacks have limitations just as the Osprey Xenith 75 does. It is all about finding the right backpack for your intentions and needs.
However, note that there are some exceptions to the All-Mighty Guarantee. They will not fix airline damage, accidental damage, hard use, wear & tear or damp-related damage. Still, it's a lot better than most guarantees on the market.
Osprey Xenith 75 Comfort and Breathability
What the Osprey Xenith 75 lacks in lightness it makes up for in comfort. I am not sure it is possible to have a more comfortable 60 pound (27.2 kg) load on your back.
The combination of an adjustable internal frame and all of the support straps ensure you can achieve the best possible pack balance and fit.
Another bonus worth mentioning is the dual side compression straps that stabilize loads and maintain a slim pack profile even when it's not fully packed. The aim is to keep the pack balanced and compact even when not at full capacity.
The backpanel of the Osprey Xenith is made of a moisture wicking mesh material. When correctly fitted the back panel allows for some airflow to combat sweating.
The best present of all… is CONVENIENCE!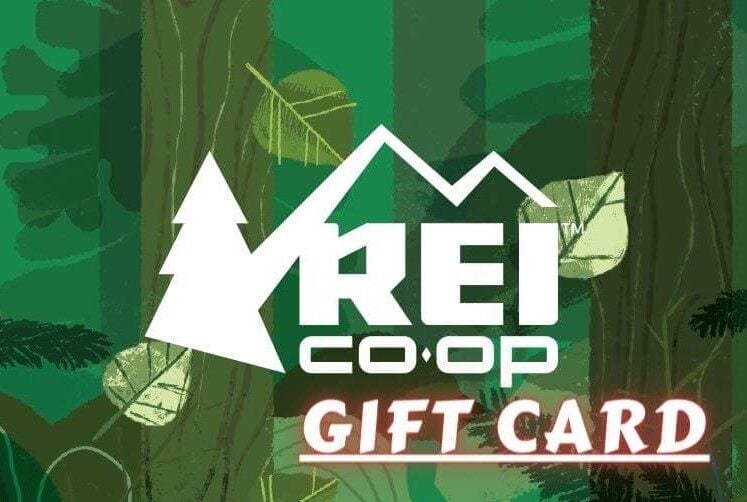 Now, you could spend a fat chunk of $$$ on the WRONG present for someone. Wrong size hiking boots, wrong fit backpack, wrong shape sleeping bag… As any adventurer will tell you, gear is a personal choice.
So give the adventurer in your life the gift of convenience: buy them an REI Co-op gift card! REI is The Broke Backpacker's retailer of choice for ALL things outdoors, and an REI gift card is the perfect present you can buy from them. And then you won't have to keep the receipt. 😉
Buy on REI!
Is the Osprey Xenith 75 Compatible with a Rain Cover?
Yes it is. Unfortunately, you have to buy the Osprey rain cover separately. What the hell Osprey!? Fail. Whilst it is annoying that you have to shell out a few extra bucks, it is worth it.
A backpack rain cover is VERY important to keep your gear dry. The combination of dry bags and a rain cover in your arsenal guarantees dry gear and your resulting happiness. If you're going to buy the Xenith 75, seal the deal with the rain cover.
Then you are ready to truly crush your backpacking adventures.
When the weather turns to shit as it so often does in the mountains, you'll be ready.
Osprey Xenith 75 Best Applications: Expedition Backpack
I want to be clear: if you are backpacking Europe or Southeast Asia the Osprey Xenith 75 might not be the pack for you unless you are planning on doing a ton of camping.
In fact, I know it's not. The Xenith 75 is a giant backpack intended for carrying tons of gear on multi-day hiking trips!
The Osprey Xenith 75 is a 75-liter backpack, which translates into a huge amount of interior space. That space is likely to be overkill for just your average jaunt around Thailand.
You should know that Osprey also makes the Xenith 88 liter and even the Xenith 105 liter! These backpacks are only intended to be used in serious (mostly winter) mountaineering expeditions where there is a need to pack and carry an absurd amount of gear and supplies.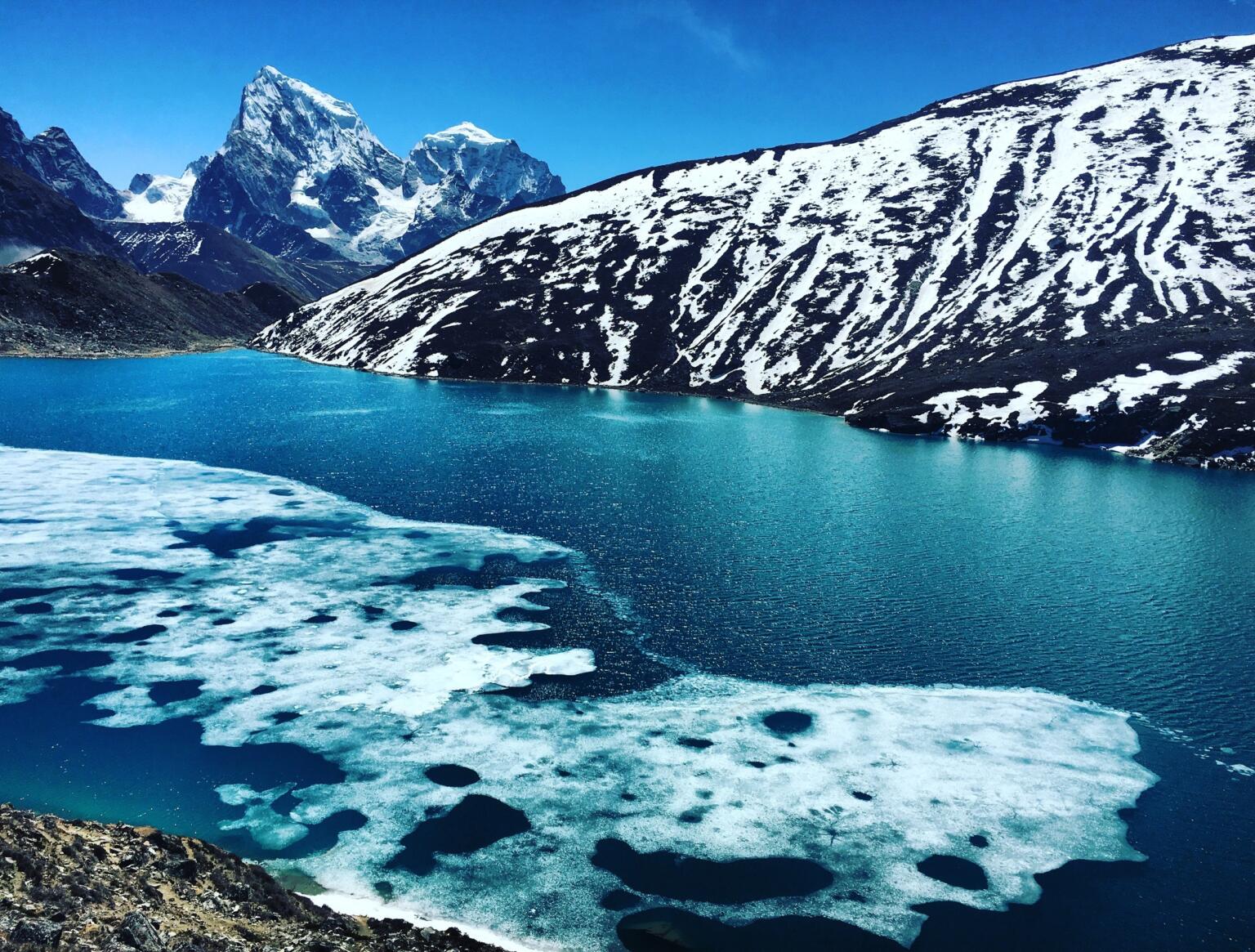 Osprey Xenith 75 vs The World: Competitor Comparison
With the Xenith Osprey has done a mighty fine job, but let's take a look at the competitors of the Osprey Xenith 75:
In the world of expedition backpacks there is no shortage of fine options out there.
The closest competitor in terms of performance is probably the Gregory Stout 75. Gregory is known for making top-quality gear. It's biggest advantage over the Osprey Xenith 75 is in the weight category. The Stout 75 is also cheaper. In my opinion, the Stout 75 is a great backpack, it just lacks the same toughness and durability as the Xenith 75.
The Gregory Baltoro 65 is another solid pack, but it simply doesn't have the capacity needed for expedition level activities like the Osprey 75l backpack does.
I know North Face makes great gear, but in the realm of backpacks I'm not completely sold. The North Face Fovero 85 might be a good option as well.
I know they (North Face) make excellent mountaineering tents and clothing. In terms of backpacks, I would be hesitant to put their quality and performance ahead of Osprey.
Some companies are better at producing the "best of" of certain products. Osprey's business is backpacks and it is reflective in their quality.
From Osprey's own family: what's the difference between the Osprey Xenith 75 vs the Osprey Aether 70? Honestly it is basically five liters. If you like the Osprey Xenith 75, but it is a little too much pack for you, check out my in-depth review of the Osprey Aether 70.

Our GREATEST Travel Secrets…
Pop your email here & get the original Broke Backpacker Bible for FREE.
Alas, our journey to the depths of this Osprey Xenith epic review has come to an end!
You have now seen the Osprey Xenith 75 from every angle. For you gear hounds and multi-day hike junkies who need to pack a few extra blocks of cheese, this is the pack for you.
If you are in the market for a large-capacity expedition grade backpack, you simply can't go wrong with the Osprey Xenith 75.
This backpack will provide you with the support and comfort you need in the backcountry. Period.
There are many great backpacks on the market. With Osprey at least you know you are getting exactly what you pay for. Top. Level. (Comfortable) Quality.
Is this Osprey 75l pack right for you? Let us know below.
Happy Adventuring!
What is our final score for the Osprey Xenith 75? We give it a rating of 4.7 out 5 stars!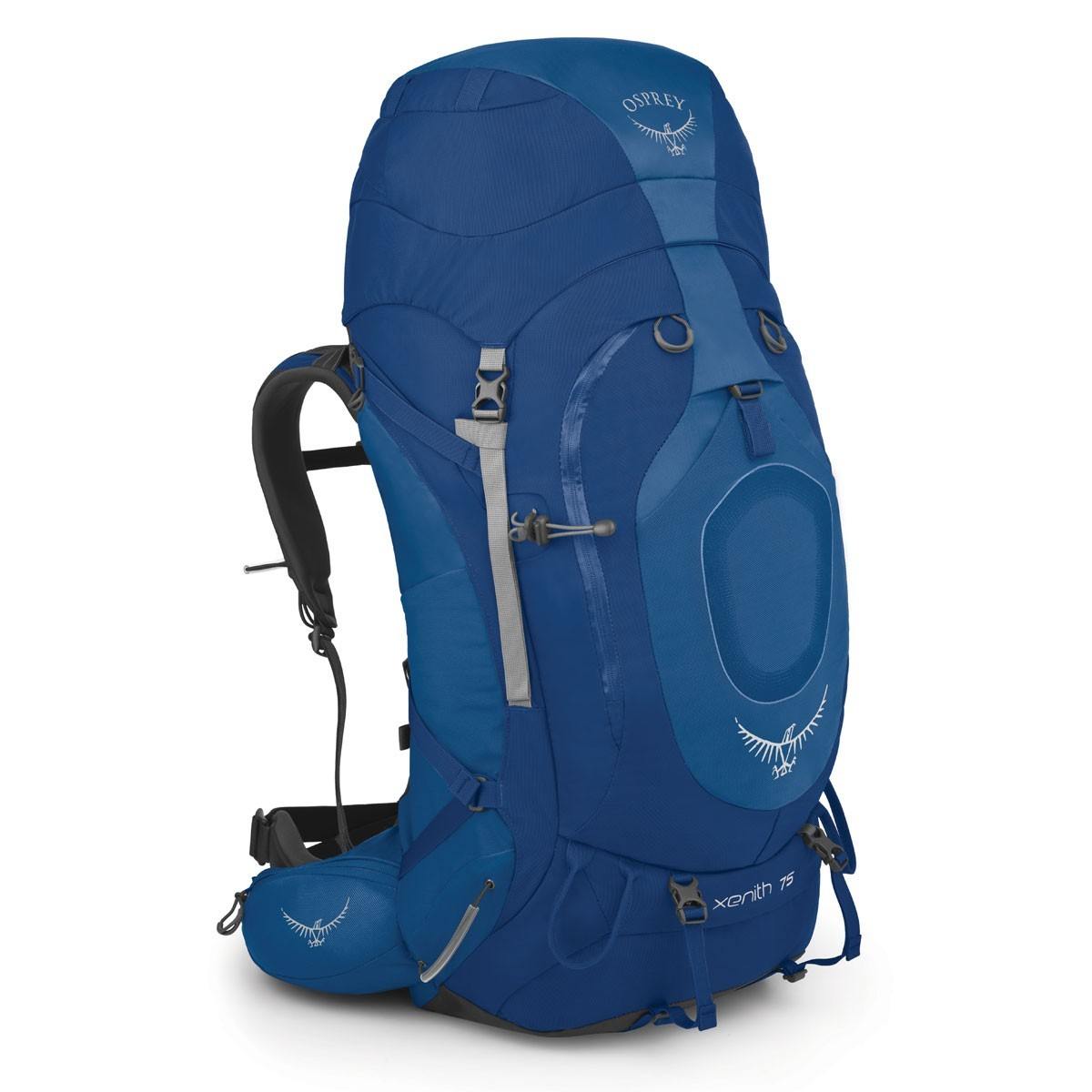 What are your thoughts? Did this honest review of the Osprey Xenith 75 review help you? Anything I didn't answer? Anything I forgot? Let me know in the comments below – thanks guys!
---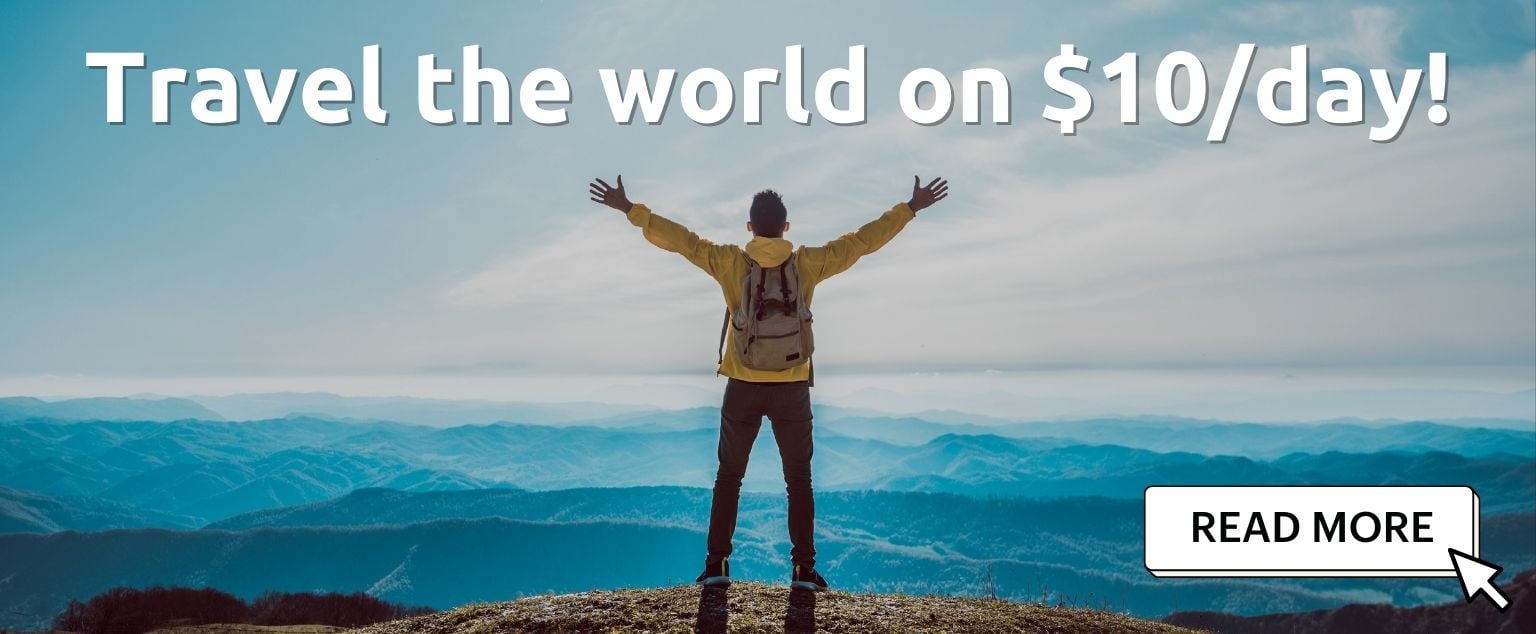 And for transparency's sake, please know that some of the links in our content are affiliate links. That means that if you book your accommodation, buy your gear, or sort your insurance through our link, we earn a small commission (at no extra cost to you). That said, we only link to the gear we trust and never recommend services we don't believe are up to scratch. Again, thank you!