Every backpacker knows that the most important item you carry is the one on your back, and choosing the perfect backpack for your travels can be an excruciating task.
Do you choose a hiking backpack for travel or a travel-specific backpack for ease of use? How big is too big?
Do you want to travel with a carry-on or camping gear? The bottom line is that there is no universal backpack for everyone.
But I've got to say, the Osprey Aura AG 50-Liter comes pretty close.
Personally? I need a backpack for multi-day hiking trips and multi-month travel trips. Because I am traveling all over the world, I need a backpack that can hold up in the rain and shine, and humidity and snow; one that can carry 30+ pounds when I require it, while carrying comfortably when can travel minimally (under 20 lbs).
Osprey's Aura AG 50-Liter for women might just be the most versatile hiking backpack on the market. This backpack can accompany you on a variety of trips, all while remaining relatively lightweight and extremely comfortable.
It's no surprise that this bag is a continual favorite among hiking backpack reviews, and the newest Osprey Aura ag model is no different.
They went ahead and streamlined the waist belt, and made the suspension a bit sleeker, so you can expect less bulk and more comfort even when the bag isn't packed to the brim.
I have been using Osprey's Ariel 65 heavy-duty backpack for the past couple years for most of my long backpacking trips and travels. This backpack is a beast, but sometimes it's just too bulky and heavy. The Aura 50 gives me the flexibility to go lighter.
Premium backpacks aren't cheap, so I want the most versatile bag possible. Though not for everyone, I think Osprey makes some of the best backpacks for hiking, and the Osprey Aura 50 will last you for years.
Osprey is the most comfortable backpack I've ever worn, thanks to Osprey's Anti-Gravity technology and suspension system. And the Aura 50 can carry 30-40 pounds in cold and hot weather, thanks to its support and ventilation.
By the end of this review, you'll know whether the Osprey Aura 50 is the right backpack to invest in for your next trip! I'll be honest, it blow the other Osprey Aura 50 reviews out of the water, so prepare to be amazed!
Quick Answers:
The Osprey Aura 50 (women) is the perfect backpack for you if you are a traveler who likes to hike and camp for 3-5+ days.
The Osprey Aura 50 is a high-quality and durable build to last for years, but this means it's not the lightest pack.
The Aura 50 comes with Osprey's lifetime warranty.
But if you are looking for JUST a travel bag (ie no hiking) – you gotta check out the AER Travel Pack 2 as a great alternative to the Osprey women's Aura 50 ag backpack.
Ladies & Gents, It's Time to Step Your GEAR Game Up. 😉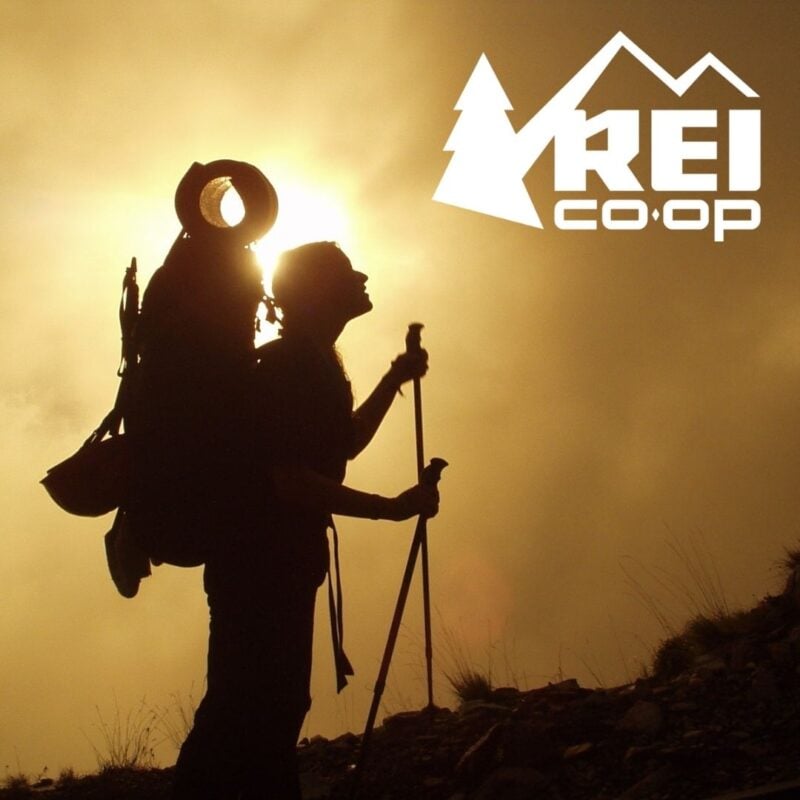 REI is one of America's biggest and most-loved outdoor gear retailers.
Now, for just $30, get a lifetime membership that entitles you to 10% OFF on most items, access to their trade-in scheme and discount rentals.
Join REI Today!
Is the Osprey Aura 50 the perfect backpack for you?
Let's jump into our Osprey AG Aura 50 review to see if this is the backpack for you!
Editor's Note: Looking for an alternative backpack for women who want a backpack with wheels? Check out our review of Osprey's Sojourn Backpack!
The Osprey Aura 50 is NOT for you if…
You are a minimalist and only travel with a carry-on. At 50 liters, however, you can get away with this bag on some airlines.
You have no plans to use this bag for hiking/trekking. The suspension system is built for the trails and hours on your feet.
You plan to take this heavy duty 7+ day backpacking trips (where you carry your food and gear). 50 Liters isn't big enough for the average person unless you will be in warm weather the whole time.
If you are looking for a backpack built for travel, check out our guide to the best travel specific backpacks.
Ultimately, if you are mostly spending more time in cities (and not in nature), this is not the travel backpack for you. The Osprey Aura 50 is built for the trails, though that doesn't mean it's not a great travel bag too. If you plan on hiking or walking around with your backpack strapped on your back for long periods of time, this is still a great bag for travel.
If you plan to pack light, check out our review of the best travel backpacks above, as well as our review on the best daypacks.
The Osprey Aura 50 IS PERFECT for you if…
You are a hiker and/or world traveler who wants the ability to trek while traveling.
You don't mind checking your bag on flights. This may or may not be enforced at 44-50 Liters. (The extra small Aura 50 is 44 liters.)
You want the most versatile women's backpack on the market.
Overall, you should get the Osprey Aura 50 if you are traveling in a variety of weather (humidity and snow), and hike and backpack often. This backpack will be a great fit if you are looking for a high-quality backpack that can handle wear and tear.
And while it may not be a cheap bag, the Osprey Aura 50 is one of the best-valued bags for what it offers.
Its quality is unmatched and the Aura ag 50 will last you for years to come.
Note that whilst 50 litres is a a good size, there are much bigger ones available. For long backpacking trips I take a 70 litre Osprey Aether which rocks.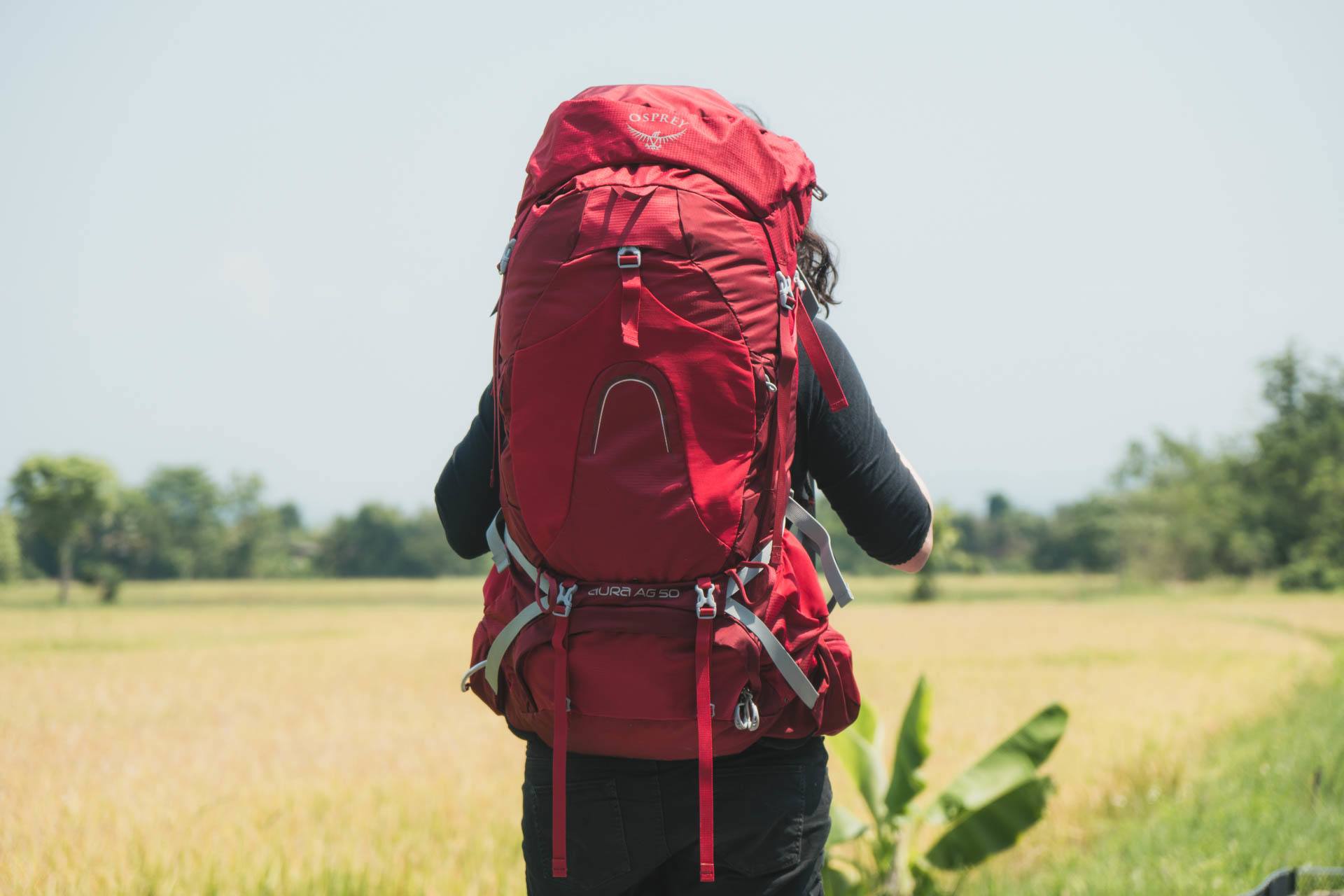 The Osprey Aura 50 Review
The Osprey Aura AG 50 is considered one of the top-rated backpacks for women year after year, and 2018 is no different.
The 2018 model comes with all of the usual bells and whistles: an adjustable harness with perforated foam shoulder straps, a customizable hip belt, and a pack shape and a suspension system designed specifically for women's center of balance.
Other cool features include on-the-go trekking pole holders, large pockets on the hip belt straps, and a front mesh pocket to store an extra layer or your wet clothes.
As for what's new for the 2018 model versus the 2017 model? Not too much. Aside from updated colors, the main difference for the Aura 50-liter version is added bottom compression straps, and they streamlined the hip belt so it's less bulky.
The amazing 'All Mighty Guarantee' – Osprey Aura 50 Warranty
One of the best features about Osprey is their free lifetime guarantee for all of their packs, known as the All Mighty Guarantee.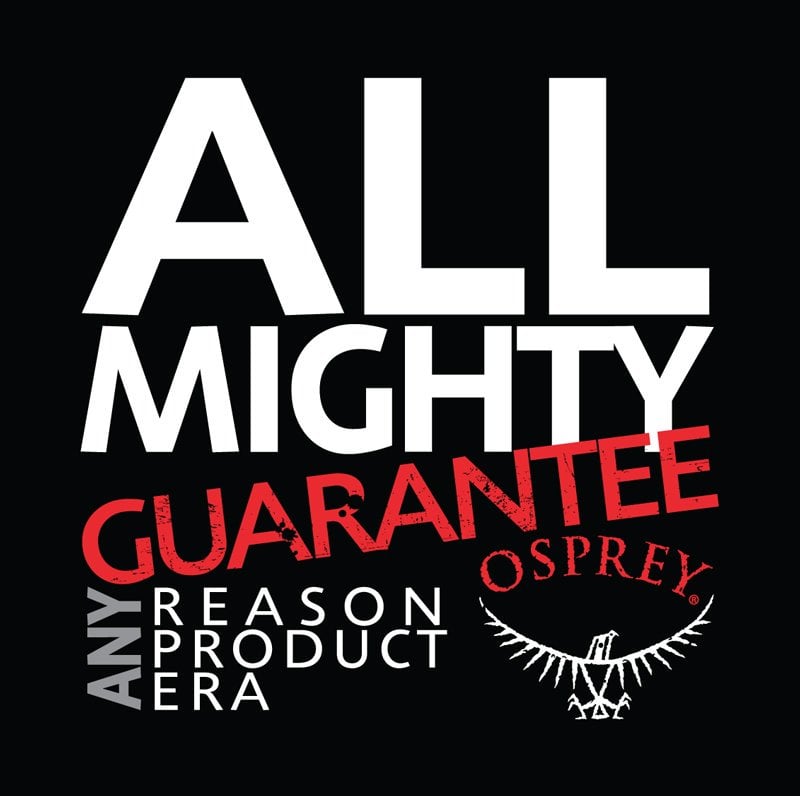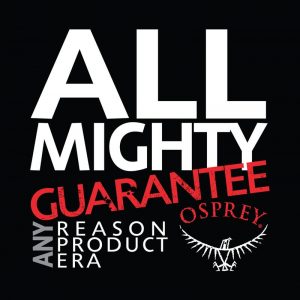 This lifetime guarantee means that any time your bag has an issue or needs a repair throughout its lifetime, you can send it into Osprey and get it fixed for free. This is huge for travelers and anyone on a budget who can't afford to buy a new pack every couple of years.
I haven't had to use the All Mighty Guarantee yet, but I know Will has used it a few times, and Osprey has always been quick to fix the issue. It's another really plus point when it comes to choosing the Osprey Aura 50 ag pack.
However, note that there are some exceptions to the All-Mighty Guarantee. They will not fix airline damage, accidental damage, hard use, wear & tear or damp related damage. Still, it's a lot better than most guarantees on the market.
Osprey Aura 50 Sizing:
One of the best features about the Aura 50, and pretty much all Osprey packs for that matter, is their customizable fit within the extra small, small, medium, and large sizes.
I highly recommend going to a store/retailer and taking the time to figure out your perfect size. That said, you can also use the images below for reference when picking which Osprey Aura ag 50 size you need.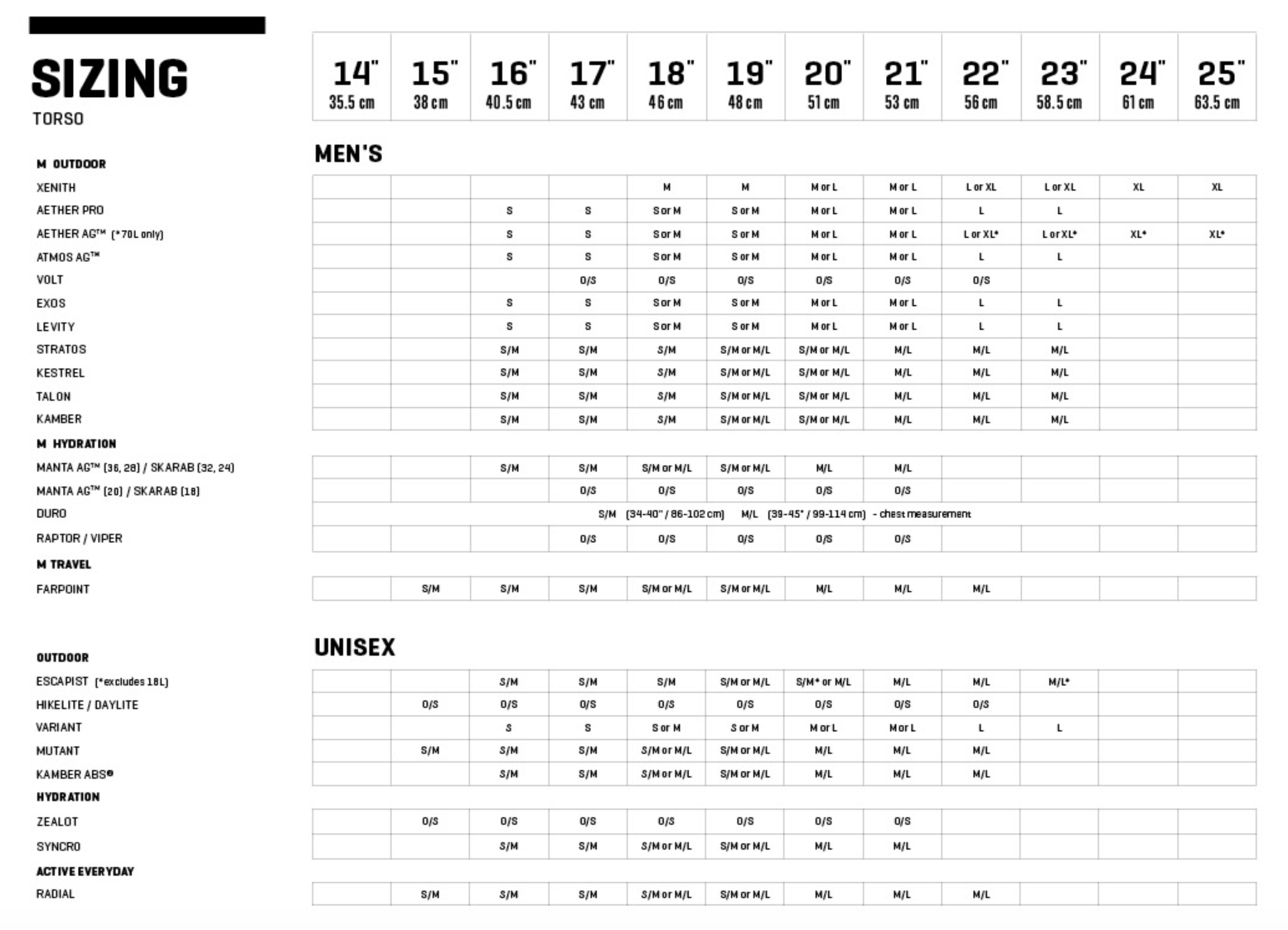 Usually, Osprey also has an extra large size, but this isn't the case for the Aura AG 50. If you need an extra large frame, I suggest getting a bigger pack. Check out the Aura AG 65 Liter.
Osprey Aura 50 Extra Small
Weight – 4.02 LBS
44 Liters
Size – 2685 IN3
Specs – 28.35H x 14.17W x 14.17D inches
Osprey Aura 50 Small
Weight – 4.1 LBS
47 Liters
Size – 2868 IN3
Specs – 30.31H x 14.17W x 14.17D inches
Osprey Aura 50 Medium
Weight – 4.18
50 Liters
Size – 3051 IN3
Specs – 32.28H x 14.17W x 14.17D inches
Osprey Aura 50: Best Features
Alright, so what's all the fuss about the Osprey Aura 50? I've listed my favorite features below:
1. Anti-Gravity™ suspension system.
This is the best part about the Aura 50 and many of Osprey's flagship packs. It honestly feels like you are carrying less weight than is in your pack.
2. Removable floating top lid
The removable floating top lid allows you to minimize your pack and cut some weight. It also comes with dual zippered pockets and web attachment points. for organizing your gear. An integrated FlapJacket™ protects you gear when the top lid is removed.
3. Adjustable harness and hip-belt.
You can customize the backpack's fit to your needs.
4. Front Stretch Mesh Pocket
This pocket is easily accessible if you need to store an extra layer or your rain gear. Its mesh material allows you to store wet gear too.
5. Zippered Hip Belt Pockets on each side.
These pockets are great for storing your phone and snacks.
6. Stow-on-the-go trekking pole attachment.
Most of Osprey's hiking backpacks have this feature. It's super useful when you are hiking in steep terrain. I was just hiking in Nepal and finally used this feature as it should be. I could stow and grab my trekking poles on the go without having to stop and remove my entire pack.
7. Dual access to two stretch mesh side pockets
Both fit large water bottles and other gear thanks to the side compression straps.
8. Internal Hydration Reservoir Sleeve
The bigger packs usually have an external sleeve, but I like how it is internal for the Aura 50 L. It fits a 3L reservoir, but you can also use this sleeve for your iPad or computer.
9. Removeable sleeping pad straps
This is great for when you are traveling/flying to minimize the number of straps on your bag.
10. Sternum Strap with integrated safety whistle.
Like all of Osprey's bags, the Aura AG 50 comes with an integrated safety whistle.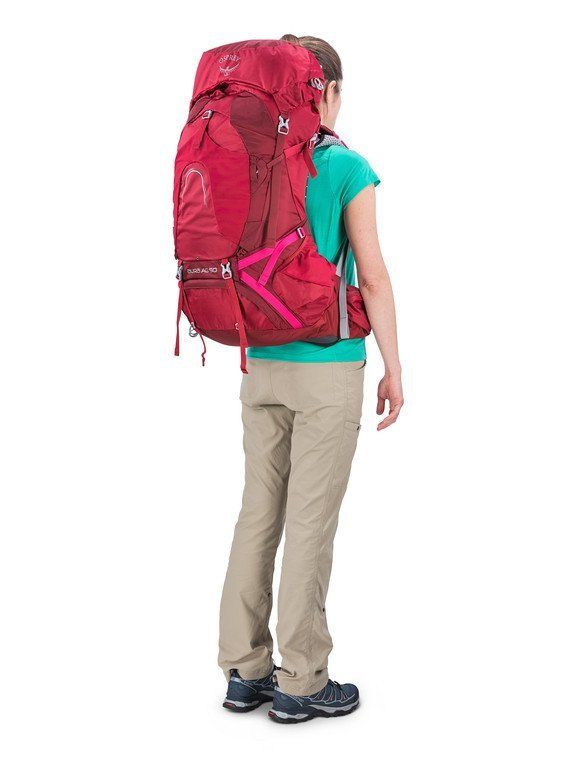 Osprey Aura 50's Comfort and Suspension System
The Anti-Gravity (AG) suspension system is the best part of this backpack because it is so damn comfortable. The stretch mesh is soft and conforms to your back all while keeping its tension. It extends from the top of the back panel to the hip belt, and the mesh wraps from your shoulders, back, and hips for an integrated fit.
This suspension system ensures you can use this pack for any type of trip in any type of weather at the utmost comfort.
The mesh panel will help you carry heavier loads and bulk in cold weather situations, but because the panel sits away from your back, you can forget about those awful backpack sweat stains while backpacking through, say, South East Asia.
As I mention below, you can also use this pack comfortably for day use, weekend trips, and even long weeklong backcountry trips because the LightWire-tensioned frame comfortably transfers your pack load, whether you're carrying 10 pounds or 40!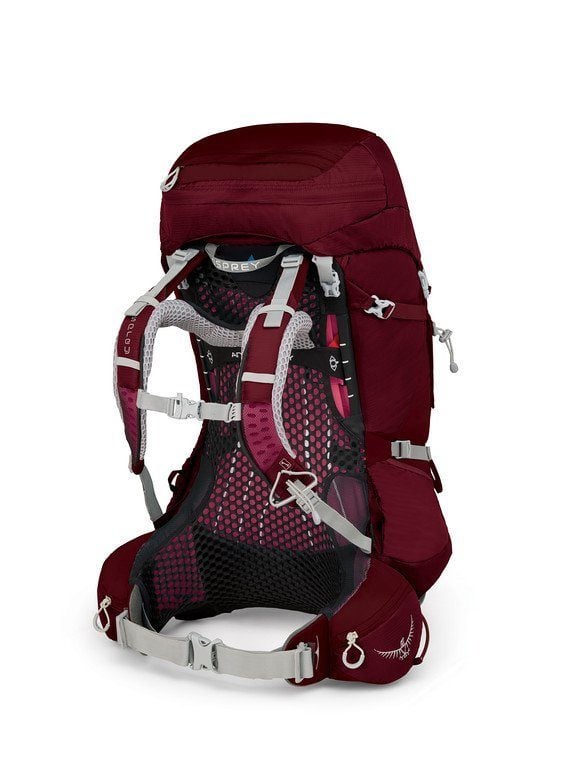 The hip belt its self is customizable and built using suspended mesh. This is really important since you should carry most of the backpack's weight in your hips not your shoulders.
Osprey Aura 50 for Simplicity
I feel like Aura AG nailed it with ease of use. There are enough straps to get the perfect level of balance, yet fewer than the Ariel making it less complex. There are enough compartments and pockets to help you organize your stuff without, again, making it overcomplicated.
An adjustable stretch mesh front panel pocket provides additional external storage and organizational options.
The removable floating lid can be replaced with a fixed FlapJacket™ to protect your gear and minimize weight too.
Osprey Aura 50 for Versatility
This is the main reason I'm going with the Osprey Aura 50 over some of Osprey's other models. I personally think it's one of the most versatile bags. While Osprey makes great travel backpacks, I want something that can log hundreds of miles on the trails.
Moreover, you can pack this pack full and take it out in the backcountry for a week, or you can keep it simple, and remove the top lid to get rid of some weight and bulk.
This pack is easy to use for long day hikes, especially with the compression straps and adjustments. It's comfortable and light enough to use for a minimal amount of gear. That said, you can use it for weekend trips, and even lengthy backpacking trips because this pack can carry up to 40 pounds sufficiently.
Even though this is a 50-liter pack, you can definitely get away with using it as a carry-on, especially if it's not full. In fact, the extra small and small size are smaller than 50 liters.
That said, I wouldn't want to risk it on some of the European budget airlines (even though I did see people carry on 50-60 liter (half empty) packs on Ryan Air!). Still, an attempt at your own risk.
Is the Osprey Aura AG 50 water-proof?
Even though the Osprey Aura AG 50 is not waterproof, it is water-resistant, similar to most of Osprey's flagship hiking backpacks. Moreover, you can (and should) purchase a rain fly cover.
I have personally hiked through rain and snow with my Osprey pack and the rain cover, and everything stayed perfectly dry.
The best present of all… is CONVENIENCE!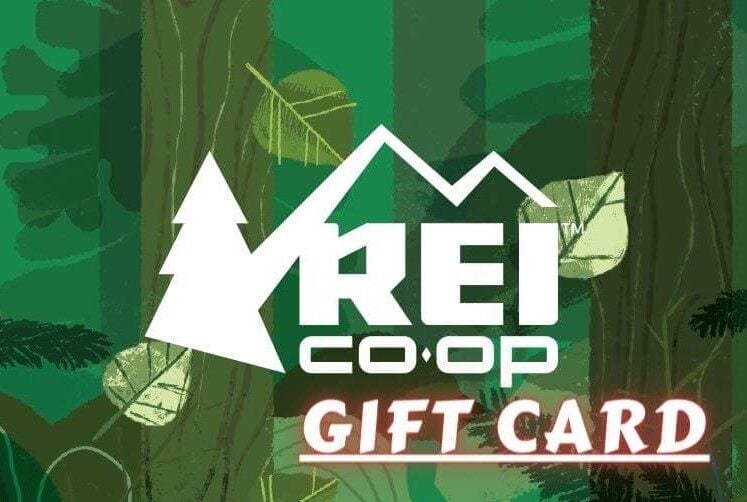 Now, you could spend a fat chunk of $$$ on the WRONG present for someone. Wrong size hiking boots, wrong fit backpack, wrong shape sleeping bag… As any adventurer will tell you, gear is a personal choice.
So give the adventurer in your life the gift of convenience: buy them an REI Co-op gift card! REI is The Broke Backpacker's retailer of choice for ALL things outdoors, and an REI gift card is the perfect present you can buy from them. And then you won't have to keep the receipt. 😉
Buy on REI!
Osprey Aura AG 50 as a Travel Backpack
Firstly, let's get something straight. The Osprey Aura AG 50 was designed for hikers, not travelers; however, this doesn't mean it's not an awesome backpack for travelers.
I am into the cool travel packs that function more like a suitcase for hopping around Europe with ease, but I still only travel with hiking backpacks because I like to travel with the ability to go anywhere.
If you're only traveling in cities, and from hostel to hostel, then don't get this bag. But if you, like me, will be hiking, camping, and traveling around on every type of transport possible, then get a backpack like the Aura 50. You want something rugged and comfortable when you're logging in those miles.
The main downfall of the Osprey Aura 50 as a travel backpack is that it can only be loaded from the top of the pack. Most travel backpacks function like a suitcase with a full-front opening.
You also can't use the Aura 50 as a carry-on on some airlines. If this is the most important aspect for you, then go for a pack around 40 liters or less!
I know you can get away with bringing 50-liter bags on airplanes if it's not packed to the brim. As I mentioned before, I've seen several 60+ liter bags on flights, but they were half empty. Backpacks have a bit more wiggle room than hard case suitcases, but I wouldn't depend on this method!
Osprey Aura AG 50 as a Hiking Backpack
While there may be some disagreement on whether the Osprey Aura 50 is a perfect travel bag – no one will deny that it's the best hiking backpack. This is because you can use it for any type of hiking adventure as I've mentioned before.
If you plan on doing any light (or super intense) hiking on your trip, then go with the Aura. The one-time I traveled with a travel backpack (didn't have a hiking suspension system), I instantly regretted it while hiking up a volcano in Guatemala.
Are you planning to go to Patagonia? Nepal? Iceland? the USA? New Zealand? Yeah, in all these places you can definitely use a hiking backpack.
You may want to camp in the mountains and highlands of these beautiful places, and a travel-specific backpack isn't going to cut it. This pack will be extremely useful, even for an overnight volcano trek in Indonesia or the Philippines, or simply trying to get around by hitchhiking and local transport.
As mentioned, this is because of the suspension system, customizable hip-belt (where most of the weight carries), and all of the extra features, like the external reservoir pack, on-the-go trekking pole attachment, lower sleeping bag compartment, and removable sleeping pad straps are made for hikers.
If you are someone who likes to hike and you also like to travel, this bag will enable you to do it all.
Cons of the Osprey Aura AG 50
This wouldn't be an honest Osprey Aura 50 review without a few cons, and while I've highlighted most of them, we'll look over a few more.
Heavy – While not nearly the heaviest bag on the market, it's definitely not the lightest either. This is because of the thick hip belt, shoulder pads, and overall durability. That said, if you are a minimalist hiker or traveler, you can definitely go lighter.
Only has Top Access – This is the biggest drawback for me. Many of Osprey's other bags have side or front access to the main compartment, but the Aura 50 only has top loading access, which makes it tougher to pack.
Narrow – While this is a great feature for hiking as it holds the weight center to your body, it is a nightmare for packing and accessing your stuff when you're bouncing from hostel to hostel.
Too Small? Big? – 50 Liters can be a strange size. Sometimes it's too small for those longer expeditions, and sometimes it's too big to be a carry-on.
Consider your personal needs from a bag, and you'll know whether this is the backpack for you.
Osprey Aura Series Versus Ariel Series
The Aura series comes in both a 50-liter version and 65-liter version for women and it's often compared to the Osprey Ariel series. Some of the main differences are that the Ariel series is slightly heavier, and built to go on longer trips. Ariel is bulkier and has more compression straps. All of this is great if you are going on long backpacking trips and excursions, but it's probably overkill for many.
Both have the Anti-Gravity suspension system, though they look slightly different.
The Aura series is also slightly less costly.
Bottom line? I think the Aura series is more versatile because it is comfortable to carry for light and heavy loads. The Ariel, however, is better for longer hiking trips with a heavier pack.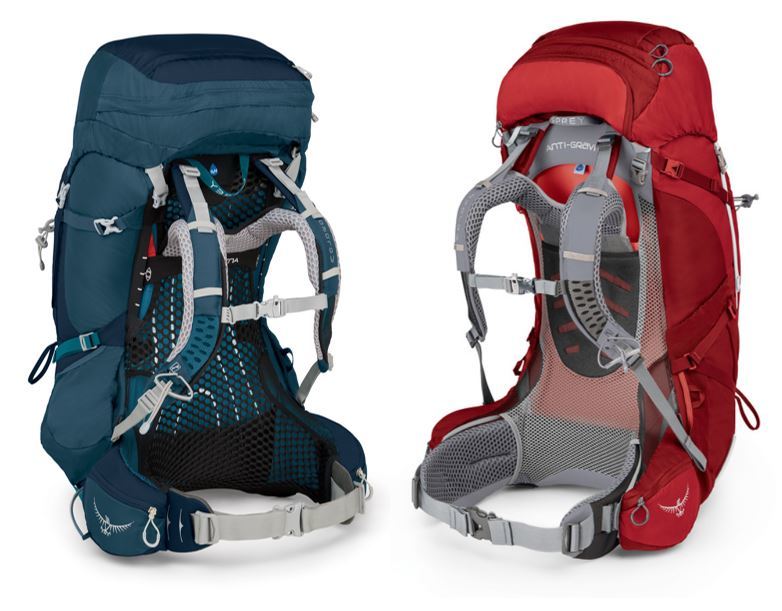 Our GREATEST Travel Secrets…
Pop your email here & get the original Broke Backpacker Bible for FREE.
Final Thoughts on the Osprey Aura 50 AG
The Aura series is consistently rated one of the best backpacks for women, due to its comfort, breathability, Anti-Gravity system, and versatility.
No other pack offers all of these features for such a great value, and all backed by the reputation and All Mighty Osprey Guarantee!
This isn't a travel-specific backpack and lacks the features of one. You can only load the Aura 50 from the top, and the suspension system is overkill if you are not using this backpack for hiking too.
Nevertheless, you can use this pack for varying trip lengths, whether you're hitting the trails for the day, a weekend, or a weeklong backpacking trip, or you just need a comfortable backpack for your travels!
Overall, I think this is one of Osprey's best backpack for women, and most travelers and hikers will be especially pleased to own the Osprey Aura AG 50.
Did you find our Osprey Aura 50 ag review helpful, let us know below.
What is our final score for the Osprey Aura 50? We give it a rating of 4.5 out 5 stars!

---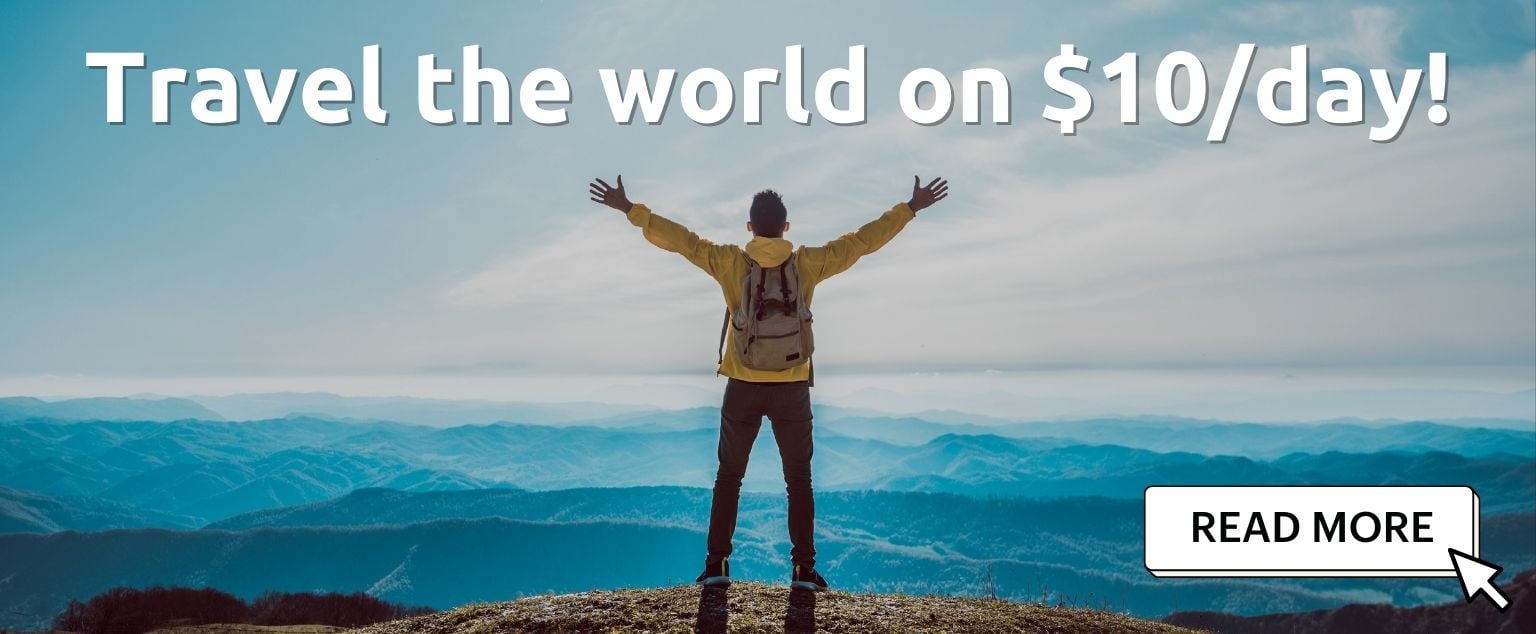 And for transparency's sake, please know that some of the links in our content are affiliate links. That means that if you book your accommodation, buy your gear, or sort your insurance through our link, we earn a small commission (at no extra cost to you). That said, we only link to the gear we trust and never recommend services we don't believe are up to scratch. Again, thank you!