Your backpack will carry every single one of your possessions on the road; it will be your home away from home! Therefore, choosing the perfect one for you is essential for your travels.
Comfortable, durable, big or small – there are so many factors that play into the right backpack, and it's different for everyone. Since there are so many options, it can be quite overwhelming to make a decision on your own. That's why I've created a guide to the best travel backpacks for women!
With lots of research, travel experience and an eye for the important details, I've included all sorts of different bags (All packs have been extensively used by myself and The Broke Backpacker team). No matter where you're headed to, I've got the right backpack for you!
Every pack in this comprehensive guide was designed to last you for years, both in wear-and-ear and style.
Besides my top picks, I've included a quick guide at the end to help you figure out what to look for in a backpack.
Ready to find out the best women's backpack for travel… course you are! Let's crack on!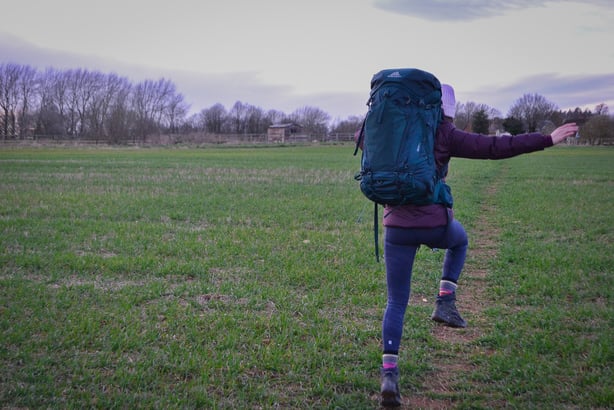 Quick Answer: What are the best Women's backpacks of 2023?
In a rush? Here are the best women's travel backpacks in this review…
Best Overall Travel Backpack For Women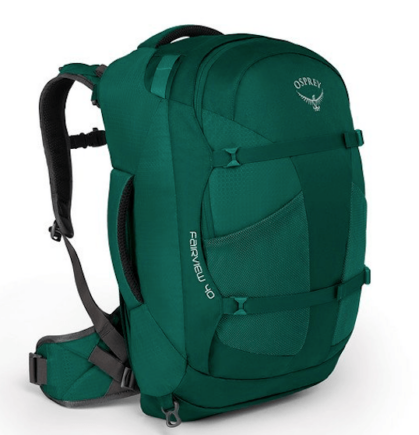 Best Overall Travel Backpack For Women
Osprey Fairview 40L
Best Laptop Backpack For Women
Best Carry on Travel Backpack
Best Hiking Backpack For Women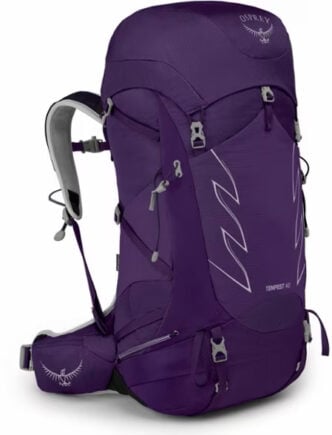 Best Hiking Backpack For Women
Osprey Tempest 40L
Best Camera Backpack For Women
Best Organized Backpack for Women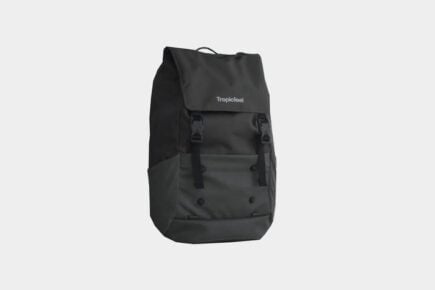 Best Organized Backpack for Women
Tropicfeel Shell
Best Use > Organized Packing
Why Use a Women's Travel Backpack?
First of all, there is nothing wrong with purchasing unisex or male backpacks at all. When buying a backpack, your main priority should always be a comfortable fit, no matter what your travel intentions are, so you can wear it all day.
Women's backpacks are designed specifically with the female body shape and different weight-carry in mind. Padding, length, and straps are different from the male bags, which is crucial for a comfortable fit since the bag has to align with your center of gravity.
Bottom line: there are some great uni-sex backpacks, a few of which I have reviewed below, but I find ladies backpacks tend to be more comfortable when the weight starts stacking up
So without further talking, here are the top travel backpacks for women. From small to big, trendy, minimalistic or super durable, you'll find everything right here!
Looking to Find Your Tribe?
Introducing Tribal, Bali's first purpose designed co-working hostel!
A unique coworking and co-living hostel for those that want to travel the world while working from their laptops. Make use of the massive open-air coworking spaces and sip on delicious coffee.
Network with other like-minded travellers all day and if you need a quick screen break, just take a refreshing dip in the infinity pool or go grab a drink at the bar.
Best Travel Backpacks for Women Overall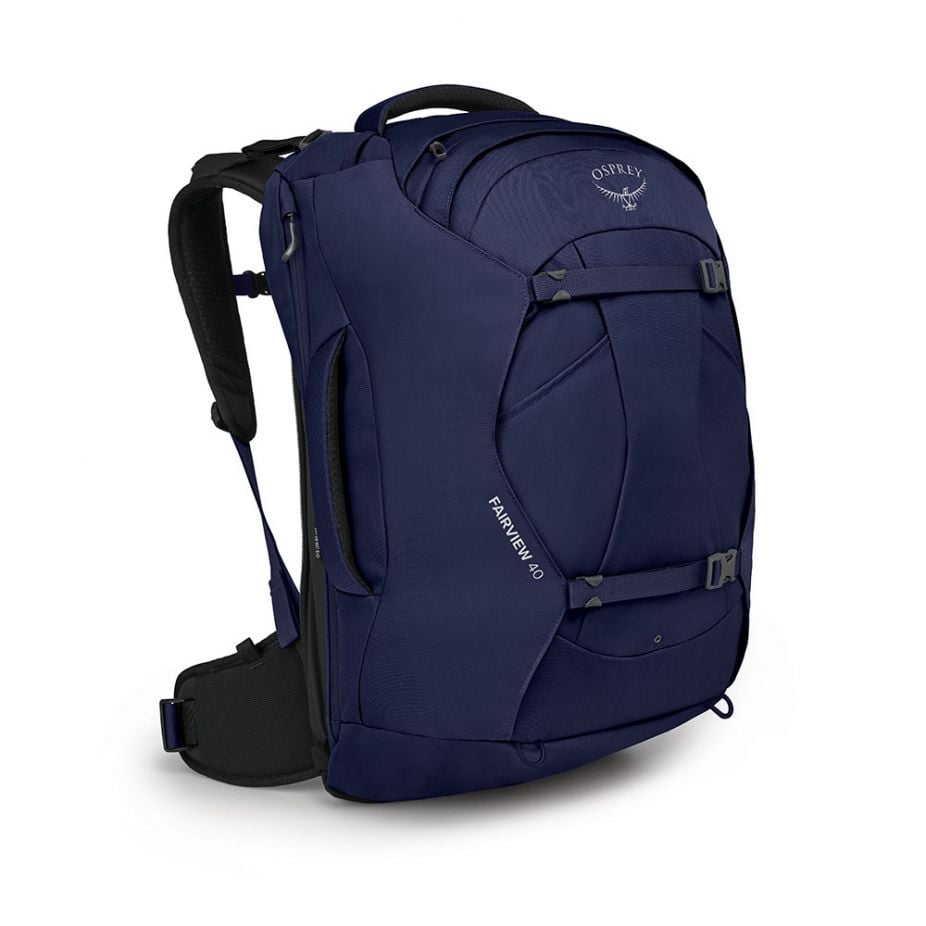 The Osprey Fairview 40 is one of the only female backpacks for travel designed with women in mind. Greatly fitting and adjustable straps, the right amount of padding, and enough compartments to keep all your stuff secure. I love taking it on day hikes, and many female travelers I know use it as their main bag.
With 40L it's suitable for carry-on luggage, however, the small volume doesn't necessarily make it a great choice for long hiking trips. There are advanced-hiking style features built-in, like an extra harness and hip belt, but some reviews mentioned an uncomfortable fit when you load it up too heavy.
This pack is not as feature-rich as some of the other Ladies' backpacks on the market. Overall, though, this is a fantastic carry-on travel backpack for women that can do a little bit of everything. It's comfortable, durable, AND affordable, so you have nothing to lose.
Pros
Perfect carry on size
Lifetime Warranty
Affordable, especially for the quality
Cons
Not as feature-rich as other backpacks
Tries to do the hybrid thing, but I wouldn't choose for hiking
The Osprey Fairview 40 may be the best backpack for you if: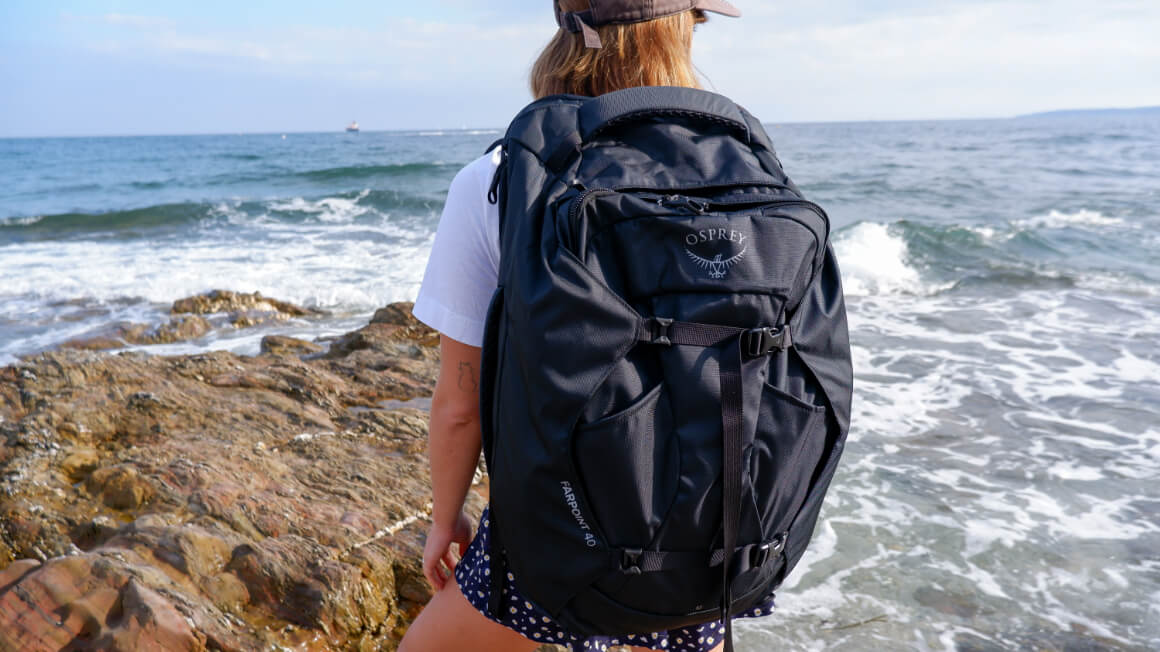 If you want a badass carry-on backpack – this is an easy pick. Its suspension system means it's extremely comfortable when you have to walk a couple of miles down dirt roads or cobblestone streets! It's one of the best backpacks for women specifically.
I rated this classic as their best women's travel backpack because it just seems to kick all the boxes and it's stood the test of time. I've brought this back to loads of countries, and I love the clamshell opening and the massive storage area which is a real game-changer when it comes to backpacks. I also love the extra detachable daypack on the larger version, this is a real bonus.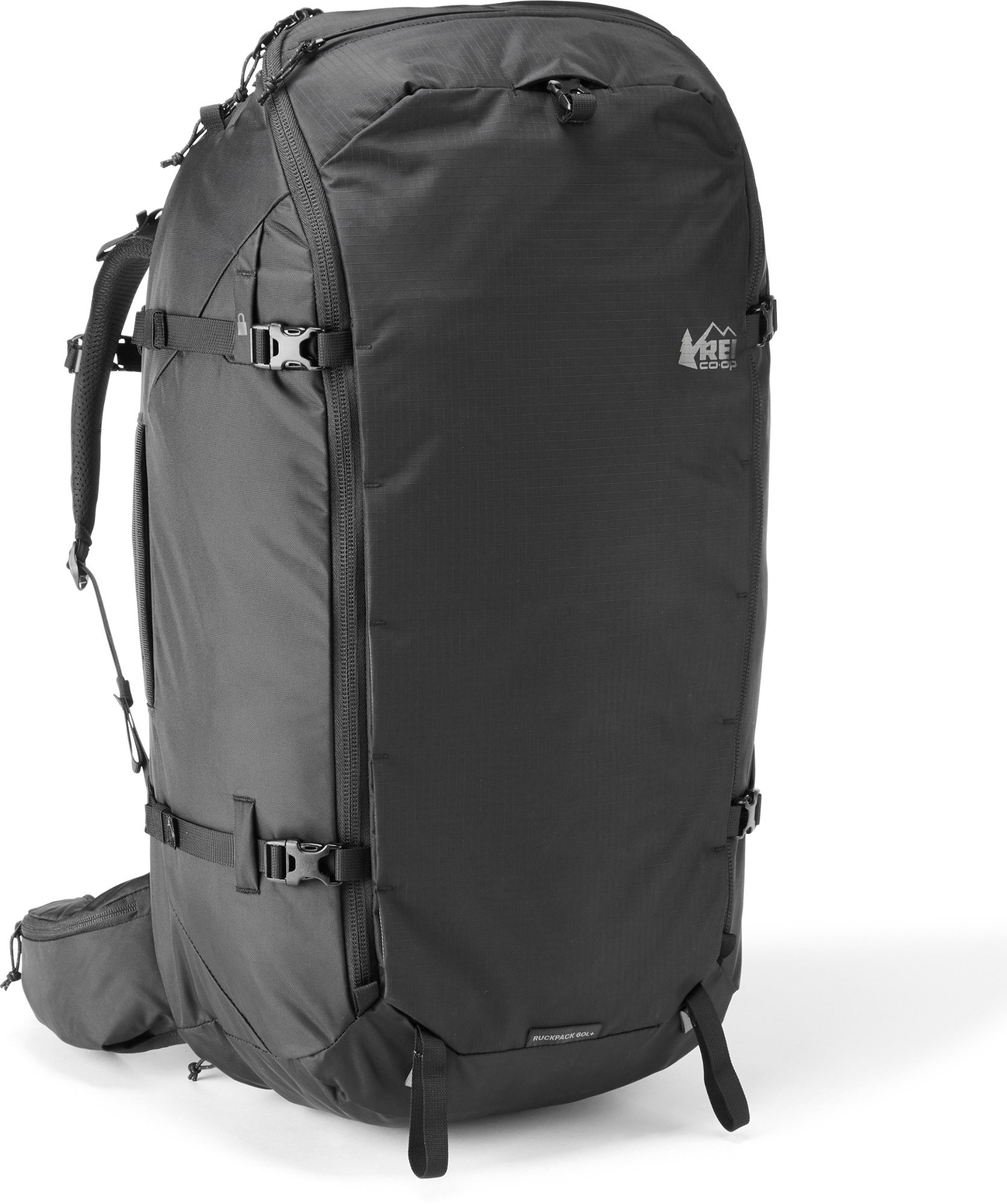 REI's rugged ladies rucksack is marketed as both a travel bag and a hiking bag – and I completely agree! This bag has plenty of organizational compartments and thought out innovation as well as a supportive back panel, ventilated mesh padding, and a sternum strap.
It's designed with women-specific features for hiking including harness straps that curve around the chest, a shortened torso length, and longer hip belt strap. With 60L volume it also lives up to the carry-on standards – a perfect overall backpack! Whether you're hiking the Alps or on a trip around Asia, this durable women's travel pack has got you covered.
The compartments are easy to reach due to full-zip designs and multiple access points. The sleeve along the back panel is designed to hold a hydration sleeve or laptop. Even fully packed, it still sits incredibly comfortably. The coolest part is that it's made out of recycled nylon – making it a responsible travel purchase.
Pros
Affordable
Classic rucksack look
Good pocket organization
Great ventilation/back support
Cons
No laptop compartment
Preferable for hikers/campers
Might be too big for ultra-light campers
The REI Co-Op Rucksack may be the best pack for you if:
Looking for a 40-liter travel bag but on a bit of a budget? Then this is a fantastic option! The Ladies Rucksack is well-designed, comfortable, and durable. It will do everything you need it to for your travels or camping.
I rated this their second-best backpack because of just how comfortable this bag felt. It's been really well designed for the female form and our team felt it offered next-level comfort compared to more standard bags.
Looking for something a bit smaller, check out the Rei Flash 55 Backpack instead.
Ladies & Gents, It's Time to Step Your GEAR Game Up. 😉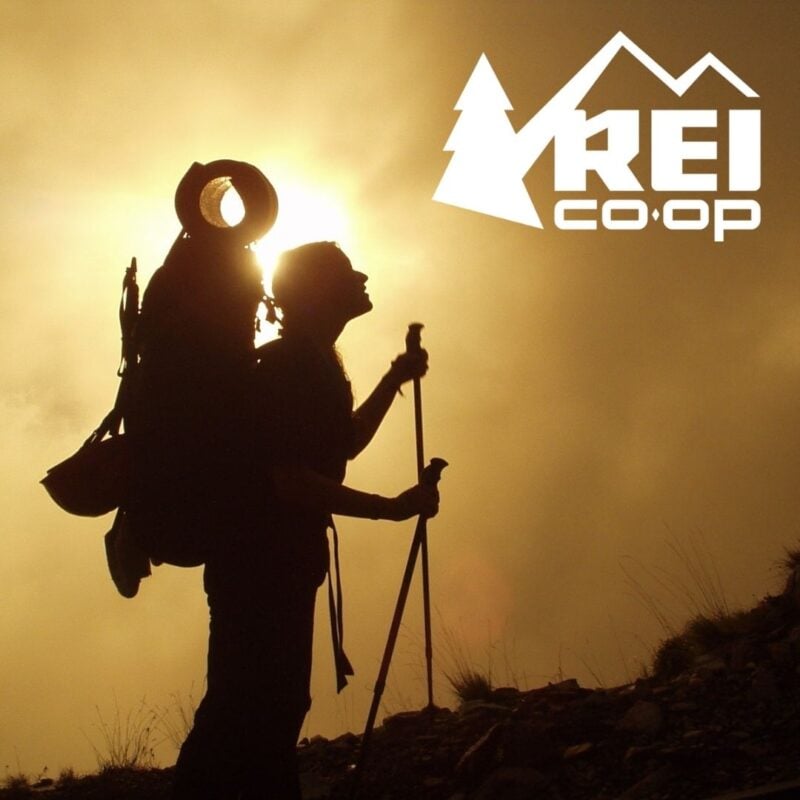 REI is one of America's biggest and most-loved outdoor gear retailers.
Now, for just $30, get a lifetime membership that entitles you to 10% OFF on most items, access to their trade-in scheme and discount rentals.
Join REI Today!
While Osprey seems to make backpacks for hiking or travel specifically, the REI Co-op Trail 40 Pack is a hybrid model. It features a suspension system, padded hip belt, and shoulder straps designed specifically for a woman's build. Moreover, its front pocket. top stash pocket and included rain cover make it perfect for any kind of travel.
It's a good overall pack: carry-on compliant and comfortable enough for multi-day hikes, but I would try this pack versus the REI Recycled RuckPack 60L and see which one fits you better.
Keep in mind that the woman-specific bag is slightly smaller than the men's, but fits on budget airlines. I didn't have a problem using this bag on Ryan Air, the ultimate test for carry-on size compliance.
Pros
U-shaped panel opening with 4 zipper sliders
Carry on compliant
Woman-specific
Cons
The suspension system is not as good as other hiking-specific backpacks
No laptop section
Front packet designed more for light travel
The REI Co-op Trail 40 Pack may be the best for you if:
Overall, you should get the REI Co-op Trail 40 Pack if you plan to travel, train hop, and do a few multi-day hikes. I wouldn't get it if your main objective is urban travel nor if your main objective is backcountry hiking. It does both well, so if you want a pack that can do it all, then this is a good choice.
I felt this was one of their best travel packs for women because I loved just how well thought out the pack was in so many different aspects. The opening, hip belt pockets, and included rain cover are really cool features. I also loved the additional pockets all over the pack, they really add to the storage, organisation and accessibility.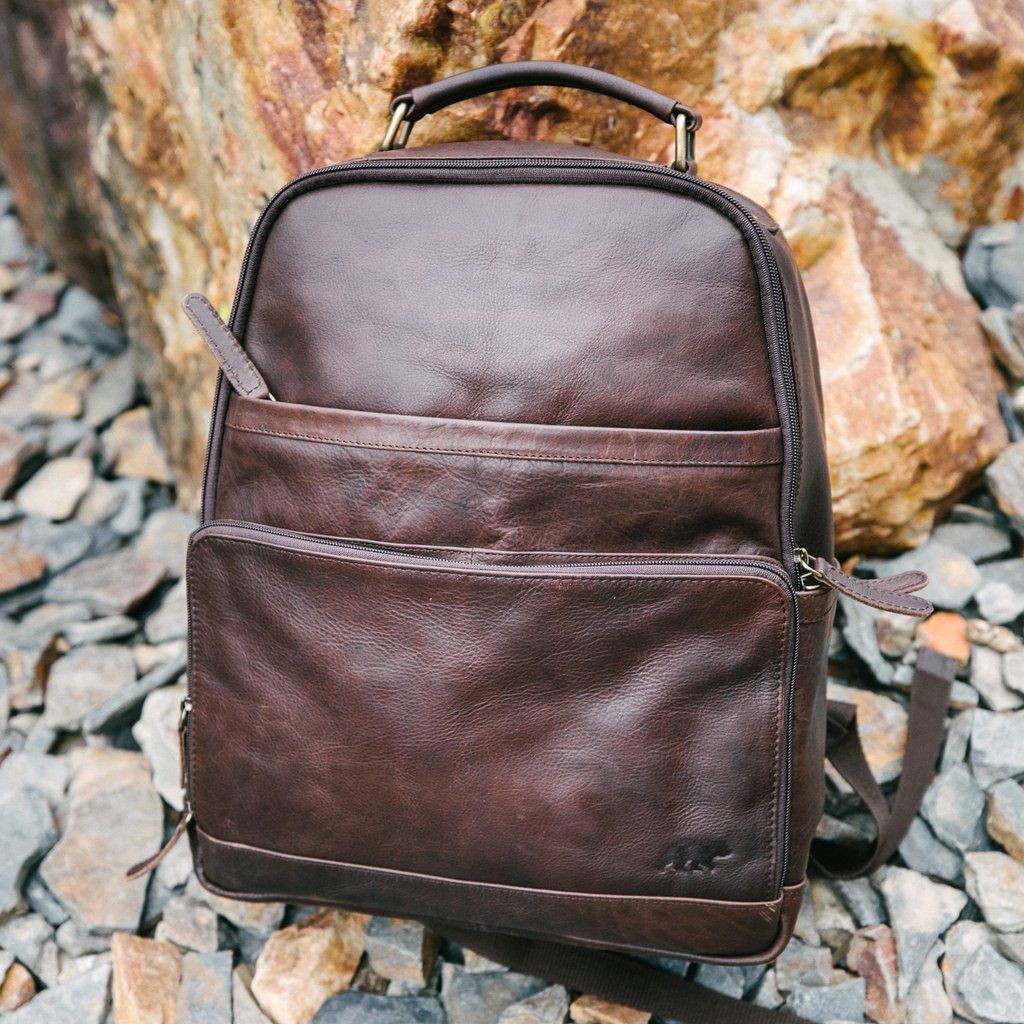 Don't let the name fool you, this leather daypack by Kodiak can hold a lot more than diapers! Whilst it may be marketed at new moms, this backpack doubles up wonderfully as a travel daypack which is perfect for city exploration, non-technical hikes and airport runs.
Kodiak makes high-quality products that do not come cheap. The pack is made from Top-Grain cowhide and features 3 zippered compartments. There are 2 handy side pockets and a carrying handle for when you don't want to use it as a backpack.
Finally, the Katmai has a padded rear zippered compartment on the back of the bag plus a luggage strap.
You should get the Kodiak Diaper Bag if you want something primarily for urban use that can handle lite-hikes. But I definitely wouldn't get it if your main objective is backcountry hiking at altitude.
Kodiak also makes one of the best travel purses on offer too which would be a great compliment to this bag and help keep your passport and documents organised when you're travelling from place to place.
I felt this was their best women's daypack for travel if style and functionality are your goals. I loved the quality and feel of the soft but durable leather exterior. Combined with the number of external pockets, it's not only a good-looking bag, but a super practical one too.
Pros
Quality leather
Carry handle
Simple & stylish
Cons
Not ideal for hiking
Limited capacity

Do You Want to Travel FOREVER??
Pop your email in below to get a FREE copy of 'How to Travel the World on $10 a Day!'.
Best Carry-On Travel Backpacks
My favourite carry-on pack is this little doozy from Nomatic. Custom-designed for long weekend breaks of 2 -4 days, this pack is equally useful for a long weekend as it is a trip to the store.
It's 30 liters, making it carry-on compliant just about everywhere. The bag's tarpaulin and ballistic weave materials mean this travel backpack will last you for years to come.
Whether you are traveling for a business trip to Dubai or you are a Digital Nomad forever on the go, this will keep your laptop and valuables well secured all while looking stylish. Plus, you'll have more pockets and sleeves than you know what to do with.
Its top features include an RFID Safe Pocket, Roller Bag Sleeve, a dedicated Underwear Pocket, Cord pass through, easy access pocket, water bottle pocket, an Innovative strap system and waist straps.
This is a unisex bag as most carry-on packs tend to be. It isn't exactly feminine looking but maybe one days we'll stop thinking a colour or inclusion of flowers is feminine in the first place!
Pros
Modern and sleek
Endless features
Organization Galore
Cons
Not Fememine
Is 30L enough?
Only available in the US!
The Nomatic Travel Pack may be the best for you if:
If you are a contemporary traveler spending a lot of time in urban environments, the Nomatic Travel Pack is a good choice. This pack was designed specifically to be used as carry on whilst also been a great day pack for walking around cities.
I felt this was the best carry-on backpack for women. I love that for a smaller bag, it still opens up in a clamshell style and features a heap of different organisational features including the special layered compartment full of pockets.
Sadly, Nomatic only ship to the US. If you are in the rest of the world, see the next entry from AER.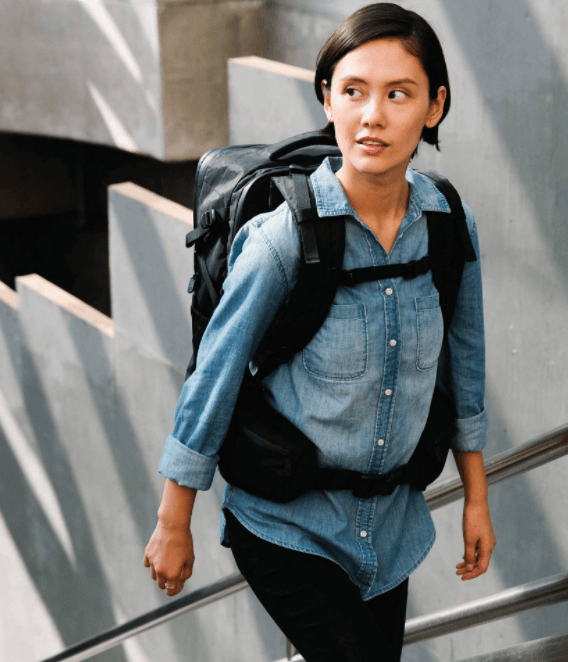 The real perks of the Tortuga Outbreaker are in its design. It has tons of pockets/compartments, and the main compartment is massive with the capacity to carry a ton of clothes. The Outbreaker design enables its the main compartment to be opened like a suitcase.
Inside the main compartment are six smaller compartments. The first four smaller compartments are enclosed within the main compartment.
This isn't specifically a ladies backpack but designed to be uni-sex. That said, it's quality build, intuitive design, fantastic organization, and smaller size make it the perfect bag for anyone who wants to travel light, but travel in style. I find it great for both city breaks where I need my laptop, or even moderate hikes that don't require too much gear.
Cons
Rectangular shape
Urban Travel Only
The Tortuga Outbreaker may be the best for you if:
This is one of the top backpacks for women and men. It is perfect if you want a carry on backpack that keeps your things organized and secure.
I loved the rugged hard wearing feel of this pack and how well it stood up to long term travel. They felt it has a high quality feel to the material and were confident keeping their gear in here even in wet weather.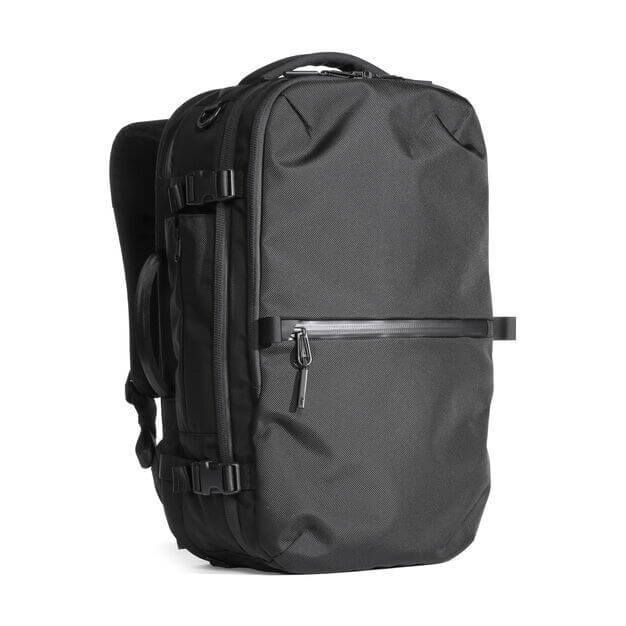 My number two choice for the best carry on, as well as the best overall travel backpack (whether you're a woman or man) is the AER Travel Pack 3. I have yet to find a travel backpack as feature-packed as this one.
AER bags are designed to be modern, sleek, and provide ultimate packing efficiency. This is accomplished by an extremely thoughtful design and tons of features that will be fully appreciated by anyone who travels a lot.
Pros
Modern and sleek
Endless features
Organization Galore
Cons
Urban environments only
Expensive
Not woman-specific
The AER Travel Pack 3 may be the best for you if:
If you are a modern traveler who spends a lot of time in urban environments, the AER Travel Pack is going to be one of the best backpacks for you. This pack was designed specifically for people who live on the road.
I felt it was one of the best travel backpacks in this roundup and for basically anyone travelling because with a separate laptop pocket at the back of the bag, clamshell opening and a second large pocket full of organisational features, it's a dream for those of us with OCD! It's also a bag that just oozes rugged quality too.
This bag is great for anyone who likes its design, efficiency, and organization. It's easily one of the best minimalist bags on the market.
What sets this pack apart from AER is its access points and style of organization. This pack was also designed to accommodate photographers with camera gear. With the external and internal pockets you can keep all of your belongings organized and safe.
The volume might be a bit too small if you're carrying a lot of equipment with you, which makes it more suitable for urban areas. A lot of full-time travelers can make 40-45L work for extended trips, while others will need more space, personally, I think it's a great small travel backpack for women.
Pros
Durable in every way
Straps are really easy to stow
Accessibility and pockets
Cons
Urban environments only
Expensive
Zippers are not heavy duty
The Peak Design 40 Liter Backpack may be the best for you if:
Peak Design is leading the pack in innovation and design; if you want an ultra-modern and sleek backpack, look no further. This is a versatile, urban-style backpack perfect for city trips and weekend getaways.
As a photographer, I really loved this pack and felt it stood out amongst the options as the best for those of us with plenty of gear. The design of the bag will keep your equipment safe and accessible while also providing plenty of room for your other things,too.
While this might not be a backpack specifically made for women, it definitely deserves a spot on this list.
Let's be honest, having everything put away neatly can be a full-on game-changer when travelling via airplane. That's when the Tropicfeel Shell Backpack really starts to shine.
Tropicfeels flagship product, the Shell, is a small to medium backpack sized with big ambitions. First up, it is a 3-1 extendable backpack that starts out as a 22 litre pack, then rolls up to 30 litres before the addition of a detachable pouch turns it into a 40 litre titan – how cool is that?!
Aside from being a 3-in-1 adjustable backpack, which you can adapt to use as a day pack, overnight pack and carry-on pack, the Shell also has another novel feature; its detachable hanging packing cube which acts as a portable, pre-loaded travel wardrobe. Unpacking and packing your backpack has never been this easy.
While you're on the road, the compartment system keeps all of your belongings organized and neatly put away, so you can easily access everything without leaving a mess afterwards.
Pros
Really fucking versatile
Truly novel and unique
Packs up easily
Cons
Not big enough for big trips
Not cheap (yet not expensive)
The Tropicfeel Shell may be the best bag for you if:
If you want to keep all of your belongings organized, be flexible with the volume of your backpack and tick off the sleek-style box, the Tropicfeel Sheel is ideal for you. It's also great for minimal packers who like everything to have a place.
I really love Tropical Feel bags and this bag is the cream of the crop. The internal organiser might look like a gimmick but, it was fantastic! They felt it was really well designed and meant they could pack in so much more and keep things organised at the same time.
Best Hiking Backpacks for Women
These are the best travel backpacks for women who spend a lot of time on trail.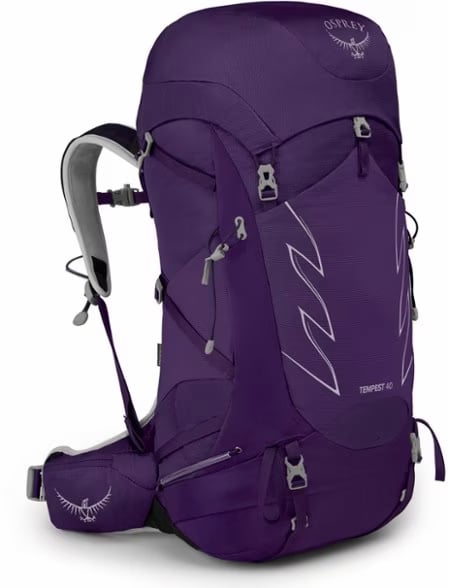 The Osprey Tempest 40 Pack is highly functional and fully-featured that works for pretty much any occasion. It's the best small hiking backpack on this list. It's been with me for thousands of kilometers now (literally) and it's not so big that you feel like a weighed-down turtle… BUT it can still carry a WHOLE LOT of epic gear!
With 40L it's a go-to pack for 3-5 day hiking trips because of its size, weight, and durability. I've taken it to heights of up to 15,000 feet, and it's the perfect bag for light packers. Features include an incredible suspension system (so comfortable and breathable), padded and adjustable shoulder straps and hip belt, external hydration sleeve, tuck-away ice tool loops/trekking pole attachments, and an integrated rain cover.
When it comes to travel and hiking, this is going to be one of the most versatile, small backpacks for women. The Osprey Tempest 40 is also quite affordable when you consider the quality and versatility you get!
Pros
Versatile for hiking and camping
Very comfortable suspension system
Affordable for quality
Cons
Not as many features for travel; more hiking specific
40L will work for most airlines, but not all
The Osprey Tempest 40 Pack may be the best for you if:
Osprey specializes in producing a range of backpacks for very specific activities and practical applications, from long trips to urban travel, to commuting, running, and school. Specificity is great, but sometimes you just want a backpack that works for everything rather than buying a backpack for every occasion.
This is one of the most versatile women's rucksacks for hiking you'll find. Your closet space, bank account, and the planet will thank you for buying fewer backpacks. It's well-ventilated with heaps of room, and definitely one of the most comfortable bags I've taken on long hikes.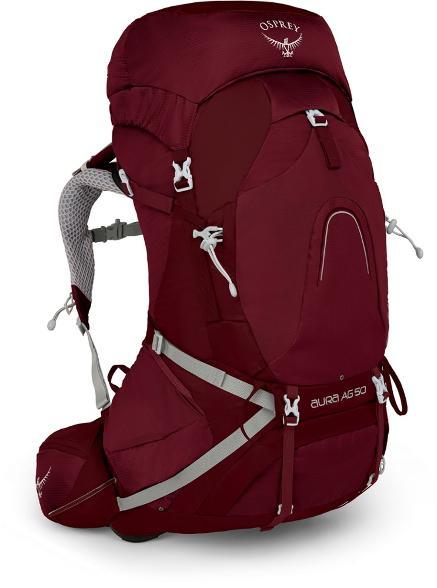 The Osprey Aura 50 is the best female travel backpack to hit the trails with. It's also ideal for long term, slow travel as it can literally fit everything! Its unique Anti-Gravity suspension system makes this bag comfortable up to 40 lbs! I recommend comparing it to the Tempest above and figuring out which women's rucksack is best for you.
Features include water bottle pockets, compression straps, anti-gravity suspension system, and multiple organization options.
Pros
Versatile for hiking and camping
Comfortable suspension system
High-quality
Cons
Not as many features for travel (more hiking specific)
50L is often not carry-on compliant
The Aura 50 Liter may be the best for you if:
Overall, you should get the Osprey Aura 50 if you are traveling in a variety of weather (humidity and snow), and hike and backpack often. This backpack will be a great fit if you are looking for a high-quality backpack that can handle wear and tear deep in the wildest mountain ranges.
The team really loved how well this bag could be used to organised their gear even for a hiking pack. Another cool feature for the trails was the anti-gravity waist belt, they loved just how comfortable this made the pack even when fully packed and worn on a tough full day hike on challenging terrain.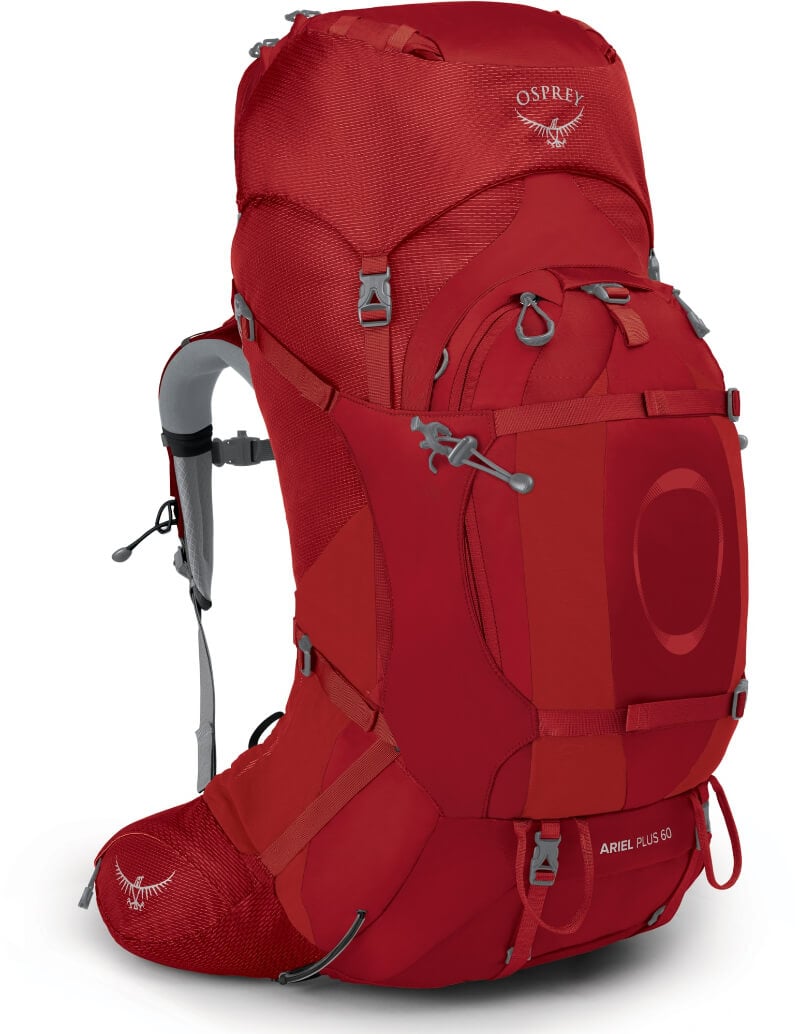 Are you noticing a trend here?
I may be biased, but Osprey is my favorite brand when it comes to durable and ultra-comfortable hiking backpacks.
This backpack is probably overkill for most, but if you plan to travel with a ton of gear for a long time, or hit the trails for a week (my favorite pasttime) then this is an excellent pack that will last you for years and years to come.
Ultimately, Ariel has an incredible suspension system and tons of customizability when it comes to its compression straps, hip belt, and shoulder straps. This means that it provides great stabilization and weight carry for heavy loads (think over 35 pounds.)
Pros
Extremely Durable
Comfortable for heavy loads
Best for women on long treks
Cons
No laptop compartment
Too big for most travelers
Heavy
The Osprey's Ariel Plus 60 may be the best backpack for you if:
If you are looking for a heavy-duty Osprey women's backpack that is durable enough to take long journeys across rough terrain, then this is the perfect bag for you. If you only plan to go on hiking trips for a few days, or travel by plane and train frequently, then consider one of the Auras instead.
Essentially, the Aura is better for loads under 30 pounds, and the Ariel for heavier ones. If you know how much weight you plan to carry, let that be the determining factor when deciding between these packs.
I was super impressed by this bag and specifically how well it maintained its comfort and weight distribution for a bigger pack than the other Osprey bags they tested. I found the straps and hip belts easily adjustable for different sizes and shapes too. I also found the bag to have a strong and durable feel.
Designed for the savvy traveler, Osprey's Fairview 65 Wheeled Travel Pack is pretty much one of the best backpacks with wheels out there.
The padded hip-belt and shoulder harness stow away for easy transport. It can clip on to the wheeled range for easy transport. It even has an inside zipped compartment – perfect for smelly hiking boots!
I've been using this pack on and off for two years and can comfortably say that it fits a shocking amount of stuff, but it's not comfortable to wear when the load is super heavy.
This is one of the best backpacks for travel if you have a ton of valuables, but it's not good for hiking!
Pros
Carry On Size
Wheels
Versatile
Cons
Not a trekking backpack
Not comfortable with heavy loads
The Osprey Fairview 65 Wheeled Travel Pack may be the best bag for you if:
If you want a women's travel backpack with wheels, then this is the pack for you. The backpack feature is great for dirt roads, cobblestone, stairs, and other situations where you can't wheel it, but it's not comfortable to wear for long periods. Get this backpack if you plan to primarily wheel it around.
I loved the versatility of this bag and how it could function just as well as a suitcase and a backpack. I felt there was very little compromise when using the pack in either setup and the wheels didn't add too much weight. I also loved how high quality the wheels in particular felt but also the fact that you can buy replacements when needed.
This is an awesome, small hiking backpack. It's a high-quality and durable pack made by one of our favorite brands, Patagonia. It's a great go-to backpack for your everyday life as well, as it's suitable for short-time travel and urban areas.
It is custom-tailored in both size and fit for a woman's torso. Like a school backpack, it has a second zippered pocket for smaller items and accessories, a front stash pocket for small items, and the main compartment for your things.
It's ultra-soft yet highly breathable. This is a small travel backpack ideal for shorter trips. Its internal pocket secures a laptop so it makes for a great city bag as well – I loved taking it around Bangkok! Another great feature is the daisy chain loops that allow you to attach climbing gear or a yoga mat.
Pros
Versatile for normal use or hiking
Perfect for organization
Uses recycled materials
Cons
Only for the minimalist traveler
Sport look may not appeal to some
No waist strap
Is the Patagonia Refugio for me?
This ladies' small backpack is perfect for everyday use. Whether you want to hit the trails in the rain or bike to your local coffee shop with your laptop, this backpack is an awesome choice!
I loved this bag as a day pack and loved the combination of its compact size and surprisingly spacious interior. I also felt this bag is uniquely suited for petite women – something I haven't seen in the day pack market before!
Best Lightweight Backpack for Women – Lumina 60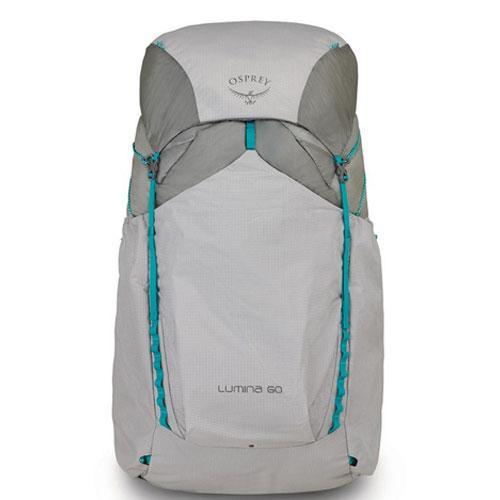 This women's rucksack was specifically designed for ultralight hiking, though at 60-liters, this pack is in the mid to large> size spectrum.
60-liters is enough volume for a multi-month backpacking trip, or for an extended hiking trip (about 3-7 days depending on how much warm clothing, food, and water – if any – you need to carry).
This is one of the lightest hiking backpacks on the market. While this is awesome, I wanted to know what we are sacrificing for weight. After testing this pack, I concluded that its lightweight fiber materials are durable and will last for years, just not as long as other more heavy-duty Osprey packs.
Plus, Osprey offers the "All Mighty Guarantee" lifetime warranty to indemnify against defects.
Pros
Extremely Lightweight
Perfect for Thru-hikes and minimalists
Osprey Lifetime Warranty
Cons
Not carry on sized
Made for hiking versus travel
The lighter color shows dirt and marks
The Lumina 60 may be the best for you if: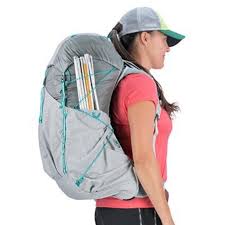 This is one of the most lightweight backpacks for women. It is specifically designed for ultralight thru-hikes, so unless that is your speciality, I recommend choosing a different pack. A couple of the Osprey backpacks above are excellent choices for hiking and travel.
I'm a huge fan of the brand if you hadn't guessed and this pack is no exception. Of course, I really loved the insane level of lightweightness (is that a word?!) of this backpack. Despite the featherlight construction of the bag, it still doesn't skimp out on features like retaining a suspension mesh back panel and plenty of exterior pockets.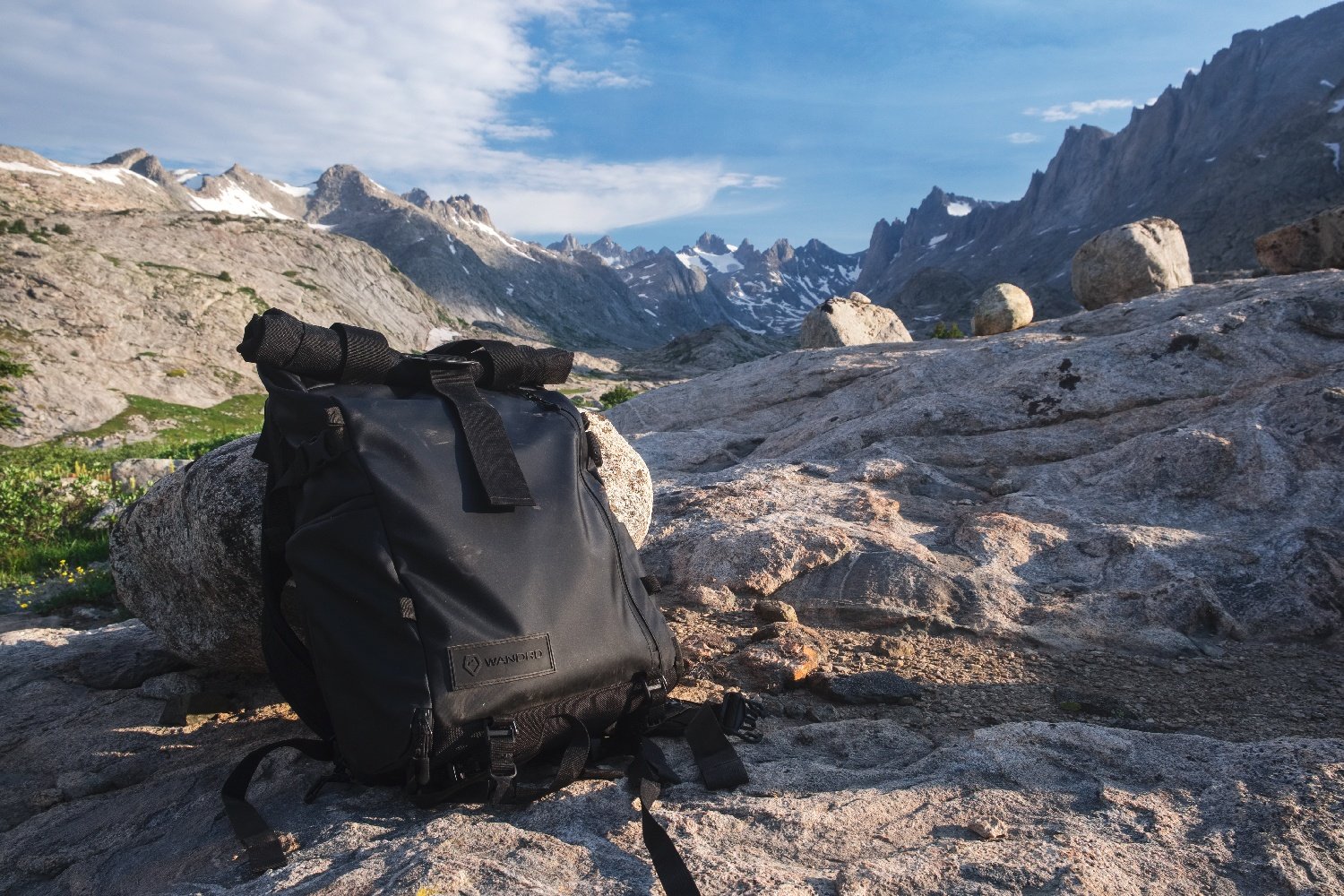 For those who want a backpack that can do a little bit of everything, is durable and looks damn good in the process, the WANDRD PRVKE is an excellent investment. Ranging from 21-41 liters, this backpack can hold quite a bit, though isn't as large as we'd like for travel.
Thanks to its robust weather-resistant design, your belongings will be safe. Add in some customizable straps, plenty of pockets, and a sick design, and you have yourself a versatile travel backpack. It's not a backpack specifically made for women, so the fit might not be the best.
It is stylish and functional enough for the streets, but its padding and additional straps make it comfortable enough for the trails.
Pros
Awesome camera backpack
Waterproof and durable
Organization galore
Cons
Too small for one bag travel
Not women-specific
Not the best option if you don't have camera gear
The Wandrd PRVKE may be the best for you if:
If you are traveling with camera gear, then this is one of the best packs for you. However, if photography isn't one of your priorities on your travel, then check out one of the other travel backpacks for women above.
Again, our photographers on the team just fell in love with this bag and for many of them it became their go-to day pack… including me! The system of pockets, separators and cubes on the inside of the bag is in a word, revolutionary! I love how I can keep my camera gear in a cube at the bottom which is accessible from the side door whilst keeping all my other gear in the expandable roll top section above. The material is also super water resistant too so great for the outdoors.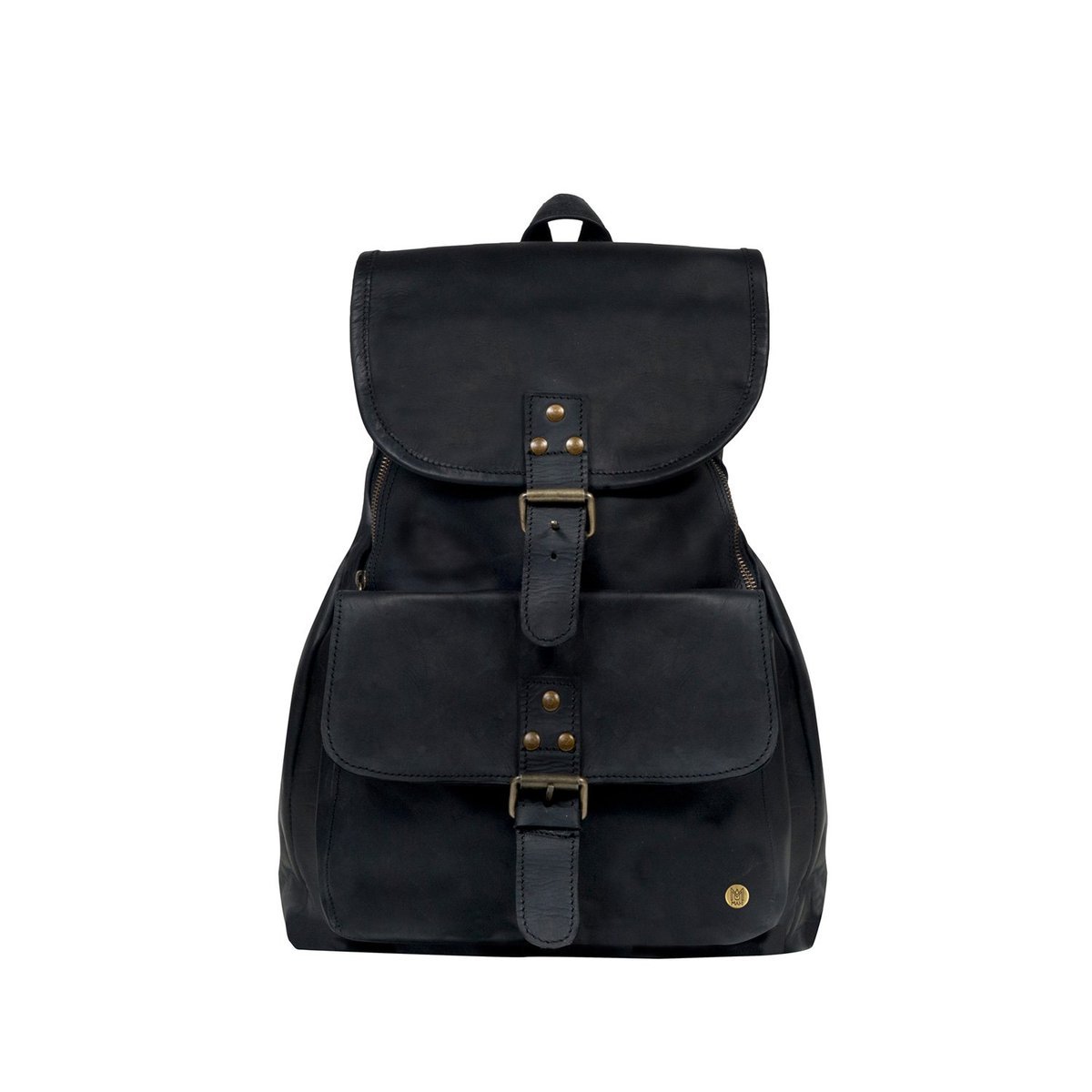 A lot of practical, travel gear tends to be a bit on the ugly side. Indeed the general consensus is "comfort before style" when it comes to most travel gear whether it be backpacks, jackets or shoes but today I am here to tell you that it does not need to be this way.
The Explorer by MAHI Leather is a stylish, cool, and pretty travel backpack for those ladies who want to look the part whilst having an adventure. It's made from soft leather (which smells lovely) and fastens with a mixture of zips and buckles. It's a great backpack for airport runs, hitting the beach, market, and of course nights on the tiles.
It's not ideal as a hiking backpack but could certainly work for day hikes in fine weather when no special gear is required. I did feel the comfort of the shoulder straps was slightly compromised for the sake of looks. But as it's on the smaller side it probably wasn't going to be used for packing heaps of gear anyway.
Pros
High quality leather
Looks gorgeous
Pure boho!
Cons
Not a hiking pack
Limited storage
Not fully water proof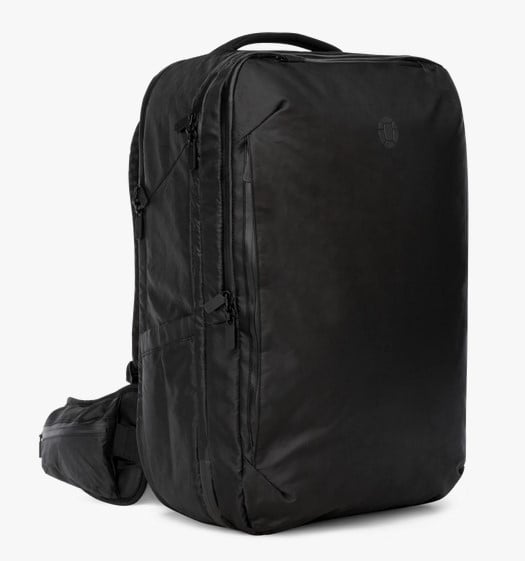 This one is pretty obvious – the Tortuga Travel Backpack is great for…. laptops! But seriously, if you are looking for a sturdy pack to carry your laptop around – look no further, this bad boy is as good as it gets.
Tortuga put a lot of time and effort into the laptop-features of this backpack, all of which are designed specifically to keep your gear safe, organized, and accessible.
The design and features of this backpack make it perfect for air travel. Whether it's the sleek laptop sleeve, the easy to lock zippers, the luggage handle pass-through or the hideaway shoulder straps – this bag thrives in airports.
Pros
Perfect for laptops
Excellent organization
Feature-rich
Cons
Only for the techie traveler
Expensive
Is the Tortuga Travel Pack for me?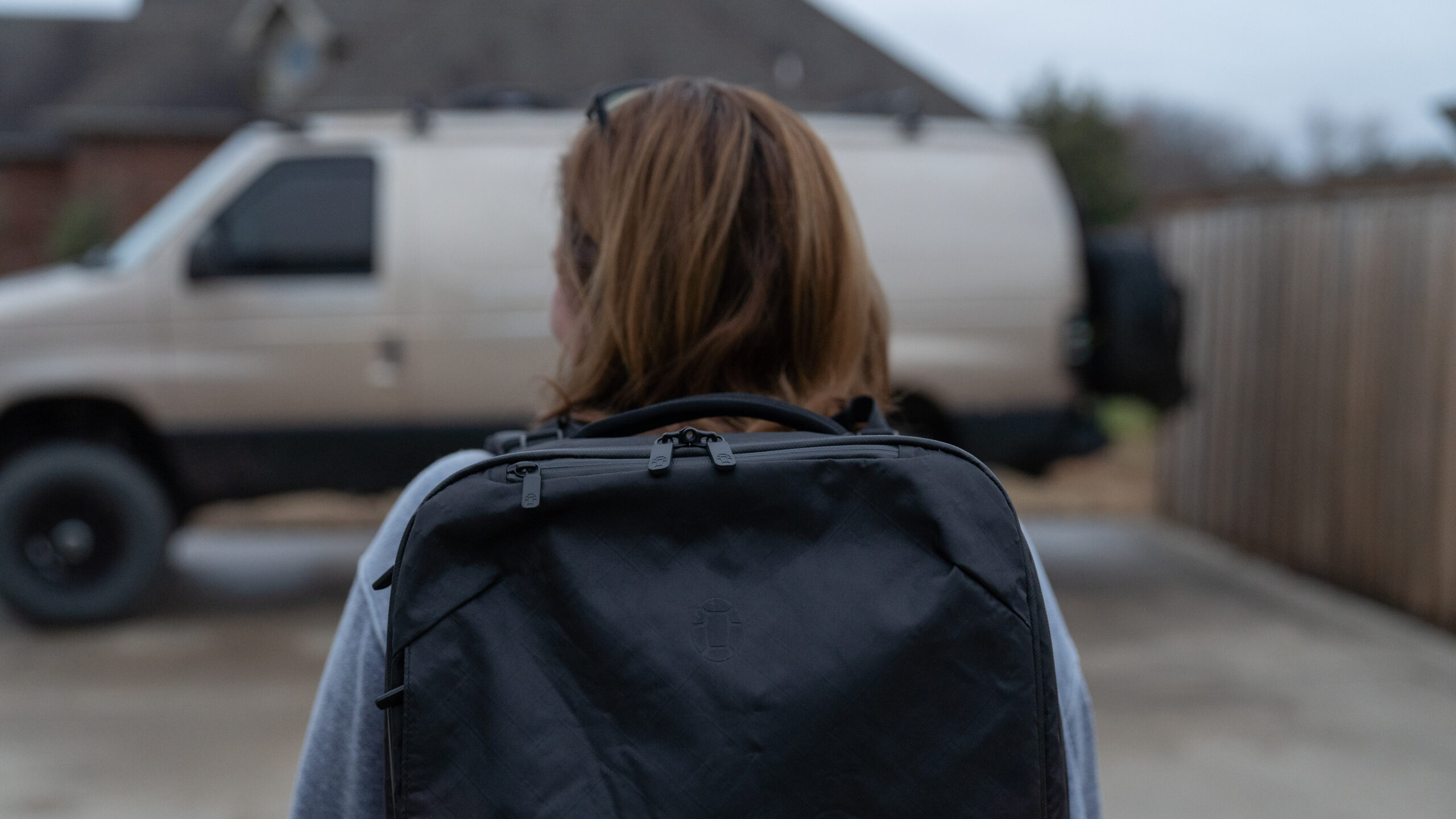 If you are looking for a travel backpack then the Tortuga 40L is a great choice for you.
Most of our team are digital nomads and they loved how this bag really gave them confidence when it came to keeping their laptop and other expensive gear save. Two of the main reasons for that were the lockable zips that made sure everything was secure and on top of that the durable and waterproof materials on the exterior.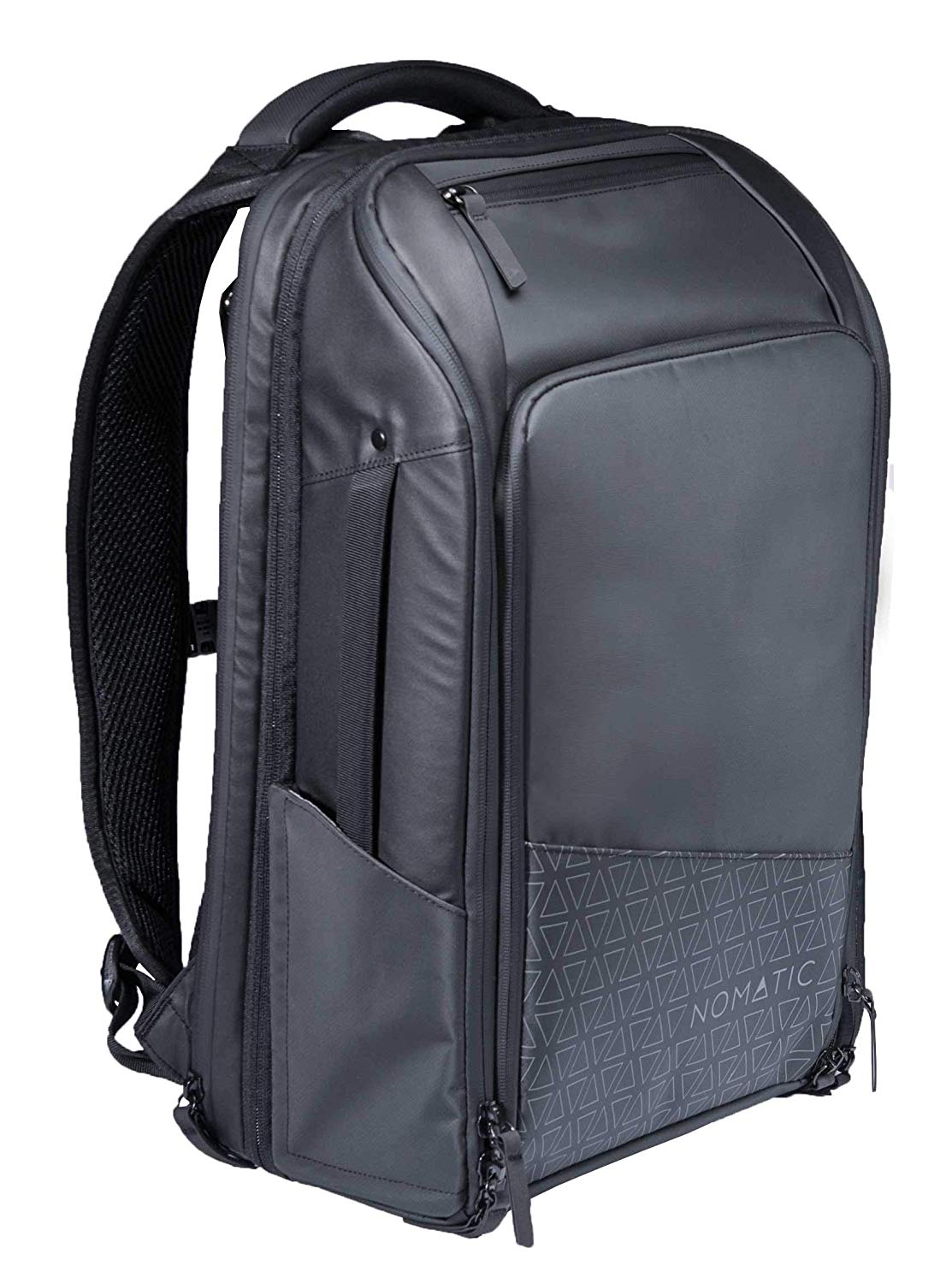 The Nomatic Travel Pack is another great offering from this brand! While not designed just for us, it is still one of the best small backpacks for women and wears pretty comfortably.
This 20-liter daypack can be expanded to 30 liters, making it extremely adaptable for travel… if you travel light. An internal zip-shut mesh divider means you can keep clean and dirty clothing separate, and there are a compression packing cube and separate shoe compartment incorporated.
If that wasn't enough, the bag also contains a sleeve for a laptop of up to 15" which is TSA approved as it lays flat, hidden pockets, and a pocket with RFID-blocking technology for the protection of your electronic data!
Pros
Expandable
Internal divider
RFID-blocking pocket
Cons
Only for the minimalist traveler
Weight of 1.9 kg
Is the Nomatic Travel Pack for me?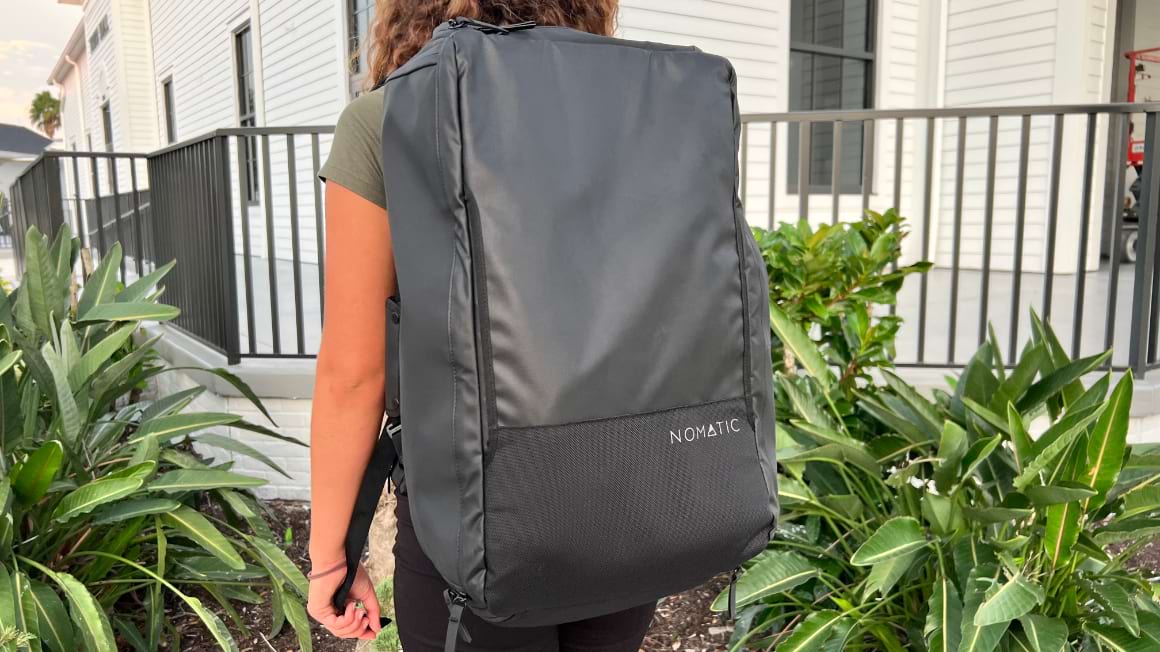 The 20+10 liter Nomatic Travel Pack is a great alternative to the 40-liter Nomatic travel bag I've reviewed. This pack has a wealth of features for such a small space. If you don't need a pack quite as big as the Nomatic travel bag, then this is an excellent choice.
I love how this bag expanded and they felt it really gave them options when travelling. Somehow was still so compact despite the fact that it can expand to a really decent size. Rather than carrying a larger 30L bag, they felt the fact they could just expand when needed was a real bonus.
The best present of all… is CONVENIENCE!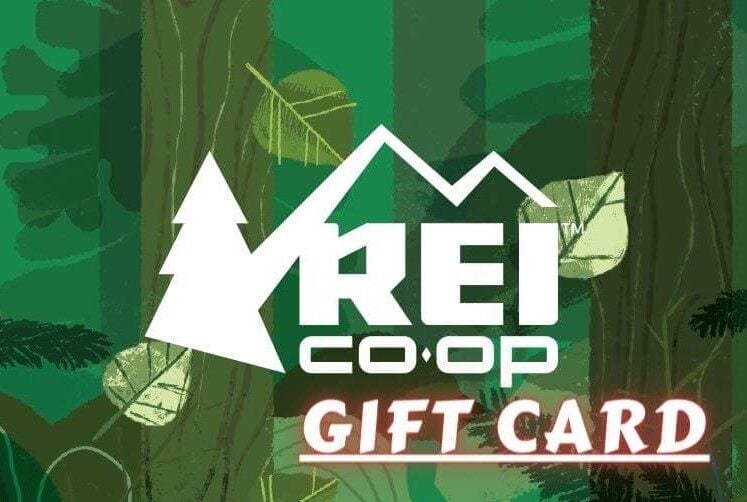 Now, you could spend a fat chunk of $$$ on the WRONG present for someone. Wrong size hiking boots, wrong fit backpack, wrong shape sleeping bag… As any adventurer will tell you, gear is a personal choice.
So give the adventurer in your life the gift of convenience: buy them an REI Co-op gift card! REI is The Broke Backpacker's retailer of choice for ALL things outdoors, and an REI gift card is the perfect present you can buy from them. And then you won't have to keep the receipt. 😉
Buy on REI!
How to Choose the Best Travel Backpack for Women?
When selecting the best backpack for females there are a few things you should consider, including size and capacity, features, and price. This is all, of course, completely subjective and depends on the type of travel you will be engaging in.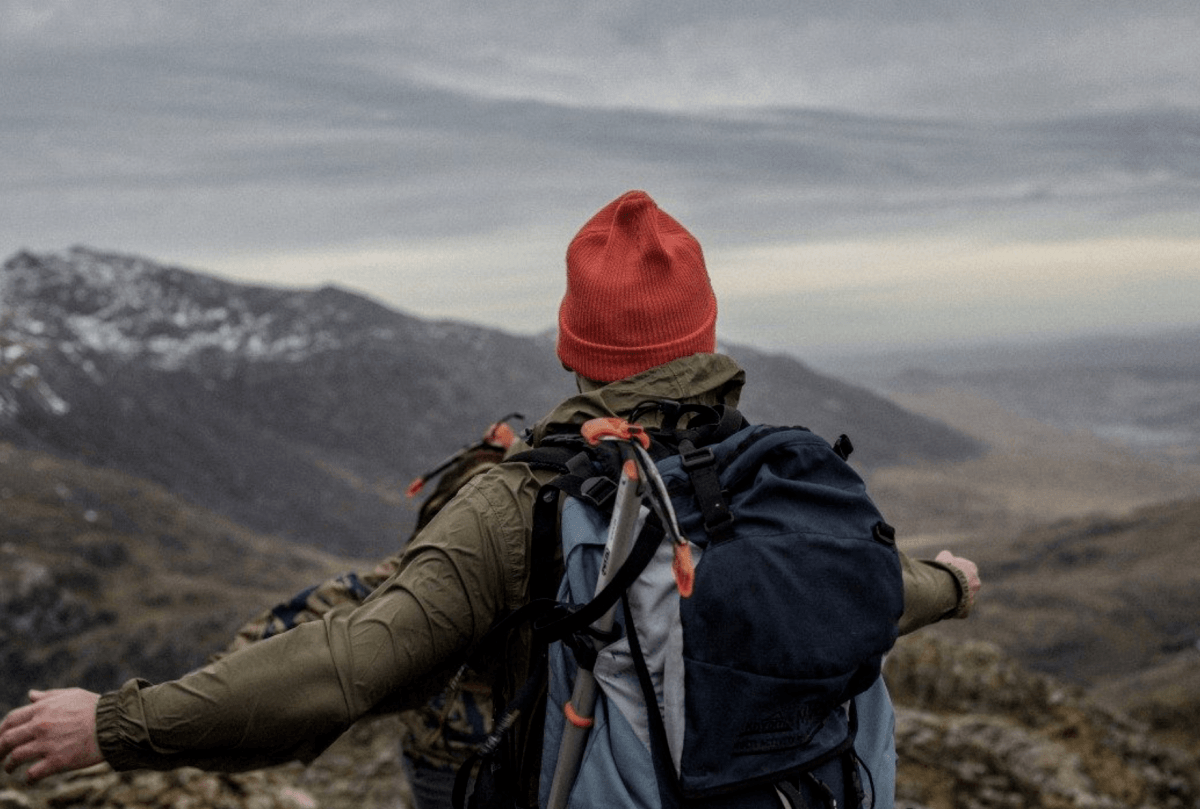 Capacity and Overall Size
Choose the size according to your travel gear
40-50L are manageable, count as carry on and it's an overall best choice
60+L are great for camping, hiking and long travels
Note: Ladies backpacks are often smaller than the counterpart men's version. For example, a men's version can be 44 liters while the women's is 40 liters. Women's packs are also a bit narrower to better fit a smaller frame. You may be trading-off fit for capacity.
Torso Size and Length
Backpacks for travel have a torso measurement to help you find one that will have the most comfortable fit. Most women's torsos will be between 14-18 inches, however, you should measure your torso and try a few packs on (with weight) to make sure.
If you're a taller woman, then maybe a uni-sex backpack will fit you better. Again, the trick is to measure and try packs in-store.
Shoulder Strap Shape and Hip Belt
In women-specific backpacks, the shoulder straps are often shaped/curved and the sternum strap is redesigned to better fit female chests. The shoulder straps are often set a little closer together since women tend to have narrow shoulders and neck.
The hip belt should be slightly narrower than the male's version to distribute the weight equally across your hips. They can also have extra padding for a bit more comfort.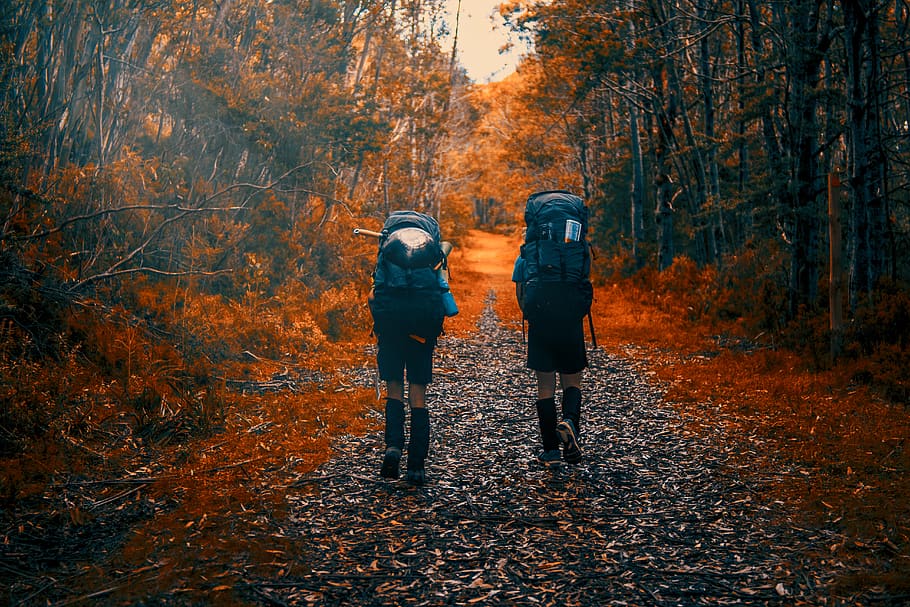 Don't underestimate the importance of a comfortable hip belt. This is what helps take weight off of your shoulder so you can walk, hike, and climb comfortably, even with 35+ pounds.
Materials and Durability
Keep in mind, your travel bag will be exposed to rain, puddles or leaks at some point. There's nothing worse than opening the bag to find your clothes soaked or your electronics damaged. The best backpacks are made from strong, durable, stretchy, waterproof material.
Look out for a material that will last for years – the last thing you want is a ripped bag halfway through your travels.
Best Travel Backpacks for Women

| Name | Capacity (Litres) | Dimensions (CM) | Weight (KG) | Price (USD) |
| --- | --- | --- | --- | --- |
| Osprey Fairview 40 | 40 | 55.88 x 35.56 x 22.86 | 1.56 | 185 |
| REI Ruck Sack 40 | 40 | 60.96 x 33.02 x 25.4 | 1.81 | – |
| REI Co-op Trail 40 Pack – Women's | 40 | 58.42 x 35.56 x 30.48 | 0.91 | 129 |
| Kodiak Katmai Diaper Bag | 20 | 41.91 x 40.64 x 12.7 | – | 259 |
| Nomatic Travel Bag | 30 | 48.26 x 33.02 x 22.86 | 1.50 | 279.99 |
| AER Travel Pack 3 | 35 | 54.5 x 33 x 21.5 | 1.87 | 249 |
| Peak Design Travel Backpack | 35 | 56 x 33 x 24 | 2.05 | 299.95 |
| Tropicfeel Shell Backpack | 40 | 50.8 x 30.5 x 19.1 | 1.5 | 290 |
| Tortuga Outbreaker | 35 | 51 x 33 x 21 | 2 | 299 |
| Osprey Tempest 40L | 40 | 70.1 x 34.04 x 32 | 1.36 | 200 |
| Osprey Aura AG 50 | 50 | 81.28 x 38.1 x 30.48 | 1.96 | 315 |
| Osprey Women's Backpack Ariel 65 | 65 | 81.28 x 40.64 x 27.94 | 1.81 | 315 |
| Osprey Ozone | 42 | 55.12 x 36.07 x 23.11 | 2.05 | 230 |
| Patagonia Black Hole | 26 | 45 x 30.4 x 16.5 | 0.45 | 99 |
| Lumina 60 | 60 | 71.12 x 40.64 x 33.02 | 1.95 | 270 |
| WANDRD PRVKE 31 | 31 | 43 X 28 X 17 | 1.3 | 239 |
| MAHI Leather Explorer | – | 40 x 22 x 11 | – | 203.50 |
| Tortuga Setout Laptop Backpack | 45 | 53.34 x 35.56 x 22.86 | 1.49 | 199 |
| Nomatic Travel Pack | 40 | 35.56 x 53.34 x 22.86 | 1.55 | 289.99 |
How and Where I Tested To Find The Travel Backpacks for Women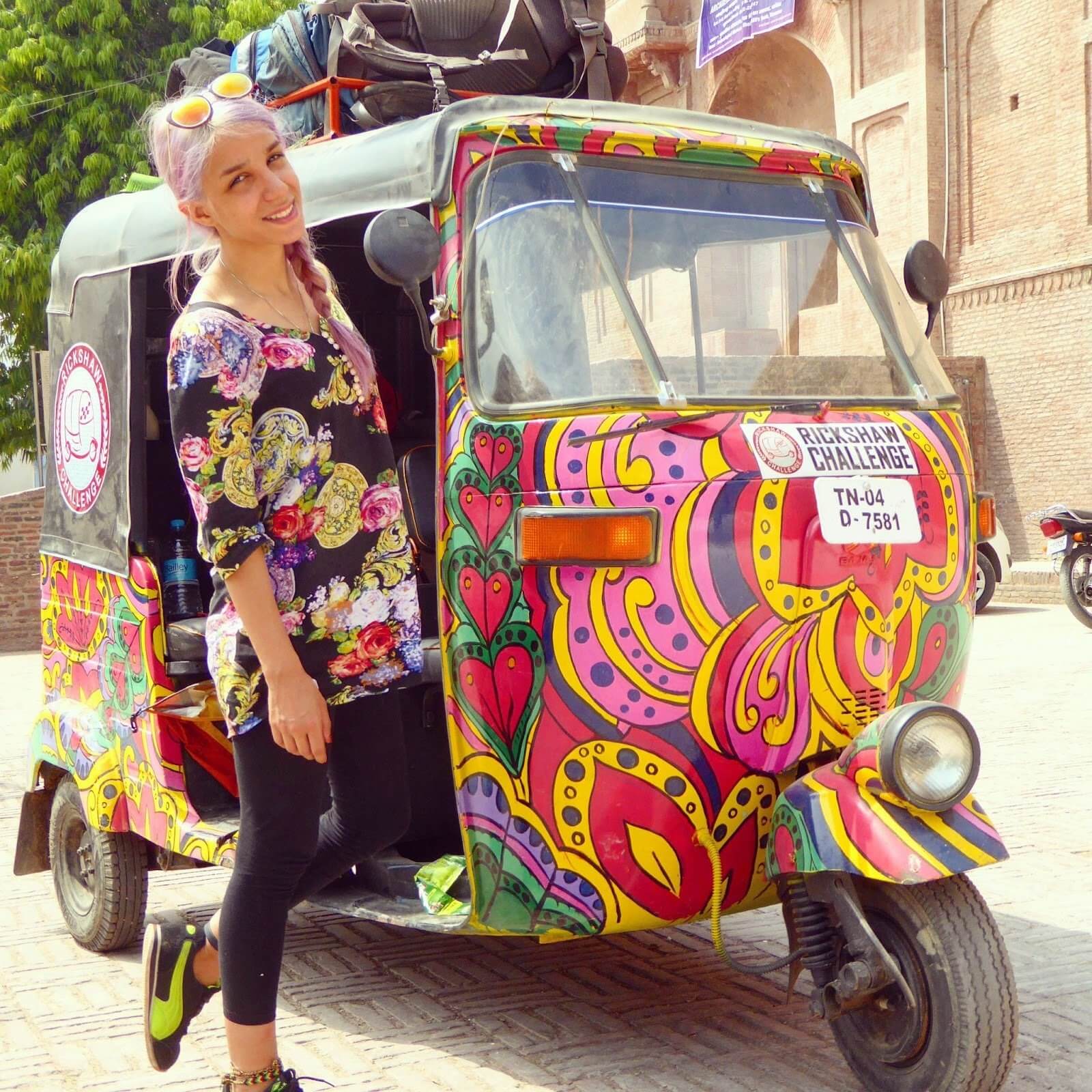 To test these packs, I laid my hands on each of them and took them out for a test drive on many different trips in various locations and over a decent period of time to get to know the product properly.
Packability
A backpack is designed to carry your stuff, so well we tested just that! Top points were awarded for how packable each backpack is in practical use. Any decent carry on bag also needs to make sure it maximises the space and facilitates effective packing and we tested this out by doing exactly what you normally do with a bag … pack and unpack the thing!
On top of that, I also looked at whether the bag was actually easy to pack and unpack. Was it awkward to retrieve your gear, or were things at hand when you needed them?
Weight and Comfort of Carrying
Everyone knows the nightmare of getting stuck with a super heavy backpack on a trip. It's not fun! So I judged these bags hard on whether they were heavy or awkward because ain't nobody got time for either of those!
I also looked at whether a bag was comfortable to carry. Were the straps thin and digging into your shoulders, or were they like resting your worldly goods on two pillows from heaven?
As such, I awarded full marks for packs that minimise weight and maximum carry comfort.
Functionality
In order to test out how well a pack fulfilled its primary purpose, ya know, holding shiz, by erm … using it for exactly that! Science amirite?!
So basically, if it was for carry-on, then I carried it the f**k on right! In this case, being Women's backpacks, well, we got hold of a whole heap of women and made them wear the bags!! Well, something like that!
You get the idea right?
Aesthetics
We all like to look good and not like absolute nerds when we're out and about exploring the world. I mean, who knows if you're going to meet someone fit on the trails, you've got to look your best! Well, I mean, my effort pretty much ends here but if I can get a cool-looking bag that functions well then I'm buzzin'!
As such I also awarded points for how sexy a pack looks.
Durability and Weatherproofing
Ideally, in order to really test out how durable a backpack is we would drop it from a plane and then run over it. Unfortunately, our budget doesn't quite cover that, so we've had to resort to old-school tactics!
Instead, we simply inspected the materials used and the build quality of the packs paying attention to things like the seam sewing, the traction of the zips, and other pressure points that might be more likely to break.
Of course, testing out how waterproof a pack is simply a case of pouring a litre of water over it – any packs caught leaking, were banished to the depths of hell never to be seen again!
FAQ about the Best Travel Backpacks for Women
Still have some questions? No problem! I listed and answered the most commonly asked questions about women's travel packs below. Here's what people usually want to know:

Our GREATEST Travel Secrets…
Pop your email here & get the original Broke Backpacker Bible for FREE.
Final Thoughts on the Best Travel Backpacks for Women
The best women's travel backpack for you will not only depend on your travel style but on where you plan to go at any given time. If you read the section above this one, you should be well prepared and ready to but your backpack.
Ultimately, you need to consider what your trip consists of, without stressing over it, of course! It's difficult to find a pack that is perfect 100% of the time, but with a little bit of research, you'll quickly figure out which backpack is best for you.
This guide covered the best backpacks for urban travel, the best hiking backpacks for women, the best women-specific bags altogether, and a few that are versatile enough for urban travel and the trails.
Out of all the best travel backpacks for women, I hope you've found one perfect for you!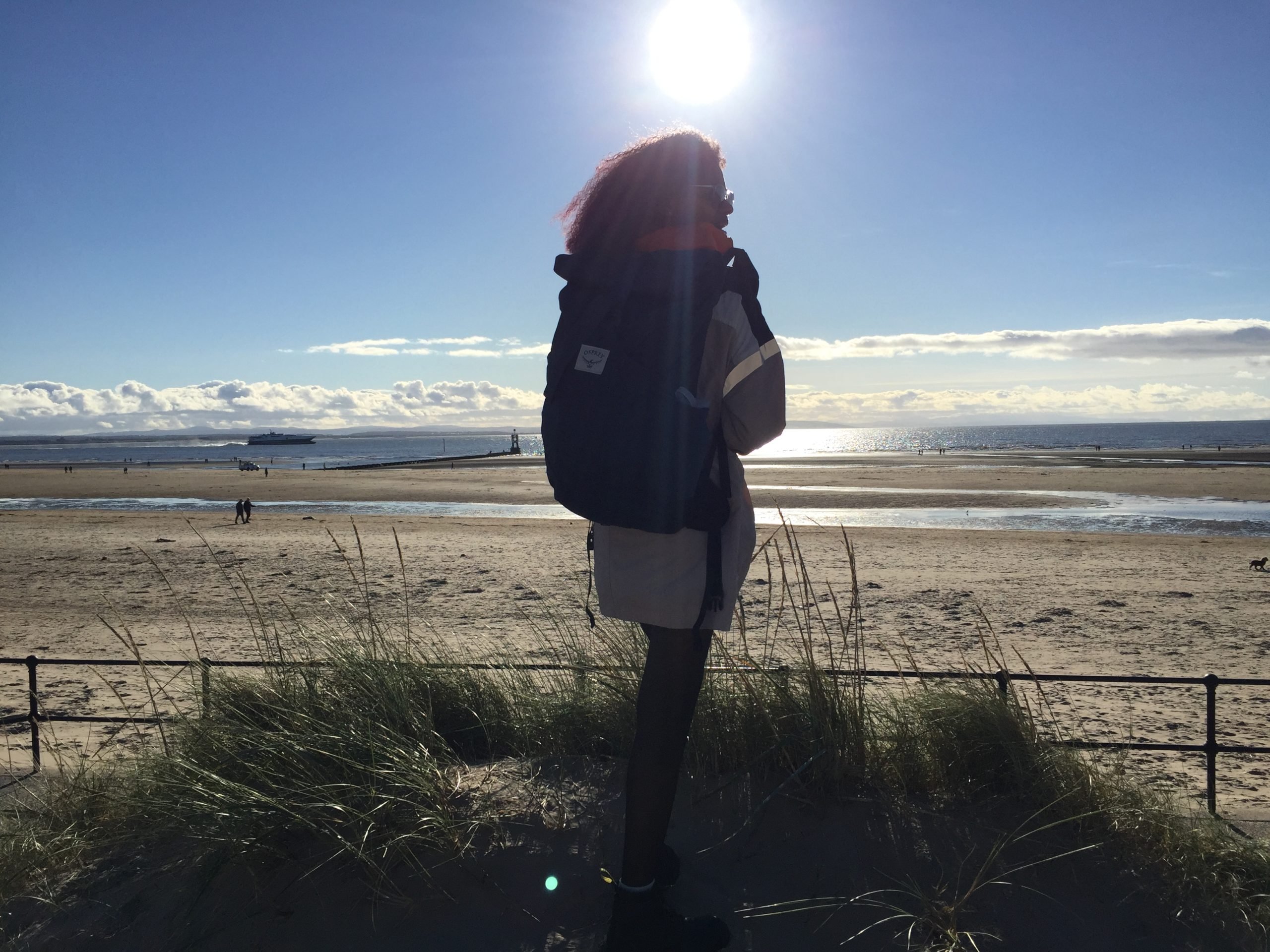 Updated May 2023
---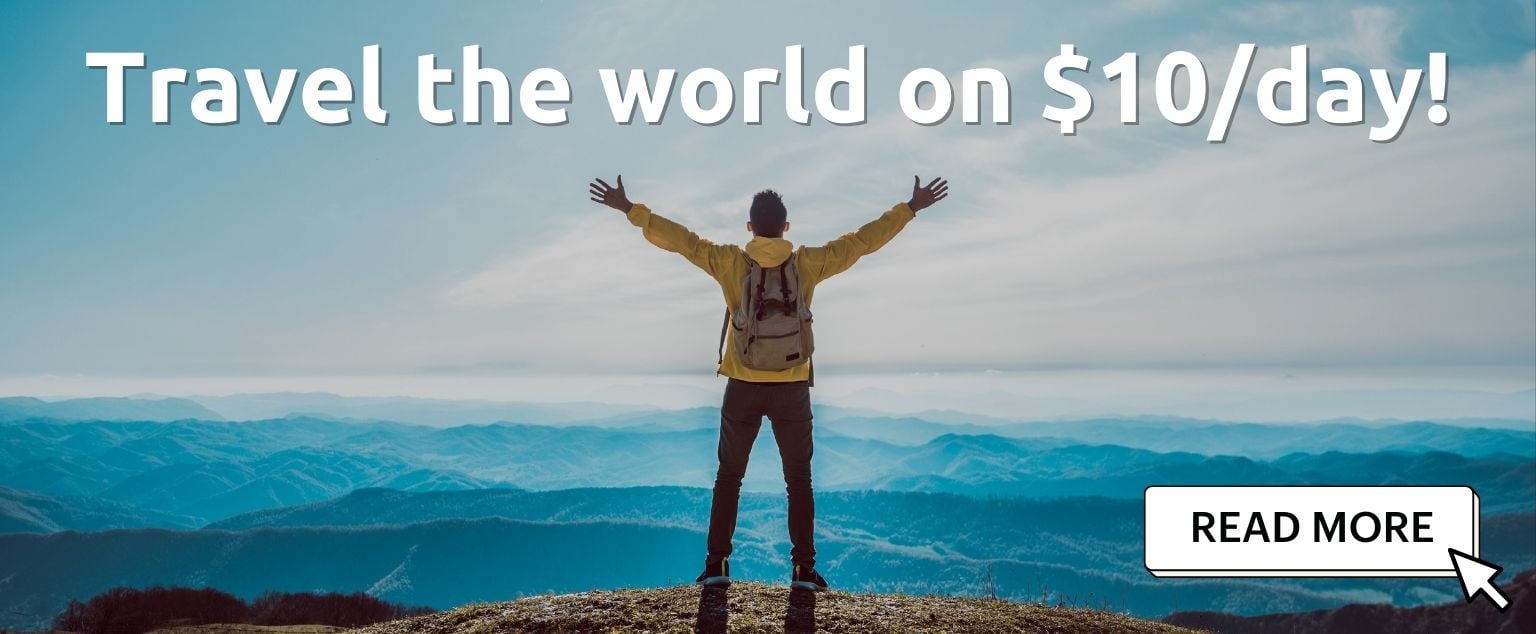 And for transparency's sake, please know that some of the links in our content are affiliate links. That means that if you book your accommodation, buy your gear, or sort your insurance through our link, we earn a small commission (at no extra cost to you). That said, we only link to the gear we trust and never recommend services we don't believe are up to scratch. Again, thank you!