There is no question about it; Tortuga makes some of the best travel backpacks on the market right now. Because Tortuga offer two of the best full sized carry on backpacks on the market today, choosing which one is best for your needs can be hard.
How exactly do you pick between two of the best full-sized carry-on backpacks made by the same company?!
Which Tortuga backpack is best for your travel style?
This Tortuga Outbreaker vs Setout comparison features the ultimate showdown between two of Tortuga's best carry-on travel backpacks.
We'll also have a quick look too at the Tortuga Setout vs Setout Divide as well as the Nomatic vs Tortuga too.
Calling All Tortugans!!  Please be advised that the Tortuga Setout is no longer available. However Tortuga have instead released their awesome Travel Packs and you can read our review here.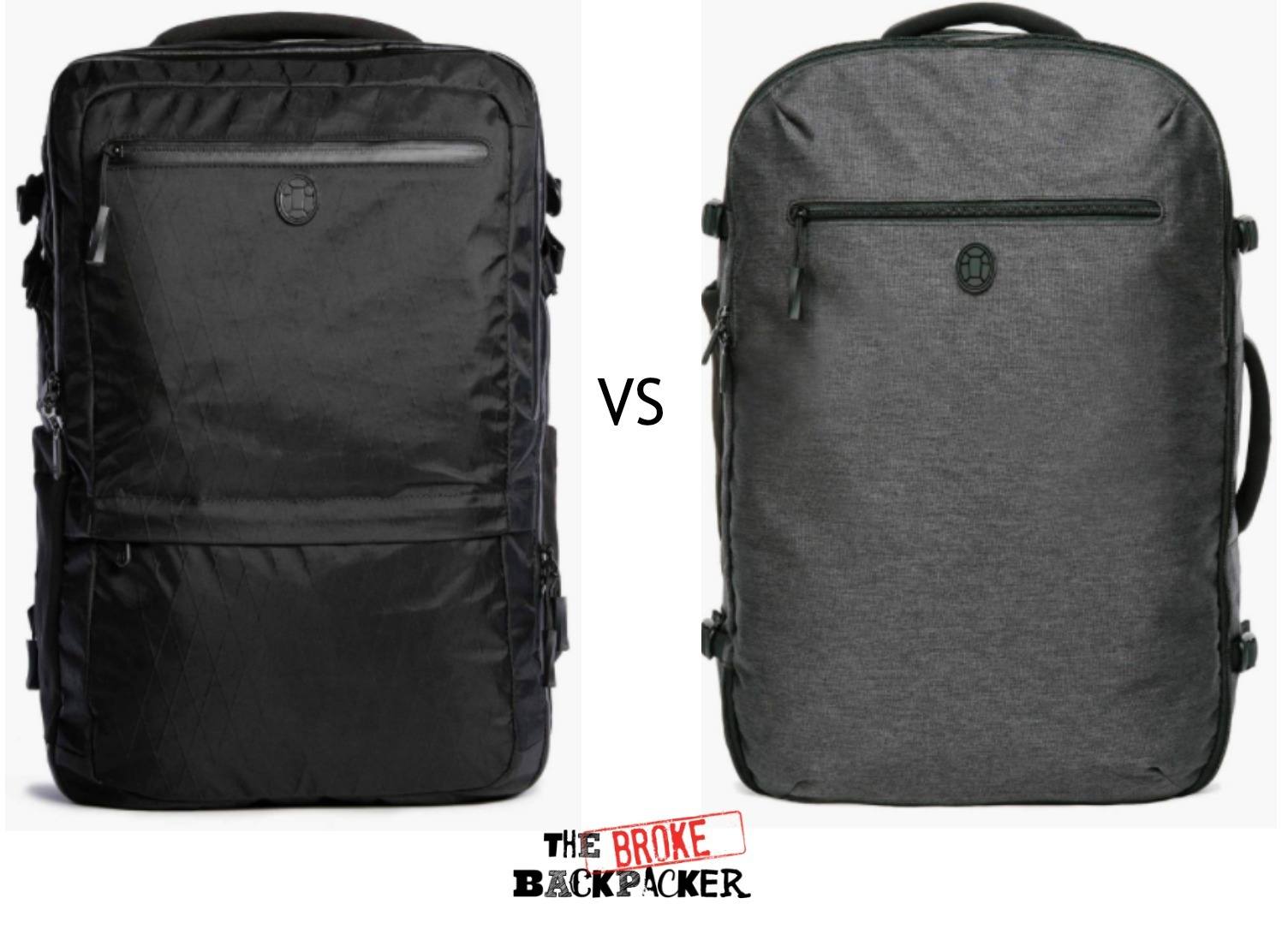 As you will soon discover, the Tortuga Outbreaker and Setout backpacks were not created equal. But which one is best…?
This review will help you get to grips with each backpack's offerings so that you can make an informed decision regarding the Tortuga Outbreaker vs Setout Debate.
By the end of this review, you will be ready to pick up the perfect backpack for your next adventure(s)!
THE FULLY-FEATURED CARRY ON FOR ORGANIZED TRAVELERS
THE FULLY-FEATURED CARRY ON FOR ORGANIZED TRAVELERS
Tortuga Outbreaker
Price > $269 or $299
Liter > 35 and 45
Weight > 4.6 and 5.1 lbs.
Laptop Sleeve? > Yes
Carry on size? > Yes
THE MAXIMUM-SIZED CARRY ON FOR CITY TRAVELERS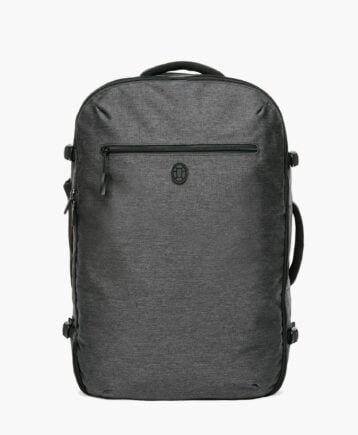 THE MAXIMUM-SIZED CARRY ON FOR CITY TRAVELERS
Tortuga Setout
Price > 199
Liters > 45
Weight > 3.3 lbs.
Laptop Sleeve? > Yes
Carry on size? > Yes
Quick Answer: Tortuga Outbreaker vs Setout
Do you love to keep your things tidy and organized? Do you feel at ease when everything is in its place? -> Go with the Tortuga Outbreaker.
Do you need a high-performing, more affordable backpack? -> The Tortuga Setout may just be the bag for you.
Which bag has more features? -> The Tortuga Outbreaker is the clear winner in terms of overall features and performance.
Ladies & Gents, It's Time to Step Your GEAR Game Up. 😉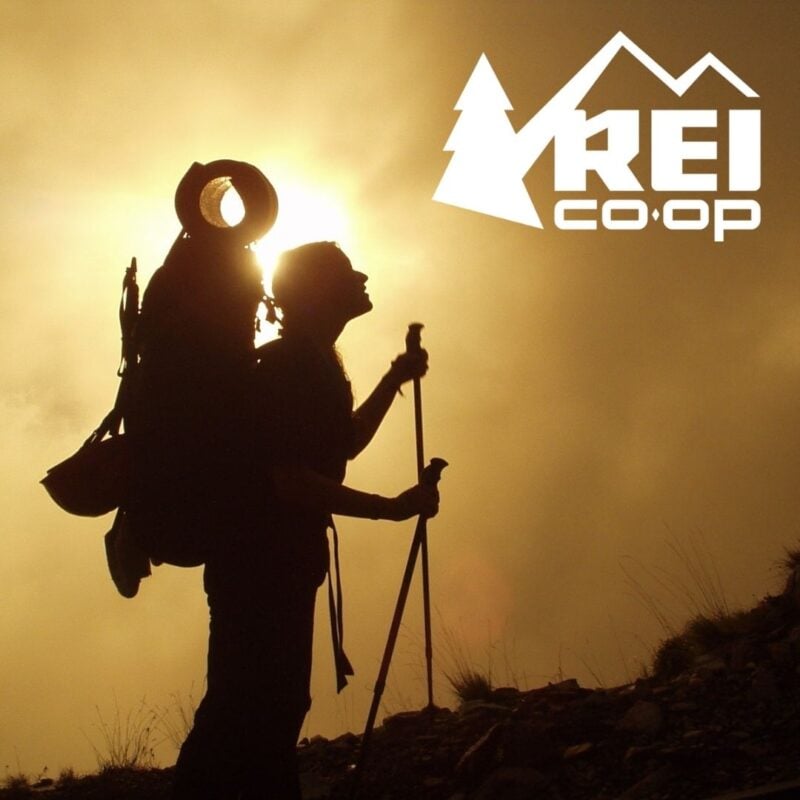 REI is one of America's biggest and most-loved outdoor gear retailers.
Now, for just $30, get a lifetime membership that entitles you to 10% OFF on most items, access to their trade-in scheme and discount rentals.
Join REI Today!
Our Pick for the best Tortuga backpack…?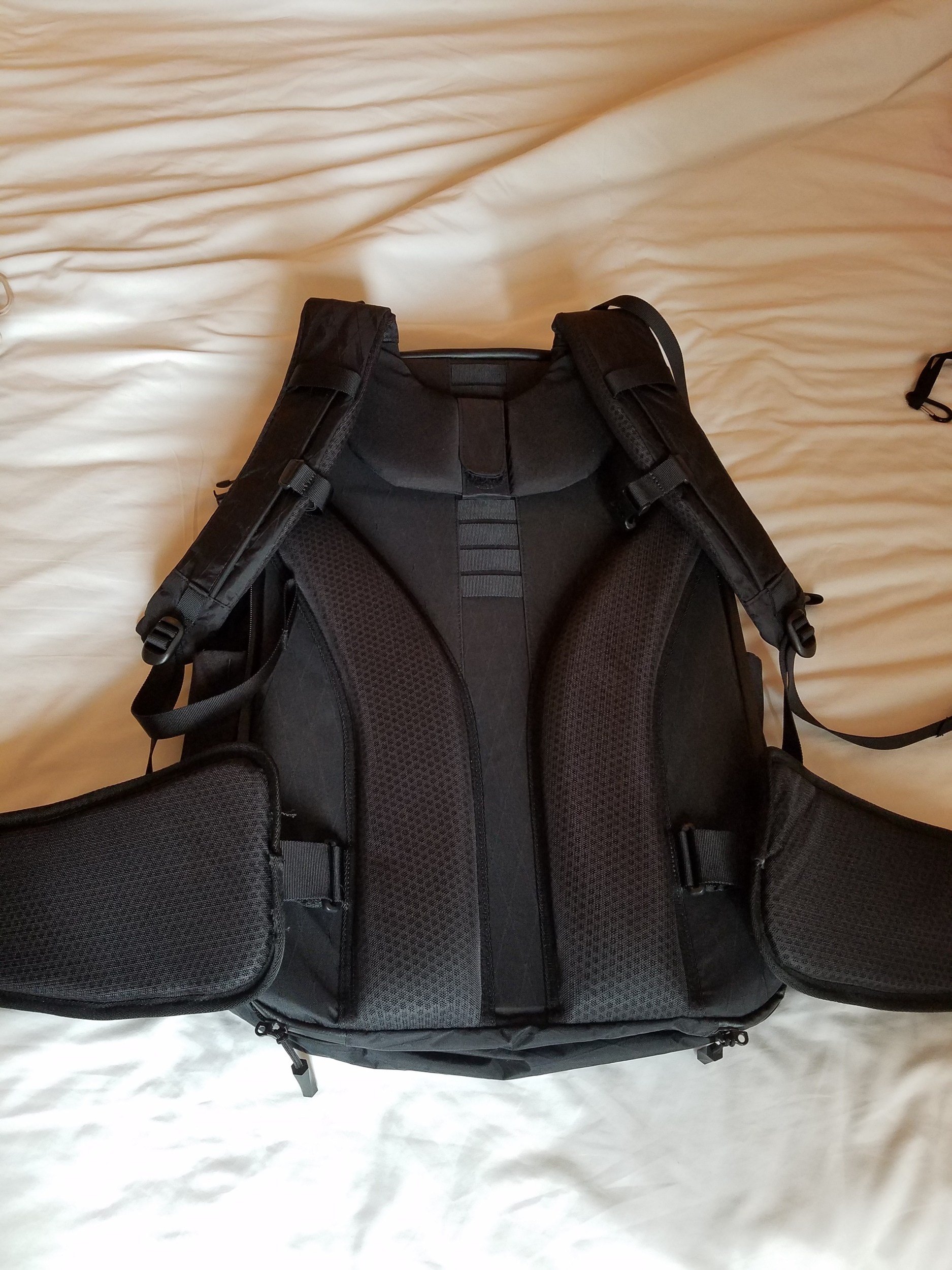 When comparing the Tortuga Outbreaker vs Setout, we think the Tortuga Outbreaker comes out on top because it is loaded with everything you could ask for in a full-sized carry on backpack.
What makes the Tortuga Outbreaker special and well-rounded? The easy answer is that the Outbreaker comes with three awesome storage compartments and packing and organizing have never been easier.
But the Tortuga Setout should not be written off. In many ways, the Tortuga Setout is quite similar to the Outbreaker. It may not have as many organizational compartments, but the Setout is the perfect unit for minimalist travelers.
If you find yourself hopping on and off airplanes, darting around European cities, or are simply in need of an awesome bag for your life as an urban digital nomad, then the Tortuga Setout was designed just for you!
The Setout is also the cheaper backpack choice of the two. For the same 45-liter storage capacity, you will pay about $100 less.
Each backpack simply provides different benefits for different types of travelers. In the end, it comes down to your personal preference and needs.
1. Storage and Organization Features are Important to You
The Tortuga Outbreaker comes with two main storage compartments that open up "book style" like a suitcase. The third compartment is found on the front of the backpack.
This smaller zippered pocket is the perfect place to store your important articles like your passport, pens, headphones, keys, a small book, your weed stash, and other vital necessities of travel life.
Everything about the Tortuga Outbreaker is beautifully compartmentalized. This pack features multiple individual zippered mesh pockets within the main compartment. Packing and keeping things like your socks, underwear, jeans separate and in their place is now super easy.
Whilst 45 liters won't be enough for everybody 45 liters is plenty of room for many travellers (especially those who have mastered the dark-art of traveling light). If you want to go even more minimalist, then the Tortuga Outbreaker comes in a 35-liter size as well.
Backpackers looking to travel around South East Asia can possibly fit everything they need into a 35-liter backpack (as long as they pack minimally). I prefer the 45-liter myself, but I tend to travel with my laptop, warm clothing, a big camera, and a few other important things that require more than 35 liters of space.
Again, we suggest you figure out what your needs are (knowledge of self is the most powerful knowledge a human can possess!) and make the call based on those needs.
Check out our full in-depth review of the Tortuga Outbreaker backpack for more information.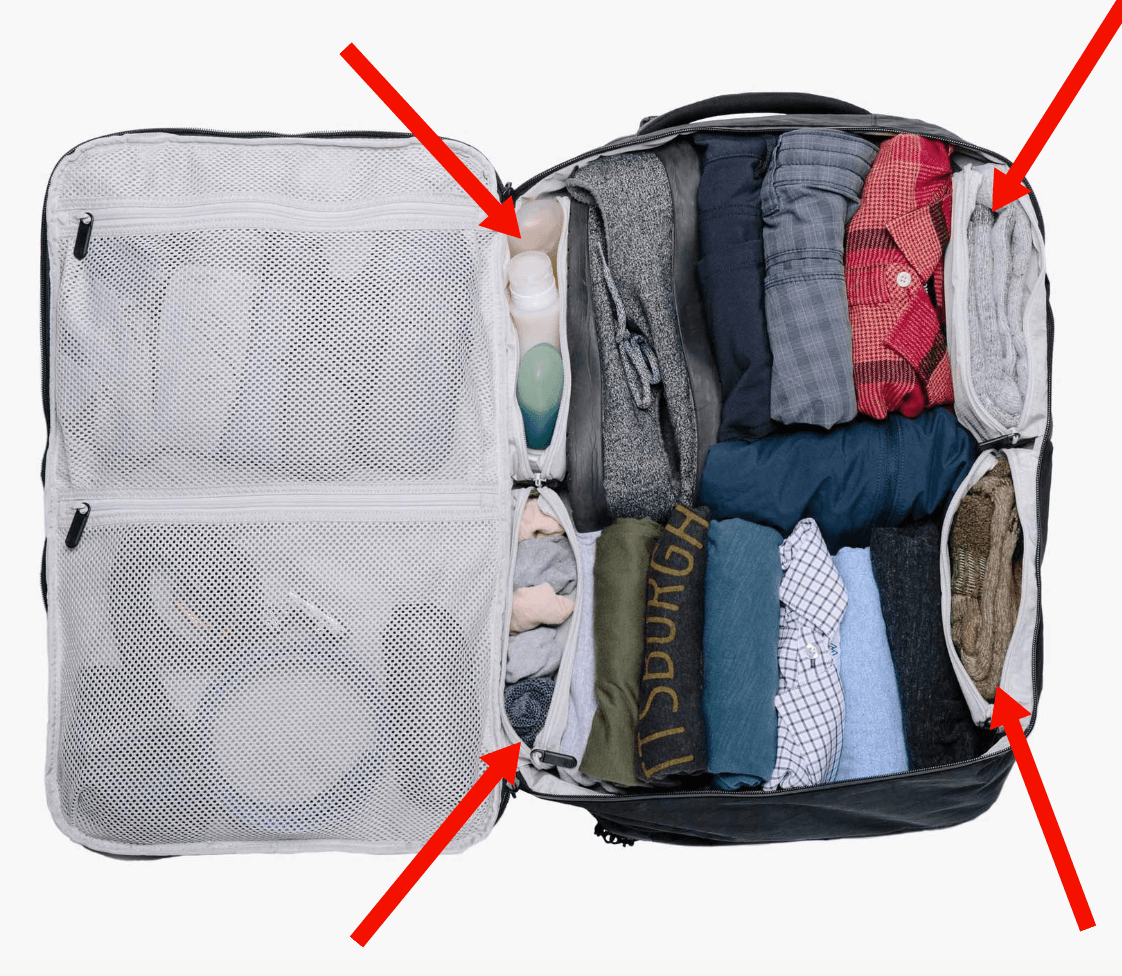 2. You are a Long-Term Traveler
If you are planning to spend months on the road, then you may well need a bigger backpack. Personally, for a month or more I need at least 60 liters.
Many travellers though, don't need so much room and can do fine with 45 liters. If this is you, then I highly recommend going with a backpack that offers up supreme storage features. You want your backpack to be versatile and capable of keeping your life on the road in order. The Tortuga Outbreaker was built for life on the road.
Toughness is also an important factor. If you are going to drop $300 bucks on a 45-liter backpack, you want the thing to last you a while. In terms of toughness, the Tortuga Outbreaker and Tortuga Setout backpacks are roughly the same.
Both backpacks are very well made and should perform at a high level for many years. That said, I would not use any Tortuga travel backpack for any kind of serious hiking or camping – they are simply not designed for this.
Yes, you can take the Outbreaker or Setout out on casual day hikes, but I don't recommend anything beyond that.
Just remember, this is a travel backpack FIRSTLY, and a hiking backpack second. If you are in the market for a hiking backpack, check out this list of the best hiking backpacks.
3. You Need a Carry-On Compliant Backpack
For frequent flyers or folks trying to navigate through the jungle of budget airline baggage requirements, rejoice; the Tortuga Outbreaker is an excellent carry-on backpack.
The Tortuga Outbreaker is right up there with the best carry-on travel backpacks, and the only backpack that might be a slightly better full-sized carry-on backpack is the Aer Travel Pack 2. Overall though, the Tortuga Outbreaker is a proven best choice as far as badass carry-on bags go.
That said, I'll be honest with you: the 45-liter Tortuga Outbreaker is large enough for some concern. Roughly 75% of airlines will allow you to carry this backpack on the plane, but certain budget airlines (Ryanair…) may give you a hard time or even charge you to check in the bag… and that sucks.
Most of the time you should be fine, but check each airline's carry-on requirements to be sure the Tortuga Outbreaker will be accepted. Oh, and don't overpack your bag in case of those close calls.
Now, let's take a look at the Tortuga Setout below.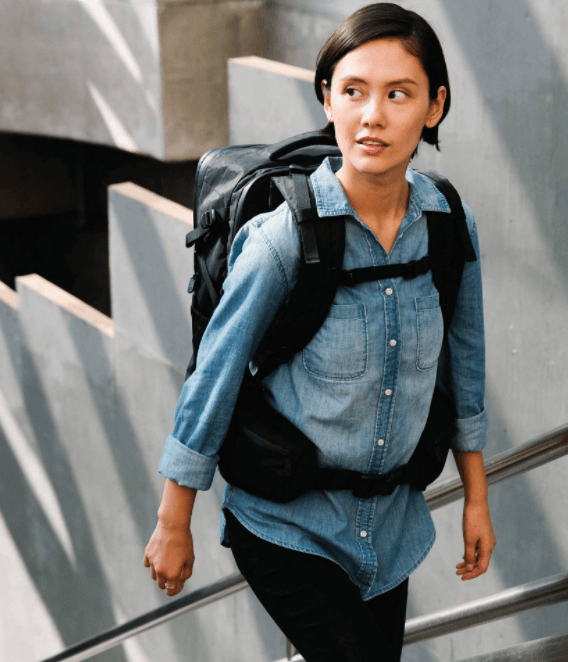 Now that you have seen what makes the Outbreaker so awesome, it is time we take a good look at the Tortuga Setout bag. Below I have listed a few of my favorite features and reasons why you should choose the Tortuga Setout vs the Outbreaker.
1. A Lightweight Backpack is Important to You
The Tortuga Setout gets big points for its weight, or should I say its lack of weight. At 3.3 pounds, the Setout is nearly 2 pounds lighter than the Outbreaker for the same 45 liter capacity, yet does not skimp out on toughness.
The Tortuga Setout is as durable as it is light, and you can look forward to years of use with this backpack!
When you live your life on the go, having a low base weight is important. The base weight is the weight of your backpack when it is totally empty.
If your baggage allowance is only 8 kilos, you can see how important it is to have a backpack weigh as little as possible. If your backpack's base weight is more than 2 kilos, well then you only have 6 kilos to work with as you pack your stuff.
Weight is definitely something to keep in mind anyway, especially if you are traveling on those super picky European airlines.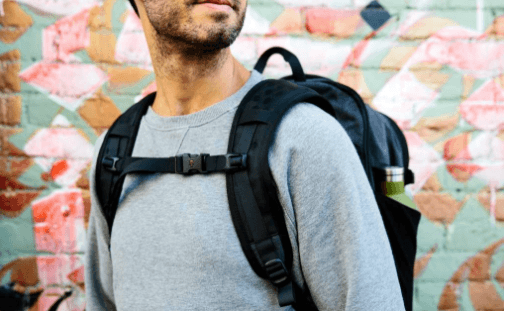 2. You want a Balance between Minimalism and a Well-Organized Pack
The Setout does not have as many organizational features as the Outbreaker—you know this by now—but it does have enough storage options and features for certain types of minimalist backpackers.
The main storage compartment comes equipped with two mesh zippered pockets and PLENTY of space to keep your gear organized and tidy.
Like the Outbreaker, the Setout has a front storage compartment, which is the ideal place to store your important, quick-access bits like your passport, keys, earphones, etc.
Minimalism doesn't mean you don't get anything though. Whilst you do get less storage compartments to work with, the one you do get is large, well-designed, and highly functional and practical.
The Tortuga Setout is the ultimate weekend warrior backpack for urban travel. Likewise, if you are backpacking around Europe, the Setout is an ideal companion.
Within its 45-liters you can really fit a ton of stuff, so much so that you need to watch your weight if you are flying on a restrictive airline! Minimalist travel is easy once you come to terms with your travel needs on your given adventure.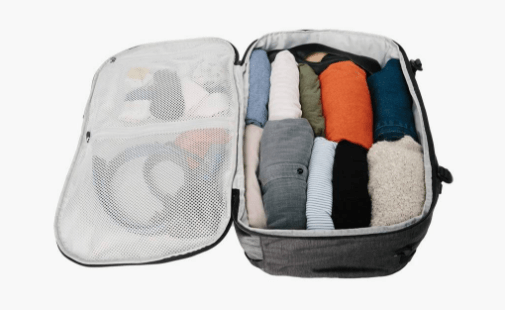 3. Price is Important to You
Let's face it; none of us have an unlimited amount of money to spend on travel gear. Whilst I am a firm believer in investing in quality gear, especially for the right gear to serve your individual purpose, the price is still a factor for important purchases.
One of the main advantages for choosing the Tortuga Setout vs Outbreaker is the price. As I said before, the Setout is $100 cheaper than the Outbreaker.
You do get what you pay for; opting for the cheaper backpack means you don't get as much in terms of features, but for some people, this isn't important. For the more budget friendly option, go with the Tortuga Setout.
Be sure to check out my full review of the Tortuga Setout here.
THE FULLY-FEATURED CARRY ON FOR ORGANIZED TRAVELERS
THE FULLY-FEATURED CARRY ON FOR ORGANIZED TRAVELERS
Tortuga Outbreaker
Price > $269 or $299
Liter > 35 and 45
Weight > 4.6 and 5.1 lbs.
Laptop Sleeve? > Yes
Carry on size? > Yes
THE MAXIMUM-SIZED CARRY ON FOR CITY TRAVELERS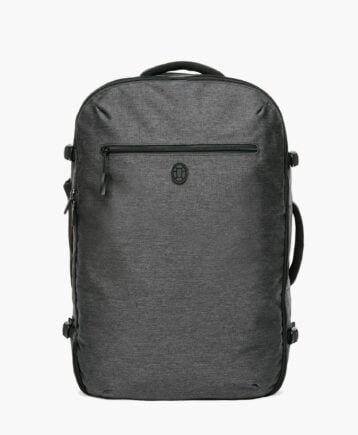 THE MAXIMUM-SIZED CARRY ON FOR CITY TRAVELERS
Tortuga Setout
Price > 199
Liters > 45
Weight > 3.3 lbs.
Laptop Sleeve? > Yes
Carry on size? > Yes
The best present of all… is CONVENIENCE!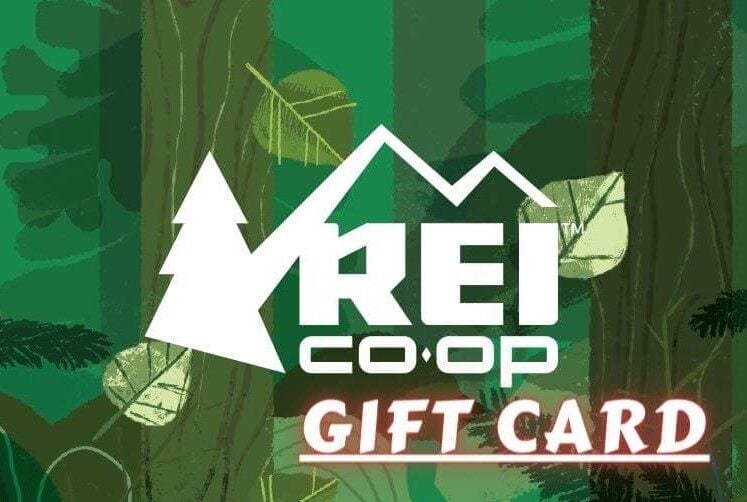 Now, you could spend a fat chunk of $$$ on the WRONG present for someone. Wrong size hiking boots, wrong fit backpack, wrong shape sleeping bag… As any adventurer will tell you, gear is a personal choice.
So give the adventurer in your life the gift of convenience: buy them an REI Co-op gift card! REI is The Broke Backpacker's retailer of choice for ALL things outdoors, and an REI gift card is the perfect present you can buy from them. And then you won't have to keep the receipt. 😉
Buy on REI!
Tortuga Outbreaker Spotlight
Watch the video below and then check out the features that make the Tortuga Outbreaker a kick ass backpack.
1. The Laptop/Secondary Compartment
The secondary compartment is one of my favorite aspects of the Outreaker backpack, and as a Digital Nomad who carries a ton of gear, it's the part of the bag I appreciate the most.
The main compartment is for a laptop (up to 17 inches for the 45L and up to 15 incehs for the 35L), and just below it is a tablet sleeve too.
I like to use this sleeve for more than just a tablet. Occasionally I travel with important paper documents, and these well-protected sleeves allow me to protect these documents on the road.
The divided sections are lined with a cushioned, soft padding that protect your belongings from life's unexpected impacts.
I don't travel with a tablet either, so I use the tablet sleeve for extra padding for my laptop without anything else knocking up against it.
I use these small compartments for my chargers, adapters, toiletries bag, electric shaver, and medicine bag. I was also able to squeeze in my Roost laptop stand.
Overall, this compartment is pretty straightforward, but a game-changer and welcomed change from shoving stuff sacks into the depths of a backpack.
Now, each of my items has its own area, and I know exactly where my stuff is at all times.
2. The Suspension System
While the suspension system isn't quite as solid as a traditional backpacking backpack – the Tortuga doesn't need to be as you should not be carrying as much weight as you would with a 60-litre backpack. Therefore you simply do not need a burly suspension system.
Ospreys (and other traditional backpacks) are designed for trekking and hiking – a.k.a wearing a very heavy backpack for hours at a time.
With the Tortuga Outbreaker, you won't be hiking through the Himalayas, just hiking through airports and train stations which the suspension is perfect for. The hip belt is very comfortable and adjustable for these moments.
The shoulder straps felt comfortable for me, and they can be adjusted to your personal body shape. That said, numerous people have complained about the shoulder straps.
I think overall the shoulder strap discomfort issue is probably the Tortuga Outbreaker's (and the Setout) greatest flaw. At the same time, you need to have realistic expectations of what the backpack can do.
If you overload it with gear, don't expect the shoulder straps to feel extremely comfortable. With a reasonable load, however, the backpack is comfortable.
Check out the video below for information on how to measure your torso for the right Tortuga backpack fit.
My Biggest Issue – I want a 40L!
I know. They make a 35L and a 45L but I want a 40 liter.
Maybe I'm getting greedy…but…
Truth be told, the size options are the largest negative for me. I am an ultra-light world traveler which means I only travel with bags that are carry-ons.
Traveling ultra-light comes with its pitfalls, but it's my preferred lifestyle choice. I hate checking bags with a passion, and there is nothing worse than handing over $50 to have to wait at the baggage claim and pray my bag wasn't accidentally shipped to the other side of the globe.
No gracias.
Unfortunately, if you like to travel light like me, this bag is not 100% carry on compliant, and if you fly enough, you will have to check it eventually.
The good news is that this bag is carry-on compliant about 75% of the time. It's mainly European budget airlines you have to be careful for.
If you travel on a lot of budget airlines and want a simple carry-on solution… this might not be your bag, which is why I wish Tortuga made a 40L backpack instead of a 45L.
This bag feels like it's just barely too big, and that the airlines just barely notice. But they still notice.
40L seems like a better option, as the 35L is just a bit too small for anyone who travels for more than a weekend.
But this is just one man's opinion I promise that as I get to more airports with this bag, I'll update this article to reflect my experiences. Anyway, if you want a bit more room then have a look at the Tortuga Setout vs Setout Divide.
Tortuga Setout Spotlight
Check out some of the Tortuga Setout's awesome features below…
1. Tortuga Setout Packability
Tortuga Setout's main advantage versus a traditional backpack relates to how the bag is packed. Traditional backpacks are top loading only. Those of us who have backpacked know how annoying it can be to search for one item of clothing at the bottom of a backpack.
With the Setout, the packing process is wide open and finding/packing stuff is a breeze. There is no top-loading space funnel to contend with.
The easy gear access and divider system will make any backpacker smile, and the days of hunting for rogue socks are over.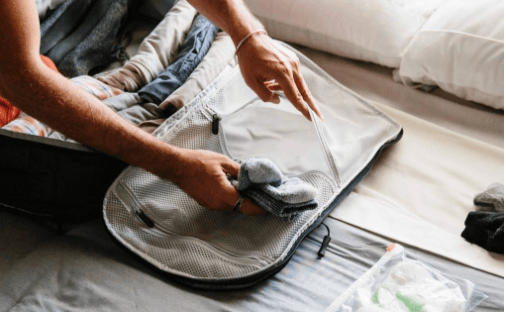 2. Hidable Shoulder Straps
A great feature of the Setout is that you can stash the shoulder straps when they are not in use. There is a handy compartment to store the straps when you only need to use the backpack handle.
Again, one of the major flaws people have reported involve the Setout's shoulder straps. Some people find them uncomfortable whilst others—including myself—do not. You will simply need to test the backpack for yourself and form your own opinion.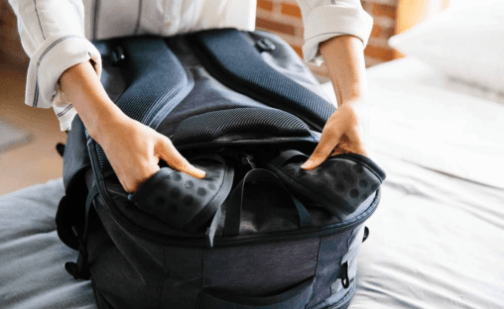 3. Lockable Zippers
For an extra layer of security plus even more peace of mind, you do have the option to lock the zippers on the Tortuga Setout. Having lockable zippers is great for a variety of scenarios.
If you need to chuck your backpack on the top of a bus in Nicaragua or wherever, being able to lock your backpack is seriously important.
Good news: all Tortuga travel backpacks feature lockable zippers.
Note: Neither the Outbreaker nor Setout come with a lock. You will need to buy a lock separately and we suggest investing in a good one.
My Biggest Issue? — Lack of Additional Storage
When I say my "biggest" issue, I mean my only main issue with this backpack is that it has limited organizational features. I am hesitant to even call this an issue as it isn't a design flaw. The single main compartment is by design and on purpose. That's totally fine.
Personally, though, I prefer having more storage options. I know I am repeating myself here, but every traveler is different. What works for me may be very different for you.
For the urban explorer, who is confident in their packing abilities, the Tortuga Setout will be perfect for you.

Our GREATEST Travel Secrets…
Pop your email here & get the original Broke Backpacker Bible for FREE.
Final Thoughts on the Tortuga Outbreaker vs Setout
There you have it, friends. We have come to the end of my Tortuga Outbreaker vs Setout review. I hope you enjoyed it and learned a thing or two!
By now, you should know that for a majority of travelers, the Tortuga Outbreaker is the superior backpack. The fact remains, however, that both backpacks kick ass and will serve you very well during the course of your adventures.
Tortuga has made a name for itself in the travel world by producing some truly fantastic backpacking gear. You are now armed with all of the need-to-know information to buy the right backpack based on your own intentions and preferences.
If this Tortuga Outbreaker vs Setout review helped you, or you want to just add something I forgot to mention, please respond in a comment below!
Oh, there's one more thing to consider, well, two! So Tortuga also makes a smaller version of the Setout bag. In terms of the Tortuga Setout vs Setout Divide, the divide is expandable from 26 litres to 34 litres. If you're looking for something different then also consider the Nomatic vs Tortuga debate too.
---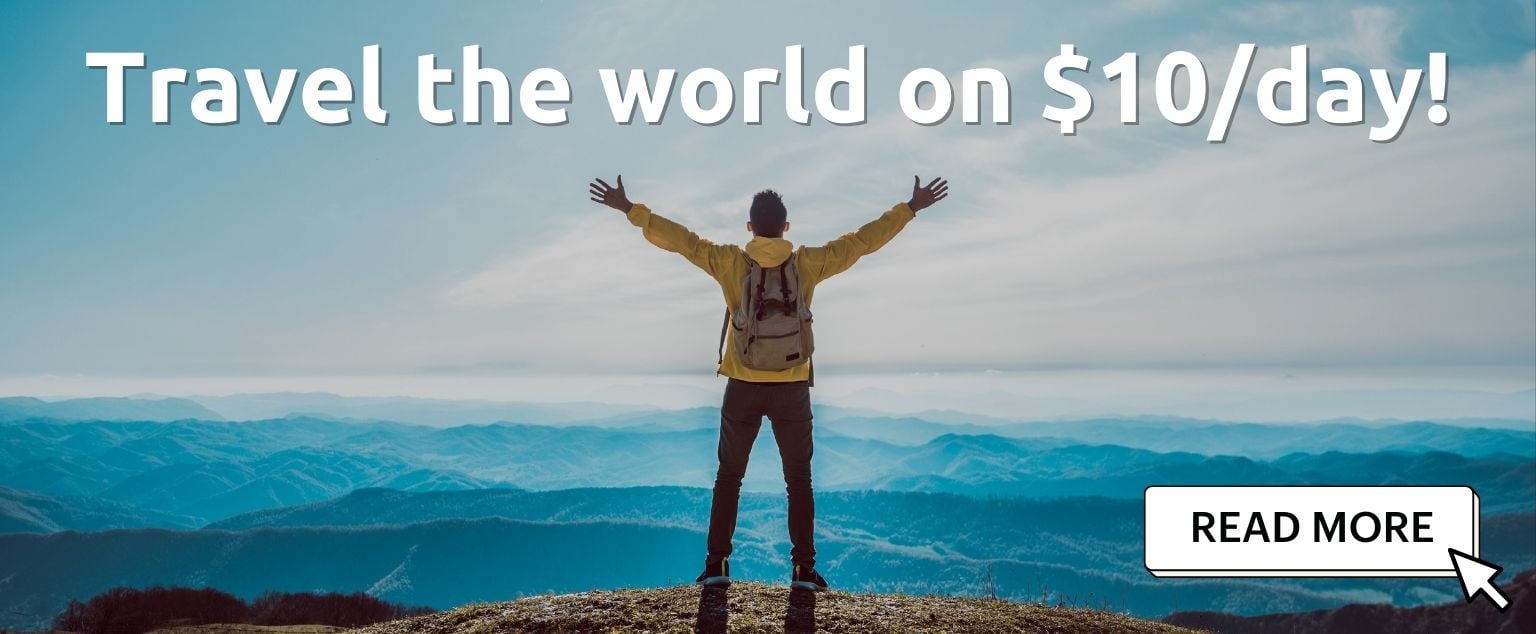 And for transparency's sake, please know that some of the links in our content are affiliate links. That means that if you book your accommodation, buy your gear, or sort your insurance through our link, we earn a small commission (at no extra cost to you). That said, we only link to the gear we trust and never recommend services we don't believe are up to scratch. Again, thank you!