Whilst the colossal failure that was 2020 may not have exactly been a great year for travel, it has nevertheless being a pretty epic year for travel gear. Yep, 2020 has seen the release of some awesome accessories, paraphernalia and gadgets which will come in very useful when we do get to hit the road again.
And the silver lining in not being allowed to leave the house, means that we finally have a bit more money to spend on that delicious gear! That $200 I had set aside for a trip to Paris can now be spent on getting myself a new pack (unless I get fined $200 for leaving the house that is).
In terms of backpacks, believe me I have tried, tested and reviewed a lot of them this year. In fact so much so that they are all kinda blend in to mega backpack-hybrid and I can barely tell my Osprey from my Tom Bihn anymore. BUT there is one pack that stands out from the crowd, rises above the competition and has become my go-to day to day backpack.
Get ready to meet the Boundary Supply Errant Backpack.
About This Review
In this review we will look at the key features of the pack and examine it's build materials, it's look and it's feel. I'll try to avoid using nerdy technical language as much as possible. This review will look at the pro's as well as con's of the pack and help you to decide whether it is right for you. REMEMBER, when choosing a backpack there is no right or wrong answer and no one size fit's all product we can recommend. So pay close attention and see if this pack is right for you.
Please note that because of the aforementioned Covid travel limitations my testing of this pack has been somewhat limited. Still, I did take the backpack on such exciting adventures as Picnic on Formby Beach, Supermarket Road Trip 2020 and of course, Daily Trek To The Gym. Yeah, the pack has been tried and tested on the streets, beaches and parks of Liverpool. As such, the pack has had a good bit of typical use even if it hasn't yet left the country.
Ladies & Gents, It's Time to Step Your GEAR Game Up. 😉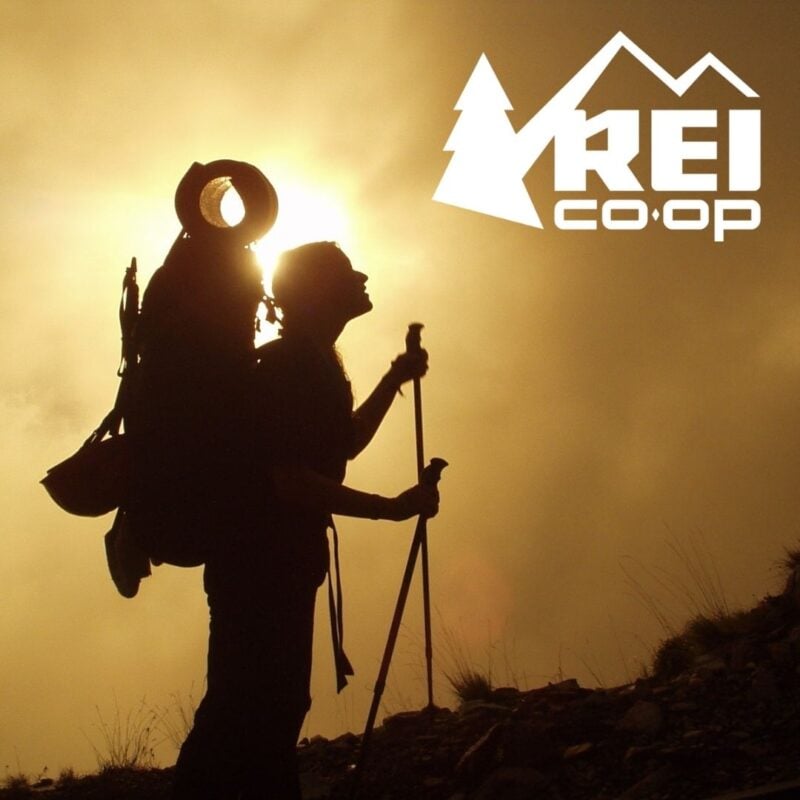 REI is one of America's biggest and most-loved outdoor gear retailers.
Now, for just $30, get a lifetime membership that entitles you to 10% OFF on most items, access to their trade-in scheme and discount rentals.
Join REI Today!
Quick Answer: Boundary Supply Errant Specs
Price: $199
Capacity: 25 Liters
Laptop storage: a 15-inch laptop + 13 inch tablet
Tablet Storage: 15 inches
Weight: 2.9lbs (1.3kg)
Size: L30 x W13 x D6 (cm)
Highlights: Dynamic modular components to make commuting and traveling easier.
Is the Errant Travel Backpack the perfect backpack for you?
If you are looking for a compact backpack that is durable, stylish, and adaptable, then the Boundary Supply Prima System backpack may just be the pack for you.
This backpack is proper suave and ideal for commuting on bike, on public transport and on foot. I'm not sure if it's really made for travel by camel mind. If you need a backpack to take you from work to the gym, and then to a cafe for some tablet time, bingo.
Moreover, this is the ideal day-use backpack for digital nomads, commuters, and anyone traveling with camera gear and electronics; the pack is perfectly designed for traveling with gear.
So, the Errant travel pack might just be for you if:
You want a day to day backpack.
You value a laptop compartment.
Style and aesthetics are important.
You carry some gear.
Is the Errant Travel Backpack NOT for you?
This is an incredibly versatile, everyday use backpack. It can also work well for overnight and weekend trips if you travel light. However, if you are travelling for more than a few days, 25 liters is not going to be big enough. This is especially true when factoring in bulky gear like cameras.
This backpack is useful as your everyday bag as well as for some overnight and even weekend trips. If you are traveling for a week or more, then this bag is great for day to day use carrying gear, but will not be enough for your clothes as well.
Moreover, while this backpack is comfortable for long outings, it is not built as a primary hiking backpack. The Boundary Supply Errant backpack is designed for travel, commuting, and urban areas, not multi-day hiking adventures.
Therefore, the Errant is probably not right for you if;
You like to get outdoors. This ain't a hiking pack.
You don't travel light. 25 litres is not loads of storage.
You don't carry a laptop or tablet. If you don't, then just get a different pack!
The best present of all… is CONVENIENCE!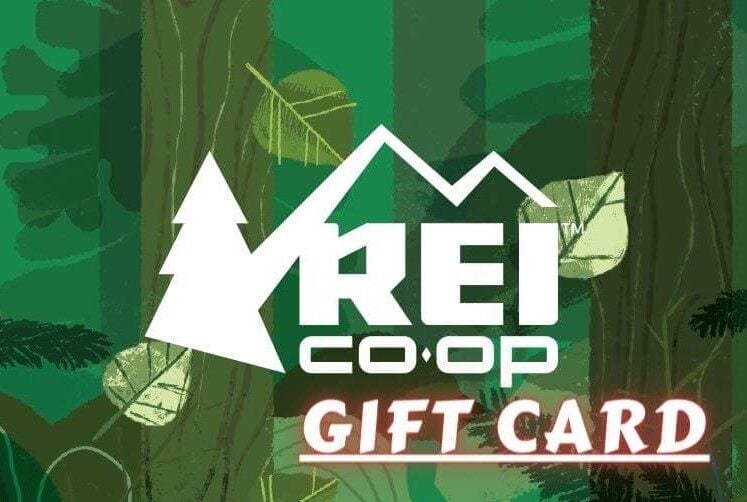 Now, you could spend a fat chunk of $$$ on the WRONG present for someone. Wrong size hiking boots, wrong fit backpack, wrong shape sleeping bag… As any adventurer will tell you, gear is a personal choice.
So give the adventurer in your life the gift of convenience: buy them an REI Co-op gift card! REI is The Broke Backpacker's retailer of choice for ALL things outdoors, and an REI gift card is the perfect present you can buy from them. And then you won't have to keep the receipt. 😉
Buy on REI!
Let's look at what this bag offers then.
Aesthetic & Material
First up, let's take a look at the look of the bag. Now did your parents or school teacher ever tell you that looks are not important or to never judge a book by it's cover? Yeah? Well they were lying! Looks are important and the Boundary Supply Errant has them down! When it comes to travel gear, a lot of it is not remotely seemly and the turgid old mantra of "function over form" is endlessly peddled by gear companies who can't be bothered to make their wares more presentable.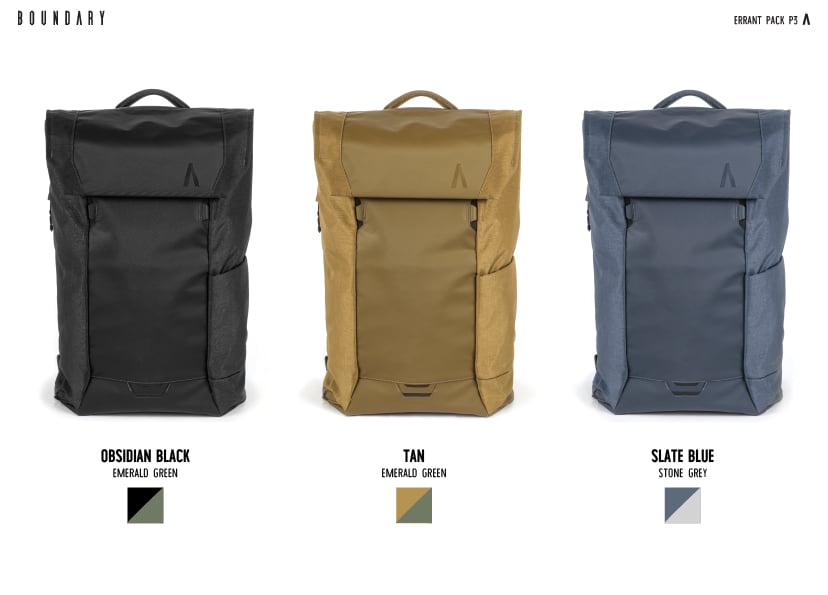 Boundary Supply clearly have the style conscious (or vain) traveller in mind and the errant goes for a sleek, minimalist, cool (even serious?) aesthetic. The bag's design really is impossible to argue with and it looks equally at home on the road, in an airport, in city streets and is even almost business worthy (I say almost as the business world is still not quite ready for backpacks. Strange that isnt it?).
In terms of colour the Errant is available in hymassa tan, obsidian black, and slate blue. Mine is in slate blue.
As for the material used in construction, the main fabric is a 500D Duramax Kodra – this is a type of nylon. If you look closely at the images, you will note that the pack also has slightly shiny bits. These shiny, rubbery parts are hypalon, which is water-resistant, similar to tarpaulin but with a much smoother feel.
The materials seem to be of a good quality and feel like they will be pretty hard wearing – but maybe come back in a year and check in?!
Inside The Pack & Storage
Main Storage
Ok now let's look inside the pack. Whilst the exterior gives a distinctly minimalist impression, the interior is actually quite innovative.
To very simply (but not totally accurately) summarise, there is basically one main compartment, a laptop case at the back, and then some extra pockets.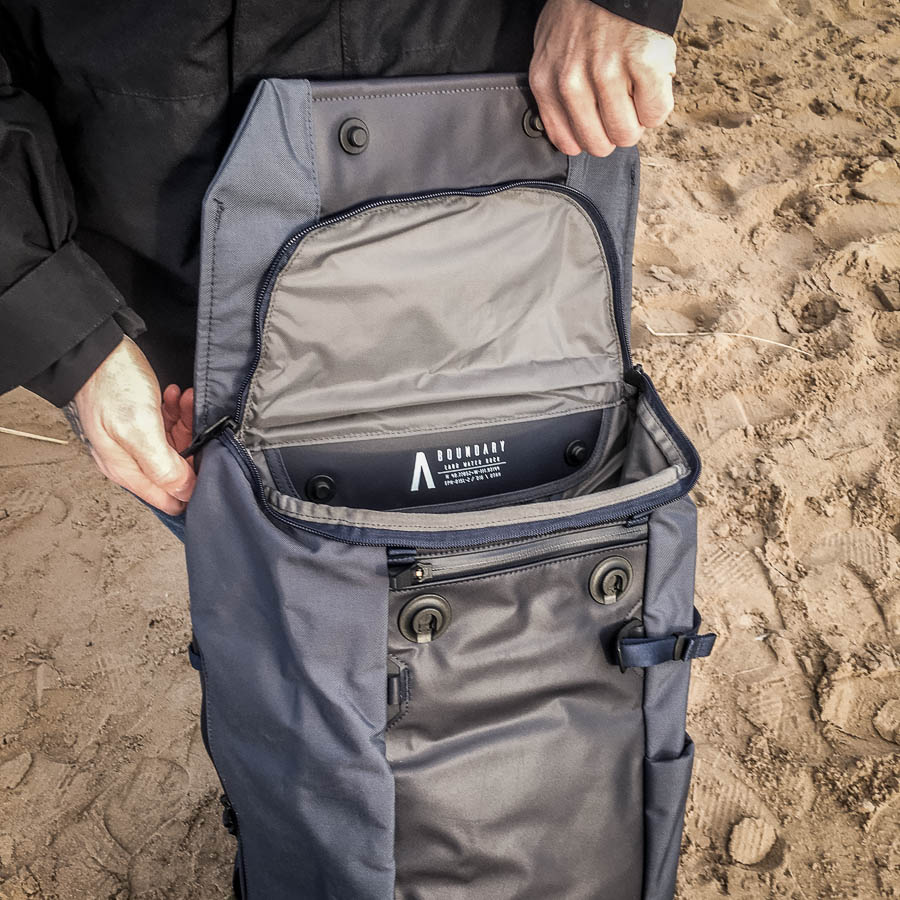 The main storage compartment is primarily accessed from the top. This is where I keep my clothes when I'm traveling and where I throw my groceries when I take this to the store. This compartment is spacious enough to store perhaps enough clothing for a weekend break. The main storage also has a couple of little pockets on the inside which would be useful for passport storage.
Bottom Storage Pocket
Directly underneath the main storage compartment, there is a small, bottom storage section which zips open. I'd mostly use this for dirty laundry or maybe for storing underwear. You could get a pair of sandals & flip flops if you wanted.
Water Bottle Compartment
On the outside right, there is a compartment to slot a water bottle into. I never leave home without a re-usable water bottle. Stay hydrated folks!
Then, there are a few other smaller external zip acece pockets. The front one, the so called "Commuter Pocket" is ideal for sticking your keys, coins and bus pass.
Laptop Storage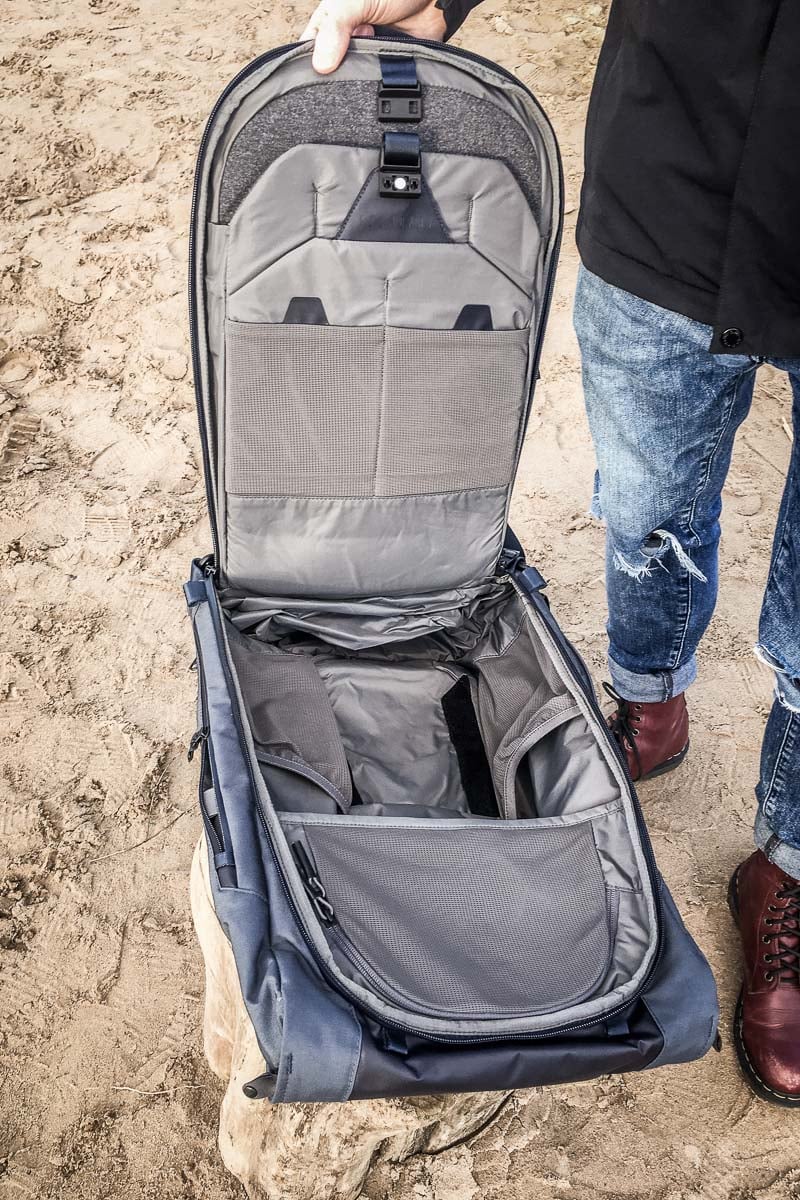 At the rear of the pack, there is a delightful fully openable tortoise shell type compartment which seems primarily designed for putting your laptop or tablet. The section fully zips open to the point it kinda resembles a mini carry-on case.
Whilst I have been using this purely as a laptop compartment, it is actually capable of much more – as I say, it's like a mini carry-on case! On each side there are nylon stretch pockets which are good for holding toiletries, rolled up clothes and towels or even larger items.
Within the main liter space, there are some eyelets, lash straps, magnetic attachment points, and a Velcro sleeve.
These fastening points are actually designed to integrate with some Boundary's other products such as the Boundary MK-2 Camera Case and the CB-1 Photo Insert. (you can buy these items separately or you can get the whole bundle if you want).
Pack Features
We have covered the main performance aspects of the pack but what other feature does it offer? Well one highlight is that the high quality zips are designed to accept padlocks meaning that you can fully secure this pack. This is ideal if you are putting your laptop and passport in there.
The fastening buttons on the front of the pack are also magnetic which is really cool.
The Boundary Supply Errant also has a really useful handle locate on the mid-rear in case you want to use the backpack more like a brief-case/carry-on style pack. If on the other hand you are going to carry this on your bag (like a good roman soldier) then you will be very pleased to learn the pack has both waist and sternum straps to help you spread the pack's weight.
One other thing I really want to call out, is that this pack comes with a Lifetime Warranty. It is a backpack for life and Boundary Supply or really demonstrating some serious faith in their products with this inclusion.
Let's take another look over those features;
Magnetic Hardware Features
Laptop/Tablet Sleeves
Easy Access Clamshell Opening
Breathable Back Pad and Harness
Interior Organization
External Lash Points
Water Bottle Holder
Hidden Passport Pocket
Luggage Pass Through
Lifetime Warranty
Bluesign Manufacturing
Charge Cable Pass Through
Side Commuter Pocket
Nywool Sunglass Pocket
Wet/Dry Shoe Stowage
Locking Zippers
Water/Dust Resistant
Laptop Dimensions: 26cm x 36cm x 2.5cm
Pack Dimension: L: 20" W: 13" D: 6"
Weight: 2 Pounds 15 Ounces
24 Liters of Storage
What Other Backpacks Might You Like?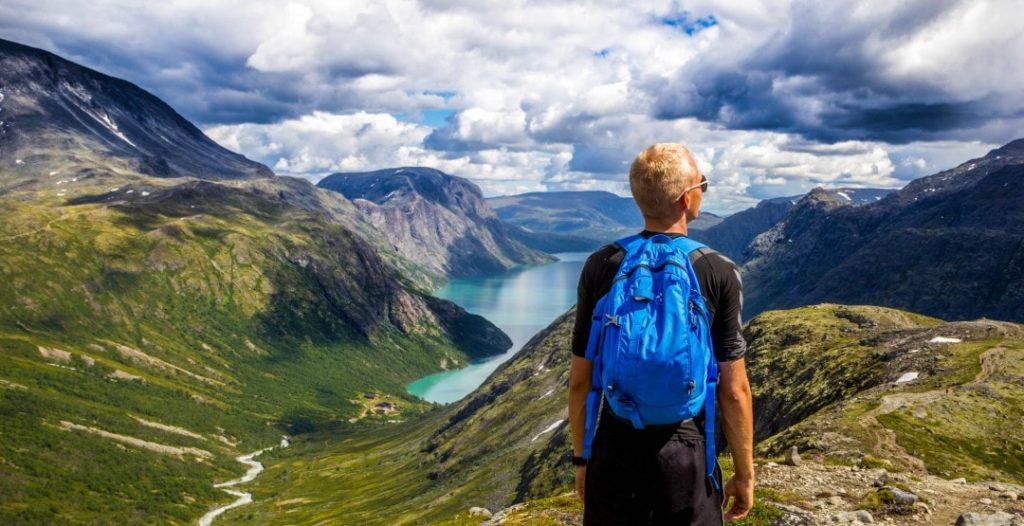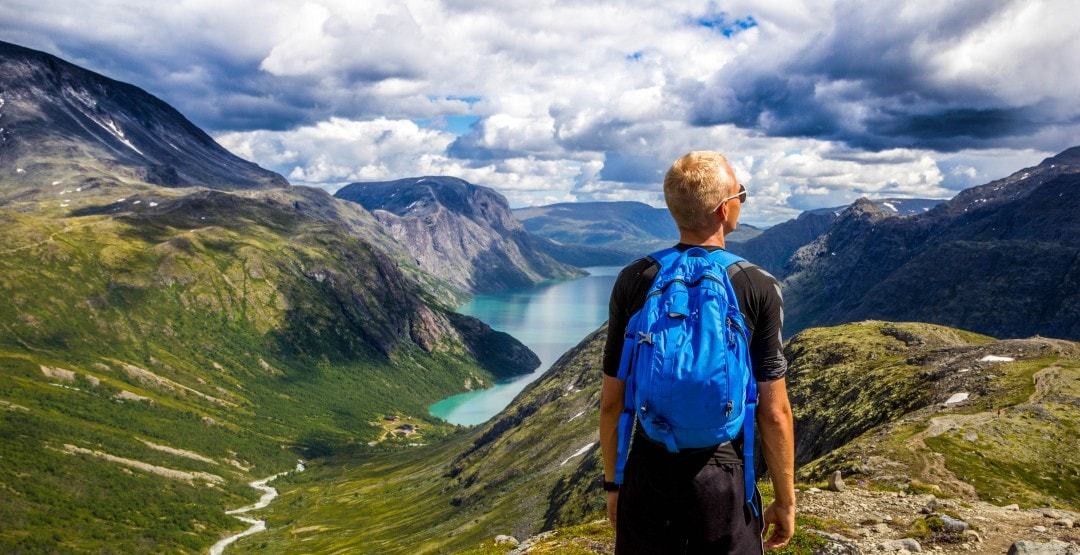 You will probably know by now whether the Boundary Supply Errant is the right pack for you. If it is, then go ahead and buy yours now by clicking on the buttons below!
If it isn't right for you, then worry not. We have tried, tested, loved and loathed LOADS of backpacks over the years and can share the benefit of our experience with you lovely people.
First up, Boundary Supply do offer other epic products. We recently reviewed the slightly bigger Boundary Supply Prima System which may be ideal for you if you like the sound of this pack but need something with more storage.
Or, instead, you should check out the Wandrd Prvke 31, which is another one of our go-to camera bags and a staff favorite.
On the other hand, if you simply want a daypack that is not designed for laptops or gear, then you really cannot go wrong with Osprey Daylite.

Our GREATEST Travel Secrets…
Pop your email here & get the original Broke Backpacker Bible for FREE.
Final Thoughts
So there we have it. The Boundary Supply Errant is a stylish, versatile and very useful day to day backpack. It is especially handy for day to day use for technical creatives such as photographers, bloggers and animators. It is also useful for travelling on short trips if you can travel light.
Whether you decided to buy the pack, another pack, or didn't fancy anything, we hope you found this review helpful. See you next time.
What is our final score for the Boundary Supply Errant Backpack? We give it a rating of 4.5 out 5 stars!

---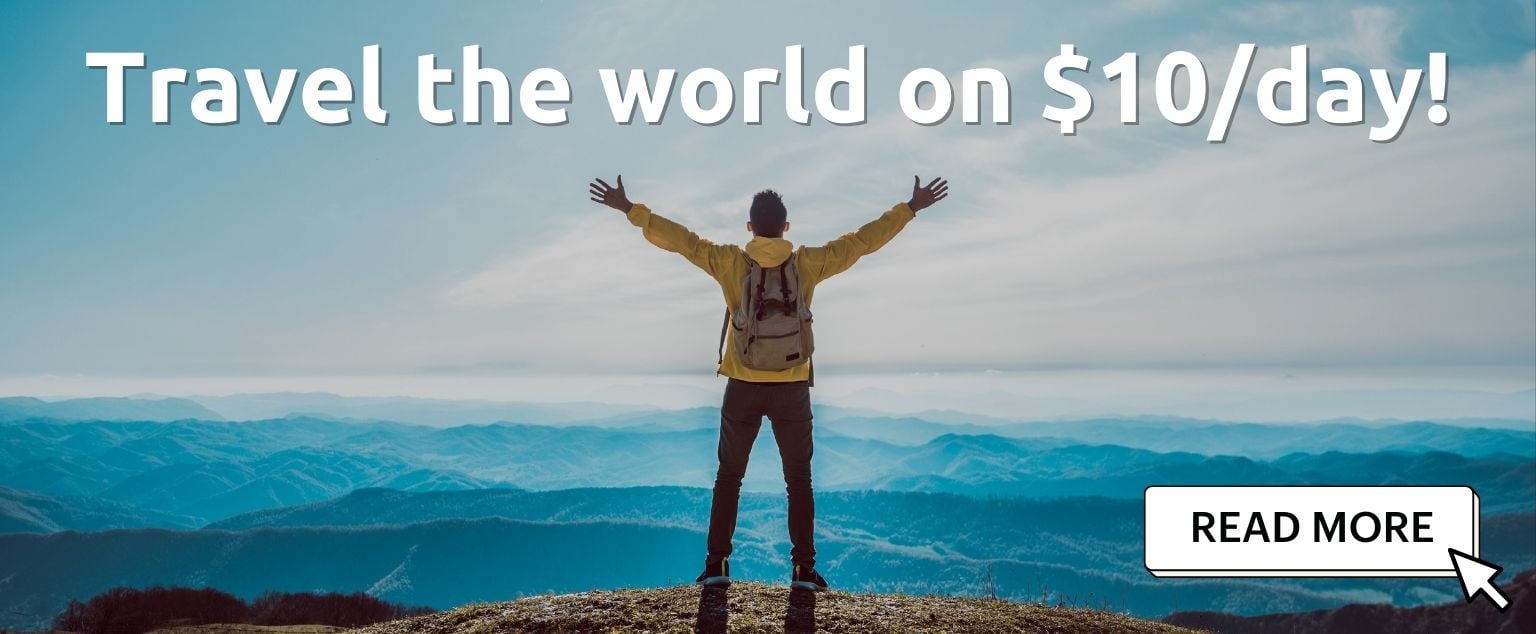 And for transparency's sake, please know that some of the links in our content are affiliate links. That means that if you book your accommodation, buy your gear, or sort your insurance through our link, we earn a small commission (at no extra cost to you). That said, we only link to the gear we trust and never recommend services we don't believe are up to scratch. Again, thank you!