This is my Osprey Kyte 46 review for 2022, where I'll cover everything you need to know about this do-it-all backpack that Osprey has nicknamed, "the chameleon."
I've been using Osprey hiking backpacks for a long time and I've never been disappointed with Osprey's quality, durability, and versatility. Recently, I have been able to test out the all-new 2022 women's Osprey Kyte 46!
Osprey leads the pack (see what I did there?) when it comes to the best hiking backpacks. I have tried on many different brands, but no other backpack has fit me as well as Osprey packs, especially when carrying at least 30 pounds of gear.
They are also serious competition in the seemingly saturated travel backpack game. Osprey is unique due to their patented technology, lifetime warranty, and a very specific series of backpacks in ranges of sizes and types of travel.
They make a bag for everything, whether that is a day trip, multi-week thru-hike, urban travel, or mountain biking. The Osprey Kyte 46 is changing that a bit, as this backpack is pretty perfect for a variety of activities – hence the nickname "chameleon." It is well-suited for overnight trips, lightweight backpacking excursions, and international travel.
The following extremely detailed Osprey Kyte 46 review deconstructs everything you could possibly ever want to know (and more) about the Osprey Kyte 46 women's backpack.
Take a look at my  honest information to decide if this is the right pack for your backpacking and traveling needs. Get ready, because this Osprey Kyte reviews will knock the others out of the water!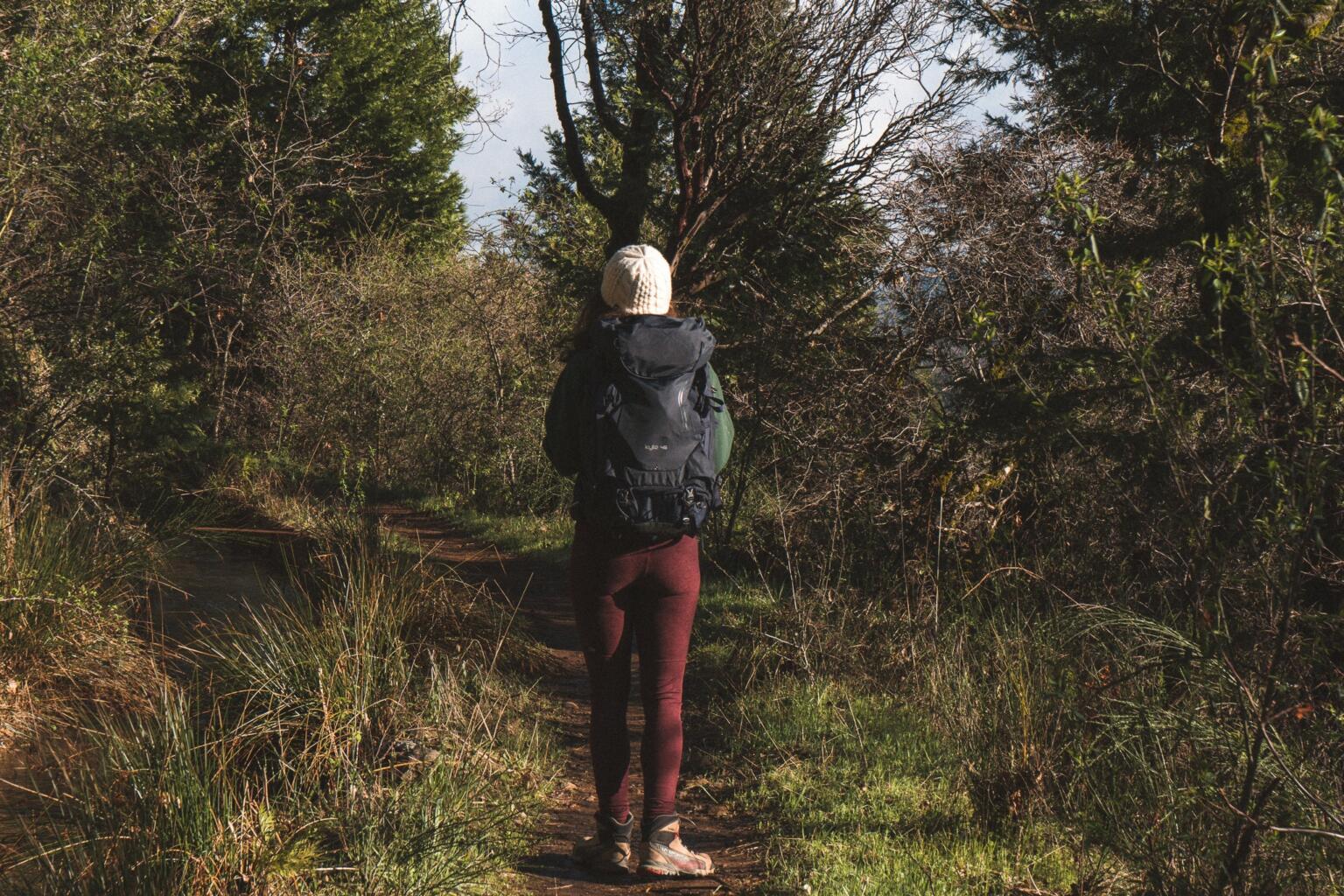 A Pack For All Occasions: The Versatility of the Osprey Kyte 46
As I've already mentioned, Osprey specializes in designing and producing a range of backpacks for specific activities and practical applications. For example, they design packs for long trips, short overnight hikes, sporting, camping, roller-backpacks for urban travel, day hikes, biking, running, school, and just for popping down to the shops.
Sometimes you just want a backpack that works for everything rather than buying a backpack for every occasion. Your closet space, bank account, and the planet will thank you for buying less backpacks.
The Osprey Kyte 46 is the ideal choice if you are looking looking for multi-day hiking or camping backpack that is lightweight and yet really durable. It is also a great pack if you want to take your bag as carry-on luggage, so it's great for backpackers and travelers alike.
In the following sections, I will explore the key features found in the Osprey Kyte 46, including its weight, organizational options, breathability, fit/sizing, and, of course, how it compares to against other backpacks in its category.
Ladies & Gents, It's Time to Step Your GEAR Game Up. 😉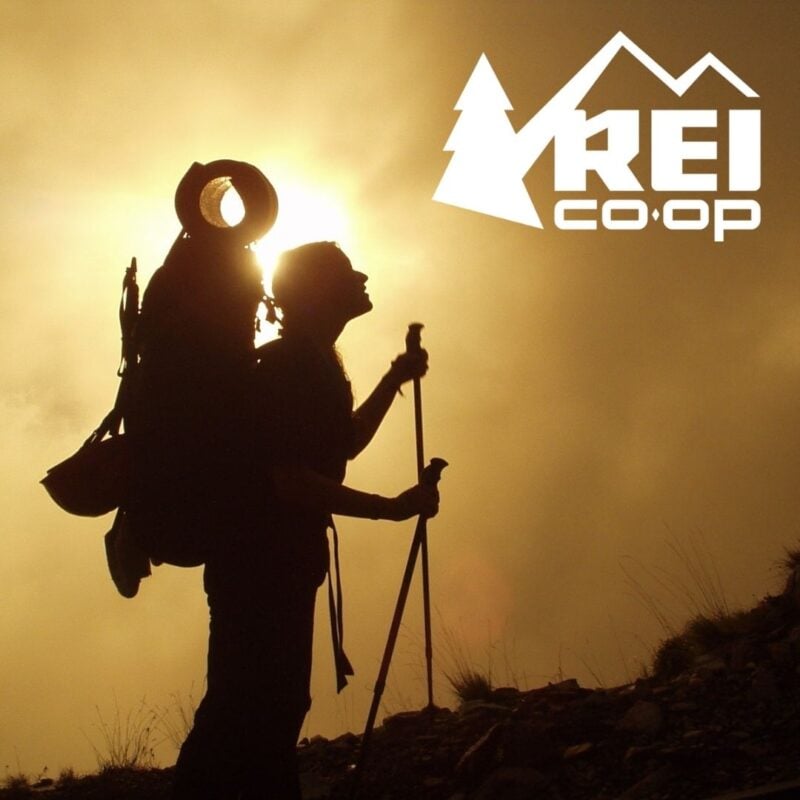 REI is one of America's biggest and most-loved outdoor gear retailers.
Now, for just $30, get a lifetime membership that entitles you to 10% OFF on most items, access to their trade-in scheme and discount rentals.
Join REI Today!
Quick Answer: The Osprey Kyte 46 is perfect for You if…
You are a woman
Your main need is a hiking backpack for 2-5 days.
You are only packing the bare essentials for your backpacking trip.
A full-featured backpack is more important than a minimalist style..
You want to take a backpack as a carry on for your flight.
You need a backpack with a built-in rain cover.
A backpack with the ability to attach a sleeping pad/tent is important to you.
You need a backpack that is adjustable and extremely comfortable.
A kickass lifetime guarantee is important to you!
You want to look cool whilst trekking.
The Osprey Kyte 46 is the brand's no-frill solution for backpackers, hikers, campers and festival goers needing a straight-up backpack for short(ish) trips.
As with a lot of the Osprey range, one of the Kyte's best qualities is its weight. The Osprey Kyte 46 weighs almost half as much as my other backpack! While it is smaller, this weight difference is extremely attractive, not just for thru-hiking but traveling too!
The best part about Osprey is that the Kyte 46 does not compromise comfort for weight. The way I see it: what's the point of going lightweight if it doesn't feel comfortable. Isn't that why we keep our bags light in the first place!?
The Osprey Kyte was designed with the same quality, ventilation features, and adjustability as Osprey's bigger hiking backpacks.
If the above-mentioned features are important to you, then the Kyte 48 is an incredible option for backpacking and travel. That said, the Osprey Kyte 46 isn't for everyone and the section below dives into its limits.
Quick Answer: The Osprey Kyte is NOT the perfect backpack for you if…
You are planning a long trip and need heaps of food. The capacity is only around 46 liter.
Your average trip will be a multi-day, winter camping trip where you will need heavy gear.
This pack is out of your price range. These packs are not budget buys.
If you need a backpack for urban travel only and do no plan to trek, you may be better of with the AER Travel Pack 2 or an alternative, like the Tortuga, instead.
You want a travel bag with wheels. This bag doesn't have wheels, but the Osprey Transporter does!
Not all Osprey backpacks were created equal. They are all unique and have their strengths and weaknesses. Some are meant for winter camping and durable enpugh for long and heavy treks. Others are meant for ultralight thru-hikes. Entire lines are dedicated to travel and not fit for hiking at all.
The Kyte tries to fit a couple of these catagories, but that also means there may be a pack more specifically suited to your needs. Although I have only owned mine for a couple of weeks, I've already used it for a couple of overnight trips, hikes, and even taken it to a festival!
I am planning to use it in the Himalayas in just a few weeks too. Talk about versatility!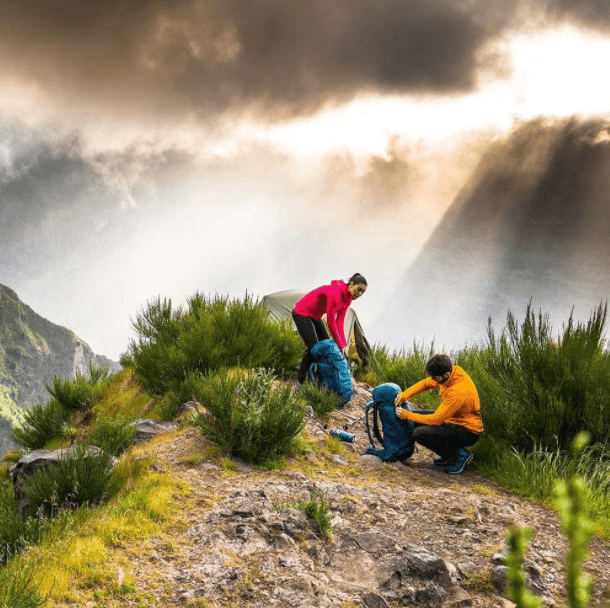 If I am going to a city, however, I will probably just use another bag or luggage more suited for electronics and suitcase-like organization. Since most of my travel incorporates some type of hiking, I love this backpack, but for trips that take me to the pavement, I'll forego a hiking backpack altogether.
The best present of all… is CONVENIENCE!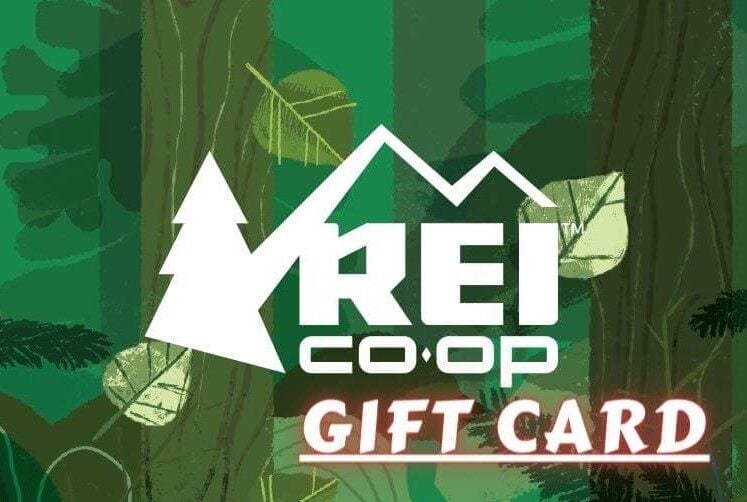 Now, you could spend a fat chunk of $$$ on the WRONG present for someone. Wrong size hiking boots, wrong fit backpack, wrong shape sleeping bag… As any adventurer will tell you, gear is a personal choice.
So give the adventurer in your life the gift of convenience: buy them an REI Co-op gift card! REI is The Broke Backpacker's retailer of choice for ALL things outdoors, and an REI gift card is the perfect present you can buy from them. And then you won't have to keep the receipt. 😉
Buy on REI!
The theme here is that the Osprey Kyte 46 is one of most functional backpacks I've ever owened. They've done a great job trimming the fat (and weight) while still designing a highly functional bag that will take you onto flights and into the mountains.
The women's-specific Osprey Kyte 46 includes key features, like a separate zippered sleeping bag compartment and external sleeping pad straps, StraightJacket side compression straps, their LightWire frame and mesh harness and hipbelt, and patented suspension system and mesh back panel that keeps you cool in warm conditions.
Other storage features on the Osprey Kyte 46 womens bag include their front and side access, full-length zippered side pocket, top lid, and under-lied zippered pockets, side mesh water bottle pockets, and front grab-n-go style pocket. Talk about organization!
Finally, the Osprey Kyte 46 includes some awesome nice-to-have features, like an external hydration sleeve, tuck-away ice tool loops/trekking pole attachments, and an integrated raincover.
Check out this video for more information!
Osprey Kyte 46 Warranty (The awesome 'All Mighty Guarantee')
Osprey's lifetime warranty (dubbed the All Mighty Guarantee!) is pretty unique in the industry and is definitely one of the best things about the Osprey brand.
The All Mighty Guarantee is a lifetime warranty, meaning that Osprey will fix many problems free of charge. Of course, you will have to pay the shipping cost to get it to the repair center but it's still a lot cheaper than having to buy another pack.
This warranty is great for seasoned adventurers because you will need this guarantee eventually!
I truly believe that a lifetime warranty for your backpack is one of the most valuable things you can have. This is a testament to Osprey's high-quality products as they believe that their backpacks should last for a lifetime.
Truth be told, I still haven't had to use Osprey's customer service because my backpacks have held up through years of abuse with absolutely no issues, which just goes to show how awesome these packs are.
That said, my co-workers and friends here at the Broke Backpacker have mentioned that Osprey's Customers Service is great and their repair centers' communication and turnaround times are very commendable.
It's worth noting that the All Mighty Guarantee does not include environmental damage or airline damage. More importantly, it doesn't necessarily cover wear and tear and is meant for manufacture errors. Make sure to reach out to the call centers if you have any questions or isses regarding a repair. They will hook you up or help you out.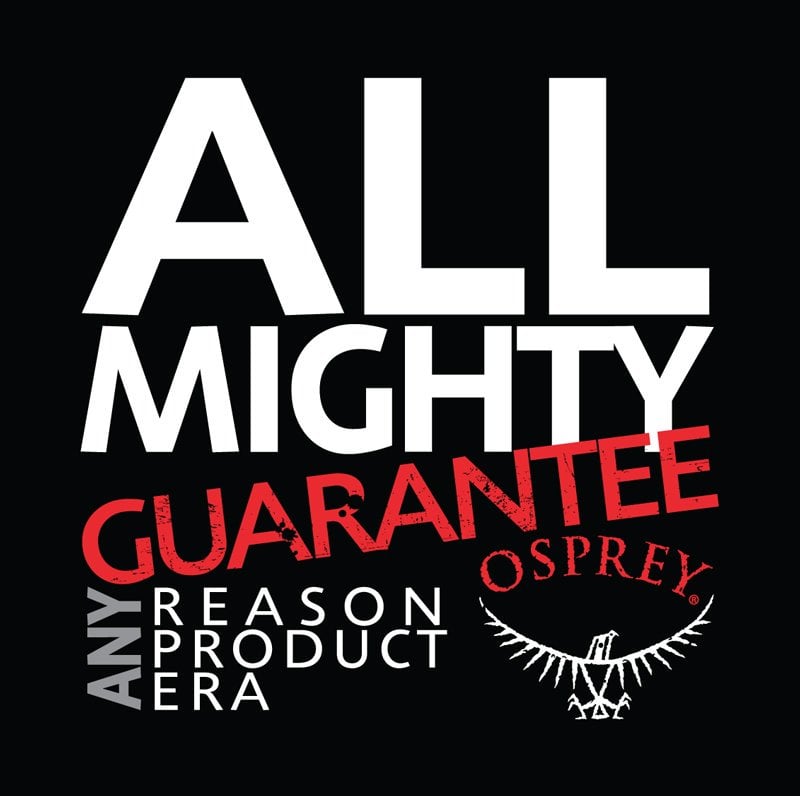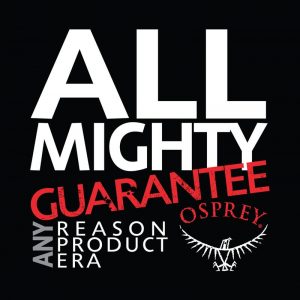 The new and improved Kyte 46 is better than ever. The 2020 version now includes an adjustable front pocket that also uses nylon on the front! I am really digging this new, more durable pocket.
The side mesh water bottle holders are now accessible from the sides too. The hip belt pockets are not large enough to fit a large cell phone (versus before). The back panels and ventilation has also been improved.
Other features include better padding, sturdier buckles, and new colors! I think that all of these improvements make the 2020 version well worth the purchase versus one of their older versions.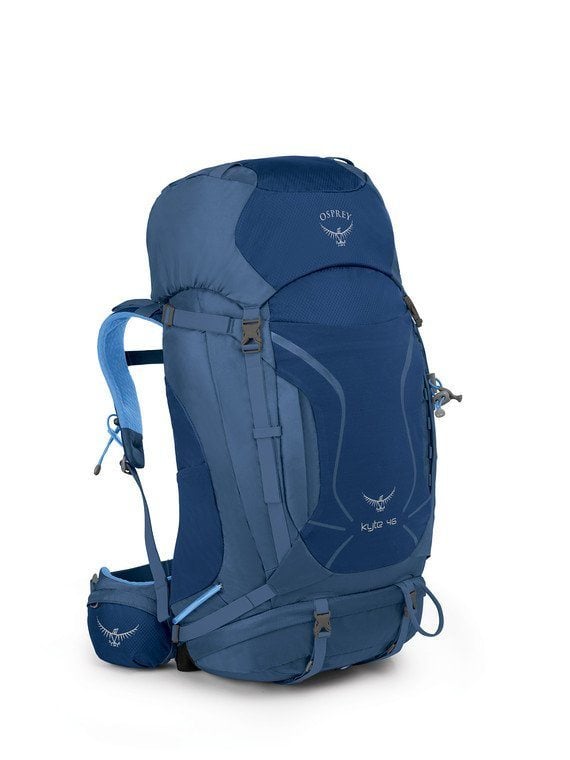 Osprey Kyte 46 Size and Fit
The Osprey Kyte line is built specifically for women! It comes in two sizes: 36 and 46 liters; where as the men's version (Kestrel) comes in sizes 38 and 48.
For more information on the men's version, see our full Men's Kestrel 48 Review.
For simplicity's sake, I am reviewing the women specific Osprey Kyte 46. This backpack is the perfect size for 2-5 day camping trips and hikes, as well as light travel trips. I am planning to live out of this backpack on my trip to the Himalayas and then to Bali too.
The pack is sold in two sizes: extra small/small and small/medium, but the backpack is highly adjustable and will fit a wide range of torso lengths. This means the Osprey Kyte 46 dimensions are great for almost all body sizes and types.
Because this is a women's specific backpack, it has shoulder straps that won't pinch or chafe your chest or underarms and a hip belt that flared to wrap around women's curvier torso and hips. Other than these specific size adjustments and a slightly smaller liter size, the Kyte is the same backpack as the men's Kestrel.
Why the Osprey Kyte 46 Suspension System is Amazing and Comfortable
As we already know, the tensioned back panel can quickly be adjusted to fit a wide range of torso lengths whilst also providing ventilation to reduce sweating.
The LightWire frame shifts the weight of the load onto the hip belt. This is absolutely essential to take the weight off the backpacker's shoulders and provides a balanced and comfortable carrying experience.
The suspension system also includes the Airspack Backpanel, a mesh covered ridged foam that allows ventilation while still keeping the backpack load close to the body.
Finally, the spacer mesh harness and hipbelt help you support the weight while remaining comfortable and breathable.
Trust me when I say this suspension system makes it feel like you are carrying double the weight. I would much rather use this backpack than my regular daypack, which eventually puts a lot of strain on my shoulders, even on days when I'm walking through airports! And because this backpack is 46 liters, it's not overkill as a day backpack.
Osprey's recommend load capacity limit is between 15-25KG or 25-40 pounds. For a backpack this size though (46 liters) I can't really imagine how you would want to carry over 35 pounds anyway. If you plan on using a hiking backpack for more, you're probably going to need a 55 liter + sized bag.
Osprey Kyte 46 Durability
Osprey is famous for its extremely durable packs and awesome customer service. As I have already discussed, one testament to the pack's durability is the All Mighty Guarantee.
Osprey Kyte 46 Weight
Quick Answer: Up to 3.55 LBS
The extra small/small backpack is a tad lighter (3.42 LBS). This isn't the most lightweight backpack on the market, but I don't know how you can make a bag this comfortable and durable, with a full suspension system too, even lighter.
When you go hiking (or do the long walk through an airport), every last ounce or gram matters. As someone who owns a backpack that is 5 pounds, I feel confident in saying that you don't want a backpack this size any heavier! This light base weight will help you keep your trail weight to a bare minimum!
Osprey Kyte 46 Storage and Organizational Features
Let's get to some of the most important features… storage and organization!
The Osprey Kyte 46 has great organizational features, especially for a hiking backpack! It's not overkill, yet user-friendly.
Firstly, you have the main compartment that is reachable from the top and side! This new zipper side access is great, though I haven't decided if I like the side or front access better. Either way, I think multiple access points that allow you to reach the bottom of the pack are absolutely essential. I don't think I can ever choose a top-loading backpack only.
You can also reach the main compartment through the separate sleeping bag/pad apartment. There is a divider here that can be removed if you want to make the main compartment bigger.
One can easily secure a tent or a sleeping pad on the outside of the sleeping bag compartment using the compression straps too, which will give you more space inside the pack.
All said, with 46 liters of storage space plus the exterior straps, you should be able to pack everything you need for a weekend camping trip or even a multi-week traveling trips where you don't need to pack food or tons of gear.
Osprey Kyte 46 Pockets
I really think that this backpack has just enough pocket to keep you organized without becoming bulky or confusing.
One of my favorite pockets is the front stretch pocket to stow away wet clothing as well as grab and go items, like your jacket. The dual front panel daisy chains also allow for extra external attachment points.
There are two large hip belt pockets that are great for your phone, wallet, snacks, and valuables.
Next, you have a side zipper pocket that I use for storing smaller clothing items on the trails (like my beanie, scarf, and socks), or electronics when I'm traveling (like my chargers, pens, etc.)
There are also two zippered pocket on the top lid as well as under it. These two pockets are also great for keeping smaller items organized. Note that the top lid is not a floating lid like other Osprey backpacks.
It is also possible to attach larger items (such as a sleeping pad) onto the lower external straps. Then your sleeping bag can be stored in the base compartment with internal zip divider.
The two mesh pockets on each side – though not zippered – provide ample space for a water bottle and other gear storage, like your tripod.
As I have said, this pack is perfect for multi-day hikes and camping trips as well as traveling. Because it is a hiking backpack, it isn't going to open wide like a suitcase, but the multiple access points still allow you to reach your items without taking the entire bag apart.
The only problem with using this as a travel bag is that there is not a separate laptop compartment. If you are traveling with a laptop, you will want to be extra careful!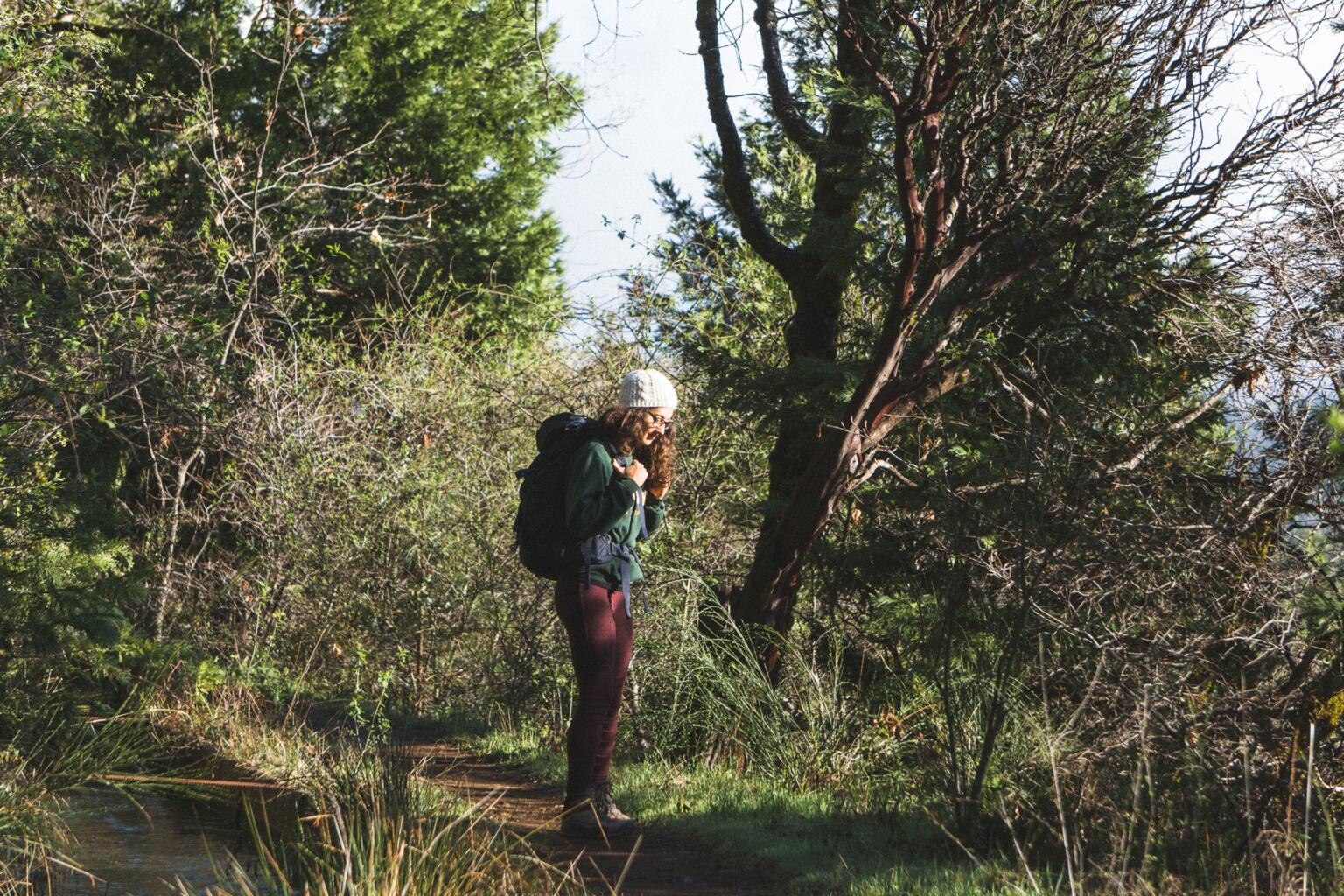 Stow on the Go Trekking Pole Features
If you like to trek with poles, Osprey developed an awesome "Stow-on-the-Go" system, which means no more 'pack on pack off' to store your trekking poles.
Instead, you simply pass the poles through two elasticated loops for a hands-free solution. There is even an ice axe loop that may prove useful in winter conditions.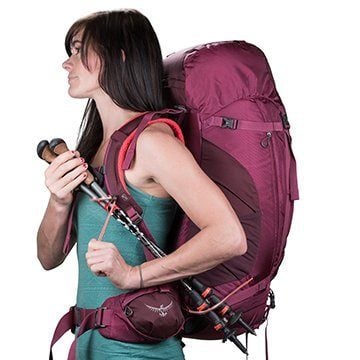 Using the Sternum Straps, Shoulder Pads, and Hip Belt Adjustments
This woman specific backpack is almost identical to the men's version (the Kestrel), but the biggest differences will be found around hte shoulder straps and padding. The Kyte has s-shaped shoulder pads to curve around a woman's chest. The sternum strap is also easy to reposition up or down.
The hip belt has also been designed with women figures in mind as it wraps around curvier hips easier. As I mentioned before, the hip belt features two pockets: one on each side.
Osprey Kyte 46 Price
$180.00 USD
Osprey products are definitely not cheap, but what do you expect when you are buying a high-quality backpack? That said, $180 is quite a good deal for a pack with this functionality! You can find packs as low as $100 but I think the $80 is worth the extra investment.
Plus, last I checked this backpack was on sale on Osprey's site, so you could be getting an even better deal!
Often times, Osprey backpacks can have a bit of a cringeworthy price, but I don't think $180 is a massive investment for such a versatile and functional pack.
Does the Osprey Kyte 46 Come with a Rain Cover?
Finally, Osprey has been including integrated rain covers with their backpacks.
The rain cover on the Kyte sits in its own storage pocket, so it can be pulled out quickly when a storm rolls in. Plus, you can't forget your rain cover at home anymore!
The rain cover is also adjustable to the shape of your backpack so it won't fall or blow off!
Even though this backpack comes with a raincover, I also recommend using dry bags, especially for your sleeping bag! Packing dry bags provide that extra bit if protection to keep your sleeping clothes and gear dry. (There is nothing worse than dealing with a wet sleeping bag.)
If you need a 100% waterproof humidity-proof backpack, check out our in-depth review on the best waterproof backpacks for adventurers.
The short answer is YES, the Osprey Kyte is good for carry on travel! Most airlines technically only allow around 40 liters to 45 liters, but there isn't an international standard. Moreover, they tend to be stricter for suitcases versus backpacks.
I strongly recommend checking with your airlines, especially for those ultra-strict European budget airlines. That said, the Kyte 46 should be allowed at least 75% of the time, especially if it isn't packed to the brim and you make full use of the compression straps.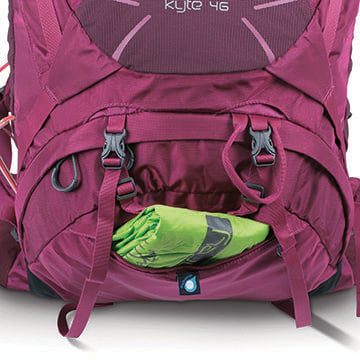 Is the Osprey Kyte 46 Compatible with a Hydration Reservoir?
Yes! While the Osprey hydration reservoir is sold separately, the backpack does have a separate external sleeve for a reservoir!
Having an external pocket makes it so much easier to get out, refill, and repack. It also makes it each to check how much water you have left.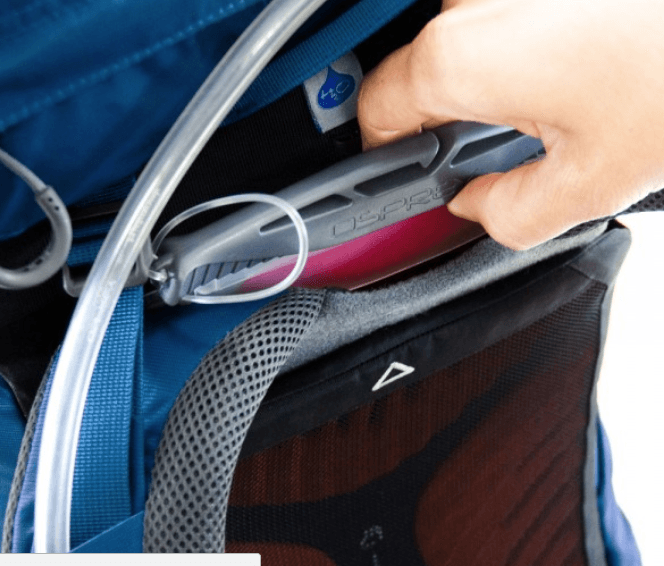 Osprey Kyte 46 vs the Competition
The Osprey Kyte 46 has several competitors even within the Osprey brand (a bit of sibling rivalry never hurt!)
Just a tad bigger, the Osprey Renn 50 is a great ultralight hiking backpack. It weighs about the same as the 46, but with a bit more room and a slightly cheaper price.
Some storage and organizational features are different though; for example, the top lid is a floating (removable) lid, but doesn't an underside top lid pocket. The Renn does not have a front mehsh pocket either, which is one of my least favorite parts. Check out our full Renn 50 review for more information!
The Osprey Eja 48 is a very similar backpack that is fully framed and ultralight. It has less features but also weighs about a pound less, which is huge if you are counting ounces on the trails.
While I haven't used the Eja yet, we do have a full review on the men's version. For a complete looking at Exos backpack, check out this comprehensive Osprey Exos 58 review.
Another competitor is the Kyte 36, the smaller version of the backpack. The Kyte 36 liter is better if you want a daypack, but the 46 liter is much more versatile and customizable.
Finally, Osprey has entire lines dedicated to much longer and hardier trips. If you are going on backpacking trips over 5 days long, you should consider a bigger backpack, like the Ariel 65.
Osprey Renn 50 vs the Competition Comparison Table

| Backpack Model | Weight | Rain Cover Included? | Total # of Pockets | Sleeping Bag Compartment? | Price |
| --- | --- | --- | --- | --- | --- |
| Osprey Renn 50 | 3.31 lbs | Yes | 5 + main compartment | Yes | $155.00 |
| Osprey Kyte 46 | 3 lbs. 6.1 oz. | Yes | 6 + main compartment | Yes | $180.00 |
| Osprey Ariel 65 | 4 lbs. 15.2 oz. | Yes | 7 + main compartment | Yes | $310.00 |
Cons of the Osprey Kyte 46
No backpack is perfect (although The Broke Backpacker does have plans to one day invent one. Stay tuned). We feel and important part of an Osprey Kyte 46 review is to talk about it's weak points too.
My main gripe is that the metal frame ventilation system on the back makes the pack inflexible for a daypack, but this is the trade-off for comfort. While I think this is the perfect size for a carry on backpack, it's not always enough space for longer journeys, but again, there are other packs for that!
Finally, the Kyte 46 is just on the cusp of being a "lightweight" backpack. At 3 and a half pounds, I wouldn't say this is an ultralight backpack, and Osprey makes lighter packs around the same size. If you are buying a backpack primarily for thru-hiking, then I would look at the Eja series, which will save you trail weight.

Our GREATEST Travel Secrets…
Pop your email here & get the original Broke Backpacker Bible for FREE.
Final Thoughts on the Osprey Kyte 46 Review
Congratulations! You just made it through my detailed Osprey Kyte 46 review. As an avid backpacker, traveler, and hiker, I have been using Osprey backpacks for a few years now, and have yet to find any backpack with a better or more comfortable suspension system.
These bags are also made to last, which is greatly appreciated in a modern age where most things seem to be built to be replaced.
The Kyte 46 is is highly functional and fully-featured without crossing the fine line of having too many straps and pockets.
Moreover, it's actually quite affordable when you consider the quality and versatility you get! As I've said before, I have already used this backpack for a couple of overnight excursions, a hiking trip, and a weekend at a music festival. My next stops are month long international travel trips! How is that for versatility!?
Did I leave anything out? Do you have something to add to this Kyte 46 review from your own experience? Let us know by leaving a comment below!
When it comes to women's hiking backpack reviews, we reckon the Osprey Kyte 46 is right up there as the best on the market.
What is our final score for the Osprey Kyte 46? We give it a rating of 4.7 out 5 stars!

---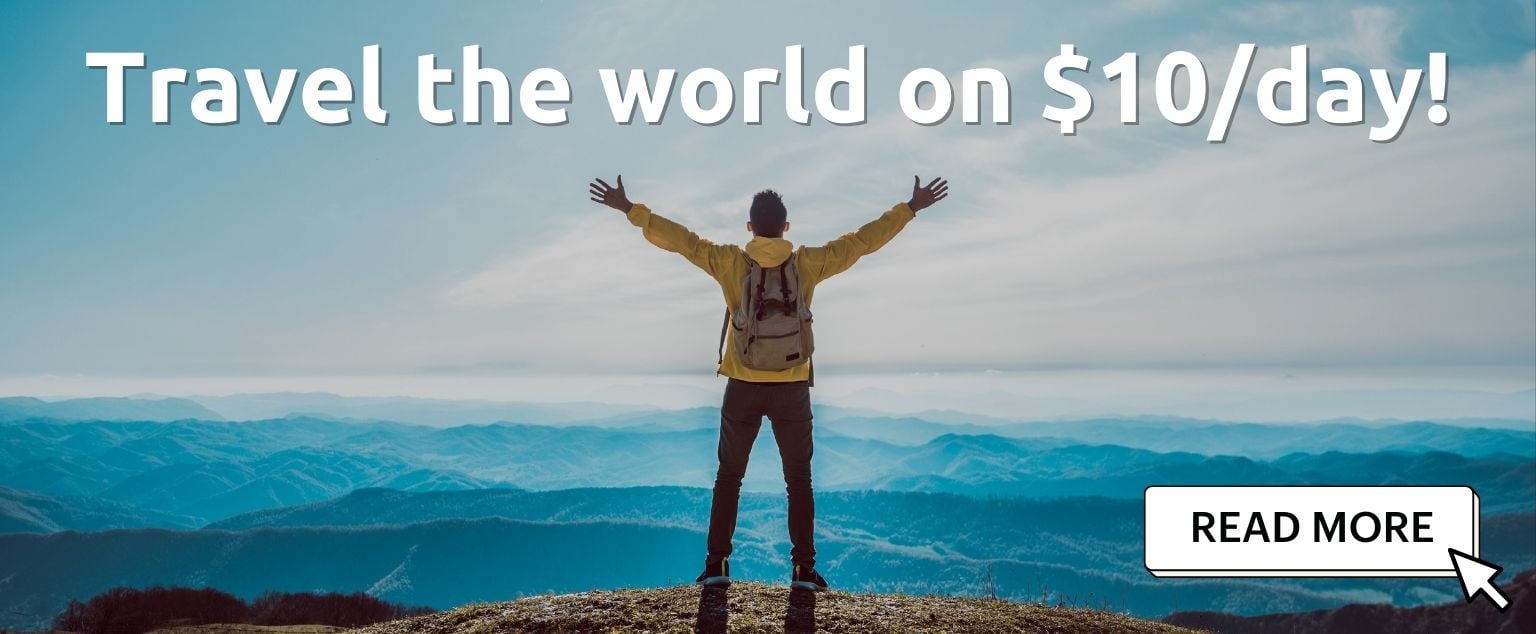 And for transparency's sake, please know that some of the links in our content are affiliate links. That means that if you book your accommodation, buy your gear, or sort your insurance through our link, we earn a small commission (at no extra cost to you). That said, we only link to the gear we trust and never recommend services we don't believe are up to scratch. Again, thank you!