Welcome to my Osprey Renn 50 review!
Osprey has been upping their game recently with the launch of several new lines of women hiking backpacks.
We love Osprey backpacks because they consistently produce gear that is durable, affordable, and comfortable. Oh, and all their backpacks come with the legendary All Mighty Guarantee, which provides lifetime protection against defects.
This review breaks down everything you need to know about the brand new Osprey Renn 50 women's backpack so that you can decide whether this pack is the right fit for your next big adventure outdoors.
Osprey is really good and designing backpacks for specific activities and practical applications.
The Osprey Renn 50 is the ideal choice for someone looking for a mid-size multi-day hiking backpack that is at once lightweight and tough as nails.
By the end of this Renn 50 review, you will have all of the facts you need to decide whether the Osprey Renn 50 is one of the best hiking backpacks for women in 2022.
Below, I cover the Osprey Renn 50's key features, weight, organizational options, breathability, fit/sizing, and how it stands up against other backpacks in its category.
Let's get to it and see what this Osprey women's backpack is all about…
Quick Answer: The Osprey Renn 50 is perfect for You if…
You plan to go on overnight backpacking trips.
A lightweight backpack is more important to you than tons of features.
You don't travel with a TON of things.
You plan to travel in a warm place like South East Asia.
You want a backpack that includes a rain cover.
Having a backpack with a sleeping bag compartment is a must.
You need a backpack that is highly adjustable and comfortable.
You want a backpack with a lifetime guarantee.
The Osprey Renn 50 is the company's no-frills solution for female backpackers who want an honest, solid backpack at a reasonable price point.
One of Renn's best qualities is its weight (or lack thereof). The Renn 50 weighs roughly half as much as other backpacks in its class, making it very attractive to ultralight/minimalist hikers. If you're looking for an ultralight Osprey backpack that you can take on your pretty standard backpacking trip, then this is a great option.
Thankfully, the Renn 50 does not sacrifice comfort and fit in the name of saving weight. The Osprey Renn was designed with the same quality, ventilation features, and adjustability as Osprey's full-featured women's hiking backpacks.
If the above-mentioned features are important to you, then the Renn 50 is going to be a great fit for your backpacking needs.
The Osprey Renn is not for every backpacker though as it does have its limits.
Ladies & Gents, It's Time to Step Your GEAR Game Up. 😉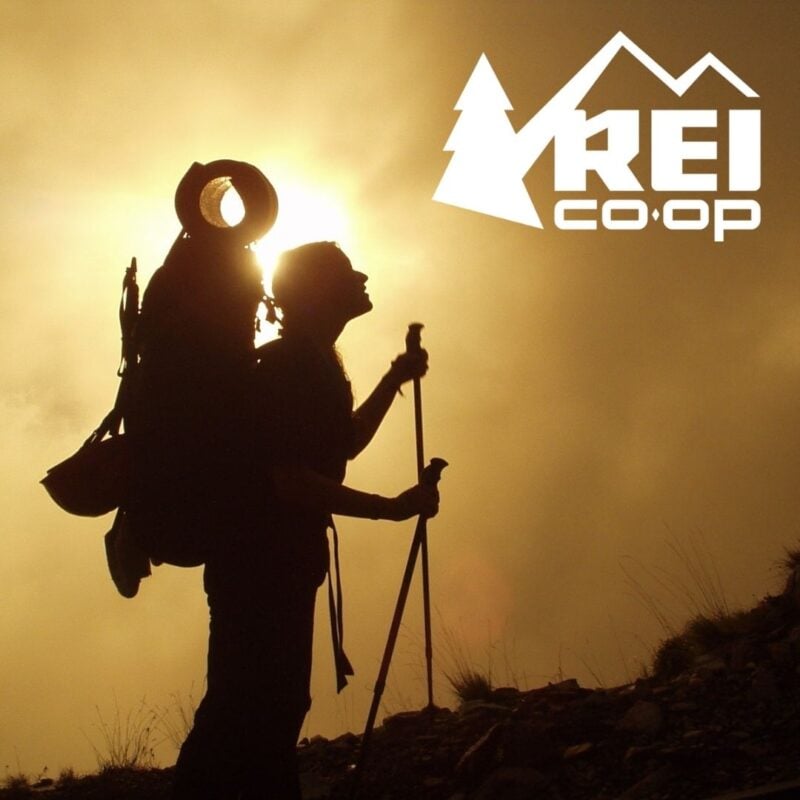 REI is one of America's biggest and most-loved outdoor gear retailers.
Now, for just $30, get a lifetime membership that entitles you to 10% OFF on most items, access to their trade-in scheme and discount rentals.
Join REI Today!
Quick Answer: The Osprey Renn 50 is NOT the perfect backpack for you if…
You are planning a multi-day winter camping trip.
You don't travel light.
Your goal is to buy a more technical hiking backpack.
You have no desire to do any trekking. Check out the AER Travel Pack 3 instead.
You want a travel bag with wheels. You can't hike with wheels!
Thru-hiking is your thing.
Every backpack has its strengths and weaknesses. If you don't plan on using the Renn to hike, then this is probably not the backpack for you.
That's not to say that the Renn doesn't function well in cities. The Renn 50 is branded as a sort of "jill-of-all-trades" backpack, so it can cover you across multiple arenas. That said, if you need storage for electronics, folders, and the related work equipment, you may find the Renn to be ill-suited.
The Renn 50 is a minimalist hiking backpack that offers just enough features where they are really needed. Osprey really went above and beyond to design a backpack that specifically fits female torsos without compromises.
If you are looking to keep your base weight (the backpack weight when empty) to a minimum whilst still having plenty of carry-comfort power, the Renn 50 was built for just that purpose.
Let's take a look at what the Renn 50 has to offer…
Osprey Renn 50 Warranty (The awesome 'All Mighty Guarantee')
Osprey's lifetime warranty (dubbed the All Mighty Guarantee!) is one of the best parts of their products.
Ultimately, the All Mighty Osprey Guarantee is a lifetime warranty, so no matter when you bought your bag, you can mail it to Osprey and they will fix many problems free of charge. You just have to pay the shipping cost to get it there.
Osprey's lifetime guarantee makes buying their bags easy.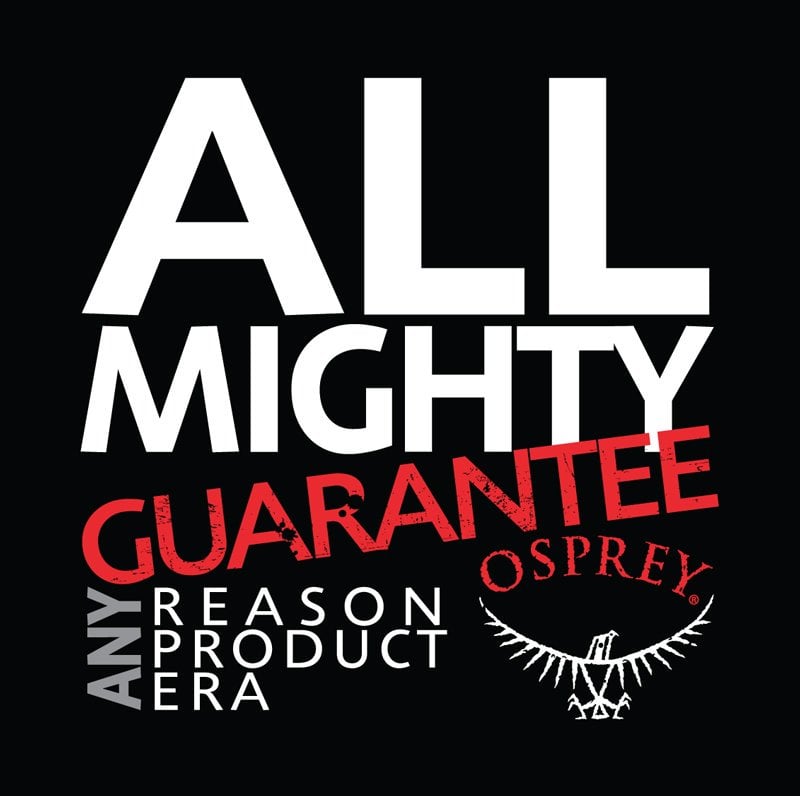 This warranty is great when you spend years trekking through rough conditions and traveling through countless airports! Your backpack is going to need some type of repair eventually!
Because of this, a lifetime warranty for your backpack is one of the most valuable things you can have, and this is a testament to Osprey's high-quality products.
I have personally sent my backpack(s) to Osprey for repairs twice, and each time they were fast, friendly, and sorted my issue without any hassle whatsoever.
However, note that there are some exceptions to the All-Mighty Guarantee. They will not fix accidental damage, hard use, wear & tear or damp related damage. Still, it's a lot better than most guarantees on the market.
The best present of all… is CONVENIENCE!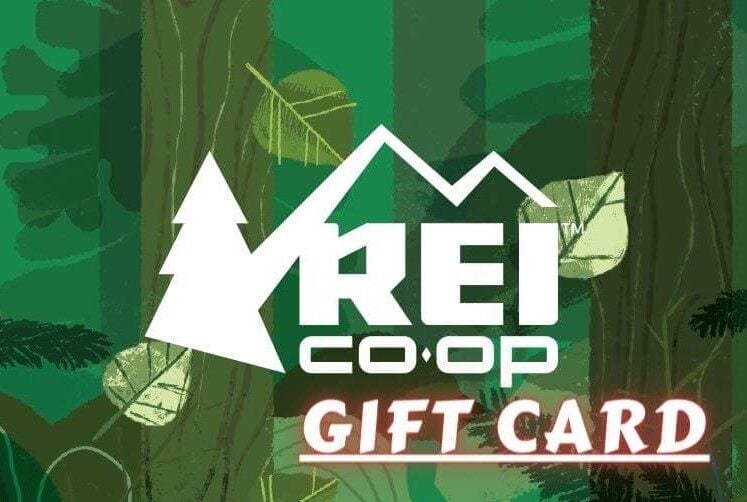 Now, you could spend a fat chunk of $$$ on the WRONG present for someone. Wrong size hiking boots, wrong fit backpack, wrong shape sleeping bag… As any adventurer will tell you, gear is a personal choice.
So give the adventurer in your life the gift of convenience: buy them an REI Co-op gift card! REI is The Broke Backpacker's retailer of choice for ALL things outdoors, and an REI gift card is the perfect present you can buy from them. And then you won't have to keep the receipt. 😉
Buy on REI!
Osprey Renn 50 Size and Fit
The Osprey Renn series actually comes in two different sizes: The Osprey Renn 50 and the Osprey Renn 65.
The Renn 65 provides you with more storage capacity for those long multi-day trips where you need to pack lots of gear, food, and supplies.
Both Renn models come in a one-size-fits-all sizing format. That said, the Renn series backpacks are highly adjustable and can fit a wide variety of torso lengths and Osprey women's backpack sizing is generally spot on.
You can adjust the back panel using the tensioned wire and nylon notches shown below.
I found this system to be a little harder than it looks as the wire is really tight! But once you make the adjustments a few times, you get the hang of it. Also, since your torso size does not change (right?!) you should only have to make the adjustments once.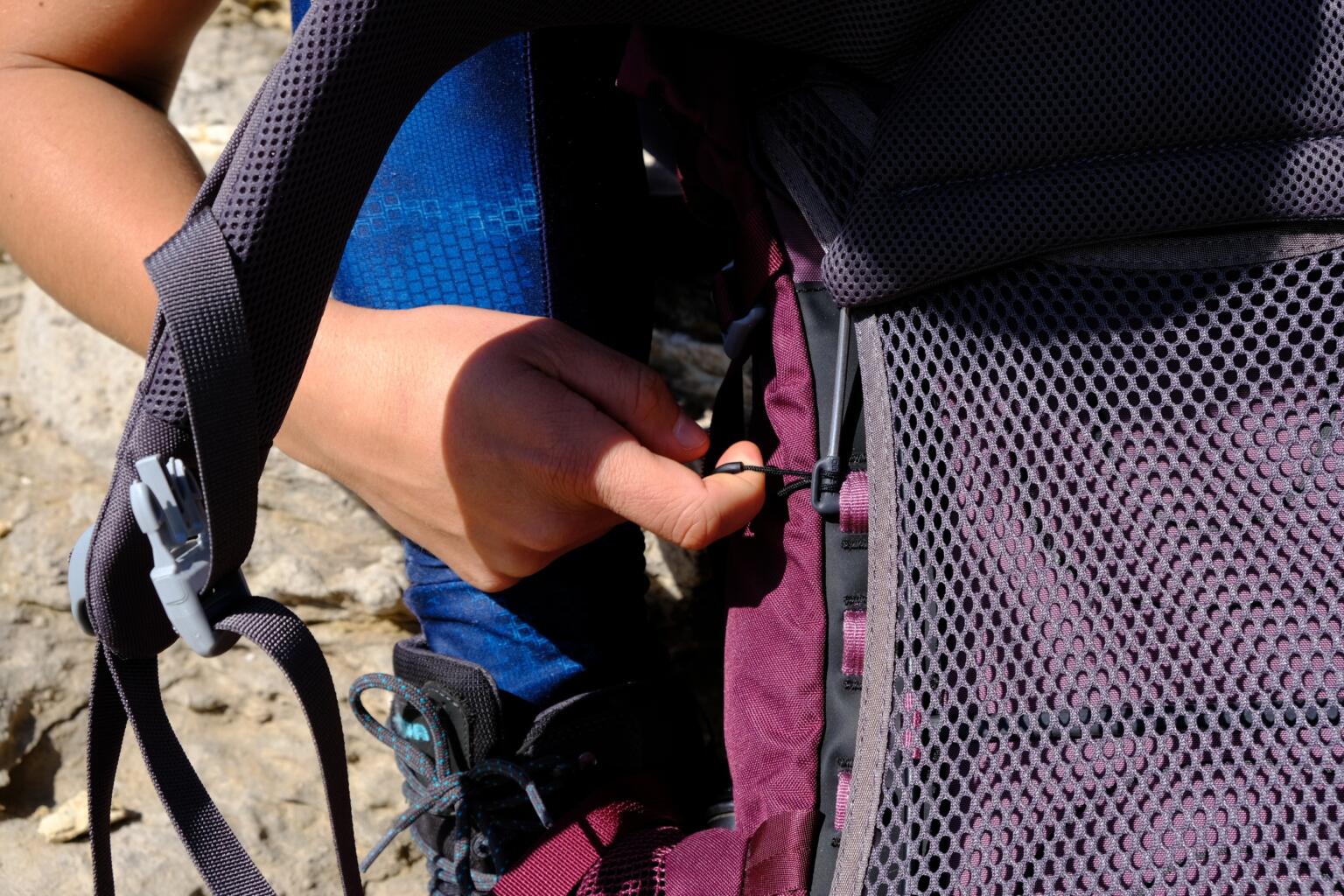 Why the Osprey Renn 50 Airspeed Suspension Kicks Ass…
As I said, the tensioned back panel can be quickly adjusted to fit a wide range of torso lengths while providing ventilation to reduce sweating.
The LightWire frame transfers loads to the hip belt, taking the weight off the backpacker's shoulders and provides a balanced, comfy carrying experience.
The back panel design really does provide superb ventilation. If you have ever been on a punishing hike, you know your back can sweat a river.
The Renn 50 provides ample space for air to flow freely as there are several inches separating your back and the pack.
You are bound to sweat while hiking. That's ok. But having the backpack actively combat stagnant sweaty pockets of yourself goes a long way in cutting down on unnecessary discomfort and water loss.
Osprey's recommend load capacity limit is between 25 – 35 pounds.
Osprey Renn 50 Weight
Quick Answer: 3.31 lbs
All too often, lightweight backpacks simply do not have the same long-lasting durability as backpacks built with heavier material. I must emphasize again how well built the Renn series is.
Compared to the Osprey Ariel 65 (which weighs 4.954 lbs), the Renn 50 is significantly lighter.
When you hike, every ounce/gram matters. Going with a backpack that is light from the start will certainly help you to keep your trail weight to an absolute minimum.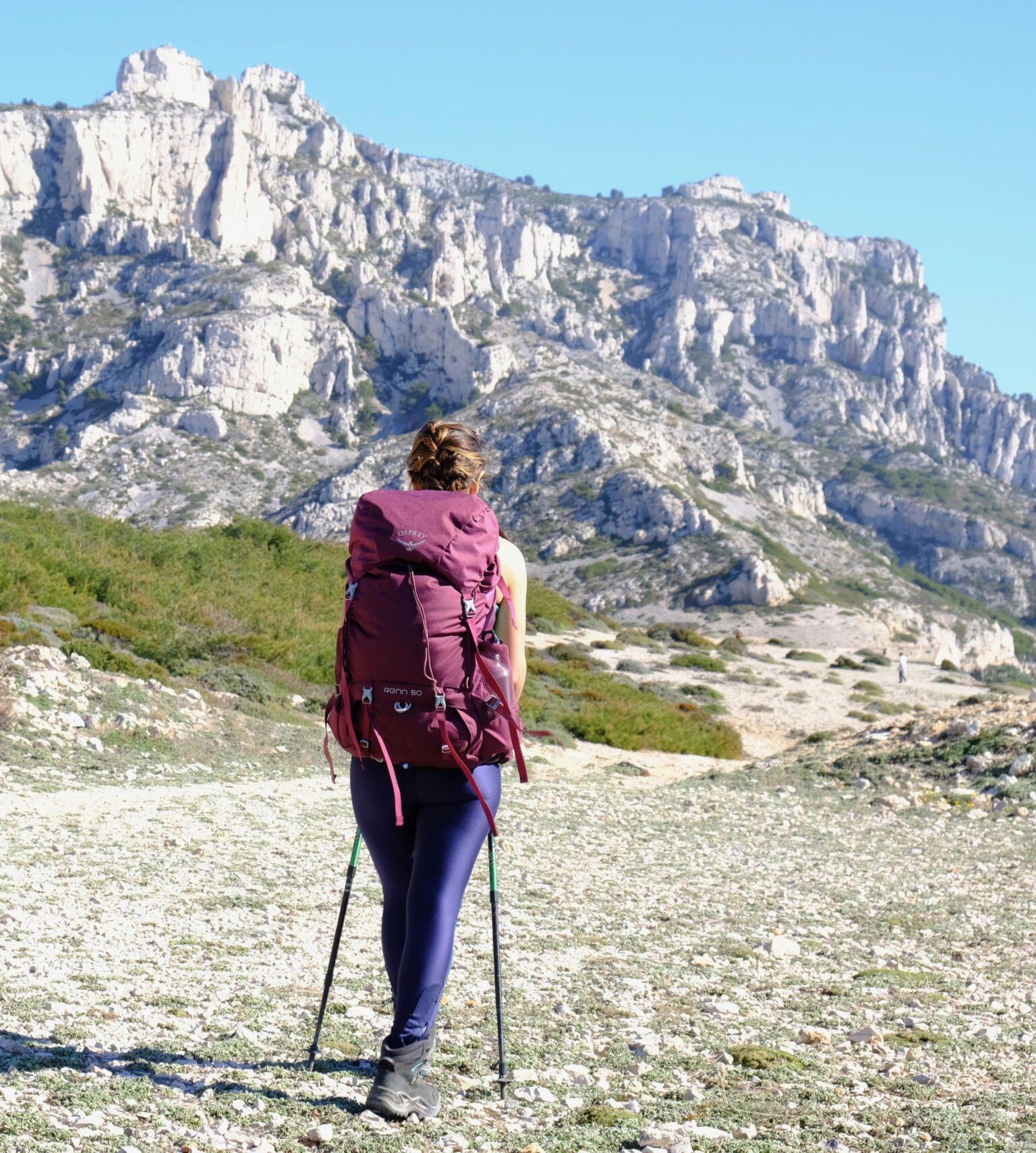 Osprey Renn 50 Storage and Organizational Features
The Osprey Renn 50 is simple and user-friendly. It features a main compartment with a floating divider for the sleeping bag compartment.
The sleeping bag compartment has its own access located at the bottom of the pack. The main "belly" compartment has an adjustable strap so that you can secure the contents of the bag in order to avoid everything moving around.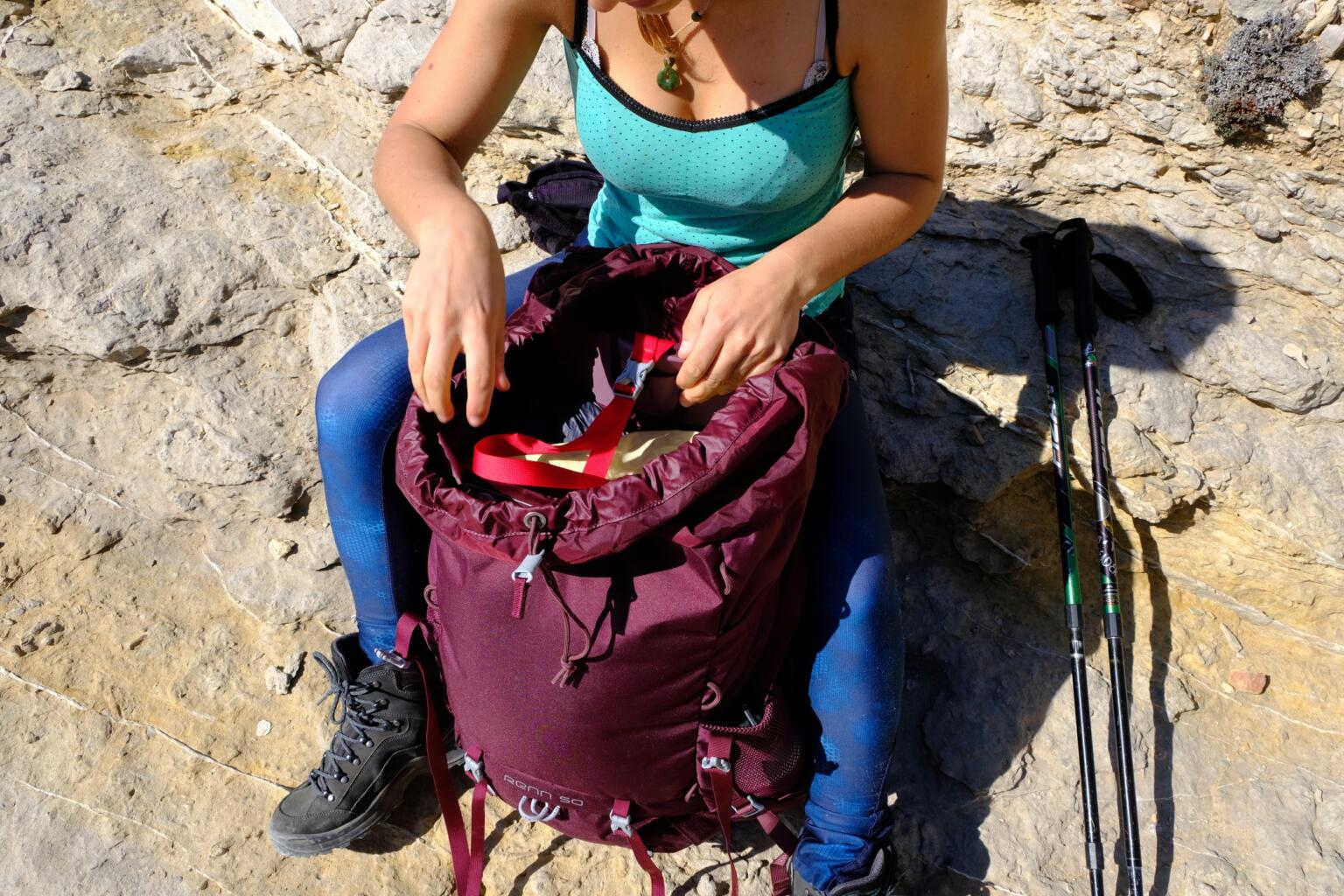 The top lid of the pack has an integrated storage pocket for keeping quick access items close at hand. The two mesh pockets on each side – though not zippered – provide ample space for a water bottle and other gear storage.
More zippered pockets are found on the two hip belts. I love hip belt pockets as they make it easy to access my phone for photos, stash an energy bar, and safeguards my lip balm.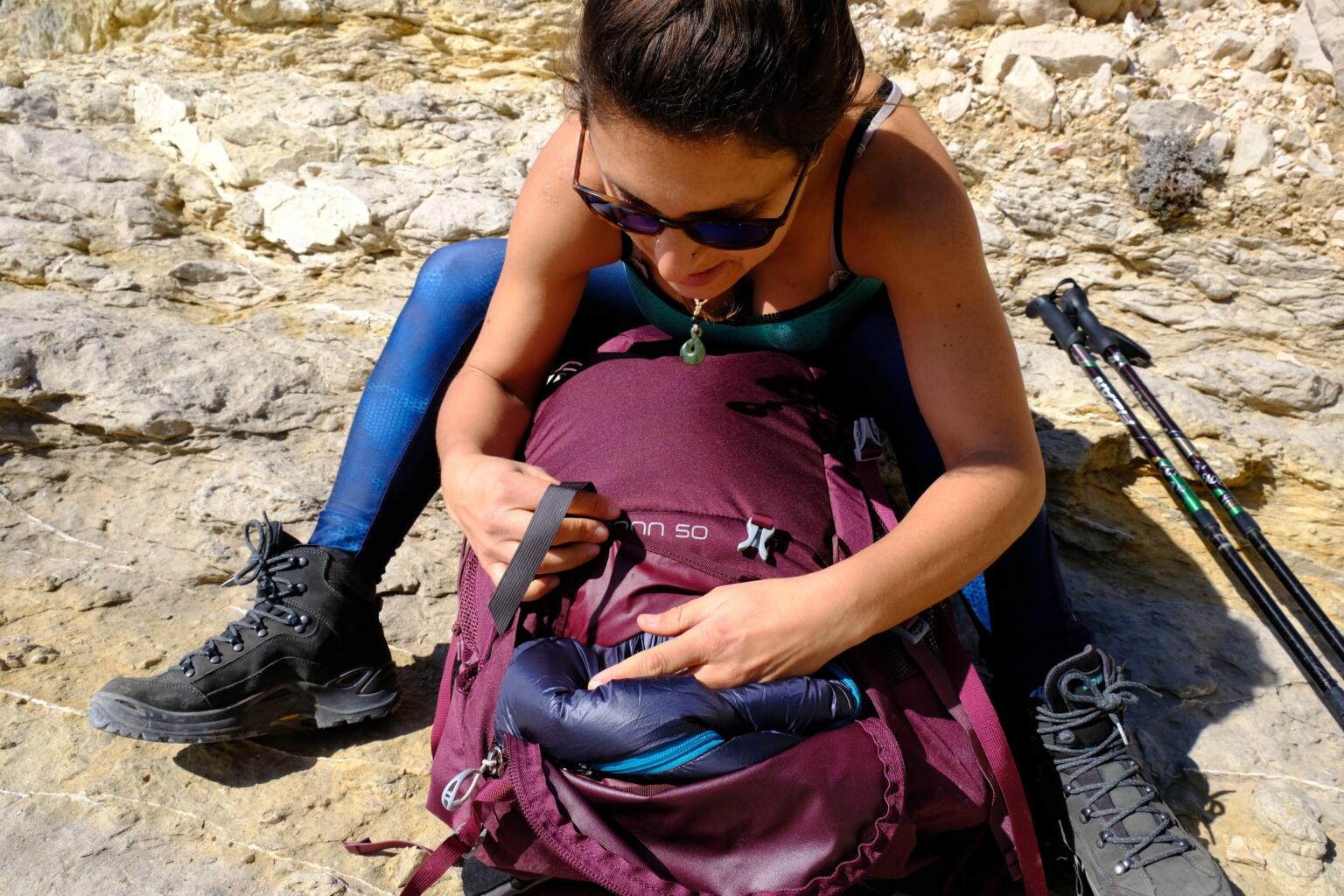 One major drawback, however, is that the Renn 50 does not feature a quick-stash outer mesh pocket. You know, the kind where you can put a wet travel towel or your sandals? These are usually standard on all hiking backpacks, but to save weight, I guess Osprey left it out.
To compensate for that this, they include plenty of compression straps and loops to secure items to the outside of the backpack.
One can easily secure a tent or a sleeping pad on the outside of the sleeping bag compartment using the compression straps.
All said, with 50 liters of storage space plus the exterior straps, you should be able to pack everything you need for a weekend camping trip or a multi-month backpacking trip across South America.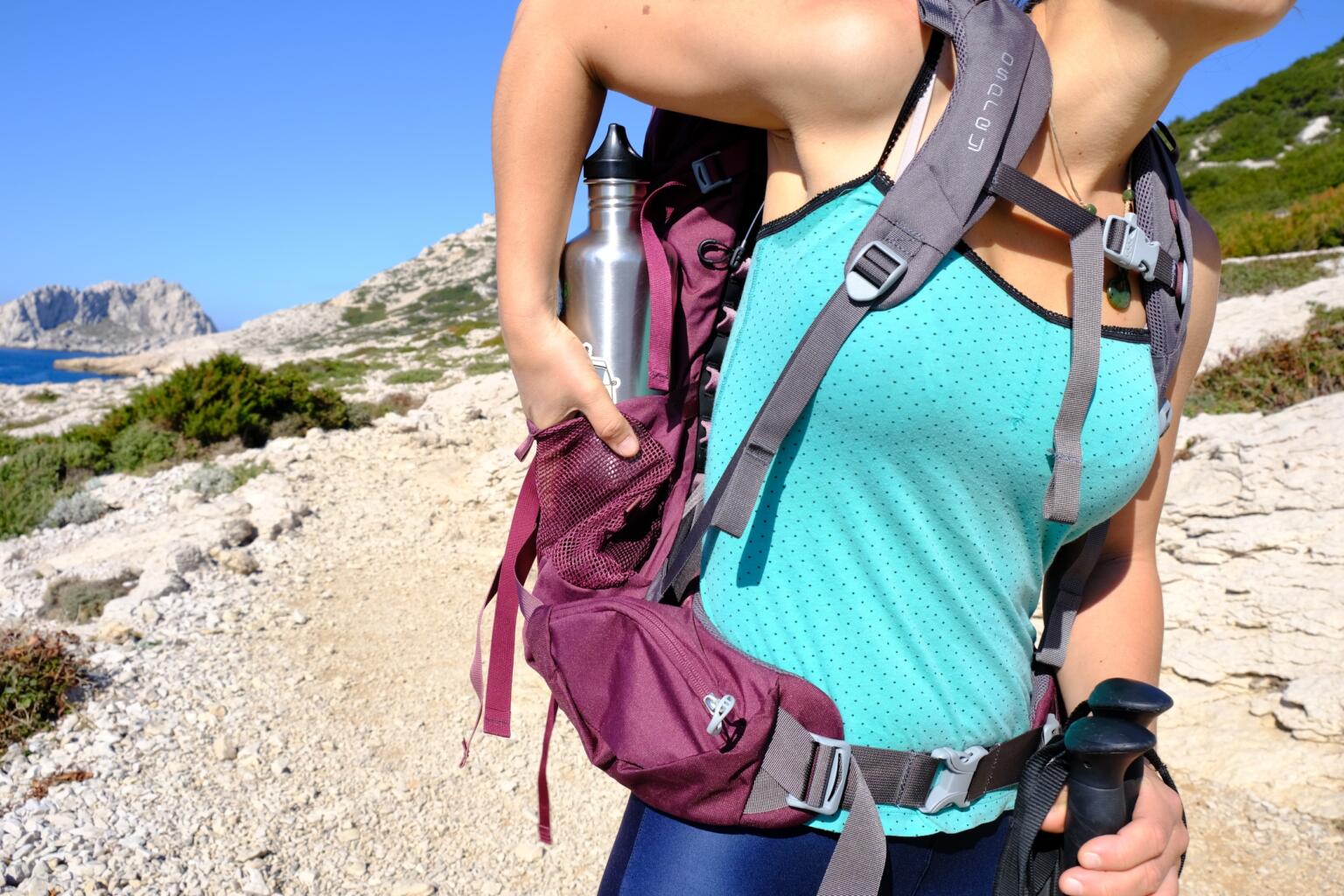 Using the Sternum Straps and Hip Belt Adjustments
For the perfect fit, you will need to adjust the sternum strap and hip belt accordingly. Depending on where you want the sternum strap to be placed, you can fix the sternum strap to an anchored point on the shoulder strap using the clip and eyelets.
This new way to adjust the sternum strap makes it very easy to replace the sternum strap clip as well should one break.
The previous on-rail design made it near impossible to re-attach a sternum strap once it broke or got knocked off.
As I mentioned before, the hip belt features two pockets, one on each side.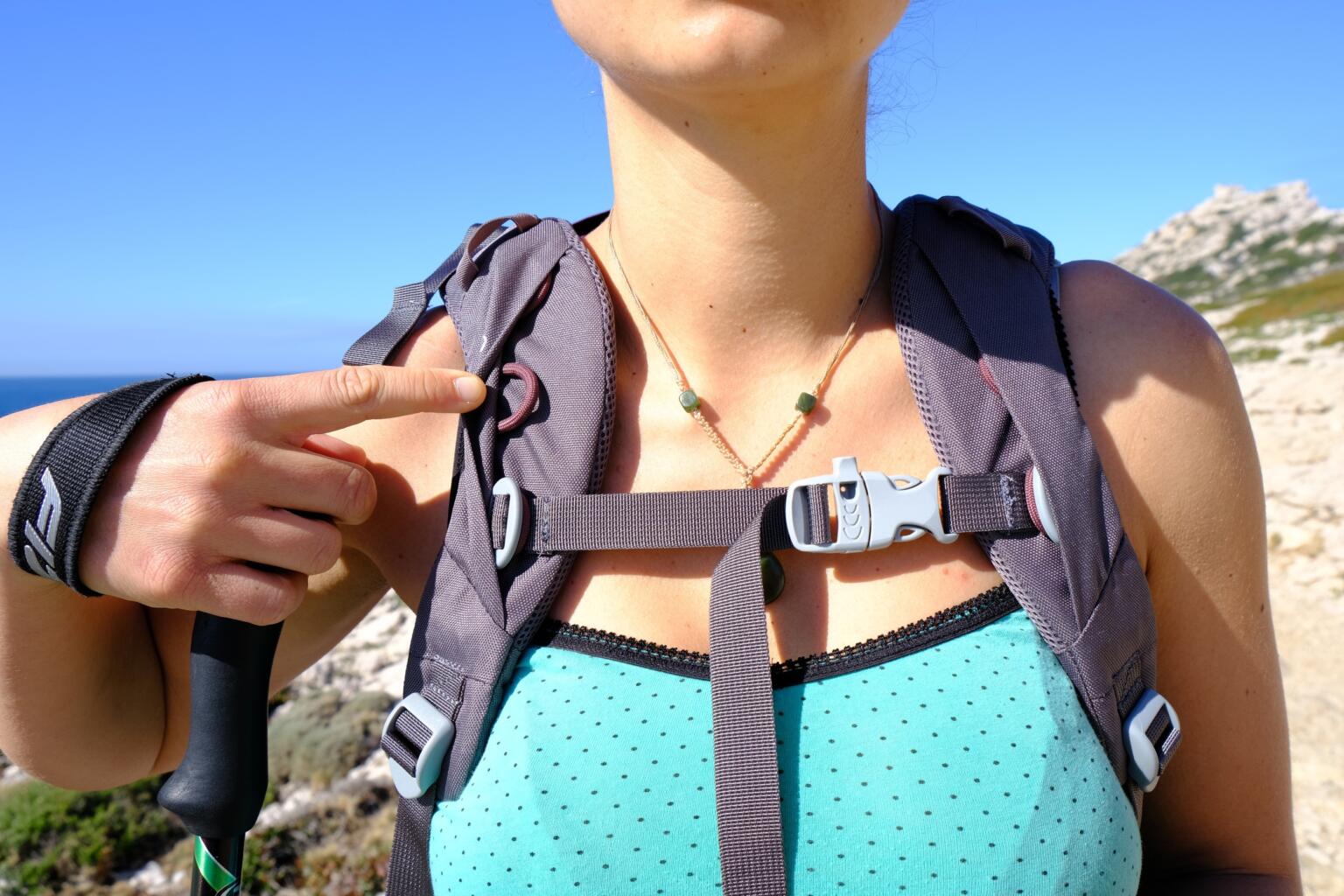 Osprey Renn 50 Price
Quick Answer: $150.00 USD
For a full-sized backpack, the Osprey Renn 50 is sold at a very reasonable price. More technical backpacks often cost more than double that.
The more expensive backpacks are more costly because of added features and durability. That said, just because a backpack is more expensive doesn't mean that it is the better backpack.
The best backpack, in the end, is the backpack that best serves your needs.
My conclusion is this: $150 is not a tremendous investment for a backpack, and you will likely be using the Renn for years to come.
Whether you plan to use it for your main backpack or as just another tool in your outdoor gear arsenal, the Renn 50 delivers tremendous value for what you get in return.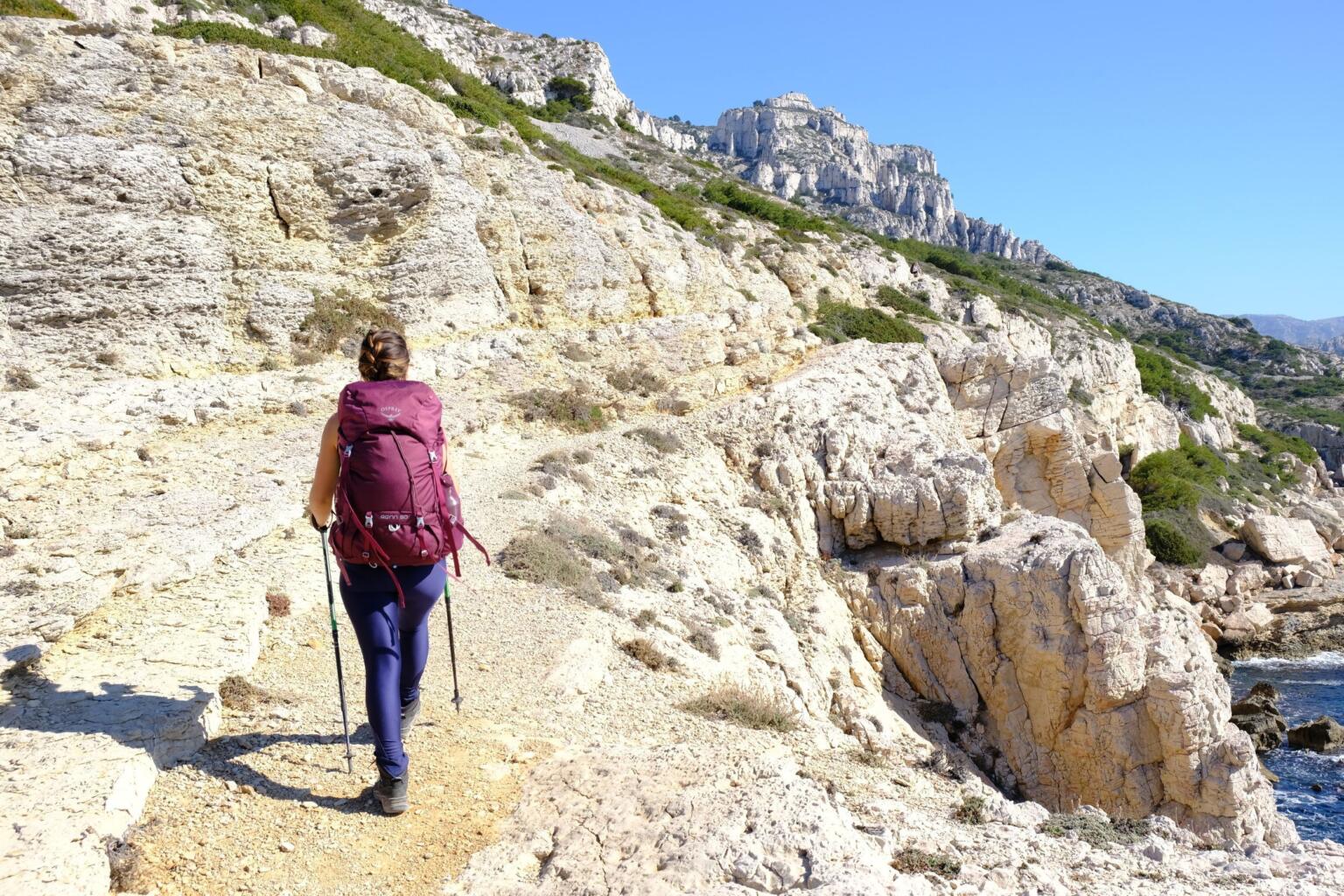 Does the Osprey Renn 50 Come with a Rain Cover?
Yes, the Osprey Renn 50 comes with a rain cover! For years, Osprey did not include rain covers with their backpacks. I hated that. So, no more studying the Osprey rain cover sizing chart to find the right one, because this bad boy comes with one made specifically for this bag!
Why make us buy the rain cover separately when every hiker needs a rain cover!? Thankfully, those days are over and we can forgive Osprey for their shortcomings.
The rain cover on the Renn 50 has its own storage pocket and can be whipped out when the storm clouds roll in at a moments notice.
The rain cover is adjustable, making it easy to secure it to the backpack.
Having a rain cover is crucial for any hiking or travel adventure. When the weather turns bad, you need to keep your things dry, especially your sleeping bag!
Almost as important as having a rain cover is having the ability to access it quickly, and the Renn 50 has come through in that regard.
Even though the Osprey Renn 50 has a badass rain cover, I still pack dry bags because they pretty much guarantee that your stuff will stay dry.
With two layers of protection, you will have peace of mind knowing that there is no way in hell your stuff is getting wet. Between the Osprey rain cover and the dry bags, you will be an unstoppable waterproof force up for any adventure.
If you are going on some crazy adventure into the jungle and want a serious 100% waterproof backpack, check out my in-depth review of the best waterproof backpacks for adventurers.
Is the Osprey Renn 50 Compatible with a Hydration Reservoir?
Yes, it is! If you're on the lookout for a women's 50-liter backpack with hydration reservoir capabilities then this is a great option.
However, the Osprey hydration reservoir is not included and is sold separately.
Having the option of hydration reservoir storage is great if you prefer hiking or traveling with one.
I personally prefer the old fashioned water bottle, but for some hikers, not having a hydration reservoir is a deal breaker.
The internal hydration reservoir sleeve on the Osprey Renn securely holds the reservoir in place so you don't have to worry about it moving around.
If you are new to using hydration reservoirs, it is good to know one has the option so should you go down that road in the future.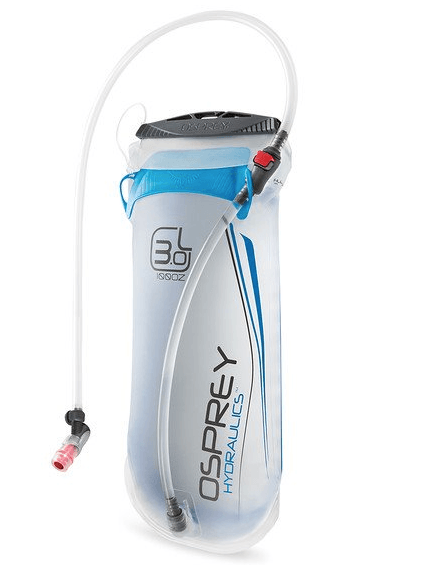 Osprey Renn 50 vs the Competition
The Osprey Renn 50 does have several competitors even within the Osprey brand.
The Osprey Ariel 65 is Osprey's flagship fully-featured technical hiking backpack for women. That was a mouthful, wasn't it? But, it wouldn't be a fair Osprey Renn 50 review without mentioning it.
The Ariel 65 was built to do battle in the mountains. It can comfortably carry double the weight of the Renn, with a carry limit hovering around 60 pounds.
For most casual hikers, you will never need to carry that sort of a load (nor would you want to!). Likewise, the Ariel 65 is built for more long-term thru-hiking functionality. When you live on the trail for months on end, you need your backpack to accommodate your storage and usage needs.
In my opinion, Ariel is clearly the superior backpack for long-distance hikers and long trips (for its durability).
That said, it does weigh quite a bit more than the Renn 50, so some ultralight hikers would not even stop to consider choosing the Ariel 65 over the Renn 50.
And as someone who owns the Ariel 65, I admit that the weight can be annoying for travel.
For long term backpackers, the Renn 50 offers a lighter and simple option, but with fewer storage features. Once you dial in your priorities, you can make the choice between the two.
For more details about the Ariel 65, check out our in-depth Osprey Ariel 65 review.
The Osprey Kyte 46 is another worthy competitor. The Kyte 46 is another fully-featured technical hiking backpack pack well suited to ultralight long distance hikers.
In terms of price, the Kyte 46 costs a mere $25 more than the Renn 50.
Check out our full Osprey Kyte 46 review for more information!
Like the Ariel 65, the more minimalist-minded Kyte 46 features more pockets (zippered and not) and was intended for extended backcountry use. But for its size, the Kite 46 is also quite heavy.
For casual backpackers, the Renn 50 is probably more than enough. When you start getting into more technical or long distance trekking, having a full-featured backpack is more appropriate.
Osprey Renn 50 vs the Competition Comparison Table

| Backpack Model | Weight | Rain Cover Included? | Total # of Pockets | Sleeping Bag Compartment? | Price |
| --- | --- | --- | --- | --- | --- |
| Osprey Renn 50 | 3.31 lbs | Yes | 5 + main compartment | Yes | $155.00 |
| Osprey Kyte 46 | 3 lbs. 6.1 oz. | Yes | 6 + main compartment | Yes | $180.00 |
| Osprey Ariel 65 | 4 lbs. 14.3 oz. | Yes | 7 + main compartment | Yes | $320.00 |
Cons of the Osprey Renn 50
Alas, no backpack is 100% perfect and us humans love to find imperfections in just about everything we buy.
I have mentioned a few aspects of the Renn 50 that I am not a fan of. Below, I highlight a few of them further. Mostly my gripes are pocket related.
Flaw #1 No Quick Stash Front Mesh Pocket
When I am on an extended backpacking or hiking trip, I really rely on having the mesh pocket. Where the hell am I suppose to put my dirty socks? Likewise, when I'm traveling, I like to keep my multisport shoes and other bits inside of the outer mesh pocket.
The fact that the Renn 50 doesn't have one is not a total game changer for me, though I must say it was the first thing I noticed about the backpack.
Flaw #2: No Pocket on the Underside of the Top Lid
When it comes to minimalist gear, not having a ton of extra pockets is just a fact of life. I find it odd that Osprey chose to leave out the underside top lid pocket, but I guess they were trying to save material weight/space?
This is a minor detail, but again, something I noticed right away.
Neither of these flaws is enough to affect my appreciation of the Renn 50 and what it can do. I do realize that this style has had a ton of thought put into the design.
The pockets were left out to save weight. While a few extra pockets may not seem like much, every ounce counts, remember.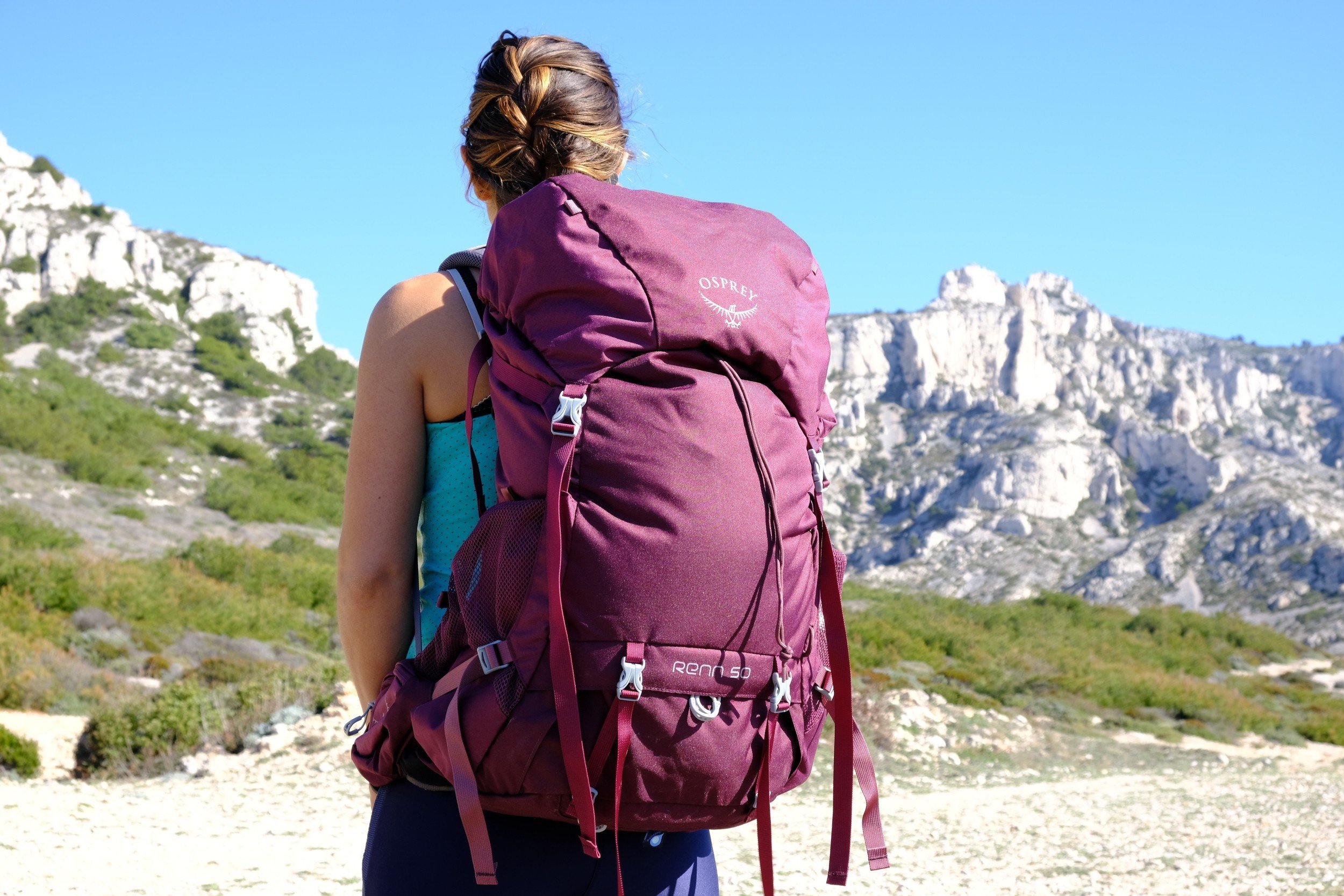 Our GREATEST Travel Secrets…
Pop your email here & get the original Broke Backpacker Bible for FREE.
Final Thoughts on the Osprey Renn 50
There you have it, ladies! You have made it to the end of my Osprey Renn 50 review.
I have been using Osprey backpacks for years, and I must say, the Renn 50 is an excellent backpack for the casual hiker and world traveler.
If you are looking for a stylish, functional, and affordable Osprey backpack, the Renn 50 makes for an intelligent choice.
Did I leave anything out? Do you have something to add to this review from your own experience? Leave a comment below! If not, let us know how much better this guide is compared to the other Osprey women's backpack reviews out there!
Happy hiking!
What is our final score for the Osprey Renn 50? We give it a rating of 4.7 out 5 stars!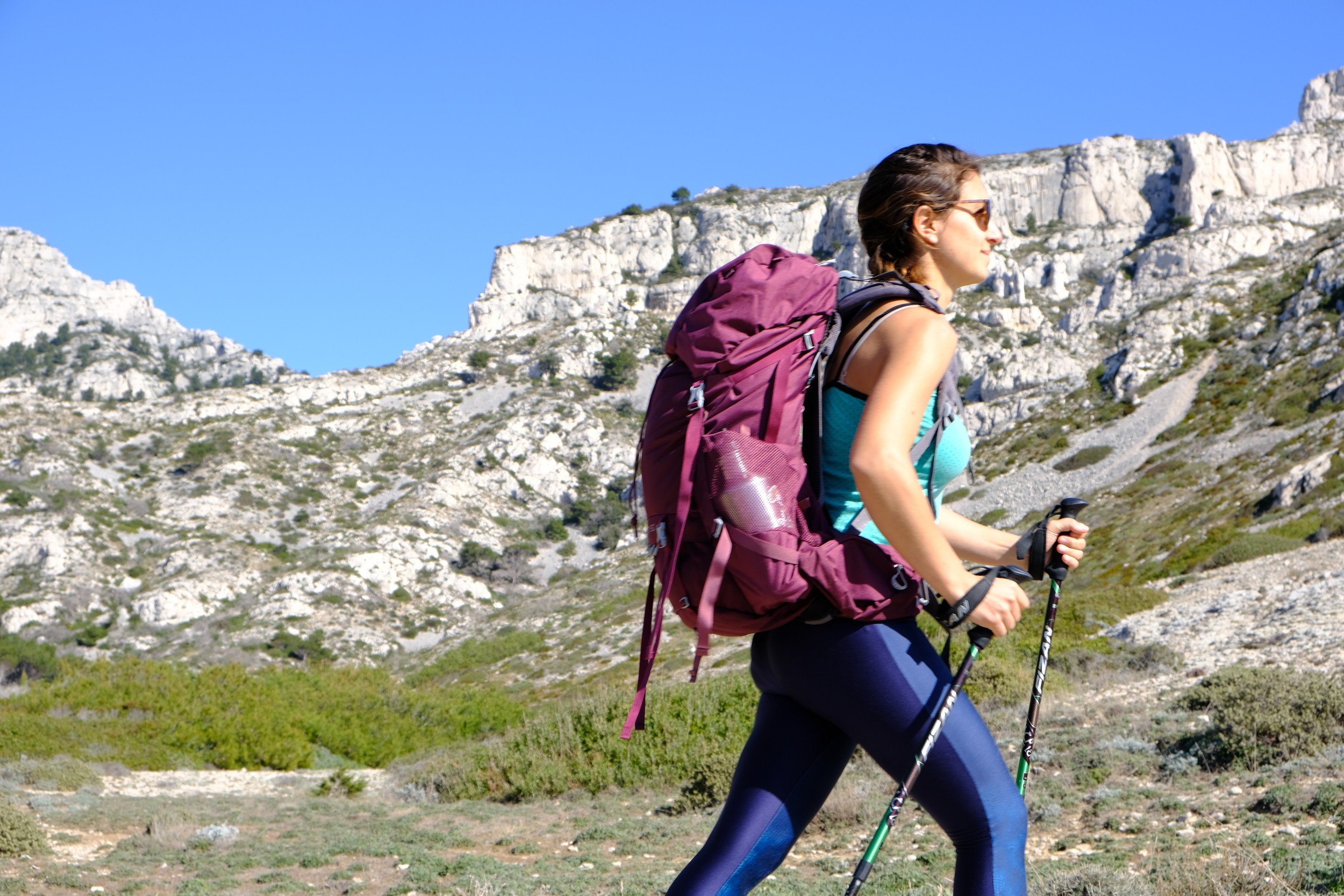 ---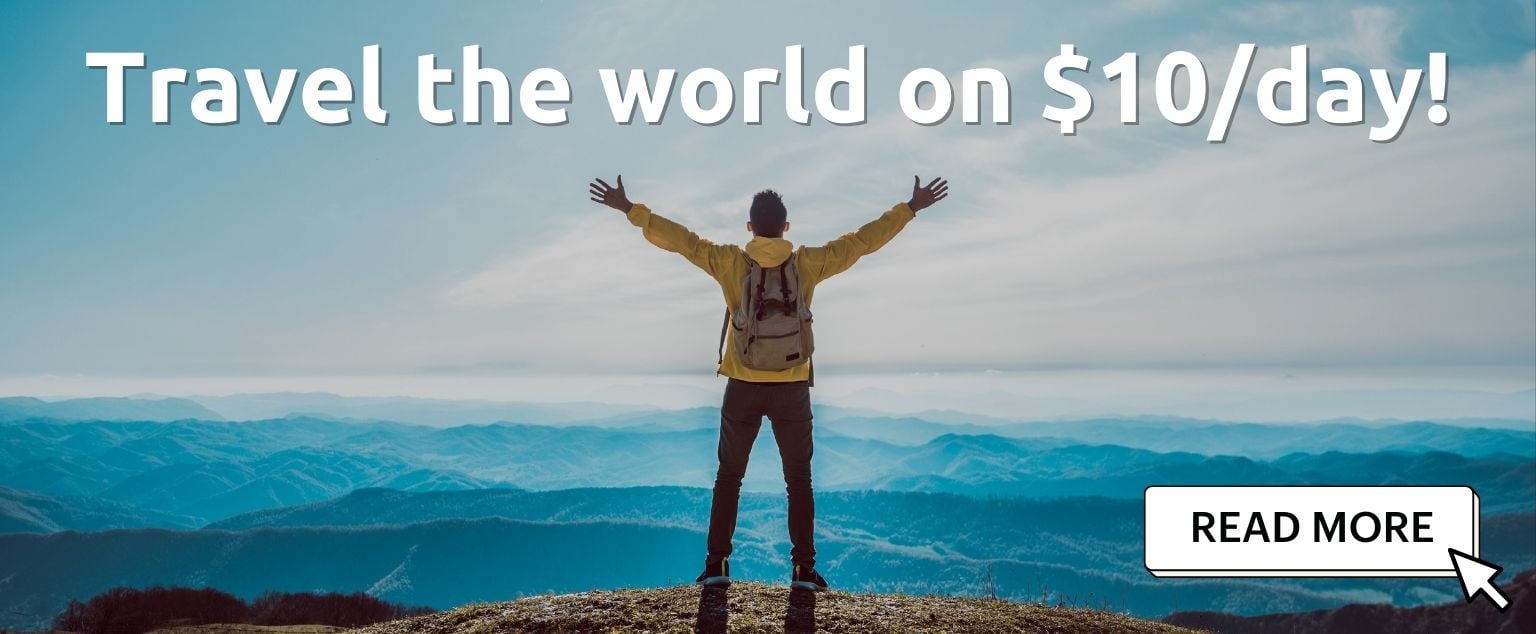 And for transparency's sake, please know that some of the links in our content are affiliate links. That means that if you book your accommodation, buy your gear, or sort your insurance through our link, we earn a small commission (at no extra cost to you). That said, we only link to the gear we trust and never recommend services we don't believe are up to scratch. Again, thank you!