Welcome to our Black Mile Mile One backpack review!
As the travel market gets flooded with new products every day, there seems to be a product for every traveler and their specific needs. It's easy to become overwhelmed or desensitized to all the products out there.
The worst part about it is none of them feel special; like their uses are so specific it seems the manufacturer feels detached from their market. If you're like me, then you need a travel bag that can have a wide range of use, has a smart design, and most importantly can take some abuse.
Thankfully, that's where the Black Mile has met the needs of a diverse traveler like me. The Black Mile is a startup making their way into the travel scene with their first product, the Mile One.
This pack was designed to be the ultimate, all in one travel bag. Through a laborious research and development process, the Black Mile strives to make the "Goldilocks" of travel bags, not too simple, not too complex.
Below, I'll cover everything you need to know about this pack and other comparable travel bags.
Although this is a badass, versatile travel bag, like all products it has a few flaws which I will address. Overall, I will examine the structure, functionality, fit and style the Mile One has to offer.
Let's do this…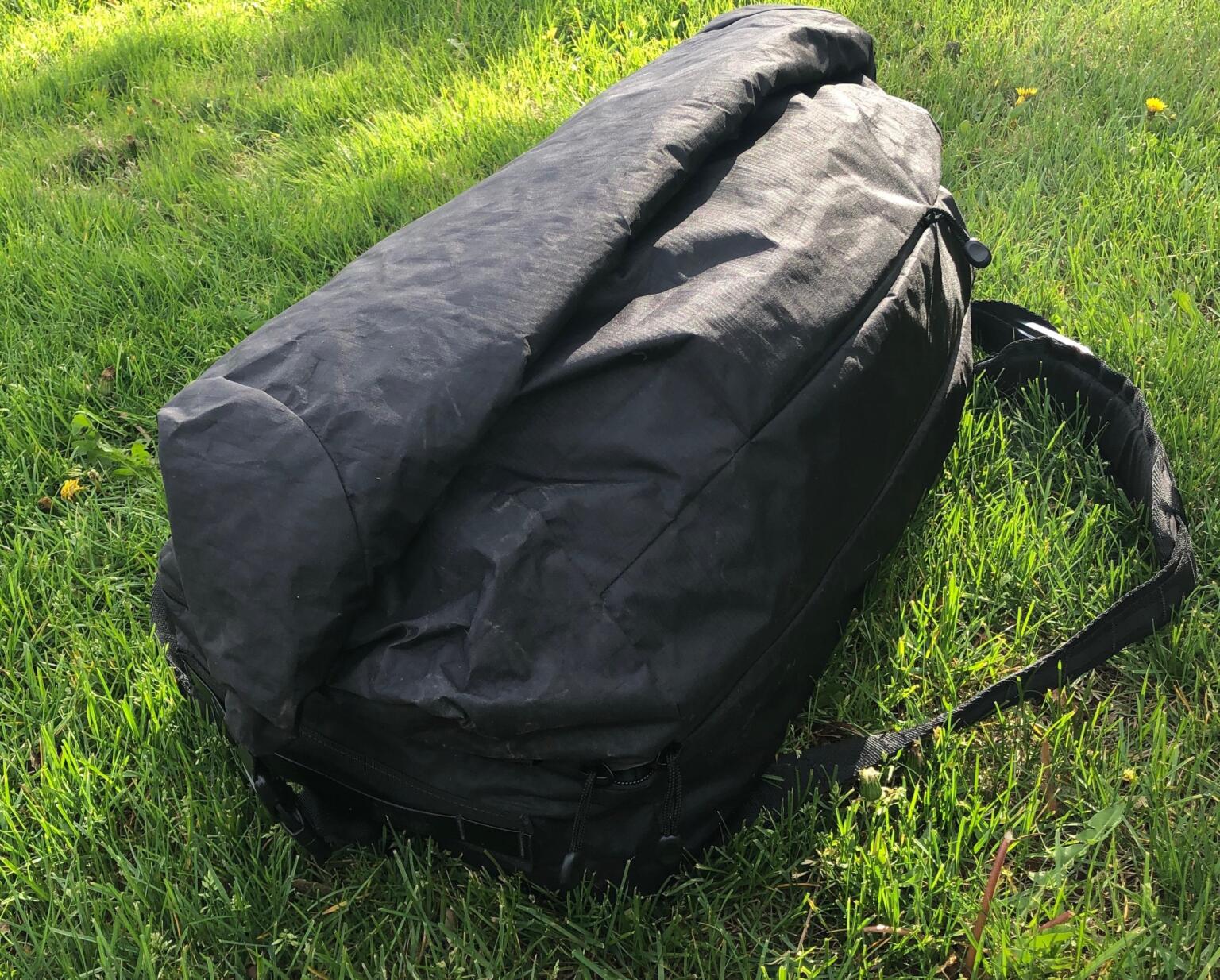 Quick Answer: Important Mile One Specs
Price: $385
Capacity: 50L
Weight: 2.13 lbs (1 kg)
Type: Backpack & duffel
Materials: Dyneema fabric
Winter is coming… WARM UP!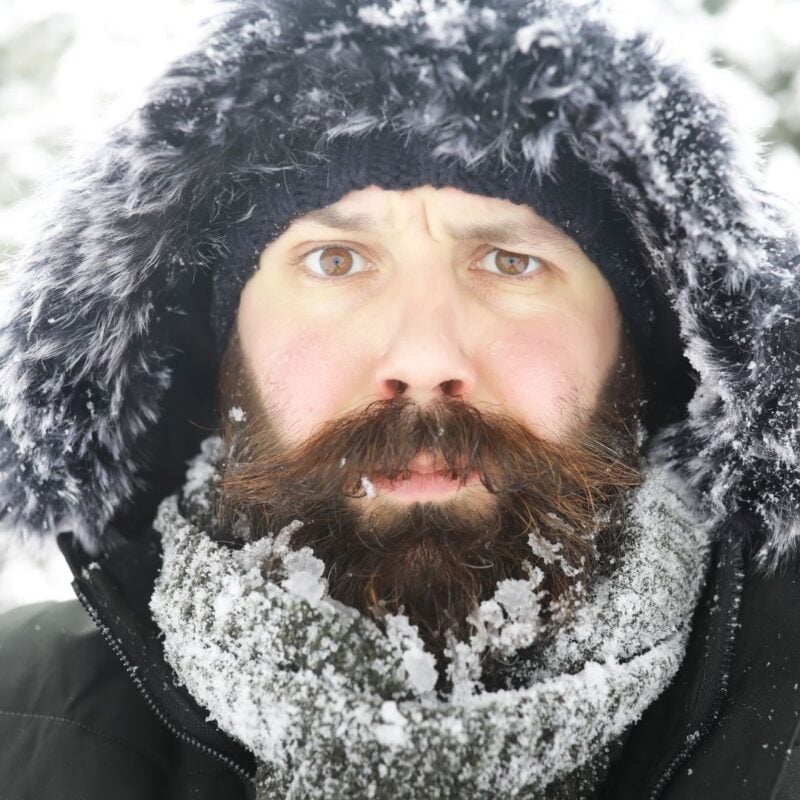 Get up to 50% OFF when shopping gear for the winter on REI.
Warm up for the holidays and SAVE on outdoor gifts all the way through Dec 18!
View on REI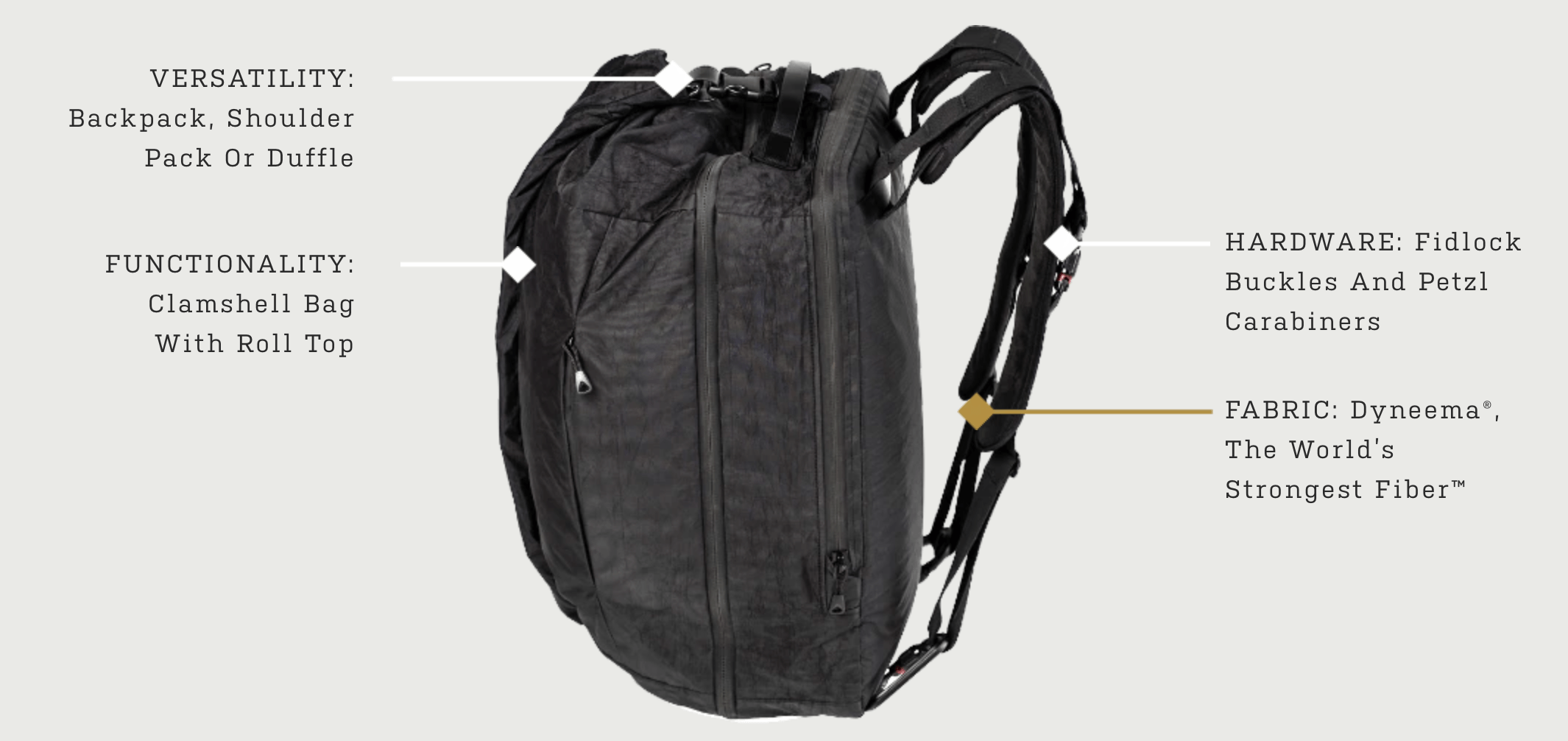 I move around a lot. At least twice a year I find a different spot in the country to settle for a season. I work hard, I play harder and when the season begins to change again. I pack up my whole life into my truck and hit the road to the next adventure and opportunity.
Recently, I had the opportunity to do some traveling with the Mile One pack as my companion. There are a few different compartments to utilize for YOUR specific needs.
For example, there is a bottom, middle and upper compartment. All of which are accessible in the top or side zippers. When worn as a backpack, the 'bottom' compartment would serve well as a place to store your laptop and maybe some books. When the pack is being used as a duffel, the bottom compartment is facing downward so maybe storing your laptop in that specific spot is not ideal.
What I am trying to say is that the One Mile can serve different needs depending on the way which you want to orient your pack.
The cool part about the different pockets and compartments is that they seem to have no real designated purpose, which makes it more versatile to fit your needs.
To provide some context, here are somethings I never travel without.
15″ MacBook pro
Nikon Coolpix AW100 point and shoot camera
Cords for all the electronics I'm burdened within the 21st century
Hardshell waterproof layer
Puffy jacket (In the winter months)
Fleece layer (in the fall/spring months)
"X" days worth of clothes (dependent on how long I'm traveling, obviously)
Water bottle
Coffee mug
Mile One Interior
The Mile One travel bag is broken down into three different compartments. Upon close inspection and testing, it's clear the designer of this pack was going minimalist for sure but trying to offer something beyond bare bones. That's the difference between this pack and any other lightweight travel bag.
Bottom Compartment
The bottom compartment dimensions are 21 x 12 x 1 inches. When fully packed, you can count on that compartment being long, wide and flat. I tend to wear the Mile One as a backpack, so I found it handy to store my laptop and notebook in that compartment with plenty of room to spare.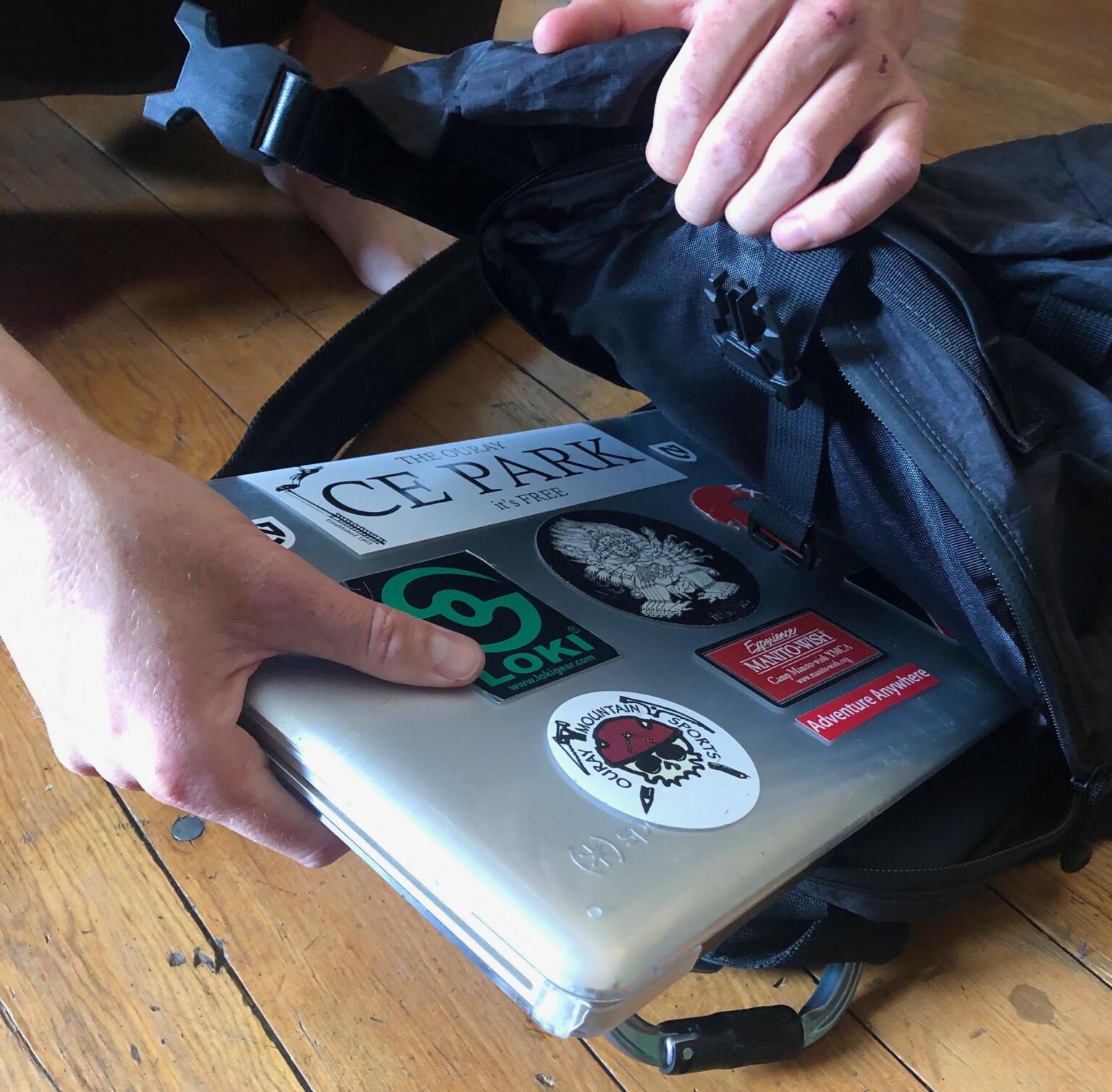 Using this as a duffel I would not recommend putting something valuable in that bottom compartment because it is then vulnerable to damage.
I liked that the bottom compartment was easy to access even when fully packed. If there was any reason I had to grab something from that compartment, or quickly stash something there I would be able to do without fidgeting with zippers or holding the loaded top compartment open.
I could go on and on about the range of use and different ideas of what could fit in there. I put my laptop and notebook inside but it is definitely not a "laptop compartment" with a designated sleeve. The designated sleeve or specific use would take away from the minimalist philosophy the Black Mile is trying to foster as a brand.
Understanding that this is a minimalist product designed for versatile use, the space gives me the freedom to choose how I use the compartment.
Bottom Compartment Score: 4/5
Middle Compartment
The bottom and middle compartments make up for 23 liters (approximately half capacity) of the bag. Middle compartment dimensions when fully packed are 21 x 12 x 5 inches. The middle compartment is easily accessible from the side zipper which unzips 3/4 of the perimeter of the bag.
The middle compartment is the meat of the pack. If packed properly, you could easily fit a week (or more) worth of clothes, depending on how light of a packer you are. When the middle compartment is unzipped completely, you will notice a mesh cover securing everything in place.
On top, there is a small side zipper pocket that would be ideal for stashing small items (small notebook, tablet, cords or other accessories). The small zipper pocket is attached to access to the base of the top compartment.
In the event you needed to grab something from the top compartment while your bag is open, simply unzip that access pocket and grab what you need in a flash.
The Mile One pack has a middle compartment that allows you to securely store the bulk of your items while still maintaining high accessibility. Sometimes, simplicity is the key to brilliance.
Middle Compartment Score: 4.5/5
Top Compartment
In my professional opinion, this is what really makes the Mile One bag unique, the dry bag top compartment.
The capacity for the top compartment alone is 27 liters. Meaning you can really cram a lot of stuff in there without any real concern. The dry bag top has fidlock magnetic fasteners to ensure a proper seal. Once you're loaded you close it up like any other drybag.
This isn't the type of pack you're gonna take on your next river trip. So why even include a drybag feature on a travel bag to begin with? Good question.
Weather is out of our control, and unless you're a farmer in the midst of a drought, rain is never really convenient. The drytop simply protects the contents of your bag even through the worst of the elements.
If you're traveling to an arid environment, the drytop can seem a bit overkill. But in the end, the dry bag top does its job to protect YOUR stuff through all the unpredictable things you're bound to encounter during your travels.
I'm gonna give the Mile One props for this one, it's a creative addition to the pack while still maintains it's minimalist philosophy.
Top Compartment Score 4.5/5
Overall Interior Score 4.5/5
Mile One Exterior
Black Mile had two main themes when designing the exterior of their pack, style and stealth. When the Black Mile was making the Mile One, they were not going for overly bright colors or excessive functions.
As I mentioned with the interior design, they are going minimalist. This is definitely consistent with the exterior as well.
Water Resistance
The Mile One pack is almost entirely made up of Dyneema. For all the avid outdoor enthusiasts out there, they're surely going to recognize Dyneema. Dyneema by itself is waterproof; however, the Mile One is not considered a 100% waterproof pack, the Dyneema fabric and other features make it highly water-resistant.
When I refer to "other features", I'm actually referring to TKK water-resistant zippers. The zipper track bonds tightly when zipped up and rain or splashing will surely keep everything inside your pack dry.
Finally, the dry bag top. The dry bag top is secured with fidlocks magnetic fasteners which guarantee a tight seal. Once you have the seal, roll the top and clip it like any other dry bag.
Point being – short of throwing your backpack in a lake, you can have confidence that the bag will keep your stuff dry and secure in most cases.
Water Resistance Score 4.5/5
Sizing & Fit
So this travel bag has a maximum capacity of 50 liters, what does that even mean in terms of actual stuff you can pack?
Well, it means you can cram a lot of shit into this thing. Realistically, the most comfortable packing capacity for the Mile One is just over 40 liters.
The Black Mile philosophy aligns with lightweight and minimalist travel. No bag, including the Mile One, is expecting you to pack your bag at full capacity every time you use it.
When it comes to fit, it all depends on how you choose to wear it. The Mile One can be worn as a duffel or a backpack. The Mile One includes two Petzl locking carabiners so you have the flexibility to configure your pack to meet your needs. Plus, always having a strong carabiner is handy for so many reasons.
Sizing & Fit Score 4/5
Durability & Toughness
As mentioned before, this pack is made almost entirely from Dyneema, one of the strongest fabrics out there. It is stronger than kevlar and steel in fact. Usually, durability means heavy. But that's not the case here.
Not only is it the strongest fabric out there, it is among the most lightweight.
This fact is why it is becoming so popular with outdoor products, and even manufactured as armor for the military.
Dyneema is also resistant to moisture and UV light. Making the Mile One an ideal companion for the traveler who is expecting to face a variety of conditions (and wants their backpack to perform well for the long haul).
Durability & Toughness Score 5/5
Aesthetics
Style and stealth are the two main themes the Mile One travel bag strives for. Style and function are synonymous with one another.
It's hard to maintain good style if you have to explode your pack in the middle of an airport or busy sidewalk in order to dig up whatever you're searching for.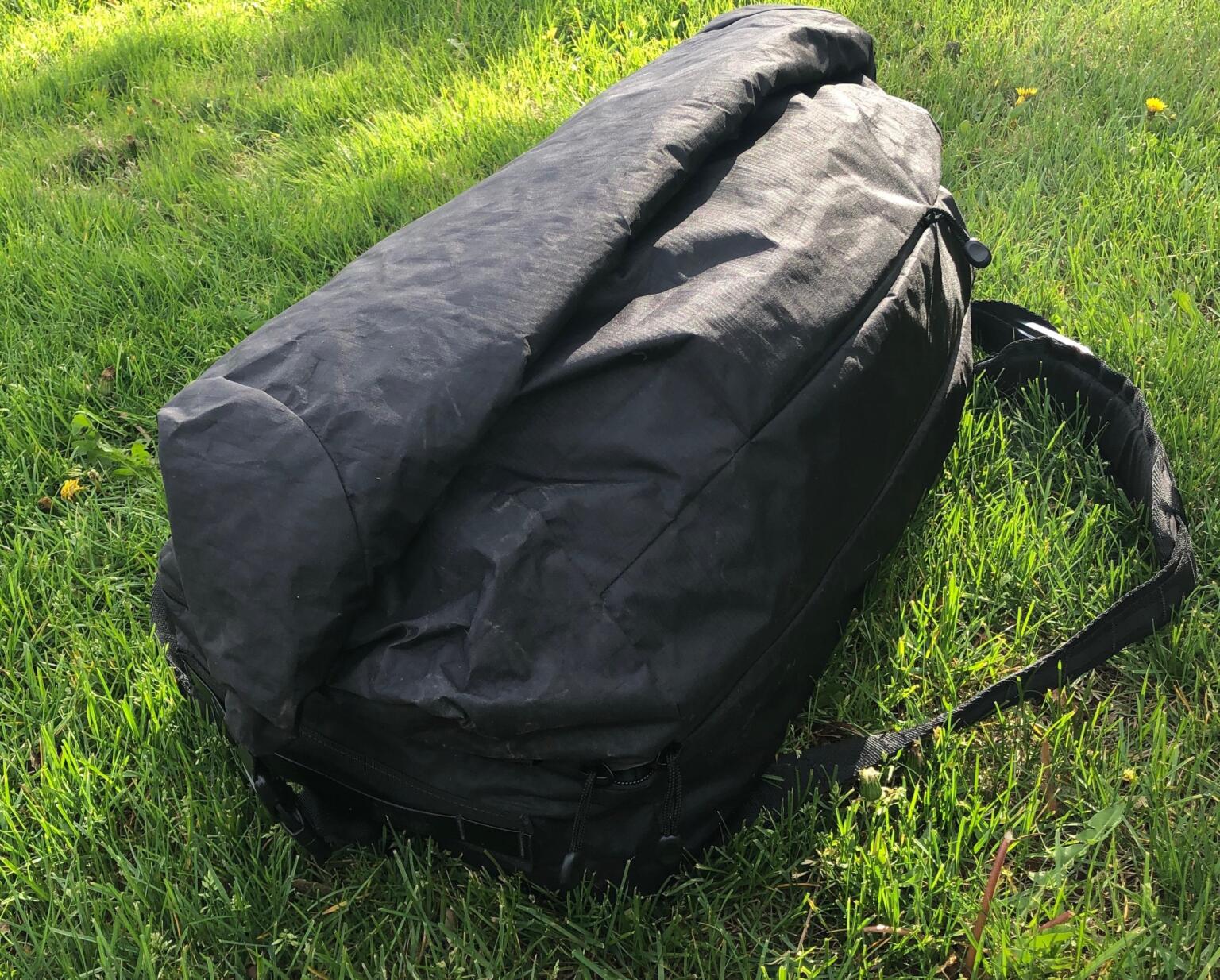 Stealth is clearly a big part of the Black Mile philosophy. The Mile One is a product that allows you to travel from one place to another without attracting unwanted attention and without looking like a tourist. God forbid.
Overall, the aesthetics of the Mile One are simple and will allow you to fly under the radar, if that is important to you.
Aesthetics Score 3.5/5
Overall Exterior Score 4.1/5
Pros
Versatile design
High strength Dyneema fabric
Includes Petzl locking carabiners (Always come in handy for me)
Duffel vs. backpack style meets your needs as a traveler
Dry bag top is a cool feature
All compartments are very accessible
Highly water-resistant
Cons
Plain aesthetics
Backpack straps aren't the most comfortable
I prefer travel bags with water bottle holders, this bag doesn't have one
Side duffel can be cumbersome when fully loaded
The best present of all… is CONVENIENCE!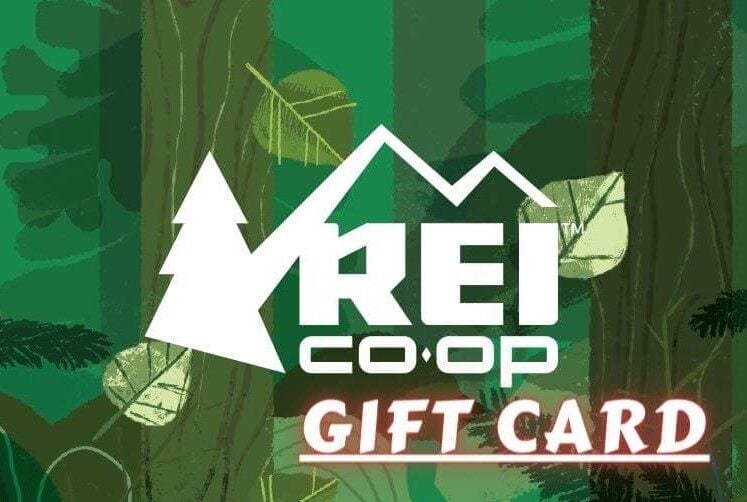 Now, you could spend a fat chunk of $$$ on the WRONG present for someone. Wrong size hiking boots, wrong fit backpack, wrong shape sleeping bag… As any adventurer will tell you, gear is a personal choice.
So give the adventurer in your life the gift of convenience: buy them an REI Co-op gift card! REI is The Broke Backpacker's retailer of choice for ALL things outdoors, and an REI gift card is the perfect present you can buy from them. And then you won't have to keep the receipt. 😉
Buy on REI!
This Mile One backpack review would not be complete without taking a look at some of the competition on the market.
Dyneema has been in existence for decades and its applications are just recently expanding into travel territory. Knowing this, Dyneema travel bags are a fairly new concept. There are definitely some rugged travel bags on the market but there are a couple in particular with similar characteristics as the Mile One.
The Mile One travel bag's closest competitors are likely the Hyperlite Mountain Gear Duffel. Also made of Dyneema fabric, Hyperlite Mountain Gear backpacks have exploded in the climber's market. Their market is focused on backcountry expedition travel.
Another direct competitor with the Mile One would be the SDR D3 Traveller Duffel. Also made of Dyneema fabric, SDR is catering toward the minimalist, ultralight travel market. Something unique about this bag is its packability, they claim the D3 Traveller Duffel can pack down to the size of a small sweater when not being used.
Overall, there are other rugged travel bags on the market most of which are not made with Dyneema fabric. Why are Dyneema fabric travel bags so expensive. Remember how I said its stronger than steel and lightweight? Well its also labor intensive. It is the strongest, most lightweight material on the market. Other travel bags that are made of other materials are guaranteed to be less expensive.
When you compare the Mile One with the Hyperlite Mountain Gear Duffel or the SDR D3 Traveller specifically, you'll notice one critical difference: price. The Mile One has many of the same features and is less expensive by a pretty wide margin. The retail price for the D3 Traveler is $745 (Yikes!) and the Hyperlite Duffel is $550
Black Mile
Black Mile
Black Mile Mile One
Weight > 2.13 lbs
Liters > 50 L
Laptop Compartment > Yes
Material > Dyneema
AER
AER
AER Travel Pack 2
Weight > 3.7 lbs
Liters > 33
Laptop Compartment > Yes
Material > Nylon blend
Nomatic
Nomatic
Nomatic Travel Bag
Weight > 4.16 lbs
Liters > 20-30 (expandable)
Laptop Compartment > Yes
Material > N/A

Our GREATEST Travel Secrets…
Pop your email here & get the original Broke Backpacker Bible for FREE.
Mile One Backpack Review: Our Verdict
With all the options out there, some of those options including Dyneema fabric products, I could pick apart every single one and find flaws. I am a sharp critic. I never endorse something I don't believe in or wouldn't use myself.
Some things I really liked about the Mile One is its versatile design. When I purchase products, I want a bang for my buck. I want something that I can find multiple uses for and I want a product that can fit my specific needs.
I hate useless features that ultimately result from poor design. Thankfully, their thoughtful process from years of research and development show clearly in their final product.
To me style is everything. As a brand, the Black Mile cares a lot about stealth and style and it shows in the Mile One. One thing I would have appreciated is more creativity in the style of the bag. I hate to be that guy that bitches about color, but sometimes its the little details that can make a big difference. I believe that the Mile One could use different color schemes that will align with their unique product philosophy.
The Mile One is not a perfect travel bag, it certainly has its flaws, but who told you that I was striving for perfection? That would be insane. In the end, if the only thing I'm bitching about is the color, then I'd say it's a pretty product solid overall. I would definitely recommend the Mile One to any traveler, especially the minimalist one that frequently finds themselves living out of their bag throughout the year.
Overall Mile One Score 4.8/5
---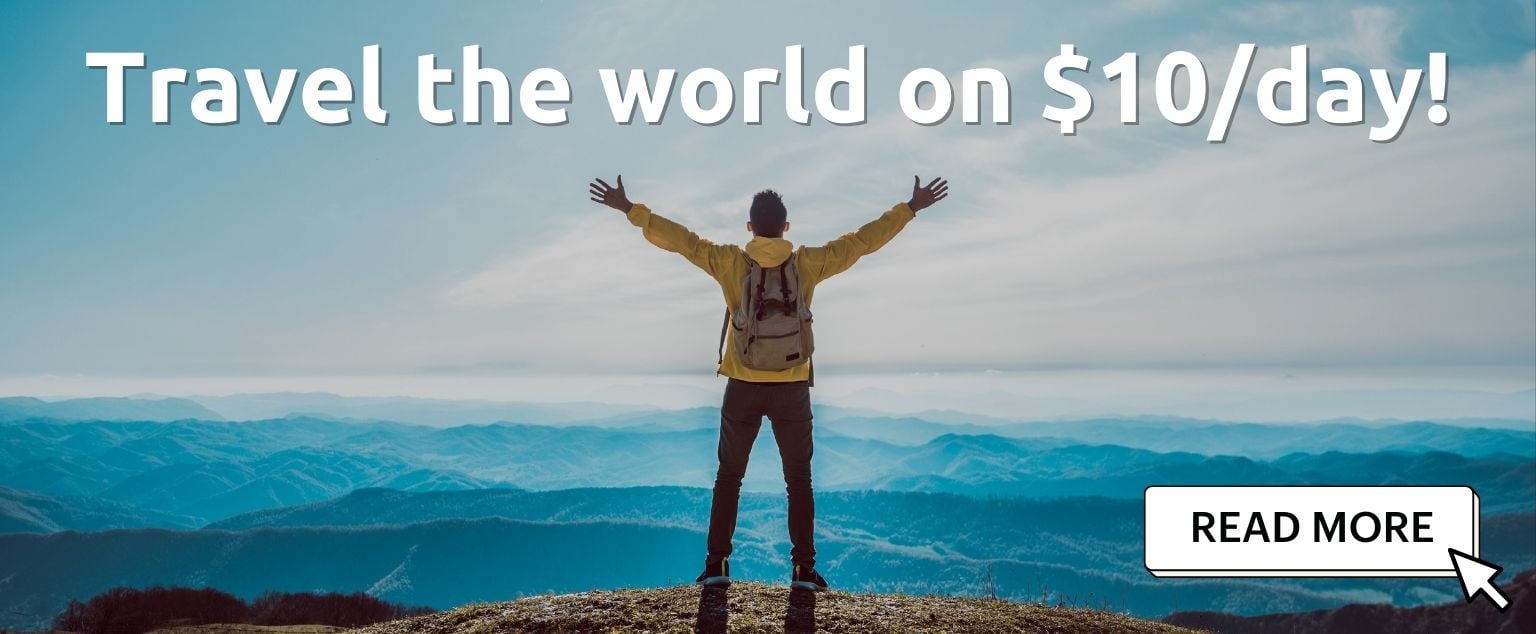 And for transparency's sake, please know that some of the links in our content are affiliate links. That means that if you book your accommodation, buy your gear, or sort your insurance through our link, we earn a small commission (at no extra cost to you). That said, we only link to the gear we trust and never recommend services we don't believe are up to scratch. Again, thank you!