So you're a backpacker, a traveller, or a hiker? You're going to need a backpack then. 
Your backpack becomes your temporary – or maybe permanent – little home. It goes everywhere with you and holds your most valuable possessions. So it's absolutely vital that the backpack you choose is the right one for you and your type of adventures.
I've been trying out the Gregory Facet 45. Before this backpack, I was a committed Osprey customer. Though now, I'm happy to say, Gregory have converted me. 
The comfortable fit, thoughtful design, and great construction make this bag a top competitor in its field. It's not just going to accompany you, it's going to be your number one supporter. 
The Gregory Facet 45 is made specifically for women. This is something of a delight to my ears – as I often struggle to find something to carry my life on my small frame.
From here on out, I trust Gregory to take care of my stuff AND take care of me. They're a company who know bags better than most. So let's find out, on this Gregory Facet 45 review, if this is the right backpack for your adventures!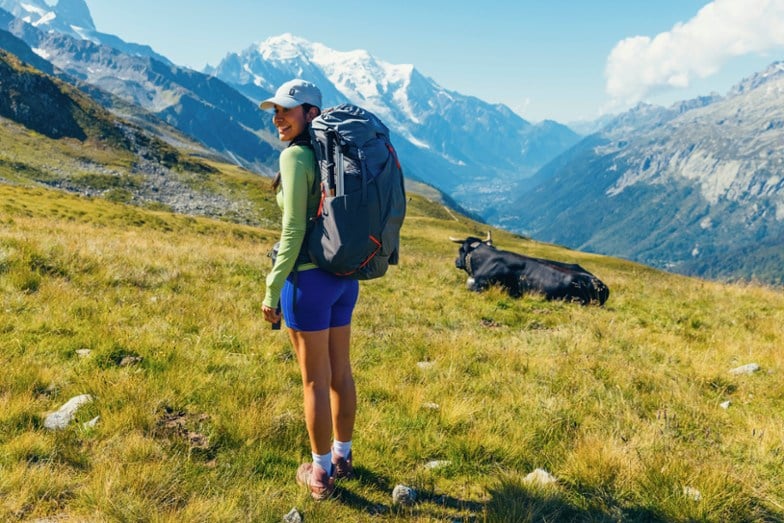 Quick Answers: The Gregory Facet 45 at a Glance
The Gregory Facet 45 is a ultra-lightweight backpack, ideal for hiking or long-term travelling.
The backpack is build with wear and tear in mind – so it can withstand some beatings.
The cutting-edge Freefloat system makes it one of the most comfortable backpacks on the market to carry moderate-heavy loads.
The accessible design makes it stress-free to access your kit as and when you need it.
The Gregory Facet 45 comes with a climate commitment: a 27% reduction in carbon footprint and fabrics made from recycled materials.
The lifetime warranty covers all defects in workmanship and materials, for as long as you own the bag.
This backpack is designed for women. It means heavy loads are distributed to the right places.
Winter is coming… WARM UP!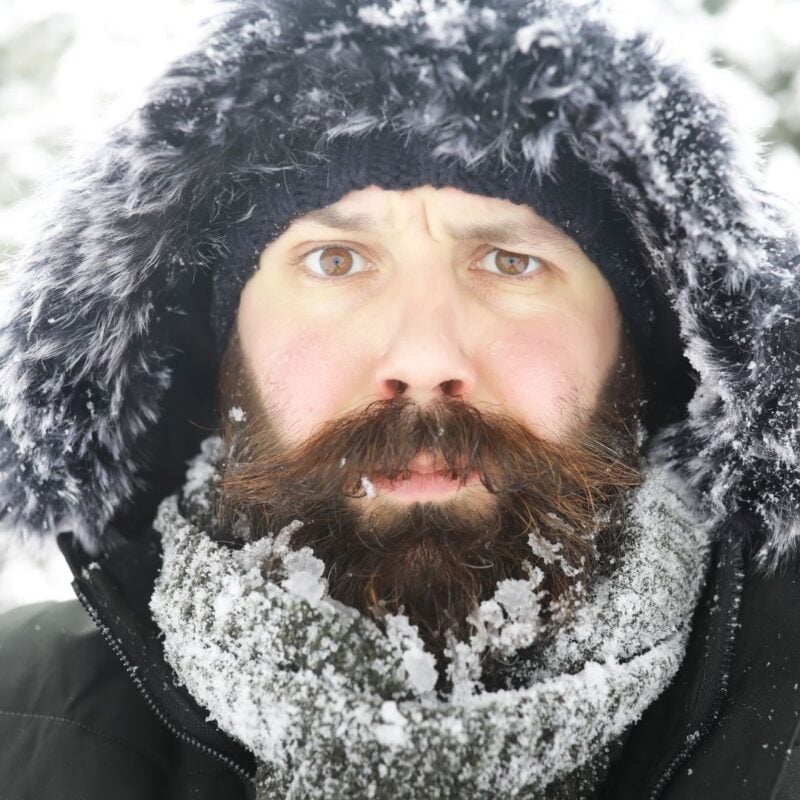 Get up to 50% OFF when shopping gear for the winter on REI.
Warm up for the holidays and SAVE on outdoor gifts all the way through Dec 18!
View on REI
How to Know if the Facet 45 is the Perfect Pack for You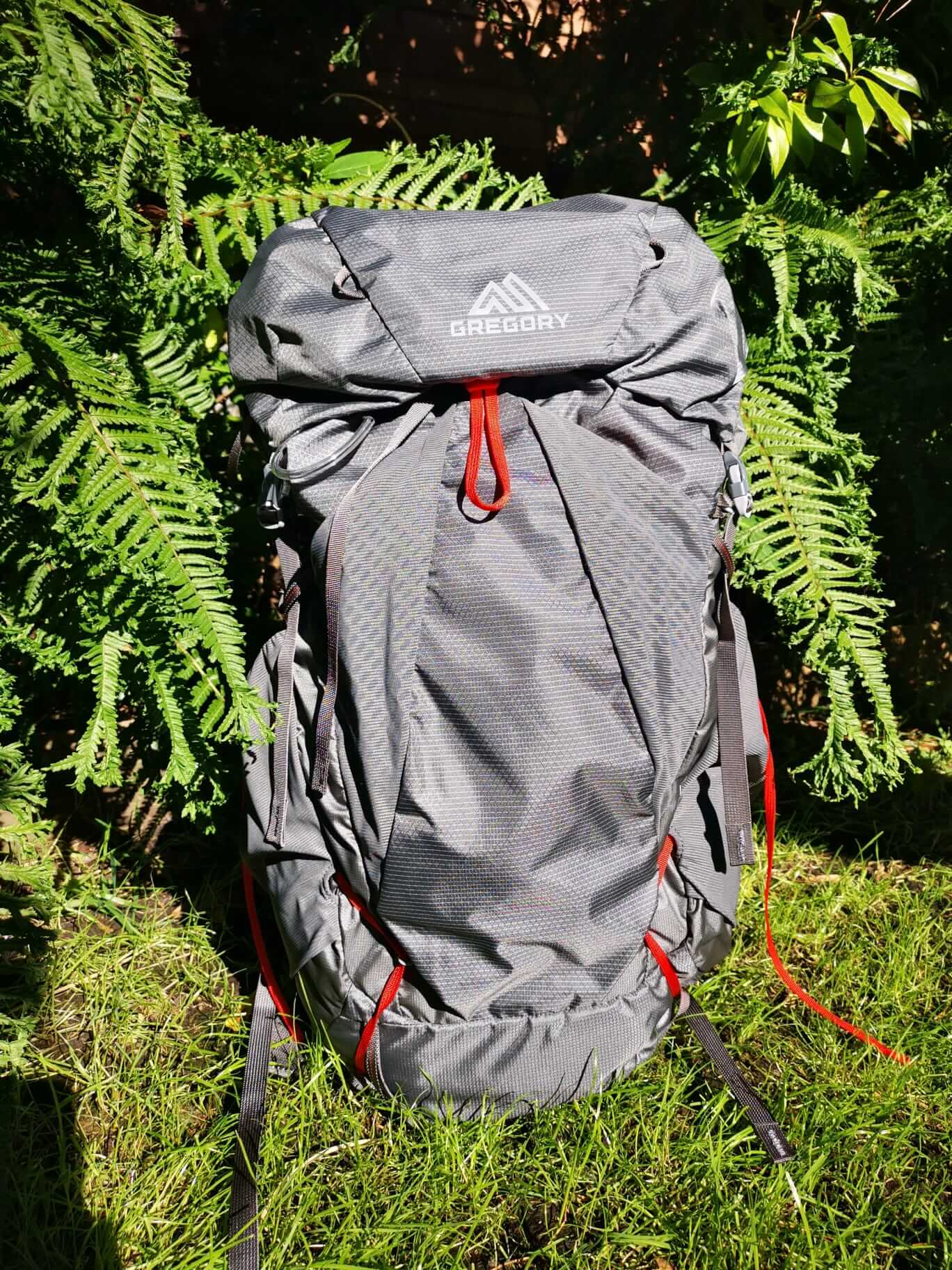 The thing about quality travel backpacks is, that if you find the right one, it will stand by you for a very long time. But looking at that price tag can be kinda intimidating. When you're forking out your hard-earned cash, you want to make sure it's going to be worth the effort.
That's the tricky part. When you're buying quality gear, you don't really want it to be cheap. You know what they say: buy cheap, buy twice, right?
Gregory have been around since 1977 – so they know what they're doing. They're committed to design backpacks to be worn, not carried.
But for that to stand true, you need to do your research. Let's have a look to see if the Gregory Facet 45 is your next travel buddy!
The Gregory Facet 45 IS PERFECT for you if…
You are a woman – Hey, genderising things is usually stupid, I know. However, when it comes to backpacks, there are some design features of backpacks designed for women that will probably appeal to you. But more on this later…
You love pockets and gear loops – Attaching extra gear and stuffing your munchies for the journey is made extra easy.
You pack light – This bag is a 45 litre with a maximum carry weight of 13.6kg. I think this is plenty for an average backpacker or hiker.
You want to hike! – This pack is perfect for trekking. The suspension system and extra loops makes loading your gear a breeze and the ventilation works really well.
You need good technology to carry weight – Even for a petite person, like me, I had no trouble carrying my kit in this backpack.
The Gregory Facet 45 is NOT for you if…
You are a digital nomad – It's not designed for protecting electronics.
You need more kit – If you like to bring the kitchen sink, consider a bigger backpack like the Gregory Facet 55.
You are NOT going trekking/hiking/glacier sliding and only need a bag for travel. I mean, you could use it for your all-inclusive week in Spain, but that's not what it was designed for.
You truly are a broke backpacker. This pack is not cheap because it comes with so many innovative features.
You are a man. You should look at backpacks designed for men specifically. The Gregory Focal is the Men's version.
Gregory Facet 45 Review – Key Features
Clearly, Gregory have that magic when it comes to designing a backpack. I was all ready to give a honest and brutal review of the Gregory Facet 45. But I ended up like a kid in a candy store opening up this backpack and exploring all these incredible features.
Sometimes, backpacks come with all these hooks and straps that just end up being more of a hindrance than a help. But Gregory know what they're doing. The design holds all this incredible technology, effortlessly.
It's actually the most comfortable bag I've ever worn – and that's coming from me who's been living out of Osprey bags for years. All my kit was surprisingly easy to reach and I wasn't victim to sweaty back on humid summer walks.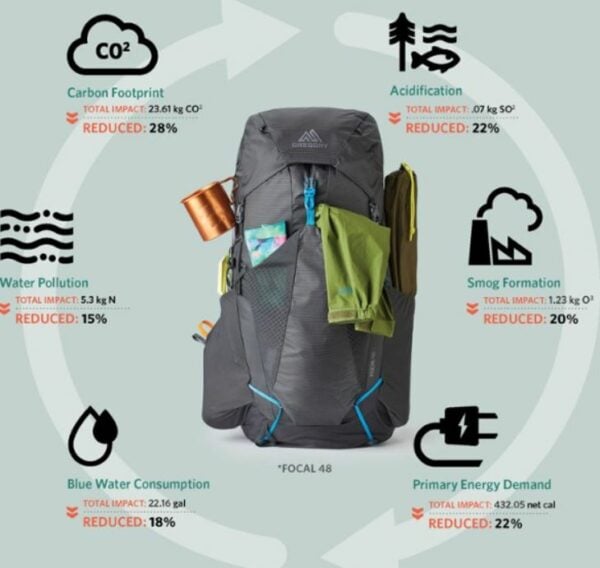 Being as committed as I can be to sustainable travel, too, it touched my green little heart learning about their climate commitment. After all, we're all trying our best at the end of the day.
Then there's the lifetime warranty. Well, that's just saying something about their standards, isn't it? So all things considered, it's not actually that expensive after all.
Gregory Facet 45 Sizing and Fit Guide
The Gregory Facet 45 comes in the following sizes:
Gregory Facet 45 XS
Weight –

XS: 2.4 lbs/1.1kg

Specs – 31 x 64 x 36 cm
Gregory Facet 45 S
Weight –

2.5 lbs/1.1kg

Specs – 31 x 69 x 36 cm
Gregory Facet 45 M
Weight –

2.6 lbs/1.2kg

Specs –

30 x 74 x 36 cm
For all three sizes, the carry weight and volume are the same.
Max. carry – 13.6 kg
Volume – 45L
The only difference is the fit on your body. If you are an extra small person, you go for the XS. The Gregory Facet 55 (obviously) has 10 litres more volume.
Gregory Facet 45 Size Guide
With a basic measurement, you can make sure you're getting exactly the type of fit for your body type. So get that measuring tape out on your spine!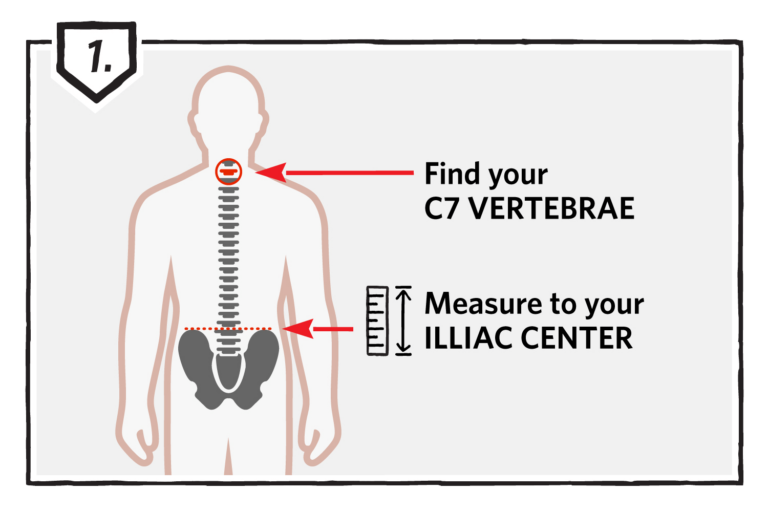 Once you've chosen the right size for you, you'll need to adjust your Gregory Facet 45 so you'll carry your load with ease.
Small Pack Problems? 😉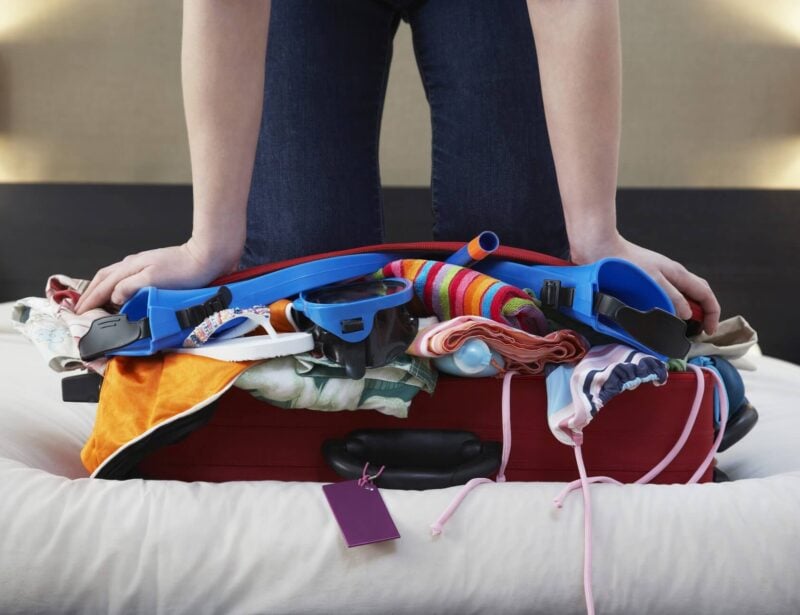 Wanna know how to pack like a pro? Well for a start you need the right gear….
These are packing cubes for the globetrotters and compression sacks for the real adventurers – these babies are a traveller's best kept secret. They organise yo' packing and minimise volume too so you can pack MORE.
Or, y'know… you can stick to just chucking it all in your backpack…
Get Yours Here
Read Our Review
Gregory Facet 45 – Ultimate Comfort
The fact that you can adjust the Gregory Facet 45 so much makes it one of the best ultralight backpacks on the market. This backpack is ideal for people of extra small frames, which is usually a difficult size to fit with heavy equipment.
Women tend to have wider hips and smaller shoulders. This is why a backpack specifically designed for women can be a great perk as you want to carry most of your weight on your hips, rather than using your back. There are several different adjustments to make which distribute the weight in a safe and comfortable way.
The hip belt is really comfortable; it actually put my Osprey bag to shame. It even has little pockets in the hip straps which are perfect for stashing easy-to-reach snacks (which is of vital importance). Although I haven't yet tried this backpack out to destruction, I was pleasantly surprised how little issues I had with the straps rubbing my skin.
The shoulder straps are designed in an "S" style for women, rather than the typical "J" style. This means boob freedom! They have plenty of room to exist without being sent to boob jail while you're on a sweaty hike.
The airy design of the 3D structured mesh allows total breathability. The moisture-wicking AND Polygiene® Stays Fresh Technology applied to the suspension system mean you'll avoid a disgusting-smelling body too – yay!
Gregory Facet 45 Free Float A3 Suspension System
Gregory's FreeFloat system is a market game-changer. The hipbelt and straps are designed to completely move with your body as you move. This is part of Gregory's commitment of creating a bag to be worn, not carried.
FreeFloat ultralight suspension has flexible panels that move with the natural movements of your body. It provides comfort, but it also provides a lot of stability as you're moving. It really took me by surprise how well they've committed their backpack branding in this design and function.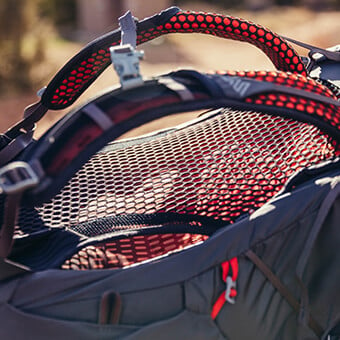 The straps help you stay aligned with your centre of gravity. Your body doesn't have to work as hard as it does with other bags – to do exactly the same thing. Less muscle fatigue means more energy for adventuring.
The system is ventilated with a suspended mesh backpanel. The ComfortCradle lower back system supplies the ultimate in dynamic fit and comfort. This makes it ideal for walking long distances or travelling in hot countries where you're usually impaired by sweaty back syndrome.
In my opinion, this is absolutely the best feature of the Gregory Facet 45. Yes – it's even better than the snack pockets! I fractured my back several months before I got this bag and there's no way I'd be carrying this weight on my back if the system didn't work as well as it says it does.
Best Features on the Gregory Facet 45
The Gregory Facet's Freefloat suspension system contributes towards this backpack being a leader in its field already. The custom fit options and odour-fighting design really work and make it a breeze to carry everything you need for hiking and backpacking.
Here are some other great features on the Gregory Facet 45 that appeal to people too.
Pocket Paradise!
Are you turned on by pockets too? Wait… what?
There's nothing like being able to organise your kit in a way that you don't have to spend precious time looking for something when you need it NOW. You can stash all your gear in an organised way that it makes it a delight to pack your backpack.
Top lid – It has 2 access points: one from above and one below. It also comes with the rain cover to attach.
Large front mesh pocket – This is pretty dreamy if you ask me. This is an ideal place to store things that you don't want to keep with the rest of your gear. Maybe you'll need to access it semi-regularly, or if you have dirty kit.
Side mesh pockets – Your trusty water bottle/speaker holders! If you're not using them, it just means you have more internal space.
Internal back pocket – This is a great space for your hydration pack or for separating things you might want with easy access during the day – but not necessarily all the time.
And, the pièce de résistance – the hip strap pockets. Perfect for your phone, travel camera, or those all-important snacks.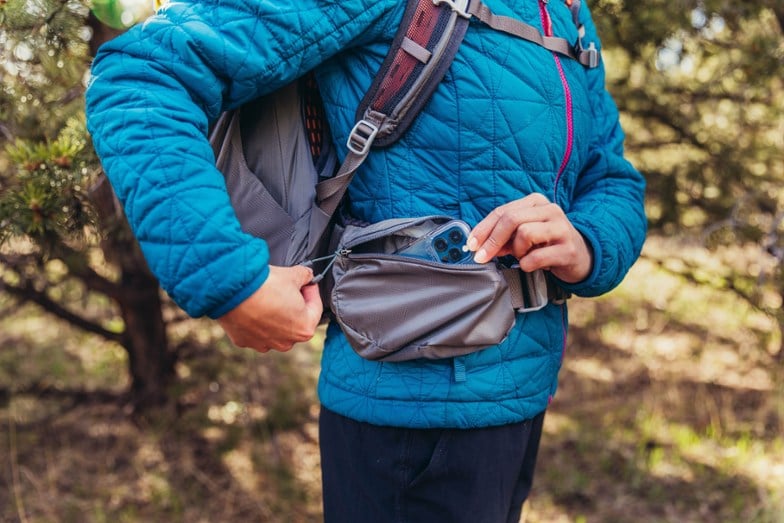 Quality Material
As soon as I opened this bag, I could tell straight away: the material really is of excellent quality. Not only can you actually feel it, you can see it!
Polygiene is designed with the active ingredient – biocide – to keep you and your equipment fresh. It breathes, eliminates odours, and withstands all the beatings you're going to put it through on your long-ass treks or glacial walks.
Best Uses for the Gregory Facet 45
The Gregory Facet 45 is made with durability in mind. It's made of a Nylon which is stretchy and breathable meaning that it doesn't fear the great outdoors. You can plan your hiking trip and be sure that your backpack will withstand all the enevitable scratches and scrapes along the way.
The suspension system is also designed to make it comfortable for long-hauls. So if you're going to carry around several kilos for several days, weeks, or even months, in different kinds of terrains, it's going to sit better with your body than the average backpack.
I've used this bag on a few shorter-term trips and we made a great relationship. I do think this bag would be great company if you wanted to take it on a round-the-world trip – especially if that involves hiking or other extreme adventures.
Personally, I think 45 litres is plenty to take on any trip. Many airlines will allow this size backpack as hand luggage too (although check the airline's rules). If you feel like you're going to need more space, you could always opt for the Gregory Facet 55.
DON'T DIE OUT THERE! …Please 🙂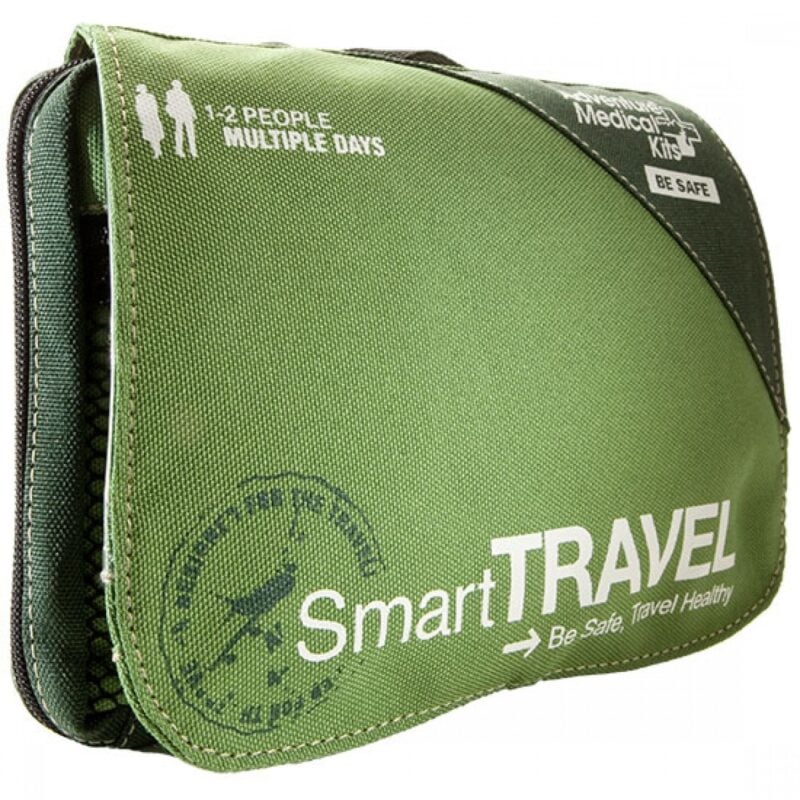 Things go wrong on the road ALL THE TIME. Be prepared for what life throws at you.
Buy an AMK Travel Medical Kit before you head out on your next adventure – don't be daft!
Buy on REI
Gregory Facet 45 Room for Improvements
Hey, no one's perfect. There's always room for improvement, right? That's what comes with a totally honest Gregory Facet 45 review.
Wheels or No Wheels?
Have you ever thought about backpacks with wheels? I didn't until I had a back injury.
The carry system of the Gregory Facet 45 is a really fantastic design. It's perfect for hiking or rough terrain places.
But for some people, loading your bag on your back is sometimes completely out of the question. Likewise, unless your backpack is fitted to you really well, you can actually do more harm than good. Also, airports with wheels – the dream.
The Gregory Facet 45 is strictly a backpack – no wheels option. So for me, it can't be my first choice as a long-term travel bag anymore. My days of charging several kilos on my body around the world are over. But in the future, if Gregory ever wanted to add the option of a wheel for their future designs, I would be first in line.
Not for Digital Nomads
If you're living the digital nomad life, you're probably lugging around a fair bit of electronics. The Gregory Facet 45 is not a specifically designed bag for digital nomads, for sure.
The specific compartments are designed more for sleeping bags and heavy travel gear, rather than computers and cameras. So if you're looking for something to protect your expensive gear, you'll want to look more at backpacks designed for digital nomads.
Aesthetics
Look, I know it's not necessarily 'important'… it doesn't affect the design or functionality really… but a grey backpack? There are a few reasons why I wouldn't choose grey as my first choice of colour.
Looking for your backpack on an airport belt is easier if it's a bright colour.
If you're hiking out in the sticks and something (God forbid) goes wrong, a brightly coloured backpack is much easier to find than a grey one.
Damn, I just don't feel as spectacular as I would do if it was a nice blue or orange.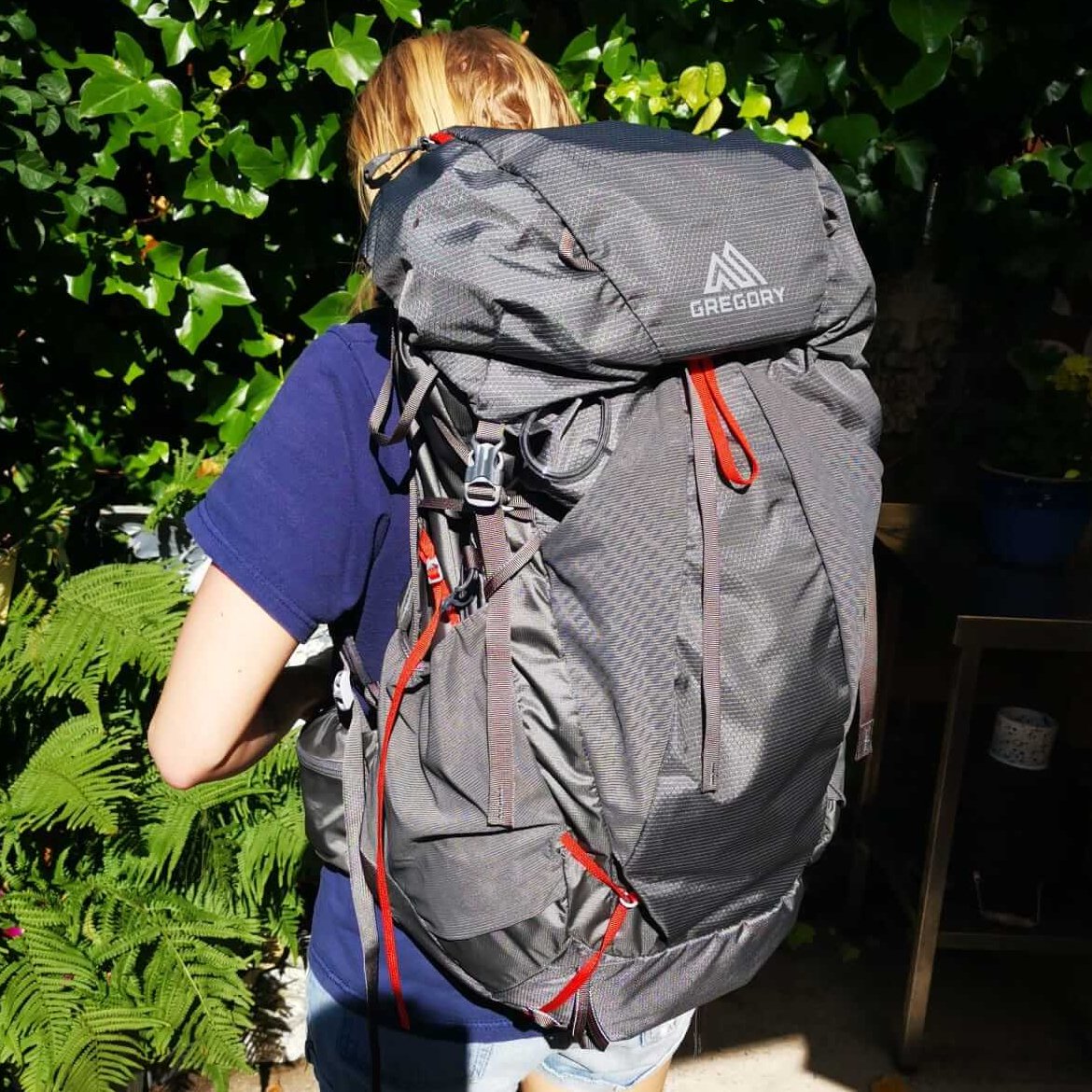 It's not really a deal-breaker, it does indeed have some beautiful bright orange highlights on it: some straps, zips, and the 3D mesh detailing. But if I could have a word with the colour team at Osprey I'd be putting in a personal request for a big ass bright colour.
How Much Does the Gregory Facet 45 Cost?
At $220 USD, it's not the cheapest backpack. So is it worth the investment?
In my opinion, yes. When you're buying a backpack built to such a high-quality standard as the Gregory Facet 45, you buy it right and you buy it once.
It comes with a lifetime warranty, too. For the actual functional design of a bag to last a lifetime really says something about their quality commitment. Although there are some great alternative backpacks on the market – if you have it in your budget – I would recommend the Facet 45 over them.
Final Thoughts on the Gregory Facet 45
Gregory have truly outdone themselves with this backpack. They've really put themselves head and shoulder above the competition by thinking about what we backpackers actually need.
Though it's a little bit of a boring colour and a little expensive, I believe it is justified. This is indeed a bag for life – it comes with a lifetime guarantee! So yes, it's an investment that I believe is worth it.
The extreme customisation and FreeFloat suspension system make this bag ideal for extending your body with all your most important equipment. The durable material and build aren't going to fail you when you need them most.
The pockets and loop system make it a breeze for organizing all your kit. The ventilation and anti-odour system keep you comfortable (and stink-free) while you're hard at work.
Actually, it's the most comfortable backpack I've ever worn: I'd really put the comfort rating at 9.5/10 (because who's perfect?). So if you're going to put your body through the wringer, you might as well take care of it by investing in quality gear.
So, my honest opinion at the end of this Gregory Facet 45 review? Yes – it's a top-quality product. For hiking, camping, or a long-term backpacking trip, the Gregory Facet 45 will be your trusty travel buddy.
What is our final score for the Gregory Facet 45? We give it a rating of 4.5 out of 5 stars!
---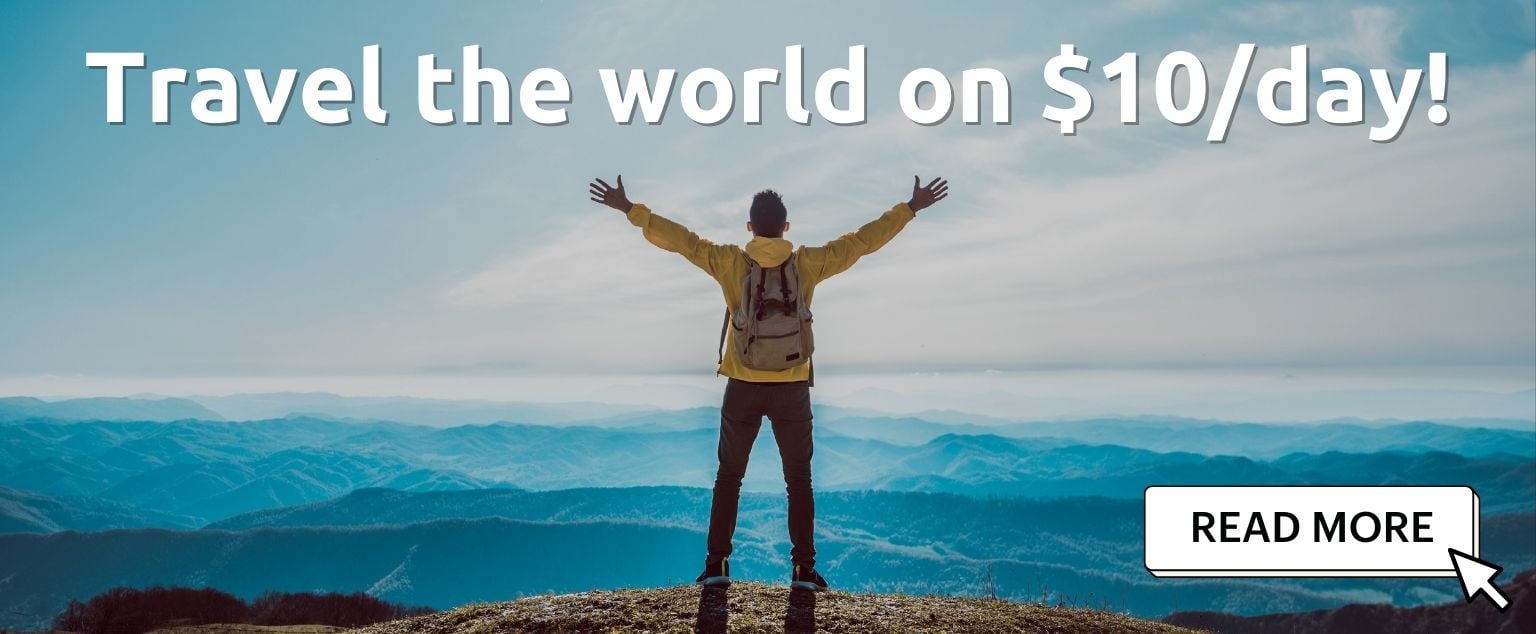 And for transparency's sake, please know that some of the links in our content are affiliate links. That means that if you book your accommodation, buy your gear, or sort your insurance through our link, we earn a small commission (at no extra cost to you). That said, we only link to the gear we trust and never recommend services we don't believe are up to scratch. Again, thank you!