Let's be honest, a lot of hiking or backpacking gear is ugly and can leave you looking like a Scout leader or a Geography teacher – not sexy. Thankfully, form and function needn't be mutually exclusive and the aesthetics of proper outdoor gear have really raised their game this last decade.
Today, we're going to talk about the most important travel accessory of them all; the not so humble backpack.
From practical hiking backpacks to sleek backpacks for digital nomads or even hipster backpacks for guys, there is something for everyone on this list.
The backpacks featured on this list have been put through a rigorous testing process. Only the most innovative backpacks on the market right now made the cut. And furthermore, all of these are sleek, suave and downright cool. Get ready to meet the coolest backpacks on the market today.
Nomatic makes cool backpacks – that's their wheelhouse. They're sleek and sexy while coming complete with loads of organizational capabilities equipped for a modern-day traveler's needs. A laptop sleeve and heaps of pockets for tech gear are standard couple with the durability to keep your expensive travel essentials safe.
However, a couple of their models are a bit cube-like in their design, but look at the curves on this bad boy! A cool man needs a cool backpack and this one is guaranteed to turn a few eyes when you're traipsing through the streets of a new city.
The 32 liter capacity expands up to 41 litres making it a good size for both a travel pack AND a daypack (while still usally qualifying for carry-on luggage), meanwhile, the load-bearing harness system keeps the weight flowing to all the right places. There'll be no poor posture when you're striking a pose for some radicool city-skyline profile pics!
Our team loved this cool men's backpack and how sleek and technical it looks, like something James Bond would be seen wearing! Speaking of technical, it was those clever features built into this bag that really made it stand out to them. The expanding section on the main storage area was one of the things they loved the most as it allowed the bag to be as compact as possible whilst allowing space for extra gear.
And while we haven't reviewed the Nomatic Navigator pack, you can check out our in-depth review of the Nomatic Travel Bag to see what Nomatic is about!
The Tortuga Outbreaker is an awesome bag if you need a bit more space to fit everything you need. It offers the convenience and comfort of a backpack but has all of the organizational features of a suitcase. It's available in 35L and 45L size to accommodate longer trips.
The organization of this bag is stellar. The streamlined TSA-compliant computer sleeve is packed with pockets to keep all of your electronics tidy. There's a front organization pocket to easily access important documents and accessories that you can arrange to your liking. Not to mention the side pockets to fit a water bottle or two and all the inner compartments to keep your clothing, underwear and toiletries in pristine order.
The Outbreaker is made with classic, resilient waterproof sailcloth that makes for one stylish, super cool backpack for men. And no need to worry about comfort – the padded hip belt and height-adjustable suspension system ensure the most comfortable fit possible.
One of the things our team really loved about this bag was the square shape, rather than having a rounded top, the squared-off construction allowed for packing cubes to be used more effectively and the space maximised. They also really appreciated the strength and weather resistance of the lockable zips for keeping their laptop and other valuables safe.
Check out our in-depth Tortuga Travel Pack review.
If you're after a carry-on approved backpack that looks cool AF, and is made from recycled materials then meet the Settra from Monarc. Its a duffel backpack meaning it can be used as a backpack or a duffel and it utilises a very innovative design and layout.
40L is a good amount of room and can handle a wide range of different trips. The features are actually relevant and usable with , a ventilated/removable shoe compartment, water/sweat resistant RPET fabric, 17" Laptop Pocket, and locking zippers – all of this will come in handy for both the gym and the road.
Whilst not primarily designed as hiking pack, it can be used in this way thanks to the Removable and adjustable sternum and waist straps along with airmesh ventilation deliver premium comfort for the long hauls.
Our team loved the functionality and style of this bag. In particular, they loved all the different pockets and dividers this pack has, which is pretty rare for a duffel. The laptop compartment was another stand-out feature which really made this bag feel like it covered both the backpack and duffel criterion without really sacrificing any features.
The Adventure Bag from Stubble & Co is an absolutely perfectly designed bag for anything from backpacking to weekend trips and short holidays. Not only that, but it looks cool af!
The main feature of the bag is that it opens up like a suitcase and has built-in organisational features with different zippered compartments inside. This means that for those with different bits of gear like clothes, tech accessories, and sweaty gym trainers, they can keep everything separate and instantly accessible.
Size wise it's 42l is a little on the large size for a day bag but for backpacking and other trips, it's the perfect size for packing light and staying organised. The bag also looks super sleek with its different shades of black ripstop recycled plastic and tarp which is both stylish and super durable.
Want more options? Check out our rundown of the best Stubble & Co. bags.
There are lots of reasons why the PRVKE pack is an award-winning camera bag and makes my top pick as the coolest backpack for photographers. Its innovative design and high quality are unmatched in the world of camera travel backpacks. And it's available in 3 cool colors for a sleek, stylish look.
Accessing your personal items is super easy with its roll-top that can also be expanded to create 5 more liters of space. It has magnetic handles for easier portability – how cool is that? You can be sure your gear will stay safe in all conditions with the pack's durable and water-resistant material.
Any photographer knows that having easy access to your camera is key. The PRVKE has 2 access points to the bag's main compartment, so no need for fumbling to get what you need. The removable camera cube makes things even more convenient and secure. When it comes to cool backpacks for photographers, this one can't be beaten.
Our team loved this bag for sooo many different reasons and felt it was one of the hipster backpacks for men with its weather-resistant roll-top style. For the photographers in the group, the lower camera-specific area of the bag was a revelation. They loved the added protection from the camera cube as well as the convenience of the side opening pocket for quick access to their camera.
Check out our in-depth Wandrd Prvke 31 review
If you are after a well and truly cool backpack then look not further than the Kobuk by Kodiak. It's a classy, suave, rugged and truly masculine leather backpack that's as comfortable in the city as it is out in the sticks.
For such as simple looking bag, it actually packs a lot in. Across the top-grain leather, you'll find zippered openings, padded straps, and magnetically locking buckles for extra security and comfort. Further, there's a separate pocket for your laptop, your phone, pens, keys, and wallet. You can keep every part of your arsenal within easy reach. This bag has a splash of extra space compared to many leather backpacks that make it a great leather weekender bag.
Kodiak don't make cheap products but they really are an investment. This one will probably outlive pretty much every other backpack on this list.
Our team were big fans of just how cool this bag looked, I mean, a leather bag is the ultimate statement when it comes to style especially if you're gonna be rocking up to the office or airport with this bad boy! On top of looks though, they loved how hard-wearing and durable this leather bag is with its high-quality construction and material.
The Osprey Skarab pack has everything a hiker needs – space, comfort, functionality and versatility. If you've been worried about being able to find a cool hiking backpack for men, put your mind at ease because this is it!
Zippered, dual large side panels and hip belt pockets provide plenty of space for everything you need for a day on the trails. You'll have access to plenty of hydration with the included 2.5L reservoir in the Skarab's custom-built hydration compartment. Easily access your small hiking necessities in the front zippered pocket.
Besides the ample storage space and a multitude of compartments, you'll also find plenty of attachment points and compression straps to attach accessories like trekking poles or ice axes. You can customize this hiking backpack to suit all of your needs, from a leisurely day trip to the most rigorous day hike.
Our team loved that this bag has taken the often geeky-looking hiking pack and made it look both stylish whilst retaining its functionality. They just loved the sheer amount of pockets, compression straps, zippered sections, and attachment points, they said it's like having a 'fabricy' swiss army knife on your back but you don't look like a scout leader!
Check out our in-depth Osprey Skarab review
If your hiking needs require packing a little extra gear – like layers for colder weather, for an overnight excursion or family-friendly accessories for kids – the Osprey Talon is the coolest day hiking pack you guys will find.
Its design is simple but includes everything a hiker needs – an ample main compartment, large front pocket, hip belt pockets, and side water bottle pockets. There's plenty of space to pack in a down shell jacket, extra snacks, or your child's favorite toy!
The hydration sleeve is conveniently placed on the outside of the main compartment which makes refilling a hydration reservoir easy and avoids the risk of getting your main contents wet. The frame is resilient and secure and you can achieve optimum comfort by adjusting the torso length for a snug fit.
The Talon has all of the streamlined effectiveness and style you can expect from Osprey. They've got it nailed down when it comes to cool backpacks for men at an affordable price.
It's great when a bag looks cool, but how does it actually feel to wear? The team really loved that this bag not only made hiking bags cool again but most importantly when fully loaded it was super comfortable and spread the weight well. The large mesh back panel also literally kept their backs cool too, which is … cool!
Check out our in-depth Osprey Talon 33 review
It doesn't get more streamlined and sleek-looking than this all-black Aer Travel Pack, making it my #1 pick for a cool backpack for men, specifically for us digital nomads. It's compact, expertly designed for staying organized, and fits an on-the-go nomad's lifestyle to a tee.
The Aer Travel Pack's design is awesome. Packing is so easy with the clamshell opening and there are separate quick-access pockets for your most essential items like your small valuables and your laptop. You'll appreciate the ventilated compartment that lets you keep shoes or dirty clothes away from the rest of your stuff.
You'll get maximum versatility with a padded top and side handle to choose how you want to carry it. You can even convert the bag from a carry-on backpack to a smaller daypack. Seriously, guys, this bag doesn't miss a beat.
Our team just loved how technical and tactical this bag feels whilst also looking super cool and compact for its size. The sheer number of pockets, sections, dividers and extenders back up the technical feel of this bag and give it a real high-quality feel. The team also loved the lockable zippers that were on a few different sections of the bag, great for keeping their expensive gear safe.
Check out our in-depth Aer Travel Pack review
The Shell by Tropicfeel is a relatively new find to us at the Broke Backpacker but may just have changed the very fact of one bag travel. Firstly, the Tropicfeel Shell has an adjustable capacity extending from a 22L day pack to a full 40L carry-on, overnight, weekend sized pack. This saves you from having to bring a second pack to use for day trips and visits to the beach. Result.
The next awesome feature is that it literally comes with a built-in hanging wardrobe! You pack your clothes neatly into the mesh wardrobe, pop it inside the Shell and then unpack it and hang it up once you arrive at your destination!
It's a great bag for those who like to travel neat and also for business people who kind of need to stay presentable and organised. It's made from fully sustainable materials making the Shell an all-around hit with us at The Broke Backpacker.
Our team just love how innovative this bag and its wardrobe system are. They felt it was a game changer when it came to organising their gear and keeping everything in order. The expandable features including clip on's, extendable sections and a kangaroo pouch too proved a hit for extra storage and the team felt they worked well without looking geeky.
The fact that this backpack lets you charge your phone and electronic devices with solar power already makes it cool. Add to that the fact that it's made with a fabric that's made from upcycled ocean-bound plastic, and you have the ultimate in cool backpacks for men.
You can get the Lifepack with our without the Solarbank, if you happen to already have one. The Shore-Tex is also jam-packed with security features – like 4 secret pockets to stash away important ID documents and credit cards and Solgaard's anti-theft patented lock.
Another added bonus its extremely streamlined design with just the right amount of pockets and organizational features to make life on-the-go that much easier. It's secure, comfortable, and smart – just about everything you could want in a solar backpack.
Our team felt this was possibly one of the most functional backpacks they had ever come across and they loved that Solgaard had managed to pack all that into such a cool-looking pack. The two massive stand-out features were the solar panel on the front which the team thought worked really well as well as the secret passport pocket which is a great safety feature.
Check out our in-depth Solgaard Lifepack review
When it comes to finding an ultra-secure, super cool backpack for men, pacsafe products nail it. The Venturesafe is the perfect, versatile anti-theft travel day pack for daily use or as a companion day pack for travel.
You can be sure your valuable personal belongings and expensive tech products will stay safe with all of its anti-theft features like lockable zippers and materials that are cut and slash-resistant. Keep your passport and credit cards secure by stashing them in the Venturesafe's RFID blocking pocket.
On top of maximum anti-theft protection, pacsafe's Venturesafe backpack features external attachment points to easily carry around small extras and an internal attachment point to easily access your keys and wallet. It's got ample space and pockets for all of your essentials and removable hip belt for added comfort.
If security and theft are a top concern, this backpack is the right choice for you. You won't regret it. Because of its anti-theft capabilities, it makes a great laptop bag. It's as safe as your belongings can get short of packing a portable travel safe.
Our team are big fans of Pacsafe bags and the level of security they give them whilst travelling, but let's be honest, the bags can usually look a bit nerdy. The team were super impressed by how stylish Pacsafe had managed to make this backpack whilst retaining all the features they know and love including lockable zips, cut-resistant materials and an RFID-blocking pocket.
Check out our in-depth Pacsafe Venturesafe 25 review
Travel can take quite the toll on the environment so eco friendly backpacking gear should always be applauded. And when a fully recycled backpack also rocks the vintage cool image? Then look no further than the Osprey Archeon for one super cool backpack for men.
For one, it's made with recycled materials treated with a water repellent finish and has a removable rain cover which is ideal for those sudden showers in Asia that can appear in the blink of an eye. Every inch of this backpack is functional, including the hip belts that include small zippered mesh pockets for stashing small items.
Lugging around all your gear can be hard on your back, but the Osprey is designed for all-day-comfort with an adjustable harness and sturdy internal frame to help spread the weight. You'll also be grateful for the internal sleeve that can hold up to a 3-liter reservoir of water to keep you well hydrated in the hot, humid travel conditions.
Our team felt this was possibly the most stylish Osprey bag the company had ever produced and loved that they were taking the humble backpacking bag and making it cool! Beyond that, though they felt this bag had the features to go along with its looks with the front access panel, comfortable frame and super durable construction.
Team up with the women of Gulu for your next commuter backpack, and you'll receive a roomy pack with plenty of small pockets for essential details. The Gulu Made brand set up shop building a backpacking factory in Uganda and has entrusted the local community with making sustainable backpacks built to last.
The Innovator Pack features two main compartments for the big stuff, plus two front pockets for quick access to the small stuff. Its also a comfy carry so you can well and truly keep your coo thanks t the Innovator Packs Lux-Comfort back panel…
This pack is stylish, minimal, ethical and has everything you need in a commuter backpack. Our team loved the minimal styling on the exterior combined with the extraordinary features once opened up. The sleek exterior hides a double-zippered section where you can keep your laptop in a separate compartment from the main large area which is great for keeping everything organised.
Another solid choice in the cool backpacks for men category is REI's 28-liter Co-op Ruckpack. It's a simple, functional pack that can serve a variety of functions from a hiking backpack to a daypack for longer travel.
It's made of durable nylon material that makes it ideal for hitting the trails or for any off-the-beaten-track adventure. For travel, you have the option of using its attachable waistbelt and fastening the sternum strap for added comfort and stability. Oh, and the stowable rain cover is a nice bonus should you hit stormy weather along the way.
For a simple, versatile and affordable backpack, REI's ruckpack has a lot to offer. Our team loved how rugged this backpack was whilst still offering heaps of space and great organisational features.
The 25-liter version of the REI Co-op pack is smaller and designed as a women's backpack with contoured foam in the harness for a female-focused fit. It's light, affordable and functional – making it a solid choice for a hiking trip or as a carry-on daypack.
A big plus about this backpack is that it's made with all recycled materials, so you can feel good about protecting the environment and yourself! It has 5 compartments plus the main compartment, so you'll have plenty of space to pack all of your essentials.
Our team loved this budget option for cool backpacks as well as the fact that it offered a smaller profile than many others on the list. They felt that meant it was less cumbersome when it came to using it for commuting or city breaks.
If you're looking for a cool backpack for men that has it all – look no further. The Nomatic Travel Bag is a versatile and well-designed bag that will prove useful for everyone. It's compact yet spacious 30-liter capacity make it as practical for daily use as for hopping on a flight for a long weekend getaway.
Finding space to fit in everything you need is a breeze with all of the Nomatic's special pockets and compartments. Its shoe compartment with a ventilated door and water bottle pocket makes it ideal for the gym, while you also have pockets for underwear, socks, and an RFID pocket for longer trips.
Speaking of versatility, its innovative strap system allows you to easily choose between backpack and duffel-style portability. And with its sleek, all-black modern design, this bag has cool nailed down.
Our team love how innovative this pack is and how much it assists them in keeping their gear organised when they're packing a lot of tech. They loved the slimline design that can be expanded when needed alongside the various elesticated and zippered pockets to keep things like hard drives and cables neat and tidy.
Check out our in-depth Nomatic Travel Bag review
As I've mentioned before, there is no lack of choices when you're in the market for cool backpacks. I've tried narrowing it down for you with my top picks, but as you keep shopping around, there are a few factors to keep in mind. Let's take a closer look.
The Best Use for the Backpack
What was the backpack built for? A backpack designed for hiking will prioritize different features than a pack intended for travel photographers. A photographer is toting around expensive equipment so will want a bag designed for maximum protection of its contents while a hiker may prioritize a well-designed hydration reservoir compartment.
So it's important to know the type of trip you're looking to go on and what your most pressing needs will be. Often it's not that a backpack is faulty or lacking, it's just that it's not being used in the way for which it was intended.
Cool Organizational Features
Perhaps the most essential feature of any backpack is how organized it lets you be while on-the-go.
Is it laptop-friendly? Does it have an accessible front panel for your ID and important documents? Does it provide easy access to a water bottle? Does it have a separate shoe compartment? Can the interior be divided into separate compartments?
Again, the definition of organized will depend on the activity you're using it for, but having designated pockets, sleeves and compartments can definitely make your life a whole lot easier. Be sure you know what staying organized means to you and choose a backpack that fits the bill accordingly.
Cool Carry-On Packs
How important is it to you that the backpack you choose meets carry-on requirements?
The most notable benefits of a carry-on are avoiding the hassle of having to check in your bag, retrieving it at the airport – and possibly losing all your stuff in transit. One bag travel also means packing lighter and having less to keep track of and shuttle around.
If carry-on is one of your requirements, then you'll want to narrow your search to packs up to 35 liters – anything over that will most likely be too big and will require check-in.
Durability vs Aesthetics
The good thing about backpacks for men these days is that you don't have to sacrifice looks for function. Most modern travel backpacks are both tough and sexy.
Even the sleekest minimalist design – which screams cool – can be packed with innovative features and storage capacity that exceed your expectations. And the water-resilient, durable materials used in contemporary packs can handle anything.
The good news here is that a seemingly expensive pack is often worth every penny. Not only will it last you forever but a timeless design will keep you looking cool even in the most unsexy of travel conditions.
To test these packs, we laid our mits on each and every one of them and gave them a proper test drive. We took them out for a decent amount of time and on a few different trips to get a real feel for their performance.
When it came to cool men's backpacks, one of the more important features here is how they look! But there's more than that too…
Packability
A backpack is designed to carry stuff and so we judged each one by exactly how it did just that! Even when it comes to cool backpacks for men, they've got to perform as a backpack too!
So we tested how well each one maximised its space, how well it facilitated packing and unpacking and the different storage options each one offered. It was just as important to us how easy it was to get our stuff out of our packs as well as how well they packed too.
Weight and Comfort of Carrying
If a pack is overly heavy or awkward to carry then taking it along on trips becomes cumbersome and can really ruin your enjoyment of your trip. We've all had backpacks that were just that bit too heavy or had shocking straps that dug into the shoulders.
As such, we awarded full marks for packs that minimise weight and maximum carry comfort.
Functionality
In order to test out how well a pack fulfilled its primary purpose we used it for this purpose.
When it comes to cool backpacks men, it's a bit vaguer than say, backpacks for photography equipment. Here we were looking at a wider range of features and functionality for each different pack on an individual level. For us what makes a bag "cool" is that it tries to do something different, innovative and looks cool at the same time.
At the same time, if a bag was designed primarily for commuting them we looked at how well it performed in that aspect.
You get the idea right?
Aesthetics
Some people say that travel gear doesn't need to look good as long as it functions. Well, we're looking at cool backpacks for guys, so I'm sorry, but looks here were incredibly important! I mean, who doesn't want a bag to look great and be functional at the same time?
As such we also awarded points for how sexy a pack looks.
Durability and Weatherproofing
Ideally, in order to really test out how durable a backpack is we would drop it from a plane and then run over it. But to be honest this seems a little extreme and hard to organise. So instead we kept things a little more lowkey!
We began by inspecting the materials used on each bag, and the build quality including things like seam sewing, zips and buckets.
When it came to testing out how waterproof a pack is, we simply poured a litre of water over it – any packs caught leaking, were immediately banned entirely from inclusion in our cool guy's backpacks list!
Still have some questions about the best trendy men's backpacks? No problem! We've listed and answered the most commonly asked questions below. Here's what people usually want to know:
So, guys, I hope I've put your mind at rest about not being able to find a cool backpack for men that is functional in every way, yet also sexy.
Just be sure to know the main purpose of the bag, where and what conditions you intend to use it most, what your size limits are, and how long you want it to last. Once you've prioritized your needs, you'll find the perfect backpack for you. Having trouble honing in on the right backpack for yourself? You can't go wrong with our top pick: the Tortuga Outbreaker Backpack.
Staraping on a new backpack is actually a lot of fun, so enjoy it. More importantly, go out into the world and put it to good use!
What are your thoughts? Did this top cool backpacks for men review help you? Anything I didn't answer? Let me know in the comments below – thanks guys!
---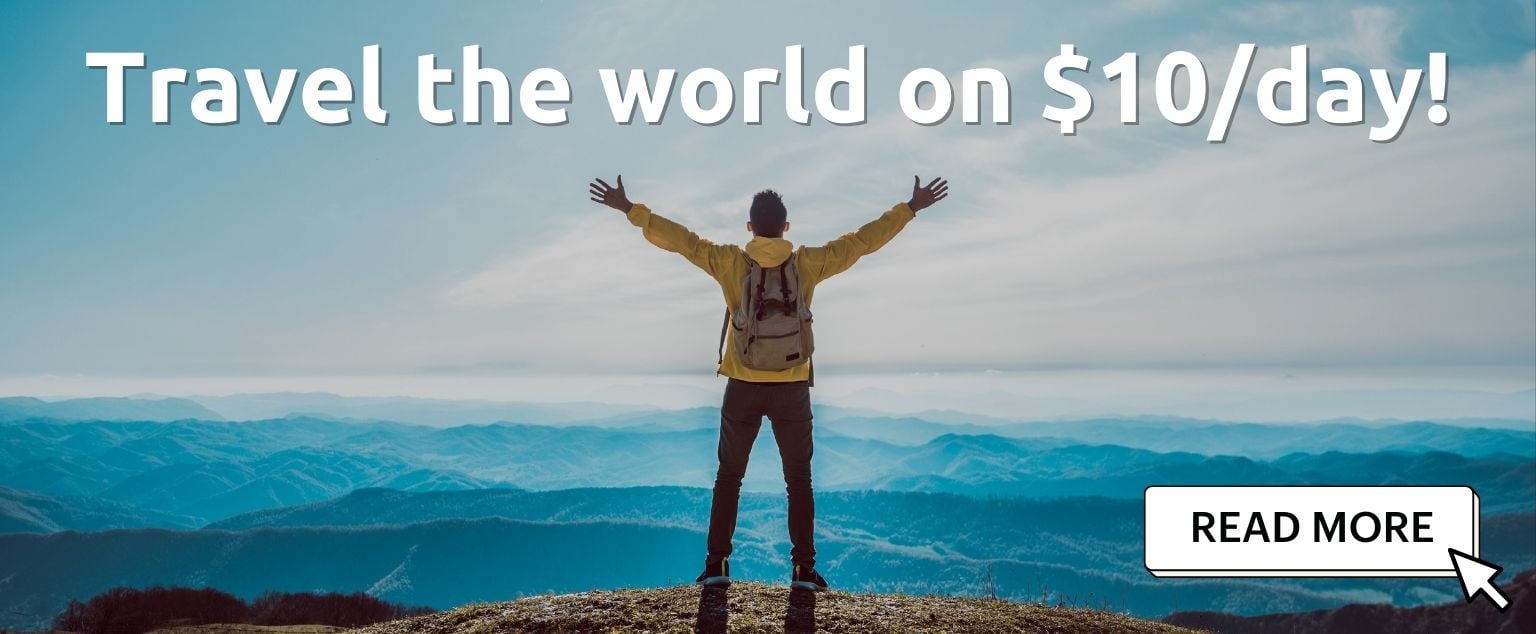 And for transparency's sake, please know that some of the links in our content are affiliate links. That means that if you book your accommodation, buy your gear, or sort your insurance through our link, we earn a small commission (at no extra cost to you). That said, we only link to the gear we trust and never recommend services we don't believe are up to scratch. Again, thank you!