Navigating uncharted waters, weaving through untouched wilderness, or gliding across glassy lakes – the magic of kayaking is an experience unparalleled, especially when your vessel is lightweight, portable, and ready for adventure at a moment's notice. Enter the world of inflatable kayaks, a modern marvel that has revolutionized water exploration for enthusiasts and professionals alike.
Once dismissed as a novelty, these durable, maneuverable, and often surprisingly affordable craft have proven to be much more than just a fleeting trend. From their eco-friendly appeal to unrivaled convenience, inflatable kayaks have surged to the forefront of aquatic recreation, redefining the way we connect with the water. The best inflatable kayak is not just a piece of equipment; it's an extension of the paddler's spirit, a key to unlock nature's most secluded wonders.
So if you're looking for a handy guide to the best inflatable kayaks on the market right now – you've arrived at the right place! Below, I'll cover all of the need to know kayak models to get you out on the water as quickly as possible.
No matter what your experience level and budget are, I'm sure this post will point you to your perfect vessel and you'll be out there on the best inflatable kayaking in no time!
Let's get right to it…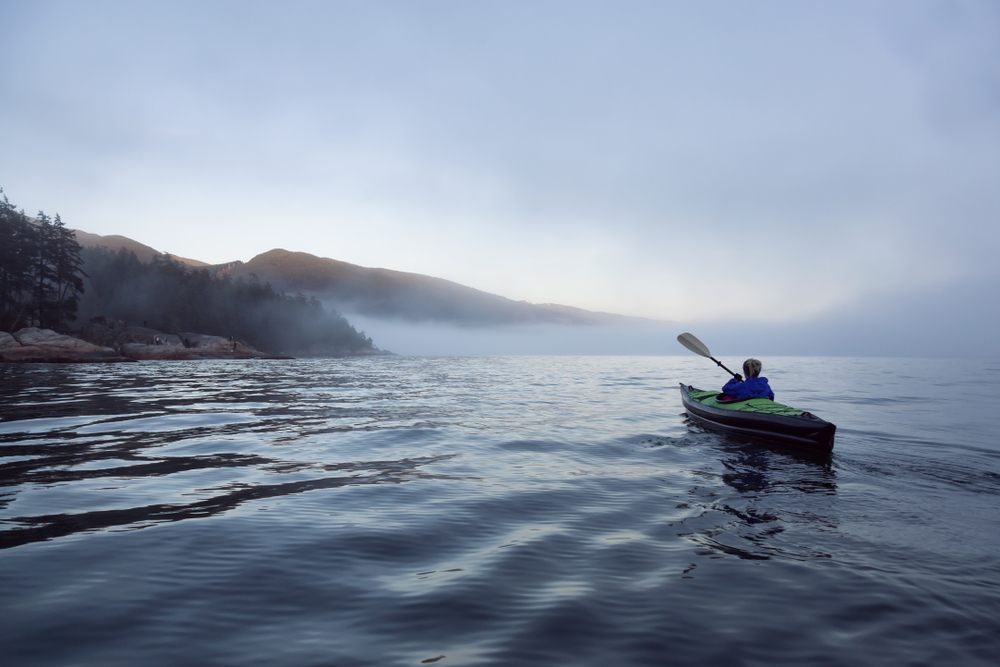 So, you want to go Kayaking but you don't want the weight and hassle of dragging around a hardshell kayak. Well, you're in luck! A quality inflatable kayak is the perfect combination of the adventure opportunities of a rigid kayak and the portability of a folding frame kayak, all whilst generally being a lot more affordable.
Whilst you might think an inflatable boat is just for recreational paddling, many also make for a suitable whitewater kayak too. If you're looking out for an inflatable backpacking kayak then there's plenty of options out there.
Whatever sort of adventure you're looking for, we've got a high-quality inflatable kayak for you!
Ready for a some good old blow up kayak reviews, let's crack on!
Quick Answer: The Best Inflatable Kayaks of 2023
BEST INFLATABLE KAYAK OVERALL
BEST INFLATABLE KAYAK OVERALL
Advanced Elements Inflatable Kayak
Price > $$$
> Made of PVC-coated polyester
> Tracking is exceptional
BEST 2 PERSON INFLATABLE KAYAK
BEST 2 PERSON INFLATABLE KAYAK
AdvancedFrame Convertible Tandem Inflatable Kayak
Price > $$$
> Roomy enough for 2
> Setup is super quick and easy
BEST 2 PERSON INFLATABLE KAYAK FOR BEGINNERS

BEST 2 PERSON INFLATABLE KAYAK FOR BEGINNERS
Aquaglide Chinook 100 Inflatable Kayak
Price > $$$
> 2 removable high-back kayak seats
> Includes carry bag, pump and repair kit
BEST INFLATABLE FISHING KAYAK
BEST INFLATABLE FISHING KAYAK
NRS Kuda 106 Inflatable Sit-On-Top Kayak
Price > $$$$
> 4 built-in rod holders
> It has hook, line and sinker
BEST SIT-ON-TOP INFLATABLE FISHING KAYAK
BEST SIT-ON-TOP INFLATABLE FISHING KAYAK
AdvancedFrame Expedition Elite Inflatable Kayak
Price > $$$
> 6 inch-thick deck
> 12 ½ feet of space for all the fishing gears
BEST INFLATABLE KAYAK FOR WEEKENDERS
BEST INFLATABLE KAYAK FOR WEEKENDERS
STAR Viper Inflatable Kayak
Price > $$
> 2 core seats with padded cushions
> Child's removable inflatable booster seat
BEST INFLATABLE SEA KAYAK
BEST INFLATABLE SEA KAYAK
AdvancedFrame Expedition Elite Inflatable Kayak
Price > $$$$
> Large cockpit
> Incredible ease to assemble
BEST ULTRALIGHT PACKRAFT FOR TRAVEL
BEST ULTRALIGHT PACKRAFT FOR TRAVEL
Klymit Litewater Dinghy (Lwd) Packraft
Price > $
> Weighing in at only 4 lbs.
> Compact size of 11x11x5 inches when compressed
BEST INFLATABLE PACKRAFT FOR MULTI-DAY EXPEDITIONS
BEST INFLATABLE PACKRAFT FOR MULTI-DAY EXPEDITIONS
Inflatable Lightweight TPU White Water River Micro PackRaft
Price > $$$$
> No pump needed
> Includes an inflation bag system
BEST FOLDABLE KAYAK
BEST FOLDABLE KAYAK
Oru Kayak Beach Lt
Price > $$$
> Compact
> Best choice for beginners
Winter is coming… WARM UP!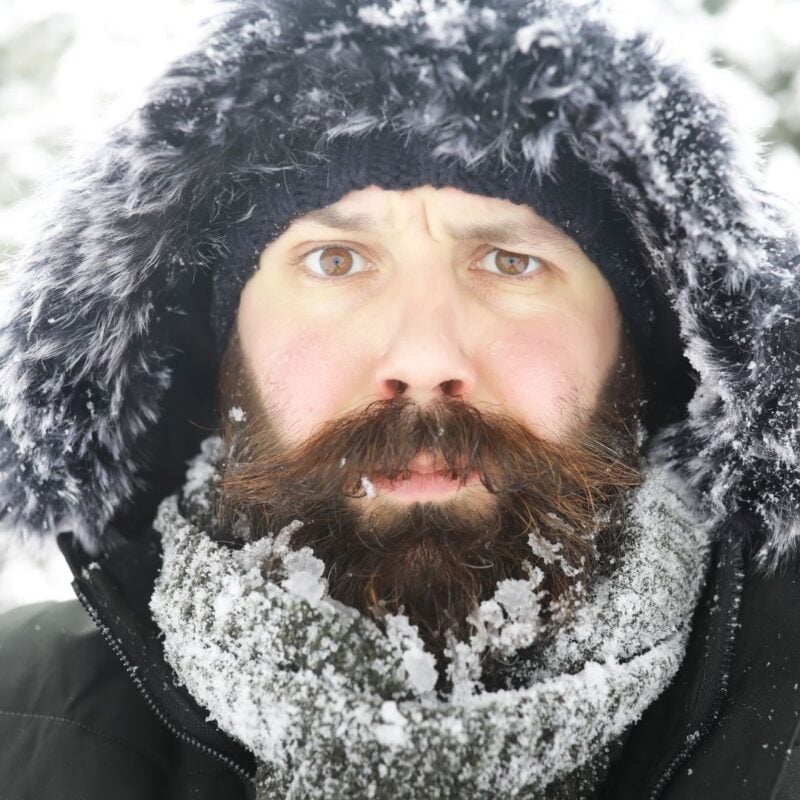 Get up to 50% OFF when shopping gear for the winter on REI.
Warm up for the holidays and SAVE on outdoor gifts all the way through Dec 18!
View on REI

If you want a kayak that has everything a solid kayak should have – performance, portability, easy set-up and cutting edge design – this is your winner! It quite literally blows many other inflatable kayaks, as well as most traditional hard shell kayaks out of the water! It's the best rated inflatable kayak for good reason!
It's made of PVC-coated polyester with aluminium rims for maximum durability with a length of 10 feet 5 inches, 32-inch width and 11.5-inch depth. It weighs 26 pounds and offers plenty of onboard space without sacrificing legroom for a comfortable ride. Long trips feel even comfier with its high-support, adjustable padded seat.
Its tracking is exceptional – right up there with the tracking you'd find in a hard-shell day-touring kayak – thanks to its rigid aluminium frame reinforced bow and multiple air chambers. The stern, also with aluminium frame reinforcement, functions as a skeg, further increasing the tracking performance.
One of the best things about the Advanced Frame inflatable kayak is there's nothing complicated about this bad boy's setup. Simply unfold, inflate and you're good to go! There's good reason this bad boy puts many traditional hardshell kayaks to shame!
Our team rated this as their best blow up kayak because they felt after the initial learning curve it was super easy to inflate and often took them just 5 mins. They also felt the kayak felt very similar to a solid kayak in both lakes and on the ocean, much more than any other inflatable kayak they'd ever tried.
Kayaking can be a great solo sport, but it's also fun to bring someone along to enjoy the ride. It's nice to have the option! With the AdvancedFrame Convertible Tandem Inflatable Kayak, you can easily switch between solo and tandem touring with its adjustable seat positions.
This versatile double inflatable kayak is 13 ft and weighs 52 pounds, making it roomy enough for 2 to paddle in comfort while being compact (and light ) enough to take with you on any adventure.
Like most AdvancedFrame kayaks, the PVC material they are constructed from is tough and can survive bumps with sharp boulders, sticks, etc.
Again, the setup for this tandem kayak is super quick and easy. No assembly required whatsoever – unfold, inflate, attach seats, go! Pump and repair kit included and it even comes with fishing rod holders.
Our team were really impressed by how stable this kayak felt, especially when fully loaded with two people, fishing gear and a dog! With this in mind they also loved how spacious this kayak was an just how much they could store in here. They felt it was perfect for long trips on the water, especially fishing trips that require plenty of gear.
Best 2 Person Inflatable Kayak for Beginners
If you're new to kayaking and are looking for a compact and reliable recreational tandem kayak that makes for awesome flatwater exploration, we recommend this Aquaglide Chinook 100 Inflatable Kayak.
It has everything you need for some awesome flatwater exploration while being easy to set up and transport. Its polyester/PVC tarpaulin construction gives it a durable, compact design – measuring 10 and weighing just 23 pounds – that allows you to just fold it up and pack it away anywhere!
This beginner's 2 person kayak has removable highback seats with 3 available seating positions for your choice of a tandem or solo paddling. Bring along some snacks and cold drinks that you can tuck away in the convenient seat pockets and bottle holders and enjoy the ride!
Our team loved how comfortable this kayak was with the dual high back adjustable seats and foot braces. They also felt the addition of the bow and stern rigid keel inserts were an awesome feature that gave outstanding tracking and stability even in rough conditions.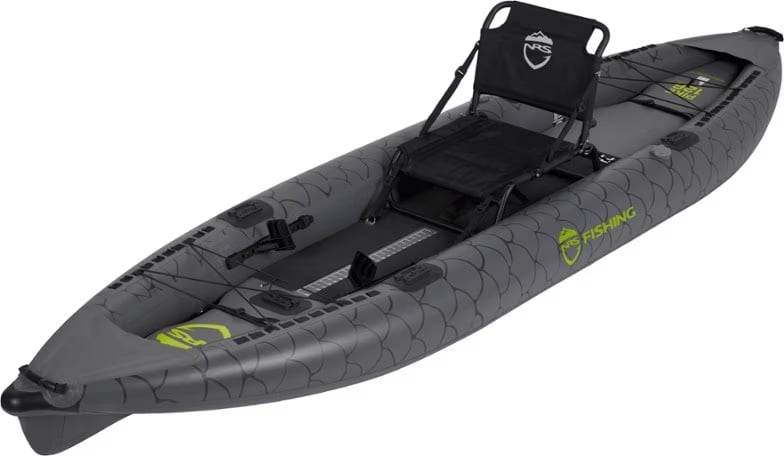 For kayakers searching for a kayak that can be used for flatwater paddling and for fishing, look no further than the NRS Pike 126 Inflatable Fishing Kayak.
It's a true lightweight Kayak coming in at just over 48 pounds and 12 feet 8 inches in length, giving it plenty of space for one paddler but also has the capacity for 2. This inflatable fishing kayak has an extra 39 inches and a hard-bottom floor that gives it extra space overall and standing stability for a smoother, more secure feel.
The NRS Pike 126 Inflatable Fishing Kayak doesn't miss a detail when it comes to accommodating fishing needs with 7 Scotty amounts available that can be customised with rod holders and any other accessories an angler's heart desires. That's a whole heap more than most inflatable kayaks offer!
No need to worry about a fishing positions, the 5 YakAttack accessory mounts allow you to customised your set up to exactly how you like it.
There's even a removable platform for the seat that allows for a higher seating position – perfect for fishing. And with its multiple air chambers, it's able to retain its shape with ease. This kayak has it all – hook, line and sinker!
Our team just loved the look of this kayak, they felt it offered something really unique that's not common on the market, especially when it comes to inflatable kayaks. Looks aren't everything though, they also felt the kayak was really easy to inflate and deflate, taking maximum 10 minutes to do both and without any fuss either.
Best Sit-on-Top Inflatable Fishing Kayak
The NRS Kuda 106 Inflatable Sit-On-Top Kayak is the ideal vessel for the kayaker that wants the option to stand, sit, paddle and cast during their kayaking excursion. It has a 6 inch-thick deck that inflates to a firm 8 psi for maximum versatility.
As a solo adventurer, you'll get plenty of leeway with 12 ½ feet of space for all the fishing gear, tackle and any ride-along accessories you want. The removable suspended-mesh, aluminium-framed seats provide the ideal position for casting, fish sighting and paddling. This beast is much more versatile than most inflatable kayaks on the market.
As far as having sufficient attachment points for your favourite fishing accessories – like rod holders and anchor locks – the 5 YakAttack accessory mounts will have you covered. It's the best blow up kayak choice for any adventurous solo angler! It even comes with its own carry bag too.
Sit on top kayaks are a different vibe and our team felt that when they gave this a go. They felt stability and storage solutions were a major point they wanted to test out. With this kayak they were super pleased with how the STAR Rival performed. The wide profile and ridgit performance of the deck meant it felt just a stable as a sit in kayak and the several rigging and mount points meant storing things like a cool box or fishing gear felt really safe.

Do You Want to Travel FOREVER??
Pop your email in below to get a FREE copy of 'How to Travel the World on $10 a Day!'.
Best Inflatable Kayak for Weekenders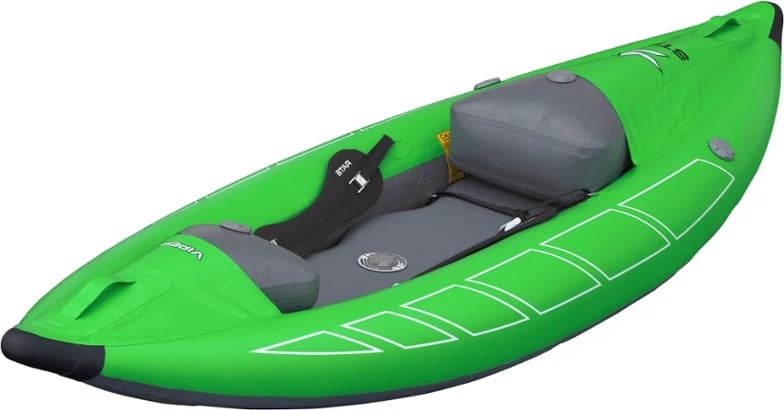 The STAR Viper is the perfect all-purpose kayak for weekend warriors looking for fun-filled, recreational days out on the water. Whether you're paddling solo, with a friend or partner – or even want to bring a child or dog onboard – this trusty vessel will meet all your needs!
Weighing 33 pounds but with 9 ft. 6 in. in length, the Viper offers a 200lb capacity to accommodate not only the companions you'd like to bring along but also any fishing gear, food, drinks and accessories you need to make your excursion complete. As for every weekend mission – your time is valuable – so why spend more time with the set-up? Not very interesting. In line with other kayaks, the setup for this boat is straightforward and easy. Sorted.
For added ease and convenience, this kayak for weekenders rolls up into its own bag that can be easily stored in the trunk of a car or closet. When you're ready to hit the water, just take it out of the bag, inflate, arrange the seat and get to paddling!
Our team loved how quickly and easily this kayak could be inflated, particularly when they considered the XL size. Another cool feature they liked was that the floor piece was removable and so it could be easily dried before packing. They also felt it was possibly the most stable inflatable kayak they'd ever used and said "I don't think you could capsize this boat if you tried!"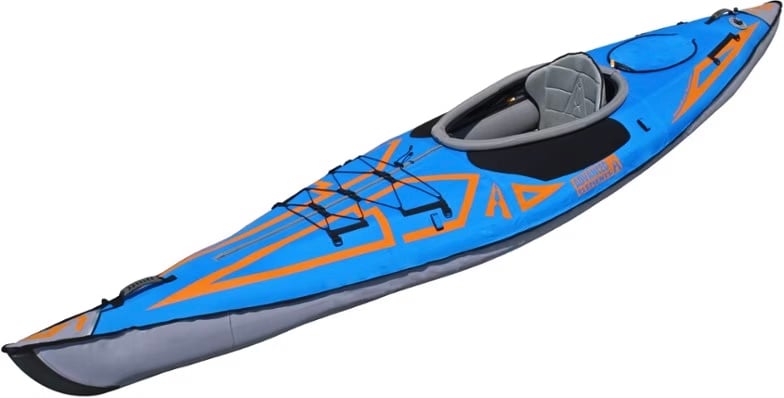 The thing about an inflatable kayak for sea journeys is that you really shouldn't be using an inflatable kayak. The AdvancedFrame Expedition Elite instead gives you an option with awesome packability and ease of disassembly with durability much, much closer to that of a hardshell.
Measuring at 13-feet, a raised keel and an angular bottom make this kayak able to cut through the water with ease. With a large cockpit and ample storage space (with a carrying capacity of up to 450 lb) you're able to bring plenty of extra gear on your water-borne trip. Unfortunately, this added breadth to the cockpit means that you're more likely to gather water as you paddle.
If it wasn't for the incredible ease of assembly, we wouldn't feel comfortable recommending this over an inflatable sea kayak. However, the stability and durability of this kayak combined with its supreme portability make it an easy recommendation.
Our team felt this kayak did take a little longer to put up than some of the others, however, they felt once you got used to it it was still pretty easy. But for the added hassle setting it up, they felt it offered unbeatable size and weight and was still a pretty hardly little thing and good for fun river trips out.
All savvy adventure travellers know that the key to travelling is packing light. So when you want to abide by this rule and have the luxury of bringing your kayak along with you, the Klymit Litewater Dinghy (Lwd) Packraft is your answer!
Weighing in at only 44 oz. and boasting a compact size of a 1.5 liter bottle when compressed, there's nowhere you can't take this little guy. It's perfect for transporting to off-the-beaten-track spots that you're itching to explore on the water.
Its 210D polyester construction makes this travel blow-up kayak both durable and simple to pack into its small carry bag with an inflatable seat.
I love the freedom that the Klymit Litewater Dinghy Packraft gives you. Never miss the perfect paddling opportunity again by travelling with your own kayak – when you see the spot, just unpack, inflate and go!
This kayak stood out to our team because of how bombproof it felt, especially given just how light this thing is! It's pretty minimalist, looking more like a mini raft than a kayak, but it offers incredible levels of stability, and durability and even has a tonne of storage too.
If hitting the whitewater of backcountry rivers is more your style, the Inflatable Lightweight TPU White Water River Micro PackRaft is definitely the way to go. Equipped with a spray deck, this kayak is perfect for multi-day whitewater rafting expeditions.
Don't worry about being able to hike it into your favourite rafting spot either; it weighs only 3.5 kg or 7.71lbs and can be packed down to a super compact size. To make things even easier, the Inflatable Lightweight TPU White Water River Micro PackRaft includes an inflation bag system that inflates the vessel in under 3 minutes; no pump needed!
This raft is built with durable thermoplastic polyurethane-coated nylon material and all the watertight details needed for some serious rafting fun. Enjoy the ride!
There were a few members of our team who were pretty experienced when it comes to kayaking so they were looking for something a bit more cutting edge. They loved that this inflatable kayak was built more for white water rafting and felt its performance easily competed with some of the best solid kayaks out there even in some pretty rough rapids.
Best Foldable Kayak
In case you lack the lung power to blow up an inflatable Kayak, then why not consider this amazing folding Kayak by Oru?! Styled on the Japanese art of Origami, this innovative beauty folds up into a nice little carry-able cube making it easy and convenient to transport.
The latest generation of the Beach LT is now even easier than ever to assemble. The Beach LT's stable hull shape and spacious cockpit make it ideal for beginners, without compromising speed and agility.
Whilst our team were a little more sceptical of a foldable kayak, they felt this really offered something unique and cornered a specific market. Though they felt it was more suited to casual fun paddling than super challenging conditions, they loved that it's lightweight and compact frame meant it could be taken pretty much anywhere, including last minute beach trips and picnics at the lake.
The best present of all… is CONVENIENCE!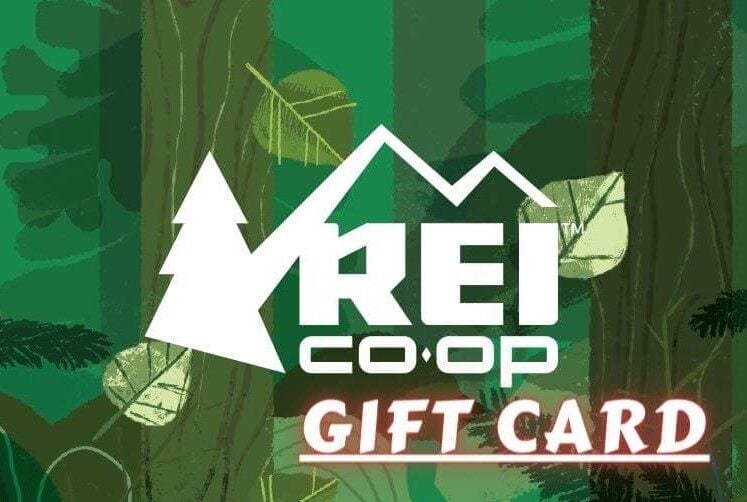 Now, you could spend a fat chunk of $$$ on the WRONG present for someone. Wrong size hiking boots, wrong fit backpack, wrong shape sleeping bag… As any adventurer will tell you, gear is a personal choice.
So give the adventurer in your life the gift of convenience: buy them an REI Co-op gift card! REI is The Broke Backpacker's retailer of choice for ALL things outdoors, and an REI gift card is the perfect present you can buy from them. And then you won't have to keep the receipt. 😉
Buy on REI!
best inflatable kayaks

| Name | Weight | Length | Price |
| --- | --- | --- | --- |
| Advanced Elements Inflatable Kayak | 26 pounds | 10 ft. 5 in. | $569.95 |
| AdvancedFrame Convertible Tandem Inflatable Kayak | 52 pounds | 15 feet | $979.95 |
| Aquaglide Chinook 100 Inflatable Kayak | 23 pounds | 10 feet | $549.95 |
| NRS Pike 126 Inflatable Fishing Kayak | 48 pounds | 12 ft. 8 in. | $995.00 |
| NRS Kuda 106 Inflatable Sit-On-Top Kayak | Unavailable | 10 ft. 8 in. | $925.00 |
| STAR Viper Inflatable Kayak | 33 pounds | 9 ft. 6 in. | $1,095.00 |
| AdvancedFrame Expedition Elite Inflatable Kayak | 42 pounds | 13 ft. | $1,049.95 |
| nflatable Lightweight TPU White Water River Micro PackRaft | 7.71lbs | 230cm | $799 |
| Klymit Litewater Dinghy (Lwd) Packraft | 44 oz | 76 in. | $187.99 |
| Oru Kayak Beach Lt | 25 pounds | 12 ft. 1 in. | $1,199 |
How to Choose the Best Inflatable Kayak for You
Above you've seen my top picks for different types of kayaks – there are a lot of choices! But if you're looking to shop around to make sure you're ultimately choosing the best kayak that's right for YOU, I wanted to provide this quick guide to help you out picking the best inflatable kayak for 2021 and beyond.
It's important to take your time when choosing the best kayak because it's not an item that you can exactly try on and return, like a pair of shoes. To avoid disappointment, be thorough in your research criteria. There are a variety of key factors you want to consider while going through the shopping process, so let's take a closer look…
1. Size and Weight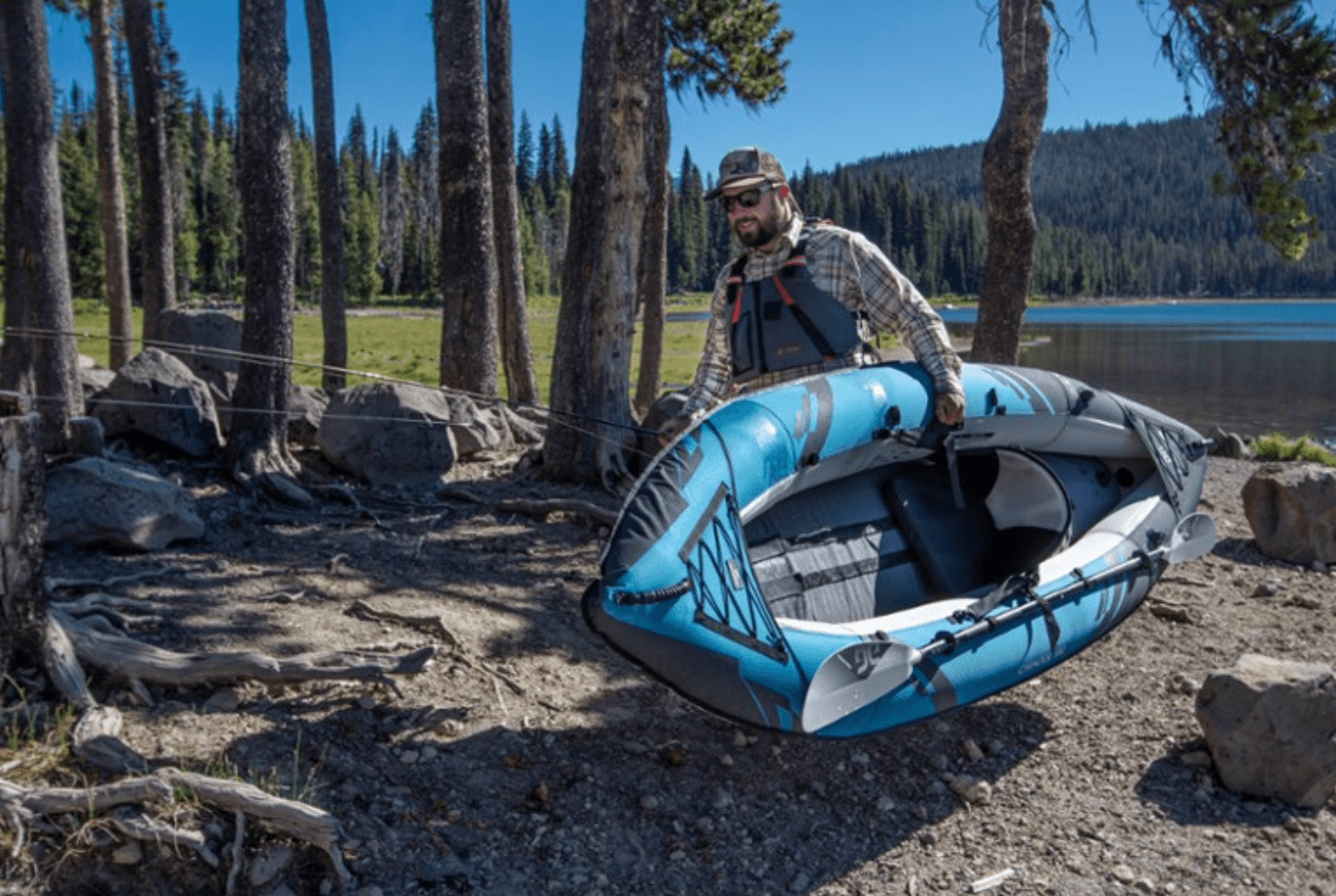 Obviously, a kayak isn't a "one size fits all" piece of equipment – no less so than a bike or a surfboard. So being aware of the size and weight of your vessel is important. It has to "fit" you in order to best serve the ways and locations you wish to enjoy
If you're more of a beginner paddler, you'll probably feel more comfortable with a kayak that provides more stability. In this case, a wider, heavier kayak is probably a better choice. On the flip side, heavier boats are more difficult to turn and manoeuvre; which is fine if you're new to the sport and will be opting for a more mellow ride.
For more advanced paddlers who want more speed and agility, a lighter model makes sense. Just be sure that you're confident about your balancing skills on the water because a light vessel will feel much less stable!
Also, you need to consider your own size and weight. The same size kayak will feel quite different to a 125-pound adult versus a 200-pound adult. Or if you're over 6 feet tall, a small kayak won't make for a very comfortable ride!
Be sure to pay attention to the length and width – and also the packing measurements if you plan on travelling or trekking long distances with your kayak in tow. Make a note of the kayak's total weight capacity too, especially with a 2 person kayak if you plan on paddling with a partner or friend.
2. Materials Used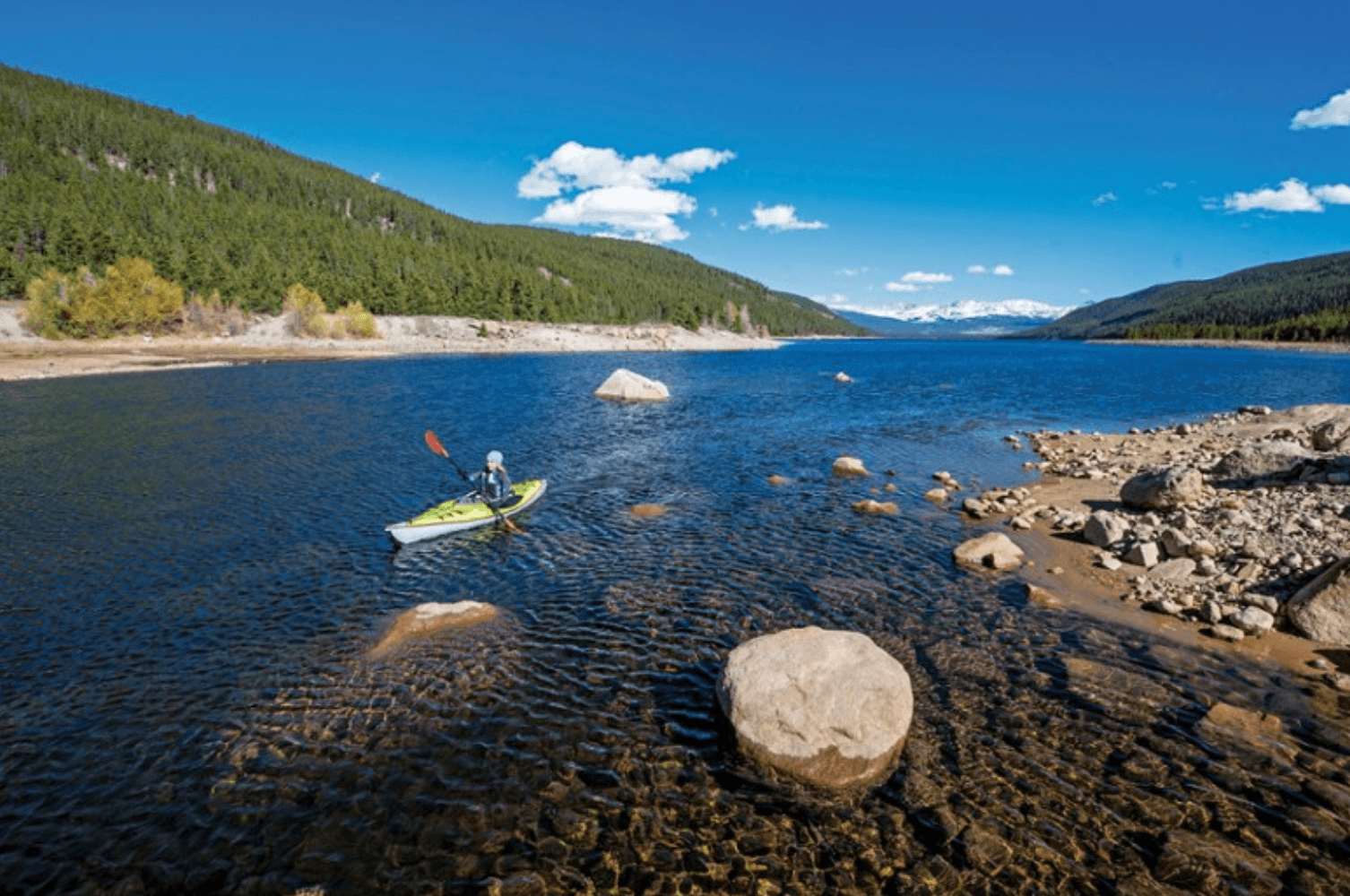 The price of a kayak usually has a lot to do with the materials that are used for its construction. The cheapest is tough vinyl but the most common is PVC-coated fabric. On the more expensive end of the spectrum are Hypalon and Nitrilon.
PVC is affordable and easy to patch, which is why it's the most popular choice of kayak material. It waterproofs the vessel and provides ample stability. The more expensive brand-name options, Hypalon and Nitrilon, are made of synthetic materials and fabrics like neoprene. They are lighter and allow for more compact packaging and are also UV resistant, unlike PVC.
So depending on the conditions you plan to take your kayak into, and your budget, you'll want to take these different materials into consideration when choosing the best kayak for you.
3. Saftey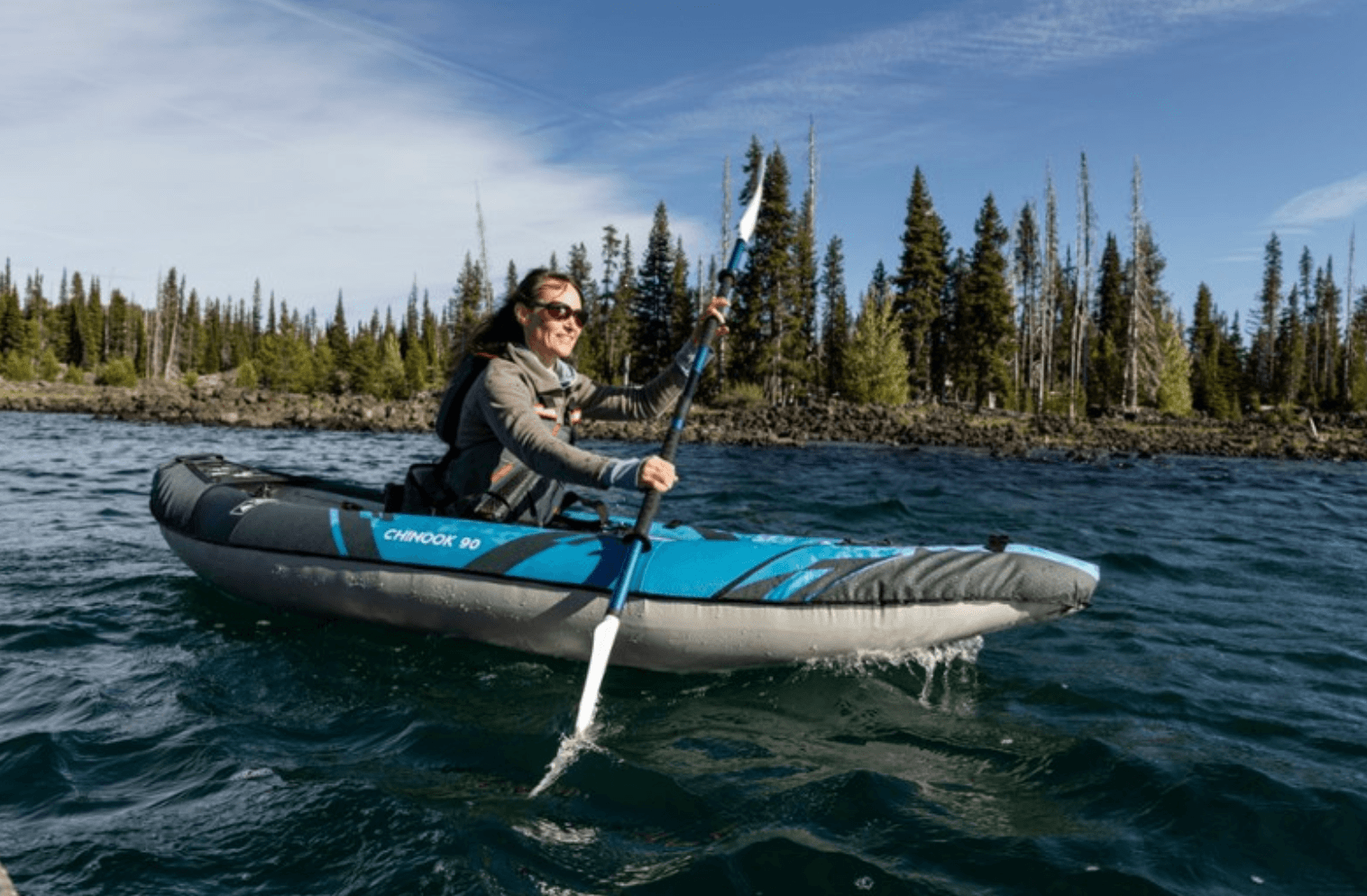 Whether you're using your kayak for leisurely rides on a lazy river or bumpier rides on whitewater, you must always keep safety top of mind.
First, in order to be approved as safe for open water, the kayak model must be NMMA certified. All major brands will have this certification, but if you're researching more obscure manufacturers, make sure this step is covered.
Make sure that the kayak you choose is appropriate for the types of conditions you intend to use it for. A vessel that isn't wide or heavy enough may not be safe for certain elements.
Next, you'll want to choose a watercraft that has the space and/or necessary accessories needed to accommodate safety equipment. An absolute must is wearing a lifejacket, or PFD (personal floating device) that's securely fastened at all times. Make sure they're appropriately sized for the paddler onboard. For more rugged conditions, wear a helmet for added head protection should you get bumped out near rocks or debris.
4. Purpose
Last, but certainly not least, consider the purpose of your kayak. Will the kayak be used for fishing or rafting? Lakes and rivers or the open sea? Where and how you plan to use your boat will dictate the type of kayak that's best for you.
For paddling on flat water, you'll want a longer kayak with skegs for better tracking. For quick-moving water, like in rocky-bottomed rivers, a more manoeuvrable and stable boat will be necessary.
If you plan on spending hours out on the water – like for fishing or longer excursions – you'll want to prioritise comfort. The seat options – padded, adjustable, high back – and legroom will make a difference to how enjoyable a day-long journey will be. Extra storage space and added accessories also matter; having cup holders and space for a small cooler becomes more than an optional luxury if you plan on enjoying a drink and having some lunch onboard!
Also, how much you intend to use your kayak – weekly, seasonally or just occasionally while you travel – it will make a difference on how much money you want to spend and how compact/travel friendly you need it to be. You may want to prioritise the type of material and consider if it will be worth investing a bit more if it will be used frequently and undergo lots of wear. If your kayak is just meant to be used while you travel, choosing a lightweight model that's easily transported will be a top consideration.
How We Tested These Inflatable Kayaks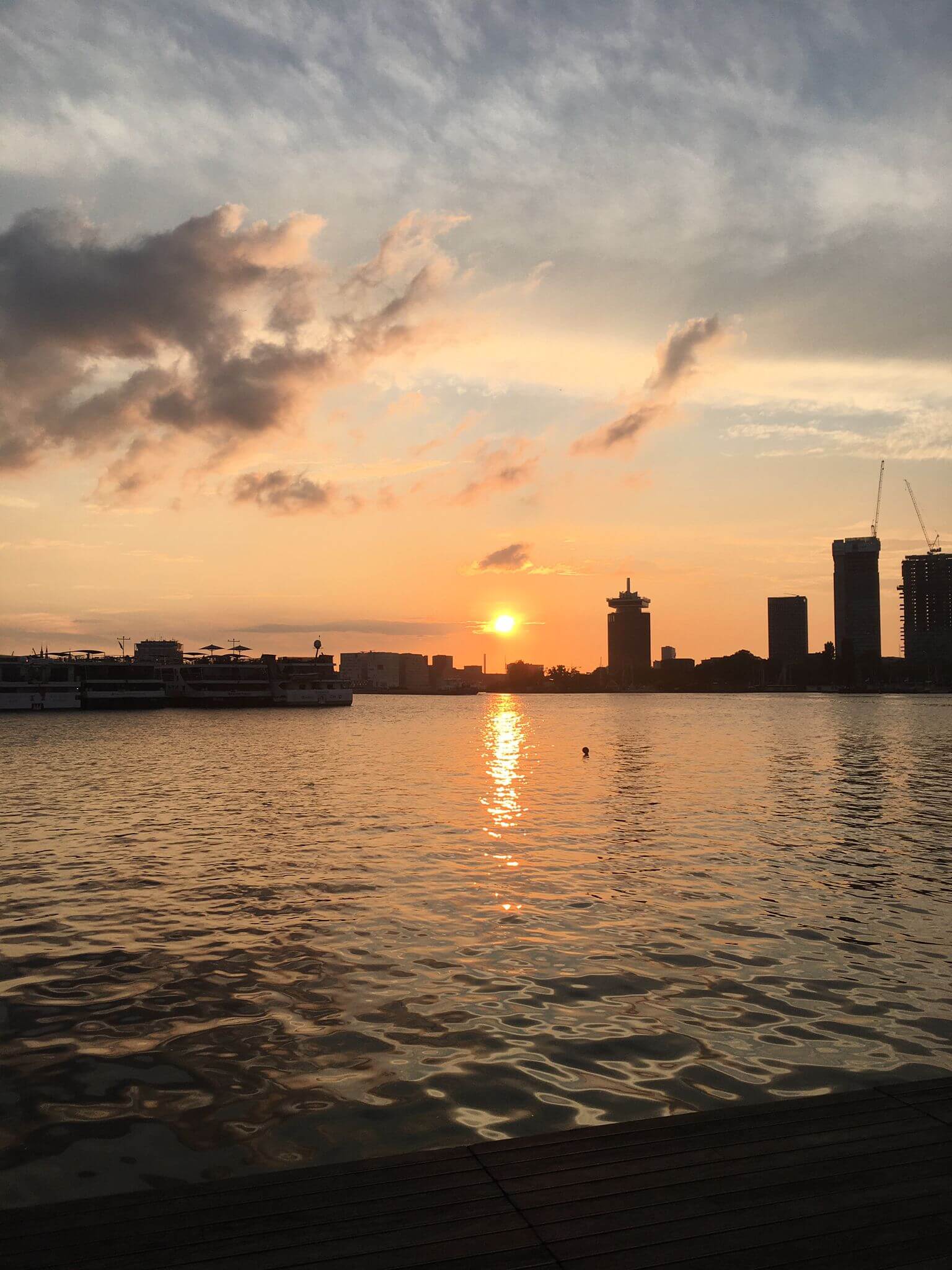 There is no perfect or exact science when it comes to testing out travel and outdoor gear. Nevertheless the team here at The Broke Backpacker do have a whole heap of experience in this area and have got pretty good over the years. When it came to putting together these inflatable kayak reviews for 2021 and beyond, a lot of thought went into our process.
Whenever we test a piece of gear, one of our team takes it out and really puts it through it's paces. Of course, when it comes to writing a best inflatable kayak review, of course, that meant taking to the water.
Either way, we made sure to pay particular attention to certain area. One of those would be looking at how well made each kayak is, whether each one is heavy or light, how durable it is and what other features it has such as how comfortable the seat is. Of course, being inflatable, we were also concerned with how each packed down and how easy to inflate and deflate they are.
Finally, we also take into account how an item is priced – for example, expensive items that perform pretty poorly will lose points. On the other hand, budget items may be given a few more passes and minor failures treated more sympathetically.
FAQs about the Best Inflatable Kayaks
Still have some questions about the top inflatable kayaks? No problem! We've listed and answered the most commonly asked questions below. Here's what people usually want to know:

Our GREATEST Travel Secrets…
Pop your email here & get the original Broke Backpacker Bible for FREE.
Final Thoughts on the Best Inflatable Kayak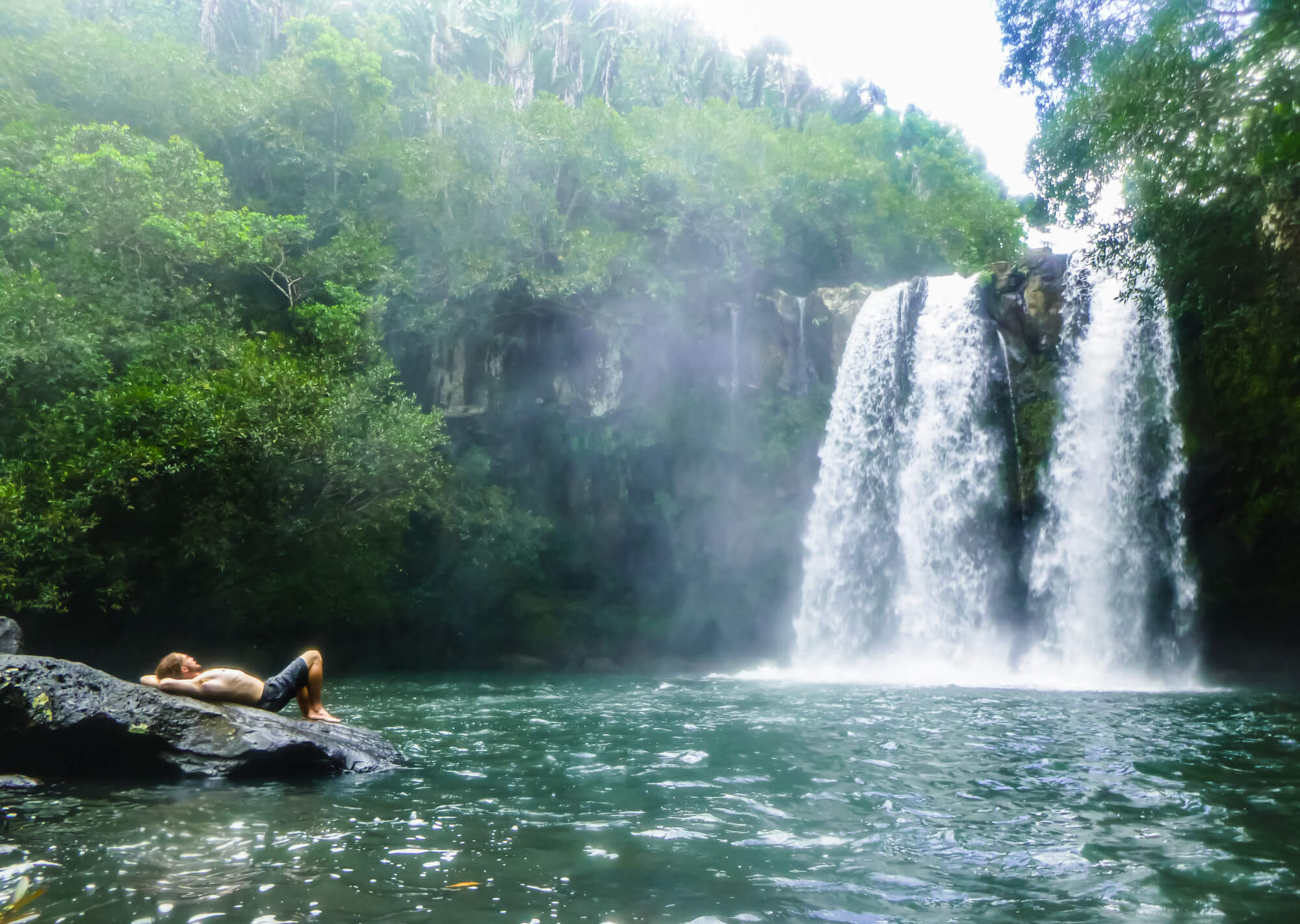 Choosing the best kayak for your own needs is not an easy task. You really need to know what you want to use it for, the types of conditions you expect to use it in, how much you're willing to spend and how much you intend to use it. In many cases, choosing the right vessel with the proper features is a safety issue, so please choose according to your specific needs.
Most importantly, kayaking is a beautiful activity and such an amazing way to connect with nature. So I hope you've found my list of best inflatable kayak reviews helpful and that you're inspired to hit the water! But do your extensive research first. Even with the most budget-friendly models, a kayak is still an investment decision and one you want to be happy with for a long time to come.
Having said all that, let me encourage you to go for it! I know firsthand the pleasure kayaking brings and the unmatched moments you can experience paddling out on the water.
Hopefully you've been able to pick out the right option for you and you've found our inflatable kayak reviews for 2023 useful.
Grand adventures await…enjoy!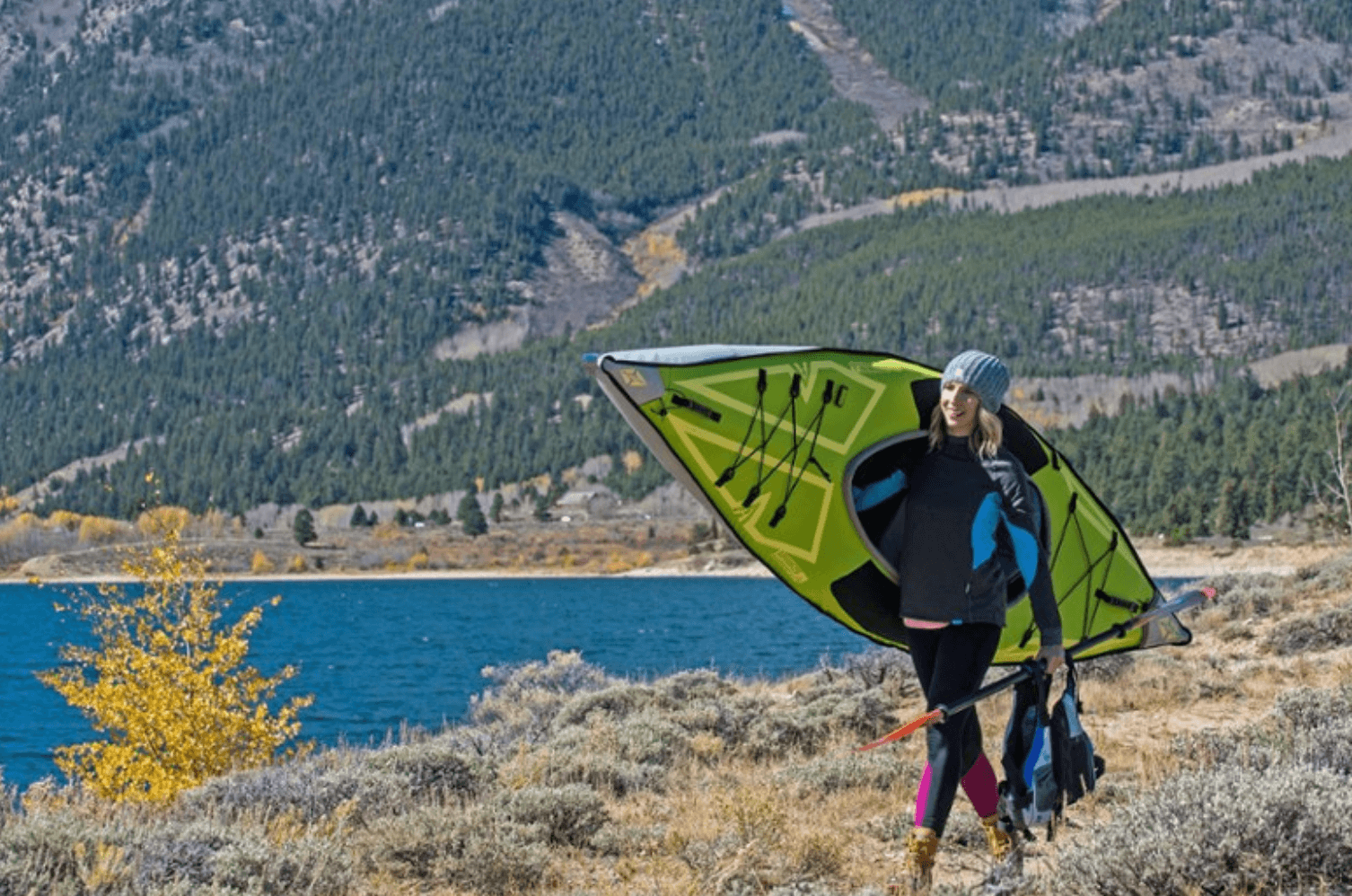 ---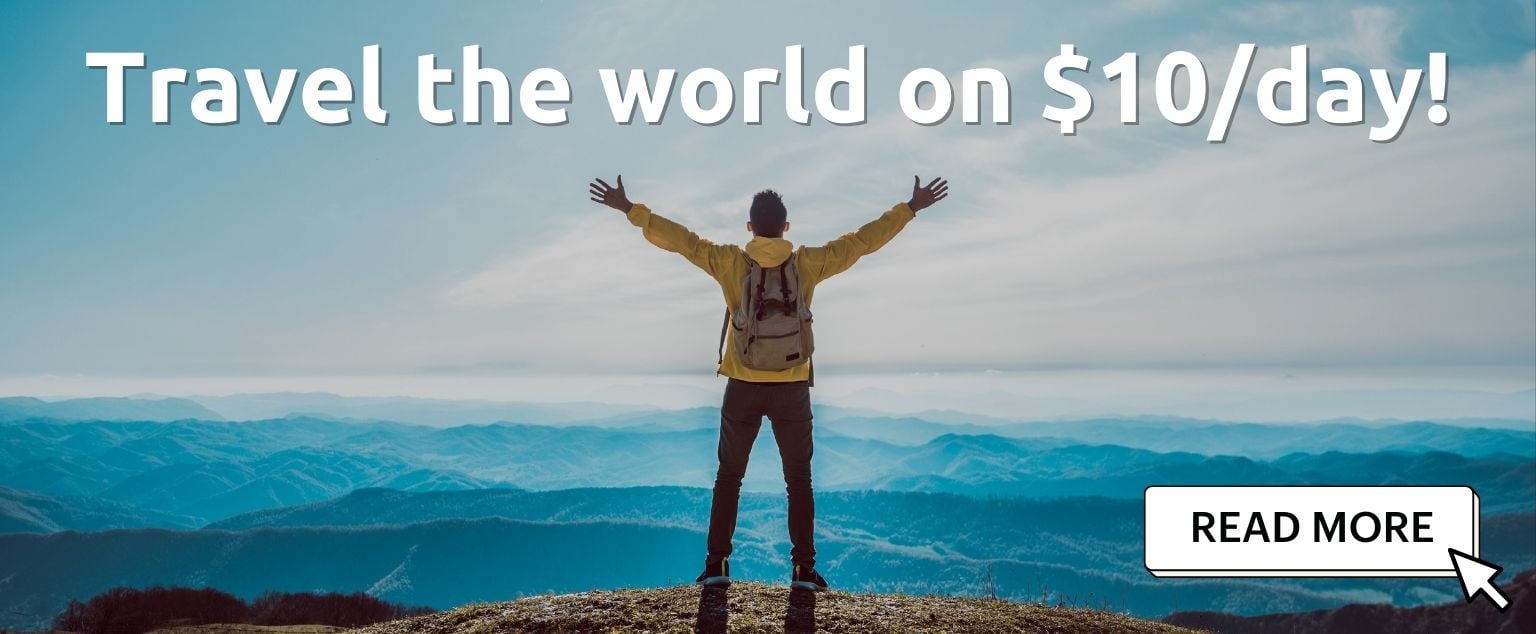 And for transparency's sake, please know that some of the links in our content are affiliate links. That means that if you book your accommodation, buy your gear, or sort your insurance through our link, we earn a small commission (at no extra cost to you). That said, we only link to the gear we trust and never recommend services we don't believe are up to scratch. Again, thank you!