One of the best culinary destinations in the States, Charleston's culinary heritage is influenced by Europe, West Africa, and the Caribbean – and it boasts hospitality to match!
The city has confronted its uncomfortable past, too – with several important monuments that educate on the oppression of African-Americans.
Outside of the city, you've got beaches, marshes, and much more to explore if you want to escape the hustle and bustle for a day.
A visit here is like stepping back in time, and there are numerous quirky vacation rentals in Charleston. If you want to really embrace the town's character, this is the way to go – instead of choosing a drab and dull hotel.
To help you find the perfect place to stay, we've put together this list of the 15 best Airbnbs in Charleston. Not only that, but there are some cool Airbnb Experiences that you can enjoy during your stay, too. Let's check it out!
Quick Answer: These are the Top 5 Airbnbs in Charleston
Overall Best Value Airbnb in Charleston
Overall Best Value Airbnb in Charleston
Downtown Charleston Single
> $$
> 4 Guests
> Incredible location
> Loft style master bedroom
Best Budget Airbnb in Charleston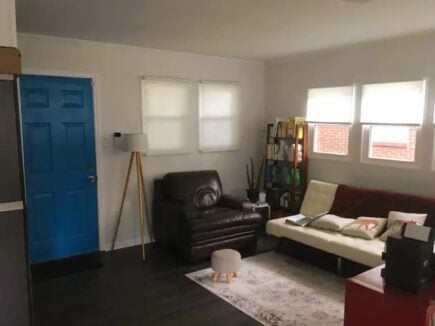 Best Budget Airbnb in Charleston
Clean, Private Bed and Bath
> $
> 2 Guests
> Free parking
> Private bathroom
Best Airbnb for Couples in Charleston
Best Airbnb for Couples in Charleston
Boutique Home and Courtyard
> $$$
> 2 Guests
> King bed
> Two bikes included
Best Airbnb for Families in Charleston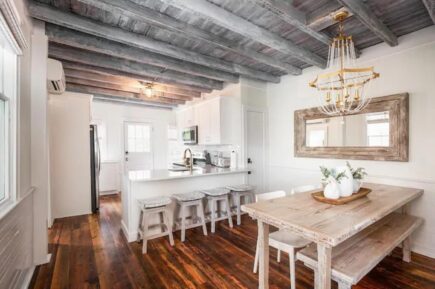 Best Airbnb for Families in Charleston
Sweet Retreat Steps from King Street
> $$$$
> 10 Guests
> Incredible location
> Fully equipped kitchen
Over-the-Top Luxury Airbnb in Charleston
Over-the-Top Luxury Airbnb in Charleston
Spacious Oceanfront Home
> $$$$$$$$$$
> 12 Guests
> Jetted tub
> Beachfront location

Unlock Our GREATEST Travel Secrets!
Sign up for our newsletter and get the best travel tips delivered right to your inbox.
What to Expect from Airbnbs in Charleston
Charleston has one of the most exciting vacation rental scenes in the country. There's everything from city centre townhouses with pools to tiny houses out in the sticks; you could even stay on a yacht if you so wish! The only downside of staying in Charleston is that it can be seriously pricey (that applies to hotels and other forms of accommodation, too).
If you're looking to keep your costs down, don't worry! You'll be able to find a place, such as a private room in a local home. With the money you save, you can sample the city's fine food.
Because many Charleston Airbnbs are enormous and/or expensive, you'll find more properties being managed by businesses than you would in other cities here. They should still be able to help with any issues you face or questions about the local area, though.
Cottage
A type of accommodation that has its own specific type in Charleston?! This sounds like the unique accommodation you might be looking for. Charleston cottages are small single houses that have two rooms per floor.
Originally named 'freedman cottages', these small houses were often built after the American Civil War. If you stay in a cottage, you're likely to have a fully equipped kitchen, living space, and bedroom. Sometimes, they may be open plan.
As tourism has increased in Charleston, larger properties have been built and listed as cottages, so some are much more luxurious and upmarket than the type of home they originally started out as.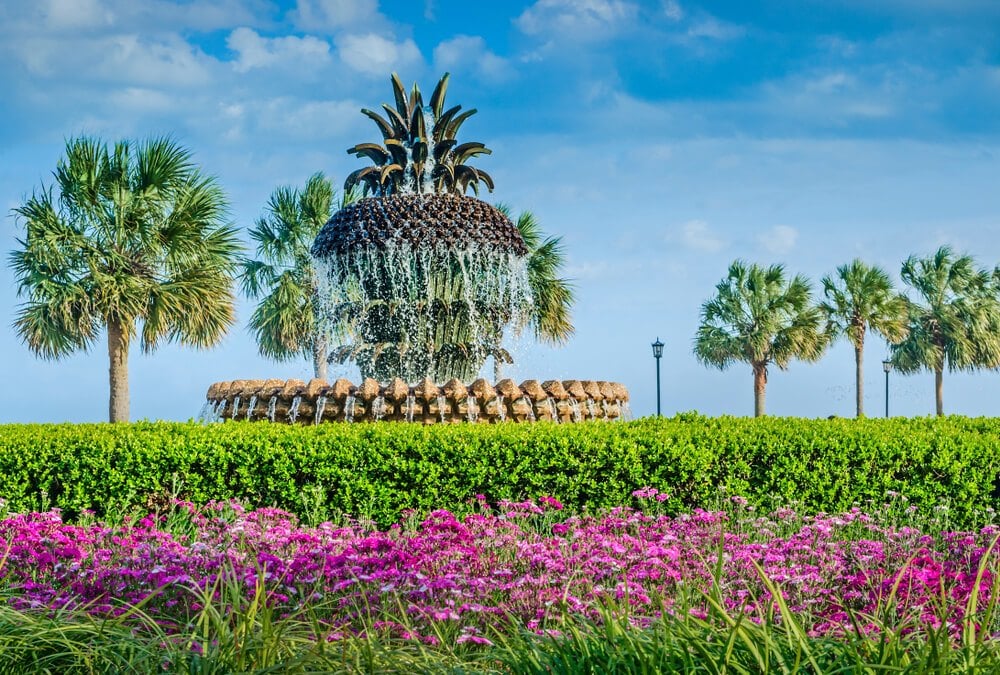 Townhouse
Mostly found in Central Charleston and around Folly Beach, townhouses are normally multi-storey buildings that offer a home away from home. You can be assured of a fully equipped kitchen, living space, and multiple bedrooms and bathrooms.
In several townhouses in Charleston, you'll have an outdoor space where you can relax. If you're lucky, your garden may even have a pool or a hot tub!
Townhouses are great for groups, so if you've got a family celebration coming up or want to see all your friends at once, a townhouse is a good bet for your Charleston vacation.
Boat
Charleston is surrounded by water, so, why not embrace that and stay on a boat? In the areas around Charleston Harbor and Mount Pleasant, you'll find several boats that double as Airbnbs.
What you'll get will depend on your budget. You'll do well to find anything under $300, and your entry level is a houseboat. This will often have all the amenities you'll get in an entire flat, cottage, or townhouse – but on the water. If you're happy to splash out a bit (okay, a lot) more, you'll grab yourself a yacht – the ultimate luxury!
If you've always been a lover of the high seas, this is the chance to make your dream come true!
Why Stay in an Airbnb
Not that you'll need any more convincing that it's a good idea, but here are five of the top reasons to stay in an Airbnb.
Local Experience: Staying with local hosts can really enhance your trip. They'll know all the best places to go in Charleston that are off the beaten tourist track, even if you're being hosted by a business!
Unique Properties: As you're about to see, Charleston has a whole lot of one of a kind Airbnbs. There really are some dream homes in there!
Affordability: It seems odd to mention affordability, as the city is very expensive. However, Airbnb still offers more for your money than you'll get in an equally priced hotel. And you can split the cost of large properties between multiple guests.
Safety: With a system that vets both host and guest, Airbnb is safe for all users.
Airbnb Experiences: Airbnb isn't just about finding a perfect place to stay; they want you to enjoy your time in the city, too! We'll investigate Airbnb Experiences more later on.
The Top 15 Airbnbs in Charleston
Now that you know what to expect from Charleston Airbnbs and why you should stay, let's get to the main event. Here are the 15 best Airbnbs in Charleston, hand-picked with you in mind!
4 Guests
Loft style master bedroom
A renovated Charleston single cottage, this cool property is ideally suited to a couple or small group of family/friends. Sleeping up to four guests, it's in a quiet and residential neighbourhood just a stone's throw from all the action, which makes it ideal for a short trip or a weekend in Charleston. Enjoy a fully-equipped kitchen, two flat-screen TVs, and a king bed if you're in the loft-style bedroom!
Charleston can be seriously expensive. However, it is possible to find somewhere on a budget if you try hard enough. This private room in a local's home is close to Downtown and Mount Pleasant, and it's just ten minutes from the airport. You've got free parking and a private bathroom in addition to your room. You'll be sharing with your host and their dog.
Unless you're a seriously rich solo traveller, chances are you'll be looking at a private room when you travel to Charleston. That's a good thing, though; homestays mean you can keep your costs down and enjoy more of a local experience. This home is two miles from Downtown and near to Charleston's historic area, so you'll never have to travel far for things to do in Charleston when staying here. There are a number of pets at the home, so it may not be the best if you don't like animals!
Is This the Best Backpack EVER???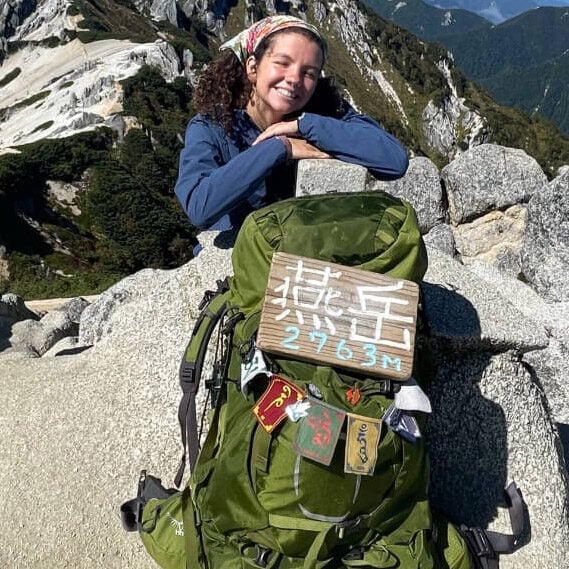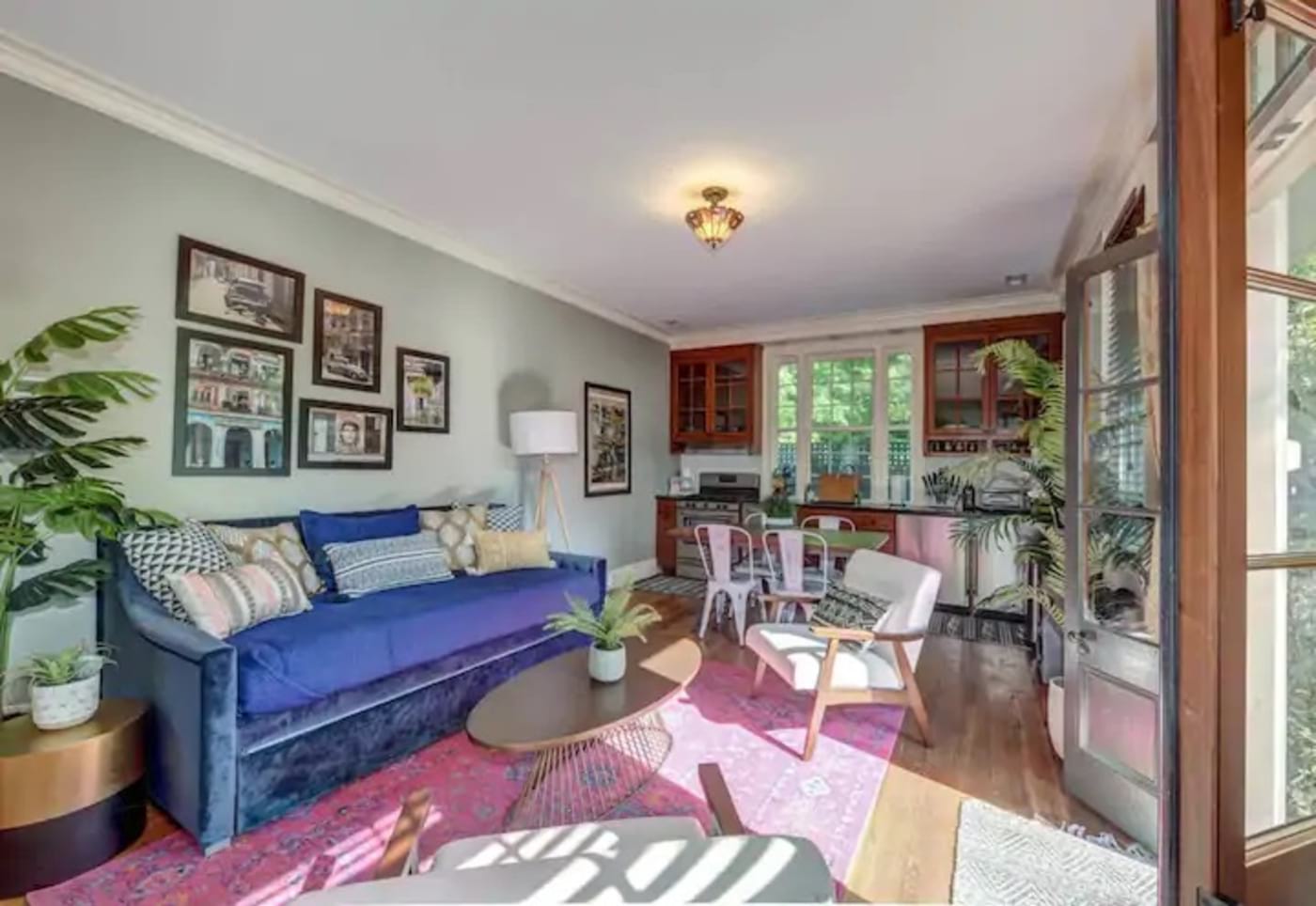 This beautiful carriage home is ideal if you're travelling to Charleston with your other half. Not only do you get a king-sized bed in the master bedroom, but there's a huge tub and shower in there, too. You can chill out in the piazza outside or go exploring the city on the two cruiser bikes that are included. A wonderful place to enjoy quality time with a loved one – you'll never want to leave!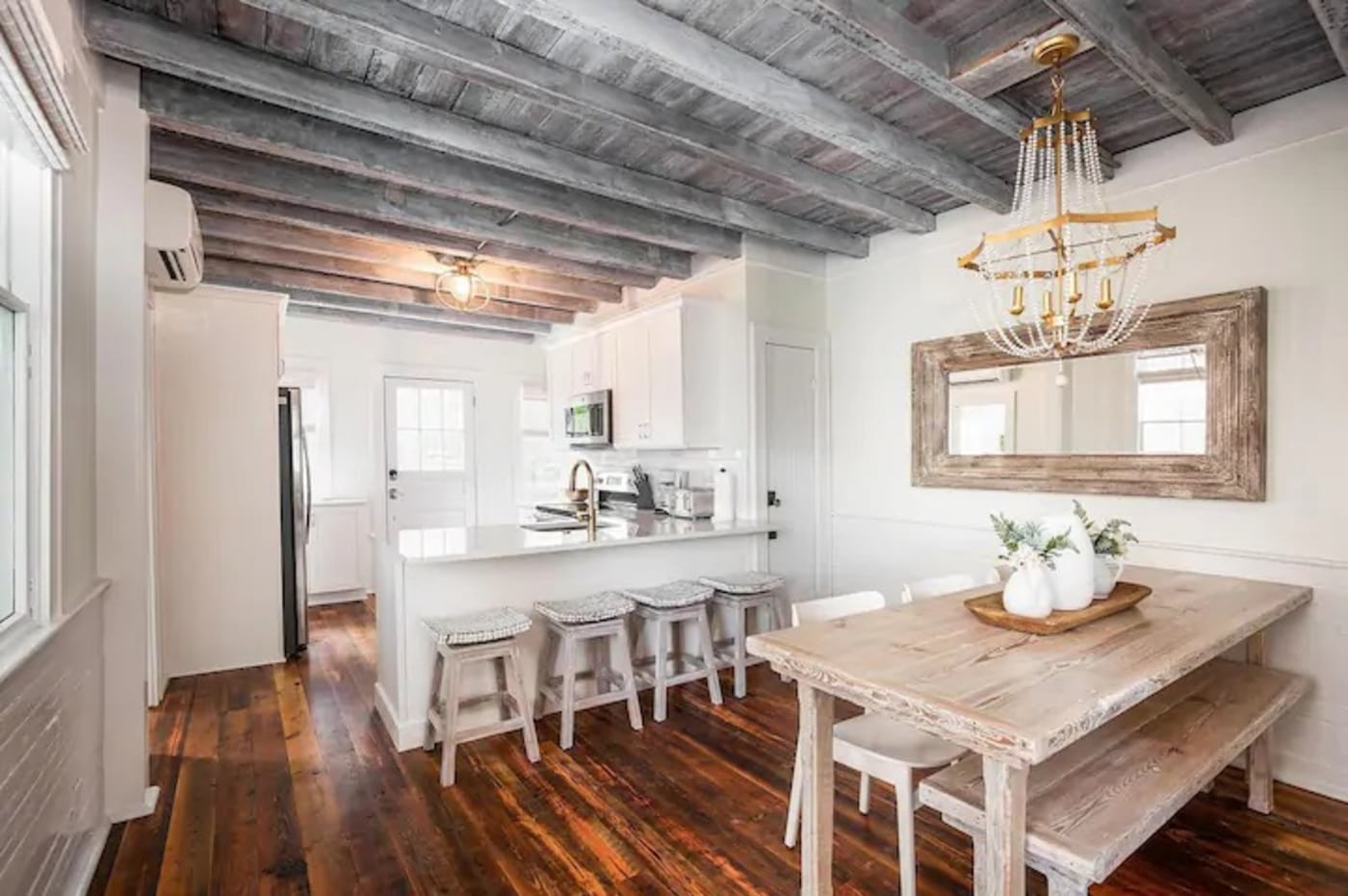 $$$$
Fully equipped kitchen
10 Guests
Incredible location
The good news when travelling to Charleston is that there are several great places for families to stay. Here's our favourite. With ten beds across three bedrooms, there's enough space for everyone. As we've said, eating out can be quite expensive, so avoid a big restaurant bill by whipping up a family favourite in the fully equipped kitchen and enjoying it all together in the dining room.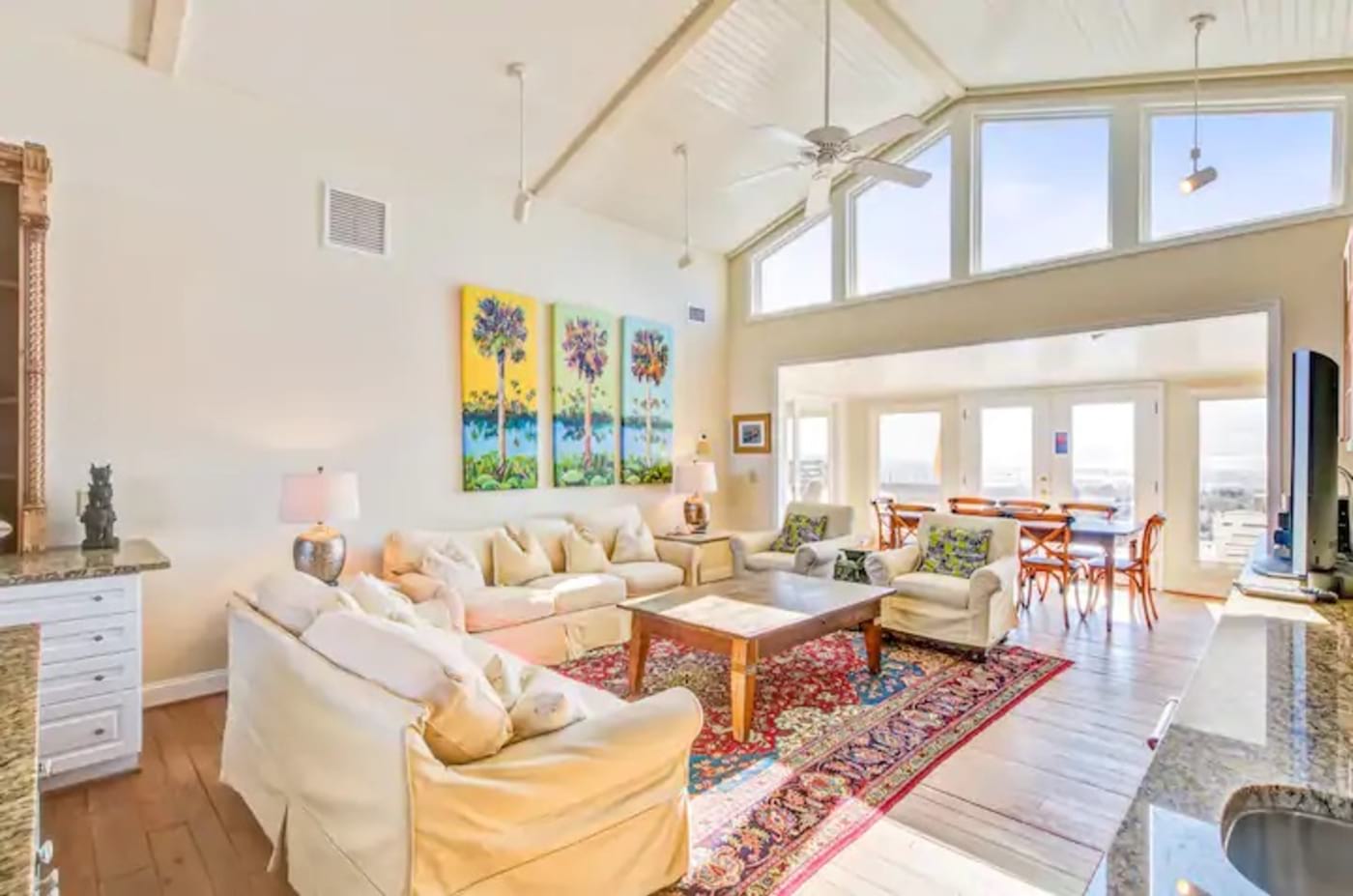 $$$$$$$$$$
Beachfront location
If you're looking for an over the top and extravagant property in Charleston, you won't struggle to find one. This one by Folly Beach has a huge deck that looks more like a cafe… but it's all yours. Run down to the soft sand and the sea first thing in the morning! Back in the house, there's a huge living space where you and your group can spend quality time together.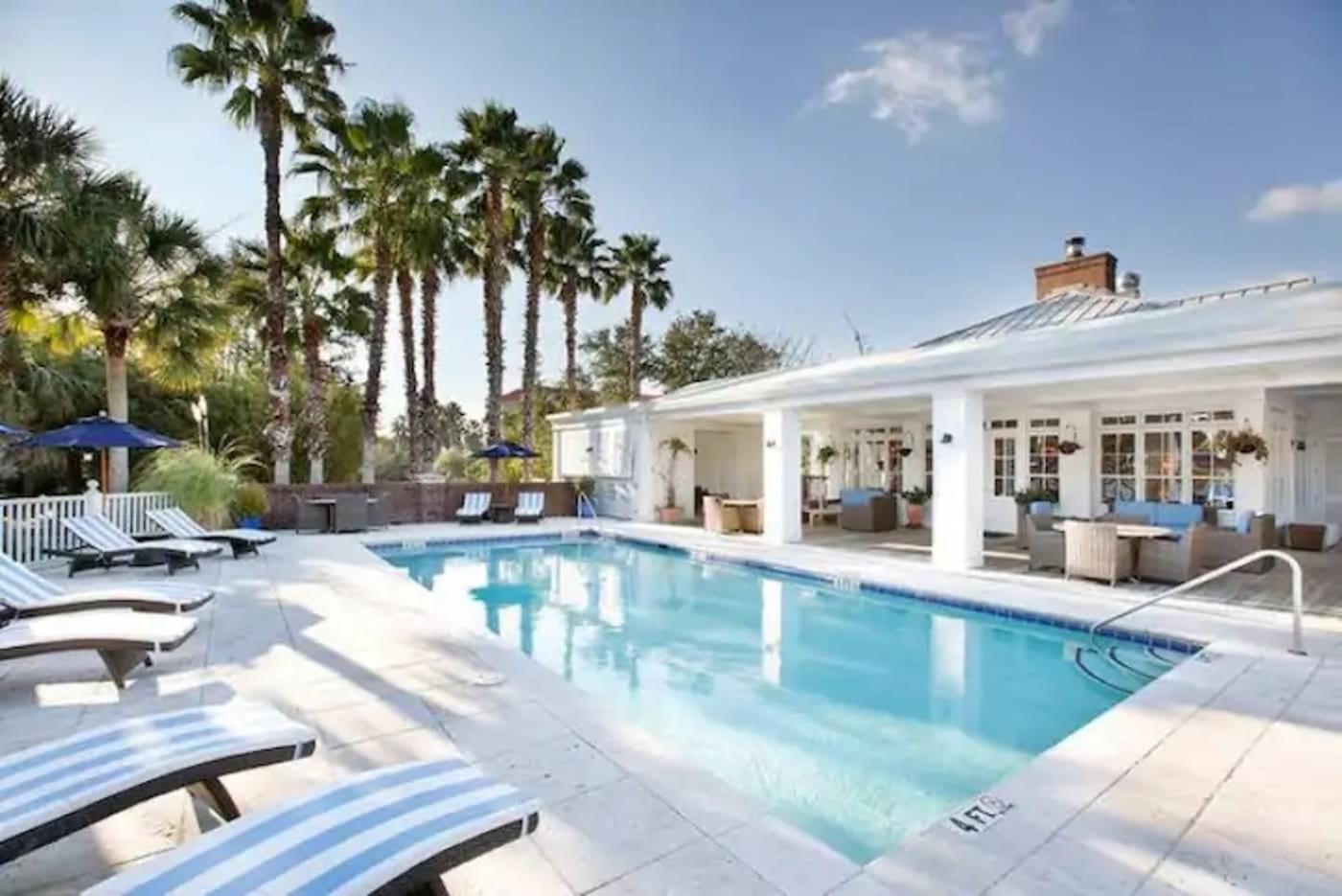 6 Guests
Private swimming pool
We mentioned earlier that some Charleston cottages have become bigger and more luxurious as tourism has boomed in the town; this is the sort of place we were talking about. Located at Charleston Harbor, this beautiful cottage boasts a private swimming pool and a screened porch running along the length of the cottage. It's a wonderful spot for birdwatchers; you may just spot some herons, cranes, and pelicans.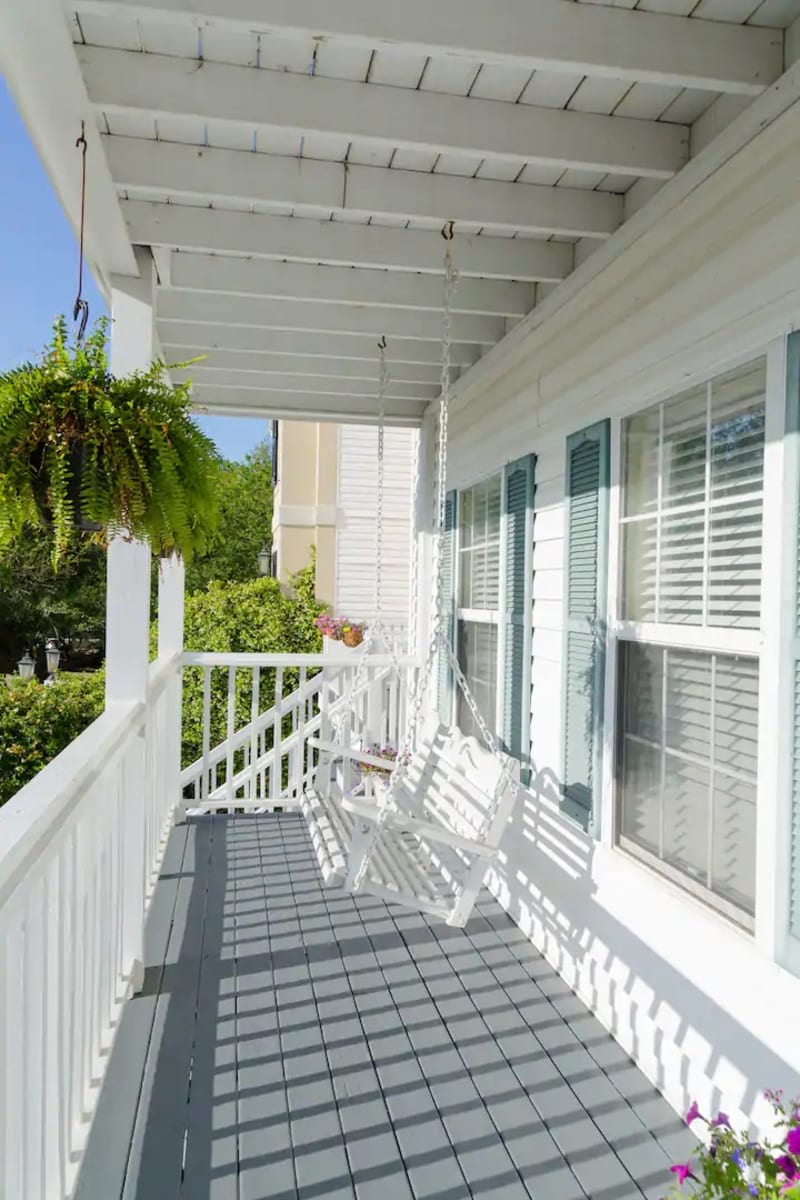 $$$$
Front porch and back deck
4 Guests
Excellent location
Another wonderful property for a small family or a group of friends, you'll be surprised at how little this Charleston townhouse costs. Though it undercuts many of the other properties on this list, you still get a lot of bang for your buck. There are front porches and back decks on both levels, and a cosy living space and fully equipped kitchen inside. All that, and it's just 15 minutes from the beach!
There are a lot of cool things about this Charleston boat. One of them is that it's been on the TV show 'Tiny House Hunters!' You don't just have to take our word that it's an awesome Airbnb: it's been dubbed the city's best Airbnb experience. Lovingly crafted from reclaimed materials, a pirate's life is a spacious houseboat that offers a queen bed, a cute living area, and an outdoor terrace overlooking Charleston Harbor.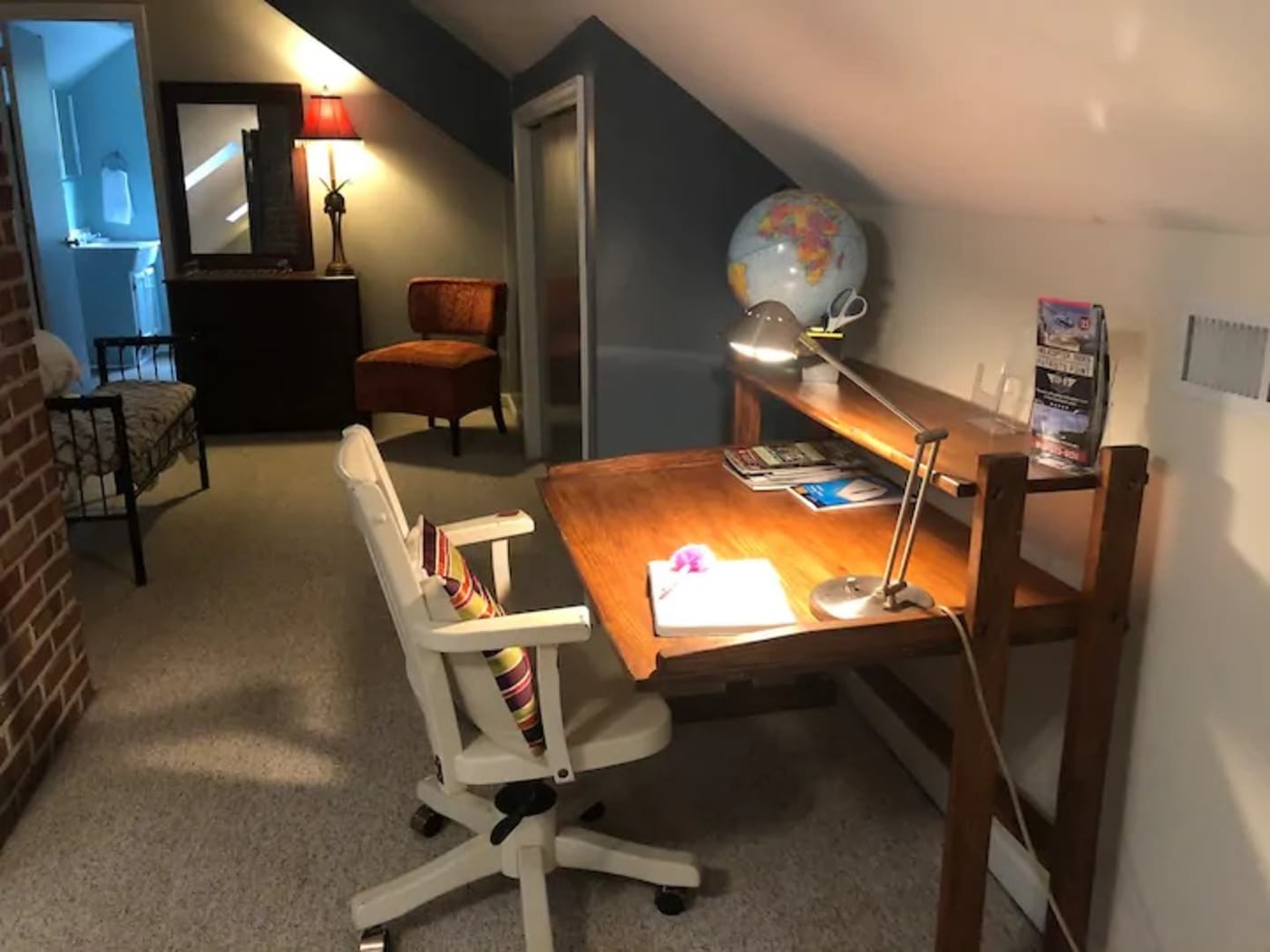 2 Guests
Incredible location
You'll have the whole second floor of this Charleston home to yourself – ideal if you need to hole up and work on a project. There's a dedicated workspace and fast Wi-Fi, as well as a double bed. When you've closed your laptop for the day, the cinema, restaurants, and cafes are just a short walk away. You could even switch up your scenery on a couple of days of your trip and work from a nearby coffee house!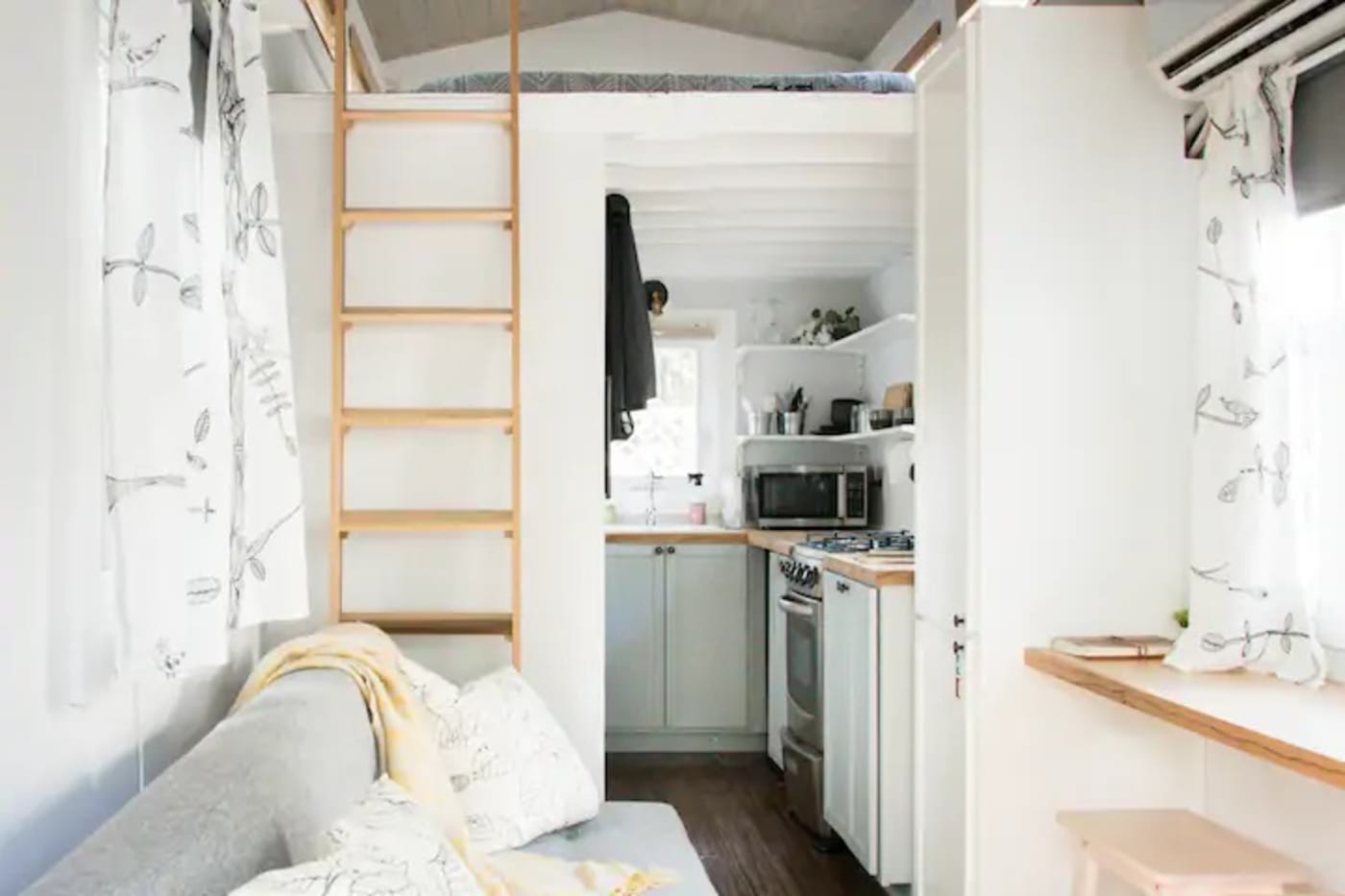 $$$
Two cruiser bicycles included
3 Guests
Outdoor patio with hammock
The tiny house movement is growing bigger every day, and you can find quite a few cool ones on Airbnb too. They offer everything you'd usually get in an entire flat or a townhouse but concentrated into a much more compact space. Though the listing is for three people, we reckon it's much more of a romantic option for a couple. It could even be used for a honeymoon! There's an outdoor patio should you wish to enjoy the sun, and two cruiser bicycles can help you get acquainted with your surroundings.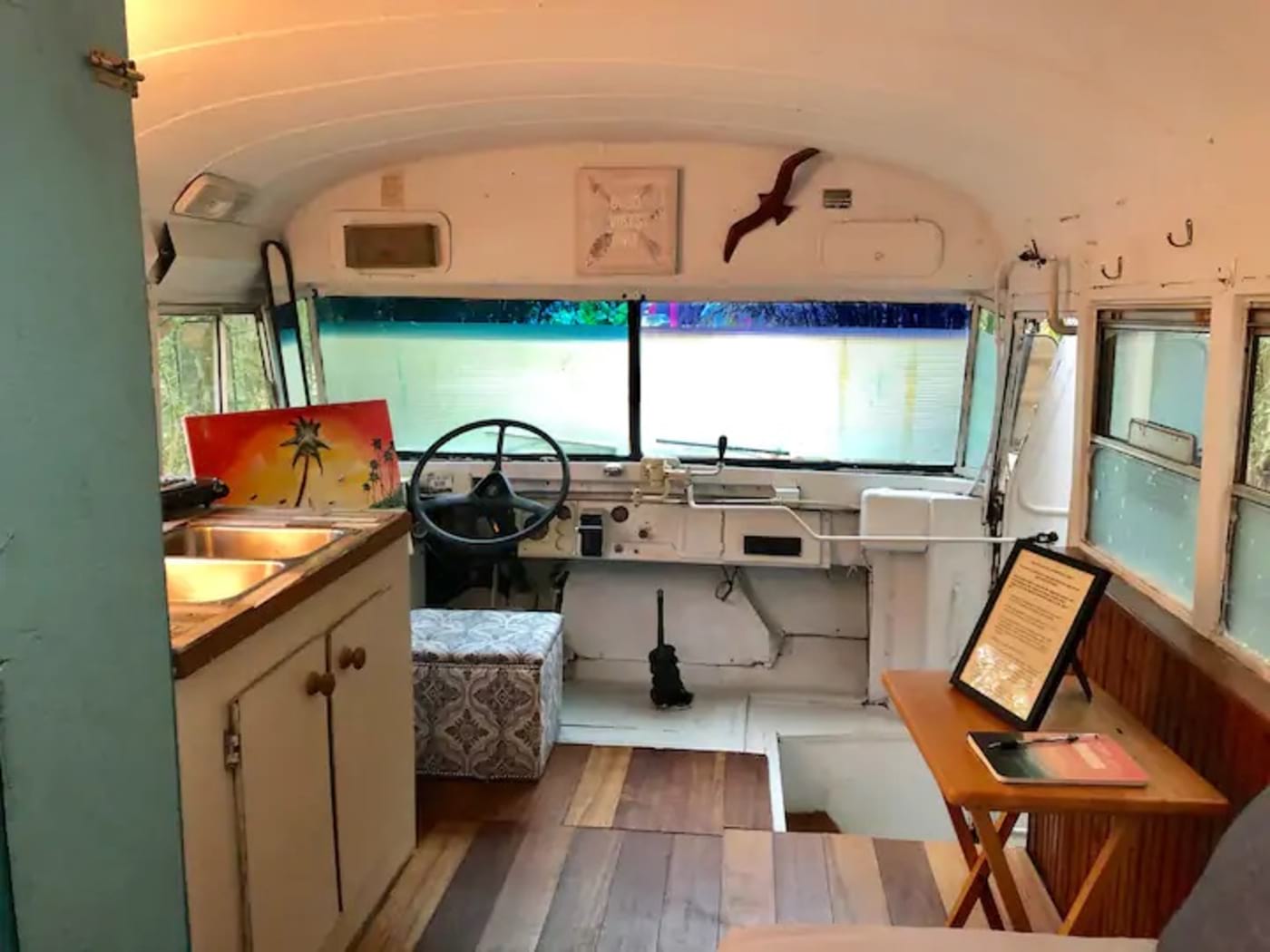 2 Guests
Originally a bus!
You've heard of staying in a camper van, but how about bedding down in a bus? This cute and unusual Airbnb is perfect for a quirky couple or solo traveller. Hidden away under the bamboo trees as the name suggests, the bus has a private entrance, and there's a fire pit and patio for you to enjoy. There are some simple cooking facilities and an outdoor toilet. The steering wheel is still intact!
$$$$$$
Award winning home!
14 Guests
Outdoor courtyard
It was hard to decide on the most beautiful home in Charleston. But the more you look at this place, with its cool pink paint job, the easier it gets. It also has a vibrant colour scheme in the open plan living area and kitchen, and there's stylish indoor brickwork and wooden beams throughout. It's not all about the aesthetic – the facilities are awesome. And there's space for up to 14 guests!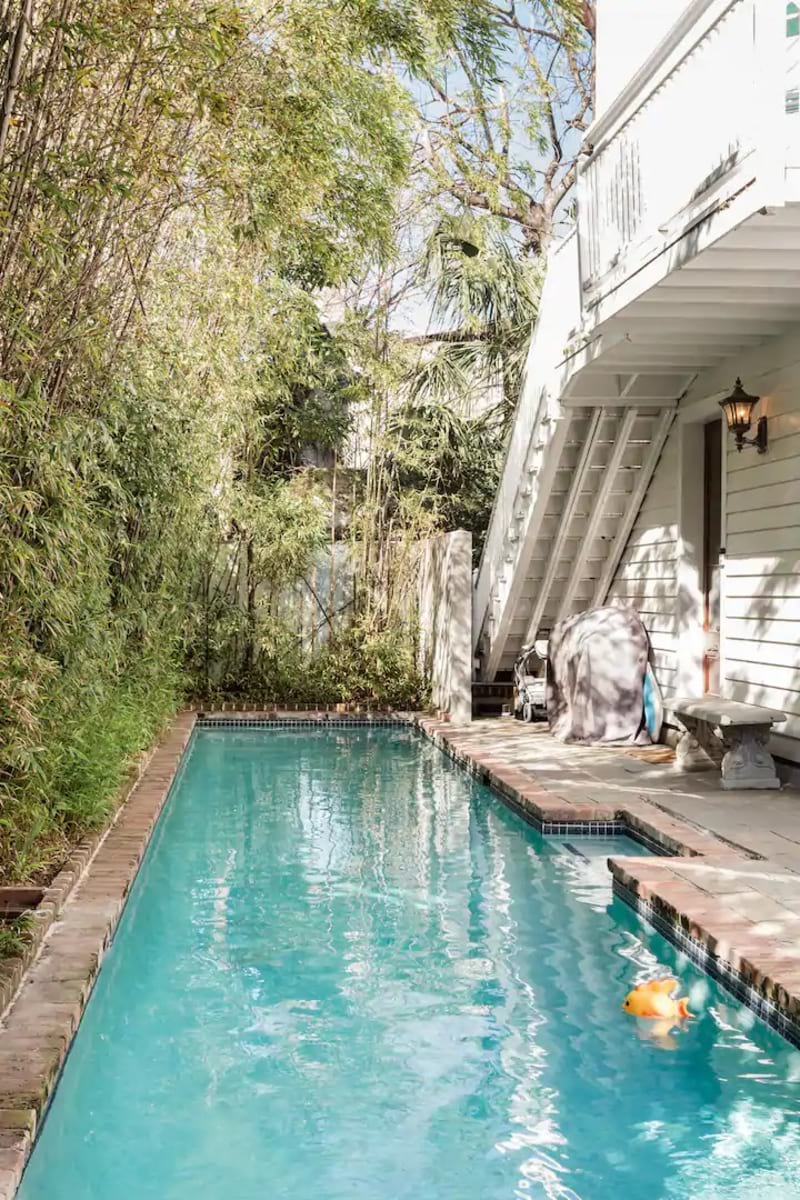 2 Guests
Heated swimming pool
Charleston can get mighty hot, so it's good to have your very own swimming pool to cool off in. Located at the side of the house, it's long enough to do lengths, or you could just dip your feet in after a day of exploring the city. The home is an Airbnb Plus property, meaning that it's met the platform's highest standards – consistently great reviews, attention to detail from the hosts, and it's even passed an in-person inspection!
Best Airbnb in Charleston for a Group of Friends | The Moonstone Suite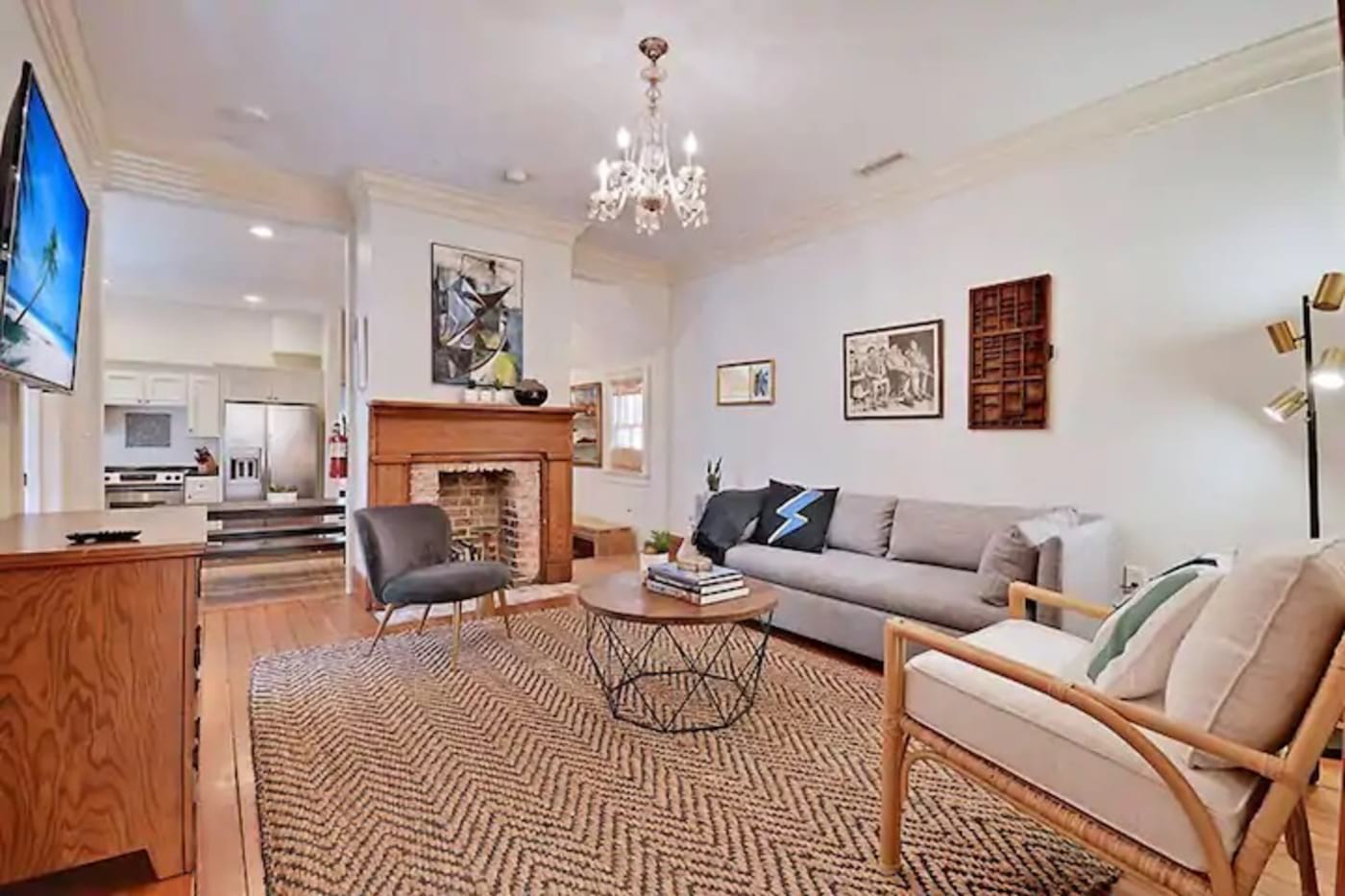 $$$
Fully equipped kitchen
8 Guests
Large living area
When travelling with a group of friends, it's nice to have a large living area where you can spend some quality time catching up and enjoying each other's company. There's a large dining table and fully equipped kitchen here, so another option is to chat over a meal. It's great value for money, and that price split between eight people means you'll have lots of cash left over to enjoy what Charleston has to offer.
Top 5 Airbnb Experiences in Charleston
Now that you've found at least one or two places suitable for your trip to Charleston, let's think about what you're going to do once you arrive in the city. There's no better way to explore than with Airbnb Experiences.
Airbnb Experiences offer tours and trips curated by locals. They can be anything from a cooking class or a walking tour to a really cool activity you won't find anywhere else. In Charleston's case, that's crabbing!
Let's take a look at five of the best Airbnb Experiences in Charleston. Then it's over to you to decide which one you want to do first!
$120/person
3 Hours
Up to 6 guests
In a city known for its harbour and surrounded by water, sailing is a no-brainer. And if you're going to sail, you may as well do it at sunset, when you can get the most epic views and photos! This tour will take you around Sullivan's Island, out to Fort Sumter, and a host of other famous Charleston sites. There's every chance you'll be accompanied by the harbour's friendliest dolphins too. Wondering what to bring? Just what you'd usually take to the beach will do.
$75/person
2.5 Hours
Up to 8 guests
If you're a foodie, you won't want to miss this crabbing tour off Charleston's coast. With the help of your expert guide, you'll be searching out crab, shrimp, and lots of different fish. If you catch more than you need for preparing a meal, you'll be able to throw the food back. All crabbing equipment and bait is supplied, but you will need a saltwater fishing license if you're over 16.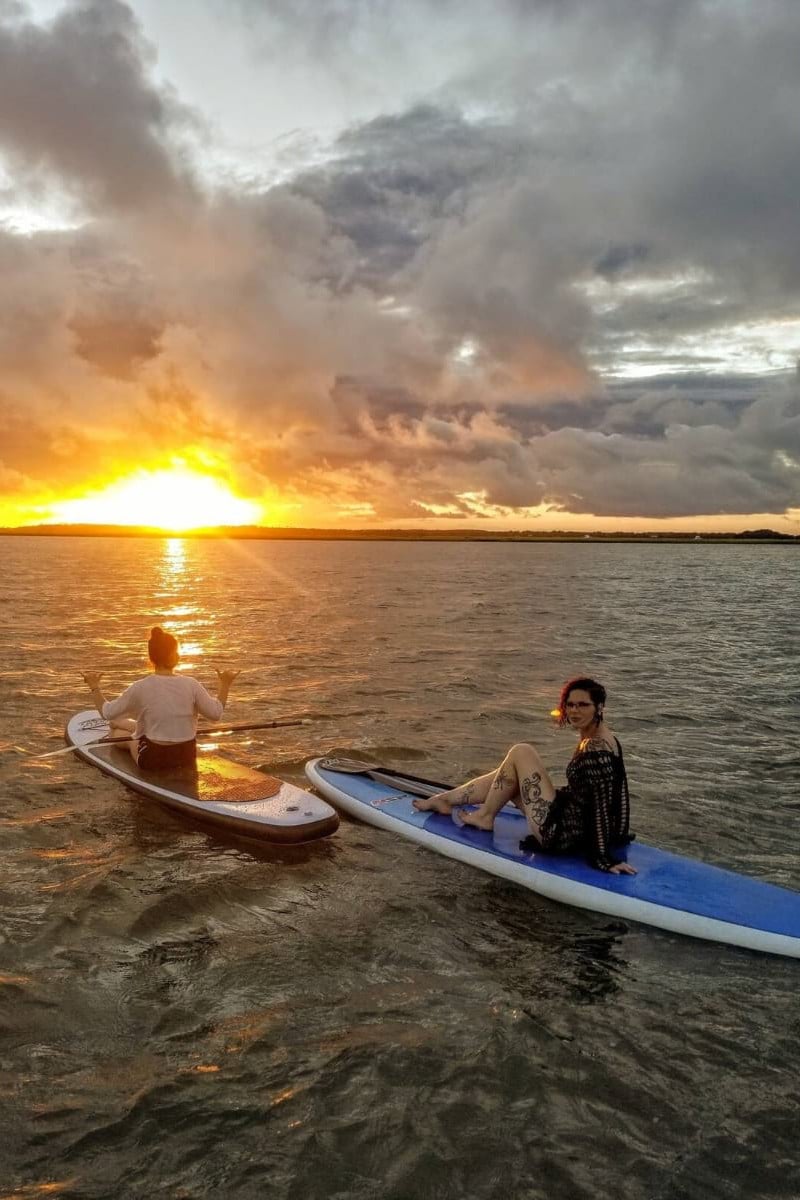 $55/person
1 Hour
Up to 4 guests
Want to get out onto the calm waters in and around Charleston's islands? Stand up paddleboarding is the way to go. Don't worry if you've never done it before because it's super easy to get started. Not only that, your host has boards available for all skill levels. As well as helping you find your SUP feet, your instructor will point out local wildlife along the way.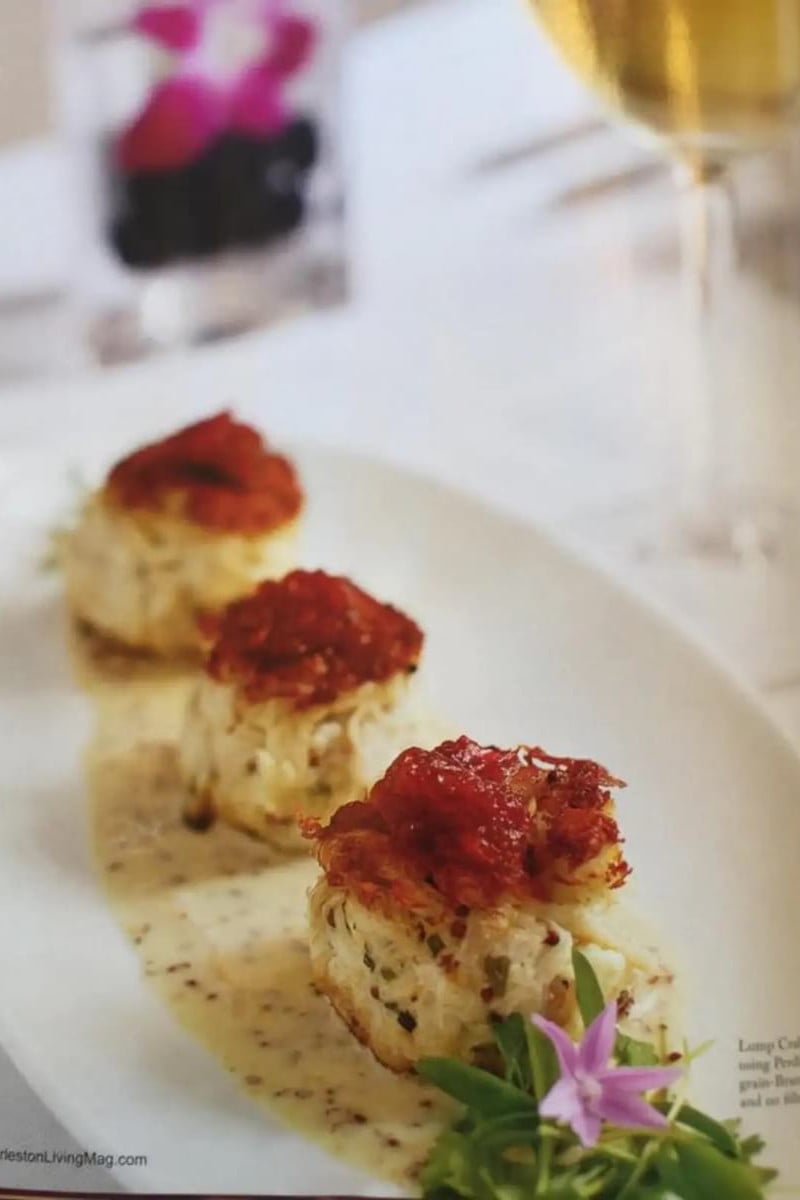 $150/person
4 hours
Up to 10 guests
There are some incredible chefs in Charleston; this tour is your chance to meet one of them and find out where they go to get their products. You'll head to important culinary sites Downtown, learning about recipes that shaped Charleston's cuisine. The tour is rounded off with a cooking demonstration at a bistro.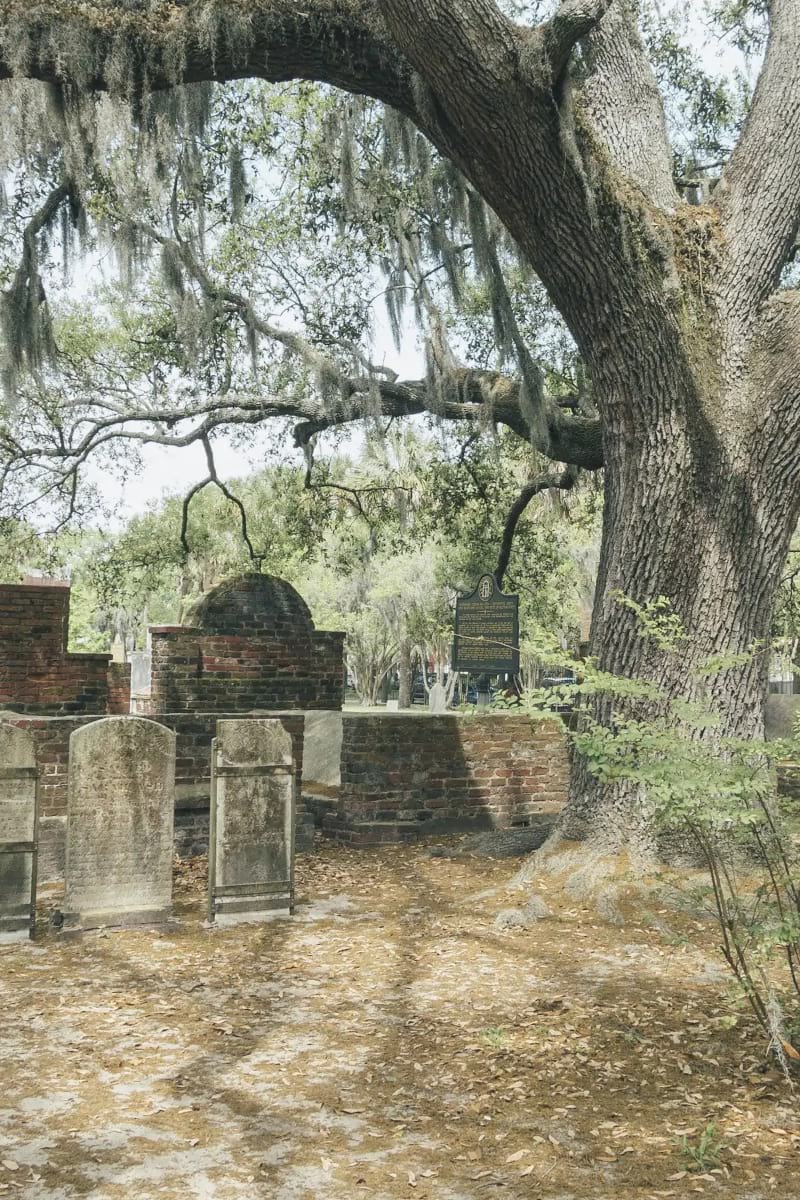 $25/person
1 Hour
Up to 10 guests
All the tours we've looked at so far give you something to do during the day… or at least sunset. However, if you want to get to know the city's paranormal past, the ghosts don't come out until nightfall. This ghost tour will take you through the city's most popular haunted locations in a group of no bigger than ten. Not for the faint of heart!
Don't Forget Your Charleston Travel Insurance
ALWAYS sort out your backpacker insurance before your trip. There's plenty to choose from in that department, but a good place to start is Safety Wing.
They offer month-to-month payments, no lock-in contracts, and require absolutely no itineraries: that's the exact kind of insurance long-term travellers and digital nomads need.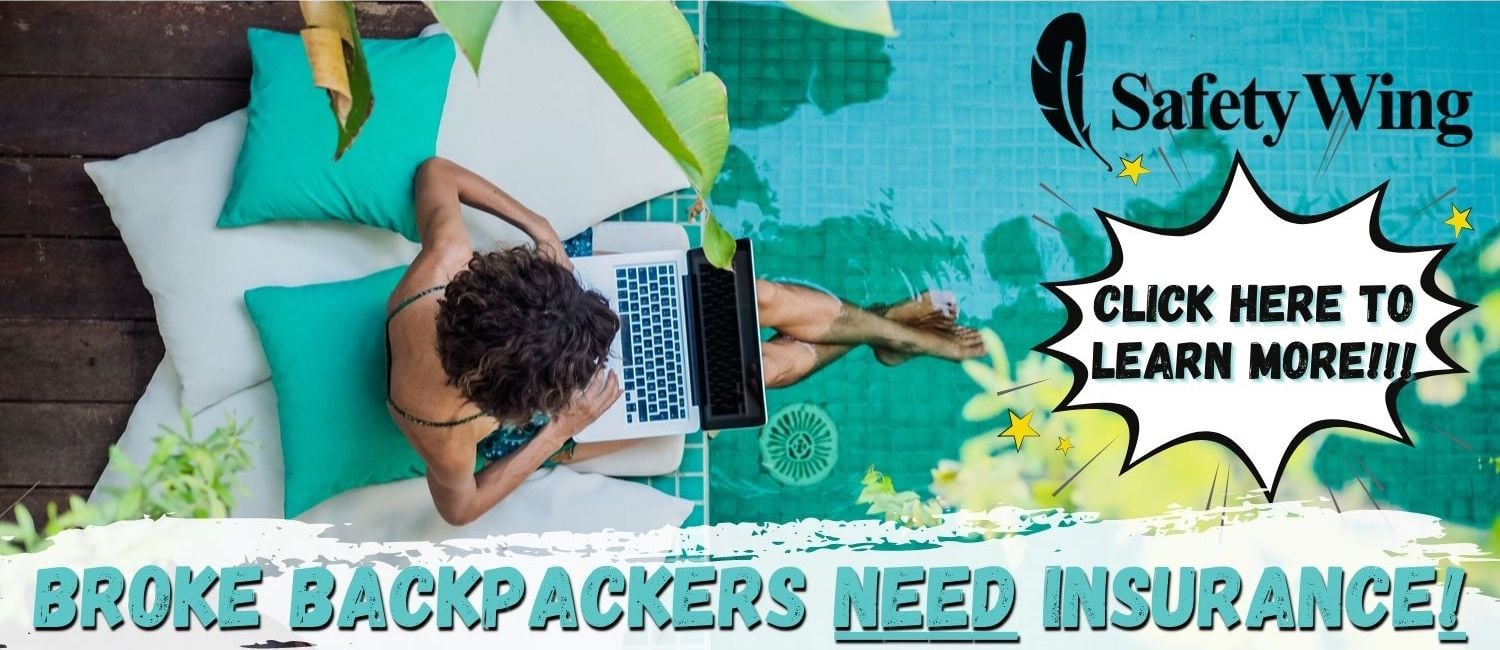 SafetyWing is cheap, easy, and admin-free: just sign up lickety-split so you can get back to it!
Click the button below to learn more about SafetyWing's setup or read our insider review for the full tasty scoop.
Final Thoughts on Charleston Airbnbs
So, there you have it. We've not only shown you the best Airbnbs in Charleston, but how to make the most of your vacation when you get there. Whether you want to stay in a beachfront home, a cottage with a swimming pool, or want to save your dollars with a charming private room, there's an Airbnb in Charleston for you.
If you still can't make up your mind, go for our overall best value Airbnb in Charleston. That's the Downtown Charleston Single. As well as that sublime location in the city centre, it's a cool and stylish place for up to four guests.
---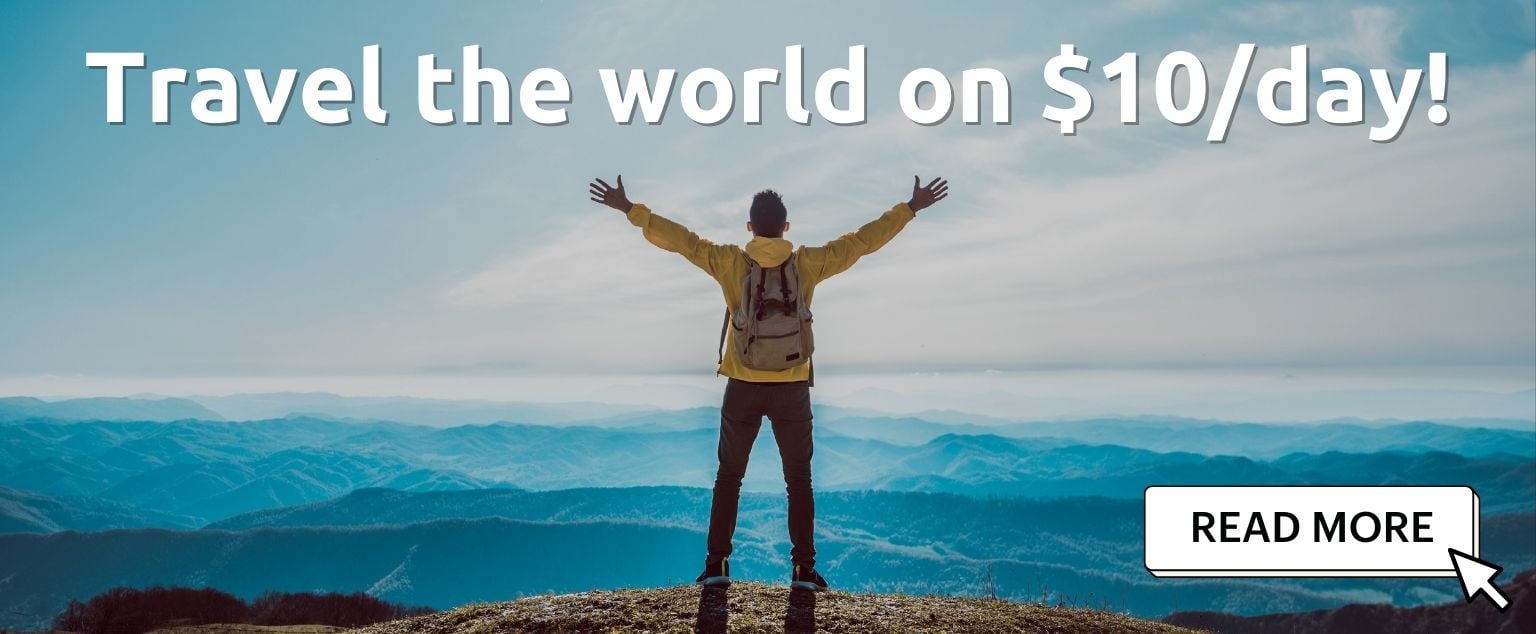 And for transparency's sake, please know that some of the links in our content are affiliate links. That means that if you book your accommodation, buy your gear, or sort your insurance through our link, we earn a small commission (at no extra cost to you). That said, we only link to the gear we trust and never recommend services we don't believe are up to scratch. Again, thank you!