Lowcountry living is all about slowing down to savor the little things…which is exactly the kind of vibe that beckons in the charming South Carolinian city of Charleston.
With lush outdoor spaces, historic sites, fascinating museums and amazing eateries, there's an endless list of fun things do to in Charleston. After all, this is the birthplace of the Charleston dance – so you'll definitely be in for a bangin' time!
Whether you're visiting as a family, as a solo backpacker, or on a romantic weekend away, you'll never be short of exciting attractions in Charleston to keep you busy.
With so many exciting things on offer, it's all too easy to get overwhelmed – especially if you're a first-time visitor to the city. To help you out, I've put together a list of the essential things to do in Charleston so you can start mapping out your itinerary.
So, let's get started!

Unlock Our GREATEST Travel Secrets!
Sign up for our newsletter and get the best travel tips delivered right to your inbox.
The Top Things to Do in Charleston
Landed in Charleston but not quite sure where to start? Fret not! Here are five unmissable attractions you must add to your Charleston itinerary!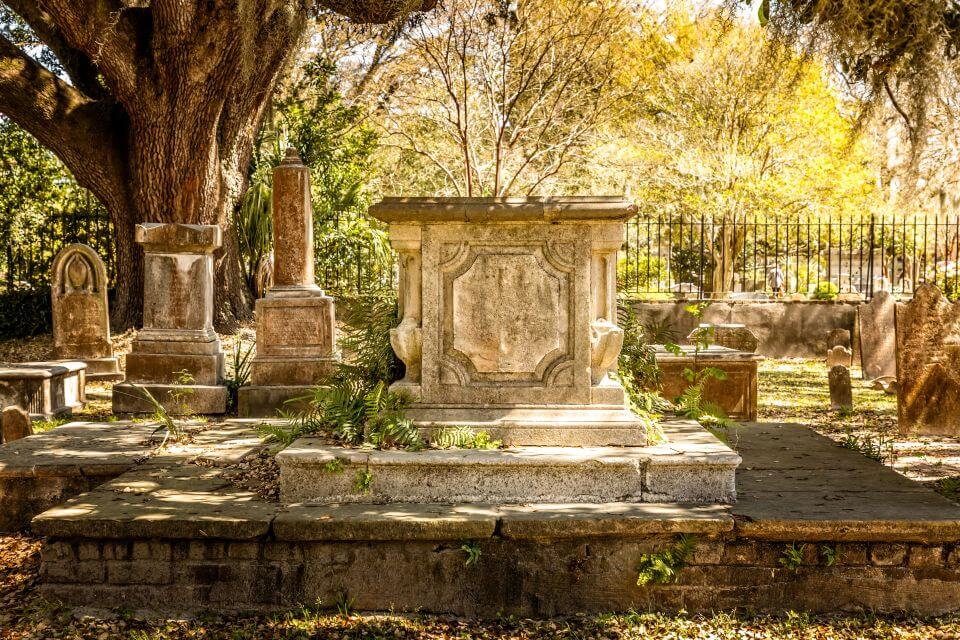 Charleston's oldest neighborhood, the French Quarter definitely warrants a visit!
The original walled city houses some of the most historic buildings in Charleston and in my opinion, the best way to properly take everything in is to walk around the neighborhood with an expert.
For first-time visitors, this activity is a great introduction to Charleston. You'll get to cover a lot of ground in a short time so be sure to bring your comfiest shoes! If visiting in summer, you may also wish to bring a hat and sunglasses.
Entrance fee: $30
Hours: 10.30 a.m. to 12.30 p.m.
Address: French Quarter, Charleston, SC 29401, USA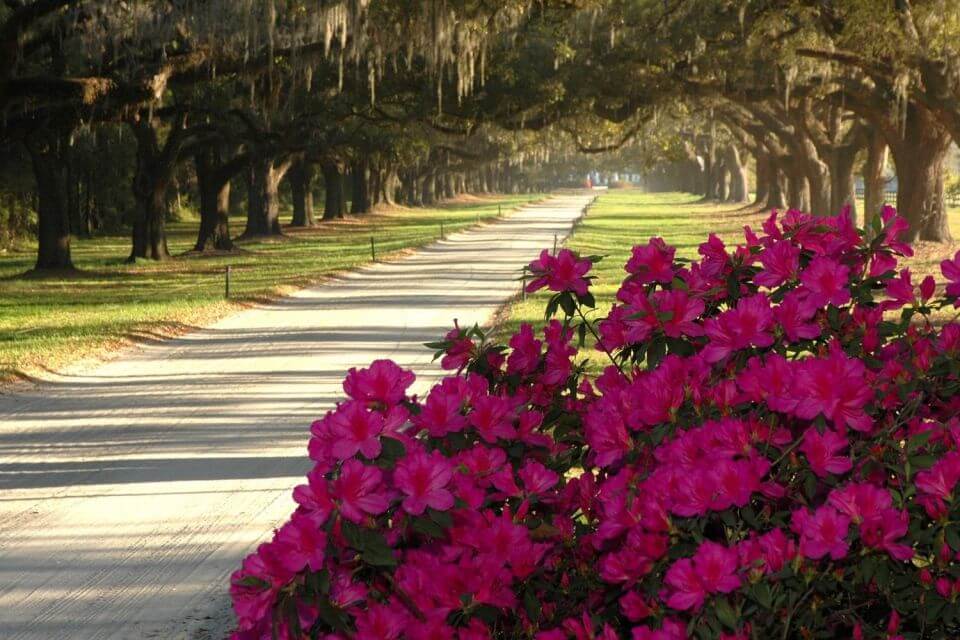 Are you looking for the absolute best things to do in Charleston? Of course, you are! Well, why don't you head over to the palatial Boone Hall Plantation, located just across the harbor from the city?
If you're a fan of The Notebook, chances are you'll recognize this property as the backdrop of the movie.
As spectacular as it is, this landmark offers an insight into the U.S' harrowing past. In fact, you may wish to explore with a knowledgeable guide who can take you through the place's harrowing history.
Rest assured that you won't need to worry about booking a cab since round-trip transportation is provided.
Entrance fee: $52
Hours: 11.15 a.m. to 3 p.m.
Address: Pickup from Charleston Museum, Charleston, SC 29403, USA
3. Mosey Around the Charleston Museum
The Charleston Museum perfectly caters to patrons of all ages, with exhibits showcasing the city's historic importance.
It's not another boring old visit to the museum either. The museum provides a hands-on experience to kids through its interactive 'Kidstory' feature. Instead of the usual 'Do Not Touch' rule, children are encouraged to handle exhibits like a replica of the Morris Island Lighthouse.
Adults will no doubt appreciate the permanent exhibits dedicated to the city's role in key eras like the American Revolution. The museum also has plenty of artifacts from Ancient Egypt and Rome.
This place regularly hosts events, so you can check their calendar ahead of time to see if there's anything that tickles your fancy.
Entrance fee: $12 (adults), $10 (teenagers 13-17), $5 (kids 3-12)
Hours: 9 a.m. to 5 p.m. (Monday to Saturday), 12 p.m. to 5 p.m. (Sunday)
Address: 360 Meeting St, Charleston, SC 29403, USA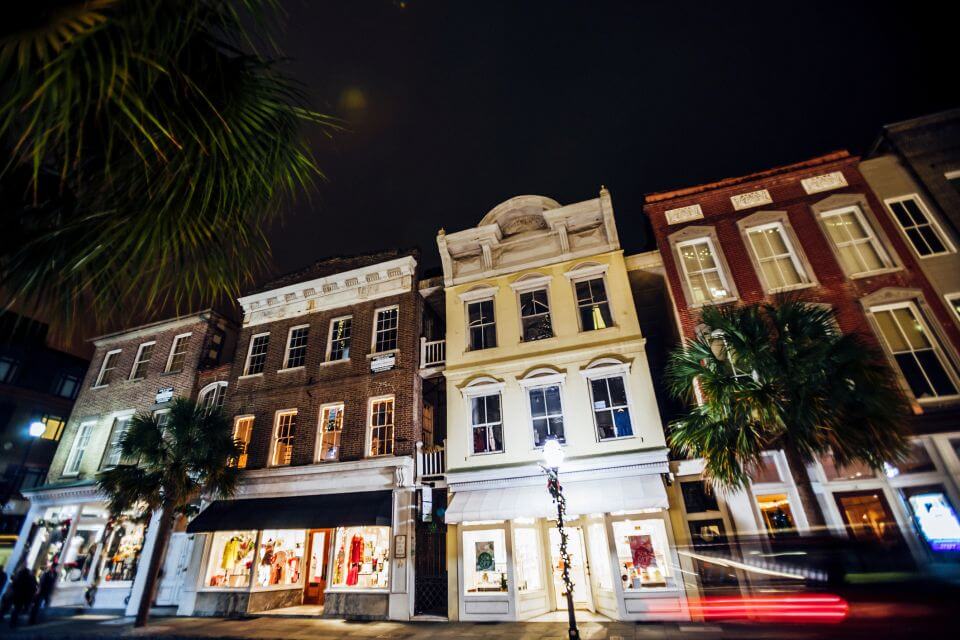 Here's a super cool way to learn about the local history while enjoying an epic evening out!
Perfect for travelers looking for unique things to do in Charleston at night, this pub crawl will take you through some of the best spots in the city.
As you sip on Charleston's famously delicious cocktails, your guide will tell you all about life in the Prohibition Era. Discover wacky legends that you probably never heard of before while exploring various cocktail lounges, bars, and old-fashioned taverns.
As you flit from one establishment to the next, you'll also get to enjoy walking around Downtown whilst learning about outlandish tales from the roaring 20s.
Entrance fee: $35
Hours: 4 p.m. to 6 p.m.
Address: 200 E Bay St, Charleston, SC 29401, USA
5. Soak up the Sun from Folly Beach
If you're looking for the perfect date activity or simply want to spend some quality time with the kids, you really can't go wrong with a visit to Folly Beach!
Located just a 20-minute drive from the city center, Folly Beach is known for its Beach Pier which stretches over 1,000 feet into the ocean.
There are heaps of snorkeling, swimming, and suntanning opportunities but if you're feeling particularly antsy, you can always potter about on Center Street. This lively boulevard has an abundance of bars, restaurants, quaint little boutiques, and just about everything you need to fill a lazy afternoon.
The route from downtown Charleston to Folly Beach is notoriously jammed on weekends and holidays, so hit the road early!
Entrance fee: Free
Hours: 8 a.m. to 10 p.m.
Address: Folly Beach, SC, USA
Okay, here's one activity that should absolutely feature on your list of things to do in Charleston!
Fort Sumter played a pivotal role in the American Civil War, and you can learn all about it through this guided activity. You'll even be treated to a round-trip ferry ride so you can enjoy a scenic cruise while passing various points of interest like the Battery and Rainbow Row.
National Park Rangers will take you through the main events of the Civil War, then you can enjoy exploring the Fort Sumter National Monument.
Do allocate yourself some time to visit the on-site museum and bookstore before hopping on the ferry back to Charleston.
Entrance fee: $32
Hours: 9.30 a.m. to 11.45 a.m.
Address: Pickup from various locations in Charleston
Small Pack Problems? 😉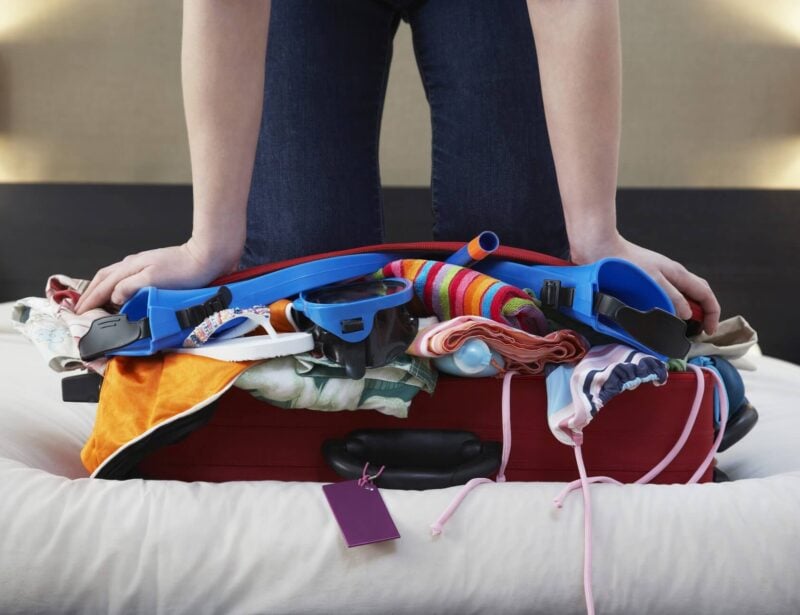 My missus travels with all her clothes in ziplock bags: don't be like my missus. UP YOUR PACKING GAME!
Packing cubes for the globetrotters and compression sacks for the real adventurers – these babies are a traveller's best kept secret. They organise yo' packing and minimise its volume too so you can pack MORE.
Or, y'know… you can stick to ziplock bags.
View Our Fave Cubes
Or Check Out the Sacks!
7. Relax at Battery & White Point Gardens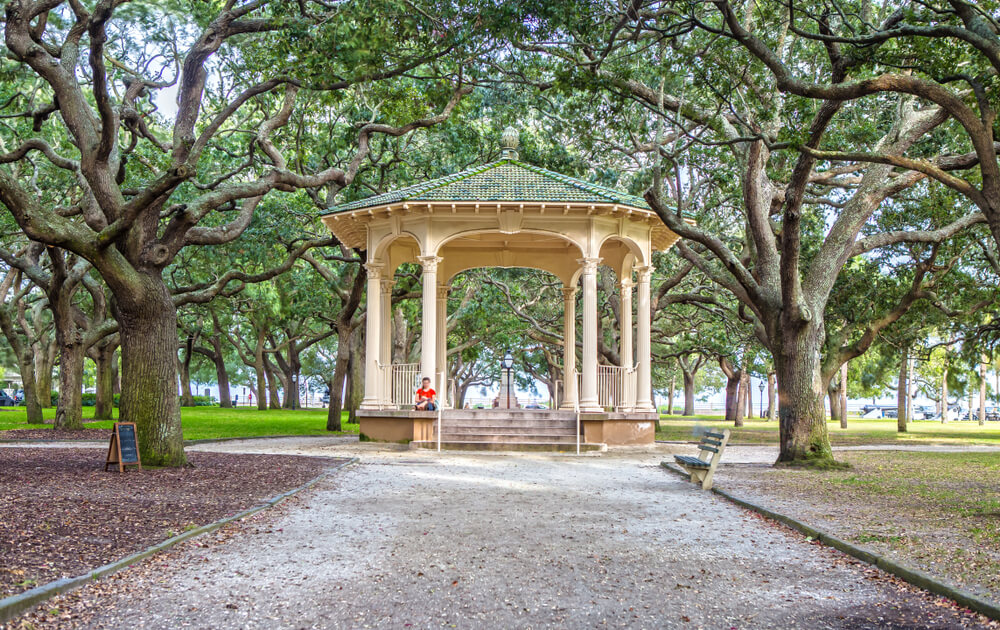 As far as gorgeously curated places go, Battery & White Point Gardens is a real doozy!
Straddling Charleston Harbor, this landmark is where you'll be treated to the best views of Fort Sumter. Additionally, the park abuts the area where the Copper River merges with the Ashley River.
While this park originated as a public garden way back then, it was later used to fortify the city. As such, you'll still find relics from the Civil War dotted through the gardens, including historic cannons and mortars.
Whether you want to enjoy a refreshing afternoon stroll down the promenade or tuck into a picnic under the shade of palmetto and oak trees, this is one park that promises hours of glorious relaxation. And if you're visiting Charleston for a weekend, this is one way to escape the crowds.
Entrance fee: Free
Hours: 7 a.m. to 9.30 p.m.
Address: 2 Murray Blvd, Charleston, SC 29401, USA
8. Check Out Patriots Point Naval & Maritime Museum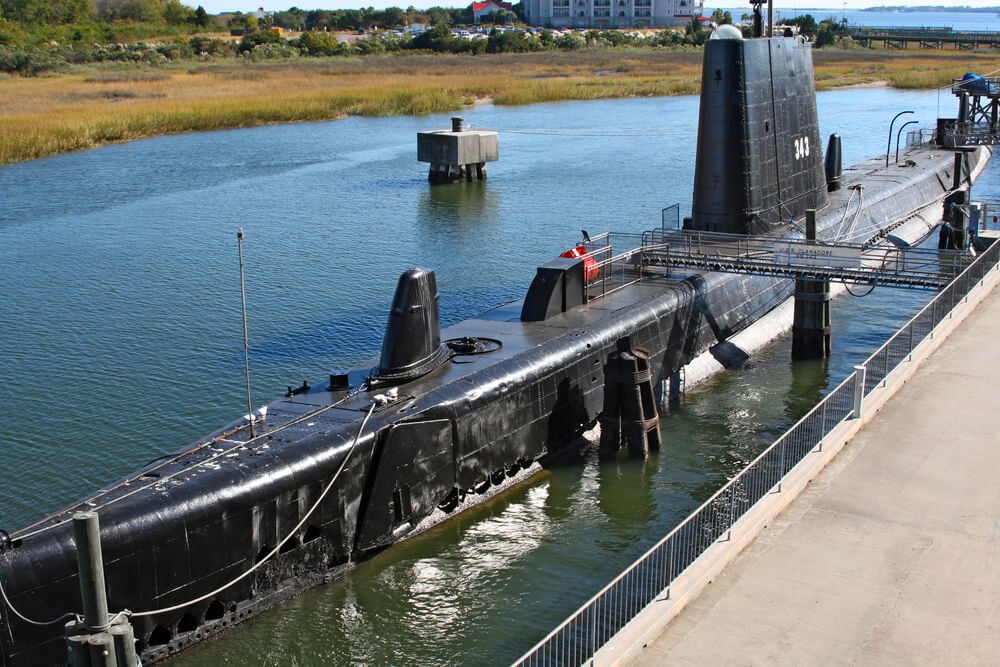 Parents looking for the best things to do in Charleston with kids can consider adding the Patriots Point Naval & Maritime Museum to their itinerary.
Not only does this unique museum house the famed aircraft carrier, USS Yorktown, but you'll also find 28 other historic aircraft and three Navy vessels.
Be sure to check out Yorktown's refurbished engine room, known for its full-on sensory exhibits that'll help you experience the noises and sensations associated with the ship's engines.
There's even a hologram of a sailor operating the machinery- something that's bound to thrill the kids!
Entrance fee: $27 (adults), $19 (seniors 62+), $16 (kids 6-11)
Hours: 9 a.m. to 6.30 p.m.
Address: 40 Patriots Point Rd, Mt Pleasant, SC 29464, USA
9. Sample Frogmore Stew at Bowens Island Restaurant
It wouldn't be a trip to the south without sampling some good ole southern grub, y'all!
Now, South Carolina may be famous for offerings like boiled peanuts or shrimp and grits, but Charleston has its very own specialty: Frogmore Stew.
And what better place to try this secret thing to do in Charleston than at the Bowens Island Restaurant, a place that's become practically synonymous with this hearty stew?
Contrary to popular belief, Frogmore Stew (also known as Lowcountry Boil) is entirely devoid of frogs. Rather, it's a hearty amalgam of seafood, corn on the cob, smoked sausage-y goodness, new potatoes, and more!
Bowens Island Restaurant does get packed very quickly in peak season so it's a good idea to make your reservations ahead of time.
Entrance fee: Free
Hours: 11 a.m. to 9.30 p.m. (Tuesday to Saturday)
Address: 1870 Bowens Island Rd, Charleston, SC 29412, USA
Is This the Best Daypack EVER???
If you're wondering what to do in Charleston on a beautiful day, I can absolutely recommend a visit to the Old City Market!
One of the most frequented destinations in downtown Charleston, the City Market is home to hundreds of pop-up boutiques, craft vendors, and scrumptious delicacies.
This is also where you'll find the famous sweetgrass baskets, which are the souvenir of choice in Charleston.
Entrance fee: $39.50
Hours: 10.30 a.m. to noon
Address: 360 Meeting St, Charleston, SC 29403, USA
11. Snap Selfies at Sullivan's Island Lighthouse
This lighthouse is often hailed as the most photogenic spot in Charleston, and it won't take you long to understand why!
Also known as Charleston's Light, this photographer's playground packs a punch with its unique triangular structure.
The only bummer is that the fenced-off lighthouse is not accessible to the public, but rest assured that Sullivan's Island does feature plenty of other attractions.
Be sure to check out Fort Moultrie, a historic landmark that once played a significant role in major battles. I can also recommend a visit to the Edgar Allan Poe Library which is found in a restored Battery Gadsden!
And if all that sightseeing makes you hungry, you can always savor a picnic on Sullivan Island's Beach.
Entrance fee: Free
Hours: N/A
Address: 1815 Ion Ave, Sullivan's Island, SC 29482, USA
12. Stroll through Waterfront Park
Travelers looking for outdoor activities in Charleston are absolutely spoilt for choice in the city. After all, life in the Lowcountry is all about taking it easy!
Indeed, Waterfront Park is just one of the many vast outdoor spaces where you can relax in between your sightseeing expeditions. With double swings and vintage-style benches, this venue offers the ideal setting for relaxing with an ice cream cone while watching the sailboats.
The Waterfront Park is easily distinguishable by its Pineapple Fountain which is quite a sight to behold at night as it lights up in various colors. Talk about finding a gorgeous backdrop for those IG pictures!
Oh, and did I mention that the fountain has a small wading pool for kids?
Entrance fee: Free
Hours: 7 a.m. to 9.30 p.m. (Monday to Saturday), 7.30 a.m. to 10.30 p.m. (Sunday)
Address: Vendue Range, Concord St, Charleston, SC 29401, USA
13. Step Back in Time at the Nathaniel Russell House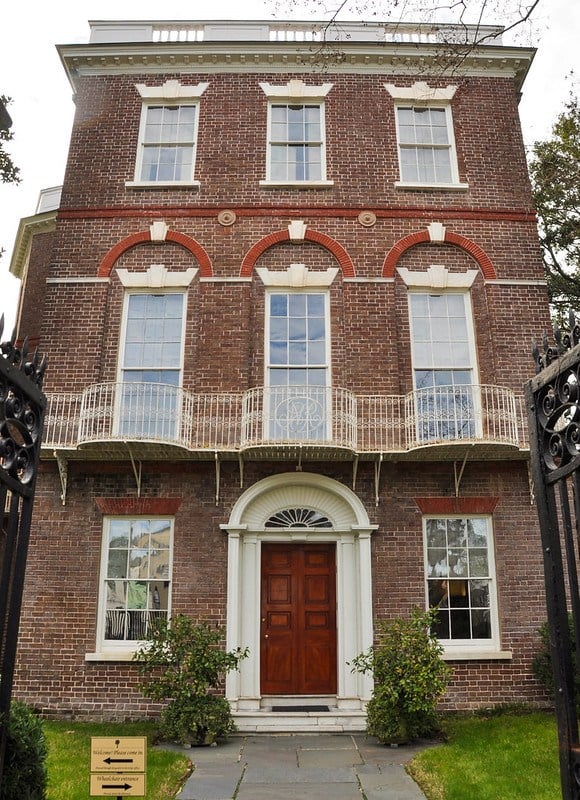 Glimpse into America's past with a visit to the Nathaniel Russel House. Hailed as one of the country's most important Neoclassical mansions, the Nathaniel Russel House is brimming with cultural and historical significance.
With a majestic, three-story, free-standing staircase, this architectural gem showcases what life used to be like for America's ultra-wealthy back in the 19th century. You can also download a self-guided app, which is great for those interested in history but doesn't want to fork out for the tour.
After your visit, you can explore the beautiful grounds that surround the mansion or check out the nearby Aiken-Rhett House, another historical landmark located just five minutes away.
Entrance fee: $15 (adults), $7 (kids 6-16)
Hours: 10 a.m. to 5 p.m.
Address: 51 Meeting St, Charleston, SC 29401, USA
Travel with peace of mind. Travel WITH a security belt.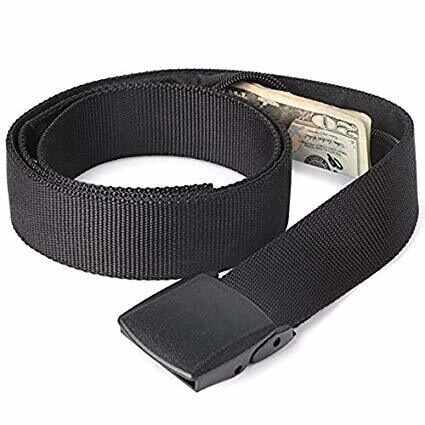 Get your cash stashed with this awesome Pacsafe money belt. It will keep your valuables safe no matter where you go.
It looks exactly like a normal belt except for a SECRET interior pocket perfectly designed to hide a wad of cash or a passport copy. Never get caught with your pants down again! (Unless you want to.)
Hide Yo' Money!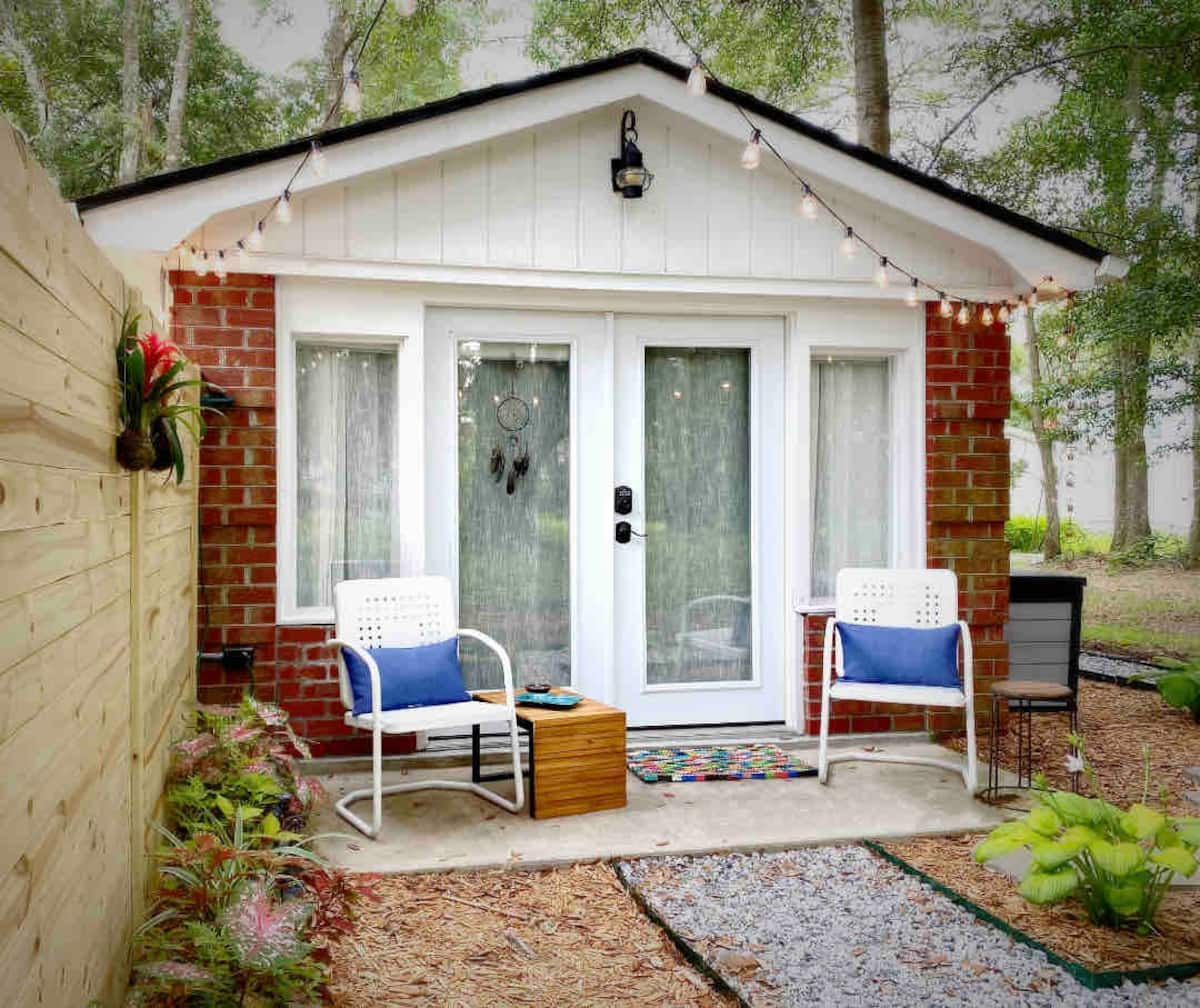 James Island is a quiet and rural town outside Charleston city center and is best known for its surfing, charming restaurants, boutique shops, and bars. If you want to really feel like the locals, then you're going to want to stay in this area.
This Airbnb is the perfect base for two people wanting to stay in James Island. There's also a sofabed to accommodate an extra person if you're traveling as a small group.
The cottage provides a host of thoughtful amenities, including beach towels, chairs, and a cooler – basically, everything you need for a fun beach day!
You'll find plenty to explore nearby, including Folly Beach and the Fort Sumter National Monument.
Now, this space does come with a well-outfitted kitchen, but with Downtown Charleston's best eateries just a short distance away, why muck about with cooking, right?
Entrance fee: $145/night
Hours: Check-in after 3 p.m., Checkout at 11 a.m.
Address: James Island, Charleston, South Carolina, USA
15. Snap Cool Photographs at the Rainbow Row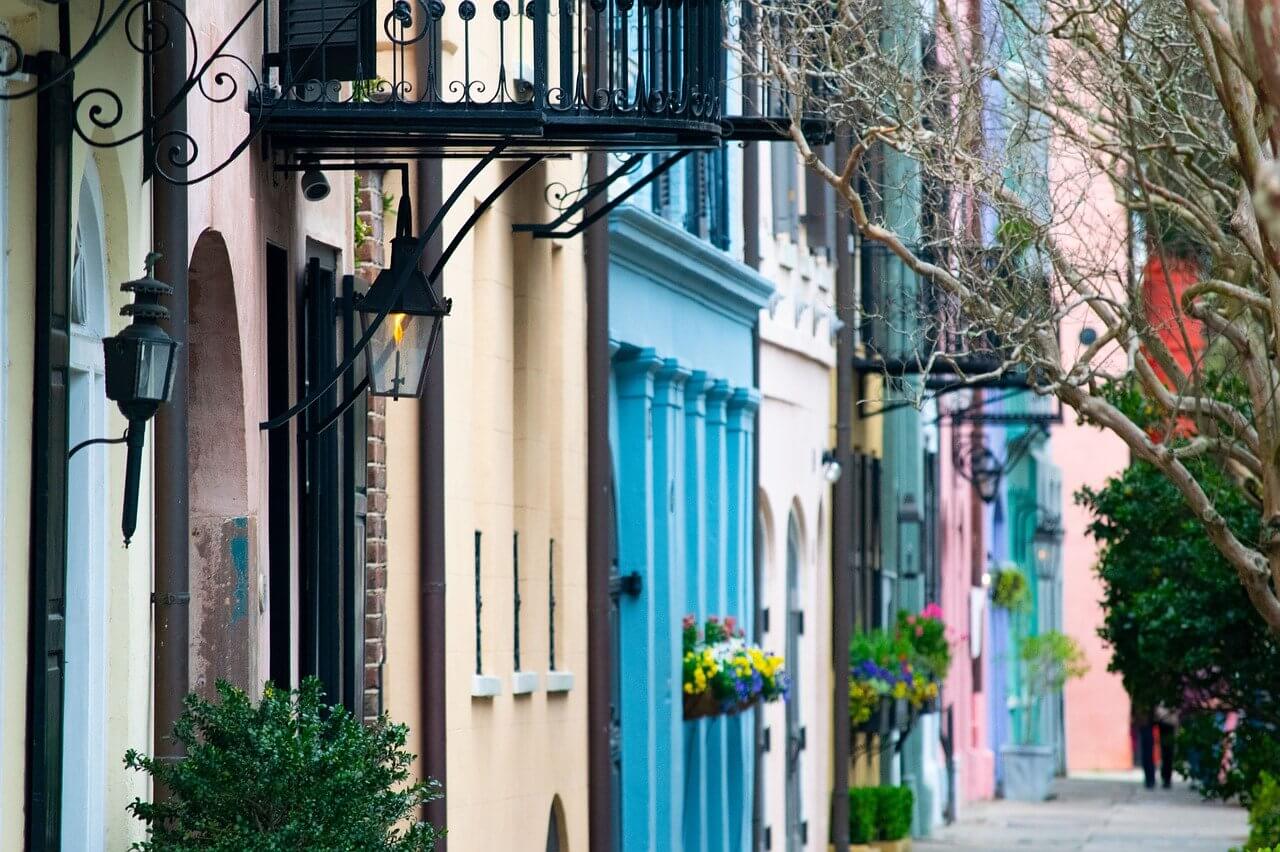 Make sure that your camera battery is charged and good to go because this is the city's most eye-catching area for photographers.
Because this neighborhood attracts tons of tourists in spring and summer, your best bet would be to head there early morning if you want to avoid the crowd.
Located on East Bay Street, Rainbow Row is an absolute sight for sore eyes – and it's not exactly hard to see why with its neat rows of brightly colored houses.
This Insta hotspot also offers a super pretty setting for a relaxing stroll while taking in that unique Charleston vibe.
It's important to know that the houses are privately owned, so remember to keep a respectful distance and respect the residents' privacy while touring the area.
Entrance fee: Free
Hours: N/A
Address: 83-107 E Bay St, Charleston, SC 29401, USA
16. Hike through Francis Marion National Forest
Looking for the best day trips from Charleston? Why don't you head over to the Francis Marion National Forest, located just under an hour's drive away?
Offering a literal breath of fresh air, this idyllic retreat is well-suited for travelers looking for some respite from the hustle and bustle of the city.
Something of a hidden gem in South Carolina, the forest features a ton of activities from hiking to mountain biking and even white-water rafting down the Chattooga River. It's also a prime spot for adrenaline-pumping OHV expeditions.
And if you'd like to prolong the fun, you can always camp out at the Buck Hall Recreation Area, a well-equipped campground located by the Intracoastal Waterway.
Entrance fee: $5/day operator fee
Hours: 8 a.m. to 4.30 p.m. (weekdays only)
Address: 2967 Steed Creek Rd, Huger, SC 29450, USA
17. Cross the Arthur Ravenel Jr. Bridge
If you're wondering why a bridge (of all things!) made this list, wait until you see this architectural marvel for yourself.
Locals will tell you that biking, jogging, or simply walking across this bridge is something that you just can't miss- and after experiencing it for myself, I must say that I quite agree with them!
Not only does the bridge offer views of Charleston, but it's also a prime spot for enjoying dazzling sunsets over the Copper River.
Connecting Mount Pleasant to the downtown area, this cable-stayed bridge is the longest of its kind in the world. Best of all, it has a dedicated lane for cyclists and pedestrians, so you won't need to worry about the traffic during your walk.
Entrance fee: Free
Hours: Open 24 hours
Address: Arthur Ravenel Jr Bridge, Charleston, SC 29403, USA
Where to Stay in Charleston
Is there anything better than crashing into air-conditioned comfort after an exciting day of moseying around a new city? I think not!
Here's the great news: Charleston's got plenty (and I do mean plenty!) of excellent accommodation to suit every budget. From super affordable hostels to glitzy hotels and even quaint Airbnbs, this city's got you covered for sure.
Here are my recommendations for where to stay in Charleston.
Located smack dab in the downtown area, Charleston's NotSo Hostel occupies vintage 19th-century houses in the historic Elliotborough neighborhood. With a capacity for up to 8 guests, the hostel's dorm rooms feature shared bathrooms and bunk beds. If you'd like more privacy, you can always opt for a private room with a bathroom. Each morning, you can fuel up with a complimentary breakfast before hitting nearby attractions. This is the perfect budget accommodation for backpackers in the USA.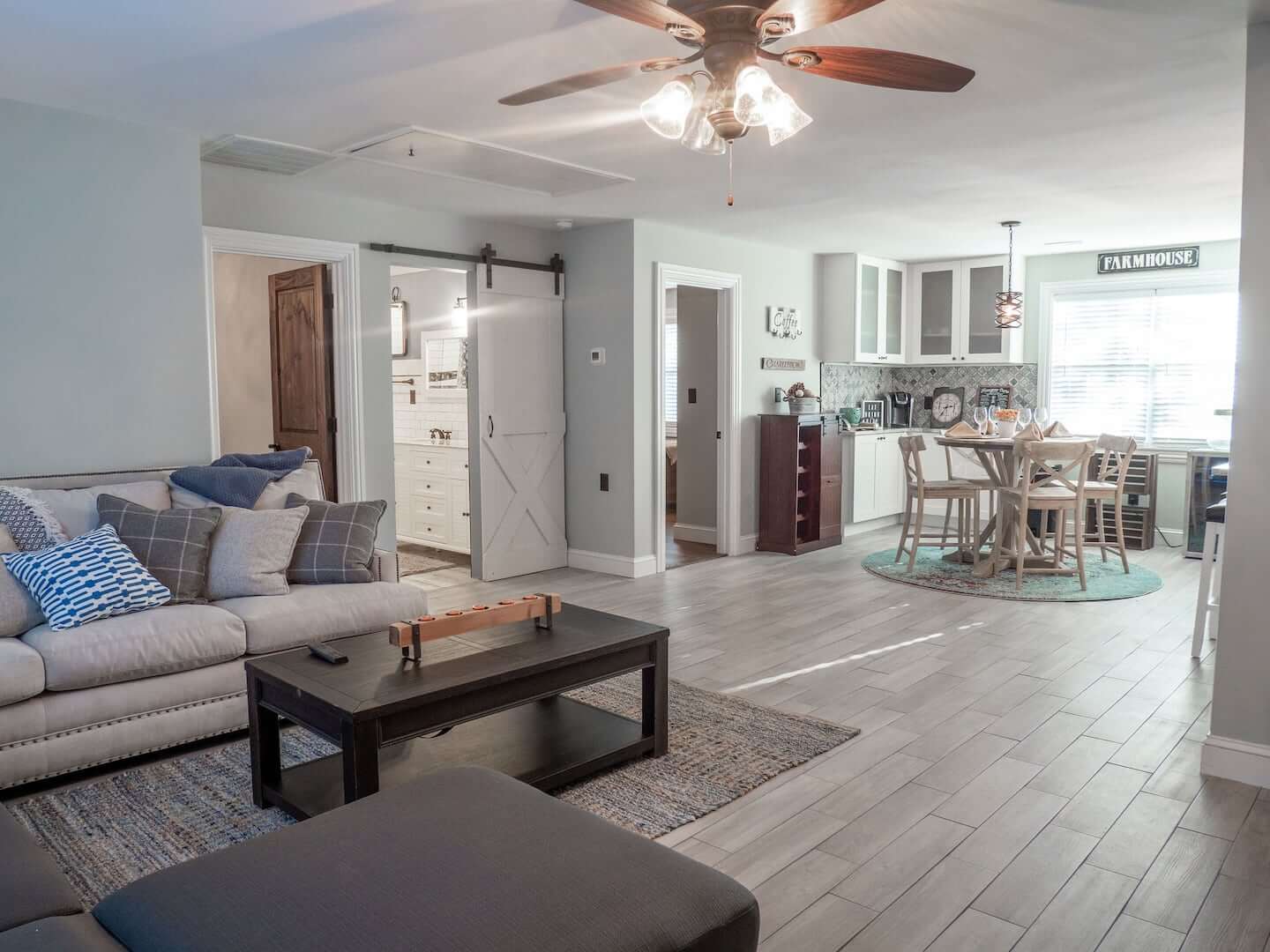 Traveling with a group and looking for vacation rentals in Charleston? Then you're going to love this place. Not only does this Airbnb offer proximity to some of the top attractions in Charleston, but it also provides all the comforts of home. Expect generously sized spaces, laundry facilities, and even a properly outfitted kitchen where you can rustle up a quick meal. This apartment comfortably sleeps four in two bedrooms. There's also an air mattress and a couch to accommodate a couple of extra guests.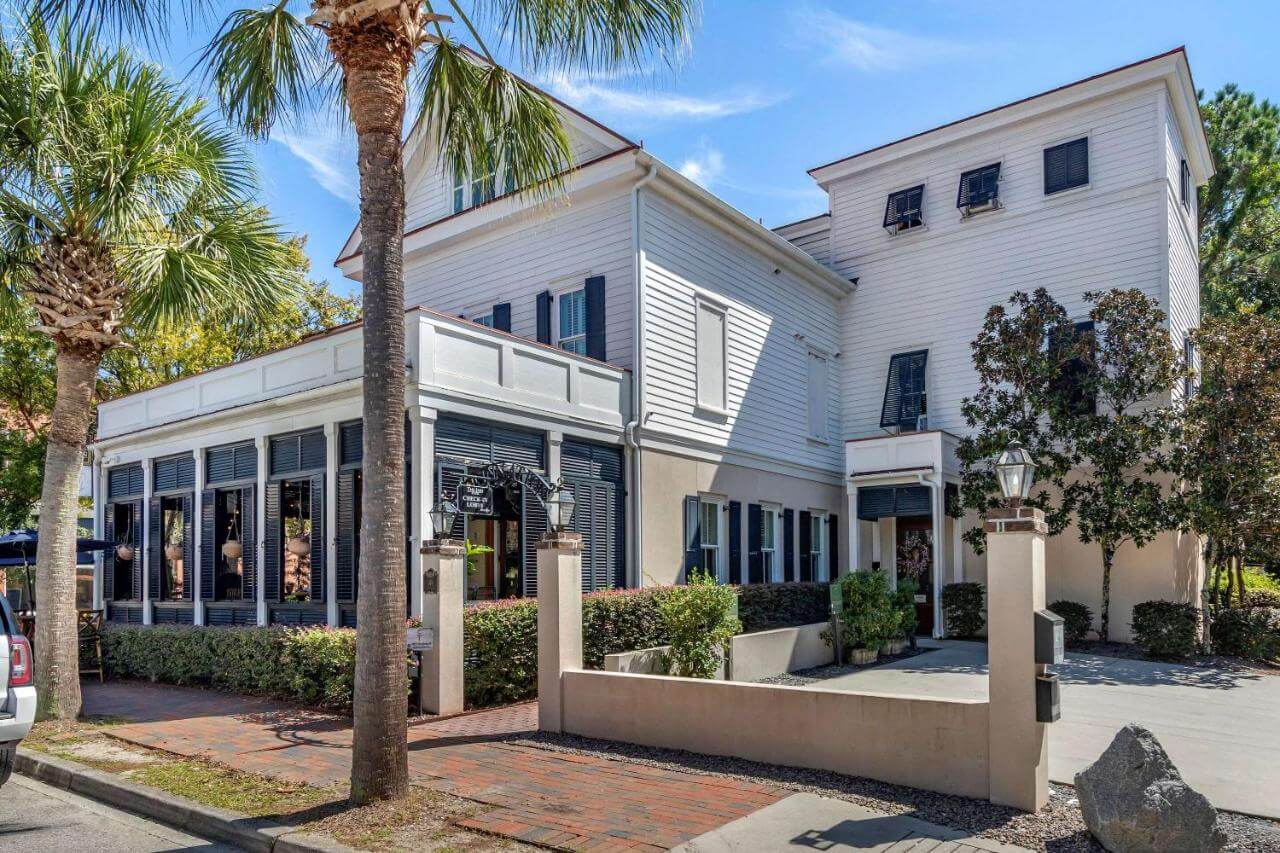 If you can afford to loosen those purse strings, this is one hotel that you really don't want to miss! Inn at l'On Ascend Hotel Collection boasts spacious king suites, each fitted with an extra-large double bed and a sofa bed to sleep up to three guests. Kickstart each day with free continental breakfast and perhaps even a dip in the on-site swimming pool. You also have free parking onsite, perfect for those on an East Coast road trip.
Some Additional Tips for Visiting Charleston
I'm sure you're super stoked to zip up your suitcase and board the first flight out to Charleston but before you do, I have just a few more travel tips for you!
Book a place with breakfast. You'll definitely get the best bang for your buck by booking a place where you can fill up on a complimentary breakfast that'll keep you going through the morning!
Take advantage of DASH. One of the easiest ways of touring those great attractions in Charleston is through DASH- the Downtown Area Shuttle. It even offers free routes on the peninsula!
Choose your travel months wisely. June through November is hurricane season in Charleston. Most people choose to go to the city in spring (March to May) so they can see the azaleas and magnolias in full bloom.
Don't skip North Charleston. This area is often overlooked in favor of more happening neighborhoods like Downtown and Mount Pleasant. But with an abundance of cool dining spots, North Charleston can be an excellent place to escape to once the summer crowd hits.
Wear comfy clothing. First-time visitors often tend to underestimate Charleston's humidity, but it can get seriously sweltering out there! Favor loose, lightweight clothing and wide-brimmed hats.
Don't forget your travel insurance for Charleston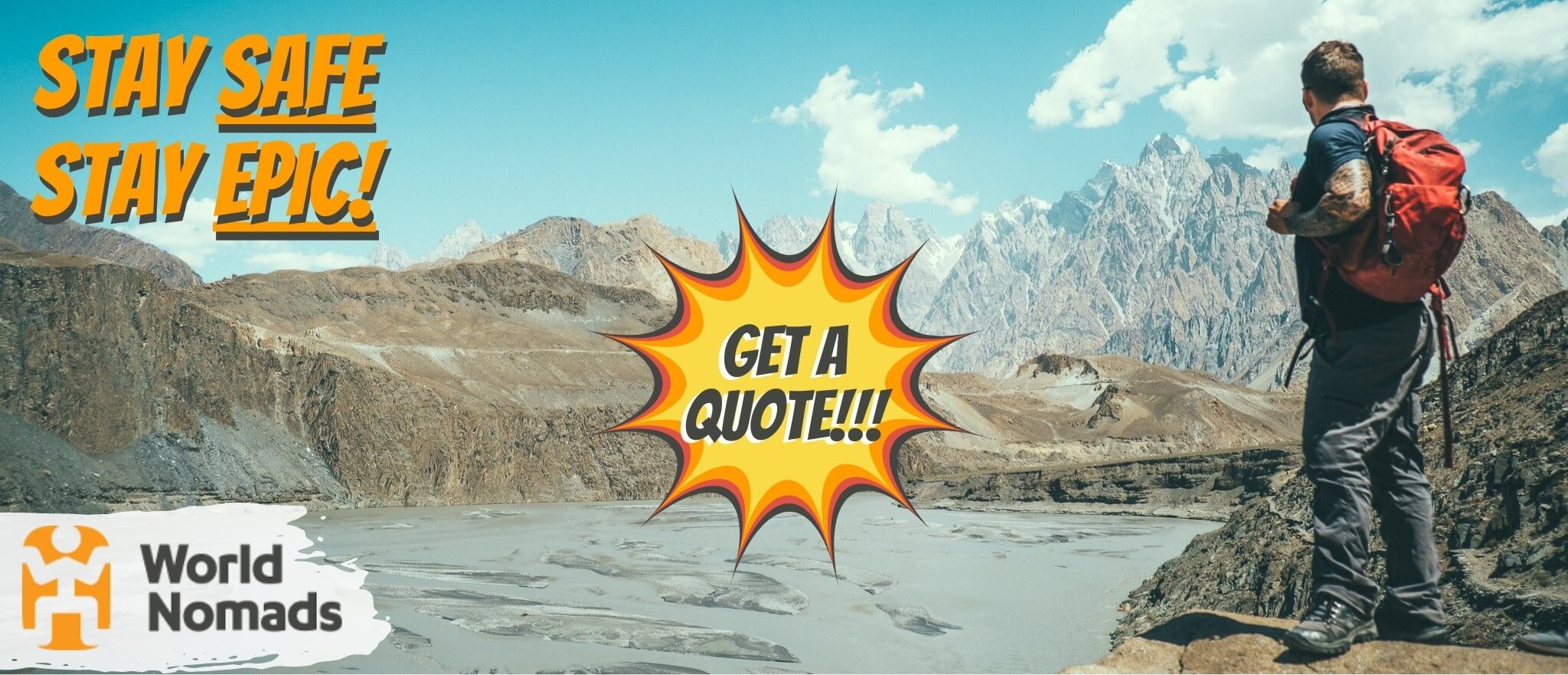 World Nomads' mission is to support and encourage travellers to explore their boundaries. They offer simple & flexible travel insurance, and safety advice to help you travel confidently.
They've been doing it since 2002 – protecting, connecting, and inspiring independent travellers just like you.
Get a quote below or read our in-depth review!
World Nomads provides travel insurance for travelers in over 100 countries. As an affiliate, we receive a fee when you get a quote from World Nomads using this link. We do not represent World Nomads. This is information only and not a recommendation to buy travel insurance.
Final Thoughts on Things to Do in Charleston
With friendly locals, scrumptious cuisine, and heaps of free attractions, there's no doubt that Charleston is any traveler's dream come true.
A treasure trove of U.S history, Charleston is a delightful paradox where innovation and creativity co-exist harmoniously with relics of a troubled past. Hidden treasures await at every turn and the gorgeous architecture offers endless photo ops.
Whether you're lazily whiling away a weekend, filling a backpacking trip, or planning a longer stay, I can assure you that you'll never run out of exciting things to do in Charleston!
I hope this guide made it easier for you to plan the perfect Charleston itinerary.
---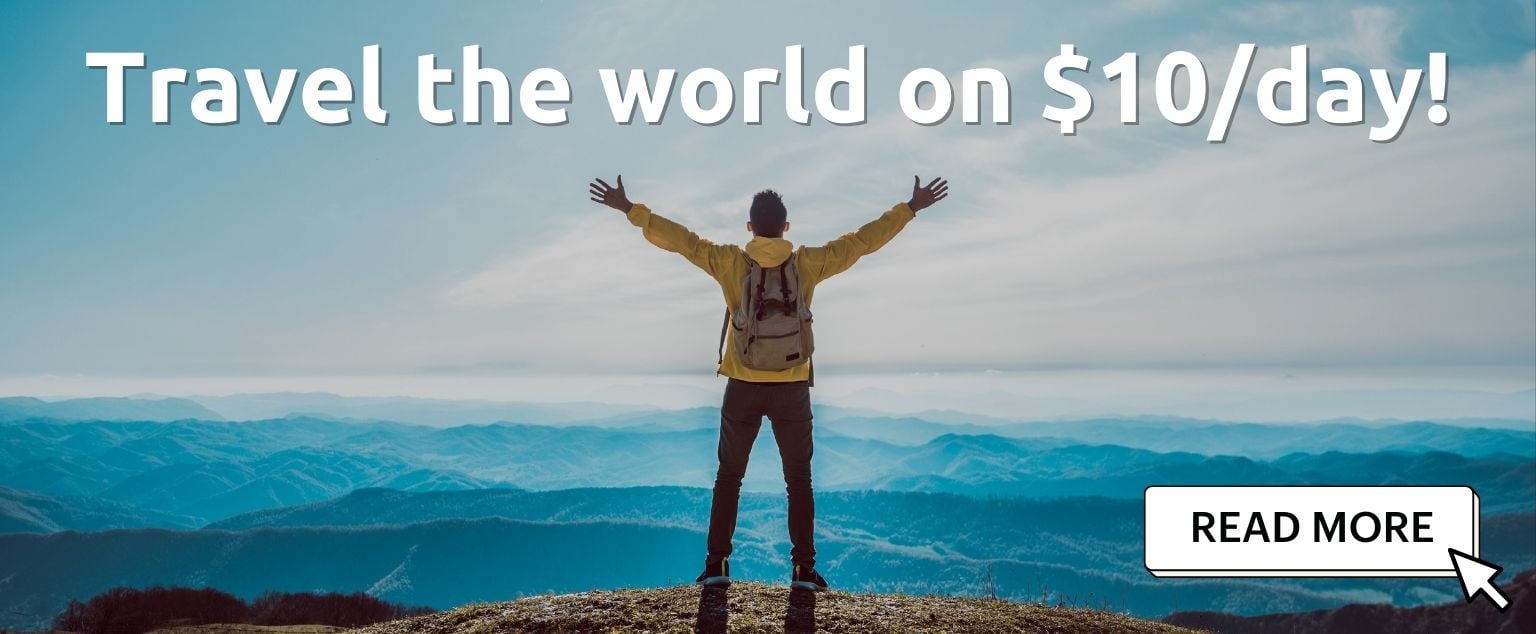 And for transparency's sake, please know that some of the links in our content are affiliate links. That means that if you book your accommodation, buy your gear, or sort your insurance through our link, we earn a small commission (at no extra cost to you). That said, we only link to the gear we trust and never recommend services we don't believe are up to scratch. Again, thank you!