From great culture to incredible musical festivals and the craziest nightlife, backpacking Austin, Texas can be a real blast! It seems that everyone is moving Austin these days and just as many are visiting so you can be sure to be in for a real treat.
Austin is a city of constant change and development. Trying to keep up with its different areas, neighborhoods and faces can be a real struggle. One day you might think you've found the last slice of "real" Austin, only to have it discovered by the masses the next.
That's why I created this Austin travel guide! Filled to the rim with travel tips on how to stick to your budget, finding the coolest hotspots in the city and so much more.
Travel to Austin with an open mind and an open heart and you'll have the time of your life. Stick to my suggestions and little Austin-life-hacks to make the whole experience stress-free and even better!
Let's get right to it…
Austin is a vibrant Southern city known for its barbeques and abundant live music scenes. If you only had time for one Texas stop on your USA trip, I'd absolutely recommend you choose Austin!
Having always been a home to hippies and musicians, Austin is steadily becoming more popular and thus the best time to visit is right now!
Aside from all its live entertainment, Austin is also filled with numerous incredible parks and swimming holes. Outdoor enthusiasts will rarely if ever be bored in this city.
Add in year-round pleasant weather, plenty of delicious food trucks, and friendly locals, and you've got more reasons than not to find out what makes Austin weird!
What Are The Major Attractions in Austin?
Every US destination has its top spots to visit, and Austin is no different. These are the places to visit in Austin that you just shouldn't miss:
Texas State Capitol
Barton Springs Pool
Lady Bird Lake
Mount Bonnell
LBJ Presidential Library
How Long Should I Spend in Austin?
3 days is the perfect amount of time to spend in Austin. If you're on a longer Texas road trip, you might end up wanting to spend a few extra days based in the city to check out its surroundings.
The following is a sample 3-day Austin trip itinerary which is perfect for a weekend in the city. Most of the top destinations mentioned in this Austin travel guide are covered in this section.
Day 1: UT and Downtown Austin
Let's start the day off at the University of Texas – Austin campus. This is one of the largest and most populated colleges in the entire country. There are so many people walking around this institution that it can feel like a city unto itself at times! If you'd like to just sit down and people watch, then go right ahead.
UTA has a number of facilities that are more suitable for tourists though. There is the LBJ Presidential Library, Harry Ransom Center, Blanton Art Museum, and Bullock Texas History Museum, all of which are conveniently on or near the campus. These form the bulk of Austin's landmarks and can be knocked out in a single busy afternoon.
Once you feel satisfied with the University, head south towards the Texas Capitol Building. You can go for a free tour of the interior if you like, which should give you a little extra insight into the headstrong state.
After the Capitol Building, head to the Downtown Austin area for a well-deserved drink and some food. If you feel so inclined, you can drop by Jones Center for some more culture, but at this point, I'm sure you are famished.
Day 2: South Austin
Across the river from Downtown is South Austin, which for many years was an enclave for all things alternative and vintage in the city. (Fun fact: this river is actually the Colorado River!)
There are not many defined neighborhoods in South Austin – most just kind of blend together at this point. If there was one area that definitely deserved its own spotlight though, it would be South Congress.
South Congress is where all of the hippies and liberals, those intrepid folk who made Austin weird in the first place, used to hang out. Unfortunately, it's gone the way of many of America's once gritty neighborhoods (like Williamsburg, Brooklyn or Capitol Hill, Seattle) and most of the area's original charm has become calcified.
While South Congress' new identity irritates a lot of locals, it's still a cool place to check out. Every day, new cafes, bars, and shops are opening up, most of which offer that patented Texas-hippie vibe.
South Congress doesn't have as many "attractions" as Austin's northern parts. Granted, you can still visit local South Austin points of interest, like the Cathedral of Junk, Uncommon Objects, or the End of an Ear, and still feel like you're doing touristy stuff.
Day 3: The Parks
The two best parks in Austin are probably Zilker Metropolitan Park and Lady Bird Lake. Both would be great places to relax and soak up some sun, maybe with a brown bag and a bottle of wine.
Start off with Zilker where you can swim in Barton Springs, kayak in the creek, or attend one of the many annual festivals. You can also walk around the Umlauf Sculpture Garden.
Next up is Lady Bird Lake which is a bit more off the beaten path – by Austin standards – and so receives slightly fewer visitors. You can go stand-up paddle boarding or kayaking here. Be sure to soak in the views of Austin's growing skyline while you're here.
Regardless of which park you end up choosing to visit, you should definitely end your day at the South Congress Bridge. Before sunset on warm summer nights, millions of bats emerge from under the bridge and take to the skies. It's a slightly eerie but very iconic sight in Austin.
Need help deciding between Dallas or Austin? Check out our helpful guide.
Spending More Time in Austin?
Austin is a fantastic place to be time rich. There's so much to do in the city, and even more outside of it. Here are a few ideas to get you started:
Attend a concert or festival: The Austin City Limits festival or the Southwest Festival (SXSW) are both particularly worth seeing if you happen to be in town at the time, but any of the music venues in the city make for a great time.
Go kayaking: Austin is one of the best places to kayak in Texas. Book a tour or set out on your own to experience it!
Swim in Deep Eddy: The oldest swimming pool in Texas, this is a great place to cool off, especially if you're traveling with kids.
There's a wide variety of things to do and eat in this city, which is part of it makes it so appealing. From kayaking to
1. BBQ or Mexican?
This wouldn't be an Austin travel guide without mentioning Austin's best eats. When it comes down to choosing where to eat in Austin, the question usually comes to whether you want BBQ or Tex-Mex.
Both are among the best foods in the city and there are plenty of chances to make the decisions. At the end of the day, just know that most of the places to eat in Austin are great anyway.
2. See the bats
Austin is estimated to have a colony of about 1.5 MILLION Mexican free tailed bats, and from Mid-March until November, they make the Congress Avenue Bridge their home. Every evening, you can see them set off for their nightly foraging.
While a kayak tour might sound cool, beware that 1.5 million bats means a LOT of poop, so stay on land and arrive early to get a good view.
3. Catch some live music
No real night out in Austin is legit without going to a local gig. The city has claimed to be the "Live Music Show of the World," after all, so we'd be fools not to suggest it. The whole city will be blaring music so don't feel too pressured to find "the spot" either. The best music venue may end up being a random bench!
4. Go On A Craft Beer Tour
Austin has a growing number of delicious craft beer breweries in Downtown Austin, and trying them out is one of the best things you can do in the city.
Start in the Rainey Street Historic District, and spread out from there!
5. Beat the heat at one of the many swimming holes
One of the best ways of cooling off around these parts is going to a local watering hole. There are plenty of spots within the city itself, but the best are achieved by taking a day trip from Austin. Some of the most beloved ones are Barton Springs, Hamilton Pool, Pedernales Falls, and Krause Springs.
6. Discover the local street art
A lot of people will claim that Austin's best landmarks are its murals. This city is famous for its street art and there are dozens of spaces here that are dedicated just to murals.
While many of Austin's best public graffiti sites have been relocated in recent years, new ones are popping up all the time.
7. Wander around South Austin
There's nothing cheaper to do in Austin than just walking around with nothing but your thoughts and lint in your pocket. In-vogue South Congress is a great place to just aimlessly wander as you'll find lots of little coffee shops and hidden gems. Pop into whatever looks interesting and just let the day go by.
8. Catch the sunset at Mount Bonnell
One of the most popular hikes near Austin's city limits is Mt Bonnell. Located just on the outskirts of town, this relatively straightforward hike takes you to a viewpoint that overlooks the whole city and then some.
It's a very popular place for sunset and is often choked with romantic couples.
9. Visit the University of Texas at Austin
UTA is one of the most recognizable sights in Austin, due to its iconic tower and the fact that just about everyone owns Longhorns shirt. You can visit the campus to get a feel for college living and see the LBJ Library as well as other museums.
10. Discover East Austin
Much of Central Austin has been swallowed by rampant developers and there are few authentic areas left in the city, but off the beaten path East Austin still holds on to a bit of its former self.
This is the international quarter and is a great place for those who are fed up SoCo, 6th, and any other preppy part of the city for that matter.
The big question is Houston or Austin? Check out our helpful guide to help make the decision.
Austin has an enormous array of accommodation, but as I mentioned earlier that lodging can be a little bit expensive in Austin. Hotels are of the usual sort – uninspired, sterile, and, worst of all, overly expensive. Austin's Airbnbs, on the other hand, are usually more personable, affordable, and, crucially, interesting than hotels at times.
Austin VRBO is often rated as being more reliable than Airbnb, and also has a host of different personable options that don't break the bank.
Campgrounds aside, hostels will always be the best deals in town. There are several excellent hostels in Austin and most will be able to meet even the most seasoned of travelers' expectations.
If you'd like a bit more privacy than a hostel at a similar price, you can also check out any of Austin's motels–some are halfway decent and absolutely worth the savings.
The Best Places to Stay in Austin
These are the absolute best places to stay in Austin:
Depending on when you plan to visit, Austin can be more or less expensive. Visit during the most popular festivals i.e SXSW or City Limits and be you'd better be prepared to pay a huge premium. Visit during the shoulder or off-seasons and Austin can be done on the cheap.
Once you've decided on when to travel to Austin, doing it on a budget just comes down to good spending habits.
We know that Austin can be cheap or, at least, affordable, but this is only possible with the right practices.
A lower daily budget for Austin would be around $50-$75. This will get you a dorm bed, groceries, some beer money, and bus tickets.
Lodging in Austin is a bit expensive, which could be due to high property demand. Airbnb apartments and hotels will definitely be more expensive than staying in a hostel or campground. Granted, neither of the former two will be nearly as expensive as places like San Francisco or Boston.
Food can cost as little or as much as you want it to, and really comes down to how much you eat out. Dining at restaurants and going on food tours in Austin will definitely deplete your savings quicker, so be picky about what and where you eat.
Austin loves to drink and, for that matter, drink cheaply. Beers can be found for low as a dollar at some Austin dive bars and whiskey is always cheap at the market! Just be careful not to go overboard. Avoid expensive lounges downtown as well.
Public transport is efficient and can be really cheap in Austin. Just be careful of parking tickets if you have your own car – meter maids are relentless in this city.
A Daily Budget in Austin
Below is a breakdown of a daily budget in Austin including the average costs of each expense.
A Few Free Things to Do in Austin
If you're looking to save some extra cash, then try doing one of these free things in Austin while visiting!
Pools – Being Texas, summers can become oppressively hot. Luckily, there are plenty of free pools around Austin! Try visiting one of the public pools or watering holes!
Museums – Many of Austin's museums are free either on certain days of the week or every day. Check out the websites for the Contemporary Austin, Blanton Museum of Art, and the Austin Nature and Science Center for their respective free days. Although it's not technically a historical attraction – because it's still in use – the Austin Capitol Building also has free tours.
Live events and shows – The only thing Austin loves more than a roaring show is a free one! There's always some sort of free performance going on in the city, from music to comedy to poetry to more. Start at established venues like The Saxon Pub and 3TEN, or check a list of free upcoming shows in Austin.
Concerts and festivals – Not every festival in Austin has to cost an arm and a leg to attend – some are completely pro bono! Plan a trip to Austin during any of these free music festivals to immediately fill up your itinerary. Start with preeminent free Austin festivals like the Zilker Summer Musical, Unplugged at the Grove, Cool Summer Nights at the Bullock, and the Austin Symphony Concerts in the Park series.
Join a line dance – If all else fails, dancing at one of Austin's many line bars is always free, just so long as you're game. Just be careful – Texans take this shit seriously!
Austin Budget Travel Tips
If you want to visit Austin on a budget, you'll have to be strict with your spending habits. For your benefit, I've created a list of tips that will help limit expenses. Follow these words of advice and you'll see that Austin can be much cheaper.
Browse the local farmer's markets – Austin is not lacking in local markets. At any of these, you'll find affordable ingredients, wholesome meals, and often free samples of local products. Aside from being good places to shop, these markets are also great places to watch Texans go about their daily lives. Start out at favorites like Quickie-Pickie, the Texas Farmers Market at Mueller's, or the SFC Farmers Market.
Pre-fade and dive bars – If you're going to have a night out in Austin, be sure to get buzzed first at home. Buying liquor at a local shop is always cheaper than paying for full-price booze at the bars. Once you've hit the streets, head first to the local dives – you can find beers for as low as $1 at these!
Cook at home as often as possible – One of the most proven ways of saving money for backpackers; buying your own groceries and cooking at home will save you heaps of cash.
Take advantage of happy hour – Happy hour is everyone's favorite time of day! From around 4-6 pm and sometimes late, lots of bars and restaurants have special drink/food prices. Go out during these times to find all the cheap things to do in Austin.
Use a water bottle – Save money by investing in a good water bottle and then drink from the tap. Austin's water is delicious and totally fine to drink.
Go for a wander – Austin is a very easy city to walk around. Most of Austin's real landmarks are its little eccentricities and intangibles – these are best found at a leisurely and free pace.
Why You Should Travel to Austin with a Water Bottle
Austin certainly isn't immune to the plastic problem … so do your part and keep the Big Blue beautiful.
You aren't going to save the world overnight, but you might as well be part of the solution and not the problem. When you travel to some of the world's most remote places, you come to realize the full extent of the plastic problem. And I hope you become more inspired to continue being a responsible traveler.
Plus, now you won't be buying overpriced bottles of water from the supermarkets either! Travel with a filtered water bottle instead and never waste a cent nor a turtle's life again.
Austin is smack-dab in the middle of Texas, and let me tell you – Texas can get fuckin' hot. Austin is regularly in the triple-digit Fahrenheit range (+38 C) during the summer, even in the spring and autumn sometimes, so unless you're used to trekking in the Sahara Desert or you're a Texan yourself, I suggest you take the heat very seriously when planning a trip to Austin.
Summers in Austin (May-September), although popular among families, are everything you'd expect – sweltering, long, and uncomfortable. While Austin does receive rainfall throughout the year, in the summer this sometimes comes in the form of suffocating humidity.
Thankfully, Austin has a plethora of public pools and natural watering holes that provide respite for the locals. Much of Austin is actually quite green, even lush, and is a stark contrast to the desolate plains of West Texas, which dominate most people's vision of the state.
These pools are very popular places to visit in and near Austin and will be jam-packed during the summer.
Thankfully, the rest of the year is pleasant, arguably perfect according to many locals. Temperatures drop to more "manageable" levels and rainfall is still in the forecast.
Some of Austin's best events, like SXSW and City Limits, takes place in the autumn and spring, respectively, and these can attract enormous crowds. While Austin is relatively affordable during the shoulder seasons, it's highly recommended you avoid visiting during these large events, unless you're ready to pay a pretty penny.
Winters in Austin are hardly noticeable. Spring practically blends into summer and I doubt anyone would be able to tell the difference between the two without the aid of a calendar. The Hills do receive a dusting of snow from time to time, but the city – not so much.
What to Pack for Austin
Here are a few essential items I wouldn't want to travel to Austin without. Add them to your travel packing list!
By American standards, Austin is a very safe place to visit. Crime is kept well under control and not too much has happened in the city in recent years.
While you certainly still need to keep an eye on your valuables and exhibit all of the usual precautions when it comes to traveling in big cities, you can take solace in knowing that not many people are out to get you here.
Being Texas, crime is usually met with a very swift hand. Murders and violent robberies are relatively unknown in this city, which may or may not be due to the somewhat omnipresent police presence.
The police are especially watchful at night around the big bar districts, e.g. 6th Street, Red River, as people become a bit more rambunctious.
A night out in Austin usually increases your chances of running into the law. People can pretty rowdy in this city, especially the college kids and UT fans, and the police generally treat them with a zero-tolerance policy. While you may get your kicks out of the occasional bar fight or scuffle, you'll definitely clean up after spending a night in Texas jail.
As a liberally-minded city, Austin has a decent homeless population. Granted, this group is not nearly as active or as intimidating as those in Portland, Seattle, or Los Angeles.
Even though Austin receives very moderate rainfall, storms are still possible. Downpours have happened in Austin's recent history and flash floods are becoming more common. While these are still rare and somewhat predictable, always be sure to check the weather if you're going hiking or near the water.
Sex, Drugs, and Rock 'n' Roll in Austin
The most common drug of choice in Austin–besides live music–is definitely alcohol. You'll find a wide variety of bars and breweries in the city, which all serve up various kinds of liquor. As per US laws, you'll need to be 21 or older to partake.
In May 2022, Austinites voted to decriminalize marijuana possession, but keep in mind that as the city is still located in deeply conservative Texas, recreational sales are still a ways away. You can certainly find black market weed in Austin, though it's best to purchase through some kind of personal connection.
As for other drugs, as Austin is a college town you can certainly get into a bit of drug tourism while visiting. Though keep in mind that anything aside from alcohol is illegal in the state of Texas, and fentanyl poisoning is a major national issue. Always test before trying!
Getting Insured BEFORE Visiting Austin
Traveling to Austin without insurance is risky–US medical costs are truly sky-high.
ALWAYS sort out your backpacker insurance before your trip. There's plenty to choose from in that department, but a good place to start is Safety Wing.
They offer month-to-month payments, no lock-in contracts, and require absolutely no itineraries: that's the exact kind of insurance long-term travellers and digital nomads need.
SafetyWing is cheap, easy, and admin-free: just sign up lickety-split so you can get back to it!
Click the button below to learn more about SafetyWing's setup or read our insider review for the full tasty scoop.
While it is not the most accessible of all American states (it is in Texas, after all), Austin is still relatively convenient to get to. All of the usual means of arriving are present here – including train lines, buses, and an international airport – and all of these are perfectly viable. Those who want to visit Austin should have no problem arriving in this city, be it from land or air.
Austin Bergstrom International Airport is the main point of entry and is connected to the city by public bus ($1.75 fare). The airport is serviced by a number of foreign carriers, such as British Airways, Air Canada, and Condor, but not too many more.
Some travelers may find themselves first arriving in the likes of San Antonio or Houston and then visiting Austin by vehicle.
Austin is conveniently located at the near-center of Texas' three main cities – Houston, Dallas, and San Antonio. Although traveling in Texas is generally an arduous affair, getting to Austin from any of these will be a reasonable. Expect 2-4 hours drive time from these cities.
I-35 is the main highway that runs through Austin. While it is certainly a busy road – it connects San Antonio with Dallas – Texas is never lacking for detours. If one way doesn't look good, there are plenty more alternatives to choose from. You may even end up driving through one of Texas' quintessential Podunk towns, which may or may not be a worthwhile experience.
Buses and trains connect Austin with major cities both in and outside of Texas. The former is far more copious than the latter as there is only one real train line that hits Austin – this is the Amtrak Texas Eagle, which runs from San Antonio to Chicago.
Getting Around Austin
Austin may be one of the easiest cities to get around, at least, in the Southern USA. Chalk it up to the cities liberal leanings or maybe the fine weather – either way, there are few places better to wander around in than Austin, Texas.
Unlike many other sprawling Texan cities, e.g. Houston or Dallas, Austin actually has a decent public transit network. Buses are the undisputed kings when it comes to getting around Austin and these will transport you just about everywhere.
There are a number of commuter trains and larger buses that connect Austin to the suburbs (for a higher price) but the odds of you using these as a tourist are pretty low.
If you rented a car, then good news: traffic in Austin is not nearly as bad as most other American cities. While the Downtown area and off/on-ramps can get a little cramped at rush hour, most of the city is easy to navigate.
If you'd like to take advantage of the sunny weather, then biking around Austin is a perfectly reasonable option!
Granted, the city can be hilly at times, but thanks to a large network of dedicated lanes though, biking in Austin is relatively painless. Just try to avoid exerting yourself too much during peak heat.
Like most places in the USA, working in Austin is pretty much impossible if you're not a US citizen or resident. But volunteering is an option!
For backpackers looking to travel long-term on a budget in Austin whilst making a real impact on local communities look no further than World Packers. World Packers is an excellent platform connecting travelers with meaningful volunteer positions throughout the world.
In exchange for a few hours of work each day, your room and board are covered.
Backpackers can spend long periods of time volunteering in an awesome place without spending any money. Meaningful life and travel experiences are rooted in stepping out of your comfort zone and into the world of a purposeful project.
Worldpackers opens the doors for work opportunities in hostels, homestays, NGOs, and eco-projects around the world.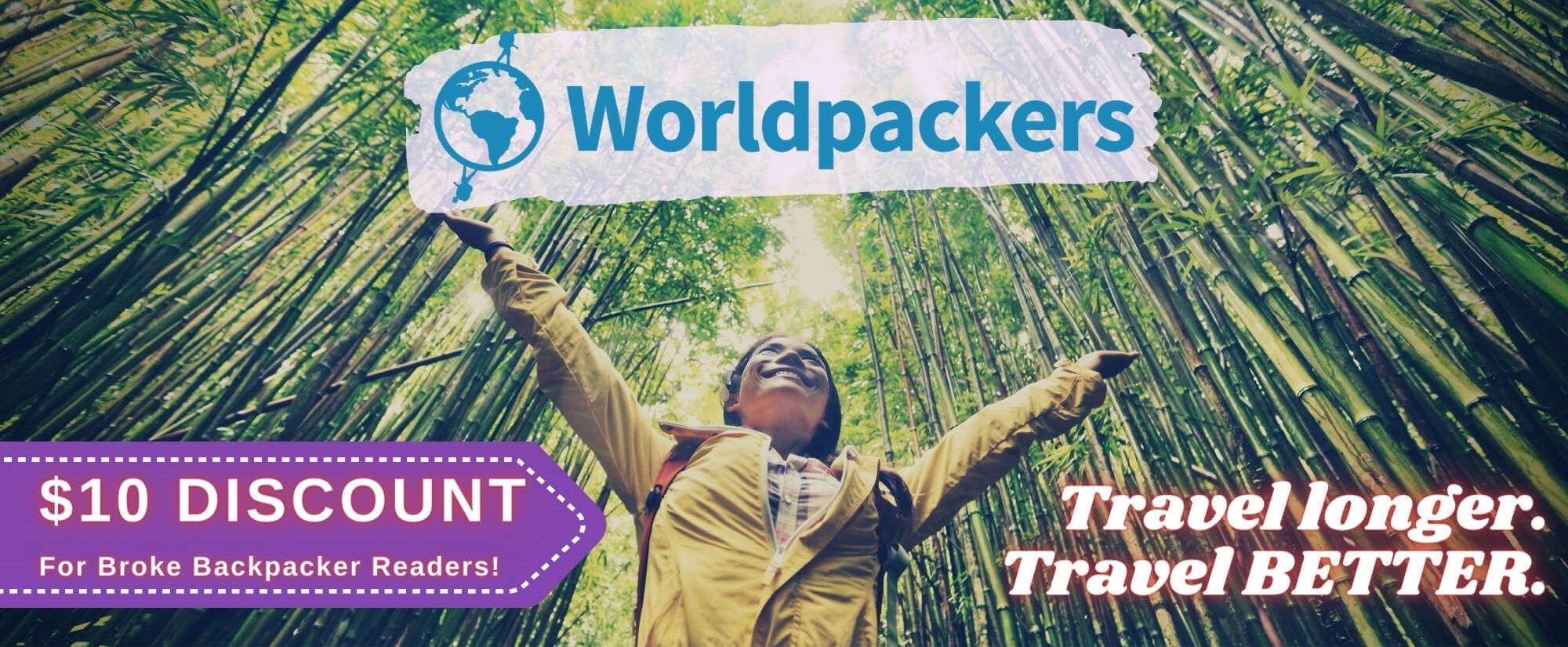 Worldpackers: connecting travellers with meaningful travel experiences.
Austin nightlife is filled with a seemingly endless amount of things to do! We're talking dive bars, speakeasies, Podunk taverns, line dancing, live music, comedy; you name it, Austin, Texas has it.
Even the most seasoned of partygoers will be impressed by this city and I have no problem saying that is arguably the best city in the USA after dark.
Austin is often called the "Live Music Capital of the World" and while it's not as active as it used to be – as some point out – it's still pretty raucous in this city. You can still find a musical act on blast in just about every part of the city and on just about every day of the week.
There are so many great bars in Austin, that's difficult to land on one as "the best." Definitely check out the likes of The Liberty, Garage, Midnight Cowboy, and Bangers to begin with. Trust me though – you'll find your own personal watering hole regardless of our suggestions.
If you stick to Austin's established nightlife areas, then you'll have no trouble finding something to do. The Dirty Sixth (Sixth Street) is by now legendary for its sheer offerings and wild parties.
If you're a little overwhelmed by 6th, nearby Red River is a bit more low-key but still energetic enough. Much in the same vein is Rainey Street, which is located on the other side of the city.
While not much of Austin still retains its original character, there are some quintessential Texan joints on the outskirts. The Broken Spoke in South Austin is about as local as it gets, and I still can't believe "chicken shit bingo" is a really a thing at the Longhorn Saloon.
Dining in Austin
You could dedicate your entire trip to eating the best food in Austin, and I guarantee that you wouldn't regret a single moment. For a city of its size, Austin's dining scene certainly overachieves and provides some of the best eats this side of the Rio Grande.
Austin is most well known for two foods: Texas BBQ and Mexican. Both inhabit a pretty special seat in the Texan identity and both are huge sources of pride for the locals.
Many will claim that either can make or know of the best BBQ in Austin and will go to great lengths to defend their claims. Some joints that you'll hear of quite often are Franklin Barbecue and la Barbecue.
If you find that Austin just can't satiate your bloodthirsty barbecue appetite, then consider making a road trip outside the city. Lockhart is often considered the BBQ capital of Texas and is only a 45-minute drive from Austin.
Mexican food is the second most popular food in Austin and can be found just about everywhere – in the restaurants and on the streets. Granted, it's most often of the Tex-Mex kind, which isn't very authentic.
That being said, you can still find proper, delicious Mexican food scattered throughout the city. Try visiting Fonda San Miguel, El Naranjo, or Taco More to start out with.
For the budget-conscious, the best places to eat in Austin will be food carts. These offer cheap and delicious food, not to mention some pretty chilled vibes.
If you've ever visited the food pods of Portland – those communal cafeterias where everyone gathers to eat food and hang out – then the food cart scene here will feel very familiar.
Cheap Eats in Austin
Getting Off the Beaten Path in Austin
Trying to get off the beaten path in Austin? Check out one of these places to visit near Austin for a chance to get out of the city and see the Texan landscape!
San Antonio – Much like Austin, the city of San Antonio goes a bit against the grain in an overwhelmingly red state. Where many Texans lean towards conservatism, San Antonio is slightly more open-minded, especially when it comes to ethnicity. San Antonio hosts one of the largest and most influential Hispanic populations in the entire nation. Cultural diversity aside, San Antonio also hosts one of the most historically significant sites in the nation (remember, the Alamo?) and a very respectable artists community as well.
Swimming holes – Central Texas isn't a complete desert – located on the outskirts of Austin are some of the prettiest oases and water holes that you have ever done seen. Few places can compare to the astounding Hamilton Pool (seriously, it's one of the prettiest places in the world to swim). Nearby watering holes, like Pedernales Falls, Krause Springs, and Westcave, are no slouches either. If you're looking for a slightly more unique place in Austin, then try Hippie Hollow Park, which is the county's only official nude beach.
Texas Hill Country – While certainly not the Colorado Rockies or Sierra Nevada Mountains, the Texas Hill Country is still worthy of attention. This gently hilly area, located west of Austin and stretching south to San Antonio, is most well-known for its pools (mentioned prior) and for hosting brilliant displays of Indian paintbrushes, bluebonnets, and primroses. Some of the best hikes near Austin, like the one to Enchanted Rock, are also in this area. In between hikes, be sure to stop at quaint little towns like Llano and Fredericksburg. If you're looking for accommodation options in this vibrant area, consider exploring our guide on where to stay in Fredericksburg.
Here are a few more Austin travel tips before you head out:
I hope that you've not only enjoyed this Austin travel guide, but feel a whole lot more prepared to travel around the Live Music Capital!
Austin is not only a highlight of the Lone Star State, but it's one of the best places to visit in the ENTIRE Southern US. Friendly folks, incredible tunes of all kinds, and plenty of lush outdoor spaces make for a weird city that just feels so right.
So whether you have a weekend or a week, prepare for a damn good time! Don't be surprised if you're finding ways to move to Austin before your trip is over 😉
Updated June 2022 by Samantha Shea
---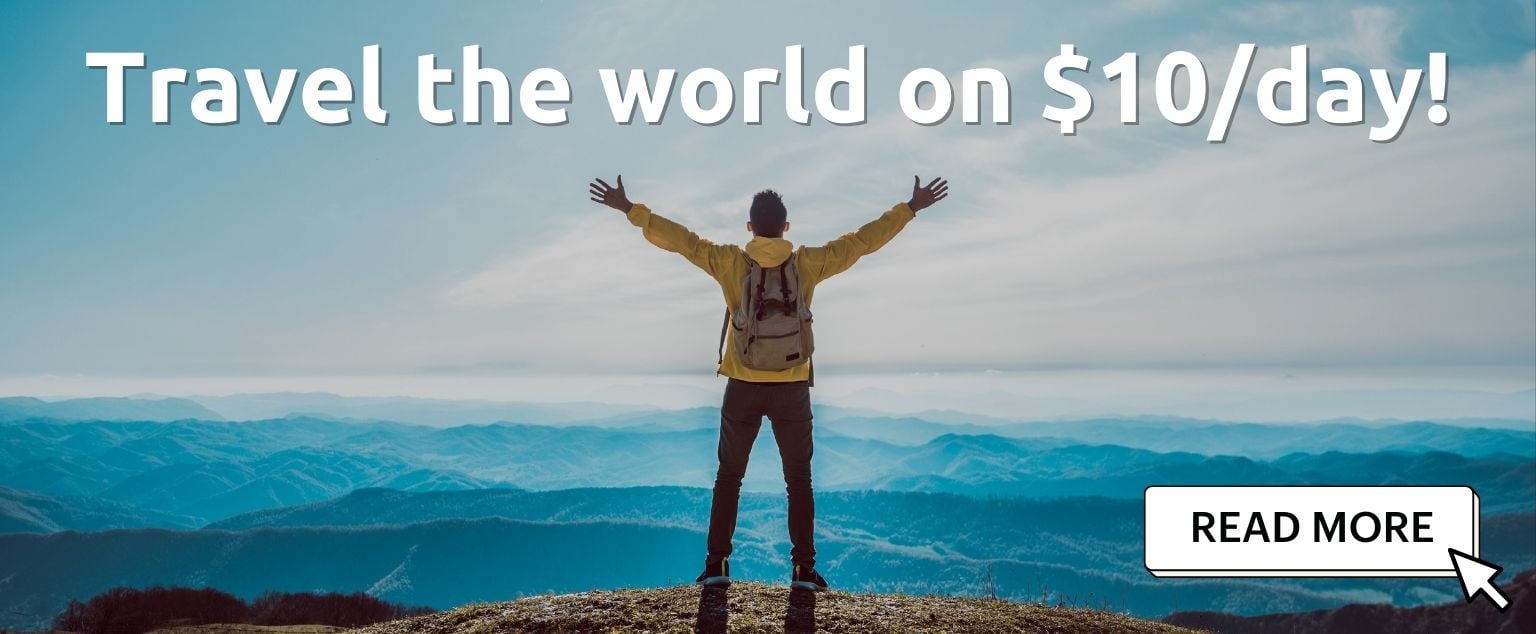 And for transparency's sake, please know that some of the links in our content are affiliate links. That means that if you book your accommodation, buy your gear, or sort your insurance through our link, we earn a small commission (at no extra cost to you). That said, we only link to the gear we trust and never recommend services we don't believe are up to scratch. Again, thank you!