One of the most happening cities in the US, no trip to Texas is complete without visiting its buzzing capital, Austin. And it's not just the Texan capital, it's also the Live Music Capital of the World. Though it hosts SXSW, there's live music pretty much every night of the year! It's also a haven for outdoor lovers, with kayaking, stand up paddle boarding, and walking and cycling through the parks, lakes, and rivers of the city.
When it comes to choosing a place to stay, you may want to consider vacation rentals in Austin. These charming properties often offer better value for money than hotels – and you won't have to share rooms to get a good deal as you would in hostels. But with so many to choose from, it can be hard to know the right place for you.
Let us help you. We've put together this list of the 15 best Airbnbs in Austin. Not only that, we've thrown in some of the best Airbnb Experiences you can do when you arrive too. Let's get planning your city break!
Quick Answer: These are the Top 5 Airbnbs in Austin
Overall Best Value Airbnb in Austin
Overall Best Value Airbnb in Austin
Vintage East Side Bungalow
> $$
> 6 guests
> Fully equipped kitchen
> Large private backyard
Best Budget Airbnb in Austin
Best Budget Airbnb in Austin
Charming and Chic home near Downtown
> $
> 2 guests
> Self check in
> Access to communal areas
Best Airbnb for Couples in Austin
Best Airbnb for Couples in Austin
Tiny House big personality
> $
> 2 guests
> Queen bed
> Outdoor dining area
Best Airbnb for Families in Austin
Best Airbnb for Families in Austin
Downtown vibrant spacious craftsman
> $$$
> 10 guests
> Backyard sports court
> BBQ grill and fire pit
Over-the-Top Luxury Airbnb in Austin
Over-the-Top Luxury Airbnb in Austin
Modern Luxury Sanctuary in Barton Springs
> $$$$$$$$$$$
> 6 guests
> Heated swimming pool
> Movie theatre
What to Expect from Airbnbs in Austin
While Austin isn't the most popular road trip destination in Texas (that honour goes to Houston), it's still pretty big. And it attracts more than 30 million tourists a year! With such popularity, it's no surprise that there's a huge range of vacation rentals in Austin. You should have no trouble at all finding something that matches your budget and taste.
In Downtown and the surrounding areas, you can find all the usual Airbnbs such as entire flats and lofts, with more unusual properties thrown in too. Think tiny houses and Airstream caravans! If you're looking to head out to somewhere like Lake Travis, you might bag yourself a cabin or a villa.
It's a mix of whether you'll have a local host or a business during your stay in Austin. In homestays and private rooms, you'll be hosted by an Austinite, but in larger and more expensive properties, you're more likely to be welcomed by a business.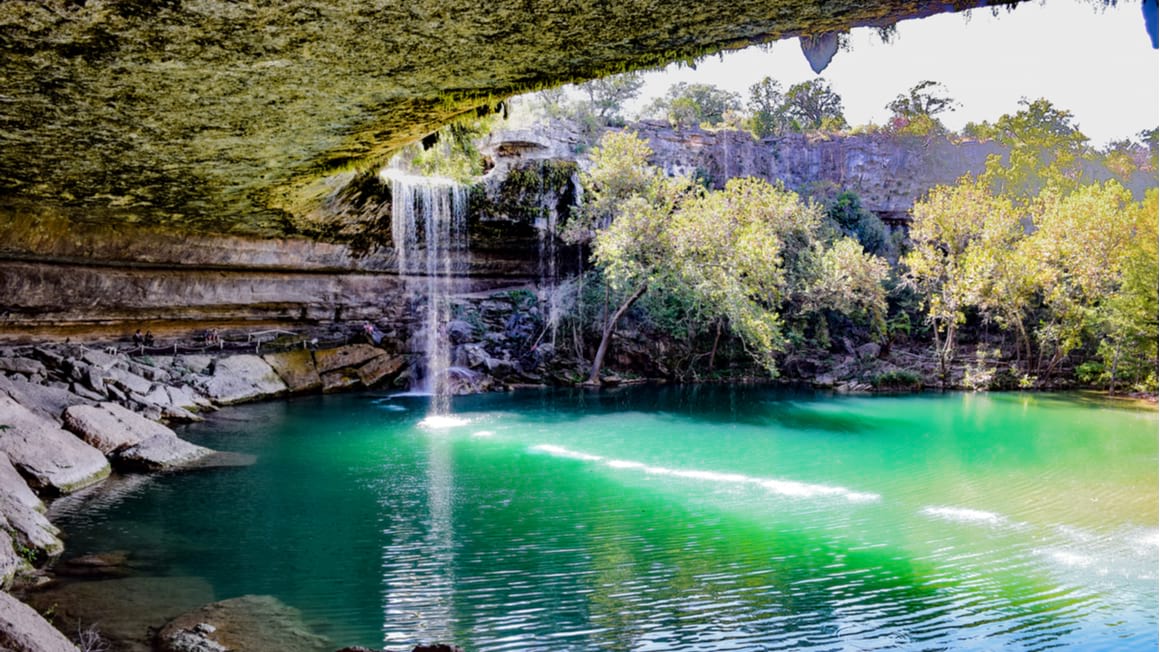 Bungalow
Let's start with a good option for groups of friends and families. Bungalows are single-story buildings that offer a home away from home. You can expect a fully equipped kitchen, living area, and bedrooms to suite the size of your party. You might also get a garden or porch too, not to mention free parking – which is great if you have your own transport.
Downtown is packed with high rises so you won't find bungalows in the very centre. However, in the surrounding districts such as the Rainey Historic District, East Austin, and Travis Heights, you are spoiled for choice.
When it comes to comfort and convenience, there's not much that will beat a bungalow. Though we said they're good for groups of friends and families, you can easily find smaller bungalows that suit solo travellers or couples too.
Airstream Caravan
Back in the 40s, airstream caravans were part of the American dream. You could pack your stuff and set off on a road trip without having to leave anything at home. Now that Americans can enjoy bigger cars and RVs, the purpose of the airstream caravan has changed a lot.
Now, you'll mostly find this touring icon stationery. However, plenty of creatives have turned their airstream caravans into cute tiny homes and now rent them out via Airbnb. Space is limited so they're best suited to solo travellers and couples, but if you're looking for something quirky then you'll have to try hard to find anything better!
Airstreams are usually on host's properties or part of larger camping and caravanning sites. You'll get features such as fire-pits and garden areas – and on campsites, use of the amenities.
There is no direct link for airstream caravans in Airbnb. However, search motorhomes and tinyhouses in Austin and you should find plenty there!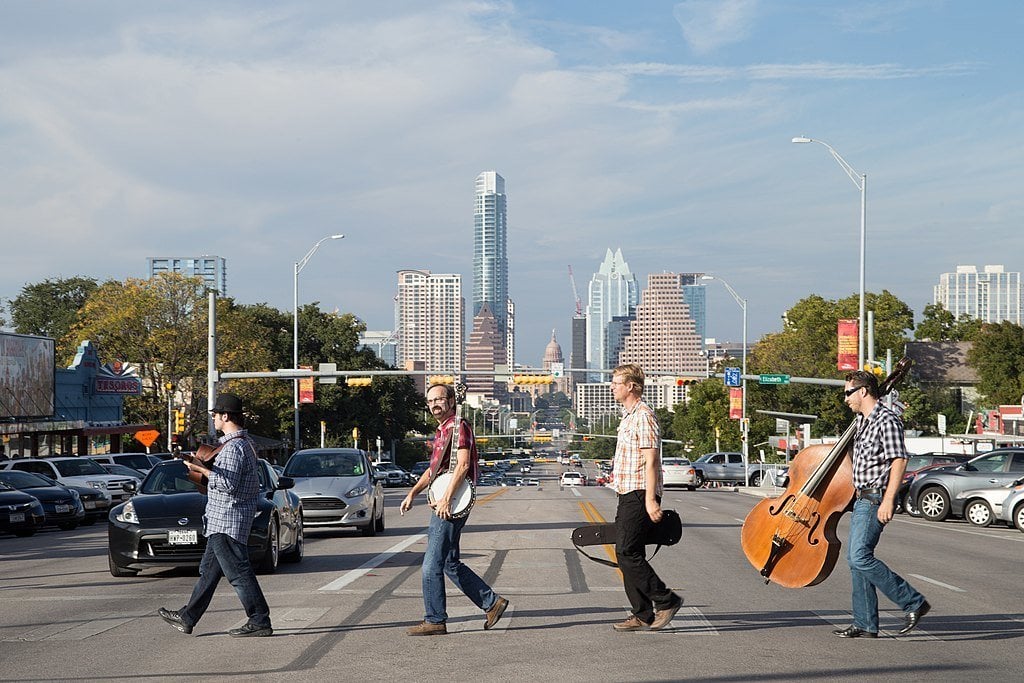 Tiny House
Similar to airstreams, tiny houses offer you a chance to stay in a unique small space which has been cleverly designed. Tiny houses offer more spaces than airstream caravans for the most part, though we'd still recommend them for couples or solo travellers. However, some can accommodate larger groups!
A tiny house will give you everything you'd expect from a regular home – such as a fully equipped kitchen, living area, and often a small outdoor space where you can relax.
Tiny houses are mostly found in the areas surrounding Downtown Austin. Their small size means they're great for convenience – especially if you're on a weekend trip or similar.
Why Stay in an Airbnb
So, still not sure a vacation rental is for you? Let's take a look at five of the top reasons to stay in an Airbnb. Then we'll get onto seeing some properties!
Local Experience: Whether your host is an Austinite or a local business, you can get the low down on everything that's off the beaten tourist track and find the best places to visit in Austin.
Unique Properties: As you're about to see, there are loads of awesome unique properties in Austin – from tiny houses to Airstream caravans. Who needs hotels and hostels?!
Privacy: Many Airbnbs have self check in and you can even filter for a completely private accommodation should you wish to.
Affordability: Airbnbs regularly offer better value for money than hotels of an equivalent price. Especially if you don't pick the busiest tourist areas! It's a great way to explore Austin on a budget while still enjoying a quality home.
Airbnb Experiences: It's not all about where to stay, it's about what to do when you there. We've got a whole section coming up on Airbnb Experiences, so don't miss that!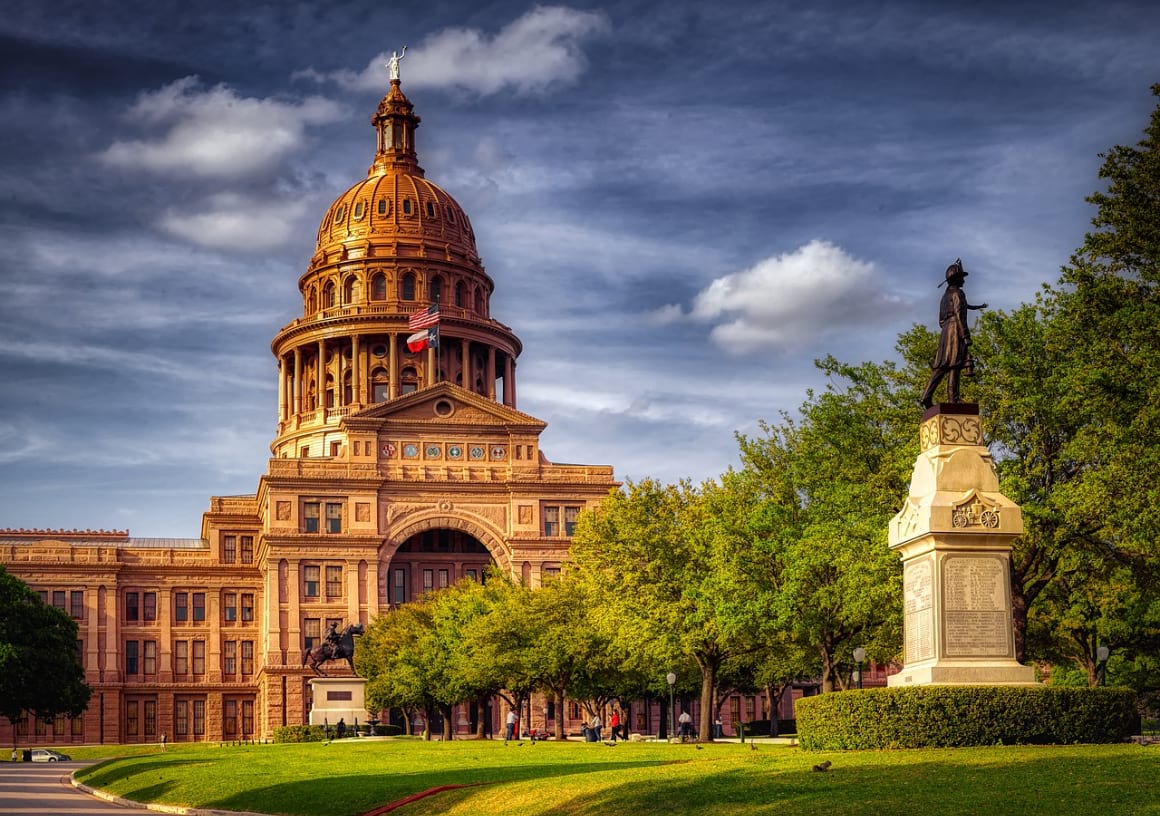 Travel with peace of mind. Travel WITH a security belt.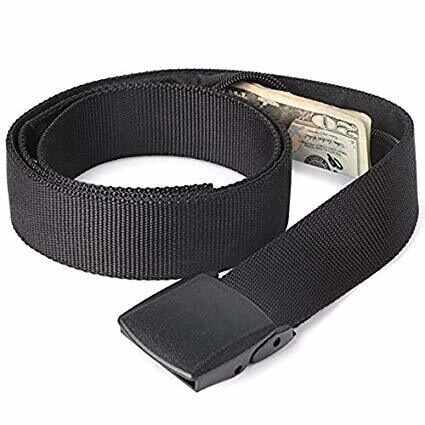 Custom-designed BY the Broke Backpacker FOR broke backpacking, the Active Roots Security Belt will keep your valuables safe no matter where you go.
It looks exactly like a normal belt except for a SECRET interior pocket perfectly designed to hide a wad of cash or a passport copy. Never get caught with your pants down again! (Unless you want to.)
Check on Amazon
The Top 15 Airbnbs in Austin
Now that you know what's on offer and why you should stay in an Airbnb, let's get to the fun part. We're about to see the 15 coolest, most beautiful, and weirdest Airbnbs in Austin. All you have to do is decide your favourite!
6 guests
Large private backyard
Usually, the best value Airbnb in a city would be a private room in an apartment, or perhaps a studio. However, look outside of Downtown (not too far mind) and you may be surprised. This vintage bungalow in Austin's East Side offers a home away from home centred around a cosy living room with exposed brickwork. It will suit groups of family and friends and there's a cool backyard where you can chill in summer.
2 guests
Access to communal areas
Austin is a lot of things, but cheap isn't one of them. However, you can still find an affordable property if you know where to look. South of the river, the pace of life is a little less frenetic than in Downtown, and this is the perfect base if you want to relax during your trip. There's still easy access to all of Austin's attractions when you need it! The room can also be rented for long term stays, good news for students and/or digital nomads. It might not be as cheap as Austin's hostels, but it's definitely the most affordable option!
2 guests
Near universities
If you're travelling solo, most people will just tell you to head for the nearest hostel assuming you'll love it. However, dorms and noise aren't great when you want to get some actual sleep. Thankfully, this homestay near the university means it'll be easy to meet people in the sociable bars and restaurants nearby. If you prefer to keep yourself to yourself, there's a lovely back deck where you can catch up on work or your latest holiday read.
2 guests
Outdoor dining area
Our first tiny house is this cool spot in Central Austin. It may be tiny, but it sure is tall, and for the duration of your stay you'll have lots of light flooding into this cute little home. The loft queen bed is an ideal place to come home to after a day of exploring Austin. Also, thanks to the privacy of the garden, the outdoor dining area is a wonderful place for a romantic and candlelit dinner!
The BEST Travel Backpack?!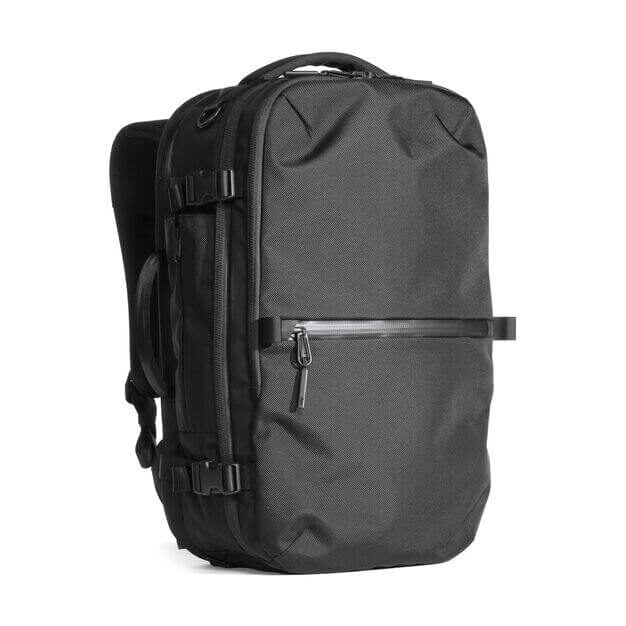 Pssssst! Not picked the perfect travel backpack yet? The Broke Backpacker team has tried out over thirty backpacks this year! Our favourite travel backpack is the Aer Travel Pack 2.
View on AER
10 guests
BBQ grill and fire pit
No matter the age of guests here, they're sure to love the colourful and vibrant design. With room for up to ten people in this Downtown Craftsman home, there's plenty to keep kids and teens alike entertained. Teenagers will love grilling marshmallows over the fire pit, while the sports court out the back is perfect for bringing out the competitive side of your family!
$$$$$$$$$$$
Heated swimming pool
This stunning house looks as if it has just jumped out of the pages of a design magazine. Located in Barton Springs, there's space for up to six guests so it would suit a family or group of friends who have a budget that isn't restrictive. After a day of exploring the city, come back to swim laps in the heated swimming pool, or catch a movie in the theatre.
4 guests
Pine walls and oak flooring
Looking to have a local experience in Austin? A little further from Downtown, off E Martin Luther King Jr Boulevard, you'll find this historic bungalow that's positively packed with character. The pine walls and oak flooring make for a warm welcome, and you'll feel as if you're in a cabin in the Rocky Mountains! There's a clawfoot tub where you can take a bath after a day of wandering through one of Austin's most eclectic neighbourhoods.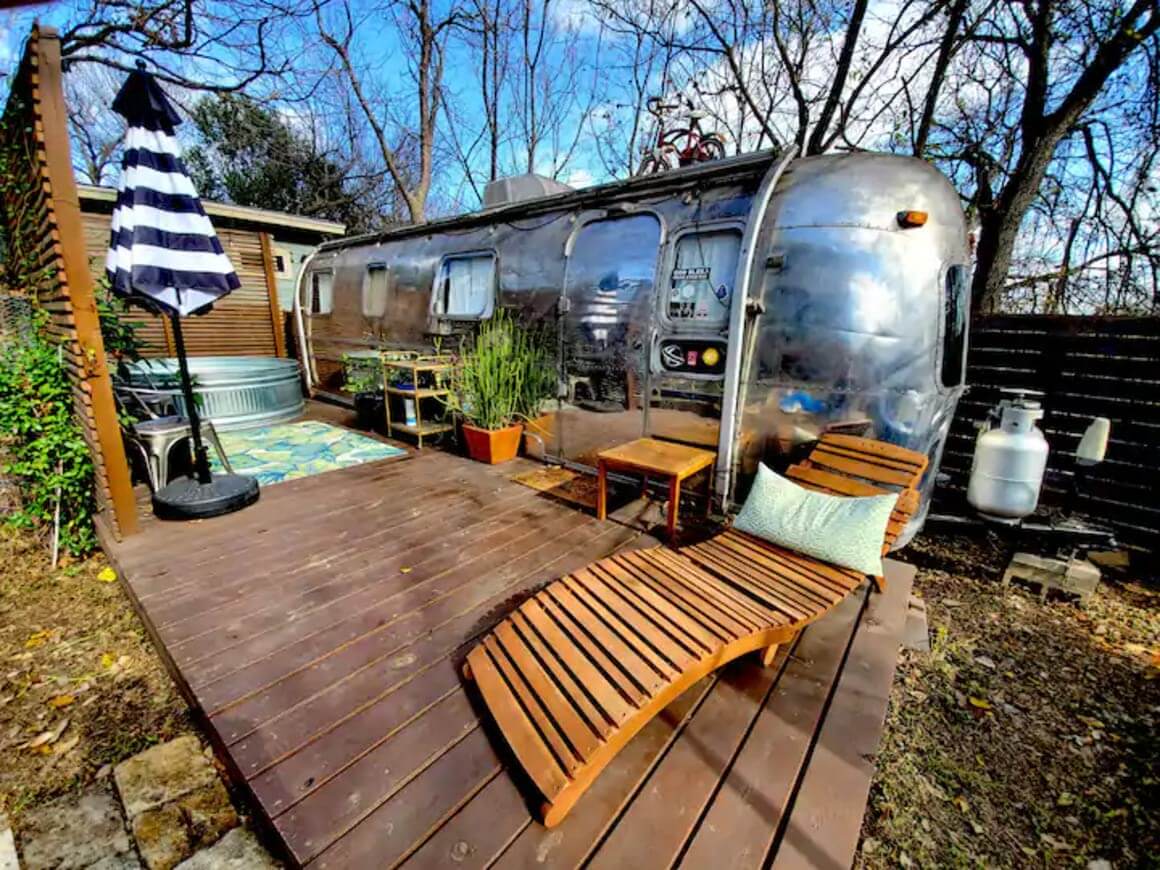 2 guests
Hot Tub/Cowboy Pool
The great thing about this Airstream Caravan is that it's not just about being inside the caravan. The cute outdoor deck has a sun lounger and cowboy pool – ideal if you want a lazy day. Once you get in the caravan, it's much bigger than it looks on the outside too. There's a kitchen, queen bed, and workspace in there. Not to mention a whole lot of houseplants too!
2 guests
Cool and unique design
You might be thinking that this place looks a little unusual. Well, it is, but that's no bad thing! Based on Japanese teahouses, there's lots of wood, lots of light, and the chance to get zen and relax. Though there's no TV, there is a record player for entertainment. The Beehive will have you feeling miles away from the city, however, it's just a short journey by bike or on nearby public transport!
This self-contained suite is ideal for a digital nomad looking to work for a few weeks in Austin. Not only is there Wi-Fi and a dedicated workspace, but you have your own cooking equipment, including a fridge, microwave, and kettle. If it's a little warm inside, head out onto your private balcony and feel the breeze as you respond to your emails.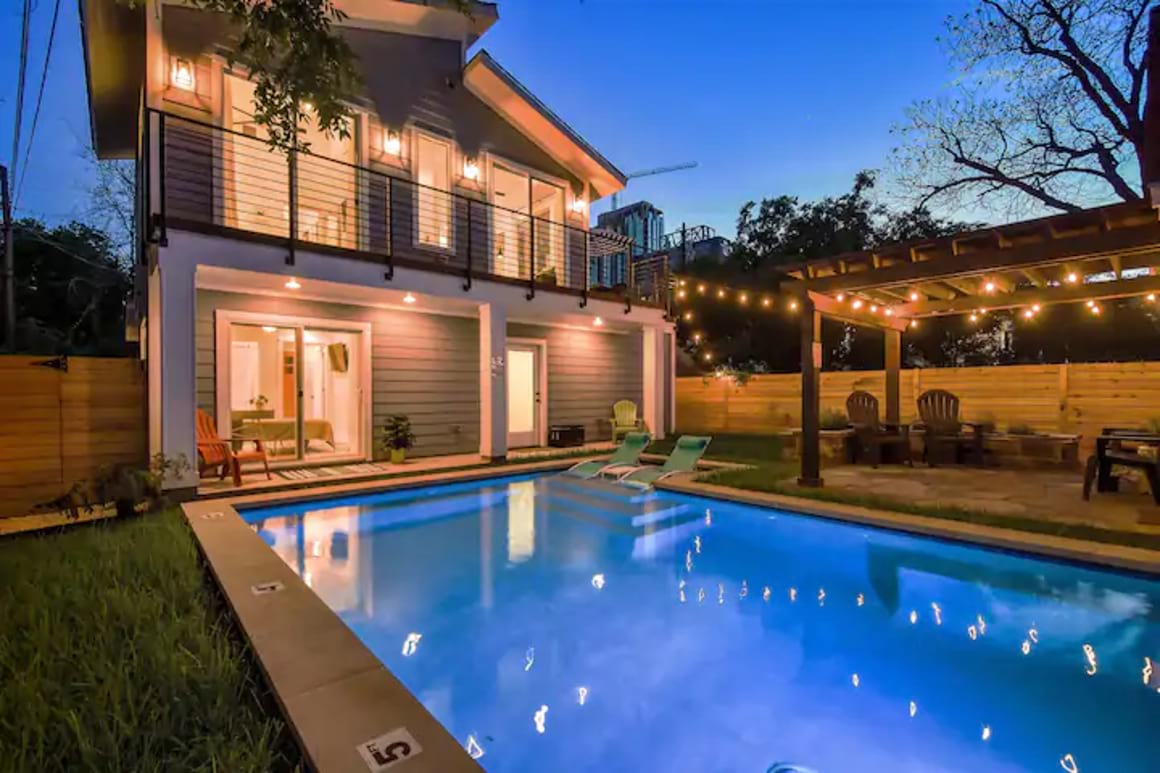 $$$$$
Heated swimming pool
12 guests
Fully equipped kitchen
Sometimes you might look at a property's swimming pool and think it looks more like a paddling pool. Not this one though. You could easily do lengths in here and get a workout in before breakfast! Speaking of, there's a fully equipped kitchen where you can make that too. The home has space for up to 12 guests, making it perfect for groups of family and/or friends.
4 guests
Fully equipped kitchen
Airbnb Plus properties are some of the best on the platform. They're handpicked thanks to their excellent reviews, attentive hosts, and cool design. Though it says four guests, we'd recommend this one for a couple. The self-contained studio loft has a kitchen, living area, and queen bed. Catch a movie on Netflix there after a day out paddleboarding or sampling the local cuisine.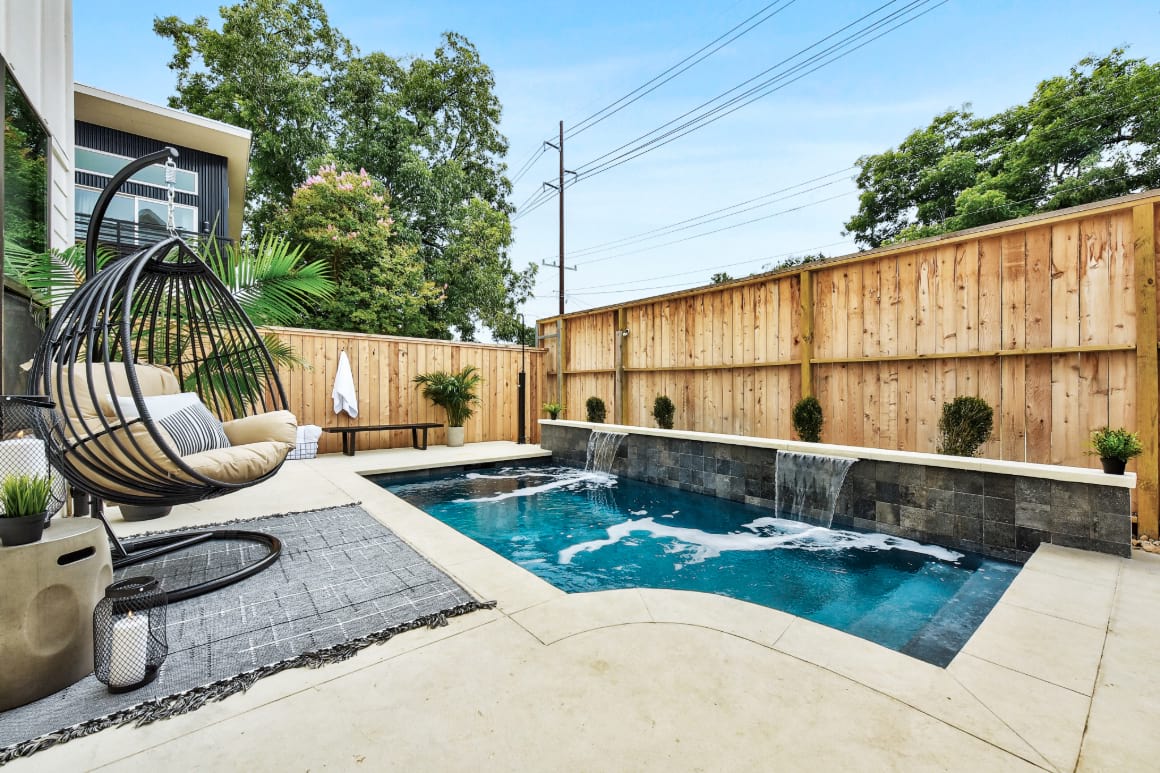 $$$$$$$$
Heated swimming pool
16 guests
Contemporary villa
Airbnb Plus may be some of the best properties on the platform, but Airbnb Luxe take vacation rentals to another level. This exquisite estate close to the Colorado River has everything you could possibly need from a vacation home and more. Take a dip in the private pool to the smell of BBQ or chill out in the huge and light-filled indoor spaces.
$$$$$$$$$$$$
Swimming pool and hot tub
9 guests
Exquisite sunset views
If don't want to stay in the heart of the hustle and bustle of Austin, then nearby Lake Travis is a good place to try instead. This spectacular home with waterfront access is the best place to soak that up for you and eight of your nearest and dearest. The sunset views from the outdoor terrace are spectacular, while the hot tub will keep you warm once the temperature drops!
6 guests
Remodeled by architects
This smart and stylish apartment is the perfect Austin Airbnb for a getaway with friends. There are lots of places where you can chill out together both indoors and outdoors. It could be over a coffee at the breakfast bar, curled up on the sofa during a movie night, or having beers around the fire pit. If you're the first one up, take a book from the shelves to enjoy!
Top 5 Airbnb Experiences in Austin
Hopefully, you now have a better idea of where to stay in Austin. Now that's dealt with, let's take a look at what you can do when you arrive. Austin has tons of things to do, whether it's strolling through parks, paddle boarding on Lady Bird Lake, or visiting world class museums before dinner.
A great way to see the city like a local is by using Airbnb Experiences. The platform offers tours and day trips curated by locals, who want you to fall in love with their city and keep coming back. Airbnb Experiences can be anything from scavenger hunts to mountain biking.
In this next section, we'll take a look at five of our favourite Airbnb Experiences in Austin. Whatever your travel style, you're sure to love them!
$74/person
3 hours
Up to 4 guests
There's lots of cycling to be had in Austin, but sometimes cycling on the flat alongside rivers just isn't enough of a thrill. For those daredevils out there, take a mountain biking trip instead! You'll be heading along trails through Barton Creek where you might even get the chance to spot local wildlife.
$55/person
2.5 hours
Up to 10 guests
At sunset, something strange happens in Austin. 1.5 million, that's MILLION, bats come out from their home under the Congress Bridge. It makes for a pretty incredible sight to see from the bridge itself. However, what's even more spectacular is seeing the swarm of bats from the river itself. Kayaking or paddleboarding is a popular way to do so – so check this tour out!
$18/person
2 hours
Up to 10 guests
The city's slogan is "Keep Austin Weird". So, while you'd usually be learning about places from history museums or art galleries, this scavenger hunt will take you to some of the more curious attractions the city has to offer. It injects a bit of life into self-guided walking tours – which can sometimes be a bit dry!
$55/person
2.5 hours
Up to 4 guests
Enjoy a tea in the morning – as you're about to get your fill of coffee on this Airbnb Experience. You'll taste and roast fresh coffees and make your own blends which you can take home with you. You might pick up some skills that you can use in your own kitchen too!
$57/person
4 hours
Up to 10 guests
The best way to see the San Marcos River is on the back of a tube… with a beer in your hand (or another drink of choice). Soak up the sun, have a swim, and just enjoy being a million miles from the stresses of everyday life. The lazy tube ride lasts for about 2 – 3 hours, so be sure to pace yourself when it comes to alcohol!
Final Thoughts on Austin Airbnbs
Well, there you have it. Those are the 15 best Airbnbs in Austin – with some cool experiences too. No matter where you want to stay, there's an Airbnb in Austin for you. It could be a quirky Airstream Caravan, a cool tiny house, or perhaps a spacious and comfortable bungalow.
If you still are struggling to decide where to stay, try not to worry. We'd just recommend that you go for our overall best value Airbnb in Austin. That's the Vintage East Side Bungalow. It's just about the right distance from Downtown for you to get a good night's sleep without missing out on the area's delights!
We hope that you have a fabulous vacation in Austin no matter where you stay. And to make sure it's a safe one too, check out World Nomads' travel insurance policies.
And don't forget to take out Travel Insurance for your trip! I have been using World Nomads for some time now and made a few claims over the years. They're easy to use, professional and relatively affordable. They may also let you buy or extend a policy once you've started your trip and are already abroad which is super handy.
If there's one insurance company I trust, it's World Nomads. To find out why I use World Nomads, check out my World Nomads Insurance review.
---
Find out how YOU can support the site.
We work hard to put out the best backpacker resources on the web for free! It's all about helping out our tribe of awesome backpacker readers (that's you!). Please visit the link to find out how you can help keep the site going 🙂
For the sake of transparency, some of the links in our content are affiliate links. This means that if you book your accommodation, buy a piece of gear, or sort your insurance through our link, we earn a small commission at no extra cost to you. We only link to stuff that members of the Broke Backpacker team has actually used and never endorse products or services that are not up to scratch. Thanks for your support!