As a sprawling city surrounded by picturesque nature, Austin is one of the coolest cities in America. This quirky city doesn't take itself seriously and everyone who visits here has the best time! From its annual music festivals to its warming Southern cuisine, there's much to love about this Texan city.
In fact, Austin might just be the only place in the United States where a well-balanced breakfast means chomping down on juicy tacos. This also happens to be a city where historic establishments double as raunchy bars, and where beer-and-sausage chains will pay you to get tattooed with their logo!
Sure, the city lacks the gloss and veneer of upscale metropolises like, say, Los Angeles or New York, but it's undeniably one of the most unique places in the country. And you can bet your bottom dollar that you'll find a lot of cool and unusual things to do in Austin.
It's easy to get overwhelmed by the sheer number of activities and attractions in the city. For this reason, I put together a guide that will help you discover some of the very best attractions in Austin, so you can start planning your next trip!

Unlock Our GREATEST Travel Secrets!
Sign up for our newsletter and get the best travel tips delivered right to your inbox.
The Top Things to Do in Austin
First up, let's take a look at the most iconic places to visit in Austin! If you ask me, these are the attractions that you just can't skip during your stay in the city. The good news is that most of them are entirely free of charge, so there's absolutely no need to save up for ages.
Of course, it's always a good idea to ensure that you're all set in terms of accommodation before embarking on your adventure. There are plenty of amazing neighborhoods in Austin, but I would really recommend that you take the time to choose somewhere close to the attractions you want to see.
1. Get your Insta Game on at the Murals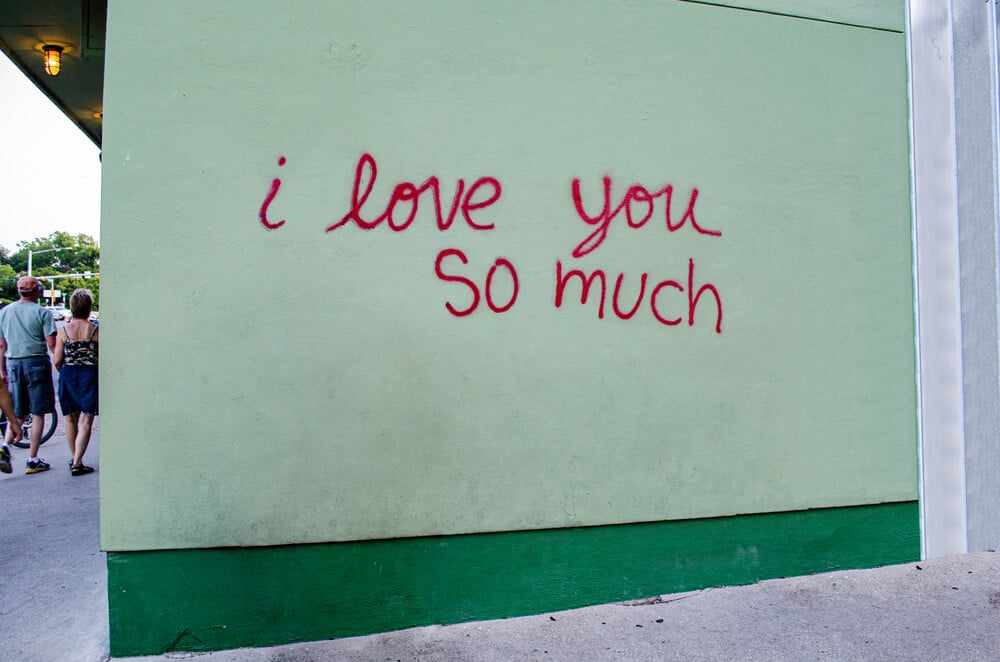 Austin is delightfully peppered with street art and many of its murals have been popularized by social media. While most major cities tend to frown on graffiti, Austin actually celebrates them and as such, it's not surprising to see tourists and locals alike posing in front of them.
If you're visiting during peak season, you'll certainly need to wait in line for your turn to pose with the graffitied walls, especially when it comes to the seriously popular spots like the I Love You So Much wall on South Congress Avenue or the wacky yet endearing You're my Butter Half mural located on Martin Luther King, Jr. Boulevard.
Entrance fee: Free
Hours: N/A
Address: I Love You So Much Mural, 1300 S Congress Ave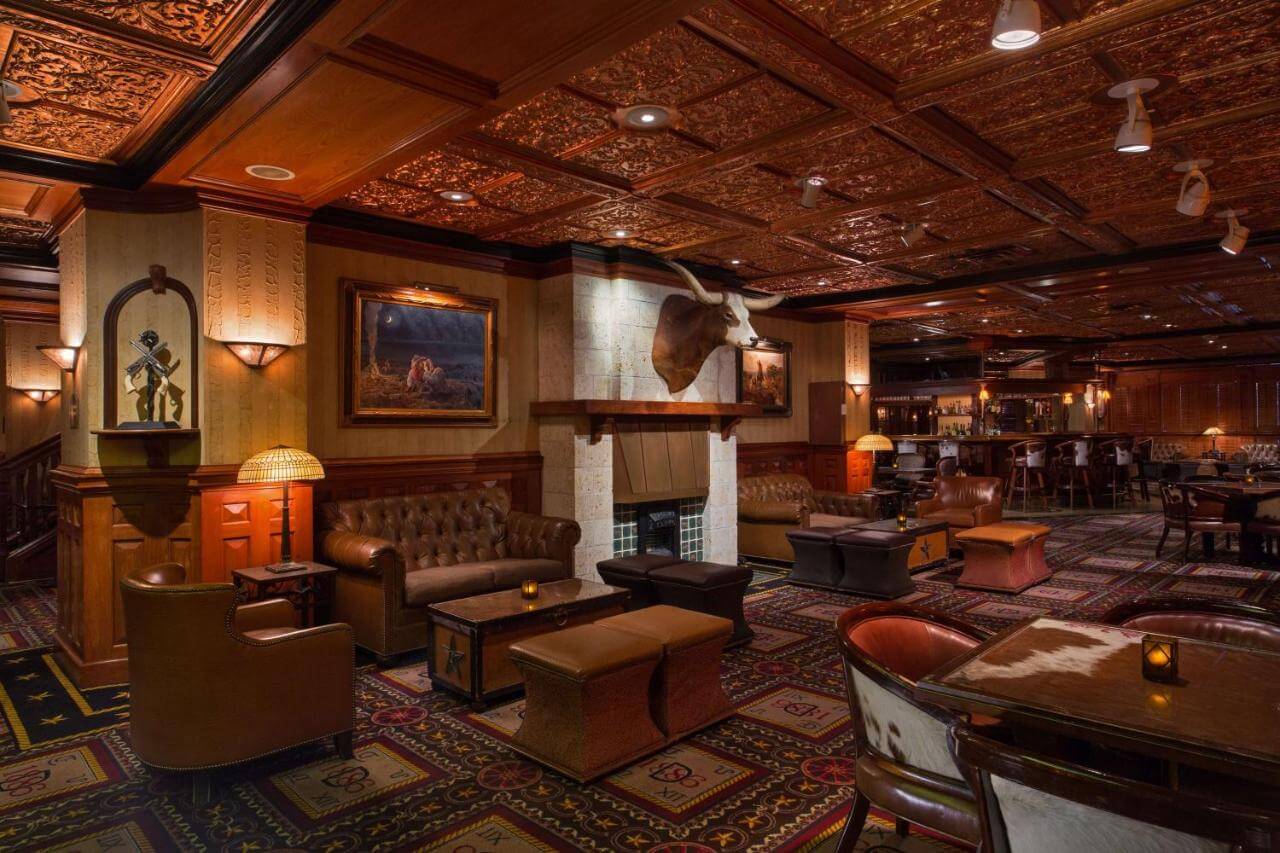 If you ask me, there's no better way to properly soak up Austin's eccentric charm than to stay in one of its many historic landmarks. Housed in one of the city's oldest buildings, The Driskill dates all the way back to 1886. Best of all, this Romanesque-style building lies close to both the Austin Convention Center and the Texas State Capitol.
According to historians, the Daughters of the Republic of Texas often hosted meetings at The Driskill. It's also rumored to be the place where soon-to-be President Lydon Johnson met his wife Claudia Taylor for the first time back in 1934.
With an on-site restaurant, family-friendly rooms, and a gym, this hotel additionally features live performances by Grammy-winning artists.
Entrance fee: From $268 per night
Hours: Check-in at 4 p.m., check-out at 11 a.m.
Address: 604 Brazos St
3. Catch a Show at the Paramount Theatre
If you're wondering what to do in Austin at night, then you can't go wrong with a night at the theatre. Built in 1915, the Paramount Theatre is another historical landmark that's well worth a visit. While it once featured touring acts and vaudeville performers, this ornate theater now hosts various types of shows such as stand-up comedies, ballets, concerts, and plays.
If you're a fan of classic movies, you'll be glad to learn that the theater regularly features old movies at a very reasonable price. With a quintessential European baroque-style interior, the theatre even has a bar and a concessions area.
The downside, however, is that the place is nearly almost packed so you may wish to book your tickets in advance.
Entrance fee: just the price of a ticket
Hours: 12 p.m. to 5.30 a.m.
Address: 713 Congress Ave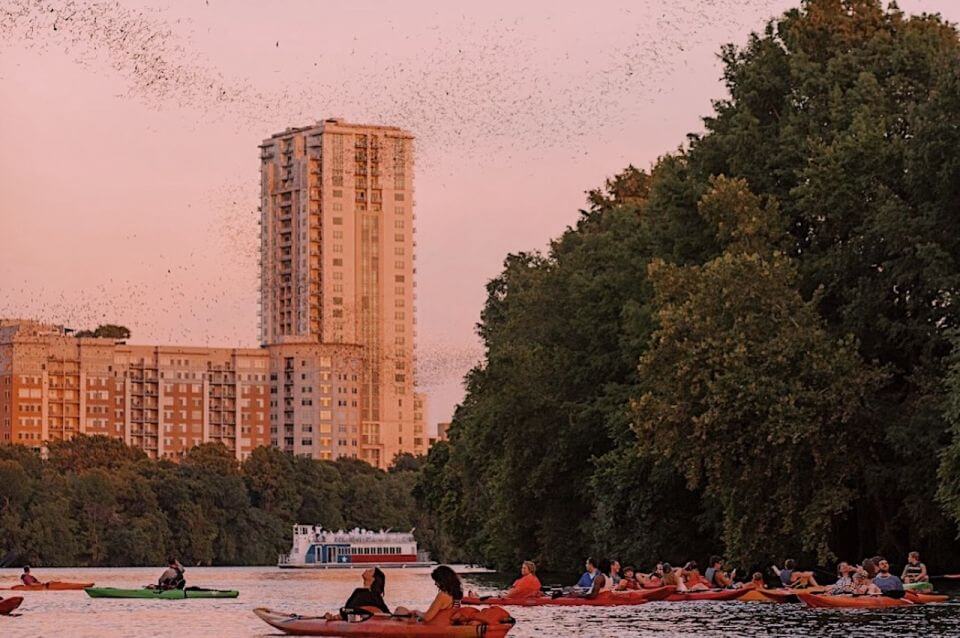 Bats may be considered a nuisance in various parts of the world, but in Austin, locals appreciate these creatures for their role in dispersing seeds and pest control.
Spotting the city's abundant population of bats is often considered one of the most popular things to do in Austin- and for good reason! It's quite a sight to behold when over 1.5 million bats take off from Congress Bridge at the same time, their fluttering wings fringed by the blazing orange sunset.
In my opinion, one of the best ways to enjoy this incredible sight is by booking a kayak expedition. Not only does this activity include an introductory paddling lesson, but you'll also be treated to spectacular views of Austin's skyline as you wait for the bats to take flight.
Entrance fee: $45
Hours: 6.45 p.m. to 8.45 a.m.
Address: Austin Rowing Club, 74 Trinity St
5. Check out a Honky Tonk
What's a Honky Tonk, you ask? Well, it basically refers to a pub with live country music and performances. Not unlike French cabarets, Honky Tonks used to host bawdy shows enhanced by free-flowing brews. This is absolutely one activity not to miss out on when traveling to Austin.
An integral part of Texan culture, Honky Tonks are easily distinguishable by their neon-colored facades and no-frills interior. While these establishments have certainly dimmed in popularity over the years, you'll still find plenty of Honky Tonks sprinkled across the city.
For example, Sam's Town Point in South Austin remains true to its roots so don't expect any fancy cocktails. Quite on the contrary, this Honky Tonk is known for its locally produced beers and traditional architecture.
Entrance fee: Free
Hours: 4 p.m. to 12 a.m.
Address: Sam's Town Point, 2115 Allred Dr
While it's possible to tour the local wineries all year long, this activity is one of the best things to do in Austin in fall- mainly because you'll be able to see the winemakers in action as they harvest and prepare the grapes before processing.
Because Austin has quite a diverse winery scene, you'll be able to explore various wineries that offer tasting sessions and personalized visits. The city's Hope 2017 Cabernet Sauvignon was even recognized by the prestigious Wine Enthusiast magazine, so you'll certainly be in for a treat!
Some tours combine wine tasting with a visit to Salt Lick Barbecue which just so happens to be another staple in the local food scene. Talk about enjoying the best of both worlds, right?
Entrance fee: $55 (excluding tips, wine tasting, and lunch)
Hours: 10.30 a.m. to 3 p.m.
Address: Austin Visitor Center, 602 E 4th Street
Small Pack Problems? 😉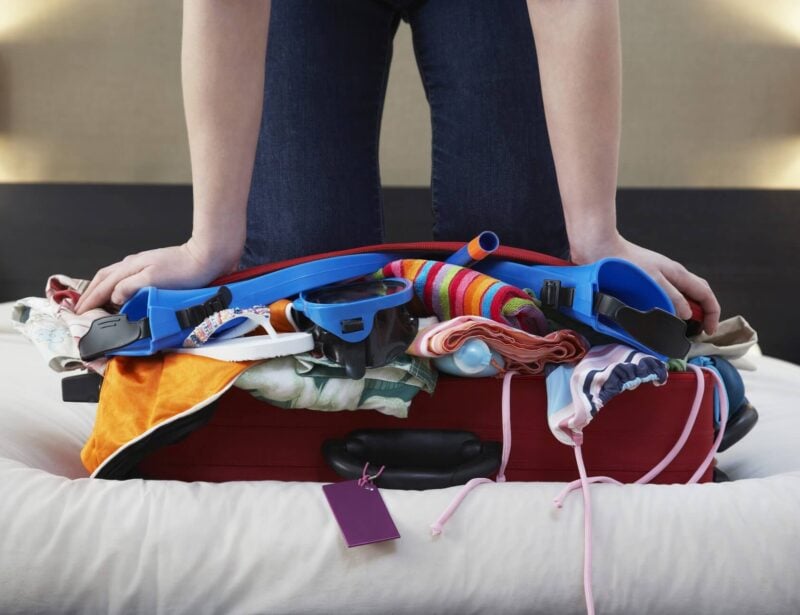 My missus travels with all her clothes in ziplock bags: don't be like my missus. UP YOUR PACKING GAME!
Packing cubes for the globetrotters and compression sacks for the real adventurers – these babies are a traveller's best kept secret. They organise yo' packing and minimise its volume too so you can pack MORE.
Or, y'know… you can stick to ziplock bags.
View Our Fave Cubes
Or Check Out the Sacks!
7. Admire the Views from Mount Bonnell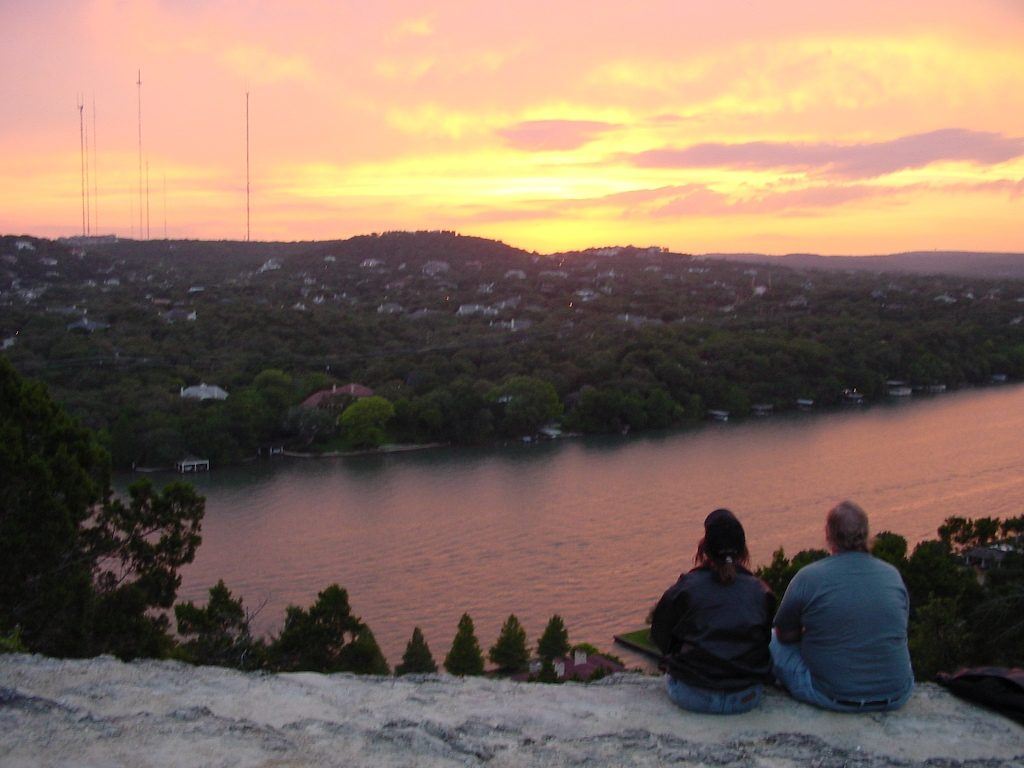 If you're looking for outdoor things to do in Austin, you certainly can't go wrong with a trip to the world-famous Mount Bonnell! Often hailed as the city's oldest tourist attraction, this site stands at 785 feet and offers incredible vistas of the downtown area.
You'll need to climb around a hundred stairs to reach the summit, but rest assured that it's quite an easy walk that's punctuated by gorgeous sights. There's even a quaint rest area under a pavilion at the top where you can catch your breath or simply kick back and watch the sun sink over the city skyline.
Entrance fee: Free
Hours: 5 a.m. to 10 p.m.
Address: 3800 Mt Bonnell Rd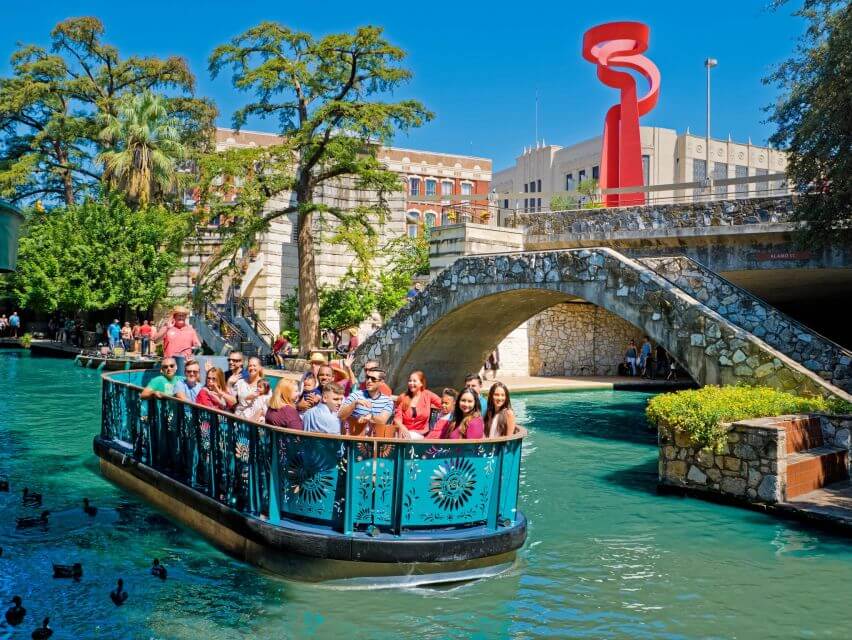 There are many fun destinations speckled around the city, and if you're travelling on a Texas road trip, you might be looking for some further afield attractions to add to your itinerary. In my opinion, one of the best day trips from Austin includes the south Texan city of San Antonio. Located a little over an hour's drive from Austin, San Antonio is the 7th most populated city in the United States, so be prepared to face the crowds if you're visiting in high season!
On your way to Austin, you'll drive through San Marcos and New Braunfels, two of the most notable cities in Texas. If you don't want to wait in line for hours, you can always get a guided tour with skip-the-line tickets.
Most tours also include stops at popular points of interest such as Six Flags Texas, Natural Bridge Caverns, and the Congress Avenue Bridge.
Entrance fee: $249
Hours: 7 a.m. to 1 p.m.
Address: Hotel pickup
9. Relax on Lady Bird Lake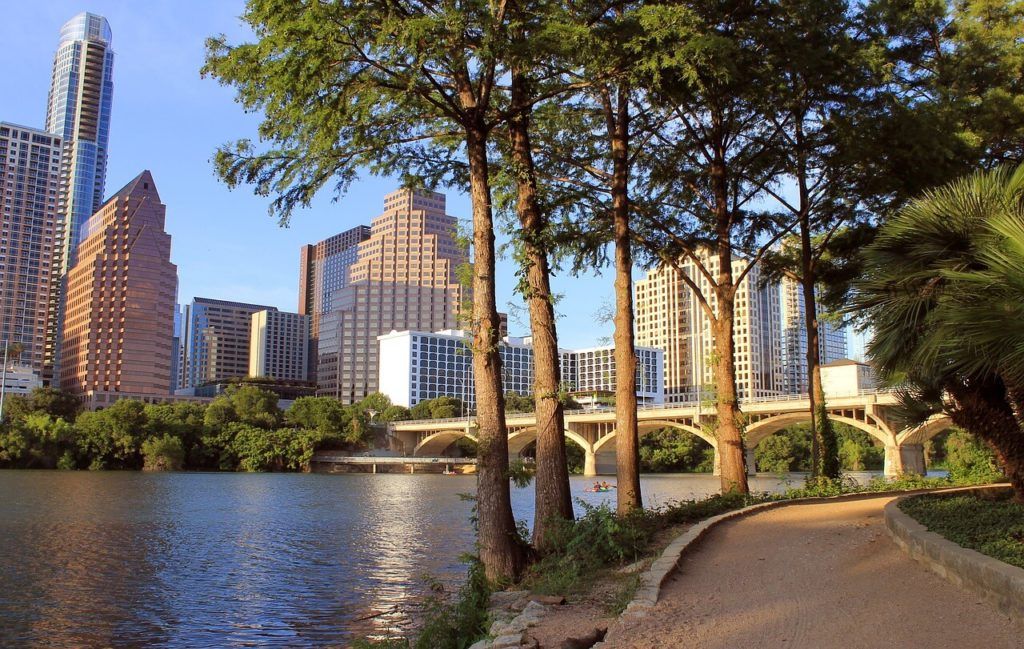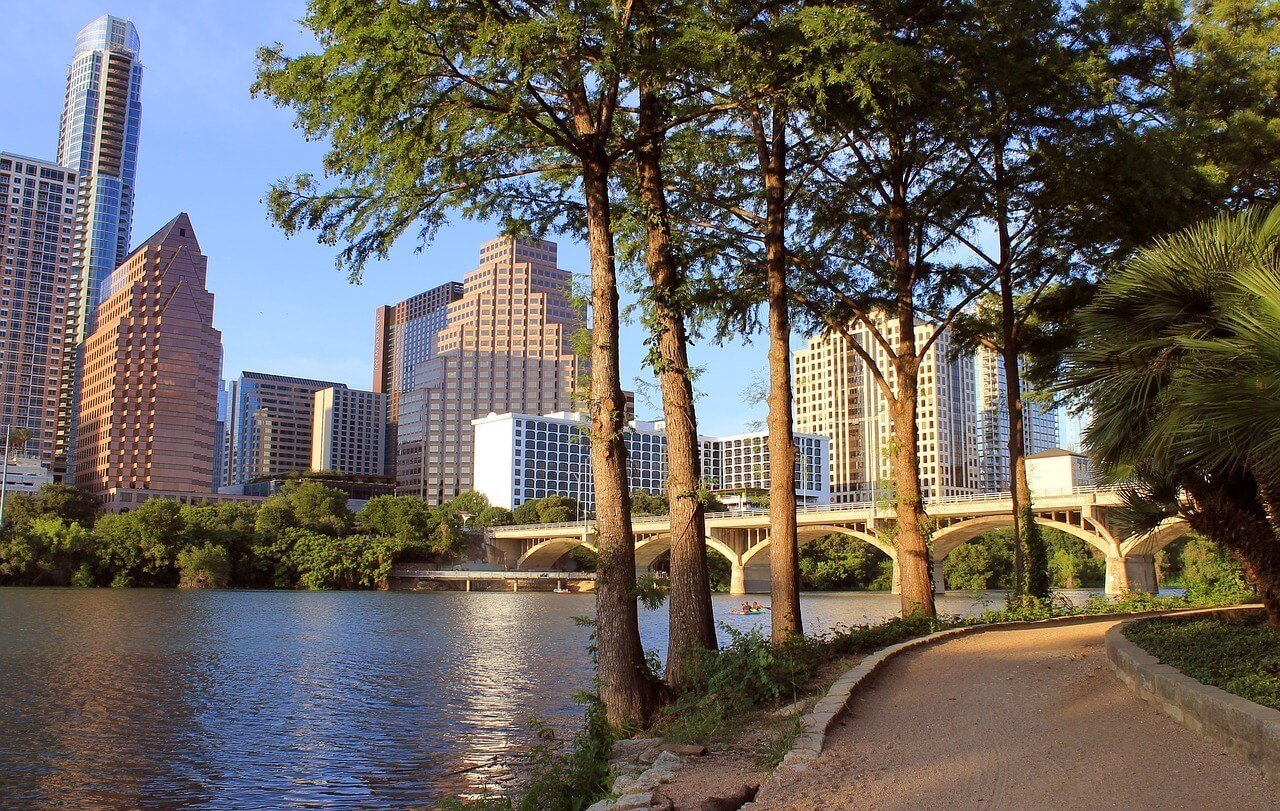 Locals and tourists alike can attest to the fact that one of the best things to do in Austin on a Sunday is simply to lounge by Lady Bird Lake while sipping on an ice-cold beer. Now, this lake may look like a river, but it certainly offers plenty of fun activities that you can indulge in when the sun's out- which is practically every day in Austin!
For starters, it's surrounded by the Ann and Roy Butler bike and hike trail, which just so happens to be one of the oldest jogging paths in Texas. If you head there early morning, you might be able to spot turtles playing on the rocks by the trail's shoreline.
Entrance fee: Free
Hours: 5 a.m. to midnight (Boardwalk)
Address: Ann & Roy Butler Hike and Bike Trail, First Street Bridge at Lady Bird Lake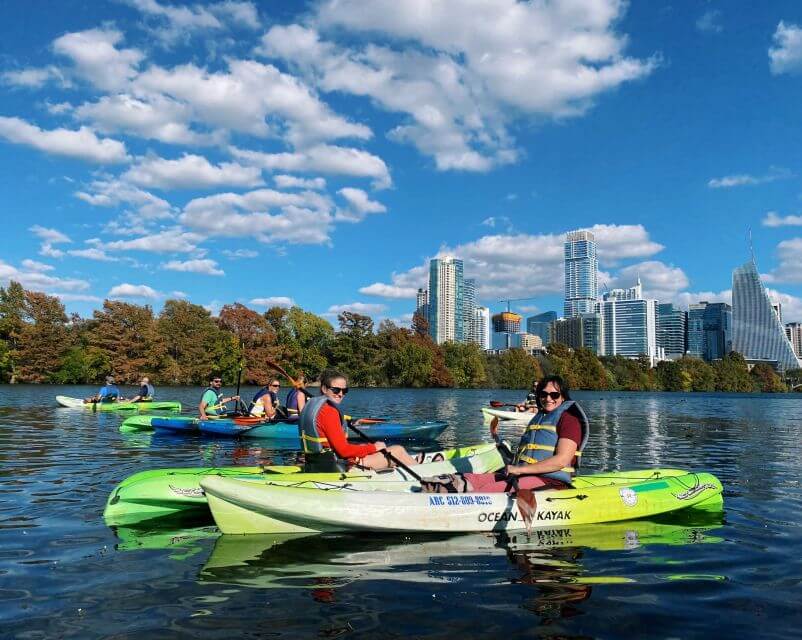 Austin is a super walkable place, but do you want to know an even better way of seeing the city? By kayaking through it, of course!
Water sports are an integral part of the culture, and several locals actually prefer to paddle their way through Austin instead of stewing in traffic for hours. The good thing is that you'll find kayak rental places virtually everywhere so grab a paddle and head over to the water.
If you're not quite sure which route to take, you can always sign up for a kayaking tour that will take you through the downtown area and into Barton Springs in around two hours. This is also an excellent way to spot local marine wildlife like the Barton Springs salamander.
Entrance fee: $45
Hours: 11 a.m. to 2 p.m.
Address: 74 Trinity St
Is This the Best Daypack EVER???
11. Hike through McKinney Falls State Park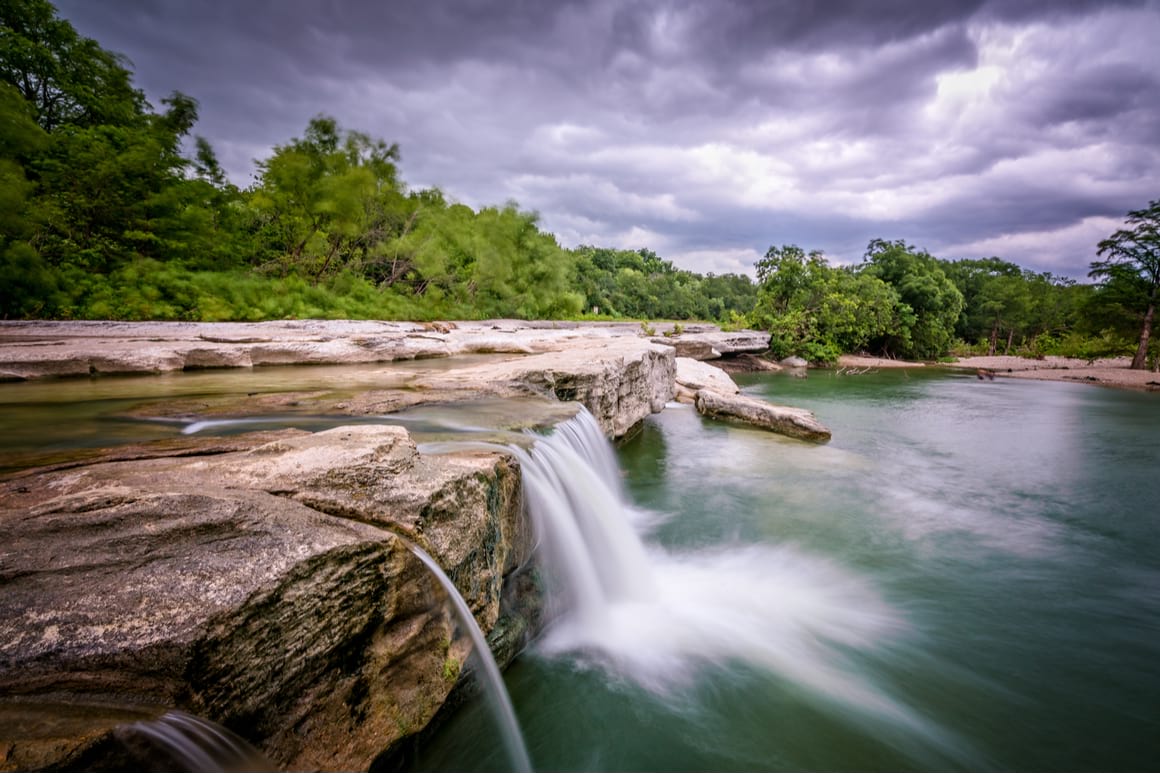 Okay, McKinney Falls is an exceptionally popular park, so you really should make your bookings in advance. This park may be small, but it certainly offers plenty of things to do near Austin.
Located just 15 minutes from the downtown area, McKinney Falls State Park is especially known for its limestone ledge waterfalls, fishing spots, swimming hole, hiking trails, and of course, the iconic Old Baldy- an ancient, 550-years old cypress tree.
You'll also find a sprawling campground split into no less than 81 campsites. Most of these sites are well-equipped with picnic tables, tent pads, fire rings, restrooms, and lantern hooks. Some campsites even have cabins for those who don't want to rough it up under the tents.
Entrance fee: $6
Hours: 8 a.m. to 10 p.m.
Address: 5808 McKinney Falls Pkwy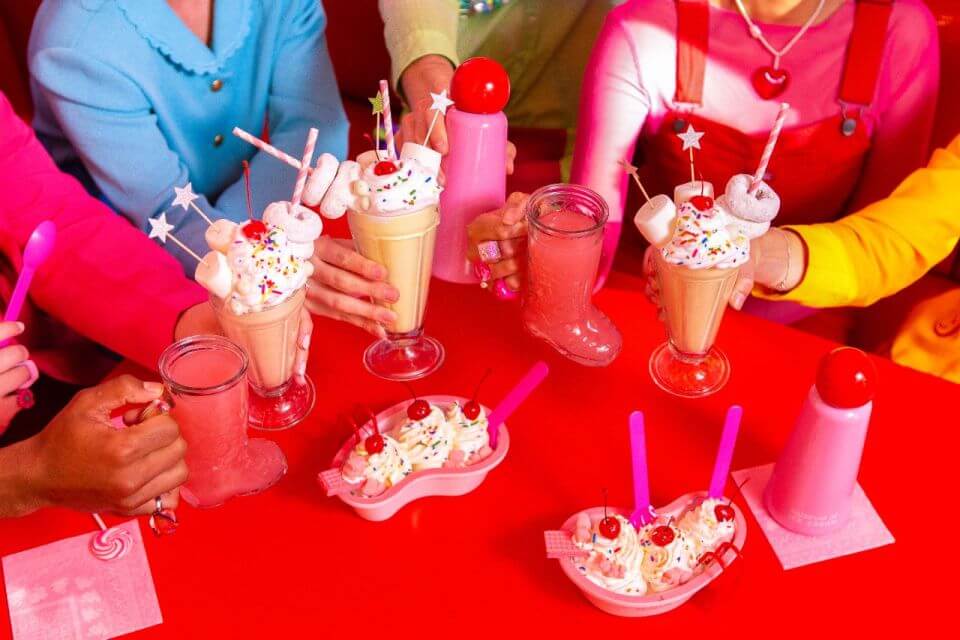 It won't take you long to realize that Austin has a pronounced foodie scene. Locals certainly have a sweet tooth- as evidenced by the Ice Cream Museum! And yes, this is exactly what it sounds like: a whole museum solely dedicated to sweet treats.
Unlike what you may think, however, this is not just any boring old sampling session. Quite on the opposite, the ice cream museum features 12 multi-sensory installations that are bound to thrill kids and adults alike.
If you're visiting in summer, I would totally recommend that you book a skip-the-line ticket, otherwise you'll be in for quite a long wait due to the sheer number of tourists waiting to indulge in an invitingly cool treat.
Entrance fee: $38.39
Hours: 11.30 a.m. to 6.30 p.m.
Address: 11506 Century Oaks Terrace #128
13. Snap a Selfie at the Local Capitol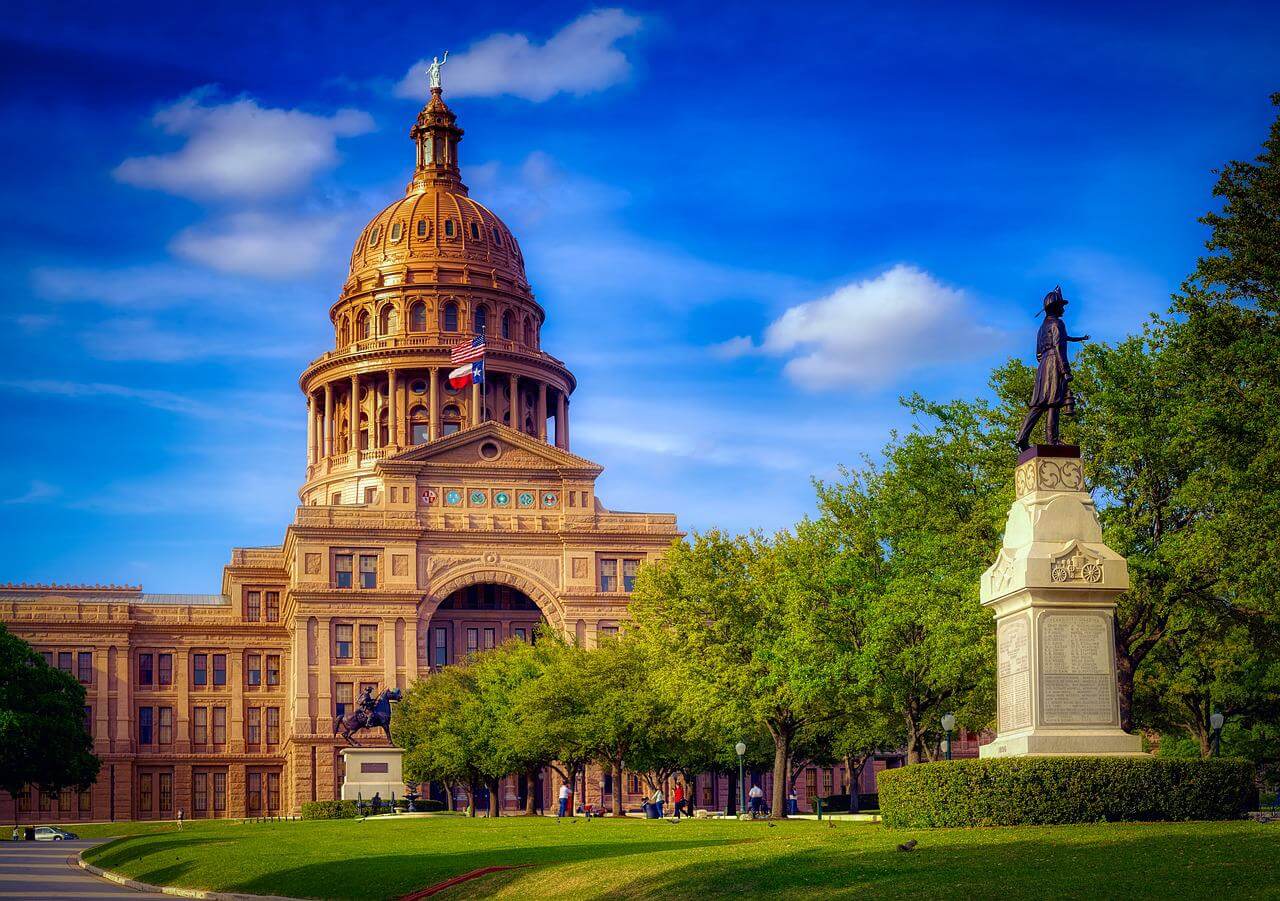 Exploring the Texas State Capitol is not only one of the most popular things to do in Austin, but it's also one of those rare activities that somehow manage to be both educational and enjoyable. If you're traveling on a budget, fret not – the Capitol offers 30-minute guided tours, completely free of charge!
Of course, you just can't leave without taking a quintessential selfie in front of the iconic building! If you would rather skip the whole guided shebang, you can always grab a self-guided tour pamphlet from the Visitor's Center and embark on a solo expedition.
During your visit, be sure to set aside some time to explore the sprawling, 22-acres estate that features 17 monuments, centurial trees, and historic structures.
Entrance fee: Free
Hours: 7 a.m. to 8 p.m.
Address: 1100 Congress Ave
14. Mingle with the Locals at Little Longhorn Saloon
You're probably wondering why a saloon (of all places) features on the list of unmissable things to do in Austin. Well, that's because this spot is practically a revered institution in the city! Indeed, Little Longhorn Saloon on Burnet Road is the place to be if you want to mingle with the locals while soaking up plenty of that wonderfully rowdy Texan atmosphere.
For over four decades, the Little Longhorn has drawn crowds from all over Austin thanks to its live country music so be sure to grab those cowboy boots before hitting the dance floor! This bar is especially renowned for its Sunday-night Chicken Shit Bingo games fueled by Celis White beer.
Entrance fee: Free
Hours: 5 p.m. to 12 a.m.
Address: 5434 Burnet Rd
Travel with peace of mind. Travel WITH a security belt.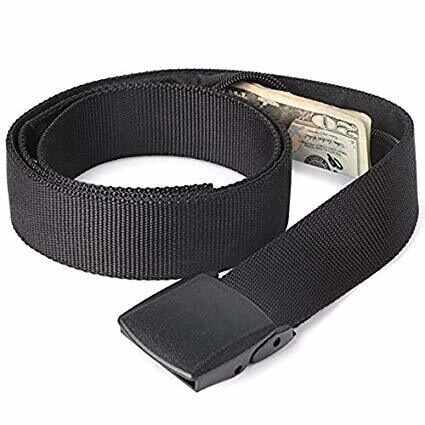 Get your cash stashed with this awesome Pacsafe money belt. It will keep your valuables safe no matter where you go.
It looks exactly like a normal belt except for a SECRET interior pocket perfectly designed to hide a wad of cash or a passport copy. Never get caught with your pants down again! (Unless you want to.)
Hide Yo' Money!
15. Spend a day at the Jourdan-Bachman Pioneer Farms
Texas is all about ranch-style living so visiting a working farm is definitely among the most essential things to do in Austin! The good news is that the legendary Jourdan-Bachman Pioneer Farms is more than happy to welcome curious tourists all year long.
With the aim of showcasing Old Texas like it used to be back in the 1800s, the farms boast six restored homesites that can best be described as living museums. Not only will you get to see the animals up close, but you might be lucky enough to work alongside a cowboy tending to the ranch.
Walking tours are available- complete with a fully costumed guide! It's also possible to visit the on-site museum at night.
Entrance fee: $8
Hours: 10 a.m. to 5 p.m.
Address: 10621 Pioneer Farms Dr
16. Explore the iconic Harry Ransom Center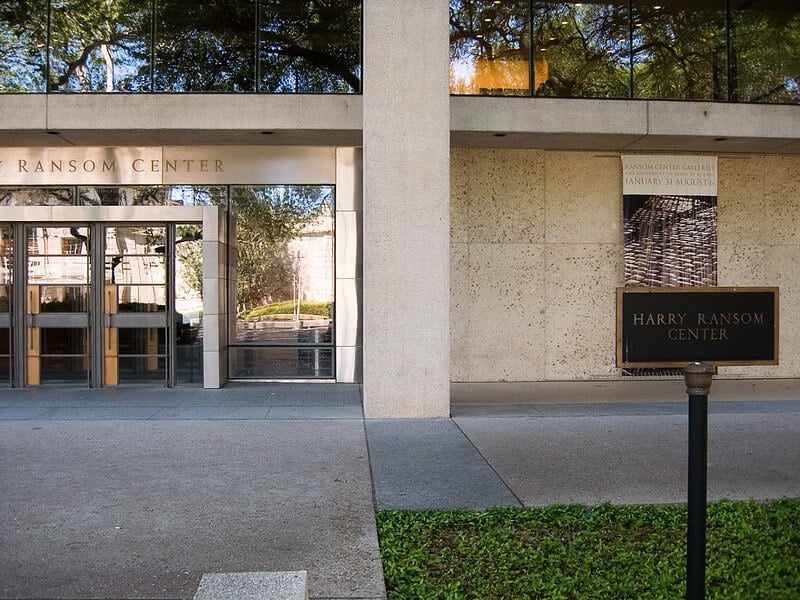 Another excellent activity for budget travelers, the Harry Ransom Center is not only free to visit but it's said to be the finest humanities research library in Texas. Located on the University of Texas campus, the Center offers regular film screenings and guided tours of its galleries.
One of the Center's most unique features is no doubt its rotating exhibitions of various objects from its prime collections. You can also use the Reading and Viewing Room to conduct your own research or attend lectures by guest speakers.
After exploring the Harry Ransom Center, you can always take a quick tour of the University of Texas which has one of the most scenic campuses in the United States.
Entrance fee: Free
Hours: 10 a.m. to 5 p.m.
Address: The University of Texas at Austin, 300 W 21st St
17. Cheer on the Local Team at a Football Game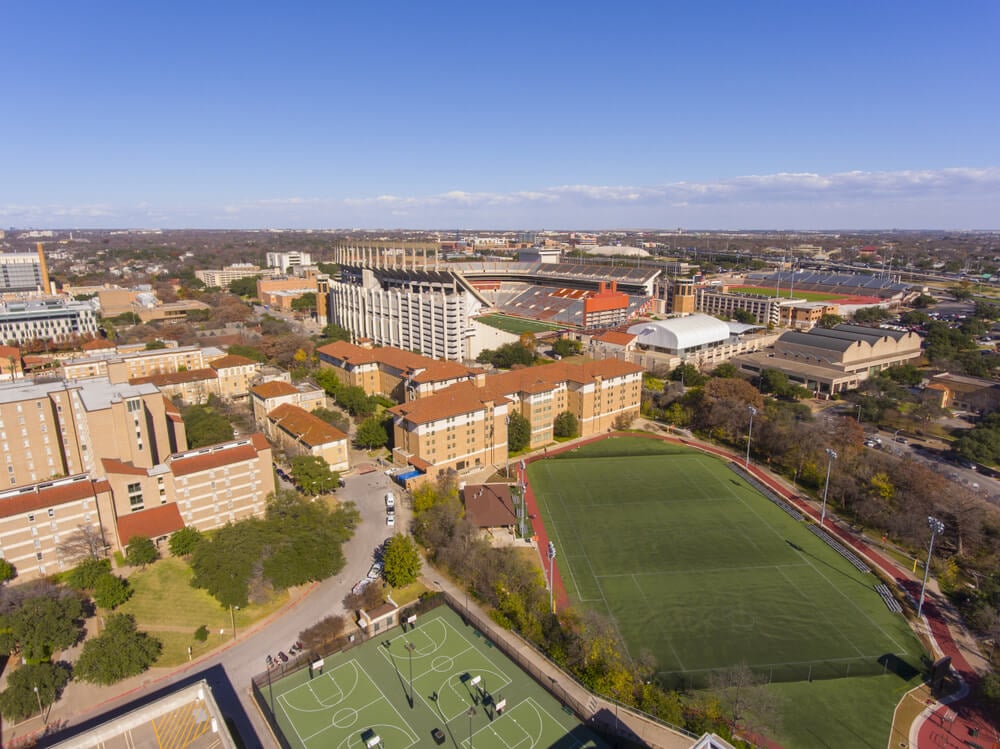 Cheering on the Texas Longhorn at the Darrell K.Royal-Texas Memorial Stadium is definitely among the unmissable things to do in Austin – not to mention one of the most exhilarating activities you'll get to participate in!
As the old saying goes, everything is bigger in Texas and that certainly includes the capital's intense football fandom. Like most popular activities, scoring a seat may be difficult since the 100,119 seats tend to sell out rather quickly!
If you do manage to get a seat, however, be sure to dress in burnt orange, the local team's colors. It's also considered borderline blasphemy to not participate in singing the school's spirit song, 'Eyes of Texas', so you may wish to learn the lyrics beforehand.
Entrance fee: $42 to $60
Hours: 9 a.m. to 4 p.m.
Address: 2139 San Jacinto Blvd
18. Attend the Austin City Limits Music Festival
One of the most thrilling things to do in Austin in fall, the City Limits Music Festival is an annual event that takes place in early October. Held in Zilker Park, this festival usually spans across two consecutive weekends.
Now, there's no doubt that tickets can be eye-wateringly expensive, especially if you opt for the platinum package, but then again, this is easily the most acclaimed event in the city. Think the Texan version of Coachella, so it's no surprise this is one of the top festivals in the US!
The Austin City Limits Festival has no less than eight stages and 130 bands spread across the park. These stages feature various musical groups including hIp-hop, electronic, folk, country, indie, and rock. Unlike other music festivals, outside refreshments are permitted- and yes, that includes alcoholic drinks.
Entrance fee: $295 – $4750
Hours: 10 a.m. to 10 p.m.
Address: Zilker Park, 2100 Barton Springs Road
19. Treat yourself to a meal on Rainey Street
Chow down on Austin's legendary barbecue by touring the fabulous Rainey Street which practically embodies everything the city stands for excellent eats, a loud, bustling atmosphere, and ancient buildings with bungalow-style facades.
Whether you want to relax in a hammock on Lucille Patio's Lounge or indulge in bar games at the popular Lustre Pearl, rest assured that Rainey Street houses establishments to suit just about every taste! Best of all, you'll get to sample different types of cuisines, including international offerings.
This energetic avenue additionally features higher-end establishments such as Anthem, a luxe restaurant known for its tropical setting and Latin-Asian fusion dishes. A firm favorite on Rainey Street is Augustine, a lively pub located in a reconverted 1889 bungalow.
Entrance fee: Free
Hours: 4 p.m. to midnight
Address: Augustine, 86 Rainey St
20. Cool off in the Barton Springs Pool
There are certainly plenty of outdoor things to do in Austin, but in my opinion, taking a plunge in the Barton Springs Pool should absolutely be at the top of your list! This site has no less than four natural water springs, with the largest being Main Barton Spring.
Unlike other swimming holes in Austin, Barton Springs Pool remains open in the winter. In fact, if you're visiting then, you can even participate in the city's annual Polar Bear Plunge! Rest assured that it sounds worse than it truly is since the natural pool maintains a pretty consistent temperature that ranges from 68 to 70 degrees F, regardless of the season.
Entrance fee: $5 for residents, $9 for non-residents
Hours: 5 a.m. to 10 p.m.
Address: 2201 William Barton Dr
Forget boring accommodation… book yourself an EPIC STAY!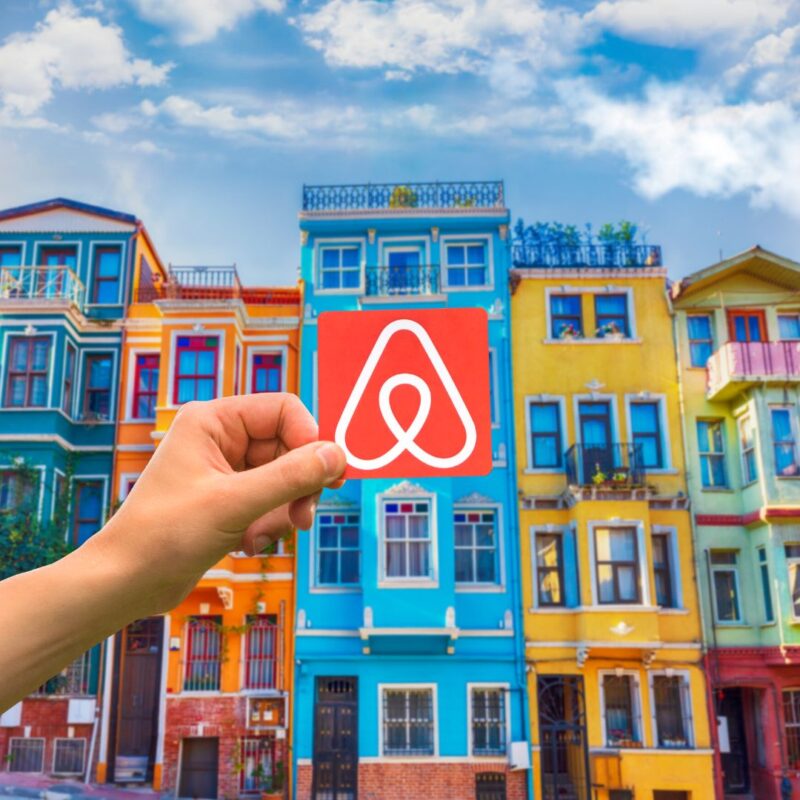 Why stay in a naff hotel when you can stay in a cosy, stylish local house instead? And for half the money too!
Stay somewhere EPIC and save your hard-earned dollars — from houses to barns to castles and caves, there is an Airbnb for every occasion!
Book an EPIC Stay
21. Wade through the Cathedral of Junk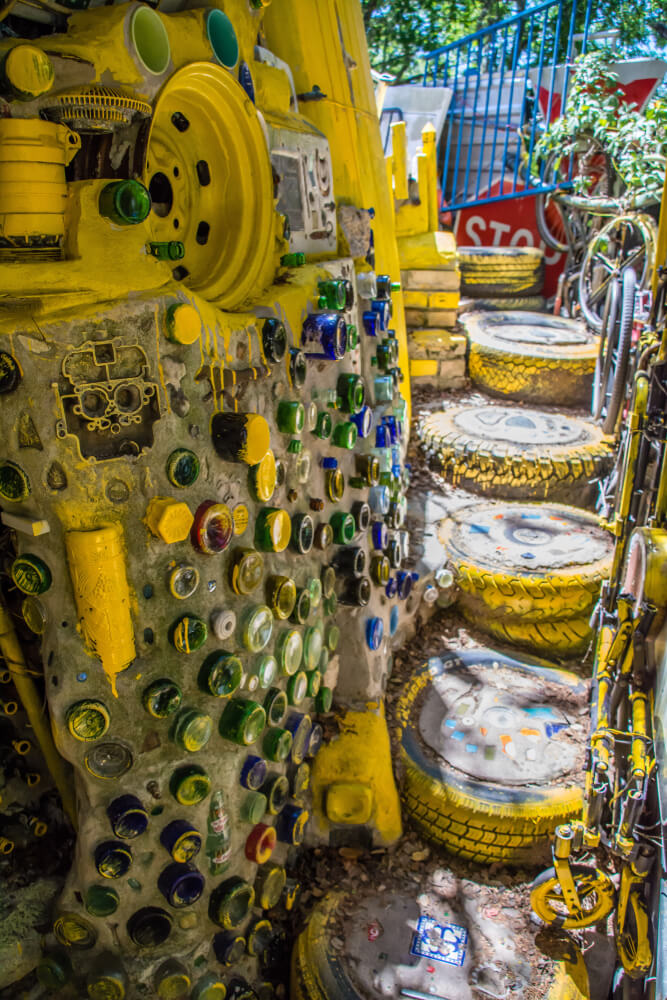 Given that the city's slogan is 'Keep Austin Weird', it should come as no surprise that one of its most popular Austin attractions is the Cathedral of Junk.
And yes, this is exactly what it sounds like – a whimsical homage to used home goods, furniture, and various types of junk that somehow manage to capture the very essence of the city. There's quite a lot to take in at the Cathedral of Junk so you may want to set aside a couple of hours to wade through everything.
The piles of junk have been artfully arranged to create towers, stairways, and secret rooms. If you're lucky enough, you might just stumble across the coveted 'Throne Room' filled with wind chimes.
Entrance fee: Free, but donations are encouraged
Hours: 24/7
Address: 4422 Lareina Dr
22. Shop till you Drop on South Congress Avenue
As far as shopping venues in Austin go, South Congress Avenue is a definite must-do for tourists. Colloquially referred to as SoCo, this lively neighborhood lies close to Lady Bird Lake and easily ranks among the city's most eclectic shopping strips.
Browse through a vast array of shops offering vintage products, accessories, makeup, high-street clothing, and even souvenirs before fueling up at one of the many food trucks parked on both sides of the strip.
Of course, it goes without saying that this is one of the most touristy places in Austin so it can get pretty packed during the weekend! At night, the strip bursts into life as shopping morphs into clubbing and karaoke.
Entrance fee: Free
Hours: Varies according to the shop/restaurant
Address: SoCo shopping district, South Congress Ave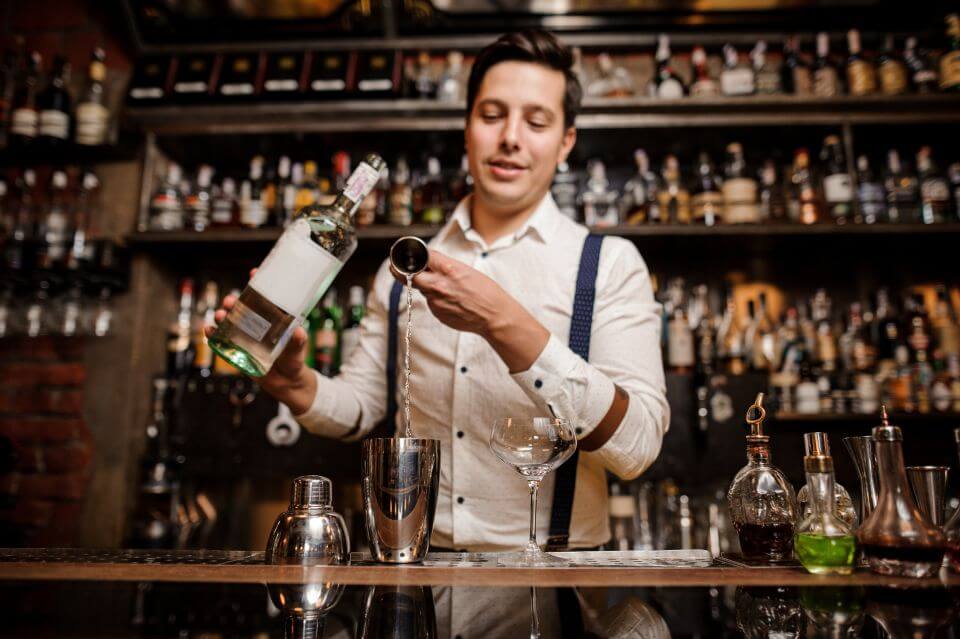 With more than its fair share of gruesome crime stories under its belt, Austin is no doubt a mystery fan's dream come true! Amateur sleuths who want to get up close and personal with the city's macabre past will certainly have plenty of former murder scenes to investigate.
In fact, this tour will take you through some of the most dramatic sites in Austin. Best of all, you'll also get to check out some of the best pubs and cocktail lounges in town, including an upscale rooftop venue from where you can watch the city skyline twinkling away after sunset.
Entrance fee: $47 (Excluding hotel pickup/drop-off)
Hours: 7 p.m. to 10 p.m.
Address: Westin Hotel, 310 E 5th St
24. Celebrate Eyeore's Birthday
Whether you're traveling with kids or not, Eyeore's birthday party firmly features among the unmissable things to do in Austin! One of the oldest traditions in the city's hippie subculture, this day-long festival takes place in the iconic Pease District Park on the last Saturday of April.
Just a heads-up though: this festival draws massive crowds so be sure to head there early. While you're not allowed to bring alcoholic beverages from outside, rest assured that, in keeping up with Austin's boozy traditions, there'll be plenty of vendors selling beer, non-alcoholic beverages, and local street food.
Entrance fee: Free
Hours: 11 a.m. to dusk
Address: Pease District Park, 1100 Kingsbury St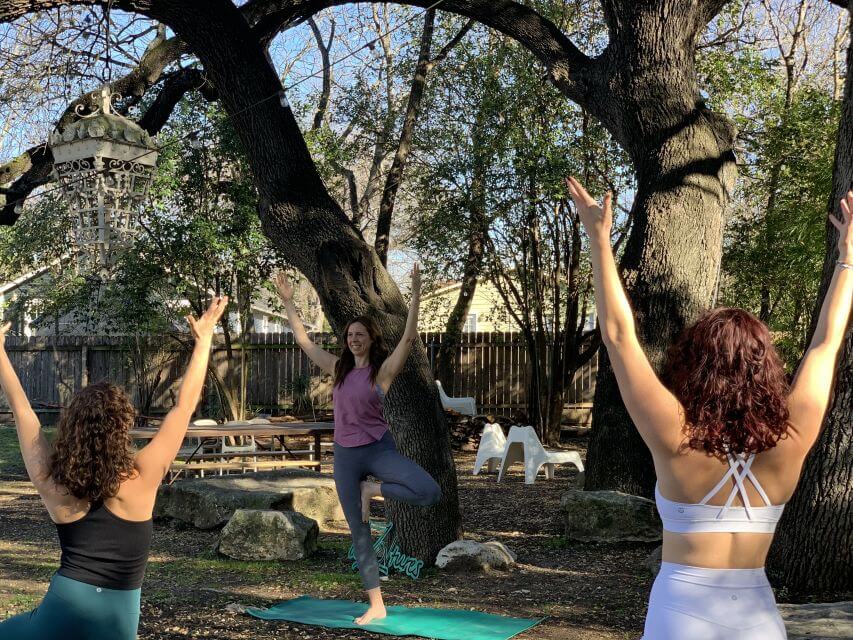 With over 300 days of sunshine per year, you'll certainly find plenty of incredible outdoor things to do in Austin- open-air yoga being one of them!
Indeed, the city's many beautiful parks mean that it's a prime destination for these types of activities, so be sure to sign up for a class during your stay. If you're a complete novice, you'll be glad to learn that classes are usually geared to all fitness levels. This is also an excellent way to connect with other travelers and perhaps even make some local friends.
Do you want to know what makes this experience even more enjoyable? Cooling down with a couple of mimosas after your session- which is exactly what this particular activity offers!
Entrance fee: $36.42
Hours: 10 a.m. to noon
Address: Impact Hub, 411 W Monroe St
Where to Stay in Austin
There's nothing quite like the feeling of sinking into a gloriously comfy bed at the end of the day. The good news is that there's an abundance of places to stay in Austin!
From hostels to Airbnbs or even hotels, these are some of my personal recommendations.
Okay, this one hands-down gets my vote for the best-located hostel in Austin! This property lies just a few steps from historic 6th Street and its vibrant nightspots. You'll also be close to the central downtown area. This budget-friendly hostel offers free and fast Wi-Fi and spacious dorms fitted with heavy-duty bunk beds and reading lights. A quick 10-minute drive from the hostel takes you to the many retail and dining options at Barton Creek Square. Nearby, you can also check out the Blanton Museum of Art and the Zilker Botanical Garden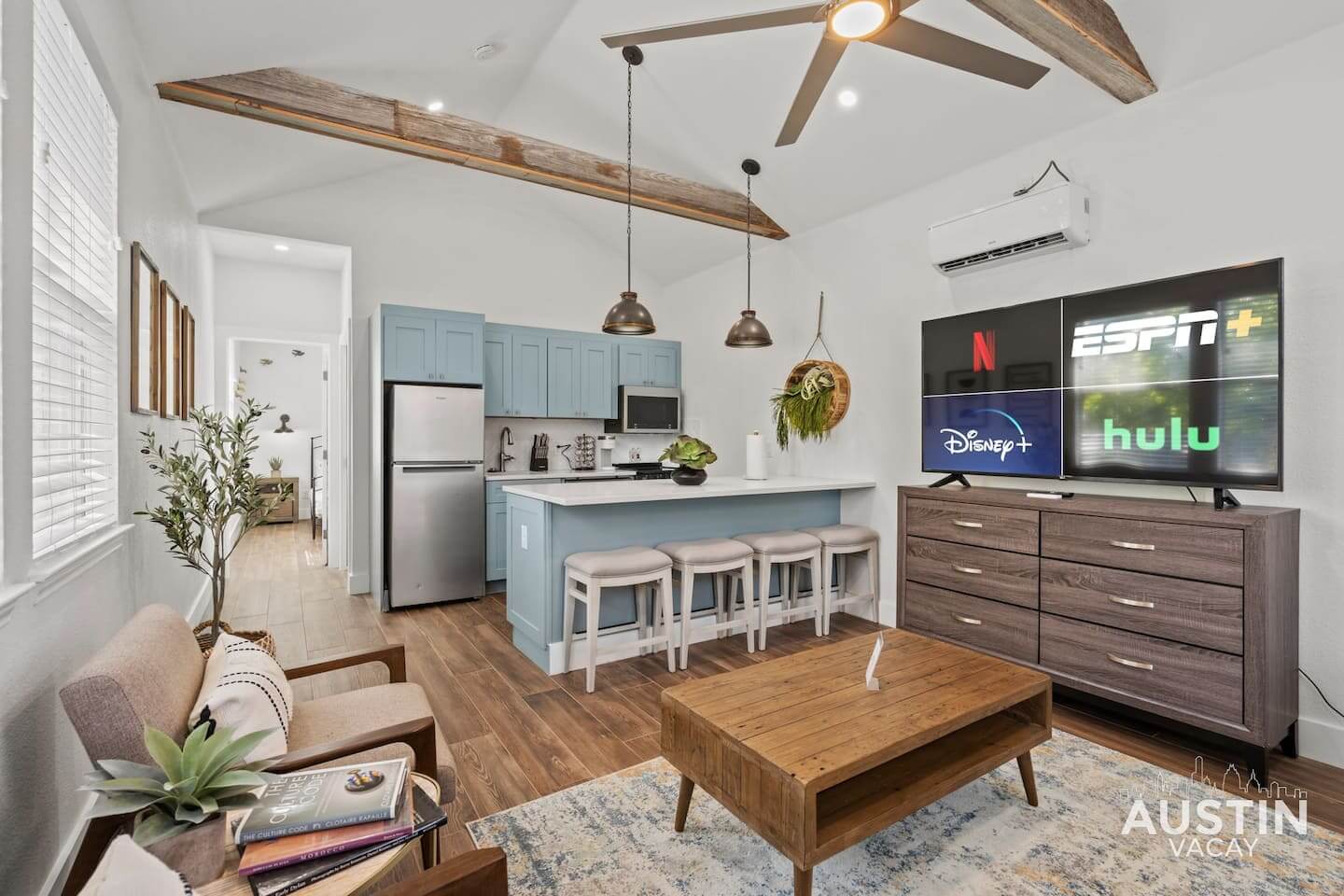 Not only is this Travis Height apartment freshly renovated, but it also commands a spectacular location smack at the very heart of downtown Austin!
With one bedroom and plenty of space for four guests, this space even has a well-equipped kitchen. Popular Austin attractions like Zilker Park and South Congress lie just a quick walk away.
Not only will you be within walking distance to South Congress, but this Airbnb is an excellent jumping point to other points of interest such as the Museum of the Weird and the Contemporary Austin-Jones Center.
Wake up to a complimentary breakfast every day with a stay at this hotel! Located less than 20 km from the prestigious University of Texas, SpringHill features generously-sized suites and an on-site swimming pool.
Guests will enjoy proximity to coveted attractions like Barton Springs Pool, the Capitol Building, and Lake Travis. After a picnic by the gorgeous shores of Lake Travis, you can always head over to Flat Creek Estate Winery, located a little over half an hour away. Nearby, you'll also find Austin's famous Hippie Hollow Park.
Some Additional Tips for Visiting Austin
Before you jet off to Austin, here are a few things to keep in mind when exploring the Texas city!
Keep an Open Mind. Austin doesn't merely pride itself on its weirdness but it's also the least-stuffiest place in the U.S, so you'll come across plenty of topless or nude sites like Hippie Hollow or Barton Springs Pool. No, they're not trying to shock anyone: clothes – or lack of them – are just not considered that big of a deal in Austin!
Prepare Yourself for a Wild Climate. In true Texan fashion, the weather in Austin can go from sunny to stormy in the blink of an eye so it's good to be prepared for every eventuality! As such, you may wish to pack layers and always arm yourself with sunscreen. After all, this is one of Texas' sunniest cities even if it's prone to the occasional rainfall.
Book a place with a kitchen or complimentary breakfast. This is the easiest way to save up during your stay in Austin. Several hostels and hotels offer free breakfast buffets where you can properly fuel up for the day. Alternatively, you can get an Airbnb with a kitchen so you can cut back on expenses by preparing your own meals.
Take advantage of free walking tours. Like most touristy places, Austin has plenty of complimentary walking tours that you can join during your first days in the city. Not only will these tours help you get acclimatized at your own pace, but your guides can also let you in on insider tips like the best places to eat in Austin.
Don't forget your travel insurance for Austin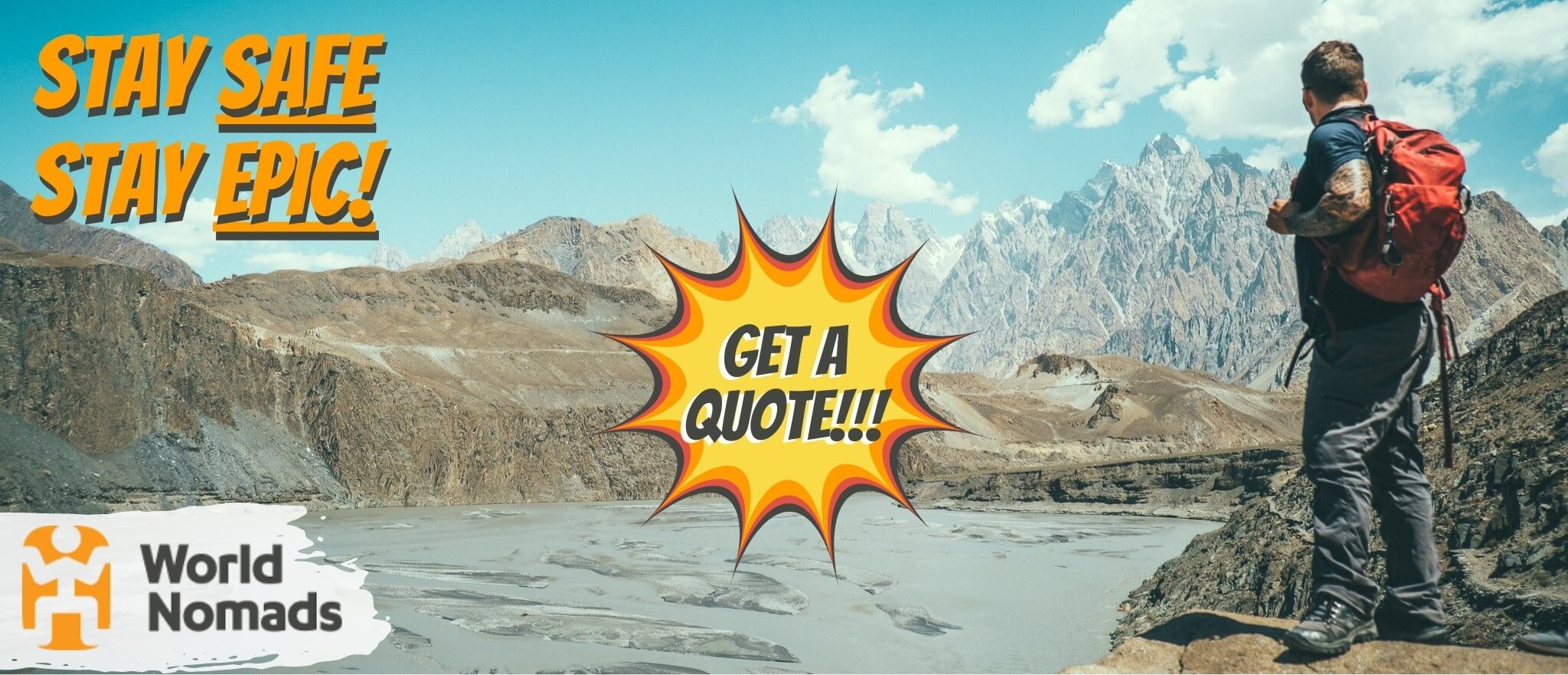 World Nomads' mission is to support and encourage travellers to explore their boundaries. They offer simple & flexible travel insurance, and safety advice to help you travel confidently.
They've been doing it since 2002 – protecting, connecting, and inspiring independent travellers just like you.
Get a quote below or read our in-depth review!
World Nomads provides travel insurance for travelers in over 100 countries. As an affiliate, we receive a fee when you get a quote from World Nomads using this link. We do not represent World Nomads. This is information only and not a recommendation to buy travel insurance.
Final Thoughts on Things to Do in Austin
If there's one thing you can be sure of, it's this – you will never, ever get bored in Austin! More importantly, this exceptionally diverse city beautifully caters to various types of travelers and budgets.
From wine tasting to pub crawling or even skinny dipping in quirky Hippie Hollow, the Texas capital city certainly has something for everyone.
More importantly, there are plenty of non-touristy things to do in Austin, so if you are visiting for a while or you've been there before, you can find something new and different each time you visit.
And while you're busy exploring, remember that it's a city that doesn't take itself too seriously and you shouldn't too. Just relax, have fun, and enjoy the Southern hospitality! Believe me when I say that you're in for one heck of a vacation!
---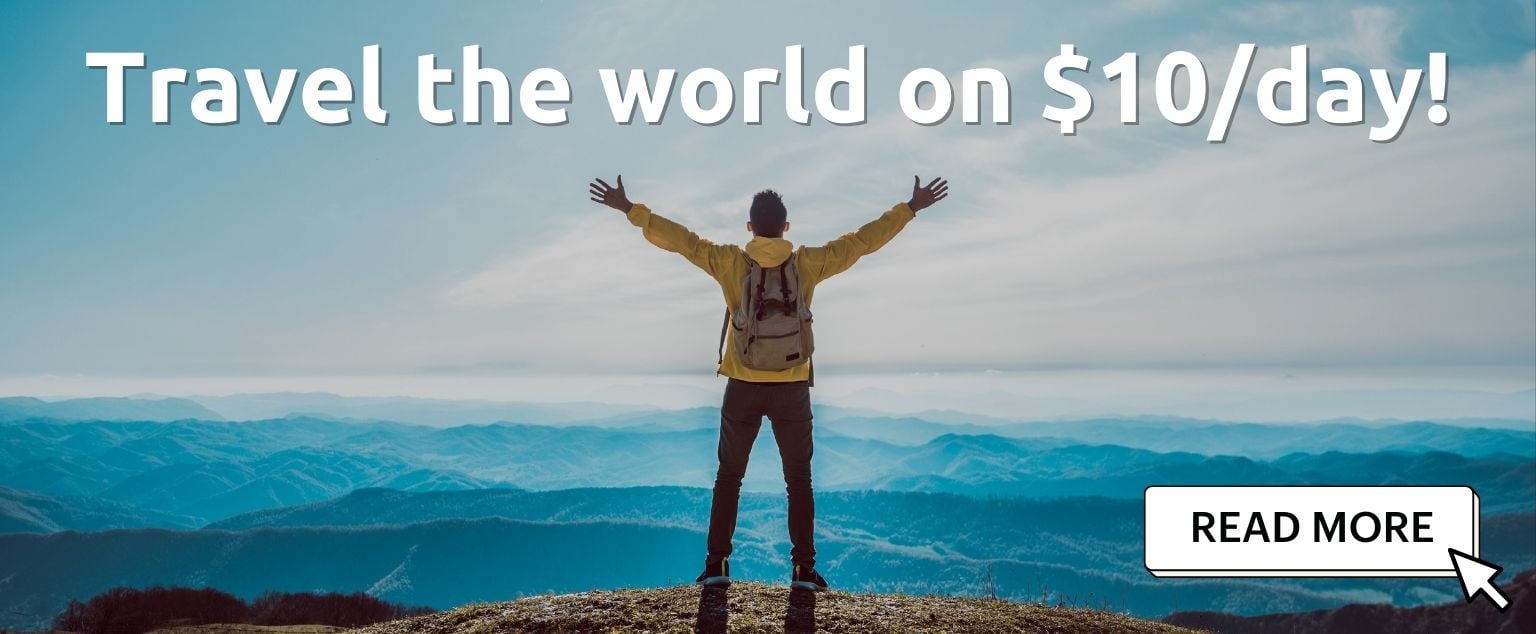 And for transparency's sake, please know that some of the links in our content are affiliate links. That means that if you book your accommodation, buy your gear, or sort your insurance through our link, we earn a small commission (at no extra cost to you). That said, we only link to the gear we trust and never recommend services we don't believe are up to scratch. Again, thank you!