If you think 'camping' means having to drive for hours into the wilderness, hold your horses. If you're anywhere near Florida, you can just dive right in on your doorstep.
You'll find beachside campsites with resort-level views tucked into areas of the Florida Keys, epic spots to explore the Everglades, and wilderness areas crisscrossed with trails and waterways. Florida is totally primed for adventure.
So where exactly can you stay? That's where we come in.
We've put together this awesome guide to camping in Florida, so you know where to camp, what to do, and what to pack. If you're ready to head out, let's do this!

Do You Want to Travel FOREVER??
Pop your email in below to get a FREE copy of 'How to Travel the World on $10 a Day!'.
Why Camp in Florida?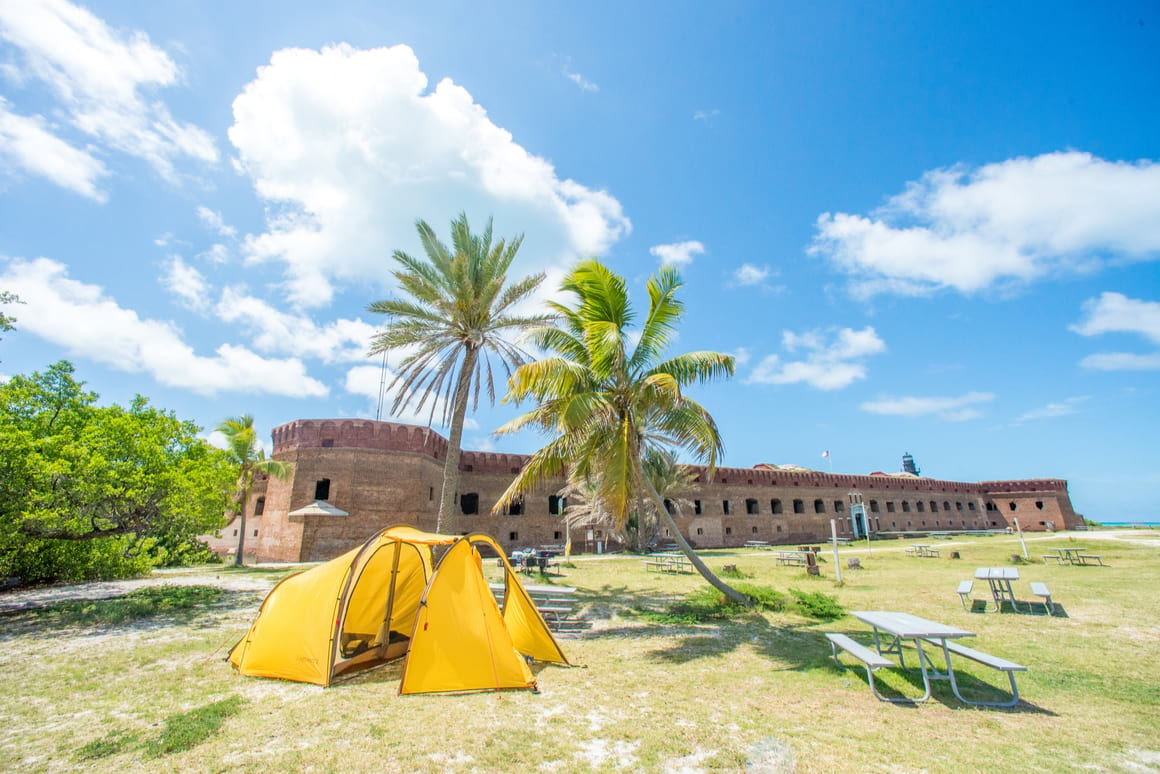 Florida is an awesome place to travel in the USA; there's a whole lot going on here nature-wise that makes the Sunshine State a worthy tent-adventure. I'm talking mountains, beaches, and everything in between.
It's got no less than 175 state parks and three huge national forests, to start with. It's also home to three particularly spectacular national parks. Two of these – Biscayne and Dry Tortugas – showcase Florida's marine life and Caribbean-esque island beauty.
The other is Everglades National Park. This is the third-largest national park in the (contiguous) United States, and the largest wilderness area of any kind east of the Mississippi River. Spotting manatees, turtles, 'gators, and avian life is par for the course here.
So, if you like the sound of having pristine beaches and coral reefs – or swamps and forests full of giant trees – on your doorstep, camping in Florida is definitely something to consider. It's not known for its camping, but it really, really should be.
Primitive Camping in Florida
If you want an authentic camping experience, then primitive camping is for you. Just turn up anywhere (well, almost), pitch your tent, and enjoy – away from developed campgrounds.
You'll get to make the most of Florida's natural scenery all to yourself – a great way to properly get in touch with nature. It's also a great option if you're heading on a road trip through Florida and need somewhere to stop off.
Rules differ per state, but primitive camping in Florida (or "dispersed camping," as it's known) is definitely allowed. And it's a great option.
You'll find primitive camping locations in both state parks and in national forests. But there are some rules and regulations surrounding primitive camping in these places…
In state parks, you have to pay a camping fee if you're a primitive camper ($5 per person, per night).
You'll also have to reserve them ahead of time. This involves calling the park office (no online bookings).
Payments are made at the entrance to the park.
Primitive campgrounds in state parks actually do come with limited amenities – you'll usually get a fire ring, a cleared area for pitching tents, and sometimes access to potable water.
In national forests, primitive camping is a-ok. And it's free.
There are no services and little-to-no facilities. But there are a couple rules to keep in mind.
You must camp at least 100 feet from streams or other water sources.
There's a 14-day per month stay limit.
It's best to pick a site that looks like it's already been used to avoid disturbing the flora and fauna in the area.
Be aware of forest boundaries.
Minimize waste and leave no trace, of course.
It goes without saying that you should know your fire safety. It's also a good idea to check in with a ranger if you can, just so you're informed about the surrounding area (plus, it's good that someone knows you're out there).
While state park regulations mean that primitive camping isn't 100% "primitive," you can definitely get a more wild experience in one of Florida's national forests.
Ocala National Forest offers a world of pinewood flats and forests, with plenty of hiking along the Ocklawaha River. If a state park is more your thing, check out Lake Louisa State Park or Fanning Springs State Park, to name a couple.
But, if you prefer campsites with showers and toilets, here's what's on offer on the less primitive end of the camping spectrum…
2000+ Sites, Unlimited Access, 1 Year of Use – All. Absolutely. FREE!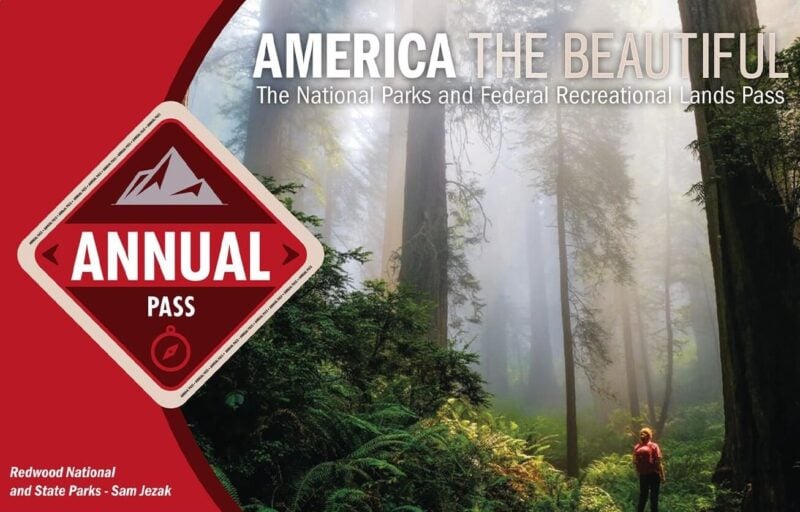 The USA is blisteringly beautiful. It's also blisteringly expensive! Visitng two national parks in day can run you $70+ in entry fees.
Orrrr… you kick those entry fees to the curb, buy an annual 'America the Beautiful Pass' for $79.99, and get unlimited access to ALL 2000+ federally managed sites in the States totally FREE!
You do the math. 😉
Buy the Pass!
10 Best Campsites in Florida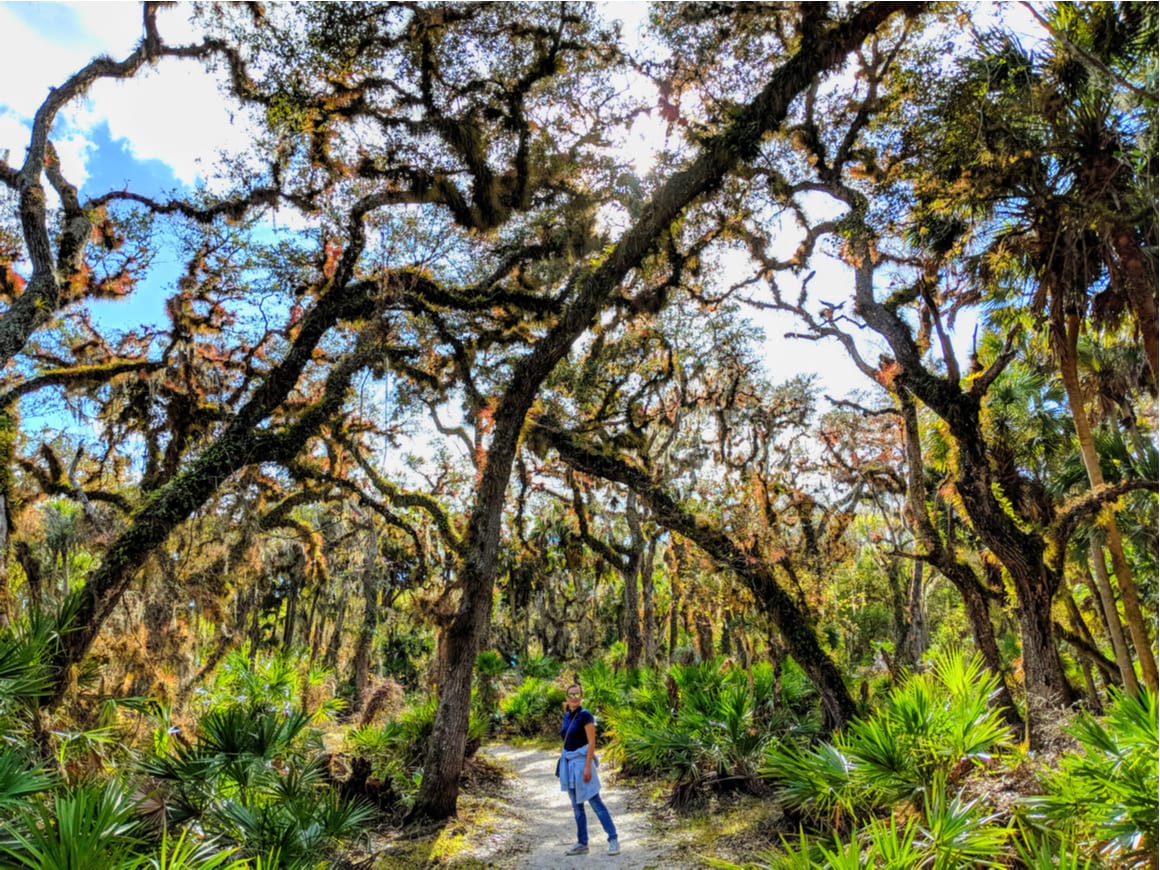 The primitive camping options in Florida may sound cool to some people, but they may also sound pretty not cool to others. If that's you, no sweat. There are plenty of other campgrounds throughout the state that boast some pretty top-notch facilities and some certifiably awesome locations.
To give you some inspiration and a good idea of what to expect, we've put together a list of our favorite ever campsites in Florida. Some of them are easily accessible, and others can only be reached by boat. Some sites are more basic than others, whereas some are amazingly well-maintained. Whatever you fancy, you'll be sure to find it here.
This awesome campsite is set in the 1.5 million-acre wetlands of the Everglades National Park. It's an undeniably famous wonderland of nature – complete with mangroves, marshes, and 'gators. In fact, it's the largest tropical wilderness in the US. There's a ton of stuff to see and do here.
To make the most of it, there are a few campsites here to pick from, but Long Pine Key Group Campground is at the top of our list. With its top-notch facilities and location, you'll have everything you could need for an epic camping experience. Think clean restrooms, large plots, solar showers and a lake – all well connected to trails. And the bonus – the tall pines here protect from wind and sun alike. Easily some of the best camping in Florida.
Amenities: Campfires allowed, Toilet available, Pets allowed, Potable water available.
Campsite fee: From $25 per campsite per night.
Anastasia State Park is located in a former quarry on Anastasia Island, the northeast Atlantic Coast of Florida. Here, you'll find an array of beaches (4 miles of 'em) and sand dunes, as well as abundant wildlife in its mangroves and brush. It's an awesome spot for sunny days sailing, birdwatching, and swimming.
The best place to pitch up here is Anastasia State Park Campground. Comprising 139 sites spread over a large area, you'll get all the privacy and seclusion you could ask for. There aren't so many mosquitos here, and the trees provide coverage from the sun. Swing in hammocks, chill on the beach, hike around the dunes – all with restaurants an easy drive away.
Amenities: Campfires allowed, Toilet available, Pets allowed, Potable water available, Showers available, Picnic table available.
Campsite fee: From $28 per campsite per night.
Pretty much on Jacksonville's doorstep, Little Talbot Island State Park feels surprisingly disconnected – in a good way. You can forget about cell phone coverage or hectic urban life on this unspoiled barrier island, which boasts five miles of powder sand beaches backed by wild nature.
Little Talbot Island Campground is definitely up there as one of the best campsites in Florida if you want a proper getaway from the city. It's well maintained, peaceful, and makes for a great place to relax.
Bring a surfboard if that's your thing, or rent a bike; the trails here are awesome. You can also kayak, stroll the beaches, and even spot sea turtles. It's the place to reset.
Amenities: Campfires allowed, Toilet available, Pets allowed, Potable water available, Showers available, Picnic table available.
Campsite fee: From $24 per campsite per night.
Only accessible by boat, Biscayne National Park makes up the northernmost Florida Keys. 95% of the park is actually sea, so a lot of the beauty here is underwater; think abundant marine life, coral reefs, and shipwrecks. Luckily, you don't have to just spend one day here.
You can camp at Elliott Key, it's the biggest of the islands and connected to the rest of them by hiking trails. It sits on the Bay side of the island, and has a forest canopy to protect you from the sun. Amenities here may be rustic, but there's drinking water and bathrooms. What more would you need?
Tip: Go in winter; mosquitoes can be a real pain otherwise.
Amenities: Campfires allowed, Toilet available, Pets allowed, Potable water, Showers available, Picnic table available.
Campsite fee: From $25 per campsite per night.
Get your desert island pirate castaway vibes on at this incredible national park. Made up of seven islands surrounded by coral reefs, this is pretty much a Caribbean getaway with a load of history chucked in for good measure (the 19th-century Fort Jefferson, shipwrecks, a lighthouse).
The remote beauty here can only be accessed by boat (or seaplane). Once you arrive at Garden Key Campground, it's basically primitive camping with few amenities. But that's a small price to pay for literally waking up in a little-known paradise every day. Stargazing at night is also overwhelmingly incredible.
Amenities: Campfires allowed, Toilet available, Potable water available, Picnic table available.
Campsite fee: From $15 per campsite per night.
Apalachicola National Forest is the largest national forest in Florida. It's full of swampy waterways, otherworldly trees, natural springs and is a magnet for any outdoor enthusiast. We're talking hunting, fishing, horseback riding, cycling, hiking, swimming, and boating – it's all here.
A place to lose yourself in nature (not literally please), it's a tropical wonderland. Mack Landing Campground is where you want to be to properly soak it all up. It's a quiet spot overlooking the Ochlockonee River, with good access to trails and a boat ramp. And although it's out of the way and has a back-to-nature vibe, it's still a well-maintained, family-friendly site.
Amenities: Campfires allowed, Pets allowed, Potable water available
Campsite fee: From $25 per campsite per night.
Is This the Best Backpack EVER???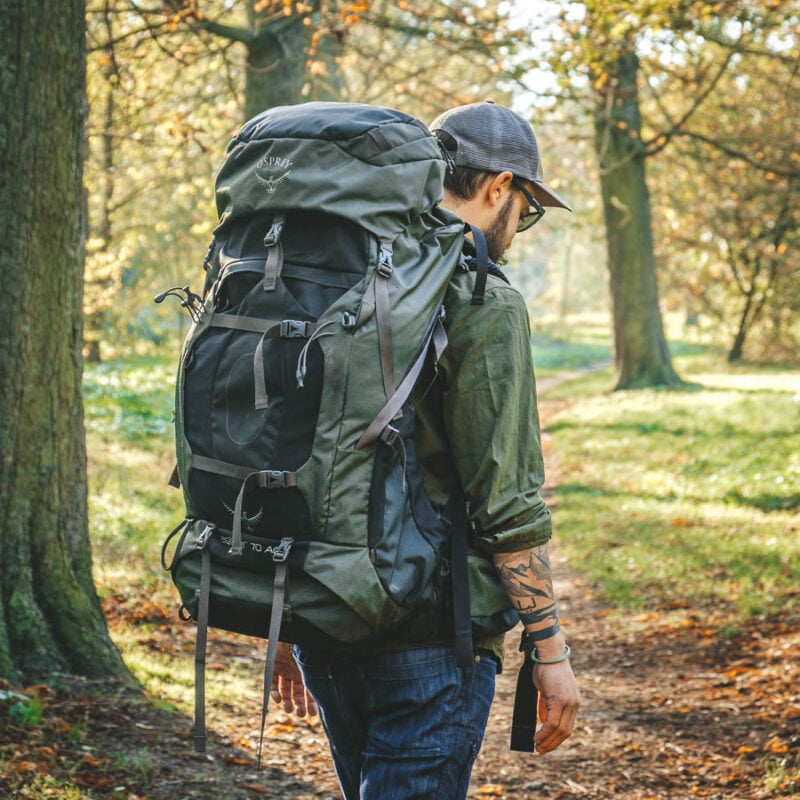 Alexander Springs Recreation Area and Campground is a great spot if you're thinking about camping in Florida (or anywhere) for the first time. The site is beautifully maintained, with plenty of accessible hikes around. It's close to the springs themselves, which are great for swimming. The spacious plots here are shaded by a canopy of trees.
It's a popular site in summer, not least because Ocala National Forest is a very cool place to explore. There are hundreds of miles of nature trails, clear springs, and shallow rivers to swim in, plenty of canoeing opportunities – and all just a stone's throw north of Orlando. Why go anywhere else?
Amenities: Campfires allowed, Toilet available, Pets allowed, Potable water available, Picnic table available
Campsite fee: From $24 per campsite per night.
A tiny slice of nature just west of Ocala National Forest, Silver Springs State Park is home to the largest spring in the U.S. It's a watery wonderland that connects up to the Ocklawaha River and – despite its size – is bursting at the seams with things to do. For one thing, it's home to a colony of around 1,000 macaques!
Silver Springs Campground will give you a super accessible base, and you'll be kayaking among the waterways before you know it. There are also ample hiking trails leading from the site and even some for horseback riding. The campground is very well-equipped, perfect for first-timers and casual campers alike.
Amenities: Campfires allowed, Toilet available, Pets allowed, Potable water available, Showers available, Picnic table available
Campsite fee: From $25 per campsite per night.
For more aquatic action, how about Suwannee River State Park? Here you can turn back the clock and explore nature and history together. There's a 19th-century paddle steamer and two Civil War-era ghost towns to discover, as well as turtles, hawks, and 'gators – all amidst cypress and magnolia festooned with Spanish moss.
You can enjoy some great backcountry canoeing here, which is an awesome way to take it all in. Base yourself at the Suwannee River Campground where you can chill around the campfire, or stay in a cabin if you want an upgrade from the canvas.
Amenities: Campfires allowed, Toilet available, Pets allowed, Potable water available, Showers available, Picnic table available.
Campsite fee: From $22 per campsite per night.
Located on one of the more central Florida Keys, Long Key has a lot going on. One of the best things about this place is its impressive boardwalk trails, but Long Key State Park is particularly popular with birdwatchers – it's actually on the Great Florida Birding Trail.
Sold on a stopover? Then Long Key State Park is the place to be. Camping in Florida doesn't get much more dreamy, with sites boasting resort-quality locations literally on the shoreline with unobstructed ocean views. After kayaking, paddleboarding, or hiking for the day, returning here for a grill-up and a few beers couldn't feel more heavenly.
Amenities: Campfires allowed, Toilet available, Pets allowed, Potable water available, Showers available, Picnic table available
Campsite fee: From $43 per campsite per night.
Save $$$ • Save the Planet • Save Your Stomach!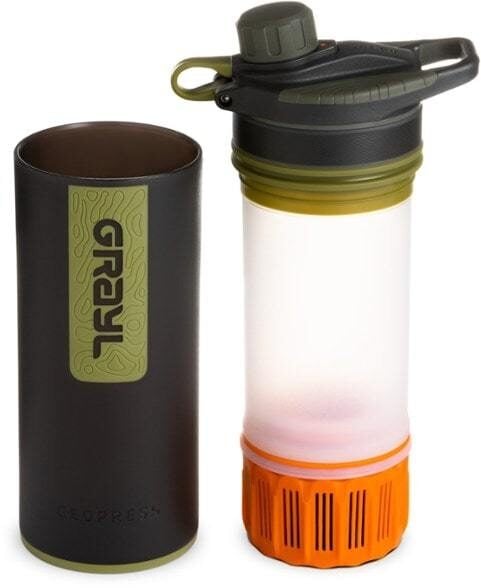 Drink water from ANYWHERE. The Grayl Geopress is the market's leading filtered water bottle protecting your tum from all the waterborne nasties. PLUS, you save money and the environment!
Single-use plastic bottles are a MASSIVE threat to marine life. Be a part of the solution and travel with a filter water bottle.
We've tested the Geopress rigorously from the icy heights of Pakistan to the tropical jungles of Cuba, and the results are in: it WORKS. Buy a Geopress: it's the last water bottle you'll ever buy.
Buy a Geopress!
Read the Review
The Best Glamping Sites in Florida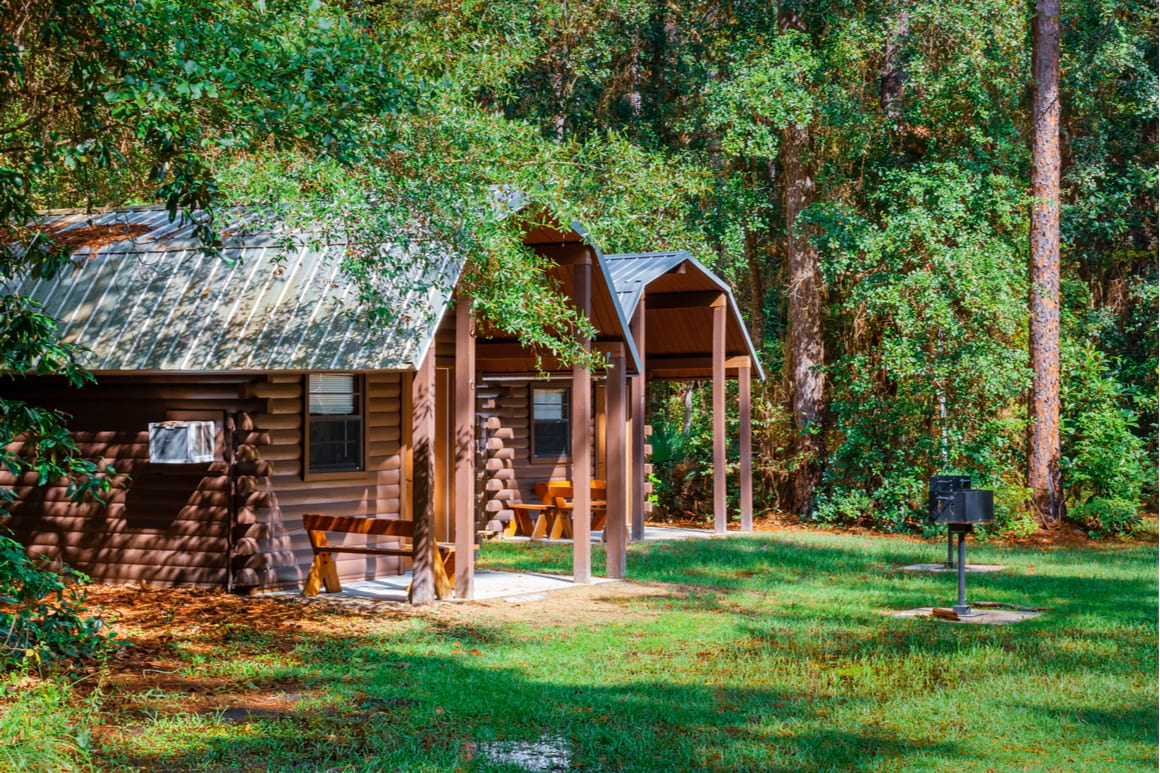 There may be some pretty incredible places to camp in Florida, but what if you're just not into camping? Or if you like the idea of nature but don't fancy roughing it?
Well, then there's glamping. For the uninitiated, that's "glamourous camping," a step up from bare-bones canvas. Tents boast beds and kitchens, although glamping could also just involve full-on luxury in a cabin. Why the heck not?
Glamping in Florida provides you the best of both worlds – easy access to nature and a super comfortable place to sleep (somewhere with room to stand).
So, if that's much more your thing, then check out some of these awesome options below…
This is a classic Florida cabin experience that offers the chance to spend a while in relative luxury surrounded by wildlife. It really feels like you're in a remote spot here, and chances are you'll spot deer, owls, manatees, and other critters during your stay.
The cabin itself features a cozy veranda, with stairs leading down to a deck on the water. It's a homey cabin, with polished wooden floors, cute decor, and a full kitchen to rustle up some grub when you need it. Plus, it's all just a stone's throw from Wakulla Springs and the St. Marks National Wildlife Refuge.
There are some cool cabins in Florida, but one of the best things about this one is the amount of land it comes with. In fact, there are more than 200 acres of farmland to explore, with trails leading around woodlands and a lake stocked for bass fishing. You don't even have to drive anywhere to get to grips with nature!
The cabin is basically a restored barn, and has been lovingly decorated in a modern way. You'll find luxuries like rain showers, mid-century modern furnishings, great attention to detail. It has high ceilings, a big bed, and a charming porch and fire pit for evenings spent chilling under the stars.
Small Pack Problems? 😉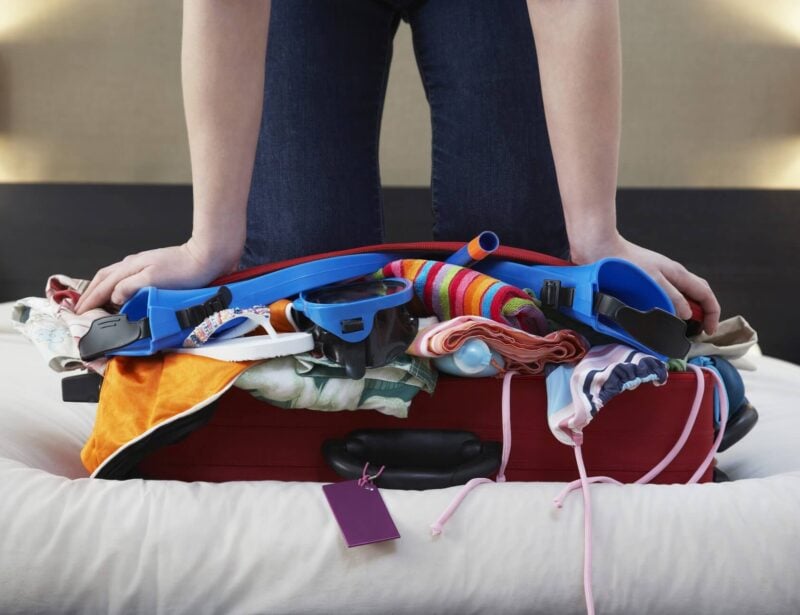 My missus travels with all her clothes in ziplock bags: don't be like my missus. UP YOUR PACKING GAME!
Packing cubes for the globetrotters and compression sacks for the real adventurers – these babies are a traveller's best kept secret. They organise yo' packing and minimise its volume too so you can pack MORE.
Or, y'know… you can stick to ziplock bags.
View Our Fave Cubes
Or Check Out the Sacks!
For some old-school tropical Florida vibes, this retro-luxe VRBO is a pretty cool option. The exterior is all white and turquoise, while interiors are super clean and decorated in a beachy Tiki sort of theme. And it's all just a short walk along a sandy path to the beach.
The cabin comes equipped with a beach cart. Fill it with chairs, a parasol, beach toys, and simply wheel it down to the surf for the ultimate day at the beach. Location-wise, this Florida VRBO is situated in one of the best areas on Sanibel Island. The island is famous for its sunsets, and you'll enjoy some proper glamping.
For some real unique glamping in Florida, this old-school 1974 Airstream should be just the ticket. It's beautifully renovated, and kitted out with funky furnishings in a retro classic style. You'll feel right at home, and the use of space is nothing short of genius.
It's just five minutes from Downtown Tampa, which makes getting around and sight-seeing pretty simple. Return to the Airstream and chill on the charming deck, or pull up a chair and hang out round the firepit. It's a fantastic alternative to camping in Florida, that's for sure.
This is the place to go for a serene, magical stay in Florida. Designed with thoughtful touches, the sleeping arrangement at this glamping spot will leave you super relaxed. You'll be sleeping on a king-sized bed on an outdoor porch, all protected by hanging nets.
The porch comes with its very own projector screen, so you can chill out on the bed and watch Netflix on a backdrop of fields (pretty crazy). There's also a hot tub, Zen garden, and hammocks available for you to enjoy. You'll even find chickens roaming around and horses to make friends with. A truly unique spot on 20 acres of farmland, and situated close to the Suwanee River.
Camping Packing List for Florida
Now that you've seen what's on offer, your Florida camping excursion is halfway there. Maybe you're set on primitive camping, or you've bookmarked one of those campsites for future reference. Heck, maybe you just feel like living it up and glamping in Florida.
Whatever you choose to do, there's just one thing in the way – and that's packing.
Packing for a camping trip is kind of different from a hotel stay. No tiny bottles of shampoo and miniature bars of soap here. You'll have to remember everything you need to stay safe in the wilderness.
And trust us; nothing is quite as annoying as forgetting something essential when you're in the middle of nowhere, miles away from any store that could save your bacon.
That's why having your Florida packing list down is so crucial on a camping trip. To give you some inspiration (and much-needed reminders), we've come up with a list of things that you should absolutely 100% bring with you…
With all its diverse beauty, Florida is the ideal state to spend some time surrounded by pristine nature. But let's be honest; Florida is a hot and sticky kind of a place, and you're definitely going to need to remember some essential camping supplies before you head off on your trip. Here's a list of some essential kit you shouldn't leave at home:
A good tent – Yes, the number one thing you will need is a tent, of course. Make sure it has good ventilation so you don't wake up too hot and sweaty.
Sunshade – You're going to want to escape from that sunshine at some point, and a shade will offer some much-needed respite.
Torch – Consider packing a head torch so you can see where you're going when nature calls in the middle of the night
Sleeping bag – Although Florida is a warm place, packing a sleeping bag is still a good idea. Consider one with a thinner tog, or maybe even just opt for a silk sleeping bag liner.
Camping plates and cutlery – All the basic kitchen equipment will mean you can enjoy campsite meals. Simple.
Bottle opener/corkscrew – A very useful piece of kit, you never know when these tiny tools will come in handy. That bottle of wine won't open itself.
Filter water bottle – Easily one of the best things to take into the great outdoors, using these reduces plastic waste and gives you access to clean drinking water.
Of course, you can't go to Florida without visiting a beach. Not all of the state's sandy shorelines are developed, and you might even find yourself camping on the beach itself!
Because of that, quite often there will be no shade, no drinking water, and some pesky insects. So, here's a roundup of the top beach items you should be packing for your camping trip to Florida:
Beach Mat – Keep that sand at bay and spend your beach days chilling out with the ultimate beach mat. You'll be glad you packed it.
Bathing suit – There's just too many stunning swimming spots to not take a dip in the ocean on your trip.
Snorkel – The underwater landscape and the creatures who live there are otherworldly. Bring along a snorkel and spot actual turtles among the coral reefs.
Sunglasses – Protect your peepers from the sun and look cool, too. No brainer.
Sunhat– Another thing that will help keep the sun's harmful rays at bay, a hat will help stave off nasty sunstroke.
Daypack – Pack all your beach kit into a useful daypack. This can also be used when you're out hiking on a trail.
Beach shoes – A pair of flip flops can easily be worn at the beach and are great as casual shoes around the campsite.
Sunshade – A beach sunshade will mean you and your gang will have a happy time in the sun, rather than being cooked by it.
Camping might mean roughing it, but it's totally still important to keep clean. Some of Florida's sites are basic; many still offer the chance to grab a shower, while others are off the grid entirely. To get you started, here's a list of the basic essential toiletries you might want to pack.
Toilet paper – It's not a given that this will be available at all campsites, so definitely pack some just in case
Toothbrush and toothpaste – Don't skip out on cleaning your pearly whites even if you're primitive camping.
Insect repellent – The mosquitoes in Florida can be pretty awful. It can be swampy here, and mosquitoes love that sort of water. Repellent with DEET is something you really need to bring with you.
Shampoo and conditioner bars – Saves space and can double as a body wash (and be used to wash out your undies, too). Plus it's eco-friendly!
Sunscreen– Look after your skin and slather on the sunscreen even on overcast days.
Camping Tips for Florida
Camping in Florida is actually a super exciting adventure. We hope that by now, you're pretty pumped to get stuck into your camping trip.
But before you leave, here's some further information and guidelines to be aware of. Make sure to keep these in mind, so you know the rules when you rock up at a campsite in Florida.
Check the weather.Florida has two seasons – dry season and wet season. In winter (dry season), expect sunny days, but cooler temperatures, especially at night. In the wet season, you can expect soaring, sticky temperatures. Downpours are common during Summer.
Be prepared for mosquitoes. Swamps and hot, wet weather, are a mosquito-trap. These can seriously hamper a camping trip. Wear long-sleeved clothing, especially around dusk, and bring your DEET.
Check in with the campsite beforehand. It's a good idea to call ahead before turning up, even if you booked months before.
You might have to pay an entrance fee. This is required for most of Florida's state parks and will be additional to the camping fee itself.
Leave the flora and fauna alone. All the plants and animals are protected. No picking flowers and disturbing animals.
Be careful where you fish, swim, or use a boat. This is permitted in special designated areas only. You may also require a Florida fishing license in some areas.
Take safety precautions with fires. Try to build smaller fires that are easier to contain. It's better to use a fire pit and keep the fire away from overhanging branches, tents, and dry grass.
Use local firewood. Florida State Plant Protection Laws and Rules forbid the use of firewood from outside the state to prevent the spread of invasive species.
Take care where you consume alcohol. This is often only allowed in specially permitted areas.
DON'T DIE OUT THERE! …Please 🙂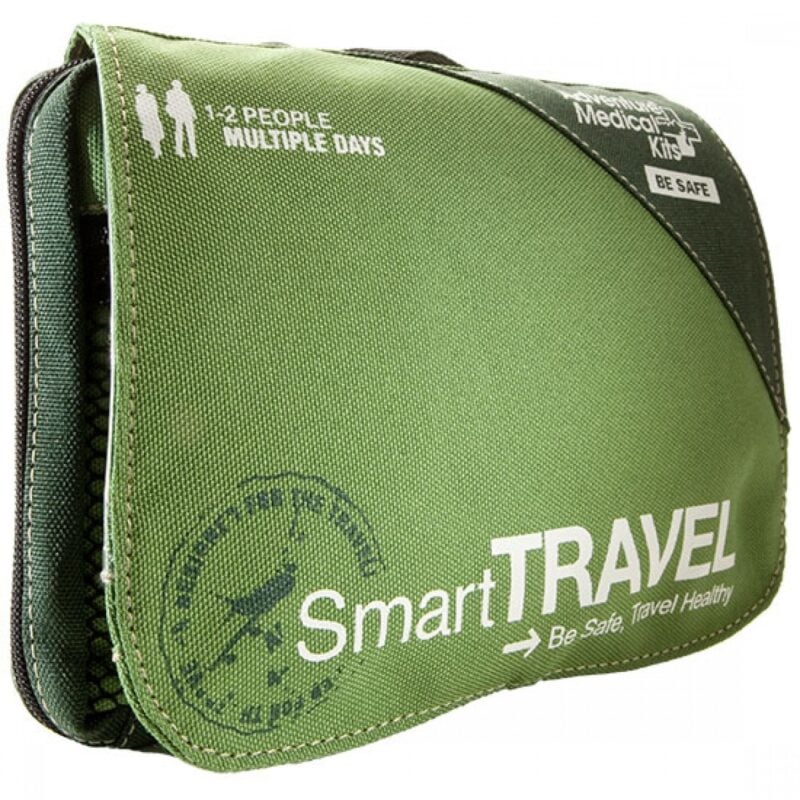 Things go wrong on the road ALL THE TIME. Be prepared for what life throws at you.
Buy an AMK Travel Medical Kit before you head out on your next adventure – don't be daft!
Buy on REI
Final Thoughts on Camping in Florida
We've come to the end of our guide to camping in Florida. By now, you should be totally ready to hit the road and explore what the Sunshine State has to offer.
Whether you opt for primitive camping, luxurious glamping or something in between, you're bound to have an amazing adventure in Florida. There's so much diversity here, you'll never get tired of it!
You'll get to explore mangroves, wetlands, beaches, reefs, and forests; see amazing wildlife in the form of alligators and manatees (and way more besides), and stay right in the middle of all the action.
Tell all your friends – camping in Florida is primo.
---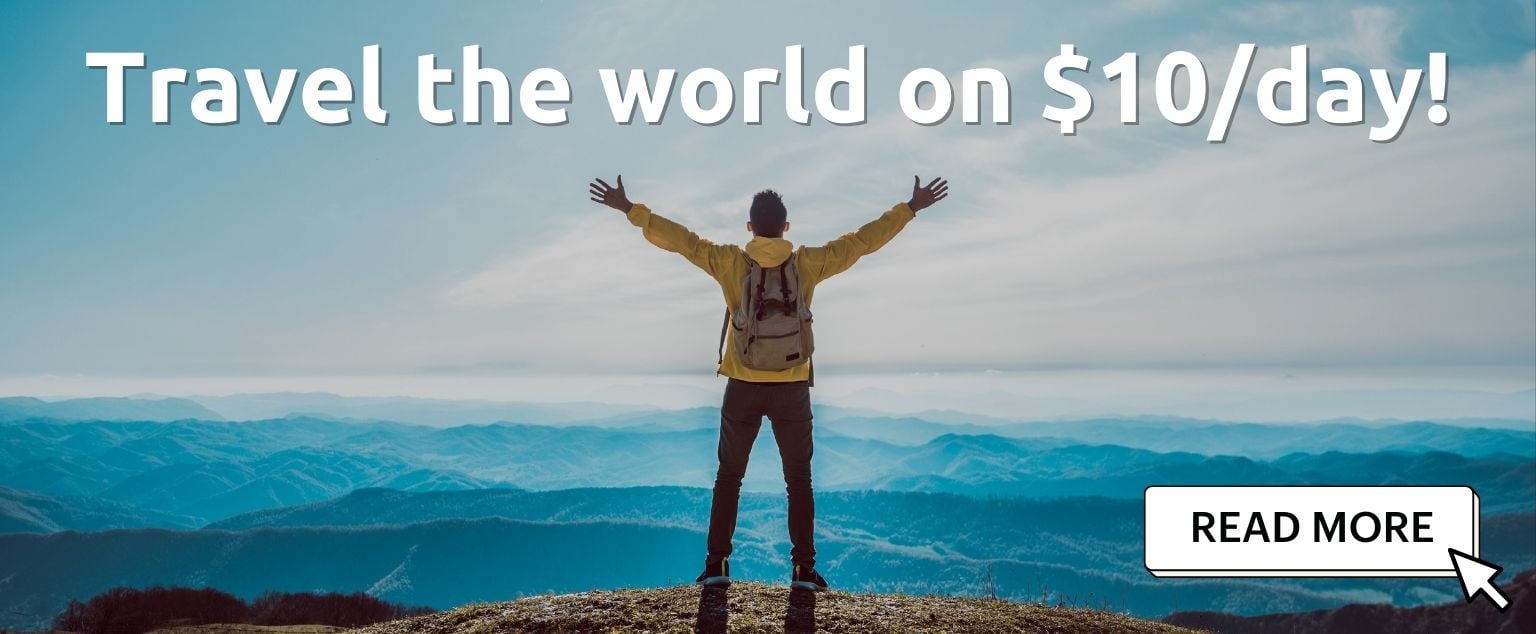 And for transparency's sake, please know that some of the links in our content are affiliate links. That means that if you book your accommodation, buy your gear, or sort your insurance through our link, we earn a small commission (at no extra cost to you). That said, we only link to the gear we trust and never recommend services we don't believe are up to scratch. Again, thank you!