One of the best family destinations in the world, Orlando is packed full of more than just exciting theme parks. Yes, the big draws are Universal Studios and Disney, but the city has a pretty cool downtown too. When everyone else is at the theme parks, wander along the tree-lined avenues, immerse yourself in the art and music scene, or just sample some of the mouth-watering cuisines on offer here.
As you might expect in such a popular destination, there are a lot of hotels. However, for something with a little more personality, why not consider an Airbnb? After all, you could save yourself some cash – especially if you're travelling with the family! No matter your travel style, budget, or the size of your party, you'll find an Orlando Airbnb for you!
We don't want you to have to spend too much time trawling through the website though. So, to help you out we've done that, and come up with this list of the 15 best Airbnbs in Orlando. So, let's jump straight in and find the perfect place for you to stay!
In a Hurry? Here's Where to Stay in Orlando for One Night
First Time in Orlando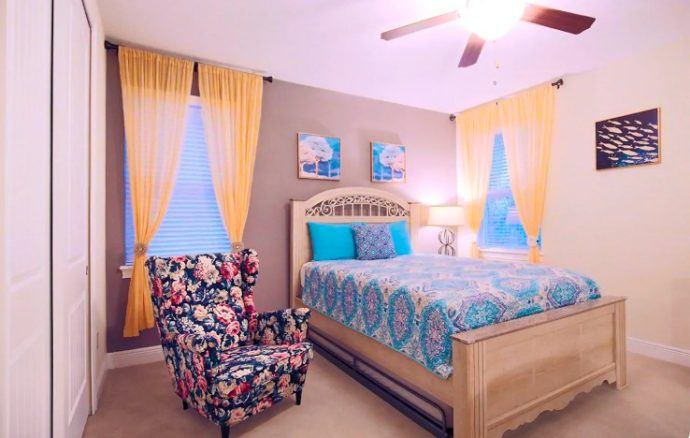 Luxury home near Disney
Situated just a 10-minute drive from Disneyland, this is our recommendation. It supports 3 guests and comes with a kitchenette so you can save costs by cooking your own food.
Places to Visit:
Located in the Kissimmee area

10-minute drive from Disney

Other theme parks within driving distance
Is this amazing Orlando Airbnb booked for your dates? We've got your back with our other favorite properties below!
Quick Answer: These are the Top 5 Airbnbs in Orlando
Overall Best Value Airbnb in Orlando

Overall Best Value Airbnb in Orlando

Luxury home near Disney

>

$$

>

3 Guests

>

Has a kitchenette

>

Warm and cosy

>

$$

>

3 Guests

>

Has a kitchenette

>

Warm and cosy

VIEW ON AIRBNB

Best Homestay in Orlando

Best Homestay in Orlando

Teaberry Manor

>

$$

>

2 Guests

>

Private bathroom

>

Access to communal areas

>

$$

>

2 Guests

>

Private bathroom

>

Access to communal areas

VIEW ON AIRBNB

Best Airbnb for Couples in Orlando

Best Airbnb for Couples in Orlando

Lakeside retreat tiny house

>

$$$

>

2 Guests

>

King Bed

>

Cute outdoor seating area

>

$$$

>

2 Guests

>

King Bed

>

Cute outdoor seating area

VIEW ON AIRBNB

Best Airbnb for Families in Orlando

Best Airbnb for Families in Orlando

Family Suite at a Waterpark resort

>

$$$

>

4 Guests

>

Access to water park

>

4D Experience theatre on-site

>

$$$

>

4 Guests

>

Access to water park

>

4D Experience theatre on-site

VIEW ON AIRBNB

Best Luxury Airbnb in Orlando

Best Luxury Airbnb in Orlando

Enchanting Harry Potter themed home

>

$$$$

>

12 Guests

>

Access to pool

>

Awesome HP themed rooms

>

$$$$

>

12 Guests

>

Access to pool

>

Awesome HP themed rooms

VIEW ON AIRBNB
Why stay in an Airbnb?
Local Experience
Travel is shifting dramatically away from the local experience – yes, even for backpackers. We're trapped in our hostels, coffee shops and party districts. Airbnb is breaking down that barrier for every echelon of traveler – think basement mattress to the infinity-pool penthouse!
It's a great way to contribute to the local economy because the cash goes right to the owner and other locals employed for cleaning, maintenance and management. Staying in someone else's home – a unique place with character – feels more like fitting into the area rather than having the typical tourist hotel room.
Airbnb hosts are known for taking good care of their guests; if it's recommendations you want, you've got a pre-made friend to help you out!
Affordability
Travelling doesn't have to be expensive!
Whether you are a backpacker or a business person, Airbnb gives you the opportunity to find affordable and unique places, experiences, and recently added to the list: restaurants. From 12-bedroom villas to the basic shared-room hostel, you will be able to find the right place for your needs among the six million Airbnb homes that have been listed worldwide.
If you're on a budget, just put the price range you are willing to pay for the night into the filter and the platform only shows you rentals that match your expectations. Some of the larger rentals charge per night instead of per person. This gives bigger travel groups the option of staying together at the same place while saving a lot of money. No more expensive single hotel rooms – just split the bill with your friends at the end of your trip and everyone will benefit!
In addition to that, long term guests can also enjoy weekly and monthly discounts. But no matter how long you are planning to stay, you can always be sure you'll find the right and affordable place on Airbnb.
Safety
Worried about the safety of Airbnb? They've created a system that keeps your communication, payments and the stay itself as secure as possible.
Every host and guest has to put in valid information about themselves when signing up. This way, every account can be protected and fake profiles are avoided completely. The platform provides an end-to-end encrypted chat option to get in touch with your host as well as account protection with multi-factor authentication.
The advanced payment system makes sure that your money goes straight to the host, so no worries about card scams or fraud. If you arrive at your place and it's not how it was advertised online, you can contact Airbnb and they will make sure you get a full refund of your stay within the first 24 hours. This way, you will always receive exactly what you paid for!
Not sure if the reviews are legit? Every guest is asked to write a fully honest review after the stay which cannot be changed or removed by the host. But be considerate during your stay because guests will receive a review as well! This ensures that everyone on Airbnb is behaving and interacting in the best way possible since no one wants a bad review to pop up on their profile.
And IF there's still something going wrong, you can always call the 24/7 emergency hotline!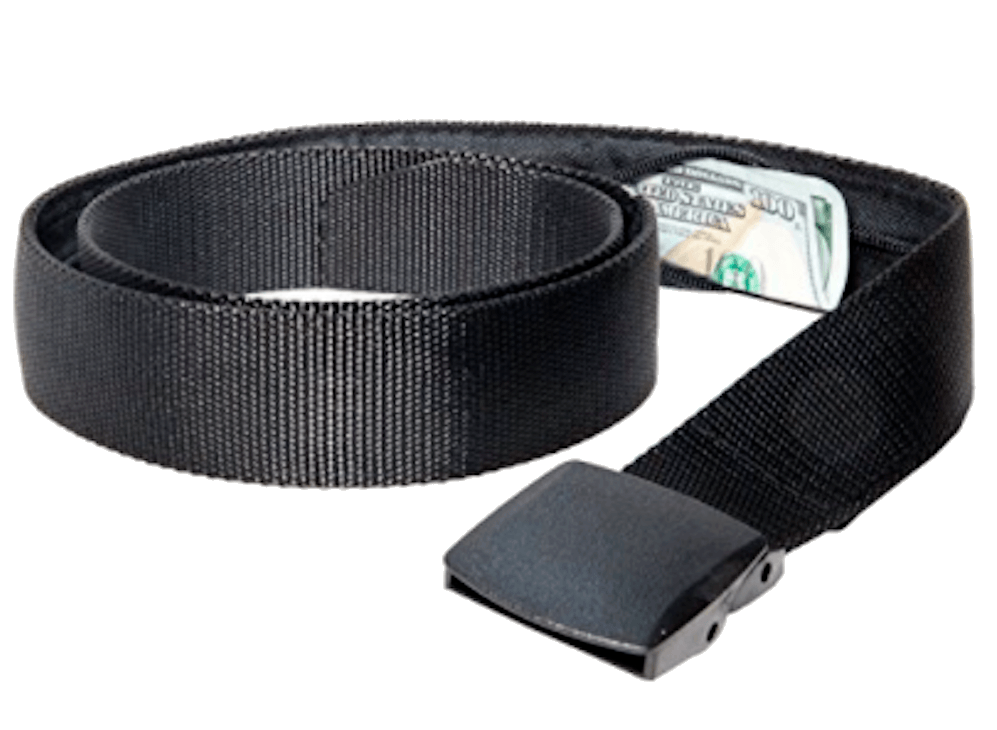 You should always have emergency cash hidden on you – Pick up this awesome security belt with hidden pockets before you travel. It's perfect for hiding money and a passport photocopy.
The Top 15 Airbnbs in Orlando
$$
3 Guests
Has a kitchenette
Warm and cosy
If you're looking for a combination of value, style, and a comfy place to stay, then this is the best Airbnb in Orlando! Just 10 minutes away from Disney in the cool community of Kissimmee, you have an entire house with your host close by. However, you still have your private entrance and exit. If you want to keep your costs down even further, there's a kitchenette where you can prepare your meals too. It's got a microwave, fridge, and coffee maker amongst other things. Digital nomads will be pleased to know that there's a laptop-friendly workspace as well!
This is your chance to live on Disneys doorstep!
$
2 Guests
Private bath
In a walkable local community
If you're on a tight budget, then you're probably going to have to take a private room rather than book an entire place. However, when you see a private room like this, that stops being a problem! If you're travelling as a couple, then you can share the king bed and costs making this bargain room, super cheap. As well as the king bed, there's a laptop-friendly workspace, wifi, and a shared kitchen which you can use. The kitche is modern, clean and spacious making cooking an absolute pleasure.
It's also in a charming neighbourhood, so taking a walk to explore that is a lovely and safe way to spend an evening!
$
3 Guests
5 minutes from Universal Studio
Shared Pool
Ever wanted your very own(ish) swimming pool?! Yeah I bet.
It can be tiring work being a digital nomad. Spending the day hunched over your laptop can make your back and shoulders sore! So, where better to unwind than a place with an outdoor pool and sun loungers? That's exactly what you get at this awesome spot near Disneyworld. Of course, you'll get the laptop-friendly working space and fast wifi too. There's a mini-fridge in the room so if you work well with energy drinks, you can store them there.
If you're a dog person, you'll be pleased to know that the hosts do have one – but it won't go into your room!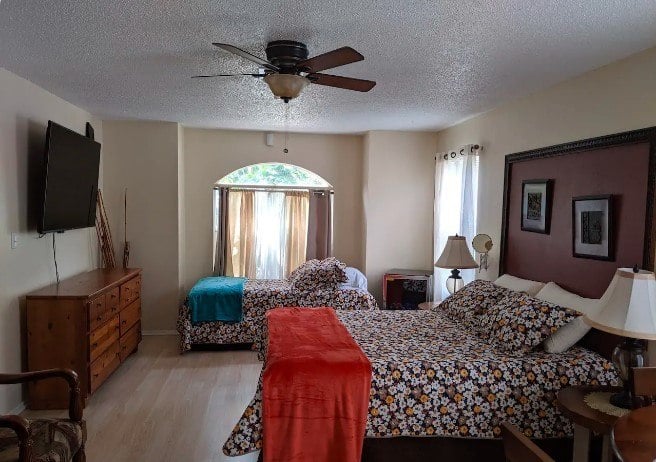 This charming and cosy room is the best Airbnb in Orlando for solo travellers. It's in one of the safest areas in the city, so if at night you feel like going out and making friends, you shouldn't have much trouble walking back. There are pets on site, and although they won't be in your quarters, you might get a chance to meet the cat and dogs when you use the garden. If you're a Spanish speaker (whether you're a native or a beginner), you'll be able to practice a bit at this awesome home.
The Best Travel Backpack?!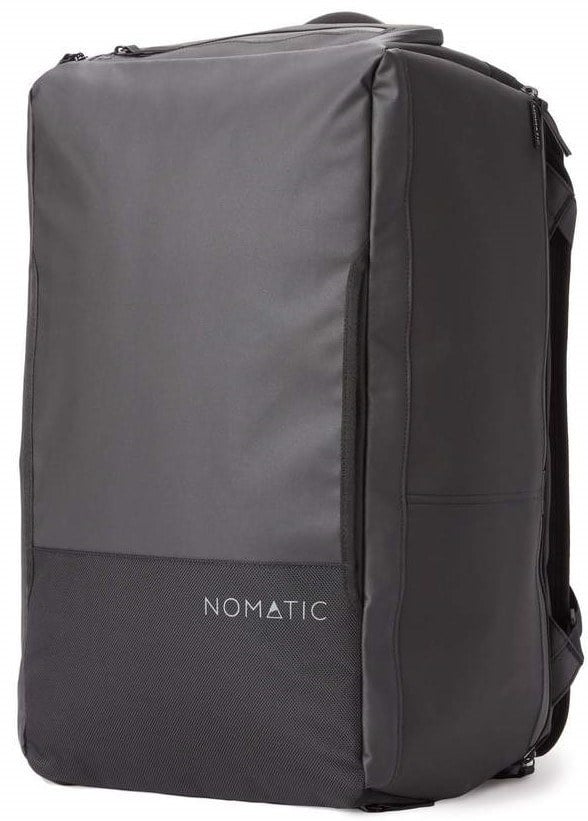 Pssssst! Not picked the perfect travel backpack yet? The Broke Backpacker team has tried out over thirty backpacks this year! Our favourite carry on backpack is the Nomatic Travel Bag.
Read our full review!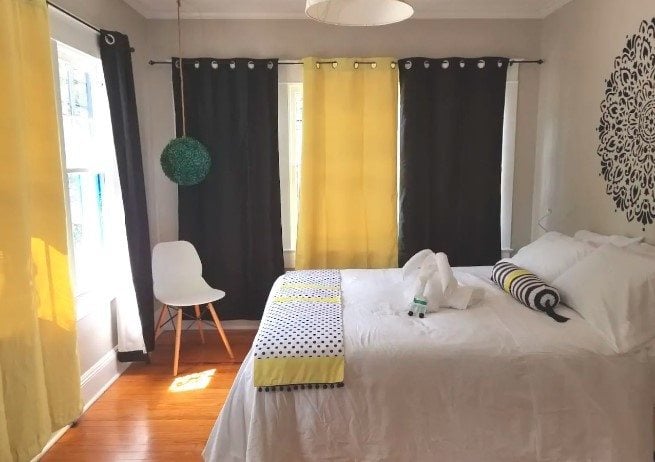 $$$
2 Guests
Free parking
Yoga studio
Lake Eola is one of the best nightlife spots in Orlando. So, if you want to party, check out this cool Orlando apartment. The great thing is that it's very relaxing and there's even a yoga studio, so you'll properly sort out your hangover the next day. There are plenty of great places to eat nearby too – so you can line your stomach before a few glasses of wine or a couple of pints.
Just remember if you're coming in late, do try and keep quiet. It's a private room – not an entire place! And you don't want to disturb your hosts, right?!
$$$
2 Guests
King Bed
Cute outdoor seating area
The best Orlando Airbnb for a romantic stay is the awesome tiny house, right by a lake. It's a little further out of the city centre, but if you want peace, quiet, and tranquillity, then there's nowhere better. Watching sunrise or sunset by the lake is one of Orlando's most romantic experiences!
Should you want to enjoy a romantic meal together, you can prepare it in the kitchen and then enjoy it in the outdoor seating area. Then, finish off the evening with a bottle of wine before retiring to your comfy king bed!
$$
2 Guests
Private bathroom
Access to communal areas
Want to stay in a family atmosphere just 10 minutes from the Airport? We might just have found the best homestay in Orlando for you. The friendly family who owns this place have great reviews for their communication and cute extra touches that will make your stay special. Not only do you have access to the kitchen, but basics spices and foods, as well as the coffee maker. You can also use the living room and patio – where you might get to meet the family's Shih-Tzu!
$
2 Guests
Access to basic food
Complimentary bottle of wine!
Another fabulous option if you're looking for a homestay in Orlando is this place. Hidden away in a quiet neighborhood, you can really get to know the area. It's a great option if you've been travelling for a long time and you're missing home. Your friendly host offers to wash one load of clothes per day during your stay, and you'll be greeted with a complimentary bottle of wine. Not only that, there are several food items that you have access to including mac 'n' cheese, soup, and sandwiches.
$$$
8 Guests
Fully equipped kitchen
Stock up the wine fridge!
Okay, let's check out a great place for a splurge. This is one of the best luxury Airbnbs in Orlando if you're in a big group, or you just want to splash out. Located in the middle of Winter Park, this is an Airbnb plus listing. It comes with several cool extras such as a wine fridge, those blue velvet sofas (and a similar bed), and cool grey décor. Eight people can comfortably fit into here – there is a super king, 2 kings, and 2 single beds! It's well worth parting a bit of extra cash for!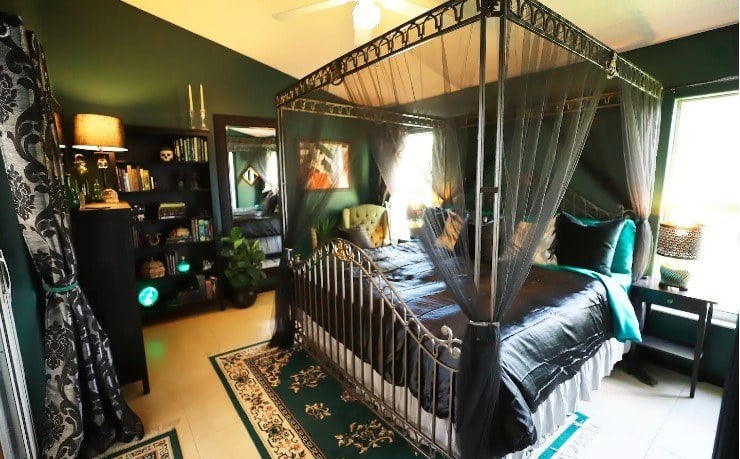 $$$$
12 Guests
Access to pool
Awesome HP themed rooms
This is one of the most outrageous and outlandish Airbnbs in Orlando. And it's absolutely perfect for Harry Potter fans! If visiting the Harry Potter theme park during the day isn't quite enough, then come back to this awesome entire villa and live inside the magical world created by JK Rowling.
It's got rooms themed on each of the four houses, a dining room based on the Great Wall (although the owners haven't worked out how to enchant the ceiling yet), and plenty of board games throughout the house. However, Gryffindor's common room has been dragged into the 21st century with the addition of a Nintendo Switch and a Netflix equipped TV!
$$$
4 Guests
Access to water park
4D Experience theatre on-site
Orlando isn't just well known for its theme parks, but a whole host of other family-friendly activities too. And a water park is a great way to put a smile on the kids' faces! This great apartment is a purpose-built family suite in one of the city's water parks, and it also offers several restaurants, a 4D experience theatre, and karaoke. So, you're sure not to be bored – ever! Don't worry about unnecessary expenses like car rental either – the resort provides a free shuttle to the nearby theme parks.
Best Airbnb in Orlando for a Group of Friends – Bitty Belle Tiny House
$$$
4 Guests
Great location
Heated Pool
Welcome to the best Orlando Airbnb if you're staying with friends. It's quite compact (it is a tiny house after all) but there are two king beds in here – one in a room of its own and one in the loft. You can top and tail if need be! Also, there's a single and a sofa bed so you can comfortably fit 4 people in that all have their own bed. This place is oozing with character and if you're still not convinced, you'll find the booking process smooth and easy – thanks to the superhost who owns this place!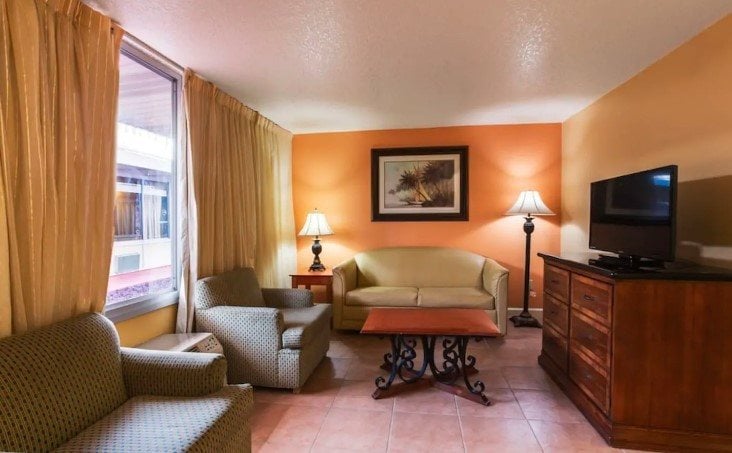 $$
4 Guests
Free Parking
Outdoor chessboard
Kissimmee is one of the coolest neighbourhoods in Orlando, so it's only natural if you're concentrating your searches in that area. Here's a great one-bed apartment that is perfect if you don't want to blow too much of your budget, yet still have a comfortable stay. It can fit up to 4 guests too, so splitting the costs mean that it'll save you even more dollar to enjoy at the theme parks and in downtown Orlando! There's free parking, a kitchen, a balcony, and a patio. What more could you want?!
$$
2 Guests
Breakfast included
Awesome lake view
Now for something completely different! A great choice if you're travelling as a couple, this lakefront shed is somewhere you'll really make memories. Really, this is what Airbnb is all about. Finding cool and unusual spaces that will sprinkle a little magic on your experience. The shed still packs in a lot though – there's a kitchen, a fridge, and an outdoor seating area among a few other cool features!
$$$
4 Guests
Near Disneyland
Access to pool and beach volleyball court
If Kissimmee is a bit too busy for you, another great area to find Orlando's best Airbnbs is Lake Buena Vista. One of the best locations in town, you're near Disneyland, Universal Studios, and a whole bunch of restaurants and shopping centres. However, you don't need to go too far to enjoy yourself – there's a gym, pool, and even beach volleyball court on site. And you've got access to all of them!
What to Pack for your Orlando Airbnb
Pack these things for a nicer stay in your Airbnb.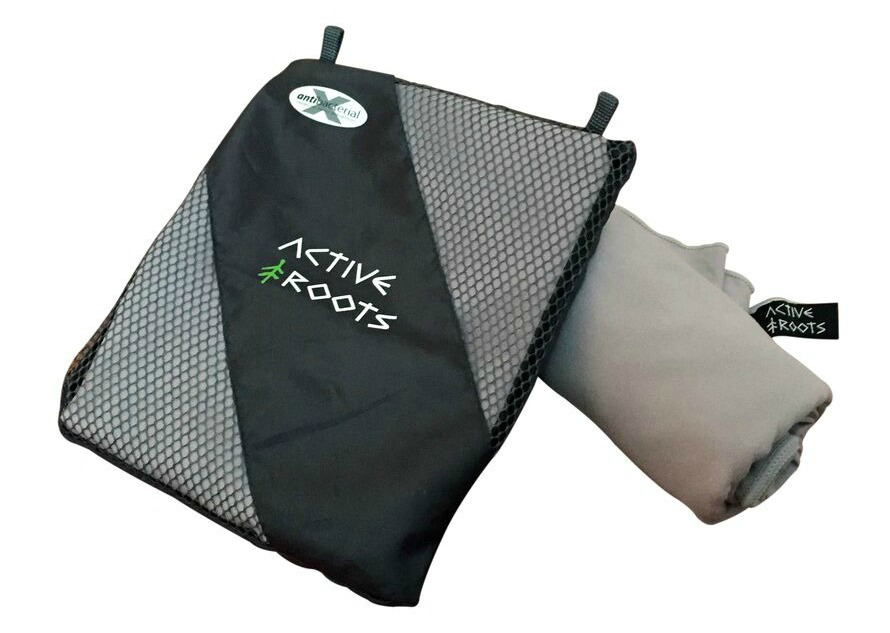 1. Active Roots Microfiber Towel: Most Airbnb's provide towels, but I always keep my own handy on my travels in case I can't get the linens cleaned during a long stay. The Active Roots Microfiber Towel doesn't just sound fancy, it kinda is fancy. The super comfy material is absorbent and quick-drying – perfect for after a shower or a quick jump into the water. Use it as a beach towel, picnic blanket or yoga towel too. Lightweight and compact, it'll hardly take up any space in your suitcase.
2. Packing Cubes: Packing your suitcase (and unpacking it and packing it all over again) can be an organizational challenge. Packing cubes help quite a ton with that struggle. Move them between your suitcase and your Airbnb wardrobe without really having to unpack and keeping your clothes in the same orientation the whole time – basically, less hassle, more organization and fewer wrinkles.
3. Active Roots Water Bottle: Most Airbnbs provide potable (drinkable) water. Have a bottle to fill up so you can take that water on your rambles instead of buying disposable plastic bottles. The Active Roots Water Bottle is great for travellers who are aware of plastic pollution and want to reduce their single-use plastic consumption – no need to buy drinks from the supermarket anymore. The stainless-steel material will keep your drinks cold or hot for up to 24 hours. Stay hydrated throughout your entire holiday with this cool bottle!
4. Suitcase Locks: Protecting your belongings from opportunistic thievery isn't so hard. With these locks, no one can easily access your important items, whether you're using a suitcase or backpack. Lock the two zippers together, and only the person with the keys can unlock it. It's also very useful when your Airbnb doesn't have a safe to store valuable items.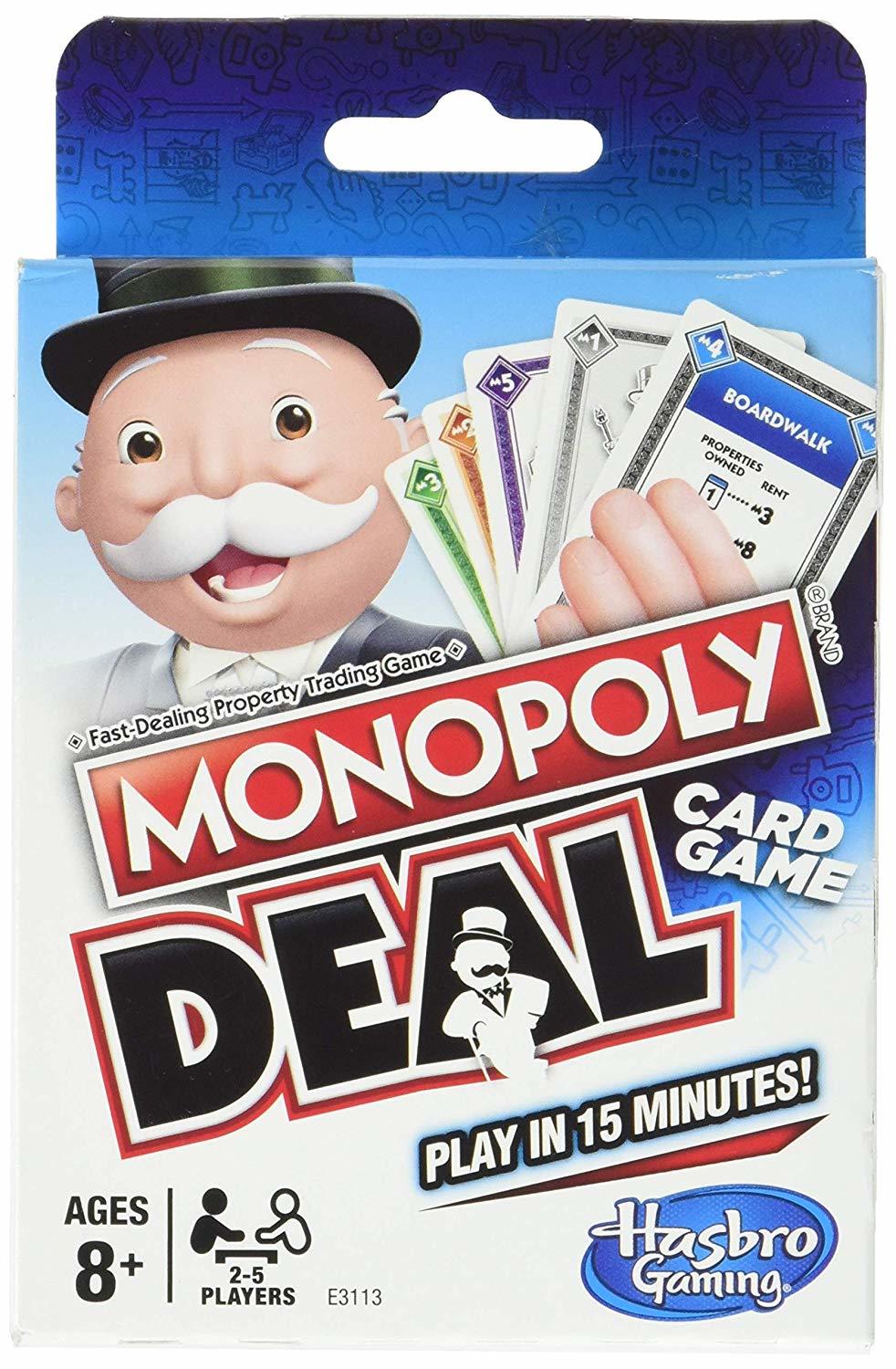 5. Monopoly Card Game: We've started to get bored of basic card decks as our only really lightweight travel games. Now we're mixing things up with this Monopoly Deal Card Game and it brings all the group fun (and tension) of the original board game! This version requires quick thinking and reacting, a couple of brain cells and 2-5 people. Perfect for small groups and families – fun (and maybe tension) is guaranteed.
6. Reusable Shopping Bag: Getting rid of some plastic in your life might even make it a little bit better. Like the reusable shopping bag for example. There's no need to buy plastic bags at the checkout or have a massive amount of stuff in one cupboard back at home. Using the eco-friendly reusable shopping bag will make your shopping trip much more enjoyable while you're reducing your single-use plastic consumption at the same time.
Check out these other great resources
We have loads more information to help you plan your trip.
Final Thoughts on Orlando Airbnbs
So, that's everything on our list of the best Airbnbs in Orlando. We hope that there's something on there that's suitable for your budget and travel style. As you can see, there's a hell of a lot to choose from!
Whether you want to enjoy the thrills and spills of the theme park or enjoy the delights of downtown Orlando, there are apartments, private rooms, and entire houses that you're sure to love!
If you're finding it tricky to choose a place, pick the one that ticks all the boxes. Our best value Airbnb in Orlando is the luxury house near Disney, and you can't go wrong by picking there. It combines value, style, and a great location!
All that's left is for us to wish you an incredible vacation in Orlando. And if we've missed off a great Airbnb that you've stayed in, let us know in the comments below!
And don't forget to sort your travel insurance before heading to Orlando! We've put together a roundup of the best travel insurance for backpackers – check it out here, or if you're low on time, get a quote from World Nomads, our favorite travel insurance provider.
Getting an estimate from World Nomads is simple – just click the button or image below, fill out the necessary info, and you're on your way!

Yay for transparency! Some of the links in this post are affiliate links. This means that if you book your accommodation, buy a book or sort your insurance, I'll earn a small commission at no extra cost to you. I only link to stuff I've actually used and never endorse crap. Your support helps me keep the site going.
---
Need More Inspiration?
Like this post? PIN ME!!!
Freeborn Aiden. Senior Editor, resident travel insurance expert and 2nd longest-serving member of team Broke Backpacker. Can't resist a colourful shirt, ideally one with no buttons. Rampant Psytrance addict and seriel cat fancier. Aiden recently realised that his entire reality is little more than a badly written 90's sitcom.