One of the best family destinations in the world, Orlando is packed full of more than just exciting theme parks. Yes, the big draws are Universal Studios and Disney, but the city has a pretty cool downtown too. When everyone else is at the theme parks, wander along the tree-lined avenues, immerse yourself in the art and music scene, or just sample some of the mouth-watering cuisines on offer here.
As you might expect in such a popular destination, there are a lot of hotels. However, for something with a little more personality, why not consider an Airbnb? After all, you could save yourself some cash – especially if you're travelling with the family! No matter your travel style, budget, or the size of your party, you'll find an Orlando Airbnb for you!
I don't want you to have to spend too much time trawling through the website though. So, to help you out I've done that, and come up with this list of the 15 best Airbnbs in Orlando. So, let's jump straight in and find the perfect place for you to stay!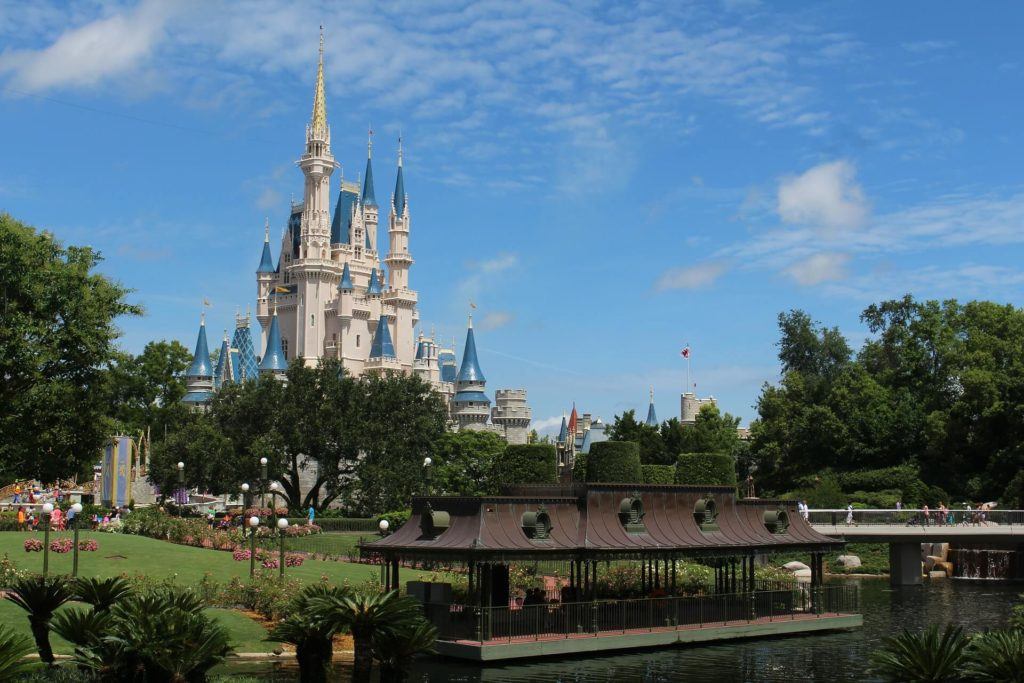 Quick Answer: These are the Top 5 Airbnbs in Orlando
OVERALL BEST VALUE AIRBNB IN ORLANDO
OVERALL BEST VALUE AIRBNB IN ORLANDO
Luxury home near Disney
> $$
> 7 Guests
> Warm and cosy
> Fully-equipped kitchen
BEST HOMESTAY IN ORLANDO
BEST HOMESTAY IN ORLANDO
Room in gated community
> $
> 2 Guests
> Great to meet other travellers
> Spacious living area
BEST AIRBNB FOR COUPLES IN ORLANDO
BEST AIRBNB FOR COUPLES IN ORLANDO
Lakeside retreat tiny house
> $$$
> 2 Guests
> King Bed
> Cute outdoor seating area
BEST AIRBNB FOR FAMILIES IN ORLANDO
BEST AIRBNB FOR FAMILIES IN ORLANDO
3BR Penthouse near Parks
> $$
> 6 Guests
> Chic Decor
> Spacious rooms
BEST LUXURY AIRBNB IN ORLANDO
BEST LUXURY AIRBNB IN ORLANDO
Enchanting Harry Potter themed home
> $$$$
> 12 Guests
> Access to pool
> Awesome HP themed rooms

Unlock Our GREATEST Travel Secrets!
Sign up for our newsletter and get the best travel tips delivered right to your inbox.
What to Expect from Airbnbs in Orlando
The best Airbnbs in Orlando range from apartments near the marina to properties near the theme parks and beachside houses. If you're looking for unique, affordable, and comfy vacation rentals in Orlando, this list is for you.
As with any other city in America, centrally located properties, such as those in Osceola, and Seminole Counties, are perfect bases for exploring Orlando. However, they will cost more than those in rural areas such as Orange County. You'll also find more expensive properties near the theme parks.
However, spending a little extra means more convenience and comfort. If you're willing to travel a little, you can find more affordable Airbnbs in Orlando on the outskirts near Orlando International Airport.
Private Rooms
Private rooms are an economical way to see Orlando on a budget and they are the best option for solo travelers or couples wanting to save money. They are found all over the city, but mainly in downtown Orlando, as well as near the marina.
They are usually in a shared house, either with the host or other guests, and can come with ensuite bathrooms. However, others may require you to share the bathroom with other renters. Some may even have their own private entrance.
Apartments and Studios
Usually found all over the city, Orlando apartments and studios are ideal for solo or couple travelers although some may be spacious enough to accommodate up to five guests. You can either rent one of the rooms or have the entire rental unit to yourself if you want privacy. Some apartments and studios come with extra amenities that are reminiscent of hotels such as 24-hour security, pools, gyms, and sometimes a sauna.
Homes
Florida Airbnbs are in no short supply since everyone flocks to visit Walt Disney World and Universal Studios with their family. If you are traveling as a family, finding a full home will be easy. This is the most common type of vacation rental in Orlando. Charming and sometimes historical, most come with exceptional design, modern amenities, and plenty of space to make your stay super comfortable.
These homes may come with more luxury amenities such as an outdoor pool, hot tub or fire pit.
Why stay in an Airbnb?
I can think of many reasons to stay in an Airbnb over a hotel…here are just a few!
Local Experience: No matter how big your guidebook is, it won't have the superb local know-how can get from your hosts. Be sure to get their recommendations on the best places to visit in Orlando!
Unique Properties: In a place chock full of unique vacation rentals, why on earth would you want to stay in a drab and dull hotel?!
Privacy: Cabins, chalets, and treehouses mean you and your companion(s) can get the break you need without anyone else interfering.
Affordability: Airbnbs are considerably cheaper than an equivalent hotel – and you won't have any hidden charges from the minibar either! Airbnbs are possibly the best option for roadtrippers in Florida that need to keep the costs low.
Airbnb Experiences: It's not all about where to stay – check out what there is to do in the area with Airbnb Experiences!
The Top 15 Airbnbs in Orlando
Now you know what to expect from Airbnbs in Orlando, it's time to take a look at the best ones!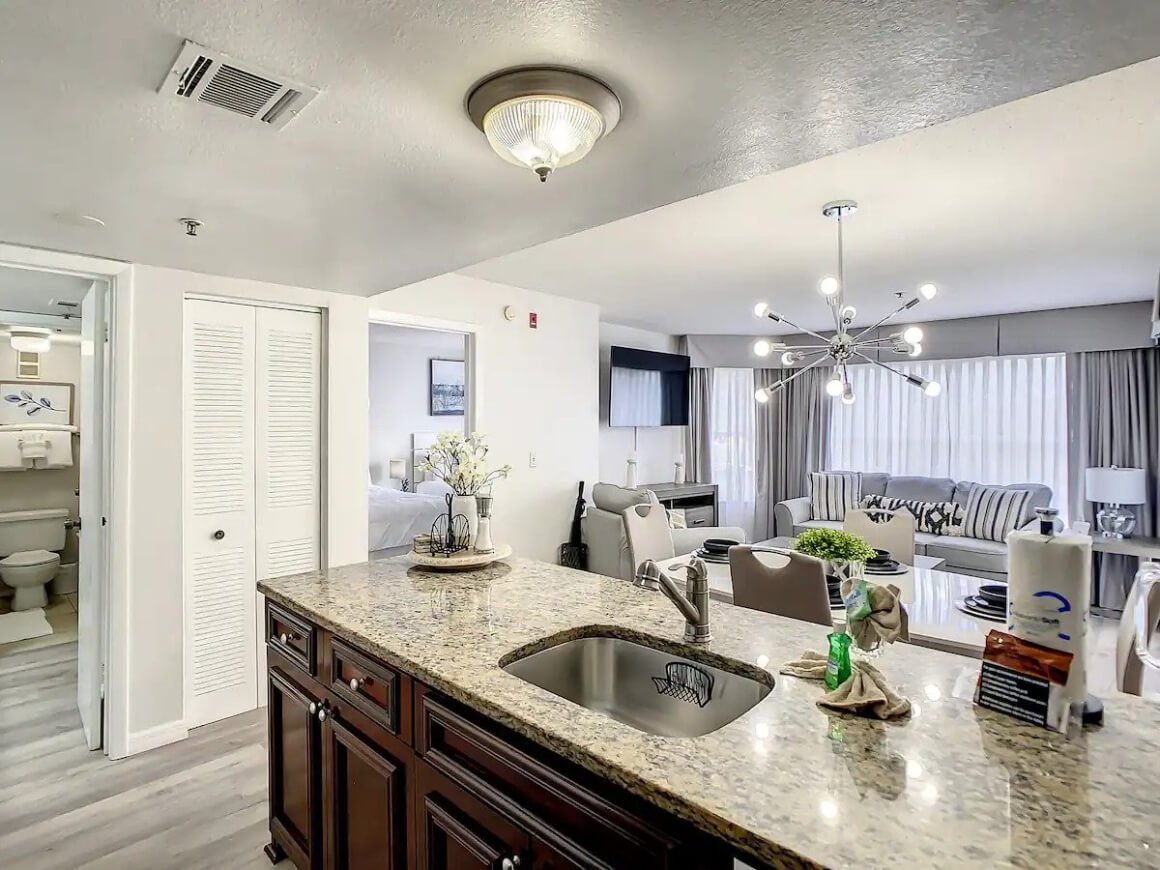 7 Guests
Fully-equipped kitchen
If you're looking for a combination of value, style, and a comfy place to stay, then this is the best Airbnb in Orlando! Just 10 minutes away from Disney in a quiet neighborhood in Orlando on International Drive, you have an entire vacation rental to yourself and six other friends.
There are two bedrooms, one with a king-size bed and the other with two double beds, so there's plenty of space for all of you. If you want to keep your costs down even further, there's a full kitchen where you can prepare your meals too. This is your chance to live on Disney's doorstep!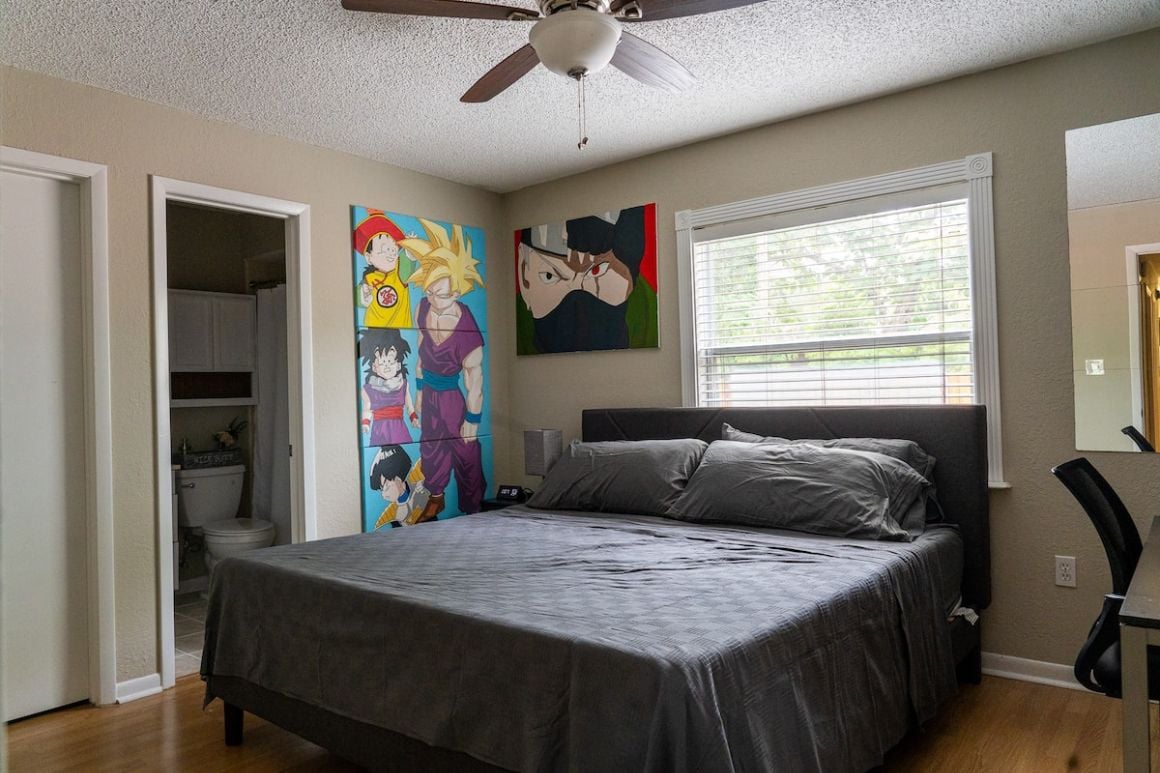 2 Guests
Great work station
If you're on a tight budget, then you're probably going to have to take a private room rather than book an entire place. However, when you see a private room like this, that stops being a problem! If you're travelling as a couple, then you can share the king bed and costs making this bargain room, super cheap.
As well as the king bed, there's a laptop-friendly workspace, wifi, and a shared kitchen which you can use. The kitchen is modern, clean and spacious making cooking an absolute pleasure. If you're travelling with a car, this is the ideal location for your Orlando stay as you're pretty much bang in the middle of all main attractions.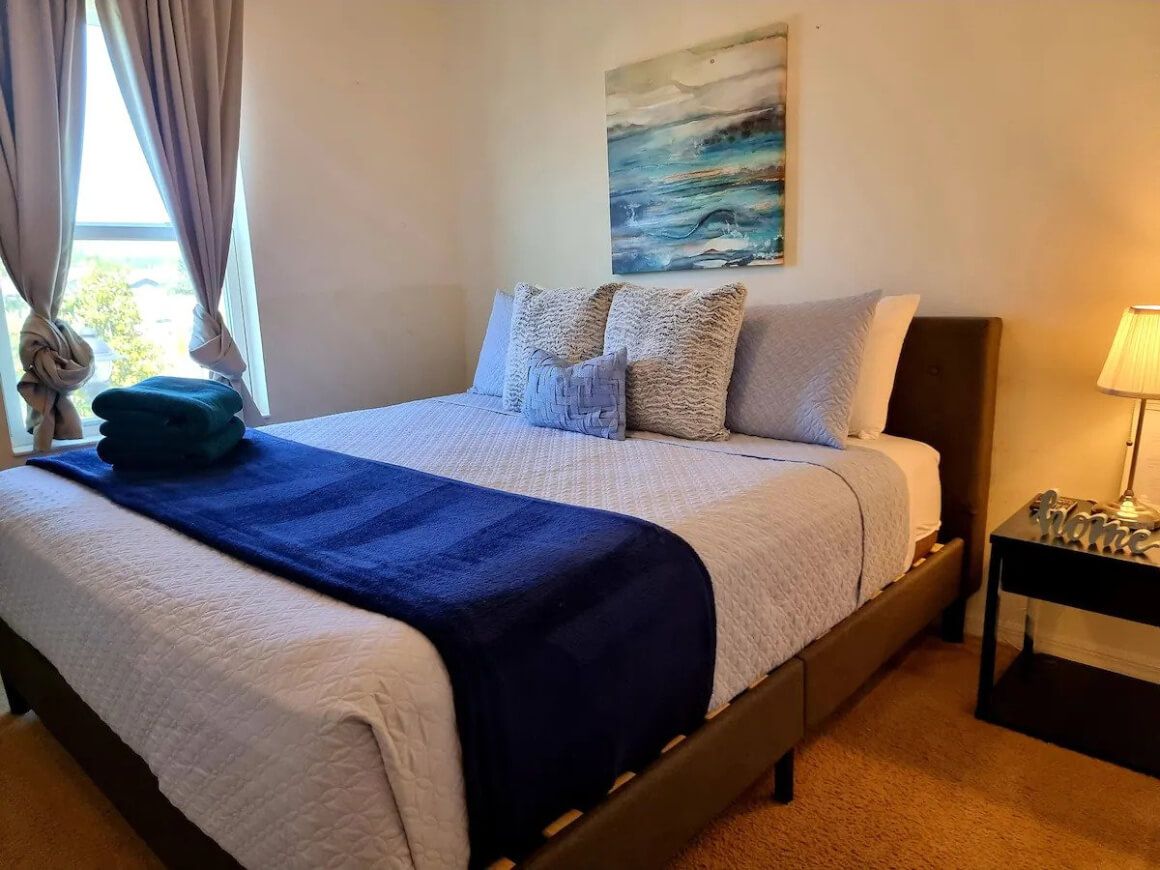 2 Guests
15 minutes from Universal Studio
Ever wanted your very own(ish) swimming pool?! Yeah I bet.
It can be tiring work being a digital nomad. Spending the day hunched over your laptop can make your back and shoulders sore! So, where better to unwind than a place with an outdoor pool and sun loungers? That's exactly what you get at this awesome vacation rental in Kissimmee.
Of course, you'll get the laptop-friendly working space and fast wifi too. Plus when it's time to take some time off, you'll find Disney and Universal Studios are within a 15 minute drive. After a day or hard work, you can sleep in a comfy queen size bed.
Is This the Best Backpack EVER???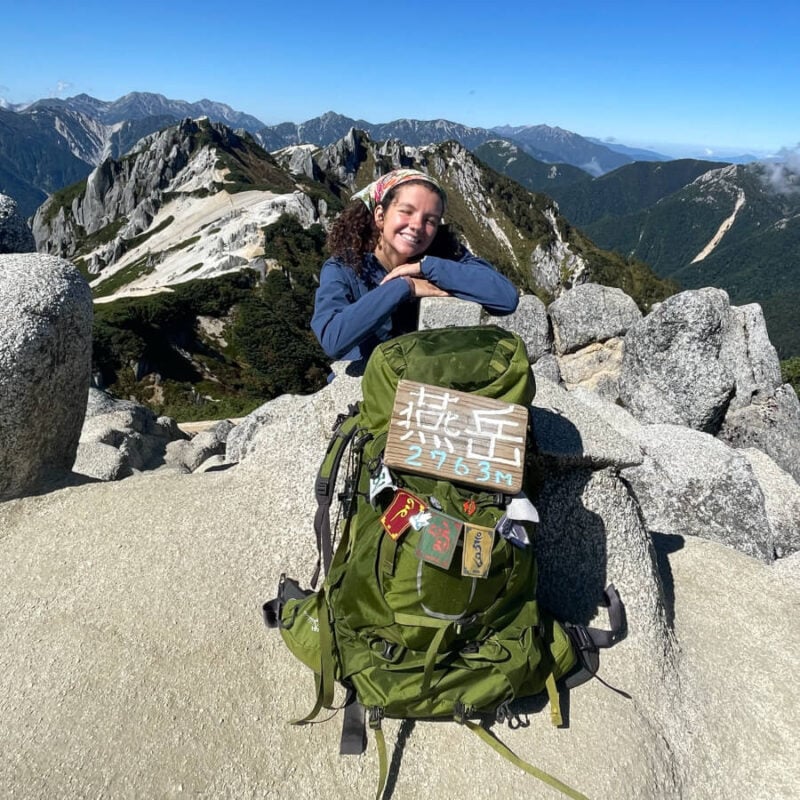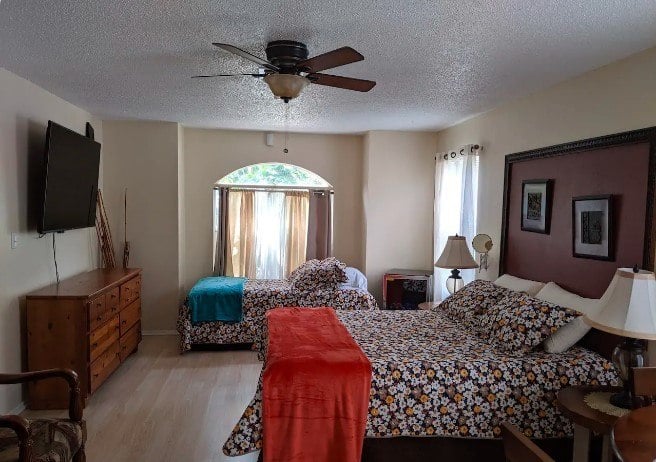 This charming and cosy Orlando vacation rental is the best Airbnb in Orlando for solo travellers. It's in one of the safest areas in the city, so if at night you feel like going out and making friends, you shouldn't have much trouble walking back.
There are pets on site, and although they won't be in your quarters, you might get a chance to meet the cat and dogs when you use the garden. If you're a Spanish speaker (whether you're a native or a beginner), you'll be able to practice a bit at this awesome home.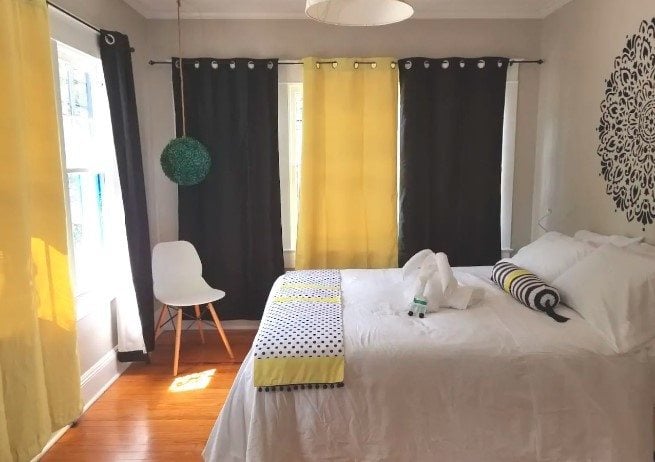 Lake Eola is one of the best nightlife spots in Orlando. So, if you want to party, check out this cool Orlando apartment. The great thing is that it's very relaxing and there's even a yoga studio, so you'll properly sort out your hangover the next day. There are plenty of great places to eat nearby too – so you can line your stomach before a few glasses of wine or a couple of pints.
Just remember if you're coming in late, do try and keep quiet. It's a private room – not an entire place! And you don't want to disturb your hosts, right?!
$$$
Cute outdoor seating area
The best Orlando Airbnb for a romantic stay is the awesome tiny house, right by a lake. It's a little further out of the city centre, but if you want peace, quiet, and tranquillity, then there's nowhere better. Watching sunrise or sunset by the lake is one of Orlando's most romantic experiences!
Should you want to enjoy a romantic meal with your partner, you can prepare it in the kitchen and then enjoy it in the outdoor seating area. Then, finish off the evening with a bottle of wine before retiring to your comfy king bed! Or, if you are traveling with friends, roll out the sofa bed as this spot can accommodate up to four guests.
$
Great to meet other travellers
2 Guests
Spacious living area
Want to stay in a great atmosphere just 10 minutes from the airport? I might just have found the best homestay in Orlando for you. The friendly host who owns this place has great reviews for their communication and cute nice touches that will make your stay special.
Not only do you have access to the kitchen, but basic spices and foods, as well as the coffee maker. The neighborhood is quiet and peaceful, so you can look forward to a good night's sleep. The host rents out three other rooms of her house, so you'll always meet like-minded travellers and get the chance to make new friendships.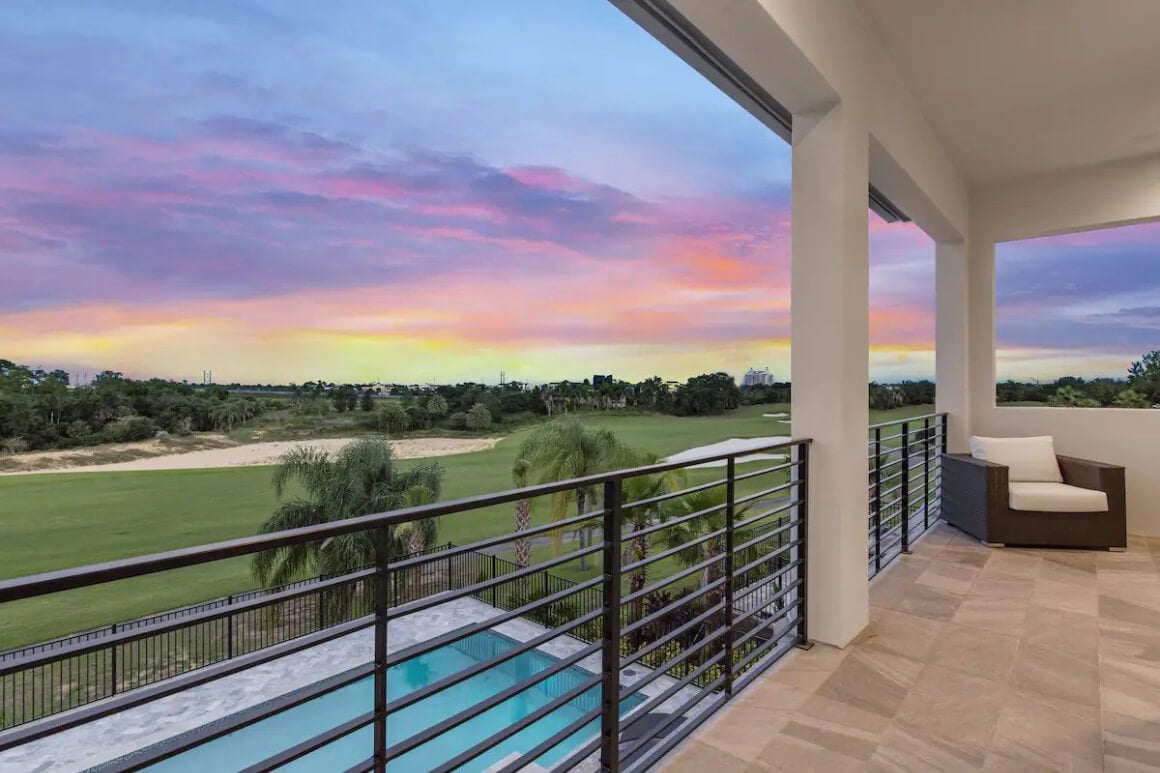 $$$$$
Golf course next door
14 Guests
Located on a resort
Not only does this Airbnb offer you incredible vacation rentals with perfect locations near golf courts, but it also provides you with a villa where you can literally stay right next to one! This six bedroom villa is located in a resort next to the Tradition golf course by Jack Nicklaus.
As well to this, it's only a short distance away from the theme parks. The villa comes with a beautiful gated outdoor pool and hot tub, spacious and modern living space, and a designer kitchen with marble tops. There's also a theater room and balconies to relax in. Kids will love sleeping in the treehouse in the children's room and climbing on the climbing wall.
Amazing Luxury Airbnb in Orlando | Charming Hideaway
$$$
Stock up the wine fridge!
8 Guests
Fully equipped kitchen
Okay, let's check out a great place for a splurge. This is one of the best luxury Airbnbs in Orlando if you're in a big group, or you just want to splash out. Located in the middle of Winter Park, this is an Airbnb plus listing.
It comes with several cool extras such as a wine fridge, those blue velvet sofas (and a similar bed), and cool grey décor. Eight people can comfortably fit in here – there is a super king, 2 kings, and 2 single beds! It's well worth parting a bit of extra cash for!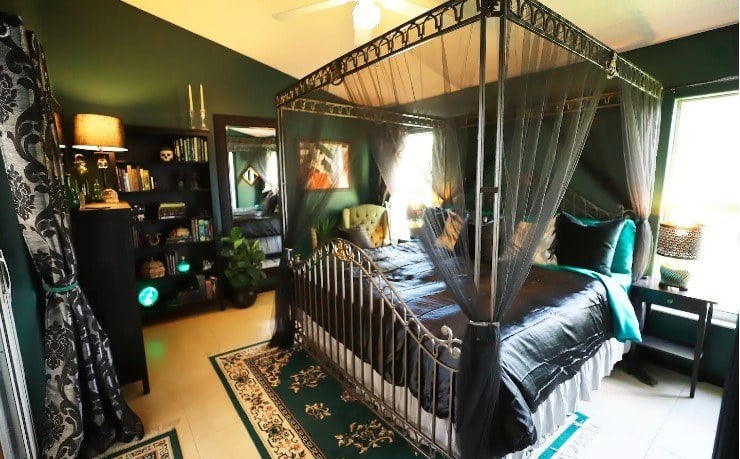 $$$$
Awesome HP themed rooms
This is one of the most outrageous and outlandish Airbnbs in Orlando. And it's absolutely perfect for Harry Potter fans! If visiting the Harry Potter theme park during the day isn't quite enough, then come back to this awesome entire villa and live inside the magical world created by JK Rowling.
It's got rooms themed on each of the four houses, a dining room based on the Great Wall (although the owners haven't worked out how to enchant the ceiling yet), and plenty of board games throughout the house. However, Gryffindor's common room has been dragged into the 21st century with the addition of a Nintendo Switch and a Netflix equipped TV!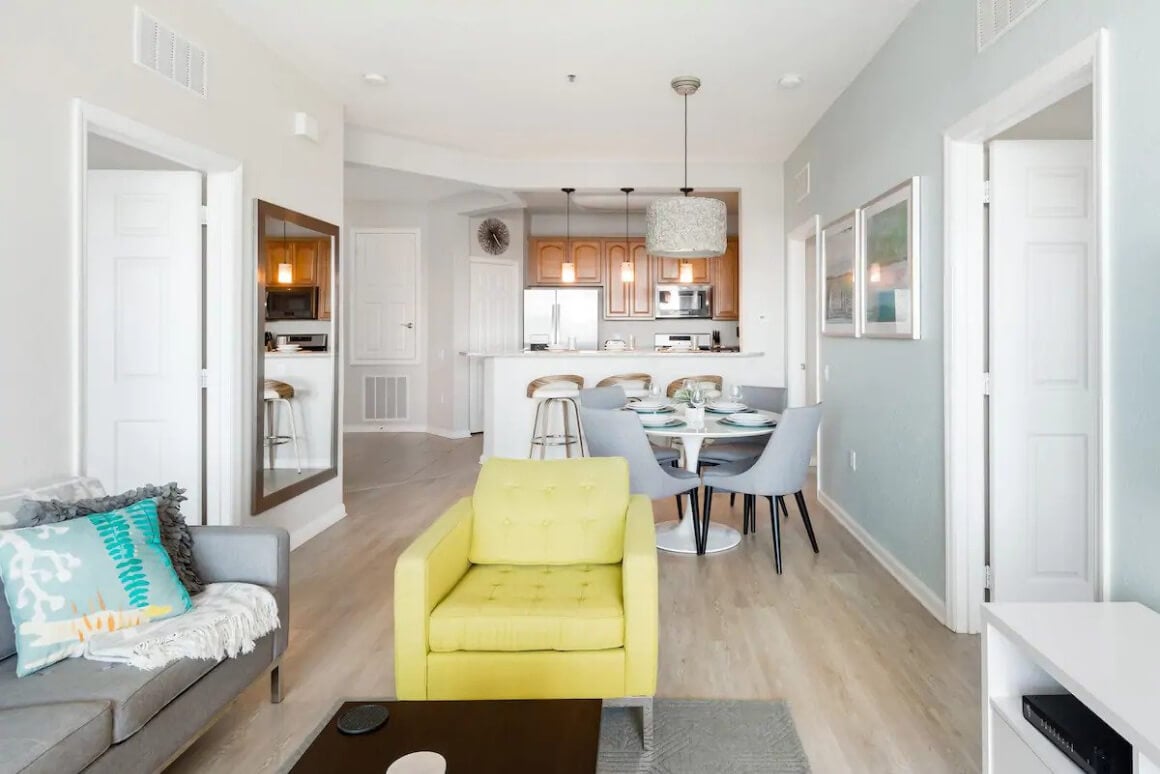 Space for 6 guests, enough room to give everyone lots of privacy and a private balcony? What else could you wish for! If you're travelling with your family, look no further than this amazing Orlando penthouse.
It's in the perfect location to explore some of the nearby attractions such as the theme parks. At the end of the day, the spacious living room is ideal to get everyone back together for some socializing and dinner. It's the perfect family getaway!
Best Airbnb in Orlando for a Group of Friends | Bitty Belle Tiny House
Welcome to the best Orlando Airbnb if you're staying with friends. It's quite compact (it is a tiny house after all) but there are two king beds in here – one in a room of its own and one in the loft. You can top and tail if need be!
Also, there's a single and a sofa bed so you can comfortably fit 4 people in that all have their own bed. This place is oozing with character and if you're still not convinced, you'll find the booking process smooth and easy – thanks to the superhost who owns this place!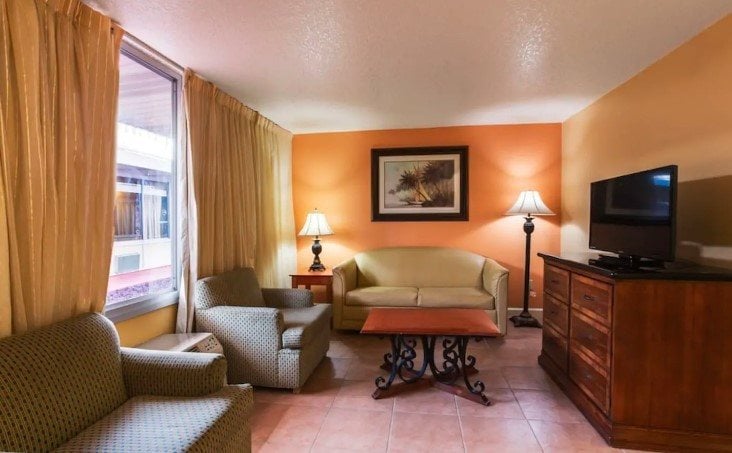 Kissimmee is one of the coolest neighbourhoods in Orlando, so it's only natural if you're concentrating your searches in that area. Here's a great one-bed apartment that is perfect if you don't want to blow too much of your budget, yet still have a comfortable stay.
It can fit up to 4 guests too, so splitting the costs mean that it'll save you even more dollar to enjoy at the theme parks and in downtown Orlando! There's free parking, a kitchen, a balcony, and a patio. What more could you want?!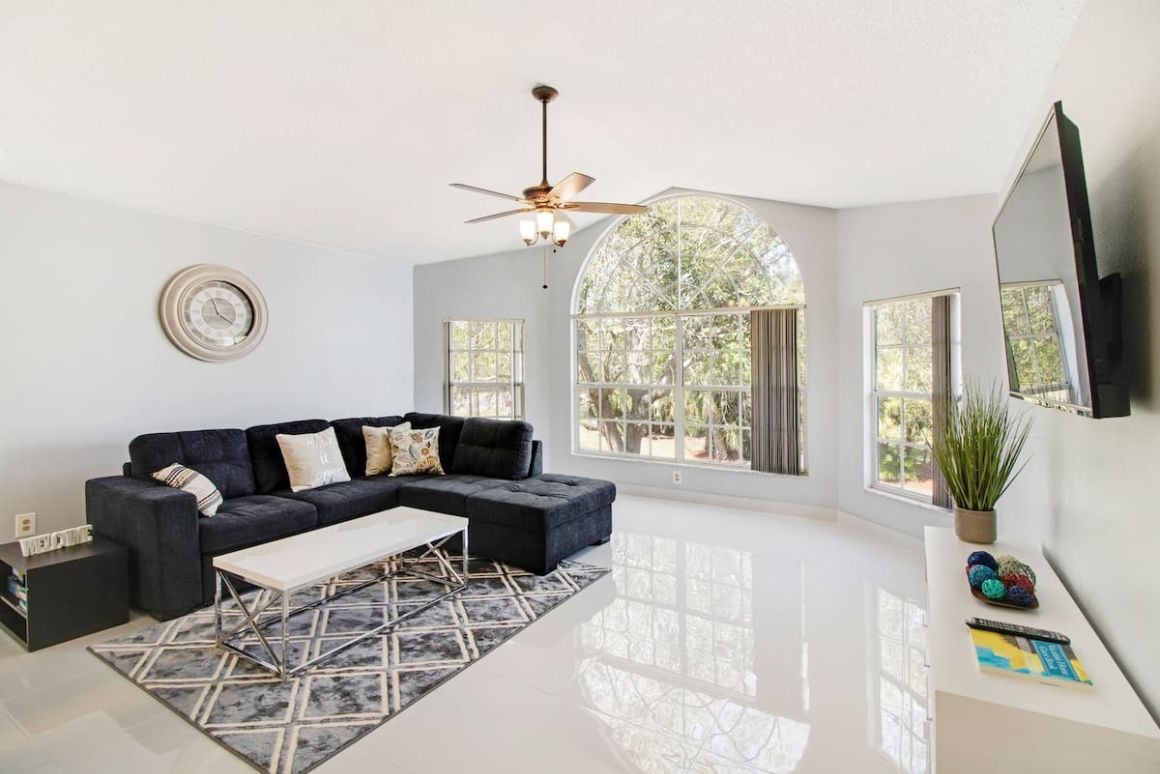 $
Incredibly spacious and airy
8 Guests
Minutes from the best attractions
Kissimmee is one of the coolest neighbourhoods in Orlando, so it's only natural if you're concentrating your searches in that area. Here's a great three-bedroom apartment that is perfect if you don't want to blow too much of your budget, yet still have a comfortable stay.
It can fit up to 8 guests too, so splitting the costs mean that it'll save you even more dollar to enjoy at the theme parks and in downtown Orlando! It's been recently renovated, so everything you'll find inside is super modern, chic and brand new. What more could you want?!
If your main priority is visiting Orlando's best theme parks and coming back to a nice pool, look no further than this amazing Airbnb. Equipped with everything you might need, including huge outdoor pool and a flatscreen TV, this is the perfect spot for yourself, you and your family, or a group of friends.
The three bedrooms accommodate six people in total and it has a big kitchen, a spacious living area and modern interior design. Plus, the price is quite reasonable for its size and location.
FAQ about Airbnbs in Orlando
Here's what people usually ask me when they look for vacation homes in Orlando.
Don't Forget Your Orlando Travel Insurance
ALWAYS sort out your backpacker insurance before your trip. There's plenty to choose from in that department, but a good place to start is Safety Wing.
They offer month-to-month payments, no lock-in contracts, and require absolutely no itineraries: that's the exact kind of insurance long-term travellers and digital nomads need.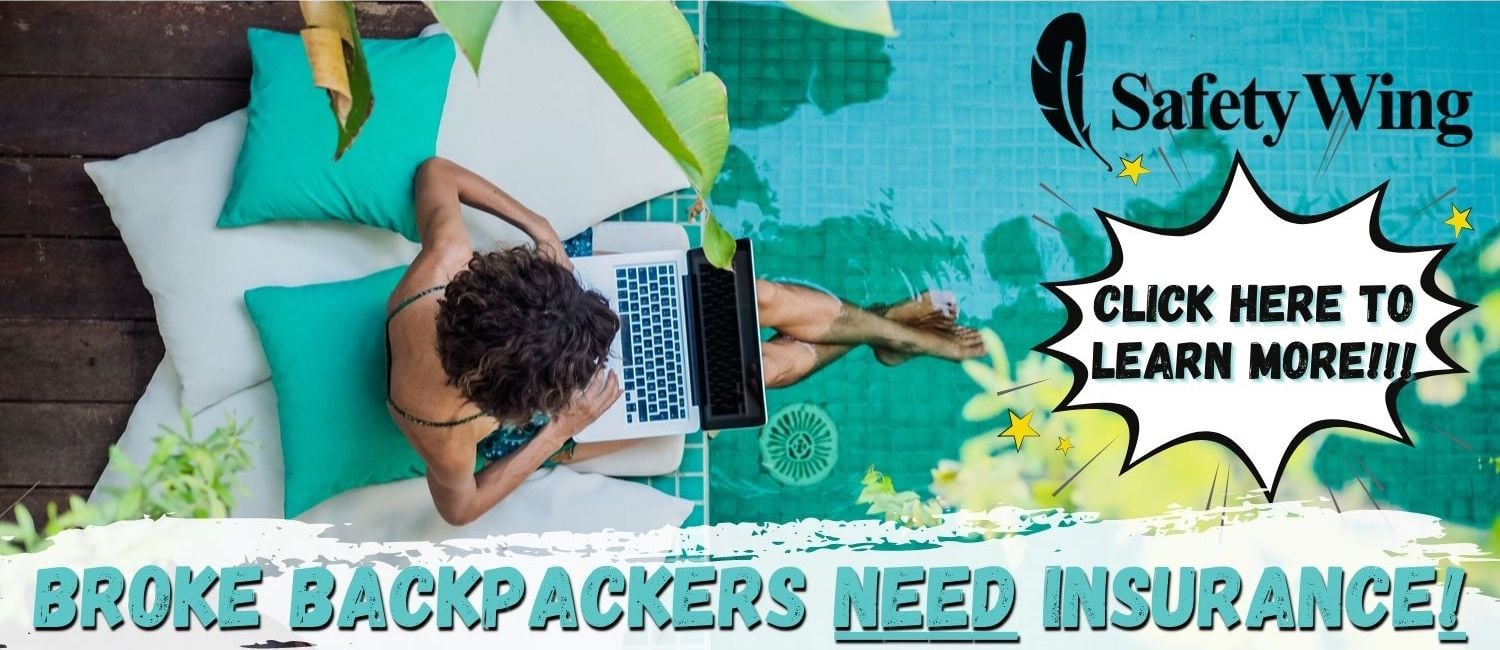 SafetyWing is cheap, easy, and admin-free: just sign up lickety-split so you can get back to it!
Click the button below to learn more about SafetyWing's setup or read our insider review for the full tasty scoop.
Final Thoughts on Orlando Airbnbs
So, that's everything on our list of the best Airbnbs in Orlando. I hope that there's something on there that's suitable for your budget and travel style. As you can see, there's a hell of a lot to choose from!
Whether you want to enjoy the thrills and spills of the theme park or enjoy the delights of downtown Orlando, there are apartments, private rooms, and entire houses that you're sure to love!
All that's left is for us to wish you an incredible vacation in Orlando. And if I've missed off a great Airbnb that you've stayed in, let me know in the comments below!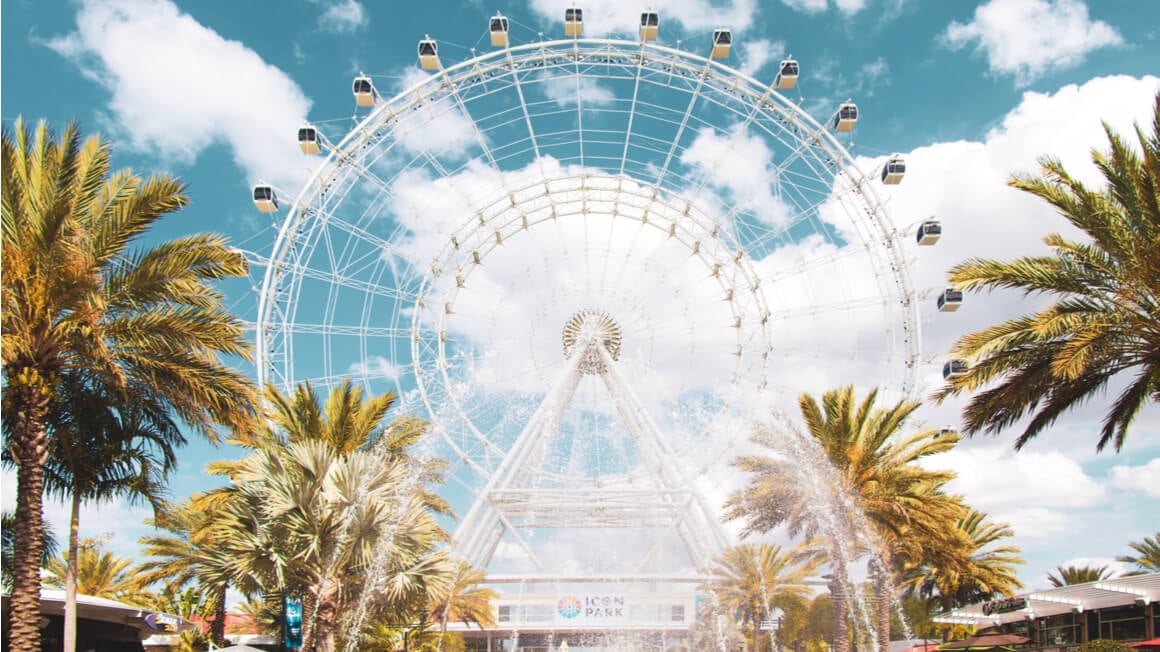 ---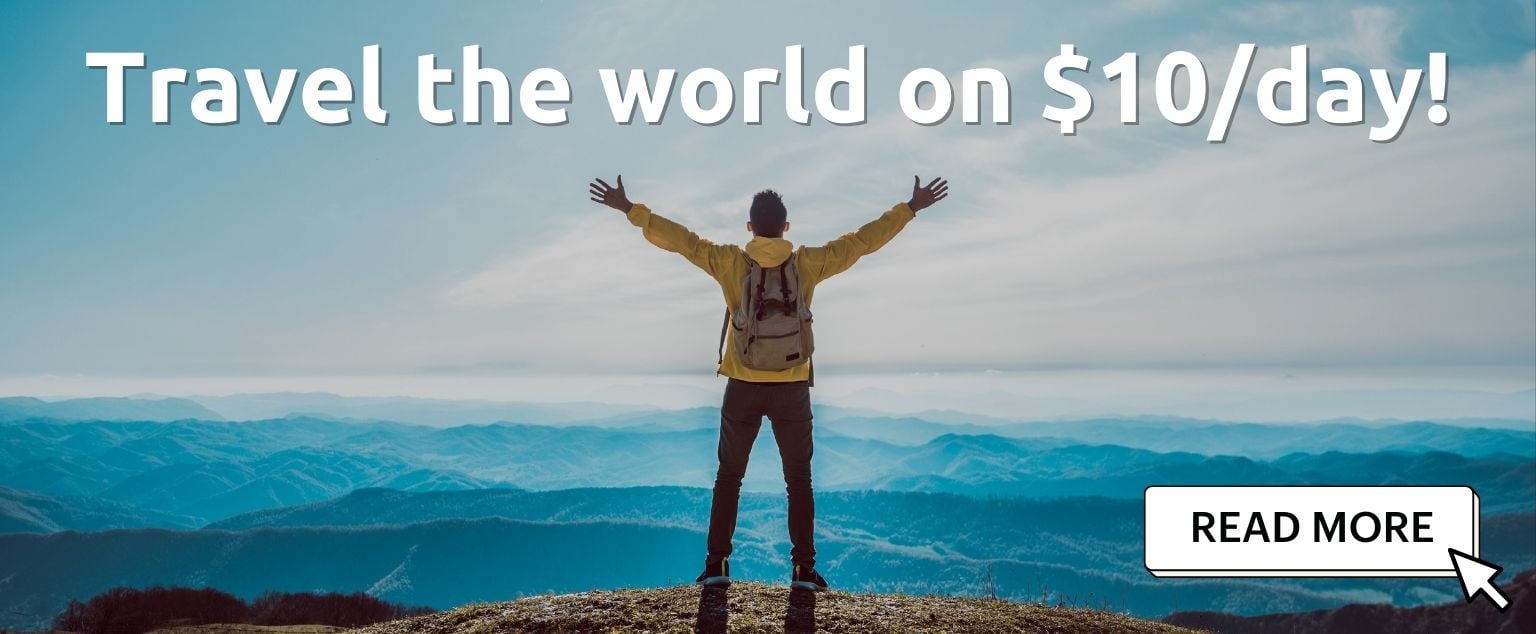 And for transparency's sake, please know that some of the links in our content are affiliate links. That means that if you book your accommodation, buy your gear, or sort your insurance through our link, we earn a small commission (at no extra cost to you). That said, we only link to the gear we trust and never recommend services we don't believe are up to scratch. Again, thank you!