Sunny skies, silky shores, and an abundance of retail therapy… West Palm Beach certainly has it all!
While Miami often overshadows West Palm Beach, this small South Floridian city still promises ample decadence with cultural treasures and tons of excitement. After all, it's home to a flamboyant crowd of heiresses, billionaires, and celebrities.
Despite its glamorous residents, you'll find several family-friendly and budget things to do in West Palm Beach. This sprawling oasis also hosts a variety of events and festivals throughout the year, so believe me when I say boredom isn't a thing over there!
And it's not all glitz and glamor either: outdoorsy travelers will relish in the sprawling parks and gardens – not to mention the city's proximity to the Everglades. Since it's said to be the pulse of all the Palm Beaches, you can also expect amazing nightlife.
But if you're not sure what to do in West Palm Beach, I've got you covered. Here are all the fabulous attractions in West Palm Beach for any type of traveler!

Unlock Our GREATEST Travel Secrets!
Sign up for our newsletter and get the best travel tips delivered right to your inbox.
The Top Things to Do in West Palm Beach
Backpacking the USA and not got a lot of time? I can help with that! Here are five unmissable West Palm Beach attractions that you should add to your itinerary. In my opinion, these are the activities that you really can't afford to miss if you want to experience the very best of the city.
1. Visit the Norton Museum of Art
Are you in the mood for some culture? Then check out the famous Norton Museum of Art, known for its massive collection of local and international pieces.
Not only is this venue one of the largest museums in South Florida, but it also hosts various events such as 'Art After Dark' on Friday nights when the museum stays open until 10 p.m. You'll be able to attend special lectures, gallery talks, and art workshops, all with live music and happy hour.
Remember that you'll need around half a day to properly take in everything the museum has to offer. Be sure to allocate yourself some time to explore the courtyard and the sculpture garden outside.
Entrance fee: $18 (adults), $15 (seniors 60+), $5 (students), free for members and children 12 and under
Hours: 10 a.m. to 5 p.m. (10 p.m. on Friday, closed on Wednesday)
Address: 1450 S Dixie Hwy, West Palm Beach, FL 33401, USA
Do you want to explore the underwater world, but you're not Scuba certified yet? Well, this activity has you covered!
Snorkeling is easily one of the best things to do in West Palm Beach, but this activity takes it up a notch by offering SeaBob rides so you can safely dive up to 8 feet – no certification required! So, goggle up and get ready to weave your way through three colorful coral reefs alongside an experienced guide.
This remarkable experience seamlessly combines the sensation of snorkeling and jet skiing in one fun activity. Talk about enjoying the best of both worlds, right?
And don't worry if you've never used a SeaBob before: the activity does include a quick training session.
Entrance fee: $110
Hours: Various time slots available from 6 a.m. to 11 p.m.
Address: 1416 W 28th St, West Palm Beach, FL 33404, USA
If you're just passing through or simply want to cover a lot of ground in less time, this is one activity that won't disappoint!
Perfect for travelers who are pressed for time, a hybrid walking and car trip with a local is the best way to see everything. The trip is fully customizable, so you'll get to pick and choose your own sights of interest.
Your local guide will give you a personalized and more intimate view of West Palm Beach. Expect a cool mix of storytelling, history, and exploring.
Not only will your guide steer you towards popular attractions in West Palm Beach like Breakers Hotel and the Addison Mizner Residence, but you'll also be privy to hidden gems nestled off the beaten track. Sightseeing bonanza indeed!
Entrance fee: $120/person (4 participants minimum)
Hours: 9 a.m. to 11.30 a.m.
Address: West Palm Beach, FL, USA
4. Be Awed by Scenic Scuba Sites
If scuba diving's your thing, then I hope you know you're in for one heck of a treat!
Indeed, West Palm Beach's splendid treasures do extend way beyond its shores. The city's home to the 3rd largest barrier reef in the world. It also has 15 dive sites, so you'll definitely find plenty to explore.
In fact, one of the most popular sites lies just off the coast of the Jupiter Inlet. Known as The Tunnels, this beautiful spot features an interesting cast of marine characters that draws biologists and amateur divers alike.
There's always something spectacular to see there, from The Amphitheatre – a sandy-bottomed arena – to the Donut Hole and its goliath groupers. Remember to bring a flashlight!
Entrance fee: $100/person for a regular tank dive session
Hours: 8 a.m. to 6 p.m.
Address: Jupiter Dive Center, 1001 FL A1AAlt Suite 113, Jupiter, FL 33477, USA
5. Reconnect with Nature at the Loxahatchee National Wildlife Refuge
A common misconception is that West Palm Beach is all about sea sports and shopping – but the truth is, there are oodles of outdoors fun awaiting too.
Travelers looking for nature things to do in West Palm Beach may wish to visit the Loxahatchee National Wildlife Refuge, located just 10 miles from the city center.
Experience the primeval Florida Everglades ecosystem at its best with an abundance of elevated boardwalks that'll take you through awe-inspiring tropical landscapes. I'm talking mangroves, island hammocks, marshes, the works!
You'll also find lots of biking and walking trails as well as canoeing areas like the Everglades Canoe Trail or the Marsh Trail.
Entrance fee: $10/person
Hours: 5 a.m. to 10 p.m.
Address: 10216 Lee Rd, Boynton Beach, FL 33473, USA
Time to hop on a boat for a leisurely lunch cruise as you leave the noise of the city behind!
Relax and enjoy the commentary while the boat sails past the iconic Jupiter Lighthouse which just so happens to be among the oldest lighthouses in Florida.
Keep your eyes peeled for celebrities as you'll pass by a few famous houses along the way!
When the conditions are ideal, you might even spot marine wildlife in their natural habitat.
Snap selfies with the Jupiter Lighthouse, then savor a scrumptious box lunch onboard while enjoying dreamy lagoon views. There's even a full-service bar on the boat if you would like to treat yourself to a drink.
Entrance fee: $65
Hours: 10.30 a.m. to 3 p.m.
Address: 4307 SE Bayview St, Stuart, FL 34997, USA
Small Pack Problems? 😉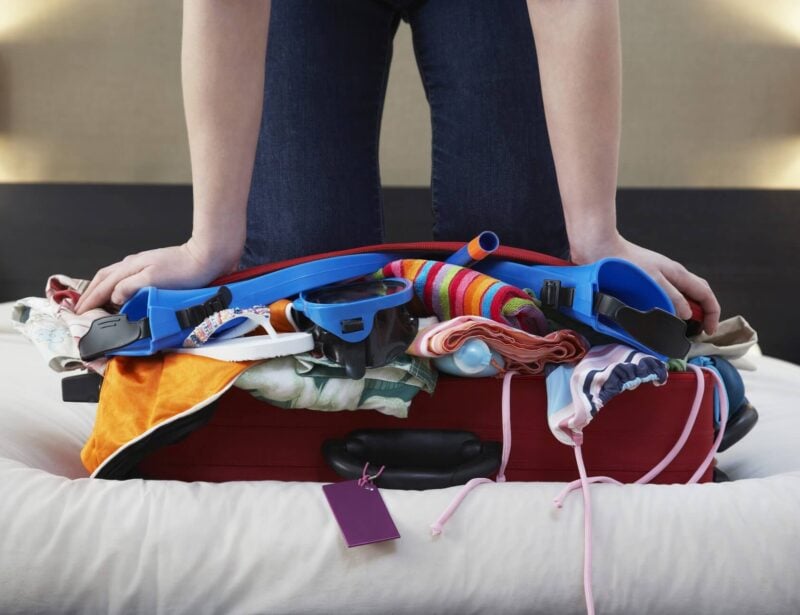 My missus travels with all her clothes in ziplock bags: don't be like my missus. UP YOUR PACKING GAME!
Packing cubes for the globetrotters and compression sacks for the real adventurers – these babies are a traveller's best kept secret. They organise yo' packing and minimise its volume too so you can pack MORE.
Or, y'know… you can stick to ziplock bags.
View Our Fave Cubes
Or Check Out the Sacks!
7. Soak up Some Boho Vibes at Northwood Village
An absolutely gorgeous enclave located near the downtown area, Northwood Village has lots of underexplored gems – perfect for travelers looking for things to do in West Palm Beach off the beaten path!
Bohemian vibes beckon, with quaint galleries, mom-and-pop businesses, and edgy exhibitions. Be sure to stop by Harold's Coffee House, a popular venue that's become something of an photographer hotspot thanks to its graffitied walls.
Post sunset, Northwood transforms into a fun-filled hub, with open mic nights and live music.
Standing in delightful contrast to downtown West Palm Beach's glitzier areas, Northwood Village regularly hosts community events like the Food Truck Rolle-In and Tiny Door Workshops. You can always check the announcement board on the official Northwood Village website for upcoming events.
Entrance fee: Free
Hours: N/A
Address: Northwood Rd, West Palm Beach, FL 33407, USA
If you're working up an appetite with all that sightseeing, this activity might be just what you need!
In true Floridian fashion, West Palm Beach has quite a scrumptious food scene, with local specialties like Conch Fritters, Shrimp and Grits, Key Lime Pie, and barbecues on just about every menu.
With this food tour of downtown West Palm Beach, you'll also get to chat with restaurant owners and chefs and even taste a meal that once featured on The Food Network. Walk past popular attractions and take pics with colorful murals in between sampling sessions.
Oh, and be sure to bring your appetite along since you'll experience no less than 5 restaurants in just one day!
Entrance fee: $85
Hours: 11.30 a.m. to 2.30 p.m.
Address: 104 N Clematis St, West Palm Beach, FL 33401, USA
9. Stroll Through John D. MacArthur Beach State Park
Commanding a picturesque location on North Palm Beach, the John D. MacArthur Beach State Park offers the ideal setting for a quiet afternoon.
This environmental treasure boasts nearly 2 miles of unspoiled beach where you can just burrow your toes in the warm sand while working on your tan or enjoy a dip in the lagoon.
Various activities are available throughout the year: recreational skill lessons, nature walks, summer camps, and even moonlit outdoor concerts!
Visitors can also indulge in beach volleyball and rent paddleboards or kayaks. Picnic areas are available so feel free to bring something to munch on. After all, there's nothing quite like an Al Fresco meal under that glorious Floridian sun!
Entrance fee: $5/vehicle
Hours: 8 a.m. to 7 p.m.
Address: 10900 Jack Nicklaus Dr, North Palm Beach, FL 33408, USA
10. Step Back in Time at the Flagler Museum
One of the top things to do in West Palm Beach, the Flagler Museum (also known as Whitehall) takes you right back to the gilded age!
Looking like something that's been plucked from the set of The Great Gatsby, this Beaux-Arts mansion was once hailed 'The Grandest Mansion in the World' by the New York Herald – and it won't take you long to understand why!
Its lavish rooms are decked in various styles, from Swiss Chalet to Louis XIV. Wander ornate hallways and admire the extensive art collection which features renowned painters.
Guided tours are available, and you can always enjoy an afternoon tea experience at the on-site café afterward.
Entrance fee: $26 (adults), $13 (children 6-12), free for ages 5 and under
Hours: 10 a.m. to 5 p.m. (Tuesday to Saturday), 12 p.m. to 5 p.m. (Sunday), closed on Monday
Address: 1 Whitehall Way, Palm Beach, FL 33480, USA
Is This the Best Daypack EVER???
11. Take the Kids to Rapids Water Park
For an afternoon of family fun, head over to Rapids Water Park in Rivera Beach, a charming town located near downtown West Palm Beach.
Just a heads-up before we get into that one: this action-packed place perfectly caters to all ages, so expect to get drenched!
Kids and adults alike will no doubt enjoy Big Surf, a massive wave pool with waves that go up to six feet. Thrill seekers can check out Pirates Plunge with its seven-story drop and choice of two speeds.
Now, if mellower activities are more your thing, rest assured that Rapids Water Park also has a lazy river so you can chill on a raft while gliding leisurely down the water.
Entrance fee: $49.99 (weekdays), $59.99 (weekend), $25 (sunset weekday rate), $30 (sunset weekend rate), free for children ages 2 and under
Hours: 10 a.m. to 7 p.m.
Address: 6566 N Military Trl, West Palm Beach, FL 33407, USA
One of the best ways to experience the authenticity of a place is to stay in the historic neighborhood of West Palm Beach. Tucked away in a picturesque area of historic Old Northwood, this cottage comfortably accommodates two in a beautifully appointed bedroom.
If you feel like exploring, you'll be glad to learn that this Airbnb lies close to some of the best activities in West Palm Beach, including The Square, the Norton Museum of Art, and the Lake Trail.
As the evening settles in, treat yourself to a meal at popular downtown eateries such as IL Bellagio Italian Restaurant and Pistache French Bistro.
When you don't want to go out to eat, you can always rustle something up in the modern, well-equipped kitchen. There's also a bright living room where the family can gather and relax after a full day of sightseeing.
Entrance fee: $85/night
Hours: Check-in from 2 p.m. to 10 p.m., checkout at 12 p.m.
Address: Old N
13. Go Rooftop-Bar Hopping
Whether they're serving up elegant nibbles, handcrafted cocktails, or pints of beer, there's no shortage of great rooftop nightspots in West Palm Beach!
Venues like Roxy's Pub, RH West Palm, and the Treehouse are among the highest-rated rooftop bars in the city. But in my opinion, the pick of the bunch is arguably Elisabetta's Ristorante.
Not only is it the place to be if you want to mingle with the locals, but this waterfront venue is so massive that it even includes a bocce ball court.
There's also a 25-foot-tall fireplace, a gazebo, and an indoor/outdoor bar – all tied together by dazzling views of the city skyline. Oh, and did I mention their vintage gelato cart?
Entrance fee: Free
Hours: 11.30 a.m. to 12 a.m. (weekdays), 11 a.m. to 1 a.m. (Saturday), 11 a.m. to 12 a.m. (Sunday)
Address: 185 Banyan Blvd, West Palm Beach, FL 33401, USA
14. Ride the West Palm Beach Trolley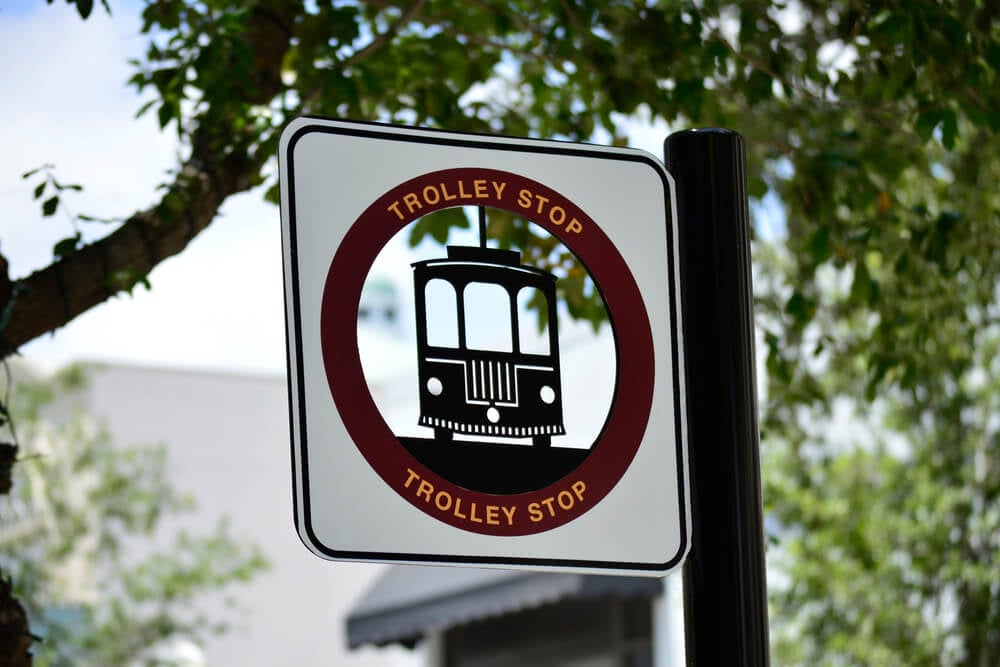 If you're looking to explore downtown West Palm Beach but your legs are starting to hurt, don't worry. You can ride the trolley! The trolley is a free motorised bus that is easily recognized by its train-like features.
The trolley makes getting around the Clematis and Rosemary Square Districts easy, and since it operates every 10-15 minutes at the designated trolley stops Downtown, you never have to wait long to get picked up.
There are three different trolleys, which are identifiable by their color; red, green, and yellow. Each trolley has a different route, which you can view on the WPB Trolley Tracker app or by looking online.
Entrance fee: free
Hours: Sunday – Wednesday: 11 a.m. – 9 p.m, Thursday – Saturday: 11 a.m.- 11 p.m.
Address: all over downtown
Travel with peace of mind. Travel WITH a security belt.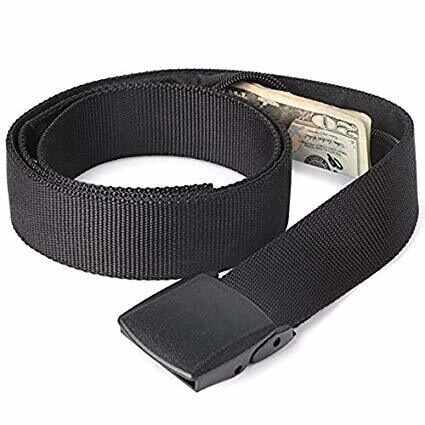 Get your cash stashed with this awesome Pacsafe money belt. It will keep your valuables safe no matter where you go.
It looks exactly like a normal belt except for a SECRET interior pocket perfectly designed to hide a wad of cash or a passport copy. Never get caught with your pants down again! (Unless you want to.)
Hide Yo' Money!
15. Mosey Around Peanut Island
If the opportunity to mosey around Peanut Island arises, then definitely go for it!
Easily accessible by ferry, this impeccably maintained state park is brimming with gorgeous sights, paved pathways, and picnic areas.
What makes this place ultra-special, however, is the secret fallout shelter built by President J.F. Kennedy. While it's unfortunately no longer possible to enter the bunker, you can still pose for pics by the entrance. There's no signage though, so just follow the brick pathway from the Coast Guard building.
Owing to its crystalline clear waters, Peanut Island is a cool destination for snorkeling. And if one day isn't enough to take everything in, you can always set up camp at one of the 17 campgrounds!
Entrance fee: Free (approx. $16 for a round-trip ferry ride to the island)
Hours: 7 a.m. to 7 p.m.
Address: 6500 Peanut Island Rd, Riviera Beach, FL 33404, USA
16. Explore the Mounts Botanical Garden
Wondering what to do in West Palm Beach on a bright sunny day? Why don't you check out Mounts Botanical Garden, a hidden gem located behind Palm Beach International Airport?
One of the largest and oldest gardens in the city, Mounts Botanical Garden has everything you need for a tranquil afternoon. Think swaying Jacaranda trees, rose bushes, ornamentals, butterfly plants, and more!
Spend a couple of hours exploring the landscaped spaces enhanced by everything from fruit trees to herb plants. You'll also find themed gardens, including a tropical forest and a Mediterranean-inspired area.
Before leaving, you can always stop by the botanical nursery which offers excellent deals on hard-to-find plants for your own garden!
Entrance fee: $10 (adults), $5 (children 3-12)
Hours: 9 a.m. to 3 p.m. (Tuesday to Sunday)
Address: 531 N Military Trl, West Palm Beach, FL 33415, USA
Okay, you're not thinking of leaving West Palm Beach without hopping over to Miami at least once, are you? After all, the Magic City lies less than 2 hours from West Palm!
If you've never visited Miami before, you may wish to consider booking a sightseeing tour that'll take you through the main sights such as Ocean Drive, the Versace Mansion, and the Art Deco District.
In fact, this affordable activity combines a tour of Miami on a day trip with a Biscayne Bay Cruise, and even an Everglades Airboat Ride.
The tour also includes a boat ride through Miami's famed Millionaire's Row, so you'll be able to feast your eyes on coveted oceanfront villas that once housed names like Gloria Estefan and Shaquille O'Neal.
Entrance fee: $69.99
Hours: 9.30 a.m. to 6.30 p.m.
Address: 305 Lincoln Rd, Miami Beach, FL 33139, USA
18. Go Wakeboarding at Shark Wake
Ideal for travelers seeking adventurous things to do in West Palm Beach, wakeboarding is one of the most popular sports in the city. As such, it should be easy enough to book a session in one of West Palm's many watersport clubs.
A quick note of caution though – this sport isn't for the faint of heart!
If this is your first time wakeboarding, you may wish to head over to Shark Wake in Okeeheelee Park. This place has a cable park with a beginner trail where you can wakeboard under supervision or sign up for lessons.
Along with wakeboarding, Shark Wake offers lots of other family-friendly activities, including water skiing and even an Obstacle Island for all ages.
Entrance fee: $40 for a 2-hour cable session, $60 for a daily pass with unlimited sessions
Hours: 10 a.m. to 7 p.m.
Address: 1440 Eshleman Trail, West Palm Beach, FL 33413, USA
19. Shop Till You Drop at Rosemary Square
We've covered Worth Avenue and its luxe shops but let's be real: not all of us can afford to shop there! Rosemary Square, on the other hand, does feature affordable boutiques and excellent deals.
This revitalized Mediterranean-themed entertainment and retail center also hosts eateries specializing in local as well as international fares. Expect scrumptious Japanese, Mexican, and Tuscan dishes on the menus- all washed down with an icy cold glass of the local Funky Buddha Floridian beer of course!
Additionally, there's plenty of live music to hum along to while you shop. If you're visiting in December, you'll also be privy to holiday events, including light shows, scheduled snowfalls, and artsy exhibitions.
Entrance fee: Free
Hours: 10 a.m. to 10 p.m. (Monday to Saturday), 12 p.m. to 6 p.m. (Sunday)
Address: 700 S Rosemary Ave Suite 200, West Palm Beach, FL 33401, USA
Where to Stay in West Palm Beach
Every traveler knows there's nothing quite like the feeling of retreating to air-conditioned comfort after an exciting day of sightseeing. The good news is that West Palm Beach is positively laden with a wide range of accommodations for various types of travelers!
While there aren't any hostels in the city, you'll find quite a large assortment of motels, hotels, and Airbnbs to choose from. Here are some of my favorite places to stay in West Palm Beach!
Here's an affordable option that ticks all the boxes! Located less than 15 minutes from Palm Beach International Airport, this motel features well-appointed rooms for two. On-site amenities include free parking, a 24-hour front desk, and a vending machine for drinks. There are lots to see nearby, with Southdale Shopping Center and Antique Row just a short stroll away. It also has free parking, perfect for those on a Florida road trip.
Intracoastal water views, a stylish setting, and just 10 minutes from the coolest activities in West Palm Beach? Sign me up! Perfect for small families or couples, this Floridian Airbnb easily sleeps two in the bedroom. There's also an air mattress and a sofa bed in the living room if you're having additional guests over. Rustle up a meal in the kitchen or stroll over to the nearby restaurants and cafes.
If can afford to loosen those purse strings a little, this dreamy hotel might just elevate your West Palm Beach vacation! Designed to accommodate between 2-4 guests, the hotel's generously-sized rooms feature plush seating areas and coffee machines so you can enjoy a hot brew first thing in the morning! After a day exploring, unwind in the outdoor swimming pool, followed by a meal from one of the two on-site restaurants, before catching live entertainment.
Some Additional Tips for Visiting West Palm Beach
I can imagine how impatient you are to get out there and hit all those exciting attractions! But before you do, be sure to check out my handy travel tips for visiting West Palm Beach.
Book in advance. It's no secret that West Palm Beach isn't exactly a cheap destination. You can still reduce costs by booking your tours and accommodation in advance. Keep your eyes peeled for off-season deals as well.
Head there in spring. The best time to visit if you want to avoid the crowds and soaring temperatures is towards the end of spring (April to May). Mid-fall (September to October) also sees a drop in crowds, but I wouldn't really recommend that you visit then since it's hurricane season in Florida.
Take advantage of free activities. Despite its reputation for being an upscale destination, you'll still find free things to do in West Palm Beach. Northwood Village, Okeeheelee Park, and Worth Avenue are just a few of the city's admission-free venues. Check out the city's official website for free events like weekly outdoor concerts.
Ride the West Palm Beach trolley. Speaking of free, did you know that the West Palm Beach Trolley is entirely complimentary?
Don't forget your travel insurance for West Palm Beach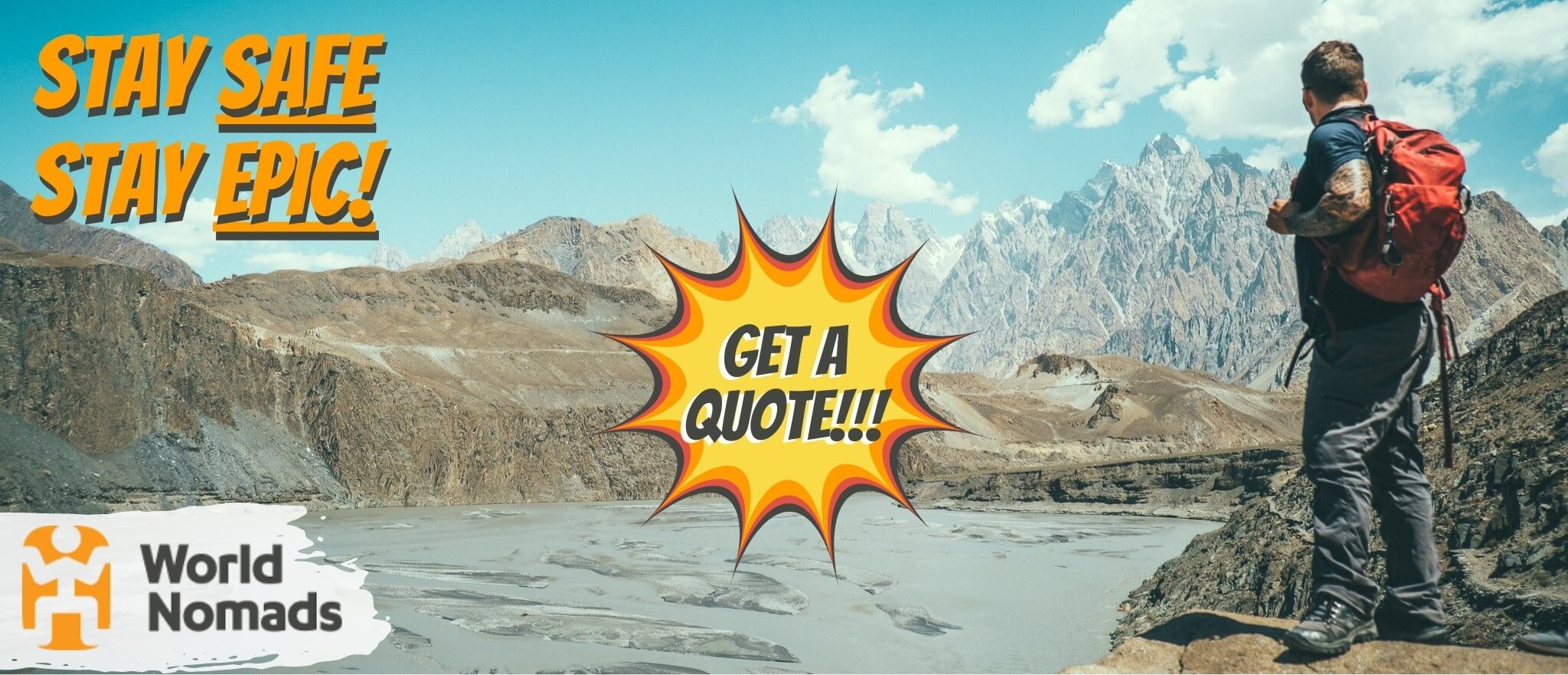 World Nomads' mission is to support and encourage travellers to explore their boundaries. They offer simple & flexible travel insurance, and safety advice to help you travel confidently.
They've been doing it since 2002 – protecting, connecting, and inspiring independent travellers just like you.
Get a quote below or read our in-depth review!
World Nomads provides travel insurance for travelers in over 100 countries. As an affiliate, we receive a fee when you get a quote from World Nomads using this link. We do not represent World Nomads. This is information only and not a recommendation to buy travel insurance.
Final Thoughts on Things to Do in West Palm Beach
West Palm Beach is bursting with natural beauty, awesome attractions, and sun-soaked shores – basically, everything you need for one heck of a vacation!
It doesn't matter whether you're traveling alone or with a group – you're always going to find plenty of exciting things to do in West Palm Beach. And if you make your reservations in advance, you'll most likely end up with great deals as well.
An excellent jumping point to other exciting destinations like Miami or the Everglades, this certainly is one city that has it all. The only hitch? You might just find yourself returning to West Palm Beach over and over again!
---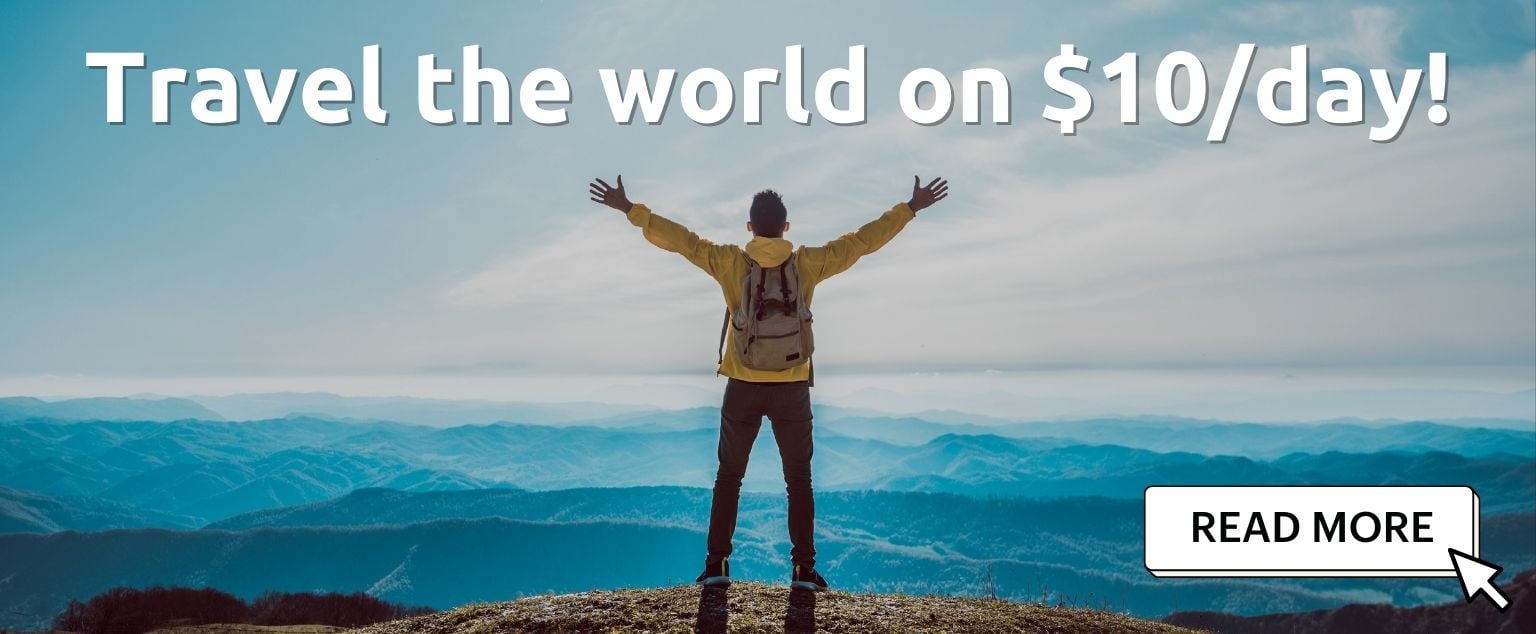 And for transparency's sake, please know that some of the links in our content are affiliate links. That means that if you book your accommodation, buy your gear, or sort your insurance through our link, we earn a small commission (at no extra cost to you). That said, we only link to the gear we trust and never recommend services we don't believe are up to scratch. Again, thank you!