With miles of fine-sand beaches, a dynamic art scene, a jaw-dropping city skyline, and beautiful parks and gardens, it's no wonder Sarasota is one of Florida's most sought-after travel destinations.
Known for being the winter residence of the traveling circus pioneers, the Ringling Brothers, History buffs will love exploring the troupe's former winter mansion.
As well as this, Sarasota is scattered with world-class restaurants, boutique shops, a plethora of art galleries, and vibrant bars – it is no surprise that Sarasota is called the cultural center of West Central Florida.
With all there is to see and do in this west coast Floridian town, vacation rentals are booming in the city, which makes choosing a place to stay a challenging task. Especially as each neighborhood offers something unique and different.
Siesta Key is a quaint island neighborhood with beautiful white-sand beaches. Two other coastal neighborhoods are Sapphire Shores and Lido Key, which are more suited to young families craving a sunshine-filled vacation. For the most luxurious holiday rentals in Sarasota, head straight over to Longboat Key.
Downtown Sarasota and St. Armands are top options for those looking for more razzle and dazzle nightlife. Travelers with a love for gardens and all things nature will enjoy the McClellan, Ringling, and Arlington Park districts.
So as you can see, there's a little something for everyone in Sarasota. That's why we have prepared this guide on the best vacation rentals in Sarasota, so you can concentrate on putting together your itinerary and we'll handle the accommodation.
So, when you're ready, let's get to it.
Quick Answer: These are the Top 5 Vacation Rentals in Sarasota
Overall Best Value Vacation Rentals in Sarasota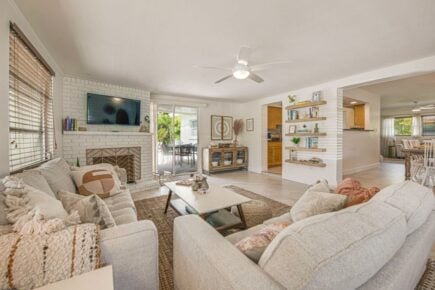 Overall Best Value Vacation Rentals in Sarasota
Trendy 3 Bed Beach Bungalow with Pool
> $$
> 6 Guests
> Neutral-tones and boho style interiors
> In a quiet neighborhood ten minutes from Sarasota beach
Best Budget Vacation Rentals in Sarasota
Best Budget Vacation Rentals in Sarasota
Bright Studio with Garden Views
> $
> 2 Guests
> Garden cottage with private entrance
> Located in the historic Valencia Terrace neighborhood
Best Vacation Rentals for Couples in Sarasota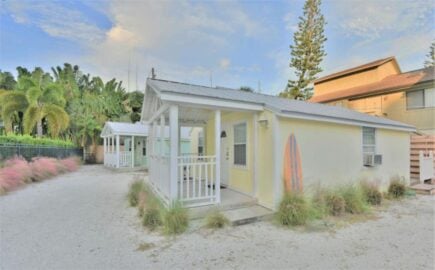 Best Vacation Rentals for Couples in Sarasota
Charming 1 Bed Beach Cottage with Balcony
> $$
> 3 Guests
> Quaint wooden home with beachy interiors
> Steps from Siesta Beach, shops, and eateries
Best Vacation Rentals for Families in Sarasota
Best Vacation Rentals for Families in Sarasota
Contemporary 4 Bed Home with Yard
> $$
> 8 Guests
> Bright and spacious interiors
> In the heart of Sarasota, ten minutes to Siesta Key Beach
Over-the-Top Luxury Vacation Rentals in Sarasota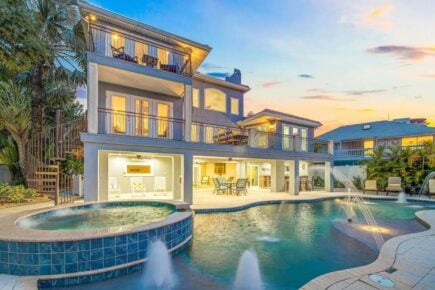 Over-the-Top Luxury Vacation Rentals in Sarasota
Exquisite 4 Bed Canalside Home with Pool
> $$$
> 10 Guests
> Includes an extravagant pool with fountains
> On the canal in Siesta Key, close to the beach
Types of Accommodation in Sarasota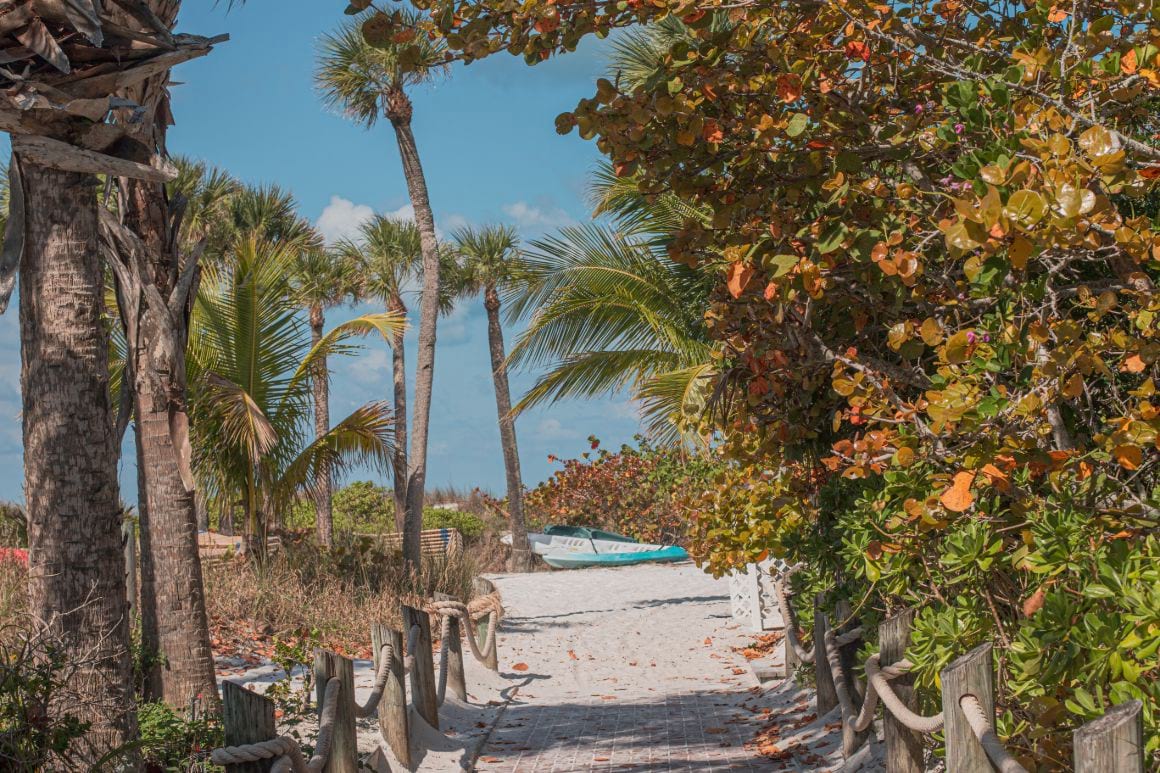 Carriage Houses and Townhouses
Carriage houses are homes that were originally built to house horse-drawn carriages in the early 1900s. Today, these historical buildings have been refurbished into modern homes, ideal for families and couples visiting Sarasota for a quiet vacation.
On the same note, while many of Sarasota's townhouses are new builds, the city still plays host to a bunch of historic townhouses built over 100 years ago.
Because of their quaint size, carriage houses and townhouses are ideal for small groups of friends and families. Smaller studio-sized homes are even appropriate for couples or solo travelers, digital nomads, and those traveling with pets.
These understated properties are often located in the oldest, most historic sections of the city, making them some of the best vacation rentals in Sarasota for anyone interested in history.
Bungalows
Whether you are after a jungle-like environment or prefer being within walking distance to the beach, bungalows are one of the best options for those on a tight budget. While many bungalows in Sarasota have been fitted with modern interiors, typically, these homes are small, quaint, and affordable.
Bungalows are usually single-story homes made using wooden materials and furnished to match where they are located. For example, beach bungalows will be decorated using coastal-inspired interiors.
Ranging in size from studio-sized suites to four bedrooms, bungalows are ideal for couples looking for a spot of privacy and romance, as well as small families and groups of friends. Some of the coolest Airbnbs in Florida are beach bungalows!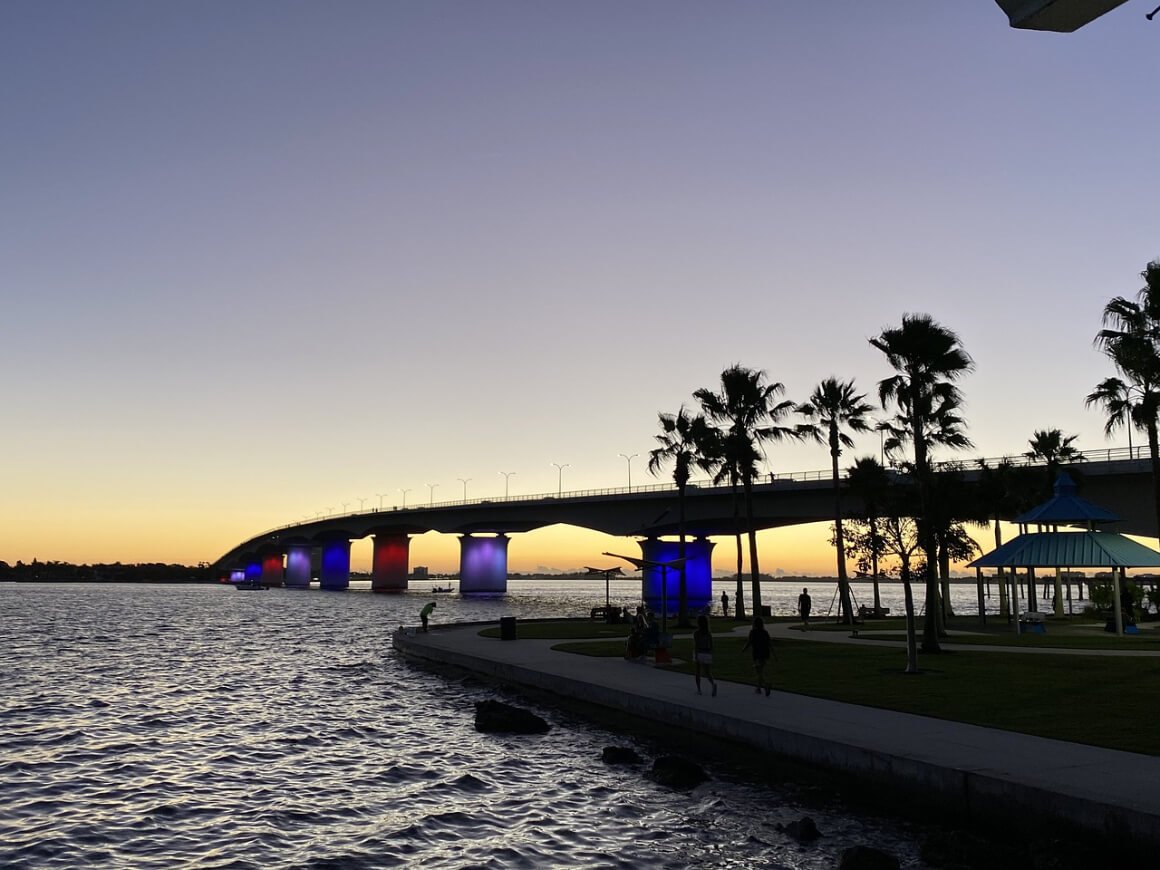 Beach Villas
If you're visiting the city to find some of the country's top beaches, it makes sense that you'd want to stay close to them. Beach villas can be found lining the many coastlines of Sarasota.
With world-class ocean views, these multiple-story homes often house enough bedrooms to fit a large gathering of people, perfect for groups or large families. They also usually include a private swimming pool and Jacuzzi, outdoor lounge and dining area, and sometimes even a private dock to park a Floridian boat rental.
From open-ocean waters to key canal inlets, most of the top luxury vacation rentals in Sarasota can be found along the water and ocean fronts.
Top 20 Vacation Rentals in Sarasota
From the trendy streets of St. Armands to the luscious parks near central Sarasota, you'll never be short on places to stay in Sarasota. Here is our list of some of Sarasota's top holiday homes:
Best Overall Vacation Rental in Sarasota | 3 BR Beach Bungalow
$$
In a quiet neighborhood ten minutes from Sarasota beach
6 Guests
Outdoor pool with spacious patio and garden furniture
Located in the heart of the city center, this affordable property boasts exquisitely designed interiors that offer laid-back and luxury vibes.
With three bedrooms and four bathrooms, an outdoor swimming pool with a spacious patio and lawn chairs, there is plenty of space for everyone to spread out and feel at home here.
Although not directly on the beach (yet only a 10-minute drive from it), this bungalow is inspired by coastal and beach interiors. The home can be described as up-scale boho, fitted with cozy neutral linen furniture and decorated with wooden and woven textures. From the moment you walk through the door, you'll feel a sense of relaxation.
It's not hard to see why we chose this spot as the best overall in Sarasota.
$
Located in the historic Valencia Terrace neighborhood
2 Guests
Garden cottage with private entrance
Located above the garage of a residential property, this affordable studio has been ingeniously refurbished, making use of innovative storage solutions to make a small space seem bigger than it is.
Have you heard of the Japanese art of 'feng shui'? Well, these hosts could be masters of it and have successfully furnished this studio to make it feel spacious and bright.
Natural light, neutral-toned walls and cabinetry, and warm wood-inspired floorboards offer a homey feel to the self-catering vacation rental in Sarasota. There is also a private entrance so you can feel like this is your home away from home.
Most Beautiful Vacation Rental in Sarasota | 7 BR Beach House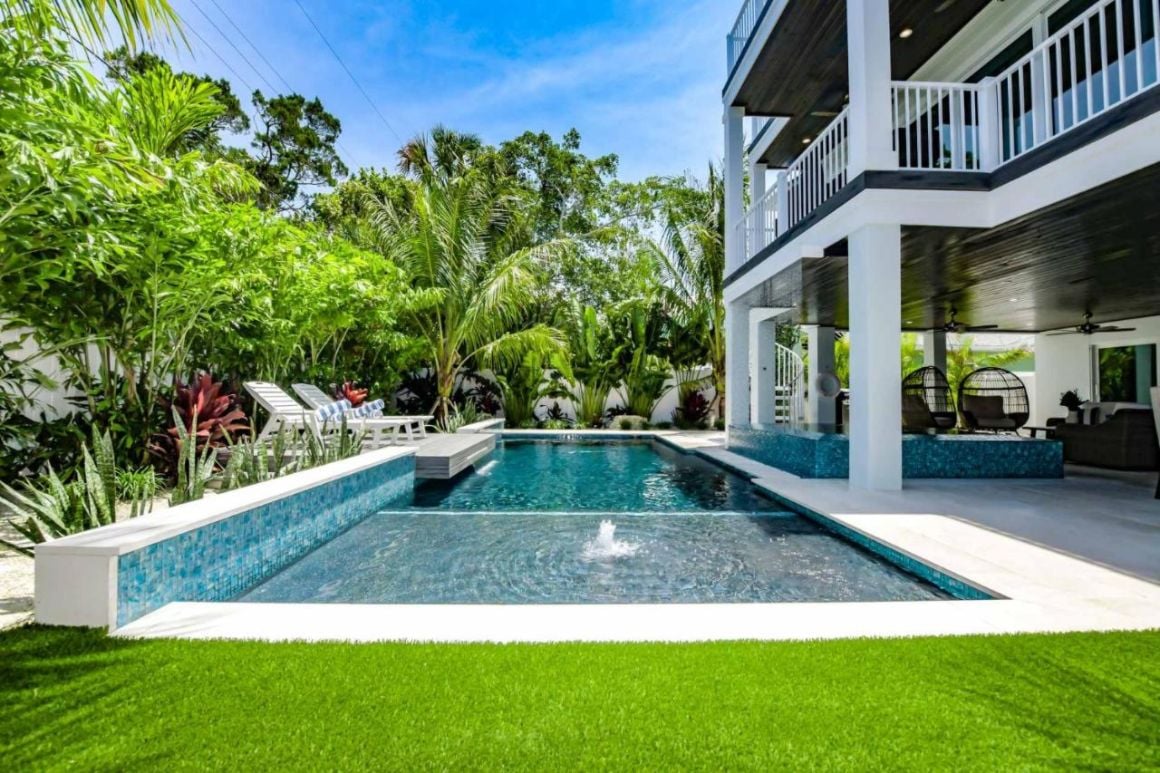 $$$$
In St. Armands, with city views
19 Guests
Jungle meets coastal-inspired home
With so many exquisite holiday rentals in the city, choosing the most beautiful one is no easy task. We chose this property because of its lush tropical pool area that brings contemporary design and wild jungle together in a beautiful balance. I
Its trendy interiors and gorgeous views scream luxury like no other property. With 7 bedrooms, this gorgeous home can sleep up to 19 guests.
The triple-story home also has one of the most stunning open-concept living spaces on the market. With a huge marble center island and tons of seating, there's enough space in this kitchen and dining room for the entire family to get involved in a cookout.
On top of the many outdoor decks and balconies, this home has a spacious rooftop deck with loungers overlooking the ocean.
Most Luxurious Vacation Rental in Sarasota | 4BR Canalside Home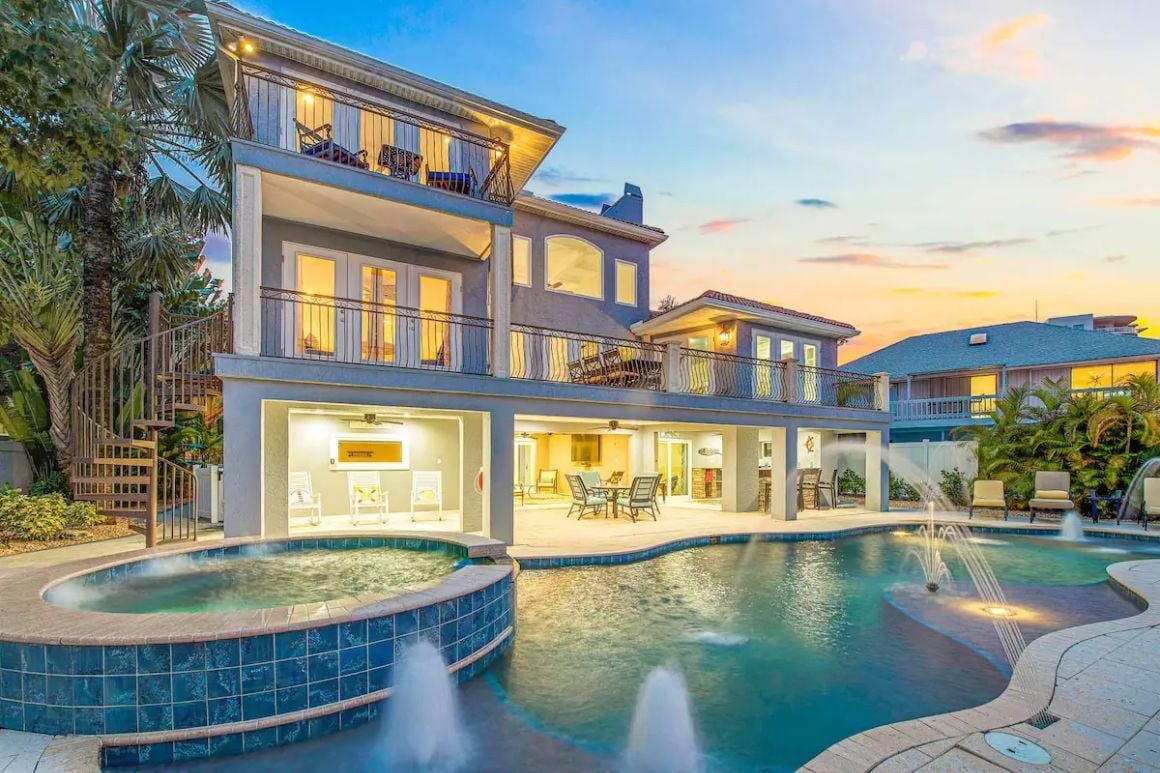 $$$
On the canal in Siesta Key, close to the beach
10 Guests
Includes an extravagant pool with fountains
Located on the prestigious Siesta Key Canal, this vacation rental in Sarasota exceeds all expectations when it comes to luxury. From the fountain-filled swimming pool overlooking the canal, to the private dock and beach, this is more than just another luxurious beach vacation rental in Sarasota.
The inside is equally as impressive, decorated with blue and white tones and coastal-inspired interiors. The pale blue painted ceilings and the abundance of natural light filtering through the home are enough to make one feel like you're on a beach holiday, even from inside the fully-equipped kitchen.
The four-bedroom and three-bathroom home can comfortably sleep up to ten guests, making this property perfect for large groups or families.
Best Vacation Rental in Sarasota for Families | 4 BR Home with Yard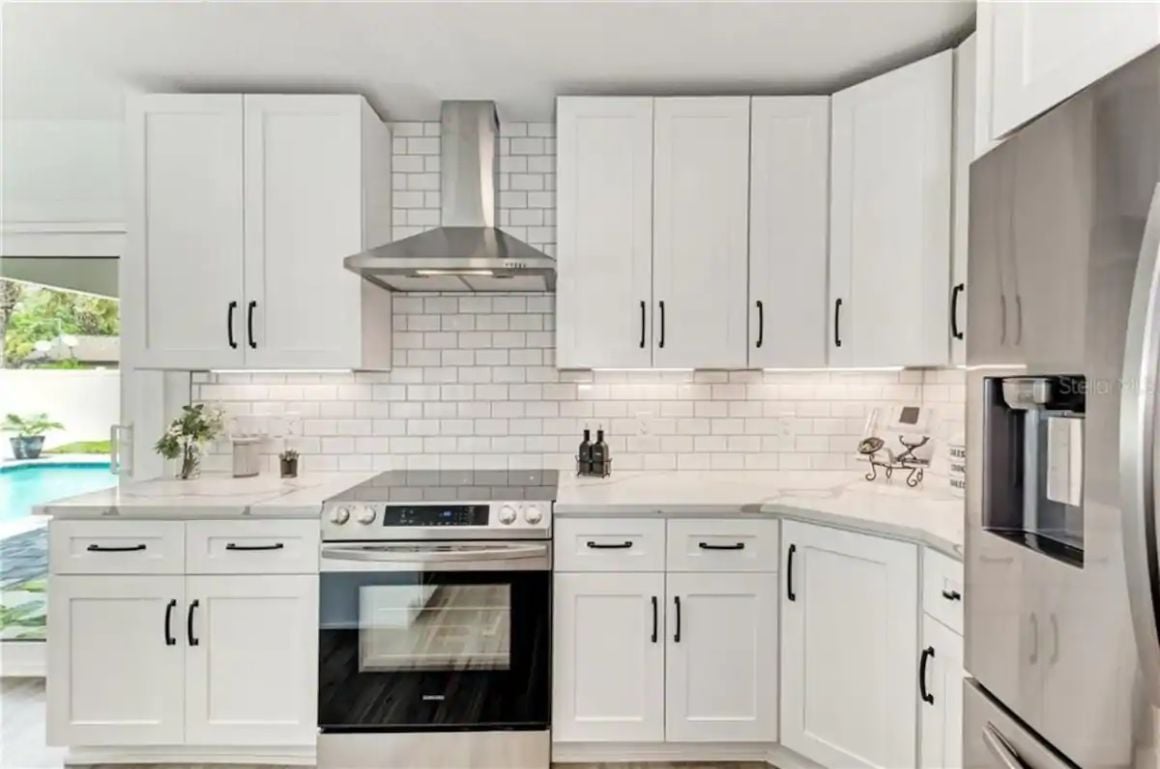 $$
In the heart of Sarasota, ten minutes to Siesta Key Beach
8 Guests
Bright and spacious interiors
Make yourself at home in this gorgeous yet modest family home in the center of Sarasota. Only a few minutes from the beach, this single-story home has been kitted out with marble countertops and top-of-the-range fittings in all the bathrooms and the kitchen.
It's one of those spaces that look so perfect and untouched, you can hardly believe it's a real home. With four bedrooms and 3.5 bathrooms, this home is ideal for families.
As well as this, there is a huge yard with a fence around the whole property for added security, a lush lawn, and heated swimming pool.
Best Vacation Rental in Sarasota for a Weekend | 3 BR Beach Home
$$$
On the beach on Siesta Key
10 Guests
Contemporary home with pool table and swimming pool
If I had to describe this home in three words, they would be: bright, homey, and comfortable. The multi-level home is designed for families itching to spend as much time as possible on the beach.
Those visiting for a short weekend stay won't have to worry about any small details. For example, the hosts have thoughtfully provided beach chairs, towels, umbrellas, and cooler boxes.
With all balconies and views directed towards the ocean, as well as blue and white coastal-inspired interiors throughout the home, this has to be one of the top beach vacation rentals in Sarasota.
Best Vacation Rental in Sarasota with a Pool | 8 BR Mansion
$$$$
Walking distance to St. Armands on Lido Key
16 Guests
Brand new home with pool and island gazebo
If you've visited Florida before, you'll know that the weather is often very hot and humid, and the sun shines almost all year round. Because of this, you won't struggle to find a rental with a swimming pool and Jacuzzi.
That being said, this spot goes above and beyond what one would expect from a vacation rental's swimming pool. The pool for this contemporary home is as big as the backyard and has a sunken gazebo island in the center of it.
Inside the home, there are eight bedrooms and eight bathrooms, with 7 of the bedrooms featuring king-sized beds and an ensuite bathroom. The 8th bedroom features 2 sets of queen bunk beds – so even adults can sleep in the bunks! There is also a large great room with fully equipped kitchen for guests to use.
Choose to walk across the stepping stone bridge or swim to the island. Surrounded by underwater bar chairs, this might just be the coolest pool to host a get-together at.
Super Accessible Vacation Rental in Sarasota | 4 BR Family Home
$$
Located in NW Sarasota, near University Park
8 Guests
French-inspired home with covered pool
Hidden beneath a tropical jungle of plants in the center of a lush garden, this self-catering vacation rental in Sarasota sits in one of the greenest parts of the city.
The single-story home has no steps and is designed to create lots of open space with its wide walkways. It's the perfect spot for wheelchair users and others with accessibility requirements.
This old French-style home is fitted with comfortable furniture and luxurious linen. When the weather cooperates, you'll be able to open up the entire backside of the home onto a deck that has a pool and Jacuzzi, barbeque, and dining area.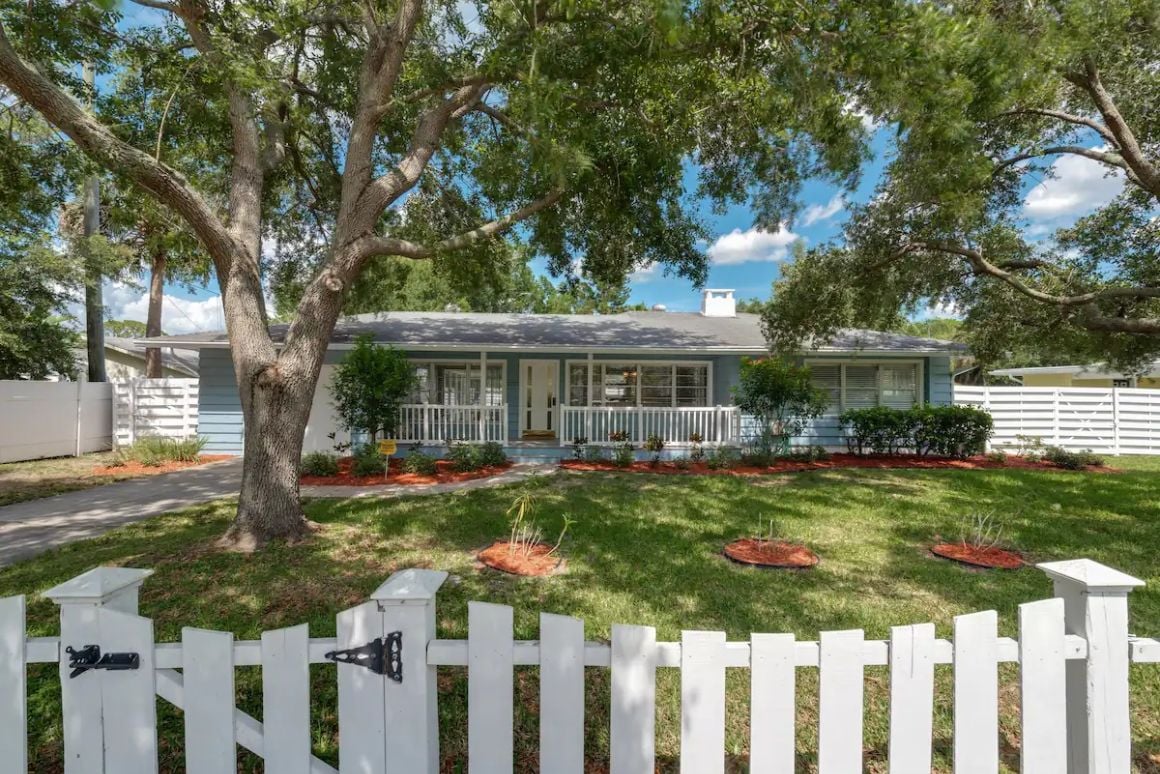 $$
In the heart of central Sarasota
5 Guests
White picket fence cottage with porch and netted pool
A central location in Sarasota depends on what you are visiting the city for. If it's for the beach, head to the beach. If it's for history, base yourself in the most historical district.
This cottage lies bang-smack in the center of the city, nestled in a quiet street between the beach, gardens and parks, and museums and shopping districts.
The home sits on a large lawn, with an authentic white picket fence and porch – you could even call it the American dream. While the outside looks quite unassuming, you'll be blown away by brand new contemporary interiors, high-end furniture and art, and unique lighting on the inside.
There are two bedrooms and one bathroom, with an open-plan kitchen where natural light pours in throughout the whole property.
Best Vacation Rental for a Big Family in Sarasota | 7 BR Beach House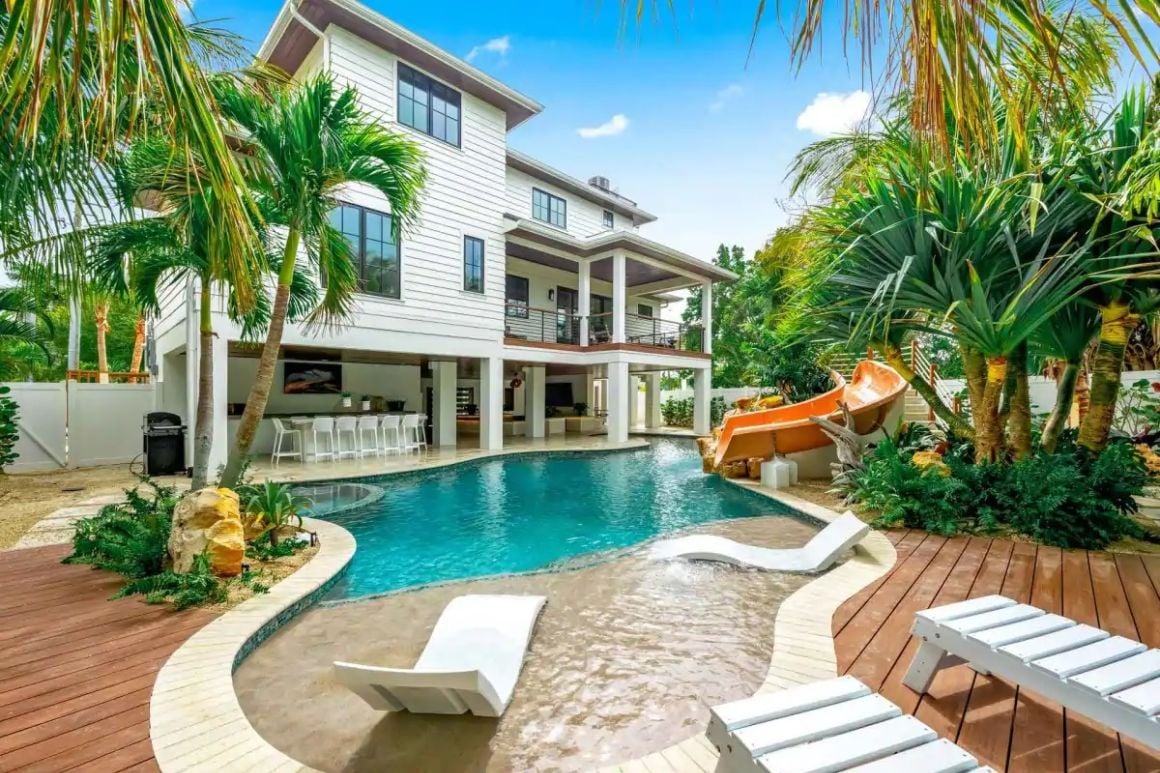 $$$$
A road back from the beach on Siesta Key
16 Guests
Brand-new contemporary home with garden
If a beach house fit for a large family is what you're after, look no further. Aside from being a few steps from one of the area's best beaches, this home also has a unique swimming pool and Jacuzzi, with a shallow lounging area and a slide.
Without a doubt, it's one of the best beach vacation rentals in Sarasota. The inside of this lavish home will blow you away. The home is designed by a world-renown architect, using lots of clean lines, innovative strip lighting, and neutral tones.
It truly is a treat for the eyes, and it's easy to see that every small detail has been thought of by both the designers and the hosts. With seven bedrooms and seven bathrooms, this property has plenty of space for everyone to spread out without losing out on comfort.
Best Vacation Rental in Sarasota for a Friends Getaway | 5 Bed Home
$$$
By the beach on Siesta Key
15 Guests
Beach themed interiors with a huge pool and Jacuzzi
As another opulent beach holiday home in Sarasota, this is the perfect home for a splash-out with your best friends. With five private bedrooms, four of which are master suites, and seven bathrooms, you'll be able to fit all your 15 besties into this space.
The central living area is designed to impress, fitted with luxury amenities and top-of-the-range appliances. The beautiful brand-new kitchen complete with a massive dining room table is the perfect spot for a friendly dinner.
It is also located in the vibrant Siesta Key Village, which is just a short stroll to all of the restaurants, shops, entertainment venues, and more. It is also just a 3-minute walk to the Beach.
$$$
Docked on the Manatee River
4 Guests
Chapel inspired home with stain-glass windows and vaulted ceilings
If we told you there was a luxury vacation rental in Sarasota originally built and used as a wedding chapel, you might believe us. But if we told you this chapel home floated on a dock in the marina? Well, now that is surprising!
Likely one of the most unique rentals in the whole country, this floating chapel has two bedrroms, a bell tower, stain-glass windows, and different levels of vaulted ceilings.
While it was once capable of housing 110 guests, now it only houses four – so you can bet there is plenty of space to sprawl out in here. The hosts have added comfortable furniture and a fully-stocked kitchen. There is also an outdoor covered deck with a BBQ gas grill where you can cook up a storm as the sun sets over the Manatee River.
If you don't feel like cooking, there are two great restaurants nearby, including the Riverhouse Waterfront Restaurant, and you can also find river cruises nearby for a day of fun out on the water.
Best Vacation Rental in Sarasota for Honeymooners | 1 BR Townhouse
$$
Steps from Siesta Key Beach
3 Guests
Double story home with pool and garden views
The perfect spot for a honeymoon is quiet, private, and pleasantly decorated. This beautiful townhouse goes one step further. It's located in a popular location steps from the beach and can be rented for a decent price (considering what you'll get).
The home has tons of windows and sliding floor-to-ceiling doors, inviting natural light into every corner of the space.
Filled with stylish furniture that draws inspiration from different styles, this home has a unique charm about it. Guests can also enjoy access to a pool and garden that is shared by a few other renters on the property.
Best Vacation Rental in Sarasota for Nightlife | Central 3 Bed Condo
$$
In a top location on St. Armands circle
5 Guests
Calming coastal interiors with a balcony
In my opinion, the best nightlife in Sarasota can be found at beach bars and eateries near the coastline. St. Armand's circle is a top spot to base yourself if you're after a fun night out, and this condo is perfectly positioned within this buzzing circle.
The condo itself is simple yet stylish, with comfortable beach-themed furniture and artwork, as well as a spacious enclosed sunroom. It's the best vacation rental in Sarasota to enjoy an evening drink with your friends before heading out on the town.
With three bedrooms, each with memory foam mattresses, an upscale kitchen and two good-sized bathrooms. You'll find you'll have the perfect night's sleep and as well as a suitable place to relax and nurse your hangovers.
Best Vacation Rental in Sarasota with a View | 4 Bed Waterfront Home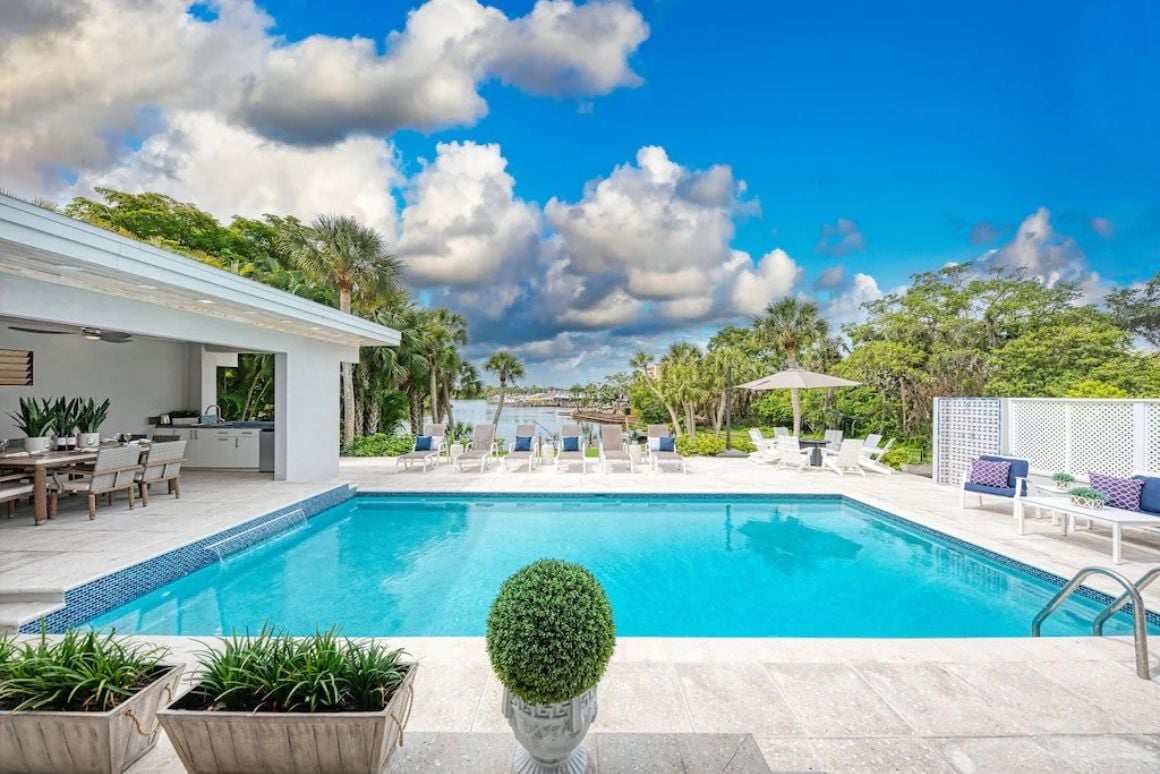 $$$
Located in River Forest, near shopping, dining, and beaches
8 Guests
Outdoor bar and kitchen with ocean views
Be it an ocean, a canal, or a garden view, views aren't too hard to come by in this dynamic coastal city. This waterfront home boasts exquisite views of the canal surrounded by tropical greenery.
In fact, it even includes a private dock, where you can park a rented boat during your vacation.
While the house is truly stunning, with 2,500 sqft of living space and 4 king-sized bedrooms and 4 baths, you'll have plenty of space to chill out in without feeling lonely in empty space.
The pool deck and yard are where the fun is at – surrounded by comfortable loungers covered by umbrellas, a propane fire pit, and a dining table, you will find it hard to go inside after lounging out here. There's even a fully-equipped outdoor kitchenette with a BBQ, sink, and refrigerator overlooking the canal.
Most Romantic Vacation Rental in Sarasota for Couples | 1 BR Cottage
$$
Steps from Siesta Beach, shops, and eateries
3 Guests
Quaint wooden home with beachy interiors
Low-key and self-contained are how I would describe this beach cottage. The simple home is fitted with everything you might need from a self-catering vacation rental in Sarasota, including a full kitchen, and master bedroom.
Aside from being steps from the famous Siesta Beach and village shops and restaurants, the best part of this quaint sandy cottage is its charming covered deck. This home was built for those who enjoy the sand in their feet and need nothing but the company of their loved ones on a romantic vacation.
Because of its beautiful beaches right outside your front door, this is one of our favourite places to stay in Siesta Keys.
$$
Located by the sea on Bay Island, near great beaches
4 Guests
Renovated interiors with contemporary furniture
If you're visiting Sarasota for its rich history rooted in the Ringley Brothers' Best Show on Earth, why not double down and stay in a historic home yourself? This quaint blue and the red wooden cottage could easily be used as the set for a film.
The interior of the historic home has been completely restored to maintain its authentic appeal and integrity, yet with an updated touch. It's filled with trendy furniture, coastal-inspired art, and cozy linens.
However, if you look closely, you'll see some antique furniture, retro 1920s kitchen tiling, and an original red-brick fireplace reminiscent of another era.
Best Waterfront Vacation Rental in Sarasota | 5 BR Mansion on Canal
$$$$
Around the corner from Lido Beach and St. Armands Circle
10 Guests
Triple-level pool and rooftop deck with views
Located directly on the canal, only a few steps back from Lido Beach, this waterfront home has the best of both worlds. It's so stunning, that it could even pass as having the best pool and Jacuzzi, as well as being the best vacation rental in Sarasota for its views.
From the house, there will be nothing obstructing your view of the canal (aside from the swimming pool and private dock of course). With five bedrooms and 4.5 bathrooms, there is enough space here for up to 10 guests to enjoy.
The modern home has been completely kitted out with contemporary fittings and cabinetry, and filled with beautiful linen sofas, glass, marble, and wooden furniture, and decorated with beachy art.
Best Vacation Rental in Sarasota for Digital Nomads | 1 Bed Cottage
$
In a lush neighborhood near the Sarasota Jungle Gardens and beach
3 Guests
Plenty of spots to set up a work computer
Digital nomads in search of a sub-tropical spot to set up camp will love this place. This cozy garden cottage has one bedroom, yet can fit up to four guests at a squeeze. Essential for work-from-home nomads, it's fitted with a great Wi-Fi connection and includes air-conditioning and heating throughout the home.
Best of all, it's only a short walk from some of the city's top hotspots, including the historic Ringling Museum, the Jungle Gardens, and a short drive to the key beaches.
The home has a wonderful garden filled with colorful plants and trees. In my opinion, working outside on a cool sunny morning is the best way to start the workday.
Best Pet-Friendly Vacation Rental in Sarasota | 4 BR Home with Pool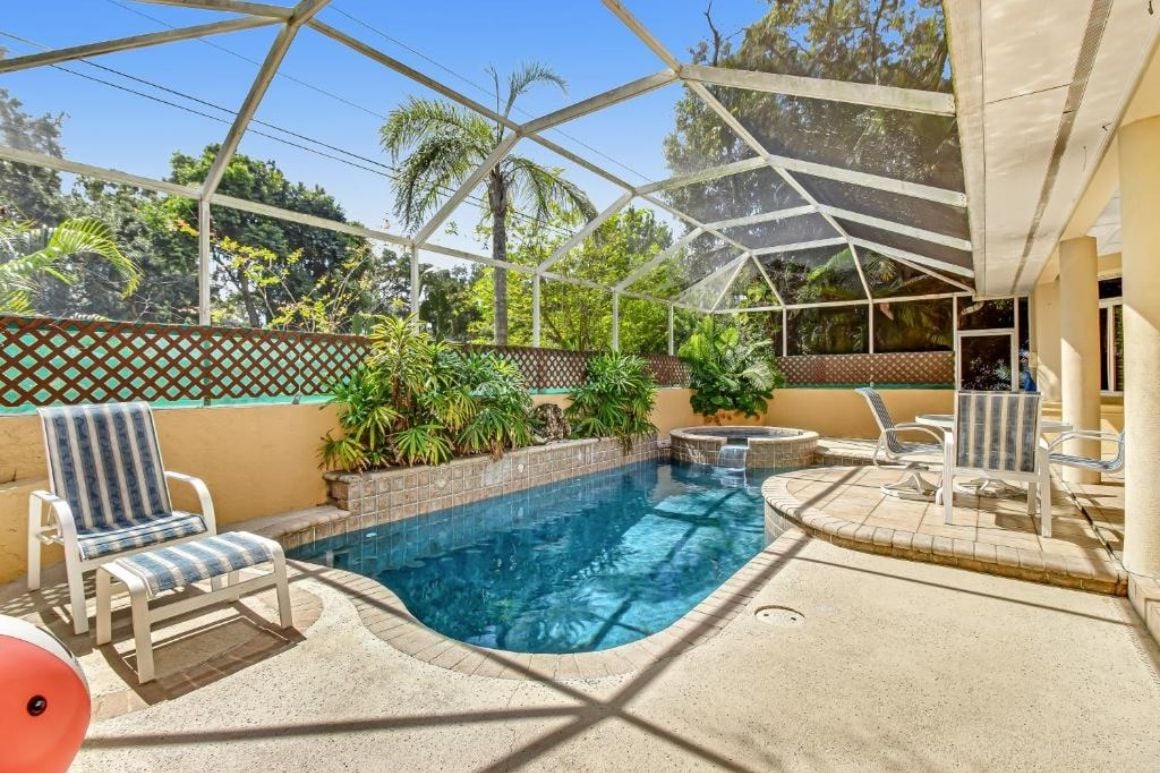 $$
In a residential neighborhood in central Sarasota
8 Guests
Lush lawn for pets to enjoy
If you just can't bear to leave your beloved pet at home during your travels, bring them along to this stunning holiday home in Sarasota.
So, why is this spot so great for animals, you ask? Well, it has a front garden with a green lawn for pups to play on, it has an easy-to-clean tiled floor across the home, and is within walking distance to dog parks, including the Sarasota Jungle Gardens.
The four-bedroom home also includes a pool and Jacuzzi deck covered by bug netting and is fitted with everything you might need while on vacation in Florida.
Final Thoughts
Families, couples, and groups of friends will love all the countless activities Sarasota has to offer, but what makes a vacation truly memorable is having a good place to stay. From upscale waterfront mansions to quaint historic cottages, there's a holiday home for every type of traveler visiting these shores.
Whether you wish to spend your days lazing on the beach, exploring lush manicured gardens and parks, or learning about the Ringling Brothers' Greatest Show on Earth, we hope you found a vacation rental in Sarasota that appeals to you. DId you have a favourite on our list? Let us know in the comments.

---
Find out how YOU can support the site.
We're a big site with a big team and this job isn't always easy. But we do it because we love it – we love providing epic and free content. We love the knowledge that our content keeps you adventuring. We don't ask for money, but if you'd like to find out how you can help the site in more organic ways, click the button below.
Thank you for your support 🙂
And for transparency's sake, please know that some of the links in our content are affiliate links. That means that if you book your accommodation, buy your gear, or sort your insurance through our link, we earn a small commission (at no extra cost to you). That said, we only link to the gear we trust and never recommend services we don't believe are up to scratch. Again, thank you!