Dawn breaks across the mountainous terrains leeched golden by the rising sun. A leopard lazes on a branch, ignoring the green pigeons flying across forested mountains to swarm around an ancient reservoir. Yep – that's the type of everyday scenery that beckons in Sri Lanka!
The Pearl of the Indian Ocean may be a small island nation, but it feels absolutely ginormous thanks to its many natural wonders and rich biodiversity. Sri Lanka is right up your alley if you're into outdoor adventures!
The many national parks in Sri Lanka lend themselves perfectly to various types of travelers. Expect glorious pockets of wildlife, awash with hidden gems scattered throughout the varied landscapes.
What are National Parks?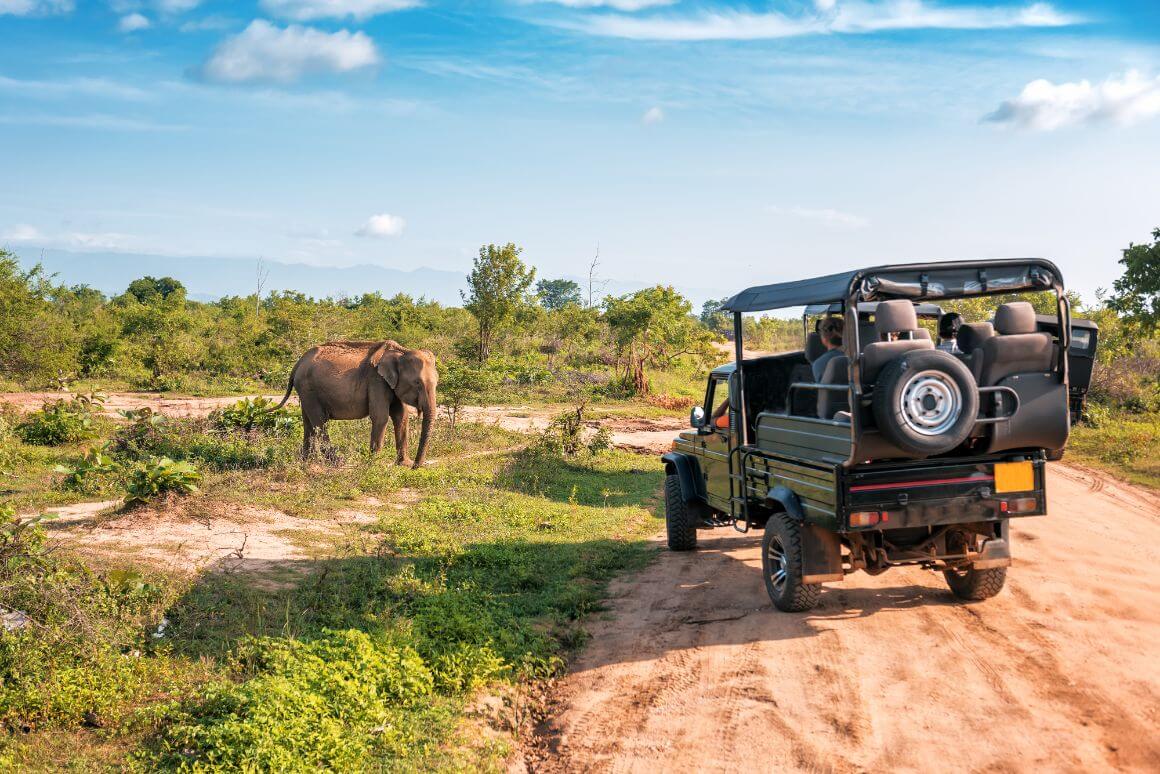 National Parks refers to areas that have valuable and unique ecosystems protected by private or governmental bodies.
Owing to their large concentration of wildlife, Sri Lankan National Parks are administered by the Department of Wildlife Conservation. The parklands are owned by the state, and all the habitats are protected by the government. Activities such as hunting, fishing, tampering with nests, or causing any kind of disturbance to animal and plant life are prohibited and punishable by law.
Bear in mind that these parks were set up to be sanctuaries for the wildlife population so they can thrive in their natural environment. Tourists are therefore expected to observe them from a respectful distance.
While settlements are normally prohibited in national parks, Sri Lanka does allow the ancient Vedda tribe to live in these protected areas. Visitors can usually interact with tribe members to learn about their culture.
Whether you're backpacking through Sri Lanka or planning a short break, you'll definitely be in for the time of your life!
National Parks in Sri Lanka
Ready to feast your eyes on some of the most incredible sights in the Indian subcontinent? Well, grab your water bottle as we head to 11 of the finest parks in Sri Lanka!
Udawalawe National Park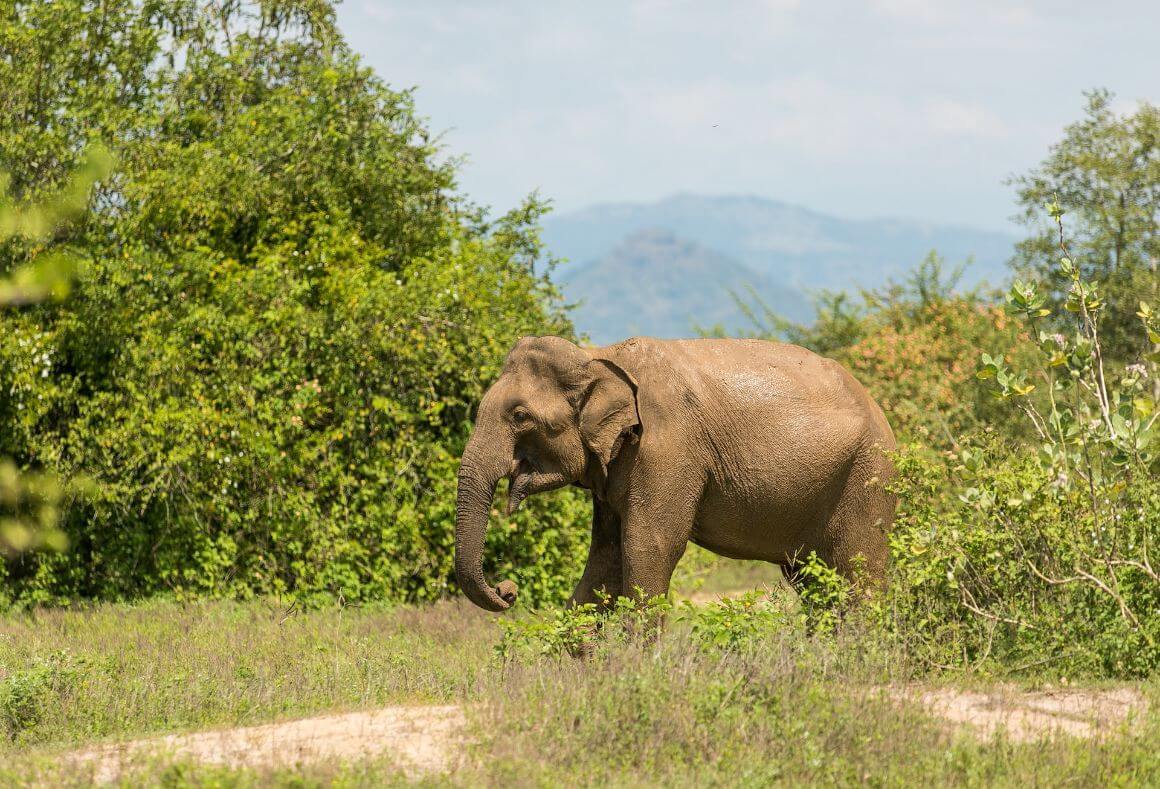 Size: 308.2 km²
Location: Sabaragamuwa and Uva Provinces
Cost of Entrance: $15 (adult), $8 (child)
One of the most famous Sri Lanka national parks, Udawalawe is no doubt a nature enthusiast's dream come true!
Especially known for its vast population of wild elephants, this national park is well-suited to travelers looking for safari-style tours. Not only is this Sri Lanka's third most visited sanctuary, but Udawalawe was actually constructed to protect the wild animals that were misplaced after a new reservoir was built.
If you're not a fan of steep terrains, you'll be glad to learn that Udawalawe has a relatively flat landscape – although there are a few mountainous bits.
In addition to its wild elephants, the park also has a large population of big cats. While I would totally recommend that you keep your eyes peeled for the occasional leopard, the truth is that they tend to keep a low profile during the day, and sightings are rare.
On the other hand, various crocodiles and bird species can easily be spotted all over. In fact, the park is home to rare birds such as the Black-Necked Stork and the European Roller.
Bear in mind that you'll need to arrange for your own jeep and driver to explore the park. As soon as you exit your vehicle, you'll most likely be swarmed by dozens of drivers and guides offering their services. However, my advice would be to book a tour directly through the park's website so you can observe the park's wild animals in a safe and respectful manner.
Where to Stay Near Udawalawe National Park
Offering proximity to Udawalawe National Park, Banyan Camp-Wine Lodge offers two bedrooms for up to four guests. Nestled by the Hambegamuwa Lake, the traditional earthen home also happens to be super eco-friendly. Oh, and did I mention that meals are included?
Wasgamuwa National Park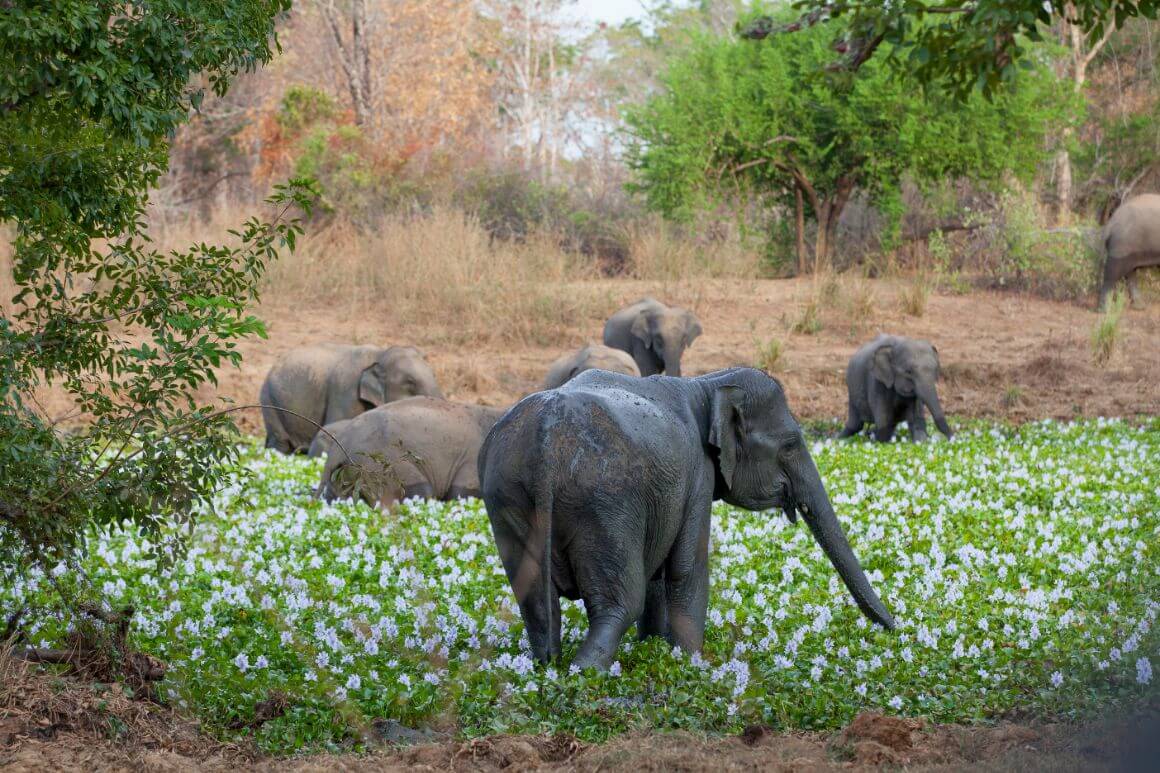 Size: 393.2 km²
Location: Matale and Polonnaruwa Districts
Cost of Entrance: $13
Are you looking to get away from it all? I bet you are! Well, as one of the lesser-known national parks in Sri Lanka, Wasgamuwa is perfect for travelers who want to enjoy a soothing moment of solitude.
Bordered by the Mahaweli River and acres of forested mountains, this park remains relatively unexplored – something that only adds to its allure. In fact, Wasgamuwa is teeming with wildlife, including spotted deer, buffalo, wild boar, elephants, leopards, and even bears.
One of the best things about this park is that it's still relatively unknown by tourists, so crowds are quite rare, especially on weekdays.
With a high biodiversity, this park features over 150 different plant species, including a 1,700-year-old Tamarind tree!
In addition to its many natural wonders, the park also boasts plenty of archeological treasures. Be sure to check out the Buduruwayaya Archaeological Site, an ancient ruin that's extremely significant to the local history. Surrounded by a dry tropical forest, this site is especially known for its ancient Buddha statue sculpted out of rock. Not far from there are found the remains of a centuries-old Dagaba surrounded by stunning sculptures.
Unlike other Sri Lankan parks, Wasgamuwa offers a year-round volunteer program with the aim of protecting wildlife while helping the local community.
Where to Stay Near Wasgamuwa National Park
Put your feet up and relax at this traditional Sri Lankan cottage! Ideal for couples, this space comes with a private hot tub – perfect for a relaxing soak after exploring Wasgamuwa. Kayak rentals are available on-site.
Sinharaja Forest Reserve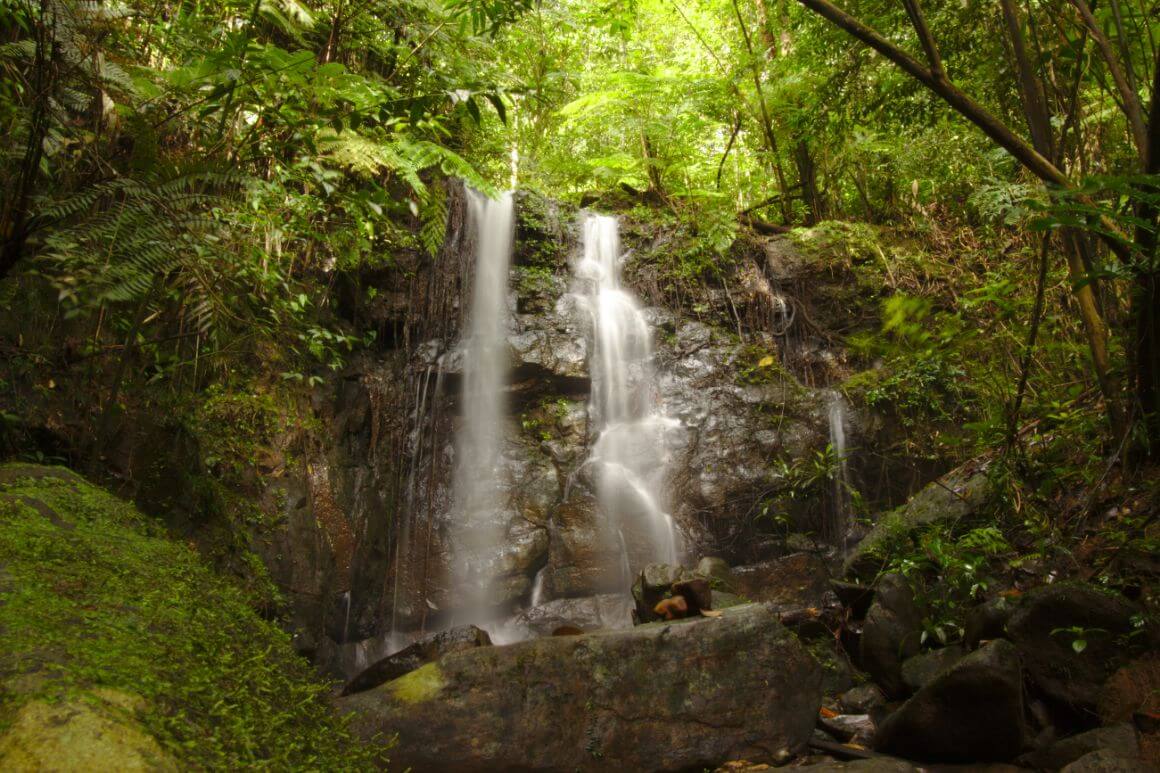 Size: 111.9 km²
Location: Eastern Province
Cost of Entrance: $1.50 (adult), $0.50 (child), compulsory guide of $2.50/person
If you're wondering when's the best time to visit national parks in Sri Lanka, well, the answer would be virtually any time! After all, the country is blessed with a fairly temperate climate with average yearly temperatures ranging from 26°C to 28°C.
Having said that, I would suggest that you avoid visiting the Sinharaja Forest Reserve during the southwest monsoon season (May through September) – after all, there's nothing fun about trudging through muddy hiking trails with the rain lashing at you!
On regular days, however, this UNESCO-protected reserve offers plenty to nature lovers. Because it's the only major lowland rainforest in the country, this place draws plenty of endemic bird life, including four eagle species. While trekking through the forest, you may even be greeted by different types of butterflies, including the stunning Blue Morphos variety.
While the forest is also home to large mammals like the elusive purple-faced langur, wildlife spotting is quite rare owing to the site's density. Unlike other national parks, there's no safari jeep to drive you around, as the only way to explore the forest is on foot – so be sure to grab your best hiking boots!
For safety reasons, you're not allowed to venture out on your own, but you can always book the services of a park ranger at the entrance for a nominal fee.
If you don't mind a bit of uphill walking, I would recommend that you take the old foot track that'll take you past the Beverley Estate and towards Hinipitigala, which, at 1171 meters, is the highest point in the forest. From there, you'll be able to soak up sweeping views of the reserve.
Where to Stay Near Sinharaja Forest Reserve
Here's a place that certainly lives up to its name! Located smack bang on the edge of the forest, this stunning guesthouse offers various room configurations for 2-4 guests. On-site amenities include free mountain bikes, a swimming pool, and airport shuttles.
Bundala National Park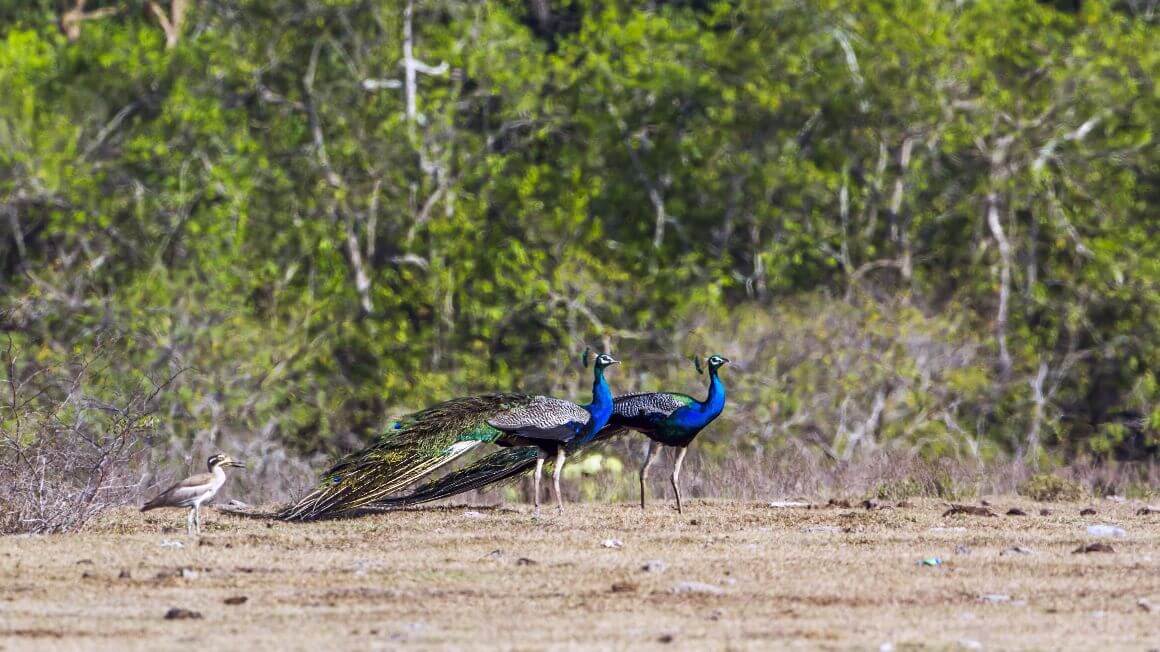 Size: 34 km²
Location: Weligatta
Cost of Entrance: $10 (adult), $8 (child)
There are plenty of awesome things to do in Sri Lanka national parks – and Bundala is no exception, especially if you love all things aquatic! Best of all, it's a less crowded alternative to the Yala National Park, Bundala's more popular neighbor.
A stunning wonderland of wetlands and coastal lagoons, this park is actually the very first Sri Lankan wetland that was declared a Ramsar site. UNESCO also recognizes it as a biosphere reserve. Indeed, its mesmerizing landscape consists of thorny scrublands and five brackish lagoons.
If you're visiting from October to January, you can even see various turtle types waddle their way ashore to lay their eggs.
Travelers who are more into bird watching may wish to head there between September and March to maximize their chances of spotting different bird species like the Greater Flamingo, Indian Peafowl, and the Common Redshank. Don't forget your binoculars!
Now, if you'd like to prolong the outdoorsy adventure, rest assured that the park does offer cliffside and oceanfront campsites, complete with fully equipped tents.
As awesome as this park is, I do need to give you a quick heads-up: drought season runs from May through October, and if you visit then, chances are that you'll be hit with super sunny and dry weather with daily highs of over 30C. For this reason, visitors are advised to wear sunscreen and a hat and, of course, carry plenty of water.
Where to Stay Near Bundala National Park
Located a mere 20 minutes from Bundala National Park, this lakeside villa comfortably sleeps two. Boasting an outdoor swimming pool, this space also has a living area that can be converted into a second bedroom if needed. All meals – including afternoon tea – are provided!
Yala National Park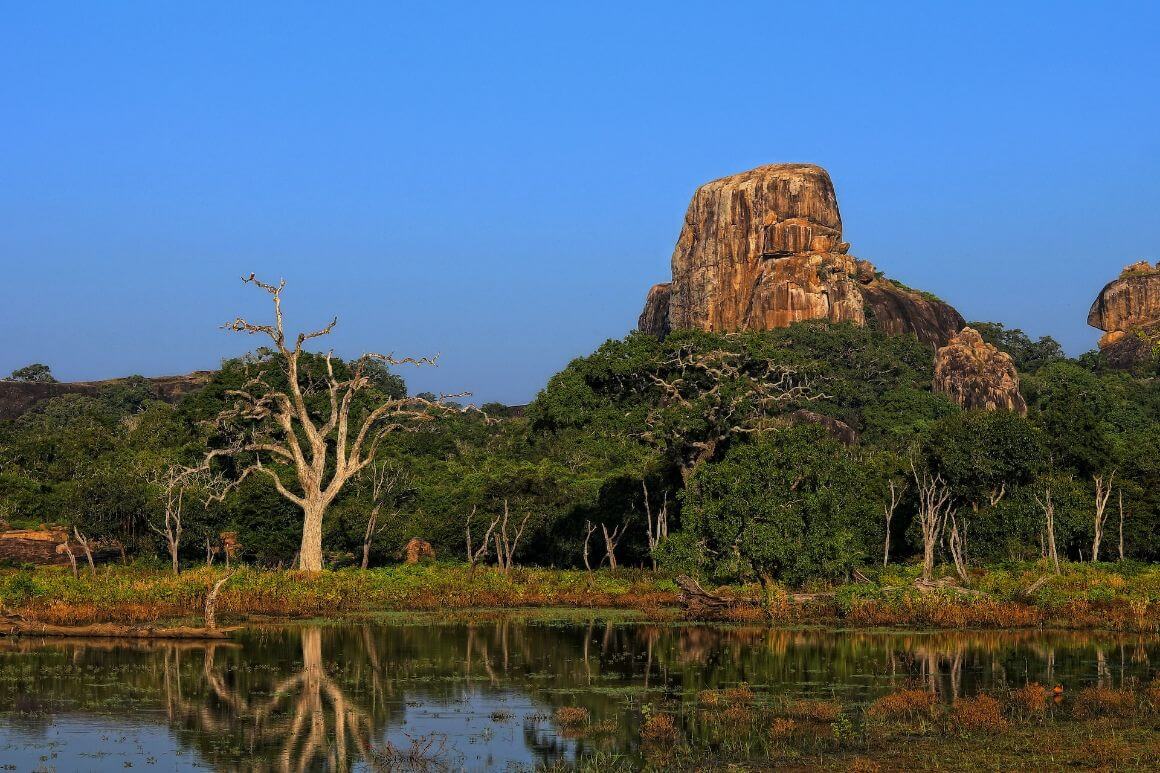 Size: 979 km²
Location: Southern and Uva Provinces
Cost of Entrance: $15 (adult), $8 (child)
As I mentioned, Yala is one of the most visited national parks in Sri Lanka, so brace yourself for the crowds if you're visiting in peak season! Owing to its impressive size, this park is split into five areas known as blocks. These extend from the beaches to inland jungles.
Yala is especially known for having the highest concentration of wildlife in Sri Lanka. It's not uncommon to see herds of elephants crossing the roads or even sneaking into the nearby hotel lobbies!
Because it's found in the country's lowest peneplain, the park has a flat, mildly undulating terrain that's quite easy to navigate. Fans of the great outdoors will be glad to learn that the park has different types of ecosystems, including sandy coastlines, grasslands, thorn forests, moist and dry monsoon forests, as well as both marine and freshwater wetlands. Plenty to explore, indeed!
Since it's the largest and most accessible area, Block 1 draws the highest number of tourists. For a quieter, more laid-back experience devoid of crowds, you can always check out the other block. Bear in mind that the terrains outside of Block 1 are quite rocky and not exactly suited to visitors who are prone to motion sickness.
Jeeps are allowed to enter the park at 6 a.m. in the morning and 2 p.m. in the afternoon. It's also important to know that Yala shuts down every September for maintenance purposes.
Where to Stay Near Yala National Park
Here's your chance to sleep in a traditional thatched hut– without compromising on comfort, of course! Perfect for solo travelers or couples, this abode offers direct access to Lake Hambegamuwa. Best of all, Guests are treated to a complimentary breakfast every morning.
Angammedilla National Park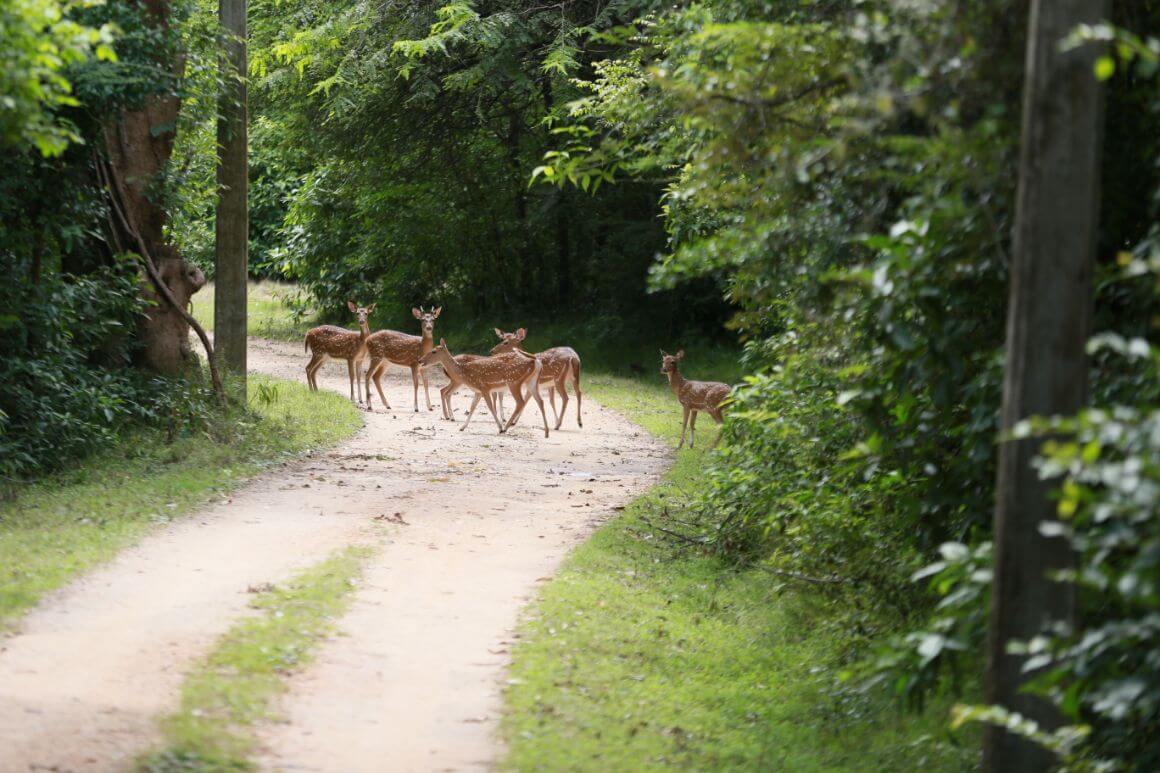 Size: 75.29 km²
Location: North Central Province
Cost of Entrance: $8 (adult), $4 (child)
Okay, we've established that there are tons of great things to do in Sri Lanka national parks, but did you know that camping is one of them?
And if you're looking for one of the best spots to set up camp in the wilderness, I can absolutely recommend Angammedilla National Park, located near Dambulla.
This relatively new national park boasts one of the most picturesque landscapes in Sri Lanka, complete with lily-covered ponds, thick forests, and a large reservoir glistening under the sun. Known as the Parakrama Samudra, this reservoir is fringed by a stone weir that was built nine centuries ago by King Parakramabahu.
Just steps from the weir is a charming campsite that very few tourists know about. Because local families often camp there during the weekend, the rather small campsite tends to fill up quickly. To maximize your chances of finding a good spot to set up camp for the night, I would recommend that you head there on a weekday.
One of the best things about Angammedilla is that it merges with the northern side of Wasgamuwa Park, giving you the chance to explore two national parks in one day. Cool, right?
Like most Sri Lankan parks, visitors can hire a vehicle with a guide to explore Angammedilla. Hikers will be glad to learn that this is also one of the rare national parks that you can explore on foot. With plenty of wildlife, this site is additionally known for its extensive variety of flora, including the rare Ceylon Ebony.
Where to Stay Near Angammedilla National Park
If you're not really into camping, you can always consider the Sunbeam Villa, located just an hour's drive from Angammedilla National Park. Nestled in an idyllic area, this cottage features two beds for three guests. There's also a shared outdoor dining area for when you want to dine Al Fresco style.
Have you sorted your accommodation yet?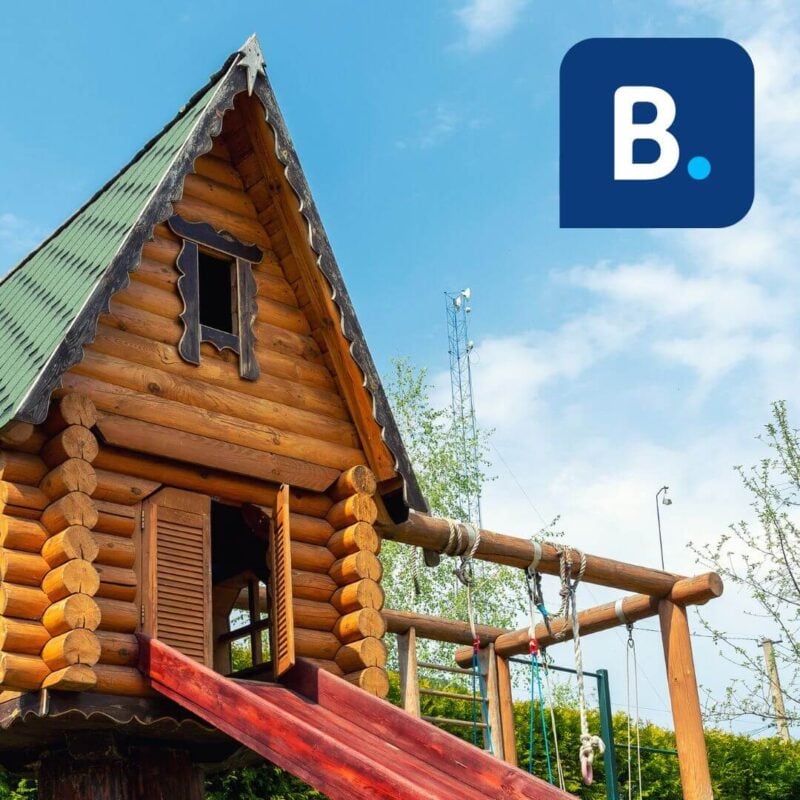 Get 15% OFF when you book through our link — and support the site you love so dearly 😉
Booking.com is quickly becoming our go-to for accommodation. From cheap hostels to stylish homestays and nice hotels, they've got it all!
View on Booking.com
Gal Oya National Park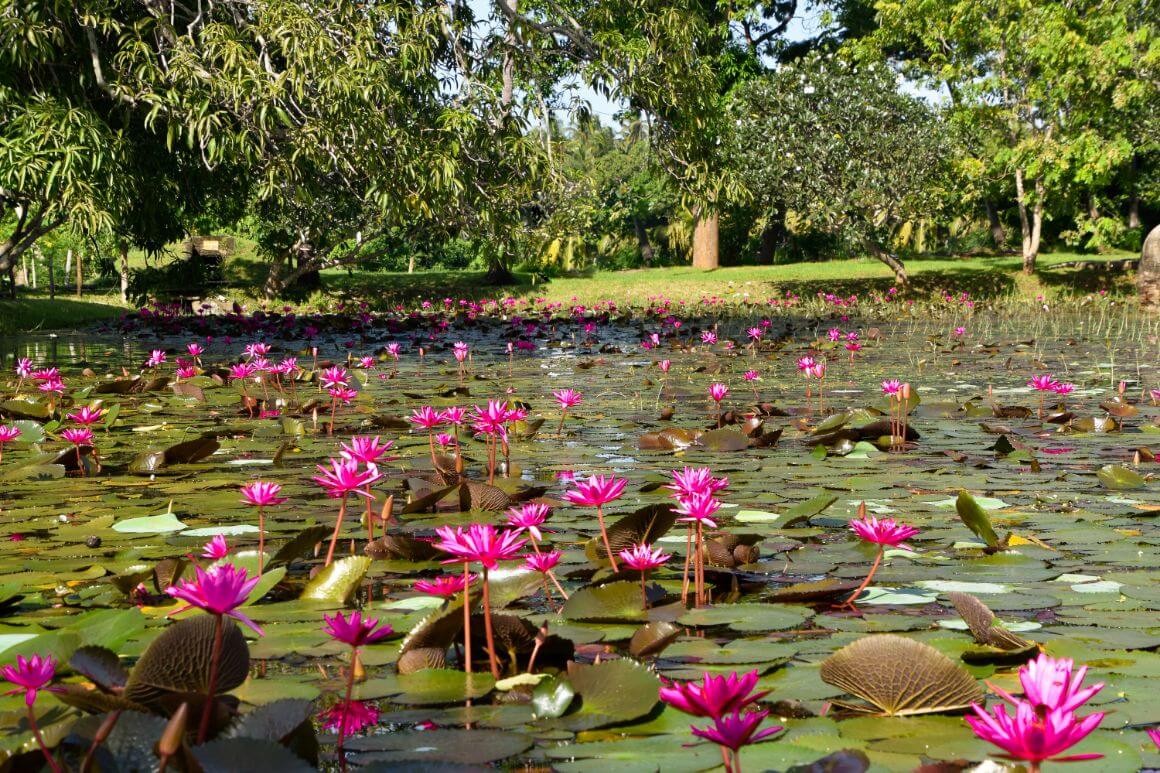 Size: 259 km²
Location: Eastern Province
Cost of Entrance: $6 (adult), $3 (child)
Fans of nautical adventures, this one is for you!
Looking like it's been plucked right off the pages of a fairytale book, Gal Oya is said to be one of the most idyllic national parks in Sri Lanka – and it won't take you long to understand why. Picture an enchanting landscape consisting of a lake island surrounded by ancient woodlands and majestic mountain peaks, and that's basically Gal Oya in a nutshell!
Because of its unique landscape, this park lends itself quite well to both boat and jeep safaris. The park additionally shelters varied wildlife with endangered species, such as water buffalo and the endemic Toque Macaque.
This park also happens to be one of the rare places where you can meet members of the Vedda tribe and learn more about their fascinating culture. Often considered to be Sri Lanka's longest inhabitants, the Veddas are also known as the 'last cave dwellers in the country'.
The tribe often offers guided hikes, and if you're lucky, you can even see them perform their evening blessing dance around a fire, complete with drums and singing.
Oh, and did you know that Gal Oya is one of the best places in Sri Lanka for enjoying a relaxing boat safari?
Where to Stay Near Gal Oya National Park
If you're not ready to say goodbye to Gal Oya just yet, this comfortable glamping experience may be exactly what you need! With tents suited to 2-4 people, this place has an outdoor pool and an on-site restaurant.
Maduru Oya National Park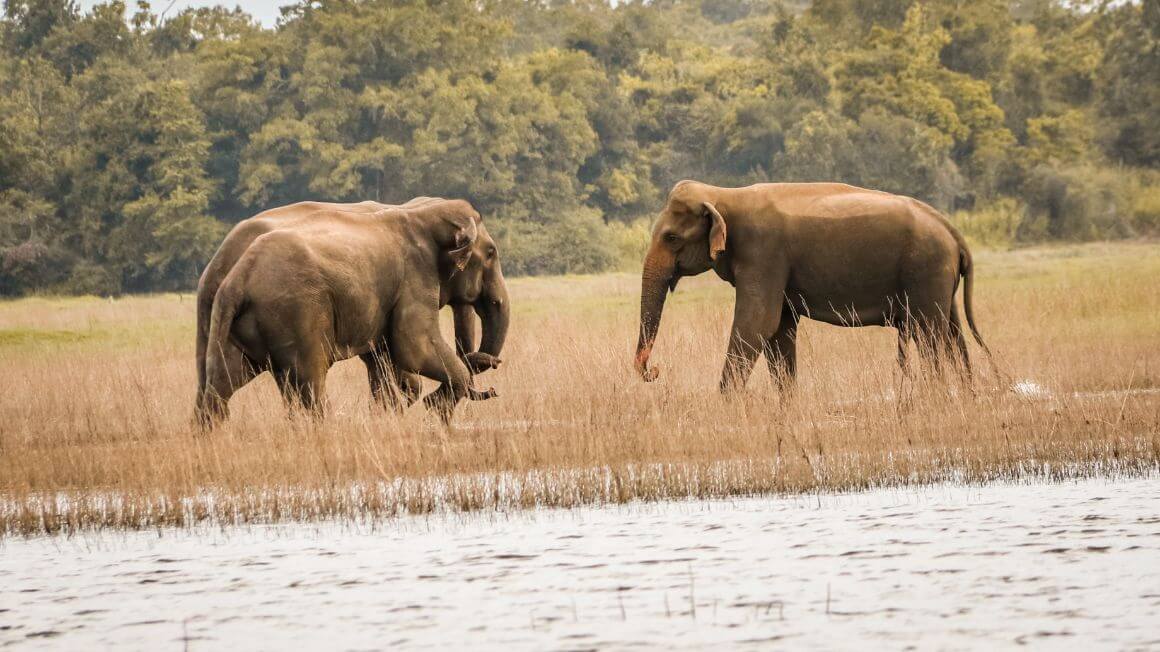 Size: 589 km²
Location: Eastern and Uva Province
Cost of Entrance: $10 (adult), $5 (child)
One of Sri Lanka's oldest parks, Maduru Oya, is another site that houses a Vedda tribe village. Steeped in history, this park offers plenty of fauna and flora – but you'll also find several ancient ruins that are quite significant to the country.
One of the park's archeological highlights includes an ancient dam that was apparently built before the 6th century. You'll also find local Brahmin scripts dating to the 3rd century, statues, temples, and the remnants of a shrine. Just outside the park is found the temple of Mahiyangana, which is of great significance to the Veddas, and even though it's not found inside Maduru Oya, I would say that it's well worth a visit.
Maduru Oya National Park is entirely found in the dry zone so brace yourself for the heat! As always, make sure to carry plenty of water and a hat. Because of its dry climate, you'll see various types of woody flora, including the rare Vatica Obscura tree. Sprawling saltwater lagoons only add to the allure of the place.
Be sure to check out the small but super informative wildlife museum located at the park entrance to learn more about Maduru Oya's conservation efforts and projects.
Where to Stay Near Maduru Oya National Park
Located less than two hours from Maduru Oya National Park, this beautifully furnished apartment offers two bedrooms for four guests. Expect classic home comforts, including air conditioning and a kitchen.
Horton Plains National Park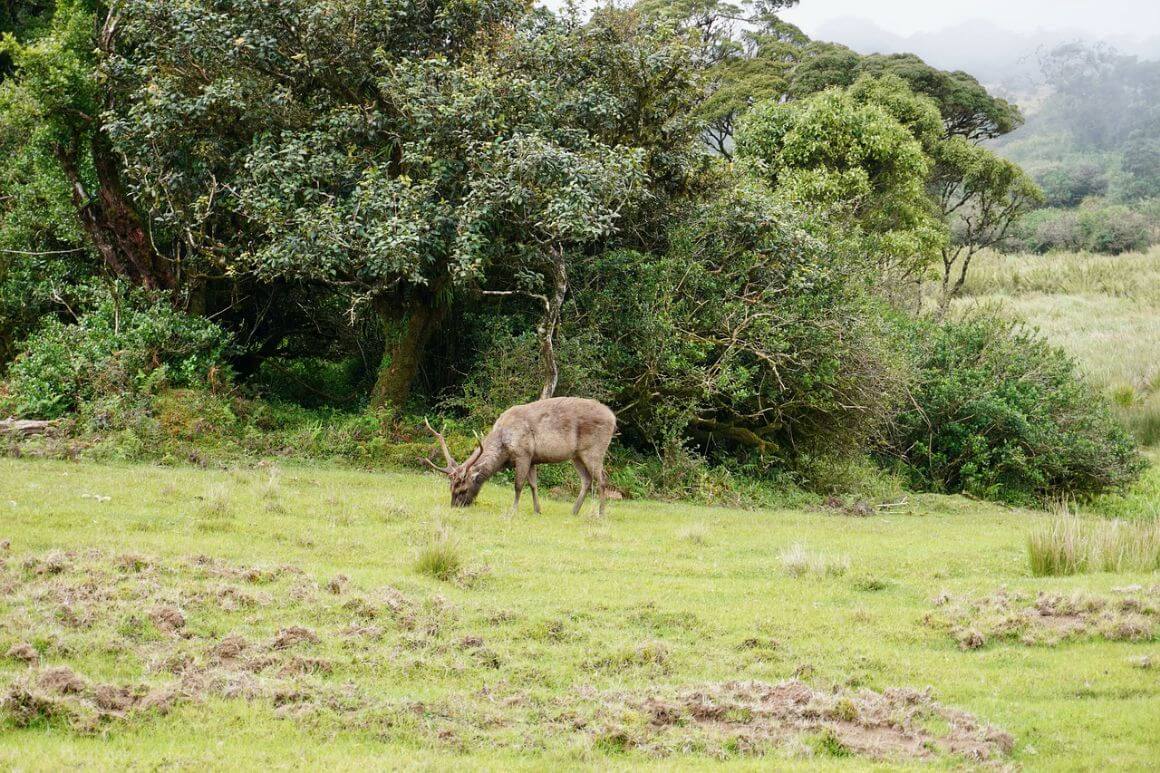 Size: 31.6 km²
Location: Central Province
Cost of Entrance: $14
One of the best Sri Lanka national parks for hiking and bird watching, and definitely one to add to your Sri Lanka itinerary, Horton Plains is found on the country's highest plateau. With an elevation of over 65,000 feet above sea level, this park is extremely rich in biodiversity and houses plenty of endemic plants.
Every year, tourists flock to Horton Plains to experience World's End, a towering cliff with a sheer drop of 4,000 feet. One of the park's most visited areas, World's End, can be reached after a 4-kilometer hike that kicks off from the trailhead. Brace yourself for plenty of mist and a bit of mud too! For better visibility, the best time to hike the circular World's End trail is early afternoon.
Alternatively, you can also check out the Bakers Fall Trail, which leads to the most famous waterfall in Sri Lanka.
Horton Plains is the only park where it's safe for visitors to hike without a guide as long as they stick to the designated tracks. With an average temperature of around 16 degrees C, this park additionally offers a refreshing change from the sweltering heat and humidity that awaits in Sri Lanka's drier regions.
Where to Stay Near Horton Plains National Park
Surrounded by the misty mountains of Horton Plains National Park, this comfortable lodge offers the ideal setting for trekking and hiking. After a full day of adventures, guests can crash in their standard or deluxe rooms that sleep up to three.
Is This the Best Daypack EVER???
Lahugala Kitulana National Park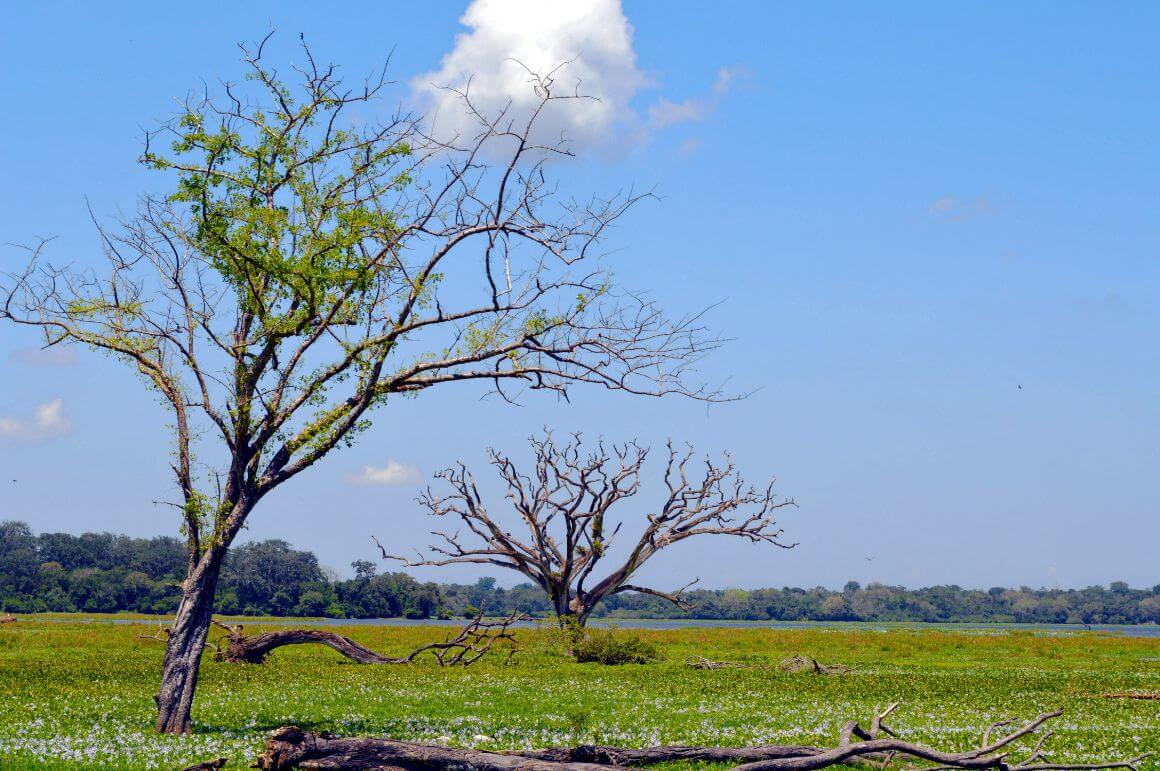 Size: 15.54 km²
Location: Eastern Province
Cost of Entrance: $15 (adult), $8 (child)
Okay, this may be the smallest national park in Sri Lanka, but it still offers plenty to both bird watchers and elephant enthusiasts!
Unlike other Sri Lankan parks, vehicles aren't allowed in Lahugala Kitulana, so prepare yourself for plenty of walking.
To up your chances of avian sightings, I would suggest that you visit the park in the late afternoon. Because this national park has plenty of rosewood and tall satinwood, it also draws various forest bird species, including the Ceylon Jungle Fowl and the Red-Faced Malkoha.
During this time, it's also possible to observe wild buffalos and elephants grazing on Beru grass. In fact, the park houses three tanks that support both animal and plant life, providing plenty of Beru grass for the elephants.
Along with an abundance of flora and fauna, the Lahugala Kitulana National Park is also known for the archeological ruins nestled on its outskirts. For instance, just at the edge of the park is found the Neelagiriseya, a colossal Buddhist Stupa that was built in the 2nd century BC.
Off the tourist trail, the 2000-year-old ruins of the Magul Maha Vihara are another ruin that borders Lahugala Kitulana National Park.
Where to Stay Near Lahugala Kitulana National Park
An hour's drive from the park takes you to Moonlight Cottage, where you can relax in a studio-style layout while soaking up gorgeous views of the Sri Lankan Hills. With a separate open kitchen, this space can accommodate up to three guests.
Adam's Bridge Marine National Park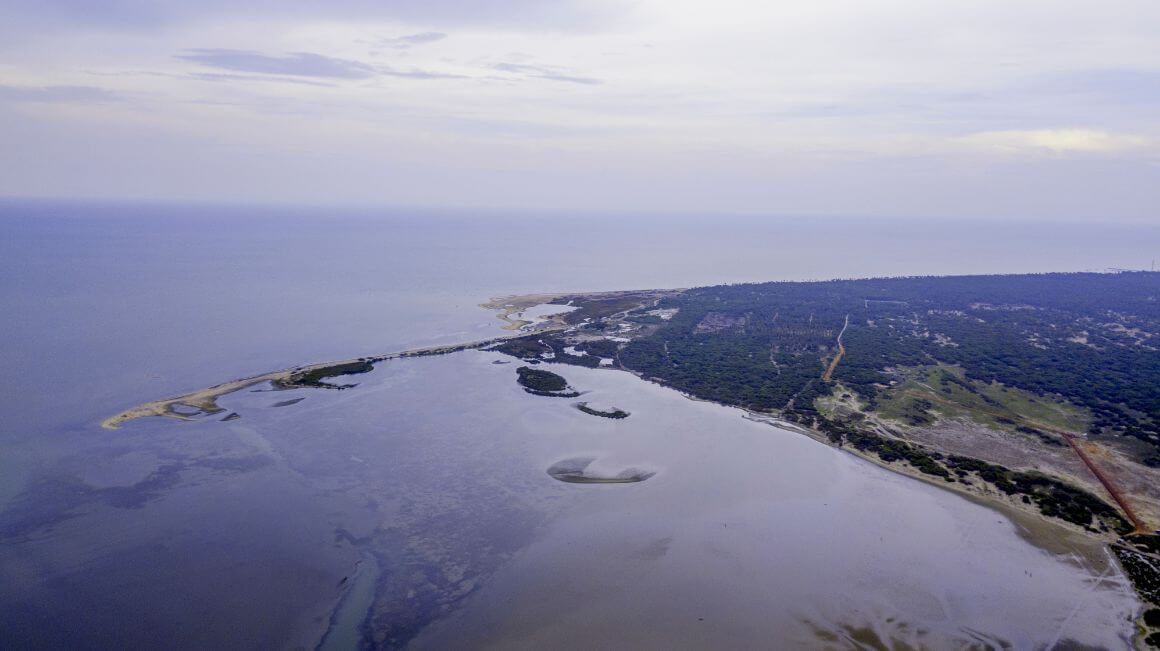 Size: 190 km²
Location: Talaimannar Village
Cost of Entrance: $25 (adult), $15 (child)
Imagine a place that seamlessly fuses marine, archeological, as well as natural wonders, and you've got Adam's Bridge Marine National Park!
If there's one thing this park is known for, it's the Adam's Bridge, also known as Rama Sethu or Rama's Bridge. The 'bridge' actually refers to a chain of shoals connecting India's South-Eastern coast to Sri Lanka. According to geologic evidence, this bridge represents an ancient land connection between the two countries.
Because of its relatively unknown origins, Adam's Bridge is shrouded in mystical legends and stories. Some believe that it was the bridge that Adam crossed over after being thrown out of Eden, while others affirm that the bridge was built for the Hindu god Rama to rescue his wife, Sita.
Getting there is an adventure of its own, as you'll be greeted by spectacular views of the Sri Lankan coastline as you cross the Mannar Bridge over to the island, one of the best places to visit in Sri Lanka. Visitors are also allowed to swim or snorkel in the park's crystalline lagoons- perfect for witnessing the amazing underwater life!
Because it's located in a pretty windy area, this park is also a hotspot for kitesurfing.
Where to Stay Near Adam's Bridge Marine National Park
Relax in air-conditioned comfort at The Palmyrah House, located just 45 minutes from the marine national park. Boasting guest rooms or chalets for two, this guesthouse offers daily complimentary breakfast.
Final Thoughts
Thanks to Sri Lanka's arduous conservation efforts, tourists can enjoy the country's diverse ecosystems all year long. Best of all, its tropical climate and prime location in the Indian Ocean give Sri Lanka some of the most remarkable national parks in the world.
Short on time? Then be sure to check out Yala National Park, which just so happens to be the most visited national park in Sri Lanka. With plenty of wildlife and incredible sceneries, this is one park that's bound to thrill kids and adults alike!
Check out our top tips for visiting Sri Lanka for the first time to be super prepared!
---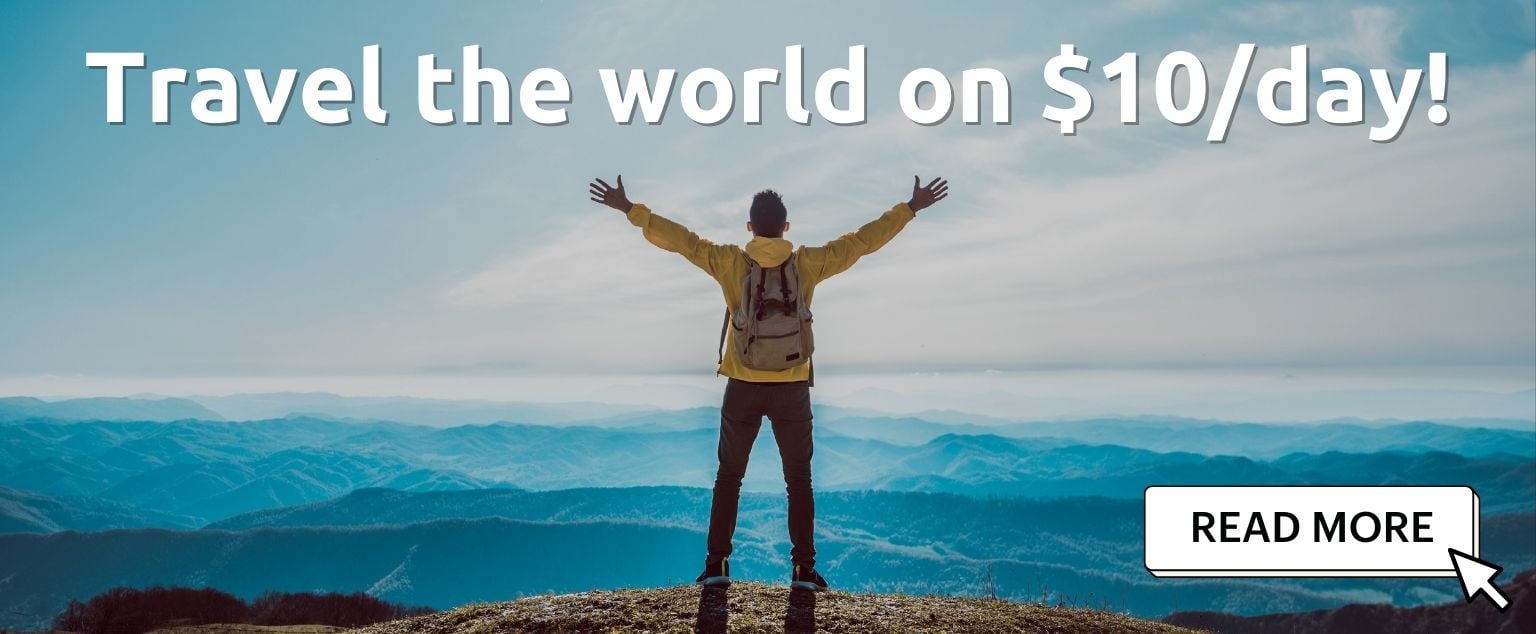 And for transparency's sake, please know that some of the links in our content are affiliate links. That means that if you book your accommodation, buy your gear, or sort your insurance through our link, we earn a small commission (at no extra cost to you). That said, we only link to the gear we trust and never recommend services we don't believe are up to scratch. Again, thank you!