So, that's what we're doing a surfing in Sri Lanka guide! I'm outlining the best beaches in Sri Lanka for your surf trip: beginners, intermediates, and even juicier stuff for the real chargers.
Plus, I'm bringing some extra tasty beeswax. A full dump of backpacker biz and surfing in Arugam Bay – the surf Mecca of Sri Lanka.
Who's this guide for? Mostly backpackers and beginners surfing in Sri Lanka. All that said, I pride myself on not being shit at my job (I like to set low bars), so I've squeezed some details in on the finer points of Sri Lanka's surf.
I've been on the ground, I've done the "research" (I love my job), and I reckon that I've got a guide here that hits the sweet spot for anyone needing the full-scope of what to expect from Sri Lanka's waves.
You guys will still have to get out there and do your own "research" (heh). All the same, here's your bitchin' drop, dude!
See, I know surfer things.
With out further ado, grab one of your best surfboards and get your self on that plane!
Some Introductory Reading Before the Surfing in Sri Lanka Guide Commences
Ok, full disclosure time. Let's let it all hang loose. (Should we have a surf-related pun count for this guide?)
Have you ever surfed?
Well, yeah… duh.
Have you surfed in Sri Lanka?
I mean, considering I'm writing the 'Surfing in Sri Lanka Guide'…
Are you good?
Not by a long shot.
But I have a secret weapon! I grew up in a fairly famous east coast Australian town (no spoilers). It was kinda hard to not be inundated with the culture.
I surfed as a teenager and I distinctly remember being pretty shit. I also remember quitting after a somewhat traumatising encounter with about 50-100 jellyfish.
Growing up in an east coast Australian beach town gives you a nice backdoor barrel into surf culture (keep 'em comin', boiz). It also gives you a nice backdoor into the hardcore/metalcore scene but that's considerably less useful information for a backpacking website.
So, all-in-all, I may not be a regular Tony Hawk but I reckon I still got enough info to give you a Shaun White level knowledge-bomb.
Wait… fuck.
Right, the number one important question on everyone's lips! What's the best time of year to surf in Sri Lanka?
There's no best surf season in Sri Lanka… because it's all good. Most times of the year you'll be able to find swell somewhere.
Arugam Bay's surf season is easy! May to Septemeber is when Sri Lanka's long-ass waves roll in and come the start of October they roll back out. The rains pick up, town shuts down, and it becomes all but pointless to head east on a Sri Lanka surf trip.
The south coast typically peaks out from November to April (both in terms of tourist and surfing season). The key difference here is that you'll still find waves outside this period.
Many of Sri Lanka's south beaches get good swell ten-or-so months of the year and being outside of the peak season doesn't necessarily dampen the fun. In the shoulder months, dope waves roll in on some breaks and others open up to a more beginner-friendly level. The rain may dampen the fun a tad more, however.
April to September the monsoon in the south picks up so, why you'll still get Sri Lanka's best surf, you're not necessarily going to get its best sunshine. I suppose that right there is the real difference between a surf holiday in Sri Lanka and really chasing its waves.
If the latter is the goal, I doubt you care about getting wet. I mean, you're surfing. You're already wet.
Other Things to Do on Sri Lanka's Beaches
Did you think the surfing Sri Lanka guide would exclusively be about surfing? Hah! You kooked it.
Along the south coast you're going to find a lot more of the expected beach activities in Sri Lanka:
Snorkelling – You'll find snorkelling nearly everywhere in the south. Mirissa and Hikkaduwa are prime candidates for offering some of the best snorkelling in Sri Lanka.
Diving – Another aquatic thing to do in Sri Lanka. Leisurely diving and proper certification training are both a thing (Hikkaduwa and Unawatuna being the top picks with Mirissa as the runner-up), but it's fair to note that Sri Lanka is most definitely not the cheapest and best place in the world for diving.
Yoga – Because beaches, yoga, and tourists go together like colonisation, years of persecution, jumping ship, and then returning to the ship when they start serving smoothie bowls! You'll find plenty of yoga down south.
Whale watching – Definitely a thing down south too; whale watching in Mirissa is super popular. I didn't take any whale tours myself so I can't attest to how ethically sound they are. I'd like to think that if the boats got too close, however, the whales would just tail-slam them Pokemon style.
First, we're covering Sri Lanka's surf spots in the south following the coast from Colombo! I'm going to cover a lot, but I'm not going to cover everything. If I was going to break down every single surfing beach in Sri Lanka, I'd never get to go home.
Oh… there's a thought.
Surfing in Hikkaduwa
Hikkaduwa used to be known as the go-to hippie place in Sri Lanka but, alas, times change, money starts getting made, and the beaches start eroding from over-development. The 2004 tsunami also took its toll on Hikkaduwa and the vibe's been left in flux since… but none of that has touched the surf!
Known for a long time as the surfing capital of Sri Lanka (capitals tend to change a lot on the island), you're going to find surf suited for all skill levels. It's rare to have a day – any time of year – that the surf report in Hikkaduwa flattens out.
It's also worth noting that Hikkaduwa is another of Sri Lanka's party spots; you're gonna find plenty of nightlife in Hikkaduwa. International DJs, booze, and things more fun than booze. If you're looking for a sleepy surf holiday in Sri Lanka, there are places better suited for that.
Hikkaduwa Surf Spots
Hikkaduwa has something for everyone! You'll find surf for beginners and experts alike and there are lots of surf camps and lessons in Hikkaduwa. The beaches get hella busy in peak season, however, so Hikkaduwa may not be strictly the best choice of surfing in Sri Lanka for the beginners:
Surfing the Galle to Weligama Stretch
The beaches along this stretch of Sri Lanka's coast offer a more low-key alternative to the tourist vibes in Hikkaduwa and Mirissa. Don't get me wrong, I'm not talking the desolation of Australia's west coast, but it's definitely a place to visit in Sri Lanka for surfing at a slightly sleepier and more local level.
The other added bonus of Sri Lanka's south coast is that it's compact and easy to travel. Spending a surf trip in Sri Lanka just scooting up and down the coast is incredibly viable. People with their own wheels are gonna have an easy time scouting the coast between Matara and Hikkaduwa for empty breaks – unmanned with waves all of your own.
That's for the vets though. Groms are better suited to sticking near the lifeguards. Stay safe, yeah?
Best Break and Beaches on Sri Lanka's South Coast
From Galle to Weli, you'll find a lot more breaks then what I'm listing here. This is just your condensed list:
Unawatuna Bay – Unawatuna is more of a family holiday destination (expect stony Russians), so you'll be sharing the waves with a lotta freshies. You'll easily find surf schools in Unwatuna, shallow sand-bottom breaks for beginners, and some left-hander reefs for the more experienced. You'll rarely find any real bombs here, but the locals can point you in the right direction.
Ahangama – Rajith Surf Point – Classic A-frame peelers that get up to 5-feet waves riding up to 350m over the reef.
Kabalana Beach nearby offers long easy waves for beginners on the beach break while Surf Point has another solid A-frame with fast rides for the intermediates. It's a good choice for kook's-first-reef-break too!
Midigama Surf Spots – Midigama has some sicks breaks and the whole vibe chills out more too. This is where you'll find some of the best surf spots in south Sri Lanka.
Lazy Left and Lazy Right offer mellow rides (left and right respectively… duh). Sweet choices for intermediates or beginners wanting to step up their game.
Ram's Right offers something for true carvers. Clean barrels and fast rides usually peaking out at 6 feet.
Weligama Surf Spots – You'll find surf in Weligama nearly all-year-round; the bay is protected so even when other parts of the coast are blown out there's usually something ridable here.
There are heaps of surfboard rentals and surf schools along Weligama Beach and the beach break is kook city. Sitting on the shore, smoking a doob, and watching people ragdoll themself is almost as fun as the waves!
There's a reef break (Fisherman's Reef) for intermediates plus a couple other sweet breaks nearby between Weli and Midi to check out (Coconut Point, Plantation Right).
There's some great hostels in Weligama near the best surf spots, too!
Surfing in Mirissa
Mirissa is another sleepy gem of Sri Lanka's places to go that was roused awake. More appropriately, it got booted awake by the steel-capped boot of Instagram culture.
There's a reason for that though: it's seriously gorgeous. Some of the best beaches in Sri Lanka are found in Mirissa. They're long sandy wonders framed by palm trees and crystalline waters when the swell is gentle.
But who the fuck wants gentle swell? This is the surfing in Sri Lanka guide! Not a goddamn top ten most Instagrammable places list.
Get out there and rail yourself on some beast-waves!
Mirissa Surf Spots
Ok, so there's no real beast-waves in Mirissa but there are choice spots for the beginners and intermediates. Mirissa Beach is a crescent-shaped bay nestled between rocks and a hill so on-shore winds won't do as much to spoil the ride.
The beach break offers mellow waves for beginners surfing in Mirissa (surf lessons and surfboard rental aplenty) while the reef breaks have something for the intermediates. There's a low-power right-hander near the rocks and a left-hander near the harbour to play with.
Mirissa is a good place for beginners surfing in Sri Lanka who want to level-up their reef skills. Take care, however, as the reef is shallow when the tide is out. Check the surf reports for Mirissa or, even better, ask the locals! They've been there longer than we have.
Other Things to Do in Mirissa
It's not all about the beautiful beaches in Sri Lanka! Well… it is… but… shut up!
Hit up Secret Beach – It's not so "secret" any more courtesy of Instagram and travel bloggers (I'm currently having moral anxiety about my choice of occupation). It's on Google Maps, so how secret can it be anyway? One way or another, it's mega pretty.
Whale watching – Marine life (whales in particular) are a big draw in Mirissa. You can organise one onsite at the beach or pre-prepare here.
Snorkelling at Turtle Bay – For, you know, turtles. Just, like, guys, no touching… please. Leave them alone. In Hikkaduwa especially, you'll find people posing and all manner of bullshit with the turtles.
I'm not saying you would do that, but I know people do. Let turtles be turtles. Especially if they're ninja turtles; those guys will fuck your shit up.
Sunset from Coconut Tree Hill – There are a lot of coconut-themed points of interest in Sri Lanka. Coconut Hill is a short stroll out of town and either sunset or sunrise is gonna give you one of those effervescent moments…
Surfing Hiriketiya and East of Mirissa
After Mirissa, the beaches chill out more again. Hiriketiya is pretty wanky: land of the 'yogis', smoothie bowls, and digital nomads. But mostly around that is local vibes – especially east of Tangalle.
Hiriketiya Beach sits in a protected cove so, much like Weligama, you'll find waves nearly all-year-round. The beginner surf season in Hiriketiya runs from December to February and shoulder season (August to December) when the waves are really cranking. Around mid-year, the crowds bugger off and the southern swell gives you something much punchier to play with.
Anywhere east of Mirissa (Hiriketiya notwithstanding) you'll be hard-pressed to find Sri Lanka's best waves. Dondra Point has surf, but it usually sucks. It is, however, the southernmost point of Sri Lanka so you'll be able to tell people you took a piss off the bottom of The Resplendent Isle!
Southeast Sri Lanka's Best Surf Spots
The best surf is in Hiriketiya Beach (in Dikwella – yes, I did snigger at the name; I'm an adult). Past that, there's not so much. Tangalle and beyond (Kalametiya is super chill) the beaches are lonelier and more suited for reading and building sand penises… Did you think I was going to say something else?
Where to Stay on Sri Lanka's South Coast
Since you'll be surfing there, you'll probably also be sleeping there! Unless you'll be sleeping on the beach (which is totally viable with the right backpacking gear). Past that, I assume you'll want a roof and a bed… and a mosquito net.
How to Get Around Sri Lanka's South Coast
Well, the buses and trains are crazy serviceable but a real nightmare to catch lugging a mal. I did, however, make a reference to having your own wheels. Where's this going?
To a tuk-tuk rental! I ended up travelling with a German couple from the sexier part of Germany who had rented a tuk-tuk for their adventure in Sri Lanka. Together, we went all kinda crazy places and the added bonus was getting to the surf breaks was a hell lot more chill… except for the driver.
Should you do it too? I dunno, that's your call, man. It'll raise your Sri Lanka travel budget – the aforementioned buses and trains are hella cheap, but the upside is that it's a fan-fucking-tastic journey!
Scope out tuktukrental.com – they're not the only group doing rentals, but I reckon they're the best. If you decide you want to drive like a South Asian too, enter the code brokebackpacker at the checkout for a sexy discount. Yamu!
Consider this something of miniature travel guide for Arugam Bay. Ooh, 'Arugam Bay Abbreviated'… That's a sick title!
My initial trip to Sri Lanka was during the east coast's peak season so I scoped out Arugam more than any of Sri Lanka's other beaches. If it's in full swing, Arugam Bay is definitely the place to go for surfing in Sri Lanka.
Look, I'll be honest: it's not my vibe – not at all, but it's a sticky place for a lot of people and I respect that. Everyone's got their flow.
It's the closest thing to typical backpacker beach vibes (Southeast Asia reminiscent) that I found in Sri Lanka; the south has too many families and 1500 rupee pizzas and Trincomalee – the other beach stop on the east coast – was just… quiet. Plus, there's no surf. It's a no-go for surfing in Sri Lanka.
Arugam Bay has nightlife (4 out of 7 nights a week), fucking legendary food, and, obviously (because it's in this guide), some more of the best surf spots in Sri Lanka. Yeah, it reminded me too much of my hometown, only with more tuk-tuks and fewer yuppies, but there are still parts I loved!
Mainly, the food. Ok… only the food. I'm really just writing this to talk about the food.
Surfing in Arugam Bay
If you're visiting Arugam Bay and you're not surfing, you're doing it wrong. You could not surf but then you'd miss out on thrilling conversations such as this:
"Oh hey, dude. What're you up to today?"
"Ah, probably goin' for a surf."
"Oh yeah, nice, dude. I'll see you later."
Arugam is a proverbial theme park of breaks. Long-ass barrel rides, technical at times, and most beaches in Arugam Bay have a baby and main point. People come here for a surf season in Arugam Bay and they get stuck. Some months later they emerge – sunkissed caramel-skinned Adonises.
To reiterate: the surfing season in Arugam Bay runs from May to November and outside of that, there's nothing. In season though, the town fills with a lot of people – families, yes, but still an overall backpacker vibe – and everyone hits the beach every day.
The surf spots in Arugam Bay are crowded but you can definitely find times when there are fewer people. Try Sunday morning when everyone is still hungover from Mambo's.
And, yep, there's heaps of surfboard rental and surf lessons in Arugam Bay; you're gonna have zero trouble finding that. I'll save that stuff for a bit later, though; check the tips section.
Overall, I'd still say that Arugam Bay is the best place for surfing in Sri Lanka. There are plenty of aspects I don't like about it but, between the variety of breaks, the cheaper prices, and the overall lack of over-developed tourist shenanigans, it's just better than the south coast.
It may not have been for me, but people definitely find their tribe in Arugam Bay.
Best Surf Spots in Arugam Bay
Lots and lots of prime choices for surfing and beginner's surfing in Sri Lanka. Arugam is a surf Mecca for a reason:
| Surf Spot | Baby Point? | For… | Deetz |
| --- | --- | --- | --- |
| Main Point | Yes | Intermediates up | An easy walk from town. Main Point's point break rolls over a pretty hectic reef with some seriously long rides. Can hold waves that get up to 8 feet on the right day but the downside is that it gets crowded with a lotta kooks who aren't surfing in the most upstanding manner. |
| Elephant Rock | Yes | Intermediates up | Technical waves when they wanna cooperate but also mellows into good beginner surf for Arugam Bay due to the sandy bottom. The right-handers break off the rocks (which is also a sublime sunset spot) and usually barrel. |
| Pottuvil | Yes | Beginners up | Heaps of take-off points with some of the best right-handers on the island – how does 800m rides sound? Waves change a lot and the sand makes it another fan-favourite with the surf schools in Arugam Bay. |
| Whiskey Point | Yes | Beginners up | Waves tend to stay consistent here even if they're shit everywhere else. Take-offs are easy and you're looking at fat and slow right-handers making it another beginner's choice of surf in Arugam Bay. |
| Peanut Farm | Yes | Intermediates up | Main point at Peanut Farm offers something a little more hectic for the wave chasers. Fast and technical rides taking off in front of the rocks. Can hold up to 6 feet with two barrel sections. |
| Okanda | Not really | Advanced | A mate told me that Okanda is a lot dirtier than the other breaks but you'll get some full-on surf when it's working. Tall, fast, and exposed waves that keep strong all the way to the sand. |
Nightlife in Arugam Bay
Right, the other thing to do in Arugam Bay that's integral to the journey: getting absolutely plastered to the wall. I did the research (yay, practical assignments) and have got the lowdown on where to go in Arugam Bay.
Vibes are, again, of the Southeast Asian variety: house and techno, a people-watching gallery of fruit print shirts, and drunken one-night-stands in the back of other peoples' tuk-tuk rentals. There's no shortage of mediocre-quality drugs too.
I'm told the music is good by (most) people that are into techno; sorry, not my vibe. I like my parties with weirder people, juicier druggas, and the primary substance-of-choice being to send you down the rabbit-hole:
Ocean Sky – Wednesdays: Literally nobody I knew went so I can't imagine the vibes are too crankin'.
Pool Party – Thursdays: I had an awesome time at the pool party purely for how terrible it was! It's like if 'The Room' was a party.
The music was a mess but there was variety! Techno to Reggaeton to house to Latin to… wait for it… psytrance!
It's was a little taste of Tel Aviv in Sri Lanka (no locals allowed). Expect many "Shalom's", chiselled abs and jaw lines, and probably a root… provided you don't spend the entire time alone in the pool stomping to psytrance.
Whiskey Point – Fridays: I skipped it because it's outta town (about 25 minutes by tuk-tuk). There's free transport leaving at 10 P.M. and returning at 6 A.M.
It's a beach bar with house and techno and a bonfire outside for when you need a smoko. Most travellers report Whiskey Point to be their favourite stomp; the distance from town makes it mostly a backpacker vibe.
Mambo's – Saturday: Same DJ as Whiskey Point with much the same vibe but it's walking distance from town. The d-floor was packed so this was definitely somebody's techno!
Bonus points for having a slackline, but good luck walking it when there are fifteen drunk white girls and fifteen Sri Lankans trying to pick up drunk white girls surrounding it at any given moment.
Places to Eat in Arugam Bay
My. Favourite. Topic.
Arugam Bay's restaurants (and roadside vans) bring the goods! Prices are cheap for being smack-bang in the middle of the bubble and you're not limited to just Western options. There's lotsa local food around:
Mama's Restaurant – Two buffets a day to keep the fear and existential loathing away! If you don't puke afterwards, you're doing it wrong.
Shab's Corner – A simple shack on the south edge of town serving yummy food. Shab is a legend. Smoke a beedi with Shab.
Blue Van-Truck – There's three on the south side of town. In order from north to south, it goes: best hoppers, best kottu, best roti, and best pancakes.
Thatha's Tea Shop – Close to the beach so it's a good stopover for an avo-egg roti either en route or on the return from a surf.
Bites – Serves brookies. What's a brookie? It's a brownie-cookie. Eugenics done right.
My Juice Guy – Everyone has their own juice guy. Mine was next to Ali's Restaurant and he'll squeeze it up fresh and… juicy. You can go find your own guy or you can borrow mine.
Hello Burger – Recommending Western eats in Asia ain't my area of expertise, but I have it on good standing that these guys do a killer burger. Pricey but still cheaper than the south coast.
Hideaway Bar – I rightfully could have put this in the 'Nightlife in Arugam Bay' section. They probably serve food but you're really going for two-for-one cocktails happy hour (6 P.M. to 8 P.M.). It's a focal gathering point in Arugam Bay.
Places to Stay in Arugam Bay
To keep the blues away while you surf all day! Don't you dare nay-say these places to stay in Arugam Bay less you be cray-cray!
Three different vibes for three different types of travellers. Yes, we are pretending I didn't just drop a freestyle about the accommodation in Arugam Bay.
Best Party Hostel in Arugam Bay – The Long Hostel
Definitely the go-to hostel in Arugam Bay for every vibe I've just described/passive-aggressively taken a swipe at. Some travellers don't vibe with it for being too cliquey (which is probably true), but, ultimately, I met some choice dudes here. Hook-ups, surfing, and spliffs summarises the Long Hostel pretty well.
Best Hostel in Arugam Bay for the Chillers – Beach Hut
The chill alternative! I got this recommendation from a tripcat later down the line and kinda regretted not staying here. The vibes are way more chill (cheap private rooms, huts, and even treehouses), the spliffs are abundant, and there's a slackline!
So, you've passed the drop now. You're riding the wave, one knee down, and how the bloody hell do I stand up? Is this a surfing tips section?
No, butthead, that was a metaphor! This is your homework section for surfing in Sri Lanka.
Standing up on a board is one thing; not being a total knob is another.
Surfing in Sri Lanka and Following the Rules: Yes, there are rules!
What's a kook? You could argue that it's someone fresh in the surfing game, but that wouldn't necessarily be true. There are other words for that.
A kook is someone that doesn't follow the etiquette of surfing be it through ignorance or arrogance. A kook rolls in acting like they're top-shit, steals other peoples' waves, and nearly concusses others or gets concussed in the process. Grommets get advice; kooks get black eyes.
Look, I really detest localism… but I get it. Again, I grew up in an Arugam Bay.
Imagine you're waiting at the same post office you've been visiting for 20+ years when some numbnuts who only learned how to post a letter two weeks ago cuts the line in front of you and then farts. As you're leaving the post office, he backs into your car and then proceeds to go off at you for not "watching the road."
I'd probably deck him too.
When your adventuring around the surfing season in Sri Lanka, just be aware that there are rules and there is etiquette. There's a line and there are priorities – the same as the post office. This isn't just for fairness or so locals can keep the touros under control; it's for safety. A board to the face hurts, and, sometimes, it kills.
Here are two excellent instructional resources I found on the topics of wave priority and surfing etiquette and I'm urging you to read it for two reasons:
So you can have a fucking grand time on your surf holiday in Sri Lanka.
So you can graduate from kook-dom.
Once you learn the ropes and start surfing with respect, you're gonna have a better time. Locals and veterans will be warmer with you, happier to give you pointers (as in any community), and you'll be a part of the culture. Not just another kook surfing in Sri Lanka.
Tips for Riding the Best Surf in Sri Lanka
Here's some more tips but nothing that's gonna gets you carving like some gnarly maddog (I think I overdid the slang). Just some general bits-and-boodles (that one is just Ziggy-talk; not surfer-talk) to make your trip surfing in Sri Lanka a tighter ride.
I made a reference to localism but it's really not such an overbearing issue in Sri Lanka (comparatively to other places in the world). There are pockets around for sure, but, as a general rule of thumb, Sri Lankans are not aggro people and the surfers are no different. Just be respectful.
Finding surf lessons in Sri Lanka is easy but not necessarily gonna do much more for you than get you standing. They usually won't teach you the aforementioned etiquette and they're not gonna teach you about reading the waves (which is arguably even more important than standing up). Here's your homework on that subject.
Reef cuts and other surfing injuries tend to take a while to heal (courtesy of how you keep going surfing). Mix that with gank South Asia water and streets and you're looking at a festering wound. Take care of yourself and keep your first aid kit stocked!
For more in-depth information on the surf spots in Sri Lanka, there's no one better to talk to than the locals. Sri Lankans are a truly lovely bunch; go make some friends.
And for info and surf reports in Sri Lanka, these are the best resources I've found.
Prices for surfboard rental seem to be a tad lower in the south than the east (weirdly). Either way, it's a haggler's game (same with the lessons).
For a day's rent, 400-600 rups seems to be the sweet spot (700 max in Arugam). I saw some people paying 1000 a day – that is way, way too much anywhere.
When renting a board, check the fins, take some photos, and just generally put some barriers between you and your rupees. Assholes come in all shapes and skin complexions.
Cheap Surfboard Rental in Arugam Bay
Snagged a deal with the place I hired a surfboard from in Arugam Bay. It's just a cheap and local shop – the dhaba equivalent of surfboard rental. But… well… at least they're cheap!
It's called Dizzy's run by Dizzy (that adds up). It's really nothing special but if you go in, tell them "Ziggy sent me. I want a vegetable kottu."
They should rent you the board for 600 a day (500 if you're taking it for a week or more). I hope they remember… I should have written it on the wall.
If they don't, leave a comment to let me know, please. I can drop him a line.
If you want the non-Dhaba equivalent of surfboard hire, Dylan's Surf Company is the popular "we pay taxes and don't sell weed on the side" choice.
Get insured before surfing in Sri Lanka…
I mentioned the part where wounds fester and boards to the face concuss, yeah? Good! Then we're already on the same page about how you probably ought to consider some travel insurance before wiping out at every surf spot in Sri Lanka.
Members of The Broke Backpacker team have been using World Nomads for some time now and made a few claims over the years. They're an easy to use and professional provider that the team swears by.
World Nomads' mission is to support and encourage travellers to explore their boundaries. They offer simple & flexible travel insurance, and safety advice to help you travel confidently.
They've been doing it since 2002 – protecting, connecting, and inspiring independent travellers just like you.
Get a quote below or read our in-depth review!
World Nomads provides travel insurance for travelers in over 100 countries. As an affiliate, we receive a fee when you get a quote from World Nomads using this link. We do not represent World Nomads. This is information only and not a recommendation to buy travel insurance.
And read our safety guide for Sri Lanka for more deetz on travelling this beautiful country.
Whoosh!
What was that sound? Oh, yeah sorry, dude. That was just the sound of me riding a fully-sick barrel.
Jokes, I can't ride barrels… but now you can! I mean, not yet. But soon!
Anyway, there you are, you've got your fancy new surfboard bag with your precious babies inside and you're ready to it up Sri Lanka!
I just hand-delivered this tight guide for surfing in Sri Lanka, so what the hell are you doing reading this outro? Get your nose outta my smack-talk, into the water, and catch some of Sri Lanka's sick surf! (Also, thanks for sticking with my smack-talk until the end.)
That's it, dude – go enjoy Sri Lanka's beaches! Munch the kottu, surf with the locals, and go do some stupid shit. Not too stupid though! Just the right amount of stupid.
I'm out! Enjoy the waves, man. I'm going back to the mountains!
---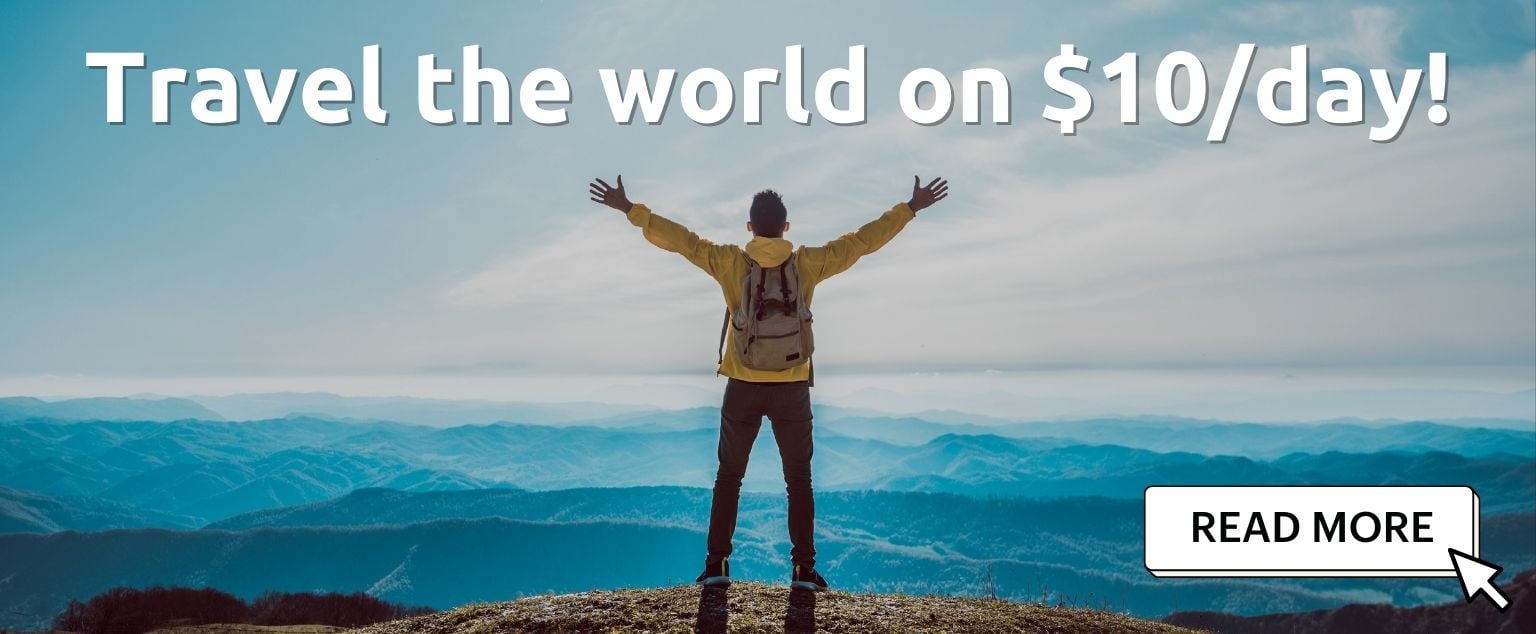 And for transparency's sake, please know that some of the links in our content are affiliate links. That means that if you book your accommodation, buy your gear, or sort your insurance through our link, we earn a small commission (at no extra cost to you). That said, we only link to the gear we trust and never recommend services we don't believe are up to scratch. Again, thank you!