The island and country of Sri Lanka has become an increasingly popular tourist destination thanks to its tropical climate, exotic nature, and great beaches. Whether you're a budget backpacker or looking for a romantic honeymoon vacation, Sri Lanka is a great travel destination.
Although there are plenty of hotels and hostels to pick from, you might want to consider staying at an eco resort in Sri Lanka. Good news is, there are a lot of options when it comes to eco resorts and eco hotels. From high-end luxury to simplistic and close to nature, there are lots of great places for more sustainable and unique accommodation in Sri Lanka.
To help you out in your search for Sri Lanka's best eco resorts, we've done some research and put together this list of our top picks. We know that everyone has a different travel style, so we've made sure to include a variety of options for everyone.
In a Hurry? Here's Where to Stay in Sri Lanka for One Night
FIRST TIME IN SRI LANKA
Dune Camp Beachside Eco Camping
There's no camping experience that can quite match the Dune Camp in terms of style and location. While still having modern amenities like power outlets and hot water, you can also have the unforgettable adventure of camping on the beach of Sri Lanka.
Places to visit:
Yala Wildlife Park
Kirinda Temple
Tissa Lake
Is this amazing Sri Lanka Eco Resorts booked for your dates? We've got your back with our other favorite properties below!

Unlock Our GREATEST Travel Secrets!
Sign up for our newsletter and get the best travel tips delivered right to your inbox.
Staying at an Eco Resort in Sri Lanka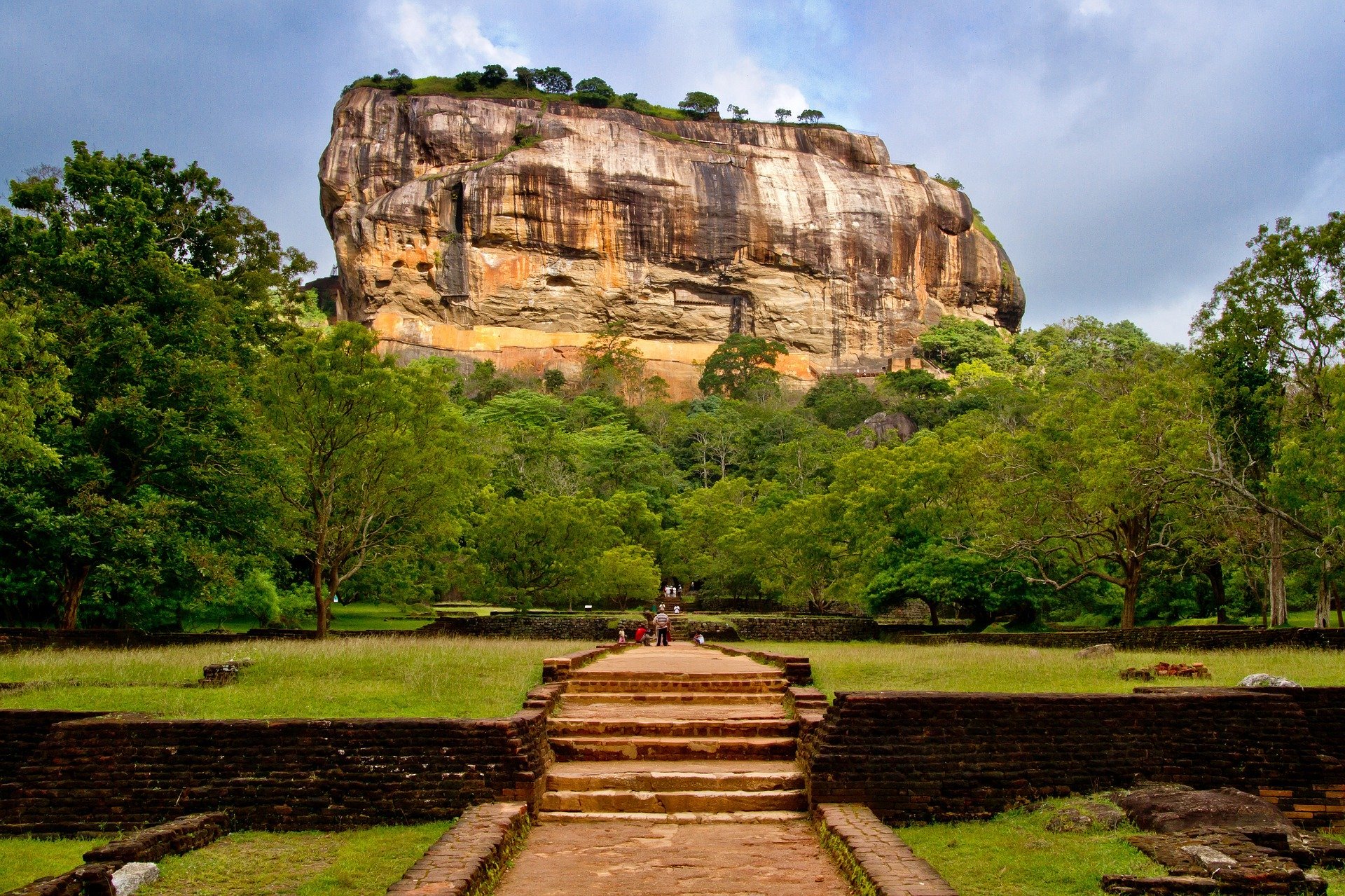 Some eco resorts are similar to high-end hotels, while others are more like simple camping spots for a more immersive natural experience. Typically, the more modern the amenities are, the higher the price, but it's possible to find plenty of comfortable eco resorts if you're traveling on a budget.
Sri Lanka isn't a very big country, but there's a lot of diversity between different regions. Most eco resorts are located in or close to popular tourist cities, but usually still have a secluded feel so you're not disturbed by traffic noises or busy streets.
Eco hotels and eco resorts in Sri Lanka all feature some sort of sustainable measures, although each property varies on their level of eco-friendliness. Common things to see are using recycled building materials, solar power for an energy source, or gardens onsite.
Some eco resorts offer a more all-inclusive experience and will either have dining options onsite or include meals in the room price. Often other activities such as yoga and cooking classes, sports such as kayaking, or hiking and walking tours are either included or can be arranged.
What to Look for in an Eco Resort
Depending on your own comfort level and travel style, there are some things you'll want to look out for when selecting an eco resort. If you're after a true back-to-nature experience, then you'll probably be happy with one of the more off-grid and simplistic camping options.
Keep in mind that Sri Lanka has a tropical climate, and as such bugs and high temperatures are to be expected. Most eco resorts will provide mosquito netting for bug protection, but not all places have AC or fans depending on how 'unplugged' they are. If AC is important to you, make sure you double check whether it's available at the property you're interested in.
Depending on how secluded an eco resort is, you may have to consider renting a car for transportation. Some eco resorts will offer airport shuttle service either included in the room price or for an additional charge to make transportation easier.
Since eco hotels range in size, it's possible for solo travelers or large families to find an appropriate spot to stay. Keep in mind that not all eco resorts are child friendly, so be sure to check the age requirements if you're traveling with young kids.
If you're still trying to decide which eco resort in Sri Lanka is best for you, it's a good idea to compare your options using search platforms like Booking.com, Airbnb, or Hostelworld. This way you can refine your search to fit your budget, travel dates, and specific preferences.
OVERALL BEST ECO RESORT IN SRI LANKA
OVERALL BEST ECO RESORT IN SRI LANKA
Dune Camp Beachside Eco Camping
> $
> 4 guests
> Breakfast included
> Close to Yala Wildlife Park
BEST BUDGET ECO RESORT IN SRI LANKA
BEST BUDGET ECO RESORT IN SRI LANKA
Banyan Lodge, Yala
> $
> 4 guests
> All meals included
> Lakeside property
BEST ECO RESORT FOR COUPLES
BEST ECO RESORT FOR COUPLES
Back of Beyond, Dehigaha Ela
> $$
> 2 guests
> Onsite restaurant
> Close to numerous parks
BEST ECO RESORT FOR A GROUP OF FRIENDS
BEST ECO RESORT FOR A GROUP OF FRIENDS
Galle Nature Cabanas
> $$
> 6 guests
> Motor scooters for rent
> Floating boat restaurant
OVER-THE-TOP LUXURY ECO RESORT
OVER-THE-TOP LUXURY ECO RESORT
Aarunya Nature Resort and Spa
> $$$$
> 2 guests
> Private pools
> Fitness center and garden
BEST ECO RESORT FOR FAMILIES VISITING SRI LANKA
BEST ECO RESORT FOR FAMILIES VISITING SRI LANKA
Nest Wood Bungalow
> $$
> 6 guests
> Swimming pool
> Incredible views
BEST ECO HOSTEL FOR BACKPACKERS
BEST ECO HOSTEL FOR BACKPACKERS
Tomorrow Land Hostel
> $
> 1-2 guests
> Food and drinks available
> Great views
The Top 15 Eco Resorts in Sri Lanka
Whether you're looking for a spot to unplug and reconnect with nature or somewhere peaceful to relax on the beach, one of the best eco resorts in Sri Lanka is waiting for you to have the trip of a lifetime! Read on to discover our top picks and what makes each a great place to stay.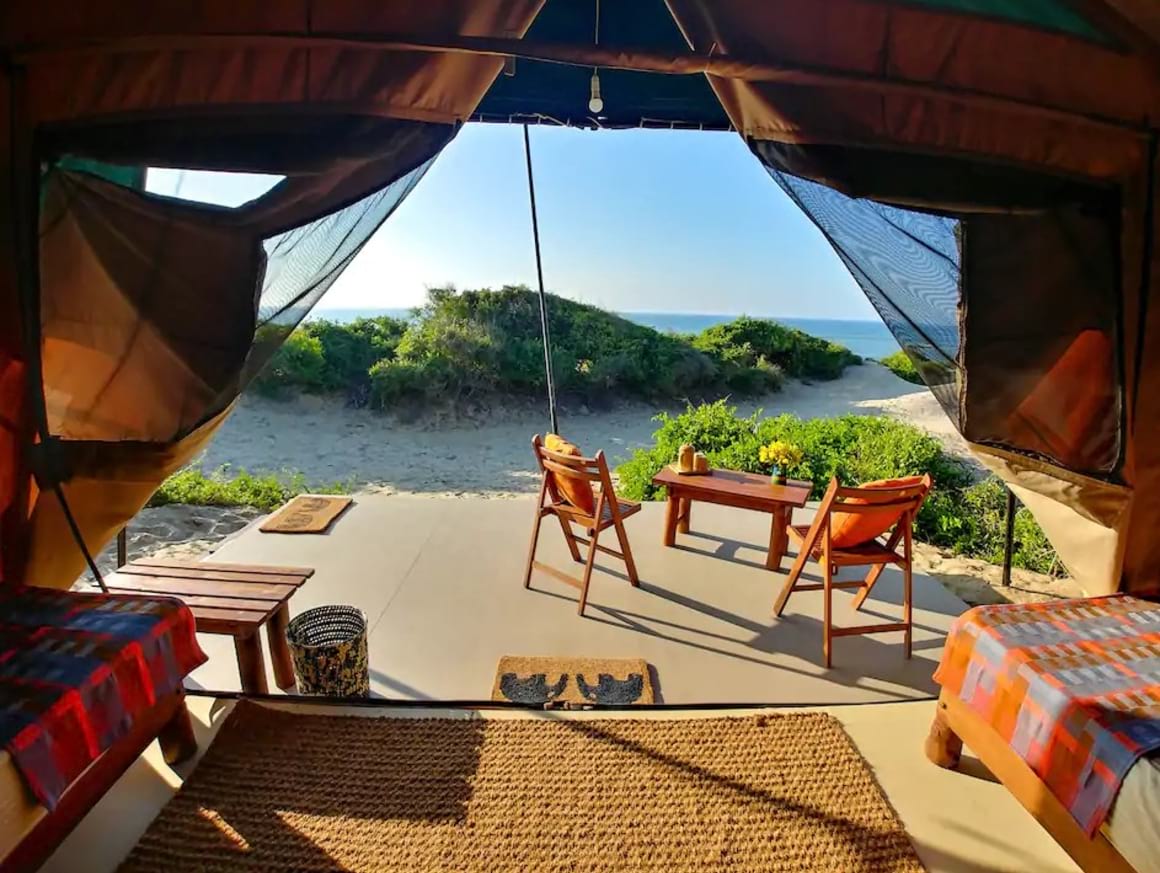 $
4 guests
Breakfast included
Close to Yala Wildlife Park
Ever dreamed of being able to camp on the beach without missing out on modern comforts? If you have, you can turn that dream into a reality at Dune Camp! Located right on the beach and only 15 minutes from the popular Yala Wildlife Park, Dune Camp offers a luxury camping experience complete with a working shower, electric lights, and power outlets.
This eco camp is a great place to reconnect with nature without giving up modern conveniences. You can enjoy a fresh breakfast each morning on the beach, walk around the incredible sand dunes surrounding the camp, and arrange for a gourmet dinner under the stars at the end of the day.
The Best Budget Eco Resort in Sri Lanka – Banyan Lodge, Yala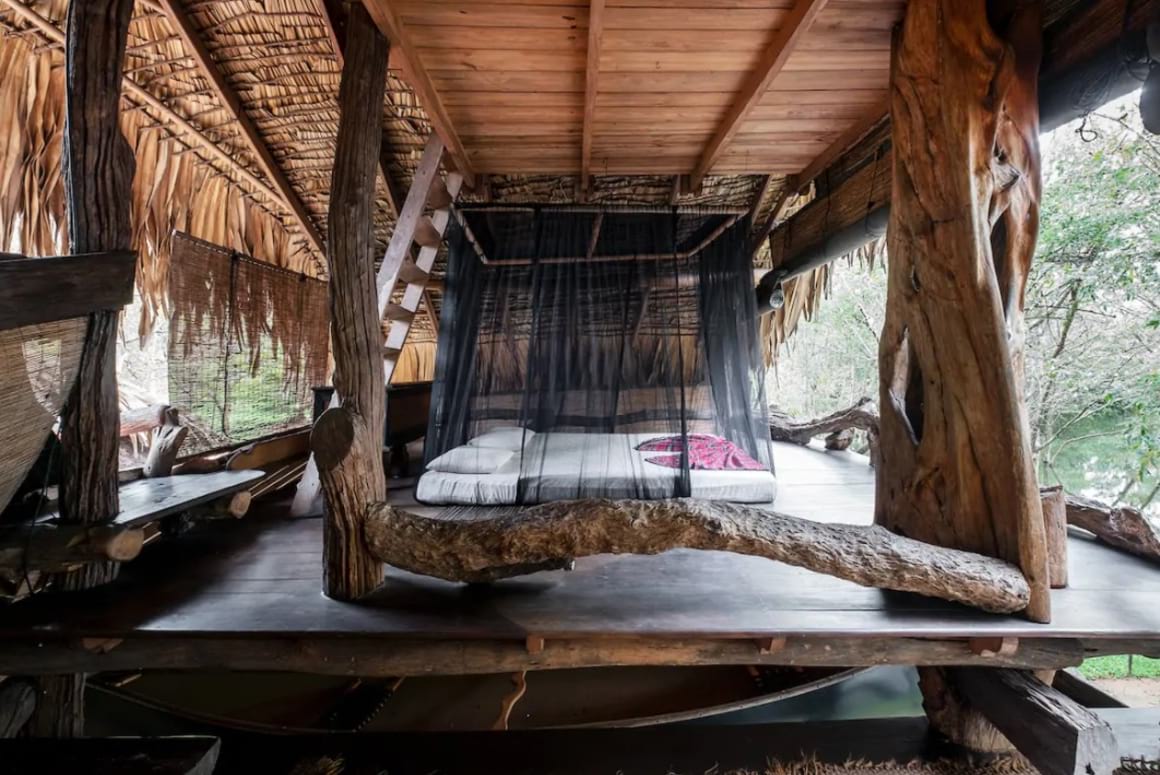 $
4 guests
All meals included
Lakeside property
Staying at the Banyan Lodge is a dream come true for any budget backpacker. Not only will you have your own private rustic accommodation, but 3 meals plus tea and coffee come with the room price!
Close to some of Sri Lanka's top attractions like Udawalawe National Park and Arugam Bay, there's plenty to see and explore during the day. Back at the lodge you can enjoy a view of the lake, walk the paths on the 15 acres of private property, or just sit and relax on the porch to enjoy the view of nature.
Another Great Budget Eco Hostel in Sri Lanka – Ella Camping Resort
$
2 guests
Shared kitchen
Onsite restaurant
This eco hostel is a perfect spot for budget travellers seeking a close-to-nature experience in Sri Lanka. The hostel features both tents and unique rooms built into the natural surroundings, along with common spaces and a shared kitchen.
During the day you can fill your time with fun activities like water rating, trekking to waterfalls, or take a jungle safari tour. If you need a break, the hostel is a great place to relax with views of the mountains and a barbecue area for fun evening meals with friends.
$$
2 guests
Onsite restaurant
Close to numerous parks
Couples will enjoy the privacy of these unique treehouse style cottages in Sigiriya. The property is close to Kaudulla and Minneriya National Parks where you can go elephant watching, and there are walking trails close by to enjoy the natural scenery.
A great, local breakfast is included in the room price, and you can arrange for other meals onsite during your stay. Although the resort has a close-to-nature charm, you'll still have modern conveniences like hot and cold water and accessible Wi-fi on the property.
An Eco-Friendly Traveller NEEDS an Eco-Friendly Backpack!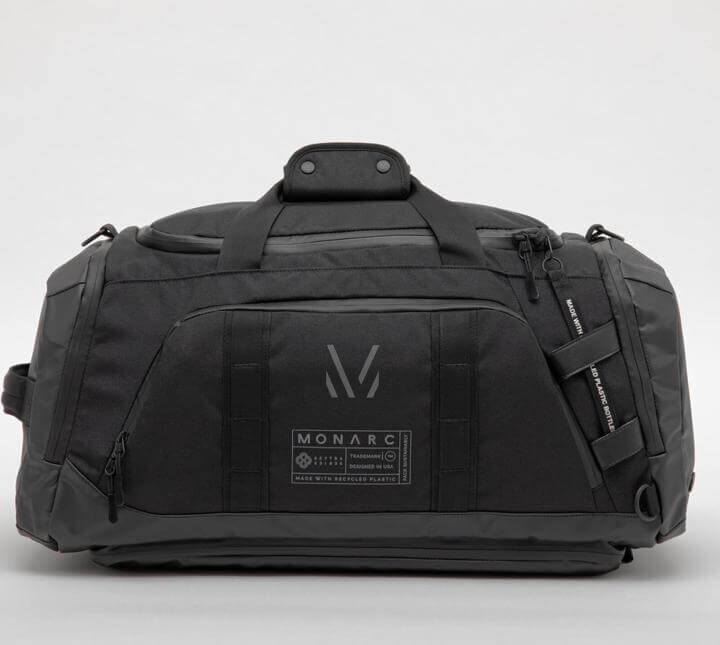 50 recycled plastic bottles – that's what goes into every Monarc Settra: the world's MOST SUSTAINABLE backpack.
Whether you're rocking duffel mode or backpack mode, if you're a traveller that gives a flying hoot about their environmental impact, then there's only one backpack you should consider – the plastic-negative Monarc Settra.
Learn More Now!
Best Eco Resort for a Group of Friends – Galle Nature Cabanas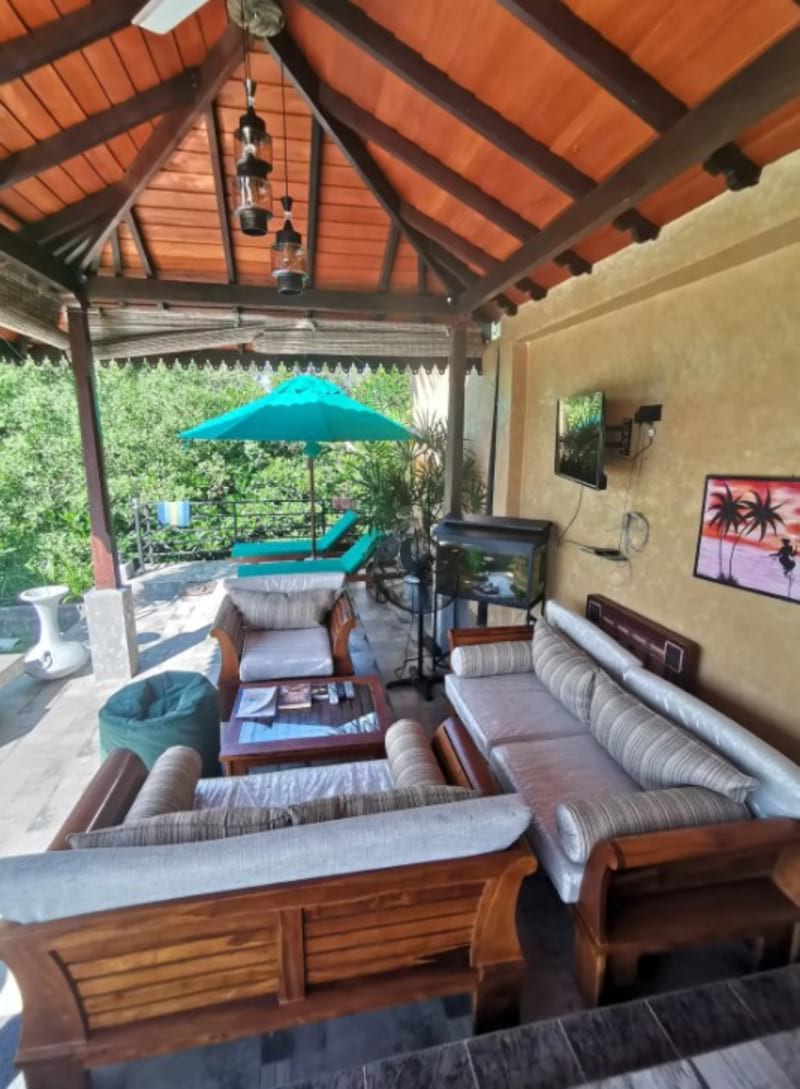 $$
6 guests
Motor scooters for rent
Floating boat restaurant
This unique nature lodge is a great option for friends traveling through Sri Lanka. The property owners can arrange an airport pick-up to make transportation simpler, and also offer boat safari tours and trips to other interesting places like temples and waterfalls with prior notice.
The beautiful nature cabana features modern comforts like air conditioning, Wi-fi, and a swimming pool while still maintaining eco friendly practices. After exploring a nearby park or visiting a local temple, you and your friends can enjoy a local sourced evening meal on the unique boat restaurant next to the lodge.
$$$$
2 guests
Private pools
Fitness center and garden
Combining a peaceful and eco-friendly experience with all the high-end luxuries of a fancy hotel, Aarunya is undoubtedly one of Sri Lanka's best luxury eco resorts. Each private villa offers a personal plunge pool or hot tub, a private terrace with a spectacular view, and a delicious breakfast included in the room price.
The top attractions of Kandy are only a short drive away, and the resort can arrange an airport shuttle to make transportation easier. During the day you can explore using the free bikes, relax at the spa, or order a meal from the great restaurant on site featuring both traditional Sri Lankan and international cuisine.
Best Eco Resort for Families Visiting Sri Lanka – Nest Wood Bungalow
$$
6 guests
Swimming pool
Incredible views
This private nature lodge is perfect for families looking for unique accommodation in Sri Lanka. The property is near the Sinharaja Rain Forest, and the views from the wrap-around windows and pool are absolutely spectacular.
You can arrange to have fresh-made meals included in your stay, or use the kitchen if you need to meet the needs of picky eaters. The entire family can enjoy the ultimate Sri Lanka itinerary, with nature safaris, visiting temples, or hiking to waterfalls.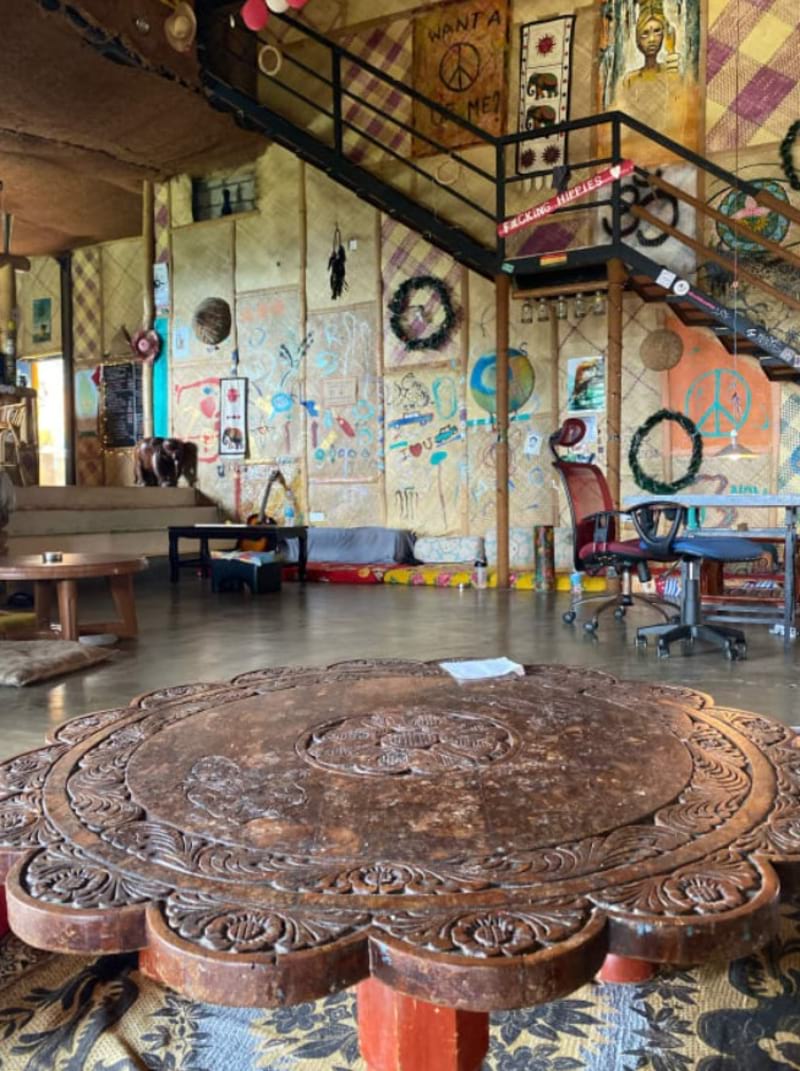 $
1-2 guests
Food and drinks available
Great views
Sri Lanka has some awesome hostels, but the Tomorrow Land Hostel tops the list for backpackers in search of a relaxed vibe and fun time. Accommodation is simple and rustic, but the laid-back energy and chill atmosphere will make you feel at home right away.
The hostel is a bit of a hike up from the main road, but you're rewarded with an excellent view of the tropical scenery. There's a bar and restaurant offering basic meals on site, and you can also arrange other activities around Ella like jungle safaris tours, hiking, and visiting historic sites.
Another Great Eco Hotel for Backpackers – Lime & Co Kaba
$
2 guests
Swimming pool
Shared kitchen
For budget backpackers looking for an eco hotel in Sri Lanka, Lime & Co Kaba is a great option. Not only is this hotel friendly to the environment, but also to your wallet. The rooms are simple but very comfortable and guests will have access to a communal kitchen, swimming pool, and terrace.
The hotel is located in the small fishing village of Kabalana, which is a popular place for surfing in Sri Lanka. You'll be right next to the beach where you can rent surf boards, as well as local restaurants, shops, and cafes.
$$$
2 guests
Swimming pool
Private terrace with views
Located outside of Kandy within the Madulkelle Tea Estate, these luxury nature cabins are the perfect spot for honeymooners. Each private unit features modern amenities including Wi-fi and hot water, and is open plan. The open design offers excellent views and the feeling of being out in nature.
You can arrange to have meals at the restaurant, which uses organic vegetables from the on site garden. Alternatively, head to Kandy to try out some other local cuisine. Hiking tours and day trips can be arranged, or you might just want to relax at the lodge and enjoy the peaceful scenery.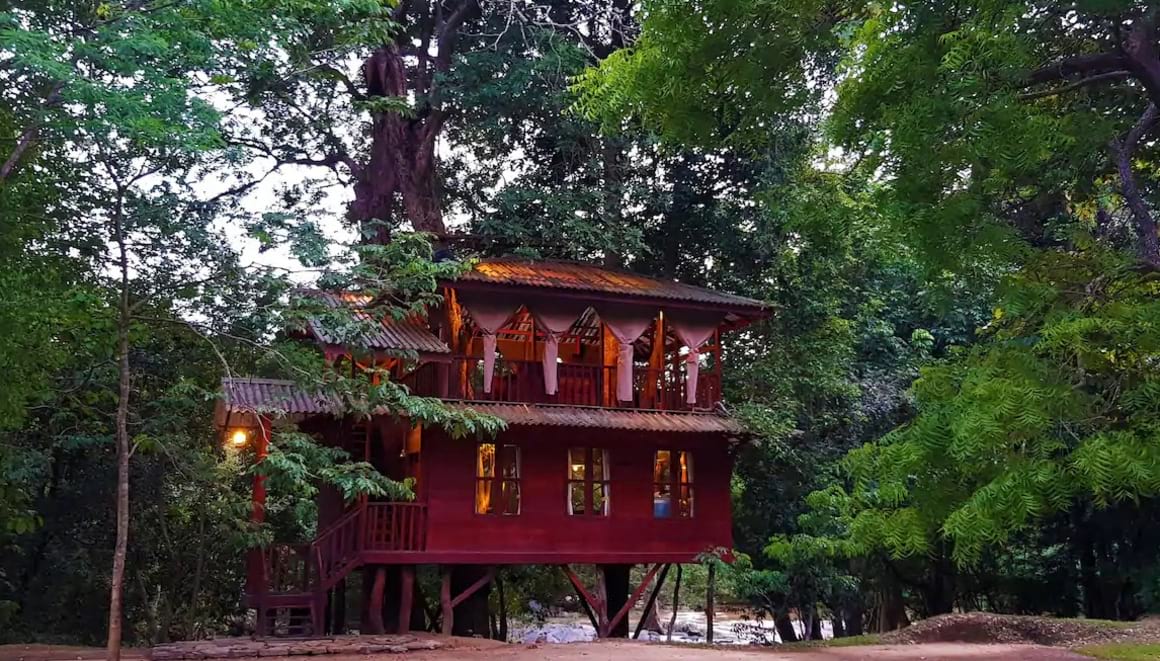 $$
2 guests
Restaurant onsite
Riverfront location
The KumbukRiver eco treehouse has won several awards for its outstanding views and nature experience. Peacefully situated right on the Kumbuk River, you can appreciate the scenery from the huge windows and open-outdoor lounge area.
You can arrange for transportation and day tours during your stay to check out nearby parks, waterfalls, and wildlife. At the end of the day, enjoy a locally sourced meal from the onsite restaurant. Spend evenings relaxing and stargazing while listening to the sounds of the jungle.
$$$
2 guests
Private balcony
Swimming pool
Just 5 minutes from Yala National Park, this eco resort is great for solo travelers or couples looking for a luxury experience. Your private chalet has its own balcony where you can appreciate views of the jungle or beach. It's also equipped with modern comforts like AC and hot water.
After spending the day exploring Yala National Park or the nearby temples, enjoy a fresh and locally sourced meal from the restaurant in the comfort of your room. There's free parking if you have your own rental car, or the resort can arrange an airport shuttle.
$$$
2-6 guests
Bike and car hire
Terrace with river and forest view
For a true luxury experience in Sri Lanka, head to the Aqua Dunhinda Villa in Gampola. This eco resort offers peace and privacy, and a spectacular setting overlooking the Mahaweli River and Kotmale Forest.
You'll have the entire villa to yourself as well as access to the 3 acres of lush private jungle property and a spice garden located onsite. You can also arrange for activities such as hiking, massages, yoga classes, and river treks during your stay.
Best Eco Hotel for Solo Travelers – Area 4 Eco Cubes
$
1-2 guests
Kitchenette
Restaurant onsite
This unique eco hotel has converted old shipping containers into cool, modern accommodation close to Ella. Each unit features a kitchenette and bathroom, perfect for solo travelers in search of peace and privacy.
Start off your day with a continental breakfast included in the room price before heading out to explore. Spend your days checking out nearby attractions like Ella Rock and Demodara Nine Arch Bridge. In the evenings, you can relax in the shared lounge or order a meal from the restaurant onsite.
Best Eco Resort for a Weekend in Sri Lanka – Ella Retreat
$
2 guests
Kitchen
Breakfast included
Budget friendly and close to nature, the Ella Retreat is a great option for accommodation for a short stay in Sri Lanka. Each private cottage is made from natural materials like bamboo, stone, and leaves.
Breakfast is included in the room price, and there are plenty of scenic walking trails, waterfalls, and yoga classes nearby. You can arrange for specific activities with the resort manager to make the most of your time in Sri Lanka.
FAQ about Eco Resorts in Sri Lanka
Here's what people usually ask us when they look for vacation homes in Sri Lanka.
Don't Forget Your Sri Lanka Travel Insurance
ALWAYS sort out your backpacker insurance before your trip. There's plenty to choose from in that department, but a good place to start is Safety Wing.
They offer month-to-month payments, no lock-in contracts, and require absolutely no itineraries: that's the exact kind of insurance long-term travellers and digital nomads need.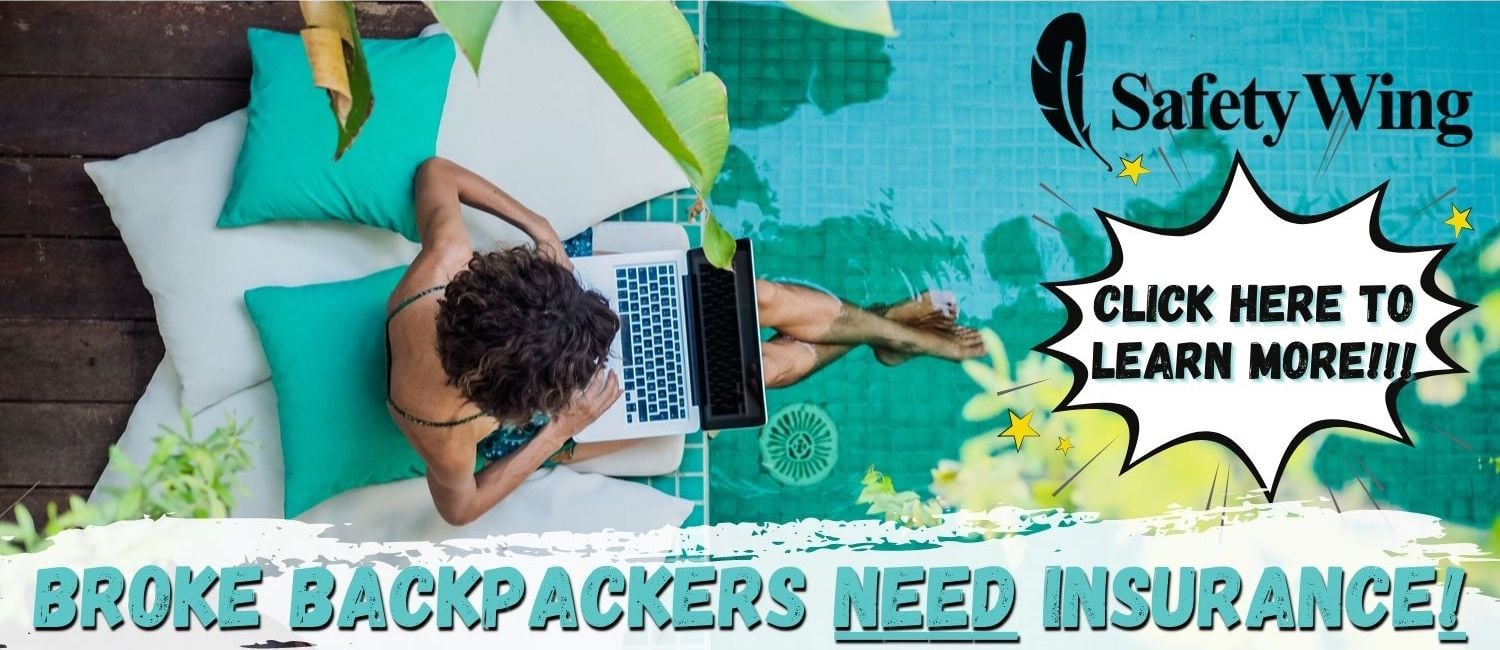 SafetyWing is cheap, easy, and admin-free: just sign up lickety-split so you can get back to it!
Click the button below to learn more about SafetyWing's setup or read our insider review for the full tasty scoop.
Final Thoughts on the Best Eco Resorts in Sri Lanka
Whether you're in search of a relaxing yoga and meditation retreat or simply looking for a peaceful place to escape the rush of daily life, eco-resorts in Sri Lanka are a perfect choice. In a country famous for its lush, tropical beauty, eco-resorts offer a sustainable way to experience the best natural scenery and wildlife.
Now that you've had a chance to read through our picks for the best eco-resorts and hotels in Sri Lanka, hopefully, you're ready and set to make a reservation and head out on your trip. The beaches, waterfalls, and jungle wildlife of Sri Lanka are waiting!
---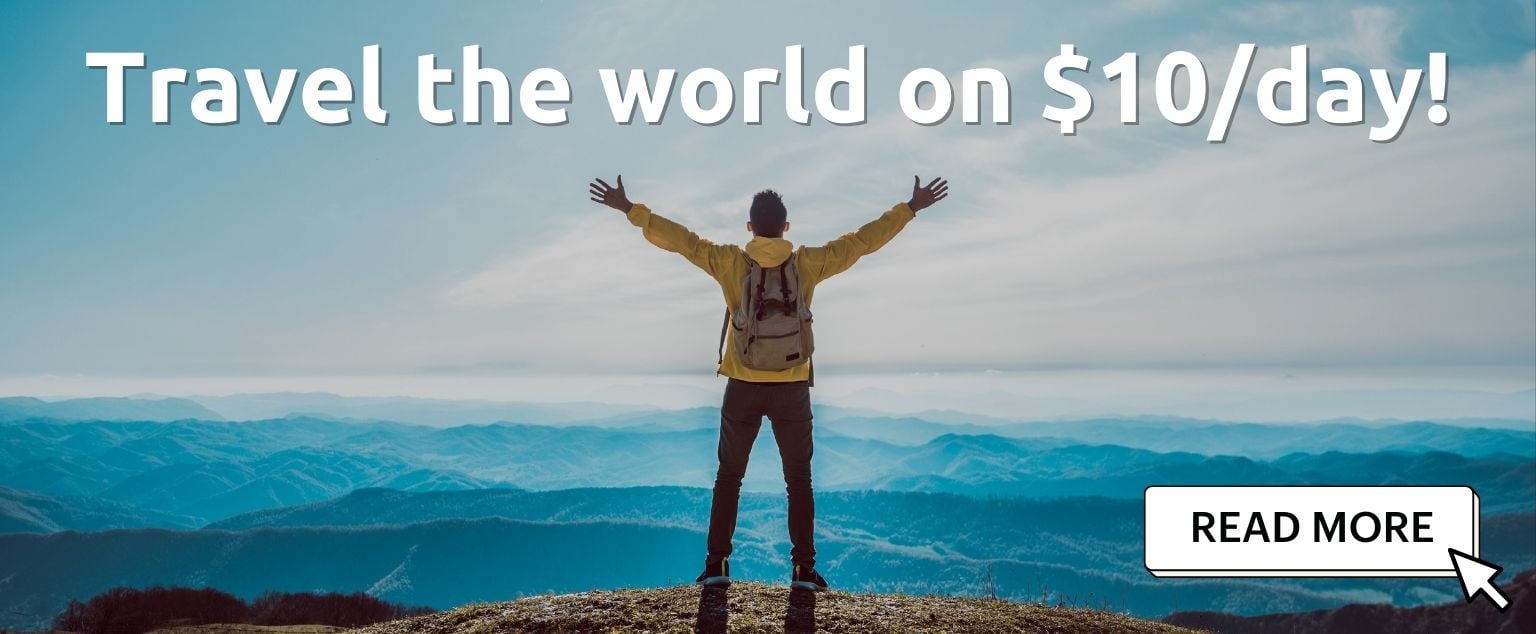 And for transparency's sake, please know that some of the links in our content are affiliate links. That means that if you book your accommodation, buy your gear, or sort your insurance through our link, we earn a small commission (at no extra cost to you). That said, we only link to the gear we trust and never recommend services we don't believe are up to scratch. Again, thank you!