Sri Lanka has had a huge rise in tourism in the past few years, what used to be somewhat of a hidden gem has now become your next must-see destination. This island is located just off the southeastern coast of India and is a place of stunning beauty, culture, and tradition. With so much to explore there is never a dull moment in Sri Lanka.
Fantastic surf, insane wildlife, and beautiful temples may come to mind when you think of Sri Lanka, but there is so much more. The country is a vivid kaleidoscope of religious festivals and celebrations that bring locals and foreigners together in joyous merriment.
From the Sinhala and Tamil New Year, which commemorate the start of new beginnings, to Vesak Poya, the most important Buddhist holiday commemorating the birth, enlightenment, and death of Gautama Buddha, Sri Lanka celebrates festivals with great enthusiasm.
Festivals in Sri Lanka
Of all the festivals celebrated in Sri Lanka, Diwali is probably the best known around the world. It features fireworks, decorations, and other fun activities.
However, many other festivals and celebrations take place throughout the year. In this list, we'll explore many of the religious and cultural festivals that you can celebrate on your next visit to Sri Lanka.
Duruthu Perahera
When: January
Where: Colombo
One of Sri Lanka's most revered annual festivals is the Duruthu Perahera. This festival celebrates the arrival of the Buddha in Sri Lanka over 2500 years ago. As you can imagine it is celebrated with great pomp and show.
It is held every year in Colombo in January before the full moon and is a grand procession of elephants, drummers, flag bearers, dancers, and more.
As one of the largest religious festivals in Sri Lanka, people from all over the country come to celebrate. The highlight of the festival is undoubtedly the three arresting parades (peraheras) which take place throughout the evening, and each one is bigger and better than the last.
The Raja Maha Vihara temple is beautifully decorated with lights, creating a festive glow that makes the evening peraheras absolutely brilliant.
If this is your first time in the country, this is a great opportunity to experience the vibrant culture of Sri Lanka as well as see the incredible pageantry.
Where To Stay
This hotel is perfect to enjoy Duruthu Perahera, the five-star hotel hosts a multitude of events and activities throughout the festival period making sure you don't miss a thing.
Thai Pongal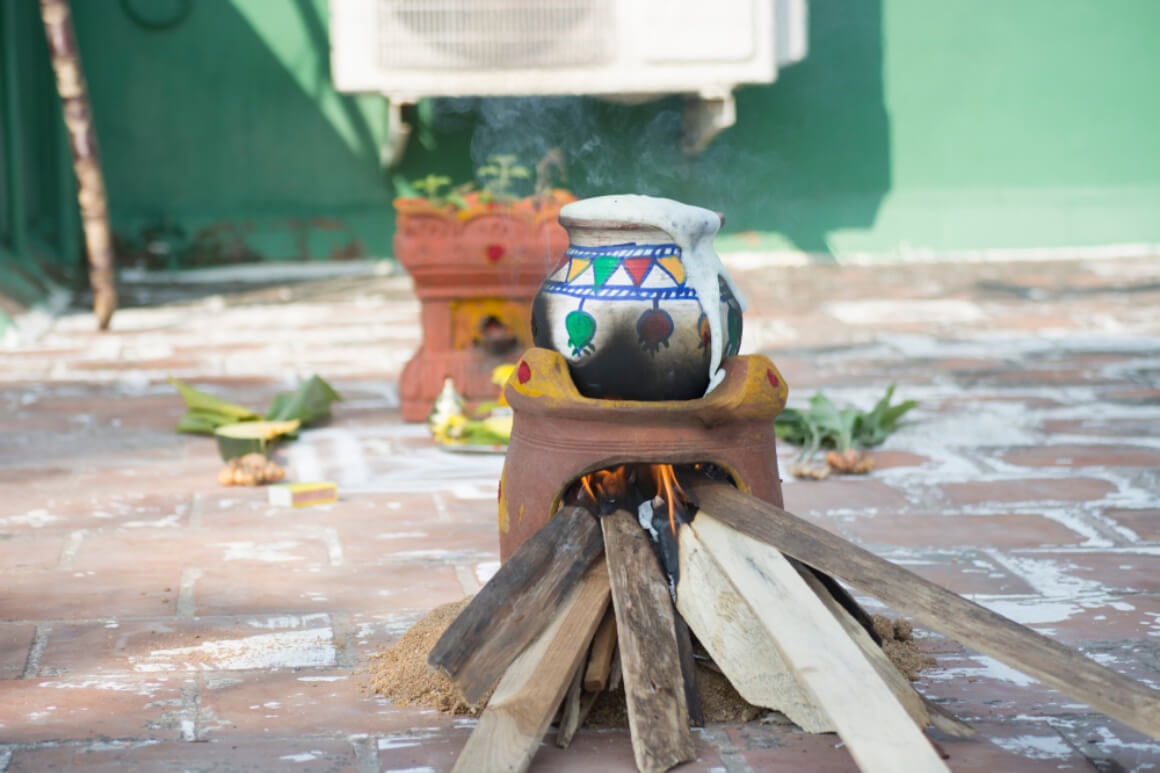 When: January
Where: All over
Thai Pongal is a four-day Hindu festival celebrated in honor of the Sun God. It's said to bring good luck and fortune. I can always use some of that!
During the festivities, people make offerings of fresh milk and rice to the sun god while they pray for their health, wealth, and prosperity. In the past, this was a ritual that many farmers in Sri Lanka followed to ensure a good harvest, but today it is celebrated more widely by the whole country.
The atmosphere of Thai Pongal is full of joy and activity. Everywhere you go, people can be found singing songs, playing traditional music, dancing in colorful costumes, and sharing delicious feasts with friends and family.
The celebration of Thai Pongal starts with Bhogi, which is the first day and celebrates the end of winter. People light bonfires in their homes to symbolize renewal and cleansing. The second day is Thai Pongal, where people give thanks to the sun god for a good harvest. On this day you'll see lots of colorful decorations, and kolams (rice flour designs) in front of homes. On the third day, Mattu Pongal people go to temples, give offerings and celebrate with friends.
The fourth day is called Kaanum Pongal, which marks the end of the festival. People gather together after a long four days of celebration for one final feast.
Where To Stay
Thai Pongal is celebrated all over the country, but I recommend staying in the North as their celebrations are truly spectacular. The Thambu Illam in Jaffna is a great option for enjoying the lovely festivities of Thai Pongal and their garden is the perfect place to retreat.
Maha Shivratri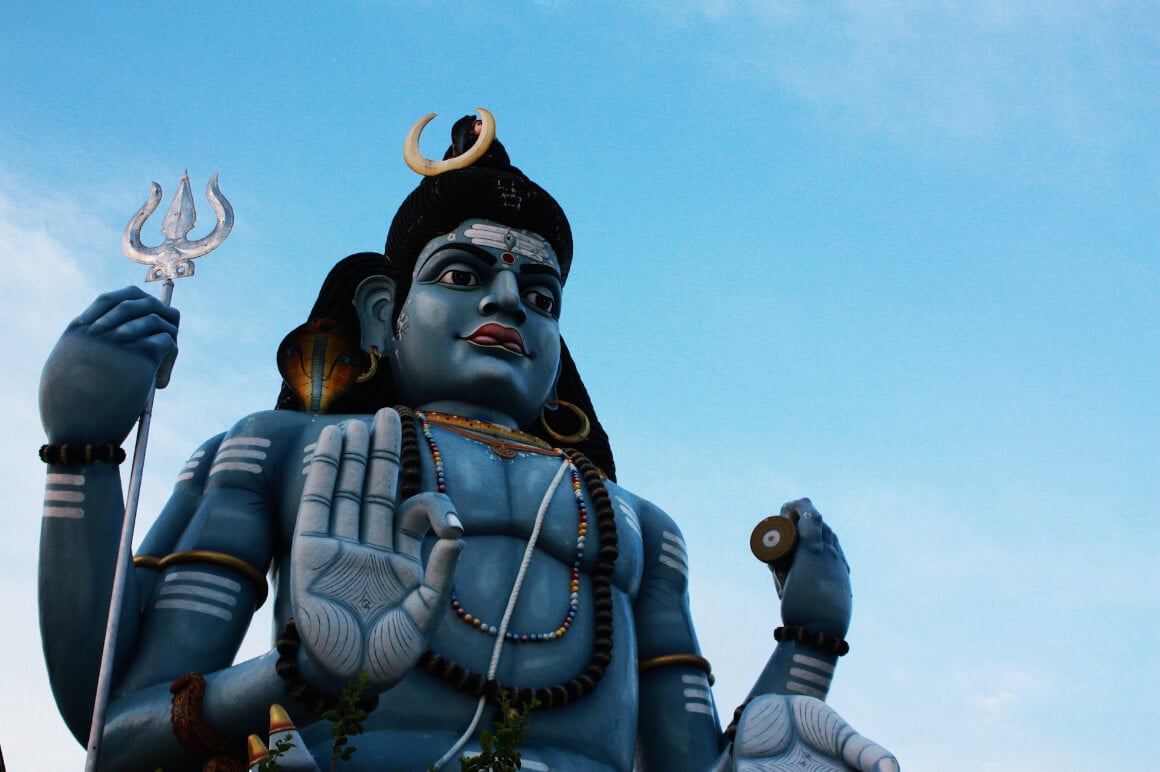 When: February or March
Where: All over
Maha Shivratri is one of the most important Hindu festivals in Sri Lanka. It's celebrated by Hindus to honor Lord Shiva and is a great time for devotees to pray for luck and prosperity.
The night before Maha Shivratri, devotees will fast during the whole day and stay up all night, praying and singing mantras to Lord Shiva. People will visit temples or perform special pujas in their homes to honor the God. It's a time for devotees to come together and celebrate this important festival.
Another tradition during Mahashivratri is the offering of Bael leaves, which is believed to bring good fortune when offered with devotion and sincerity. The next morning, people will gather outside of the temples and take part in a procession that involves carrying a sacred pot and praying to Lord Shiva.
This is an important time for Hindus to come together and honor their faith through prayer, ritualistic offerings, and celebration. It's also a great time for visitors to learn more about the culture and customs of the Hindus in Sri Lanka.
Where to Stay
Stay in the Trincomalee District as it is home to one of the most beautiful Shiva temples. This oceanfront property is the perfect place to spend Shivratri with its gorgeous views and traditional Sri Lankan hospitality.

Do You Want to Travel FOREVER??
Pop your email in below to get a FREE copy of 'How to Travel the World on $10 a Day!'.
Sinhala & Tamil New Year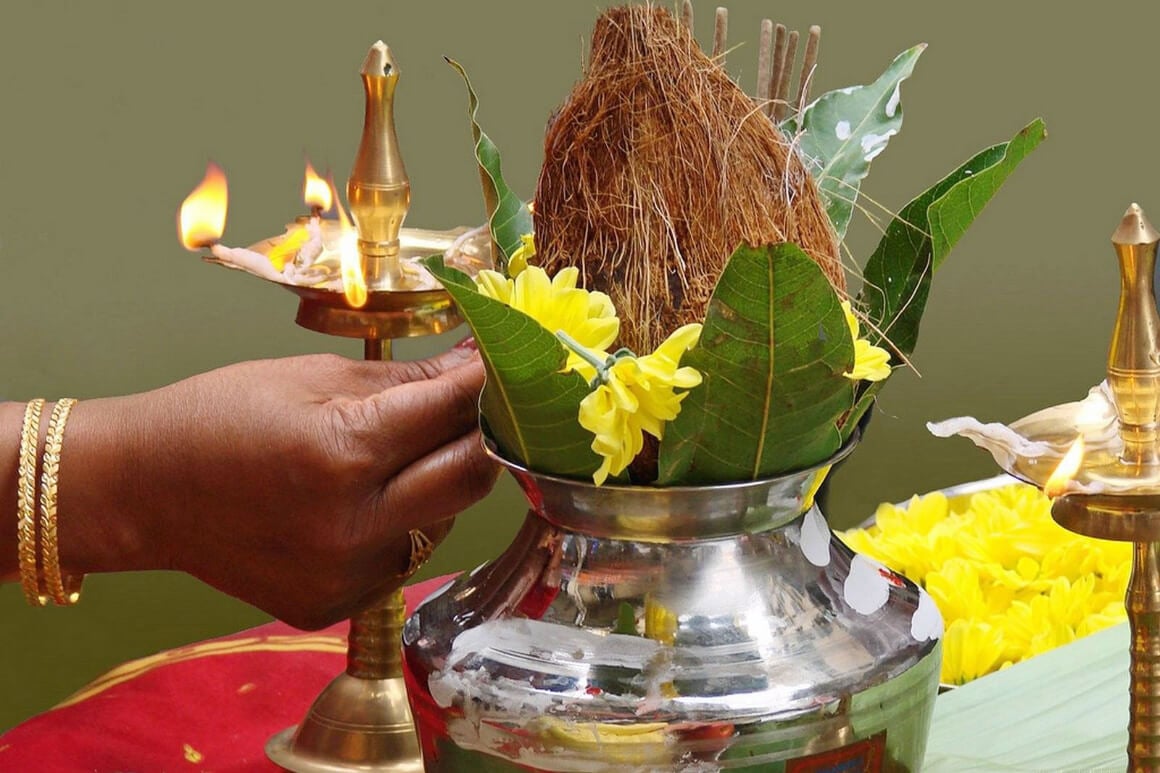 When: April
Where: All over
The Sinhala and Tamil New Years' are one of the biggest festivals in Sri Lanka, celebrated by both Sinhalese and Tamils all over the country. It's a time for family reunions and religious practices.
The Sinhala and Tamil New Year festival is the celebration of the new solar year, which usually falls in April. The occasion marks the end of the harvest season and also coincides with one of two instances when Sri Lanka experiences direct sunlight from the sun.
People get ready for the festival by cleaning their homes and wearing traditional clothes. A special cake called 'Kokis' is made to celebrate the New Year and it's believed that if you eat kokis on this day, you will have good luck for the rest of the year.
The traditional rituals are performed by going to temples early in the morning and offering special prayers, followed by a feast for lunch. Games such as 'Kotta Pora' and 'Cheena Diya' are also played during this celebration. In the evening, people gather around a bonfire to light the traditional lamp called an oil pot and make offerings to the gods.
The festival culminates with a day of festivities and fun, including exchanging gifts, dancing, and singing. People also visit temples to ask for blessings and good fortune in the coming year.
Where to Stay
Colombo is the best place to stay for Sinhala & Tamil New Year, as it's home to many beautiful Hindu temples and a wealth of cultural activities. You will love the stunning rooftop pool at this hotel, and the location is ideal for enjoying some of the city's best attractions.
Vesak Poya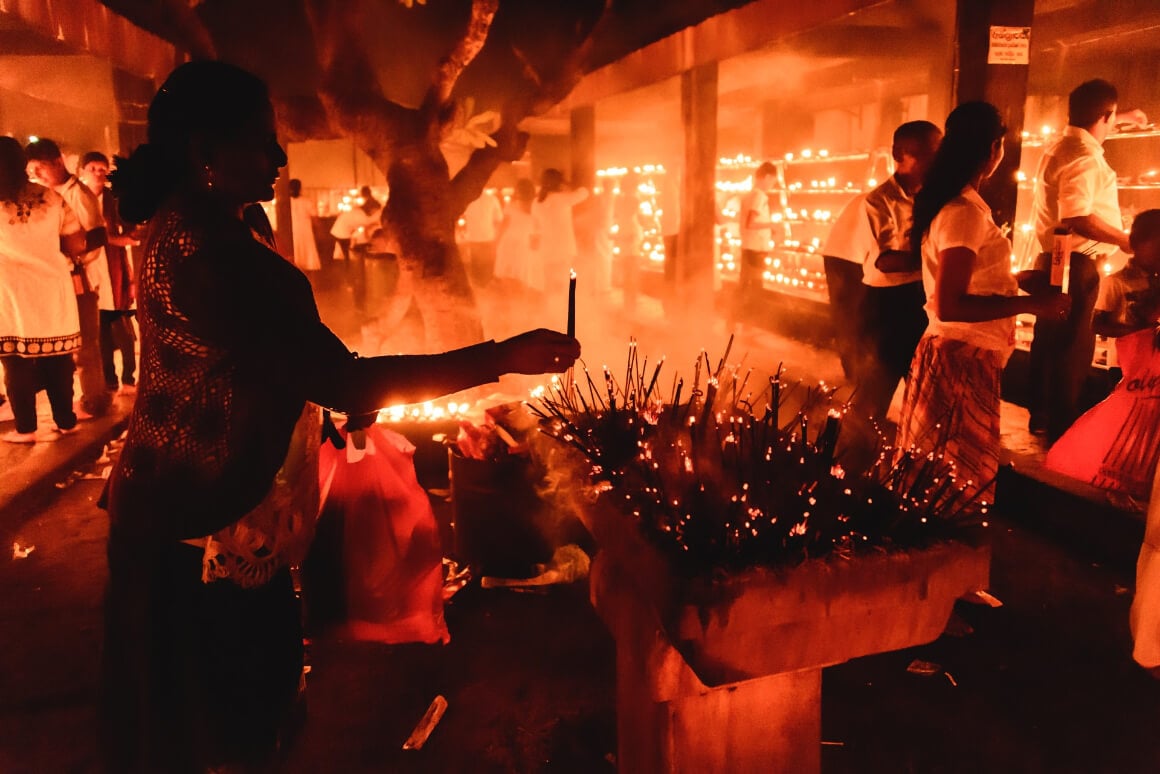 When: May
Where: All over but Colombo is the best place to experience it
Vesak Poya is the most important Buddhist festival in Sri Lanka and marks the birth, enlightenment, and death of Lord Buddha. Celebrated on the full moon day of May each year, Vesak Poya commemorates religious symbols such as the Bo Tree (under which Lord Buddha attained enlightenment), relics from his life, and the eight auspicious marks that are associated with his life.
This is a very sacred day for many Buddhists and they will usually spend the day in prayer and meditation.
On Vesak Poya day, people dress in white and visit temples to perform special rituals. They also take part in almsgiving, which is a way of showing reverence towards the Buddha's teachings. Buddhists offer food and other items such as flowers, candles, and incense to monks who come to their homes for almsgiving.
Vesak Poya is also a time for people to decorate streets and homes with colorful flags, lights, and lanterns. At night, temples are lit up with hundreds of lamps that symbolize Lord Buddha's enlightenment. Many people also take part in religious processions, carrying decorated flags and chanting sutras.
Vesak Poya is a great time to experience the culture of Sri Lanka and witness its rich Buddhist heritage. Visitors can join locals in their celebrations or visit special exhibitions that are held at temples during this festival.
Where to Stay
Enjoy epic views of Colombo from this downtown apartment style hotel. With easy access to Colombo's major attractions, this hotel is the perfect place to stay for Vesak Poya and explore Sri Lanka's Buddhist heritage.
Poson Festival
When: Jun 14
Where: Anuradhapura & Mihintale
The Poson Festival is another huge Buddhist festival in Sri Lanka and it marks the arrival of Buddhism to the country in the 3rd Century BC. It's celebrated on June 14th each year, which is also known as 'Poson Poya'.
The festival commemorates when Buddhism first came to Sri Lanka by a monk called Mahinda. People go on pilgrimages to Anuradhapura, the ancient capital city, because it's believed that this is where Mahinda converted King Devanampiya Tissa to his religion.
During this festival, devotees pay homage to Lord Buddha by offering alms, chanting sutras, and visiting temples. The most important part of the festival is a pilgrimage to Anuradhapura and Mihintale, two of the holiest Buddhist sites in Sri Lanka.
The festivities usually begin early in the morning with devotees gathering at their local temple for prayers. Then they proceed to Anuradhapura and Mihintale where special ceremonies are held. People also take part in processions that feature colorful flags, drums, and traditional dance performances.
At night, the cities of Anuradhapura and Mihintale become a glittering spectacle with hundreds of brightly lit lamps illuminating the temples and streets.
Where to Stay
Wake up to the tranquility of the rice fields and breathe in the fresh air at this lovely bed and breakfast. With a bicycle rental service available, there's no excuse to get outside and be at one with nature.
Have you sorted your accommodation yet?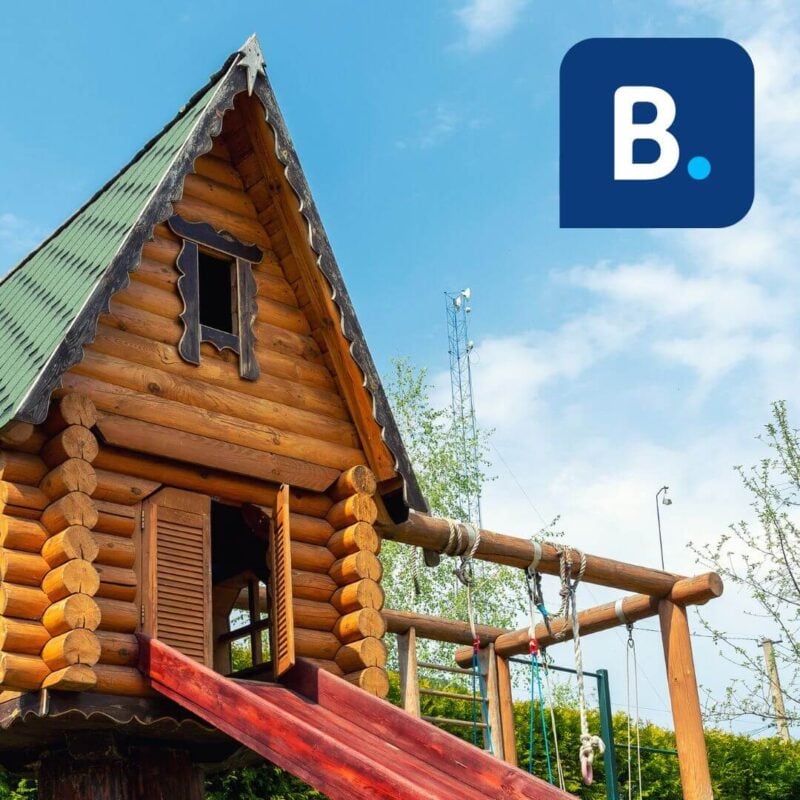 Get 15% OFF when you book through our link — and support the site you love so dearly 😉
Booking.com is quickly becoming our go-to for accommodation. From cheap hostels to stylish homestays and nice hotels, they've got it all!
View on Booking.com
Kandy Esala Poya Perahera
The Kandy Esala Poya Perahera is one of the most important and oldest festivals in Sri Lanka. It's held every year in August to commemorate the first teachings of Lord Buddha.
This festival features a spectacular procession that starts at the Temple of Tooth Relic in Kandy and goes through the city's streets. The procession consists of hundreds of dancers, drummers, and colorful floats that are decorated with lights and lanterns.
The highlight of the event is the casket containing the sacred Tooth Relic of Lord Buddha, which is carried around the city in a grand procession. People flock to the streets to witness this amazing event and they often participate by chanting sutras and performing traditional dances.
Kandy is a beautiful city, and one of the best places to stay in Sri Lanka. It becomes even more vibrant during this festival. Visitors can enjoy the beautiful decorations, lively music, and the spectacular procession that takes place over a few days.
Kandy Esala Poya Perahera is truly an unforgettable experience and it's one of Sri Lanka's most beloved festivals.
Where to Stay
Stay in the heart of Kandy and get a glimpse of this amazing festival from your window. This modern hotel has everything you need for a comfortable stay.
Vel Festival
When: July | August
Where: Colombo
The Vel Festival is a unique Hindu festival celebrated in Sri Lanka every year. It celebrates the victory of Lord Vishnu and celebrates the defeat of a demon called Surapadman.
The festival begins with people gathering at temples and offering prayers to Lord Vishnu. For several days during the festival, devotees take to the streets in parades featuring chariots, coconuts being smashed, bells tinkling, joss sticks lighted, and Kavadi dancers.
The highlight of the festival is a grand procession that starts from Sri Kailawasanathar Temple and ends at the Sambodhi Chaithiya. During the procession, devotees carry large ornate chariots with images of Lord Vishnu. The whole event is accompanied by traditional music, drums, and vibrant colors.
This festival can take you a little bit outside of your comfort zone as it's quite different from other festivals in Sri Lanka. You will see many devotees piercing their cheeks and tongues with hooks, but this is just a part of their devotion to Lord Vishnu.
Where to Stay
Stay in the buzzing city center and enjoy the vibrant atmosphere of Colombo during this festival. This luxurious hotel is ideally located near all the best attractions and offers comfortable rooms with stunning views.
Kataragama Esala Festival
When: July
Where: Kataragama
The Sri Lankan cultural calendar would not be complete without the Kataragama Esala Perahera. This religious event sees an influx of devotees from all corners of the country, coming to pay their respects to Skanda – a revered Hindu god also known as Kataragama Deviyo by Buddhists.
Dating back centuries, the Kataragama Devale is a shrine that sees thousands of devotees from all over the island come to take part in its fortnight-long festival. The festival culminates with the Maha Perahera – a grand pageant where ceremonial relics are carried through town on the back of an elephant at full moon in July.
The pageant will feature a gorgeous display of whip crackers, fire dancers, drummers, and dancing ensembles representing the three main traditional forms of local dancing: Udarata, Pahatarata, and Sabaragamuwa. The performers will be dressed in colorful traditional costumes, with torchbearers and many vibrantly adorned elephants adding to the spectacle.
One of the most interesting aspects of the Kataragama festival is the thousands of Hindu pilgrims who travel to Kataragama on foot from Jaffna in Northern Sri Lanka and Eastern Sri Lanka. These pilgrims take an old pilgrimage route that starts in Jaffna and runs down along the east coast.
Alongside the Shrine compounds run the Manik River, and it is customary for pilgrims to take a sacred bath here.
Where to Stay
Embrace the culture of Sri Lanka and stay at this beautiful garden lodge near the wildlife reserve. Every room comes with a patio and garden views for you to enjoy.
Is This the Best Daypack EVER???
Nallur Festival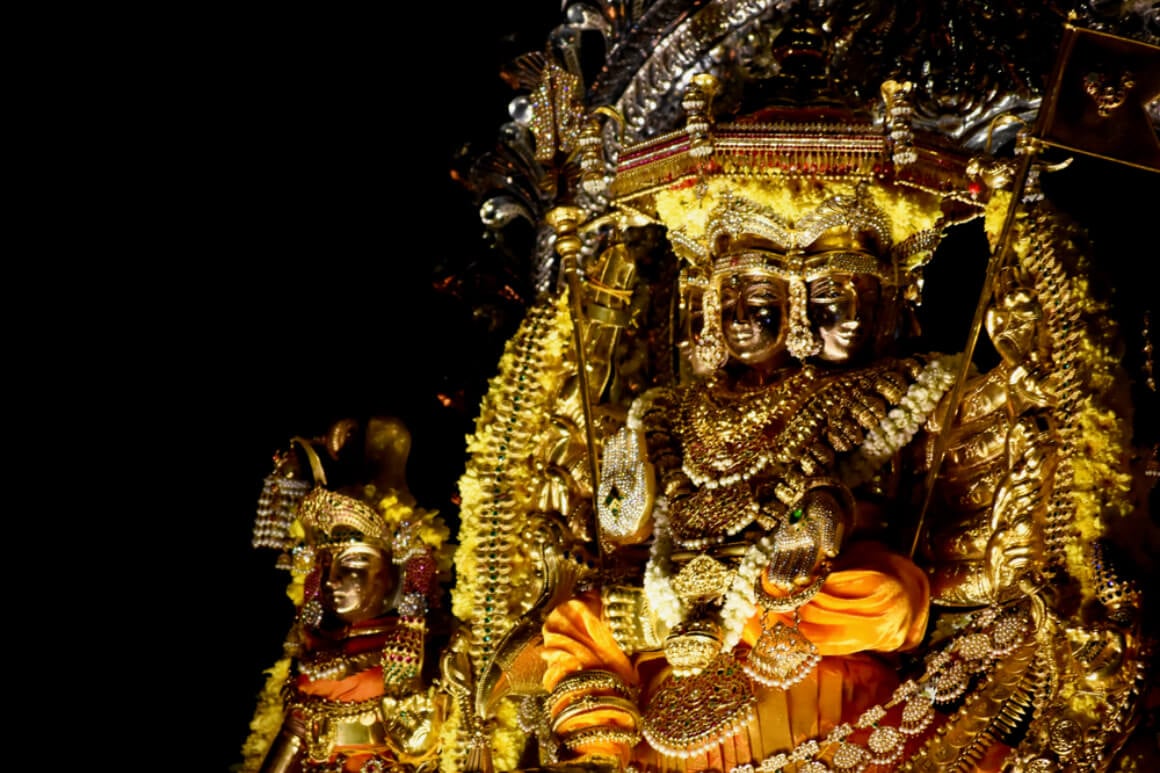 When: August-September
Where: Jaffna
As the longest-spanning festival on the whole island throughout the year, Nallur Festival is a must-see if you're ever visiting Sri Lanka. Taking place over 25 days, the festival is celebrated in honor of Lord Murugan and his victory over the demon king Surapadman, who had terrorized the citizens of the island.
Nallur Kandaswamy Temple is one of the most important Hindu temples in Sri Lanka, and every year they have a beautiful festival to celebrate. Many saints are said to have lived blessed lives after visiting this temple, and even today many people have a sense of peace after spending time here.
On the first day of the festival, the flag is ceremonially hoisted on a golden chariot. A parade follows this with many remarkable sights – hundreds of elephants adorned in colorful costumes, dancers performing traditional and contemporary dances, torch-bearers carrying flaming torches to mark the procession, and many Hindu deities being paraded.
Lord Murugan's statue is transported throughout the festival on revered animals, such as peacocks, cobras, and swans. All of these animals are considered sacred to him. The atmosphere is charged with spirituality and devotion as citizens from all around the island come to pay their respects to Lord Murugan.
Where to Stay
Splurge at this idyllic hotel that's situated on the banks of the Nallur lake and blessed with stunning views of the surroundings. Enjoy a peaceful evening here as you take advantage of all the amenities on offer.
Diwali
When: 24 Oct 2022
Where: All over
Diwali is the festival of lights and is celebrated across countries in South Asia. This popular festival in Sri Lanka signifies the triumph of good over evil, light over darkness, and knowledge over ignorance. This five-day holiday is a sight to behold in Sri Lanka with its bright colors, fireworks displays, and traditional sweets.
The majority of people in Sri Lanka celebrate Diwali by lighting small oil lamps in their homes and shops. This is said to be a symbolic gesture of the victory of good over evil. People also go out shopping for new clothes, jewelry, and gifts to exchange with their loved ones.
The atmosphere is abuzz with loving energy as families gather together to celebrate. There are also traditional dance performances, singing of devotional songs, and many feasts. The temples become packed with devotees performing pujas (rituals) to worship the gods and goddesses.
This is one of the best festivals to try some of the delicious Sri Lankan dishes. From traditional sweets such as kavum and oil-cakes to savory treats such as mungfly. Trust me! Your taste buds will be in heaven during Diwali.
One of the most beautiful elements of Diwali in Sri Lanka is that it is celebrated across all religious backgrounds – Hindus, Buddhists, Jains, Sikhs, and Christians all come together to celebrate the joyous occasion.
Where to Stay
Stay at this serene villa with a stunning view of the hills and the nearby temple. Enjoy all the beauty Sri Lanka has to offer as you take in all that Diwali.
Final Thoughts
Sri Lanka is beautiful, vibrant, and full of life – a perfect place to experience amazing religious festivals and celebrations. With such rich culture, diverse religious communities, and incredible natural beauty to explore, Sri Lanka is easily among the top spots for anyone looking to experience a unique festival.
But, If you can only experience one, I think everyone would agree that Diwali is the ultimate Sri Lankan festival experience. From the lighting of oil lamps to the feasts and parades, it's a great way to learn more about this beautiful country and its people.
ALWAYS sort out your backpacker insurance before your trip. There's plenty to choose from in that department, but a good place to start is Safety Wing.
They offer month-to-month payments, no lock-in contracts, and require absolutely no itineraries: that's the exact kind of insurance long-term travellers and digital nomads need.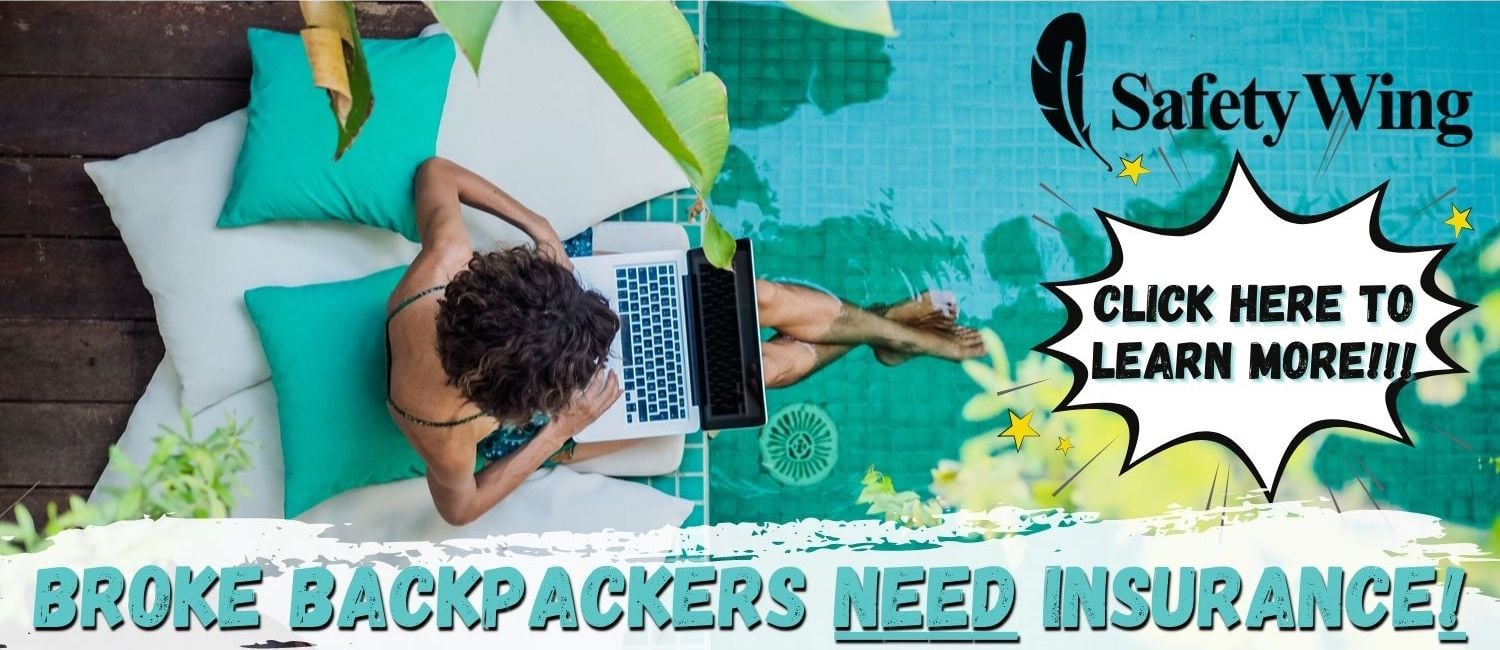 SafetyWing is cheap, easy, and admin-free: just sign up lickety-split so you can get back to it!
Click the button below to learn more about SafetyWing's setup or read our insider review for the full tasty scoop.
---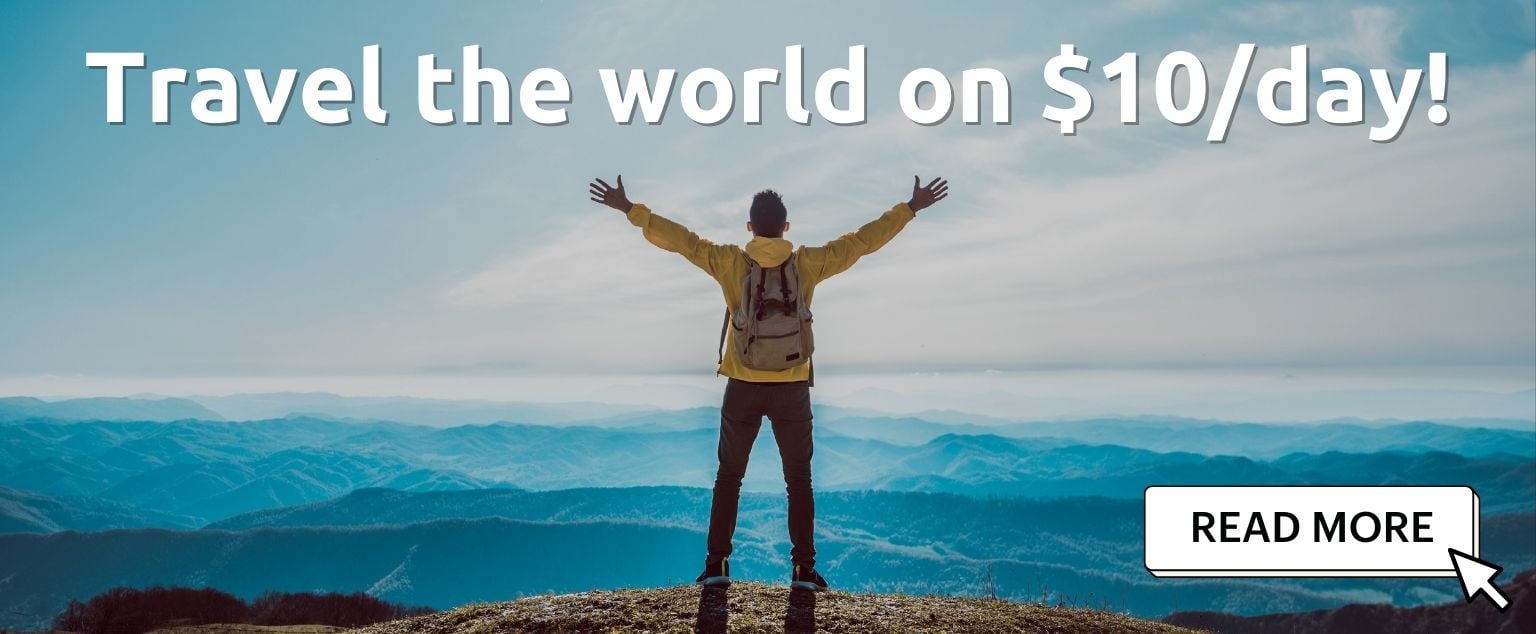 And for transparency's sake, please know that some of the links in our content are affiliate links. That means that if you book your accommodation, buy your gear, or sort your insurance through our link, we earn a small commission (at no extra cost to you). That said, we only link to the gear we trust and never recommend services we don't believe are up to scratch. Again, thank you!