There's no better way to enjoy the great outdoors than going on hikes. Whether it's a short hike, long hike, a heart-pounding strenuous workout or a leisurely stroll, hiking is an awesome way to spend your time. Do you know what makes it even more awesome? Taking your best friend along with you. And by best friend, we mean your dog, of course!
That means that you need a special piece of hiking equipment – a dog hiking backpack. And, guys, let me tell you, there are lots of pet carrier backpacks to choose from. There are several factors to consider too, so I'm here to point you in the right direction. Here you'll find the ultimate guide for finding the best dog hiking backpack for you.
Plus, I'll share some tips on choosing the right dog pack and accessories for other adventures too. If you plan on taking your pup along for any water-related activities or going trail running in the low-light time of dusk, you'll have other types of canine equipment to consider too. You and your dog have a lot to look forward to!
So, let's get to it…
Editors Note: This is NOT a paid or sponsored post. Ruffwear did not pay us to write this article.
Quick Answer: These are the Best Dog Hiking Backpacks of 2023
BEST DOG HIKING BACKPACK OVERALL
BEST DOG HIKING BACKPACK FOR DAY WALKS
BEST DOG HIKING BACKPACK FOR DAY WALKS
Ruffwear Singletrak Dog Pack
Price: > $
> Two 0.6-liter collapsible water bottles
> Sleek and minimalist
BEST DOG HIKING BACKPACK FOR THE BACKCOUNTRY
BEST DOG HIKING BACKPACK FOR THE BACKCOUNTRY
Ruffwear Palisades Dog Pack
Price: > $$
> Ultimate storage capacity
> Two 1-liter collapsible hydration reservoirs
BEST DOG BACKPACK FOR TRAIL RUNNERS
BEST DOG BACKPACK FOR RIVER SAFETY (PFD)
BEST REFLECTIVE DOG JACKET
Ladies & Gents, It's Time to Step Your GEAR Game Up. 😉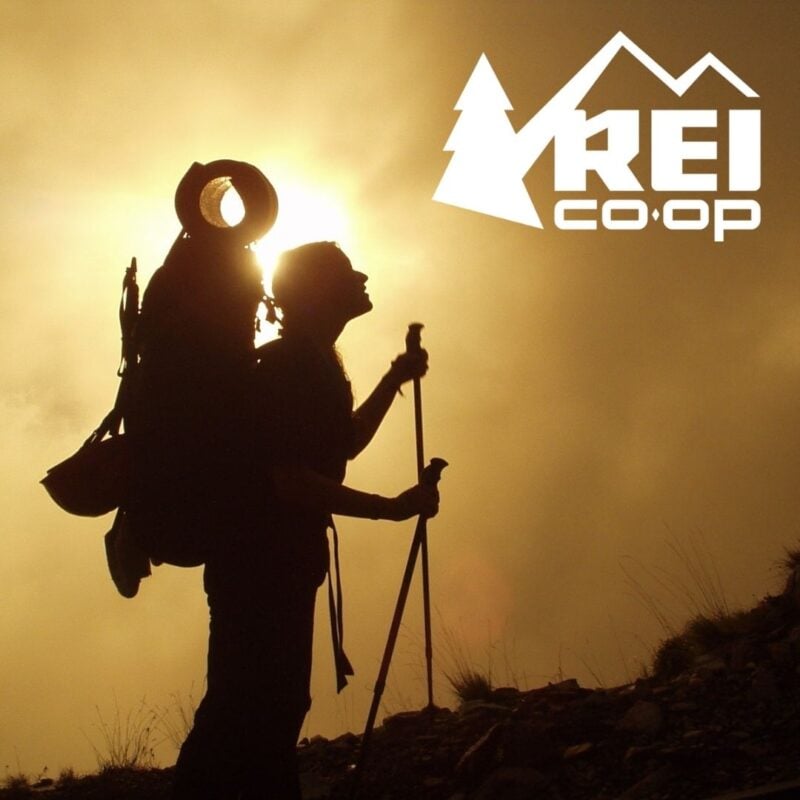 REI is one of America's biggest and most-loved outdoor gear retailers.
Now, for just $30, get a lifetime membership that entitles you to 10% OFF on most items, access to their trade-in scheme and discount rentals.
Join REI Today!
#1 – Best Dog Hiking Backpack Overall
Ruffwear Approach Dog Pack is our top pick for the best dog hiking backpack overall
Specs
Best Use: Hiking and general outdoor activity
Fits chest size: XS: 17 – 22 inches; S: 22 – 27 inches; M: 27 – 32 inches; L/XL: 32 – 42 inches
Gear Capacity: XS: 5 liters or 305 cubic inches; S: 10 liters or 610 cubic inches; M: 13 liters or 793 cubic inches; L/XL: 21 liters or 1,281 cubic inches
Number of Exterior Pockets: 4
Material: 150-denier polyester
Weight: XS: 0.75 lbs; S: 0.94 lbs; M: 1.13 lbs; L/XL: 1.31 lbs
Just like for us humans, your dog's hiking gear should be versatile and functional. Your furry friend will be happy to help you carry the load, which makes the Ruffwear Approach dog pack so perfect. With 4 exterior pockets external gear loops, your pup can easily carry water, treats, pick-up bags and any extra goodies in comfort.
The Approach is just the right size for both day-long or overnight excursions. It has enough carrying capacity to comfortably supply your dog with all the essential items needed for a trip that's longer or more intense than a leisurely hike lasting a couple of hours, but doesn't pack on extra weight or bulk with features that are overkill. Think of it as your happy-medium dog backpack.
The Approach pack has 2 points of leash connection – V-ring or webbing loop – and a sturdy suspension system for optimum stability and comfort. Does your little buddy need help along the way? No problem. With this dog pack's padded handle and secure non-slip girth straps, you'll be sure to have a firm grip for easy lifting and assisting.
Pros
Versatile for many types of excursions (day hike or overnight treks)
Harness suspension system provides optimum comfort
Available in XS size
Cons
Can feel big for very narrow-chested dogs
Not waterproof
#2 – Best Dog Hiking Backpack for Day Walks
Making our list for the second time, Ruffwear Singletrak Dog Pack is our pick for the best dog hiking backpack for day walks
Specs
Best Use: Day Hikes
Fits chest size: S: 22 – 27 inches; M: 27 – 32 inches; L/XL: 32 – 42 inches
Gear Capacity: S: 3.3 liters or 183 cubic inches; M: 3.3 liters or 201 cubic inches; L/XL: 4.7 liters or 287 cubic inches
Number of Exterior Pockets: 2
Material: Polyester
Weight: S: 0.7 lbs; M: 0.9 lbs; L/XL: 1.05 lbs
If long day hikes with your 4-legged friend are on your wishlist, then you'll love the Ruffwear Singletrak dog pack. This dog backpack has every detail to keep your adventurous pup hydrated and comfortable for hours on the trails – like two 0.6-liter collapsible water bottles and five adjustment points for a customized fit.
Its two low-profile side pockets let you easily stash extra treats or essentials and an oversized handle to make lifting and assisting your dog through tough obstacles really easy.
The best part is that there are no superfluous details here. For day walks, there's no need to overdo it with equipment and extras that will only weigh your dog down. The Singletrak is sleek and minimalist with just enough to cover the essentials and keep your pup chic and trail-ready.
Pros
Lightweight and compact size is perfect for day hikes
Water bladders provide convenient hydration
Customizable fit to give your dog full range of motion
Cons
Not sufficient for multi-day excursions
Not suited for smaller dogs
#3 – Best Dog Hiking Backpack for the Backcountry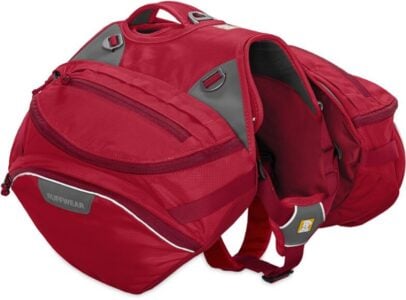 Meet the best dog hiking backpack for the backcountry: Ruffwear Palisades Dog Pack
Specs
Best Use: Backpacking
Fits chest size: S: 22 – 27 inches; M: 27 – 32 inches; L/XL: 32 – 42 inches
Gear Capacity: S: 12.5 liters or 762 cubic inches; M: 17.5 liters or 1,068 cubic inches; L/XL: 24 liters or 1,465 cubic inches
Number of Exterior Pockets: 4
Material: 420-denier ripstop nylon
Weight: S: 1.5 lbs; M: 1.69 lbs; L/XL: 1.88 lbs
If you're looking to embark on a multi-day excursion in the backcountry with your 4-legged adventure companion, look no further than the Palisades pack for your ideal dog hiking gear. It's intelligently designed with a saddlebag attachment system that you can leave on the harness and load up or remove as needed. It's always good to have options, right?
What you'll like the most about the Palisades pack is that it has the ultimate storage capacity that you need for longer excursions. The bigger pockets allow for more food items, treats, extra pick-up bags and other items that will make your dog's multi-day adventure even more enjoyable and comfortable.
The Palisades dog backpack also has the space to accommodate two 1-liter collapsible hydration reservoirs that are securely connected with aluminum hardware and Hypalon fasteners. Keeping your furry friend well hydrated along the journey is crucial, so this feature will definitely be appreciated. It also has five points of adjustment that guarantee a customized fit to give your adventure-seeking dog comfort and a full range of motion.
It's recommended, if your dog is new to dog packs, to start with a lighter load until they get used to them before adding more weight. Make sure the weight they carry is no more than 25% of their total body weight. This is for your dog's safety, so please take heed.
Pros
Versatile for many types of excursions (day hike or overnight treks)
Dog backpack harness can be removed and used by itself for other occasions
Five points of adjustment to fully customizable the fit
Cons
Pricey
Not suited for smaller dogs

Do You Want to Travel FOREVER??
Pop your email in below to get a FREE copy of 'How to Travel the World on $10 a Day!'.
#4 – Best Dog Backpack for Trail Runners
For another great dog backpack, check out the Ruffwear Singletrak Dog Pack
Specs
Best Use: Trail running
Fits chest size: S: 22 – 27 inches; M: 27 – 32 inches; L/XL: 32 – 42 inches
Gear Capacity: S: 3.3 liters or 183 cubic inches; M: 3.3 liters or 201 cubic inches; L/XL: 4.7 liters or 287 cubic inches
Number of Exterior Pockets: 2
Material: Polyester
Weight: S: 0.7 lbs; M: 0.9 lbs; L/XL: 1.05 lbs
Because the Singletrak dog pack is one of the most well-equipped yet lightweight and compact dog backpacks out there, it also makes our top pick for trail runners with eager, furry running buddies.
The included collapsible water bottles will keep your athletic pup well hydrated for taking on those trails with utmost agility and enthusiasm. With the low-profile side pockets of this dog hiking backpack's sleek design, not only will h running all day long, but he'll look stylish doing it.
For staying nimble and energized, the Singletrak is definitely the best choice for your happy dog. Good luck keeping up!
Pros
Lightweight and compact size for maximized agility
Water bladders keep runners hydrated
Low-profile side bags keep from catching on brush or other trail obstacles
Cons
Not sufficient for multi-day excursions
Not the best suited for smaller dogs
#5 – Best Dog Backpack for River Safety (PFD)
Crush your travels with the best dog backpack for river safety: Ruffwear Float Coat Dog Life Jacket
Specs
Best Use: Watersports
Fits chest size: XS: 17 – 22 inches; S: 22 – 27 inches; M: 27 – 32 inches; L: 32 – 36 inches; XL: 36 – 42 inches
Material: 800-denier polyester/foam/polypropylene
Something I love best about dogs is how much they love splashing around and swimming in any body of water; it's pure joy at its finest. But even for the best canine swimmers, safety should always be a top priority when they join their adventure-loving owners for a day of fishing, kayaking, paddle boarding or any other water sport.
This premium dog lifejacket is the ultimate in flotation devices for dogs of all sizes. Its permanently-attached telescoping neck closure provides maximum security and necessary adjustment options. Its reflective trim makes your dog easy to spot in the water and you'll appreciate the strong, wide handle to easily lift your buddy out in a jiffy.
The Float Coat is also perfect for water-shy or more reluctant dogs. With the added security this dog life jacket provides, your furry friend will get the extra confidence to have fun in the water without a worry. And you can worry less too; knowing your best friend is safe and secure is the best peace of mind you can get.
Pros
Water-compatible webbing stays stable and resistant in all wet environments
Sturdy, wide handle is well-positioned for facilitated hoisting out of the water
Available in XS size for smaller dogs with chest size under 22 inches
Cons
Chest straps need readjustment periodically
Expensive
#6 – Bonus: Best Reflective Dog Jacket
Ruffwear Track Jacket Reflective Dog Vest is one of the great reflective dog jacket
Specs
Best Use: Low-light conditions
Fits chest size: XXS/XS: 13 – 22 inches; S/M: 22 – 32 inches; L/XL: 32 – 42 inches
Material: Waterproof polyester fabric
There's no such thing as taking too many precautions when it comes to keeping our playful pups safe, right? When your dog is out and about with you in low-light conditions – whether on an off-road adventure or out for a roadside walk in the early morning or at dusk – you want to keep your pal in plain sight with a highly visible reflective dog jacket.
With its bright blaze orange color and reflective panels on the chest and along the sides, you can be sure that you'll be able to keep track of where your dog is at all times. And it's great for all types of weather and activities because it's made with waterproof polyester fabric that will endure any conditions.
With a reflective dog vest, practically no time of day is off-limits. If you want to broaden your activity horizons to keep you and your dog happy – and safe – we highly recommend adding Ruffwear's Track Jacket to your dog's adventure gear.
Pros
Bright orange color and all-side reflective panels provide maximum visibility
Easy to put on and take off with its streamlined design and side-release buckles
Available in XXS/XS size for smaller dogs with chest size as small as 13 inches
Cons
On the expensive side
No attachment for a harness
The best present of all… is CONVENIENCE!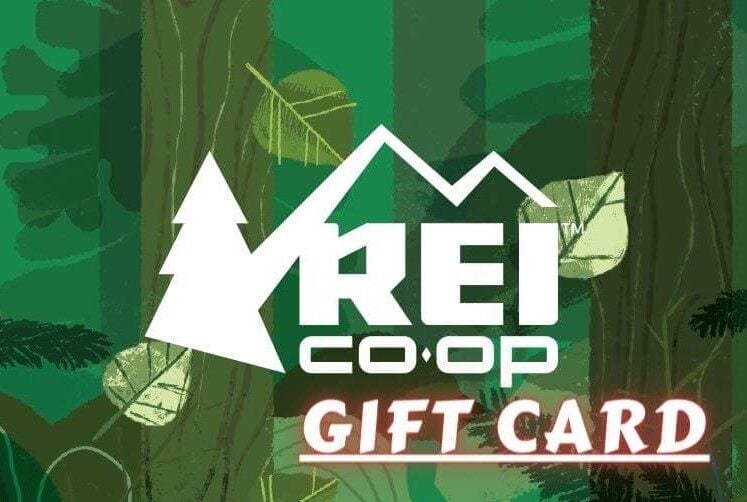 Now, you could spend a fat chunk of $$$ on the WRONG present for someone. Wrong size hiking boots, wrong fit backpack, wrong shape sleeping bag… As any adventurer will tell you, gear is a personal choice.
So give the adventurer in your life the gift of convenience: buy them an REI Co-op gift card! REI is The Broke Backpacker's retailer of choice for ALL things outdoors, and an REI gift card is the perfect present you can buy from them. And then you won't have to keep the receipt. 😉
Buy on REI!
How to Choose the Right Dog Hiking Backpack
1. Types of Dog Backpacks
Choosing the right dog hiking backpack has a lot to do with the length of time and intensity of the activity you plan on taking with your 4-legged adventure companion. Just like you wouldn't use a school backpack as your main hiking equipment for a weekend-long trip in the backcountry, the same logic is the same when choosing your dog's pack.
Dog backpacks that are designed for multiple-day treks are bigger with larger storage capacity that lets your dog carry more of its own gear – like collapsible water holders, plenty of snacks, pick-up bags, and a leash. For longer excursions where more gear is necessary, you'll need these types of features.
For long day hikes or for over-nighters, you'll want a pet backpack that still has plenty of space to carry the necessities for keeping your furry friend hydrated and fed, but is smaller and more streamlined. Any extra weight or bulk that can be eliminated is a plus – just like it is for us humans. For shorter adventures, there's less need for an excessive amount of gear, so smaller is better.
Even more compact and streamlined is what you'll want for hikes or walks that are up to a day in length. Your pup needs just enough capacity to carry the essentials – like water bladders and treats – and free up any extra weight for hitting the trails and having a blast.
2. Size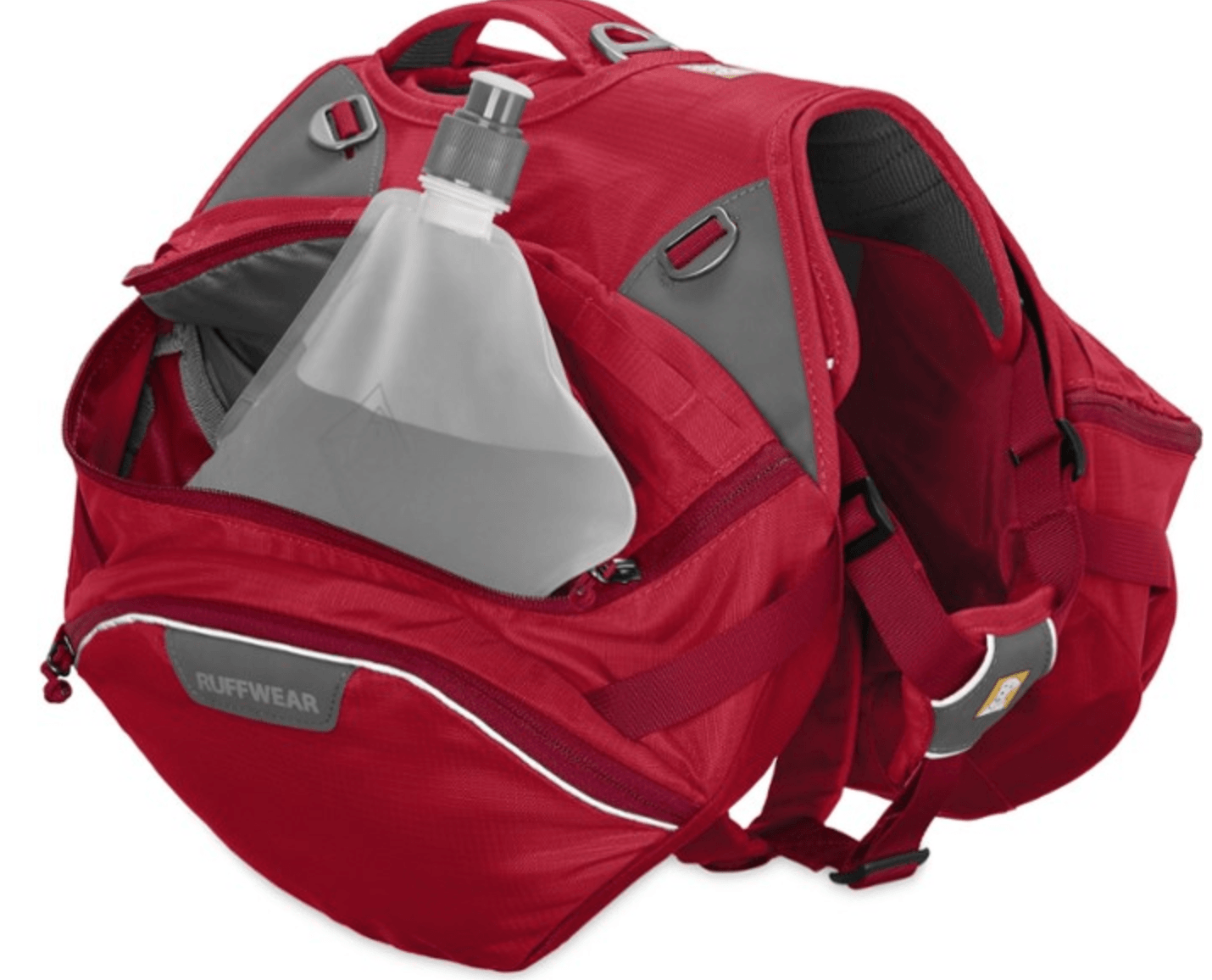 When it comes to choosing the right dog hiking backpack, size definitely matters. Just like a larger human wouldn't buy an XS jacket, you don't want to you stuff your dog into any size that's available. You want to select a dog pack that's appropriate for your dog's size.
Remember that sizing – in inches or centimeters – is usually based on your dog's girth which you can get by measuring around the widest part of the dog's rib cage. But dogs come in all shapes and sizes, so make sure that the pet backpack you choose has the option of adjusting to size.
A poorly fitted dog hiking pack will feel uncomfortable and may lead to skin chafing that takes a while to heal. If your pet falls between sizes, be sure to find out if the brand you're looking at runs big or small, or ask for assistance.
3. Dog Backpack Accessories
Many dog hiking backpacks do the job on their own. But there are a variety of dog accessories that you should consider for your pup's unique needs, performance and comfort… and yes, even dog hiking boots have a place on this list.
We all love how energetic and seemingly-limitless our furry friends are, but we need to take proper care. Many dogs can overheat during high-intensity activity – and while having access to plenty of hydration is vital – they will also benefit from added cooling mechanisms.
The Ruffwear Core Cooler is an easy accessory you can add to a Ruffwear harness or backpack. Evaporative cooling pulls heat away from your dog's core, keeping them cooled down and safe during rigorous activities and/or hot weather.
If your dog's pack or harness doesn't fit firmly with enough stability on its own – and especially if your adventurous buddy accompanies you on rugged trails – the Ruffwear Brush Guard is the accessory you'll want to highly consider.
In addition to further stabilizing the dog harness or pack, the Brush Guard provides extra chest protection from brush, stickers or other hazards that could scrape and possibly harm your dog. It's an inexpensive security measure to ensure your dog's safety and comfort, so it's well worth it!
No matter how high or low-intensity your typical hikes are, dogs must always be adequately hydrated by their humans. The Ruffwear 1L Collapsible Water Bladder is perfect because it holds a lot of lifesaving liquid that's easily accessed with a convenient pop-up top.
When you're on the trails, any type of space saver is welcome – with is another reason why a collapsible water bottle is so much better than carrying around a regular, hard-shell one. When it's empty, simply roll up and tuck away.
4. Choose the Right Adventure for your Dog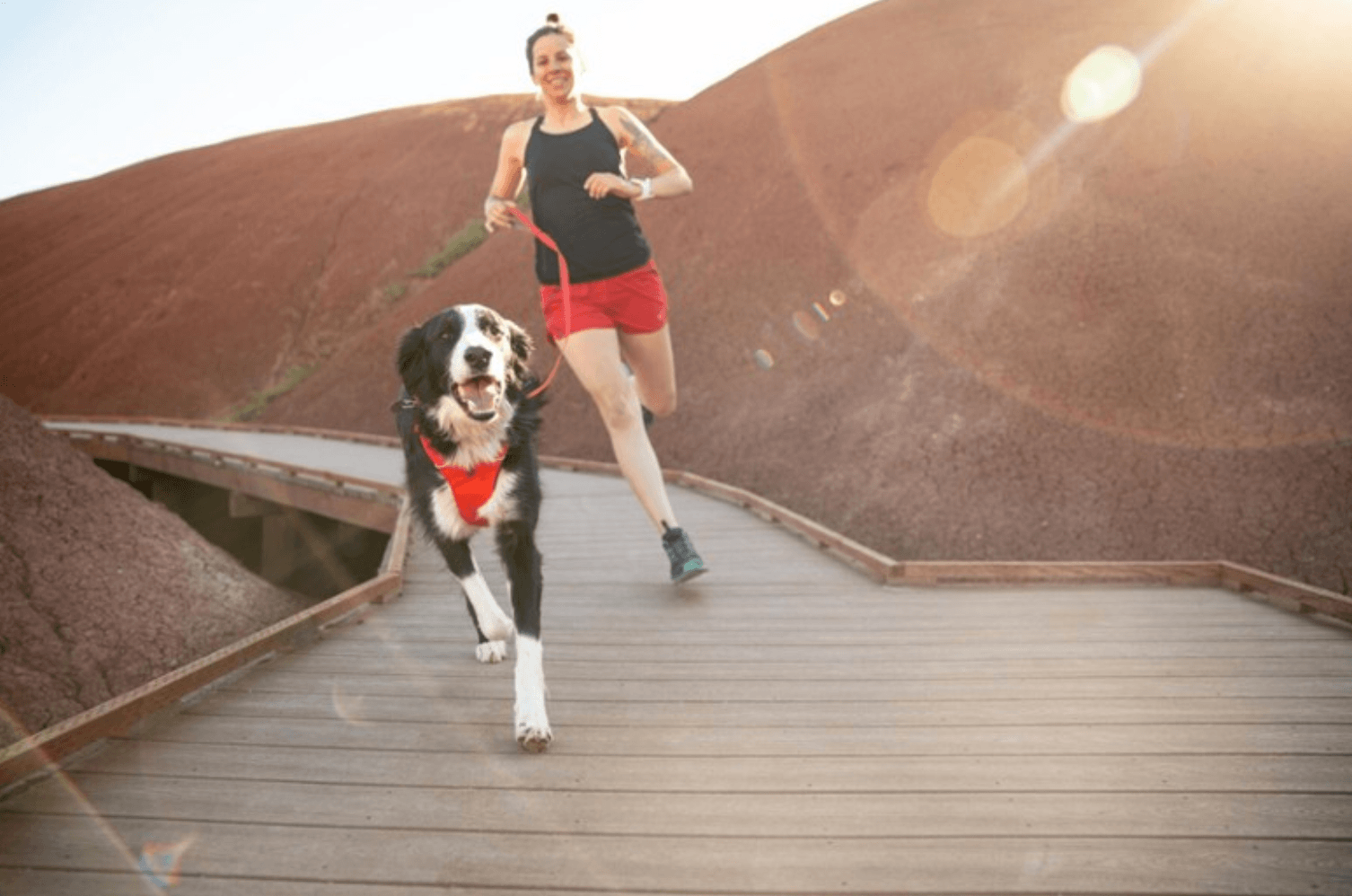 As much as we like to think that we – and our dogs – can take on any adventure, it's imperative that we choose outdoor activities that fall safely within our – and, again, our dog's – limits.
A major consideration is the age of our 4-legged bestie. Even though memories of a pup with never-ending energy dance in our heads, older dogs can't safely handle hikes or intense activities like they perhaps once could. Do not endanger your dog's safety by putting them in a situation that is beyond their current capabilities.
Not only that, but we must be aware of our own capabilities. If you don't have plenty of your own outdoor experience and the necessary expertise to handle an emergency situation that comes with more extreme activities, please refrain from doing them. For both your and your dog's sake. It's simply not worth the risk.
Be sure you're always prepared with the proper dog hiking gear for any adventure you decide is right for your dog. Just like we need different equipment based on weather conditions, climate and intensity level so does your loving pup.
FAQ about the Best Dog Hiking Backpacks
Still have some questions? No problem! We've listed and answered the most commonly asked questions below. Here's what people usually want to know:

Our GREATEST Travel Secrets…
Pop your email here & get the original Broke Backpacker Bible for FREE.
Final Thoughts
The bottom line, there's nothing as fun and enjoyable as going on adventures with your best buddy – for both humans and canines alike! But each dog is unique and requires the proper dog hiking gear to keep them as safe, comfortable and best performing as possible. And, as you can see, there are many options when it comes to choosing the right dog backpack with quite a few things to consider.
For an all around around dog pack that will serve your pup in a variety of scenarios, we recommend going with the Ruffwear Approach Dog Pack.
So I hope you've found my list of best dog hiking backpack reviews helpful and that you're inspired to gear up your dog-o and hit the trails! Please consider all factors – like the type of outdoor activity you'll be taking on together, your individual dog's needs and limits, and any other outside conditions that will affect your adventure.
So now, the only thing I have left to say is, get out there with your awesome dog and have an epic time!
---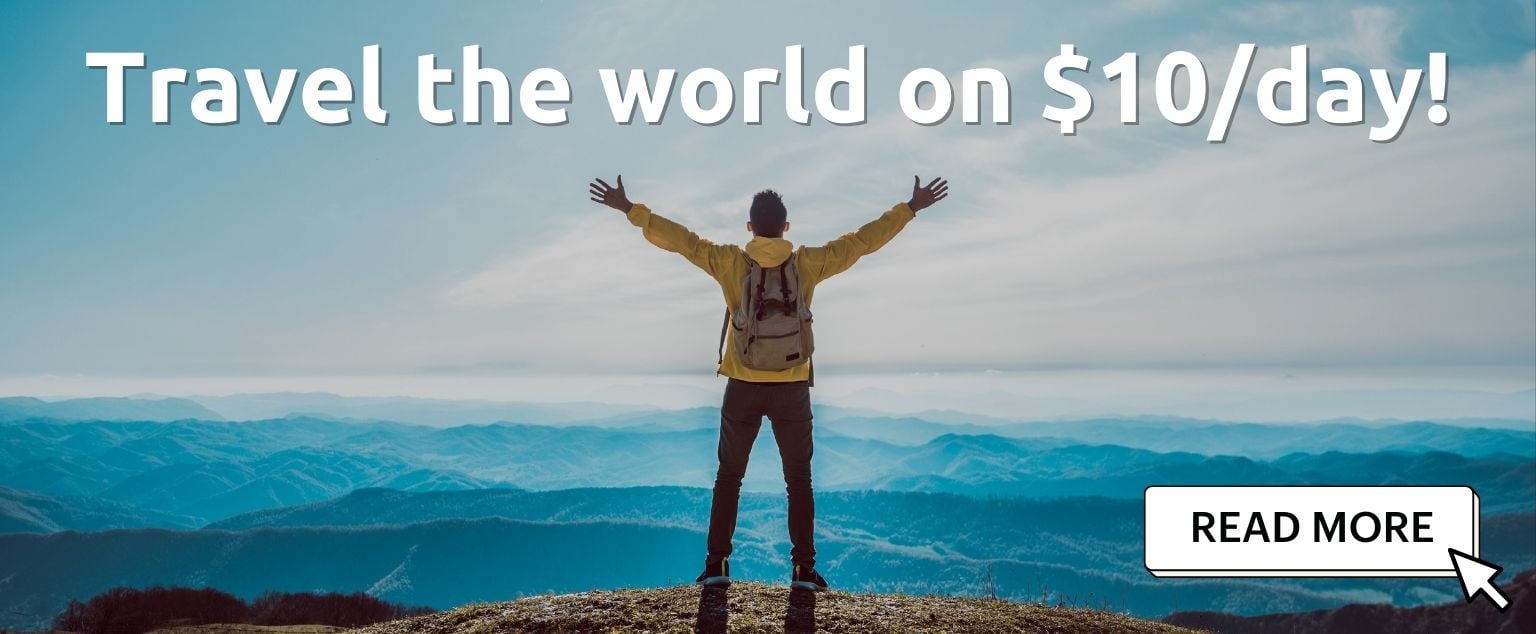 And for transparency's sake, please know that some of the links in our content are affiliate links. That means that if you book your accommodation, buy your gear, or sort your insurance through our link, we earn a small commission (at no extra cost to you). That said, we only link to the gear we trust and never recommend services we don't believe are up to scratch. Again, thank you!