Andorra is a small country sandwiched between Spain and France, and is known for its gorgeous mountains and luxurious ski resorts! These more well-known attractions aside, Andorra's unique status as a microstate in Europe means it has an interesting history and culture waiting to be discovered.
Though a fairly small destination, it can easily be added to any Spanish or French itinerary.
As a small, mountainous territory Andorra can be quite tricky to navigate. There are two main roads running through the country, and there is only one road in each direction leading in and out of the country.
It's a good idea to gain an idea of the best neighborhoods before you arrive so you can plan the best way to get around.
That's why we've created this guide. We've figured out the four best places in Andorra and categorised them based on what kind of traveller they are best for.
Whether you're going for a quick visit, or want to hit the slopes, we have you covered!
So let's get started!
Looking for a specific place to stay? These are our highest recommendations for places to stay in Andorra.
Best Airbnb in Andorra: Casa Teva
Located in the heart of Canillo, this ultra-modern apartment is well placed for exploring the local ski resorts of surrounding villages! Basic furnishings are included, however, some luxurious touches are added including Nordic bedding to ensure you stay cosy year-round.
The host also has superhost status.
Andorra is a notoriously expensive country – but this hostel has the best rates available, making it by far the best option for backpackers on a strict budget! Despite the excellent price, it is well located next to the cable car to the largest ski resort, and within walking distance of local facilities.
The only five-star hotel in this guide, the Andorra Park Hotel is a truly lavish accommodation right in the heart of the nation's capital! Andorra is considered a luxury destination – so we absolutely recommend splashing out on this highly rated hotel.
It comes with everything you could ever want for a short break.
FIRST TIME IN ANDORRA
FIRST TIME IN ANDORRA
Canillo
Around 12km north of Andorra la Vella, and the same distance away from the French border at Pas de la Casa, Canillo is conveniently placed for those that want to easily get around Andorra during their first visit!
ON A BUDGET
ON A BUDGET
La Massana
Andorra is a notoriously expensive country – and where you end up will require a larger budget than you might otherwise expect in Spain or France. Nevertheless, for those that want to watch their spending, La Massana has some excellent budget-friendly accommodation options!
NIGHTLIFE
NIGHTLIFE
Andorra la Vella
As the nation's capital, Andorra la Vella is where all the action is in the small country! Though Andorra is not considered a nightlife destination, all of the best bars and clubs are located within the capital.
FOR FAMILIES
FOR FAMILIES
Arinsal
Just at the other end of the cable car from La Massana, Arinsal is part of the Pal-Arinsal ski resort area – the largest and most popular in the country!
As Andorra doesn't have its own airport, many visitors opt to include it as part of a larger itinerary in France or Spain. Nevertheless, this small country is packed with interesting cultural attractions and has a rich enough history to justify it as a destination in its own right!
With strong ties to both neighbours, Andorra has a unique food scene that showcases the best of both Catalan and Southern French cuisine. Whether you are interested in food, culture or skiing – each neighborhood has its own offerings.
Andorra la Vella is the official capital, although in reality, the country is small enough that it feels more like a town. Other towns in the country are well connected by the simple road network, and public transport from Andorra La Vella is fairly regular – making it a great hub for getting around.
It is also where you will find the only nightlife in the country.
To the north of Andorra la Vella is Canillo, a small town that is popular with visitors year-round. Canillo is packed with interesting religious and historic attractions – and in the winter the town bursts into life with winter sports to suit both adults and children.
It is one of the better connected towns with the outside world, only a few minutes away from the French border.
On the opposite side of the country are La Massana and Arinsal. Andorra, like most other microstates in Europe, is a notoriously expensive country – however La Massana has some great budget-friendly food offerings as well as a ski lift up to Arinsal.
For families, especially those visiting on a ski holiday, Arinsal allows you to stay right in the heart of the action. Even in the summer, this small village offers great scenery and local culture.
Still undecided? Read on to learn more about the best 4 neighborhoods in Andorra!
4 Best Neighborhoods to Stay in Andorra
Let's take a look, in more detail, at the four best neighbourhoods in Andorra. Each caters to different interests, so be sure to pick the neighbourhood that's right for you.
Around 12km north of Andorra la Vella, and the same distance away from the French border at Pas de la Casa, Canillo is conveniently placed for those that want to easily get around Andorra during their first visit! Canillo also comes with a great selection of restaurants, historic attractions and snowsports venues – giving visitors a sampling of everything Andorra has to offer.
During the winter, Canillo has a large entertainment venue that comes with basic snowsports such as ice skating! There are also some easy skiing resorts in the surrounding villages – making it an ideal choice for newbies to the sport. In the summer, the mountains spring to life with gorgeous scenery and wildlife.
Things to See and Do in Canillo
The Palau de Gel is the largest ice rink in the country – coming out at the same size as the average Winter Olympics rink – and has some great entertainment facilities
Dating back to the 11th Century, Sant Joan de Caselles is a gorgeous Romanesque church with regular tours throughout the year
Hike up to Mirador Roc Del Quer – a beautiful viewpoint providing sweeping vistas across the town and surrounding mountains
Another great hike is the trip up to the Cross of the Seven Arms – an important historical landmark in the Gothic architectural style
Cal Bonavida offers some delicious French cuisine with a Catalan twist – perfect for sampling both of Andorra's major culinary influences
Best Airbnb in Canillo: Casa Teva
Right in the heart of Canillo, Casa Teva has direct connections to the Grandvalira ski slopes as well as the town centre! There is an extra bed in the living room, meaning this apartment can sleep up to four people if required.
The kitchen area is spacious and well equipped.
This luxurious hostel is located just outside Canillo, but is well connected to the town by a shuttle service! There is a large outdoor area that comes with a hot tub, sunbathing area and barbecue facilities.
Guests are also rewarded with unbeatable views across the surrounding mountains.
This four-star hotel is actually quite well priced given the next-level facilities they have on offer! Not only do they have a hot tub, they also offer Turkish and Finish spa facilities – as well as bookable massage and beauty treatments.
Guests are provided with a complimentary breakfast buffet.
What is the One Item Every Traveller NEEDS???
There is one item every traveller NEEDS. Some travellers don't even know they need it, but those travellers need it more than anyone.
What is this forgotten essential of the backpacker-life? SPOILERS! Guess you'll just have to click the button to find out. 😉
Find Out What It Is!
Andorra is a notoriously expensive country – and where you end up will require a larger budget than you might otherwise expect in Spain or France. Nevertheless, for those that want to watch their spending, La Massana has some excellent budget-friendly accommodation options!
They also have a basic culinary scene – perfect if you just need some cheap eats.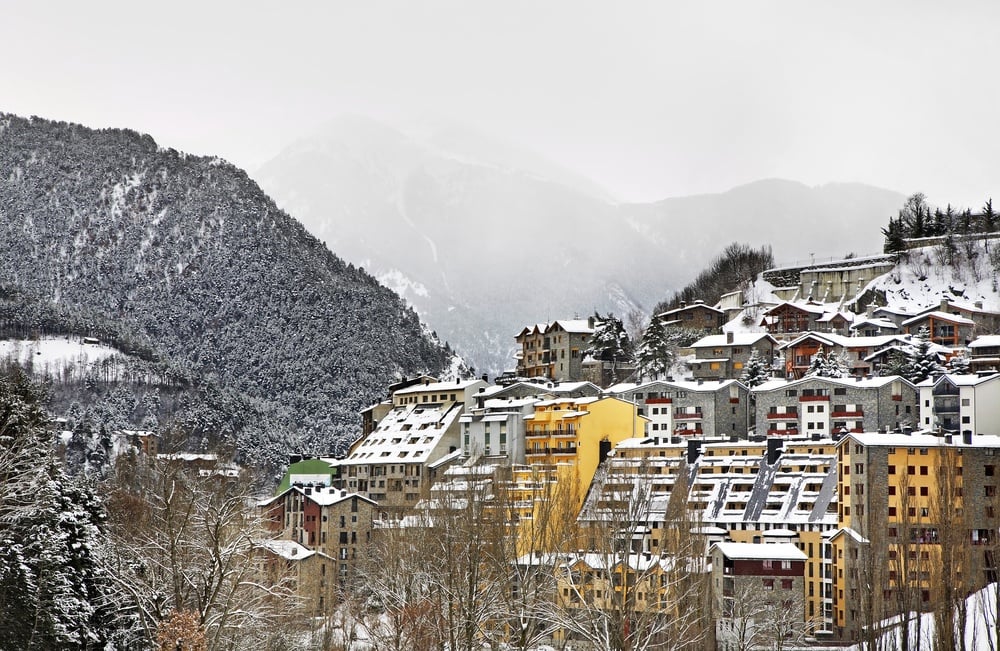 Though there isn't much in the town itself, the surrounding villages offer plenty of quirky local attractions! La Massana is connected to one of the most popular ski resorts in the country by ski lift, and there are also great public transport links to Andorra La Vella from the centre of the town.
Things to See and Do in La Massana
Hop onboard the cable car to Pal-Arinsal – a major ski resort in the country, with some excellent scenery on the way up
Church of Sant Iscle and Santa Victòria is the only real tourist attraction within the town itself – this Romanesque church is quite popular so book tours in advance
Museo del Comic is a relatively new attraction built for locals that is dedicated to comic books from across the region
Interested in mountain biking? There are some great hire shops and facilities in the area surrounding the cable car entrance
Tot En Pita is somewhat of a local institution – they offer some of the best priced Mediterranean cuisine in the entire country!
For solo travellers and couples, this gorgeous studio right in the heart of La Massana is perfect! It comes with a small balcony where you can admire views across the town and towards the surrounding mountain ranges.
It is only a short walk away from the cable car, as well as a few local restaurants.
Right in the heart of La Massana, Secret Spot Hostel is only a stone's throw away from the cable car to Arinsal – allowing you to explore two of the best neighborhoods in the country with ease! They have both dorms and private rooms, and offer the most budget-friendly rates in the country.
Though only a three-star hotel, del Bisset is perfect for those that want a little privacy without breaking the bank! Rooms are fairly basic, but come equipped with everything you need for a comfortable stay in La Massana.
A complimentary breakfast buffet is provided every morning.
Is This the Best Travel Pack EVER???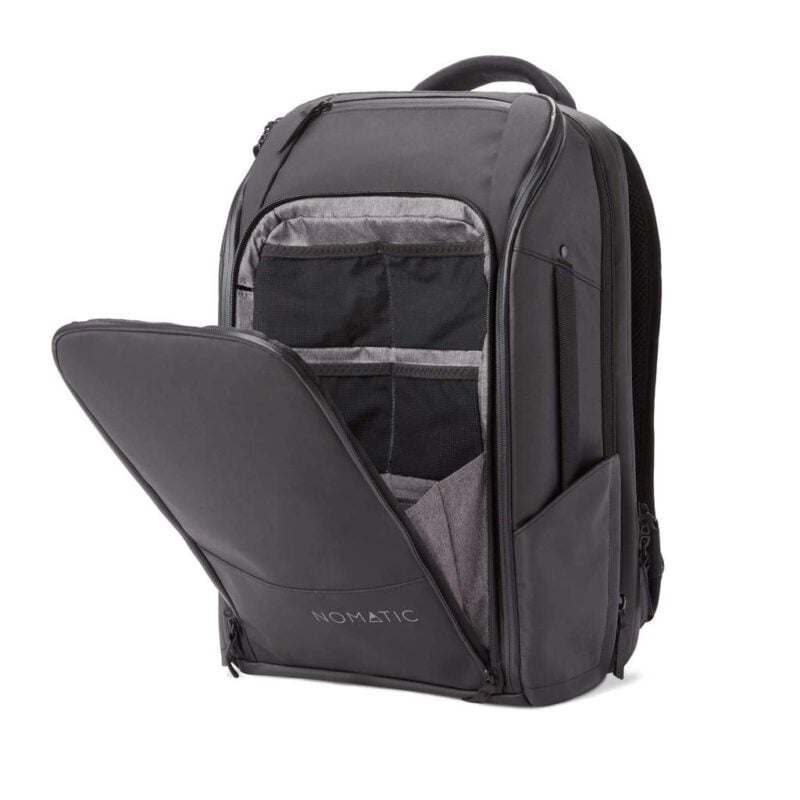 Just at the other end of the cable car from La Massana, Arinsal is part of the Pal-Arinsal ski resort area – the largest and most popular in the country! For families, Arinsal offers a good balance of cultural and winter sports attractions that cater to all ages.
Whether you're a beginner or an advanced skier, there are plenty of options available.
In the summer, Arinsal is also a key hiking destination – again hosting a wide range of trails to cater to all abilities! The town bursts into life during regular weekend festivals celebrating arts, culture and the history of the region.
Things to See and Do in Arinsal
Go skiing! By far the most popular attraction in the area are well-maintained slopes and excellent apres-ski activities
For more advanced hikers, take a trip up Pic de Coma Pedrosa – though only open in the summer, it is the highest mountain in Andorra
El Moli is a popular apres-ski venue just opposite the cable car where you can enjoy cocktails, live music and regular events throughout the year
Mirador Roc de la Sabina is a huge viewpoint overlooking the town and ski ranges – only a short hike, this is great for the less experienced
Head to El Bosc, a popular restaurant where you can sample local Catalan dishes and admire great views over the town
Charlie's is a popular Airbnb hosting company across Andorra, and their luxury Arinsal apartment is perfect for families and large groups wanting to splurge on a lavish getaway to the microstate! With three bedrooms, it sleeps up to six people –  and also comes with a large kitchen and bathroom.
Though not officially a hostel, this small aparthotel is popular with backpackers looking for some additional privacy thanks to their reasonable rates! Limited to 19 apartments, there are also large common areas giving it a sociable atmosphere.
There is a bar and restaurant available on-site, as well as a small spa area with a jacuzzi pool.
This three-star hotel is perfect for families looking for great accommodation at budget-friendly prices! The on-site restaurant provides gourmet pastries and coffee free of charge all day, as well as a buffet breakfast in the mornings.
Rooms are well equipped with modern décor and technology.
The Future of the SIM Card is HERE!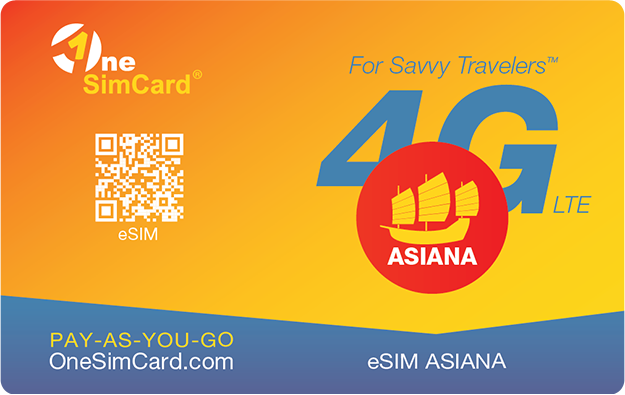 A new country, a new contract, a new piece of plastic – booooring. Instead, buy an eSIM!
An eSIM works just like an app: you buy it, you download it, and BOOM! You're connected. It's just that easy.
Is your phone eSIM ready? Read about how e-Sims work or click below to see one of the top eSIM providers on the market and ditch the plastic.
Buy an eSIM!
As the nation's capital, Andorra la Vella is where all the action is in the small country! Though Andorra is not considered a nightlife destination, all of the best bars and clubs are located within the capital – and can be surprisingly rewarding venues if you're more interested in discovering local nightlife than the heaving club scenes of bigger cities.
Aside from nightlife, Andorra la Vella hosts plenty of excellent museums, religious monuments and cultural venues where you can learn a little bit more about this unique country! The culinary scene in Andorra la Vella is more multicultural than elsewhere in the country, but still offfers some excellent local bites.
Things to See and Do in Andorra la Vella
The Parliament Building is located right in the heart of the Old Town – there's a great park on the roof with views across the valley
Club Detroit is the main nightclub in the city – though a little gimmicky, it is popular with locals and surprisingly well priced
For a classier night out, head to La Fada Ignorant – offering food during the day, they switch to a cocktail bar and live music venue in the evenings
Only visiting the country for a day or two? BusTuristic offer reasonably priced bus tours across the entirety of Andorra from the capital
Make your way through the tourist traps to Plató Restaurant – a local haunt that offers some of the best cuisine in the city
This modern apartment is one of the most basic options available in the country – but the reasonable price makes it a great option for staying centrally! The host comes with superhost status, ensuring you will receive the best level of service possible.
Complimentary parking is available to guests.
Best Hotel Andorra la Vella: Alberg Rossell
This small hostel is just outside Andorra la Vella, but provides easy access to the capital as well as to the villages leading to the Spanish border! Rooms come with their own bathrooms – so you only have to share with your roommates.
Storage space is provided for anyone arriving with their own ski equipment.
This magnificent hotel is one of the best rated in the country – and it's easy to see why! It comes with unbeatable spa facilities, a large swimming pool and a world-class fitness suite.
Rooms come with private balconies, providing views across Andorra la Vella and the entire surrounding valley.
Save $$$ • Save the Planet • Save Your Stomach!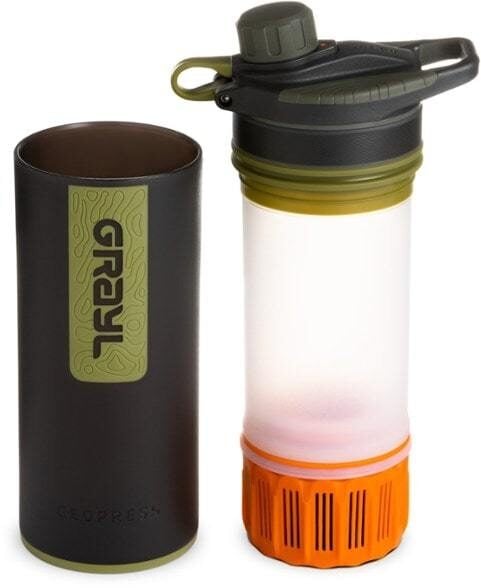 Drink water from ANYWHERE. The Grayl Geopress is the market's leading filtered water bottle protecting your tum from all the waterborne nasties. PLUS, you save money and the environment!
Single-use plastic bottles are a MASSIVE threat to marine life. Be a part of the solution and travel with a filter water bottle.
We've tested the Geopress rigorously from the icy heights of Pakistan to the tropical jungles of Cuba, and the results are in: it WORKS. Buy a Geopress: it's the last water bottle you'll ever buy.
Buy a Geopress!
Read the Review
Don't Forget Travel Insurance for Andorra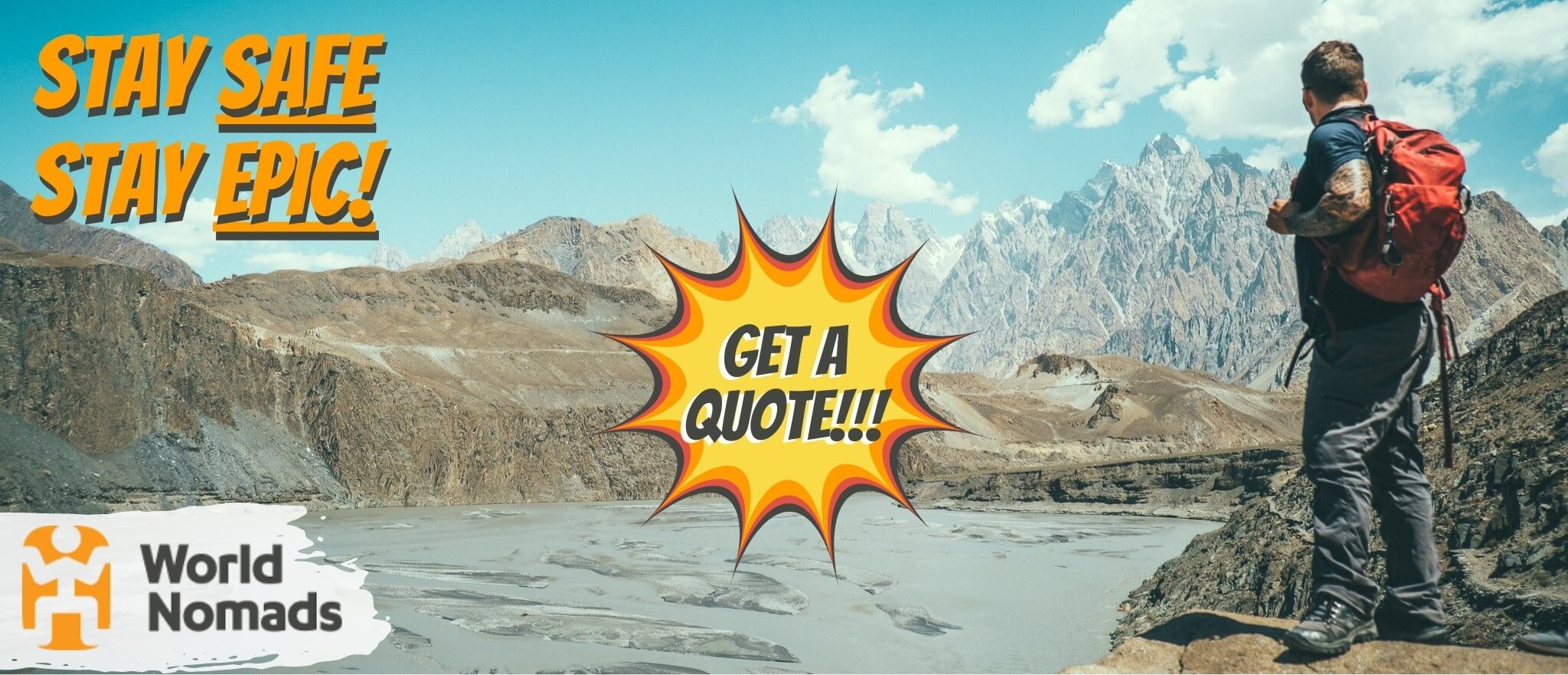 It's good to get lost sometimes, but it's also good not to get too lost. There are people that want you home in one piece.
There's one travel insurance provider The Broke Backpacker trusts for all his wildest shenanigans… World Nomads!
Click the button below to get a quote on your insurance or read our in-depth review of World Nomads' coverage. And then… let the shenanigans begin. 😉
Final Thoughts on Where to Stay in Andorra
Andorra is a gorgeous country that, whilst often overlooked on itineraries to Southern Europe, is becoming an increasingly popular tourist destination! With sweeping vistas of the Pyrenées, Olympic quality winter sports facilities and a fascinating culture – it's easy to see why more and more visitors arrive every year.
For the best area, we have to go with Andorra la Vella! As the capital city, it is truly the national hub and has great connections to all of the major towns and villages across the country – as well as onward to Spain and France.
That being said, everywhere mentioned in this guide has its own charms – and the country is so small that getting between them is fairly easy! We hope we've helped you to better understand the country's neighborhoods.
Did we miss anything? Let us know in the comments.
Do you own an awesome hostel, hotel or apartment? Want to be featured in our list? Email [email protected] to find out how.
---
Thanks for reading – that was fun! 😀
We bring you epic FREE content!
Find out how YOU can help support us.
We're a big site with a big team and this job isn't always easy. But we do it because we love it – we love providing epic and free content. We love the knowledge that our content keeps you adventuring. We don't ask for money, but if you'd like to find out how you can help the site in more organic ways, click the button below.
Thank you for your support 🙂
---
Bye for now, but not forever!
If you want MORE top-tier Broke Backpacker content like this, then sign up for our weekly newsletter below to get the latest and greatest!
And for transparency's sake, please know that some of the links in our content are affiliate links. That means that if you book your accommodation, buy your gear, or sort your insurance through our link, we earn a small commission (at no extra cost to you). That said, we only link to the gear we trust and never recommend services we don't believe are up to scratch. Again, thank you!